Welcoming the year 2020 with a warm heart! I wish every travel enthusiast out there will make their "Next to Visit" destinations happen this year.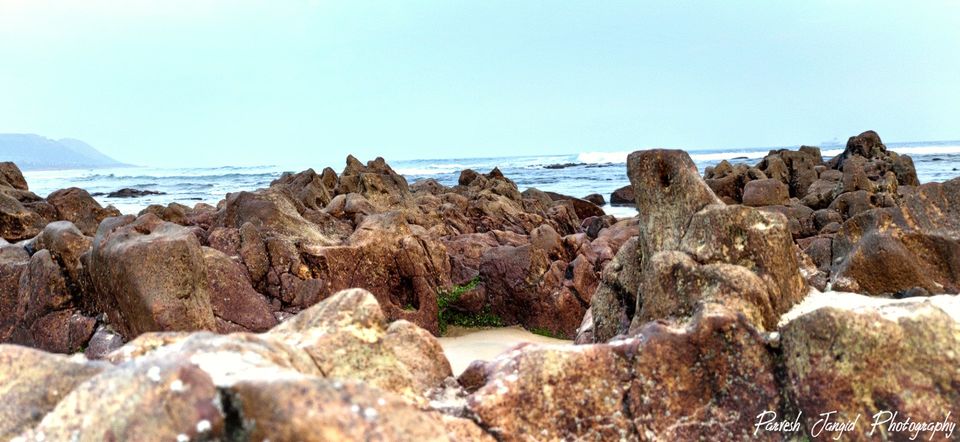 I am yet again on a travel spree these days with most destinations being covered are all greens or blues. As I escaped the mountains for a while, I happened to explore lots of beaches. My recent beachy vacay was at Vizag (Visakhapatnam) – a port city in Andhra Pradesh very popular for its clean and arresting beaches.
Vizag, particularly, has its heart in its blues that cover most of the city and catch one's eye in less than a minute. While you glance at the scenic beauties in every 3-4 km, you'll find the typical South-Indian food quite cheap yet very delicious here. Before I start the itinerary, here are a few tips for you to have some sea fun in Vizag:
1. Make it a minimum 2-day or a maximum 3-day trip unless you're in a full week relaxing mode. The major attraction are the beaches which can easily be covered in the days above mentioned along with a few other sites.
2. Your travel tickets for Vizag should be booked at least a month and a half before you hit on the destination. Also, get hotel bookings done online within the same span.
3. Rent a bike/scooter for the days you're here. They don't cost you much plus you can travel wherever you want at your convenience. Getting on to public transport will eat most of your time as you're a newbie in the city and hopping on to an Ola/Uber will make a deep slit in your pocket.
4. E-payments are mostly accepted everywhere in the city yet some hard cash in your wallet is not going to harm.
5. Keep sunscreen handy as beach tans you the most.
6. Make a list of places that you'd want to cover. I'd rather suggest to be on the beach (be it any) for any no. of days you're here.
ITINERARY
DAY 1
The day-1 starts as we reach Visakhapatnam Railway Station in the morning at around 8 A.M. As we had check-marked all the points covered above, we had our hotel bookings done prior to the journey. In a few calls to Google's list of bike rentals in Vizag, you can easily rent a bike/scooter here.
As soon as we came out of the station, we dialed a few numbers to the bike rental services in Vizag and booked an Activa 4G in 20 minutes. The very next step was to reach to their office and pick up the scooter.
Quick aid: Mr. Bike Rental (09155405060) could be one of the options where you can get a good bike at a reasonable price. Please do a check to the bike's average speed and tire quality before you rent one.
We picked up the scooter from Mr. Bike Rentals office, which was on the Ramakrishna Beach road, quite near to the RK Bus Stop. Ramakrishna beach is one of the most popular beaches in Vizag with maximum footfalls. We could've stopped there for a while and relaxed, but we chose to check-in, get freshened up and eat as we were very hungry.
After a quick sight-seeing of the sea, we took our scooter straight to Rushikonda where our hotel was located. It's a complete beach road where you can (or at least the pillion :P) can enjoy the view. Amid the way, you'll find coconut water stalls at short distances where they sell you one coconut for Rs. 25/- and you can get all refreshed with the sweet coconut water.
MUST TRY: These coconuts are a must-try as you'll not get them at such cheap prices with that sweet taste anywhere else.
Sagar Nagar Beach
Around 8 km ahead of the way, you'll find Sagar Nagar beach, which is yet again a beautiful sight to behold. The beach is not very popular as it's not as convenient for everyone to get down to the seashore, especially senior citizens since there's an unconstructed way to reach there. For a minute or two, we breathed the air there and went on to rest our hunger down.
MUST TRY: Ahead of Sagar Nagar beach towards Rushikonda, you'll find Amma's Tiffin Centre where they only make yummy Idlis and Dosas. 100 bucks and the two of you are thoroughly full!
We had our brunch at Amma's Tiffin Centre and checked in to the hotel at Rushikonda. We had made a booking in a Flagship OYO, which didn't cost us much.
Note: OYO's hospitality is less than what you expect the minimum, however, if you're in Vizag just to enjoy the outdoors more, go for it!
We cleaned ourselves up quickly and rode our Activa to Rushikonda beach – A well-known tourist place where you'll find people and people everywhere. It's a vast and enjoyable seashore for kids, couples, ageds, and big families. Yes, you can see people of all ages here having all the water fun and clicking selfies.
Outside the coast, you'll find many options to unstarve your tummy, a food court is also there, water sports can lure you here as well. There's separate parking for a two-wheeler, three-wheeler, and four-wheeler vehicles.
Quick aid: Make yourself comfortable at a secluded spot at Rushikonda beach and watch the waves coming to you, making pleasant noise during dusky hours.
DAY 2
We decided to wake up early in the morning to witness a magical sunrise from the seashore. We'd already imagined the beauty of the sun rays making the water shine, and here we were at Sagar Nagar beach again...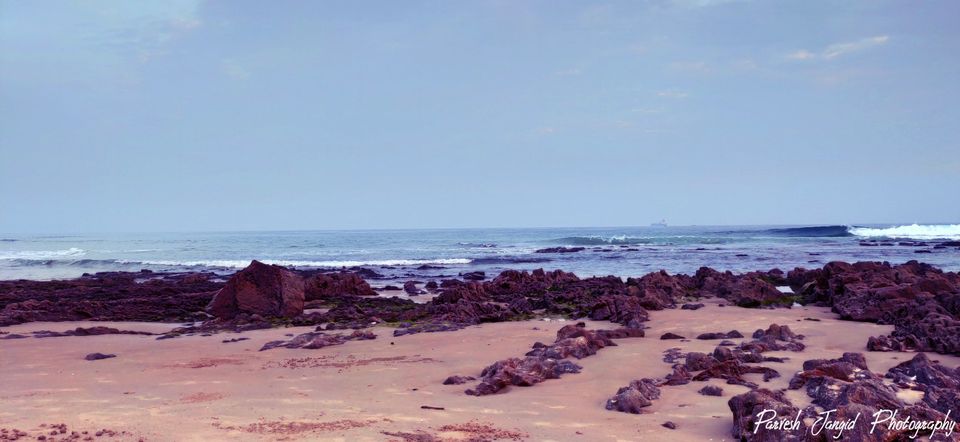 The birds were chirping,
the sky was blonde,
the wind was cold
And we were entirely fond!
Mornings like these are always soothing but this one was way beyond. We sat on a rock and gazed at the vast sea. If you are into meditation, this would be a perfect place to kick start your day. The breeze around 6 in the morning was quite cold as the sun played hide and seek with the clouds.
Quick aid: Let your backpack carry a thin woolen to cover you up at any moment the cold breeze hits you.
Day 2's next destination was to visit a Buddhist Monastery in Thotlakonda. It's about 5 km ahead of Rushikonda. However, we had to make ourselves stop at Thotlakonda beach before we could make it to the monastery and the reason was the magnetism the sea had that pulled us over.
Thotlakonda beach
Thotlakonda beach is serene and doesn't get an eye by many. It appears more like a private beach as we could barely witness beings over here. You may find a few minimal design gazebos on the shore where you can sit and enjoy the aura. Thotlakonda beach pulls you over in no time as it's clean, cold, and charismatic. Less touristy, this place can certainly take a position in your "must visit" places in Vizag.
We headed next to Bavikonda Ancient Buddhist Monastery which is located opposite to the Thotlakonda beach. As I am not highly devoted to the history and do like to dedicate my time to mountains and beaches, this place didn't entice me much. With that being said, those who love to dive into the days of yore, get a guide and revise your history lessons here.
DAY 3
Day 3 had come and we were still gushing over to the arresting beaches we've been to. The clock struck 11 and we checked out from the hotel. The day was clear. We had a tight meal at Amma's Tiffin Centre and shouldered our backpacks to make it to RCD Biodiversity Park maintained in the Rani Chandramani Devi Govt. hospital premises.
With various plant species having their local and botanical names written on them, this park is a true treat for the naturalists. Peaceful all around, the maintainers have also arranged some adventure activities alongside the boat rides and kayaking fun at a small lake inside the park. We sat near the lake for a while and ate a Kulfi just like that.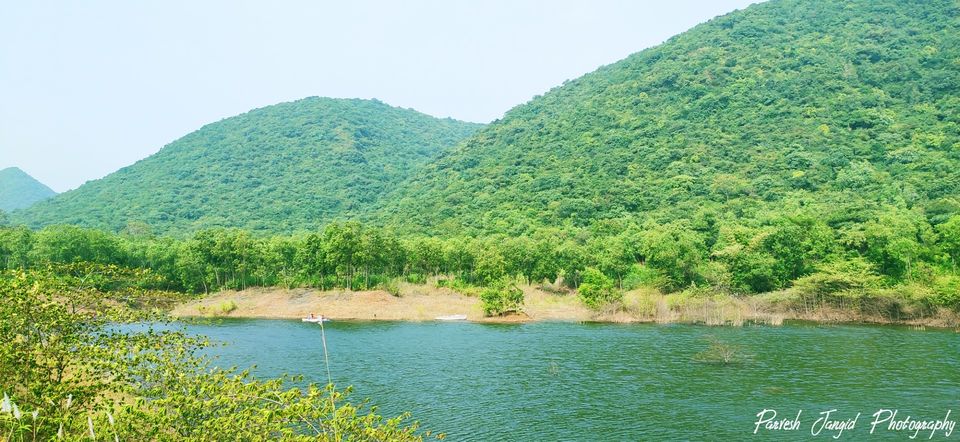 The temperature, however, was good to explore the whole park, we still ditched the place and rode back to the beach from where we'd started – the Ramakrishna beach, as we couldn't explore it much on Day 1.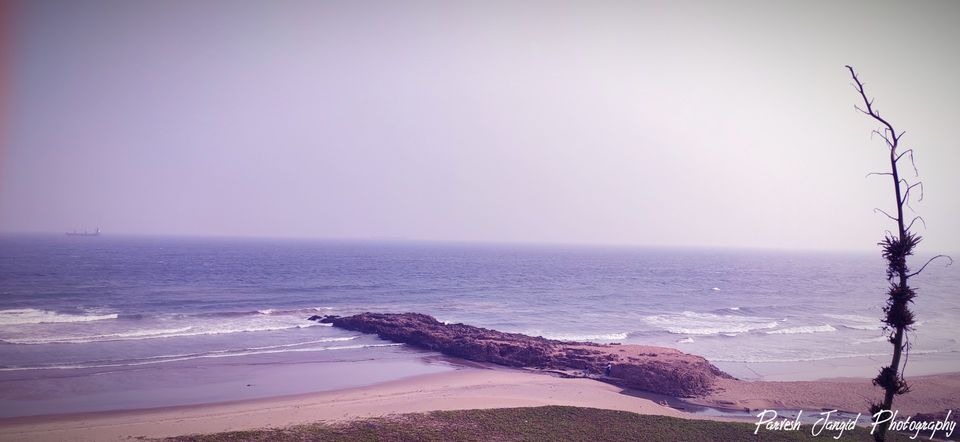 By the time we reached there, the air got cold and making us continuously rub our hands. The beach was over-crowded and we could only see people over there. It seemed like a fair. Ramakrishna beach is very popular among the masses. It also has an open gym set-up for the visitors to get going. On an all, Ramakrishna can get a green card if you're a complete layman in the city and want to start on a good note.
MUST TRY: A yummy snack that cannot be missed here is the sweet corn sprinkled with lemon and red pepper.
A 3-day beachy vacation at Vizag could have been much more than the beaches, but I'd rather suggest to keep it more and more of the beaches as the beauty you take is only in the serenity you see in the blues.
P.S. Thotlakonda beach still has my heart.
See ya all, soon!