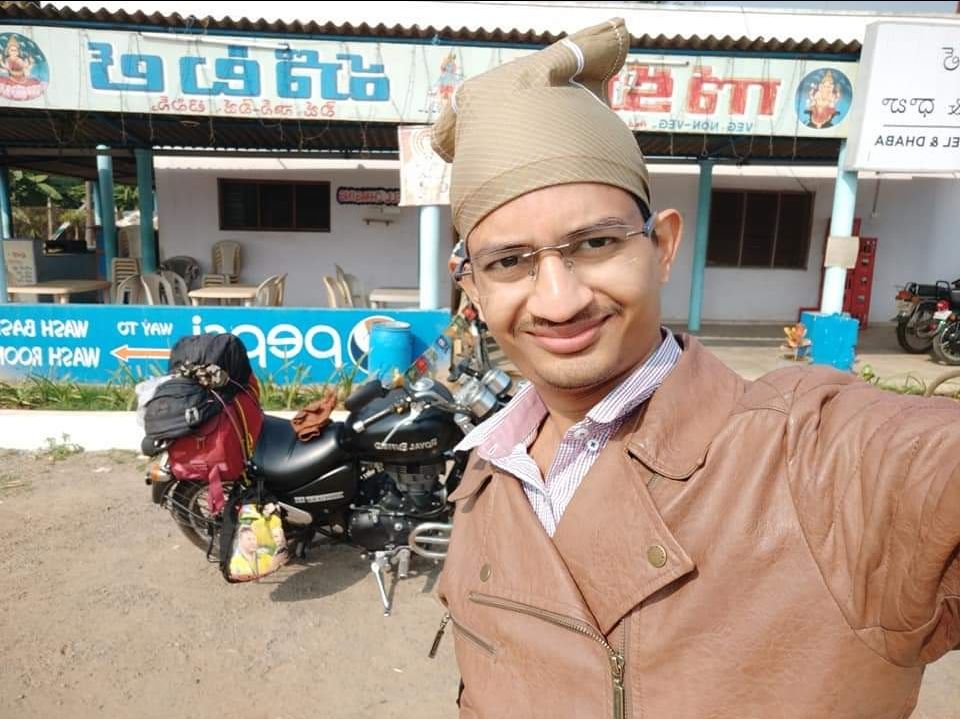 How do you feel when you think about doing a solo ride that too for the very first time. Unknown roads, unknown people, unknown problems, do they scare you off ?
Do you get nightmares just by thinking about it?
This is my story where i faced all of these, the nightmares I got, the problems I faced, the path I followed , the stories I heard , and still completed it. A solo ride covering Pune - Indapur - Solapur - Umerga - Wadi- Hanumabad - Zaheerabad - Hyderabad - Nalgonda - Suryapet -Vijayawada - Eluru - Thadepalligudem - Rajamahendravaram - Annavaram - Visakhapatnam - Vijayanagaram - Therlam, Covering a distance of 1400km.
Why do we ride? What is that force that let's us head out on an open road? Do wide open roads bore us or make our minds fight with our bodies to keep on going?
I had above questions in my mind when I conceptualised an idea to do a road trip home, from Pune to Visakapatnam during the sankranti time this January. The initial plan was formulated exacty a year ago, sankranti 2018. But I could not complete it because of health issues, issues I faced because of over excitement, lack of proper preparation. A year had passed by, and it was time to hit the open highways.
The initial 2 weeks of preparation were really full of confusion and fear to venture out solo on the open highways. Not to mention, it was not going to be a regular day sprint from home to office, nor a sweet weekend ride of 100-200KM. I knew it would be a challenging 1400Km worth of ride which I had never thought of or tried.
Finally after lot of mind games, I made the firm decision to ditch the other modes of transport available and take along my buddy, my RE Thunderbird on this trip. The first weekend of January was a day of rush and whatever possible preparations I could make, I did.
Preparing my Bike: went to the showroom to get my bike serviced (even though it was serviced 3 weeks back), I changed the engine oil, got extra clutch cable installed, got the chain spocket replaced. I really wanted to get a set of projector lamps for highway riding but my budget was less and also I didn't want to take the risk of riding in the night (I wish I didn't have to ride in the night????). Next time I will definitely install them before going on a road trip.
Personal Riding Gear/Accessories: I didn't have a lot of budget for this, got a leather jacket UCB, RE riding gloves, proBiker hand glove as a back up, knee pads, mobile mount and couple of bungee cords to tie my luggage bags on the pillion seat.
The Road Condition Dilemma:
I went through a lot of vlogs in YouTube and all other travelogue sites to know about the road conditions. Zoomed all the way into google maps to get an idea about the road and whatever my eyes could scan.
I finalised the route. Till solapur the roads were great, Solapur-Naldurg-Omerga-Basavkalyan-Zaheerabad-Hyd. This is the shortest route and I didn't want to take any chances as I was alone and other routes would add additional 50-60kms on this (Gulberga/Akallkot Route).
From most of the experiences posted by people online, I learned that about 100km of the road is bad with diversions upto Maharastra border and after that it is a breeze.
Day before the ride: 3rd jan 2019(friday night)
The night before the ride I decided to stay at Siva's place (phursungi) which is adjacent to solapur highway. I left office at around 9PM, went to petrol pump filled the tank up to the brim. Later I packed all my luggage and left for siva's home. The plan was to start at morning 6AM, reach solapur around 10-11am and have lunch at atharva's place. Then to leave for Hyderabad on the same day and one day stay in hyderabad at venky's home,to spend time with sasank and my other friends. Then to leave for Visakhapatnam on the 3rd day. But, for me I did not have any clue that this ride would turn out to be even more adventurous than I thought.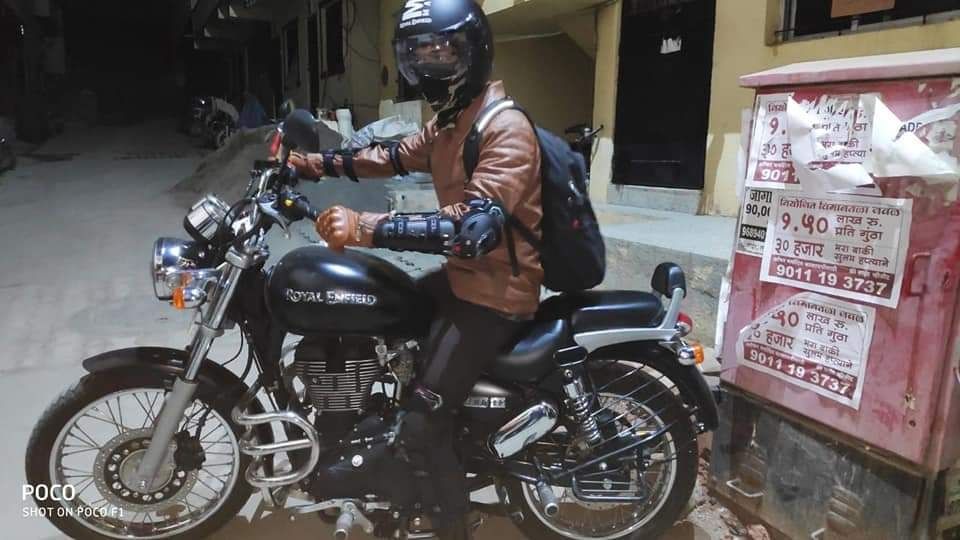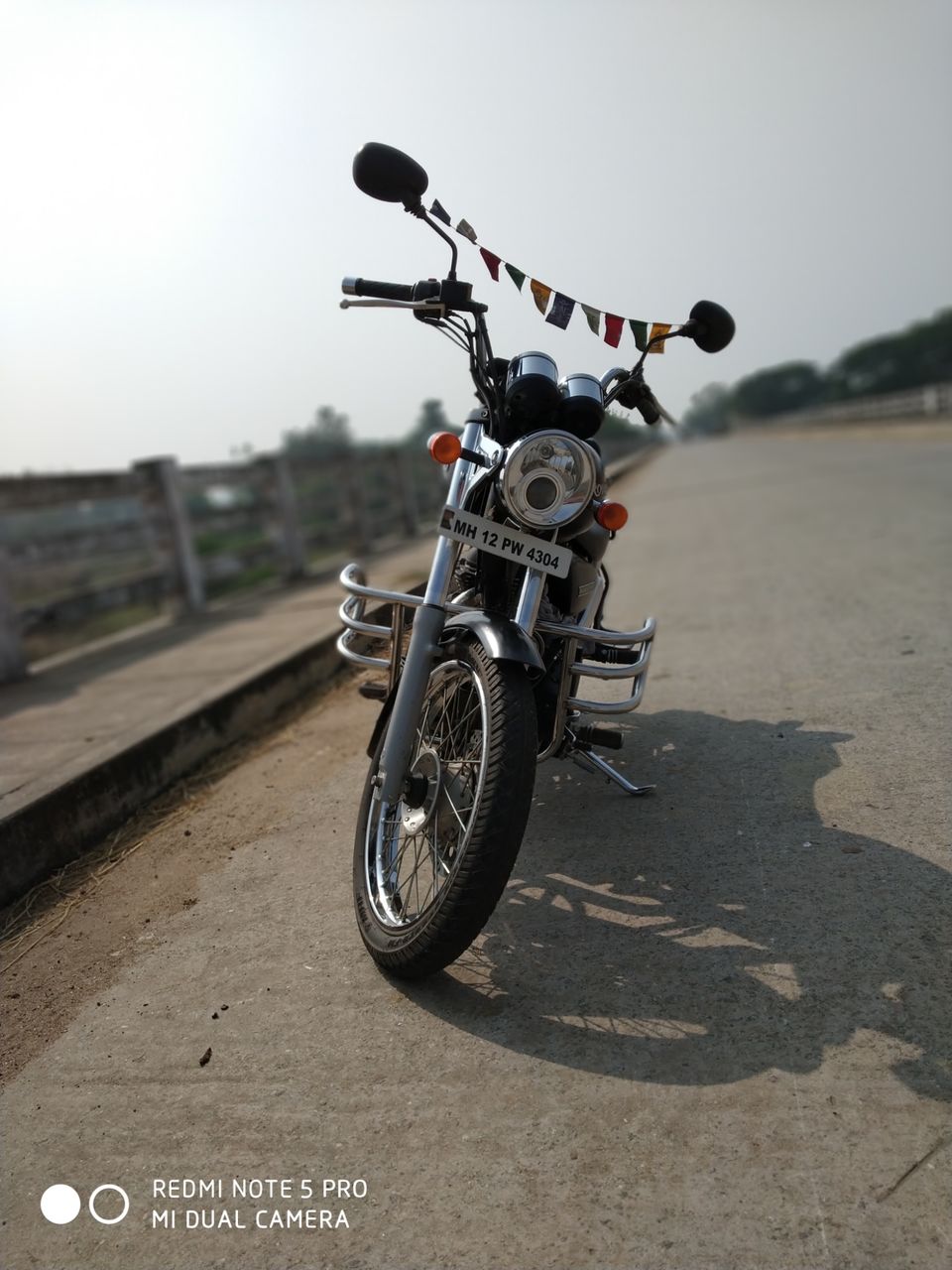 Day of the ride***Stressed about the trip***: 4th Jan 2019(saturday)
The night before the ride I slept at siva's home at around 12: 30AM, till now things went according to the plan. At midnight I got a nightmare visualising a life threatening accident i met on the highway, I woke up instantly and found every thing was fine. My throat was completely dried up, I was sweating, I was completely dehydrated and really scared. Time was around 2-30 am I tried to sleep again but in vain
So I got up from my bed at around 4am and headed back to my room where I had a good 2 hours nap. At around 9am i was feeling comfortable then. I decided not to give up like last year. I changed my plan, I decided to travel till solapur and stay in solapur the night instead of going directly to Hyderabad. I called atharva and told him about my situation, he gave me confidence, he said I could stay at his home.
I started at around 12PM from my home, headed out straight to Solapur and oh boy….after the first toll plaza, this road is a breeze to ride for the 240 odd kms. It was so easy that I reached Solapur by 5PM, 4hrs45min flat with a one hour lunch break. Wow!!!!!
After reaching solapur I took a diversion to the right from the highway into the city. Mr atharva has already shared his location with me on whatsapp so I went to his home directly.
His house was some where outside the city, it was beautiful with lots of plants and trees in the compound. I like gardens so I was excited to stay there. I lubricated my chain, took bath and later we both explored his garden. Later in the night we had dinner and slept at around 10PM. I had a good sound sleep this time.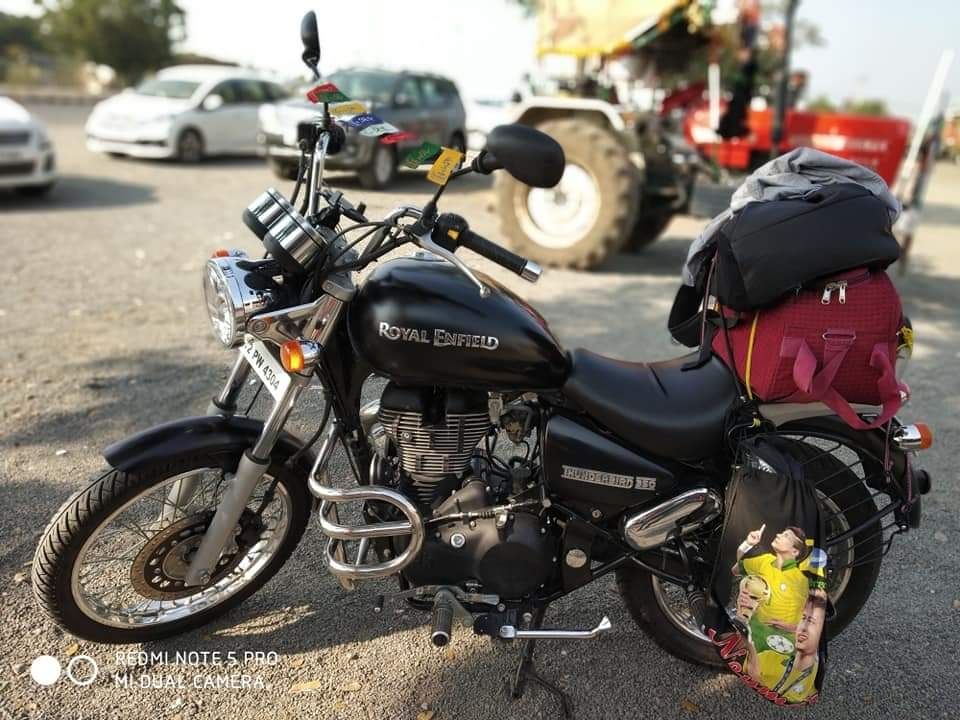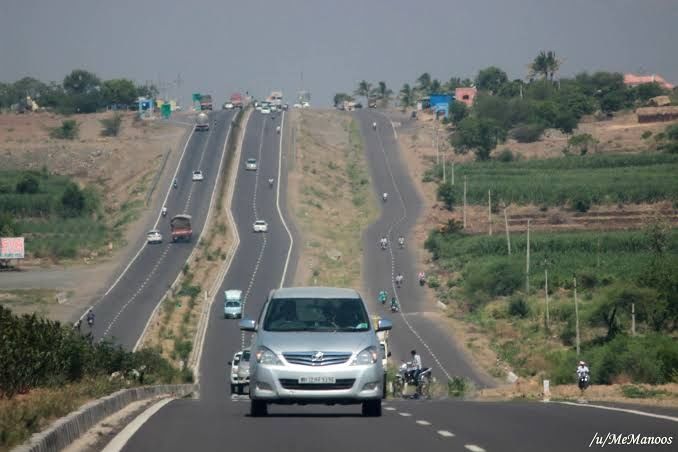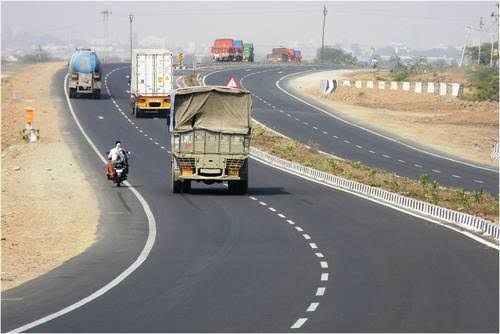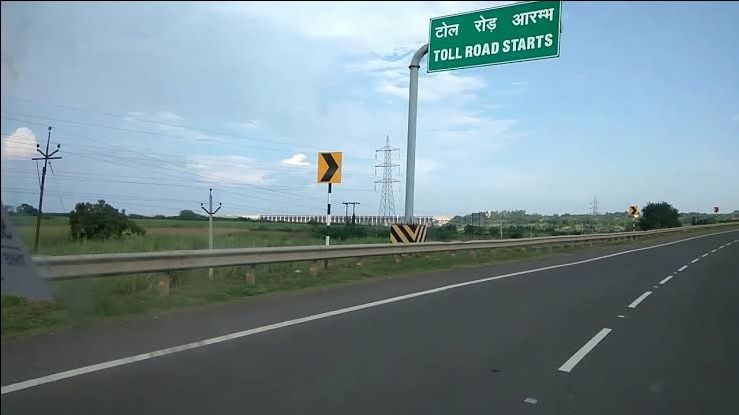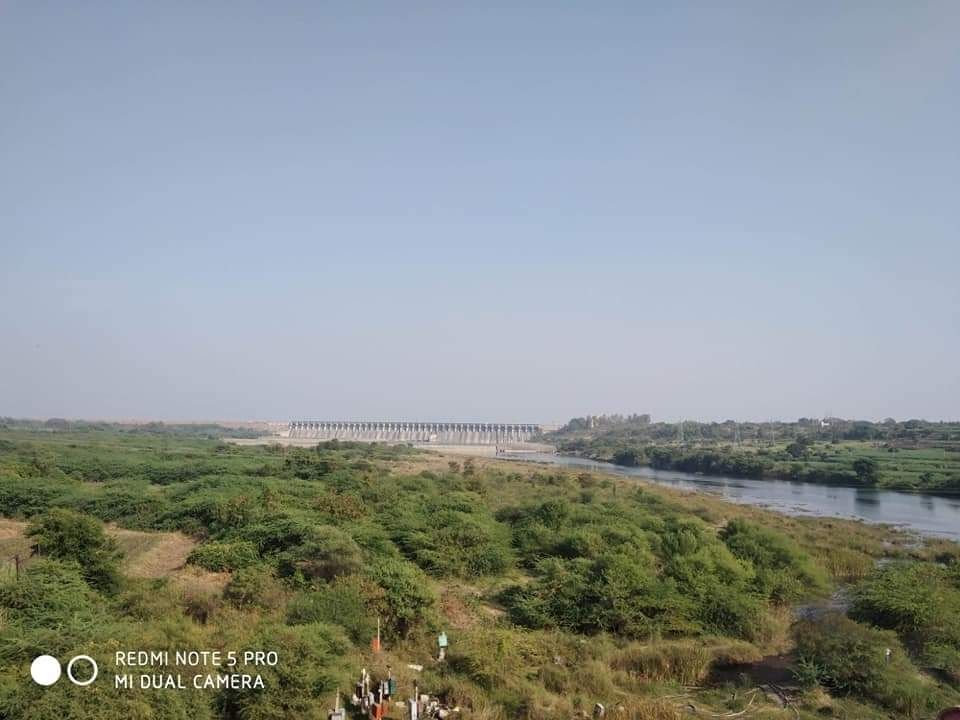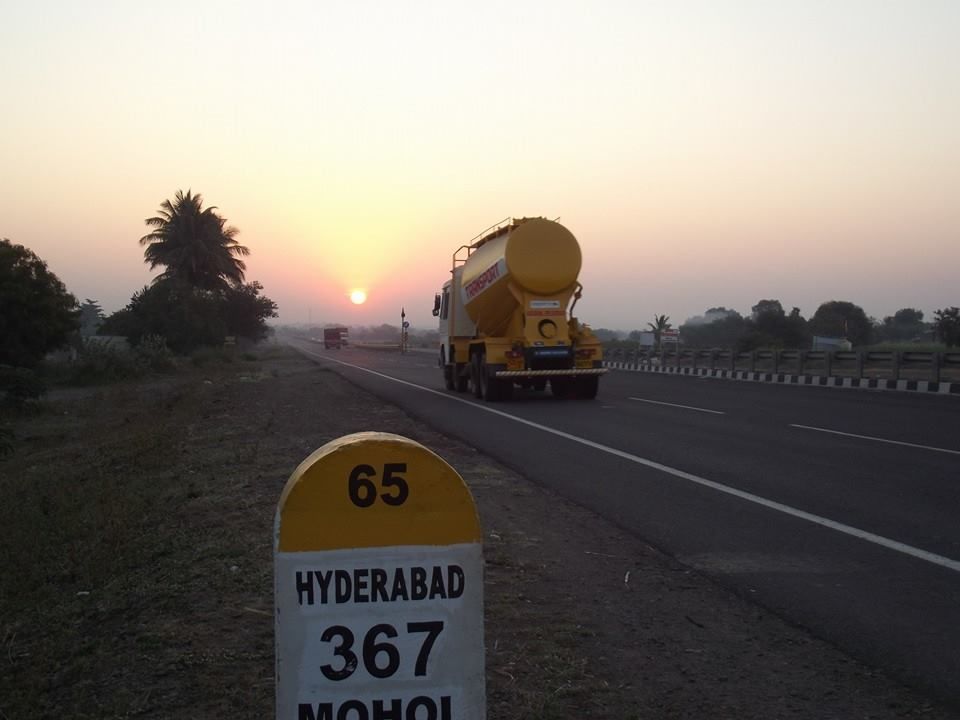 I woke up at around 7AM after a good sleep for 9 hours, all thanks to captain atharva. I was very relaxed and fresh, the previous days 250km drive gave me some confidence. I had to drive 330 km to reach venky's home in Hyderabad. I have all day for that so no hurry... I started at around 9 am crossed solapur city at around 10am. Here starts the most horrible 100km journey of the entire 1400 km ride. I cannot say that the roads were bad because there were actually no roads.????It was a single lane road and heavy vehicles where comming from the opposite direction.I was finding it difficult to keep my speed above 40Kmph as the bike would just dance up and down.That 100km took me a good 3: 45 minutes time with short photo session breaks in between.
At times I stopped my bike and literally sat on the road side and thought of going back. But then it was a fight over my mind with body and decided to go ahead....
This is one of the busiest highways as far as trucks are concerned and believe me I have not seen so many trucks on a open highway in India. Approximately 20-30 trucks every km.
About 50km from Solapur, I reached a place called Naldurg which has a beautiful fort next to the road. Stopped by to click pics.
After another 60 to70km, I passed a huge weighing station for trucks and after that the roads improved drastically. I immediately got a feeling that this is Karnataka man! Yeah…..superb roads….
The Karnataka border appears twice as you will enter Telangana and yes…..roads in Telangana are a breeze at par with Karnataka highways……
After entering Telangana and few kms after Zaheerabad, I stopped for a water break.
I touched Hyderabad, Patancheru by 1:30PM and was excited to reach home another 25km but the traffic killed me. It took me 1 more hour to complete that and BHEL crossing was a nightmare with slow moving traffic.
Finally I reached venkys home in lingampally at around 2:30 PM.By the time I reched every one else( sasank, venkey, bavagadu, gonti, uday) are present and waiting to have lunch. We had proper andhra nonveg meal cooked by venky and bavagadu. Food was delicious. Latter had a power nap and in the evening suresh joined us.
We all gathered there because our beloved friend came from US. The plan was to have dinner together at shah ghouse gachibowli. I was supposed to reach there the night before but then I explained you about the Nightmare which forced the delay????.
That evening everyone dispersed with ther individual appointments????. Suresh accompanied me till chandanagar where I met my distinct cousin Prudhvi raj. We haven't met since years. We talked about so many things. He suggested me an exciting route to visakhapatnam.
kammam-upperseleru-lowerseleru-lambasangi-chodavaram-visakapatnam. This route would take me along the beautiful eastern ghats. I was really excited to do that. He arranged me a night stay at his friends place in the upper seleru camp site area but then destiny has a different route for me????. Letter at around 10PM we all met at shah ghouse gachibowli according to the plan. We had good chicken dum biryani along with few other nonveg starters. It was sasanks treat(US guy) ????. We reached home at around 1AM after a heavy dinner. Next morning we have a plan to go to chilukuru balaji temple and I was supposed to leave for Visakhapatnam the day after.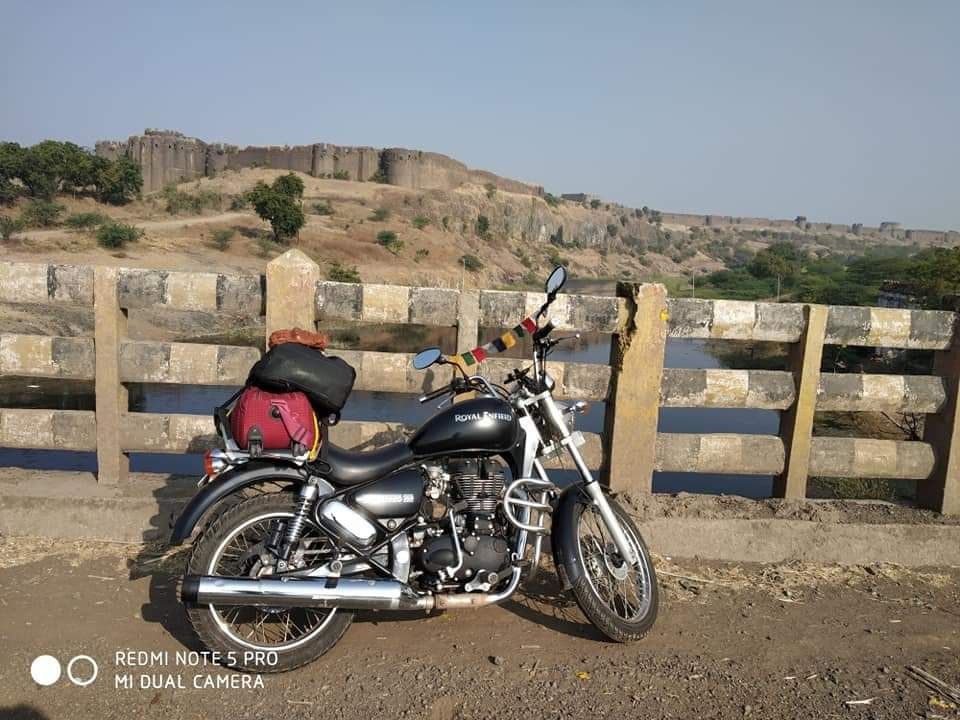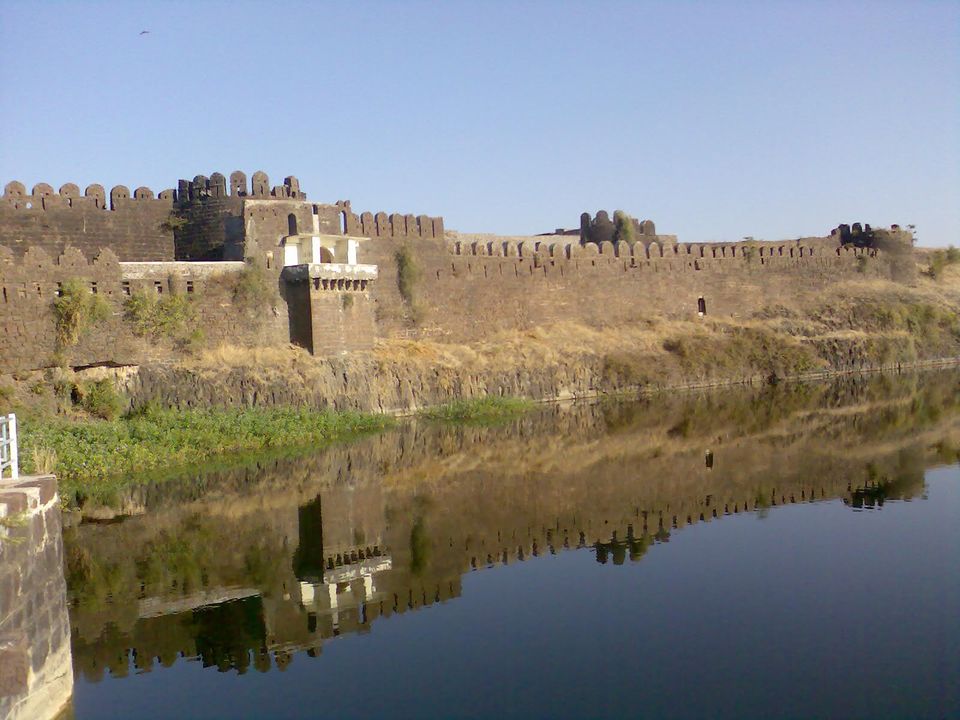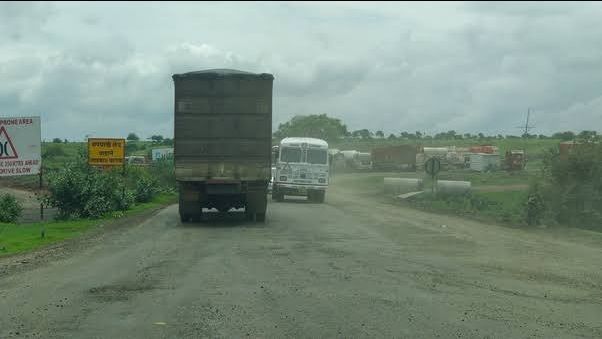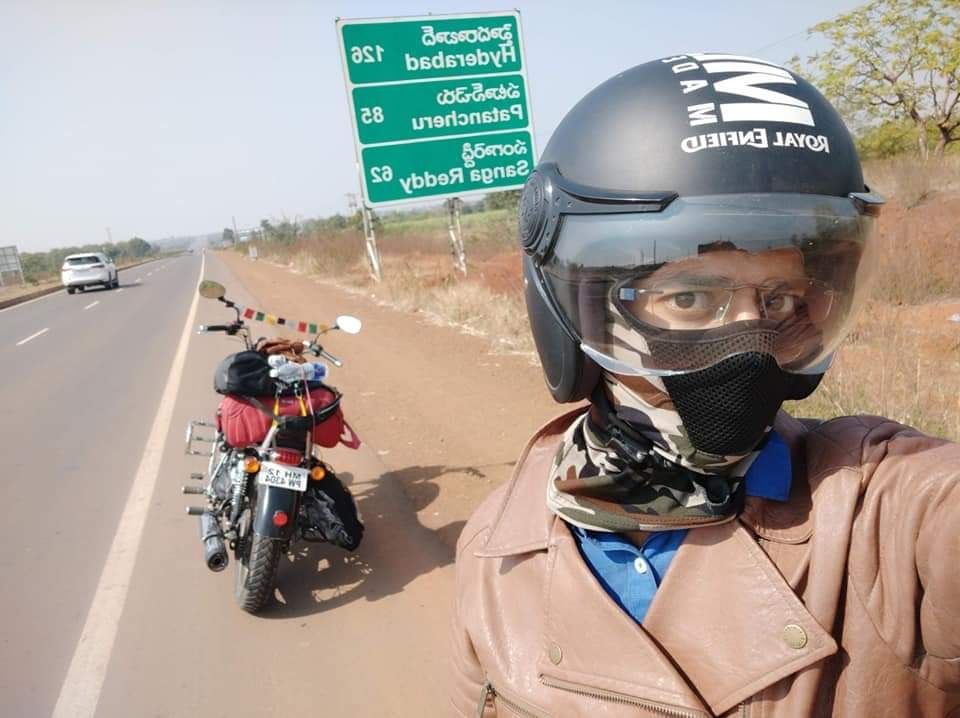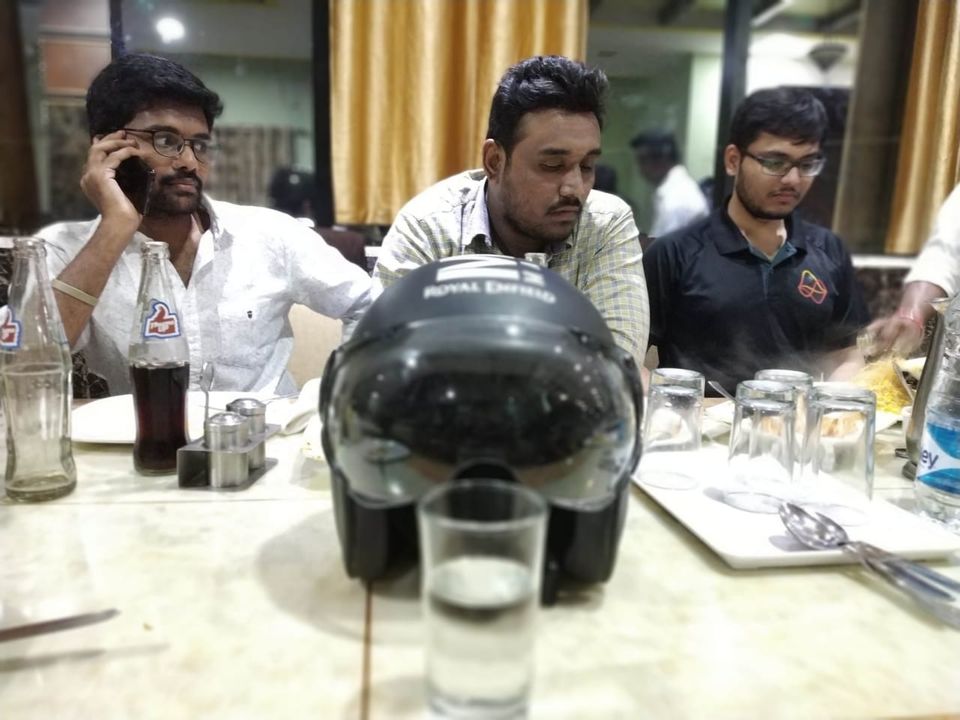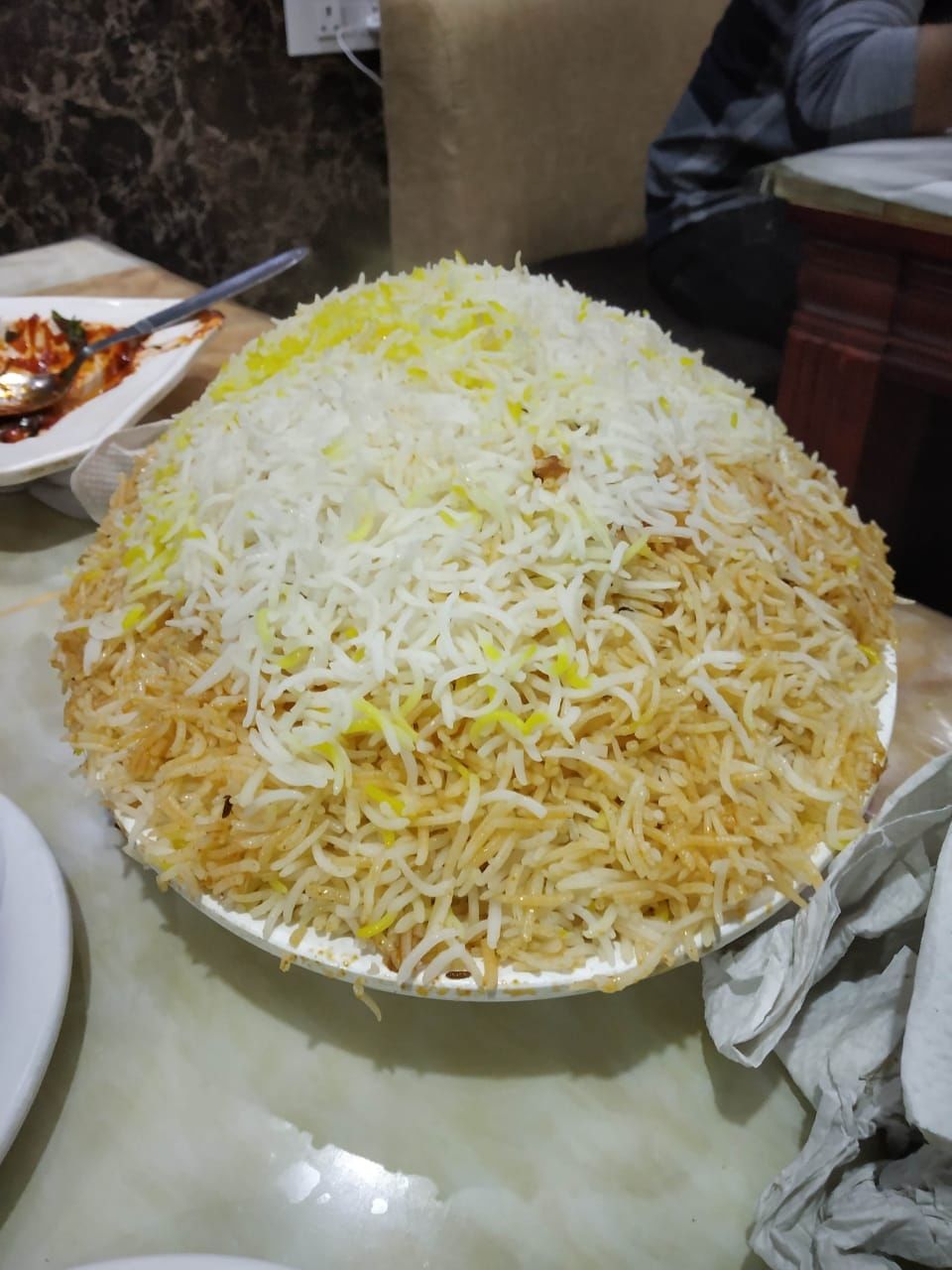 Previous night we slept very late so woke up around 9AM. Every one was getting ready to go to chilkuru balaji temple. I was in dilemma, two plans where running in my mind. PlanA: go to chilkuru balaji temple and travel to upper seleru the next morning and stay there for that night and travel to visakhapatnam the day after. Plan B to leave for Visakhapatnam via Vijayawada straight away. As it was already day 3 in my bike journey i was getting restless and also according to google the temperature in the seleru route in places like seleru, lambasangi and chintapalli are really low,as low as 2-3 degrees. I never experienced such low temperatures before. So I couldn't take chance riding in that route, I decided to go with plan B.On the other hand I knew that the road via Vijayawada is a cake walk once you cross the city traffic.
I started on my bike from university road in lingampally at 10AM, fully draped in with the riding gear. By the time i reached Ramoji film city main gate, I was completely drained,courtesy busy city traffic. After a snarl-up ride of 40 kms, I reached the Vijayawada highway before lb nagar at around 12PM. I had a fuel break and moved ahead. I was really hungry as I didn't have my breakfast, I stoped by a dhaba on the highway around 250km from Vijayawada.I had proper andhra meal this time.Food was served late but it was really tasty.Once you touch the highway there are countless number of dhabas.
I got on to my bike at around 1: 30 PM. oh man....this road is a breeze till Vijayawada.Four lanes all the way, Countless fuel pumps, You will get lots of dhabhas and the roads are well mentained. I could easily cruse at 90-100KMPH speeds nonstop till Vijayawada. maneuvering on this road was great fun. I really enjoyed that phase of my bike journey,courtesy cold winter breez. Within no time I reached Vijayawada (around 5pm).
After entering Andhra Padesh and 30KM from Vijayawada, I had a water break.
It was around 6 PM and I was crossing the bridge on Krishna River to enter Vijayawada. A beautiful red and golden sun was going down below the horizon. I stopped my bike to enjoy the spectacular sunset. Entire surrounding was looking reddish and mystic with twilight sun. The bridge was busy with huge traffic. I suspected nobody was noticing this pleasant scene except me.
Evening sunlight was fading quickly with city lights looked bright in the darkness. My Google map changed to glowing night colors.There were number of traffic signals to negotiate, with vehicles moving at snail speed. I had to spent nearly an hour to cross it. My dinner destination Rajahmundry was still 185 Kms away.
Road condition deteriorated after Vijayawada and continued almost upto Rajahmundry. There were number of potholes, some of them big enough to damage my bike if not negotiated properly, particular during night ride on bike without the projctor lights.the head light of my Thunderbird was good, but not good enough to do a night ride on a road with lots of potholes.I wanted to reach Rajahmundry quickly, but had no other alternative but to be slow and careful. The experince of 100KM ride from solapur till wadi on extremely bad roads really helped me here.
If you check the route map from Vijayawada to Rajahmundry, you will find that i traveled from the banks of one major river (krishna)to the banks of another mighty river (godavari)(both originating from Maharashtra)covering a distance of 190 kms on the NH5.
when I reached rajahmundry it was around 9.30 PM. I was really hungry, I got into a random dhaba and orderd for a chicken mughlai biryani. As soon as I took off my riding gear I was shivering, it was that cold.
After an hour dinner break in decided to hit the highway again. It was around 10: 30 PM in the night and my final destination for the day Annavaram is another 77KM away.
This road was less patchy and I could reach annavaram at around 11: 30PM. I checked into shree Mahalakshmi Lodge for the night stay.By then I was really tired so slept the very movement I checked into my room.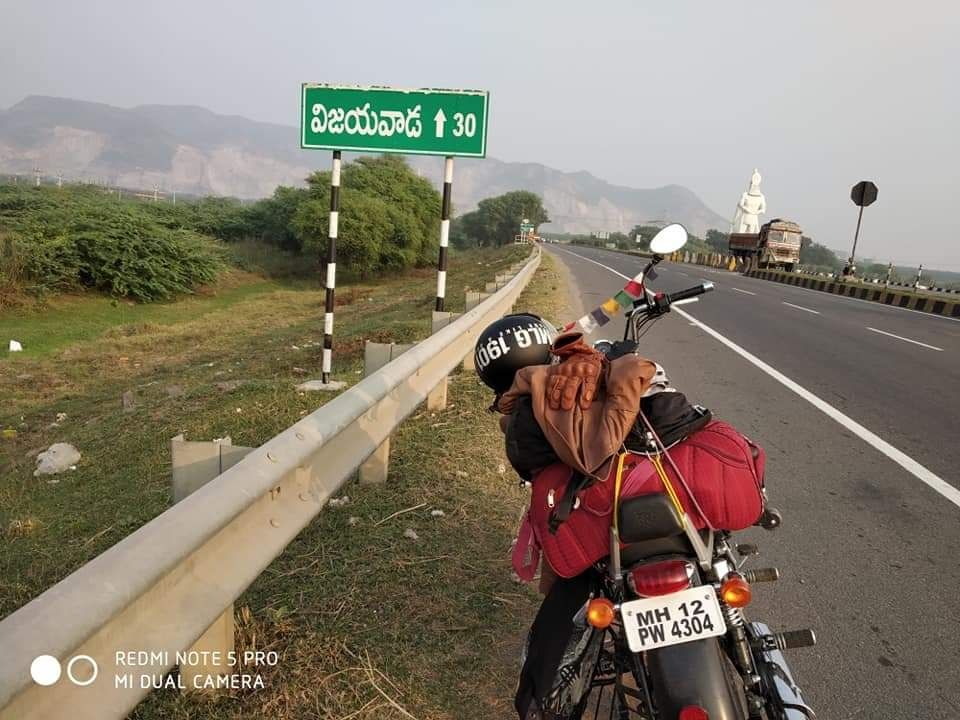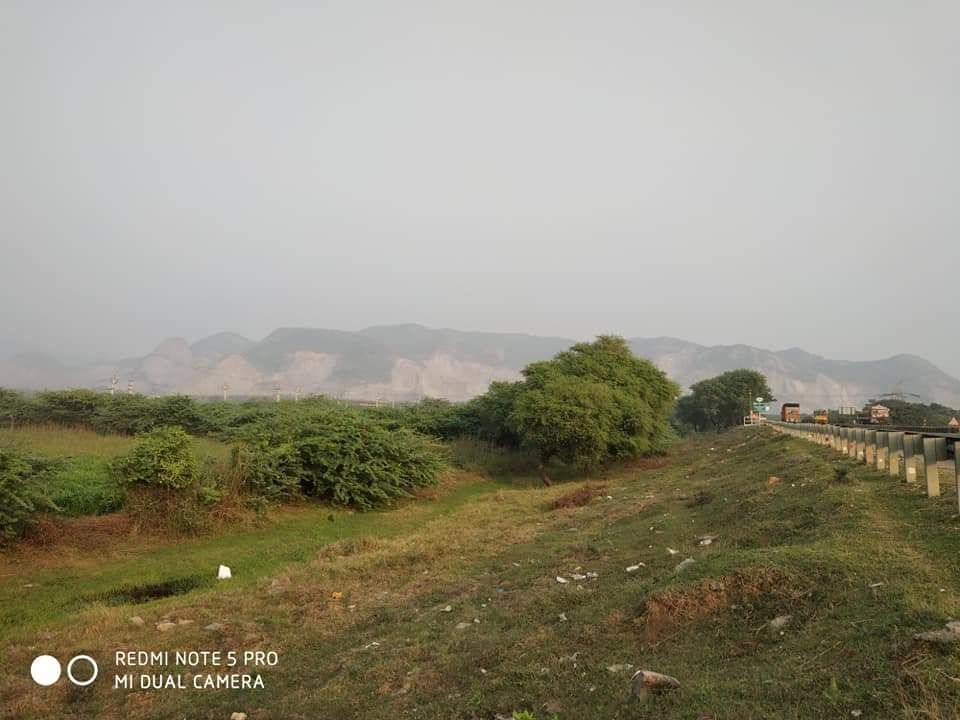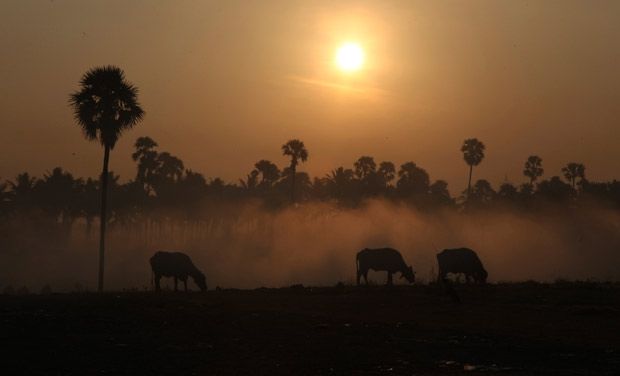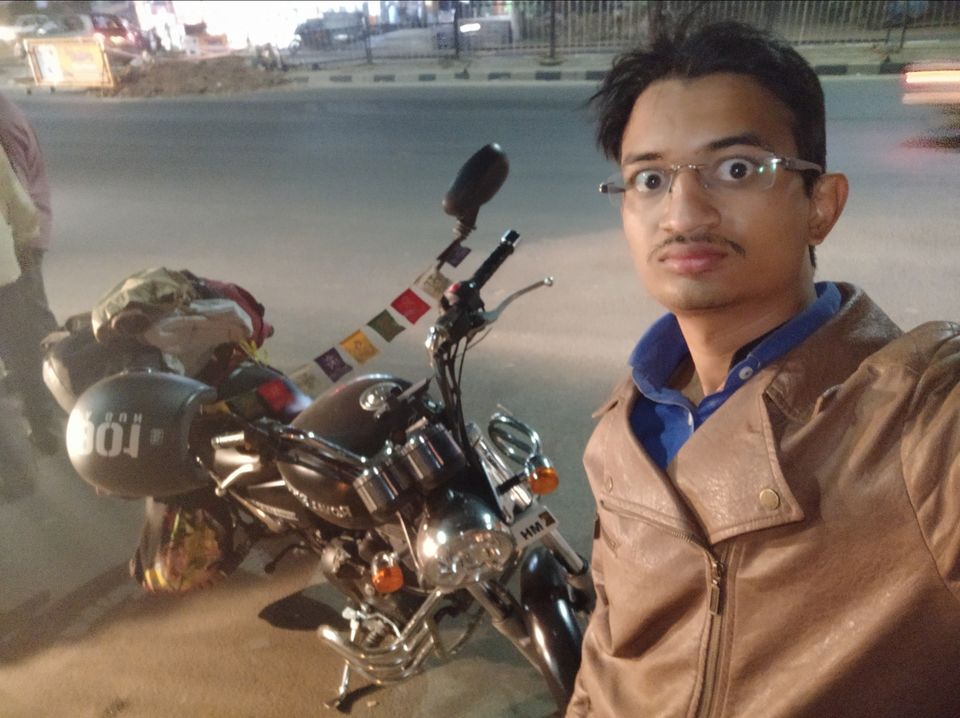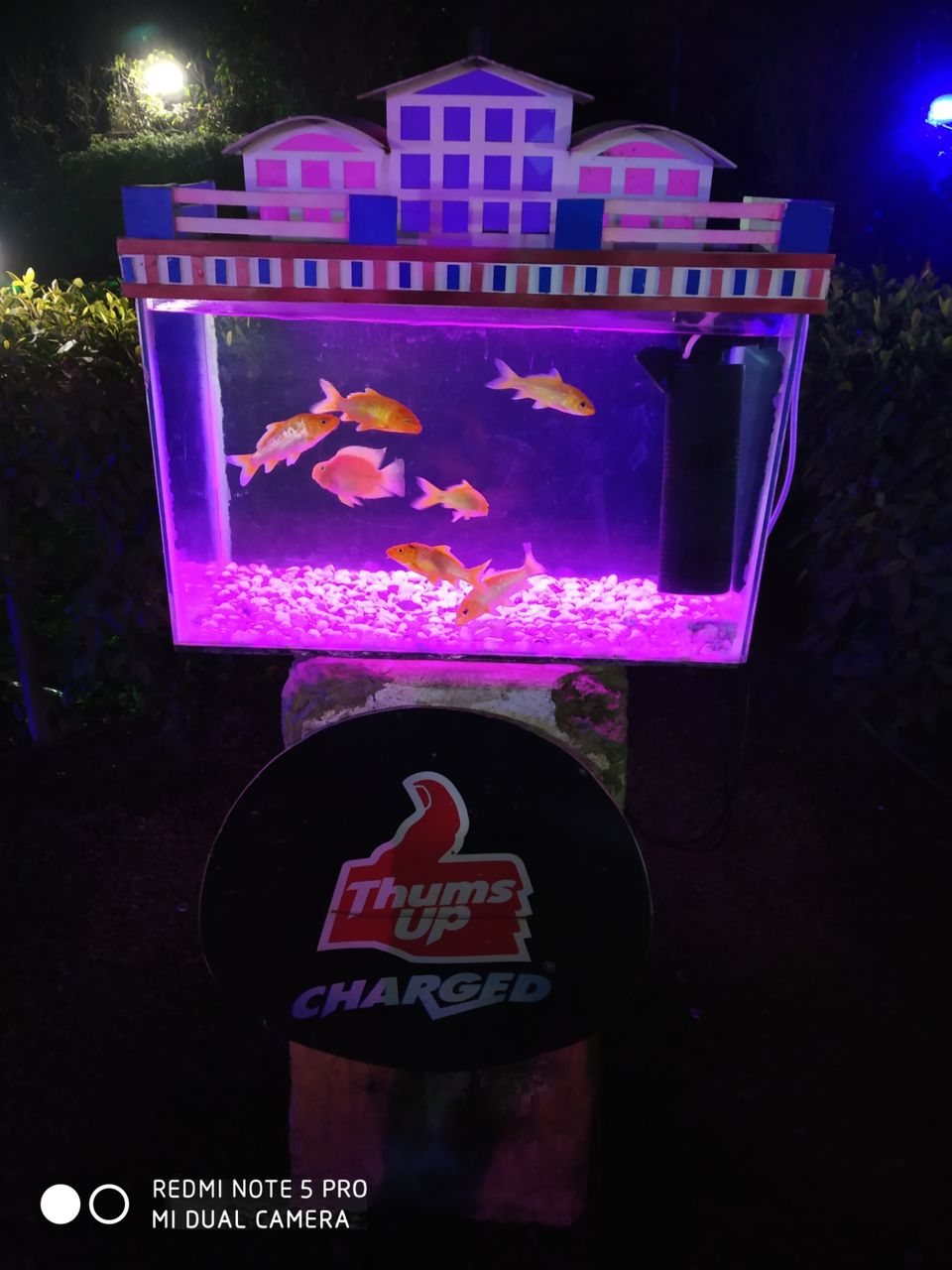 Annavaram is a temple town situated on the banks of the Pampa River in the East Godavari district of Andhra Pradesh. The diety in the temple are Sri Veera Venkata Satyanarayana Swamy and Goddess Anantalaxmi Satyavathi Ammavaru. The temple, situated on the hill top. This place is considered as second only to Tirupati in Andhra Pradesh.
The hill top offers a panoramic view of the surrounding fields and villages. A river water barrage with boating facility is near the main entrance of the hill. This place is called Pampa Sarovara.
I woke up to the early morning prayer songs from the temple.My first job was to Take a quick bath and rushed to the temple on my bike.View from the hill top is great. But the sun is yet to come, so I decided to head towards the temple for darshan. As it was early winter morning(5: 00AM) crowd was less and Darshan was great. Later I spent some time in the goshala. Oh God! View of the pampa river with the lush green hills in the background is Breathtaking. I clicked a few pictures and came back to my hotel room.
My final destination, City of Distiny is only 130 KM from here. I left the hotel room at around 7Am. Went to petrol pump and filled 300 rupees fuel ( Although it was not necessary). Milage of my RE was way too much than I expected. I had my breakfast at a hotel adjacent to the highway.
I was riding on the Visakhapatnam highway and this roads was a breeze at par with Karnataka and Telangana highways. It was really cold but I'm in my complete gear so I didn't had any problems.
I was nearing VIzag and the surroundings were blessed with splendid natural beauty. There were small and medium-sized hills all around. Most noteworthy was that, all the nearby and distant hills were green full of vegetation. There were greeneries all around, as if the almighty painted with different varieties of Green Color. I travelled threw national highways of many parts of Maharashtra many times. But mountains therein looked barren at many places and lush thick vegetation like here was not a common sight(after rainy season).
Entered vizag around 9AM but to reach my sisters home it took an hr due to a single highway cutting different sections of the city having signals at every junction.
Total km - 1400km Mileage - 35 kmpl+ Total days - 4 Total hour driven - 23hours (1 day)
Ending with few more random memoirs...