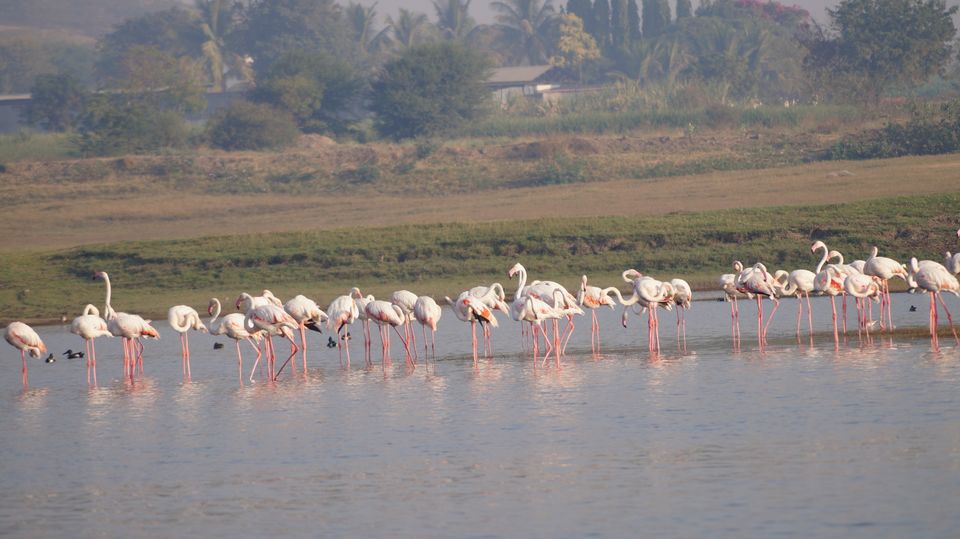 When God gives you lemons, make lemon juice for yourself, if there are chillies spread on your way, spice up your life and when there is a weekend to spend you must hit the road ! This time my biggest motivation to hit the wide open roads was to see the crack of dwan and greater flamingo in that backdrop, in the backwaters of ujani dam.
About Bhigwan Bird sanctuary:
Bhigwan, a catchment area of Ujani Dam, is about 105 km from Pune on the Pune-Solapur highway (NH-9). An area of about 18000 hectares has been proposed as a sanctuary for migratory birds. The water catchment area is spread across around the town of Bhigwan. It is an amazing place to see wetland migratory birds like Bar-Headed Goose, Greater Flamingo, Ruddy Shelduck, many spices of ducks and many more birds.
To reach Diksal village (near Bhigwan), the easy way is Pune – Hadapsar – Solapur highway – ride 100km from Pune on Highway – Do not use Bhigwan flyover – Take a left at Bhigwan square on the highway – Drive 3 to 3.5km – Take right for sanctuary.
You can spend half day or full day along with your camera, having binoculars would be great advantage. More than 30 bird's species can be found in this backwater.
People who joined me for this trip are my office coleague Rakesh and 4 of his other college friends.
17h feb 2019: Bhigwan Bird sanctuary (total distance covered):
As we had to cover around 105-110km so we decided to left Pune by 4:30AM and we managed to leave on time. Soon we touched Solapur highway. I know that this road is a breeze from here as I have done my pune Visakhapatnam road trip via the same road last month. We could reach bhigwan in less than 2and hald hours with a small tea break somewhere near bharamathi. We all were excited to see migratory birds.
region.
I always wondered how flamingos look in real life and when I came to know about Bhigwan Bird Sanctuary I planned to visit it. I decided to drive long with my other 5 friends on bikes (Bajaj Avenger,Fz, fazer) which took us 3 hrs from Pune to reach Kumbhargaon. The road condition is really good just a small bad patch between Solapur highway and Kumbhargaon.
Kumbhargaon Bird Sanctuary is the main stop for wonderful water birds such as Flamingos, Grey Heron, Painted stork, Brown Headed Gull, Red-naped Ibis, Little Ringed Plover and Osprey fish eating bird of prey. There are two areas where one can see the migratory water birds:
Diksal area
Kumbharwadi area.
1) To reach Diksal, reach Solapur end of Bhigwan town. Take left (if you are travelling from Pune) before the River Bridge. The road goes to Karmala/ Diksal. At end of the bridge, where fishermen have set up a small roadside village. From here, one can hire a small fishing boat to locate exotic species.


Once we reached Kumbhargaon, we got to capture the sun rise. Latter we hired a small fishing boat of 8-10 seat capacity for 800rs. The boatmen was very well conversant of the birds there and guided us with all the details. They also have a very good network who share information about the exact location of the birds and take you to the nearest possible point to the migrants.