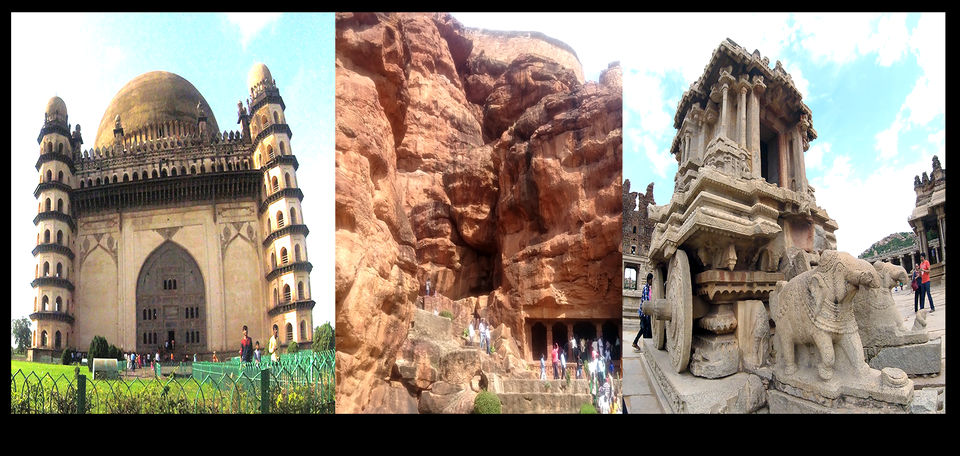 It was Friday, 12th August when I decided to go on this road trip of 1000 years of Indian golden medieval age on my motorcycle alone. I packed only required things in the bag( two t-shirts, one lower and one water bottle and some electronic gadgets too! ). It was raining in Pune, So I had to wear rain jacket too when I left from Pune. It was almost 2:30 am in the morning of 13th August when I was inspecting my motorcycle even for minor issues as it was my only companion for the next three days. I cleaned the chain and lubricated it as it was making sound last night. I had already checked the air pressure last night itself. I was set to go.
Day 1, August 13: Bijapur(17th century AD)
At 3 o'clock in the morning, I started my journey. No sooner did I started my motorcycle than I was thrilled by the moment that I was really going to make it happen alone. I started from Pune and my first stop was Bijapur. I had always been fascinating about the Gol Gumbaj ever since I had read about it in history books during my school days. I took the Pune-Hyderabad highway till Solapur.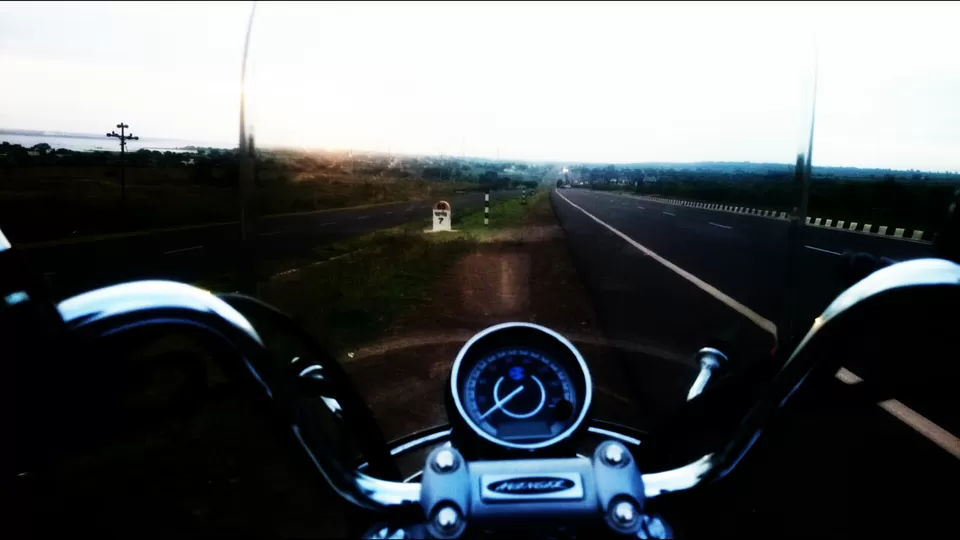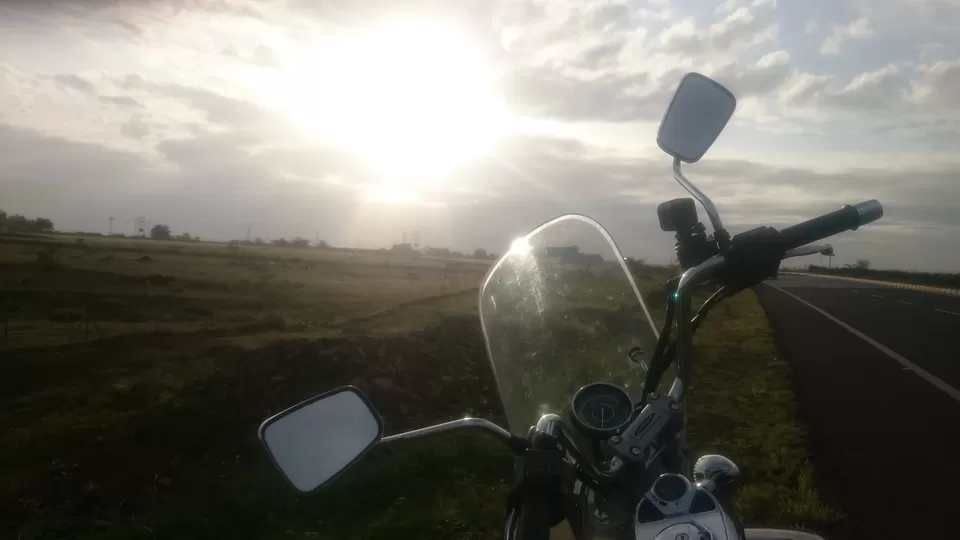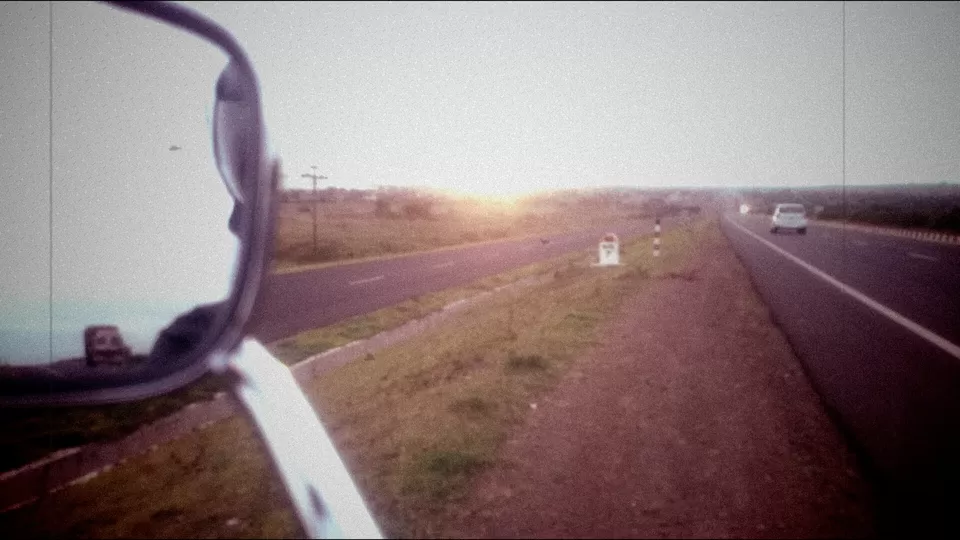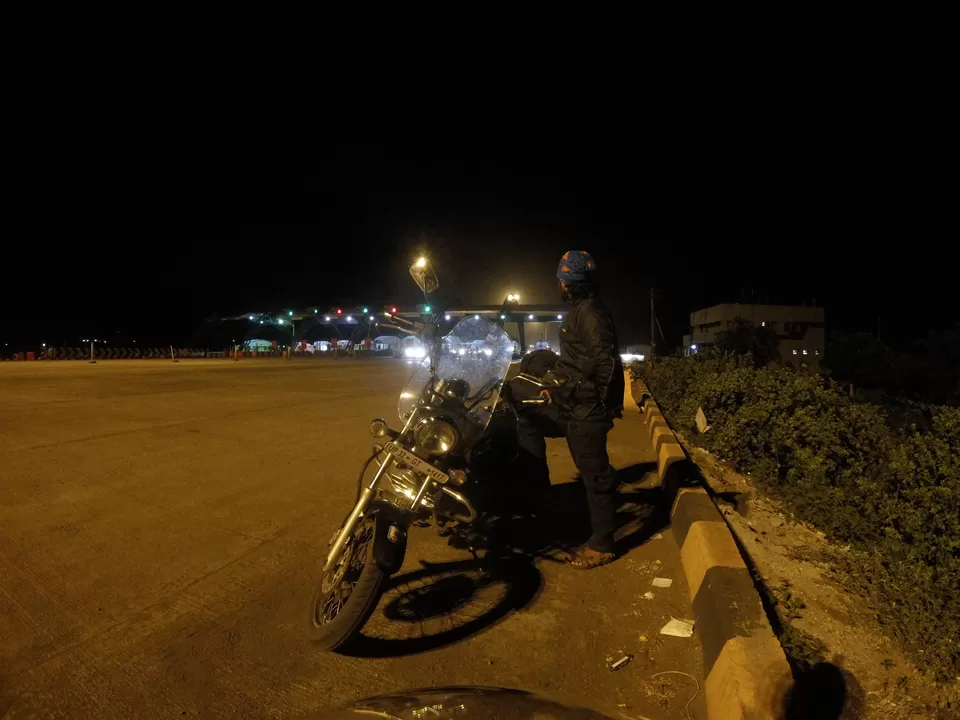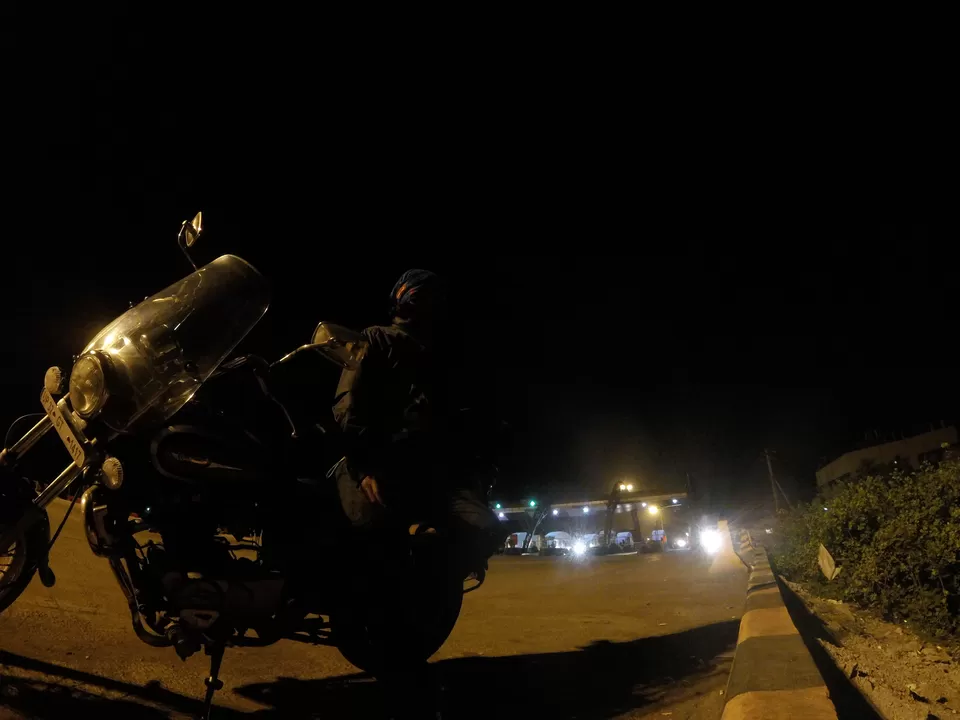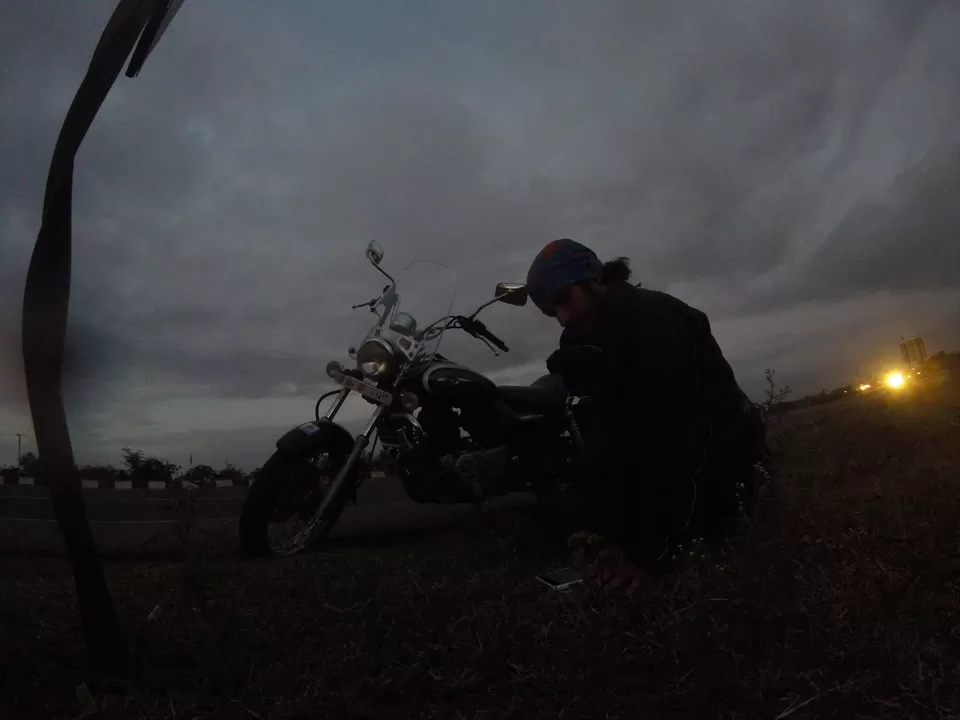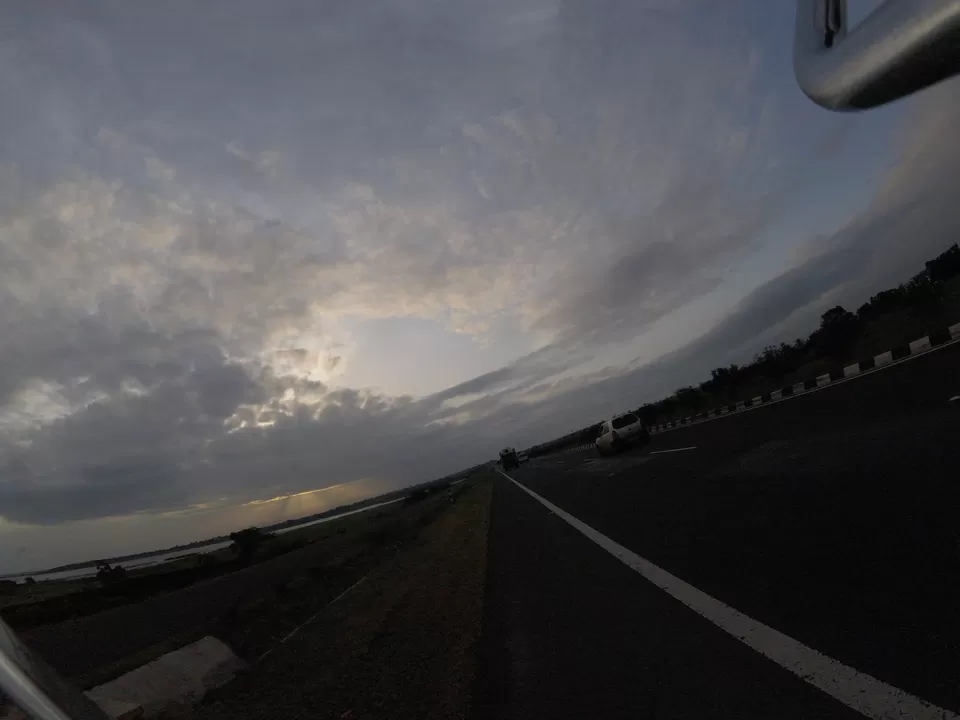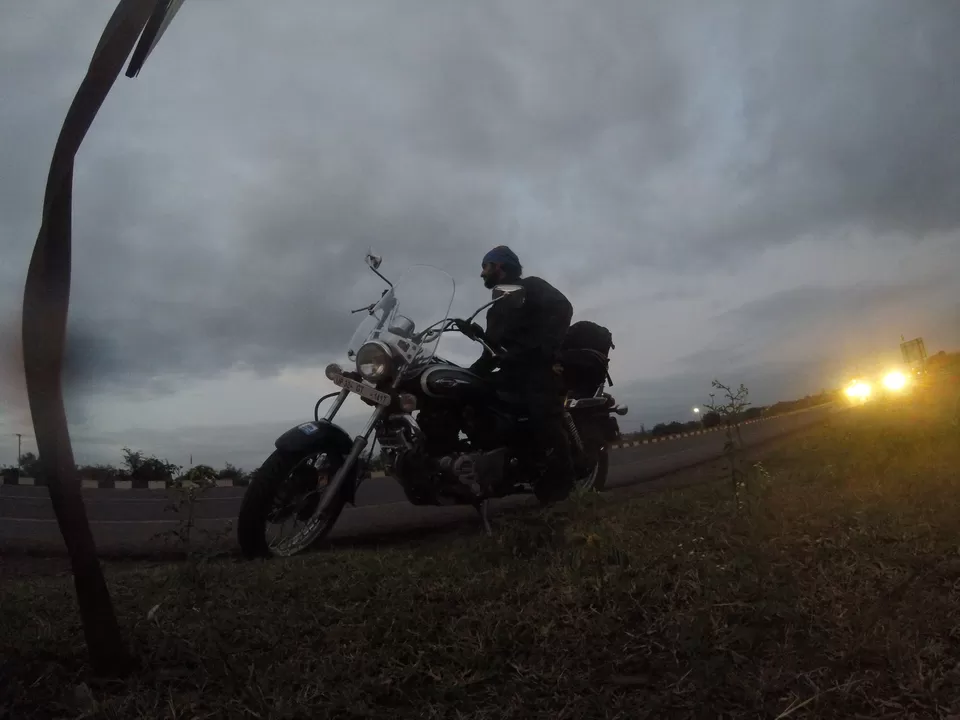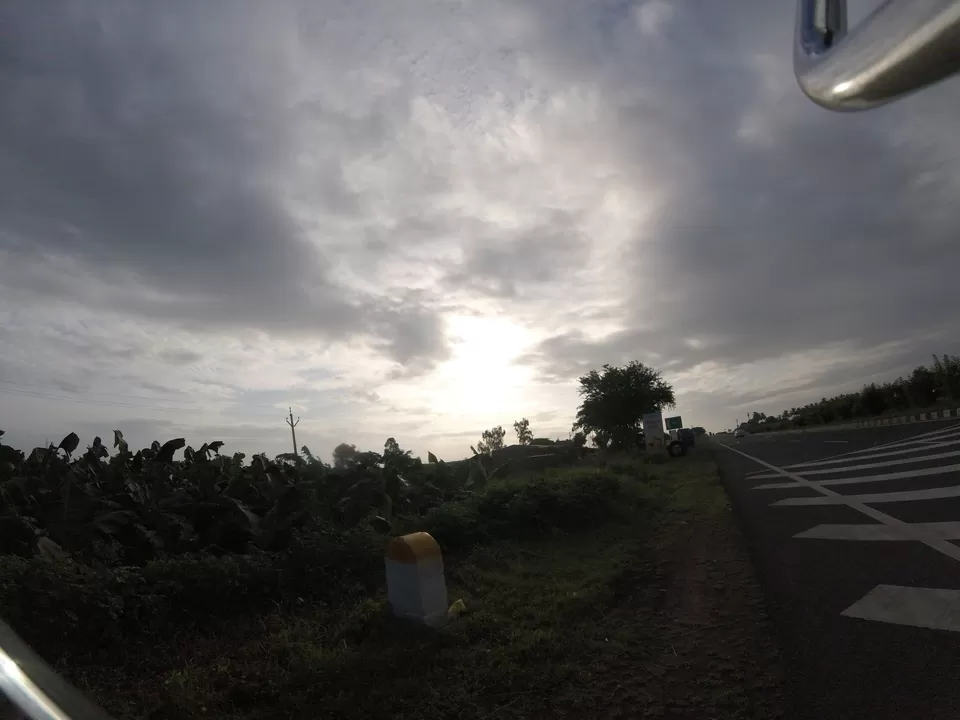 After Solapur, I crossed the inter-state border of Maharashtra and Karnataka. I left the Pune-Hyderabad highway and took Solapur-Bijapur Highway. It was a two lane road and full of trucks as this is the main route for trucks going from Bangalore to Delhi. The most horrible thing is that in 2 lane roads trucks drivers drive as if they are the kings of the roads. While overtaking other vehicle, they don't consider the vehicle coming from the other side and motorcycles are almost negligible for them as if roads are not built for us. Every time a four wheeler was overtaking, I had to take my motorcycle away from the concrete road. It was almost 11 am when I stopped at a dhaba to have food.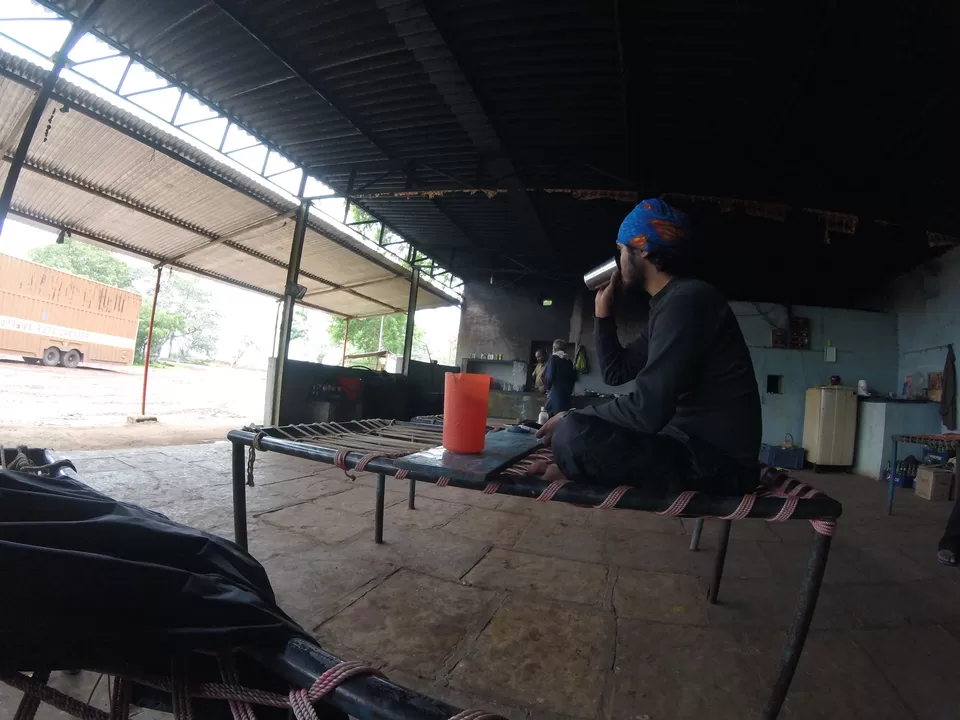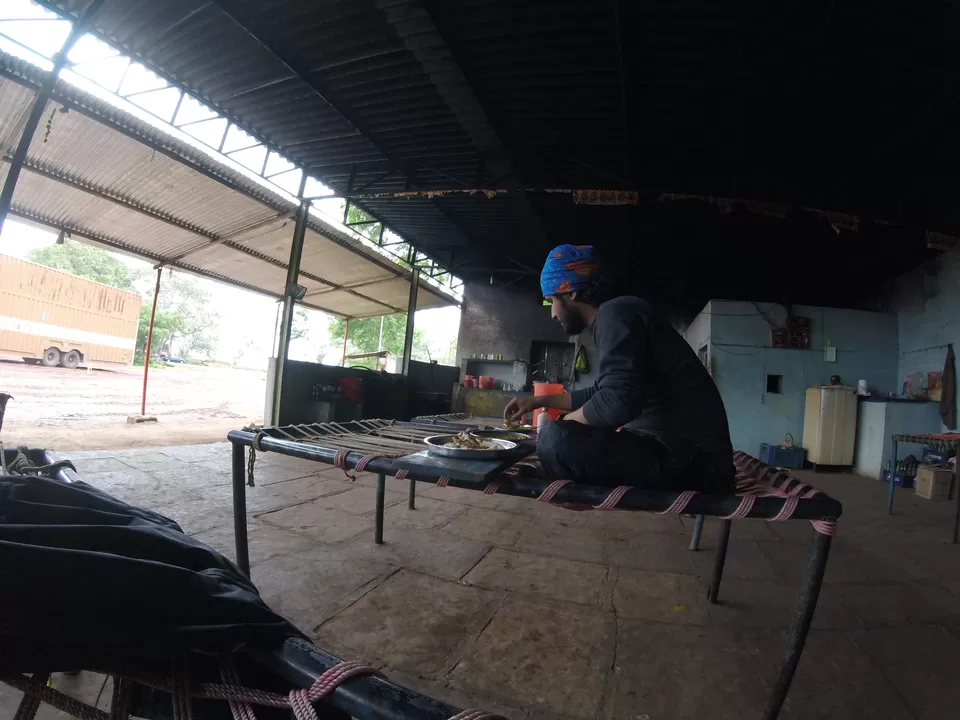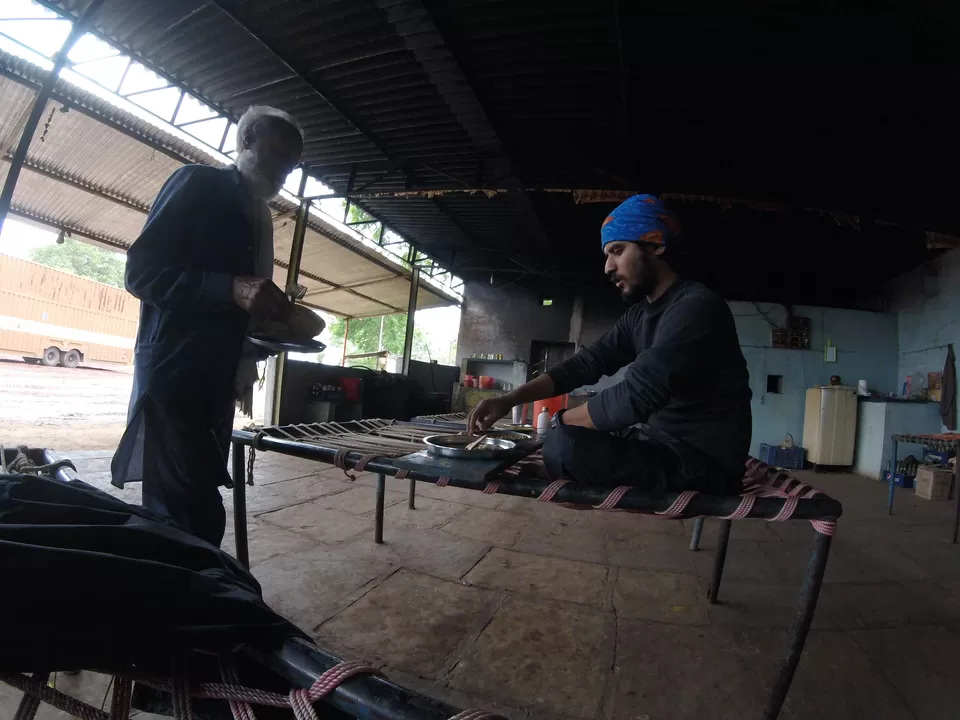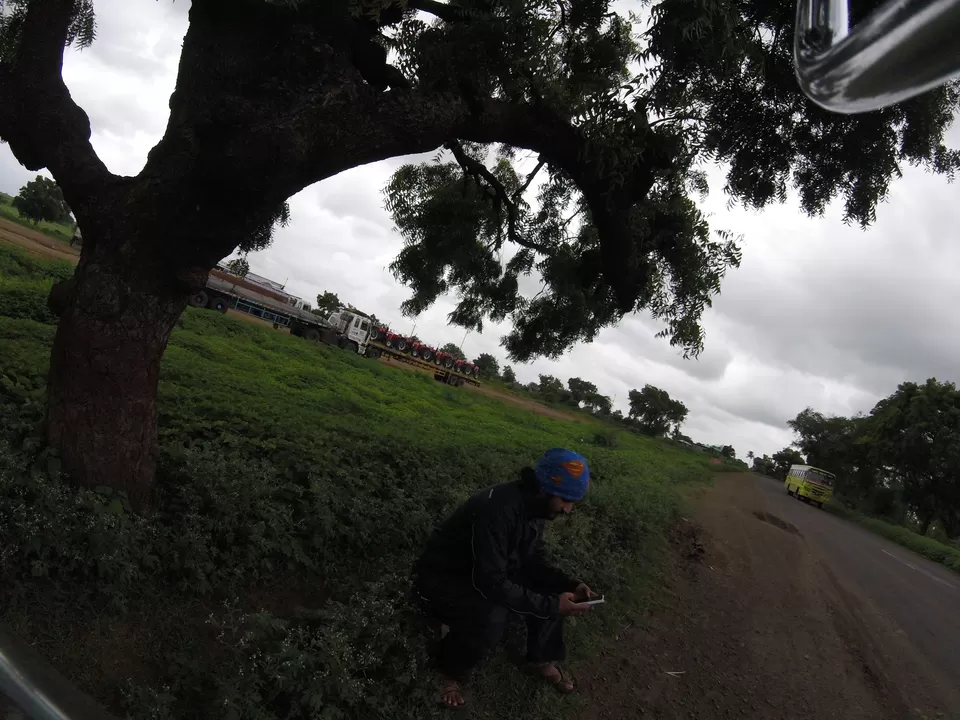 I booked a hotel in Bijapur when I was sitting below that tree. Most of the time I booked the hotel when I was about to reach the place as it gives me the flexibility where to stay at. I reached Bijapur and checked in the hotel at 12:30 pm afternoon. I was too tired to visit Bijapur and decided to take rest for 2 hours as I was riding motorcycle for almost 10 hours. I had a great sleep for those two hours. I woke up at 2:30. Then I decided to visit Bijapur city.
My hotel was on the solapur road near the solapur -bijapur highway. So, I took highway again for Gol Gumbaz. It was approx 10 km from my hotel. One can see the Gol Gumbaj from the highway itself. It was really a big and splendid sight.I was getting more excited as I was going nearer to the dome. Only for history lovers: Gol Gumbaz is the largest Gumbad(dome) in the India. It is also the mausoleum of Muhammad adil shah of Bijapur. It is the finest example of the architecture of Adil shahi dynasty.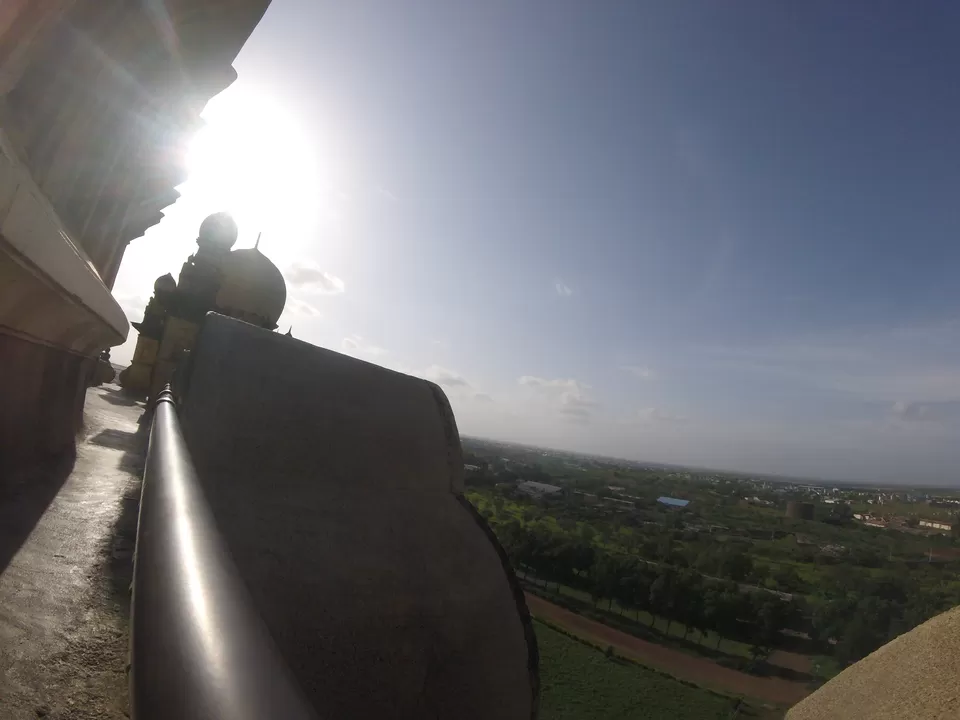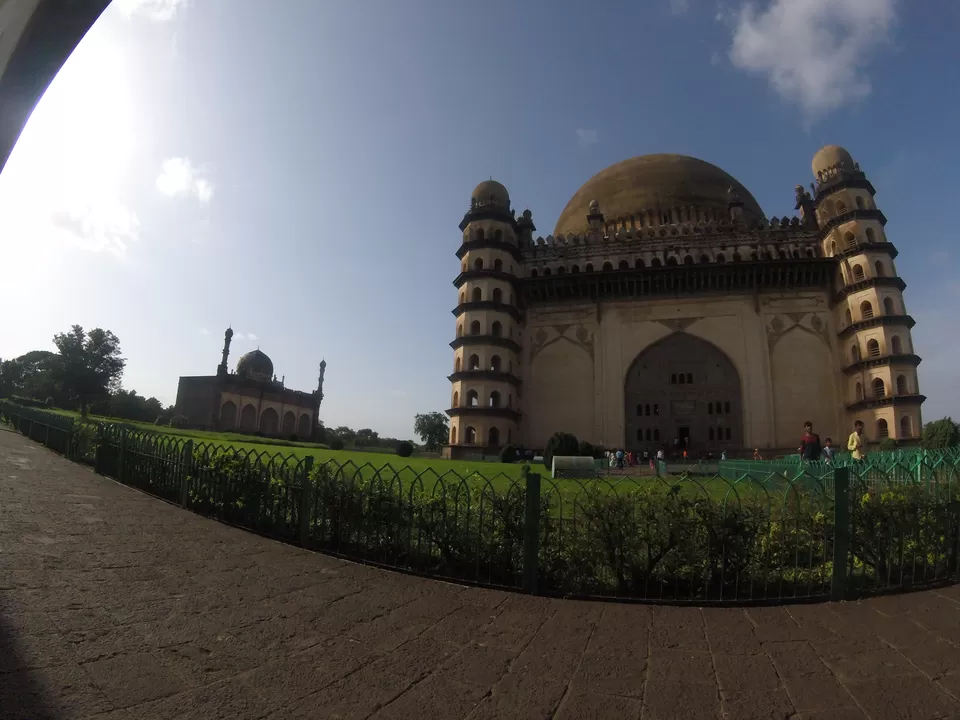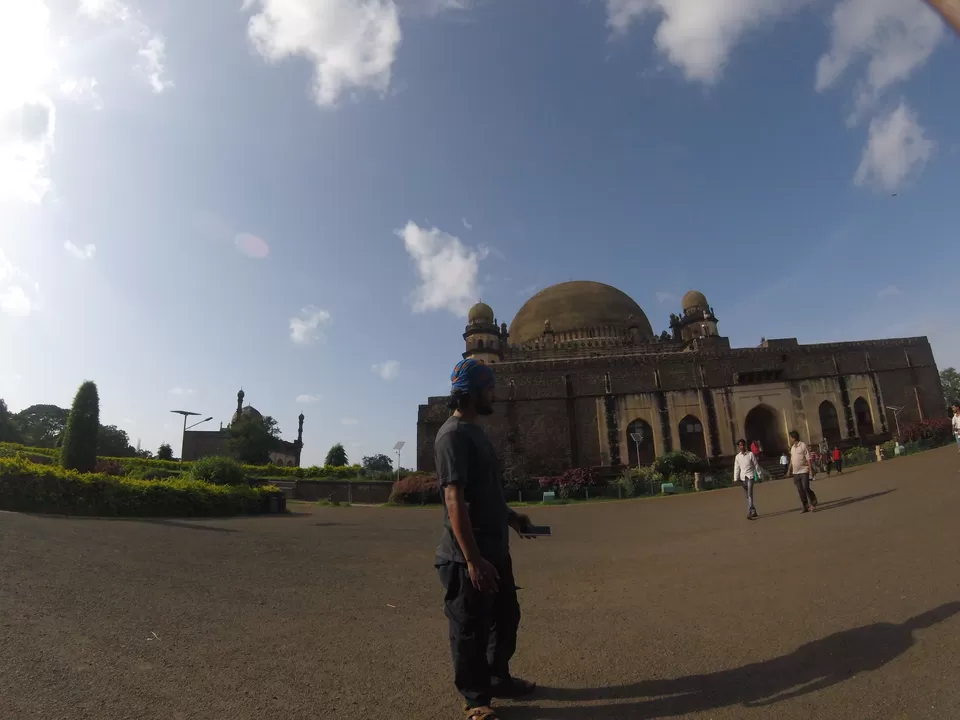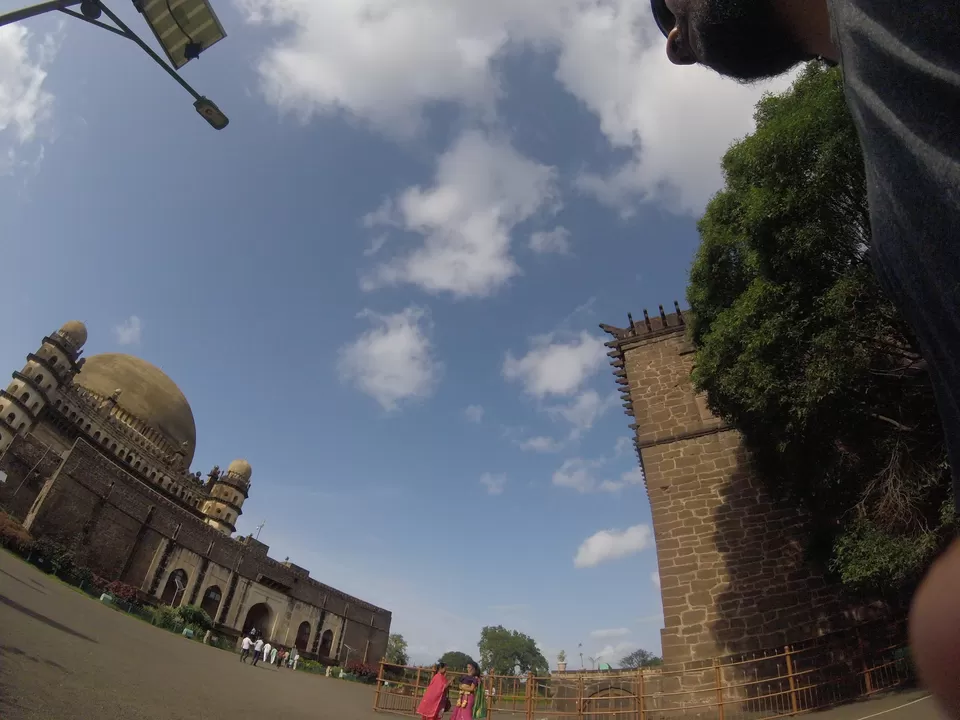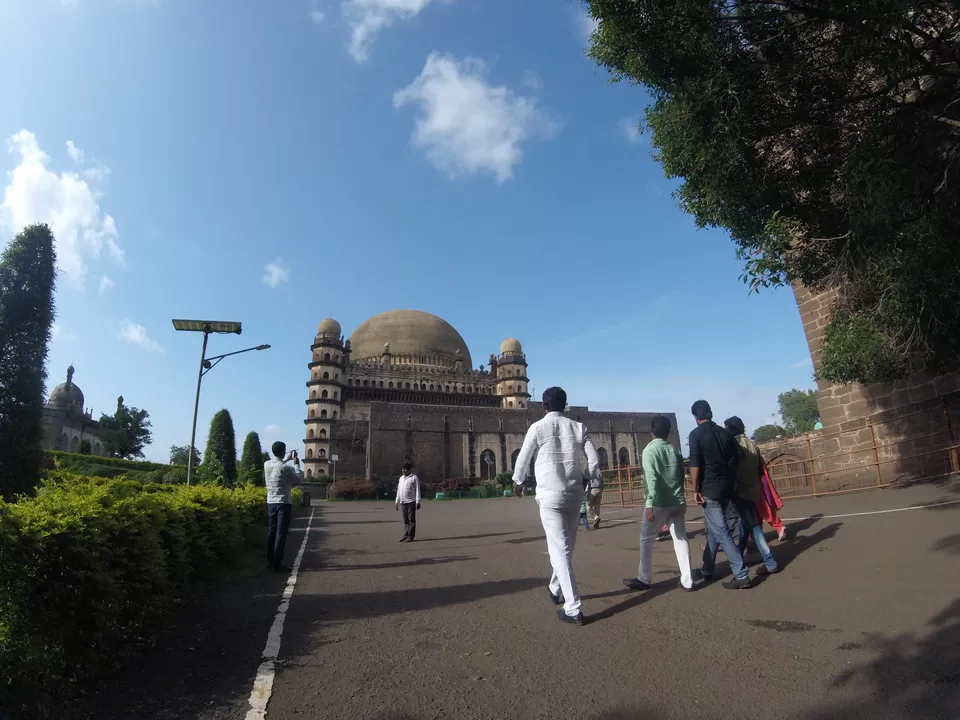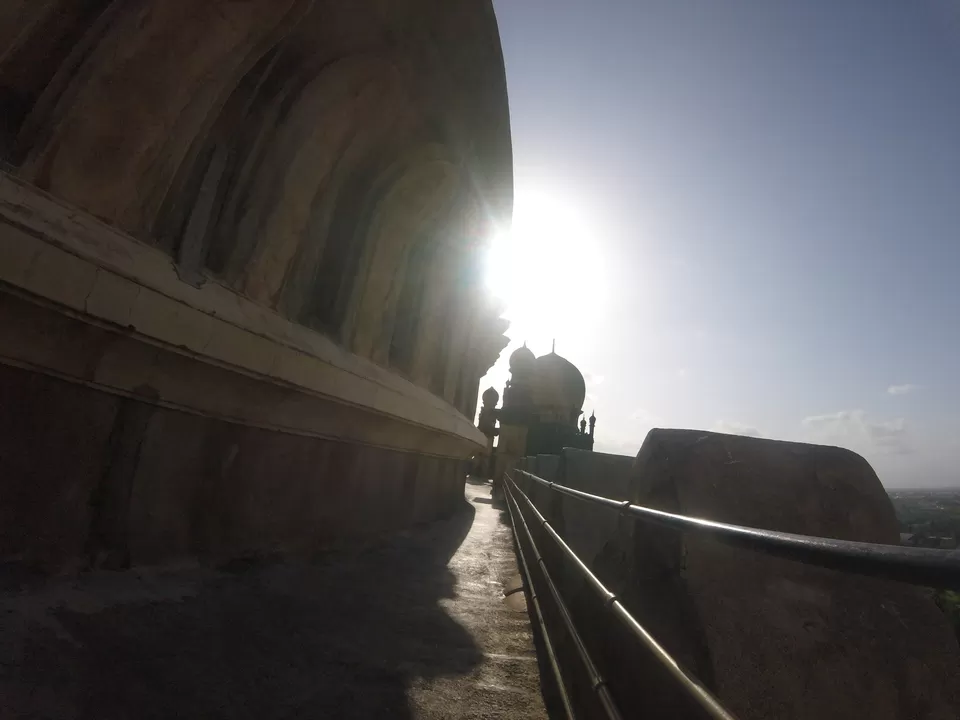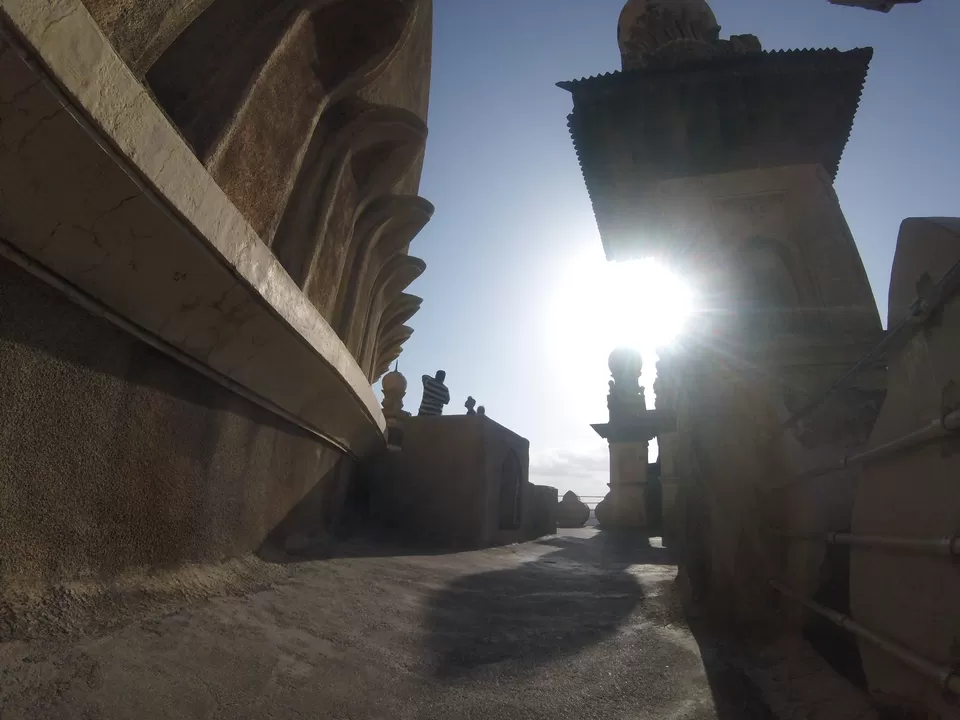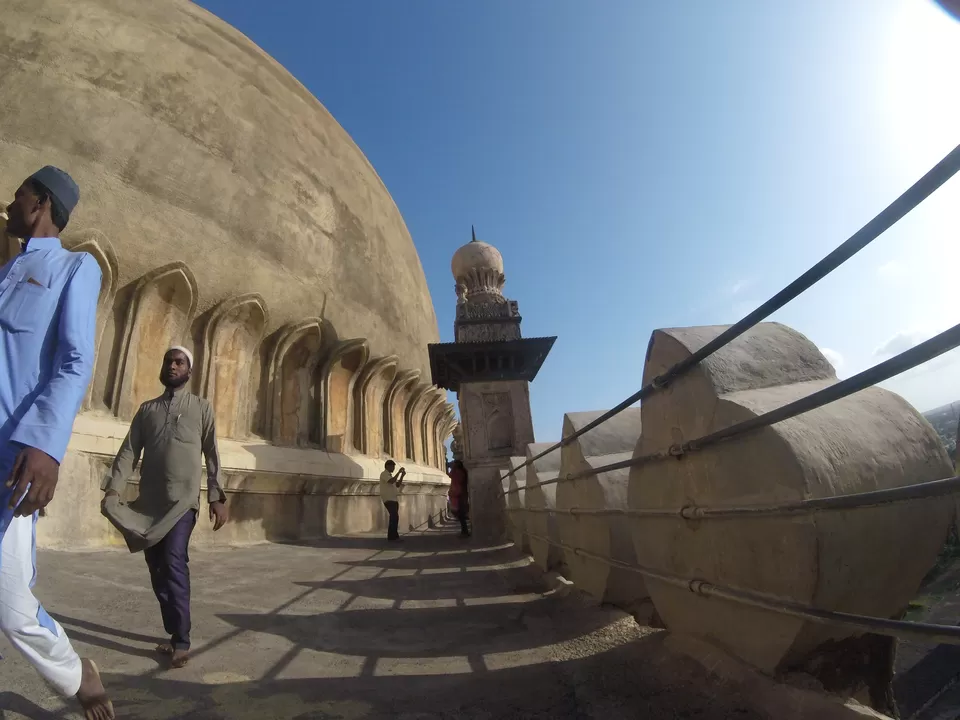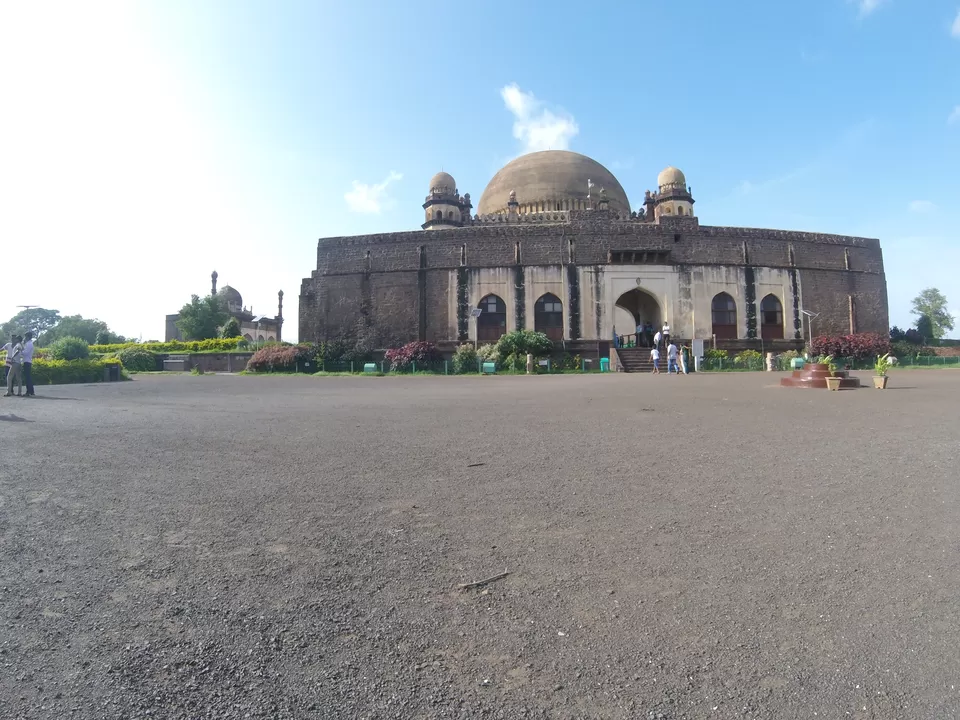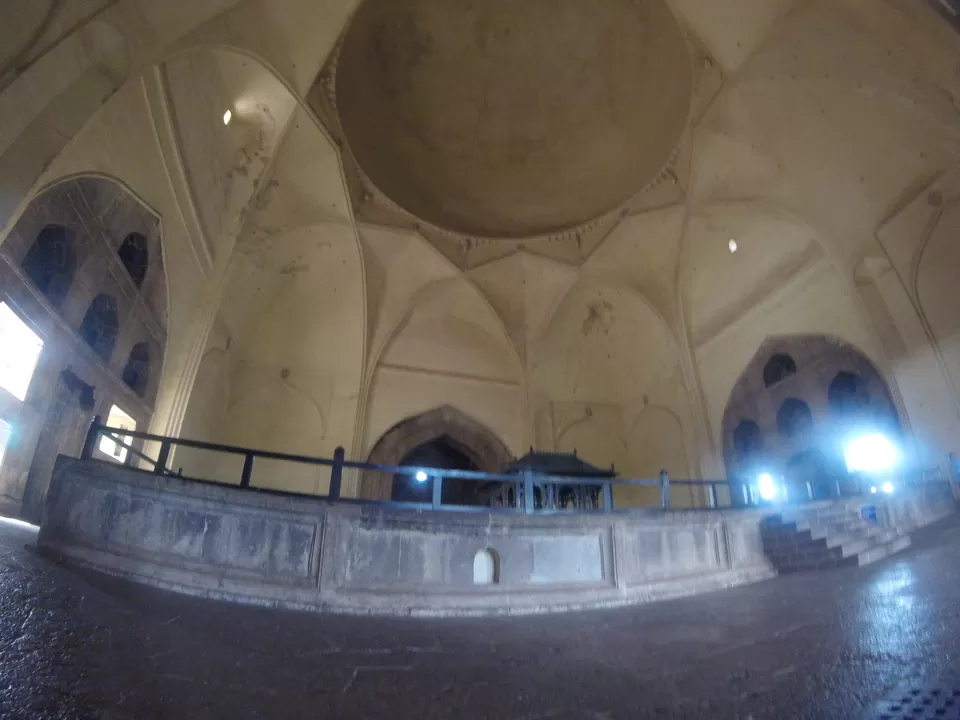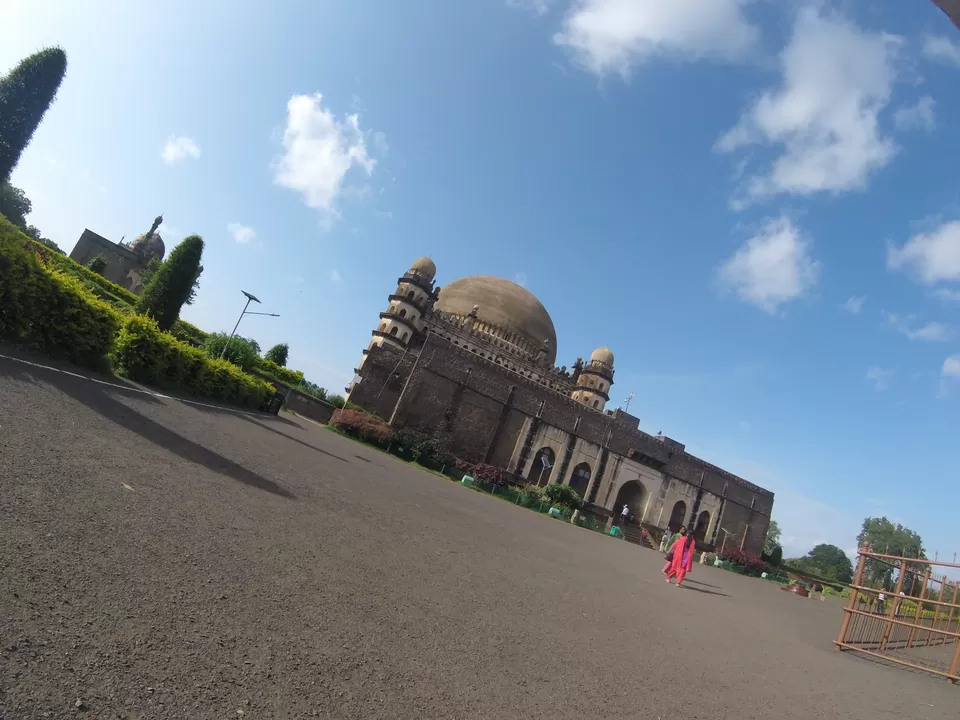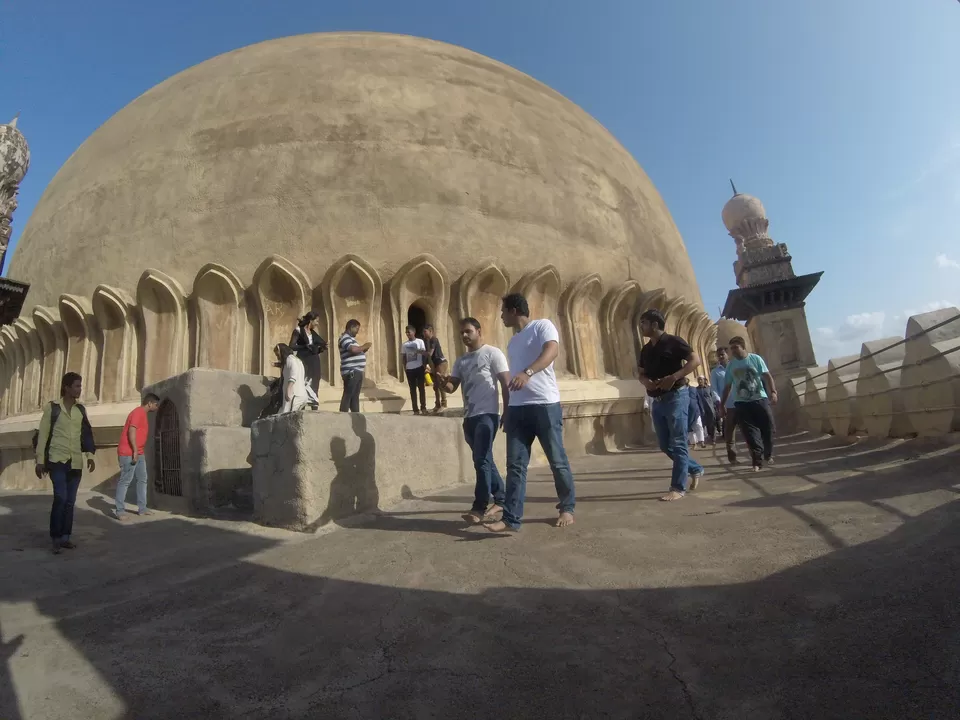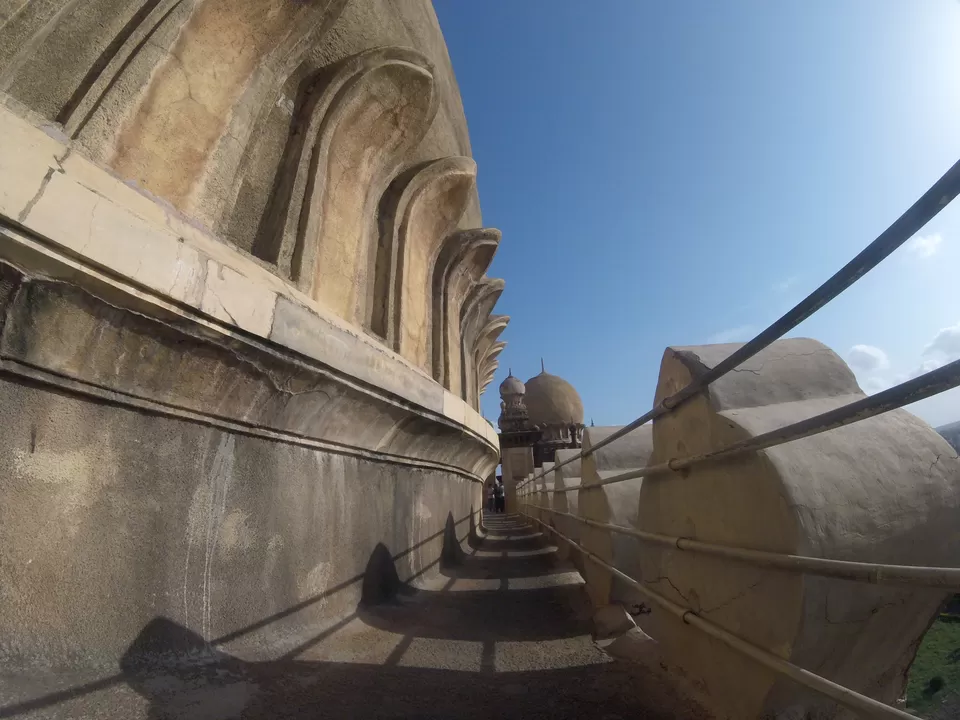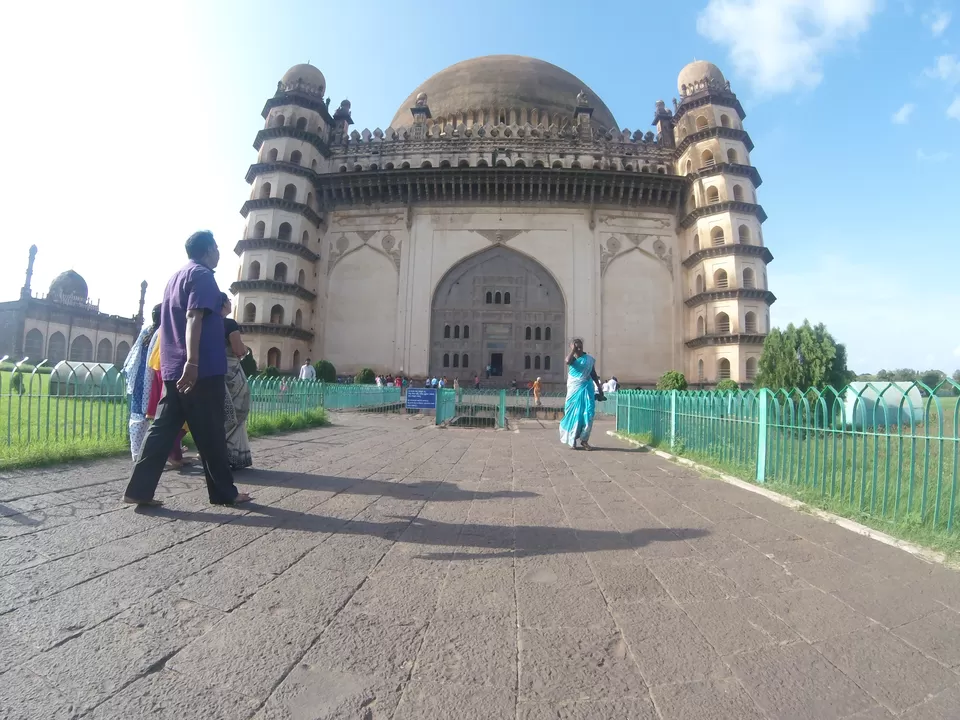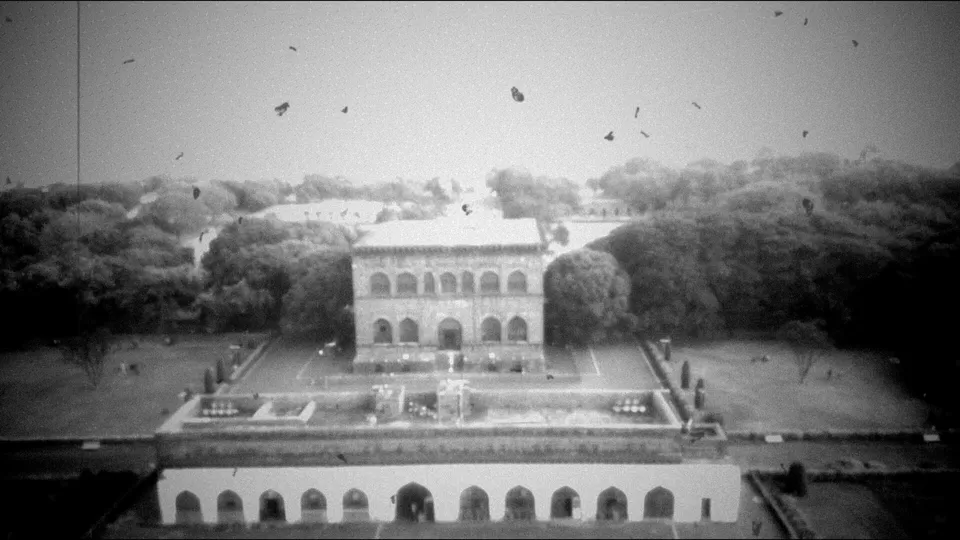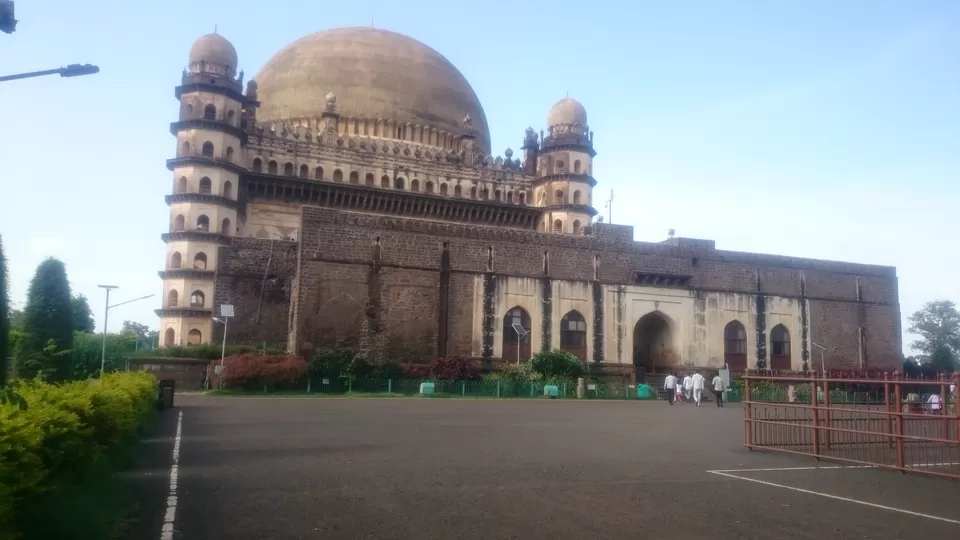 The dome was really surprising for me. So was the architecture. I had previously visited mughal monuments in Delhi, Agra and nawabi monuments in Lucknow, Faizabad but this architecture is quite different from that of those monuments. Granite black stones have been used in making this dome which is mostly found in the Deccan plateau in the country. On the other hand, monuments in north India are built using either marble or sand stones.
It was almost 5 pm when I completed visiting Gol Gumbaz. Then, I moved to the Jamia Maszid in the city of Bijapur. It was the time of evening prayer for muslims. I felt peace and harmony in the Mosque. I spent half an hour sitting on a side wall and looking at the beauty of Mosque. It was again an splendid example of deccan architecture. In almost all the monuments black stones have been used extensively. Limestone has also been used in Jamia maszid.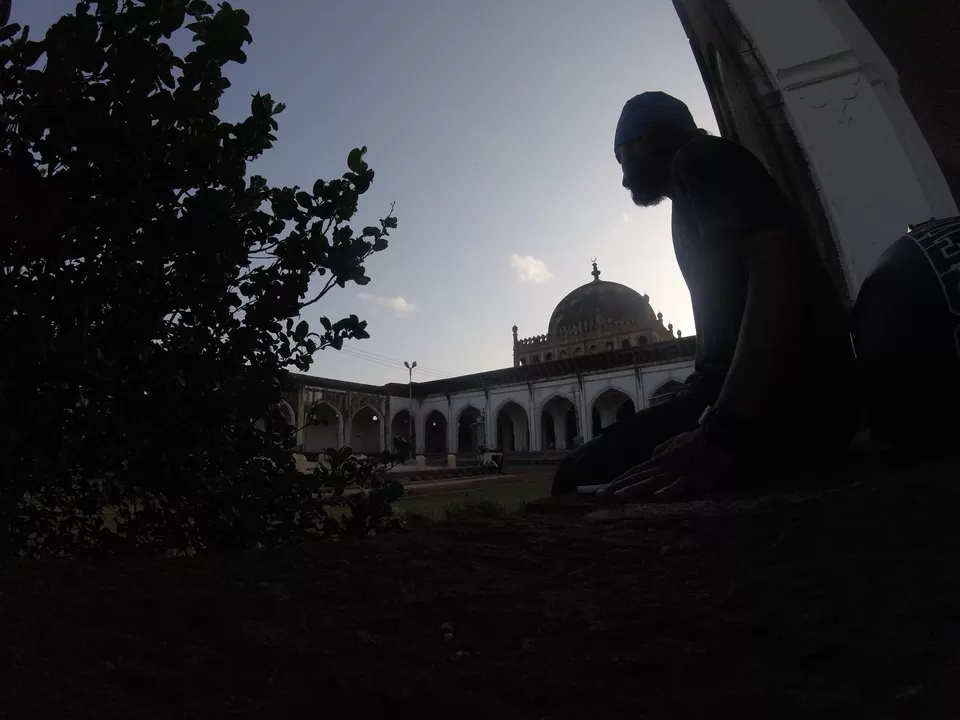 I wanted to visit Ibrahim Rauza and bada kamaan on that day itself but had no time as their closing time is 6 pm. So I decided to visit Taj Bawadi, the living well of Bijapur. Bawadi means a well to store water. We find great evidences of very well maintained water supply during Adil shahi dynasty. There are a number of bawadis in Bijapur which were once used to supply water to the city. Among all the bawadis , Taj bawadi is the largest in size. It has rooms on both the sides of the tank which indicates it was also used as a luxury commodity to indulge in water sports. Now, this tank is not maintained by the government. City's drainage water is now mixed with the water in the tank. Once a symbol of luxury and prosperity, now this great water tank is in the state of neglect.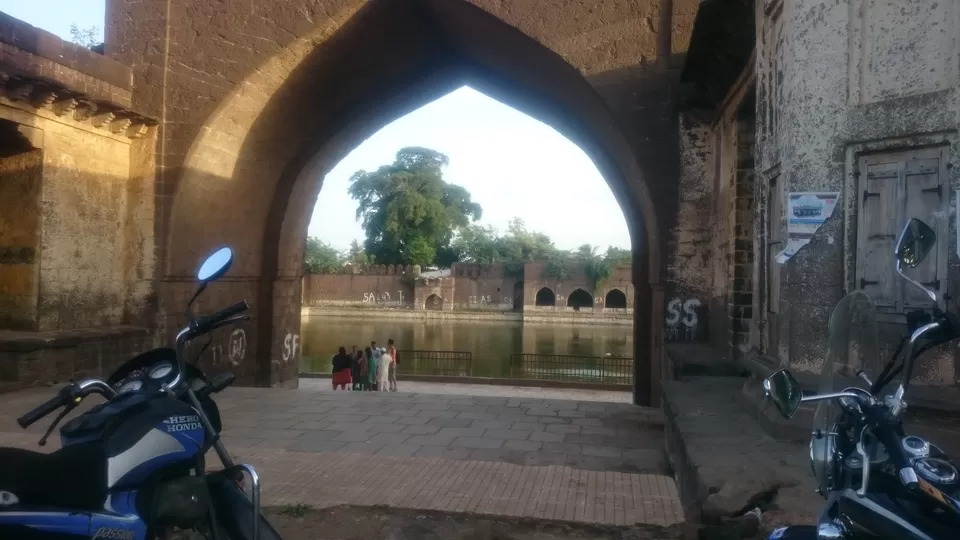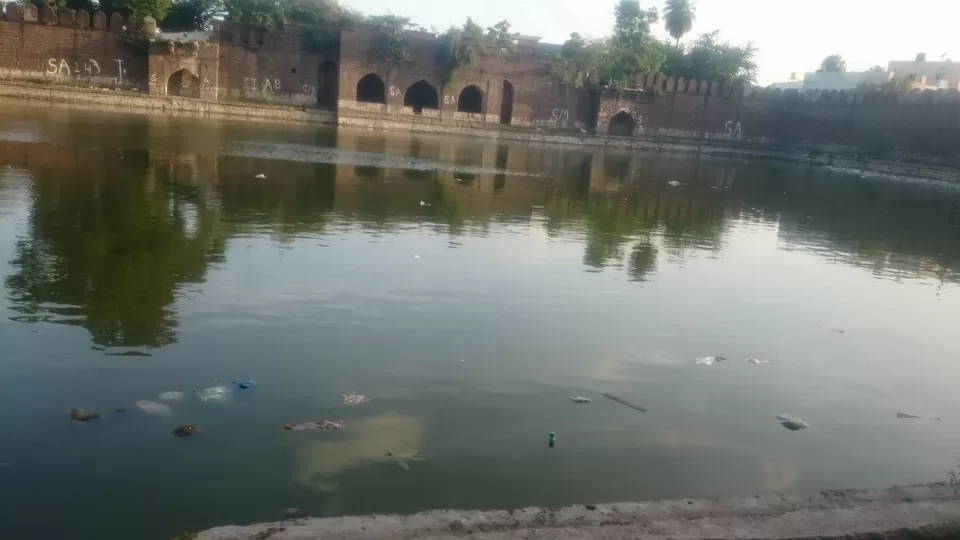 Then I visited in the bijapur city till 8 pm. This city has monuments, walls, minars everywhere. This city was on its zenith during the reign of Adil shah and Ibrahim shah II. I had delicious meal there in the city and then returned to my hotel. I had not slept last night so I was too tired to roam anywhere else. I came back to hotel around 9 and slept within no time. It was a nice day to visit Bijapur, especially Gol Gumbaj. When I saw it , I remembered the days in the school when we used to match the famous monuments with their names in our exercises. And , believe, I remember the picture of Gol Gumbaj from that exercise of the history book.
Next morning I woke up at 8 am. I freshened up myself and left the hotel for some remaining monuments in Bijapur. My first stop was at Ibrahim Rauza, an ispiration for the Taj Mahal( people say it and below pictures prove it ). This is the mausoleum of Ibrahim Adil Shah II. It has two buildings, one tomb and one mosque facing each other. This is the most ornate monument in Bijapur.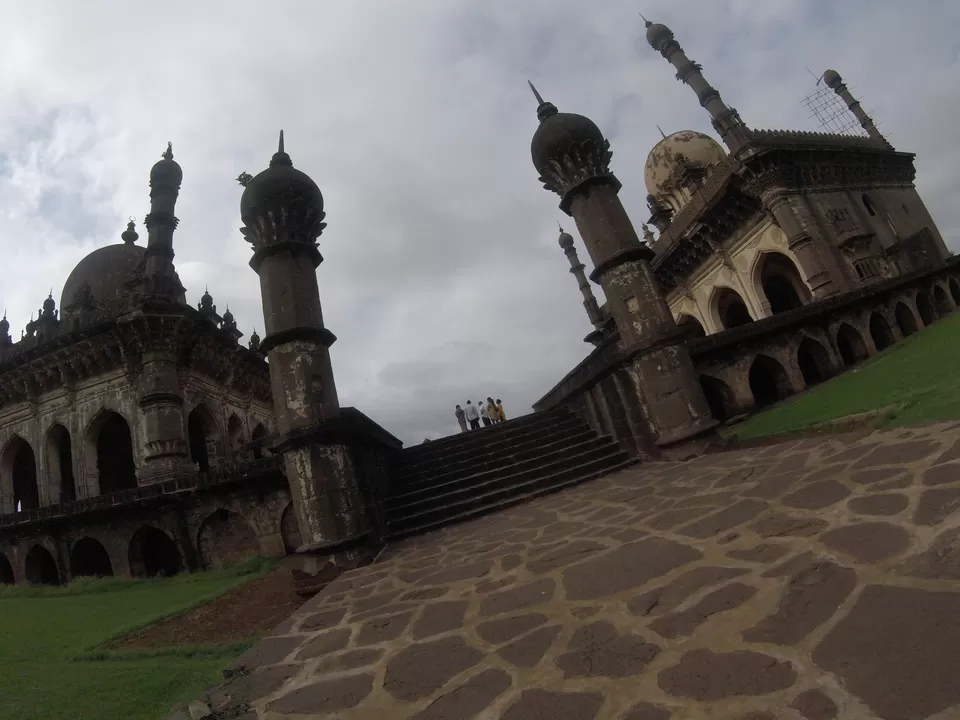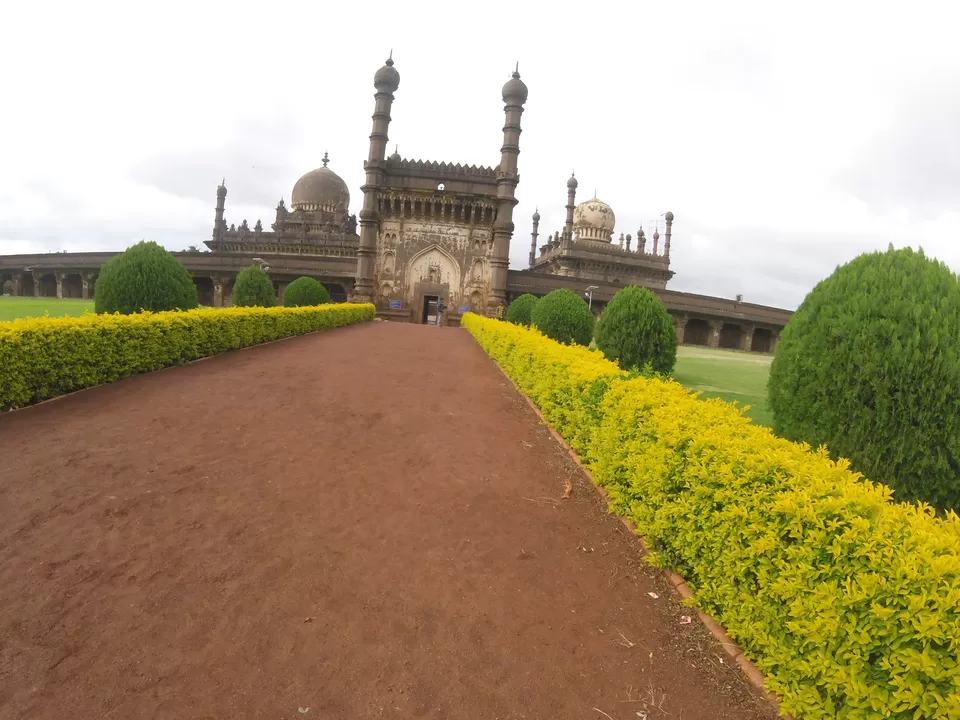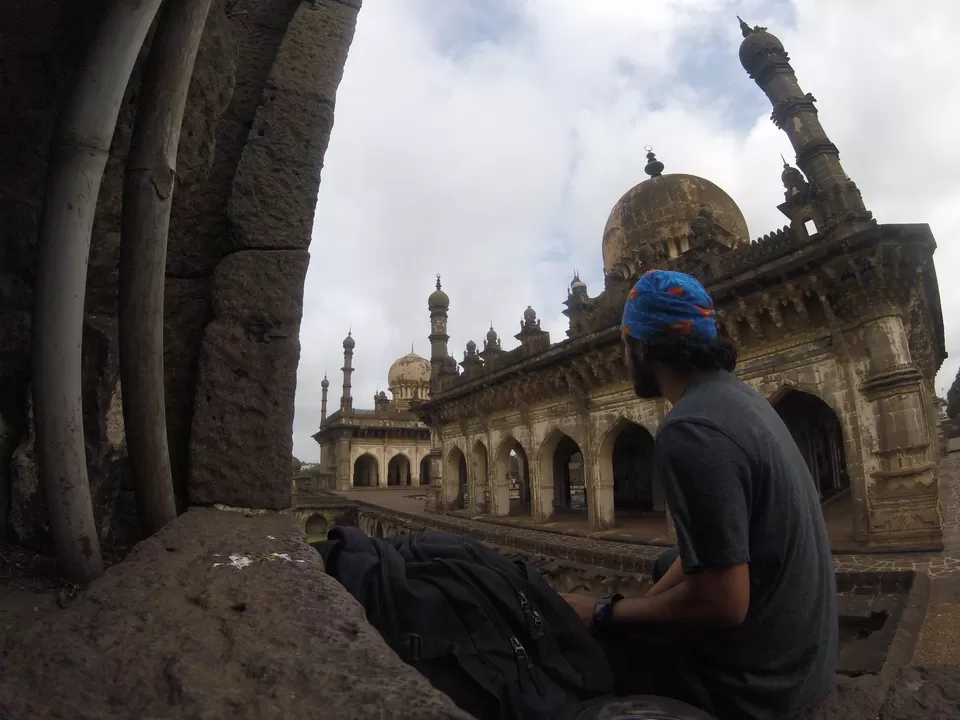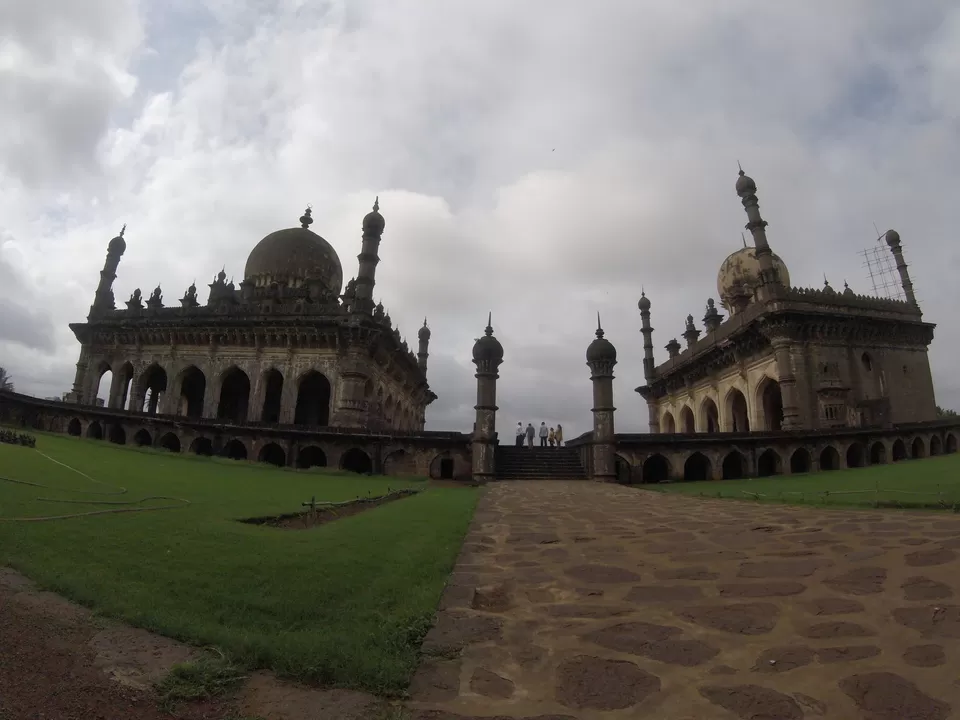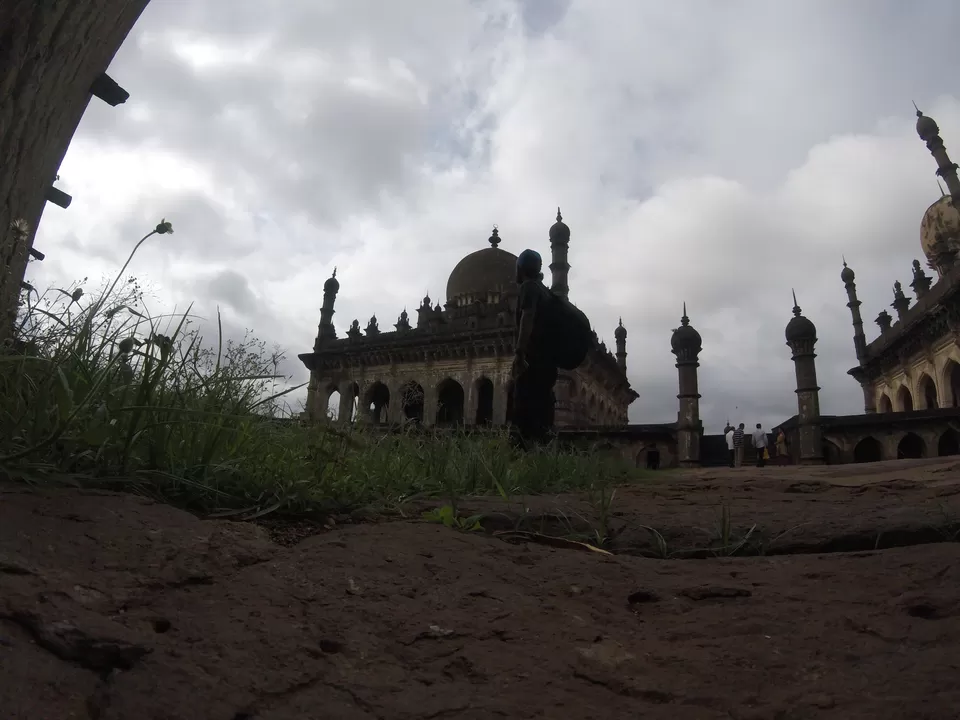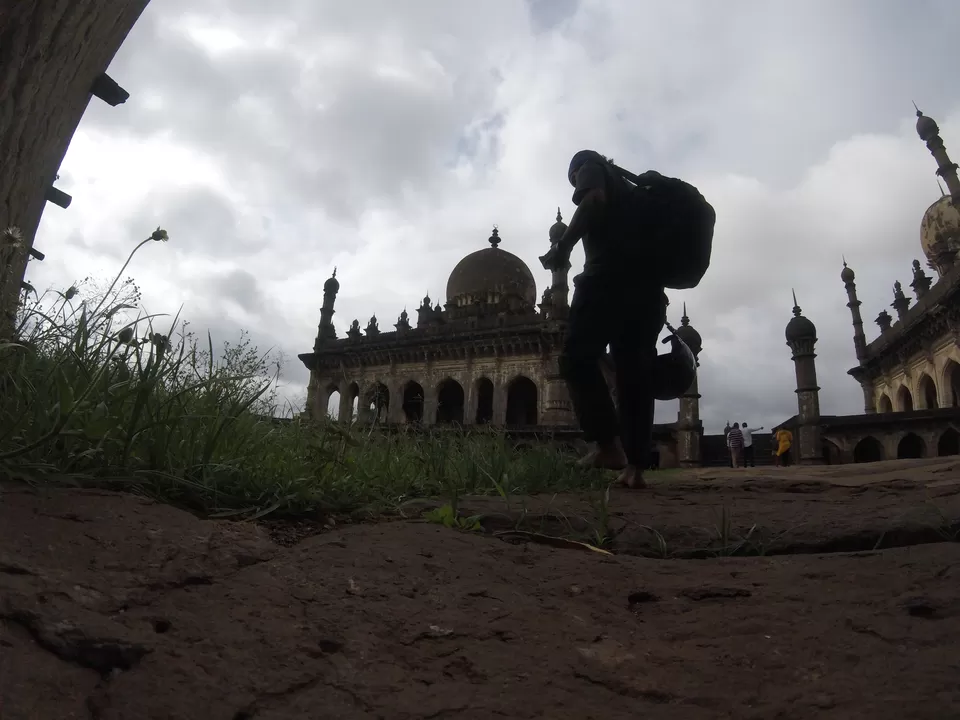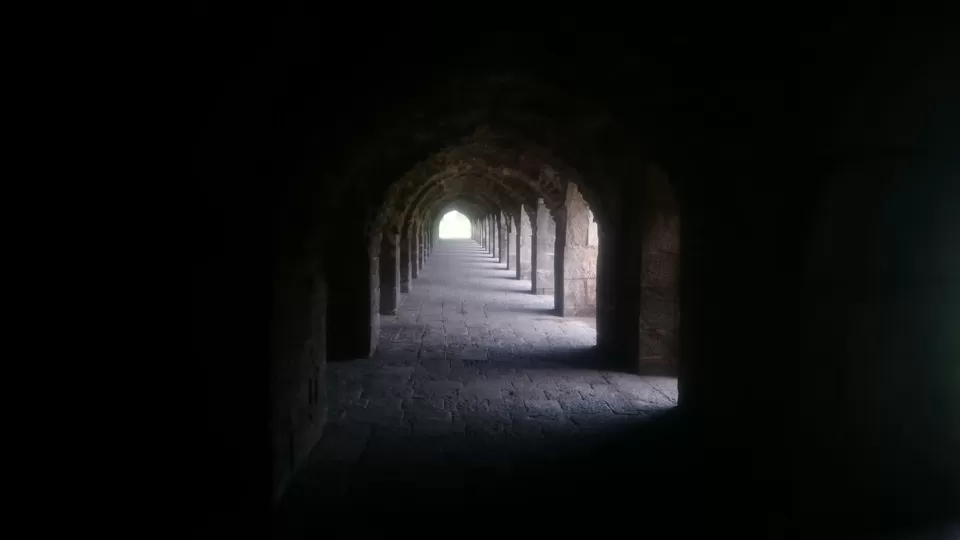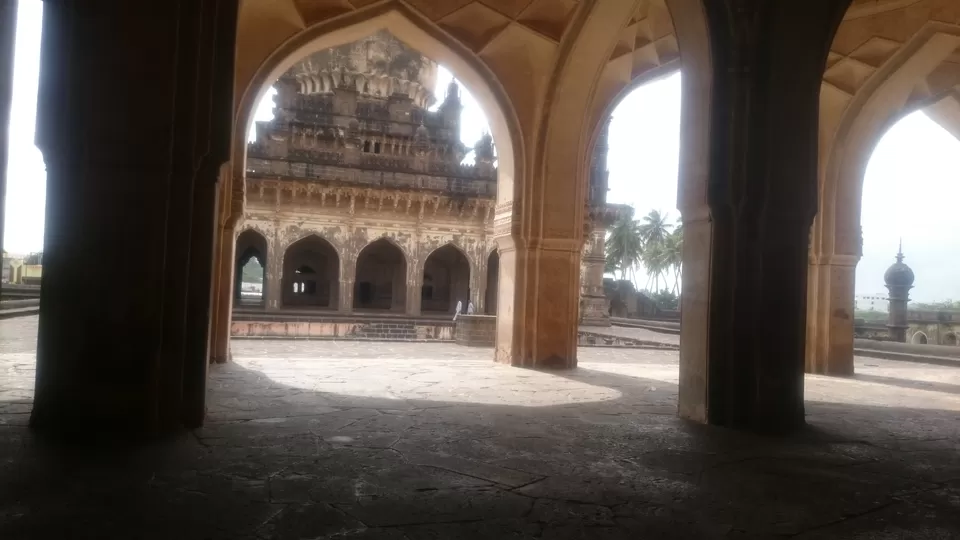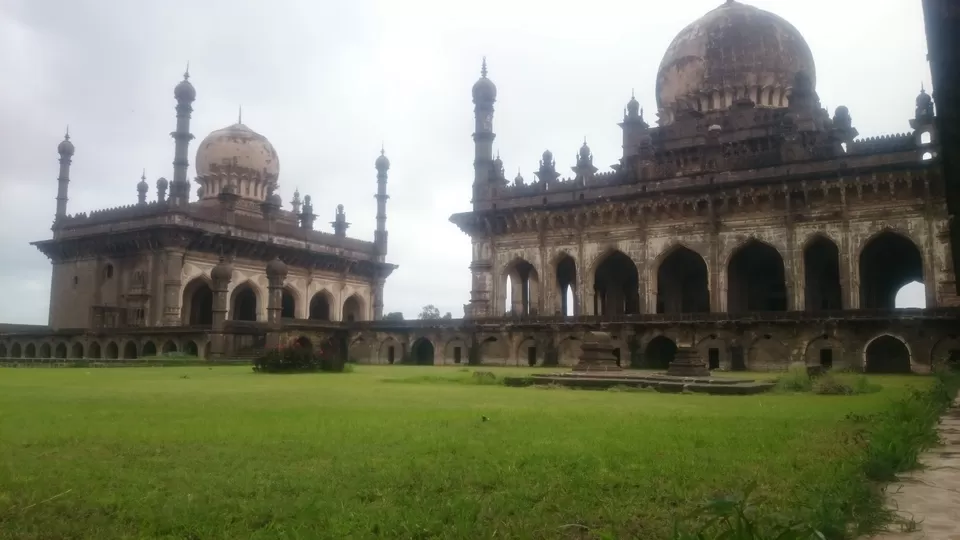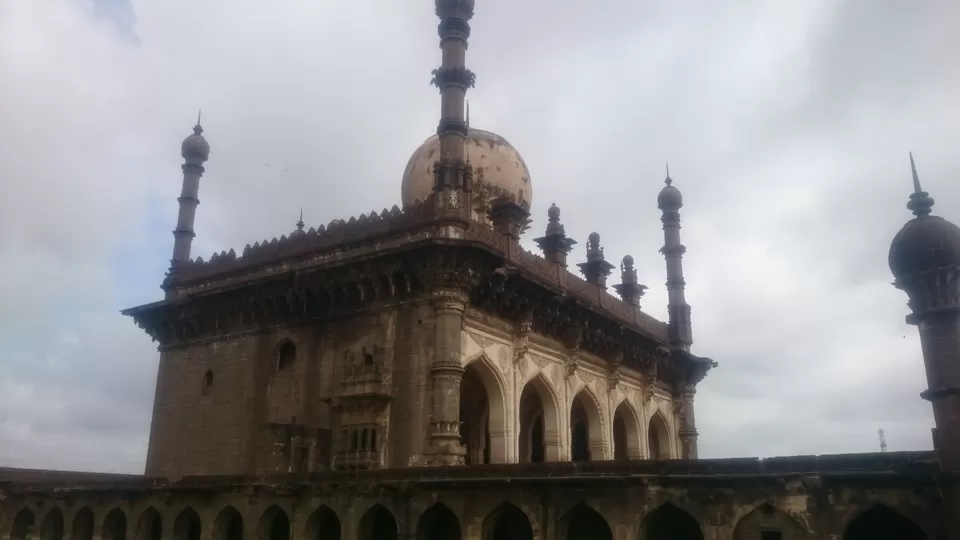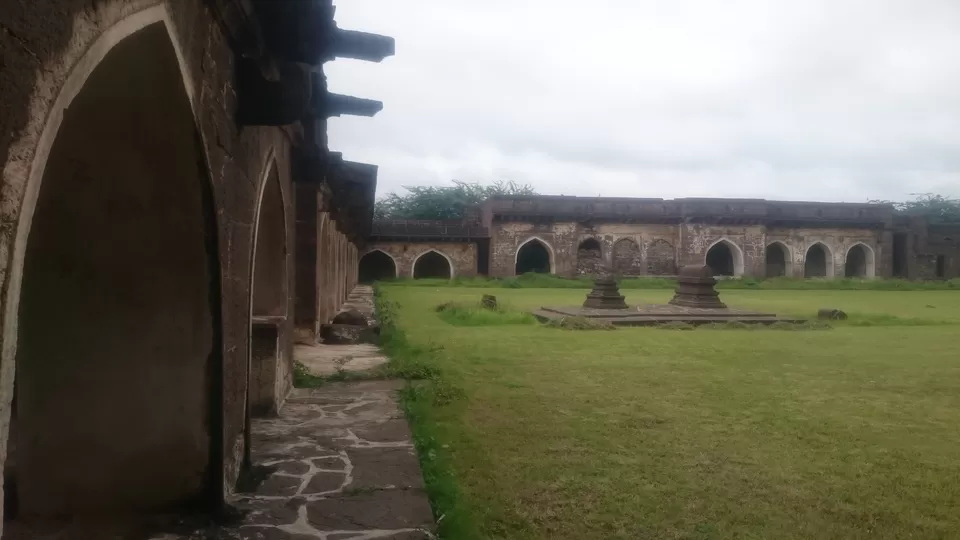 My next stop was 'Upli Burz', a tall stone tower to guard the city. At the top of the tower, a large gun called 'Malik-e-maidan' is kept. I found some children there at the top of the tower and they are always ready to pose in front of the camera. Most importantly, they all know the history and heritage of the monuments of Bijapur. I got to know a number of historical facts from them.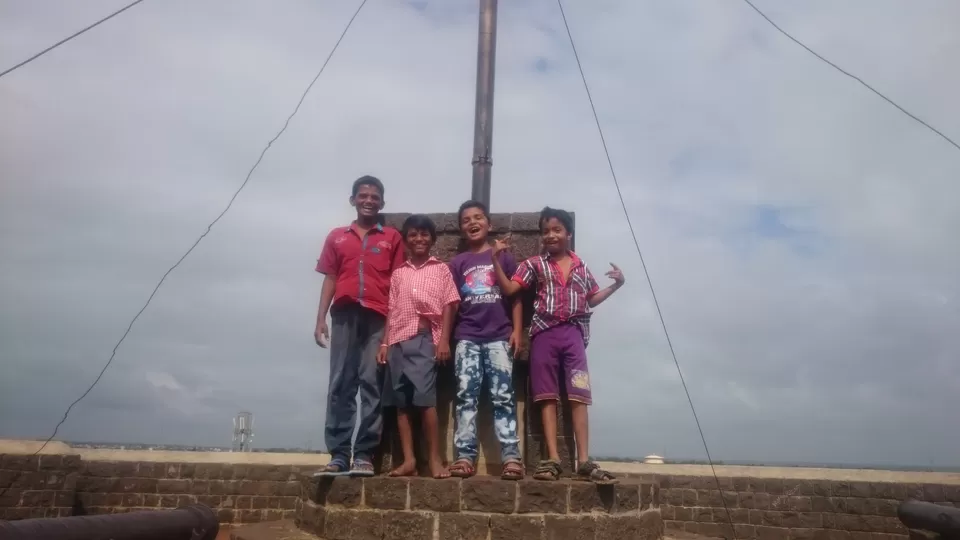 My next stop was BaraKaman, mausoleumn of Ali Adil Shah II. It has tombs of Ali and his queens. It is said that this building was to be made so tall that it's shadow would have cast upon the Gol gumbaz. This was planned to be built of grand architectural beauty. But it could not be completed after Ali was murdered by his father Muhammad Adil Shah who didn't want the BaraKaman to be more glorious than the Gol Gumbaj. How ironic historical facts are!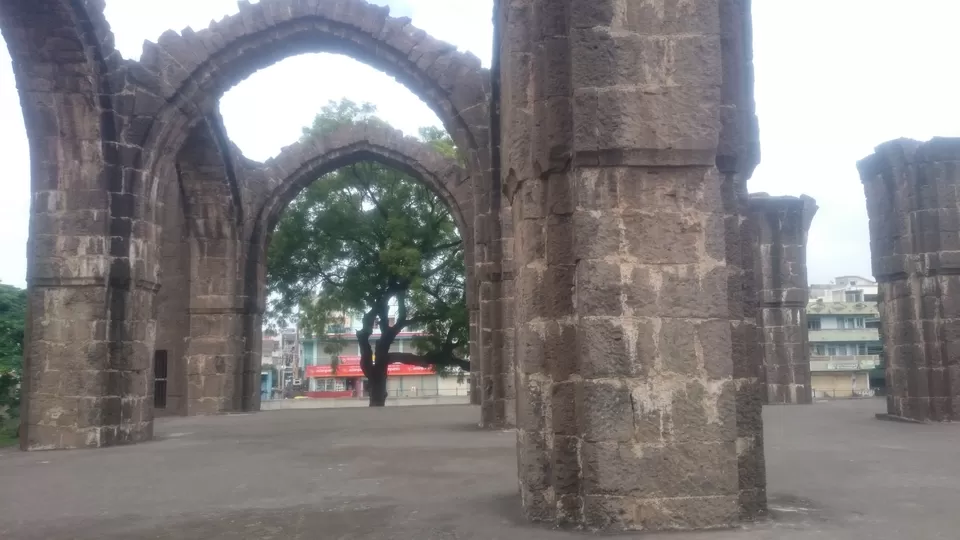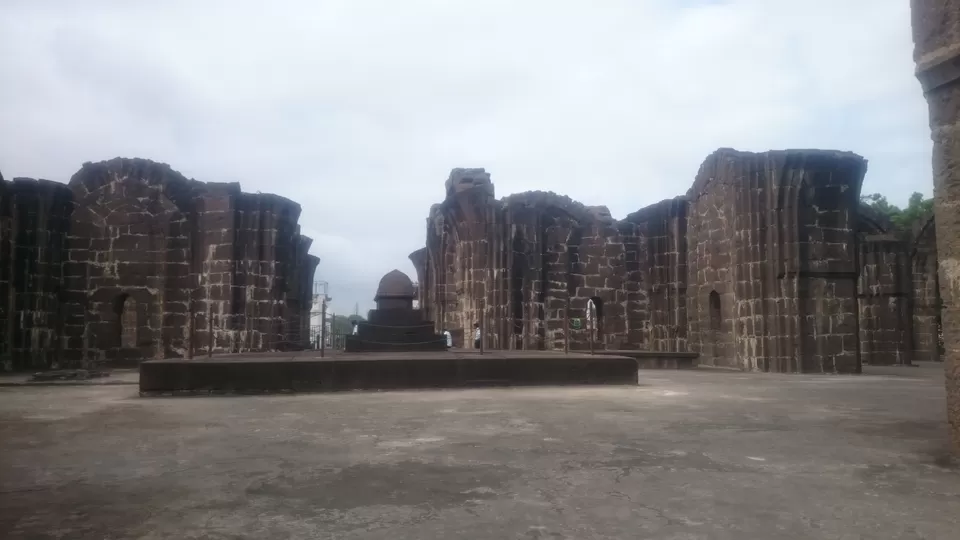 Now the visit of Bijapur ends here. It was almost 10 am and I had to go furthur to Badami. So I kicked off my motorcycle again for the next journey to go 1000 years back in the history.