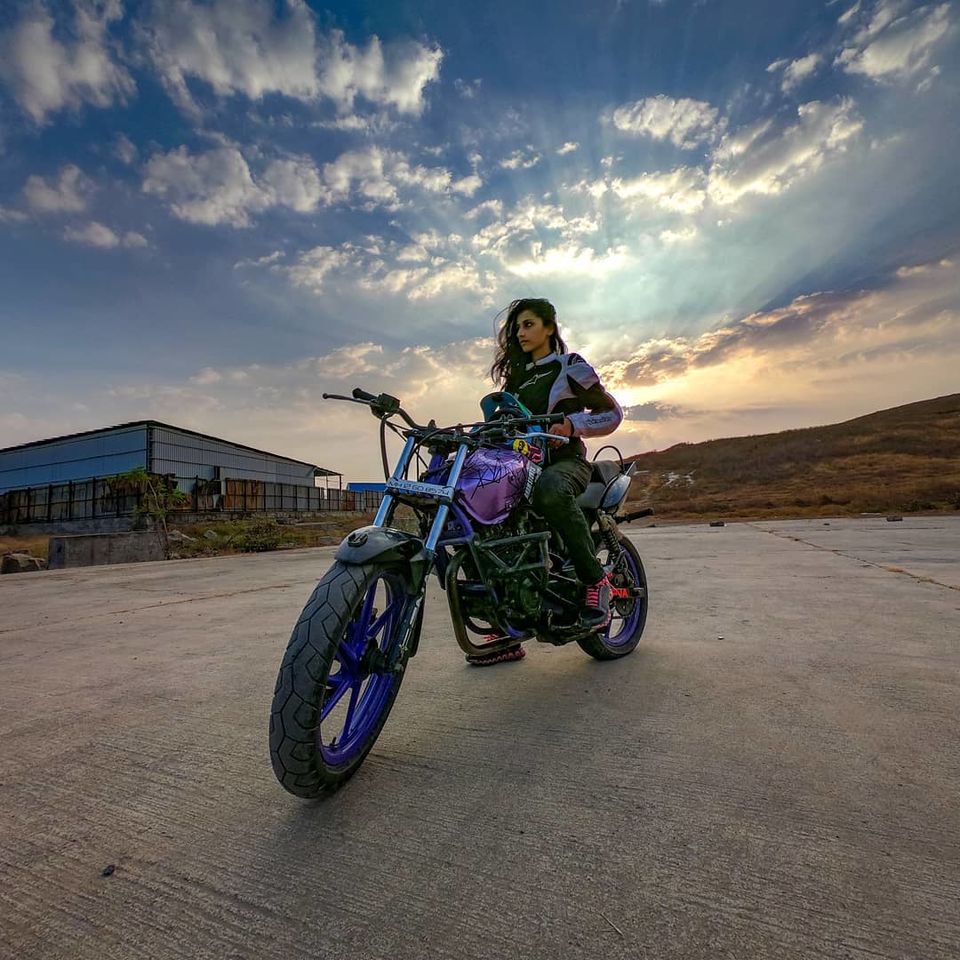 When other girls her age were hoping to pull off a sleepover, she had packed her bags and set off on an unplanned trip to Nepal. Her fondest childhood memories barely involve the usual stuff – playing a matchmaker, movie dates with the girl gang et al. If there's one memory that she truly cherishes, it's going around town on her father's bike. Before anyone could realise what was happening, that young, innocent pillion rider had made the streets her own. The lanes of Lucknow became her playground and performing stunts with a bunch of boys on a Honda Activa, the order of the day. And somewhere in the middle of it all, Anam Hashim found her calling.
Just in her mid 20s, Anam Hashim has experienced both extreme highs and lows. Often considered the 'youngest and the only professional woman stunt athlete in India', Anam is a powerhouse in the truest sense. She has a bunch of firsts, awards and accolades to her name. But beyond all of her achievements, she is a pure soul. There's a child-like innocence in her voice, she brims with excitement and has no qualms about answering questions about her personal life. Five minutes into the conversation, and I knew that there's no stopping this woman – both literally and figuratively!
I had the chance to interview Anam Hashim over the phone. These are the excerpts from our conversation
Q. Acceptance and validation form a big part of what we do in life. Did you receive either the first time you broke the ice?
I think the biggest problem with the path I have chosen is that nobody had done it before, or at least no one I knew off. So when I started off while I was still in school there were no reference points. That's why people around me reacted quite harshly. My parents, friends and everyone around was almost in denial – hoping that this was just a phase that I would grow out of.
Q. Is this something you still struggle with?
Oh yes, I struggle with this every single day! I tried convincing my family about what I wanted to do in life but failed. As I grew up, I realised that you're born alone and you die alone. If you keep running after validation, you'll get nowhere. So I just ended up using studies as an excuse, because that was something they wanted me to focus on, and moved to Pune to pursue stunt riding.
Q. You're India's only professional woman stunt athlete. I'm sure this tag comes with a lot of baggage. How do you deal with all the judgements, the expectations and the pressure?
Oh, judgements are aplenty and it's always the men. And turning a blind eye to that is something that I've mastered. As for the pressure and expectations, sadly, there isn't much and that's been done because stunt riding is in a very sorry state in India. In fact, most of the opportunities and recognition that I get is outside of India. The field is just not growing and that's probably also why I've started branching out to off-roading and racing.
Q. Travelling is a big part of what you do. Do you feel that your skill makes this experience different for you than most?
Well, surprisingly not! I think that's because I don't restrict myself when it comes to travelling. I know the bike has its own limitations and I don't cancel travel plans just because I can't take my bike along. In fact, travelling is very personal to me and has been a big way to escape from my troubles, especially as a teenager. That being said, I love solo trips on my bike. Apart from that, \I also enjoy backpacking and riding with my close-knit group.
Q. One adventure that you're probably best known for is your scooty trip to Khardung La. Tell us something about that experience.
It was insane and so unexpected! They were looking for women who could ride a TVS scooty to Khardung La. Me being who I am, got excited and applied just like that. And the next thing I know, it was on.
We flagged off in August 2015 and the entire experience gave me a chance to push myself and test my limits. I left everything behind and those 22 days of riding in the hills evolved me as a person.
Q. More recently, you also completed the Desert Storm, which is considered to be India's most extreme desert rally. Now this was something entirely different from Khardung La. How was the experience?
Definitely, and not just in terms of the terrain. Desert Storm was a full-on race and I had no prior experience of something like this. It is hands down the toughest thing I've ever done. Time was important and the GPS would go off because of the heat. So I navigated my way by looking at trails in 55 degree Celsius.
But then I did complete the race and I was told that I am the first woman in history to have completed Desert Storm in the first attempt. So I guess, it was all worth it!
Q. I'm sure journeys like these impact you on a deeper level...
I think journeys like these teach you that women can do anything. And most importantly, it's not about the resources and equipment at hand. If you have the right spirit and determination, you can make anything happen. And I'm the kind of person who doesn't contemplate too much about the things I do. So when I'm out there, I'm just having a good time and living by the day. It's only when you come back that you realise how much you've changed.
Q. The path you've chosen for yourself is definitely not conventional. So on a tough day, what is it that gets you to pick yourself up? What keeps you going?
I'm human too and of course, I have bad days. But then I think about my journey, the sacrifices I've made and the decisions I had to take to be who I am today. And in this Instagram age, it's very easy to get affected by stuff. There are trolls who make all kinds of comments on my posts, which used to bother me a lot at first. But now I've realised that I don't need to justify my actions because I am doing what I enjoy the most. At times, I even end up getting motivated by their stupidity! I think it's all about how you see things around you.
Q. Finally, what does the future look like for you? What is it that you would want to do for yourself, and for the sport?
So I am someone who's all for multi-tasking. We, as Indians, have this notion that one should have all their focus in one thing at a time. I just don't believe in this ideology. After Desert Storm, I am motivated to try my hands at professional racing. Apart from that, I am keen to travel more and create travel content. And I am also working on a web-series centred around my life journey – a project that will hopefully shatter notions about stunt riding as a sport. The idea behind it is not to paint a rosy picture or motivate women to start doing stunts. I feel it's very important for women to break free from societal norms and make their presence felt in an extremely male-dominated world.
Inspired by Anam's story? Head to her Instagram account to follow her adventures.

Click here to share your inspiring travel stories with the Tripoto Community. Watch travel stories come to life with Tripoto on Youtube!