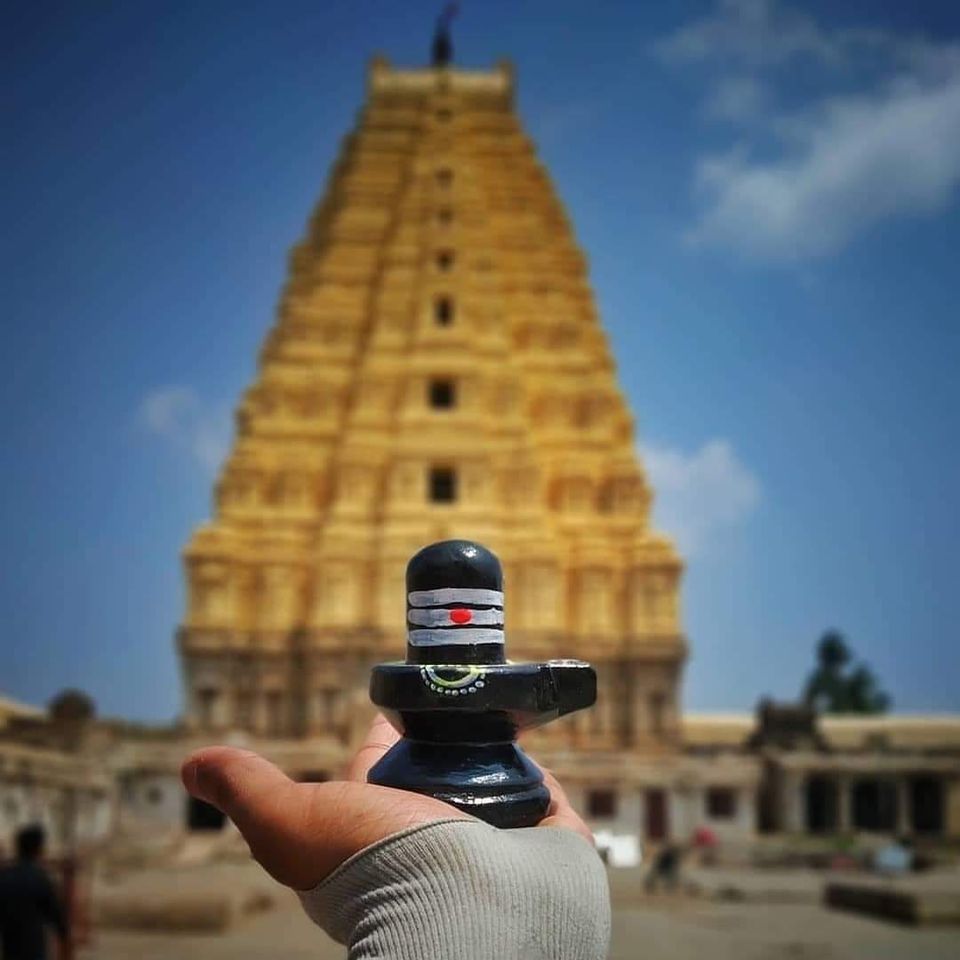 The title, It always happens whenever we are trying to do something new. This was my first duology trip with my office colleague. I have always been in groups or with family while on a trip. My belly started jiggling as soon as we left to catch our bus for a place, we had heard so much about. A place where I was dying to see a good sunset. A place where you feel like living the great legendary Ramayan! A place where you will see monkeys more than people.
If you still couldn't guess the place, don't worry, be HAMPI😁. Yup, we were heading hampiii❤️. One of the beautiful places known for it's architecture, mesmerising sunsets and amazing people ❤️.
We boarded a bus around 6pm only to reach hospete (nearest city to hampi) at around 10 am the very next day. I always prefer a non AC bus which is very breezy and also cheap. Either ways you can prefer AC one too. Maximum cost Rs. 2500 return ticket.
We had downloaded some movies, talked for a while and slept like a baby.
I couldn't sleep, after seeing the daylight, I just stared outside the window enjoying the views around karnataka cities from the bus.We got down around 10 am. There are 2 ways to reach hampi
-Bus - 30rs
-Auto-150 rs ( note: Needed bargaining skills :p)
If you don't have much luggage, you can go by bus. We took auto, as the bus stand was around 10mns walk and we got lazy to walk and excited to reach.
The auto driver took us to hampi and dropped us near Virupaksha temple. Let me tell you, Virupaksha temple ( dedicated to Lord Shiva) is the centre of attraction of the whole hampi. It is visible from almost all hills and is with beautiful architecture. Ya so coming back, we got dropped near Virupaksha temple. There are so many guesthouses, like in each lane. You can choose as per your requirements. We booked Sandhya Guest house for Rs. 1400 for 2 nights for 2 people. So 350 per person per night. Also, this was not the cheapest one. We booked it as the room was spacious and had clean bathroom. Once, we booked the room, we freshened up and left by 12 pm. We started with Virupaksha temple, post darshan, clicked photos and started heading towards main road for other attractions. And then, an auto driver came in and said " aapko auto chahiye? 500 rs din ka" We bargained a bit and got it for 400. We covered the following that day(not in the same order):
1. Bheems Gate
2. Lotus temple
3. Vitthala temple and Stone Chariot
4. Pushkarni
5. Queen's Bath place
6. Hazara Ram temple
7. Elephant stables
8. Underground Shiva temple
We started around 1 and he dropped us near Matanga hill by 530. Matanga hill is known for its best sunset views, we started our journey upwards and this was our first hampi view. You could see the whole ruins with pinkish rocks and a beautiful temple standing in between with the road trails and greenery surrounded, I have never seen like one.
All these points stated are nearby to each other. We spent 500, but you can hire a bi-cycle with 100rs per day and can roam as much you want. Just be care free with tanning, coz if you are in hampi, there are chances of getting tan :p. By the time we came down, it was dark. We reached near our guest house, I opened my bag to take out the keys!! And Bamm!! There are no keys! I didn't know where it went. Were they lost while climbing the matanga hill? Or did they just fall off! Or I never took it! Nonetheless, we searched and searched and with no luck, we had to tell the owner about it.
Ok so you might think, that they must have spare key as we usually know! But here the case is different, there were no spare keys, the guy had to cut the lock for which there was only guilt in me as the cutting process takes half hour! He told us to have our dinner and then come back. So, we went for dinner at the very famous, Mango Tree restaurant.
About the restaurant- I have never visited a restaurant where they keep mattresses to sit and lower lunch tables so that the customers can sit comfortably. Providing numerous pillows , makes you fall in love with the place. I saw few foreigners , actually half sleeping post their dinners. And there was no one to say anything to them.! I know restaurants , who will send you the bill immediately once youre done with eating . But here, they want them to stay for as long as they want! One of the positives is that there is very less crowd! And the service is super awesome. The average bill for 2 people without alcohol is around 500 . After that it really depends on what you order! Rest assured with the quality and taste.
The owner called and then we left for our room, relaxed, took a bath and slept looking forward to the hippie island.
We slept early as we had to get up by 4am. And you might think now that we were irresponsible but seriously we slept without alarms, luckily my eyes opened 4:40 am. We hurried and got ready, left by 530. I must tell you, that it's amazing to see the colors of sky from dark blue, to light blue to sunny one! Just amazing. I kept clicking pictures and kept staring from auto. Yup, we booked the same auto for second day too. This time he charged us 700. We lost at bargaining. :(
So a little background, Hampi has 2 sides to it, one is the hippie island and other one the ruins. What we visited on the first day were the ruins. Actually, ruins are spread all over the places. But the hippie islands have rave parties, cliff diving, coracle, etc.
We first went Anjaneya hill to enjoy the sunrise. Oh wow! Whattt a place. Highlight no - 1: Anjaneya hill.With approximately 600 steps, we reach at the top only to see a view that would leave you not only awestruck but also refreshed. We spent 2 hours ( which was actually less) only looking the mesmerizing views. Anjaneya Hill is the birth place of hanuman. While we were walking upstairs we saw tungabhadra River flowing between the two parts, the hippie and the ruins. We saw the road trails from above. We saw lots of monkeys and the cloudy sky.We did darshan of the temple andclicked hell lot of photos. Highlight 2- At the top, there is a tree! All alone, it has different shape of leaves & thick branches easily visible. A different feeling when you are there. The place is specifically called Kishkindha- Kingdom of Vaanar Kings. Vaanar means other humans. I am describing Anjaneya Hill because it deserves a good description and I know I haven't done justice to it, but I have tried.We didn't want to leave, but then how would we come back again :p I want to go there while I'm writing this. You know, sometimes the camera cant capture the view eyes see and the words can't describe what heart feels.
Okay, we started our journey downwards and took less time descending. While reaching to the main road, we saw a stall selling round appams. We ate one plate (20rs) and it was yumm. The chatni was superb. How small things can give ample satisfaction. I am a foodie, so my eyes were popping out 😍.Next places we visited were as follows :
1. Cliff diving place
2. Pampa sarovar
3. Durga and Snake temple
4. Malyavantha Raghunath temple
I need to describe the cliff diving place- So the height of the place isn't much and you can stay there as much, because the Sanapur lake is very peaceful. Actually everything here is peaceful! When I did the dive, I was in air and in water for quite a few seconds. You can tick off this adventure if its in your bucket list (though on a small scale) and let me tell you, its absolutely free. Also, wait for people to come there! Recommend to connect with some localites for life jacket if you don't know how to swim. Not more than 100rs for the life jacket! But it's worth it!
About the snake temple- the way to snake temple is through Durga temple. Youll have to do a 10min trek , from where you will also see the Pampa Sarovar. The snake temple is within the rocks. What I realized, that how much ever is the heat, the rocks are all cold inside. Its Sheetal! As if the gods are still there! You touch those rocks and feel closer to them!
Post that we left for our our guest house. We completed all of this by 3pm. Starting at 5am and finishing by 3 pm, we had lot of time for the day end. We freshened up, had lunch, took some rest, and left in evening by 5pm. This time we chose to see the sunset via Hemakut hill. Since there was time for sunset, we hired bicycle for 2 hours. Many people visit hemkut hill for the easiest and yet awesome sunset views. So did we and to be honest, it was not as good as the view from Anjaneya or Matanga hill, but it sure as hell, made us felt good. It is nearest to virupaksha temple.
I don't know why yet, but sun has always felt like home for me!. It is peaceful , either kadakti dhoop or cool sunset. Post sunset, we clicked a lot of photos outside Virupaksha, alottt!. Then we roam around hampi bazaar for souveniors and other carved things. There is a lady that sells tea leaves of various flavors (chocolate, mango, lemon, strawberry, etc. ) . I would recommend to try them atleast once!. We too bought it. We also bought some post cards , magnet and an agarbatti stand.
We went to our room, changed and left for dinner. It was around 9:40. And guess what!! Mango tree closes around 9:30! All other restaurants were closed ! And then there was one savior , Moonlight restaurant. It was able to feed us with jeera rice and vegetable curry. Good this happened as we got a local flavor. It was actually their home made food. And it was very nice! We finished our dinner , headed back looking at the next day – our last day
We have covered almost everything but few monuments and temple left . So we decided to cover some nearby monumnets walking. No auto , No bicycle and we also decided to do it aaram se. So we visited the following places till lunch:
1. Kadalekalu Ganesha (big one)
2. Ganesha (Small one)
3. Narsihma temple and Shiv temple
4. Krishna temple and bazaar
By the time, it was 2 pm. We went mango tree for lunch. And we straight headed to Hemkut hill to experience the fresh air under small shades there. We rested there for an hour and a half and then left for our bus. The time from taking our luggage to sitting in the rickshaw, it was a different feeling (not a good one) . Yes, travel changes you. You aren't the same person anymore! But it felt like, not leaving the serenity, the goodness, the peace of the place. I know, being grown up in a fast life city, I wont be able to live here for forever. But what I only wanted was to take all this with me! I wish I could live my life the way people live here. I kid you not, every person there knew, that 2 girls have come in to visit hampi. You'll meet the same aunty, same auto wala and same visitors again and again in a day. In Mumbai, it may happen that even if you know a person, and see them in months accidentally, they might ignore you royally and don't even feel a thing.
Coming to things we missed:
1. Coracle- I feel it was quite costly. Around 800 for half hour. We missed it on purpose. But I guess, if you bargain harder, you can get a good deal.
2. The elephant bath. So there is an elephant in the Virupaksha temple who takes bath at around 6 am in Tungabhadra river. I have heard people saying that it keeps its trunk on our heads, like giving us blessings
3. Sunset at Anjaneya Hill – What we did was Sunrise , actually you can plan one sunset per hill (Matanga, Anjaneya, Hemkuta)
4. Rave parties- We had not planned to attend one
5. Sugriva Caves - No such reason to miss it, may be will cover it next time :)
The total cost of our trip from door to door was 6000rs. (2500 for bus return ticket from Mumbai, 1400 for stay, 1100 for auto, food and others 1000) And you know what, I have known friends who have done it in less than 6000. Our cost cutting could be done if we had hired a bi-cyle instead of auto and used bus service. Nonetheless, we had our comfort and we enjoyed tremendously!
PS: Photos :) Please get in touch for any queries.