This uncontrollable urge to travel and get away from everything, to explore and do something new started in me and I couldn't contain it. Finally the day came. I was going on my first trip to Hampi, but what I didn't know at that time was that, this trip was about to transform me for the rest of my life. Me, my father and my friend booked our tickets on Munuguru Kolhapur Express(Train no 11303) a month prior on the IRCTC website.
We boarded the train from Lingampally Railway Station on 04/03/2017 at 23:45 and reached Hospet Junction by 10:15.
We took a bus from Hospet bus stop to Hampi.The ticket price was Rs.16/- per person. It took at least 20mins to reach Hampi. The route was covered with Banana plantations on both sides and Historical temple sightings here and there. Bus stop in Hampi was opposite Virupaksha Temple. We got down and went to the temple. It was an architectural marvel from the outside.
After that, we went to explore the temples and formations on Hemakunta Hill. There is no entry fee to visit Virupaksha Temple and Hemakunta Hill. We visited the Kadlekalu Ganesha temple, Sasivekalu Ganesha temple, Jain temples and other formations.
I have to say this was the best day of our 3 day stay in Hampi. Our day started at 5:00 am with a 30-45mins hike to Matunga Hill - The best Sunrise spot in Hampi. We were surprised to see monkeys by the time we reached the top and there's a kid who sells tea everyday. Sitting on the top of the hill with cool breeze blowing on your face and with the sun rising, the beautiful view below coming into sight is a completely soothing experience. There were two foreign women practicing advanced yoga by the time we reached the top which inspired me and ultimately led to me becoming a Yoga Instructor. We spent some time enjoying the breeze, breathtaking views, clicked some photos with the foreigners and started hiking down.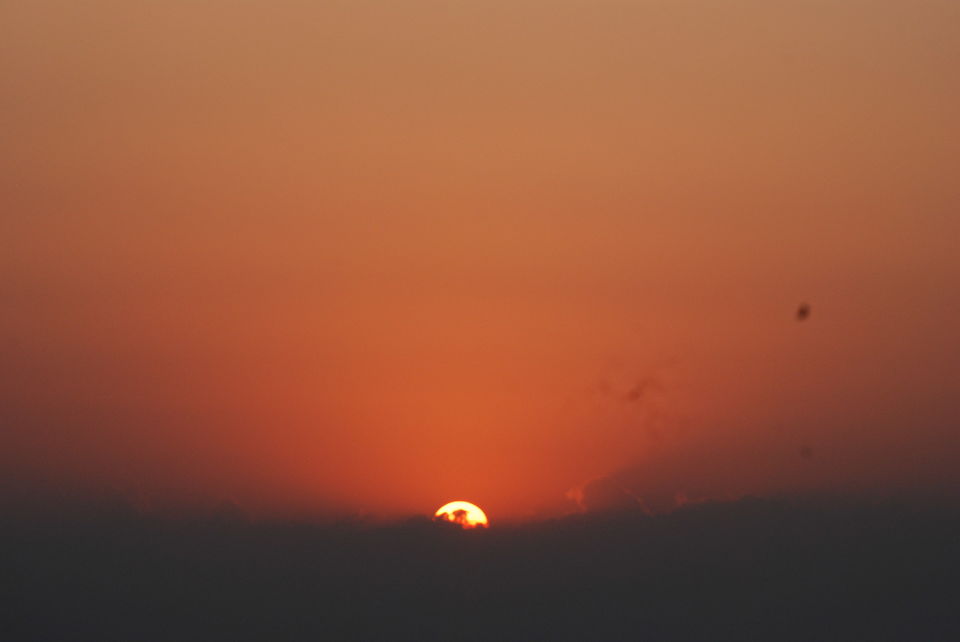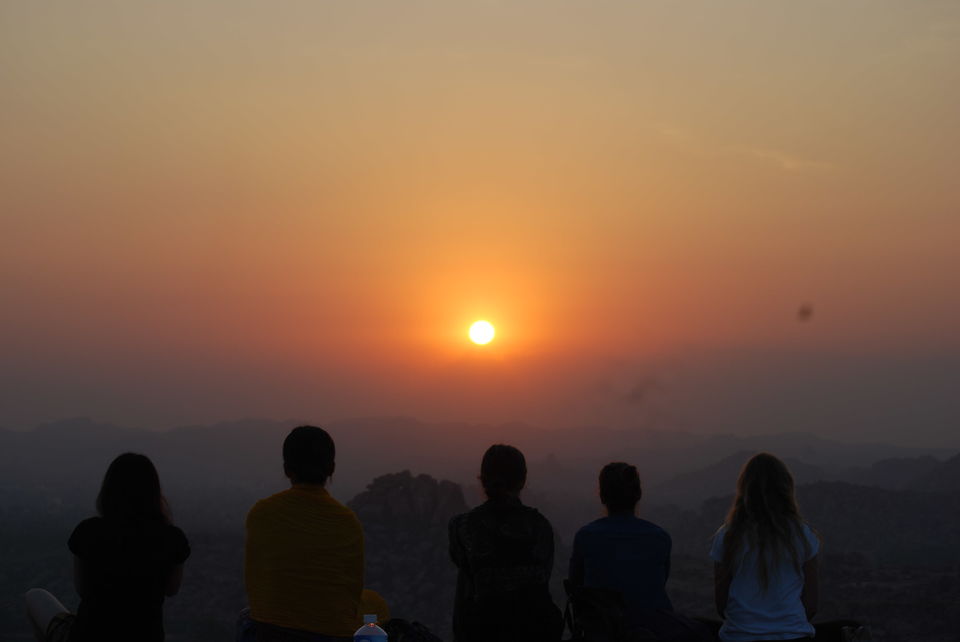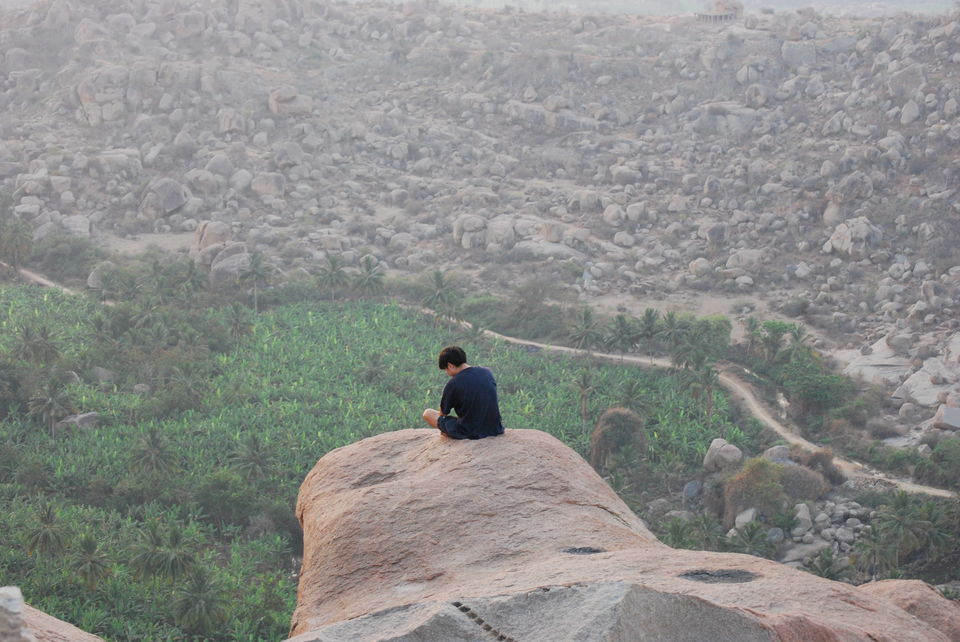 We took a bus from the railway station to Hospet Junction charging Rs.3/- per head. We decided to stay in Hospet. It was our first time and we didn't know if there were good facilities in Hampi. We took a room in Shanbagh Hotel just beside the bus stop. They charged Rs.1040/- per night, the room was spacious and clean. By the time we refreshed, it was 11:30 and we decided to have brunch before we start to Hampi. We had meals for lunch at Shanbagh Restuarant opposite our hotel. The food was decent,tasty and reasonable. After lunch we started to Hampi.
It was evening by the time we explored Hemakunta hill and we decided to view sunset from Tungabadra Dam before we go back to our room. We took an auto from Hampi to Tungabadra Dam and reached the place in 30mins just before sunset. We hiked to the viewpoint, enjoyed and indulged in the beautiful sunset and water dance in Tungabadra gardens and started back to our room. This is how our first day ended in Hampi.
After that, we went to explore the temples and formations on Hemakunta Hill. There is no entry fee to visit Virupaksha Temple and Hemakunta Hill. We visited the Kadlekalu Ganesha temple, Sasivekalu Ganesha temple, Jain temples and other formations.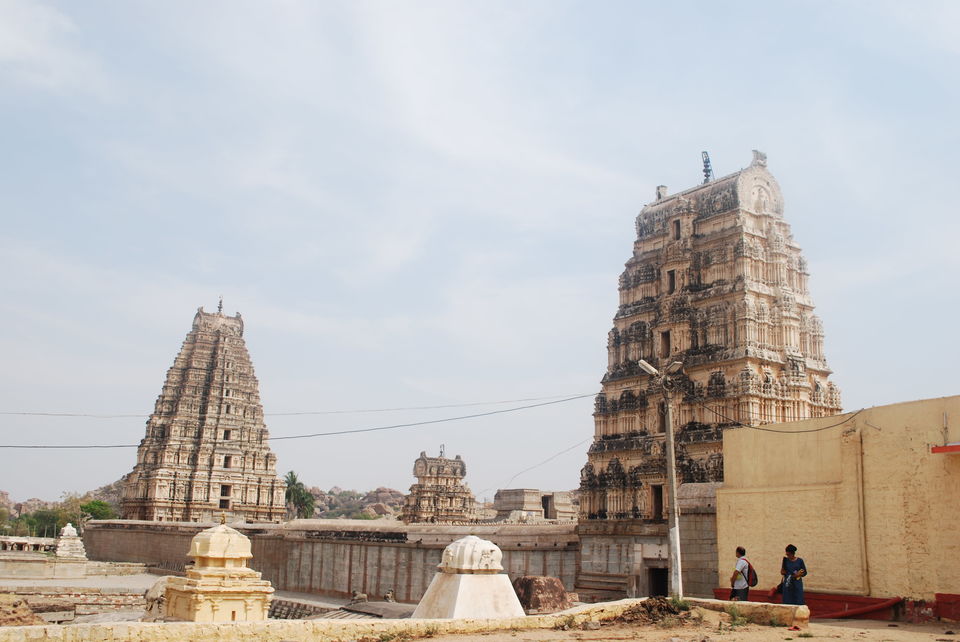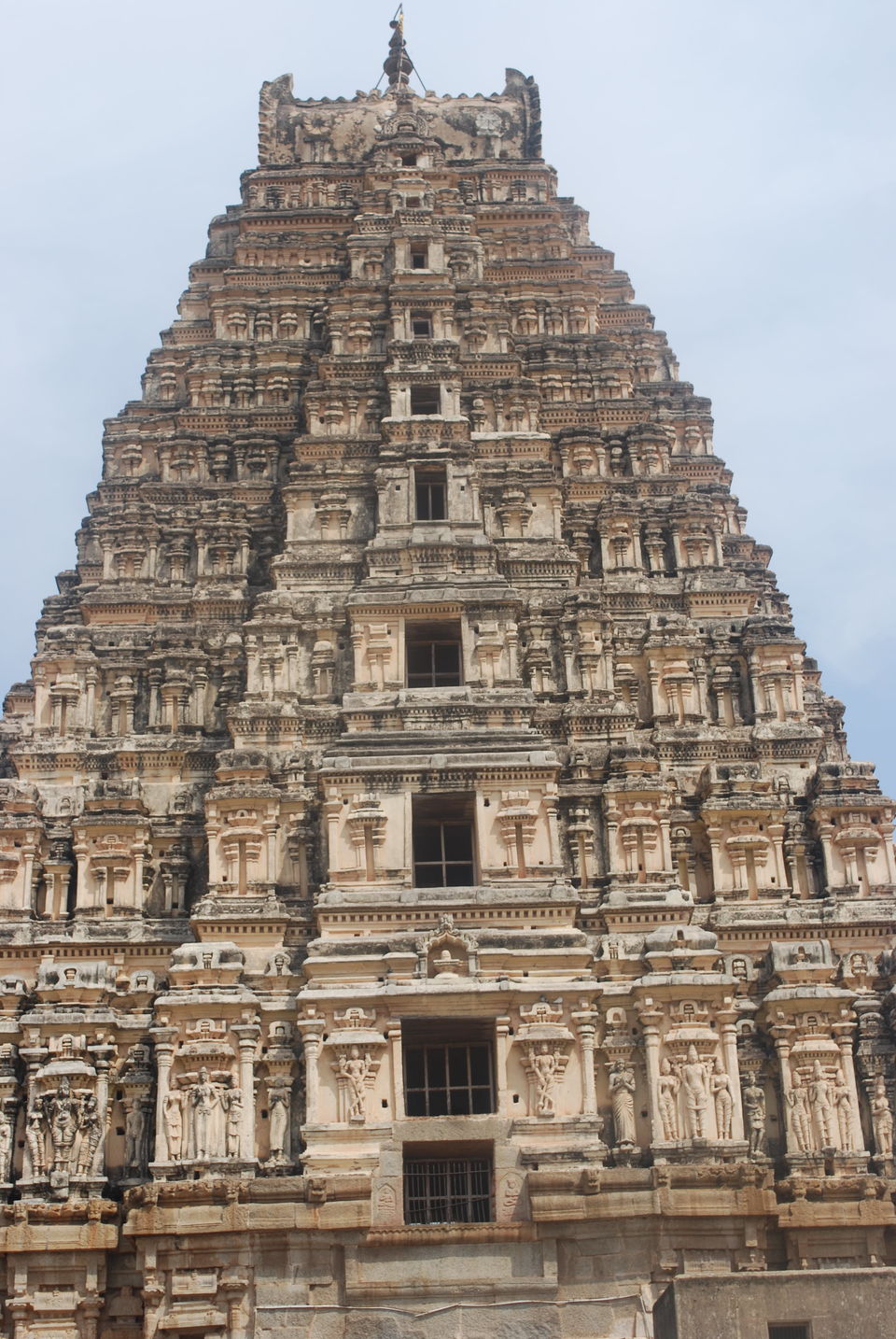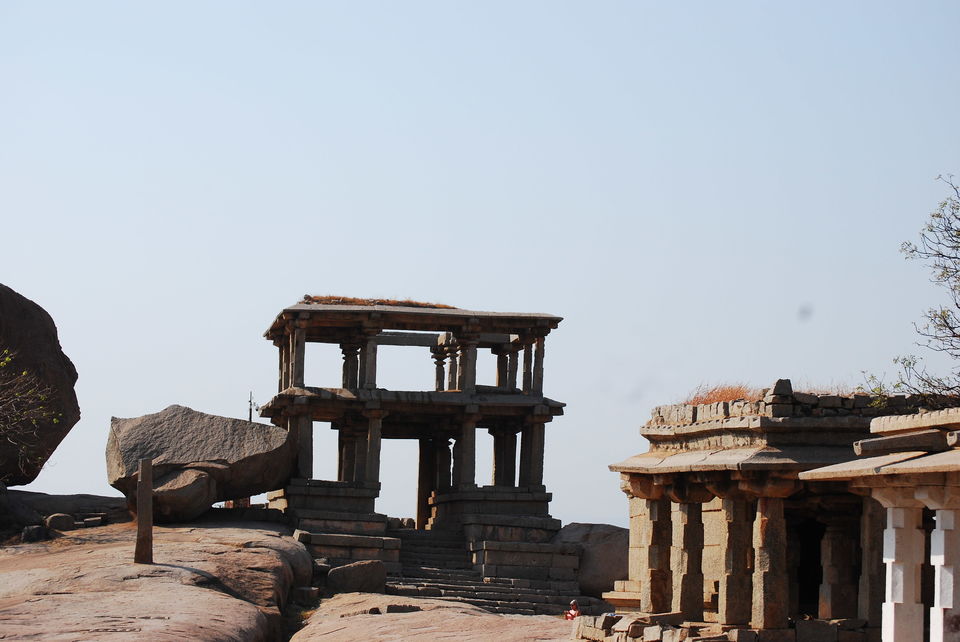 In the morning we hiked from the route that is on the other end of the road connecting Virupaksha Temple and while hiking down we took a route on the opposite side. We didn't know where the route was leading us we just followed some foreigners. We reached the road, walked a bit and reached Krishna Temple.
We explored the temple and walked back to Virupaksha Temple. From here, we hired an auto for 500rs to look around and visited Badavalinga, Zenana Enclosure, Lotus Mahal, Watch towers, Kodandaram Temple, Mahanavami Dibba, Saraswati temple, Elephant's stable, Rani's bath ghat, Audience Hall, Stepped tank, Stone door, Royal Enclosure and some other places.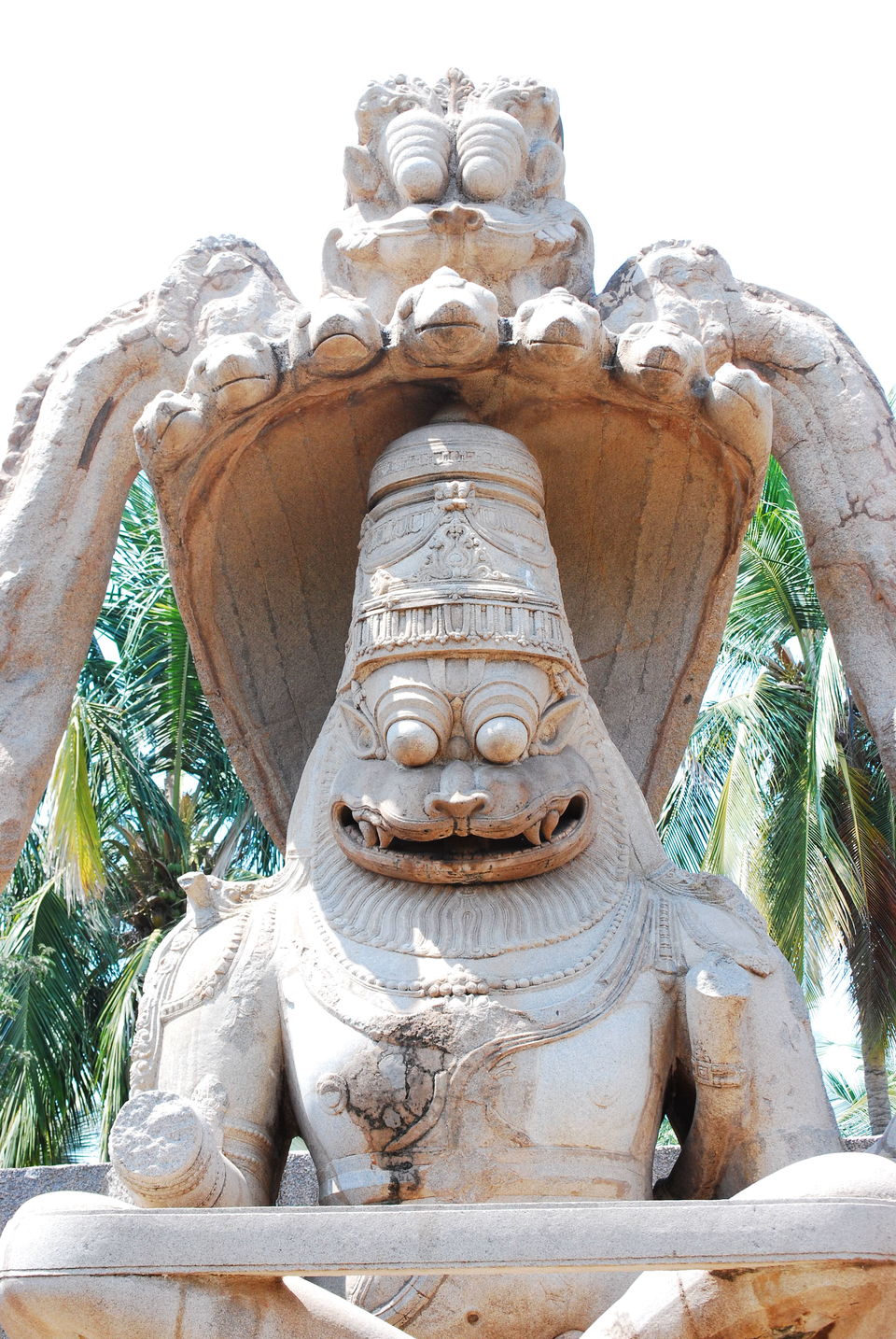 We had our lunch at Mango tree cafe and then started to Vittala temple. The famous Chariot and Musical pillars which are the iconic representations of Hampi are located in this temple. There's also a tree aged 108 years here. After exploring the temple we saw a foreigner coming by walk from the back side of the temple. Out of curiosity, we asked him about the route and discovered that there's a walking route from Virupaksha temple to Vittala Temple.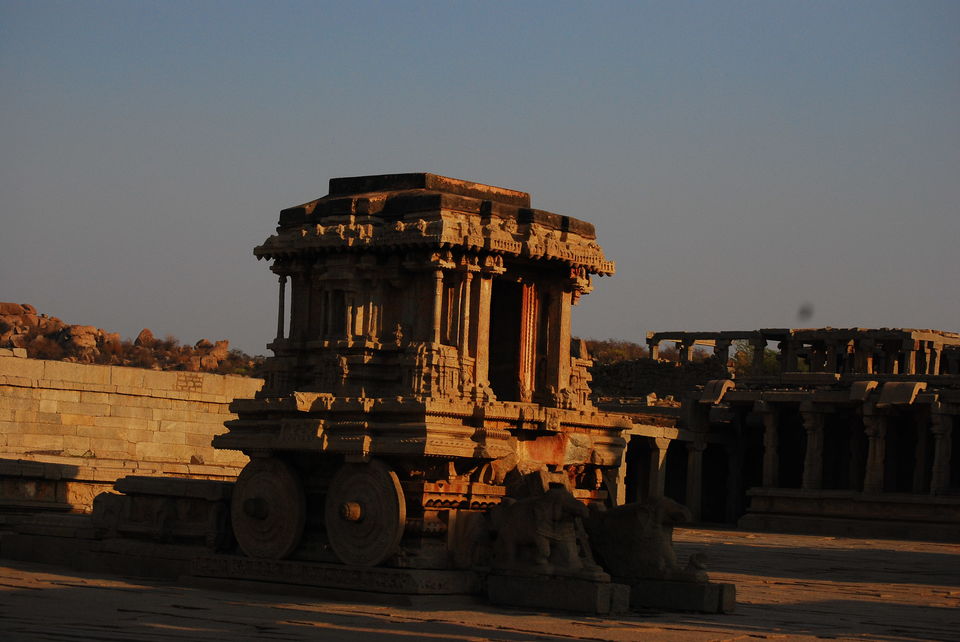 Our auto dropped us off at Hemakunta Hills and we managed to reach before sunset. We went and settled down in the sunset spot and experienced one of the most beautiful sunsets. Later, we just walked in the streets of Hampi, eating street food and talking to locals.Mirchi bajji with Bhel is a must do thing in Hampi. Then we went back to Hospet and end of the day.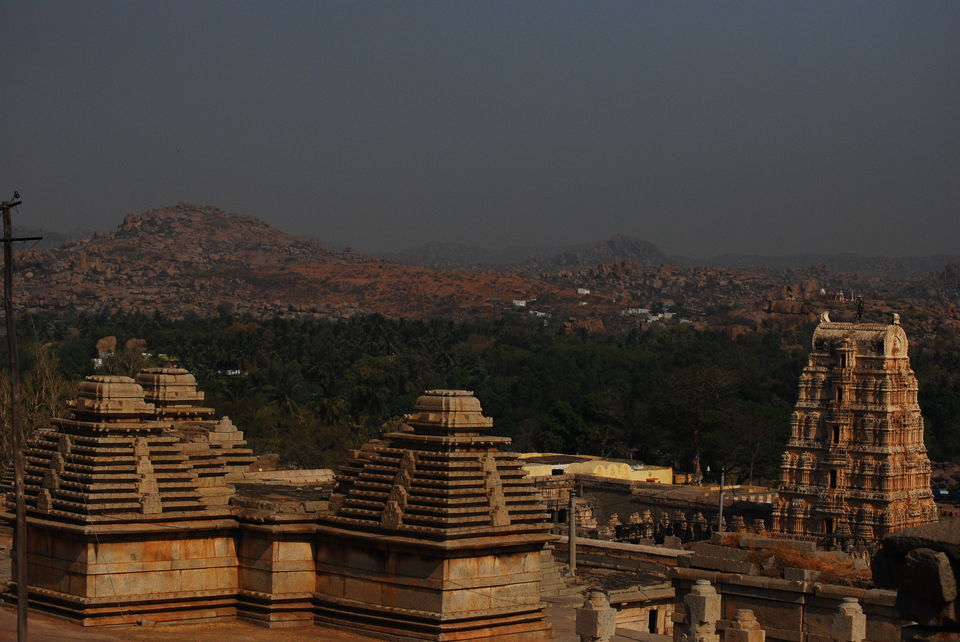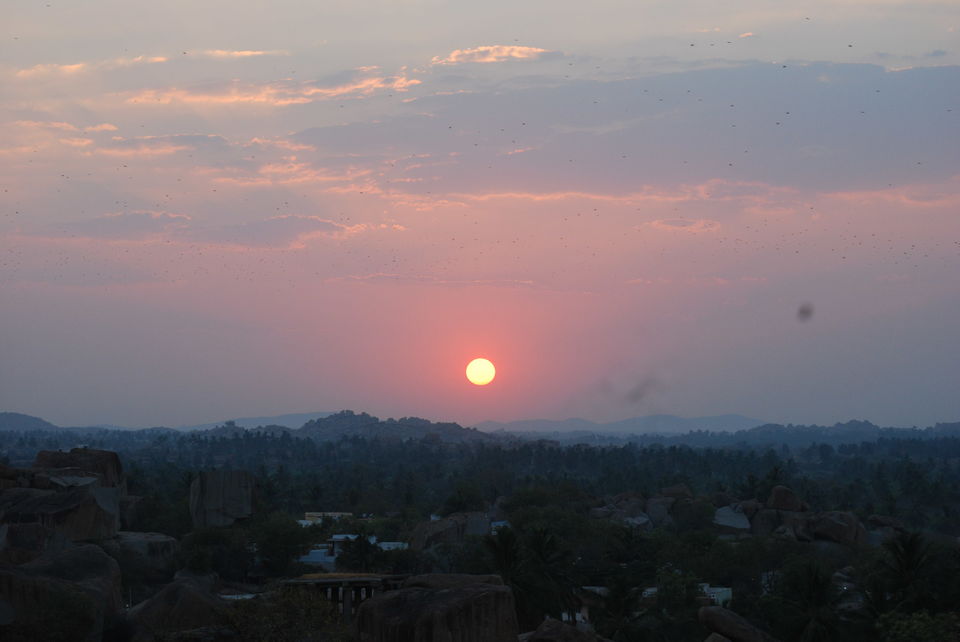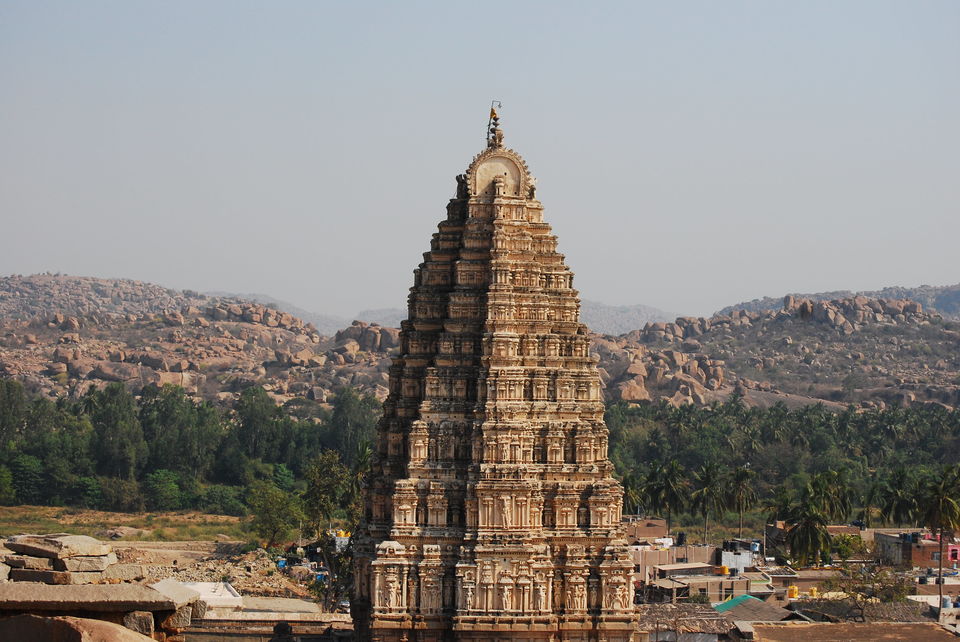 We decided to explore the walking route to Vittala temple on the third day. We reached Hampi, enquired about the route and came to know it is named as Bhima's Gateway. Not known by many, this is a wonderful route along Tungabadra river and enroute you come across Achyutaraya temple, Varaha temple, Yantrodaraka Hanuman temple, Kudaragumbe Mandapa and finally reached Vittala temple. Now, there's a well constructed path that has been developed. One of the most memorable and a rare moment that has we expereinced was, we saw a group of monkeys diving into the river and swimming to the other side. There are raft boat rides to cross the river that you can take but are expensive.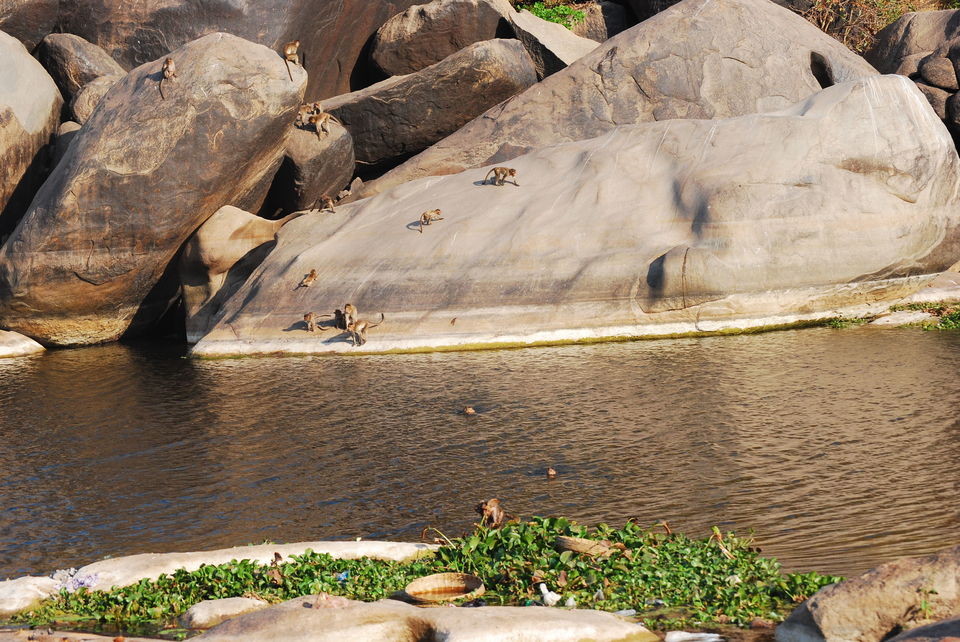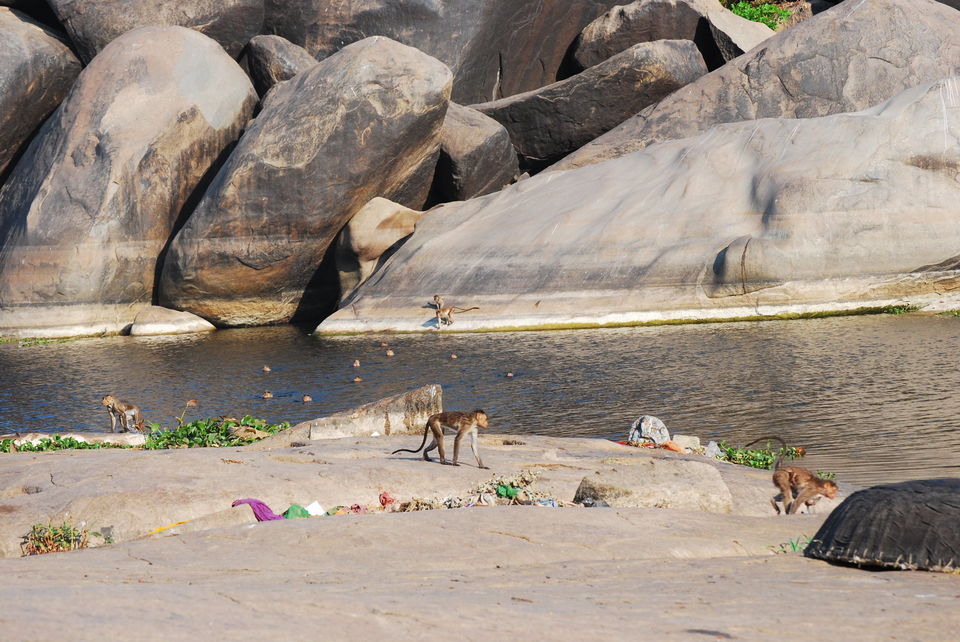 On the other side of the river are Anjanadri Temple, Talarigattu, Durga temple, Pampa Sarovar and Saraswati temple. We enquired and came to know that after reaching Vittala temple and then a 10mins walk will lead to the river where there are motor boats that charge only Rs10 to cross the river so we took them to cross the river.. In Talarigattu, we hired an auto as we had limited time to cover all the places. We first visited Anjanadri Temple - Birth place of Hanuman which is on a hill and you have to climb 575 steps to reach the top. It is a beautiful temple and they were serving lunch by the time we reached the top. We had our lunch there, started back and our next stop was Durga temple. In this temple there's a cave named "Vali Guha" 100 feet into the ground. First we climbed up a small distance from where you have breathtaking views of Pampa Sarovar and Hampi, then started climbing down the route which is adventurous in it's own way and reached the cave. The cave has its own divine and a peaceful vibe. This cave is the place where a sage meditated and became one with the universe. Another memorable event that I can never forget is when we were at this place, there was a puppy and a person meditating in the cave by the time we reached. He joined us on our way back when he told us how the puppy came along with him and showed him the way to the cave. It came with us on our way back, it may seem silly but it was always ahead of us as if showing us the route.From the temple, we went to Pampa Sarovar and Saraswati temple and started back to Vittala temple. From Vittala temple we reached a placed named Sethu by bus and from Sethu we walked to Virupaksha temple and enroute we came across a number of villas, resorts, bars,pubs and cafes. The vibe on this side of the river is completely different when compared to the other side. Most of the foreigners lived on this side of the river and the whole atmosphere is different . We started back to Hospet and visited our relatives place, had an amazing time with their family, visited Mantralayam next day and started back to Hyderabad.
The friendly vibe of the place, the ruins and temples with many untold stories, it's people transformed me for my life. I'm reliving my trip while writing this blog almost after 3 years and I still remember each and every moment. A place I discovered to discover myself in return, Hampi will always hold a special place in my heart.