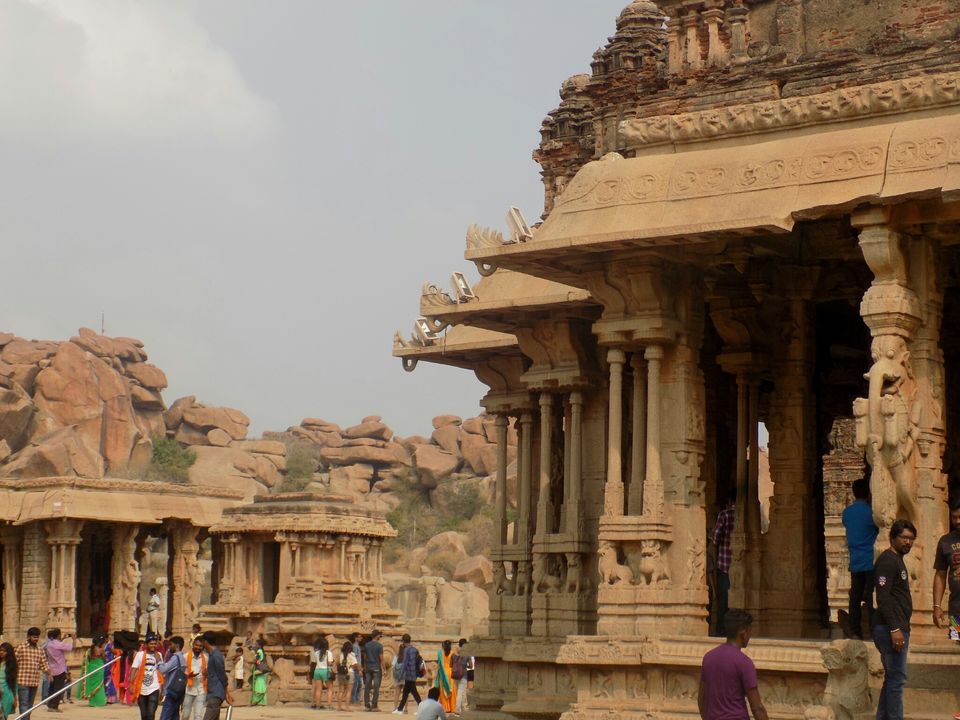 Hampi, Badami, Aihole and Patadakkal are known names to people who are interested in rich indian history.
Hampi and Badami served as capitals to Vijayanagar Empire and chalukya's respectively.
In medival-era writings, Hampi is mentioned as a second richest place in the world which attracted foreign traders.Still it is richest with history it holds, the Indian village culture and with the people who comes here to visit around the world.
If you are history buff and also loves ancient architecture this place is for you.
Hampi/ Hippie island is also for those people who want break from daily life, city's polluted atmosphere and for party animals.
Month: January
Budget: 7k
Travellers: 4
Belgam airport is nearby. Hospete is the option to reach by bus or train and from hospete there are so many autos goes to Hampi for 150INR.
Food: Mango tree restaurant food was better.
We booked a sleeper bus from Hyderabad to Hospete but we got down at a place called kamalapur. It's an over night journey.
We got down at kamalapur and booked a auto for 150INR from kamalapur to Hampi. We reached Hampi before our hotel check-in time, so we thought to go for breakfast.
We went to hotel canteen, got fresh up and ordered food which took almost an hour to deliver. It was not that good. By the time we finished our rooms are ready, we checked-in and started our trip with Virupaksha temple.
Virupaksha temple is a famous and mostly it is the first place that everyone starts their trip with. Our stay is near by temple, so we went there by walk. It is part of the Group of monuments of Hampi, designated as UNESCO world heritage site dedicated to lord Shiva.
You can see a group of temples on a hill just beside Virupaksha temple called as Hemakuta hill.
Prayers are offered only at Virupaksha temple, Idols are missing in most of Hemakuta hill temples. The hill is not a steep one. One can walk easily.
Hampi sits on Tungabhadra River bank. To visit other temple in hippie island, which is otherside of river we booked a 3 wheeler auto for some 700-800 INR.
Our first stop was at sugriva caves. These caves have its roots in Ramayana. Sugreeva was a monkey warrior and this cave used to be his home and lord Rama met hanuman for the first time at this place.
It's a small cave but one have climb a little bit, but it is not steep. Before this caves there is a temple dedicated to lord Rama. We offered our prayers first there.
Next stop is at Goddess Lakshmi temple near sarovar. It's calm and pleasent there. We visited main Idol first and sat near sarovar for sometime and went for Anjaneya temple.
Anjaneya temple is a hill temple. One has to climb almost 600 to 700 stairs to reach it. But that was the most amazing part. We made jokes on each other. Motivating each other to climb those many steps. Finally we made it to the top.
We were so tired that we directly went back to hotel had dinner and slept.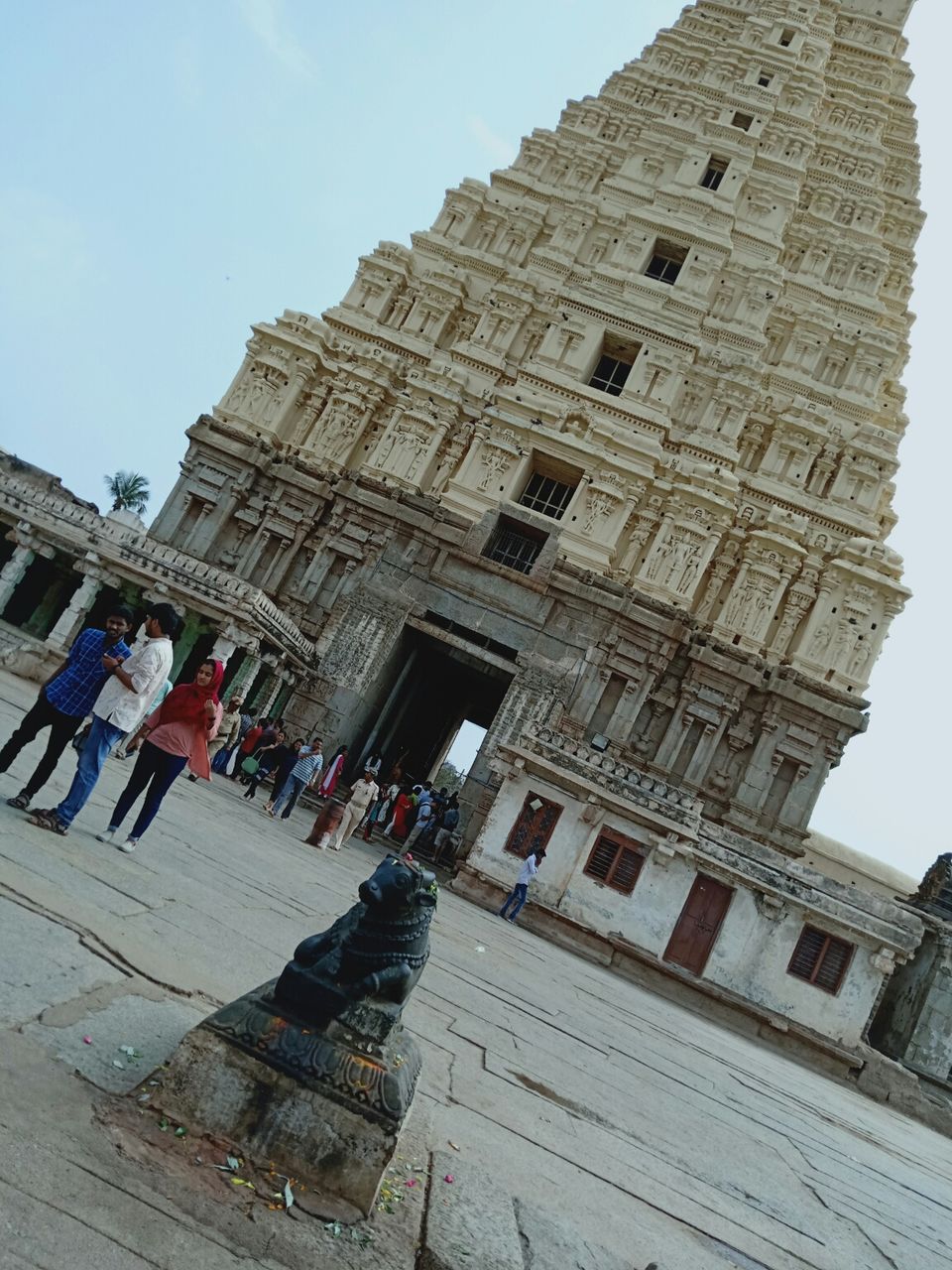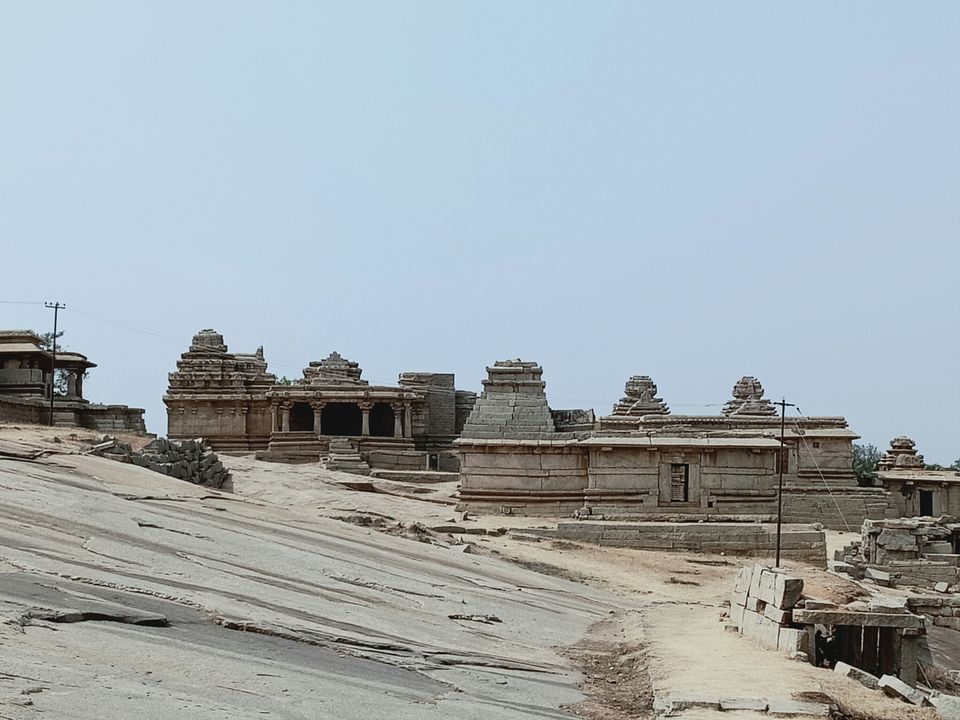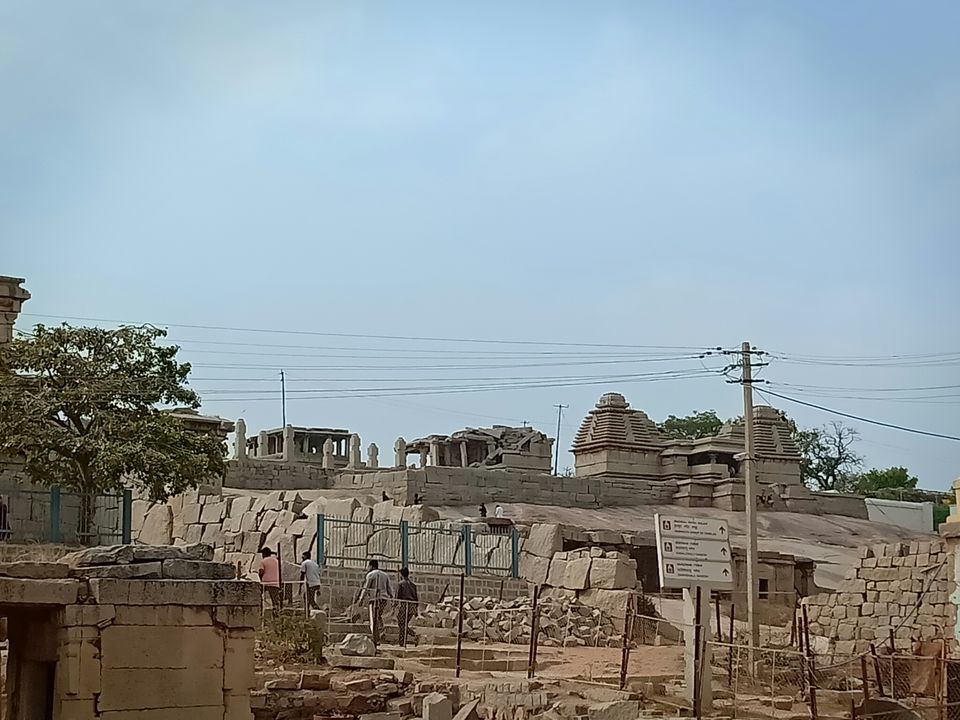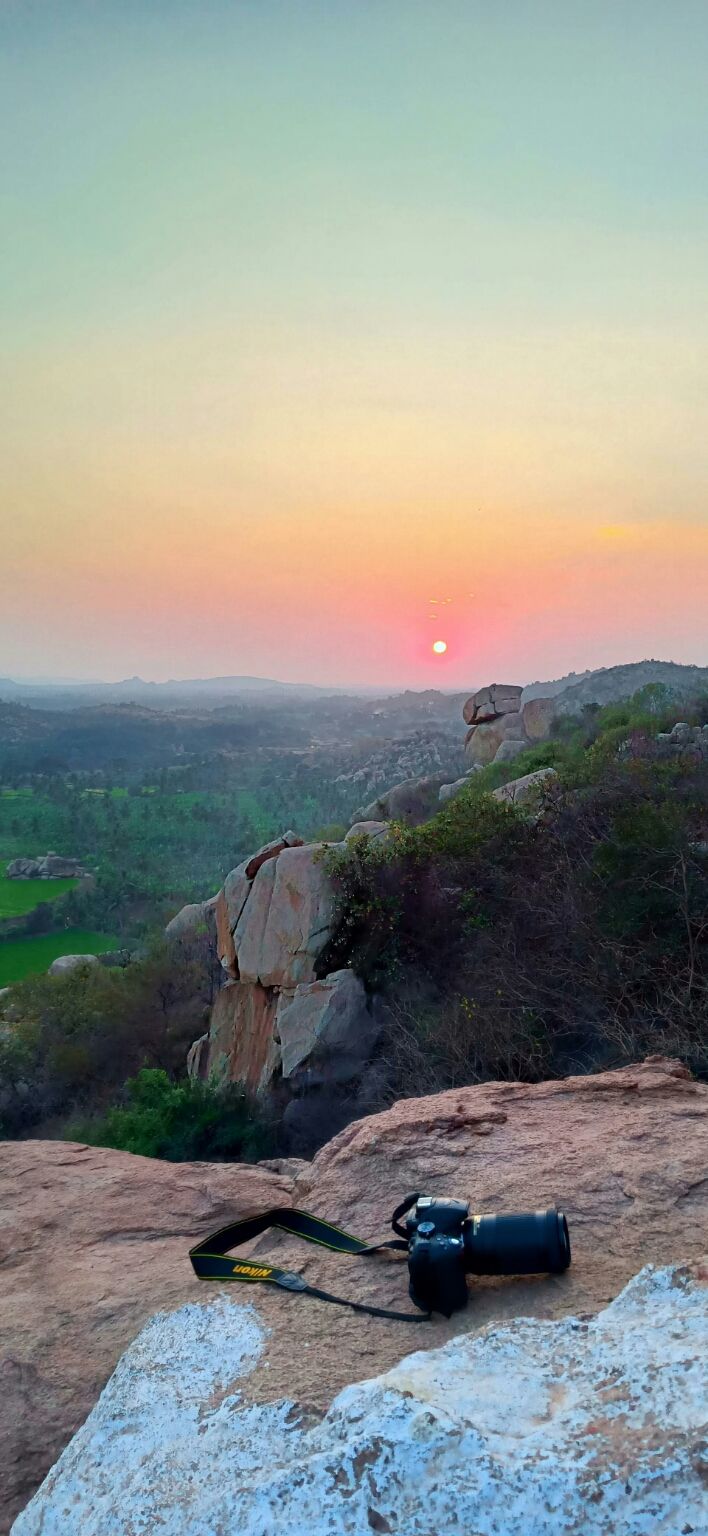 We woke up early morning and started hiking Matanga hill to watch sunrise. It was still dark that time, we used our mobile torch while climbing, it's a simple trek.
It's a fun trek, we reached hill top, sat there, chatted for sometime and clicked pictures but unfortunately it was a cloudy day and we couldn't see sunrise. Still we were not disappointed because of the view of Hampi, specially view of achyutaraya temple and Virupaksha temple from Mathunga hill is so beautiful.
Later we visited Monolithic bull, it is a giant statue of Nandi which is also called yeduru basavanna placed exactly opposite to the Virupaksha temple and at starting point of matanga hill.
Later we went back to hotel to fresh up, had breakfast and checked out. We settled our bags and started to visit remaining places on 3 wheeler auto. Charge for that day is also around 7 to 800INR.
First place we went to visit Saasivekalu Ganesha and kadalekalu Ganesha temples, the main Idol is a giant statue that was carved out of single boulder and the temple walls are filled with different mythical characters. Next we went to Krishna temple which is a big temple compound and main shrine brought by Raja krishnadevaraya from Odisha.
From there we went to Badava linga and Narasimha Swamy temples. Badava linga is a big rock carved into Shiva lingam surrounded by a pool of water. Ugra Narasimha Swamy status is the largest statue and depicts in a angry form.
On the way to Under ground Shiva temple, we saw 2 gigantic rocks leaning on each other like supporting each other. We got to know from our auto driver that there is a legend associated to this stones that they are actually sisters and cursed to become rocks. They're standing there since ages and one of the stone cracked recently.
We reached underground Shiva temple from there, like most of the temples main shrine was missing at this temple too. Specialty of this temple is, it is constructed below ground level. I haven't seen any ancient temples which constructed below ground level. You can see water inside and also got to know that most part of the temple will be submerged in monsoon.
From there we went to the watch tower which is used to guard the mud path and architecture of this is completely different from others. It is built in indo-islamic model by Vijayanagara kings.
Lotus Mahal was next monuement we visited. It is also built in indo-islamic architecture which is undamaged and looks like a lotus bud. There a basement of Queens palace and other monuments. If you walk further there is another indo-islamic impressive structure stands undamaged called as elephant stable which was used as a shelter to royal elephants. There is a nice lawn in front of that. We spent some time there clicked pictures and decided to walk further and see what else was there. There were some more temples almost damaged.
After that my other friends went to Hazara Rama temple and pushkarini while i was resting in auto treating my foot pain and saving my energy to visit the famous stone chariot.
So here comes the famous and favourite part of the Hampi trip that is stone chariot and Vijaya Vittala temple complex. To reach this place either you can walk from main road or you can pay for shared electric car. It's not near to main road and i also had swelled foot so we opted for electric car.
Stone chariot stands in middle of Vijaya Vittala temple complex. There are so many Hindu mythical characters carved on temple walls and pillars. This place is gave me chills. It is so beautifully constructed. A standing proof of Indian culture, architecture and rich history.
We came back in electric car, had lunch there and went to catch bus to Badami.
There is no direct bus from Hampi to Badami. So we thought to go to Hospet which is town nearby and enquire at bus stand. We said goodbye to our auto driver and boarded a bus to Hospet. People were so friendly and interested to know about our group. One of them told us to go to a place called KUSHTAGI from Hospet and from there we can get buses to Badami. But later co- travellers in bus from HOSPETE to KUSHTAGI told us that it's difficult to get Badami bus from KUSHTAGI, so they suggested us to board GAJENDRAGAD bus. Luckily we got that bus and went to GAJENDRAGAD. From there we got a bus to BADAMI. But it is so crowded that we got two seats by difficult. But finally we reached Badami by 8 or 9 pm. We checked in hotel booked via booking.com just backside of BADAMI bus stand, had dinner and slept.
If anyone want to go by bus from Hampi to Badami
Go to HOSPETE - GAJENDRAGAD or BAGALKOT - BADAMI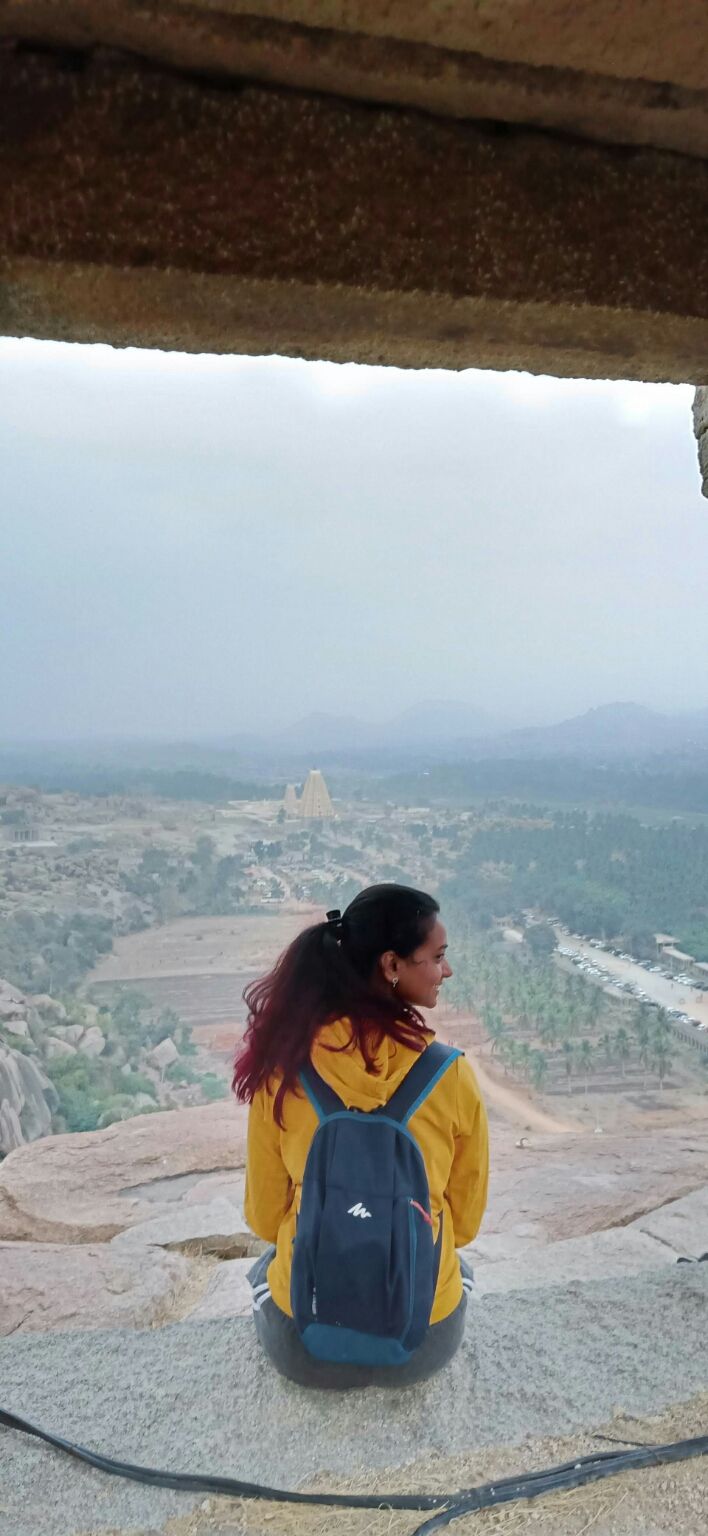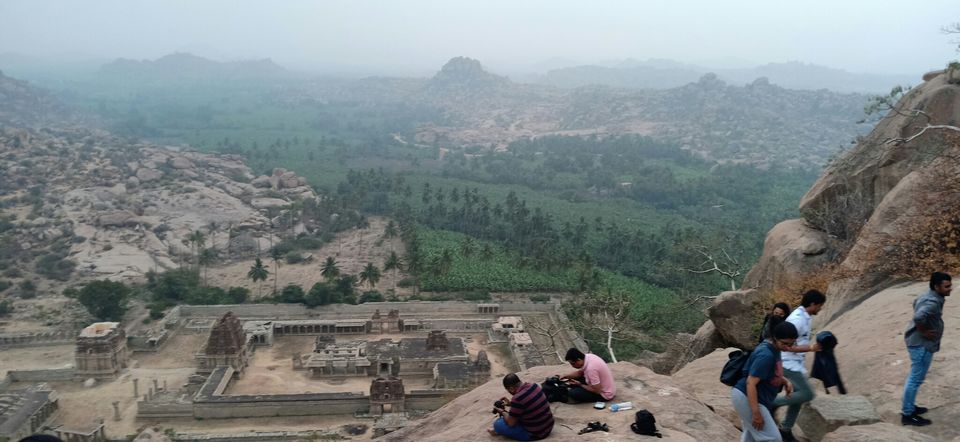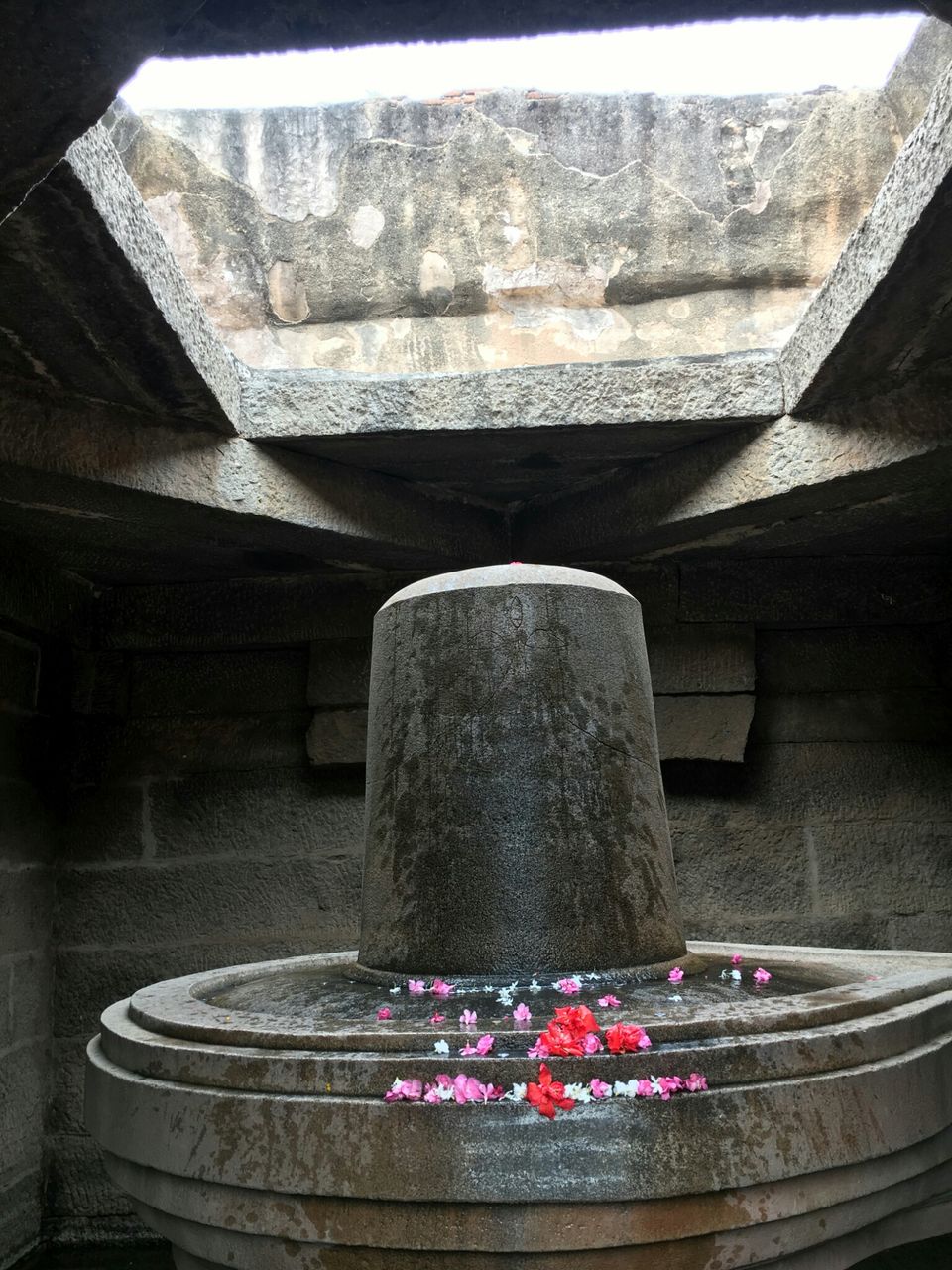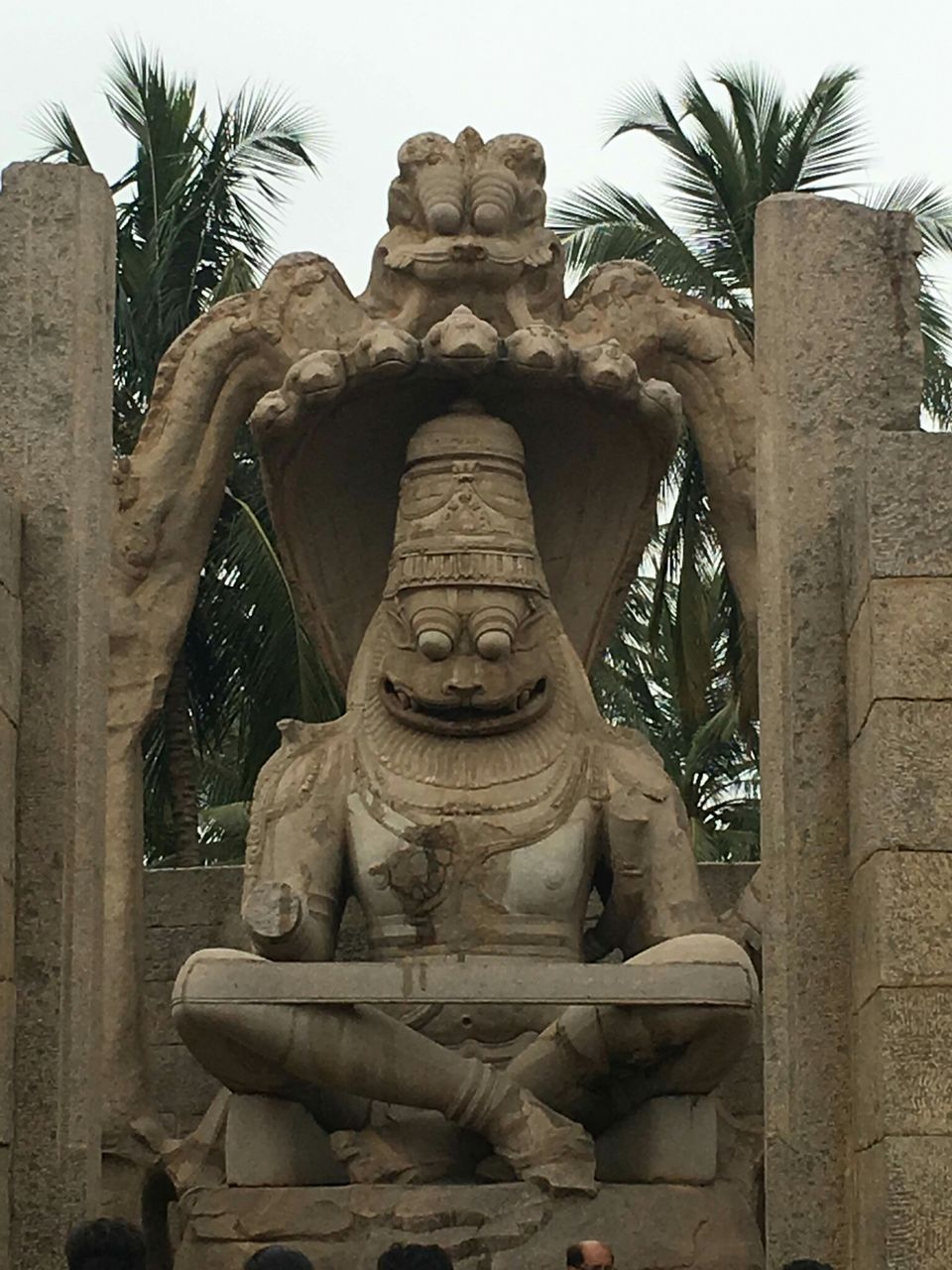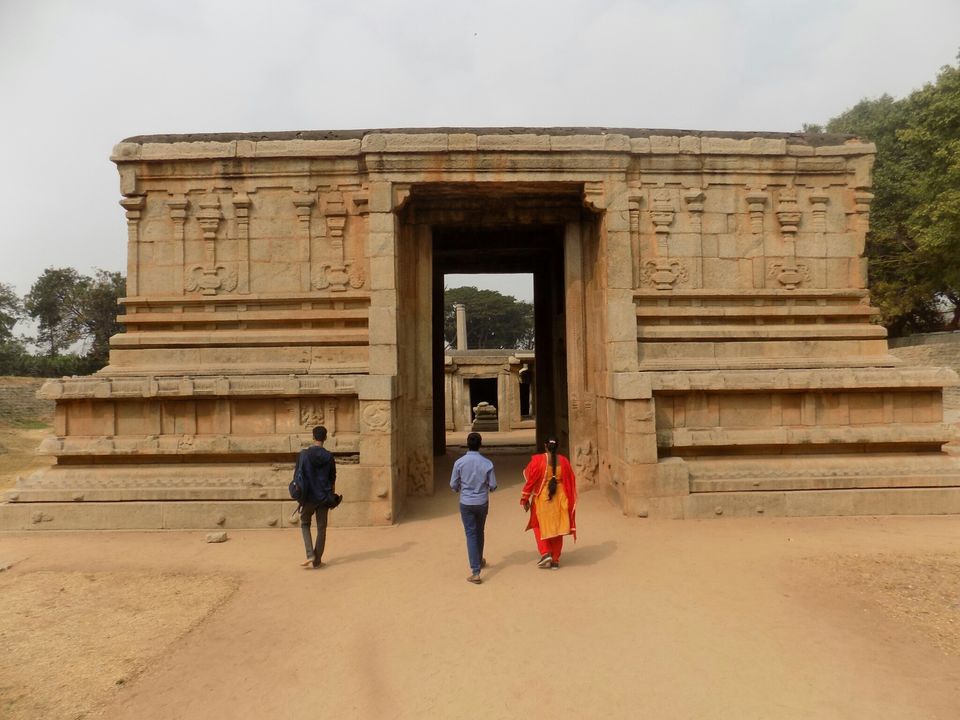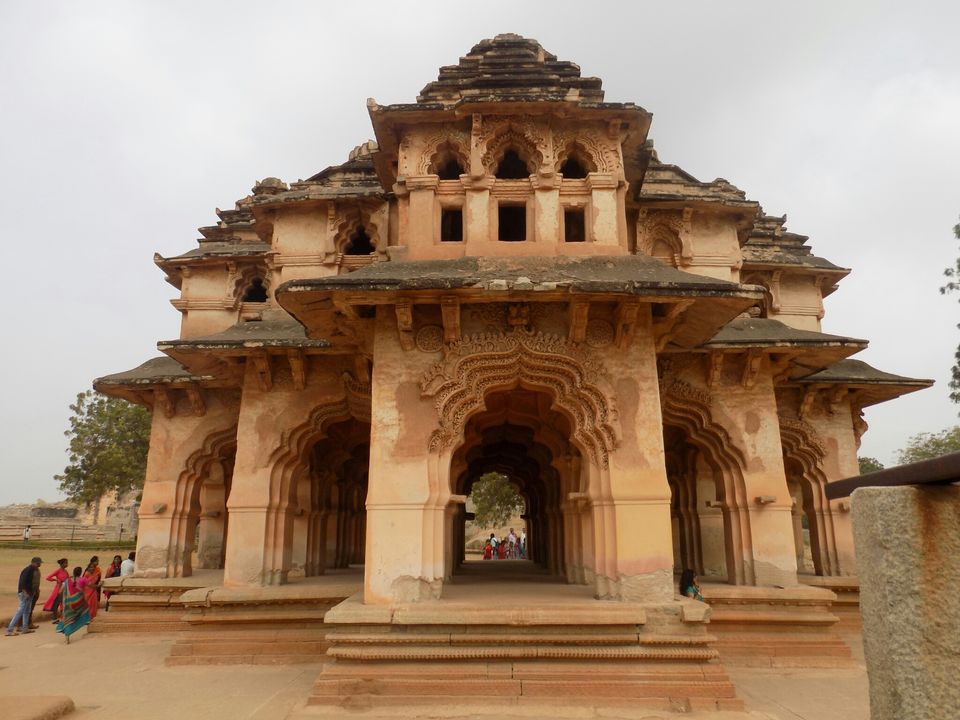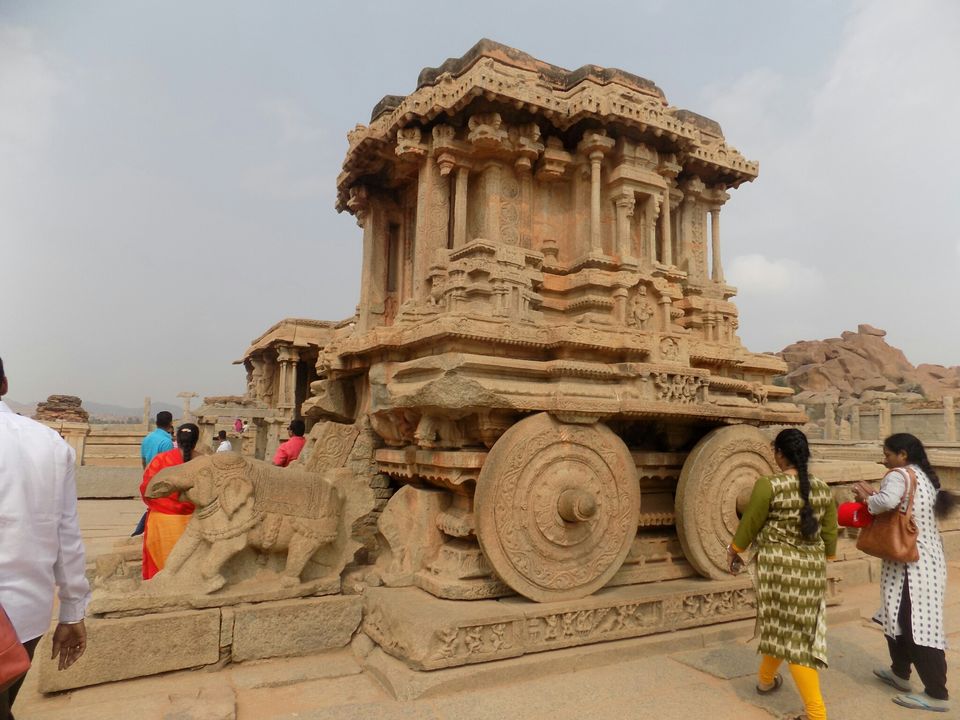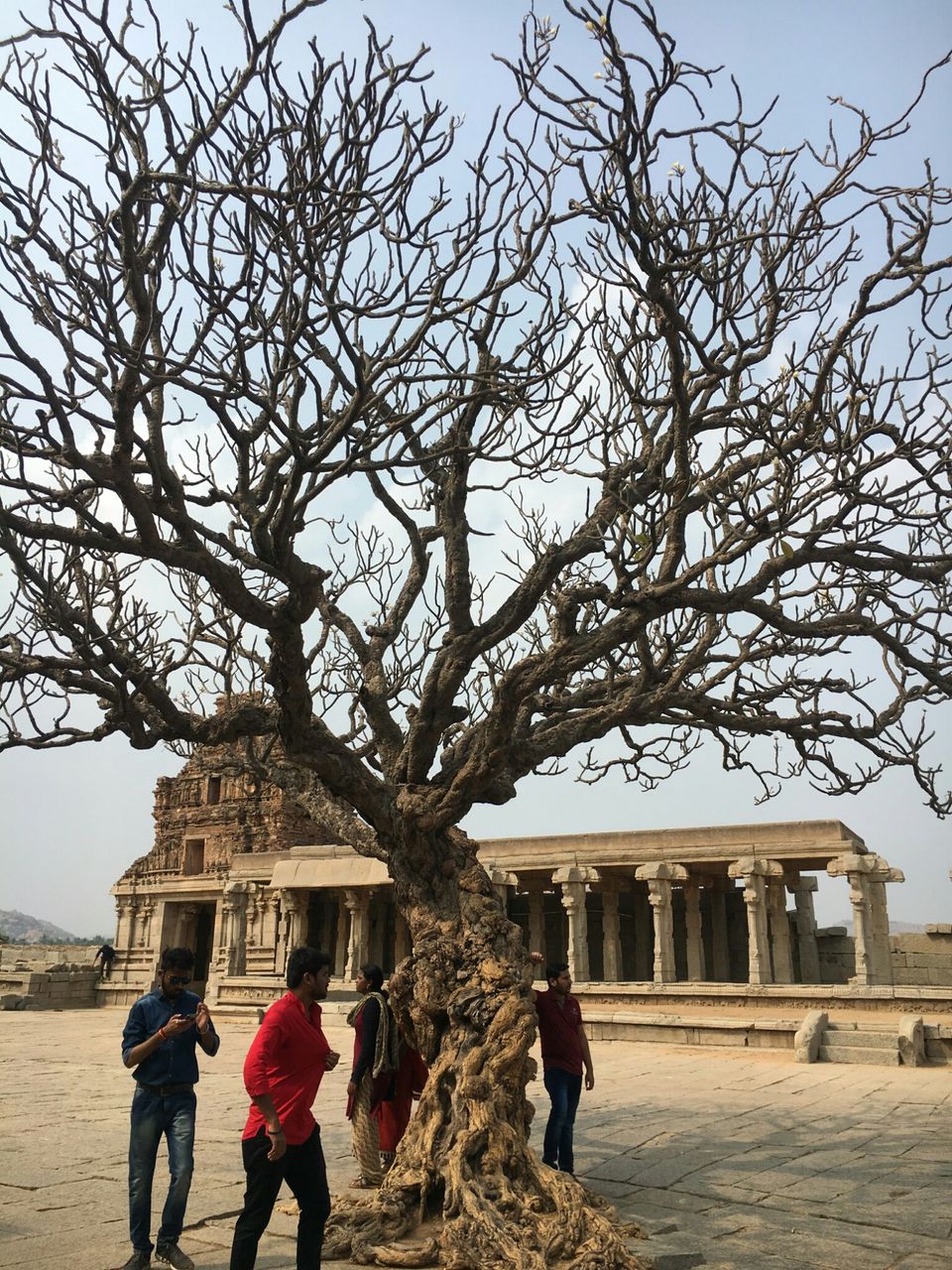 As we had only one day to visit Badami, Aihole and pattadakal. We started early morning, booked an auto for our trip and left to visit Aihole first. It was a chilly morning, we crossed sunflower fields, hills and some small villages on our way to Aihole. There are so many ancient temples are there on the way surrounded by villagers homes.
Our trip started with Goddess Durga temple. Durga is symbol womens strength and energy. she is mother of universe. The temple structure is not like other temples. It is round shaped architecture, which is built in 7th or 8th century of Badami chalukya's reign. The temple has fine carvings all over the outer walls of temple. There are so many other temples and the museum in the compound.
We clicked so many pictures and started for our next destination.
Entry fee for Durga temple compound is 10INR for indians and 250 for others.
Ravana padi cave temple was our next destination, which was built in 550A.D. Very few people know about this so we were the only people there at that time, Inside cave there is a big Natarajan statue, Goddess Parvati and lord Ganesha idols are carved from the rock.
Next stop was pattadakal. There is a big temple complex with beautiful lawn in pattadakal, which is feast to eyes. The sight of those many ancient temples standing proud was overwhelming. Unlike other places these temples are well maintained even though some sculptures are damaged by Mughal attack. This is a UNESCO World Heritage site.
These temples doesn't completely have southern indian temple architecture. These are mixture of both south and north indian architectural form. On every wall and pillars of temples are filled with nicely carved sculptures of characters from mythological Hindu scriptures.
Entry fee: 10 INR for indians and 250INR for others.
We bought some food items outside temple complex and started to next destination with happy faces. We reached Mahakuta group of temples. These Dravida style group of temples dedicated to lord Shiva. There is pond inside temple compound, people believe that if someone wish something and throw a coin in it, it will be fulfilled. So one of my friend also made a wish and threw a coin in it. We spent some time there.
And then we came back to Badami, went to Badami caves but didn't explore much as we didn't had much time left. we directly went to visit Bhutanath temple and Mallikarjun temple.
Bhutanath temple is a must visit place. The main temples is extended into lake. As we went in January there is not much water in it, but we decided to come back to Badami again just to see how it looks in monsoon. I loved this place and other temples in compound. There are lots of monkeys around the temple.
With this we ended our trip and boarded train at Gadag junction to Secunderabad.