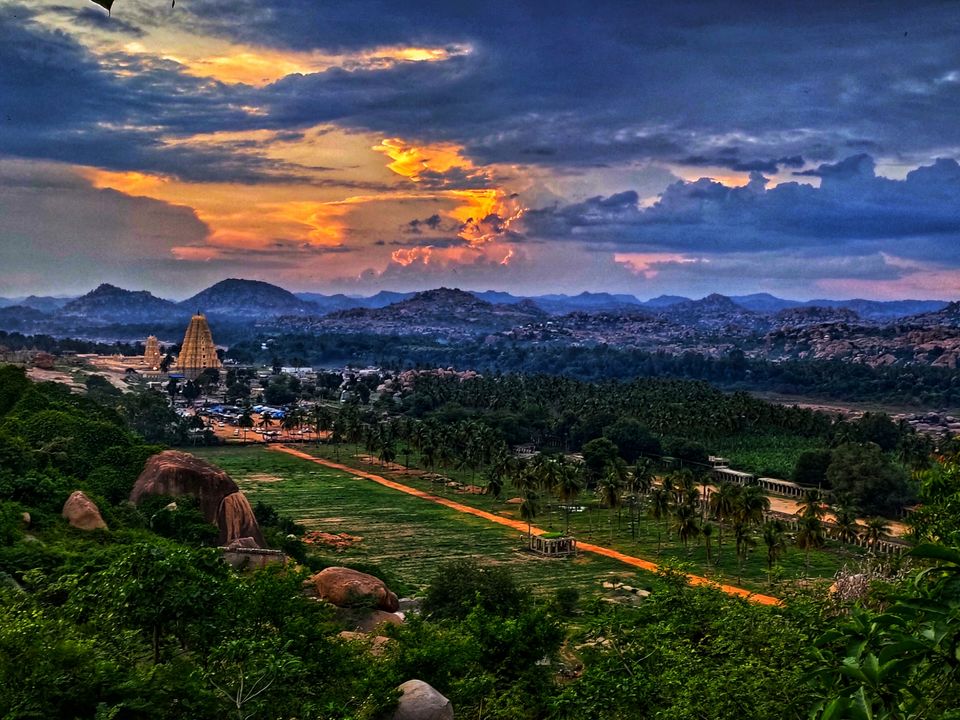 So finally the day had come for which we were waiting for so long. Today was the day we were to depart for our unforgettable trip to Hampi.
As exciting as it sounds, this trip was initially planned for the sole purpose of not ending up spending our college holidays inside our hostel rooms, and also to save the money that would have rather been spent on the flight tickets if we went to our homes. Yes, you heard that right, we are 2 college students that would be spending the next 3 days in and around Hampi.
Now, if you are a travel-loving person like us, who also loves their money, then this blog is for you, and if you are a college student who is looking for a destination to spend the next holidays in budget-friendly expenses, then this blog is definitely for you.
Now, the question which you may ask first, is why did we choose Hampi out of all places to visit? Well, to answer that, I would first state that we study in Coimbatore, Tamil Nadu and we have had recently visited Puducherry. In all its glory, I can surely say that that place, was worth every penny spent! So due to that, we didn't want to go for another beach-side trip, so we simply changed the terrain. We chose a mountainous UNESCO world heritage site, and made it as our trip destination.
Now that you have got a hint of the background story of this trip, let's move on to what we did on our first day.
We travelled. Period.
Yeah! Unfortunately, since there are no direct trains from Coimbatore to Hampi, we first had to book a train to Bangalore, and from there, to Hosepete - which is the nearest railway station from Hampi! And obviously, since we are "Mr. Cheapy-Pants", we looked at 3rd AC tier first, but then had to settle for sleeper class and chair car, as there were none available at that time. It costed us approximately 400-500 Rupees. So, we left our city at around 1:30 in the afternoon and reached at our first stop Bangalore at around 8 in the evening. From there, the next train to Hosepete was at 10:00 pm, so we had our dinner, boarded our next train, and finally reached our destination at 7'0 clock the next morning.
"Oh my God! There are cockroaches on my berth!"
After a dreadful night journey to Hosepete, we woke up to a wonderful morning, and then took an auto rickshaw to Hampi. He drove us till the banks of Tungabhadra River, and then told us to cross the river through a ferry that was waiting there (As it is the only way possible). The river actually divides the town of Hampi in two parts - South Hampi and North Hampi. And guess what? You can not drive your rented bike/scooty to the other part of Hampi, or at least that's what we were told!
So, after reaching to the other side, we rented a bike and headed towards "Jungle Tree House" - the place where we were to stay for the next couple of days. And man, what an astonishing ride it was! As we moved away from the city bustle, all that was left was nature and us. We drove further, only to feel like we have come to a completely new place. We rode all the way among narrow roads, surrounded by big boulders on both the sides, ruins, hills, cascading rivers, and what not! It was all mesmerizing, to say the least! Later, when we reached our hotel, we checked in and had our breakfast along with many fellow tourists at the common resting area, which is the speciality of almost all the guest houses and hotels in Hampi. The rooms though, were bit smaller than what we had expected, but the overall ambience of the place totally made up for it. Thanks to our luck, the cost of our stay at the time of our booking was Rupees 600/day for a double bed room. But it is usually around 1000 bucks for the same. A few moments later, we freshened ourselves and rested there till afternoon. At around 4 pm, we headed towards nearby tourist spots.
The first place in our checklist was Sanapur Lake, a calm and beautiful site to visit. So, we went there, and clicked loads of photos because why not. (And deleted half of them later because why not!) Then we headed straight towards the famous temples that were there on our way. First of them was this hill known as Anjanadri Hill, on top of which is situated Anjaneya Temple - a historic Hanuman temple. The important thing is, to get to the top of the hill, we literally had to climb around 600 stairs! It was tiring of course, but once up there we had our bit of fun too. There, we were greeted by lots of monkeys just goofing around, so we made sure to click some cool pictures of them (or of trying to run away from them.. sigh!)
Then after, we visited some of the smaller temples too, such as Durga Temple, Pampa Sarovar, and also Gagan Mahal which for some reason, was under construction at that time. While on the way back to our hotel, we stopped by a famous ruin called Tungabhadra Bukka Aqueduct, which resembles a bridge across the river. We later got to know that during its time of use, its main purpose was to transfer gallons of water from lower areas to higher elevated areas. Photos were mandatory there of course!
Finally, after all this, we went back to our hotel, and just laid down in the outer sitting area like two tired pandas, sipping some caffeine in, as it was the need of the hour. So, this was how we spent our second day of the trip - casually roaming around from one place to another in North Hampi. But we weren't done yet. Who forgets to upload some Instagram stories and posts after such an eventful day! We continuously bombarded our friends' Insta feeds by our stories and posts, and got some bitter sweet comments too in the process (Attaboy!) But even after all this, it was just a start. The next day was all set to show us the other half of Hampi that was South Hampi. We had a light dinner, and then dozed off on our beds. We were already very excited about the next day!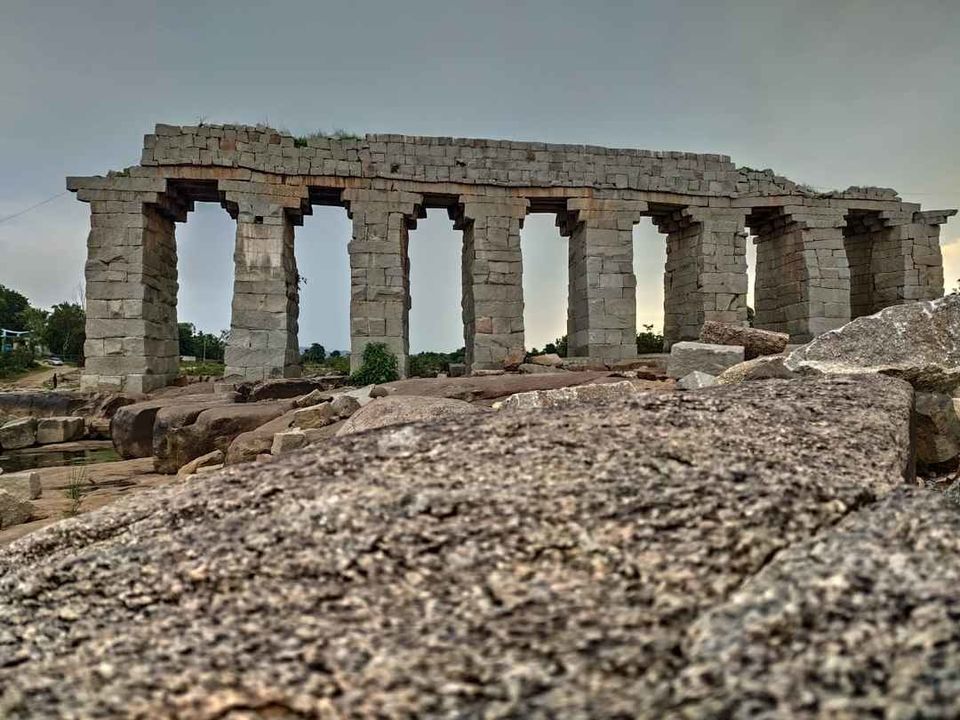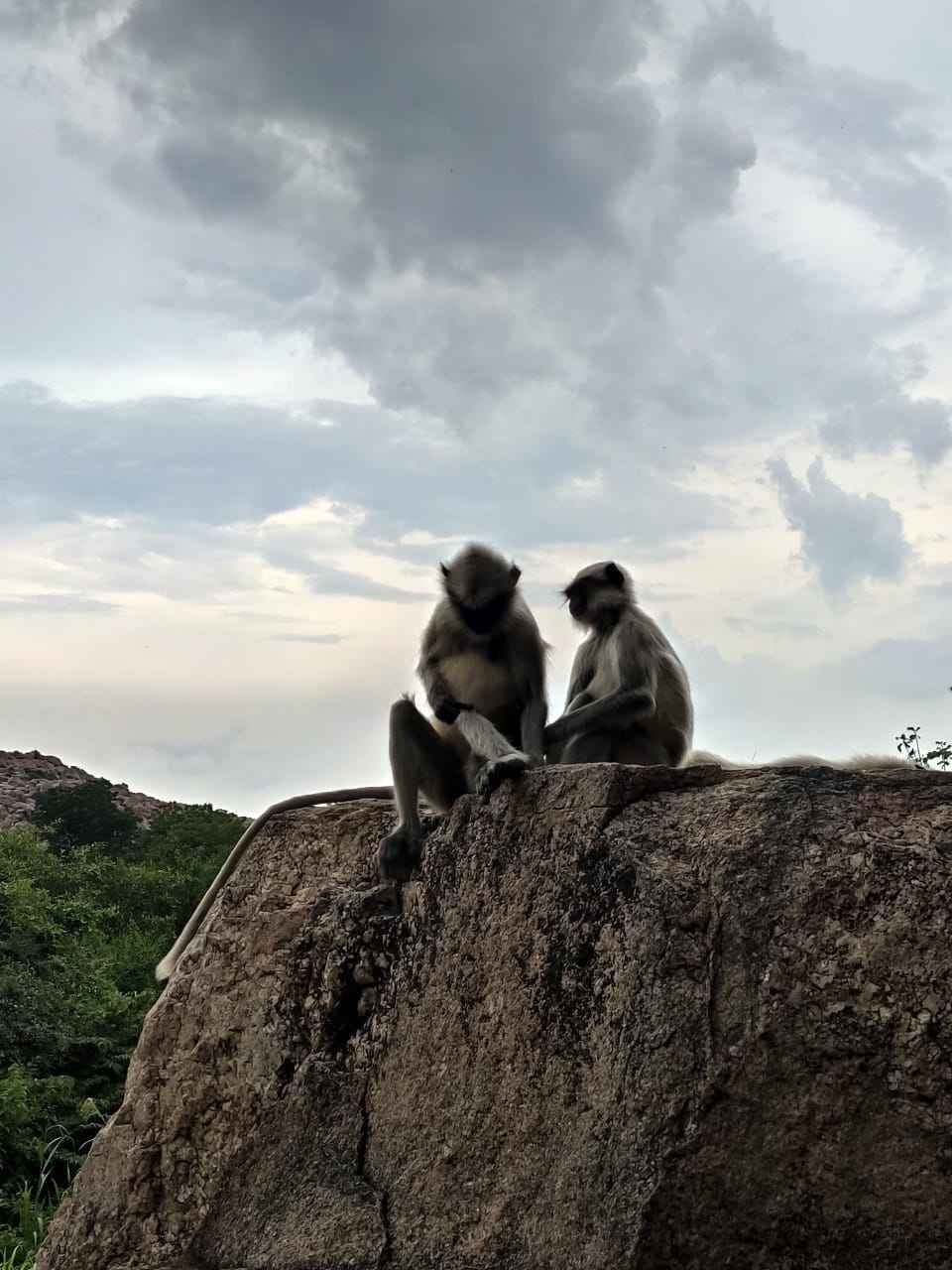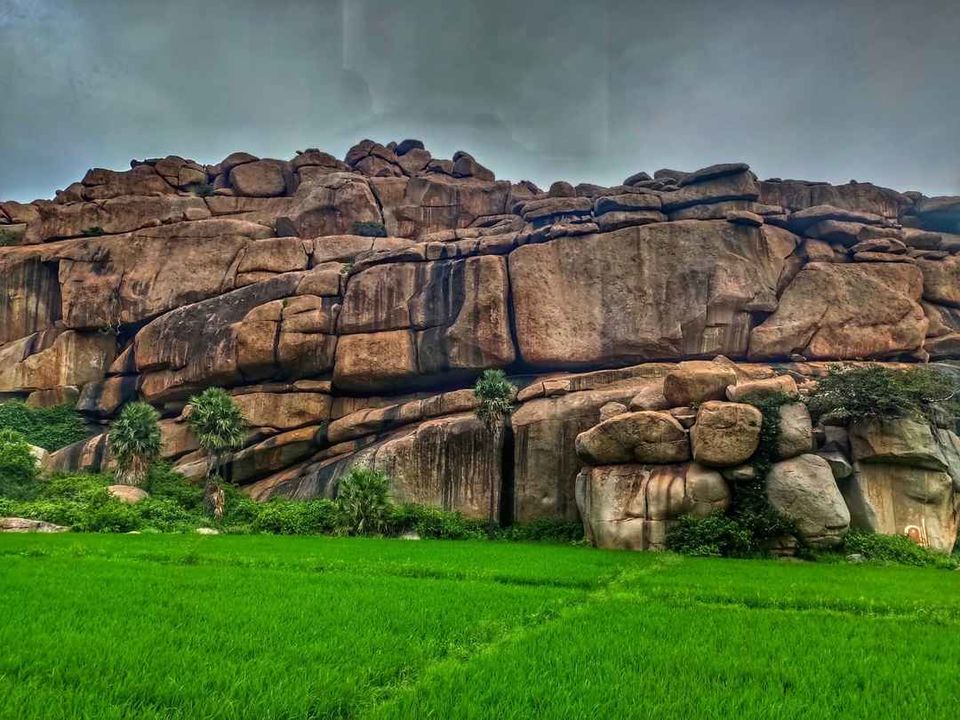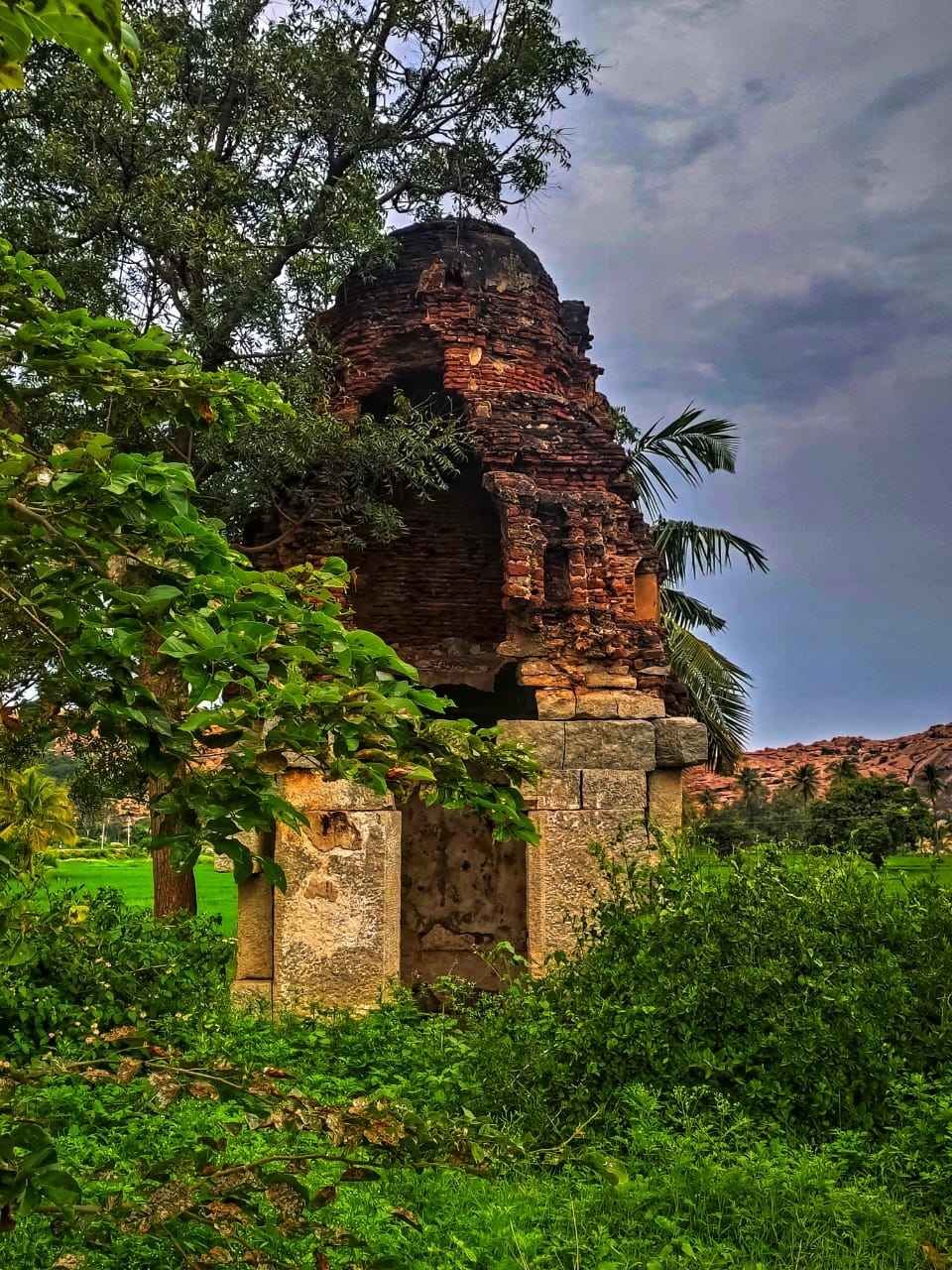 A full-day personal Auto Rickshaw ride? Yeah! That's a thing there in Hampi. Since, you cannot bring your rented bikes from North Hampi into this part of the town, it has become a usual business for the local rickshaw drivers to offer a full day auto rickshaw services to tourists, while also being there as a guide. So that's what we did! After checking out from the hotel early morning, we came to this side of Hampi and took an Auto Rickshaw service, and the driver agreed to take us to all major tourists spots in the city, and at the end he would also drop us to the bus stand from where our return bus journey was. It costed Rs 700/- each for us both. That sounds a bit too much but believe us, it is the regular rate there. So first of all, he took us to a nearby cafe for us to have breakfast. We had a few Paranthas and Dahi, along with a cup of tea each. It was after finishing our meals, that we realized that we didn't have any money left in our wallets. So, the Auto driver talked to the cafe workers and told that we will pay the amount at night (Phew!).
The first place we visited on the third and final day of our trip was "Virupaksha Temple", which is just alongside the banks of Tungabhadra River. It's indeed a very amazing temple with a grand entry gate and such fine architecture.
After exploring some surroundings of the temple and the temple itself, we moved towards Krishna Bazaar and Krishna Temple, which is just nearby the Pushkarni (Stepwell) of Virupaksha Temple. Then, we also visited and explored several other ancient ruins and temples, which were once standing as giant infrastructures of the royal town of Hampi. Among them were some notable places such as Elephant's Stable, Queen's Bath, Queen's Summer Palace, underground Shiva Temple etc. One good thing for tourists among many others is that the entry fee of every place to visit there is either nil or very minimal (Rs 40/- ticket is required to travel all of the above mentioned places as well as Vittala Temple). After visiting these palaces and temples, we were very tired and decided to proceed further only after having our lunch. So, we went to a hotel, ordered two South Indian Special Plate and recharged ourselves to the maximum.
After having a quality lunch, and also after withdrawing sufficient money from the ATM, we moved ahead. The guide told us that there were 2 places more for us to visit - Vittala Temple and Matanga Hill. And broadly speaking, these two places are the most important places to visit if you are in Hampi. So, we got ourselves back on road to visit this place first, of which we were eagerly waiting for - Vittala Temple, which is also known as Vijay Vittala Temple by some folks. The reason of its popularity is because it is best known for the famous Stone Chariot of Hampi, which can also be seen on the 50 rupees Indian note. When we reached the place, our guide told us about some of its history and also said that now we would have to walk for a certain distance to reach the entrance of the temple. So, we began walking like all other tourists, and on our way, saw another huge Stepwell and a couple of "Bhavanas", laying in ruins. Once we reached the temple, we were awestruck by its detailed engraving work and infrastructure. Upon entering inside it, the Stone Chariot was in front of us, and the temple, also famous for its 'musical pillars', was behind it. This famous monolithic Stone Chariot was built by the then King of Hampi, Shri Krishnadeveraya, as a 'Garuda Shrine'. A tall sculpture of Garuda used to be situated above the chariot, before it was eventually destroyed. But still, it was truly mesmerizing. After a tough struggle to get a photo clicked with the Chariot amid such dense crowd around it, we explored the rest of the temple, and it was beautiful. We spent around 2 hours there, and after that we headed back to the cafe, since it was near Matanga Hill (and also because we had to pay our morning bill).
Up to this, our day had gone really good, but who knew that the best thrill was yet to come.
We quickly geared up to visit our last destination point of the day, and of the trip, that was - Matanga Hill. To mention, it is the highest point of Hampi and Bellary district. So, it was obvious that it was going to be a excruciating yet adventurous climb. It was also obvious that we had to reach to the top in the daylight, and had to climb down before the sunset. So, we made sure to reach the hill base at 6:00 pm, and started climbing the hill step by step (although during some points, there were no steps at all). For the first few minutes it was all okay, we just had to follow what was visible as the path to go upward. But, as we ascended further, the path gradually became more steep, more rocky and more dangerous than before. Unlike the climb at the Anjanadri hill, where there were proper stairs and fences to guide us on our way to the top, here we had to climb upon raw rocks and barely visible path, as we made our way among the bushes and greenery up there. Now, our auto driver cum guide had already told us beforehand to be careful during the climb, as it is highly risky even for young people like us. So, we kept safety first in our mind, and continued our climb. Many people were reluctant to go further at some periods, due to the risk and the anxiety. It was that uncertain. But anyhow, we kept going and watched the scenery below us go smaller and smaller. After some time, a thin layer of clouds covered the view. At around 6:25 or so, we finally reached to the top of the hill and it was so glorious. Like we could feel the adrenaline pumping within us, and the joy was all around everyone present there. After all, it was all worth so much hard work. We enjoyed the view from up there, and meanwhile clicked some selfies and pics of our feat. Moments later, it was time to begin descending down the slope. Now, if you think going up was dangerous, going down was even riskier of a challenge. So, at a slow and steady pace we climbed down in a queue, and finally (and luckily) came down safe and sound.
All that was left now was to go to back to our cafe, have some delicious dinner to fill our bellies, and head to the bus station for our return night journey. All in all, it had been more than a memorable trip to us. We enjoyed a lot and explored even more. Now, if you are a travel junkie, or an adventure enthusiast, I surely recommend you to add Hampi to our prospective wishlist, because you would really be missing out a lot, if you do not visit "the land of ruins" atleast once.
Now talking about the budget, I feel we got lucky, as it only costed us around Rs 3500/-, including every possible expense you could think of in between departing from our hostel, to arriving back. It isn't so costly now, is it?
Hoping to get more of such mind-blowing trips in the future (fingers crossed)!!!