For turkey You can either opt for an E-Visa or a VOA (visa on arrival) if you have U.S visa or schengen visa.
In case you haven't received your E-Visa before arriving in Turkey, you can visit the interactive kiosks placed in Turkish airports.
Now if you don't have either of it then you need a proper sticker visa. (Processing time is Minimum 10 - 15 working days including the day of submission at the consulate. Also you need to request atleast 2+ days than your no: days stay in turkey. eg: if your trip is for 10 days then visa request should be at-least for 12 days)
Turkish embassy are there in
1. Mumbai
2. Delhi
3. Hyderabad
4. Kolkata
I applied from Kochi and which is coming under Consulate General of Turkey, Mumbai, Maharashtra. I applied through VFS because when I enquired I got to know in India they accept the visa application through 3rd party and it is VFS. Anyway for me VFS Kochi was the easiest option. (Even if you try to apply through some agency you have to go there for submitting the documents.). Total cost was for visa application for single entry visa 15 days - 4270/-INR + 4201 /- INR (VFS fees) = 8471/-INR. You can see the complete details here
Attaching my cover letter for sample.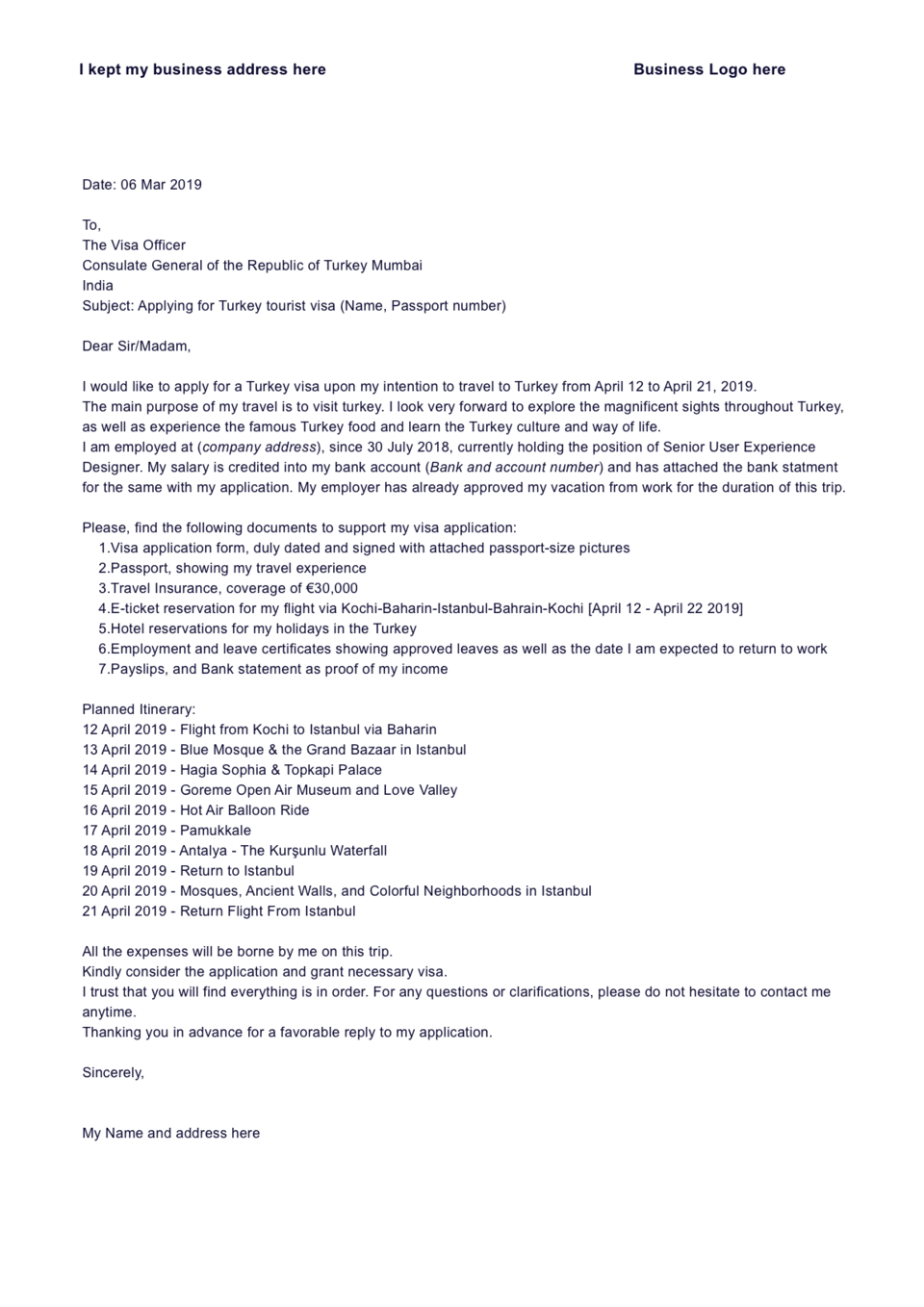 List of documents I submitted.
1. Original Passport (Passport must be valid for at least 6 months upon arrival in Turkey and should have at least 2 full blank pages available in it). Also provide 2 photo copies of Passport first and last page.
2.Aadhar Card (Photo copy for submit and I had to show the original to them)
3.Visa Application Form (Available for download on website) it should be filled manually by blue or black ink in block letters with 2 white background photographs having size 2.5inch x 2.5inch.
4.Covering letter from the applicant in type format, mentioning the purpose of stay in details, accompanying person details, duration of stay, occupation and expenses clause and tour itinerary.
5.Hotel Reservation (Required confirmation number and if booked through agents/tour operator then details of applicants name, check-in & check-out dates on letterhead with seal, signature, name & designation with VD number to be mentioned )
6.Confirmed Return Ticket
7.Travel Insurance is mandatory requirement which should fulfill the below requirements.(I got from Bajaj Allianz cost me 977/INR)
Medical Evacuation and repatriation expenses
Personal accidental death
Personal liability
Daily allowance in hospitalization cases
This plan should cover the insured for a minimum of Euro 30000.
Note: The travel insurance dates should end 2 days after the date of departure mentioned in the flight ticket.
8.Salaried Person/Employed:
Original Leave letter from employer on company letter head with authorized person sign and stamp (Leave letter should mention the applicant & person signing the letter Name & designation)
Covering Letter duly signed on A4 size paper (Typed format) explaining the purpose of the trip, duration of stay in Turkey etc.
Last 3 months' salary slips with original stamp and sign of the company.
Last 3 months' Salary account statements attested and signed by the bank.
9. Bank balance print out which is showing I have 1,00,000/- INR in my account (if 3 people are going everyone individually has to have 1 lakh in account)
10. Get more details here
11. You have to submit online form and take a print out of that and submit with your other documents
All set to go.... Enjoy your trip