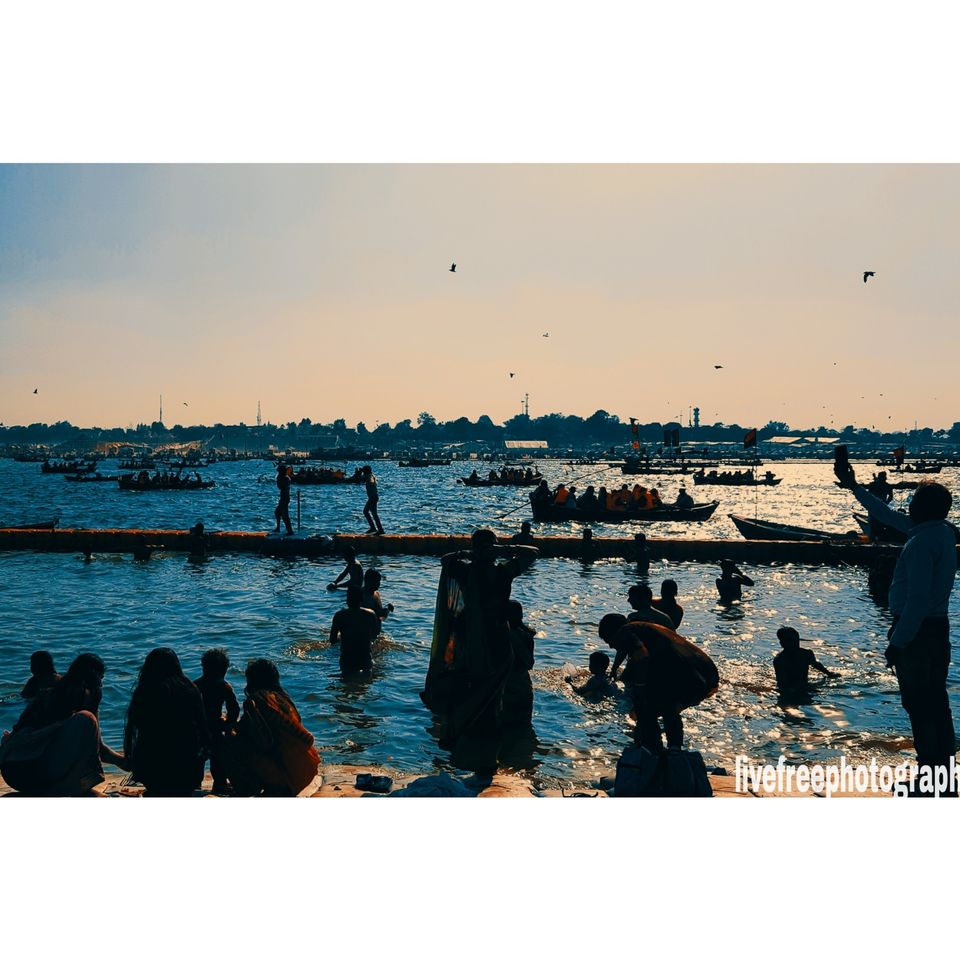 KUMBH nahi dekha to kuch nahi dekha. After all it's world's largest religious gathering.
The sea of humanity, the ocean of tents, the colourful flags, lakhs of pilgrims taking a dip in the water, the smell of the smoke from the holy fires, the beautiful sunrise all these will restore your love for humanity.
I know this blog is little big but a grand mela like kumbh can't be described in some words.
WHY TRAVEL?
Millions of people gather at a small place with devotion, and this devotion and prayers of them will turn this water into Amrit - the nector of immortality .
And I wonder that how millions of people adjust themselves so calmly and quietly in such a small place.
For me the kumbh is the best place to find yourself. Here in the ocean of devotion, you forget your problems and will find who you truly are.
WHAT KUMBH MAKES YOU FEEL INSIDE ?
In 2013 when I first visited kumbh , the foundation of my of life, the reality in which I lived, was shaken at its root. Something within myself forced me to find a new identity. Something deep were going inside me and I realised that my values were not enough and I have to adopt a completely new value system to truly understand the kumbh mela and later I began to understand why million of people come to kumbh and i began absorbing energy of faith.
One question that constantly revolves inside me "who am i and why I'm here?" At kumbh I was introduced to spirituality and the science of liberation- MOKSHA. It's not like that I found the answer but yes I'm close to it. And believe me for people those who always wondered what is this liberation or MOKSHA that so many people are after, this is a great place to be introduced to it.
KUMBH MELA IS VERY MYSTICAL.
There's something mystical about this mela that's why all sadhus, saints , babas congregate at the kumbh.
I saw many sadhus doing their tapas, like some were standing on their one leg, some were staying underwater, some were stay buried in the sand upside down - for the whole duration of kumbh! and so on. Some can read your mind, some were like boneless , some were naked and even in Himalayas they live like this, I mean without clothes !!
The sight of millions of believers bathing in the river is incredible enough to draw spectators from all over the world.
The Kumbh is a real treasure trove for people who seek more than the ordinary in their lives.
I met people from almost every country and made new friends , took a dip with them and cleansed myself inside out.
And yes the food is awesome here, let me tell you a little secret ,monasteries here serve the best tasting food, so don't forget to eat there (if somehow you are allowed to enter 😉 )
Have Fun. Take pictures. Make memories
And come back a new being…
Don't miss the Kumbh for anything. Be there.