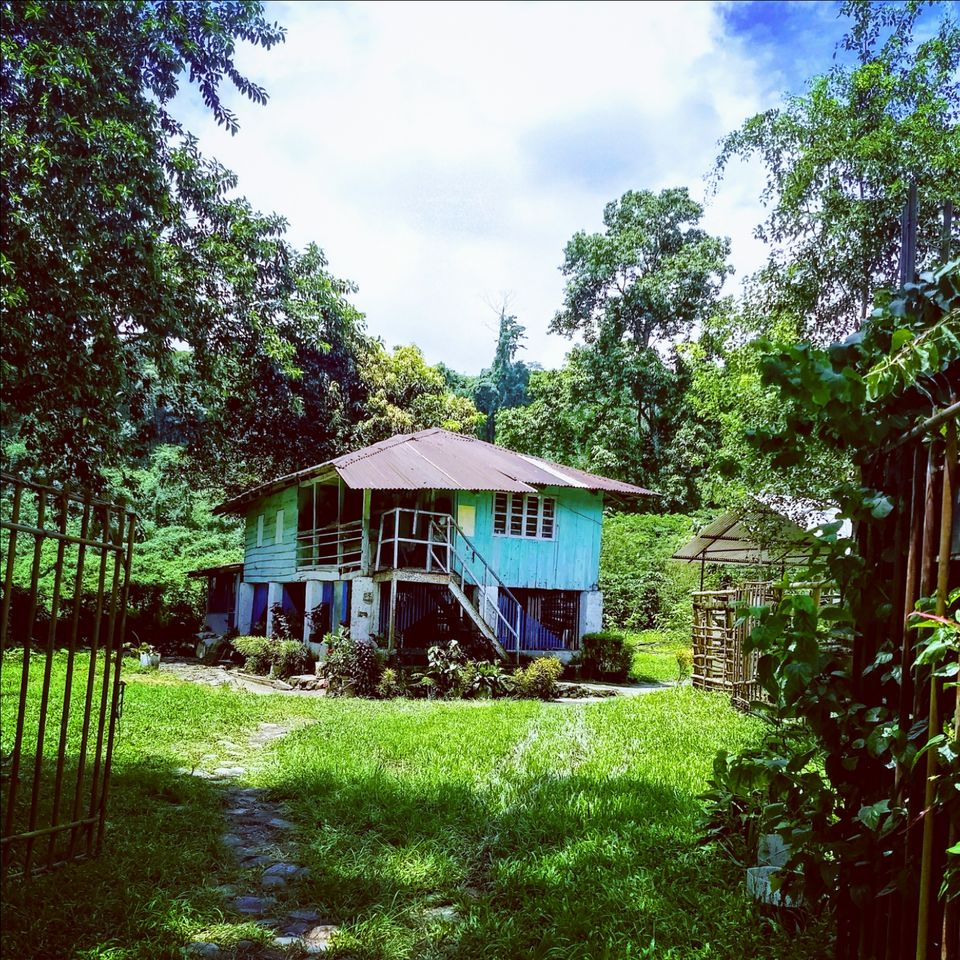 Travel and Dream goes side by side, hand in hand. No matter it's a daydream or a dream that slips under your closed eyes. When it comes to travel, we all want to embark on a dreamy tour, a dreamy journey. So let's dream once more. Let's dream you are sleeping in a wooden hut in an unknown, sleepy mountain village. The sun just yawned beyond the horizon and smeared your sleeping face with its orange tint. You wake up to the gushing sound of mountain river, rumbling passionately in your backyard. The entire place is enveloped with pin drop silence. This soul calming silence is occasionally interrupted with tweeting birds in distant and buzzing insects in the nearby bushes. The cackling hens and squawking ducks are trying to announce the break of the dawn in a shy, soft manner. Then you stand with morning tea in your little wooden balcony that overlooks an infinite green stretch of tea garden. The fragrance from hanging flower vase beautifully blends with the smoke coming out of hot tea. You get saturated with a magical muse, wondering, what good deeds you have accumulated that you find yourself in such a pure, untouched dimension. You connect all the missing dots with endless love and blessing that Universe showers upon you.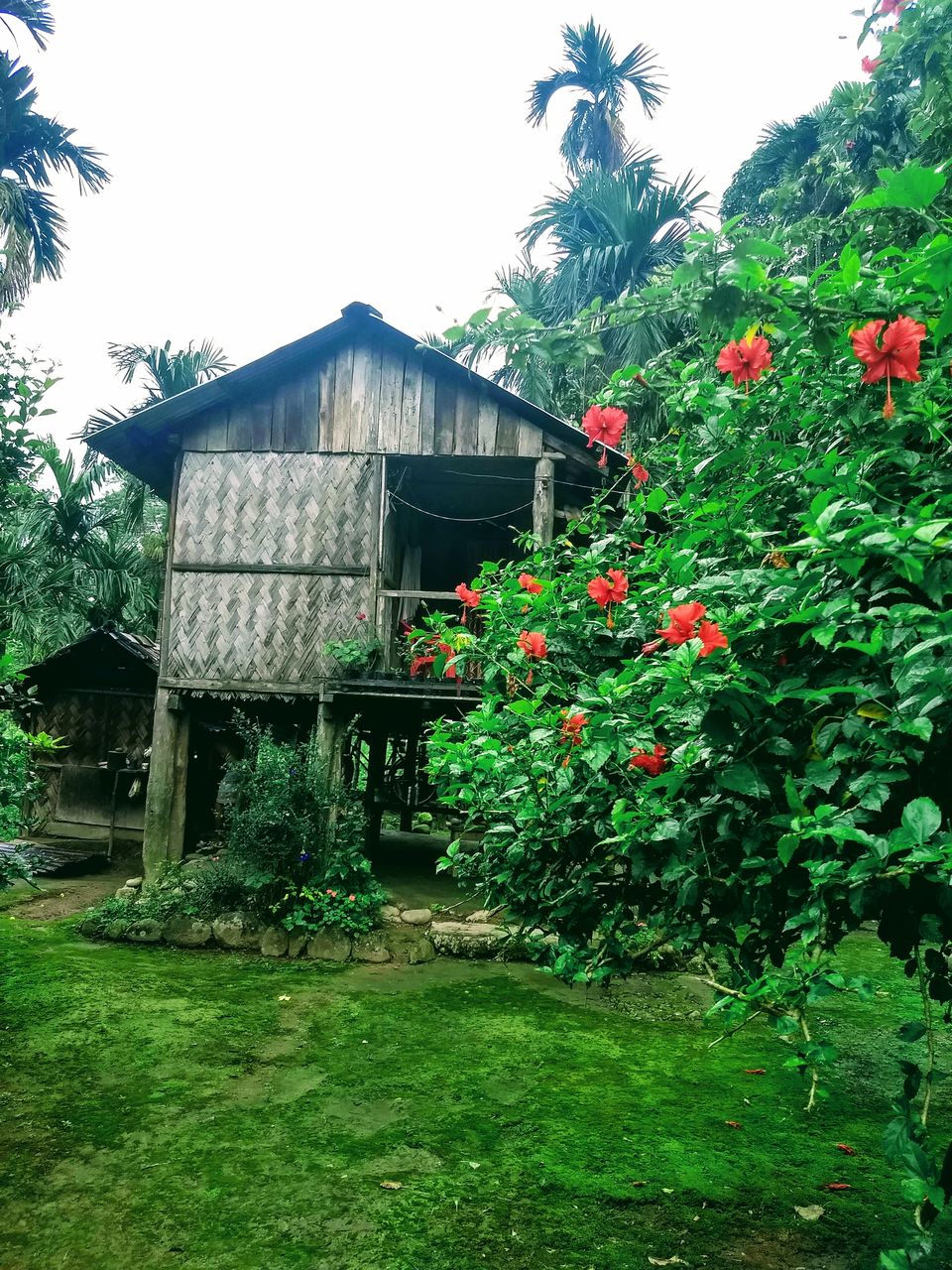 In my recent Dooars trip, while chasing this beautiful dream, I was fascinated to explore the unexplored, see the unseen and give my deepest attention to the unnoticed corners of Himalaya.
So I deliberately skipped all mainstream touristy destinations in Dooars and researched out a short list of serene mountain villages, that are mostly hidden in the lap of virgin Himalayan foothill.
How to reach Dooars:
By Air: The nearest airport is Bagdogra Airport. From Bagdogra you can rent a four wheeler to explore this lush green paradise.
By Train: Book a ticket upto New Jalpaiguri Station (NJP) and you can avail public bus service or your personal vehicle for your journey ahead. Renting a private vehicle is definitely a much better option as remote villages are not well connected by public transport system.
As an alternate, if you don't want to stay overnight in each village, you can select a centre location (like Siliguri or preferably Malbazar) for staying over and can cover the villages as day sightseeing. This way you can also cut down your overall trip cost. But I would suggest, try to spend a couple of nights at least in one village if not more. Only then you can fully experience the essence of local, unperturbed mountain life.
Mark your Calendar: I strolled around those villages, hiked the mountains, meditated on river bank, walked through the silent woods and spend a lovely time with the locals. At the end, I drew a firm conclusion- 'Dooars looks most beautiful in monsoon'. The mountains flaunt their greenest avatar. Mountain rivers work through their course unapologetically. Mountain flowers decorate every nook and corner with vibrant colours. However, climate in Dooars remains pleasant round the year. Avoid peak summer and winter season as you can feel uncomfortable with steeply rising and falling mercury level.
The Pocket: I covered this trip in absolutely backpacker style. The places I have listed below have decent home-stays, Government tourist lodges and guest houses. The average boarding and lodging charge lies in the range of INR 1000-1500 per night with three times meals a day.
My first destination was Malbazar, a beautiful subdivisional township in New Jalpaiguri state. I have few sorted out reasons why I chose Malbazar (and not Siliguri) as my first destination in Dooars. Firstly, this township is surrounded by some of the most stunning tea estates in North Bengal that Indian tourists are unaware of. Secondly, the distance between the villages that I decided to visit are within 50 Kilometres from Malbazar. Thirdly, Malbazar is well connected with Kolkata by one of the most scenic train routes, I have ever seen. I boarded Kanchankanya Express from Sealdah Junction in evening and reached Malbazar around 9.30 in morning.
Malbazar has proudly claimed its rank in the map of travel destinations of North Bengal for this grandly architected temple, devoted to Lord Hanuman. This artistically constructed temple was founded by the local Marwari community, living in Malbazar. I heard that the inauguration ceremony of this temple was conducted in a royal way with showering flowers from a helicopter. Devotees come to offer worship and prayer from 8 am to 1pm in first phase and then 4pm to 8 pm in second phase. Though I found the temple complex is bit small, the main hall of the temple is huge and can accommodate more than 200 devotees at a time.
After taking blessing from Lord Hanuman I started my trip of Dooars. My first target was to spot some serene tea estates of North Bengal. Surprisingly, I came to know that most of the tea gardens around Malbazar is beyond the tourist's radar and so protected from commercialisation and annoying crowd and they happily took it as a boon. The locals recommended me to visit Soongachi Tea estate and Chalsa tea estate. The best way to explore the surrounding of Malbazar is hiring a local Tuk-Tuk.
My first destination was Soongachi Tea garden. The Tuk-tuk ran though the silent tea estates on both side of the roads. The endless green velvety terrain was spread miles across miles like a carpet. We passed by small unknown villages of tea estate workers. Few of them were heading towards their garden for necessary agricultural practices. Small kids already started their day in school. A local girly gang of four girls was joyfully strolling around the tea gardens and humming a Nepali song.
The morning was little cloudy and the sun was peekabooing through grey masses of clouds. But around 11'o clock the sun took up its job in full phase and did shine the brightest against the backdrop of blue sky. I arrived at Chalsa Tea garden by then and witnessed the most magical shade of green in my life. The little raindrops was shining like diamond bead on tea leaves. The golden sunshine streaking across the clear sky passionately kissed the emerald green shade of tea shrubs. The entire place turned like a virgin green fairy, studded with diamonds, smeared with gold.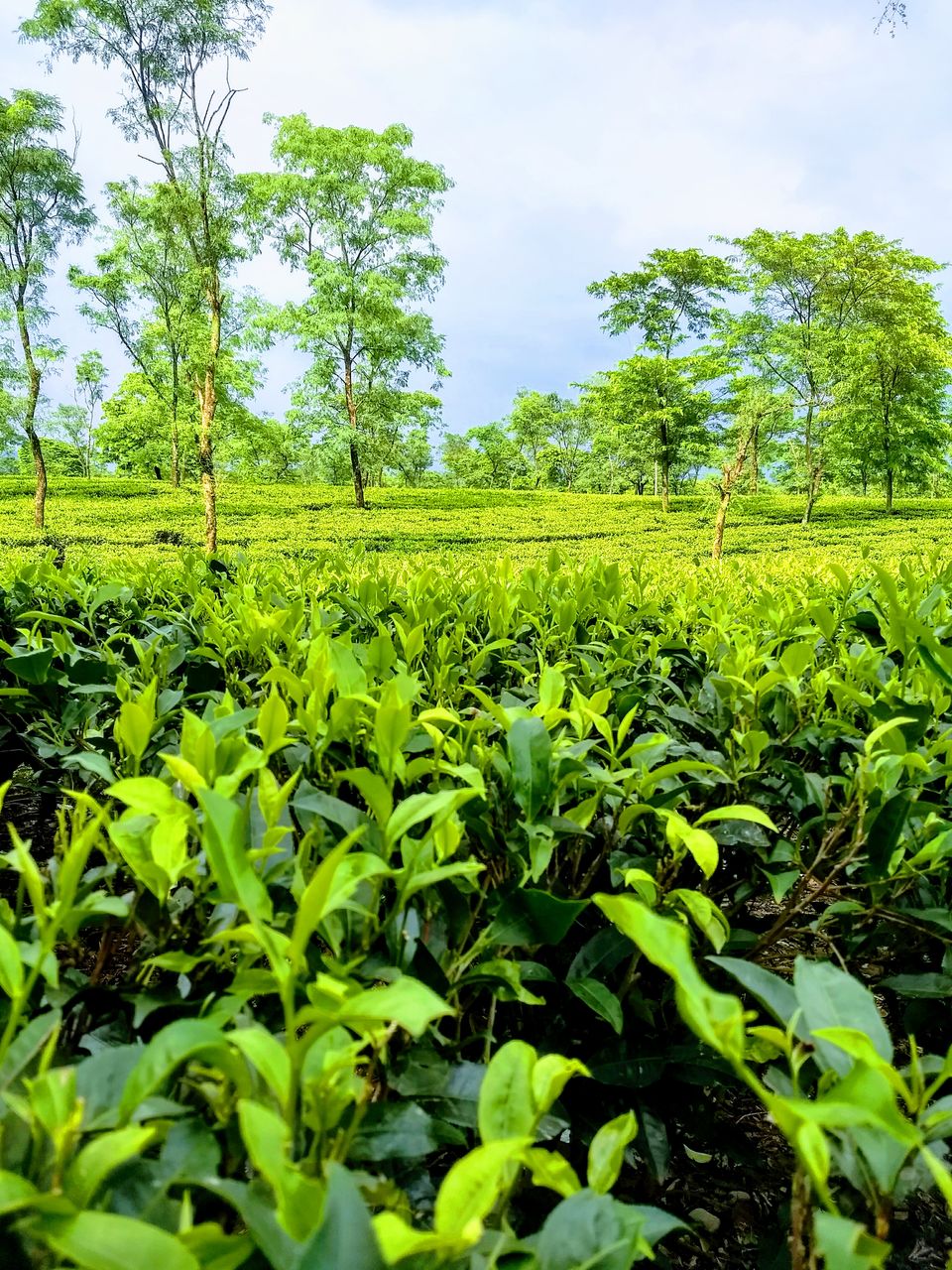 I started walking the narrow muddy lanes, cutting the undulating span of tea garden. Then I stumbled upon a small channel of water, gurgling through the garden. I saw an old lady by the stream, sitting in a relaxed mood, crossing her legs on a rock. She smartly offered me to sit beside her and asked where I'm from. Her name is Prashanti Lepcha, works as a labour in tea garden. She told me the story of her hardships. How she still manages to work hard in gardens to bring three times meals on table. Her husband also works in garden and runs a small tailoring business at home. They did marry their elder daughter off two years ago and right now is trying to give away younger girl's hands to a good man.
Her last few words cut a deep mark in my heart and would stay there forever. She said " Just like you rich people, I too go to office. Unlike yours, my office isn't barricaded with four walls. We're free to work under the sky. We don't follow any office rules, any deadlines. We can chit chat with colleagues while working, we can listen to bird's songs while working, we can dance in the rain while working. We can see the changing hues of sky and changing faces of mountains while working. We can stay closest to nature while working. My office feels much better than your office. Doesn't it?" I couldn't find any appropriate answer to reply. I exchanged a soft smile with her and departed with heavy heart.
Malbazar park is good place to spend a lazy, lonely afternoon. This place is not well maintained though but it had fun in air. Little kids playfully ran around the flower garden. On the opposite side of this park, I spotted a small tea garden and witnessed my first sunset view amidst the stretch of tea plants.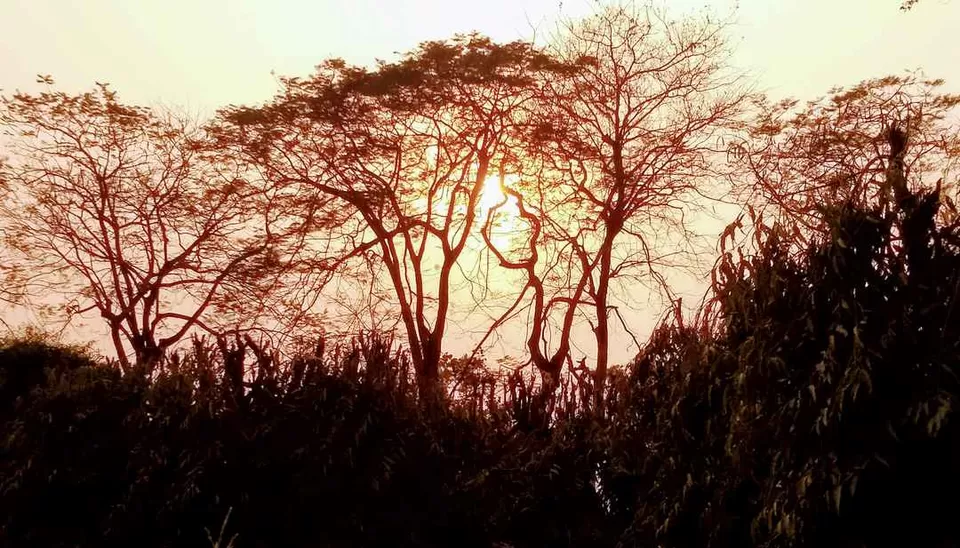 On next day, the first village that I stopped by is Siphcu village. This little village lies on the furthest end of Chapramari National forest and is hidden deep within the dense forest in surrounding. There is only one primary community school in this village. As I reached around 10 am in morning, the cheerful scuttling school kids exchanged their curious, innocent glances with me. There are only 20-25 families live there and mostly belong to Nepali community.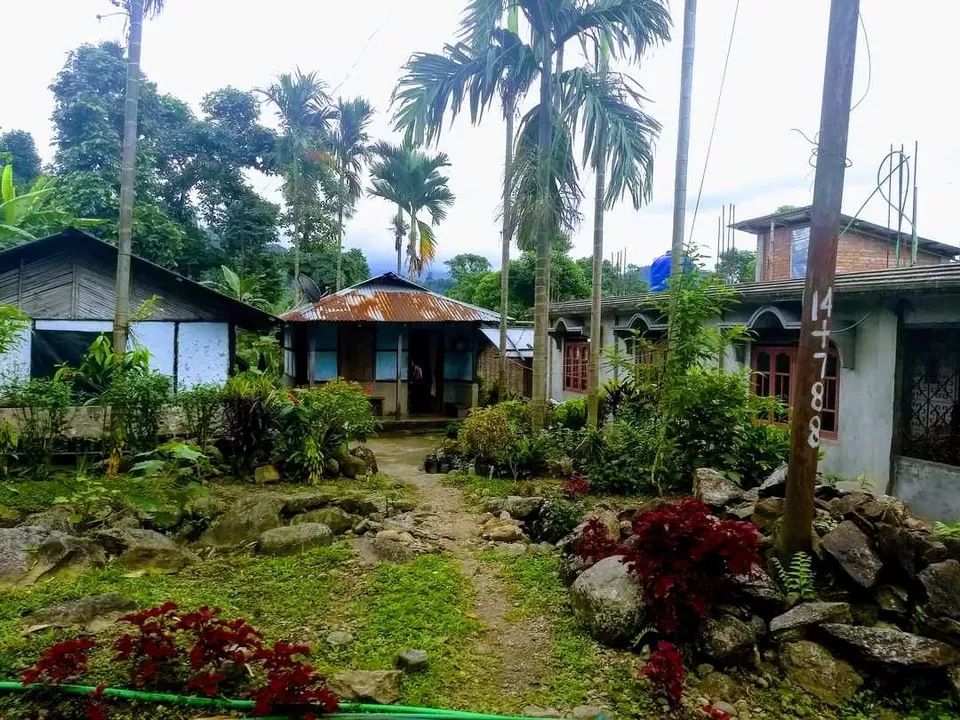 In the afternoon as I lazed around the narrow lanes of village, two squawking white swans constantly walked by me. The little wooden huts were edged with wooden fence and small garden in the front-yard. I met two little girls, Lisa and Sweety, playing in front of their house with four, breathtakingly cute chicks. Initially they were shy to approach me. But when I requested them for a photograph, they gifted a bright, fine smile.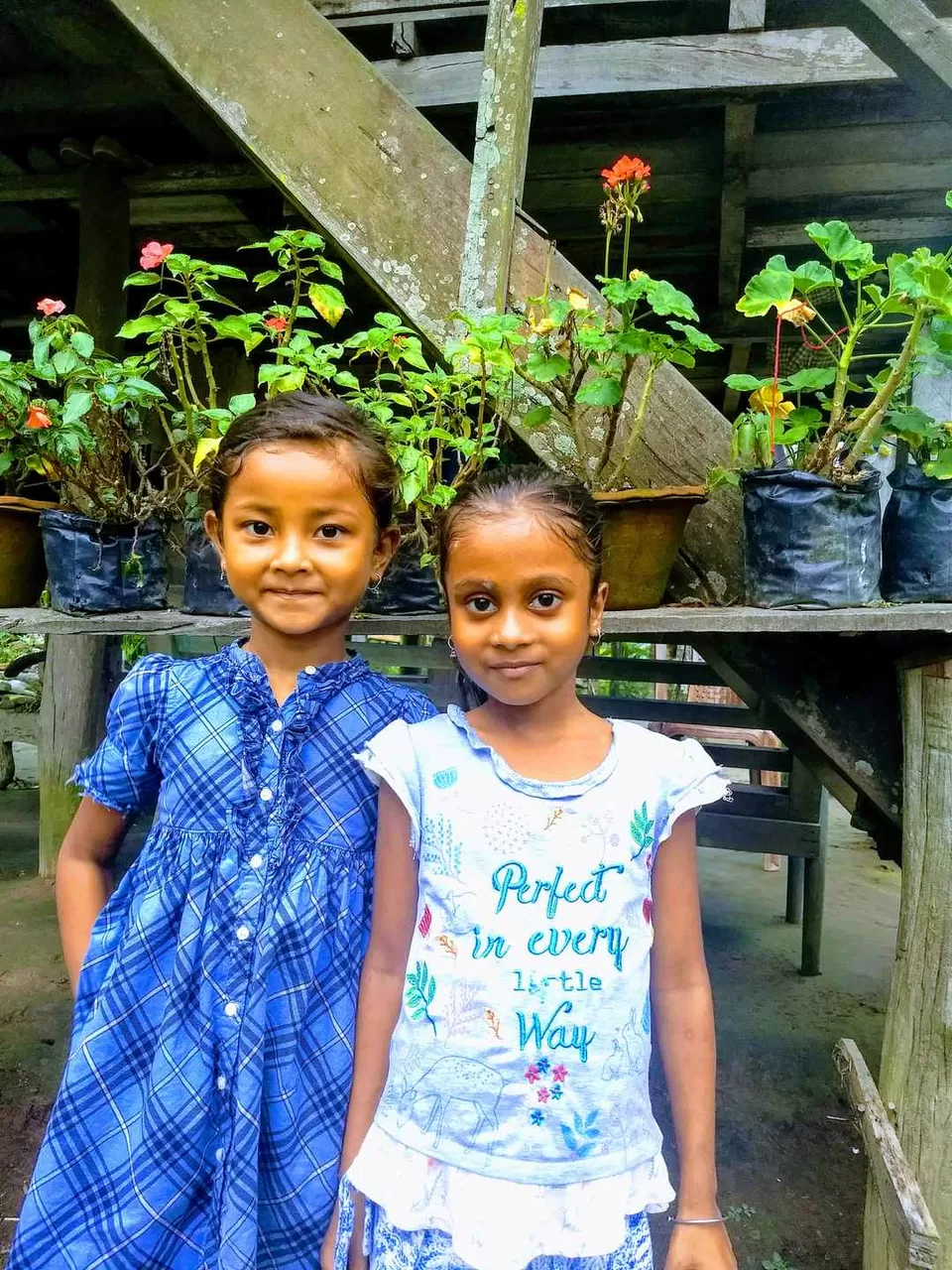 Where to stay: I could find only one homestay in Sipchu, Chapramari Homestay. Cost: INR 1000/- per night with three times meal.
Next day my destination was Jhalong. Jhalong is a picturesque village on the bank of turbulent Jhaldhaka, battling out the steep gorges. It's situated at Indo-Bhutan border and serves as a bridge for crossing over to our neighbour country. The first hydroelectric project of India was first stationed in Jhalong and based on this project, small population was developed around this village with passing days. This place is perfect for you if you are an bird enthusiast.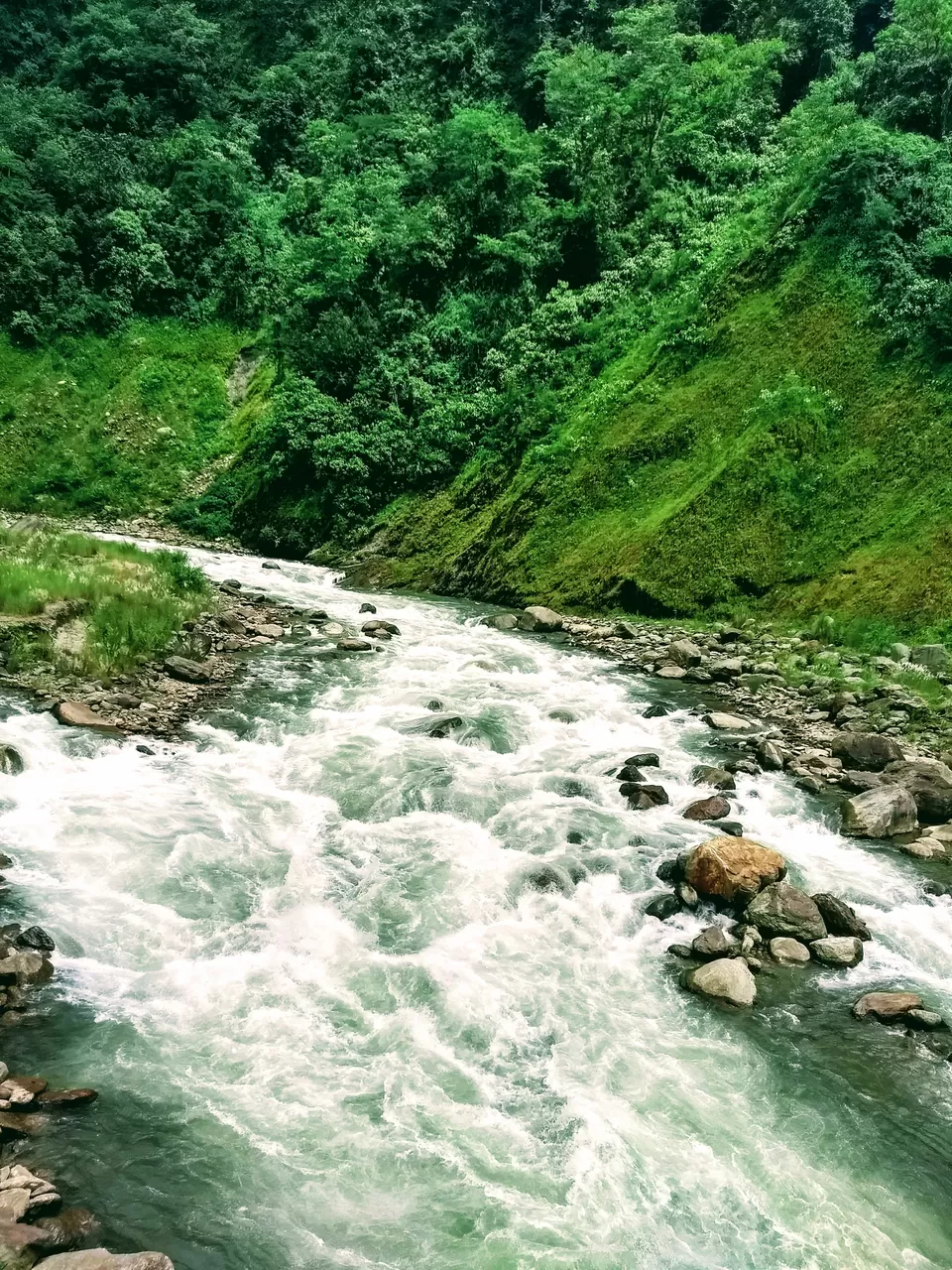 Where to Stay: In Jhalong, Forest Department Bungalow and river camp is unquestionably the best place to stay. It is situated in a scenically blessed landscape amidst the spruce trees and quite comfortable for accommodation.
Paren village has emerged as an offbeat tourist destination in Dooars. This peaceful hamlet sits within lush green alpine forest and overlooks the restless Jaldhaka river and mountains of Bhutan on the other end. Due to its surreal beauty, If you want to adore the view of green lofty hills, meandering mountain river cutting through the rolling green meadow, this place is perfect destination for a retreat in the lap of nature, free form tourist rush. This tiny village is dotted with wooden huts, colourful flora and fauna, astounding trekking trails and deep wooded forest. Rachella Pass is a popular trek that attracts adventure enthusiasts and trek lovers towards Paren. A stay for one or two nights in Paren village can heal a broken soul with its silent, tranquil ambience and untouched beauty.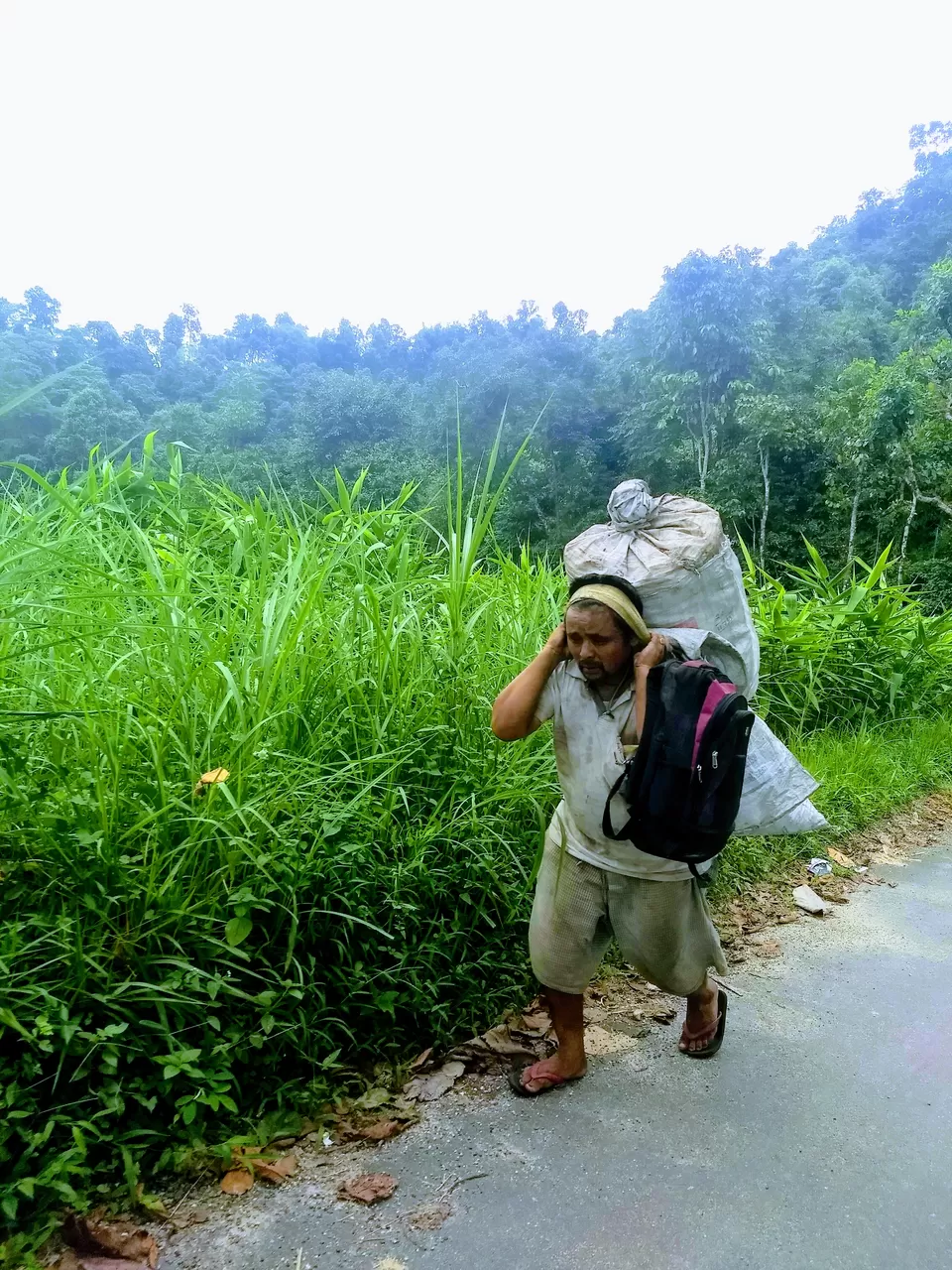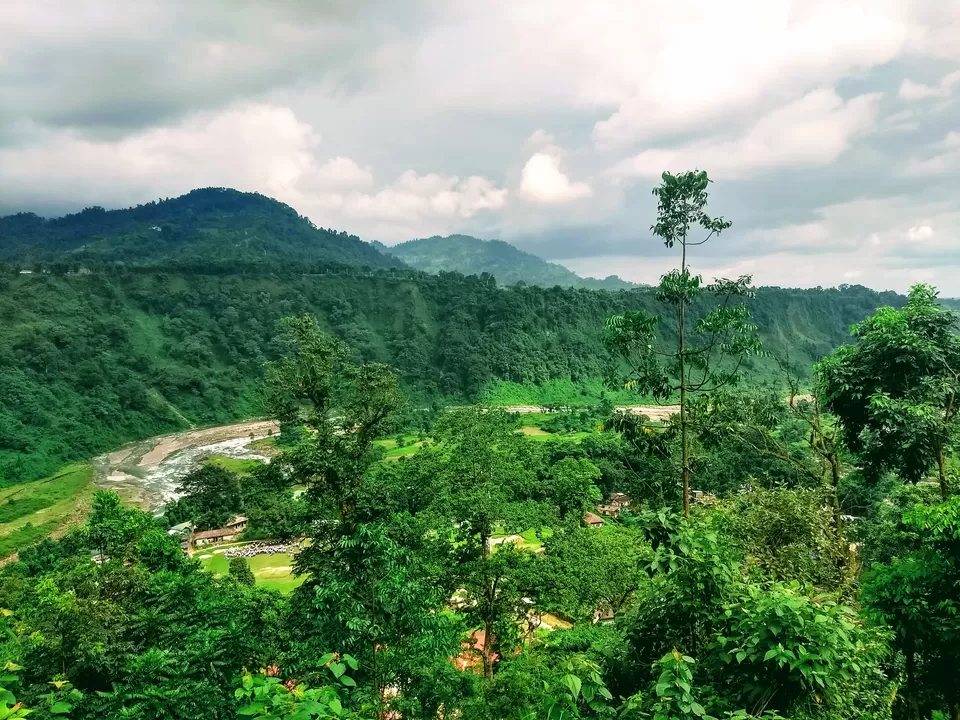 Where to Stay: There are few numbers of homestay, hotels and nature resorts in Paren, where can visitors stay to cherish this silent, virgin slice of Himalayan foothill.
Paren Homestay, Khambuhang Resort, Humro Home Paren, Paren Wilderness Homestay
Bindu Village is another off beat destination in Dooars and is popular for cardamom plantation, Jaldhaka Hydrothermal station and pristine natural beauty. It is surrounded by Himalayas all around. Jaldhaka river flowing though the valley makes a natural border between India and Bhutan. The Jaldhaka Dam is situated at Bindu Village and it is the oldest Hydrothermal project between India and Bhutan. Usually tourists are not allowed to visit the dam site but can see it from a safe distance. This dam site is confluence of three main currents- Bindu Khola, Dudh Khola and Jaldhaka. The local villagers have opened small wooden shops for selling Bhutanese Chocolates, Cut Fruits, Fruit Juice, Momo and Noodles. As I approached the river, a local man came running after me. He politely asked not to cross the fragile rope boundary for safety purpose. I spent the entire afternoon at Bindu, interacting with local people.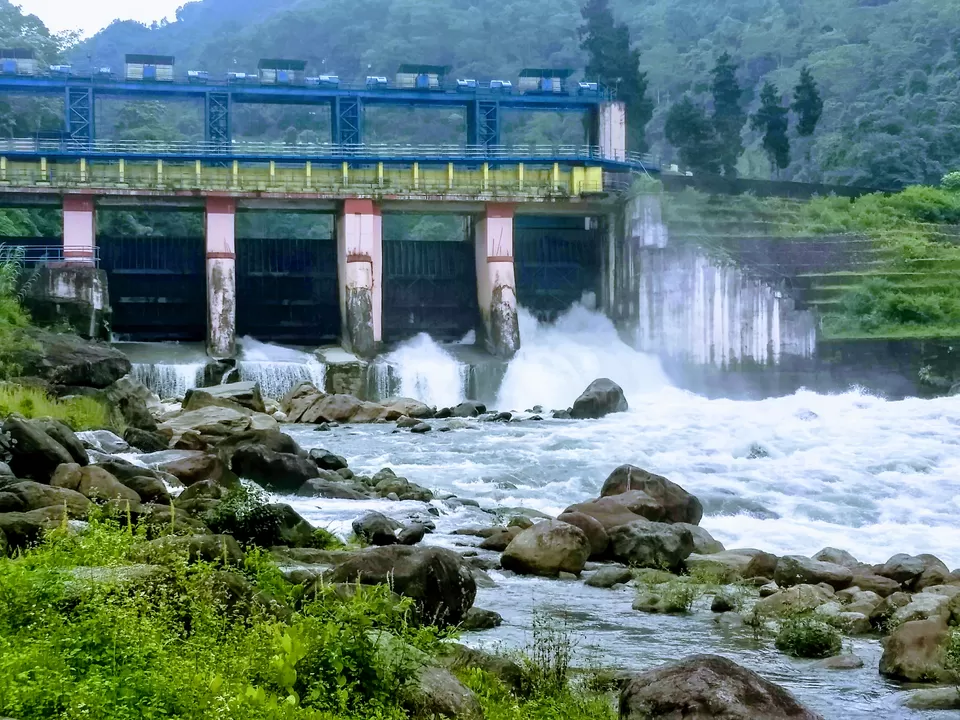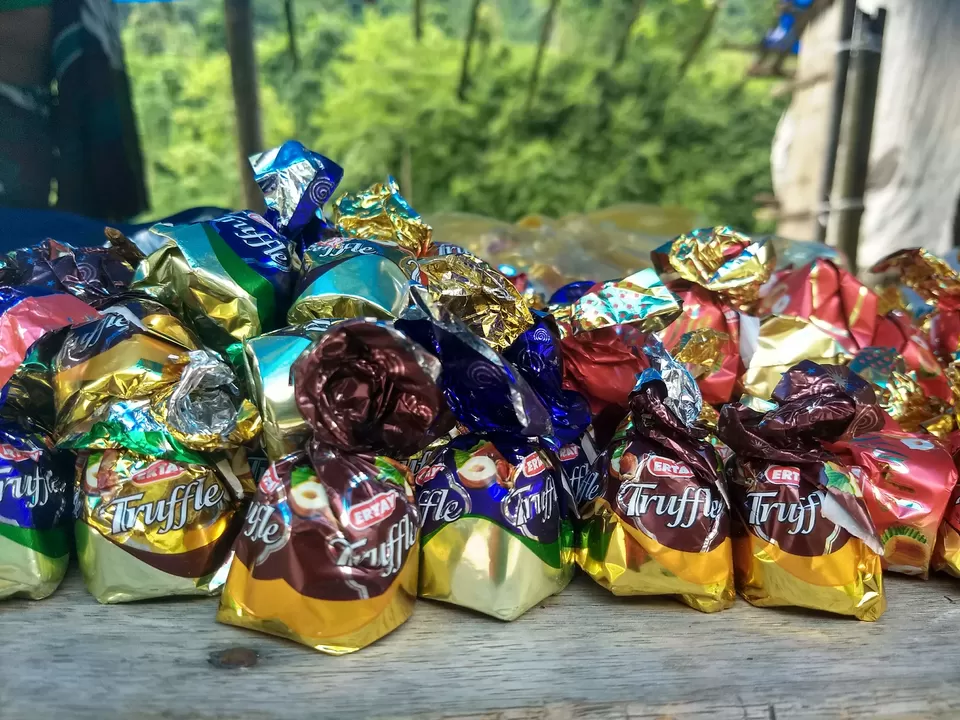 A lady, Seema Basak shared her story. She originally belongs to New Jalpaiguri, that's a big town in North Bengal. But her husband decided to open a small shop cum restaurant at this remote village. Seema's heart aches a lot to go back to her town. Somehow she is not happy with her monotonous, rural life, away from all hustle-bustle and luxury of city. I decided to take my lunch in her shop and our conversation continued further. She served freshly cooked plain rice, daal, aloo bhaji and omlette and gave me a bottle of water at free of cost. As per Seema, after days she talked so much and opened her heart out to someone. I felt how ironic human mind is. The grass on the other end is always greener. We, the so-called big city people rush to small villages to breath the silence and isolation. But that same isolation suffocates Seema.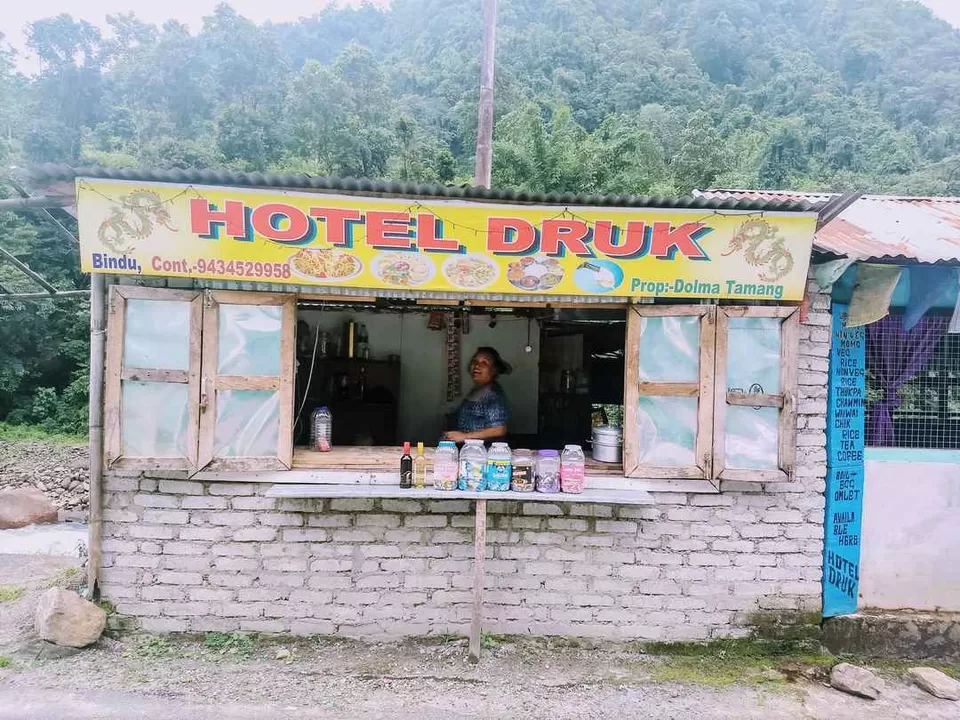 When I was capturing this waterfall, three little girls stood behind me without grabbing my attention, deeply analysing how I changed my mobile camera settings. When I noticed them, they greeted me with an enthusiastic 'Hi' and enquired about the available camera setting and photo editing options in my mobile. Their names were Rachna, Roshni and Poorvi. They live in Bindu village and study in Paren St. Joseph school. We all sat in front of a closed shop and I gave them a free basic tutorial on how I change the camera modes while photographing and adjust colour contrast, brightness and saturation while editing.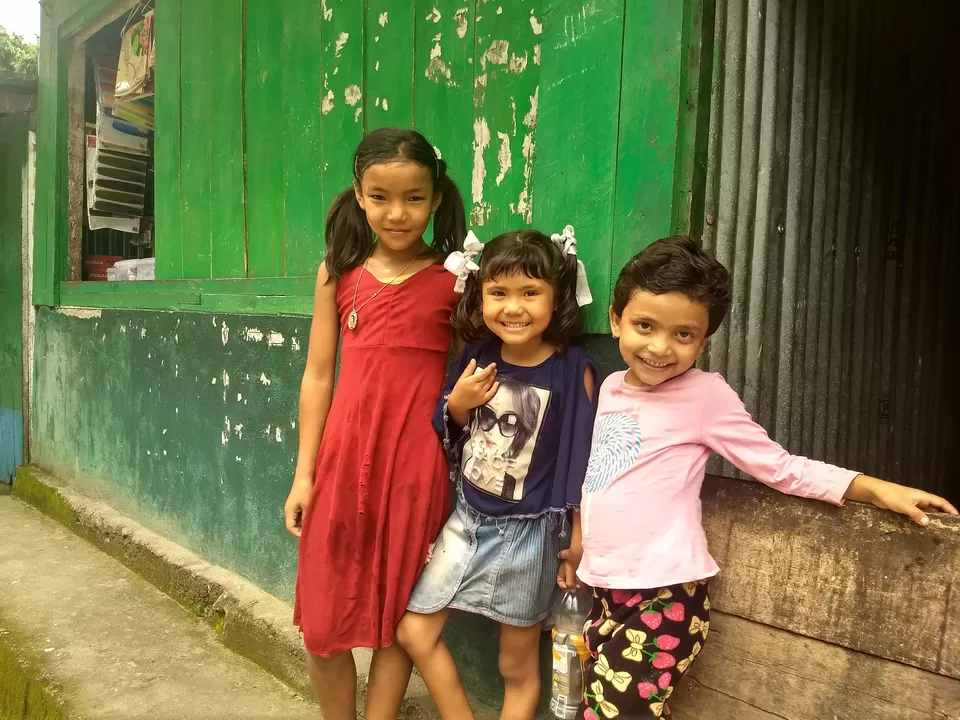 Bindu is not a very popular, typical tourist destination with many sightseeing options. But this village is endowed with enthralling beauty. If you want to spend few blissful moments of solitude like soaking your legs in the mountain river, walking through the untouched villages and interacting with local villagers, then Bindu must be in your Dooars trip.
After visiting Bindu, I went back to Paren homestay. My eyes were shining with all the dreams that would meet reality next day.
The next village that I visited is Samsing. Samsing is no less than a heaven for a traveler, who wants to be lured by peace and serenity of Mother Nature, far away from bustling town. Surrounded by some of the best tea gardens in Dooars, this quaint, little hamlet is hemmed with daunting hills, awe-inspiring landscapes and dense forest. However, it is more populated than other villages that I visited earlier. Unlike other villages, this place offers more options for boarding and dining. A beautiful blend of colourful, tiny brick houses and wooden huts stood along the roadway and evoked like an oil painting. The forest area surrounding Samsing harbours a huge number of exquisite birds. So if you are an avid bird watcher, think of spending two-three days over here.
After Malbazar, Samsing serves as a connecting junction to other parts of Dooars. Though the pleasant climate makes it perfect for holidaying throughout the year, but as per local people the season between October-February is the best time to visit this sleepy hamlet. On this time, every nook and corner of this less trodden destination gets splashed with orange hue, bursting with ripe oranges.
Just a few Kms away from Khasmahal, lies Laliguras view point. My heart skipped few beats, once I stood on one of the mountain cliffs, relishing the enchanting beauty all around. This place seemed too beautiful, too magical to be real. The Murti river was visible from the top, flowing like a silver ribbon. It takes almost half an hour trek to go down on the river bank. As I started walking down the roads, my own footstep seemed noisy, disturbing to me. It was a perfect 'Hiking in the Rain'. Every once in a while, I stumbled upon and pressed the pause button to witness the virgin greenery all around, soaked in fresh monsoon rain.
The view of gurgling, green stream of Murti river cutting this Hamlet is captivating enough. I took a stroll along the river bank . The orange sun had still few moments of life left. I stepped into the shallow water and sat on a big rock. I was silent. My mind was blank. There was only emptiness and nothingness inside me. The rippling water flew upon the sub merged pebbles under my feet. It washed my thoughts. my feelings, my emotion and everything away. Two local boys playfully swam against the currents. The crimson twilight got fused with the emerald green shade of Murti river. Wild birds sang valiantly while returning to nest and declared a perfect happy ending of a beautiful day.
For the first time ever, I meditated with open eyes, sitting in a river, witnessing such colourful, magical interplays of Universe.
Where to Stay: Susmita Homestay, Mouchaki Camp, Trishna Homestay, Raha's Homestay
Rocky island is home to endless adventurous activities like rock climbing and trekking. This place is just 2 Km away from Samsing and sits within picturesque landscape. As the name suggests, this place is filled with rocks of varying sizes and shapes. From small pebbles to gigantic black rocks have offered strong obstacles in the way of dancing, sparkling Murti river. The rocks have taken up strange shapes and folds, that is mainly caused by the erosion from river flow. However the tortoise rock is most prominent and most chosen subject for photography. This place is surrounded with many trekking trails, that take visitors to remotest Indian villages near Indo-Bhutan border. Fishing is another favourite tourist activity of Rocky island. Local people suggested me to visit this place on a full moon. Camping under full moon and starlit sky and listening to the gushing sound of Murti river would do a perfect job for soul searching.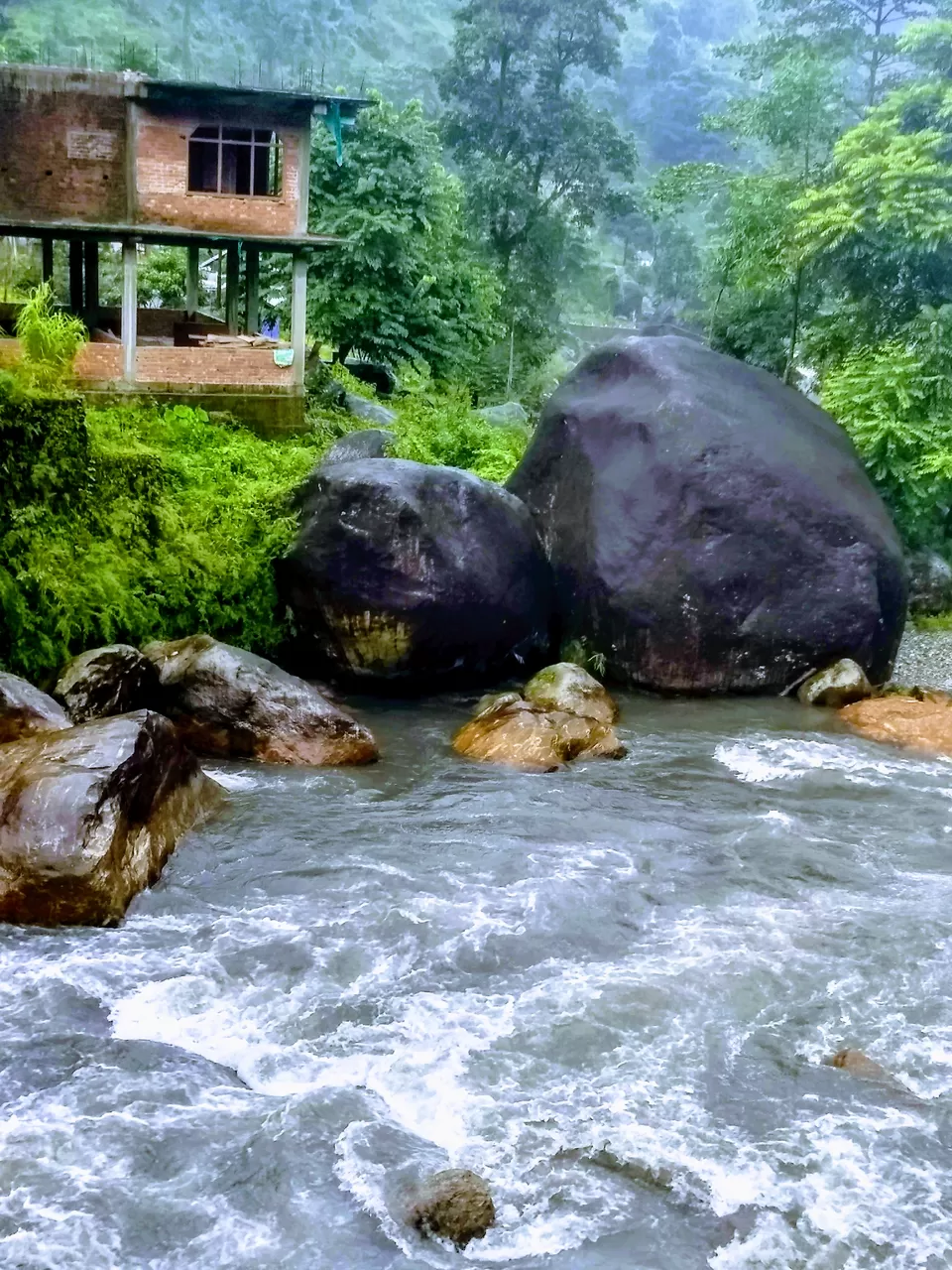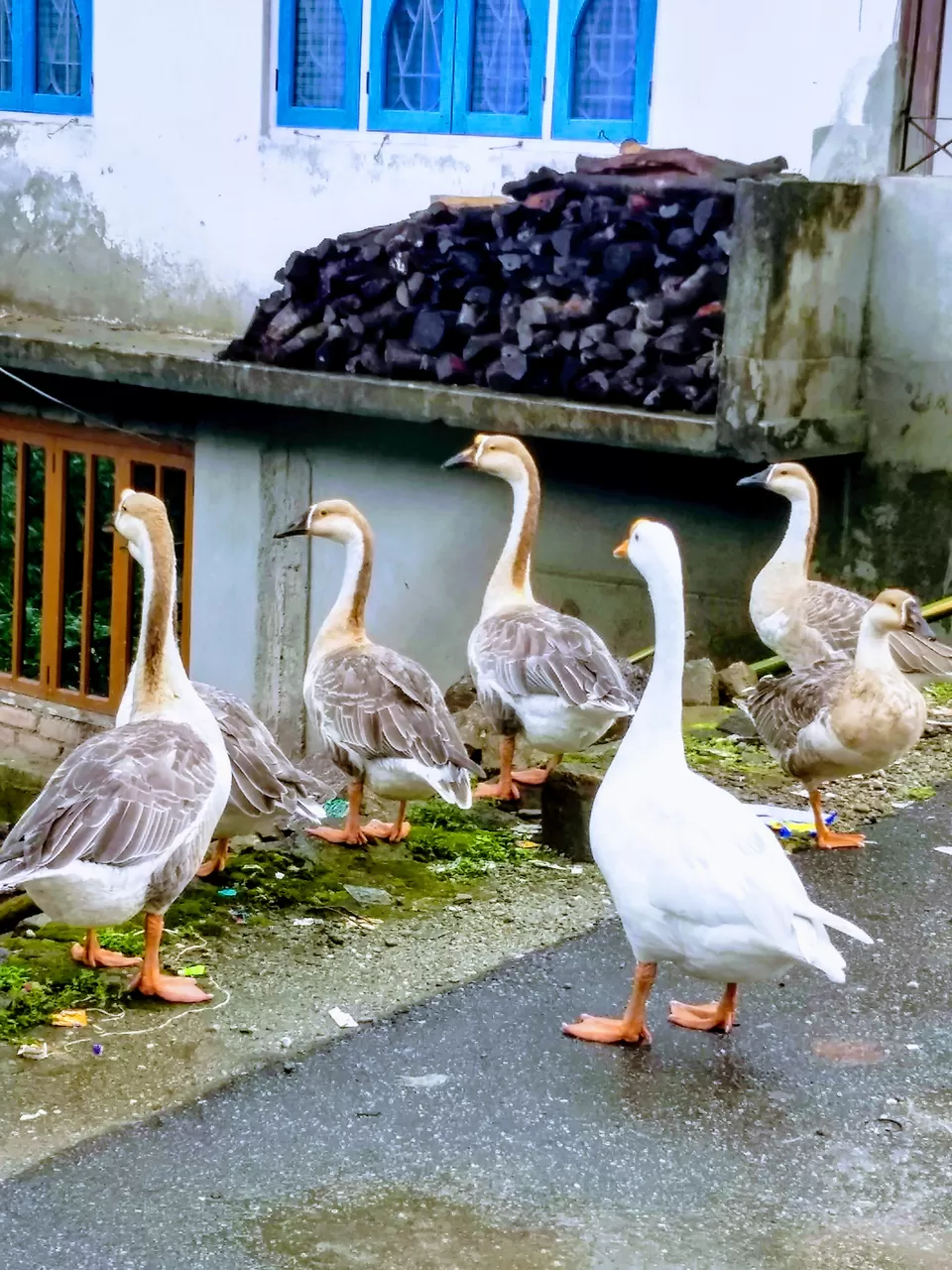 Where to Stay: You can easily visit Rocky Island from Khasmahal, Samsing as these two destinations are just 4-5 Kms apart. Or else there are two decent Homestay Priyanka Homestay and Namrata Homestay that are situated just near by the Rocky Island Bridge. But for all adventure lovers the best option is Rocky Island Adventure Camp without a second thought.
Suntalekhola is a small hamlet surrounded by dense wood. The main highlight of this place is the suspension (hanging) bridge over river Suntalekhola. You need to walk over that bridge to reach up to the gate of the WBFDC lodge.
Where to Stay: Suntalekhola Nature Resort is maintained by West Bengal forest department and is a highly appreciated by traveler. It's a property of eight little cottages in the middle of well maintained garden. In the backyard, mountain river flows passionately. The housekeeping staffs are very friendly and hospitable. Though the prepare basic food but they always serve freshly prepared food and it's tasty.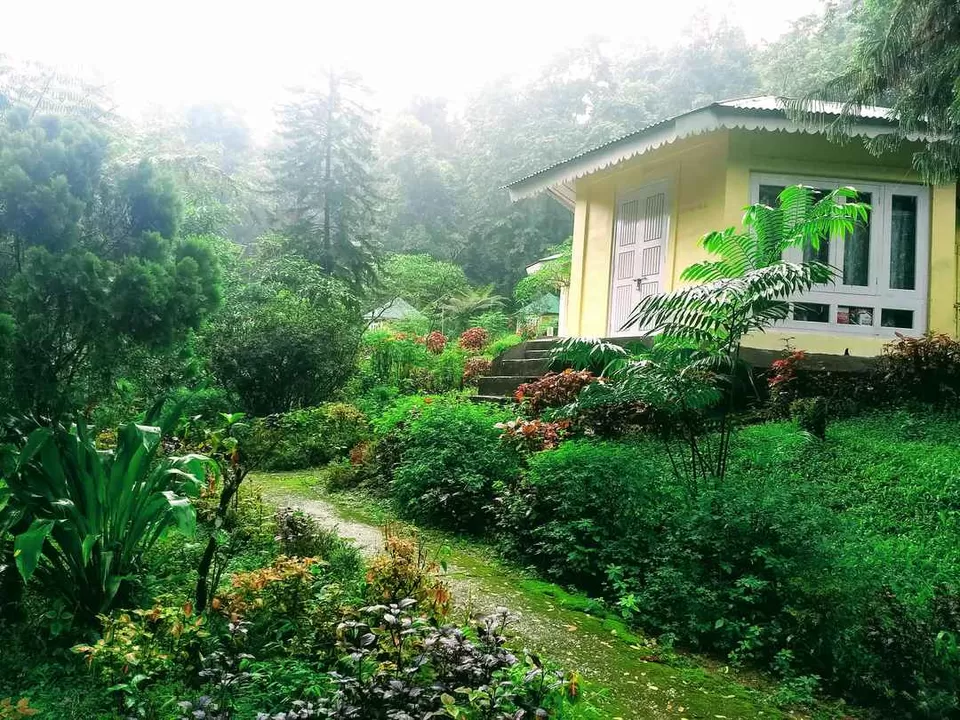 After spending four dreamy days in sleepy, unknown villages in Himalayan foothill, it was the turn to go back home. Well, that's the worst or sometime the best part of vacation. It has to come to an end before it starts one again.
Thanks for stopping by. Please wishlist this trip and share your thoughts before leaving.
All pictures are property of the writer. If you want to see more of her gorgeous photographs, follow her on her Instagram.
This article was originally posted on Saheli's travel blog, Lost in the Globe.
Sign Up now and get the latest travel updates from Tripoto straight in your email's inbox!