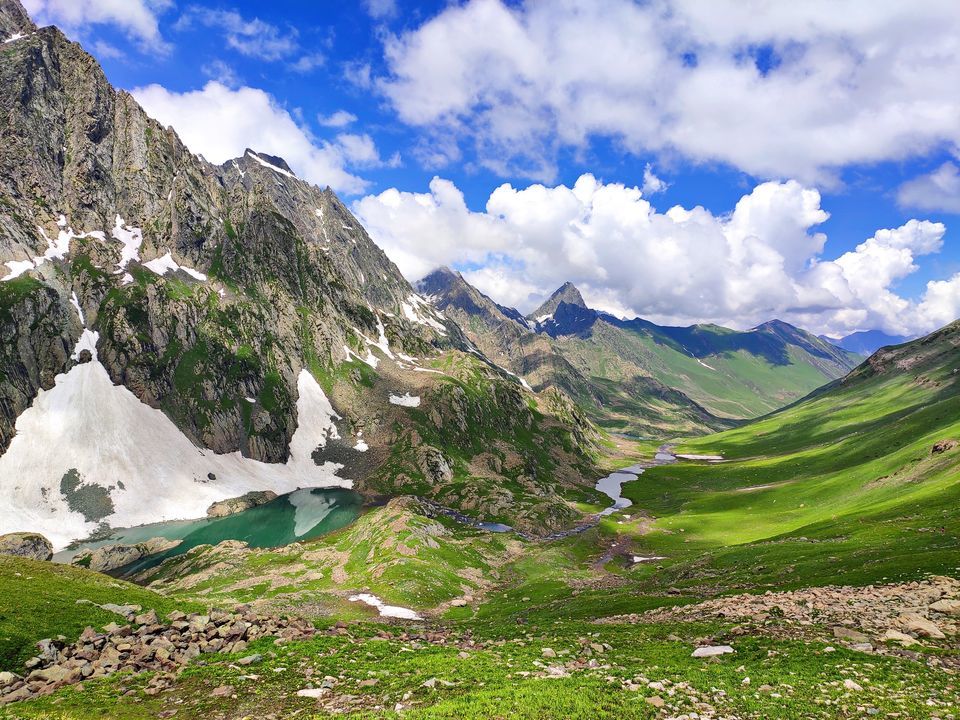 "Gar firdaus bar roo-e zameen ast, hameen ast-o, hameen ast-o, hameen ast". If there is a heaven on earth, it's here, it's here, it's here.
The Great Lakes of Kashmir Trek is one of the most scenic treks one can ever witness. It has everything - beautiful valleys, magnificent alpine lakes, green meadows, snow covered tracks, very wide views of valleys, river crossing, starry nights, trout fish and Kashmiri songs.
This is a week-long moderate-to-difficult level trek open only from July to September. During the seven days, the trail takes you through lush green meadows dotted with colorful wildflowers (the scene almost looks photoshopped!), dense forests, clear lakes, steep uphill climbs across three mountain passes and challenging descents through rocky terrain.
How to reach?
Flight: Fly in to Srinagar and take a taxi to the Sonamarg base camp. When you tie up with a company, they offer pick-up and drop services.
Train: There are several trains departing from Delhi to Srinagar with a travel time range of 6 hours to 10 hours.
Bus: There are several busses that depart from Delhi bus station. The bus journey takes 14.5 hours approximately.
Car: By car, the journey would take anywhere between 10 - 14 hours. The roads are very easy to drive. The two routes one can take are NH44 or by Mughal Road. Mughal road is the longer route.
Brief itinerary of the Great Lakes of Kashmir trek
Srinagar - Sonamarg - Nichnai - Vishnusar - Gadsar - Mengendob - Gangabal - Nandkol - Naranag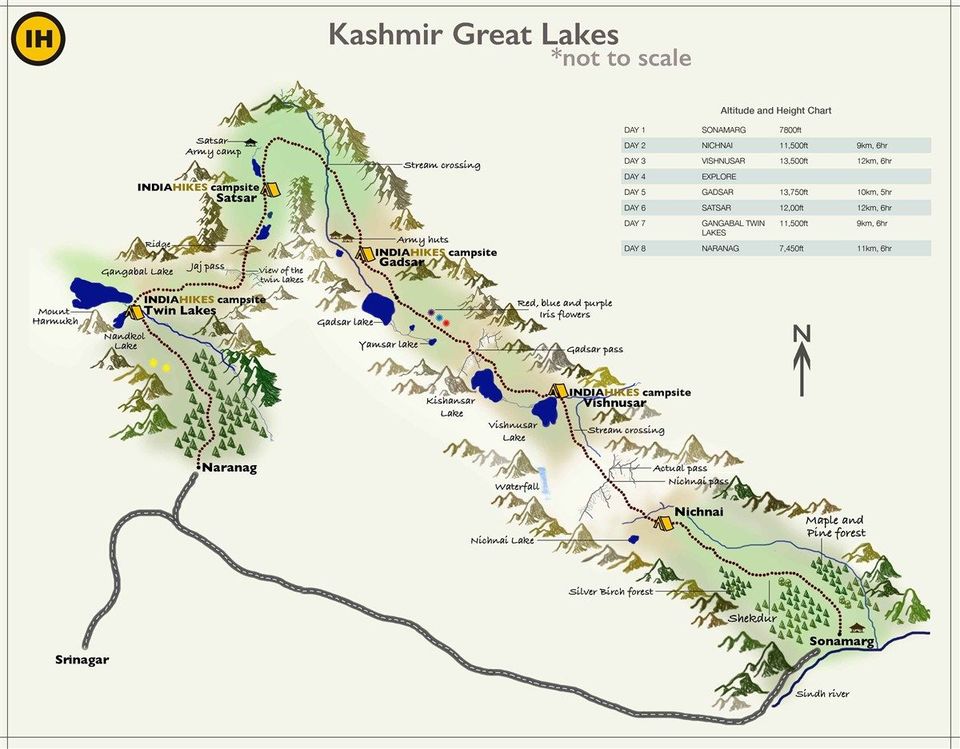 Drive from Srinagar to Sonamarg to reach the base camp (2800 mt) beside Sind river, and then trek to Thajiwas Glacier and back to camp. Sonamarg to Nichnai (11 Km) mostly ascend to reach the camp at an altitude of 3500 mt.
The beginning is a very steep climb that goes on for 3 hours and then a 1 hour moderate climb, followed by a 3-4 hour (depending on your speed and fitness) ascent to Nichnai. Camp will be set up here at 11,500 feet.
Nichnai to Vishnusar Lake (distance :13 km, altitude :4000 mt).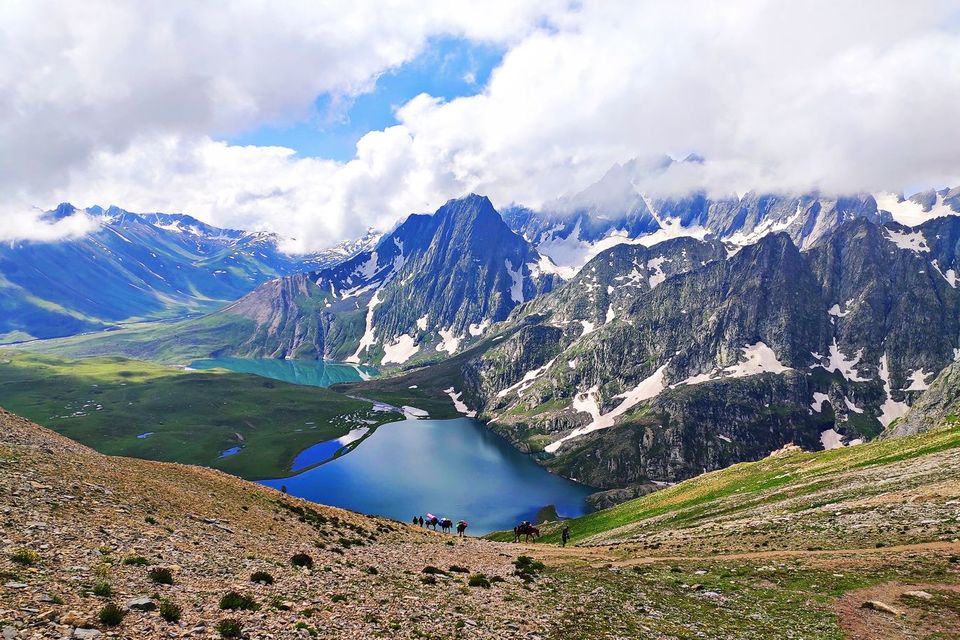 The trail on this day crosses the Nichnai Pass and is very different from the previous day. You'll walk for around 6-7 hours, during which you will ascend and descend and cover vast meadows before finally making camp at a plain area
Vishnusar to Gadsar Lake (distance :16 km , altitude :4300 mt).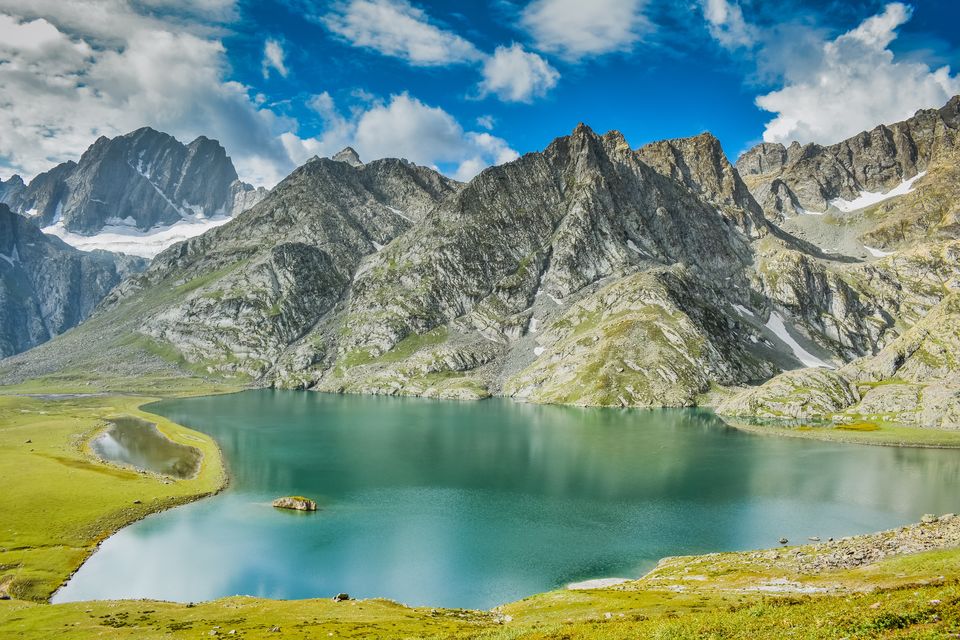 On this particular day, the trail teases you and plays with your head like never before. It starts the same way – up to a pass, the Gadsar Pass, at 13,750 feet, and then down again into fresh, beautiful meadows. You also spot the twin lakes of Vishansar and Kishansar together. But as much as the beauty awakens your senses, the walk tires and numbs you. They don't call it the endless meadows for nothing.
Gadsar to Mengendob via Satsar lake (distance :10 km, altitude :3400 mt).
There is only four hours of walking from the Gadsar to the Satsar Lakes. Around 20 minutes before Satsar, you'll have to check in at an Army camp.
Mengendob to Gangabal via Zazi pass, and camp beside Nandkol (distance :11 km, altitude :4000 mt).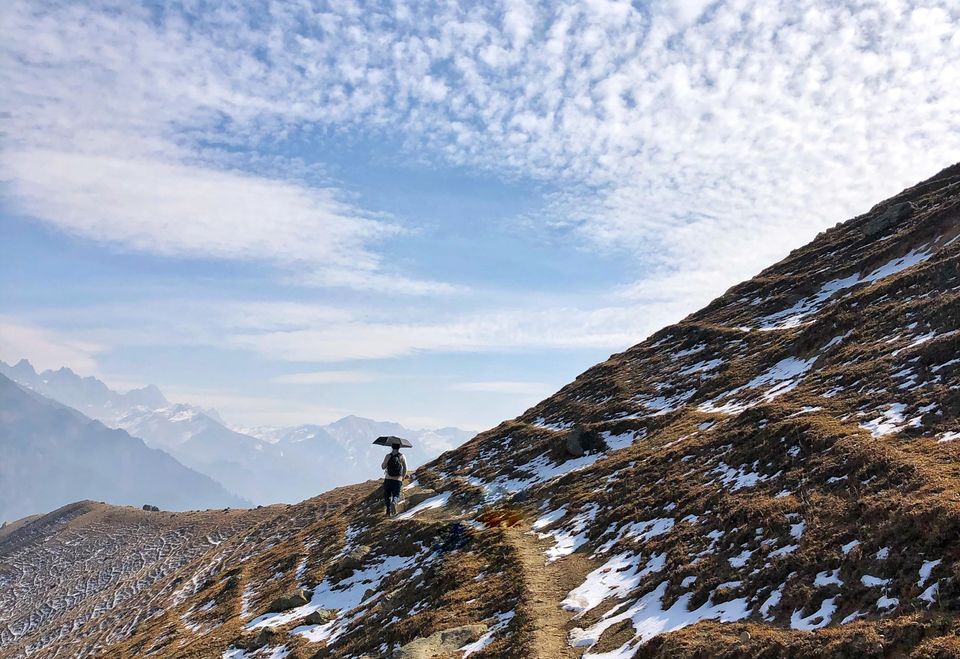 This is one of the most exciting days of the Kashmir Great Lakes trek. Not only do you get a gorgeous sighting of the Gangabal and Nandkol twin lakes, but you finally also camp near a lake. You will walk 9 km in around 6 hours to reach Nandkol Lake. The highest point you'll trek up to will be Zach Pass at a height of 13,500 feet.
Gangabal to Naranag trek (distance :16 km, altitude :2200 mt), then drive back to Srinagar.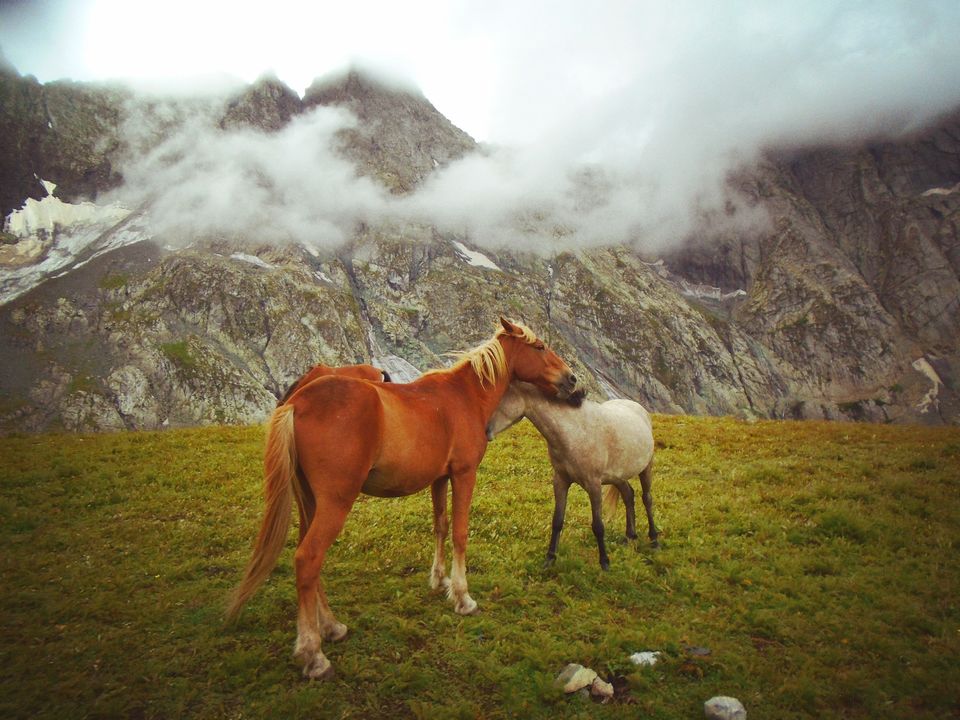 You start with crossing some hillocks and later get on to a trail in a beautiful pine forest. After walking for around 3 hours, you'll come to a point where the downward rocky path will begin. This part of the trek will be full of big and small rocks and slippery sand that will make the walk exhausting. But when you finally reach the end, the sense of achievement at having completed the trek will make the pain worth it.
Cost per person
Trek cost: INR 17,000
Airfare from Delhi to Srinagar: INR 7,000
Best Time to Trek To The Great Lakes of Kashmir
KGL trail remains open only from July to September , as high passes ( 3 nos.) remain blanketed under snow during remaining period of the year ,making it insurmountable.
Though the month of July harbingers monsoon in Himachal Pradesh & Uttarakhand , much famed trekking destinations abound with trekking opportunities , but its trails become landslide prone and unsafe.
To a stark exception, Kashmir receives intermittent rainfall owing to its geographical position in a 'rain shadow area', owing to mighty Pir Panjal range that separates Kashmir from the rest of the Indian subcontinent and thereby blocks the monsoons.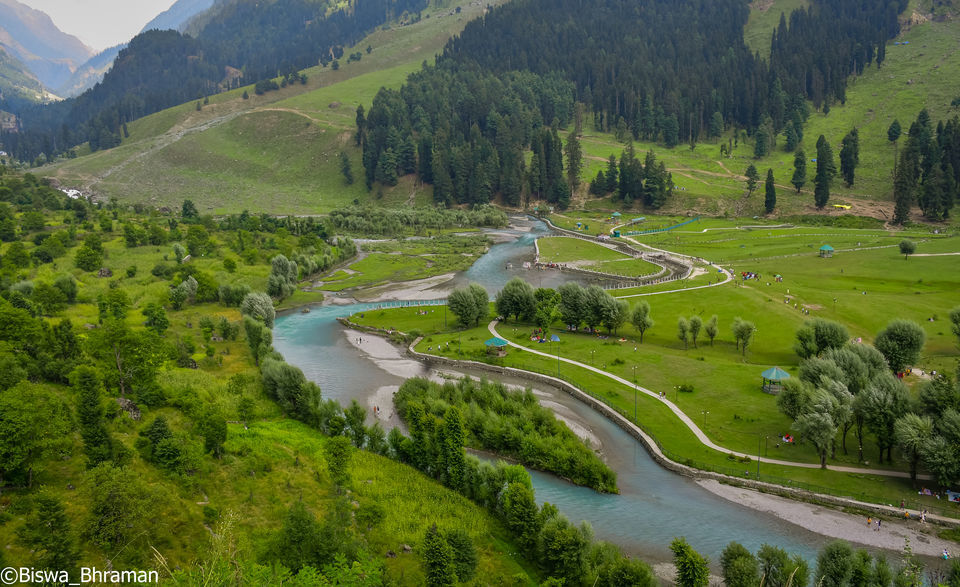 Early July – Patches of snow at higher altitudes (Nichnai and Gadsar Pass), Green starts to unravel after long hiatus, flowers beginning to bloom.
Mid-July – Mid-August – Most of the snow would have melted. This is also the warmest period in Kashmir. You will find dramatic landscapes with breathtaking colors. There will be mild showers here and there but nothing to be concerned about. (You might experience evening showers on certain days during this time of the year. This is why it is a good practice to cross the pass early in the day and reach the next campsite by or before 4 PM.)
Mid-August to September – You will see a considerable drop in the temperature. Also due to which flowers start to wither away, skies are mostly clear and blue with intermittent showers. You will notice snowfall post-mid-September. Green will start to wear pale yellowish ensemble ,announcing arrival of long winter slumber.
FAQ
Is Kashmir safe for trekking?
Kashmir is very safe for trekking. In fact, the people here are very welcoming and hospitable.
Do you get mobile network on the trek?
Only for a brief patch on the 2nd day of the trek, at the Nichnai Pass. You can make your last calls in Srinagar, that too, if you have a postpaid BSNL or Airtel connection.
What type of clothes should I bring?
Keep flexible, breathable and light clothing along with a warming jacket. In terms of toiletries, carry the basic stuff like your bathing soup, shampoo, toothpaste, brush, detergent, and facewash.
What type of food can we expect?
The food varieties on such high altitude treks are slightly limited. But, be rest assured, you will get the best in everything that is available. The crew carries food supplies with them from Srinagar – this includes tea, eggs, rice, atta, vegetables, packaged soups and even, err, livestock. So, expect some fresh and delicious meals everyday. Water is even fresher, because you get a running supply from the streams that you camp near.
What if I want to discontinue?
Someone from the team will accompany you, incase you are unwilling to continue the trek. For more details, please get in touch with your service provider or trek company. It is normal to experience some altitude sickness, carry the right medicines or head back incase of extreme uneasiness.
Check out this article for a splendid visual experience of the Great Lakes of Kashmir trek. Are you planning to this trek anytime soon? Here is another itinerary on the Kashmir Great Lakes trek, that will keep you motivated to plan one on your own.
Have you been to Kashmir? Check out these 15 most-beautiful places to visit in kashmir and plan your trip. Book your Kashmir tour package now.
If you liked the article, share the love and follow me on Instagram - Whereizmyboardingpass. Be a part of the largest online community of travelers on Tripoto's Facebook page!