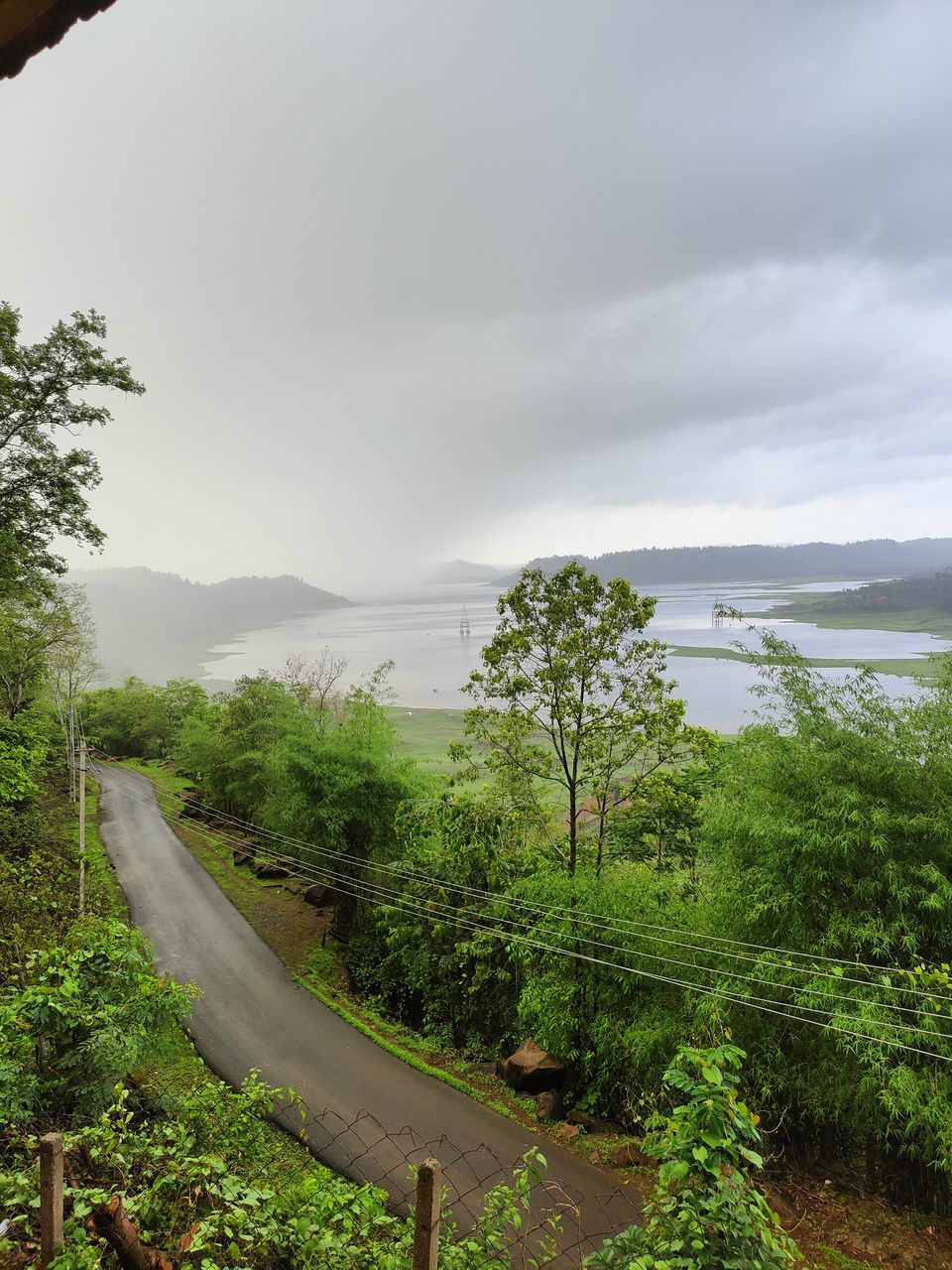 As we all know monsoons bring out the best in every place, same goes for this weekend destination from Mumbai. It's a place called Khanvel in Dadra and Nagar Haveli. We left on a Sunday to visit this place and spend a day, around 10.00 Am from virar, on our bike for a long bike ride. Me and my husband love to travel, and he loves riding his bike everywhere, also a convenient option for us than the local transport. So as we left the rain was very less that day, and we got to witness amazing beauty of the highway, greenary surrounded by huge mountains covered in thick clouds, as if smoke was coming out of them, it was mesmerizing.
We then stopped at around 11.30 at a famous parsi restaurant Ahura, for breakfast. Had some Kheema pao and chai, feels so satisfying in that weather.
Once done, we left directly for khanvel at around 12.30. You will never get tired of those roads because the journey is really beautiful. We the. Reached our hotel, Hill view resort, booked our room and checked in around 1.45 PM.
After freshening up, had some lunch and we left to see the place around.
Everything is mostly closed on Monday, so we had to go on Sunday itself. Near our resort was a Butterfly park and a small museum.
In this season you will not see any butterflies, but it's a good park to click pictures and take a stroll around. The museum is informative if you want to know more about Dadra and Nagar haveli.
We then left to visit the Dudhani Lake main attraction nearby, this was around 30 minutes away. The Ride was even more better, I cannot even describe how beautiful these roads were,and you wil come accross some Ghats as well, and can see the lake from top while on these ghats.
Once we reached the lake you have so much to see here, every place you lay your eyes on, is amazingly Beautiful, the lake it self is so long and soothing, you should definitely try out the peaceful shikara style boat ride.
If you simply want to look around, it's still enough then green meadows surrounded by hills,and Dudhani Lake, I cannot forget those scenes captured in my camera as well as eyes.
You can eat some bhajiyas outside from the stalls by the lake and have corn & hot tea.
We then left back to our hotel, we found a Panoramic view point of the lake on the way, it was worth a stop. The view was spell bounding from up there. You should definitely stop by.
Then we directly reached near our hotel, and there was a Bridge near it with river flowing under it. We stopped there as well to click some pictures, and also got the sunset here. So best of both worlds, rain and the sunset.
Then we headed back for some rest in our room, spend the remaining day eating our dinner and watching our favorite show and called it a night.

The next morning we decided to take a half an hour ride to Silvassa, to visit a church Our Lady of Piety.
We went there however the church was closed so we just prayed outside. We then came back to our hotel, and left to go back home.
Bidding a Goodbye to all that beauty, while we were on our way back we stopped by at the Kurze dam, another good spot with good view.