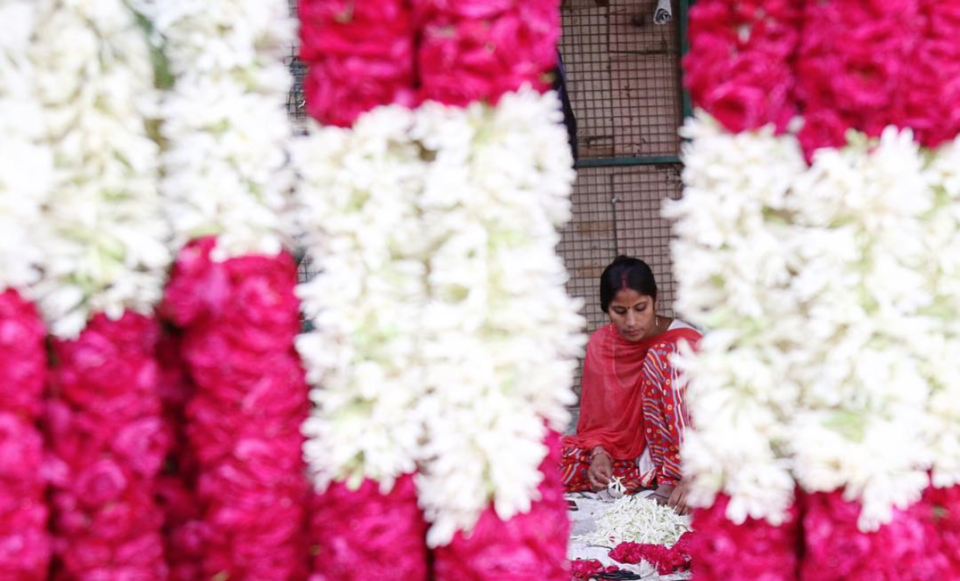 I still remember the first time I saw a marigold flower. It was during a puja at home and mom had asked the house help to get long garlands of the flower to decorate the doorway. I must have been about 6 or 7-years-old, and I vividly remember how mesmerised I was with the colour of the flower and also its structure. Marigolds have been a favourite ever since and perhaps the biggest reason I look forward to festivals.
Recently, I had been looking for marigold pictures on Instagram for a DIY project, when I came across this gorgeous piece.
A little more research and I found out that it was taken at the Ghazipur Flower Market – the largest of its kind in India! After that, it was just a spiral into the world of this mesmerising flower market and all that it has to offer.
When you visit the Ghazipur Phool Mandi, on the face of it you might feel like you're just in a jumbled mess of shabby stalls and grimy bylanes. But as you enter the gates and go on exploring, you will find that it is indeed a mesmerising assault on the senses. You will immediately be taken in by the sights, sounds, and smells of India's largest flower market.
Flower power
Being the largest in India and in Delhi, this phool mandi is the ultimate spot for flower vendors and buyers like wedding vendors, retailers, flower sellers, and florists to do business. The functioning starts as early as 3am and goes on till 7pm in the evening with different time periods determining the rates of different flowers.
If you happen to visit in the wee hours, you will be taken by the hustle-bustle of the mandi at a time when the entire city is supposed to be asleep.
The shifting of power
Up until 2011, there were three different flower mandis thriving in different parts of Delhi (Connaught Place, Mehrauli, and Ghazipur). However, due to a government order back then, these mandis were made to shift base to one common ground in Ghazipur.
There was a huge uproar because of this with protests from flower vendors across the city to no avail. The mandi in Ghazipur is situated next to a dumping ground and slaughterhouse, which has been a major cause of the muck and smell in the area.
Starting this year, however, the flower mandi is in for a revamp with the temporary stalls being replaced by a four-story building spread across an area of 10 acres. The construction is expected to start by the end of this month and be completed by the end of the year 2020. Till then, florists have to deal with the issues of being set up next to a dumping ground.
Situation now
Ever since the flower market shifted to Ghazipur, it has definitely become the ultimate spot for buying and selling flowers. It is difficult to find a type or kind that is not available here. Flowers are not only imported but also exported from here.
A photographer's delight
Needless to say, this place is a gold-mine for photographers from all walks of life. Whether you want a backdrop for a fashion photoshoot or you want to get a glimpse of life in one Delhi's most exotic markets, Ghazipur Phool Mandi is a treasure trove with stalls upon stalls of regular and exotic flowers.
How to get here
The Ghazipur Flower Mandi is located in East Delhi, near the Uttar Pradesh border. Areas such as Mayur Vihar, Kondli, Preet Vihar, and Laxmi Nagar fall in its vicinity. While you can definitely come here by road, the recommended way to reach this place is by the metro.
Kaushambhi Metro Station on the Blue Line is the closest metro station, situated at a distance of 2km from the place. You can easily get an e-rickshaw or auto from there.
Timings: 3am – 7pm.
Have you been to the Ghazipur Flower Market? Share your pictures as a photoblog on Tripoto with millions of readers.