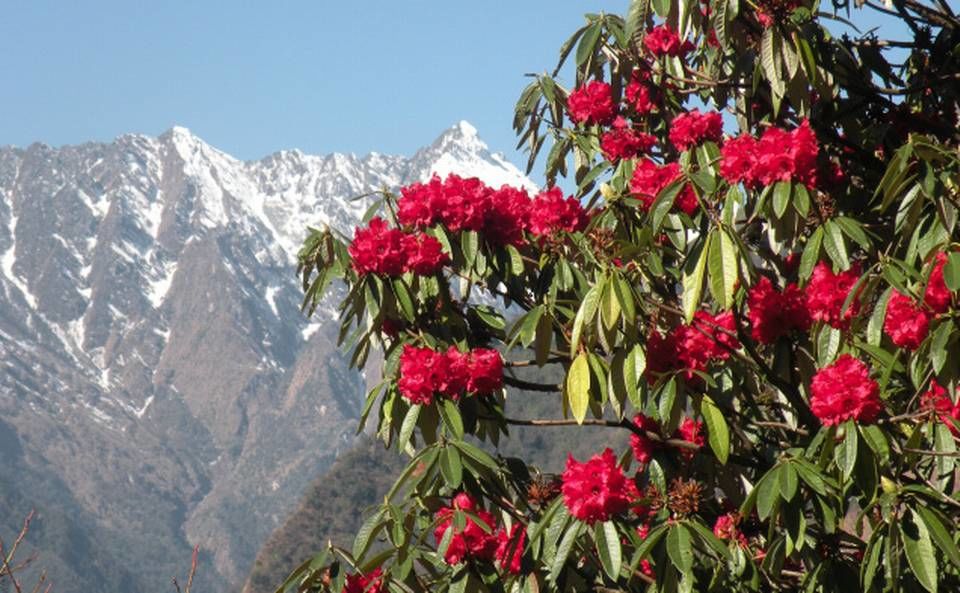 Flower nerds would know that the season for Rhododendron is here and it is time to head to the nearest flower valley to witness the stunning sight of all bloomed Rhododendron in abundance. The flower is only found in the Himalayan regions of the country and is also the state flower of Himachal Pradesh. However, it is not just in Himachal that you can find these pretty plants. These colourful blossoms are widely found from Jammu & Kashmir to the lesser Himalayas of Sikkim.
Rhododendrons bloom with the onset of summer. The blooming is celebrated as Phool Sankranti in Northern states of India. Locally known as Buras and Burnash, the beautiful flower comes in all colours of a rainbow.
When to visit: Anytime between March to April is the perfect time to visit the hilly terrains for rhododendrons.
Here are three places where you can head to right now for some amazing rhododendrons landscapes:
Yumthang Valley in Sikkim is adorned with carpet like colourful rhododendrons, hot springs and hills on all sides. Shingba Rhododendron Sanctuary is also a part of the valley which is home to more than 24 varieties of rhododendrons. Summer and spring are the perfect time to visit the valley. Apart from Rhododendrons, there are various other flowers that decorate this place like primulas, poppies, iris and cinquefoils. Keep a day on your itinerary for this beautiful valley of rhododendron, it can definitely be the highlight of your trip to Sikkim.
Where: North Sikkim
Best time to visit: late-February to mid-June
Entry is free
Dzukou Valley lying on the border of Nagaland and Manipur is one of the few places in India that boasts the colourful rhododendrons. With lush green forests, waterfalls and vast spreads of rarely found flora, Dzükou Valley is the hidden gem of Nagaland that one cannot afford to miss. There are to two ways to reach this stunning land of flowers; you can either trek from Viswema Village or from Zakhama Village.
PS: This is the only place to find the Dzükou lilies. You can also find other rare flowers like aconitums and euphorbias.
Where: Nagaland - Manipur border
Best time to visit: June to September
Entry fee: ₹100 per person.
Valley of Flowers in Nanda Devi Biosphere, Uttarakhand, is a part of UNESCO's World Network of Biosphere and is home to the beautiful diversity of flora including rhododendrons. A 17km trek from the Gobindghat Village of Uttarakhand will lead you to this thing of beauty. The valley is a popular tourist attraction in the area and provides perfect frames for your Instagram feed. Along with rhododendrons, one can also find a variety of flora like the Himalayan maple, the blue Himalayan poppy, Brahmakamal, marigold etc.
Where: Gobindghat, Uttarakhand
Best time to visit: June to September
Entry fee: ₹150 for Indians and ₹600 for foreigners
Time: 7:00 am- 5:00 pm