Delhi never seizes to amaze. With a rich history and an eventful present, there's so much to look out for that even the locals manage to miss out on a few gems that hide in plain sight. Here's a list of sites and spots that exist in Delhi, yet do not get the well-deserved attention by flocking tourists or thronging locals.
With great historical significance and beautiful surroundings, the Satpula Bridge brings you peace amid the maddening chaos of Delhi. The name refers to a collection of seven bridges that was used for water harvesting back in the day. Though the river ceased to exist a long time ago, the artwork of this architectural paragon now acts as the perfect getaway from your mundane life.
• Where: Khidki Village, Malviya Nagar
• How to reach: Take an auto or a cab from the Malviya Nagar Metro Station.
This isn't the War Memorial, mind you! Epitome of 'Gone But Never Forgotten', the Delhi War Cemetery houses the graves of soldiers, who fought for the British Commonwealth during the Second World War. This memorial welcomes you with lush green ambience and well-maintained neat lawns. Expect tall pillars and exquisite memoirs that could easily contribute to some of your most well received social media stories.
• Where: Delhi Cantonment, New Delhi
• How to reach: Take a cab or auto from the Delhi Cantt Metro Station.
Mirza Ghalib Ki Haveli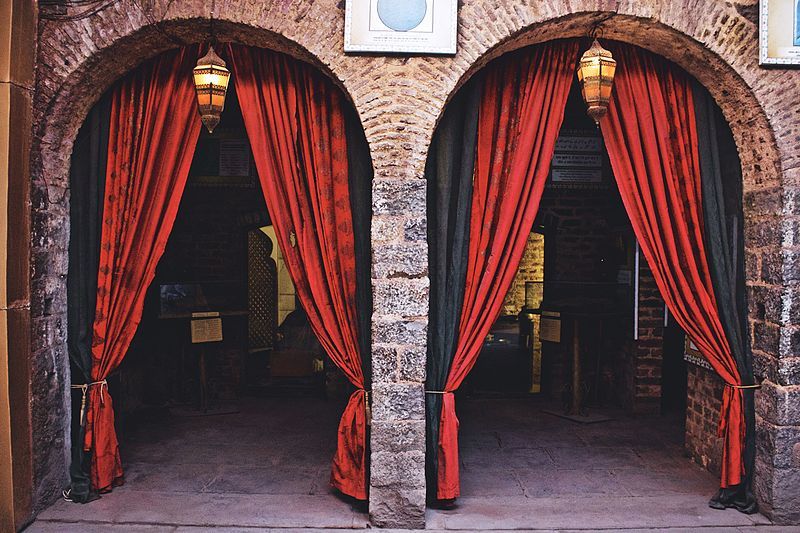 This haveli has only recently landed on the tourist radar, thanks to some articles about it doing rounds on the internet. However, it is still too early to label it as 'Popular'. This heritage site was built in the memory of the world-renowned Urdu poet, Mirza Ghalib. Apparently, Ghalib lived here during some of the most challenging years of his life and reflects the period when the Mughal Era was on the decline in India. The Haveli holds an in-house museum too that reflects some of the prominent works of Ghalib.
• Where: Qasim Jan Street, Baradari, Near Chandni Chowk
• How to reach: From Chawri Bazar Metro station, take a cab or an auto till Shahjahanabad. Then hire a rickshaw or walk to the Haveli.
Shopping, toothsome food and quirky ambience barely begin to elaborate on your experiences once you step inside. A stark contrast to the outburst of a mall culture in Delhi, the village-like outlay of the Santushti Shopping Complex further adds to its unique flavour. This little place offers a posh shopping experience, accommodating boutique outlets for clothing, footwear, jewellery, and even Ayurveda products.
• Where: Chanakyapuri, Race Course Road
• How to reach: Rent a cab or auto from Lok Kalyan Marg Metro Station
Deriving its name from its reflection in the nearby lake, the Jahaz Mahal is fifth on this list. Residing in Mehrauli, this palace was built during the Lodi Dynasty and makes for a stunning yet reposeful day for solo travellers as well as families. Literally, sitting aside the bustling streets of Delhi, this gem of a monument sits quietly and undisturbed, eyeing the city move ahead in time.
• Where: Talaab Lane, Aam Bagh, Mehrauli
• How to reach: Hire an auto or cab from Qutub Minar Metro Station
Within the concrete jungles of Delhi lies this leafy jewel that still lets one breathe fresh air amid all the deadly pollution. This forest spreads over 780 acres of land and is gradually emerging as a hotspot for jogging and cycling enthusiasts.
• Where: Vasant Kunj
• How to reach: Take a cab or auto from Chattarpur Metro Station
It is quite likely that you have seen this place at least once while you were out exploring the streets in Old Delhi. Though it is almost certain you haven't seen the insides and what a marvel this place actually is. Resting in the middle of one of the busiest lanes of Delhi, the Chunnamal Haveli still keeps the grace and elegance from an era gone by alive in the heart of the capital. Since it is surrounded by about 140 shops and stores, this haveli will not be the only reason for you to visit this place.
• Where: Chandni Chowk Road, Katra Neel
• How to reach: Take an auto from Chandni Chowk to Katra Neel. Then walk till the haveli
Welcome to the flowery and fragrant world of flowers, Ghazipur Phool Mandi. An overwhelming species of flowers like marigold, tulips, roses, carnations, orchids, irises, and lilies are available at one place. Suit your mood, feel amazed by the dirt cheap prices or simply let your eyes feast upon the beautiful and colourful views of the surroundings.
• Where: Ghazipur Village, Gazipur
• How to reach: Rent a cab or auto from Anand Vihar ISBT Metro Station
This pair of adjoining mosque and tomb hosts the graves of Jamali, the name given to the great Sufi saint Shaikh Jamali Kamboh and Kamali, an unknown person. One of the graves forms a mosque and the other a tomb. If the mystery surrounding the latter isn't enough to pull you towards this majestic archaeological site, then the stunning glory and its close proximity to Qutub Minar should definitely do so.
• Where: Archeological Village Complex, Mehrauli
• How to reach: Walking distance from Qutub Minar Metro Station
A public attraction that has failed to gain much popularity but deserves an honourable mention is Hijron Ka Khanqah. This is essentially a cemetery for eunuchs and was built during the Lodi Dynasty reign. You are bound to feel respect for the third gender and peace when you step inside this well-maintained calm monument.
• Where: Ward 6, Mehrauli
• How to reach: Hire a cab or auto from Qutub Minar Metro Station
What was once the hunting lodge for Firoz Shah Tughlaq, is now a dismal and neglected ruin in the central ridge forest. While the architectural beauty of the building is addictively picturesque, the rumoured sightings of the paranormal activities in this fort make it all the more inviting.
• Where: Southern Ridge Forest, Central Ridge Reserve Forest
• How to reach: Hire a cab or auto from Jhandewalan Metro station
If you live around Hauz Khas, then this place is perfect to spice up your morning jogs. Another architectural masterpiece that was built in the 14th century was used for the purpose of observing troop activities. The unusual yet elegant structure of this fort palace could have easily made this one of the most visited places in Delhi if only it was maintained and marketed better.
• Where: Begumpur
• How to reach: Hire a cab or auto from Hauz Khas Metro Station
                                                                      -O-
Even after living in Delhi for all these years, I still don't know what to expect next. Delhi shows so much, yet hides even more.
To my muse, my whore, my beloved – Delhi.
Share your list of hidden gems here.