Starting at the border of Gujarat and ending at Kanyakumari's are the lush green Western Ghats stretched over an area of about 1600 kms in the western India. 'The Great Escarpment of India' is roughly divided into a number of hill ranges some them being Anaimalai hills, Cardamom hills, and Sahyadri hill range. The mountain ranges of the Western Ghats are a home to endemic and undiscovered species of flora and fauna and is also one of the top tourist attraction in the Indian subcontinent.
Here are the Highest peaks in the Western Ghats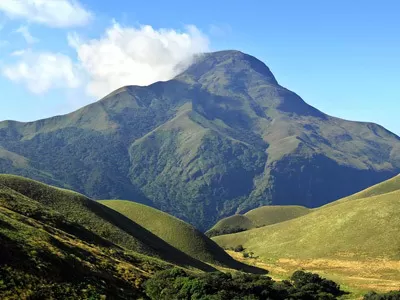 (Picture Courtesy- Wikipedia)
Pride of the state of Kerala, Anamudi, is 2695 metres high mountain standing tall in the Eravikulam National Park. Along with the Eravikulam National Park, Anamudi is a home to a number of Asian Elephants, Nilgiri Tahrs, and the Gaurs. It is the paradise in the wild and is covered with lush evergreen forests and is inhabited by endemic flora and fauna. You can take a trek to the top of the mountain but to do that you have to take permission from the authorities of Eravikulam National Park. Outside the Himalayan mountain ranges, it is the highest point in the Indian subcontinent. It is the highest peak in the Western Ghats.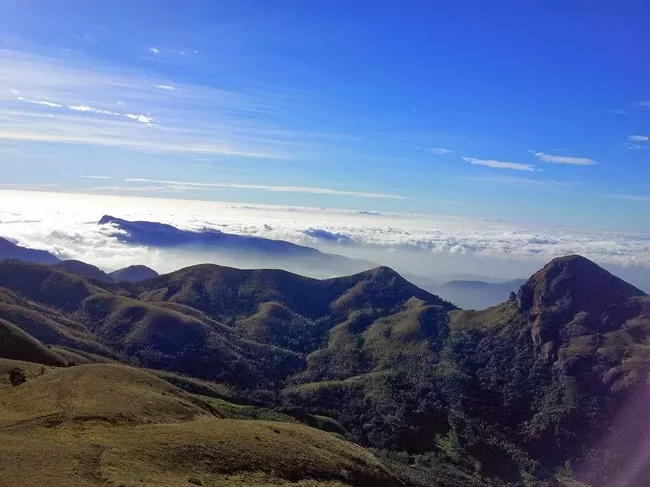 (Picture Courtesy- Wikipedia)
Located in Idukki district of the state of Kerala, Meesapulimala is the second highest peak of the Western Ghats after Anamudi peak. The region is very well known for trekking, hiking and surreal views of mountain landscapes. It is an ideal region for trekking. It is a total of 8 kilometers trek with gurgling brooks and charming tea estates. The peak resembles a tiger's face and hence, got its name as Meesapulimala where 'Meesa' means moustache, 'puli' means tiger and 'mala' means a hill. Hundreds of blooming beautiful Rhododendrons and lush green valleys are Meesapulimala's characteristic features.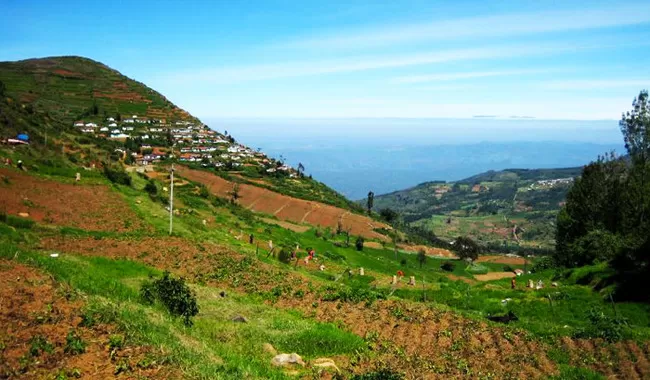 (Picture Courtesy- Wikipedia)
The Highest mountain in the Nilgiri hill range, Doddabetta is a peak at a height of about 8652 feet in the district of Tamil Nadu. Along with Ooty hill station, reserved forests, Doddabetta is a very popular tourist attraction in the state of Tamil Nadu. The peak is just 10 kilometres away from Ooty and is famous for its surreal landscapes of the valley below. On a clear day, you can often witness far off areas, flat highlands of Mysore and plains of Coimbatore. One interesting thing about the Doddabetta peak is that the Tamil Nadu Tourism Development Corporation has established a 'Telescope House' to let the visitors get a better view. Trekking here is not very difficult and challenging and at the same time, it gives you experiences and views which are worth every step you take.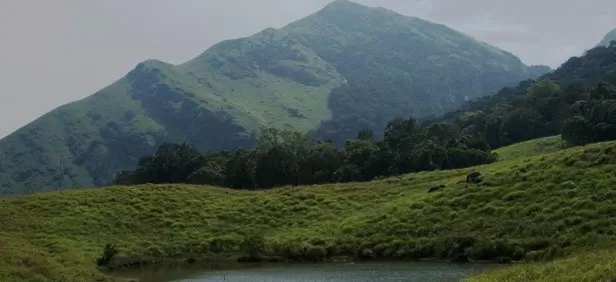 (Picture Courtesy- Wikipedia)
One of the seven tallest summits of Nilgiris, Kolaribetta is at an elevation of 8629 feets. Located at Mukurthi National Park of the Nilgiris, Avalanche is a home of twin peaks of Kolaribetta and Kudikkadu. It is covered with lush greenery and is a home to different species of flora and fauna.
(Picture Courtesy- Wikipedia)
Also known as Avalanche hill, Kudikkadu is a peak at an elevation of 8497 feet, which is located at Mukurthi National Park. It is one of the highest peaks in the region and other popular peaks are Pichalbetta, Mukurthi peak, and Derbetta. It attracts a lot of tourism from and around the world.
Several hill stations like Mahabaleshwar, Ooty, Khandala, Lonavla, Munnar, Wayanad and Ponmudi are popular tourist hot spots in the Western Ghats. It is advisable to go to any of these hill station in the cooler months and avoid visiting them during humid summers. All of these is well connected with roads and railways. Apart from these highest peaks in the Western Ghats, there exist other attractions as well. Visit the Palakkad gap which is at an elevation of 980 feet. It is an important corridor between Tamil Nadu and Kerela. Next attraction is the Golden Valley which is situated near the popular hill station of Thiruvananthapuram.
The Western Ghats of India are a home to many national parks and wildlife sanctuaries. It is evidently the pride of India and a trek to these highest peaks of the Western Ghats is one hell of an experience.
Frequent Searches Leading To This Page:-
second highest peak in western ghats, highest peak of western ghats, highest peak in western ghats, highest peak of western ghat, western ghats highest peak, second highest peak in south India