HOLI TRIP IN PURULIA
It was the time for festival of colours in India. But this time I decided to spend these few days anywhere outside my locality, where I am not familiar with the type of celebration and customs people have. I wanted to explore this time that what other communities do in Holi (Festival of colours). So, I was stuck with this much plan and did not have any clue how to step forward with this plan. Until one of my brothers helped me to launch my plan rapidly and helped to contact someone who was organizing a trip to Purulia for Holi.
Purulia is one of the twenty districts of West Bengal state in Eastern India. The town of Purulia is the administrative headquarters of the district. Purulia is one of the drought prone districts of West Bengal. It has a sub tropical climate nature. Temperature is very high in summer and low in winter which varies from 2 degrees in winter to 52 degrees in summer thus causes dryness in moisture. The economy of the Purulia district is mainly driven by the industrial sector and tourism. Among these, the industrial sector is the backbone of the economy of the district. Purulia has rich cultural heritage. It has the mixed culture of Bengal, Jharkhand, and Orrisa as it was a part of these areas for various times. Every cultural event has got a tribal touch in it, which is the specialty of Purulia. Purulia got a distinct folk culture of Jhumur, Tusu, Bhadu songs. It is also the birthplace of a traditional martial dance of Bengal, Chhau.
AJODHYA HILLS
We took shelter in a small resort which was situated beside the Ajodhya hills. It was such a great feeling to stay in a resort which was beside the hills. I loved the ambience of that place, the lovely cold wind, the chirpping of birds to cries of foxes and the views surrounding the resort were such beauty. With clear blue sky and the Ajodhya hill, that place gave me tremendous opportunity to photograph landscapes.
Ajodhya is a hill located in the Purulia district of the state West Bengal, India. It is a part of the Dalma Hills and extended part of Eastern Ghats range. Highest peak of Ajodhya Hills is Gorgaburu. It is a popular place for young mountaineers to learn the basic course in rock climbing. There are two routes available to reach Ajodhya Hills. One is via Jhalda and the other one is via Sirkabad. According to Hindu mythology, Rama and Sita had come to Ayodhya Hills and stayed during their exile. Sita was thirsty and Ram pierced an arrow through the Earth's soil crust and through that water gushed out. Sita quenched her thirst. The place is known as Sita-kunda. During the full moon day in Baisakh every year tribals of nearby areas come and join in the game of hunting wild animals.

Chauu dance
They day of Holi was celebrated in Purulia by playing with coloured powder and watching the Chauu Dance. The dance is a must watch for every individual in Purulia. It was bright sunny day and every trip member was dressed in white for this occasion and I wore a jacket because I might had to hide my camera underneath it whenever I saw someone throwing colours at me. Wearing that was indeed helpful. So everybody was out of the resort to watch the dance and play with colours. We reached the place early, where they were about to perform the martial dance. So, as they were busy getting ready for the show the tourists spend that time playing with colours. Soon after 20 minutes, the show was about to start.
Chhau dance is a genre of Indian tribal martial dance which is popular in the Indian states of Odisha, Jharkhand and West Bengal. There are three subgenres of the dance, based on its places of origin and development, Seraikella Chhau, Mayurbhanj Chhau and Purulia Chhau. During Dussera all the Akhadas celebrate their annual festival. In several prosperous villages display of traditional gymnastics, acrobatics and the dance by various village-groups are arranged on competitive basis. Each group participates with great enthusiasm. For all such displays, special grounds are prepared with soft earth sprinkled with oil and water. The Chhau dance is mainly performed during regional festivals, especially the spring festival of Chaitra Parva which lasts for thirteen days and in which the whole community participates. The dance is performed by male dancers from families of traditional artists or from local communities
In 2010 the Chhau dance was inscribed in the UNESCO's Representative List of the Intangible Cultural Heritage of Humanity.
In 2010 the Chhau dance was inscribed in the UNESCO's Representative List of the Intangible Cultural Heritage of Humanity.
The village where we stayed, the Chauu Dance was performed twice. The first time it was performed before the day of Holi and second time on the day of Holi.
People throwing colours at Chauu dancers :
Natua Dance
Natua Dance is an ancient folk dance of Purulia district, much lesser known than the popular Chauu. It is believed that Natua is about 600 to 700 years old. Similar dance moves can be identified between these two, which proves there is a little connection between the two dance forms. Knowledge of Natua is essential to the practice of Chauu. Not so much of a 'dance' as a display of vigorous, phisical acts to the beating of drums, the form is primarily tribal. Natua Dance is performed by spirited men with chalk painted bodies. Colourfully dressed and with bright strips of trailing cloth tied to their arms and wrists, the Natuas present a mix of martial art and acrobatic stunts. When they perform, the spirits and atmosphere remains charged with energy and tension. The beating of drums (Dhak) encourages the performers to go forward and perform acts involving great risks, cheered on by the whole crowd surrounding them.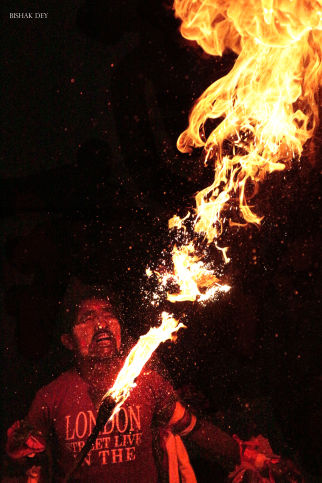 The children around the area of Holi :
Things I've learned :
First thing, do not be an introvert. Being an extrovert really helps !
As I am little shy, I spend my first 5 hours being really quite and alone. As time went by, and I started to talk and share with the rest of the people and it really helped. It provides knowledge and increases your confidence.
You really do not want your equipment letting you down !
When you travel for a long period of time, say for 3 weeks or in my case 3 days is also a long period of time as I am only 17 years old, you really want to carry the the best helpful equipment. As I went for this trip with a 50 mm prime lens and a ordinary kit lens, I faced difficulties a lot of times to frame a shot. These lenses are not helpful for traveling. So, personally I recommend super zooms like 18-135 mm and 18-200 mm lens which gives you great flexibility. And also the wide angle lenses like 10-18 mm, 11-16 mm, 18-35 mm lenses are great for travelling purposes.
Don't disturb the people celebrating the festival to compose your shot better !
If you go inside any group who were celebrating, playing with colours then there is a very good chance yourself getting splashed or catching yourself covered in powdered colours. Then don't get irritated by that, it's not their fault, it's actually your own. You should not barge into the groups to compose your shot better, you should not disturb them during the time of celebration. I would recommend to roam around to groups keeping a good distance between the groups and you and start finding interesting subject and moments.
If you are a beginner or an amateur, BE HONEST ! It gives you really good feeling and it truly helps.
This one time, I went to the tent of the workers to know about Purulia and its people. As I entered, there was another photographer just like me, an amateur wanted to gain knowledge. He identified himself as a photo-journalist which was fake. After he finished and went outside, I began to question and one of the workers asked me,"What you do? Where do you work?". I simply answered them that I was just a student and wanted to learn and believe me they explained everything to me in great detail. Then I realized that I got more information and respect compared to the fake photo-journalist, this made me really happy.
Trip first published on Bishak Dey's Blog