It was the 6th wonderful day after marriage. Finally, the day I planned to go outside the country for my honeymoon trip had arrived. The flight was scheduled at 21 hrs and me and my wife were all set to start our pleasure trip. We left home by 2 pm in the afternoon and our flight was scheduled at 9 pm. We reached the city where the airport was located by 5 pm but it was too early and I had made a quick plan to visit my friend who lived in the same city. We chitchatted and relaxed at my friends place with some lemonade and snacks for some time. By 7 pm we reached airport and got done with all the procedures and were thrilled to reach our destination BALI as soon as possible. It was our honeymoon trip and our first international trip as well. Hence I wanted to take my wife to a beautiful place to enjoy our honeymoon and I was quite adamant that our first trip should be worth remembering. Even well before marriage I had started planning for the same to select a beautiful destination. After considering a lot of options I finalised the one place and it was BALI in Indonesia, the most prominent Island getaway in Asia, the place whose beauty makes us spell bound and its natural landscapes offers literally everything that we can think of from a volcano, beach, surfing joint, waterfalls, forest and animal sanctuary. Name it and you will find it in BALI. It has emerged as one of the most favoured destination for honeymooners to spend quality time ,for travellers to explore and for beach lovers to ride some waves at awesome beaches. I googled Bali tourism website for list of the places to visit and things to do. I found lots of packages offered by several websites but did not find it appropriate as almost all packages covers the same places. And if we choose packages we cant explore much and we wont get much time to spend at places we like which is a disadvantage. Everything is pre planned, the maximum amount of time we can spend at a place is charted already before we leave. So I decided not to go on a package. In the meantime I spoke to my beloved sister who was very helpful and supportive. She advised me to make my own itinerary and give to a travel agent who can make all the necessary arrangements. She said if I go by myself it will be a better experience worth remembering. A small advice is if you have just started planning is that be sure the package has what you really want and make sure the places you are choosing does have everything you could asked for, so that you don't get disappointed later.
So we decided to go for 6 nights/7 day trip. As the destination and date was decided I wanted to make a wonderful itinerary having the following in mind. I created a list of all places of attraction suggested by travel websites and narrowed down the options to make some fine picks. Finally made a list of places where we wanted to go and prioritised the places to visit depending on its reviews. We decided to book a hotel at Tanjung Benoa where many hotels have direct beach access. I started sending mails to few hotels I had selected and had a detailed discussion with them . At last the hotel I chose was sol beach Bali Benoa, by Melia Group. This hotel was selected after conforming that it met my requirements and expectations. For travelling trust me almost all hotels will assist to arrange taxi with guide, but if you arrange a taxi service via hotel it would work our more expensive than usual price. So I decided to hire taxi from Segare Bali tour services where the driver and guide would be the same person. I chose them after reading their reviews and after much discussion with them. Mr Danny was the manager who was a polite person who answered all my queries with patience about my requirements and gave his tips and ideas and later on suggested some changes in my itinerary because 1 or 2 destinations was on the same route rest everything was agreed as decided. Some places I specifically wanted to visit at a particular time he agreed to that as well and arranged our driver and guide Mr. Wayan , a cool guy who knows every nook and corner of Bali and has an amazing knowledge of the Bali history . He was very caring as well so everything was set. The last job was to book airfare ticket , a small advice for budget travellers is that Air Asia is a better option, which is the only flight which will take you to Bali for the cheapest price. Their flight cabin and seat quality is good. It will take only 4 hrs to reach Bali from Kochi, Kerala. Flights are being operated to Bali from Bombay, Delhi, Bangalore, Kolkata, Coimbatore and Chennai. Flights are available from all international Indian airports. But in Air Asia you wont get any charging port, entertainment, free food etc. My flight was booked via Singapore airlines which was silk air which had a good cabin, free food, charging port and Wi Fi on payment. Our journey started from cochin airport on 25.5.2019 on silk air and landed at Singapore. From there we took a connecting flight to BALI. There is lots to explore in Singapore airport. Its really huge with lots of shopping places to choose from, well maintained gardens and much entertainment. Both the flight experience was very good, good food, good crew, good leg room , good charging portal was available and everything went well as expected.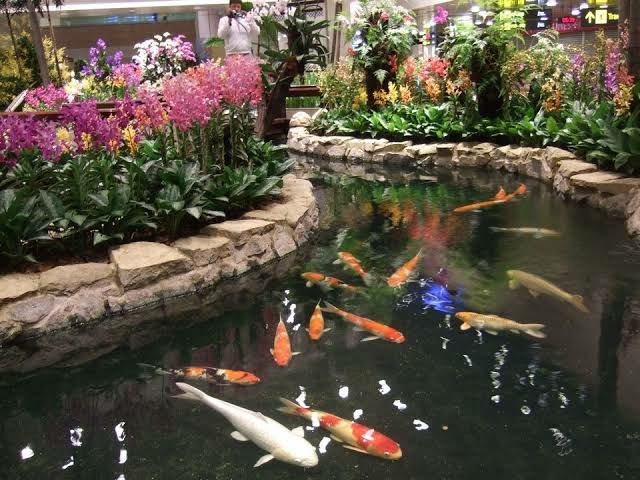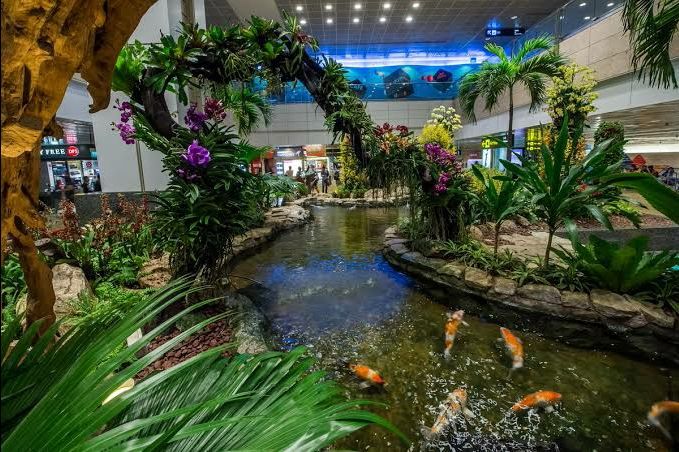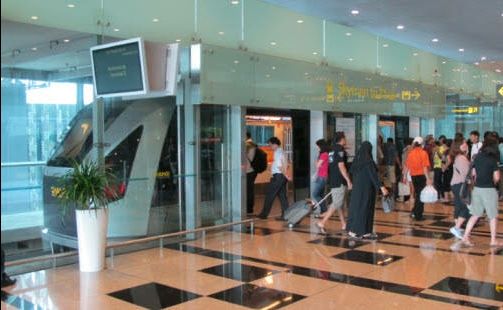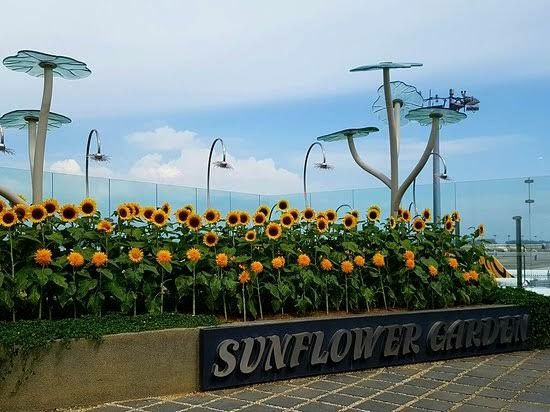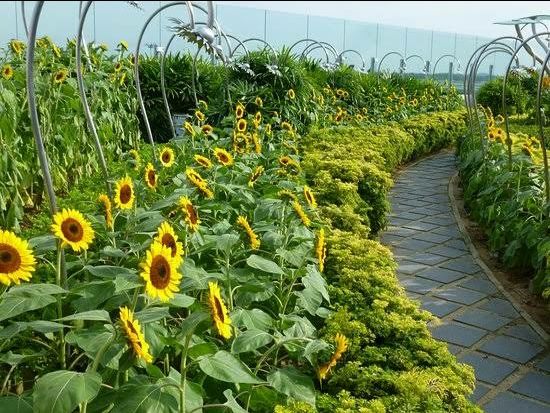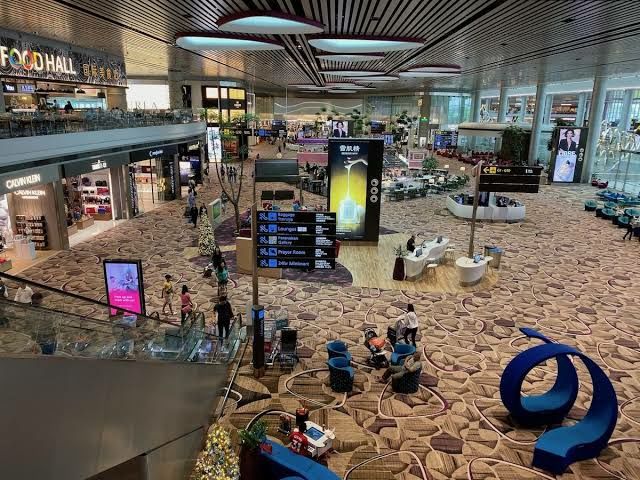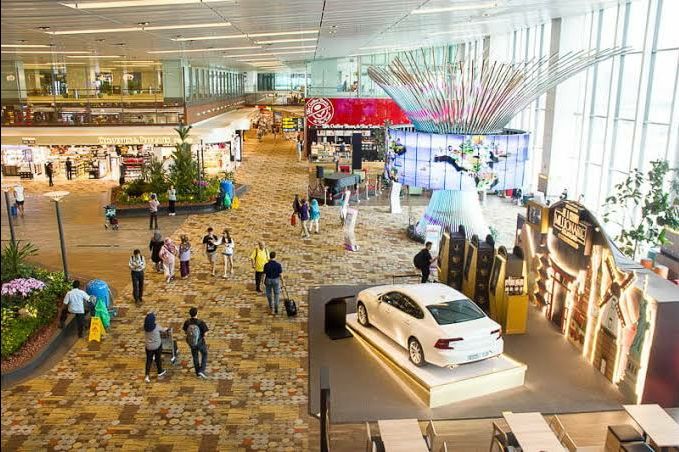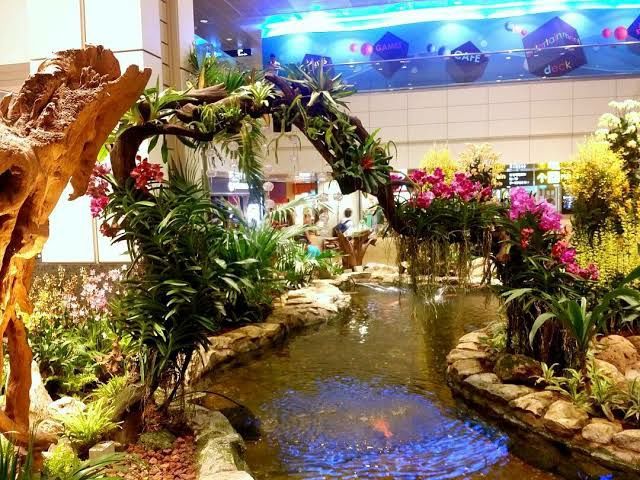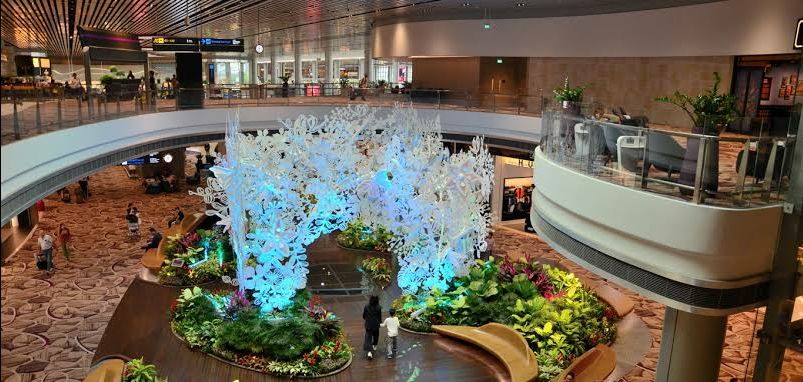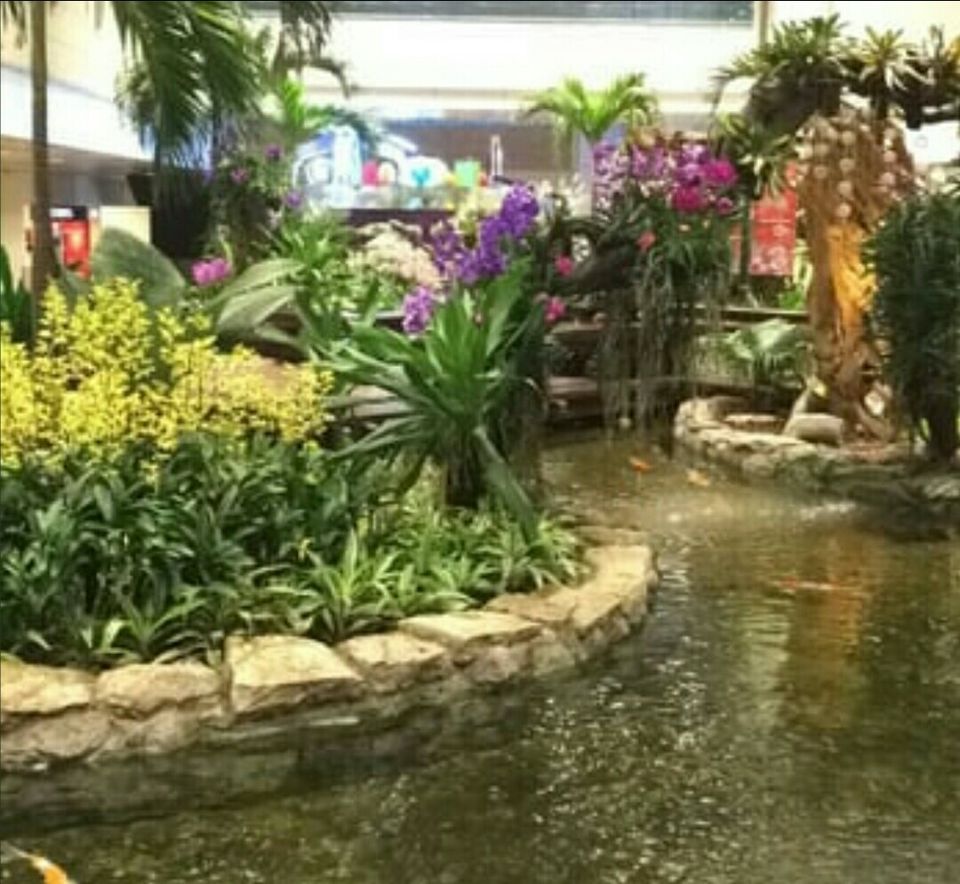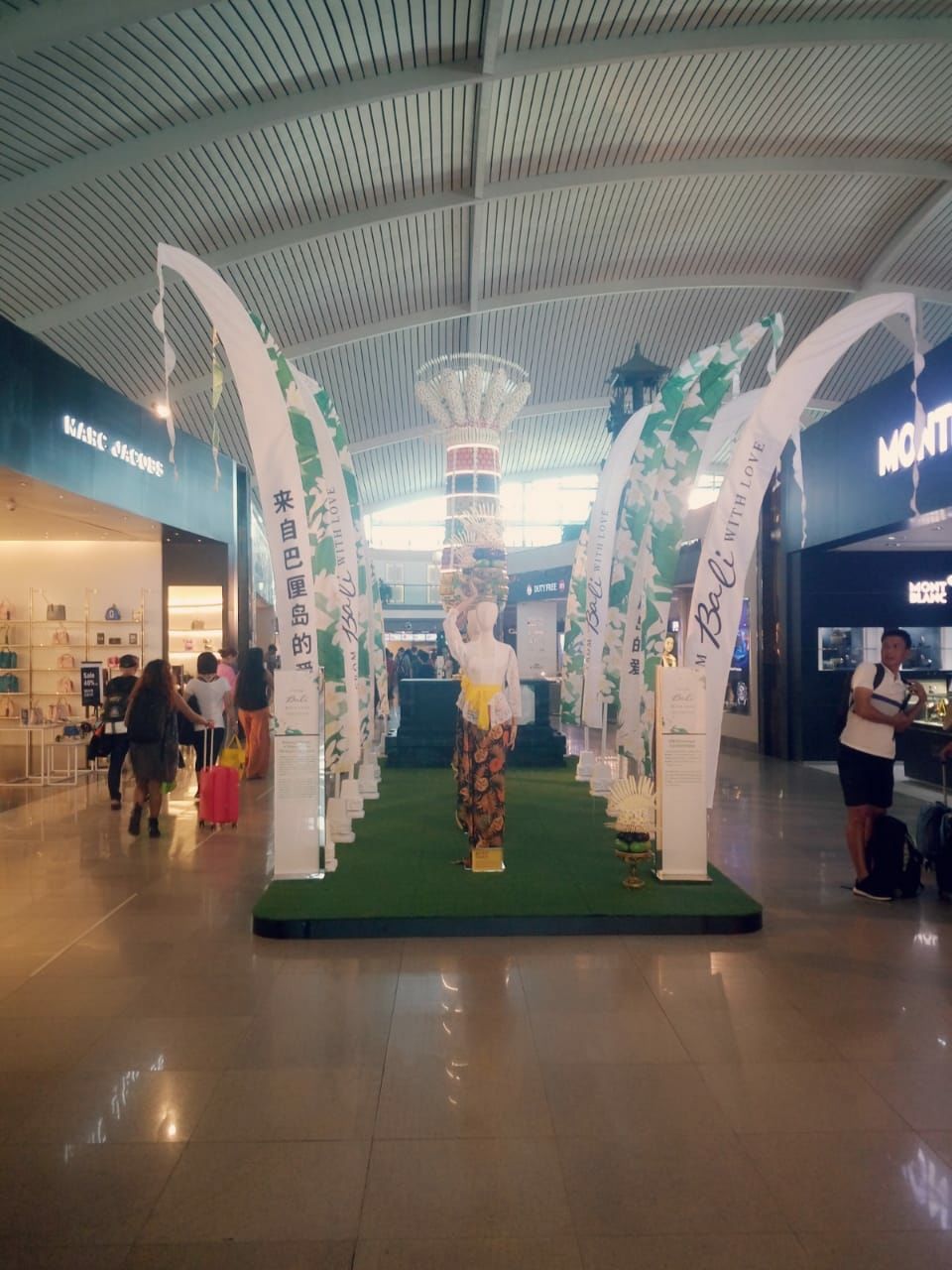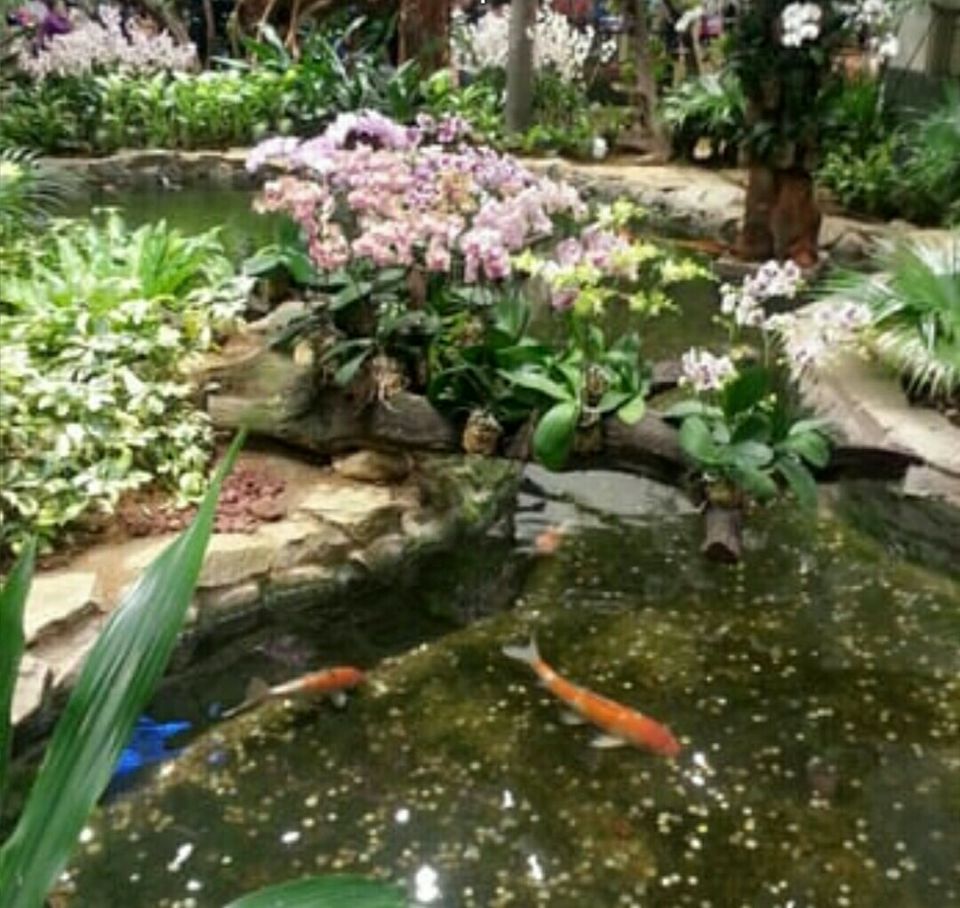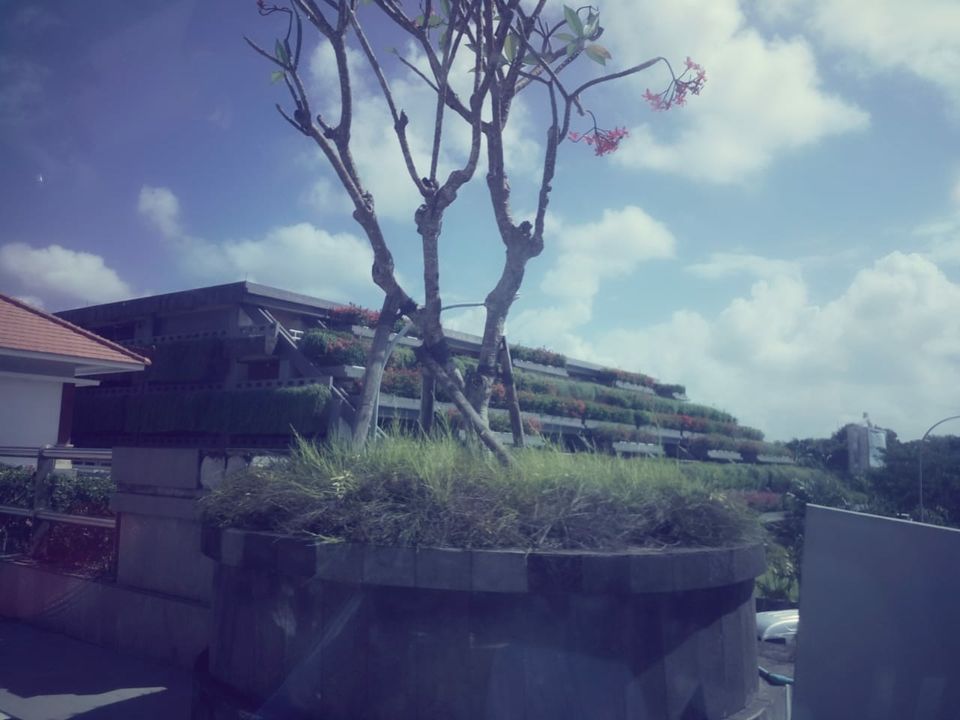 On 26.5.19 we reached Denpasar airport. The airport was made based on local architecture which could give travellers a home feel.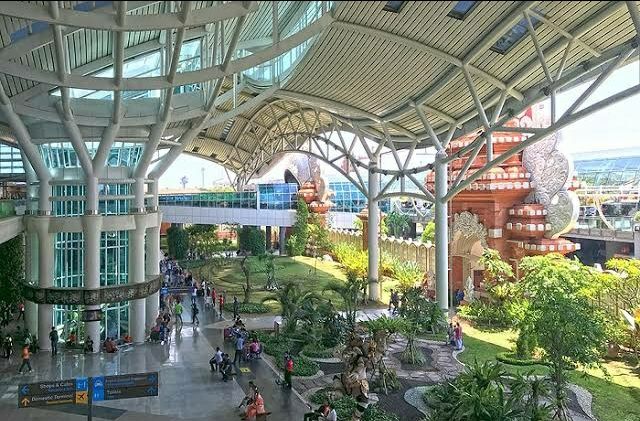 Our driver Mr. Wayan was present outside waiting for us, when he met us he said Namaste and he brought the vehicle and took us to our hotel. Soul beach (our hotel) was located at tanjung benoa where you can enjoy nusa dua beach especially if you are a beach lover. The location is loaded with hotels which has a direct beach access, restaurants, bike rental shops, vegetable market, money exchange shops, clubs and driving centres etc.
He dropped us at our hotel and told us next day at what time the tour starts. A very pleasant and cheerful guy. Beachside programs were going on during night time in the hotels along with the dinner. The food names are so confusing but luckily on the on the side of the menu card the ingredients of every dish was mentioned.
Note: All Indian cards doesn't work all the time but some cards do. ICICI, HDFC and American express credit cards will work all the time, SBI and bank of Baroda international debit card will work ok but sometimes it doesn't so it is recommended to use travel card issued by ICICI, HDFC and American express. You can make an approximate budget of your travel and keep the amount or a little extra as US dollars before travelling. When you reach Bali airport convert 30% of your total amount into local currency and convert rest of your money outside where you will get very good exchange rates. Most places accept US dollars but when you are visiting souvenir shops or other small shops try to keep local currency with you because even if you pay in US dollars they give you balance in local that is Indonesia Rupiah. So we had explored our hotel, spa, gym, surroundings and beach and then headed to our restaurant where we had a scrumptious dinner. Then we rushed to our room as we were dead tired tired and had to wake up early next morning.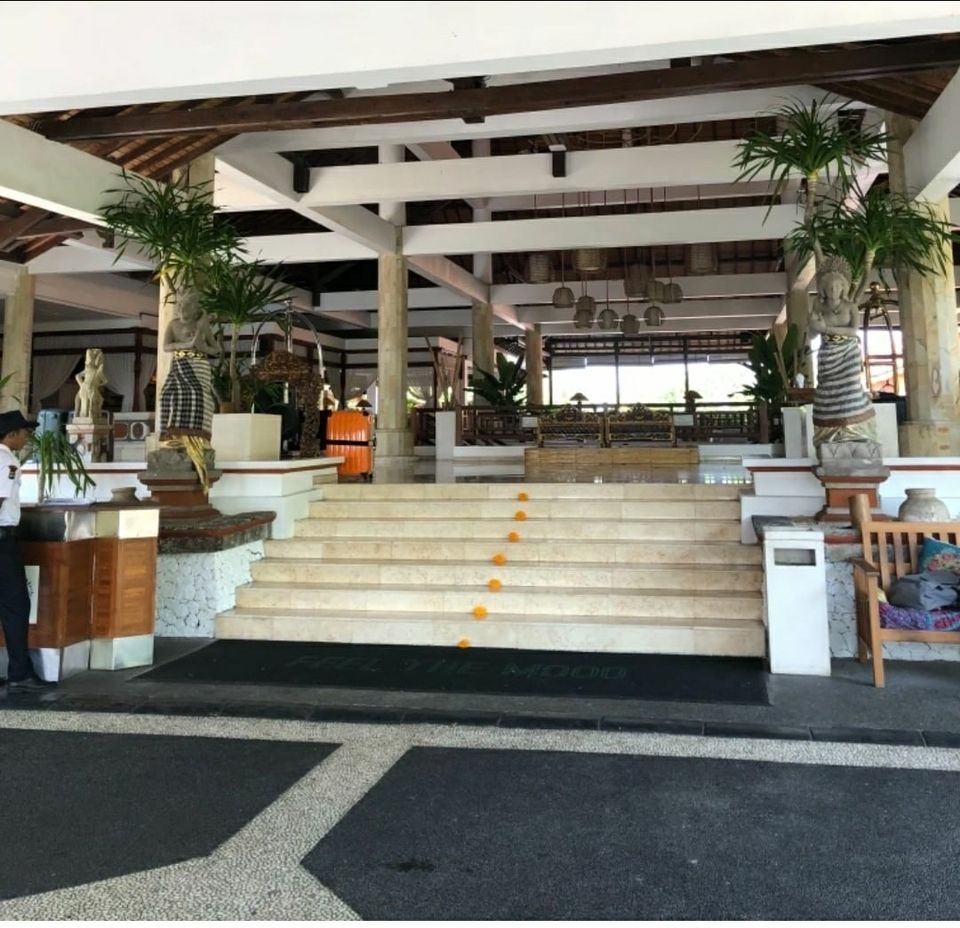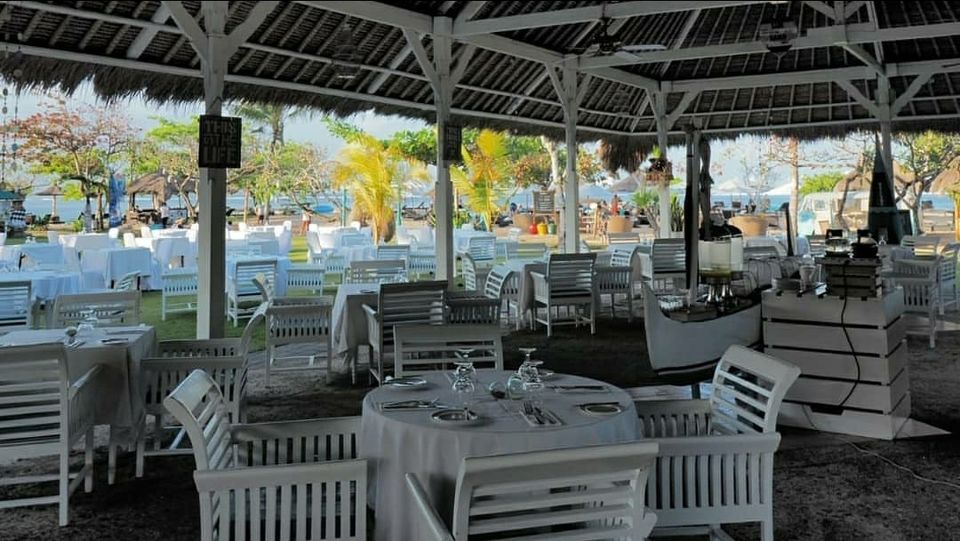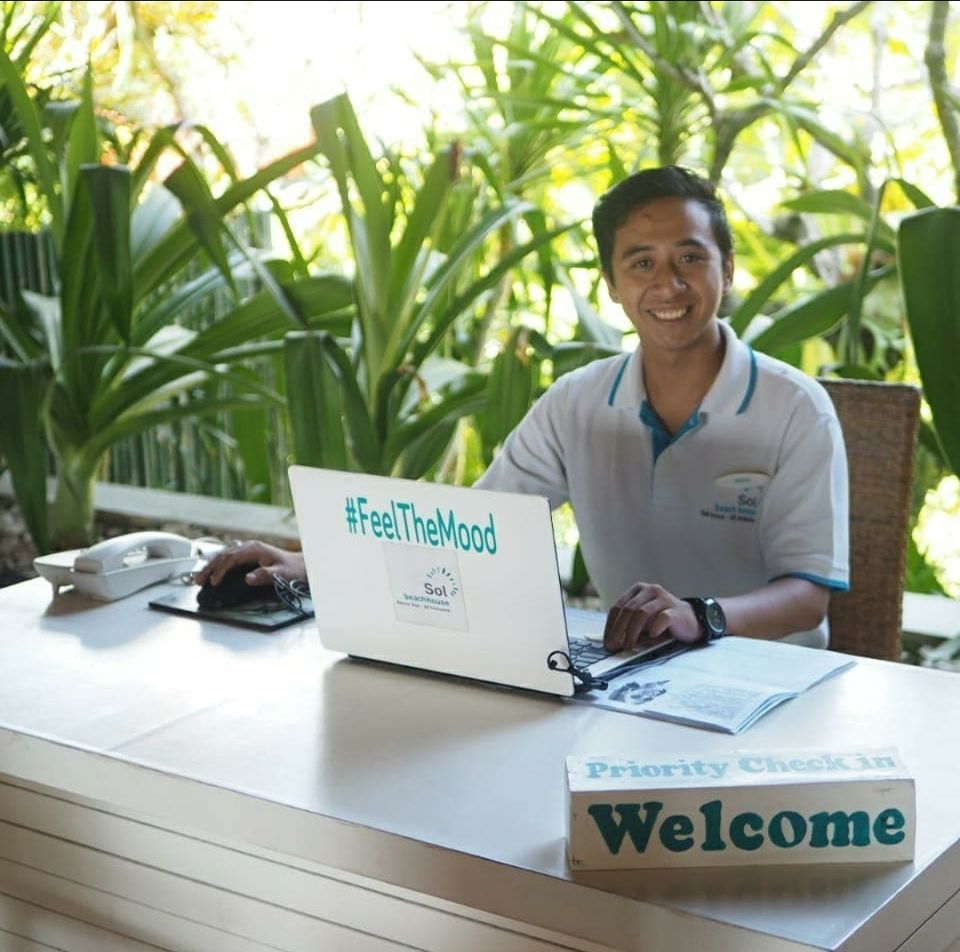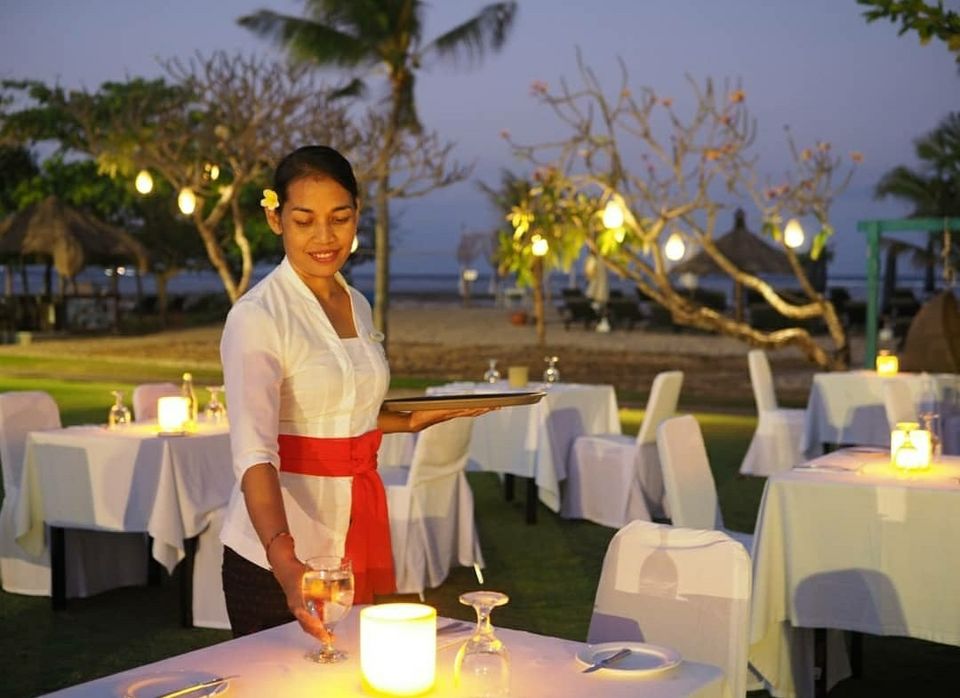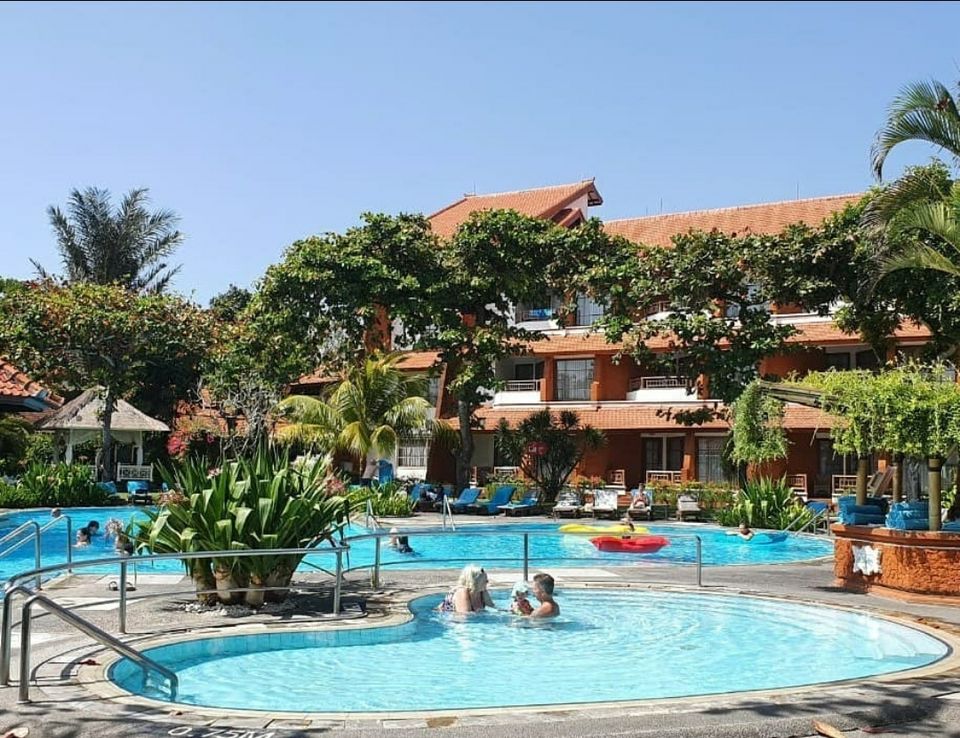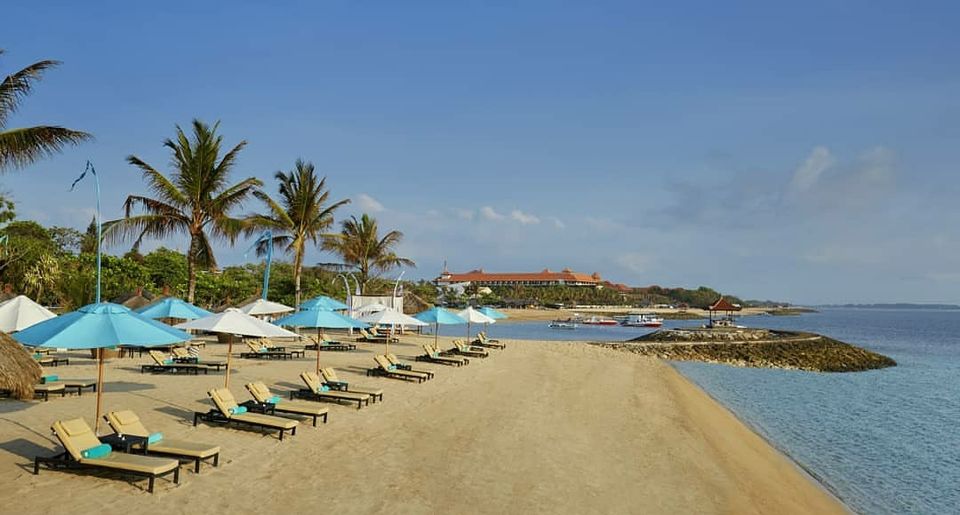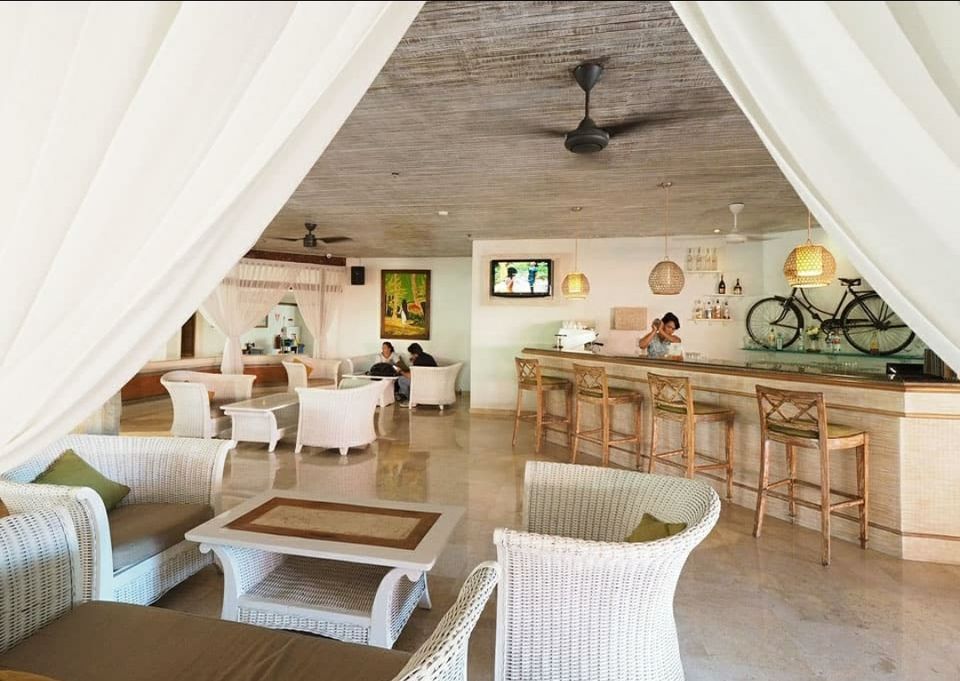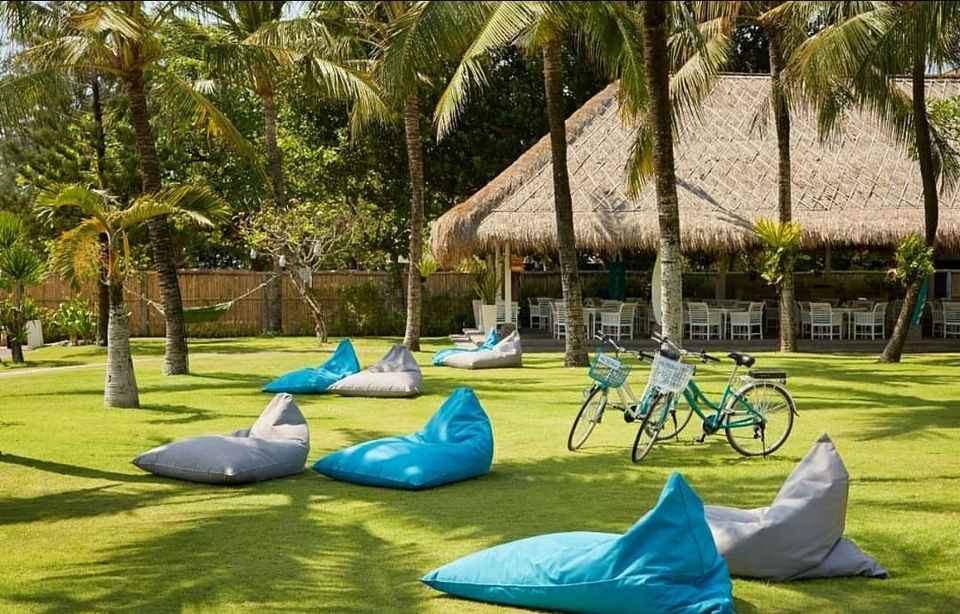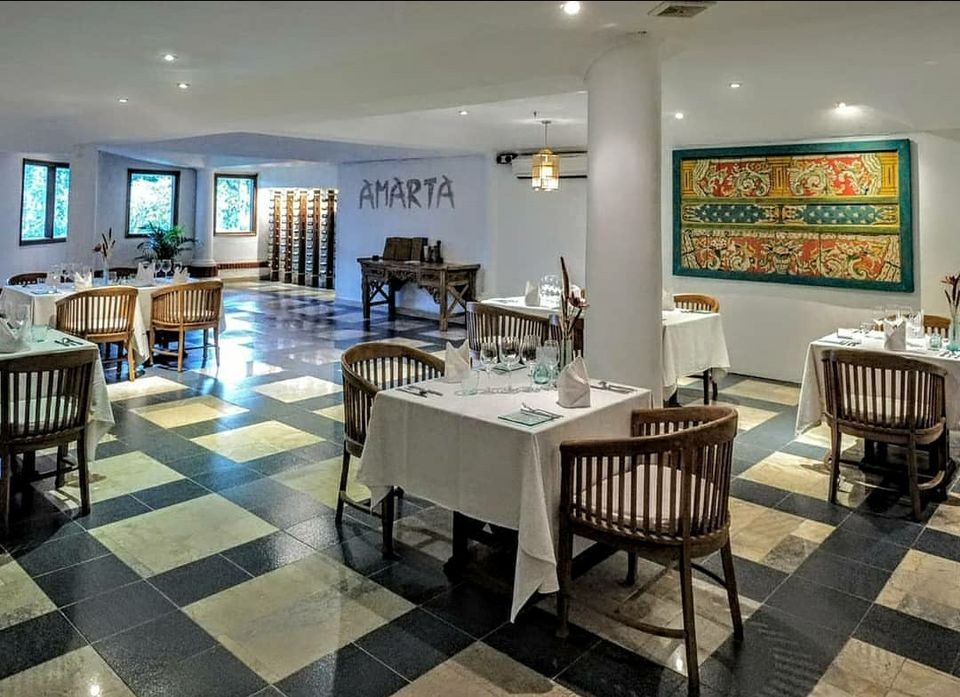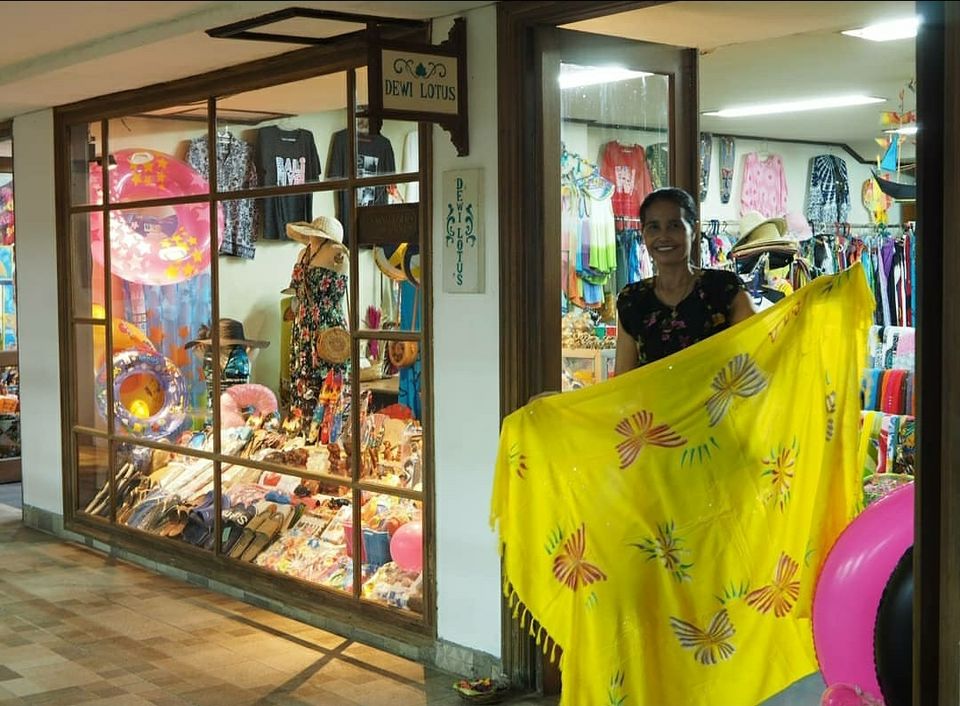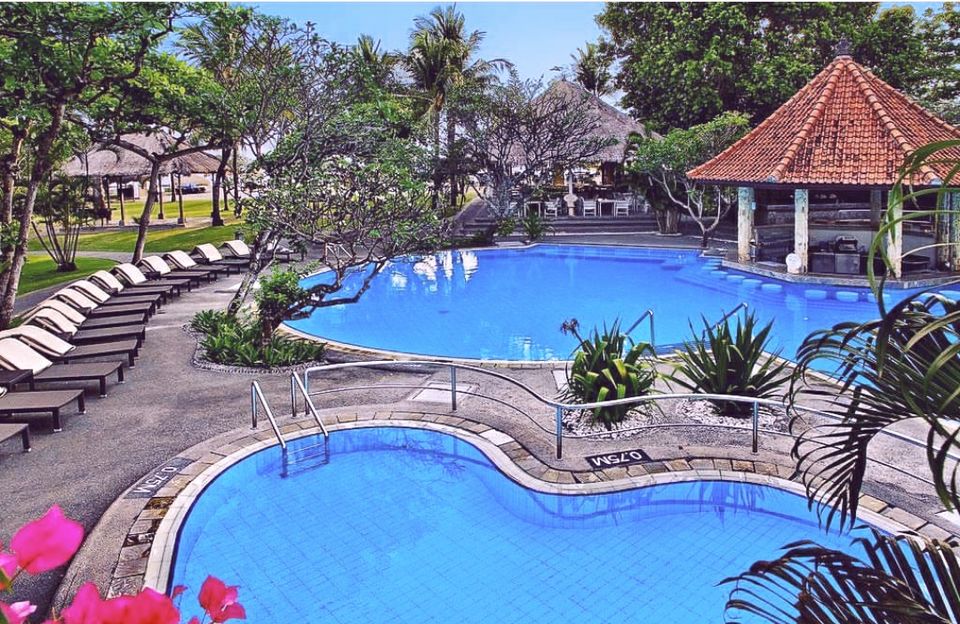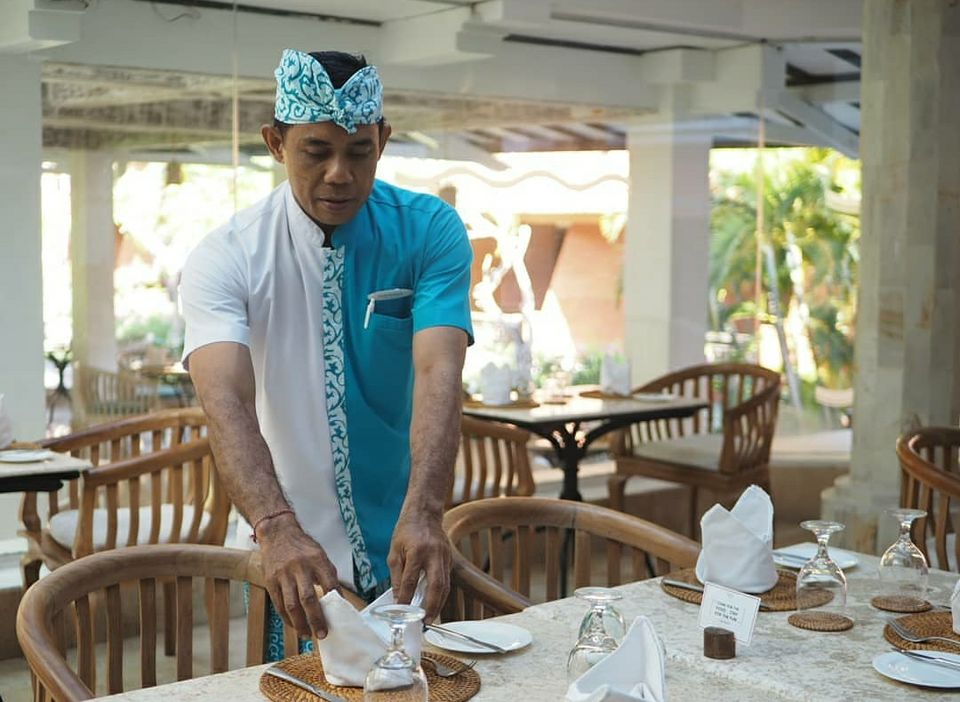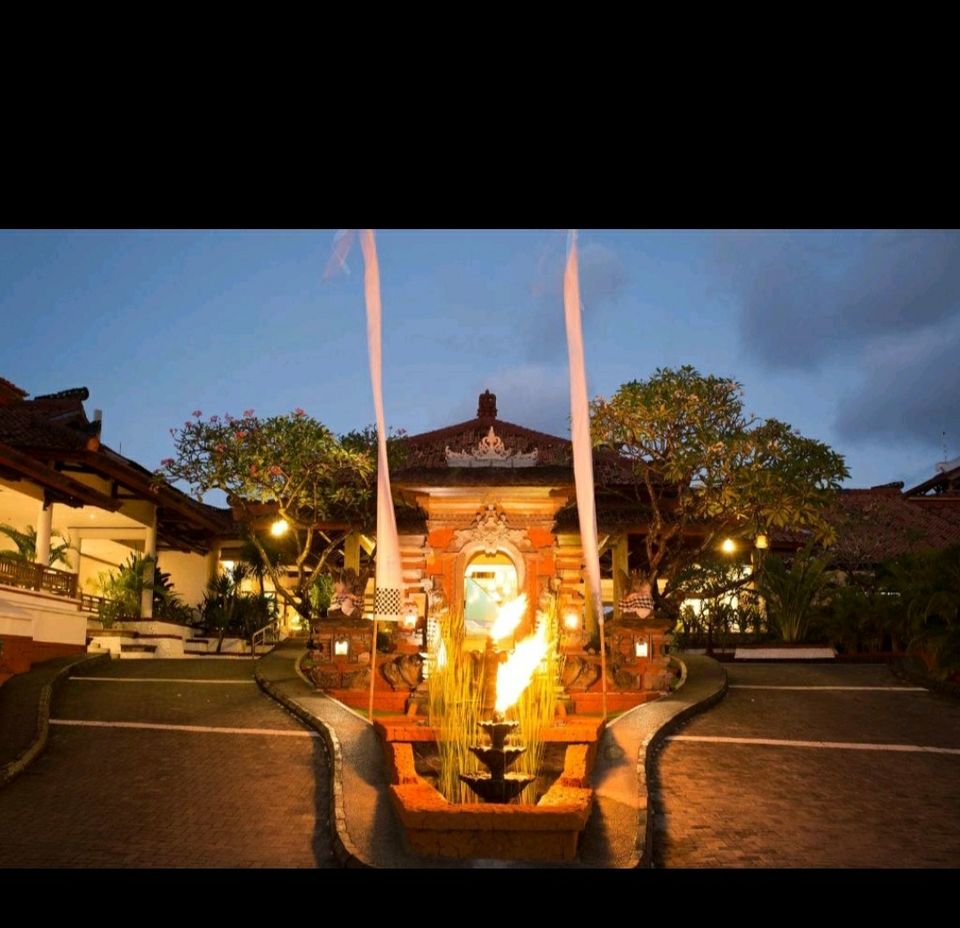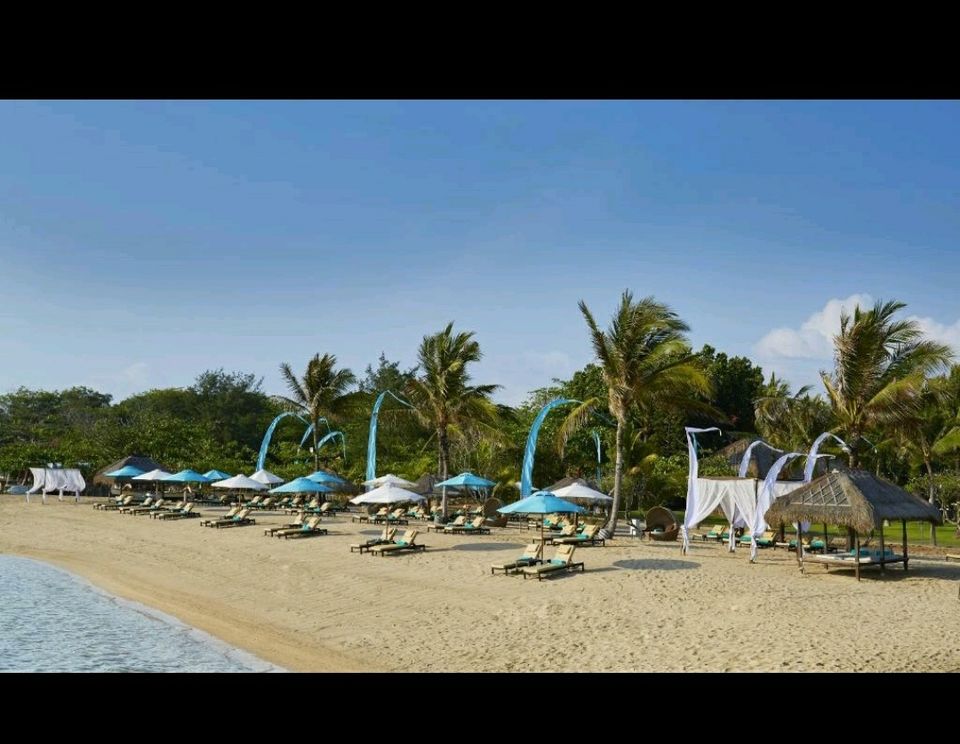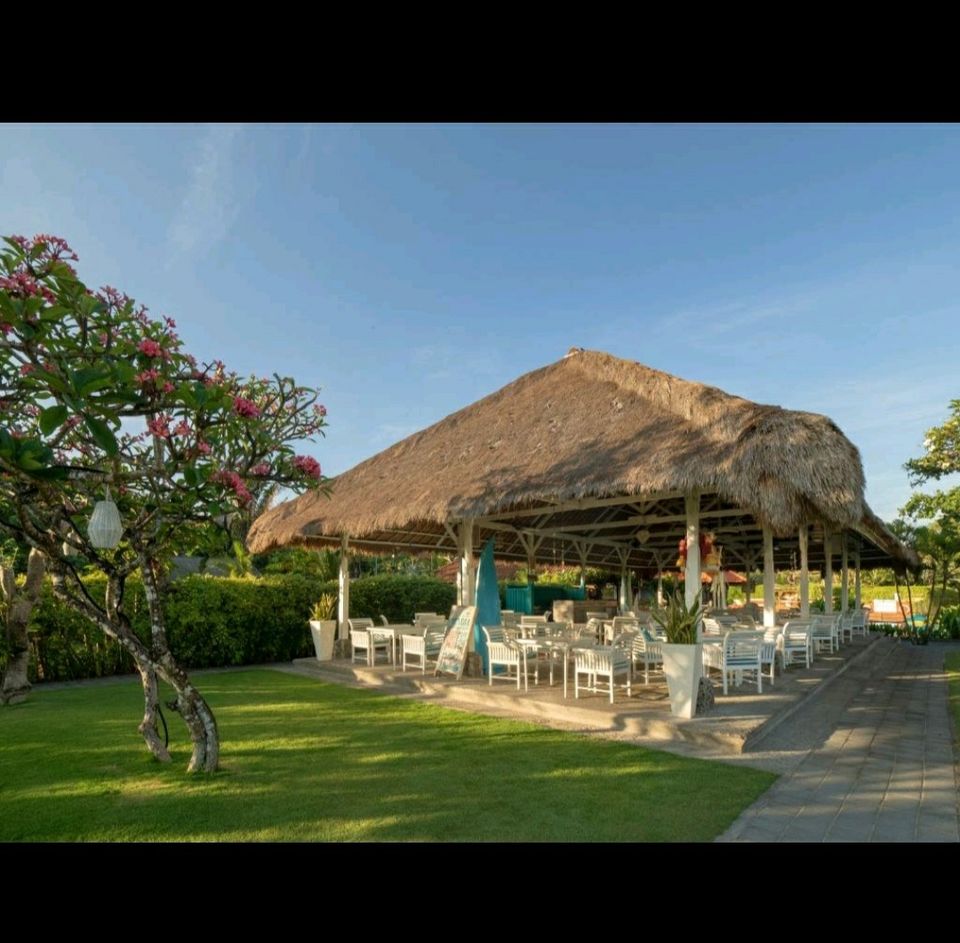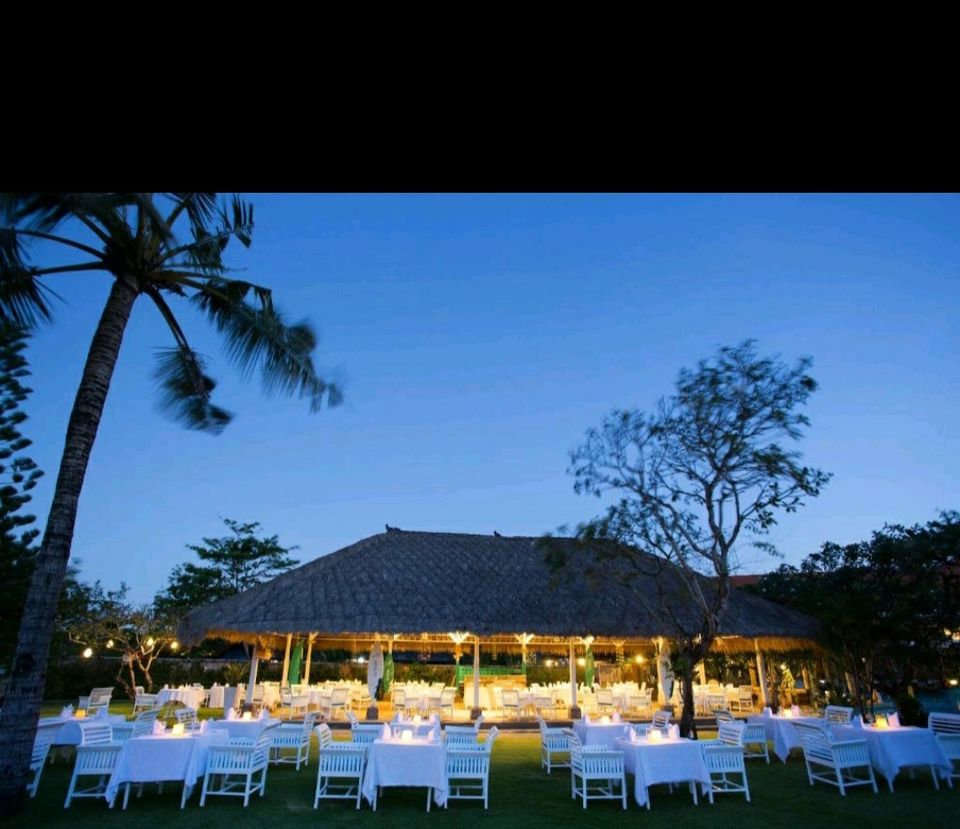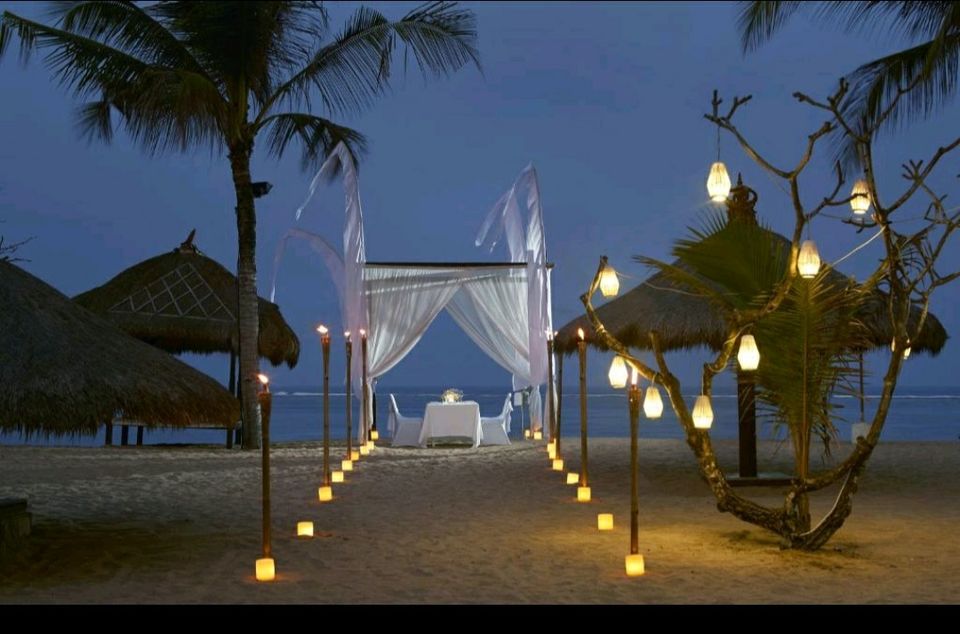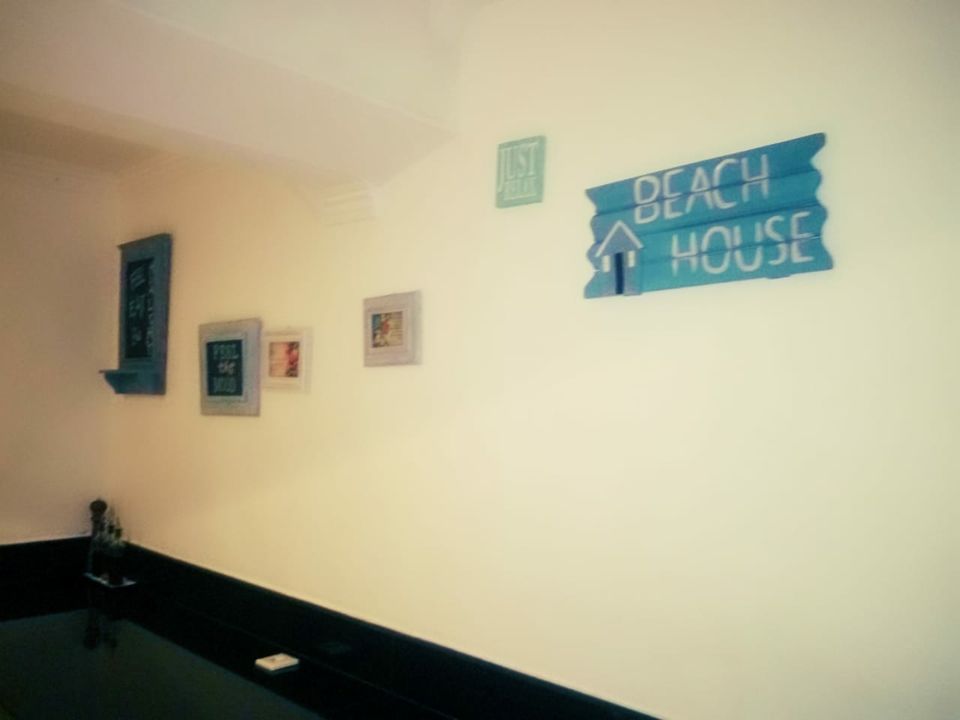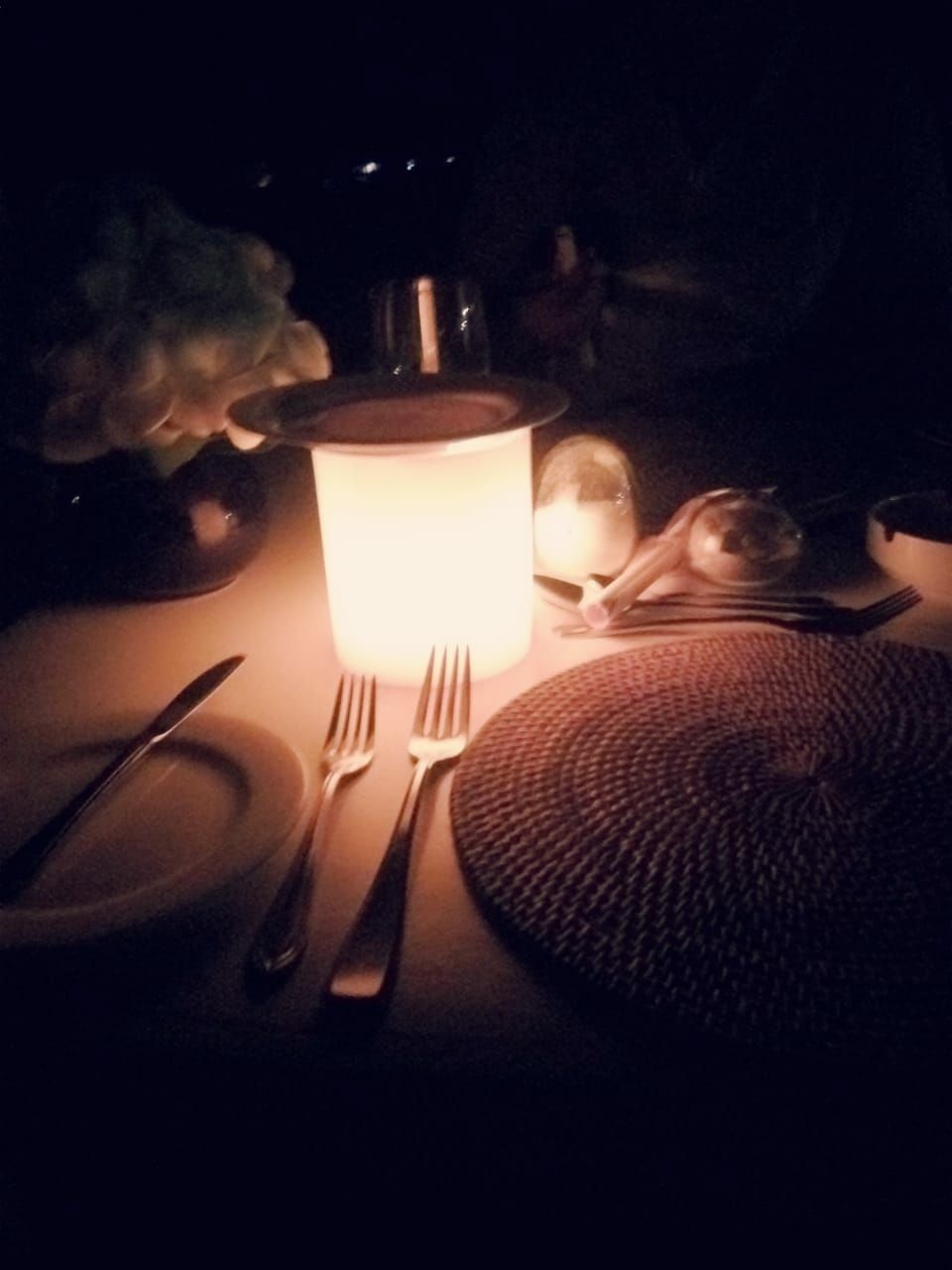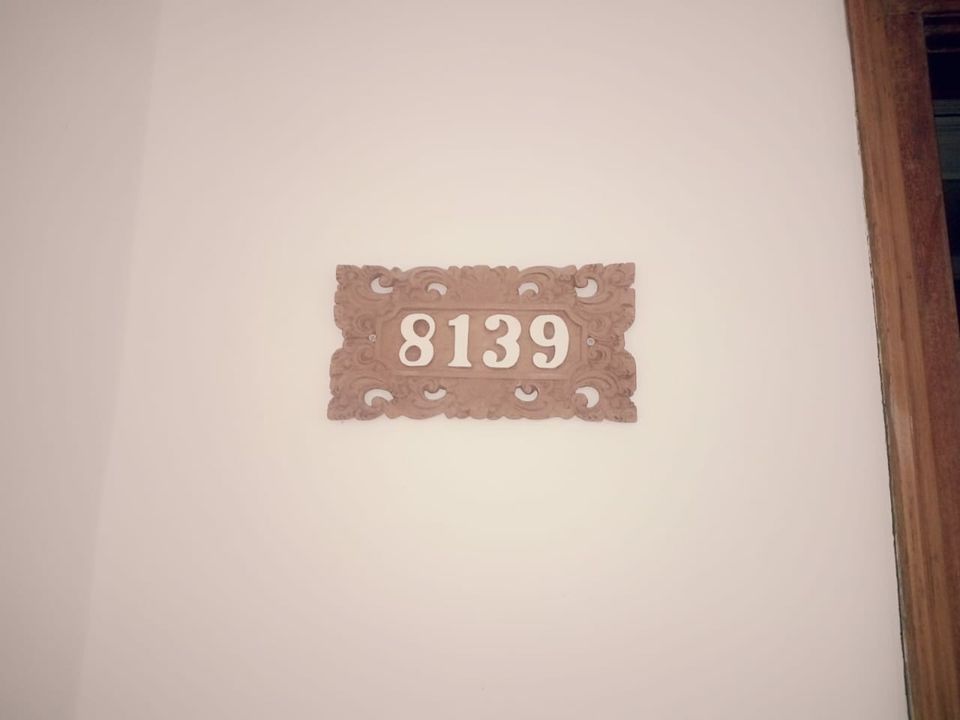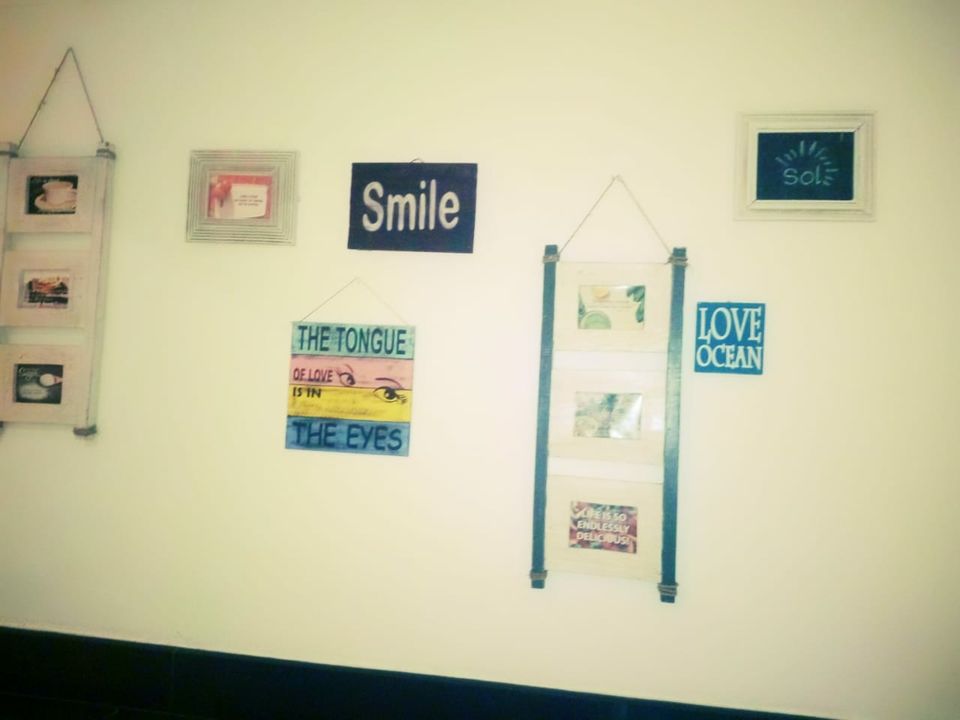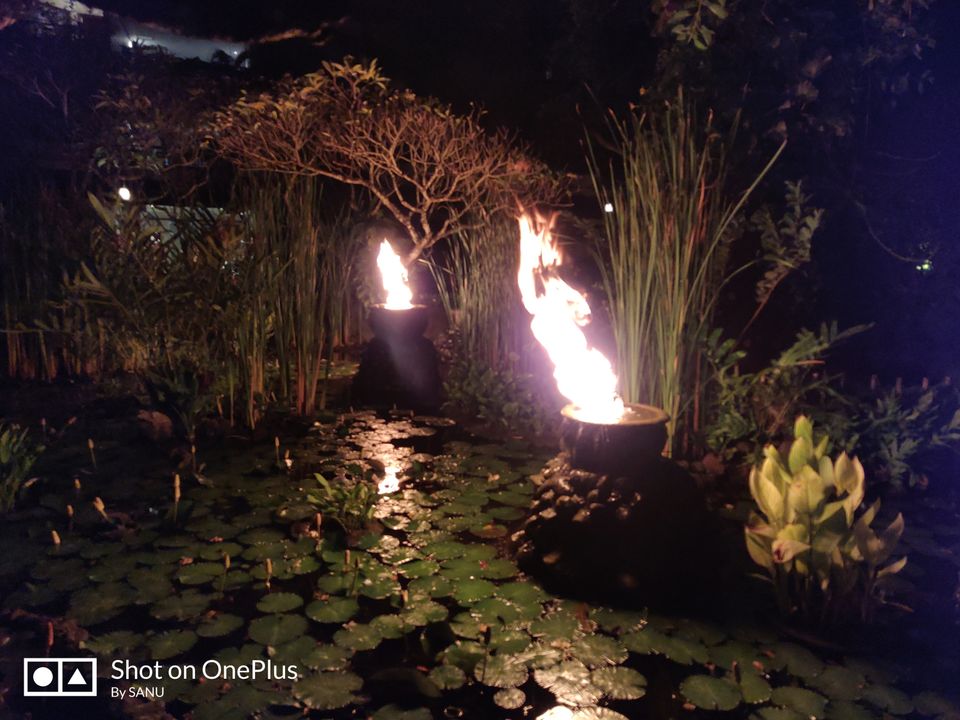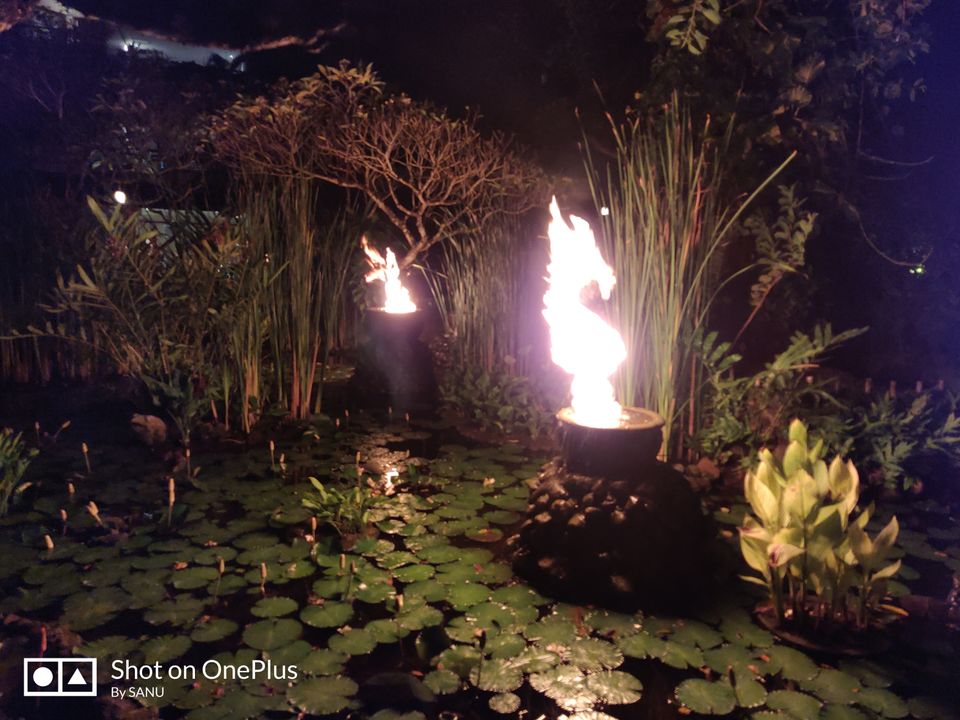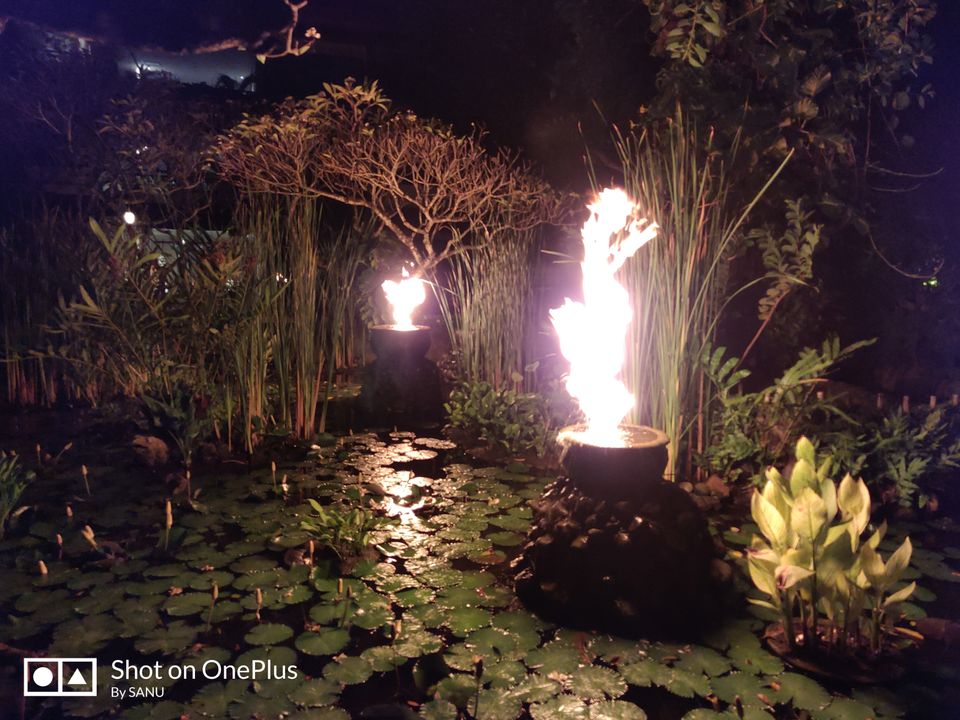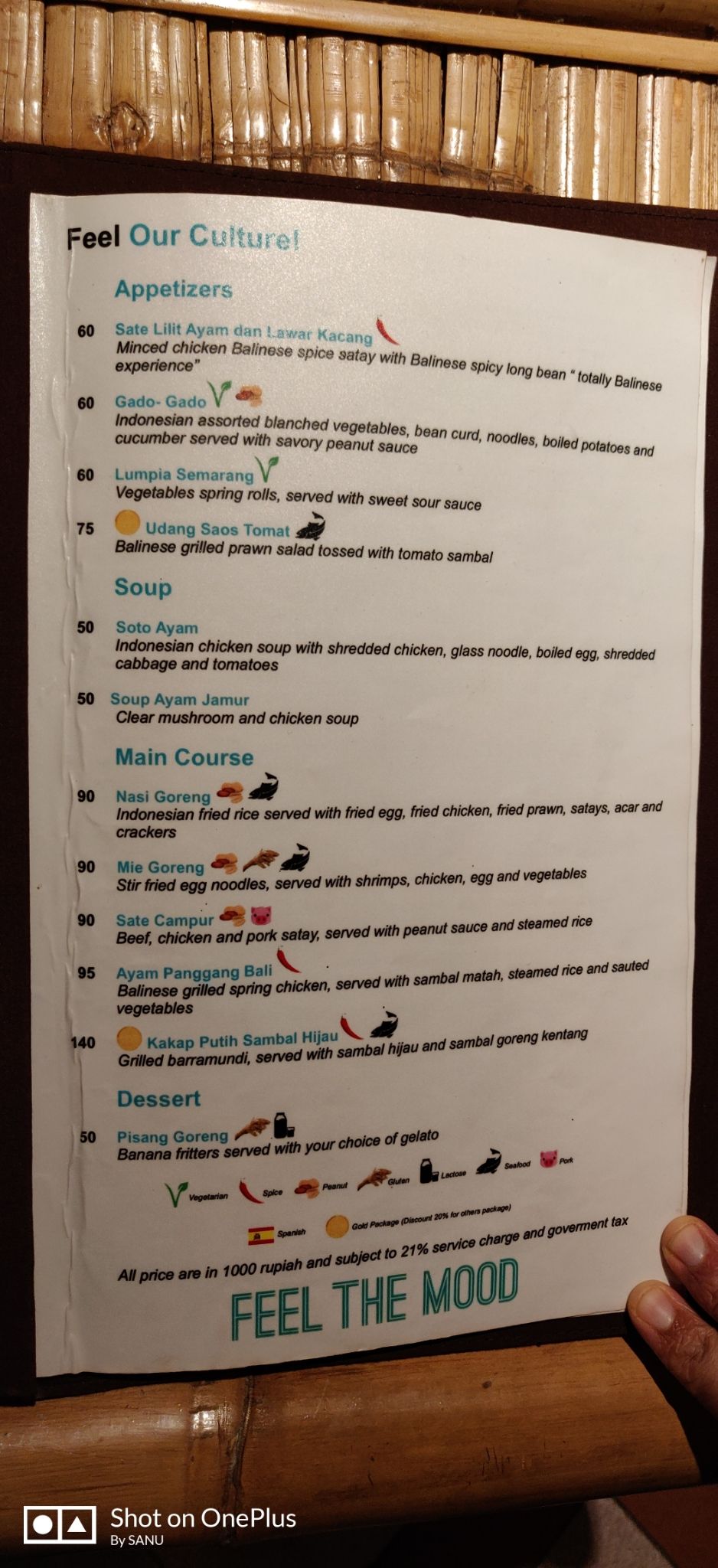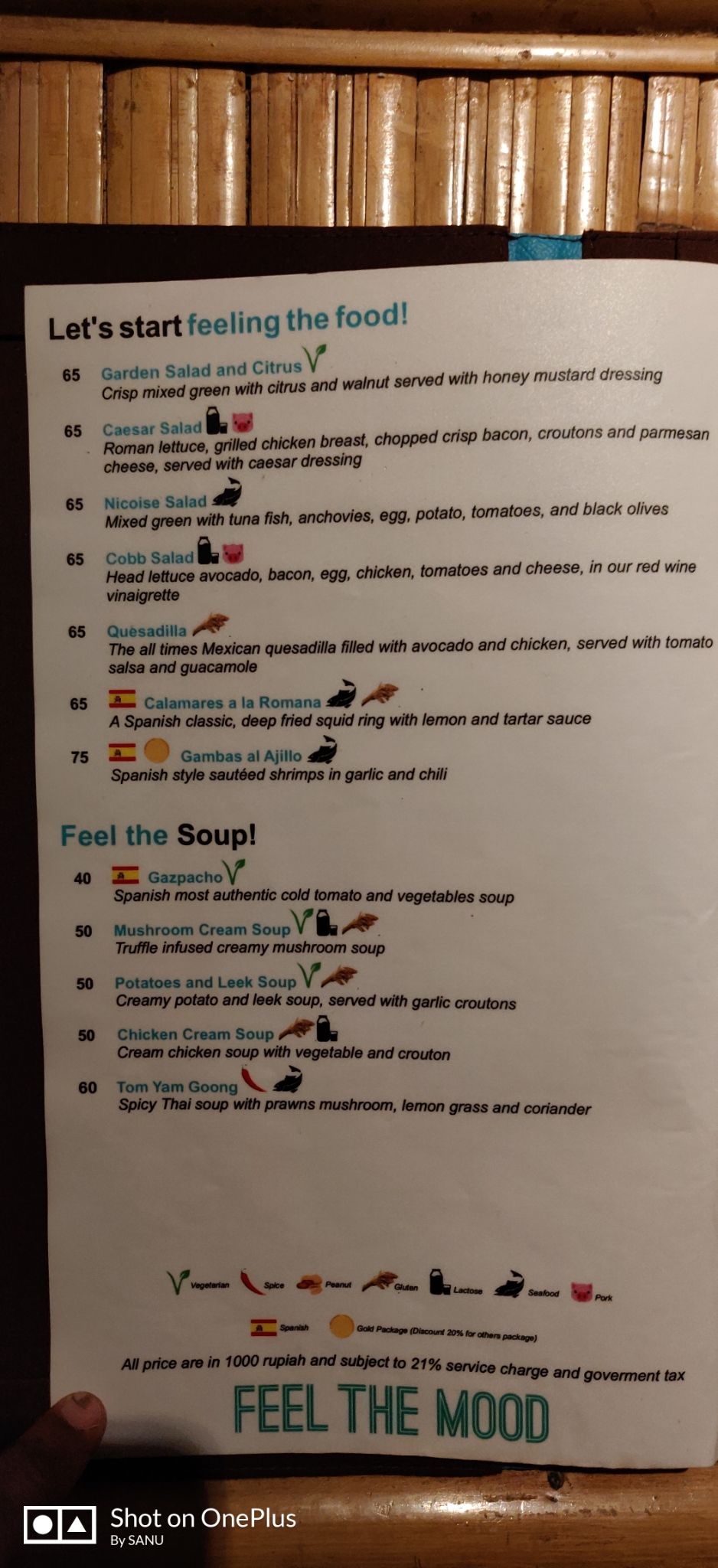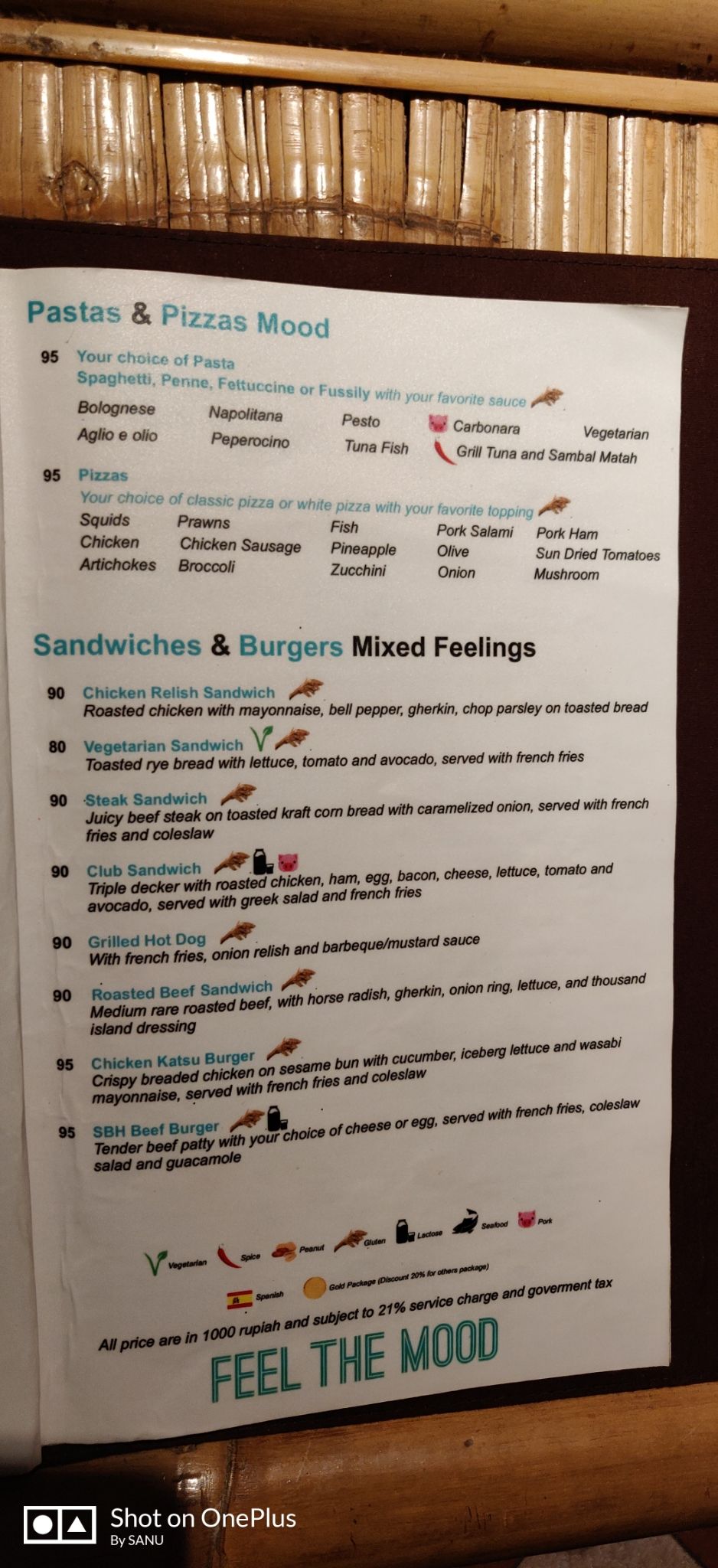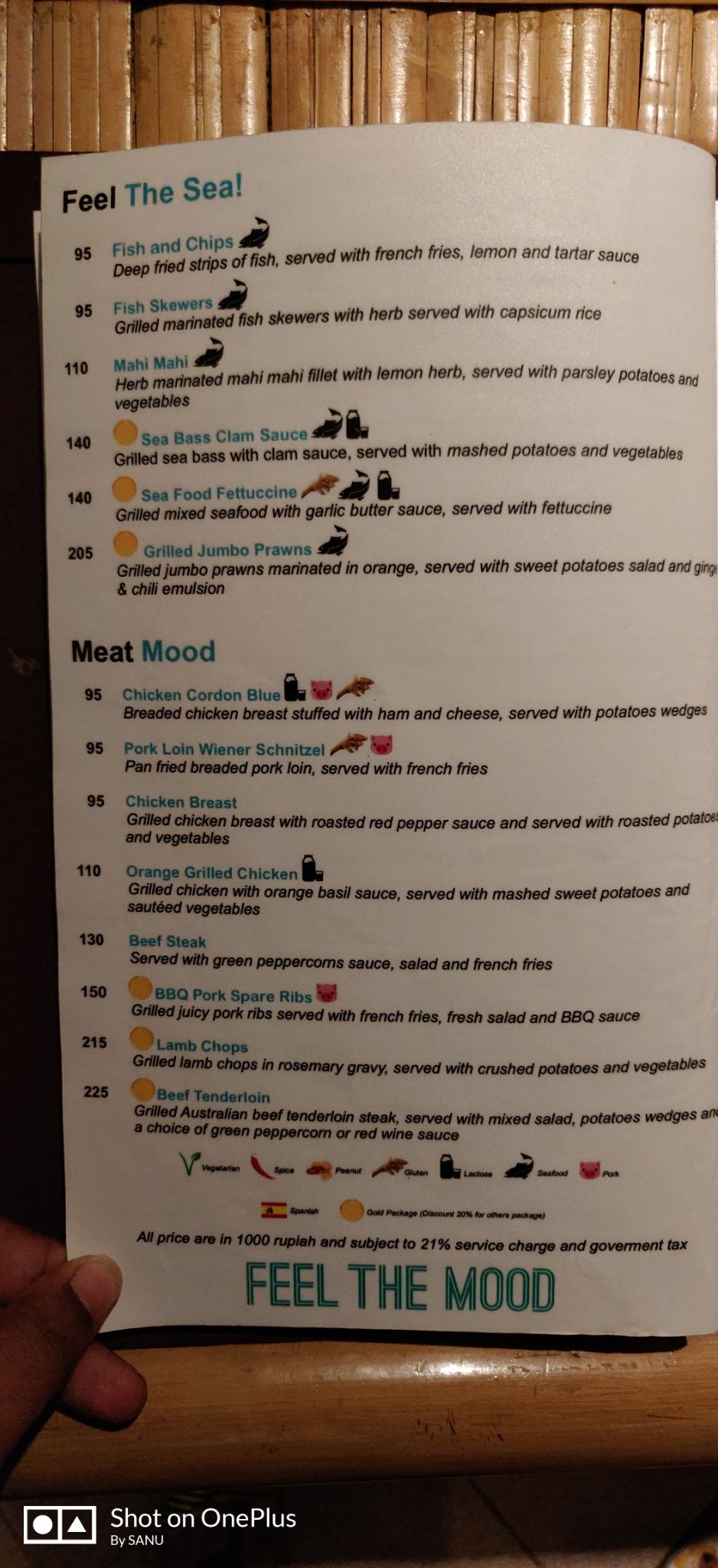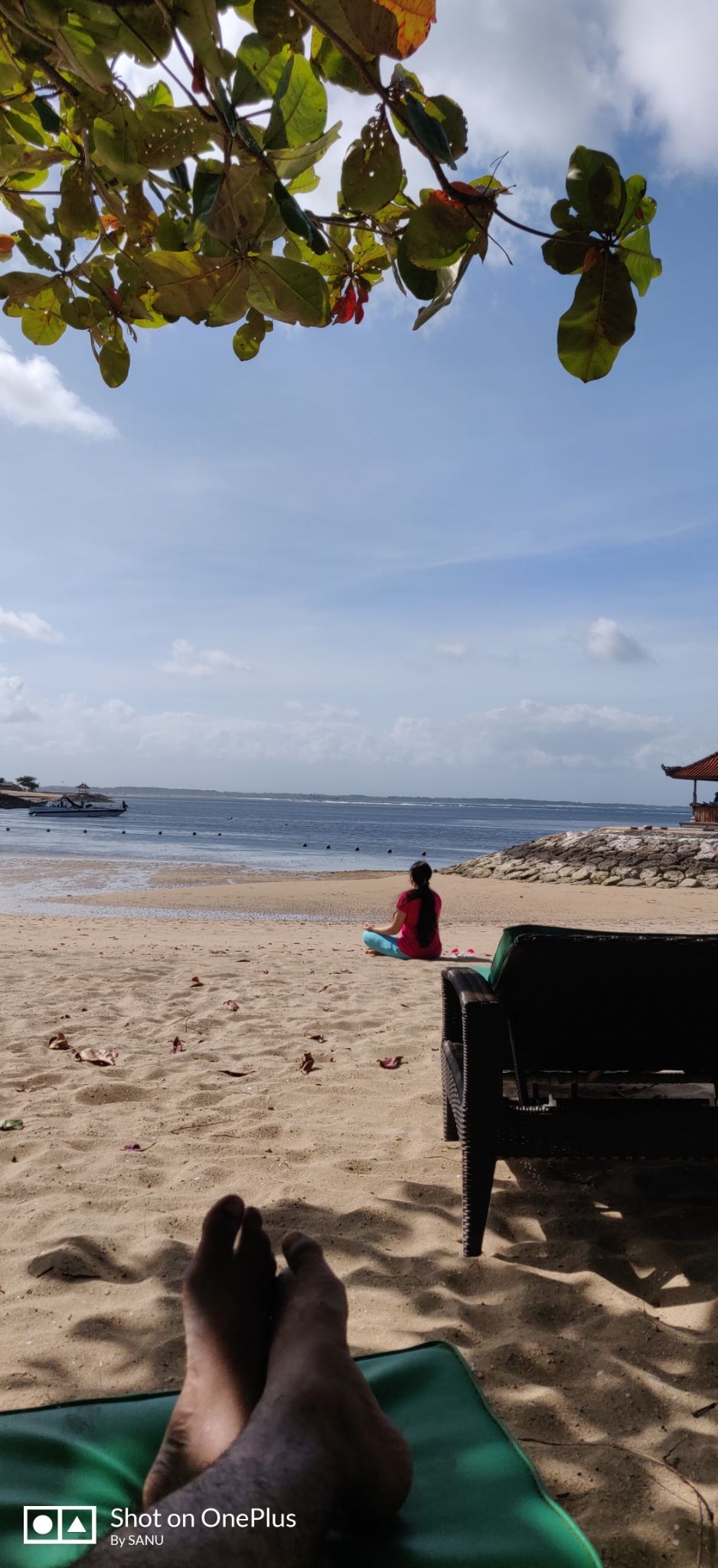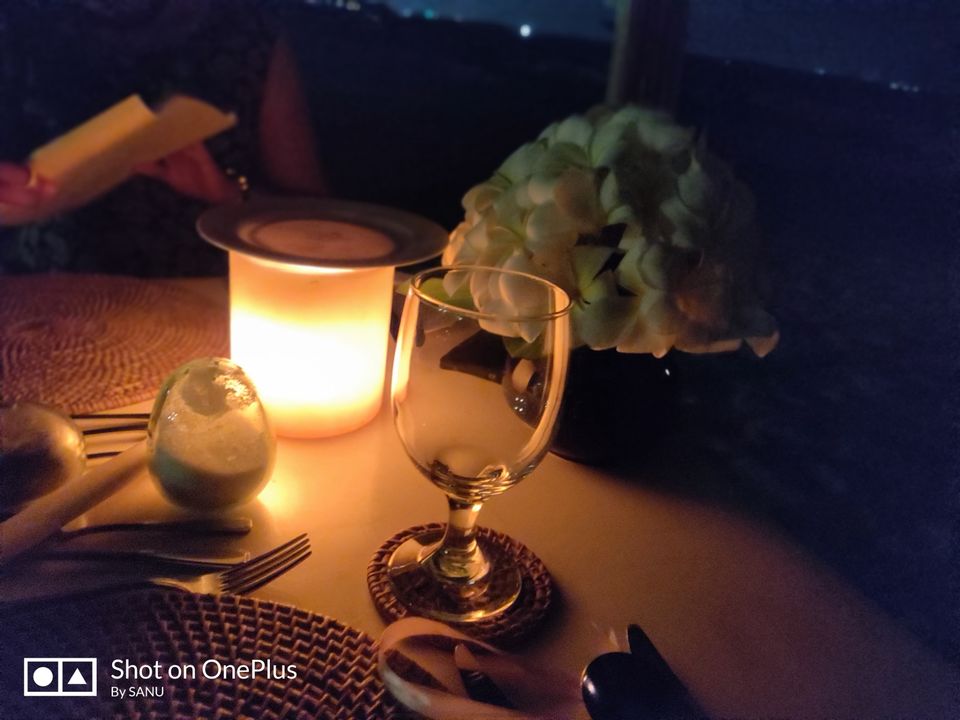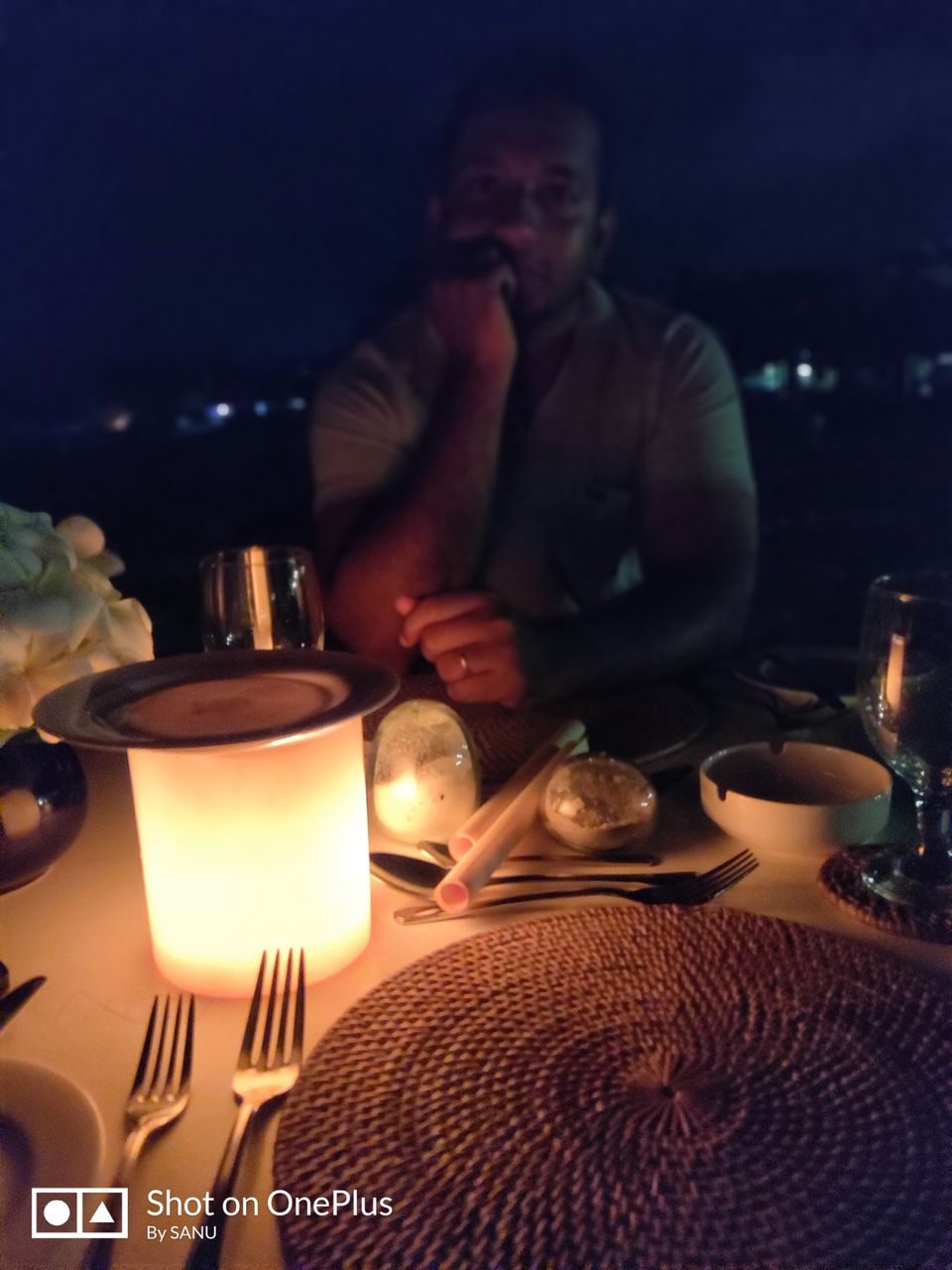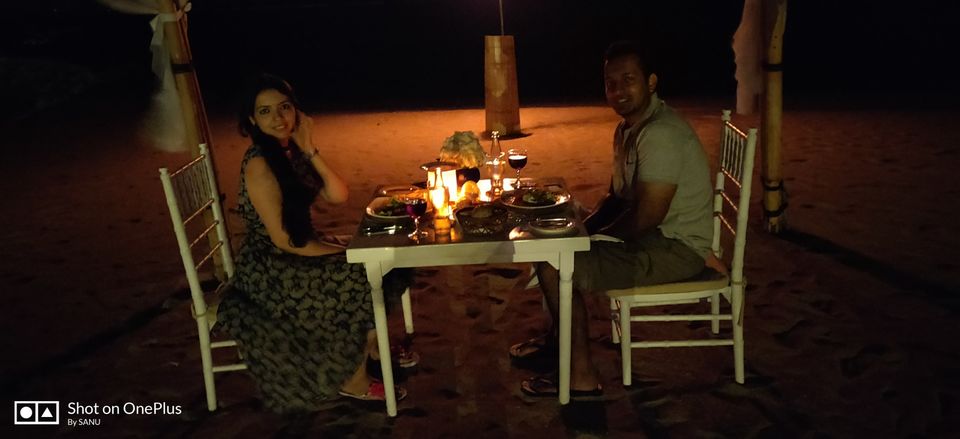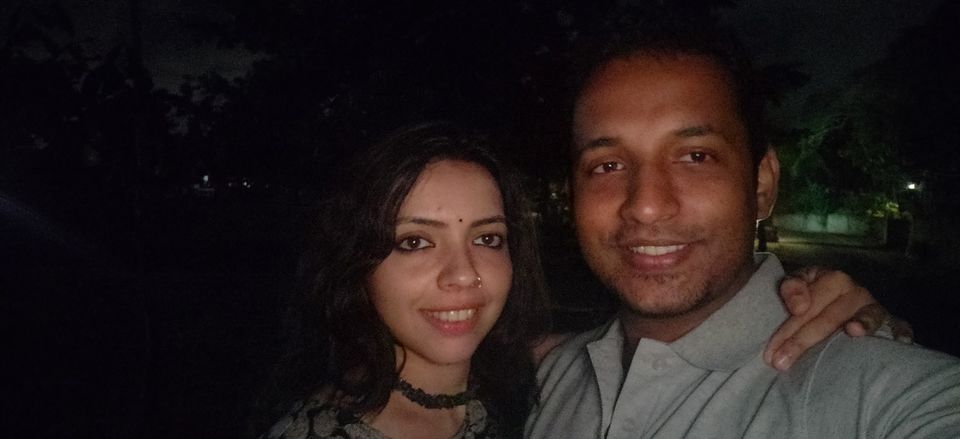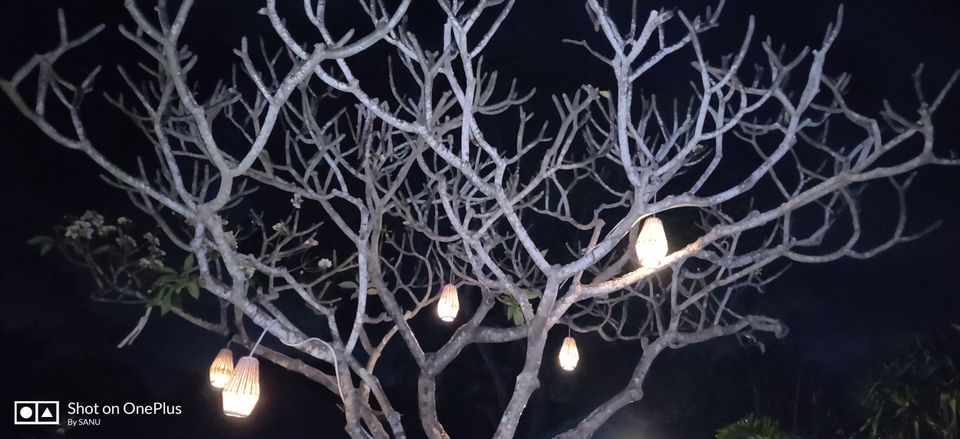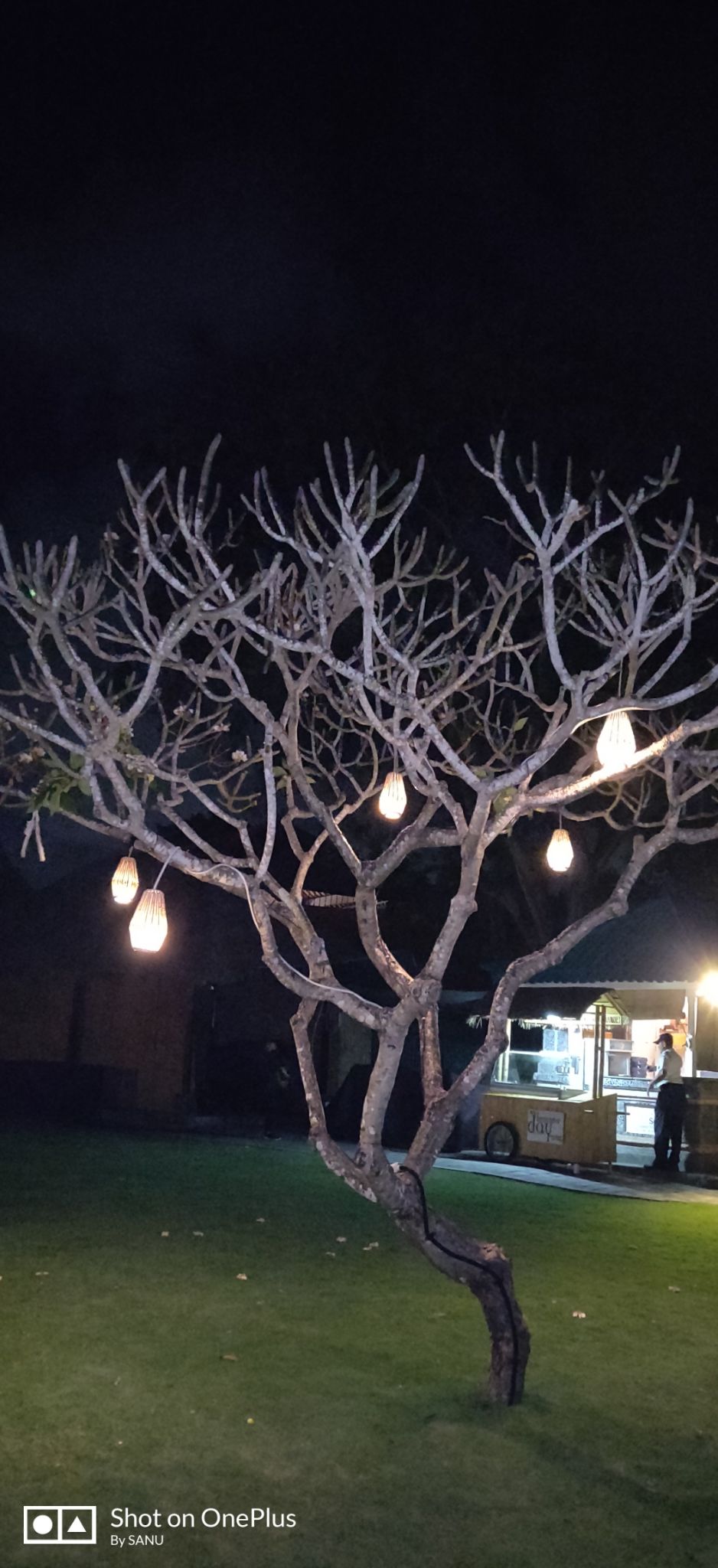 After having a quality delicious buffet breakfast we headed to the lobby where mr. wayan was waiting for us, he welcomed us and gave us 2 bottle of water and then we started the journey enroute he explained about the journey. OUR First destination was
1. ULLUWATU TEMPLE:-
Its like a home heaven on cliff. The view and tranquillity of this place will just take you faraway. If you attend the barong dance It will give you a nice idea and live treat about hindu gods. The places very nice but a bit crowded and the location was very admirable. Uluwatu is one of the six key temple and believed to be a spiritual pillar of Bali.
Note:hide the valuables because ,monkeys are there.
Entrance Fee – 50000 IDR (per adult/per pax)
During evening there was another form of dance it is called kekhan dance which is also very nice to watch and uluwatu offers a spectacular sunset. After enjoying the site seeing and barong dance we moved down to our second destination of the day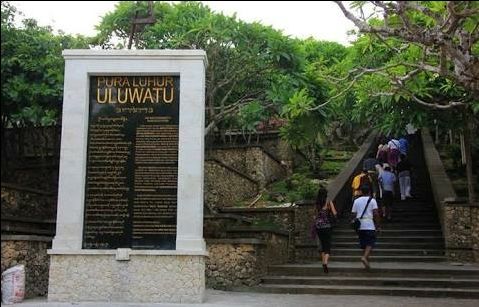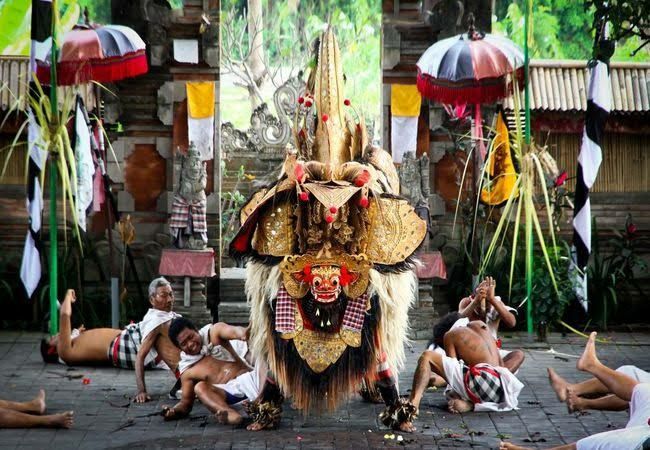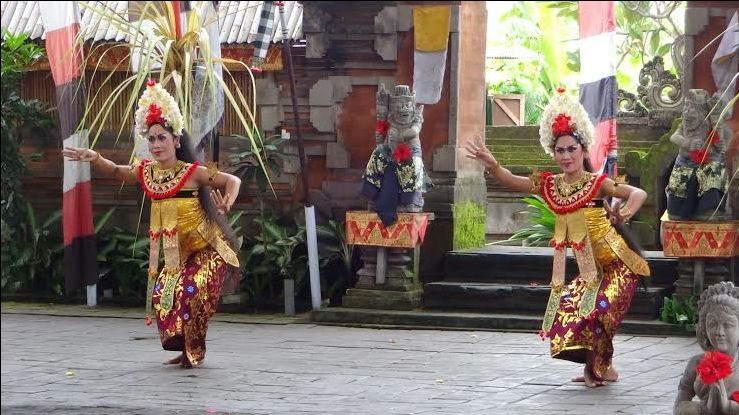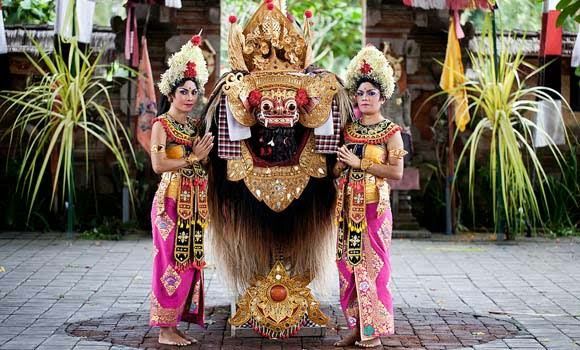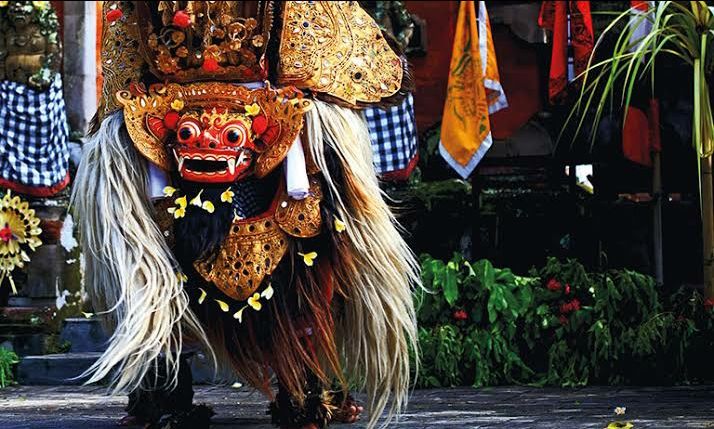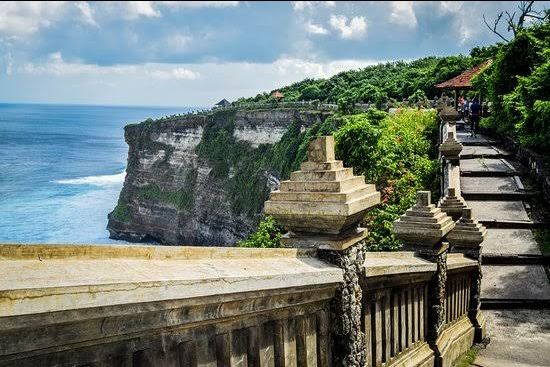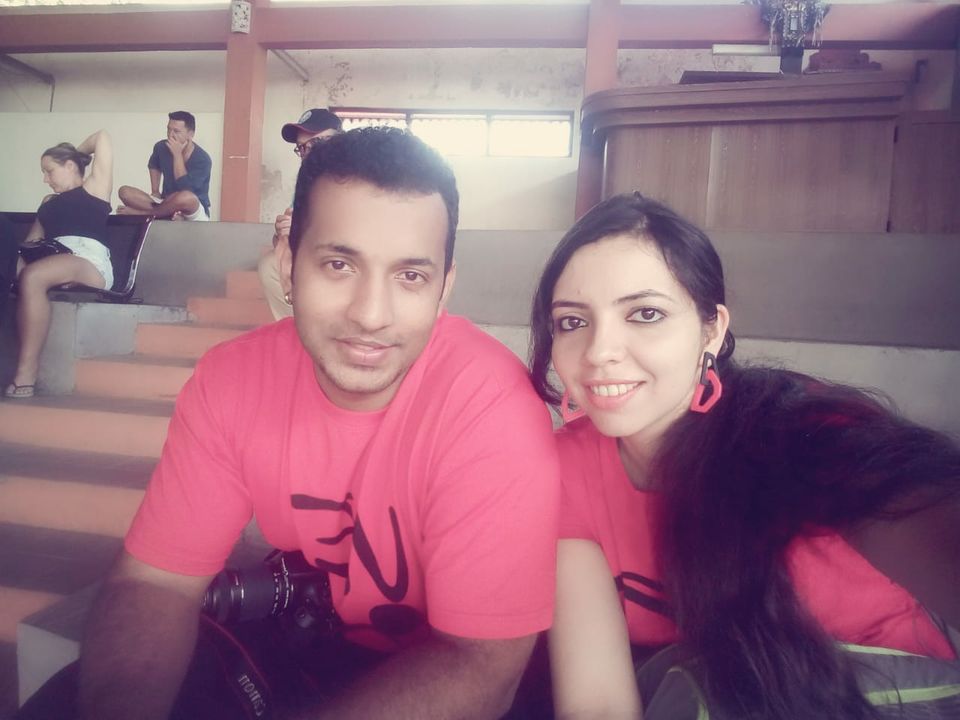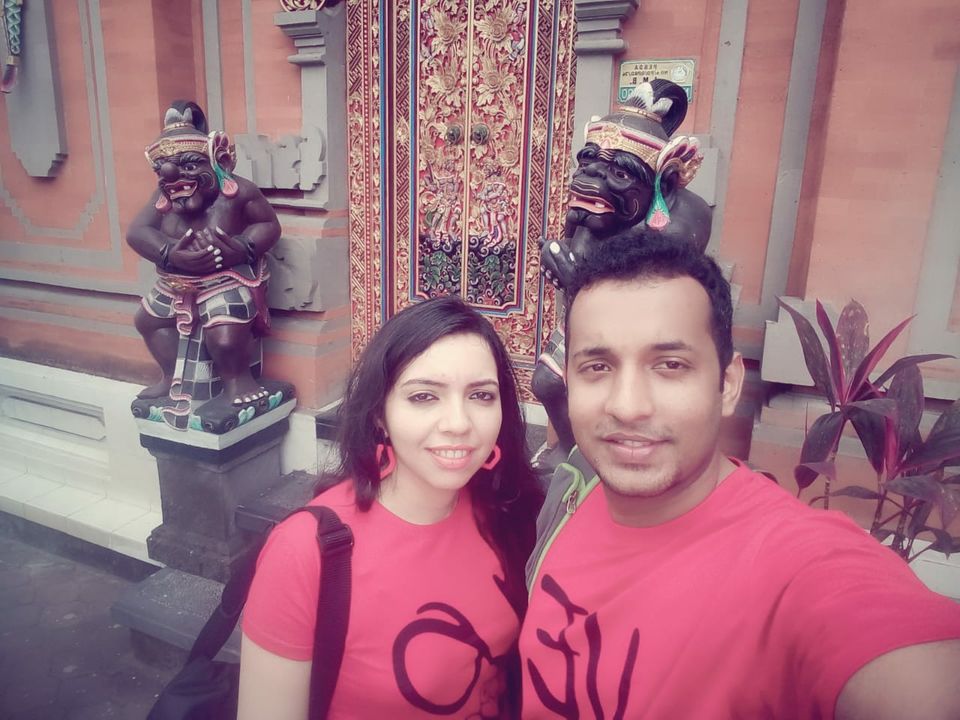 2 .DANAU BATUR LAKE :-
Entrance fee – 30,000 IDR per adult. This lake is absolutely enormous , you can see it for miles coming from the mountain but when you get to the top and see an amazing site and they say it is freezing cold water. Mount Batur and lake offers a beautiful view which just fills your heart and soul with a smile.. We did not get the permission to go near by the lake because the day before we landed at Bali Mount BATUR had erupted slightly after a very big gap. We had our lunch from a small local restaurant, thats the benefit of not taking all inclusive, we can have food outside. It was quite interesting for us to experience the local tastes of bali. After the visual treat and trying local delicacies we moved on to our next destination with a smile realising the day was worthy so far.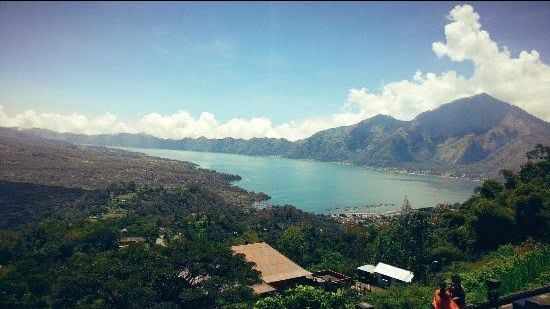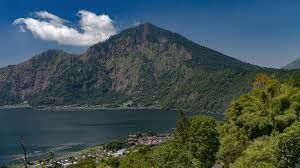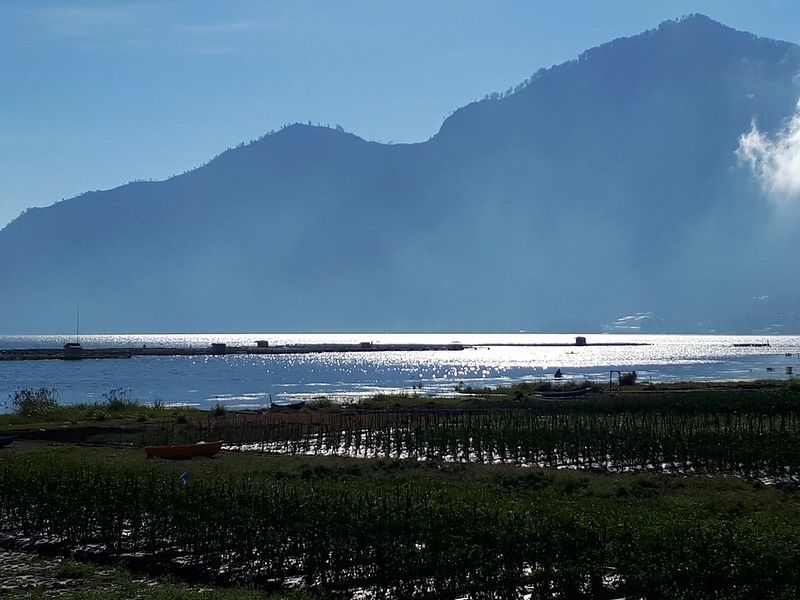 3 . TRITA EMPUL TEMPLE :
Entrance fee 50,000 IDR per adult so mesmerising. Beautiful temple with a holy water pond, simple rituals which energises the body mind and soul. Take a guide if necessary. To enter the temple we must wear a sarong (wrap around cloth) that is available at the entrance free of cost, while leaving we must give it back. This place is really worth visiting if you have a mind of spirituality. People stand in queue to cleanse different aspects of their life by just standing under the water spring from a sequence of stone sculptures. The ritual is optional. The temple was build over 1000 years back and it is a truly fascinating place to spend some time.. After realising the day was worthy and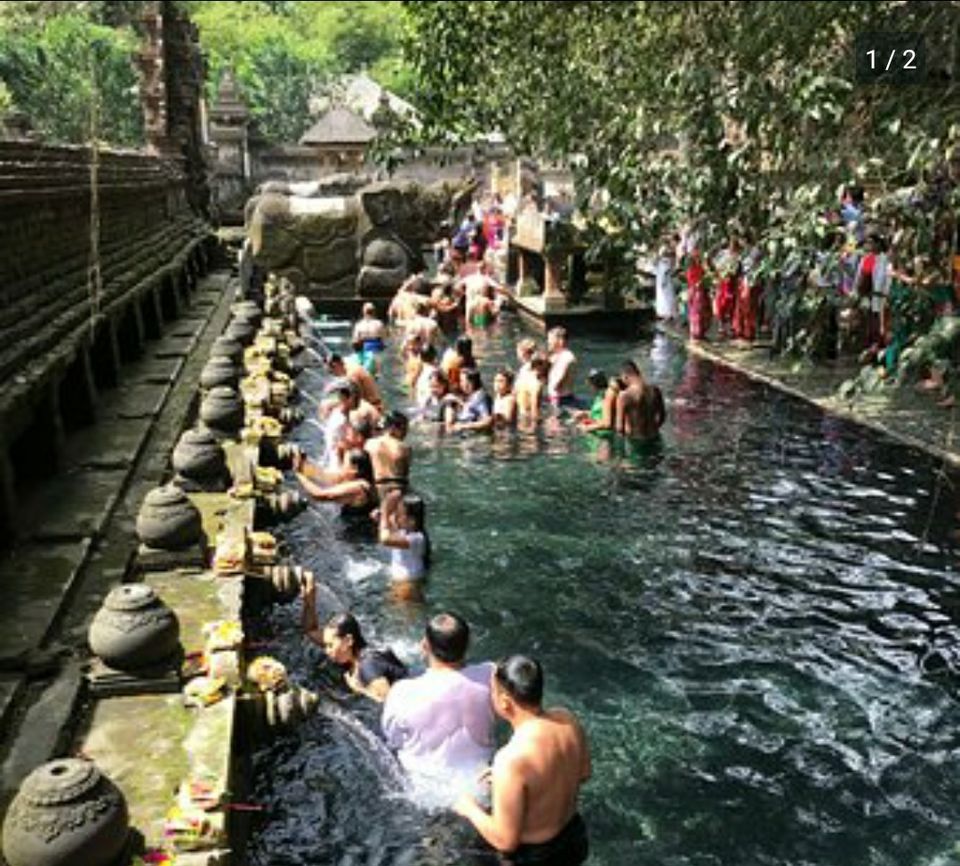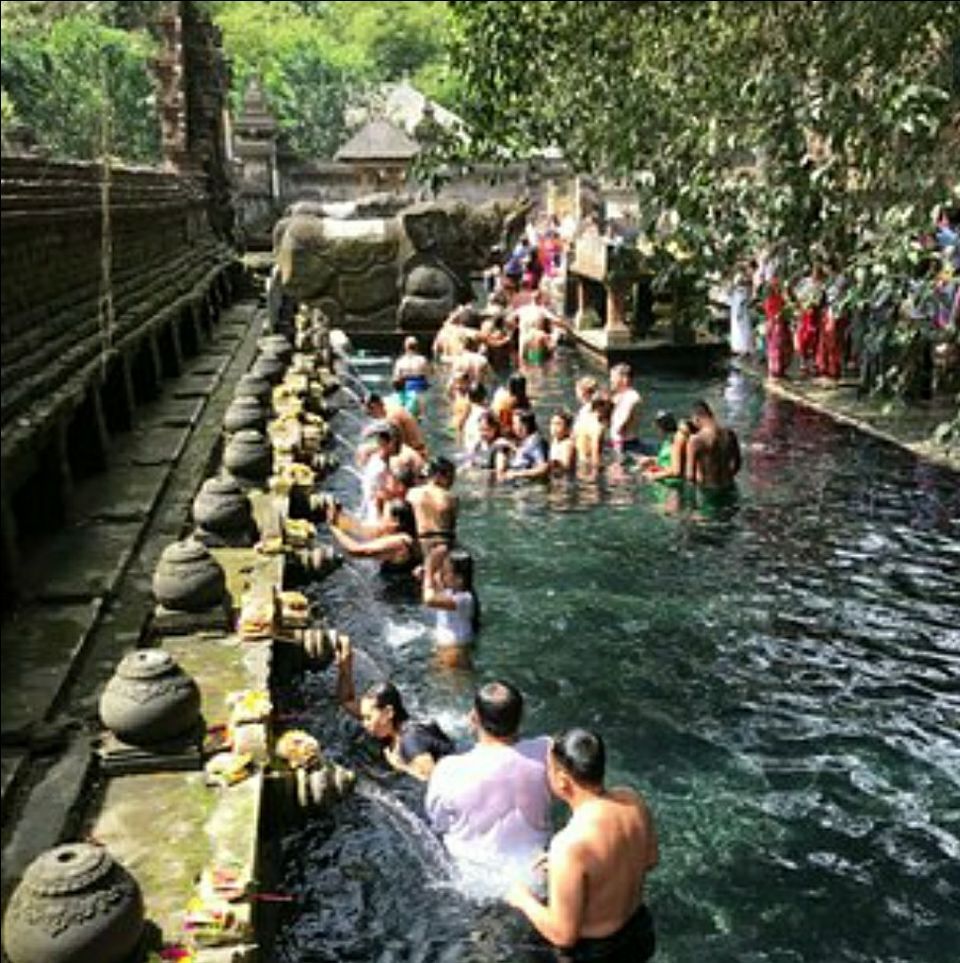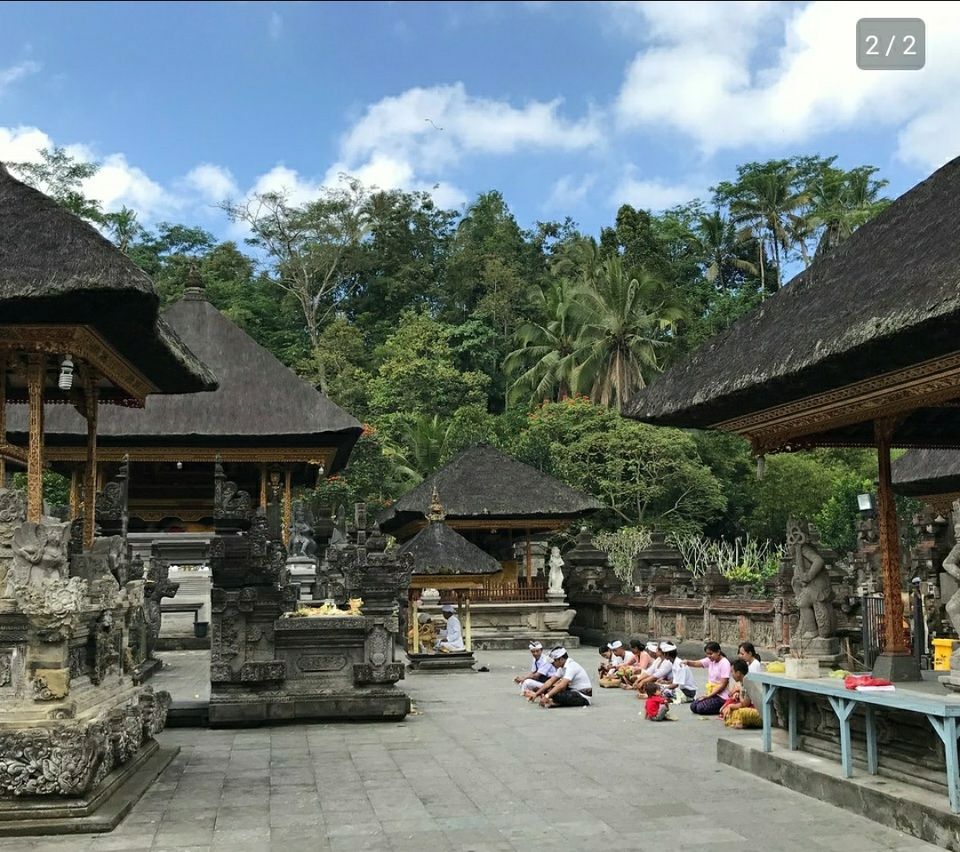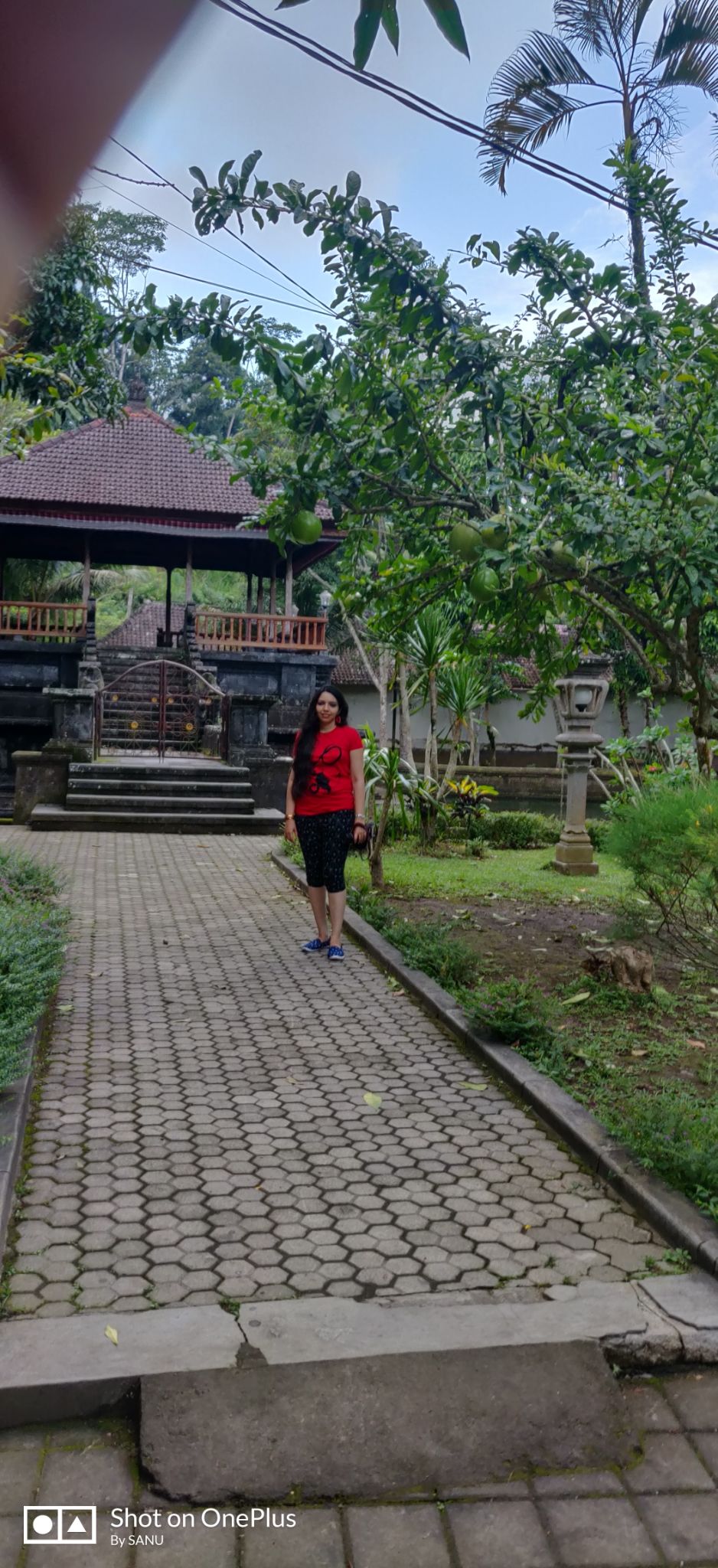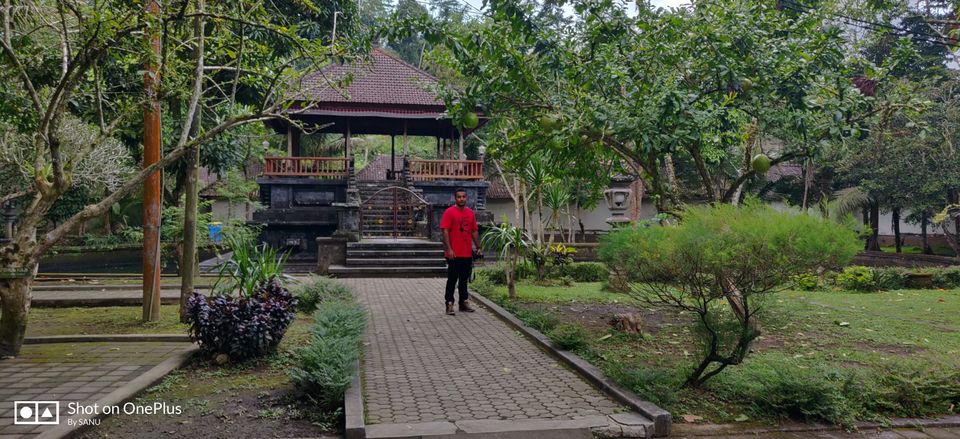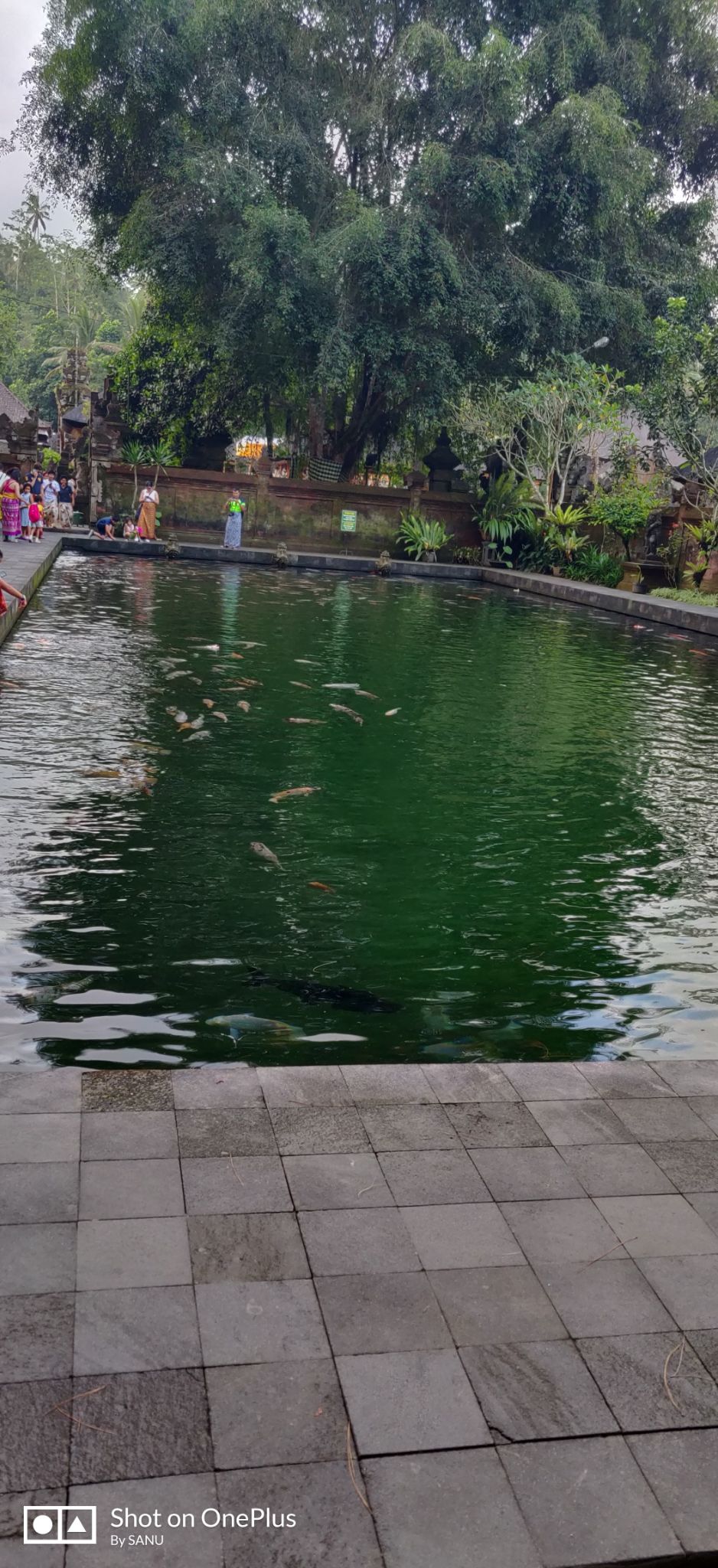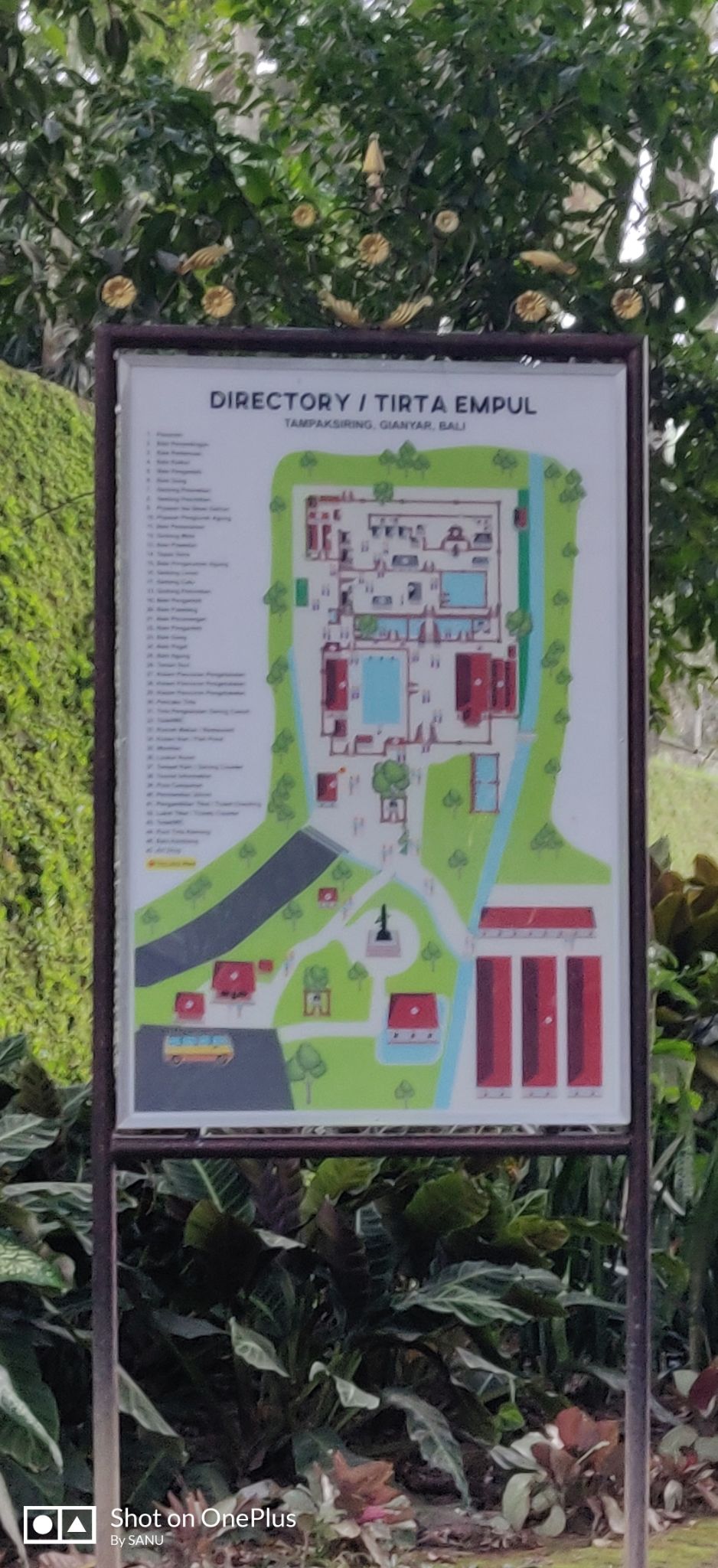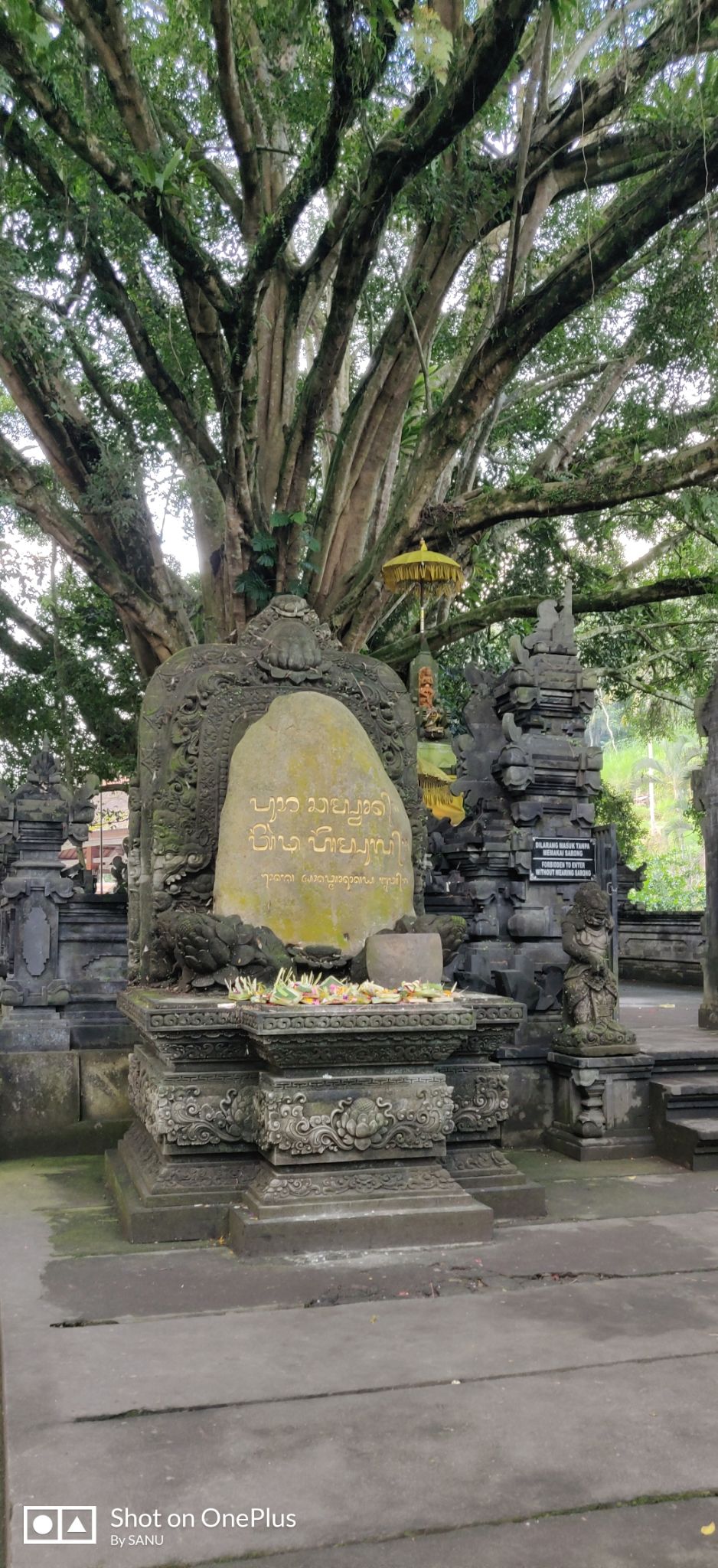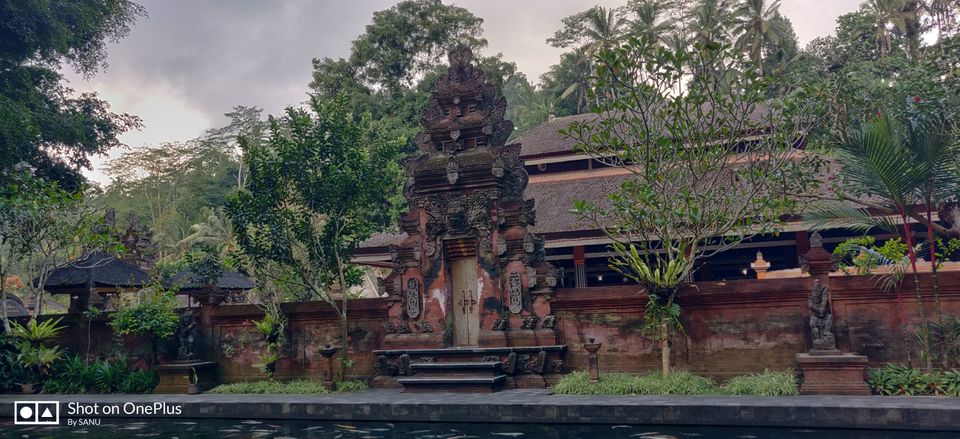 After realising the day was worthy and having a wonderful visual treat we headed back to our hotel enroute our guide told us about Bali swing so we visited ALOHA UBUD to experience Bali swing before which we stopped at SATIRA COFFEE plantation. No entrance fee. There we could see the Luwak alive. There we saw different types of coffee beans growing. There we got to see the coffee making process. They will give you seven different coffee and tea to taste for free. But to taste the Luwak coffee its 50000 IDR for one Cup. From their shop we could buy coffee beans or powder on payment.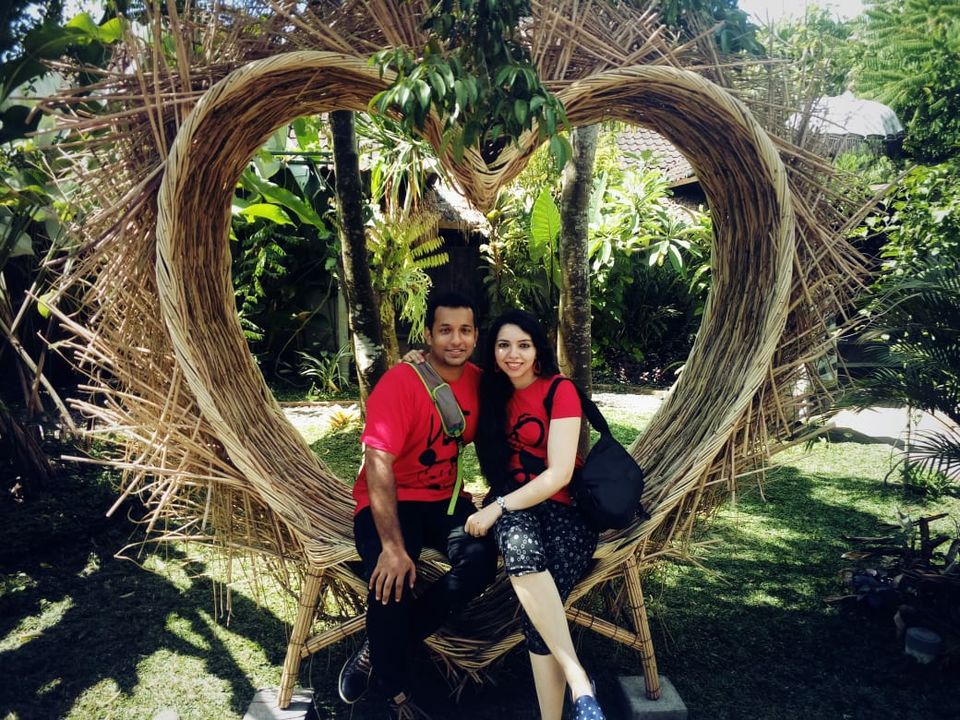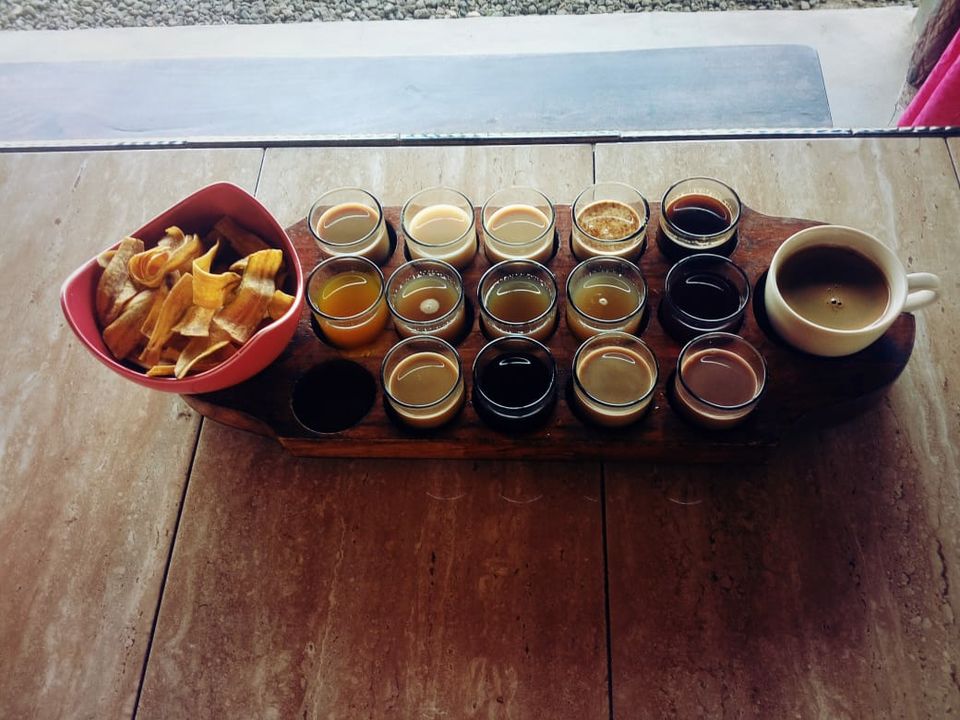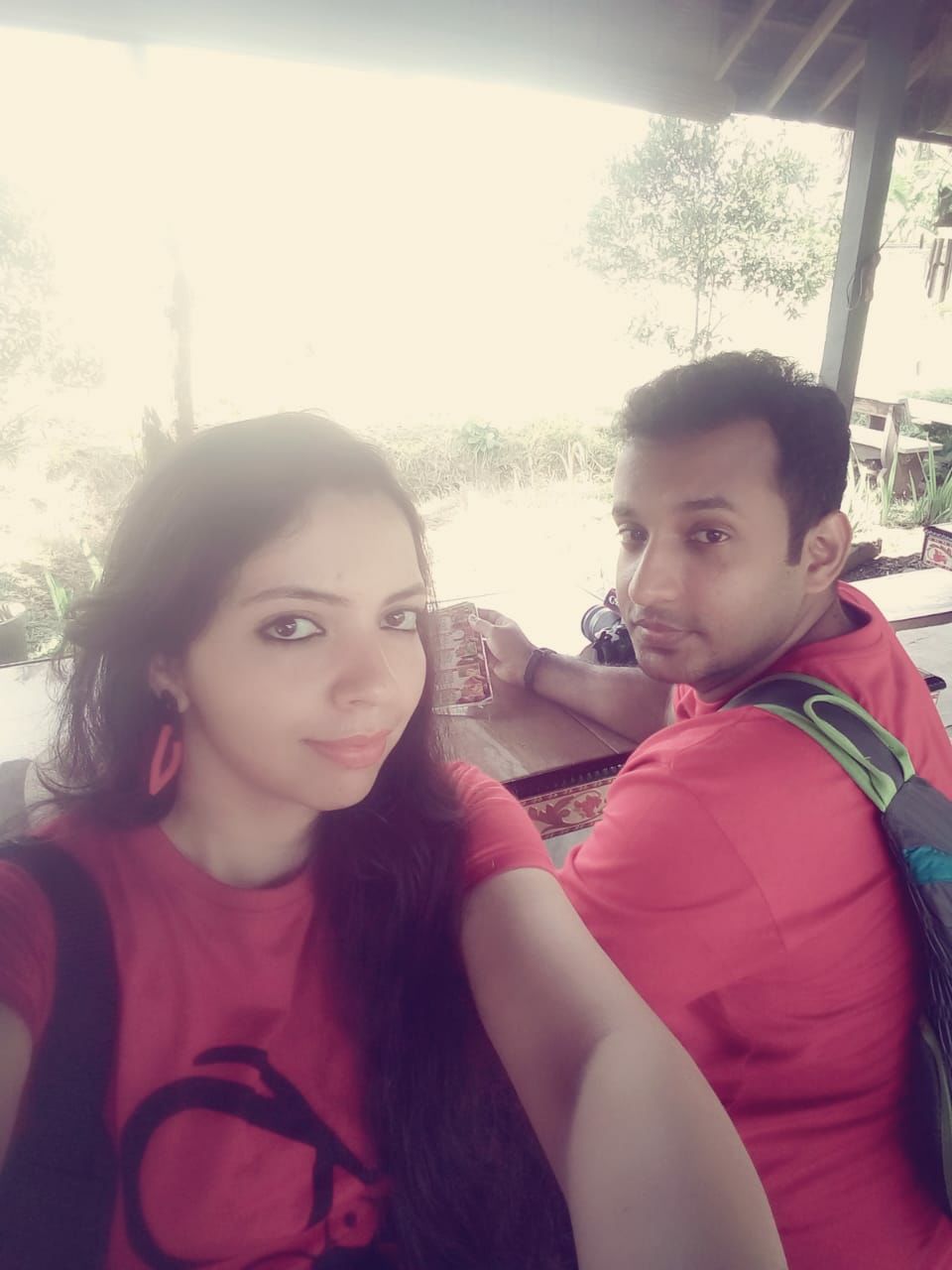 We got refreshed after having coffee and tea and headed to the last destination of the day. ALOHA UBUD to experience Bali swing suggested by Mr. Wayan. This is a must when visiting Bali. Amazing experience. There is an option to add professional photographer in our package . It will be worth. So many locations to click romantic pics. The view of rice terraces while doing the swing was exceptional. Entrance fee 560621 IDR for a couple without professional photographer. There was a cafeteria where we get snacks,juice , soft drinks and luwak coffee after really enjoying the swing and taking some good photos.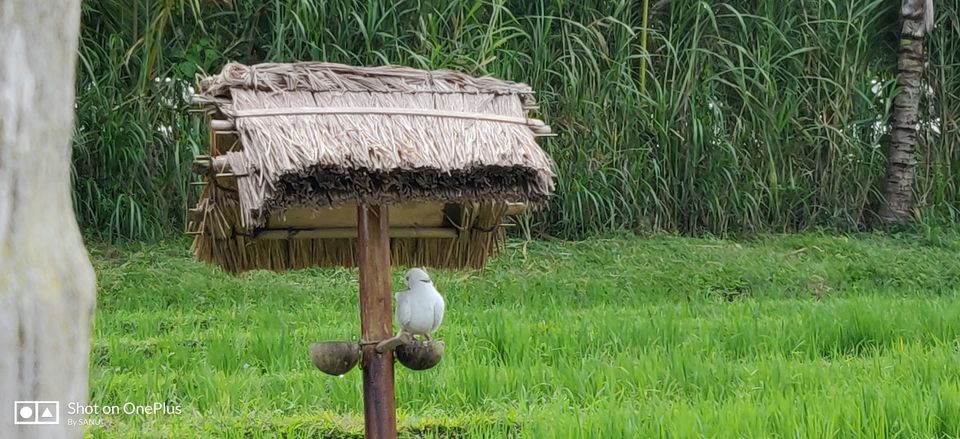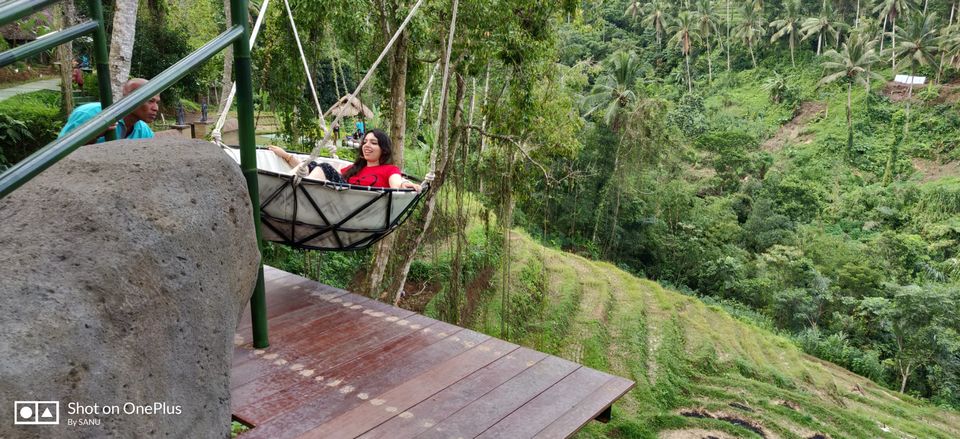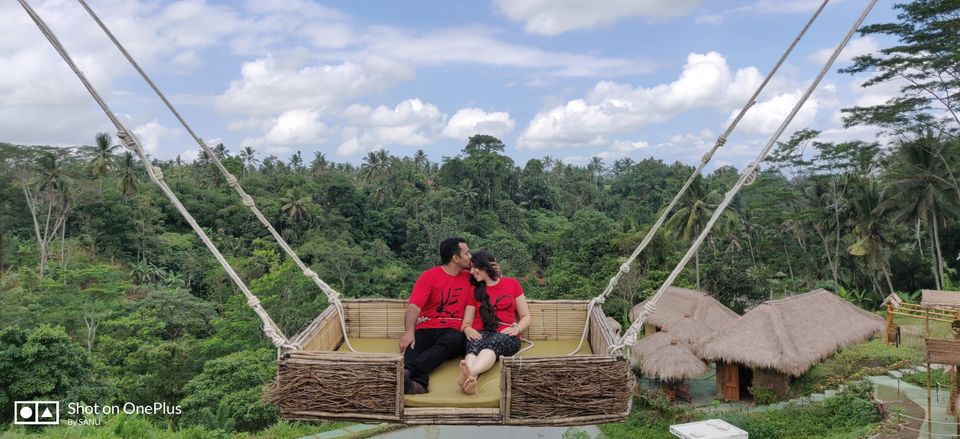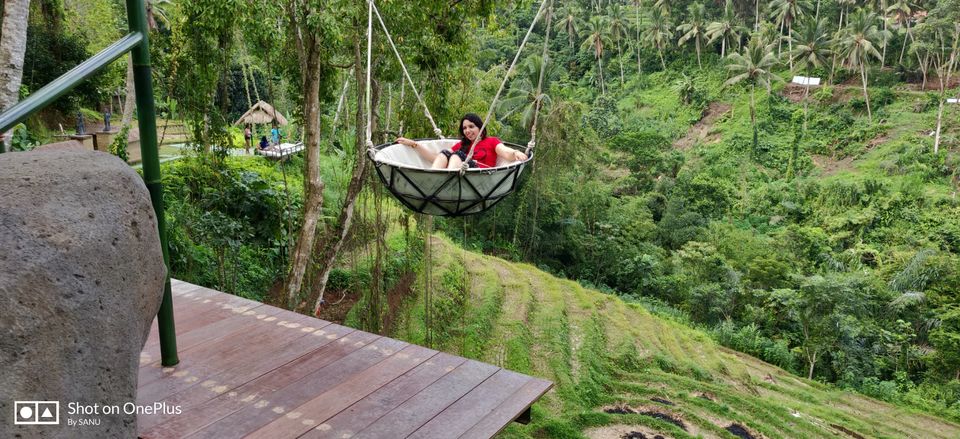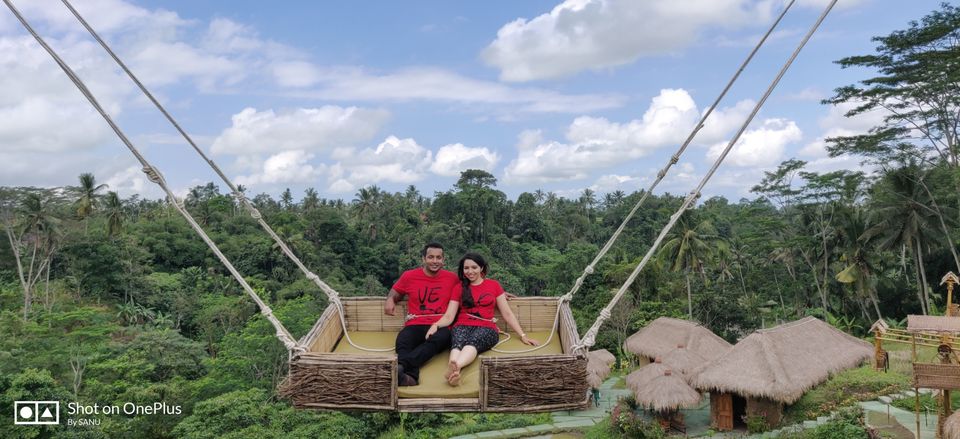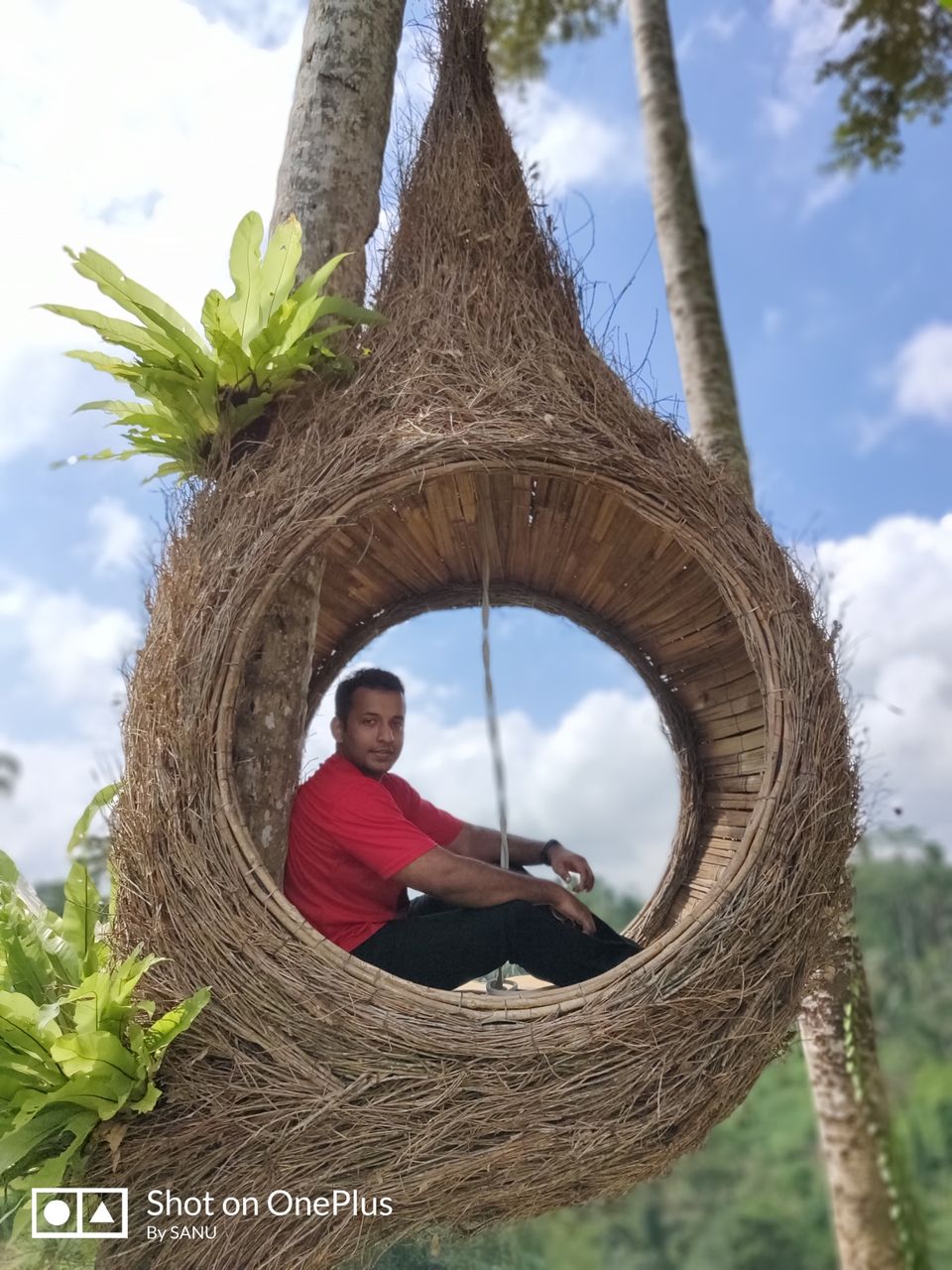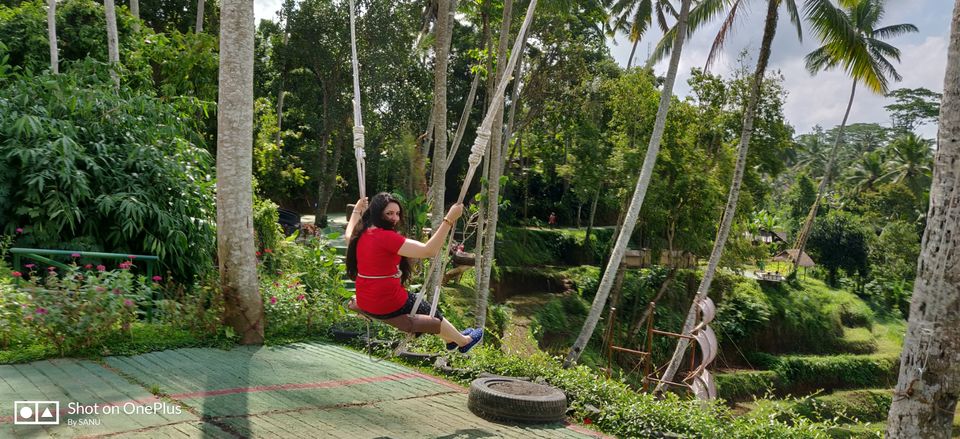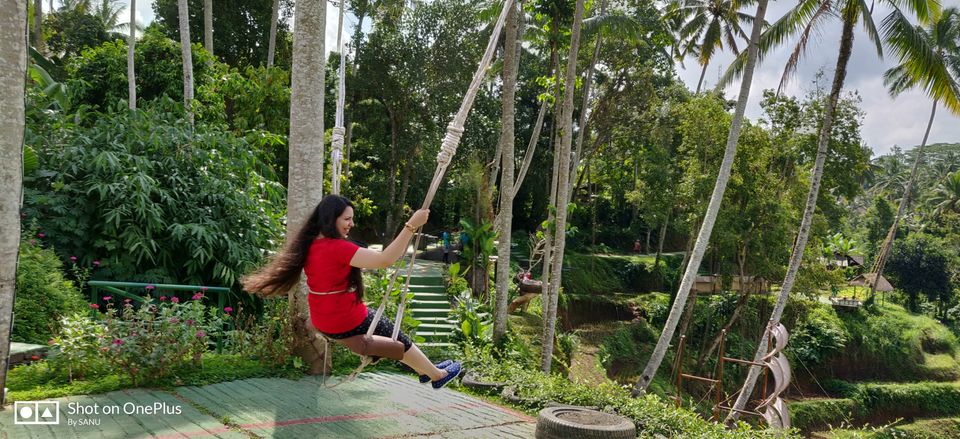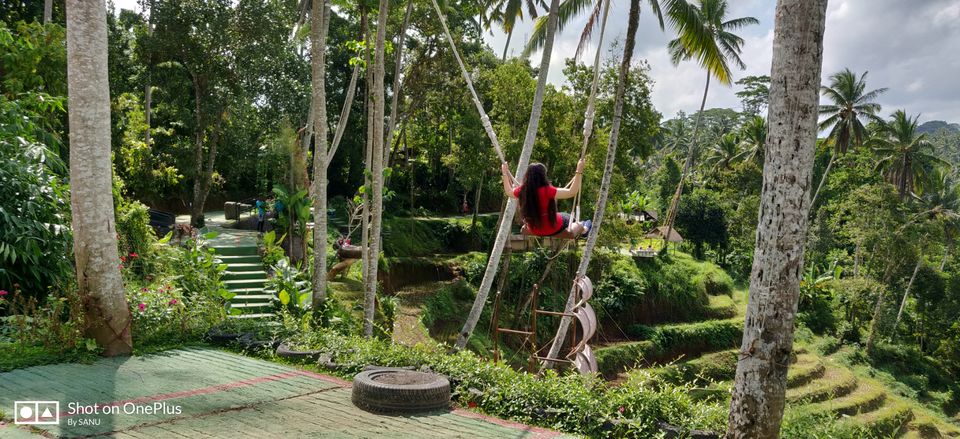 came back to hotel by 7pm with tonnes of happiness because the day was totally worthy.we were very hungry and we rushed straight towards the restaurant and had a very delicious dinner and then went to our room and refreshed ourselves and then went asleep being curious about our next day trip.
As usual Mr. Wayan came to our hotel by 7 am but he was supposed to reach by 7.30 only but he came early and was waiting for us at the lobby. He welcomed us and gave two bottles of water for the day. We started our journey after enjoying a delicious buffet breakfast from the hotel. We really consider the buffet breakfast as the most super one. variety of dishes and too delicious as well and we can try all.Junir chefs are also there who will make food customised to our request.The first destination was:
1 . TAMAN AYUN TEMPLE:
This is considered as one of the six key royal temple in Bali. Build in 17 th century opens at 9 am and closes by 4 pm. It means garden temple in water, unlike other temples it is a less crowded one. The architecture and foresight of royals certainly helped in making the temple into one of the most beautiful in BALI.Free: 30,000 IDR per adult. Very nice to take good clicks.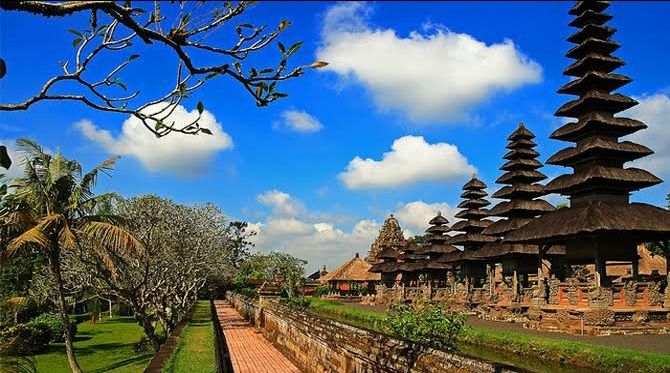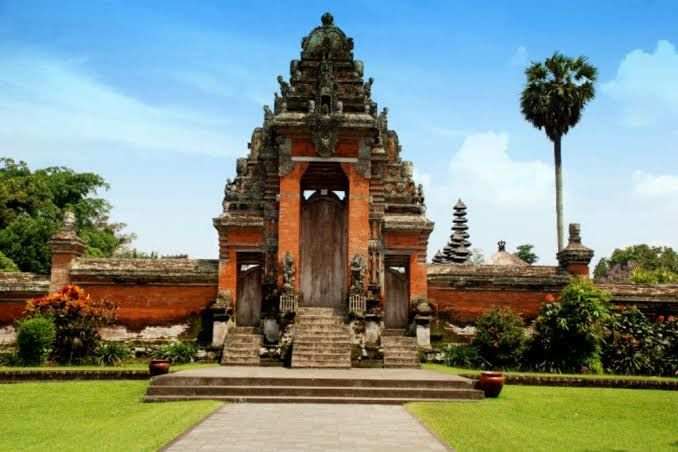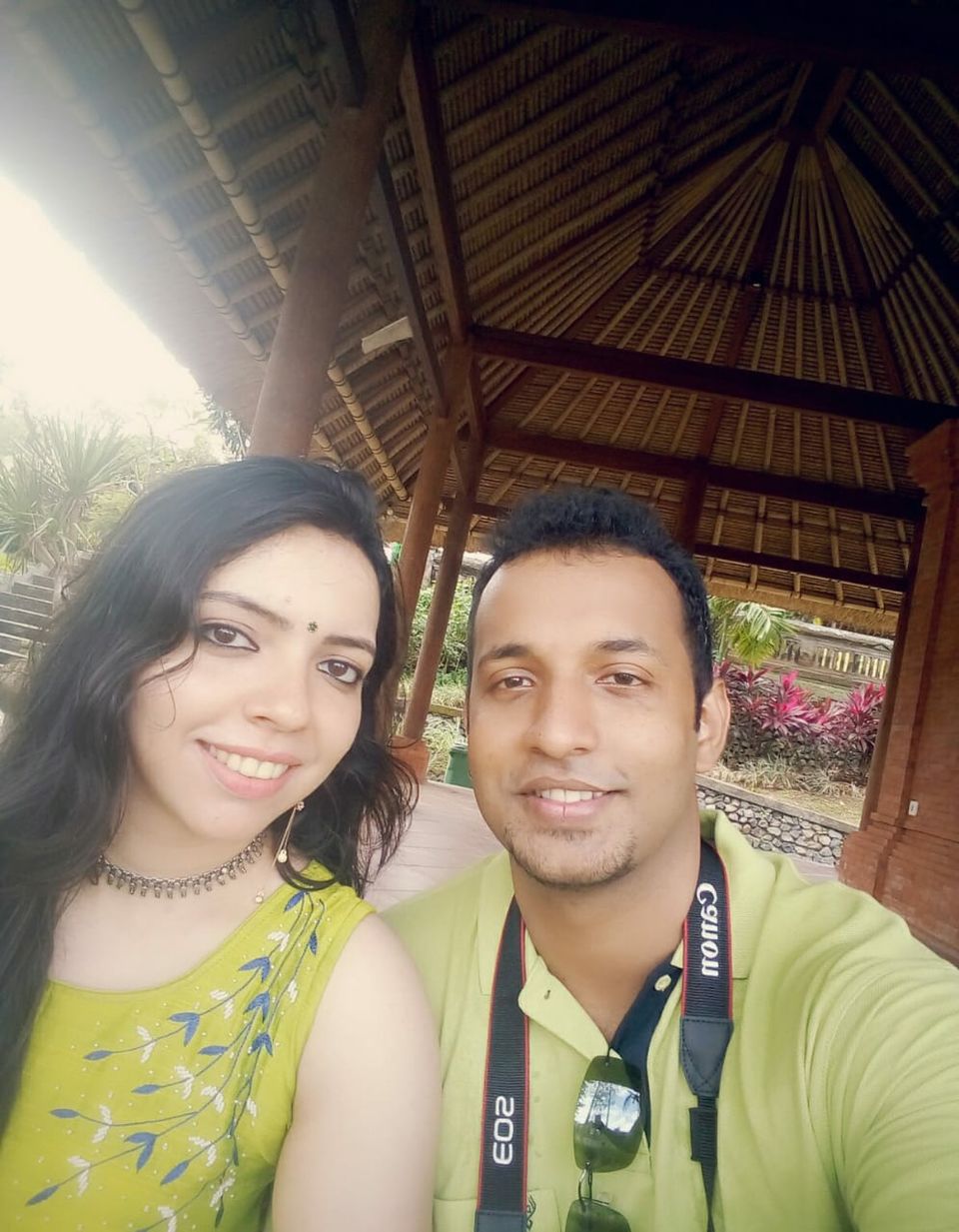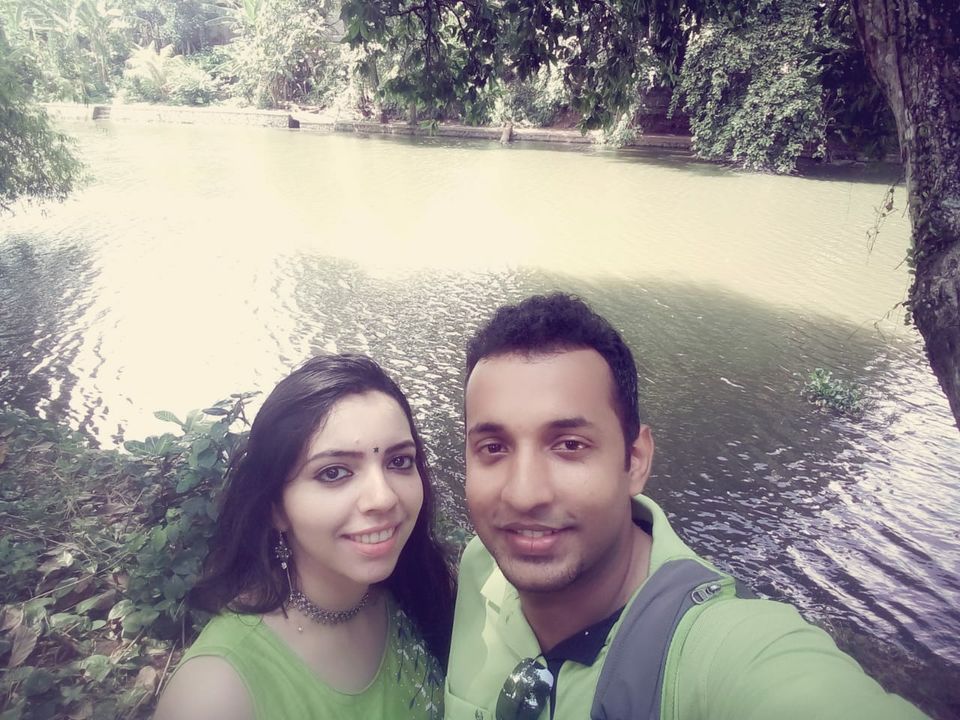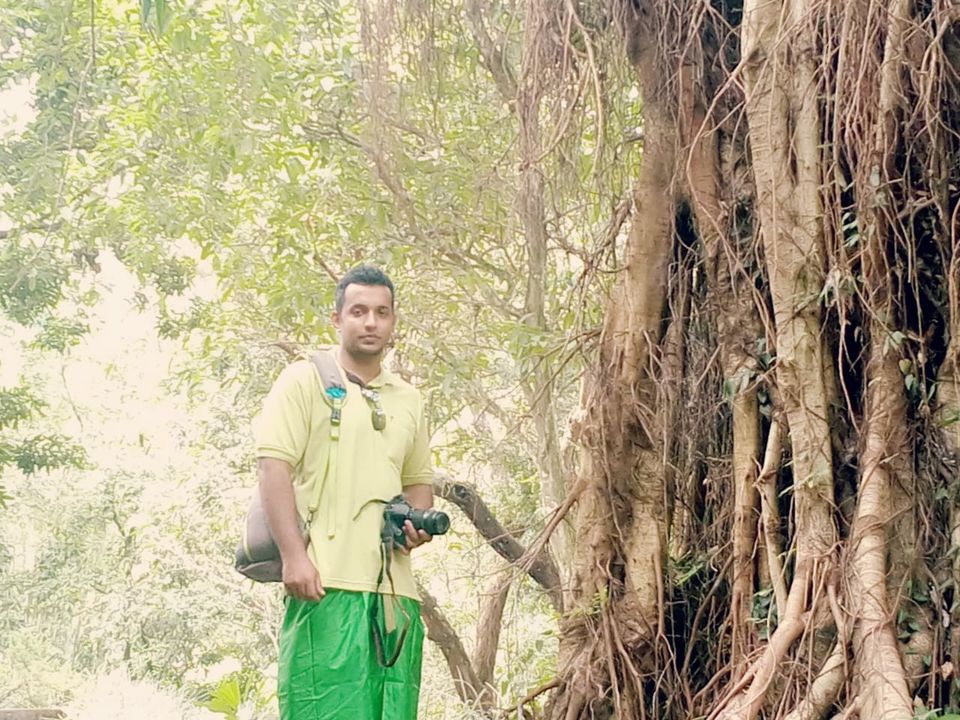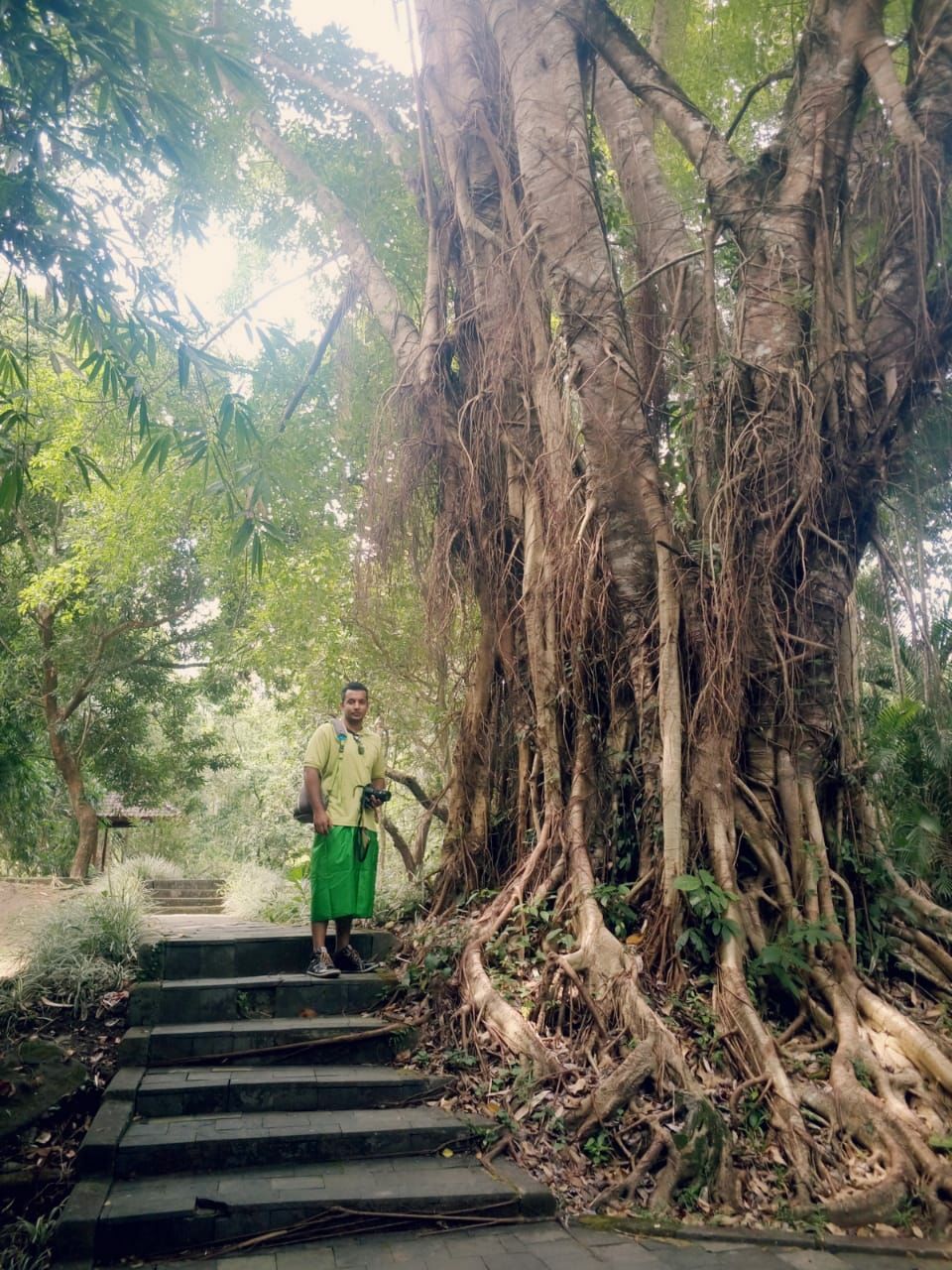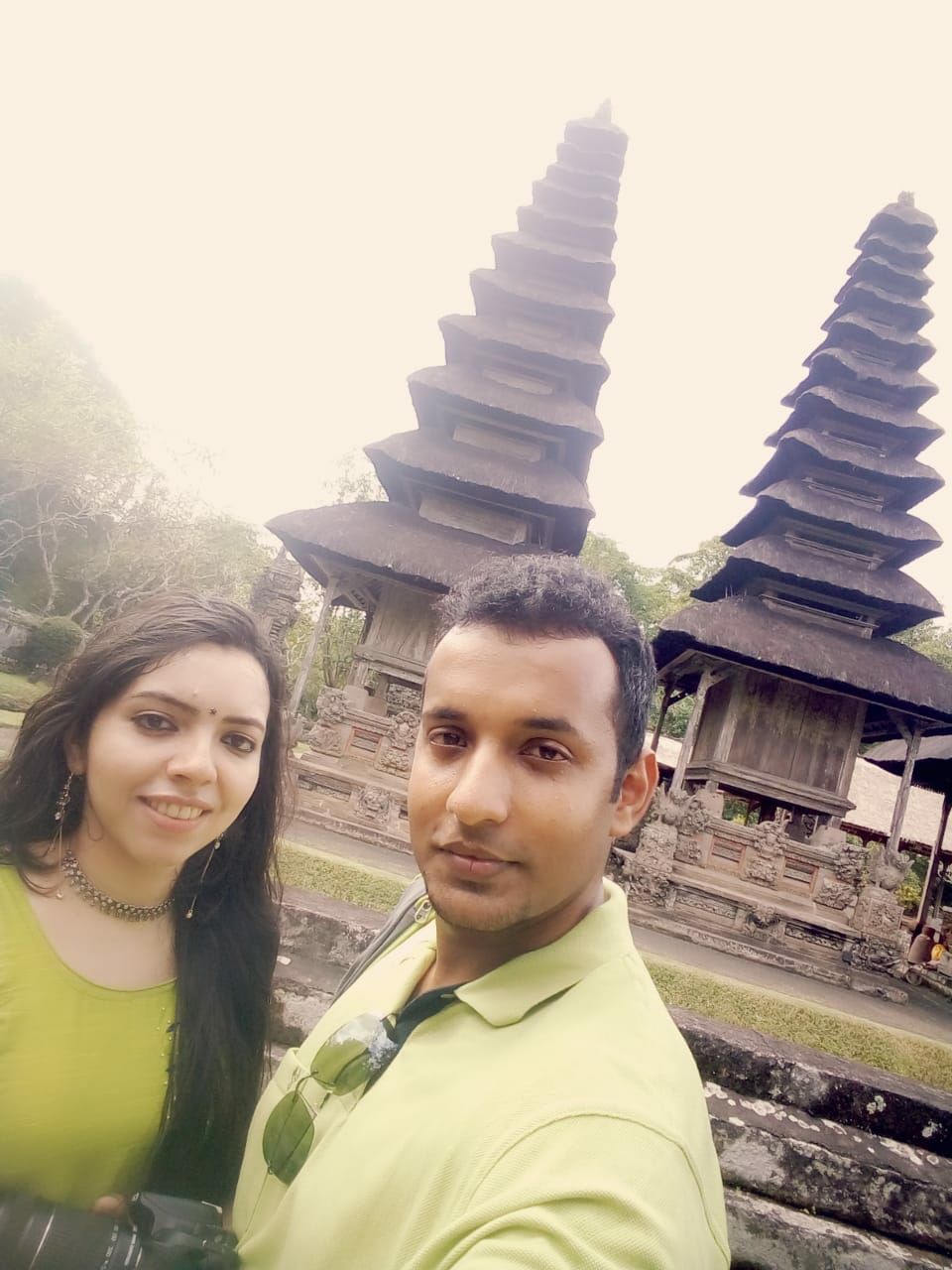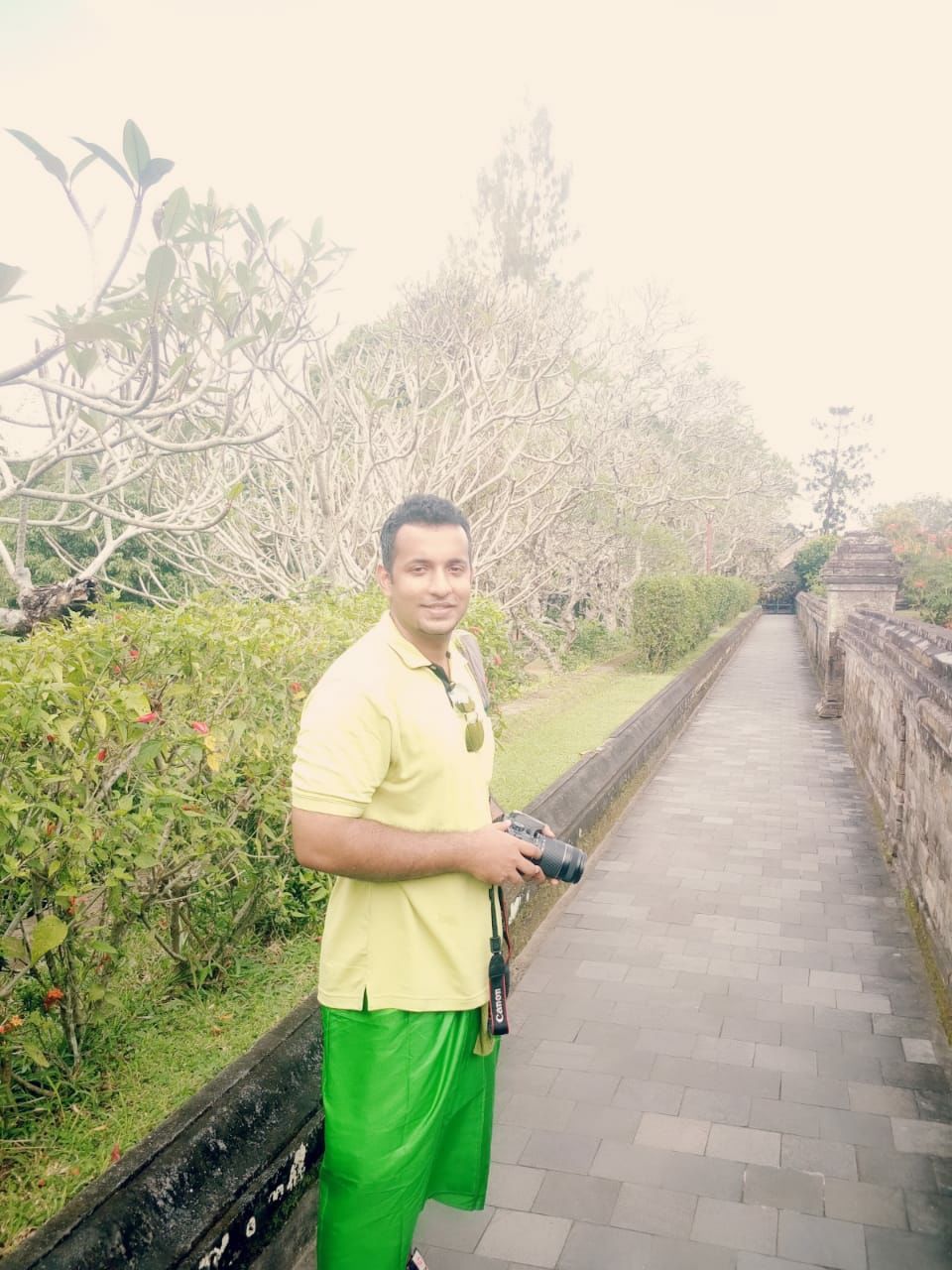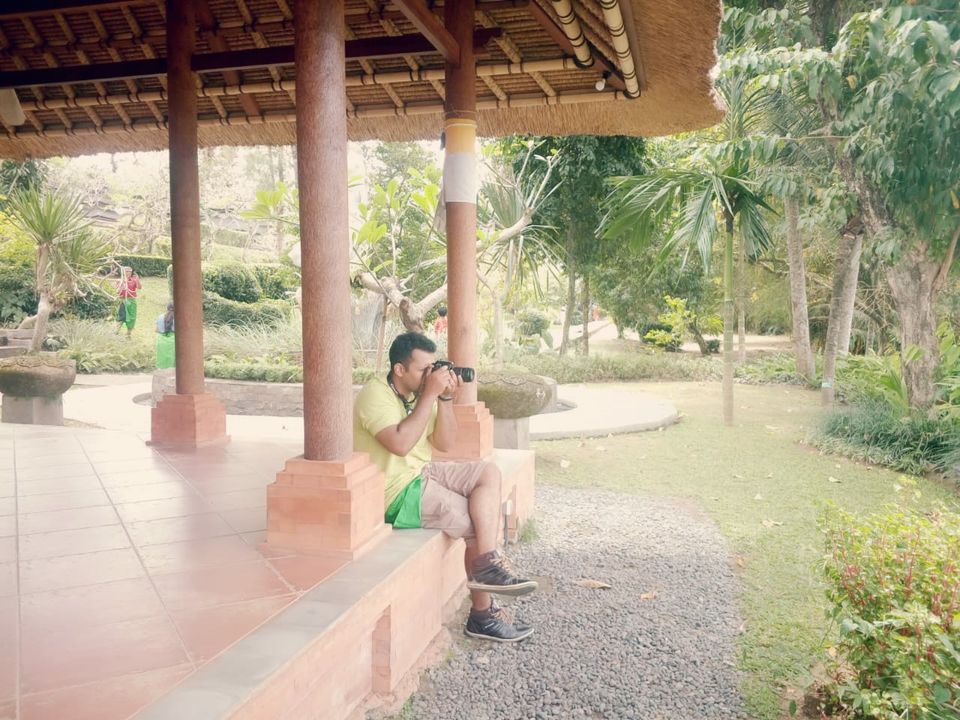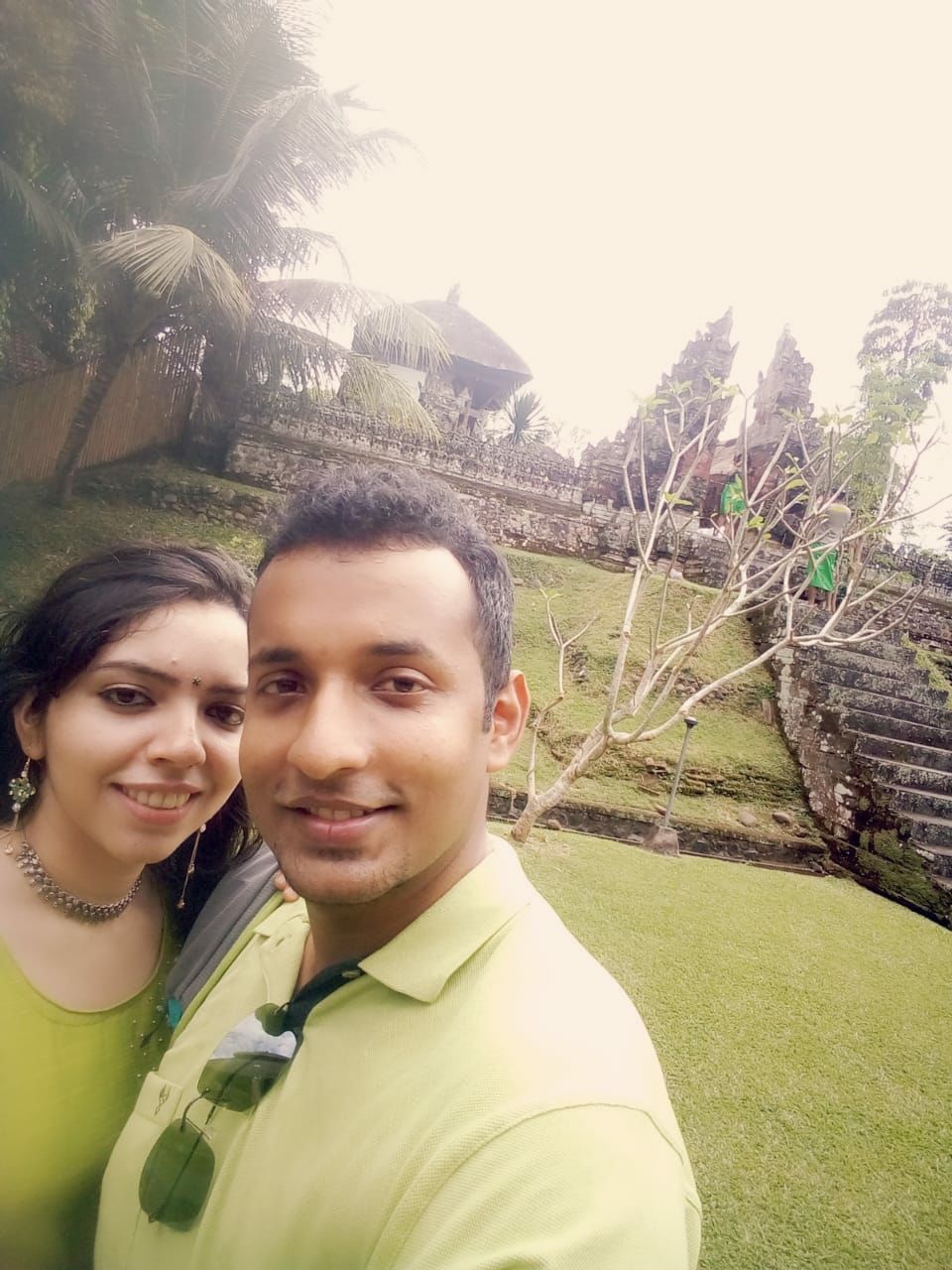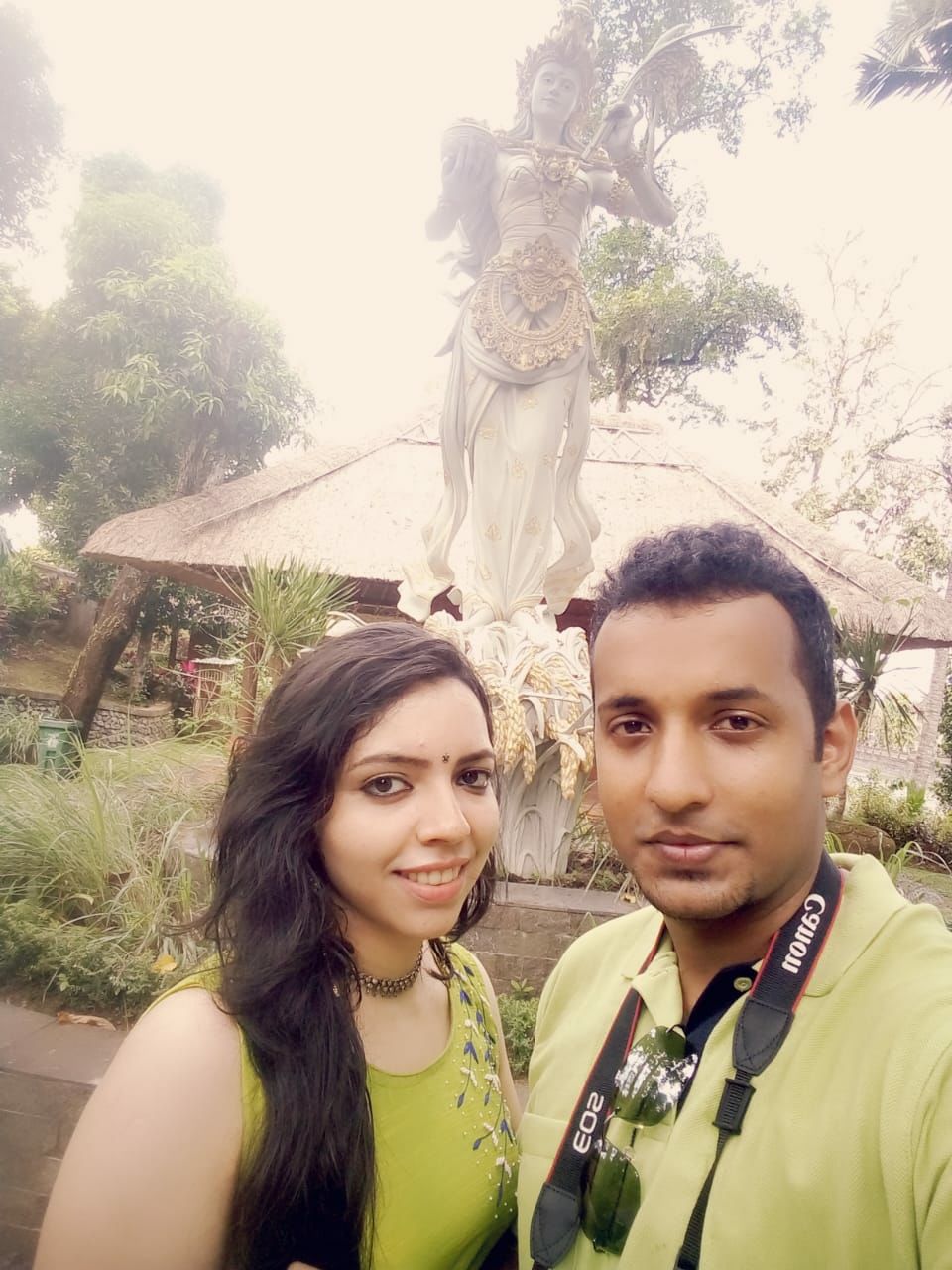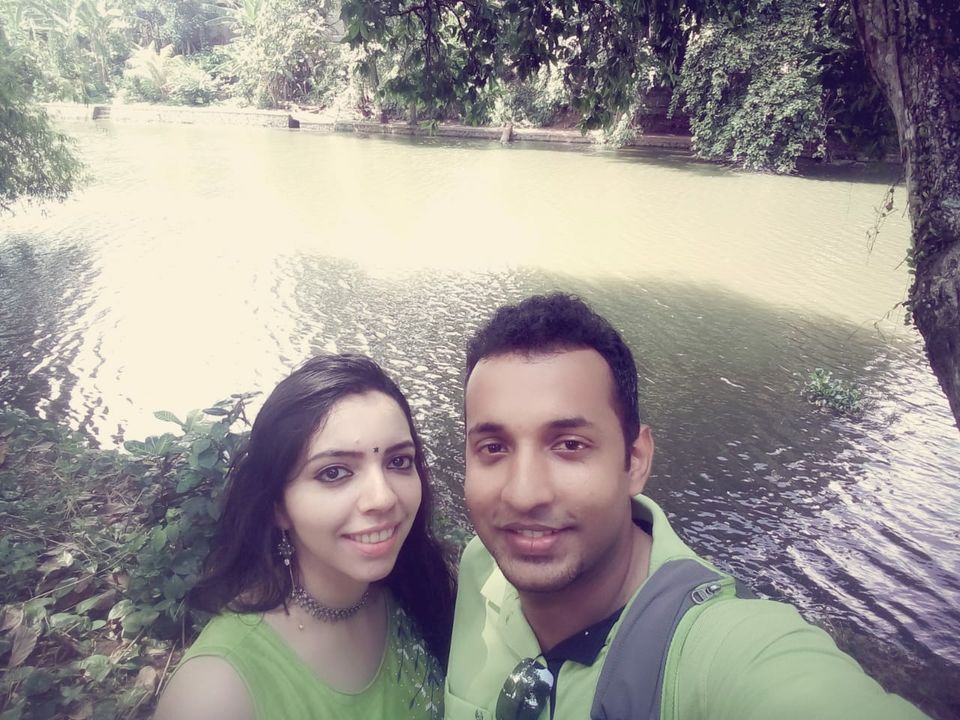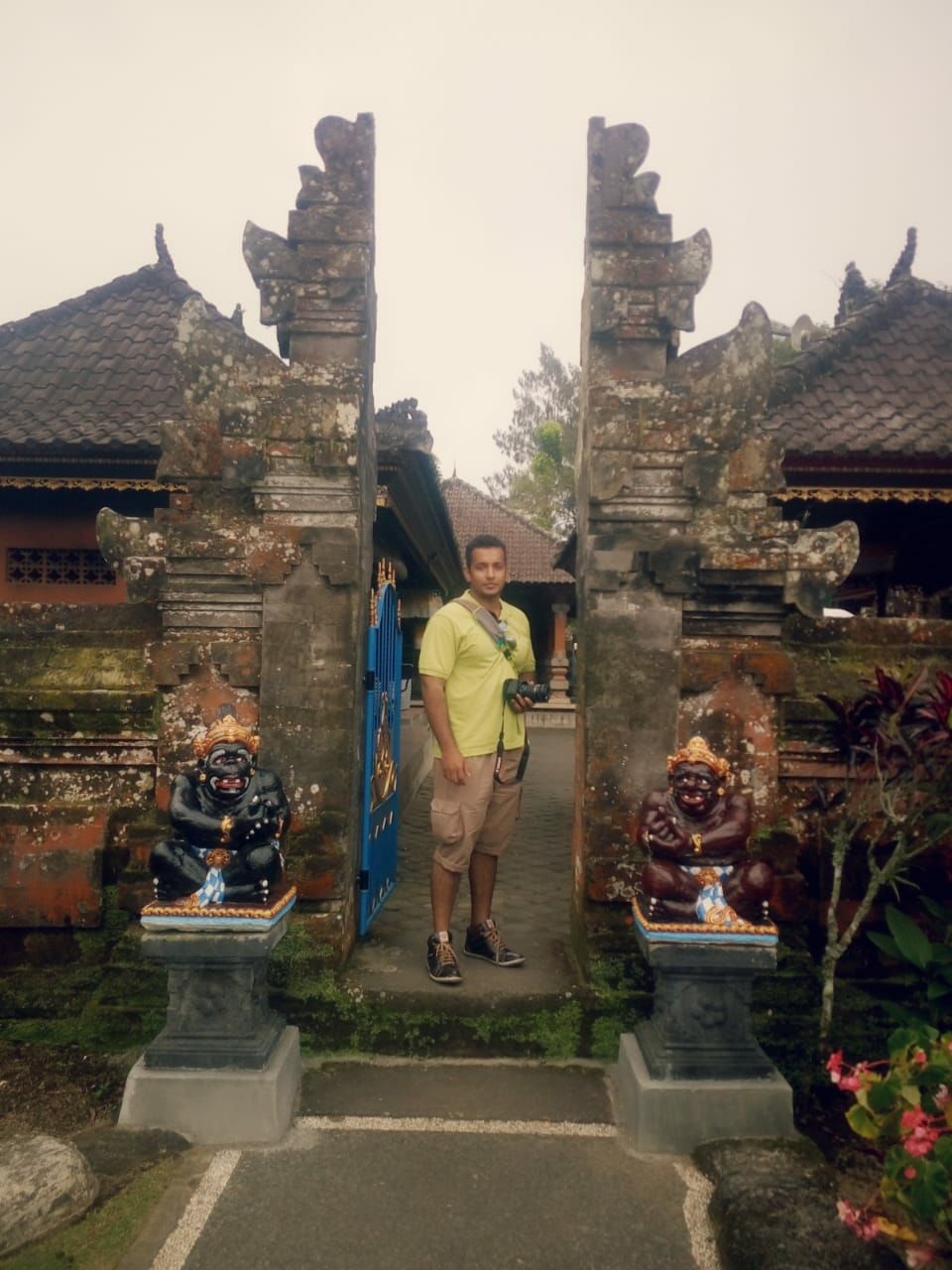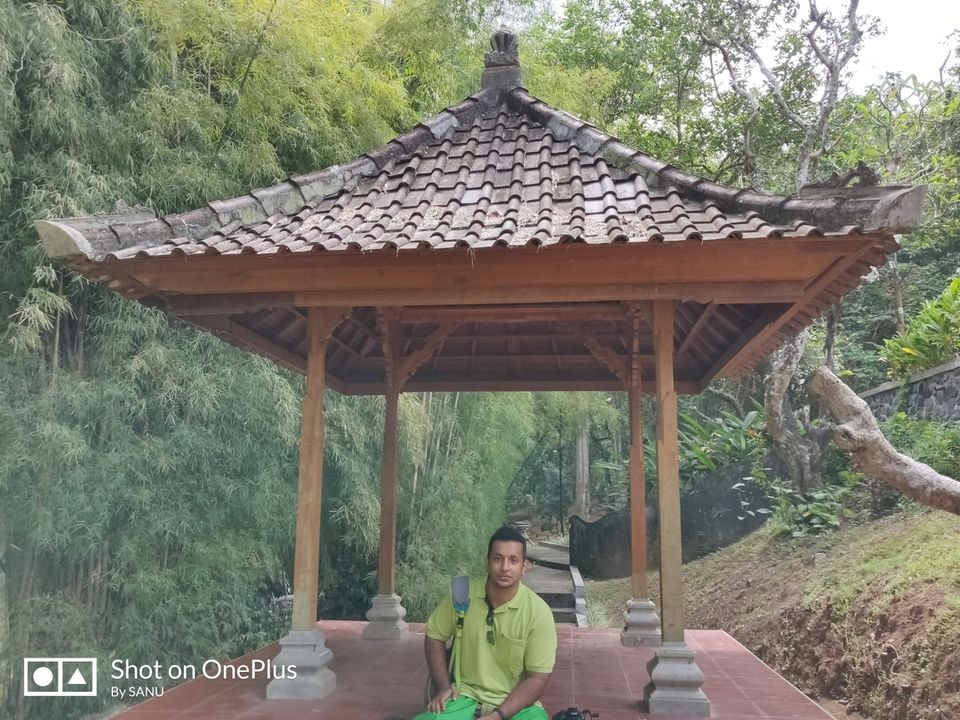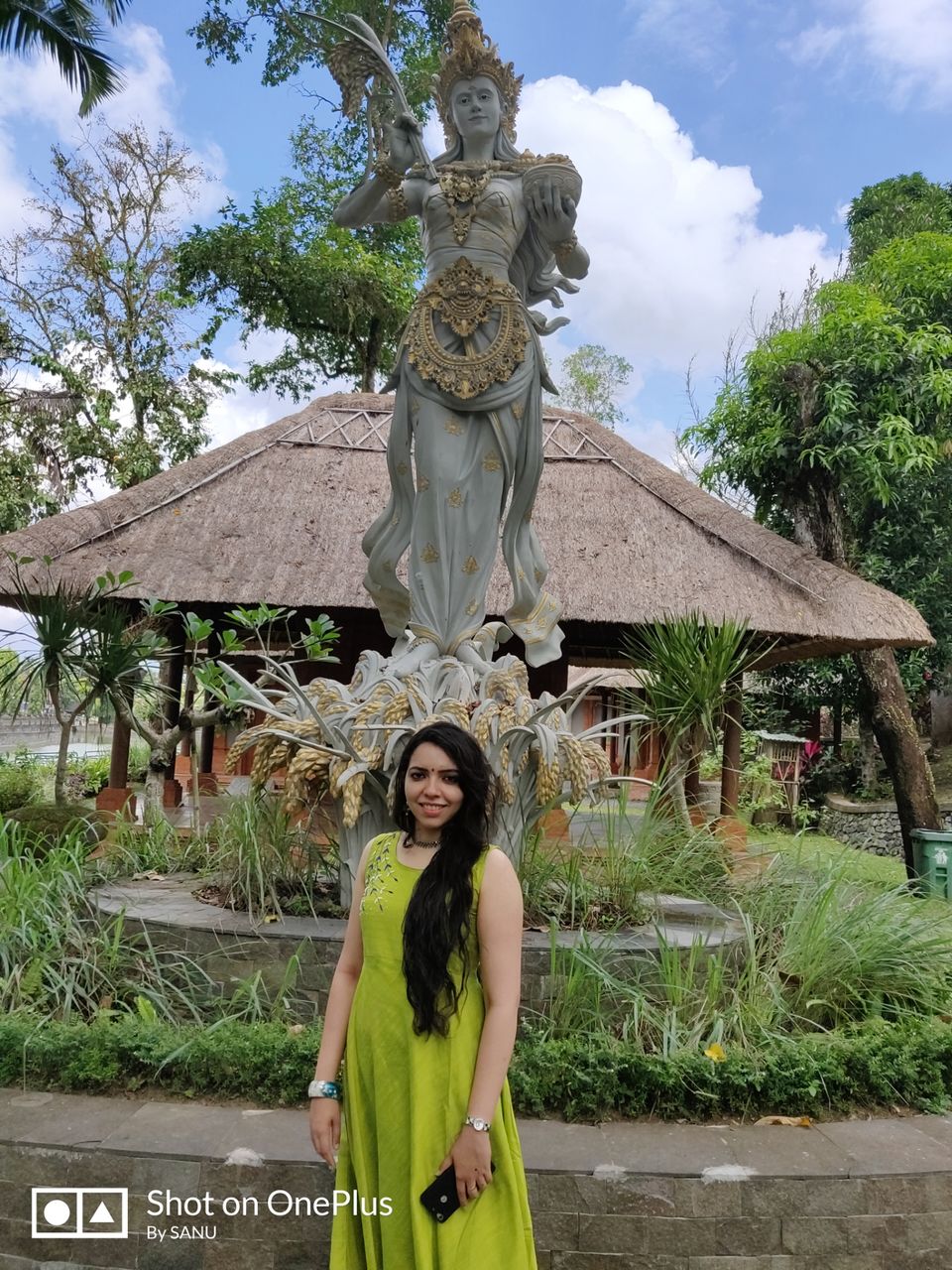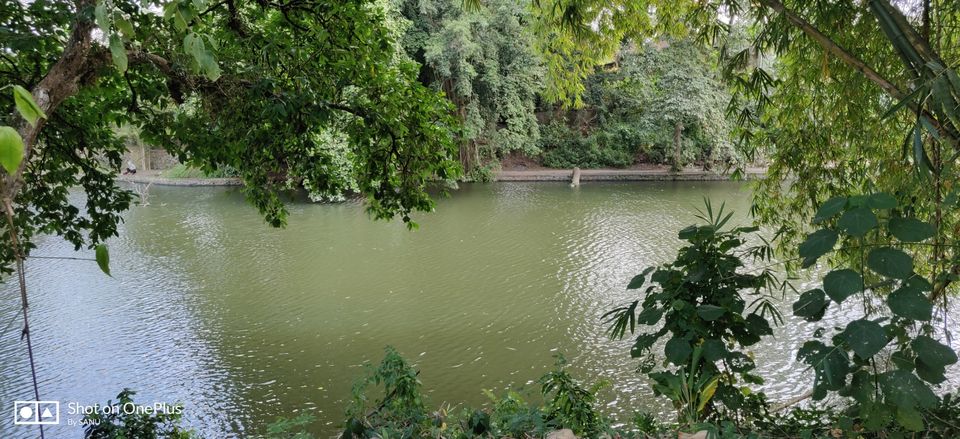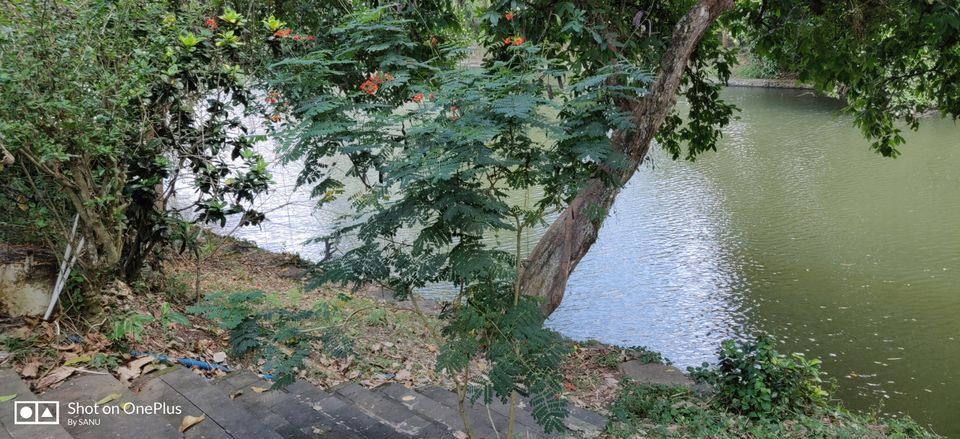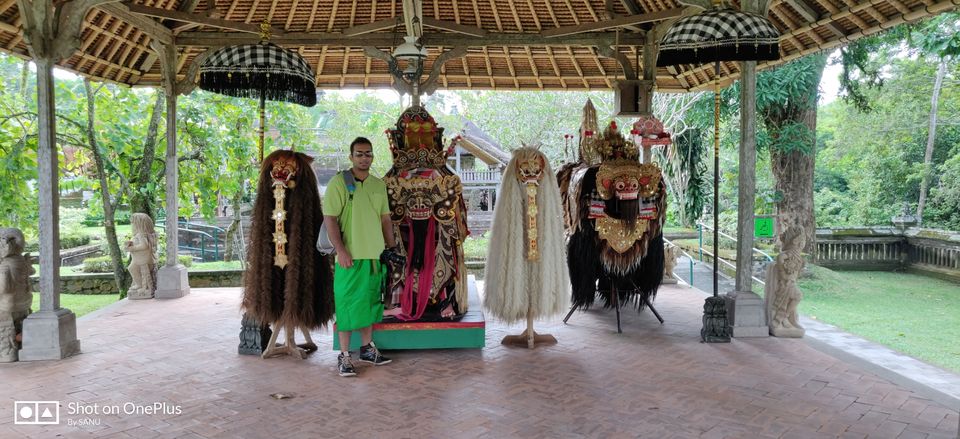 Next destination was BERATAN LAKE: On the way to this temple the views are fabulous, kind of hill station. The lake is truly a heaven on earth. The panoramic views of the lake, temple are simply stunning. The ambience gives the place a romantic and unforgettable mood,. The place stands 1300 meters above sea level. We can try pedal boat ride but we should try that inside a small boundary but if you choose a motor boat ride, it will give half an hour ride(75000IDR) per adult. The boat ride experience was awesome, cant express in words. Worth visiting local restaurants and textile shops are available. Had a very nice food and started the journey to our next destination.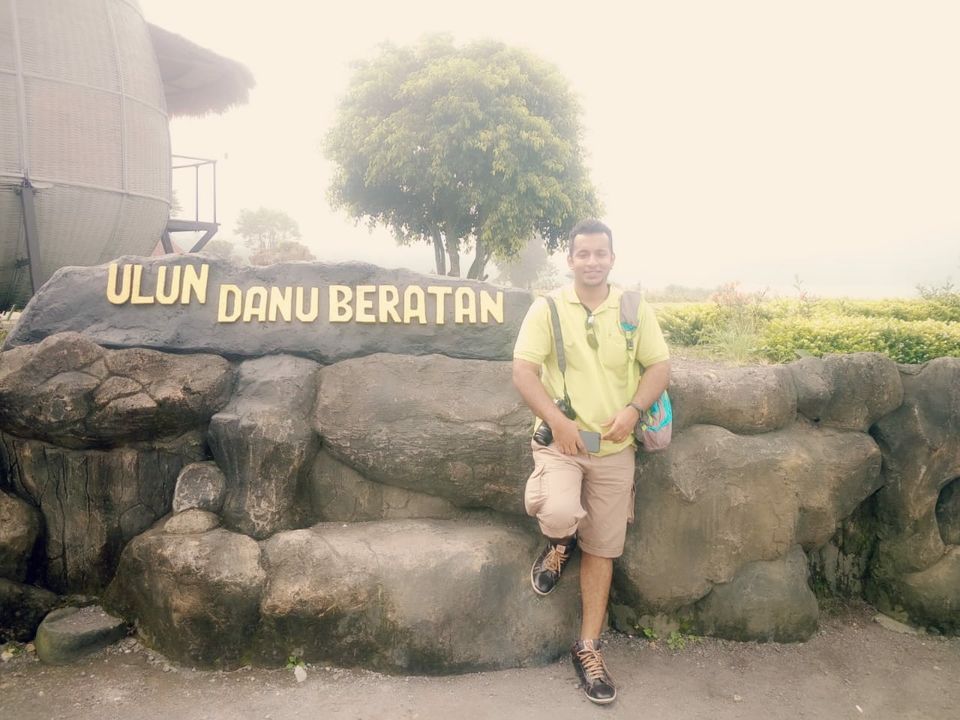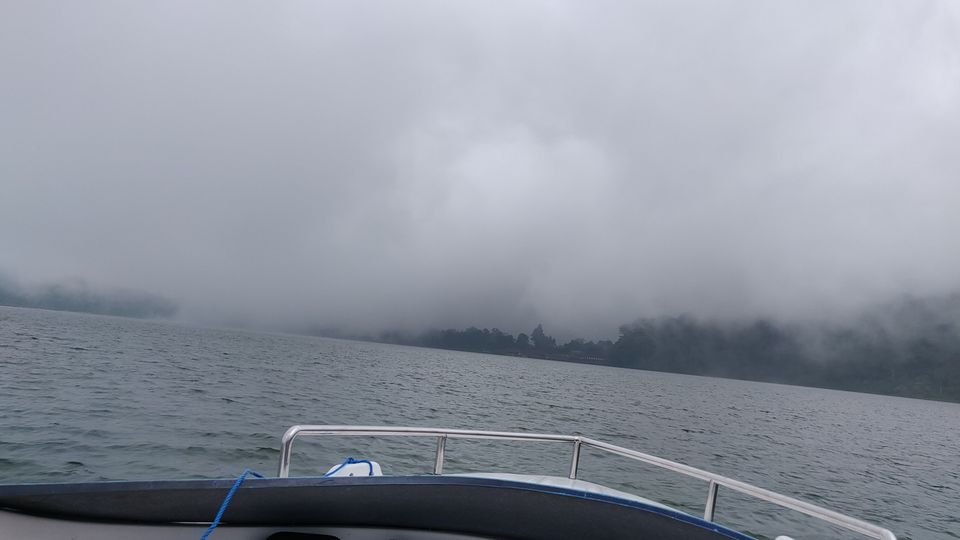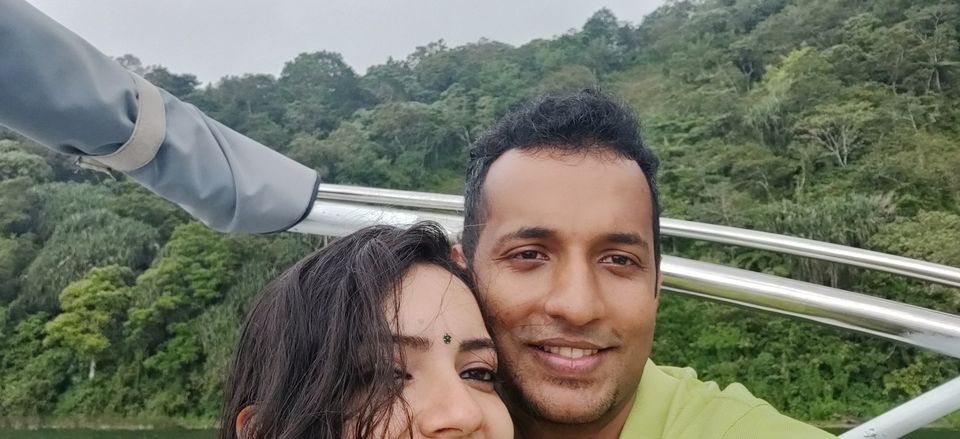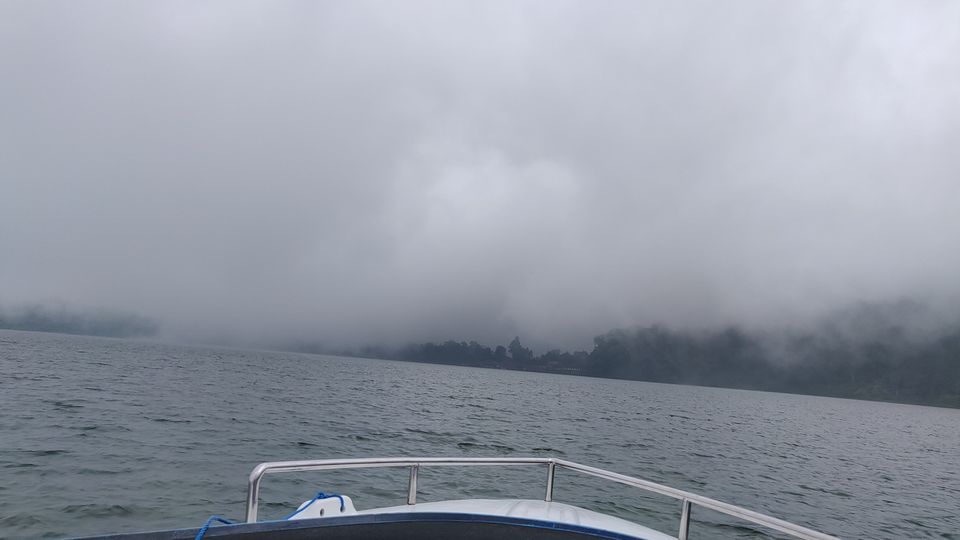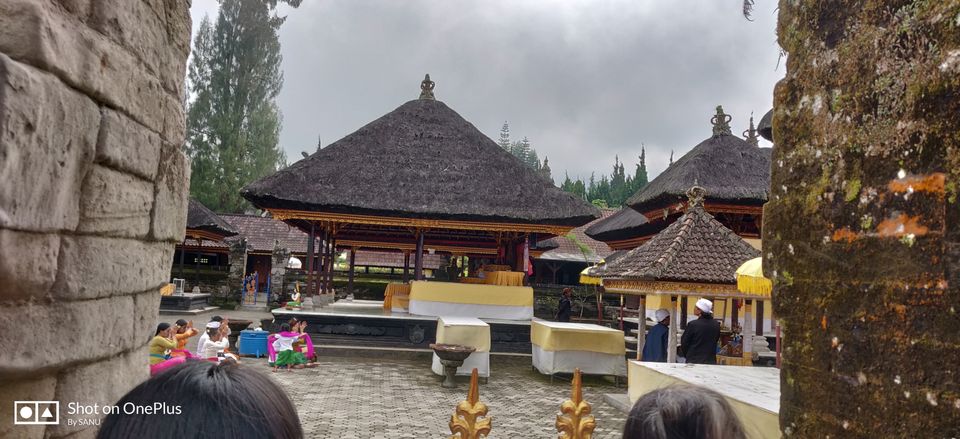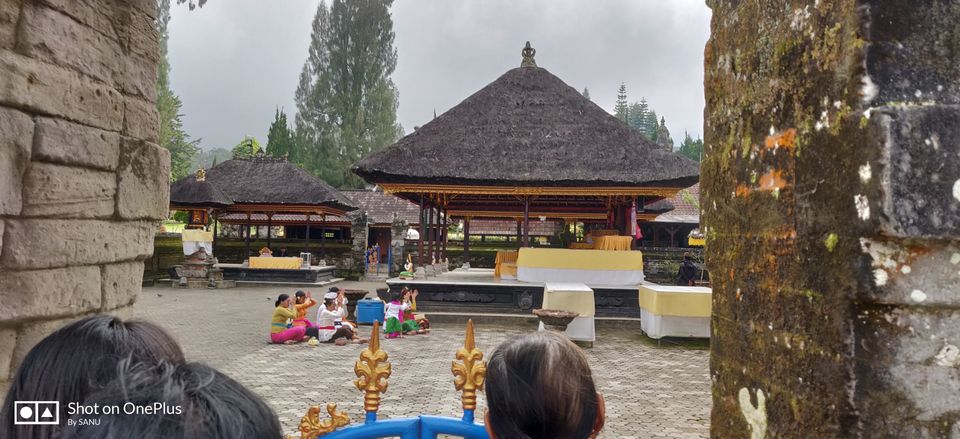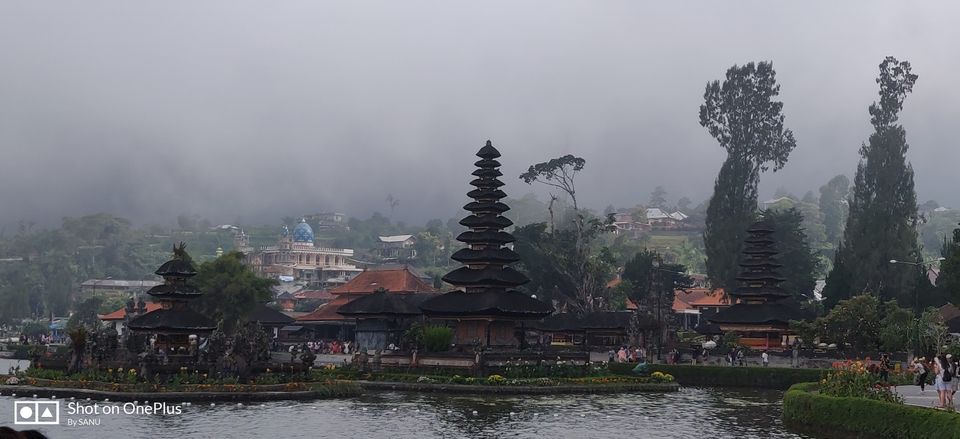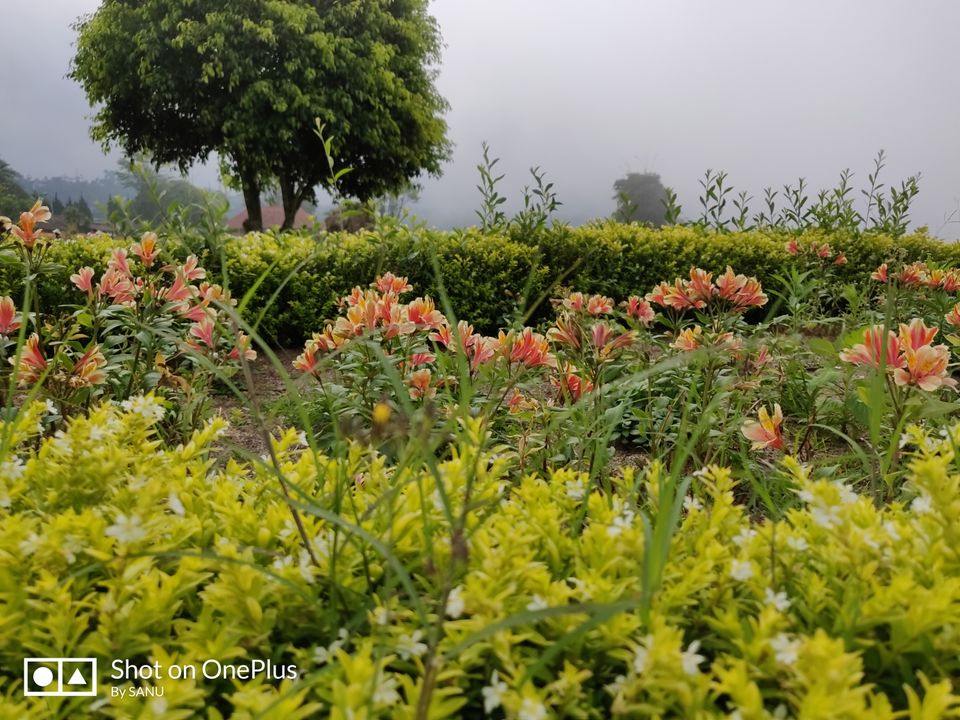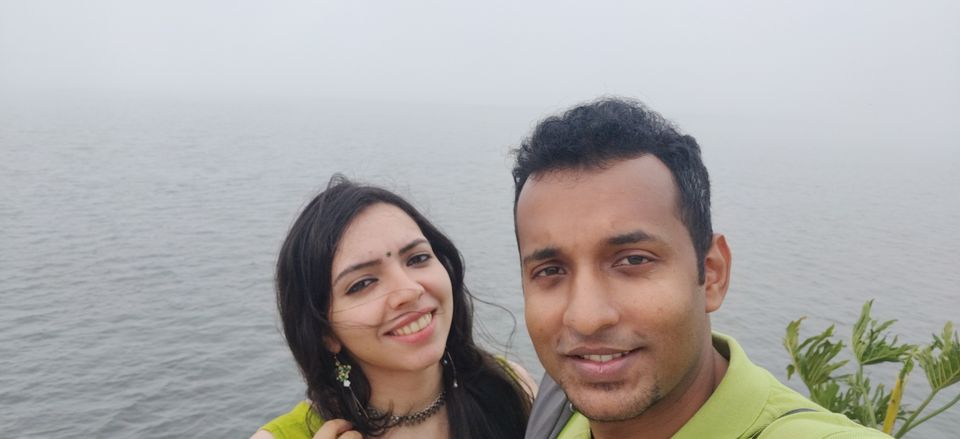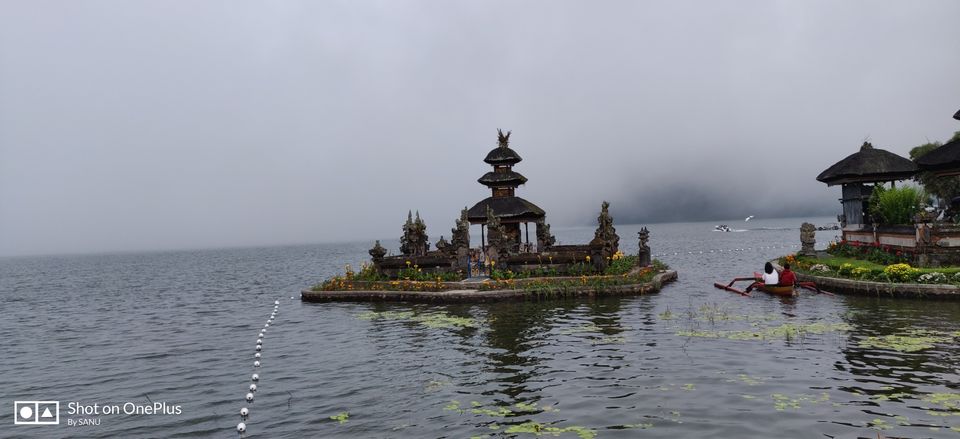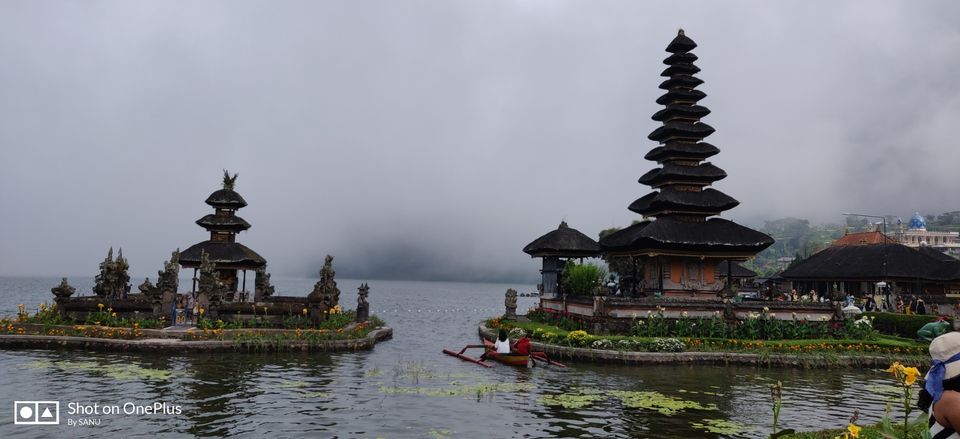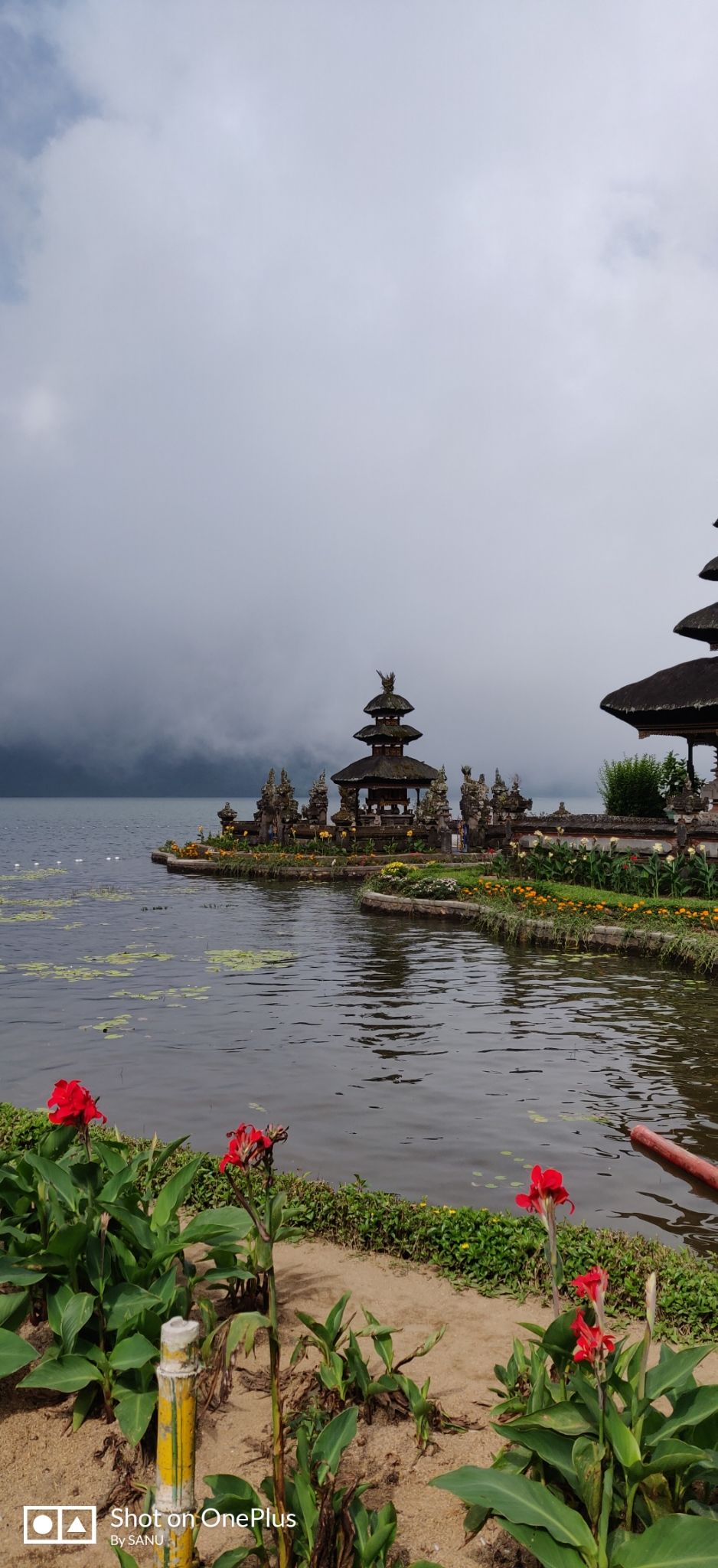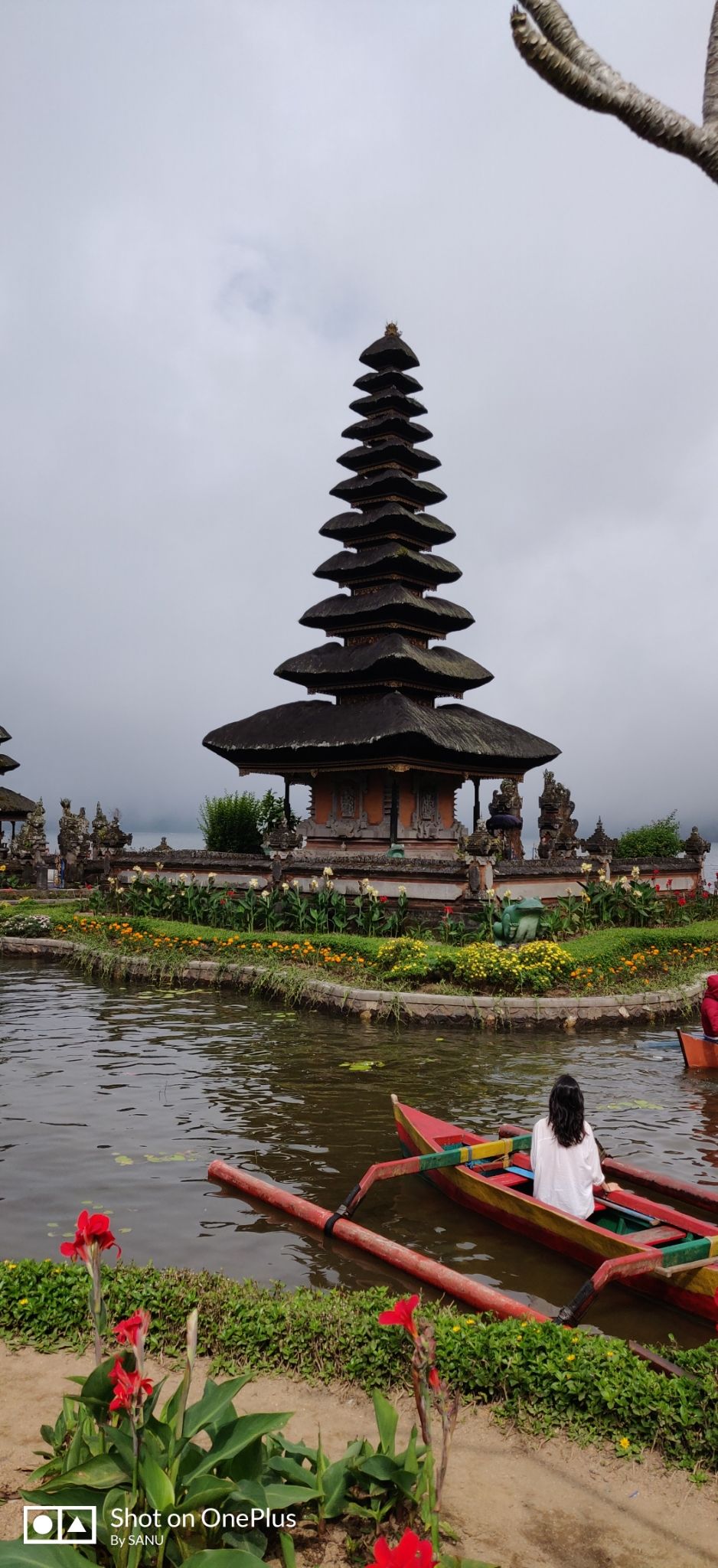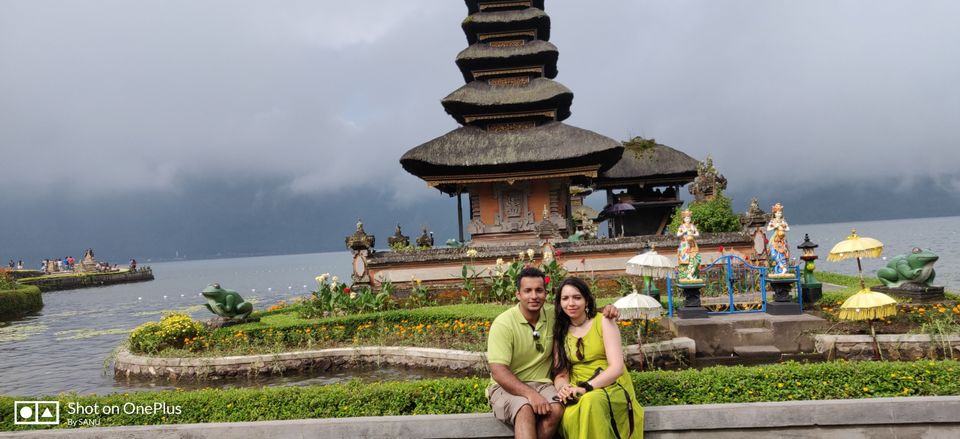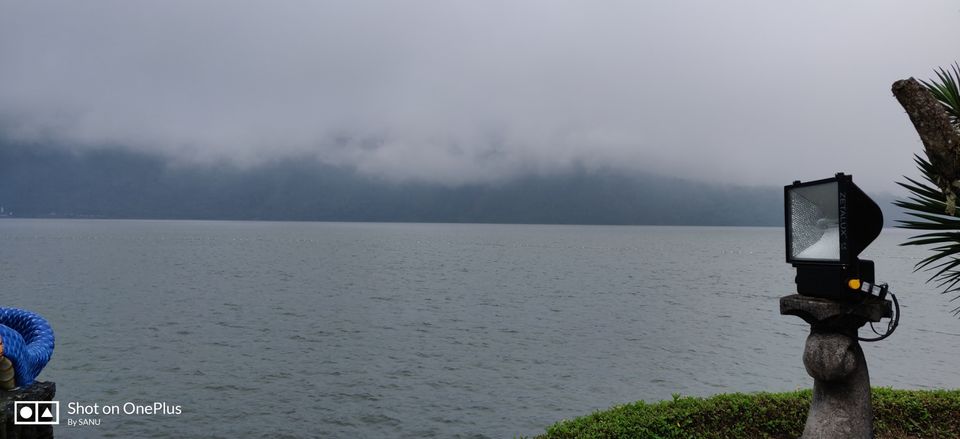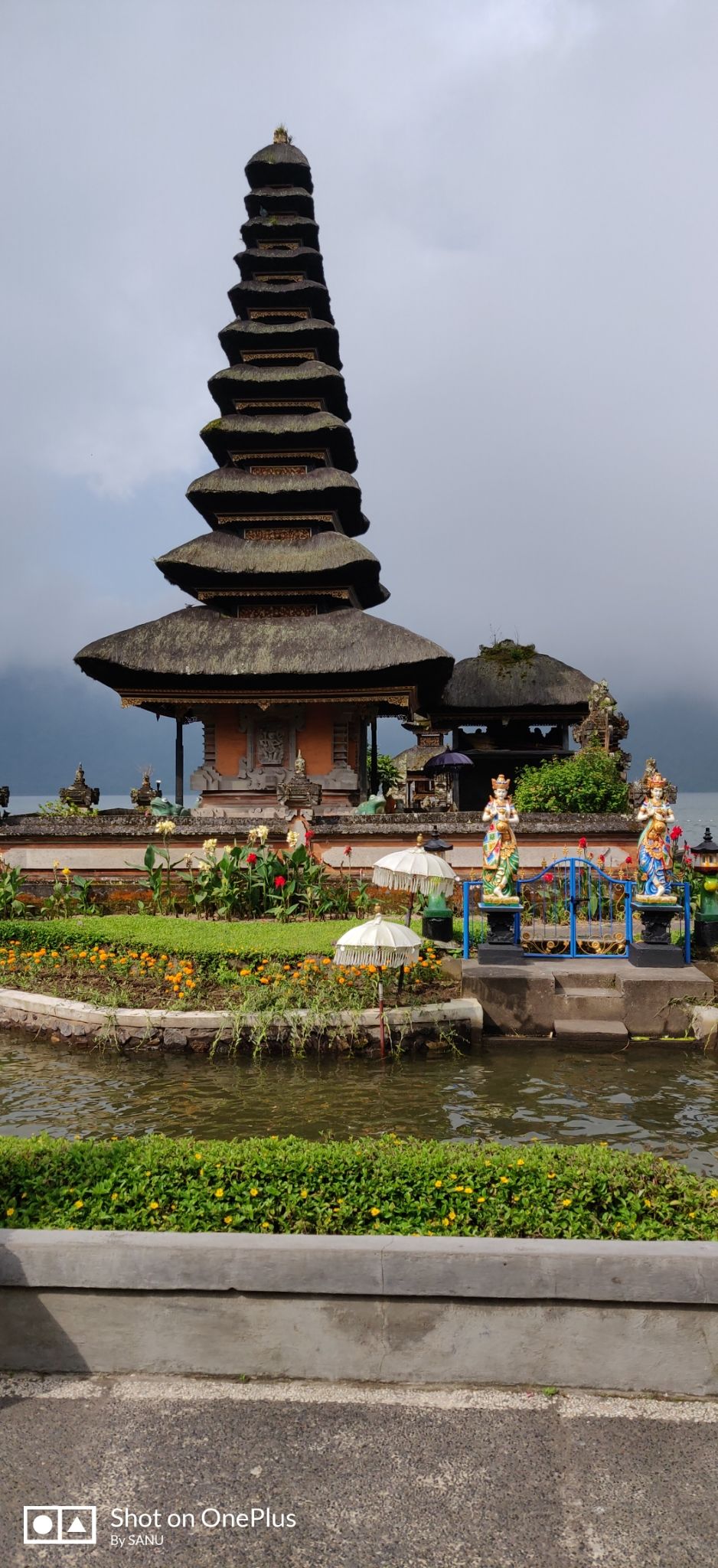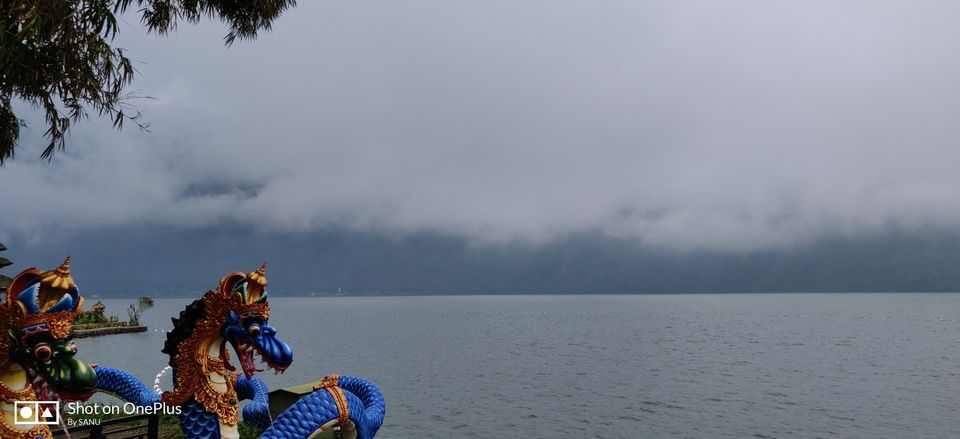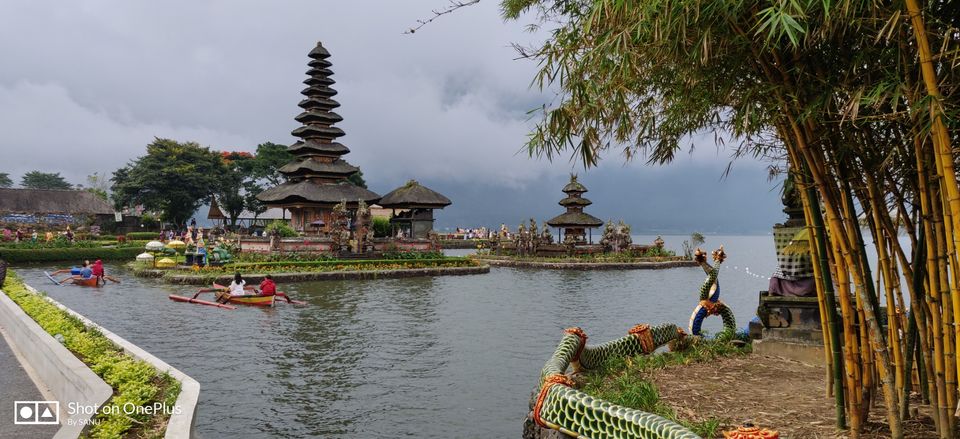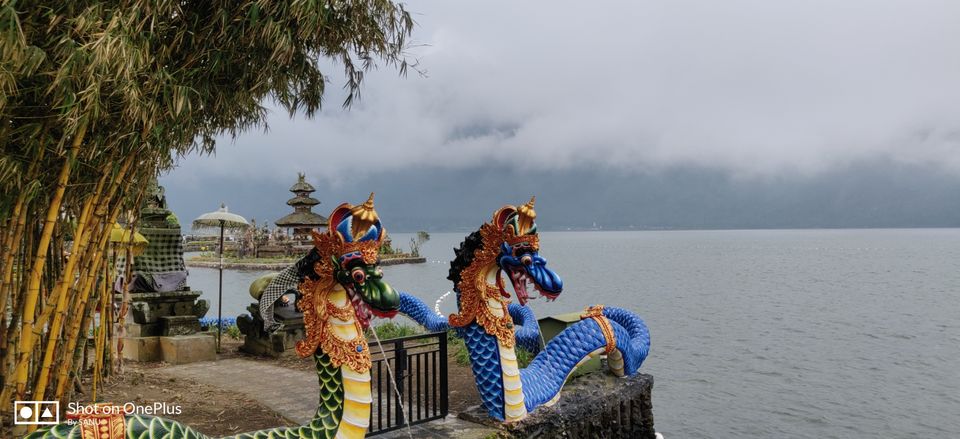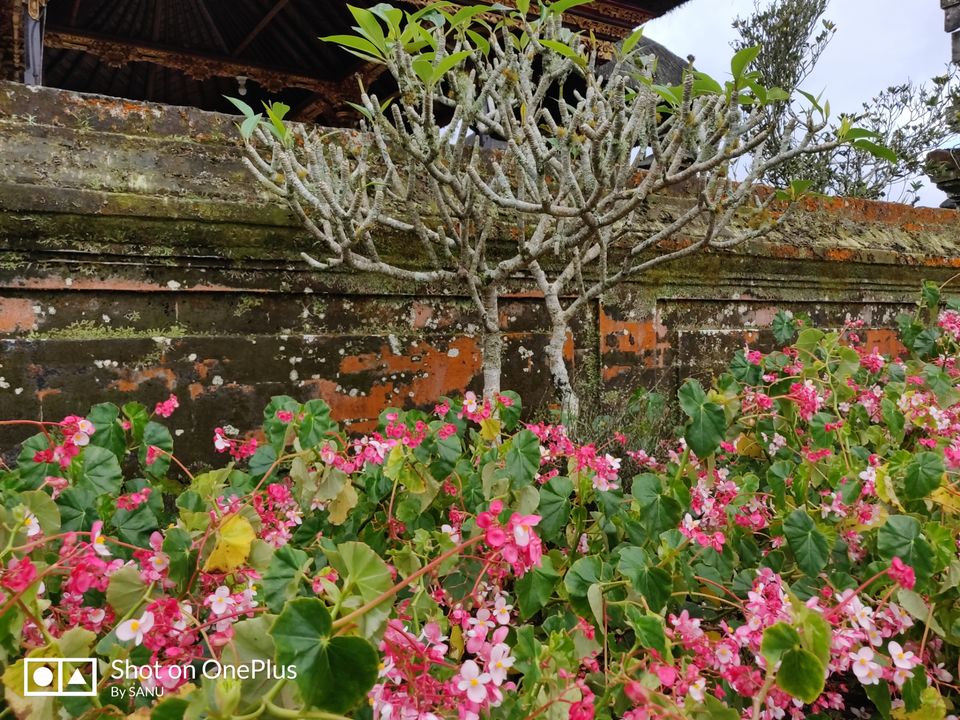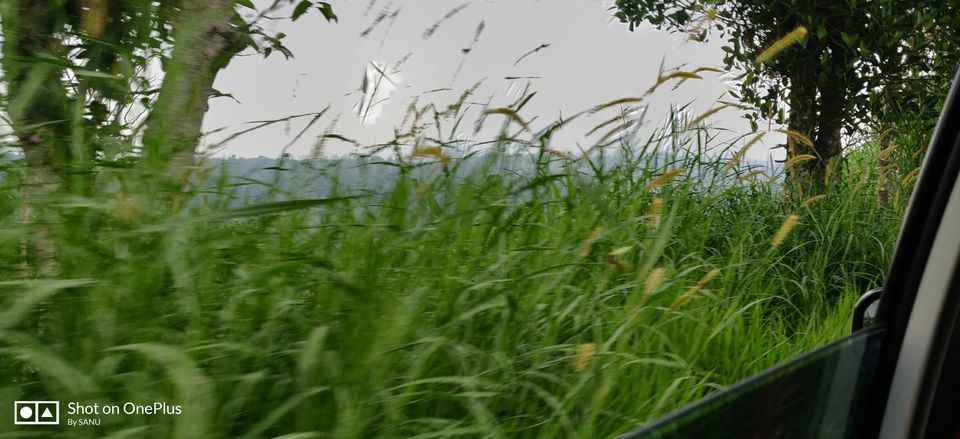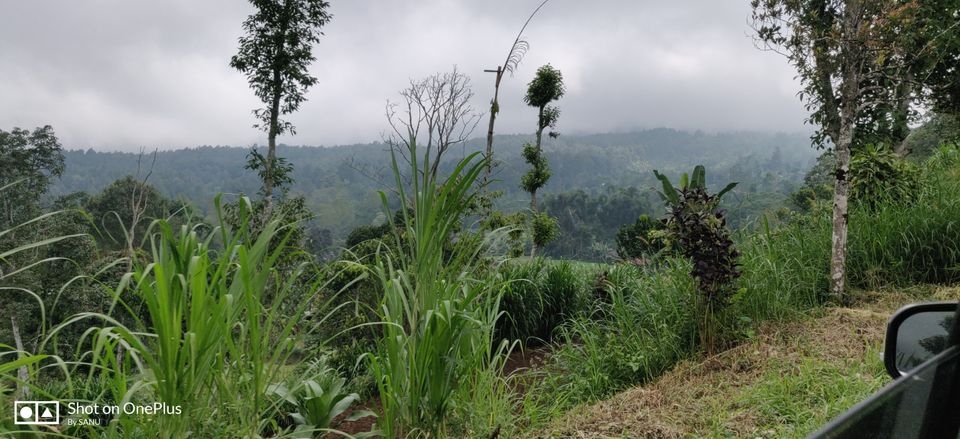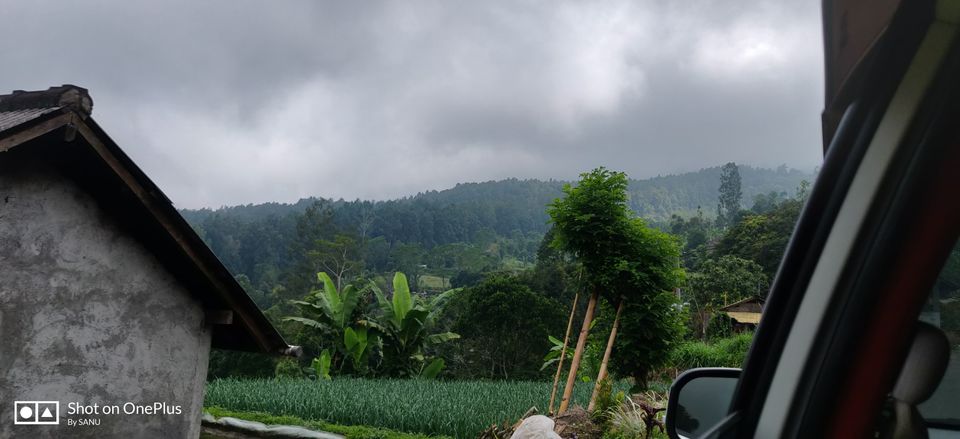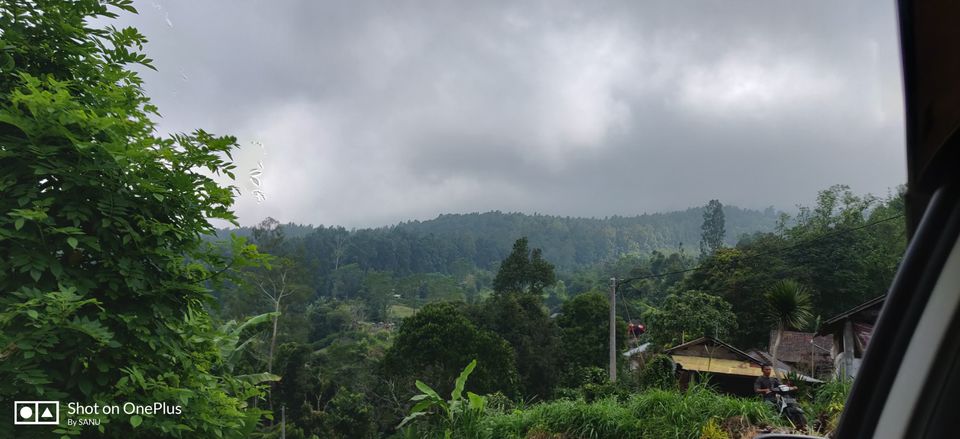 Tanal lot temple:This was the last stop of the day. Tanah means land, lot means sea, simply say land on sea. There is a cave with a magical spring underneath the temple. The water was fresh even thought he temple is surrounded by salt water. We need to cross 50 MTR sea during low tide. Tourists are not allowed to enter inside the temple. The view was breath taking.
Tanah lot is famous for the sun set and the fire dance. Best time to visit is before sunset by 5 pm.Sunset view is mesmerizing and there will be fire dance that is optional to watch. Rows of shops are there for tourists, where we can buy souvenirs, dress, drinks, food. Beware of drinking tender coconut water. Expect a minimum of one litre of water in one coconut. Sounds of the waves is music to the ears. After enjoying the day throughout realising it was really a worthy day we headed back to the hotel being excited on thinking about next days trip.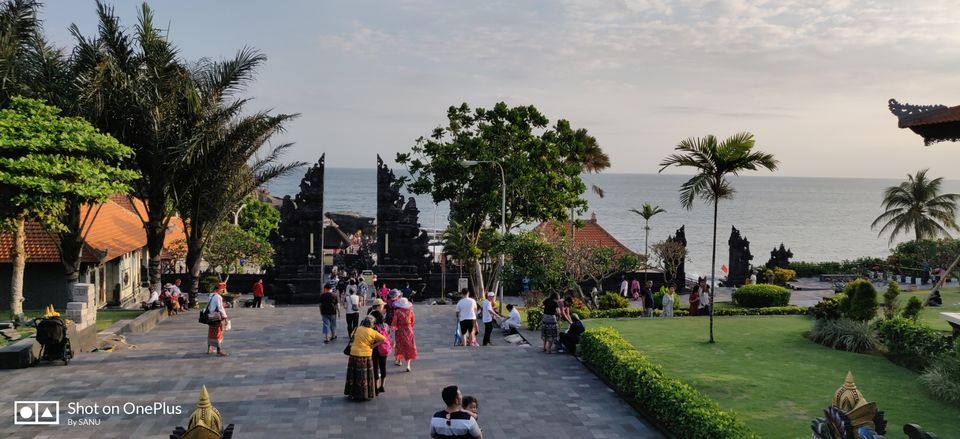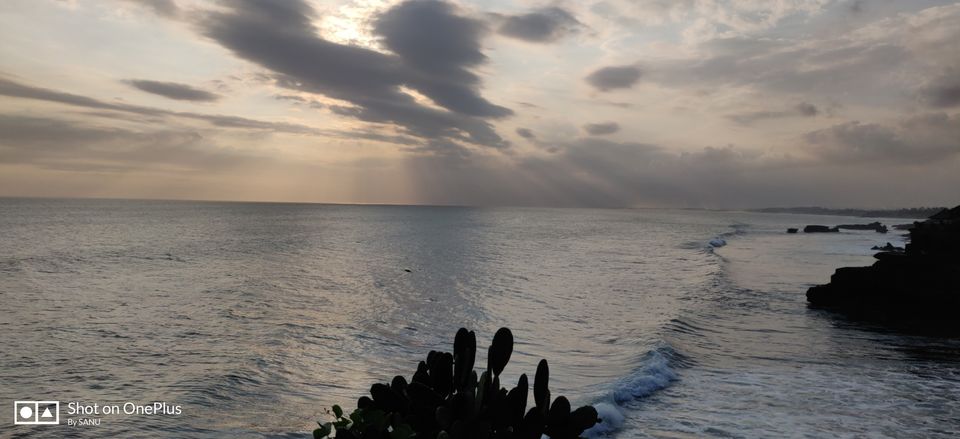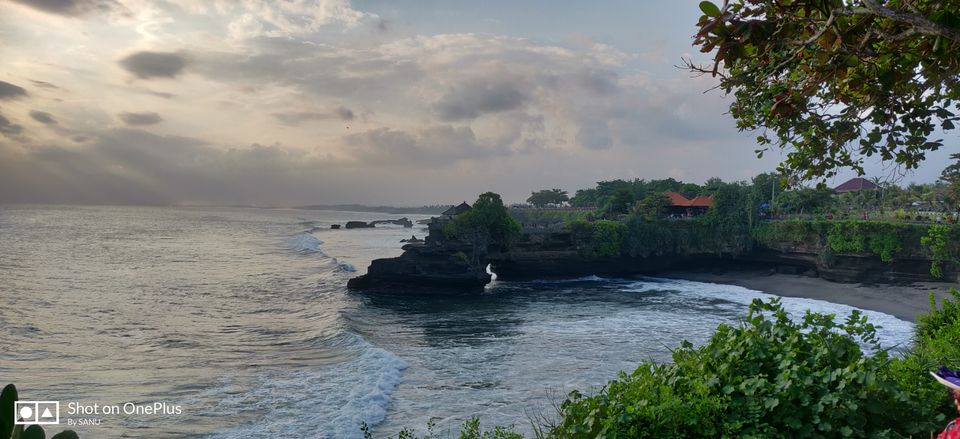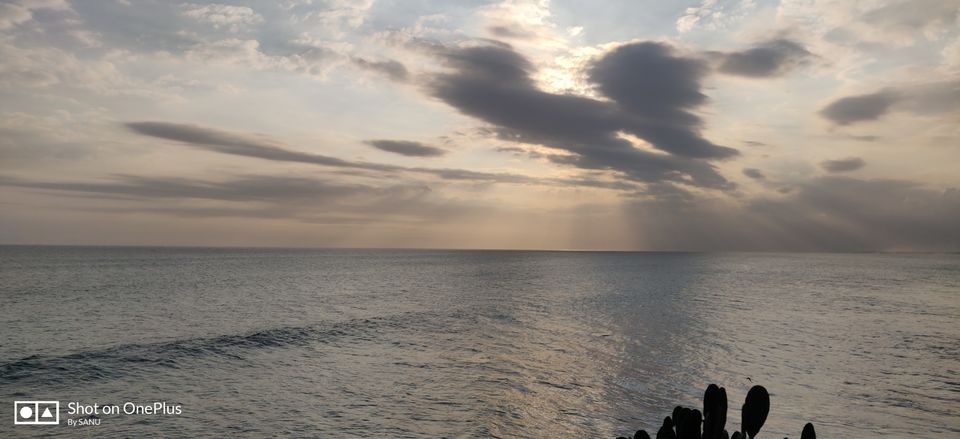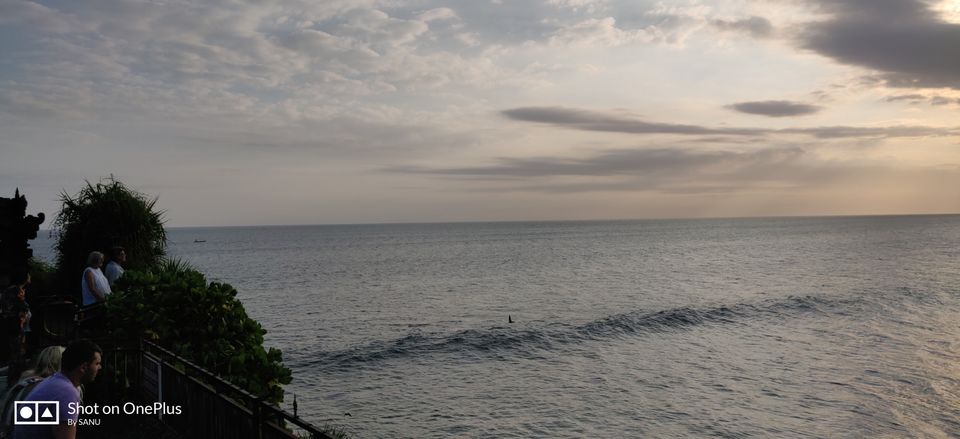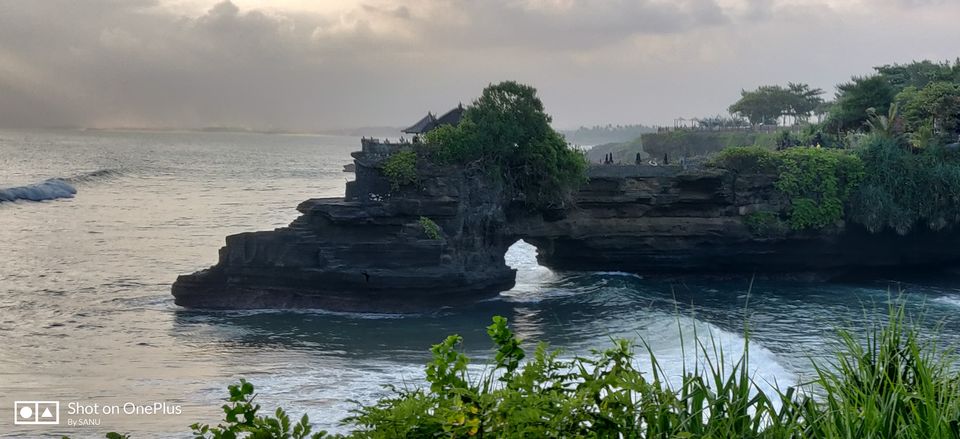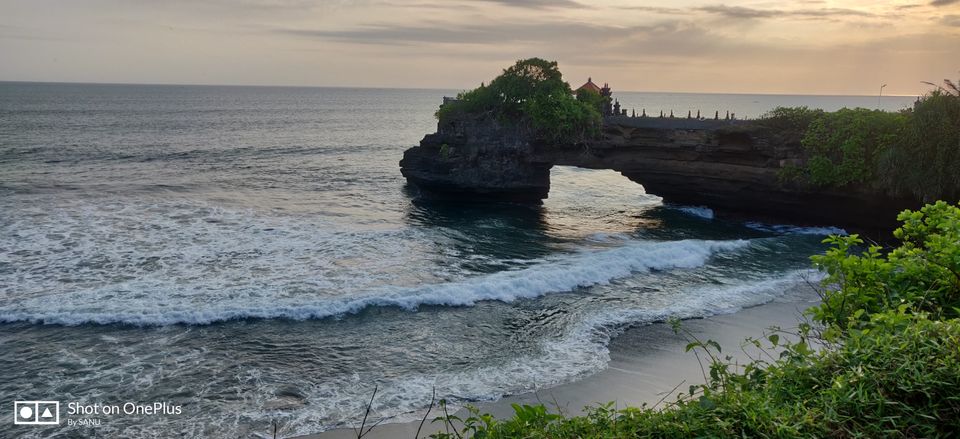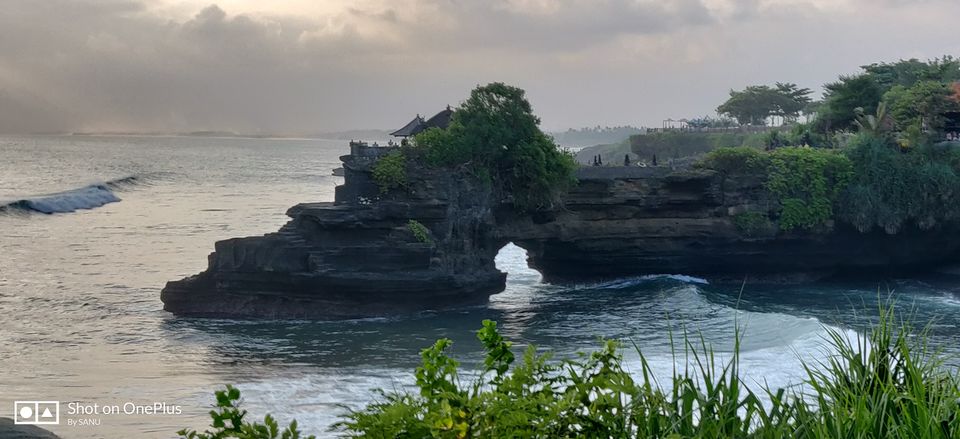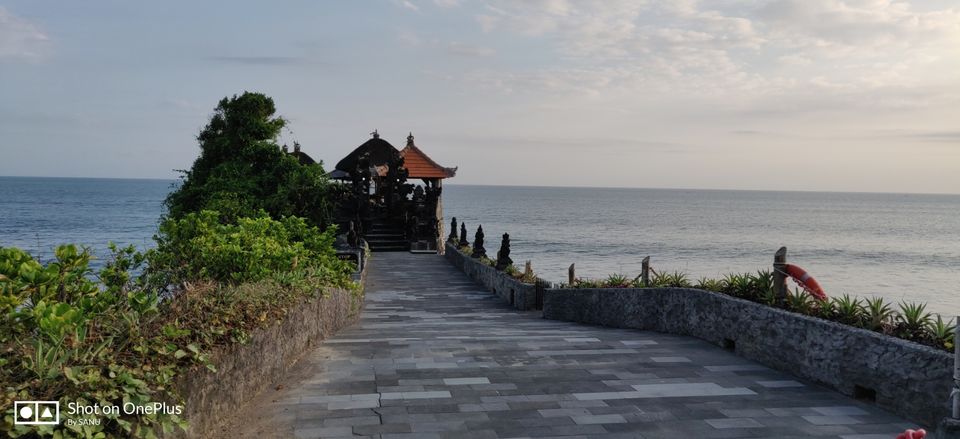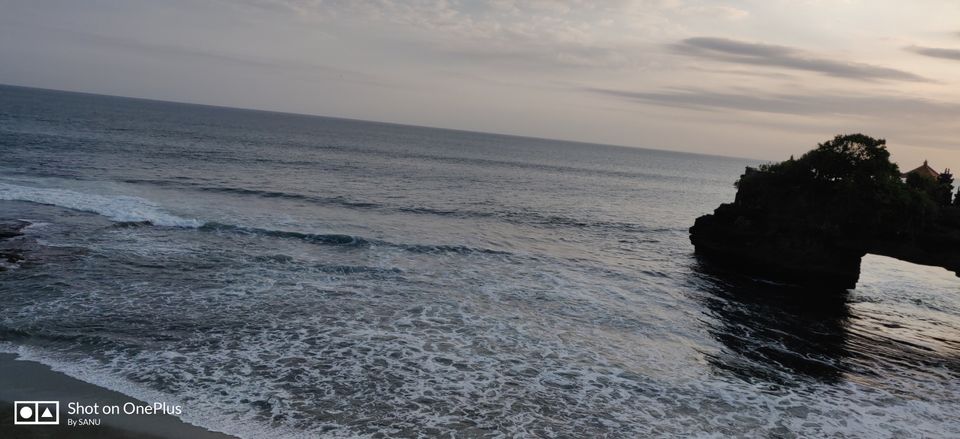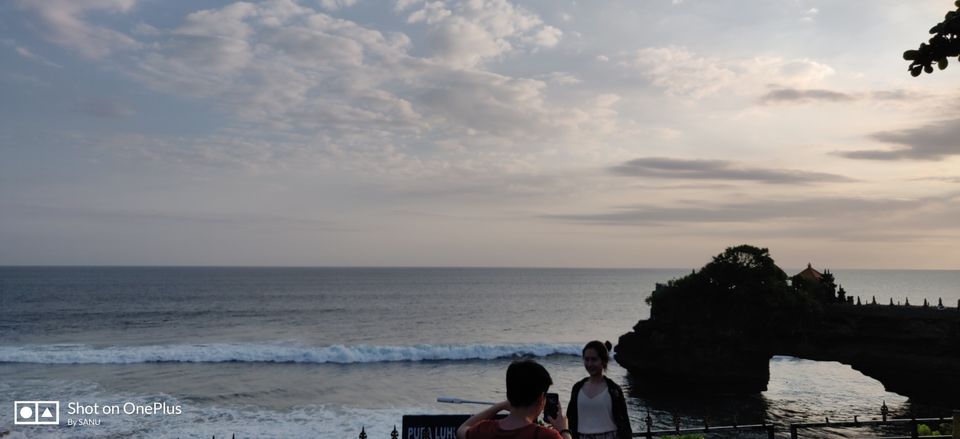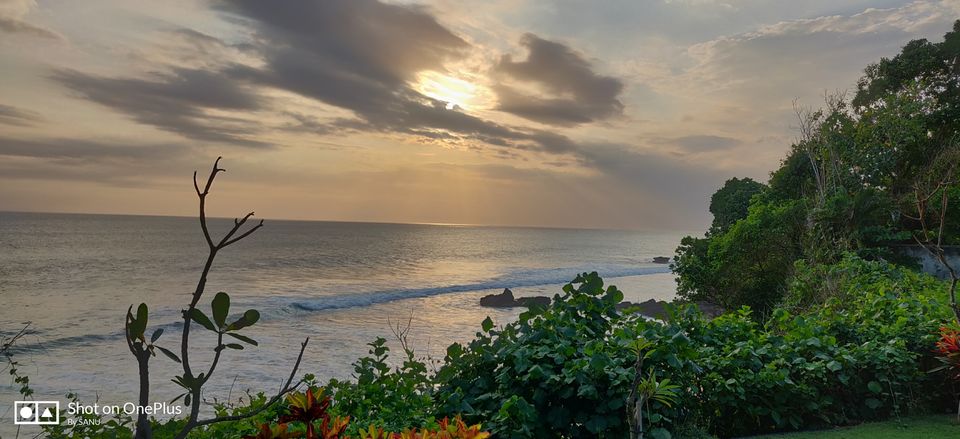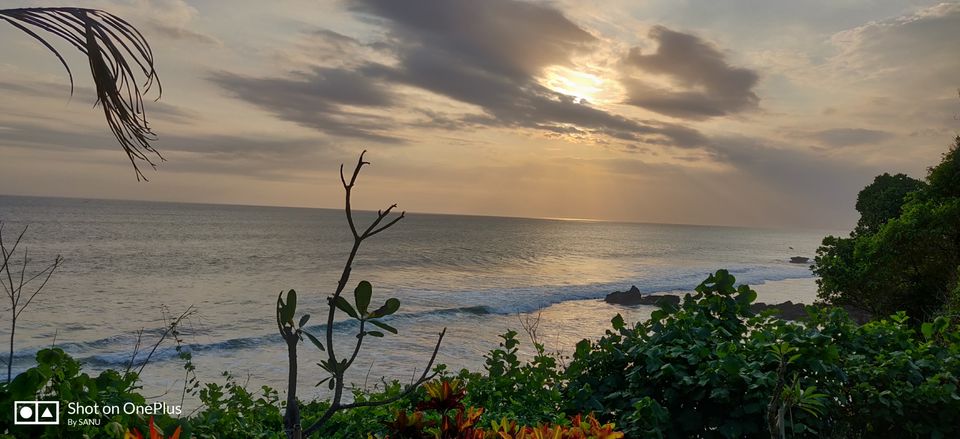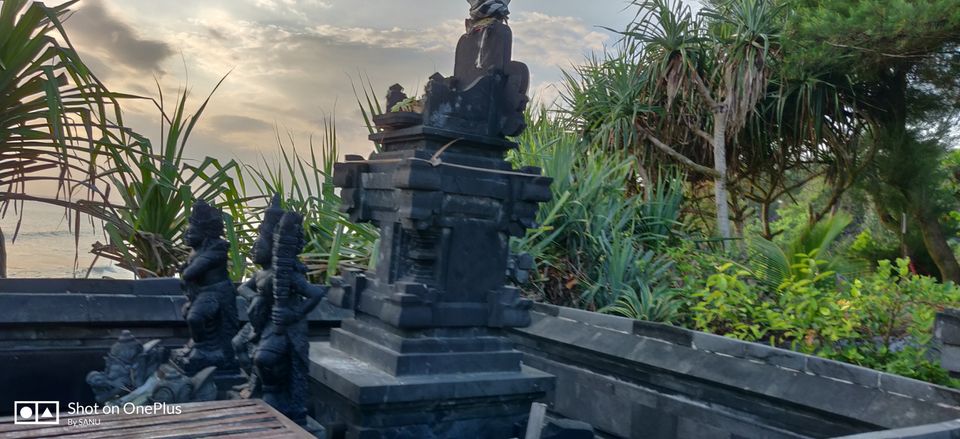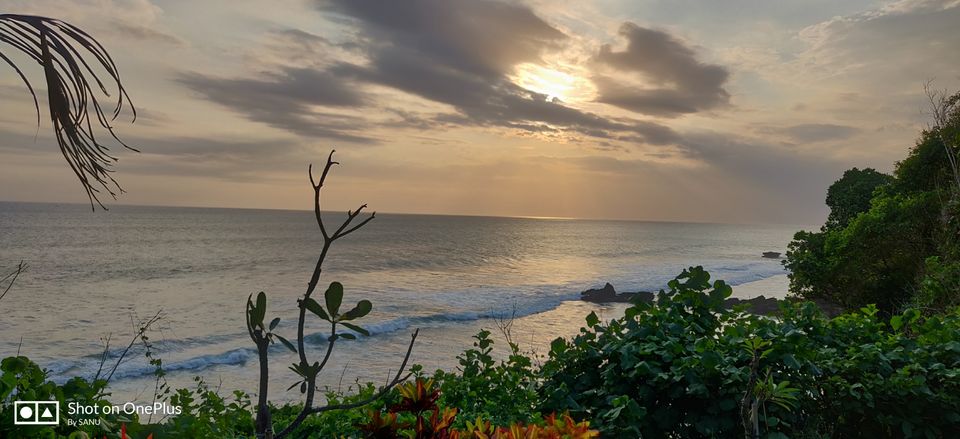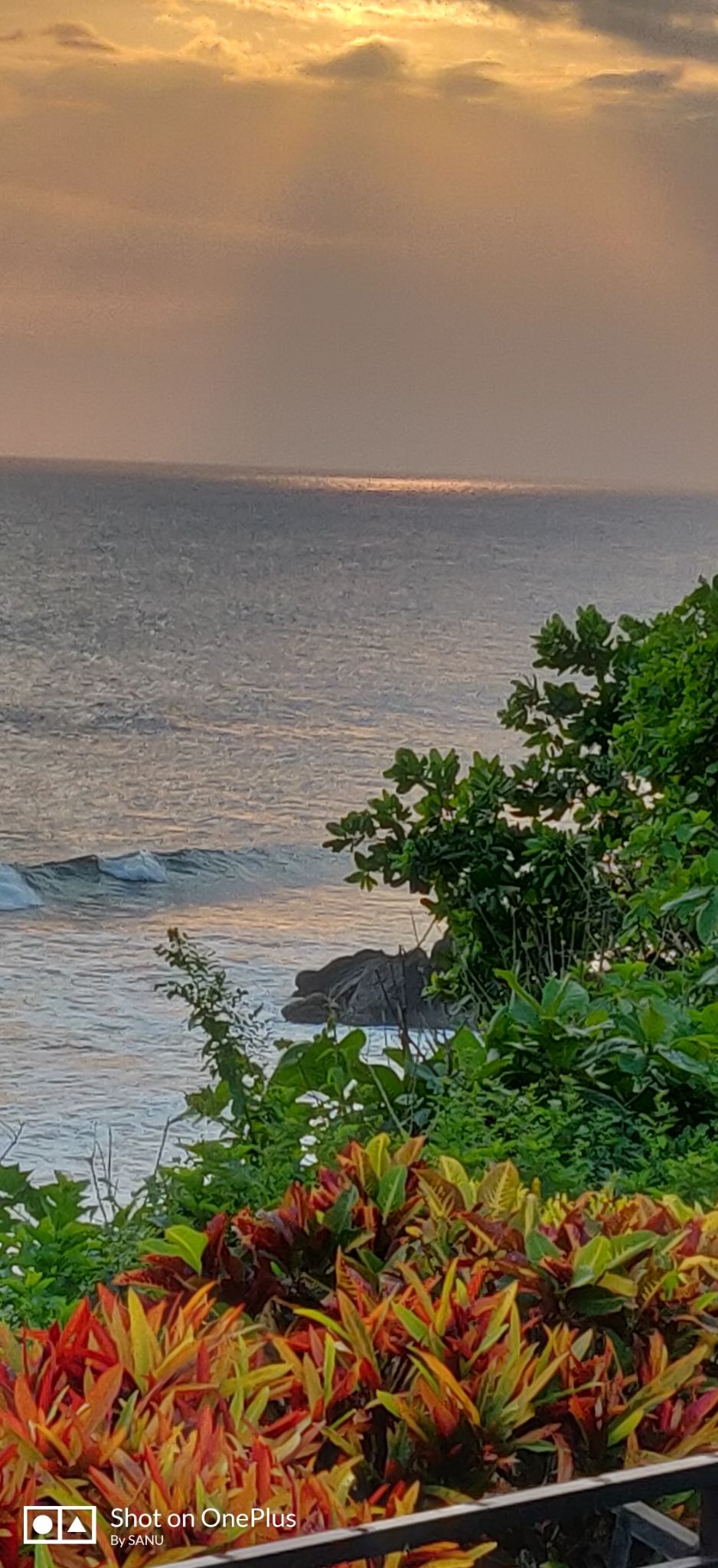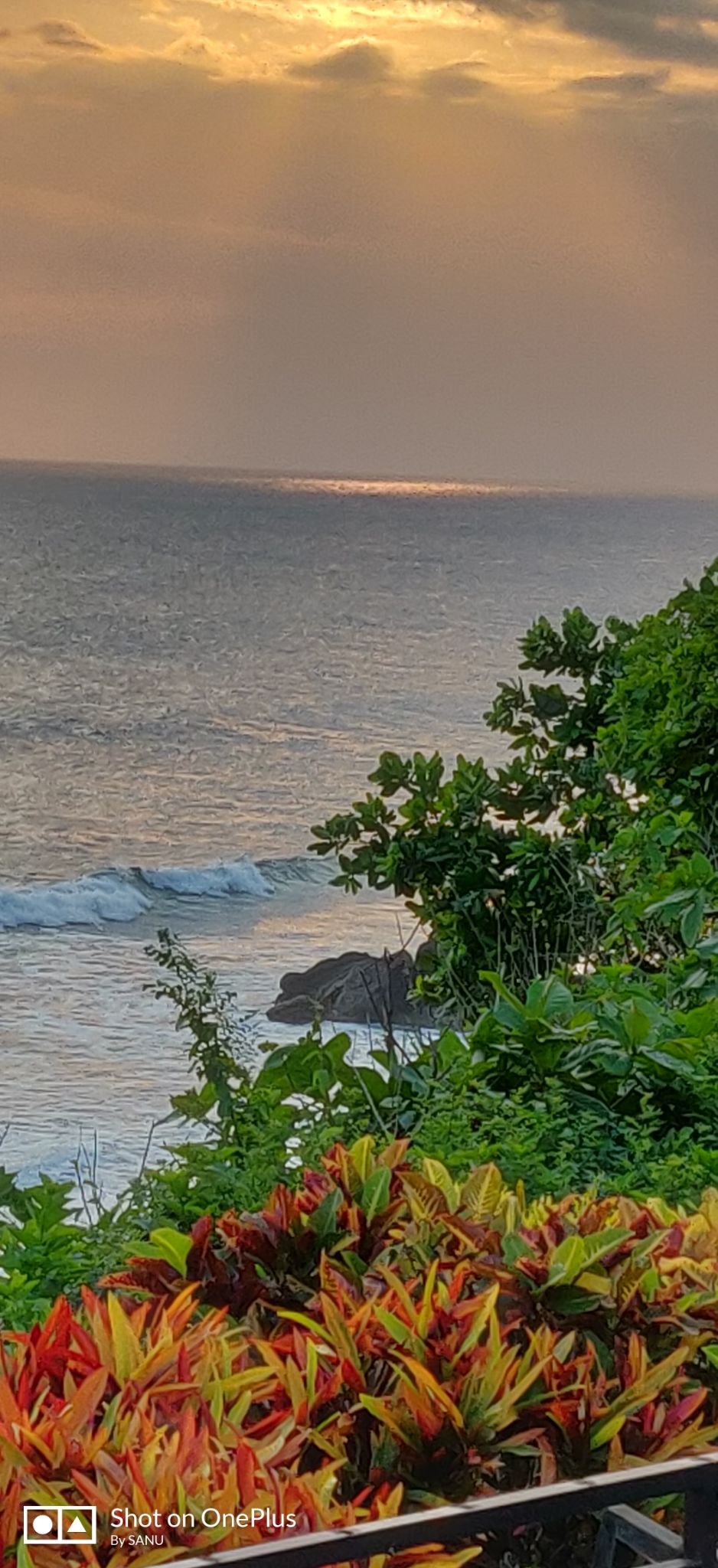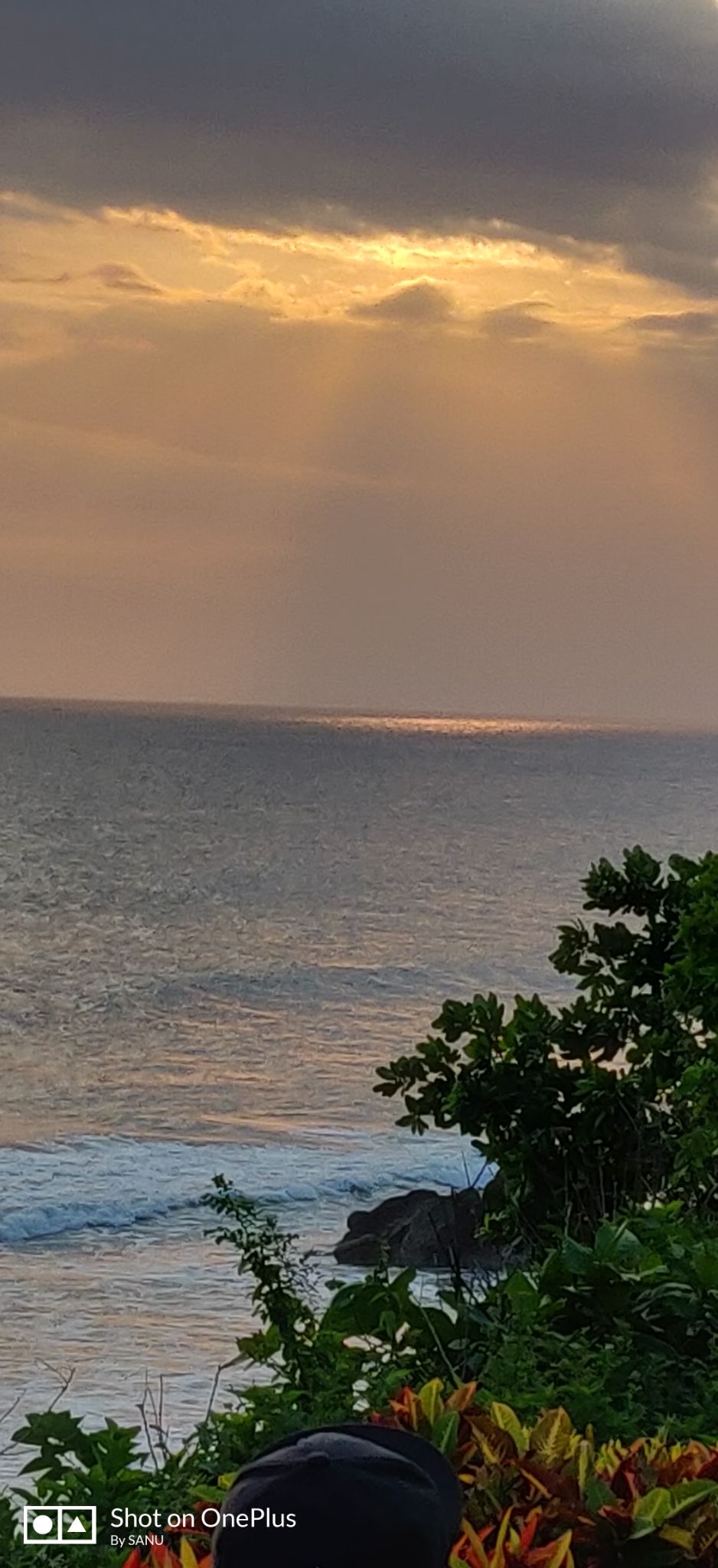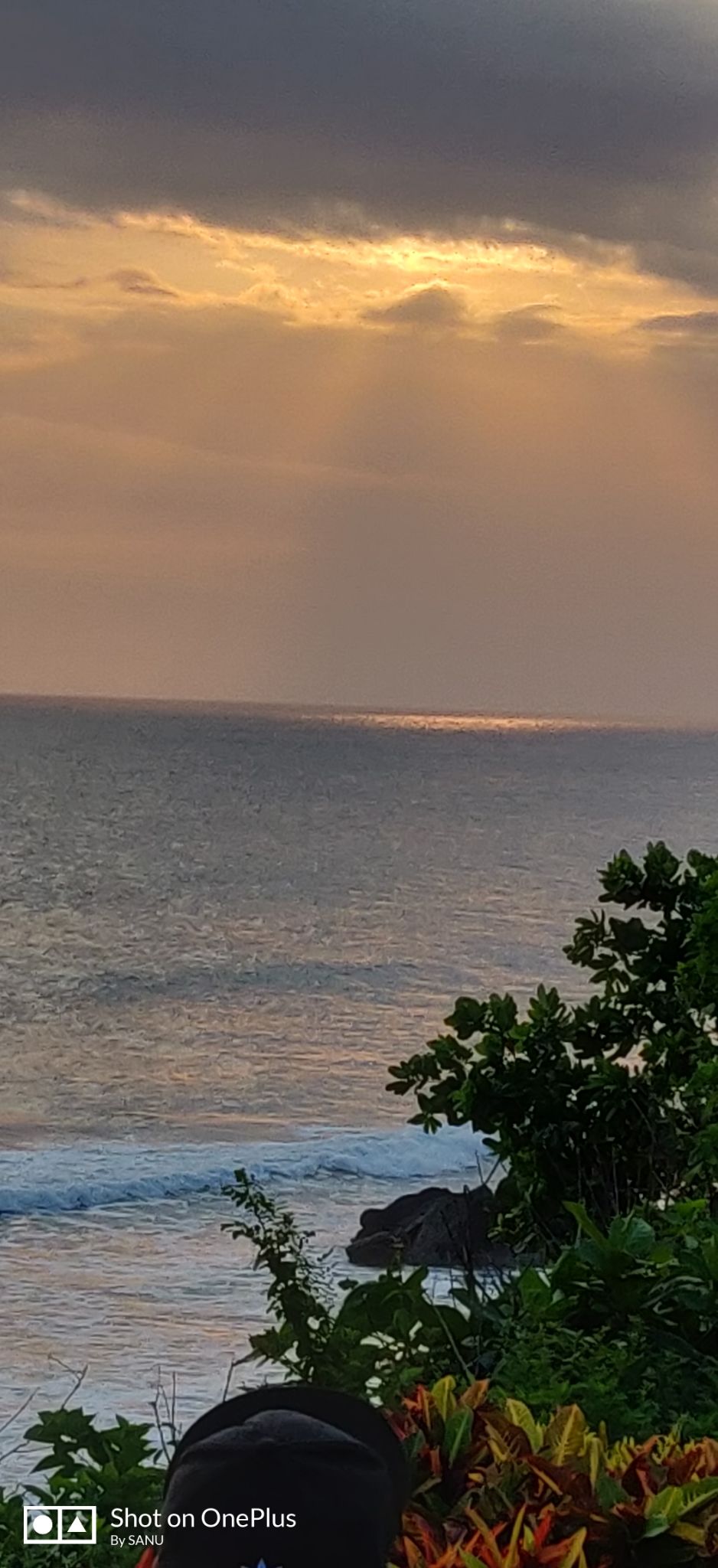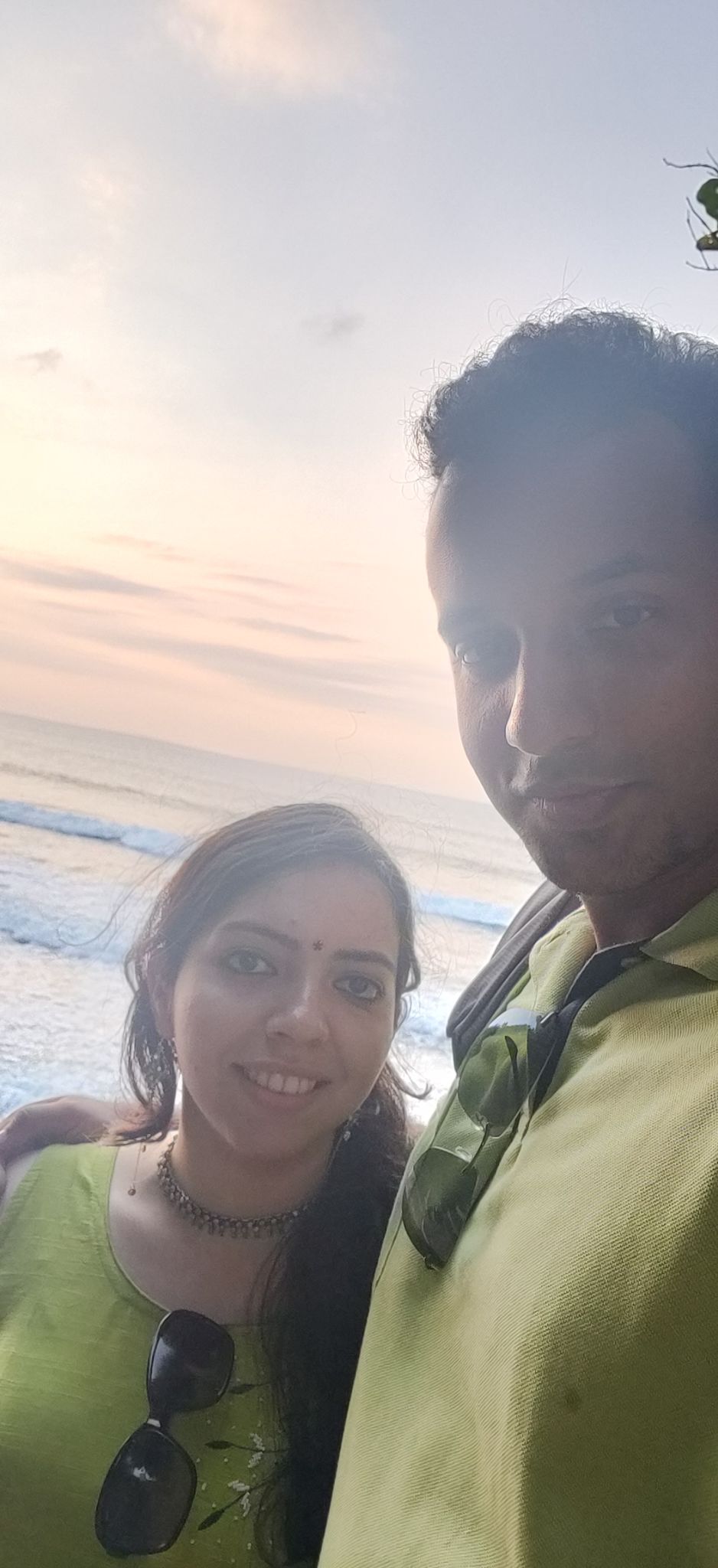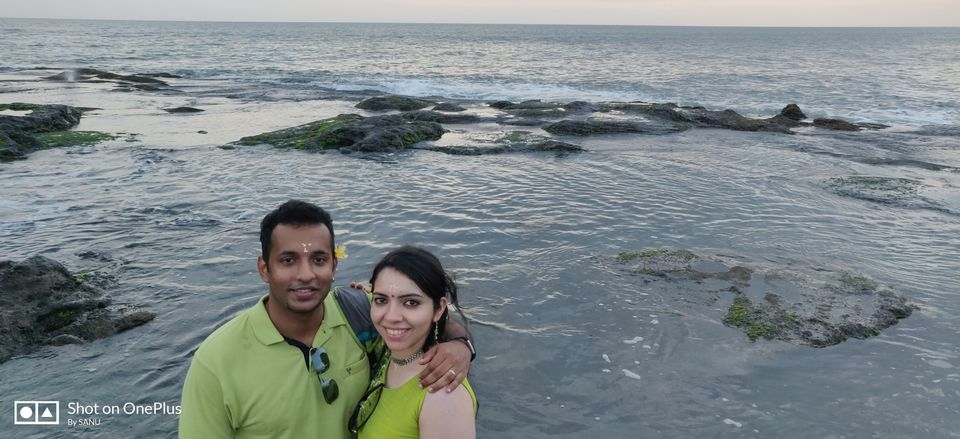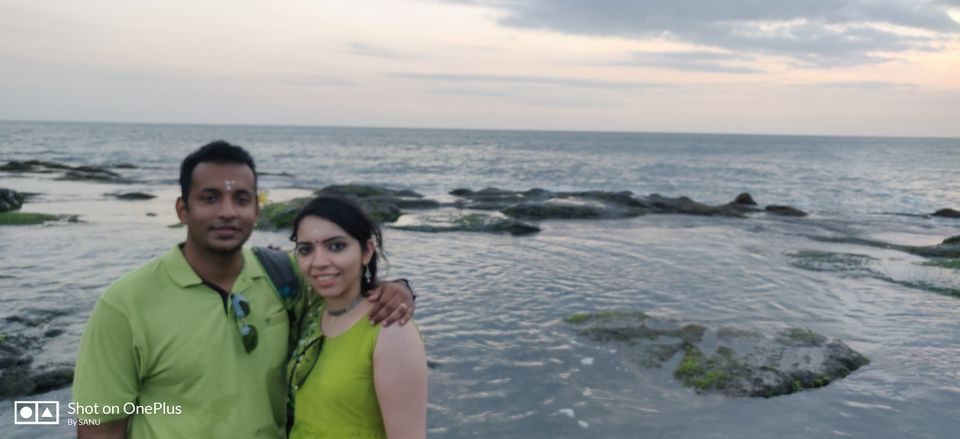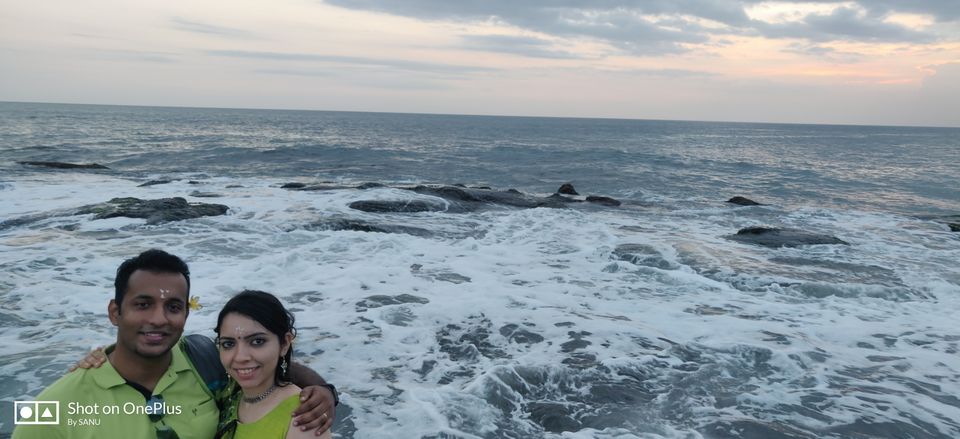 By 7 Mr. wayan was waiting for us at the lobby. We headed to Nusa dua harbour lot of cruise company outlets are available who perform cruise operations to nusa penida. Daily and return. Mr. Wayan took us to the concerned cruise ship office, our name was registered on the register they issued us a badge and tickets and instructed that our boat will depart by 8.30 am.
Note: those who are planning to visit nusa penida, better to go for two days and stay in a hotel as there is lots to explore. You can rent car, bikes also.
Either your guide can arrange boat ticket and reserve hotel room for you or you can go to sanur beach harbour and you can book and collect tickets for boat journey or it can be booked via online.Hotel rooms can also be booked likewise..Our boat had arrived by 8.30 and we started the ride. It took us 45 minutes to reach nusa penida from sanur .
Nusa penida is a little gem in Bali, penida island is a part of nusa island, it is the biggest of the three b ut least developed. There one can expect white sand beach with silky bluer water. It is highly recommended to visit there if visiting bali.
1. Broken beach :-
is a spectacular shaped location. A 150 meter walk from brocken beach is to a natural infinity pool. Where you can dip on and enjoy the cleanest water. But during our visist it was restricted to go to water due to some security reason. Angels billabong and brocken beach are at same location so as manta point another area where you can snorkel with manta rays.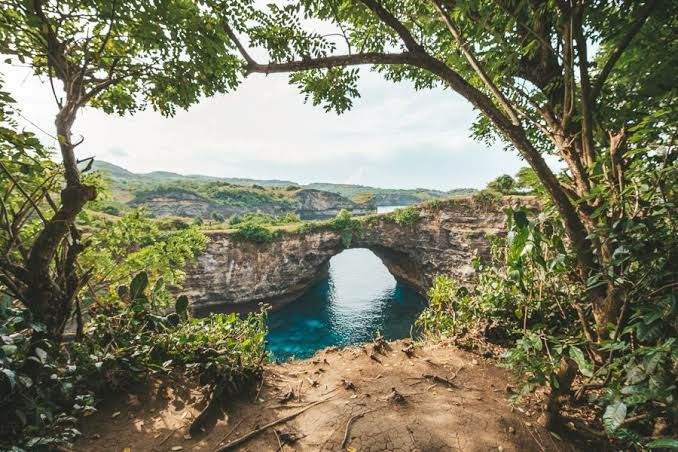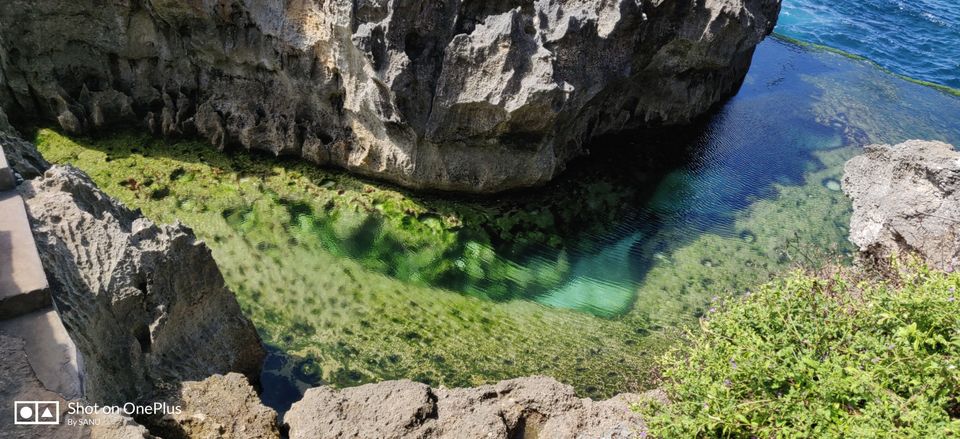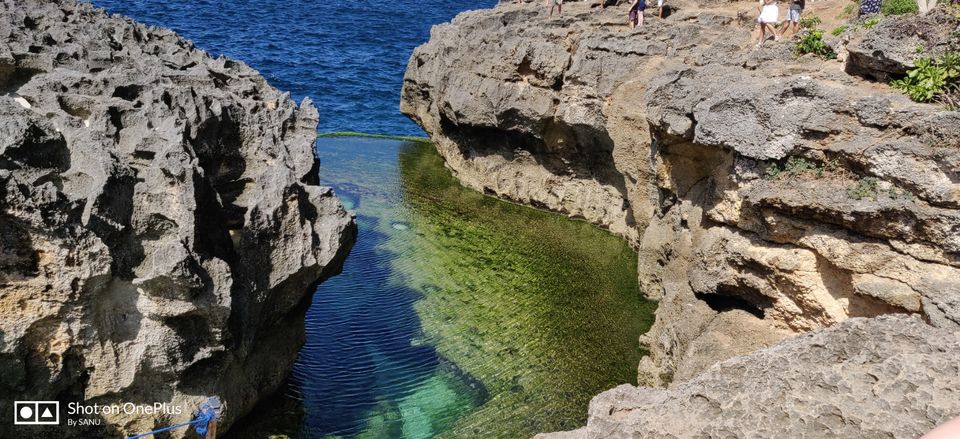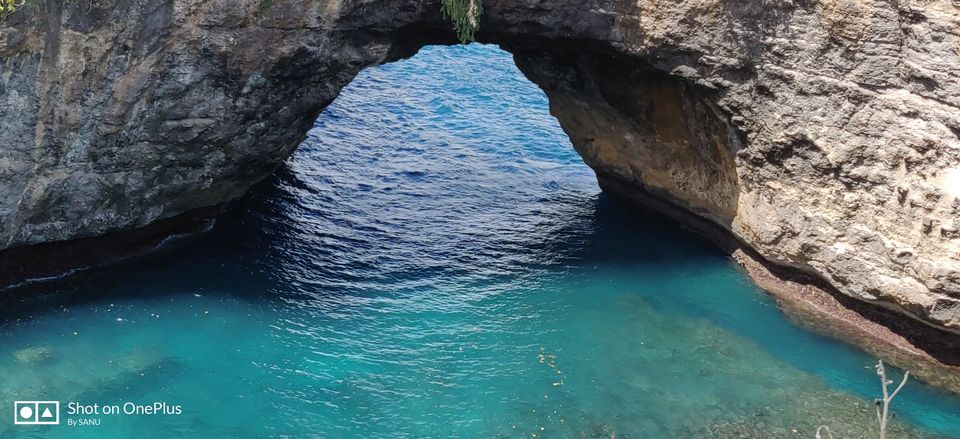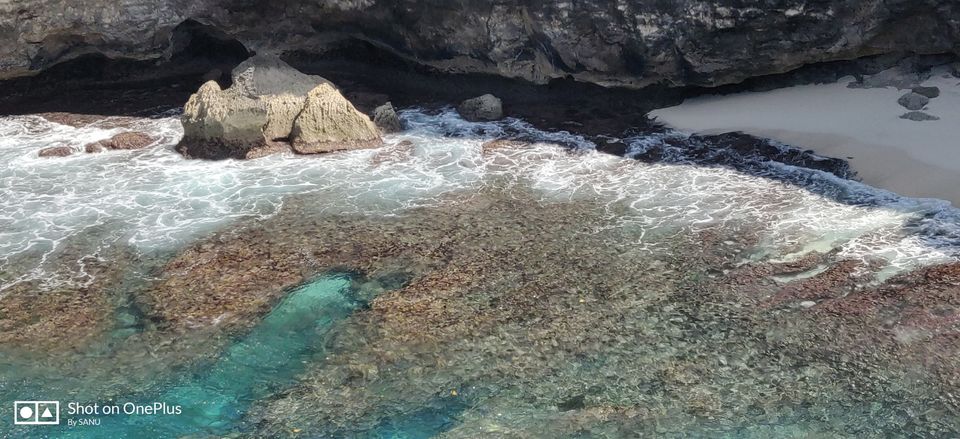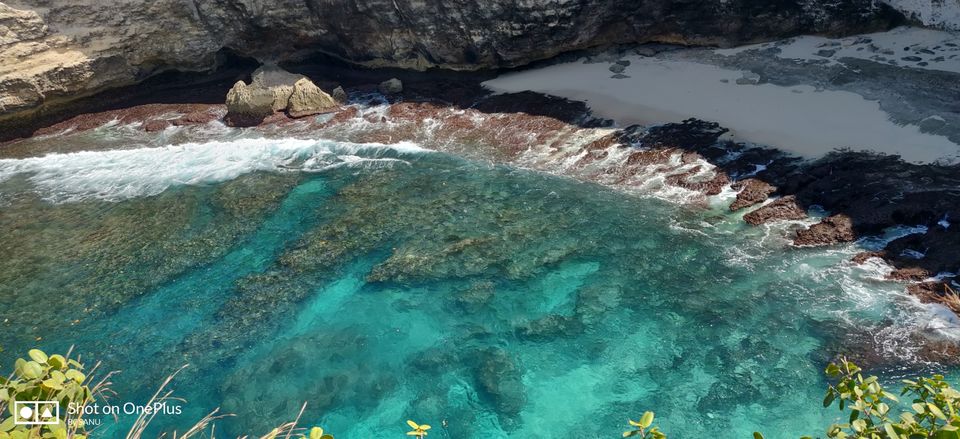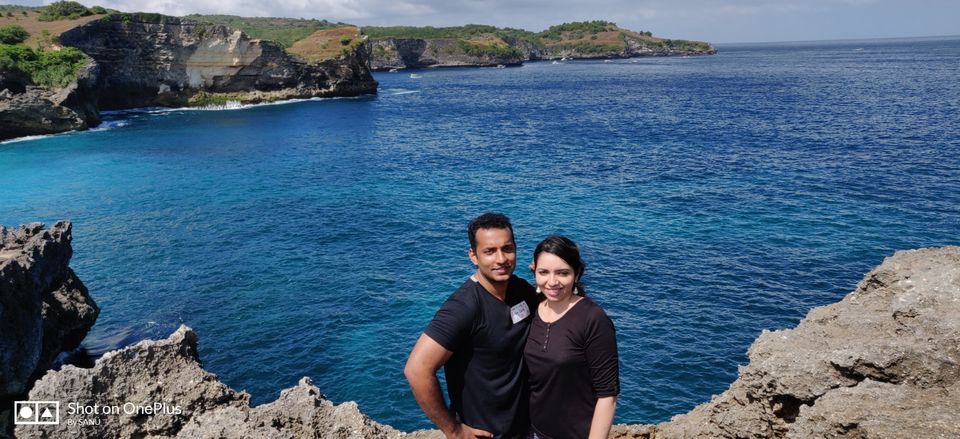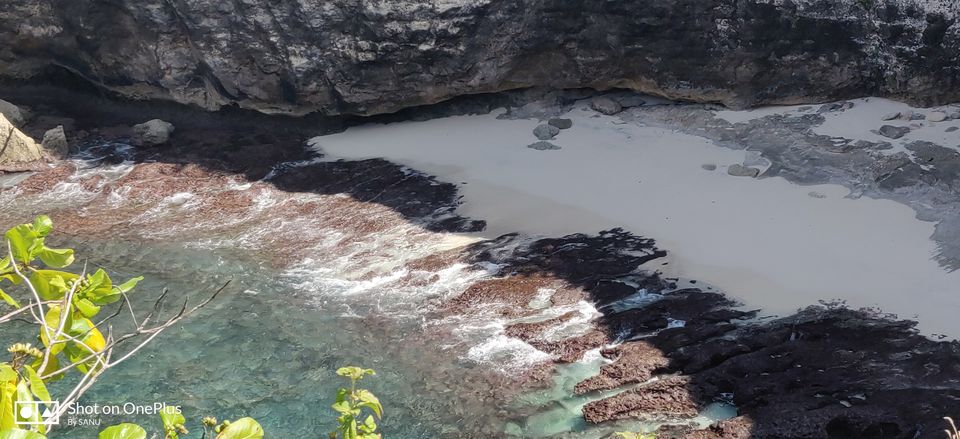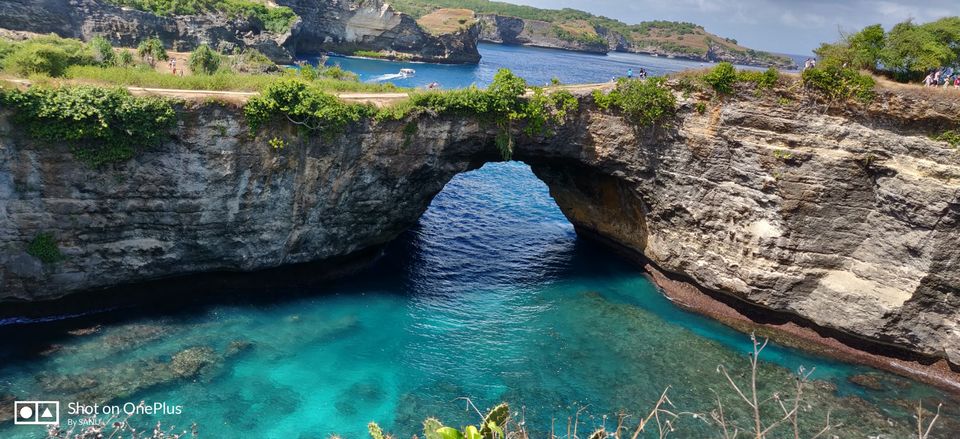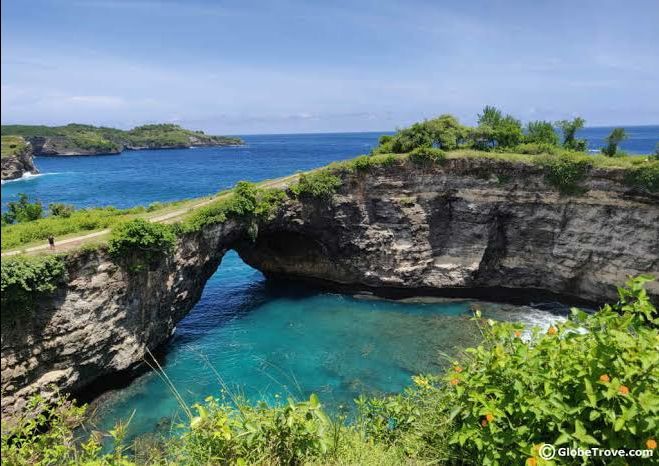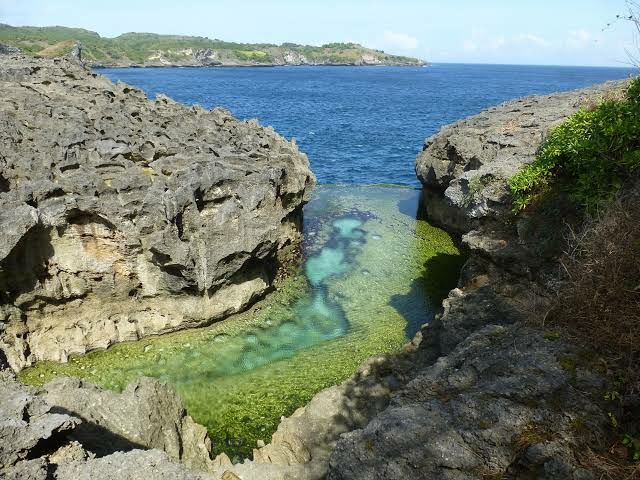 2. Kellingking beach –
It is a 100 % sure the most spectacular palce on nusa penida. White sand beach view from the top is incredible but be prepared to hike down to enjoy the beach. It's a 45 min hike down , incredibly steep path and it takes minimum one hour top get back on top. Kellingking view is one of the most famous. 200 MTR high drop down overlooking the head of a T rex and the beach is mind blowing as it is very easy to reach from bali we can expect good crowd but don't get disappointed, most visitors stay at top.
Tip: have a sports shoe when visiting kellingking beach.
If we click a picture from the top, many tourists may get caught in our pics but the more we go down the lesser the crowd will be. At the bottom point or at the beach we can really enjoy white sand beach and click as many picture as we want without any tourist caught up on our pic. Down there we can expect max of 10-15 people others wouldn't make it. Going down is not that easy so be ready for an adventurous hiking. First coming down is a super steep sand path with a bad wooden fence. If you feel uncomfortable just go half.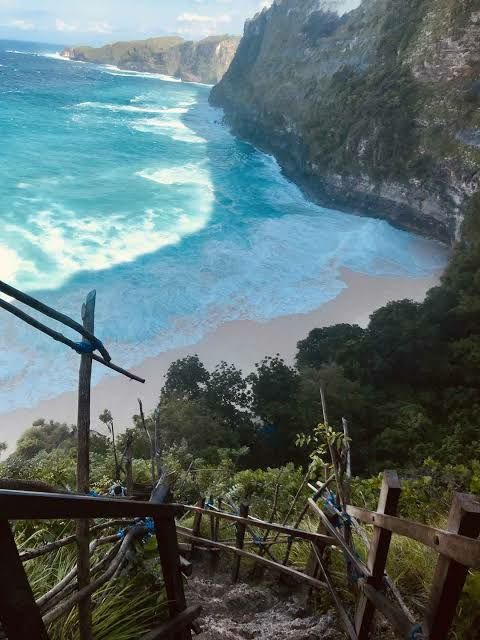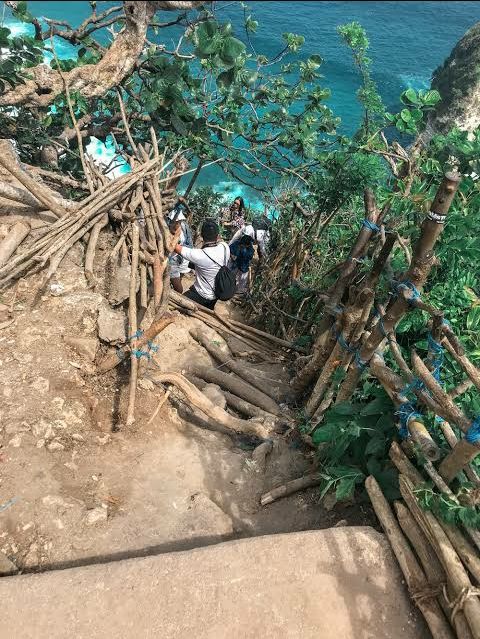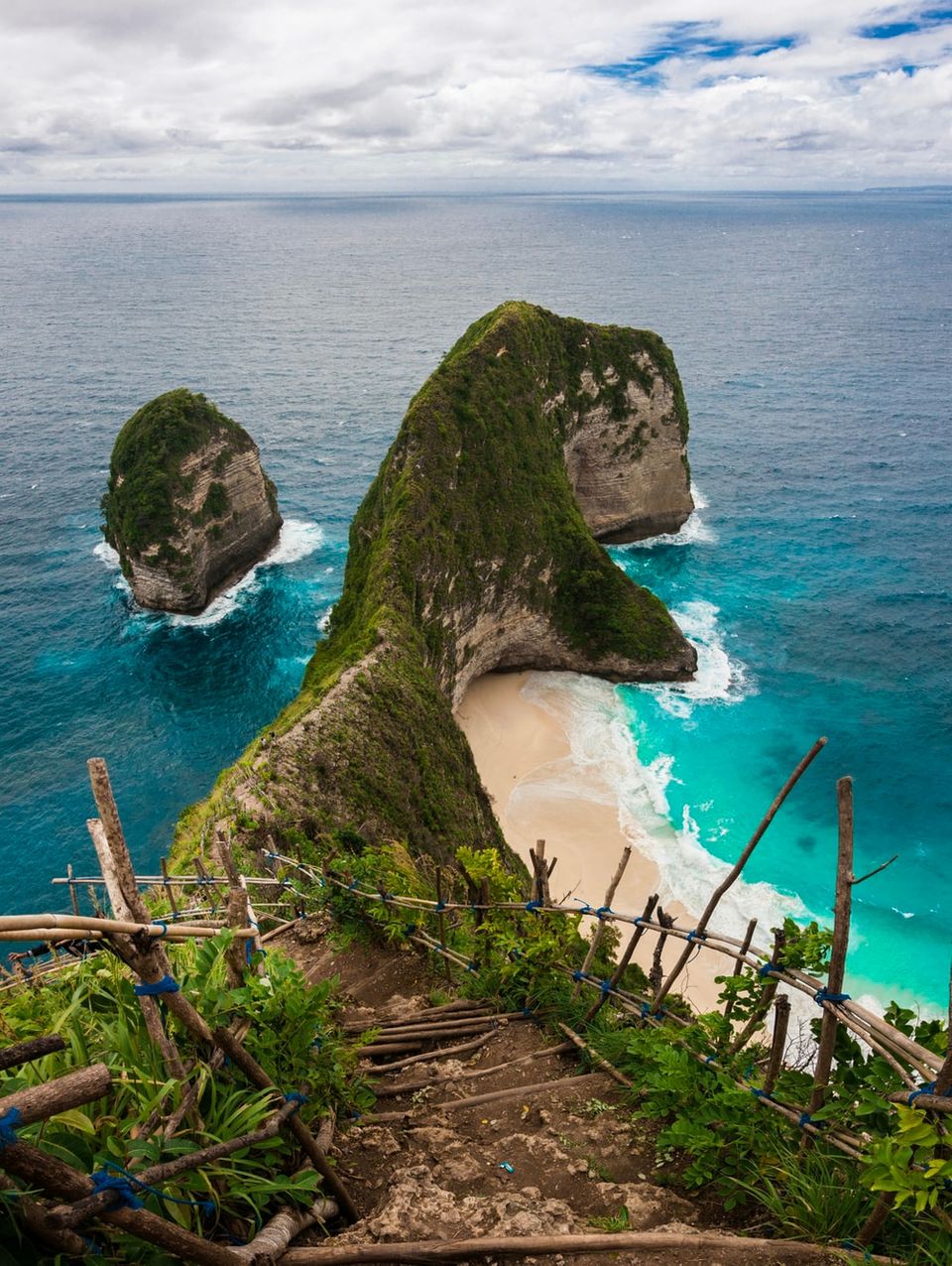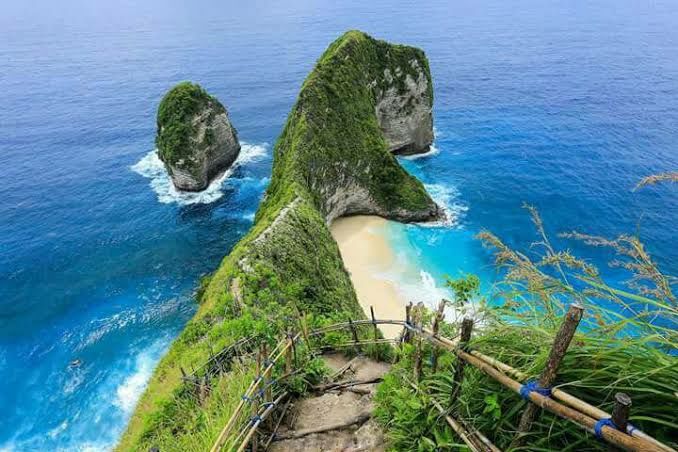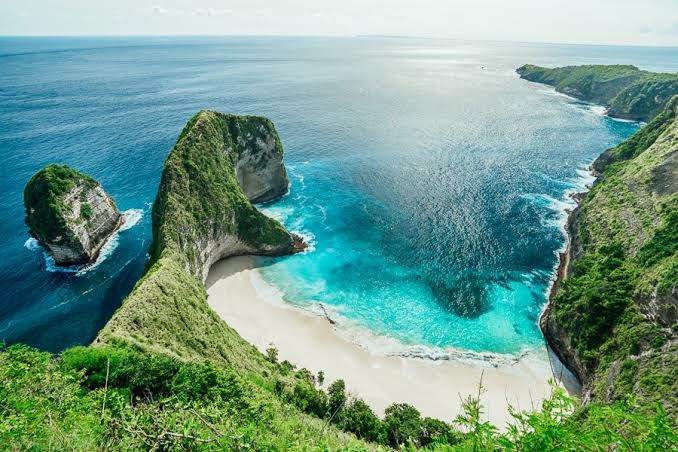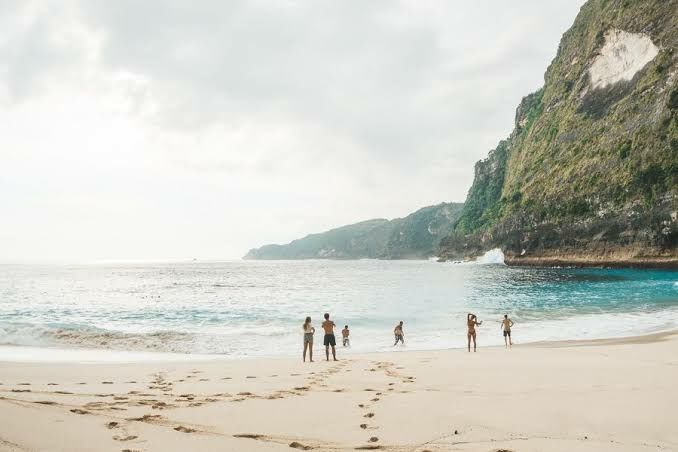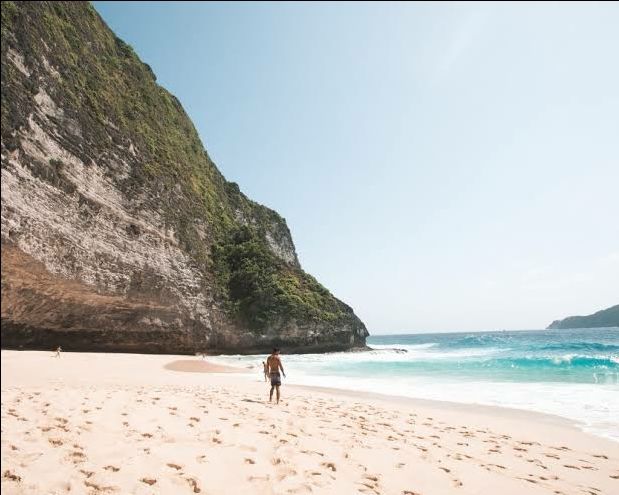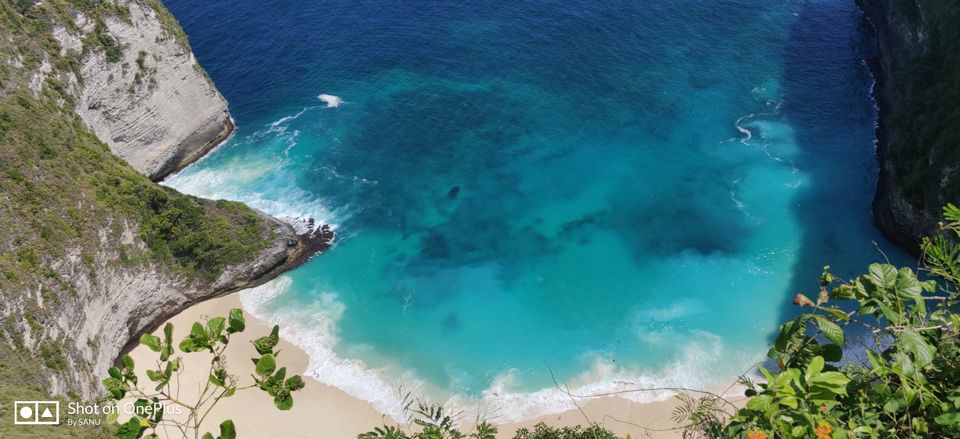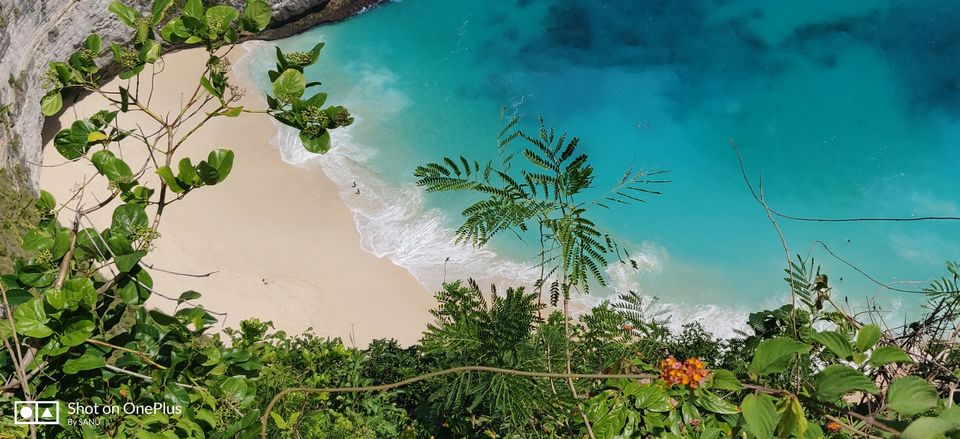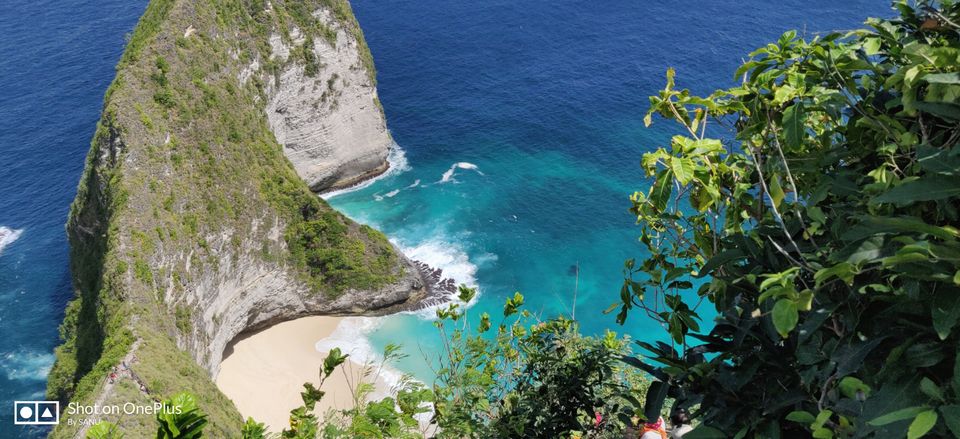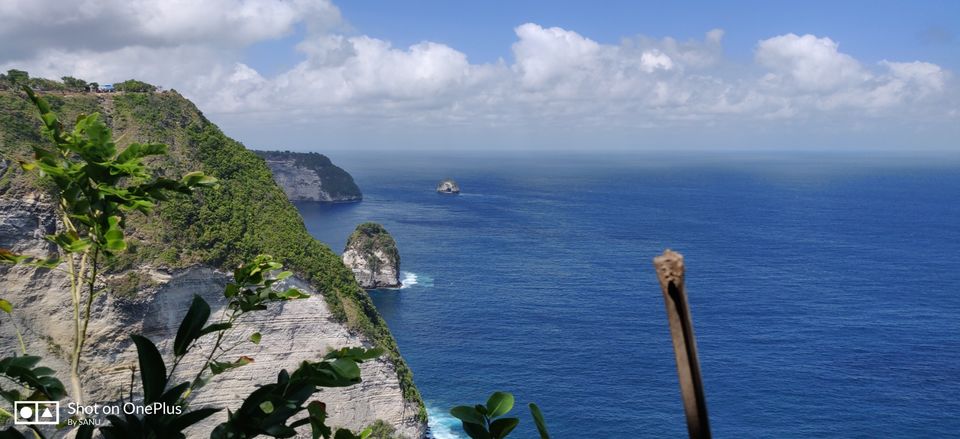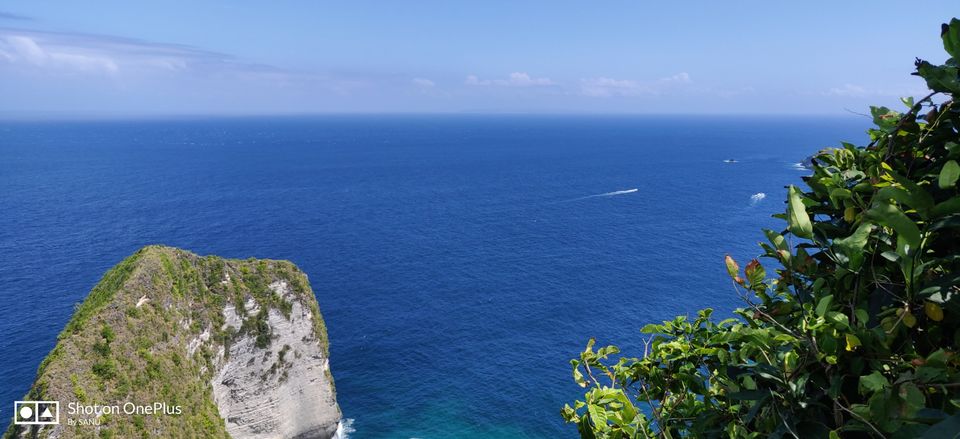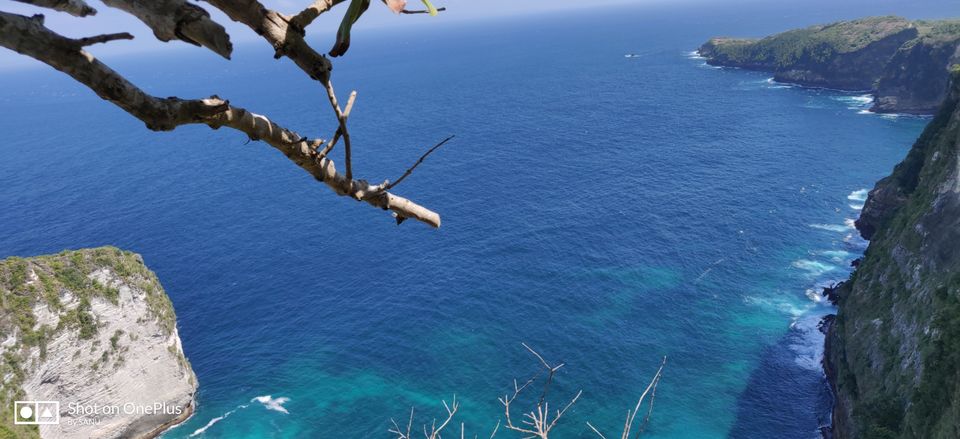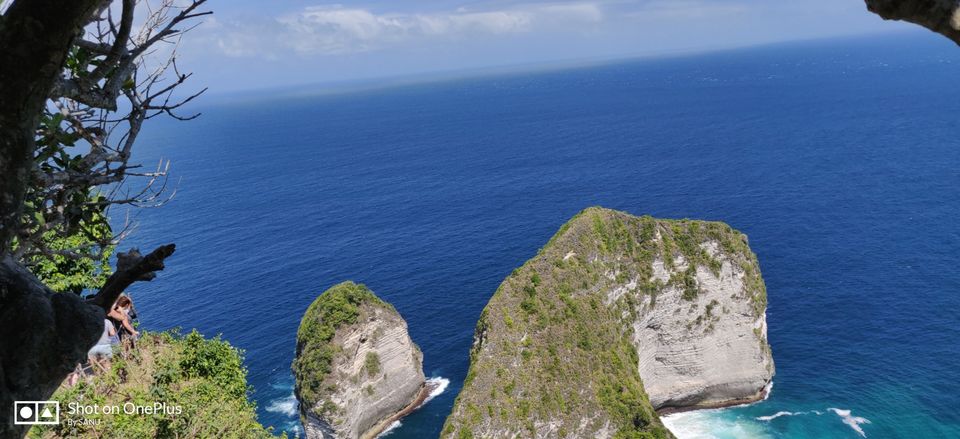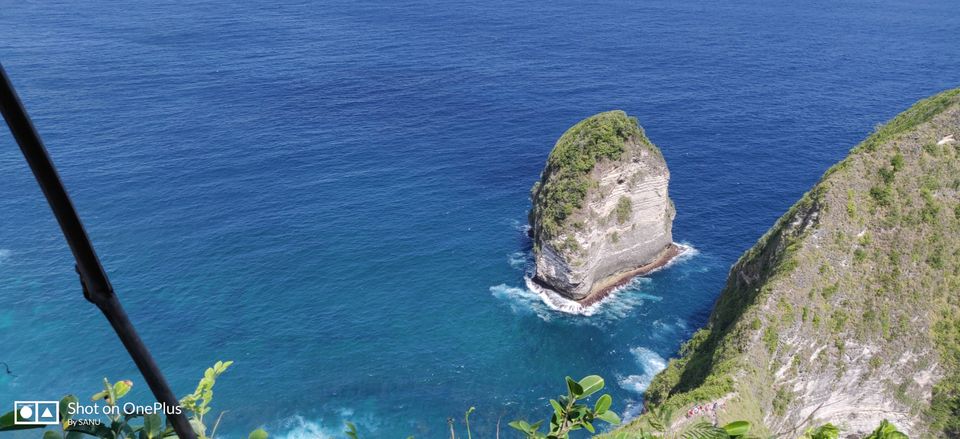 3.Crystal Bay beach:-
Another 30 min drive from kellingking beach . Beach is fully surrounded by palm trees. Here we can do snorkelling. And reach manta point via boat for snorkelling with manta rays.
Note: A tiny water fall is there called peguyagan waterfall . It may test our fear of heights. Its quite beautiful.
We just enjoyed the beach and sat there and relaxed and sat there and relaxed for a while with chilled beer and a cup of noodles for my wife. By 4.30 we headed back to the parking area instructed by our new driver. Then to penida harbour that's where our crize boat was waiting. By 6.30 last boat will leave penida to Nusa Dua and the next trip will be the next day.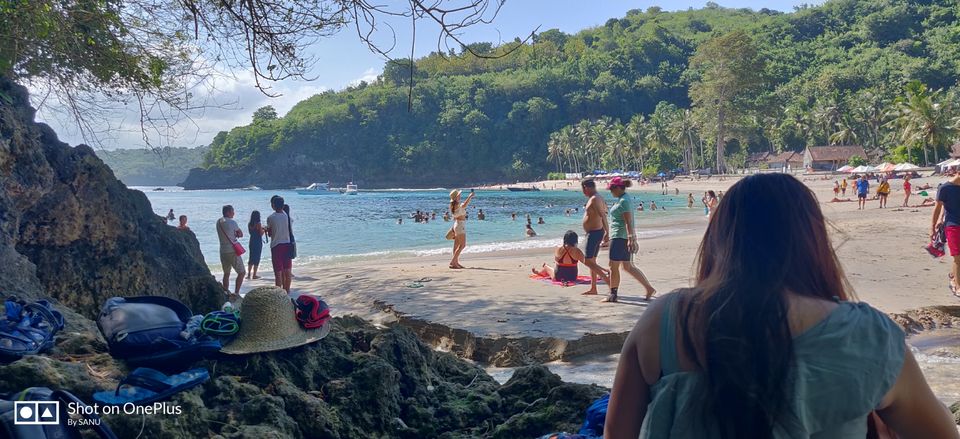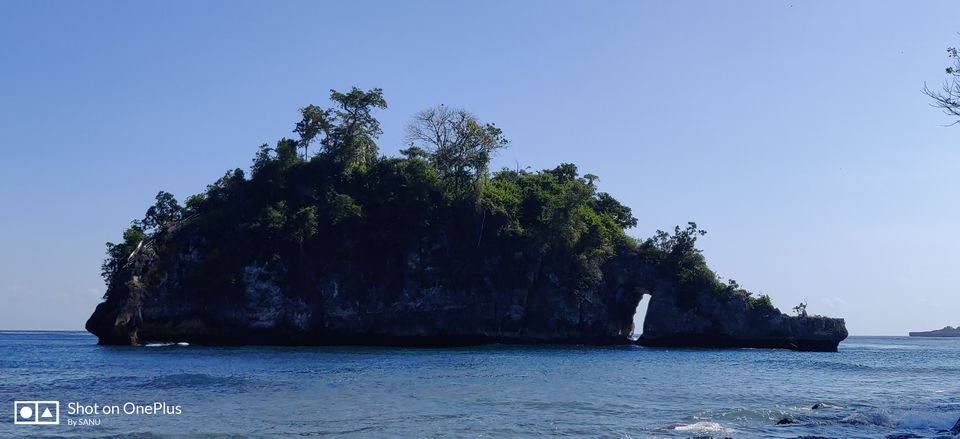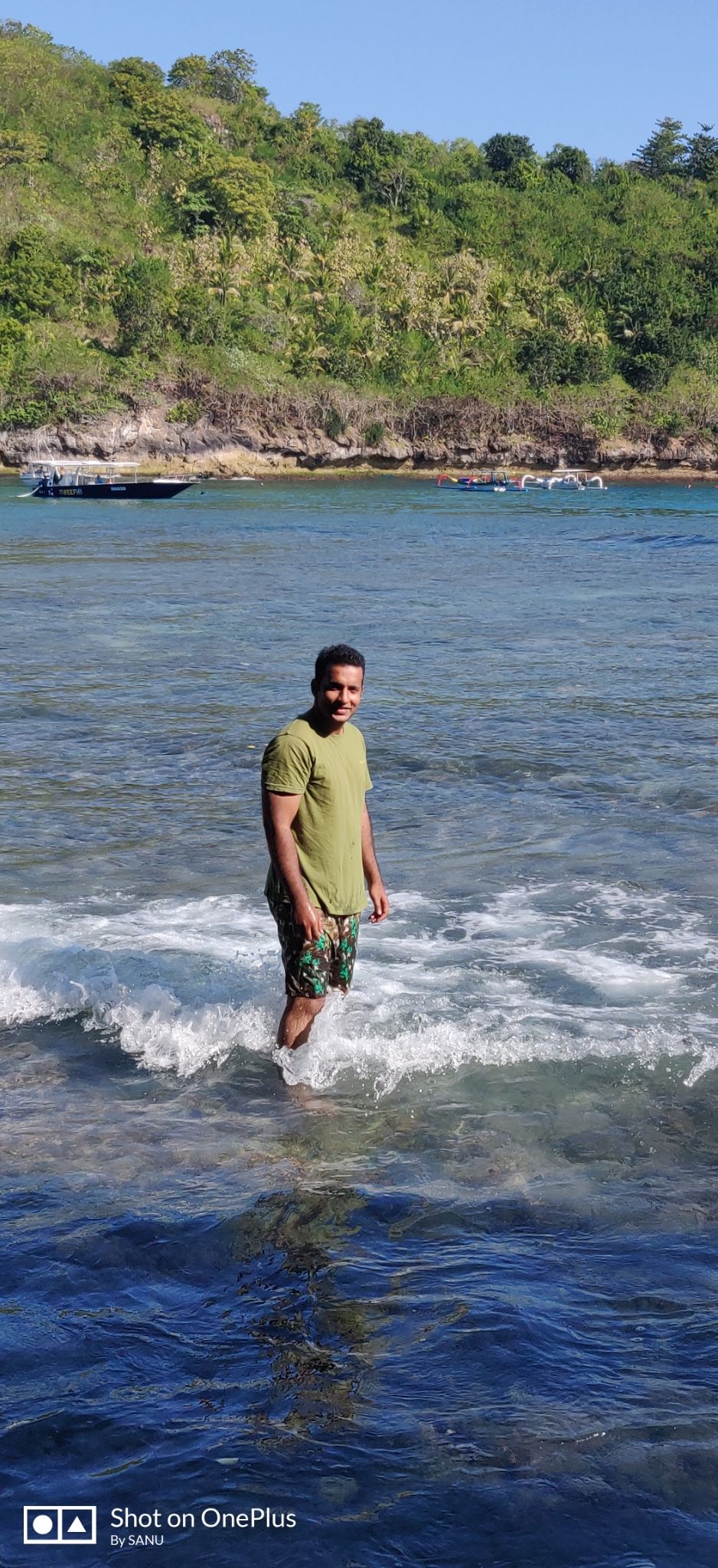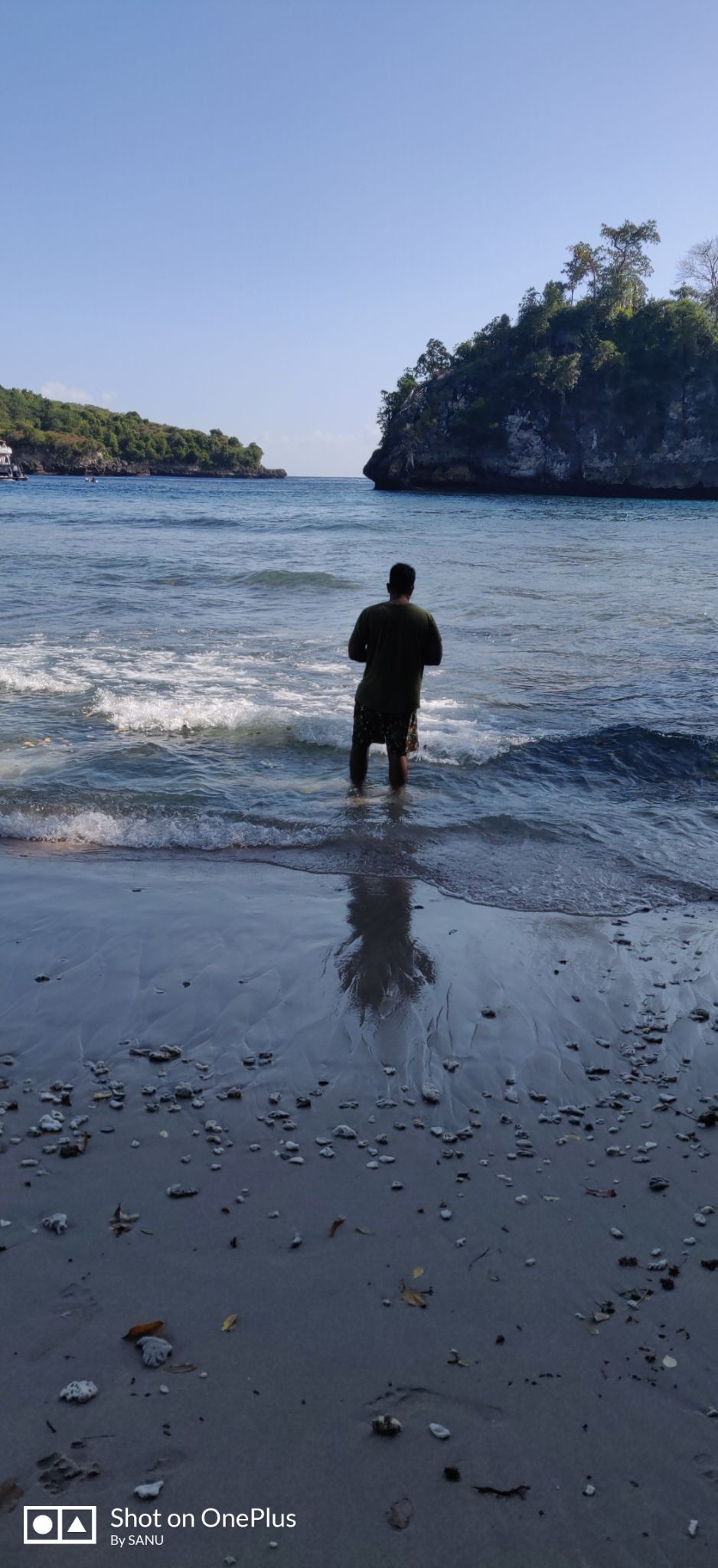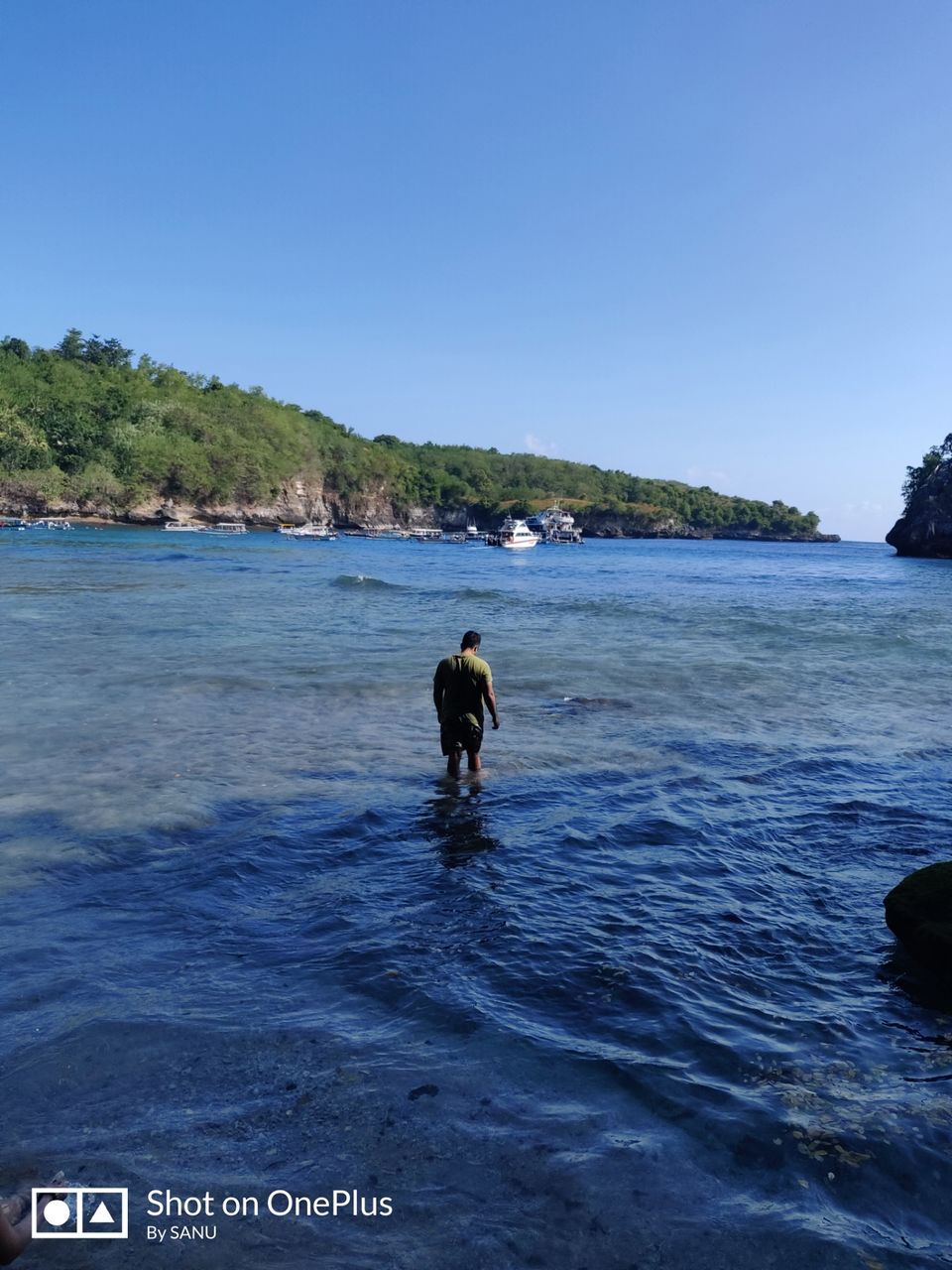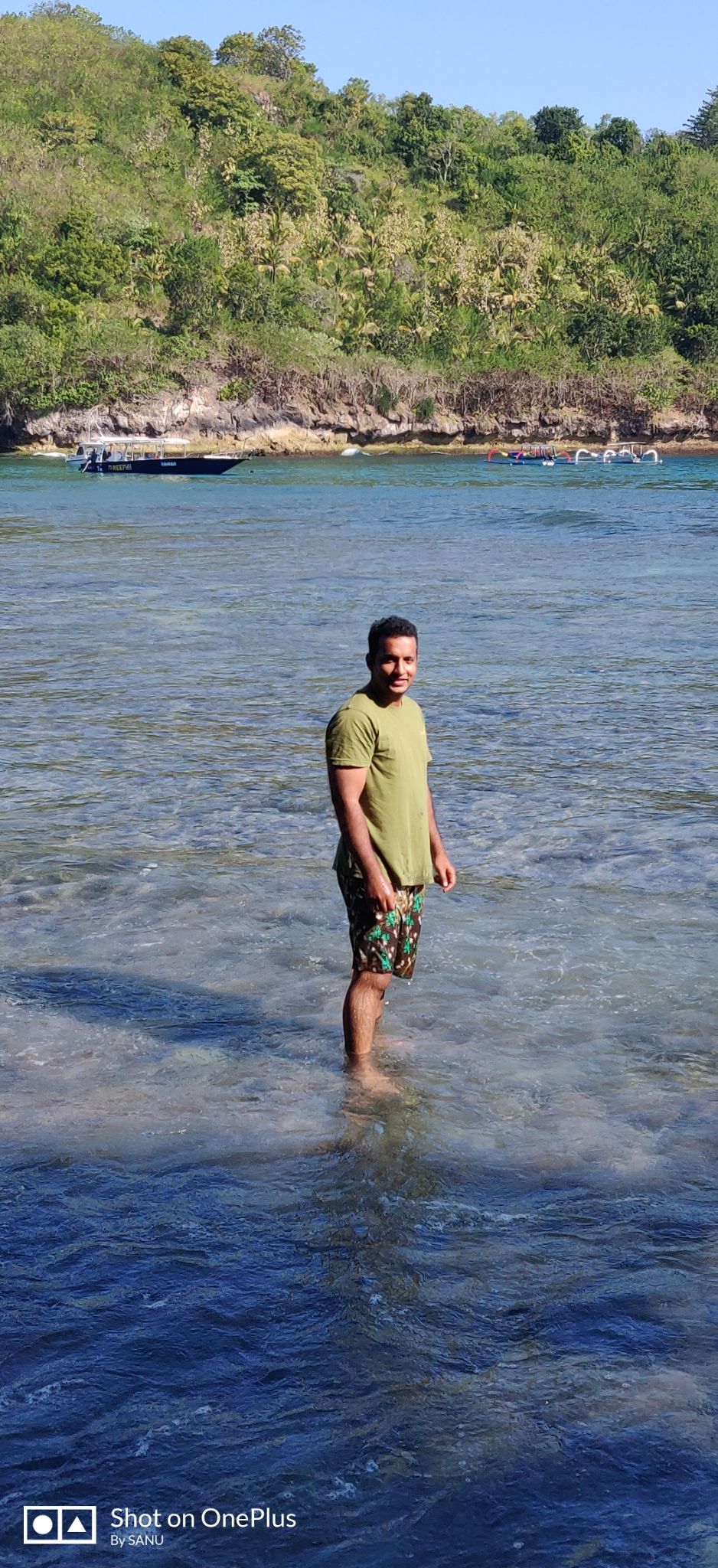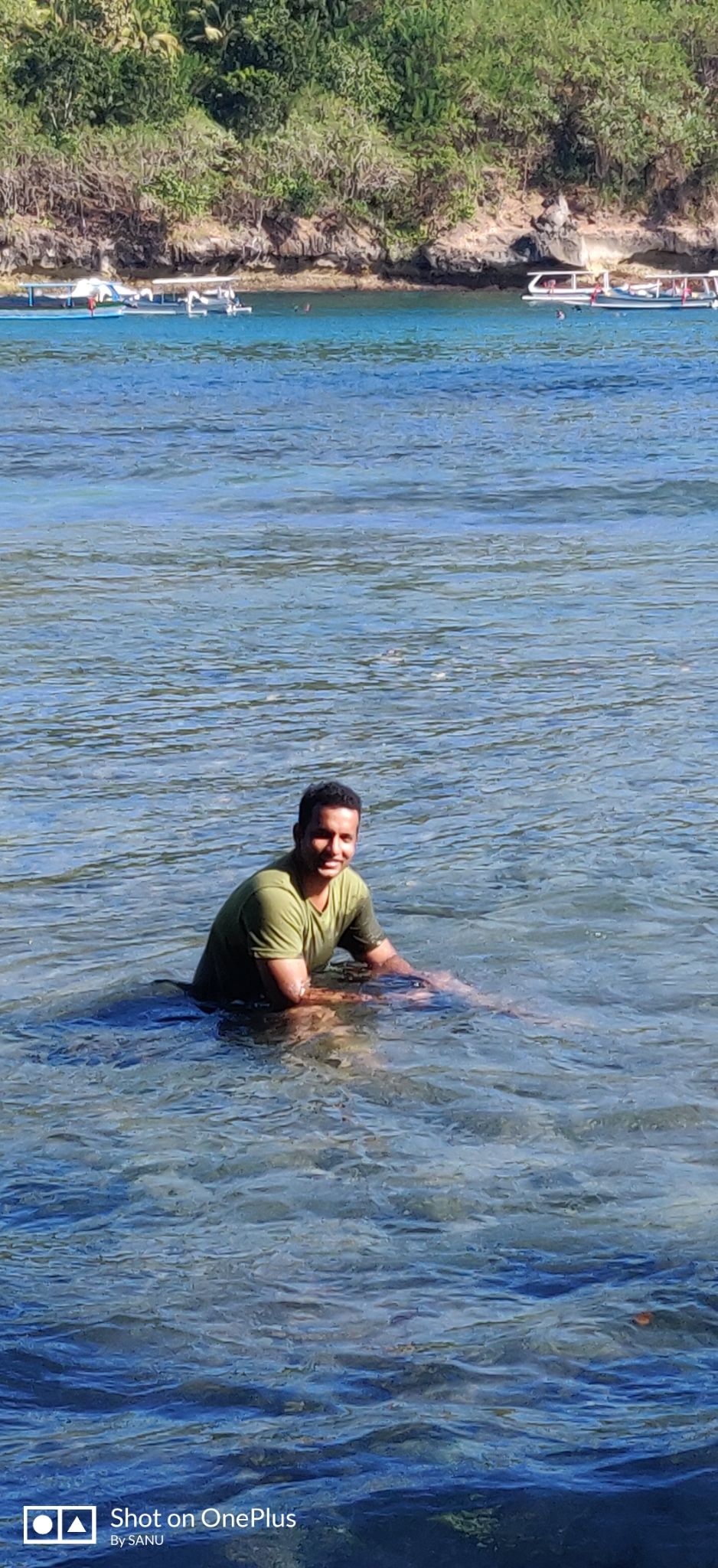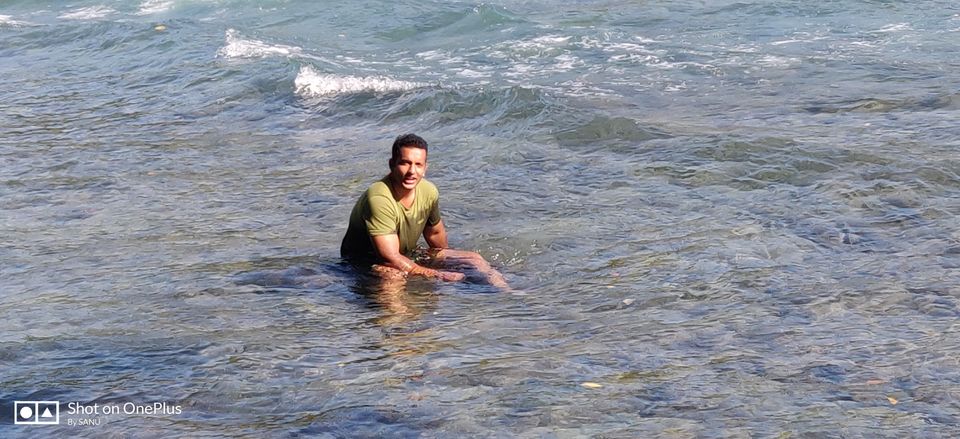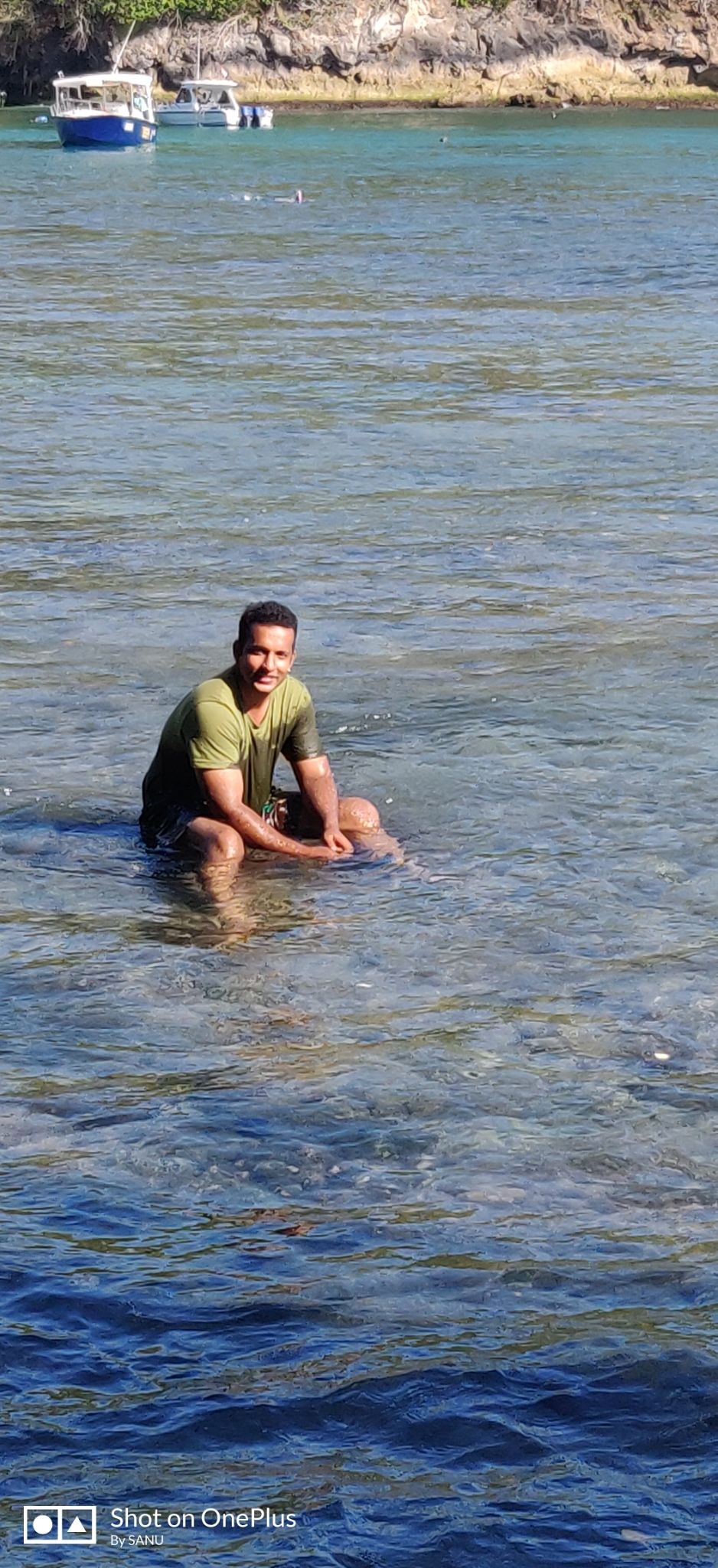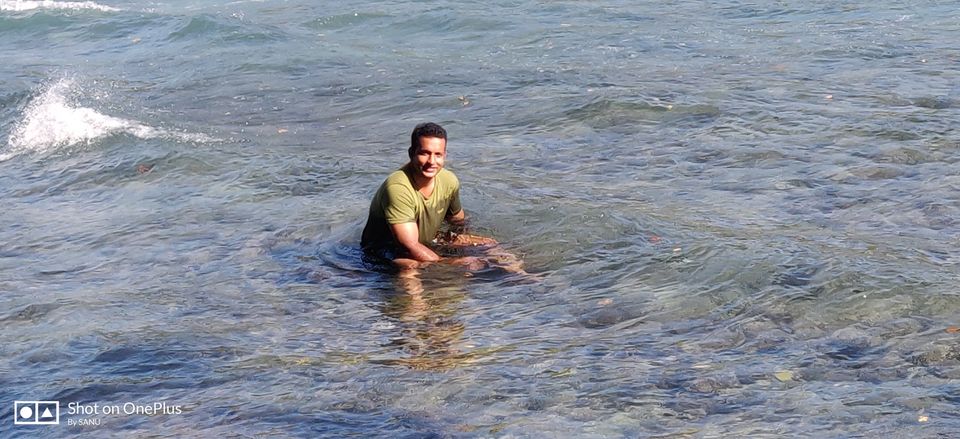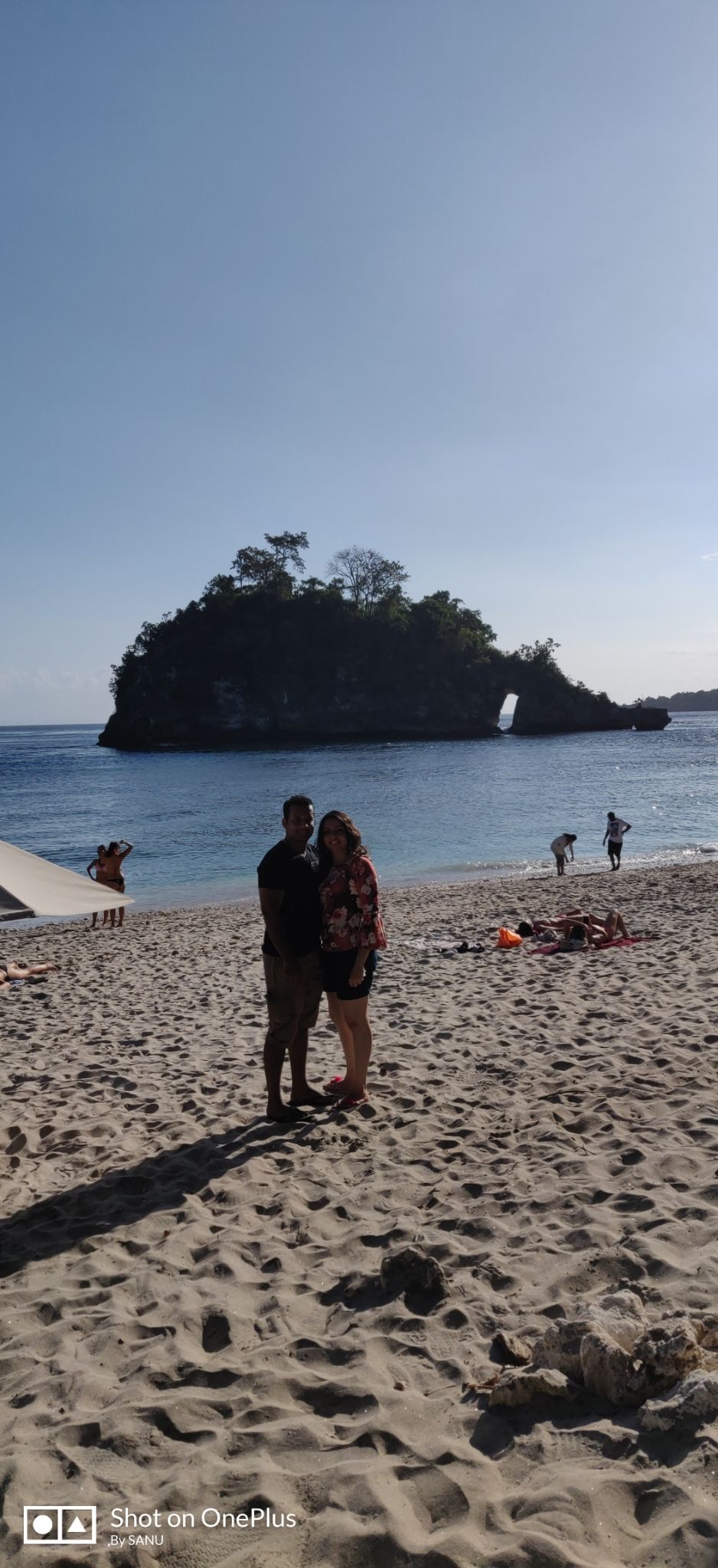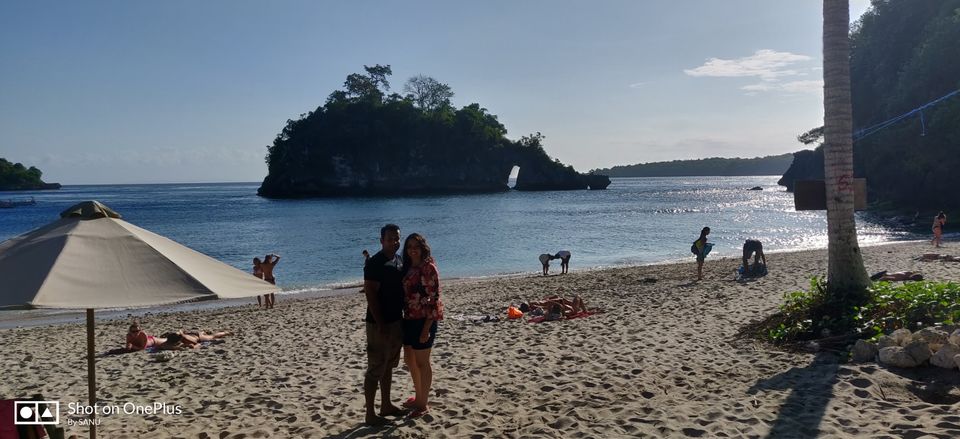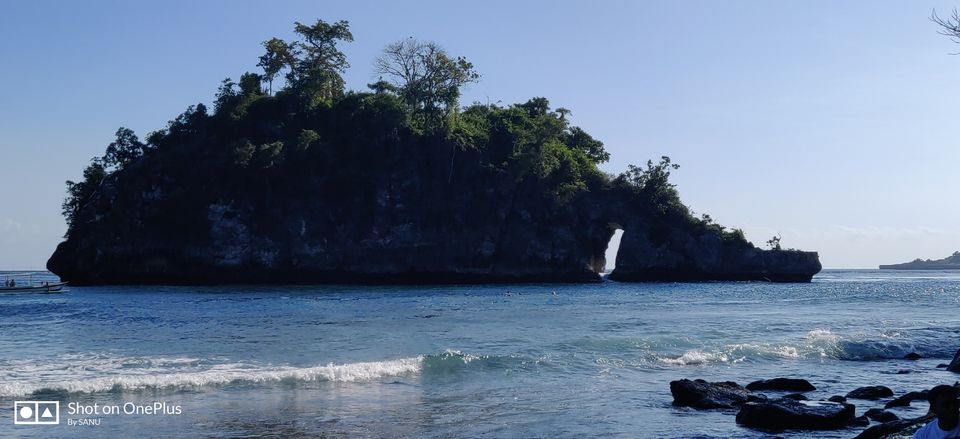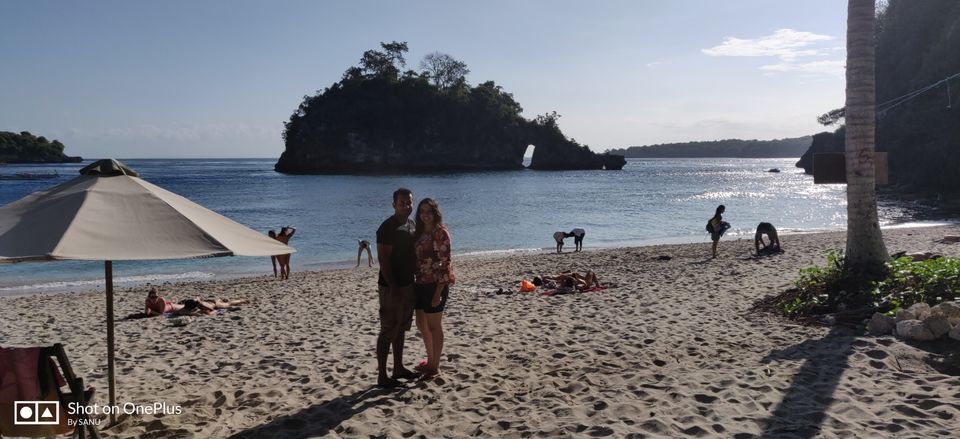 We reached our hotel very late and was a bit tired of long journey and was very much happy ...we had a quick dinner and went to our room and had a good chatting then went asleep..
Next day as usual mr.wayan was waiting for us in the lobby but our day started,but our journey started a bit late...we started by 8:30 am the first destination was to
1. BESAIKE TEMPLE :-
The temple itself is located at the base of Mount agung.mount agung is an active volcano.such a beautiful temple with a peaceful atmosphere. be careful about the tourist traps, people try to insist you to hire a guide ,better u don't.
You don't need to purchase a sarong /dothi here on your way in. A rented sarong is included in the admission ticket .
It's the largest holiest temple in Bali called as mother temple.
ENTRANCE FEE- 60000 PER PAX/ADULT.
it includes a sarong , a guide and a one-way bike trip ..from the ticketing area it's a high steep walking and it takes normally half an hour to reach temple. those who are lazy to walk can use the bike service..those who are ready to walk beter walk and take good pics on the way...and there are small shops available on the way textile, souvenirs shops and restaurants.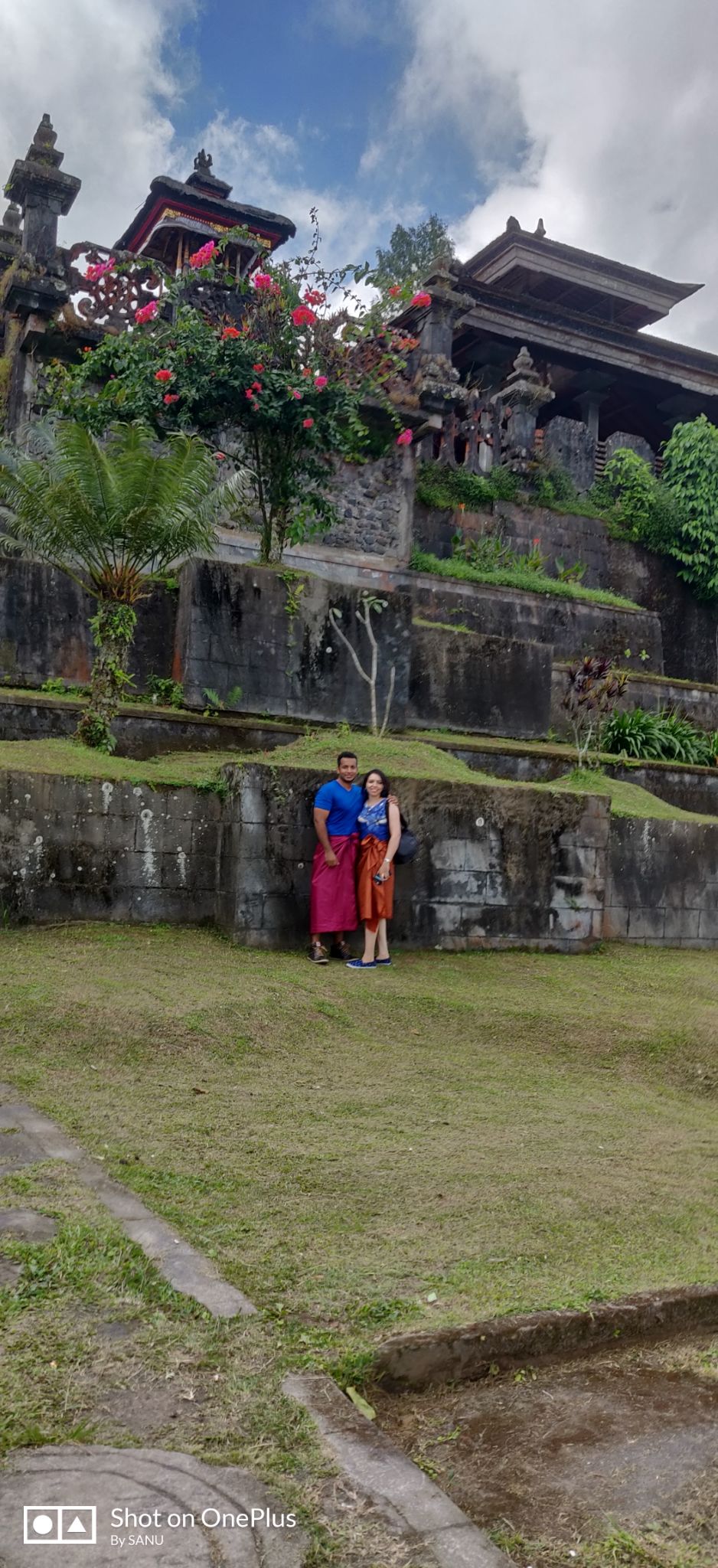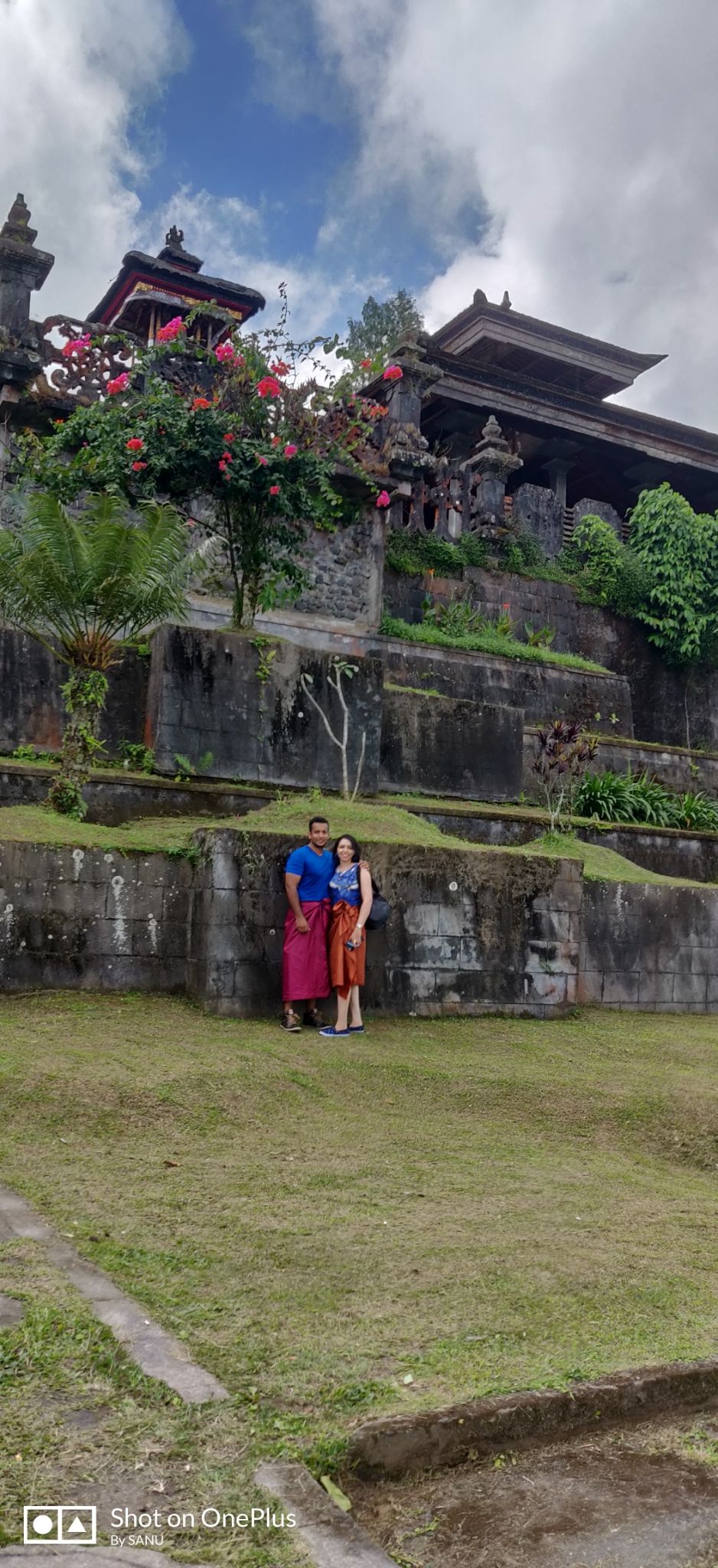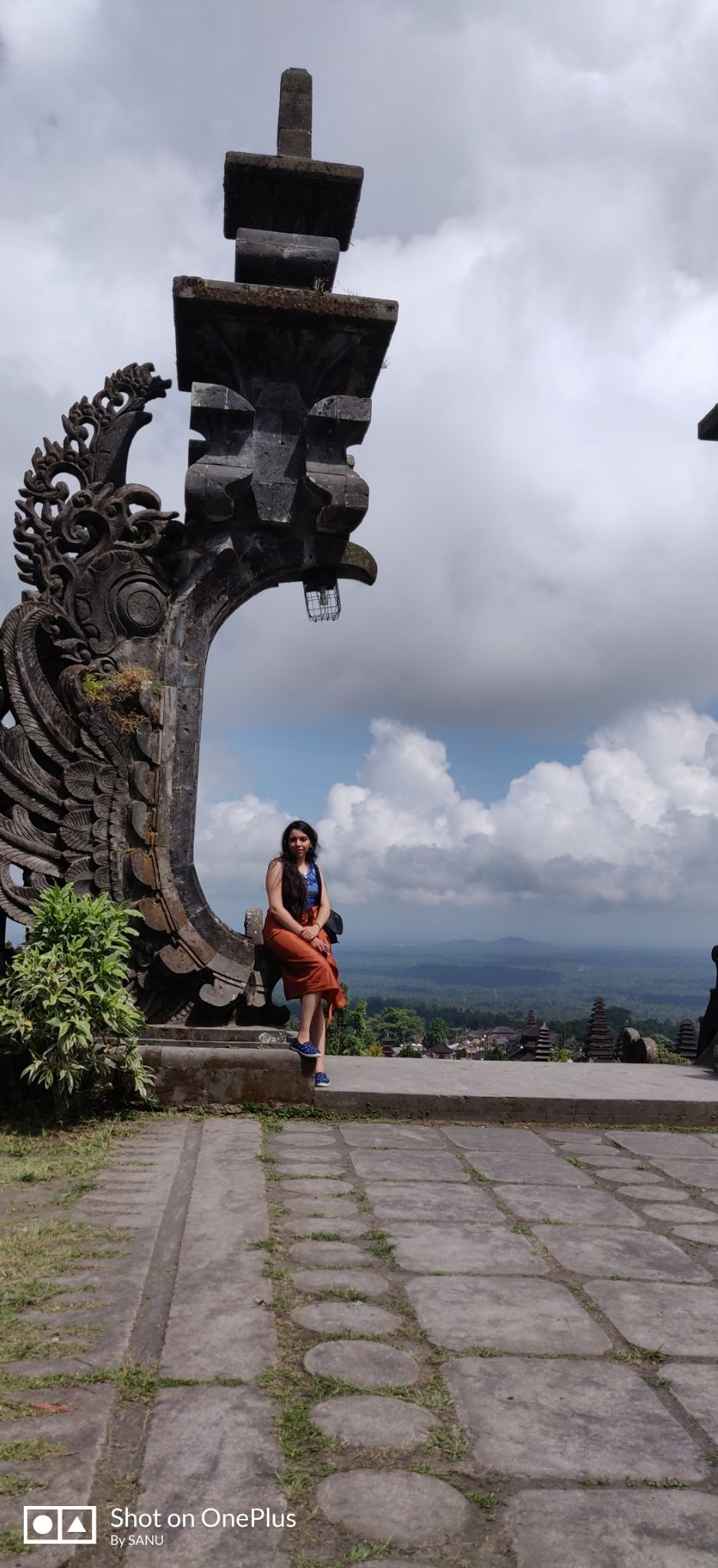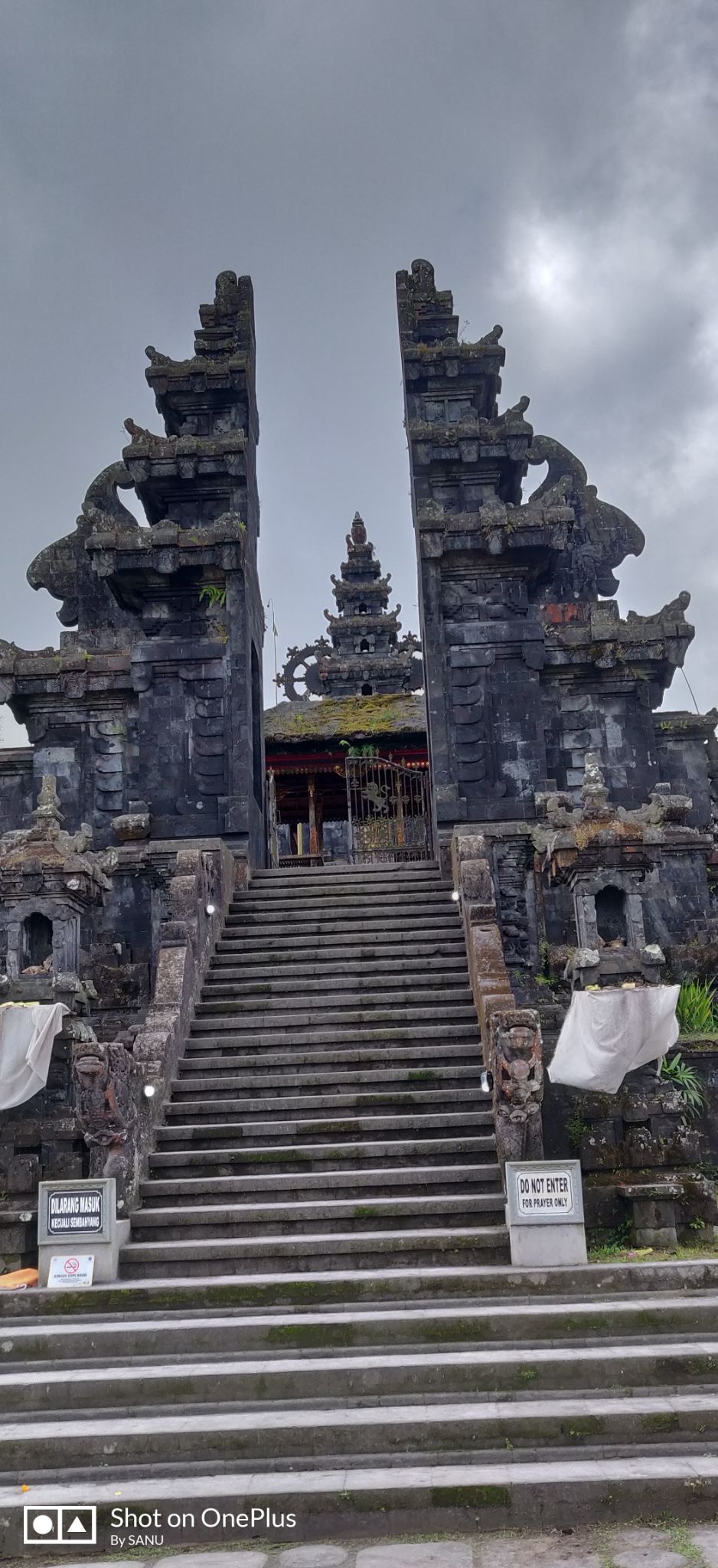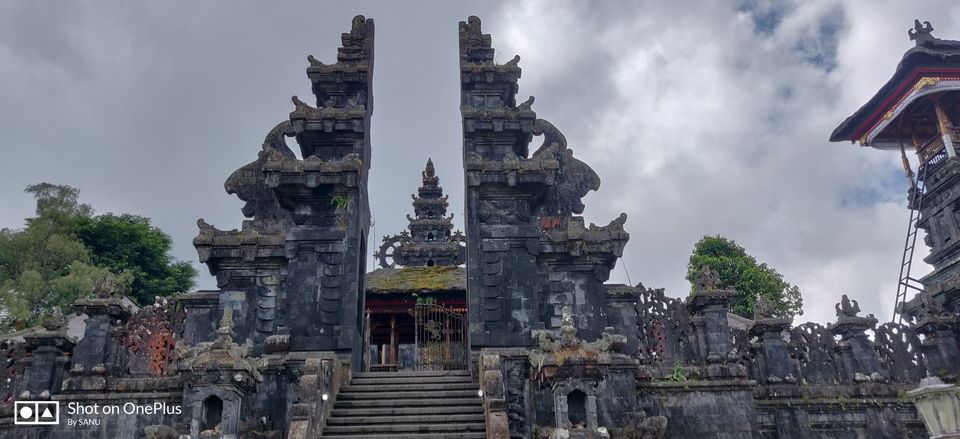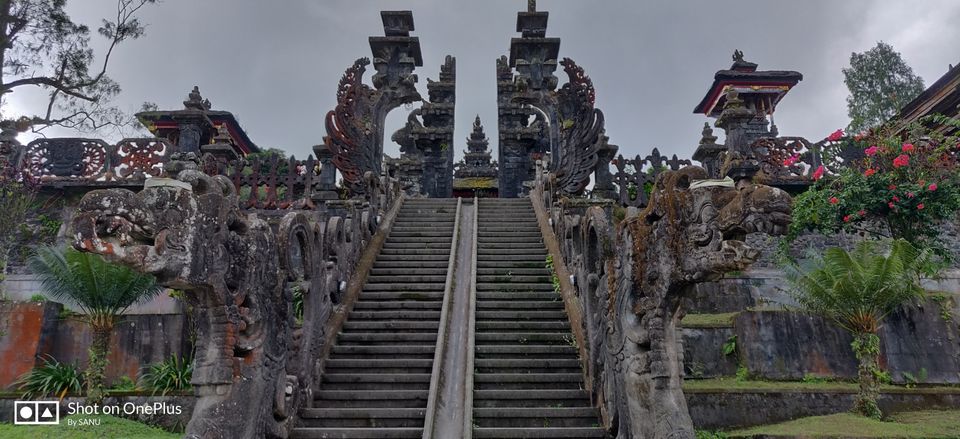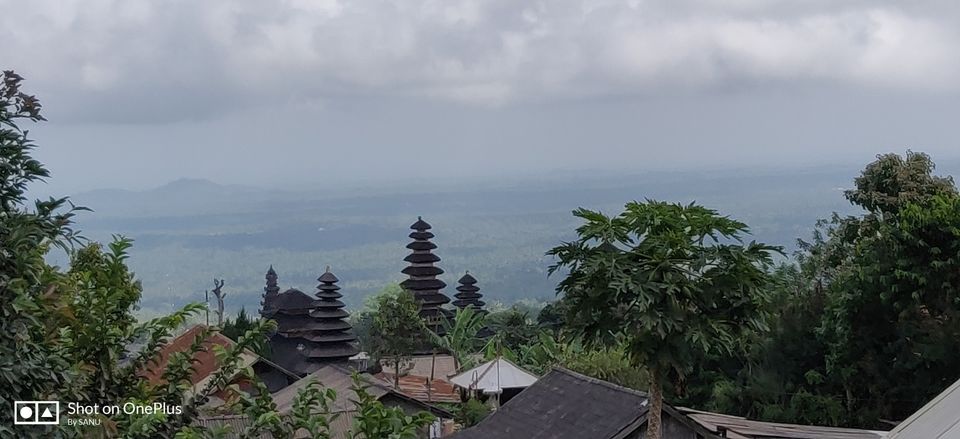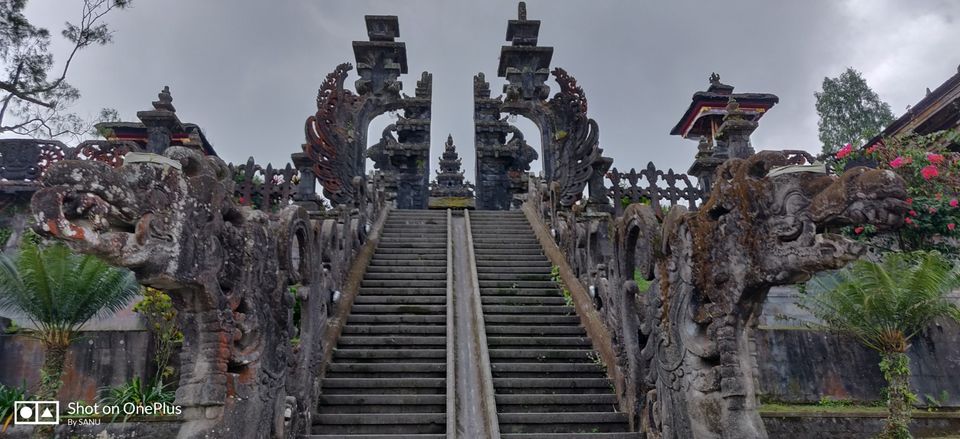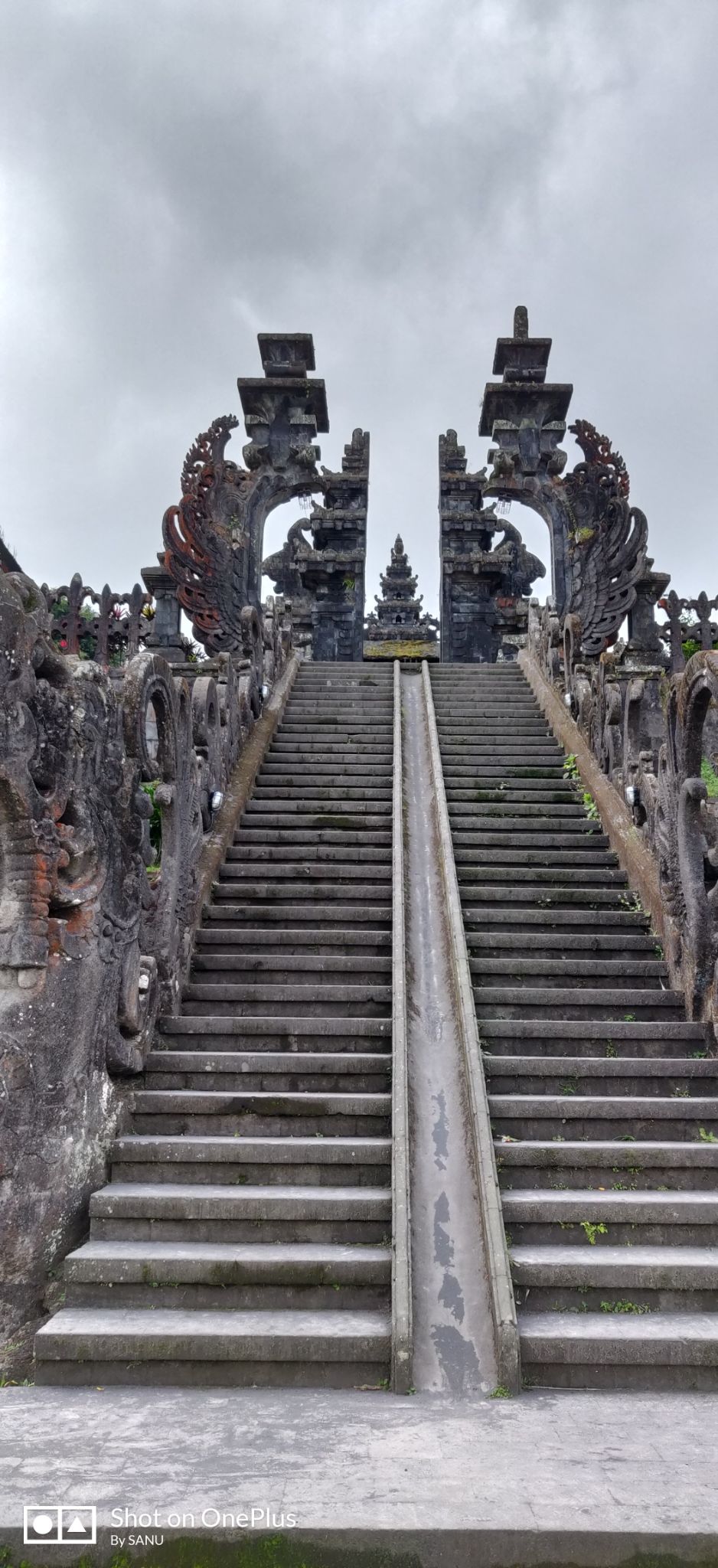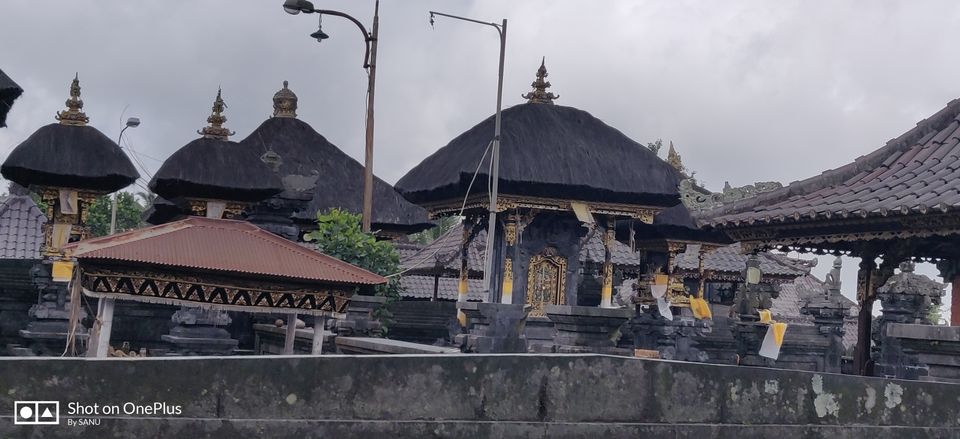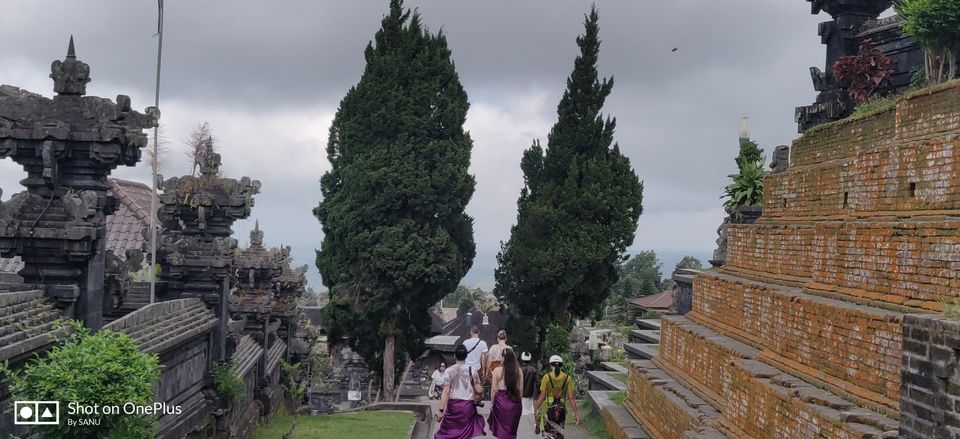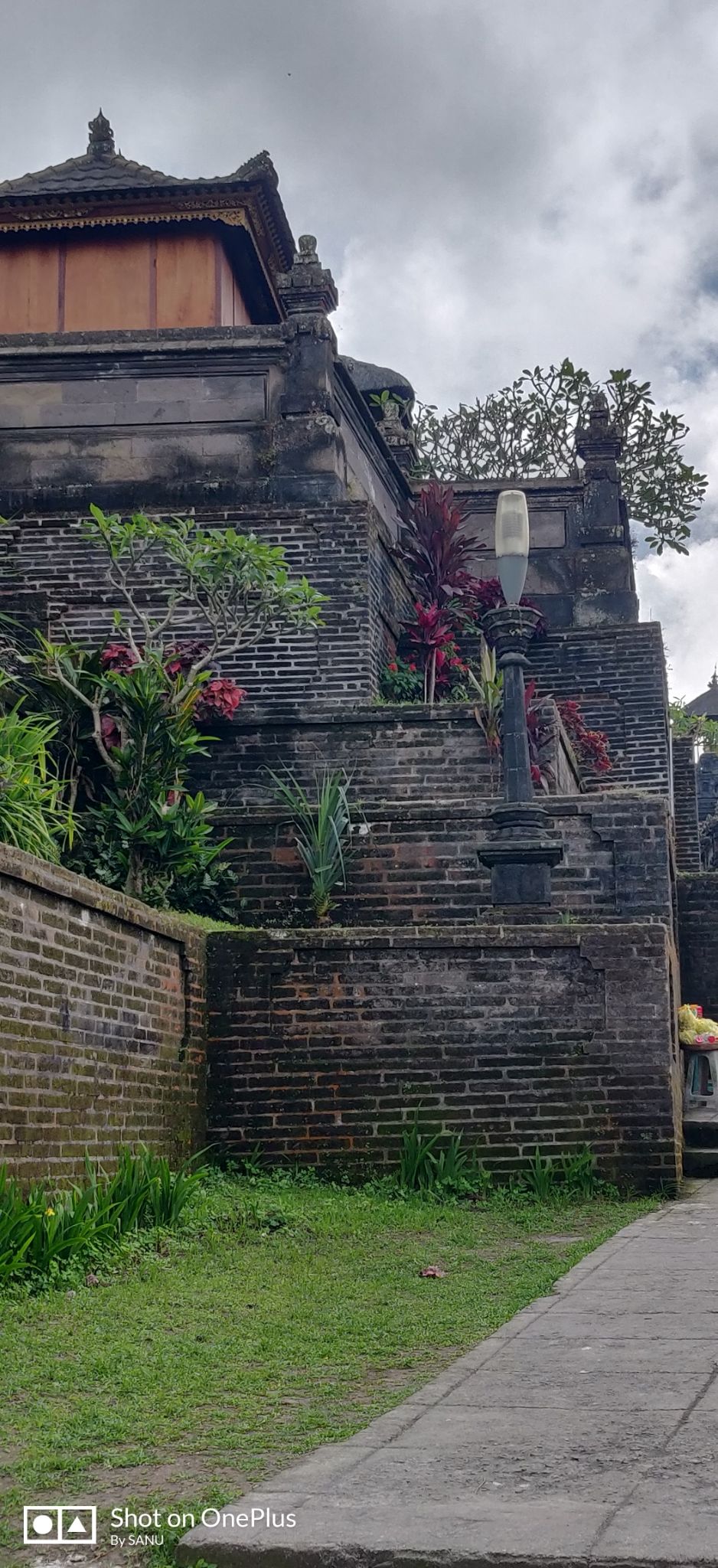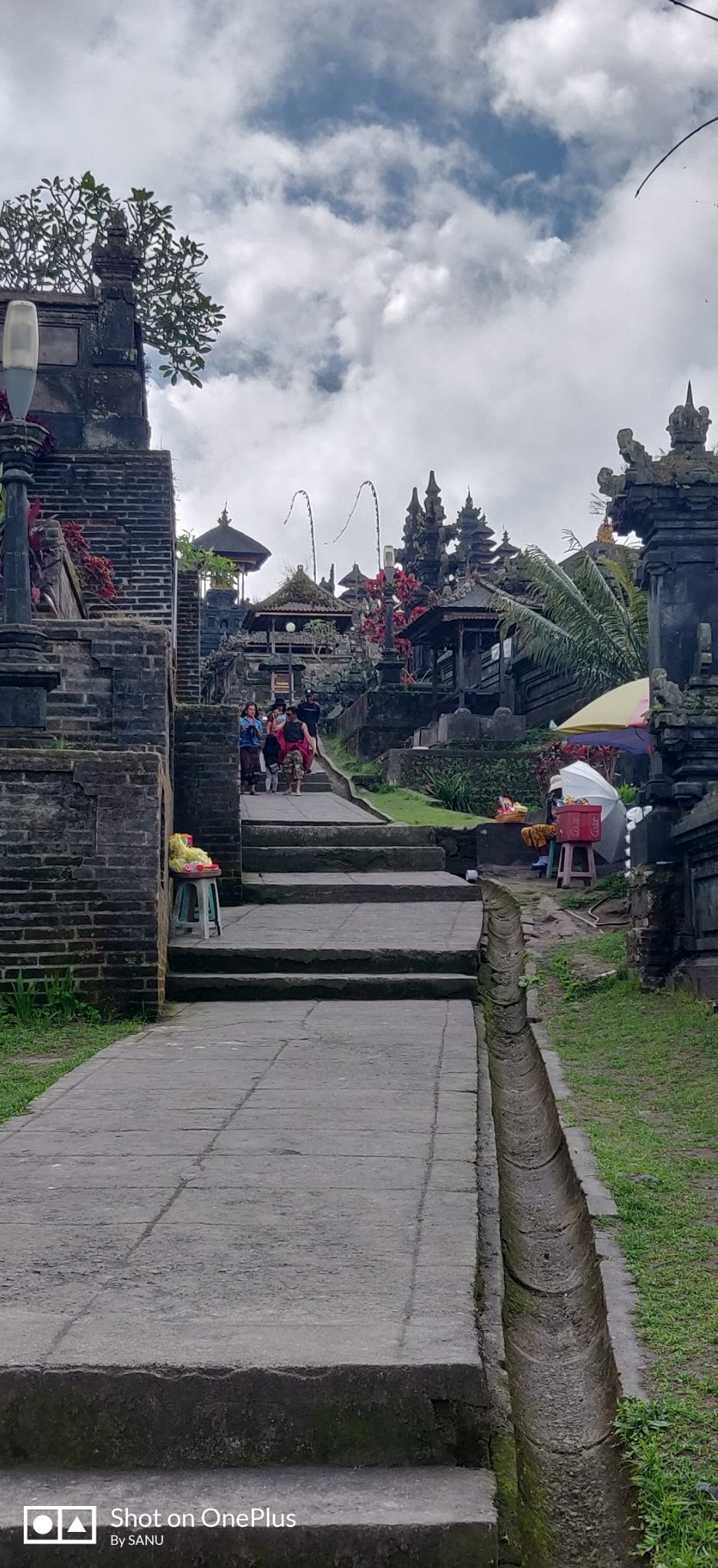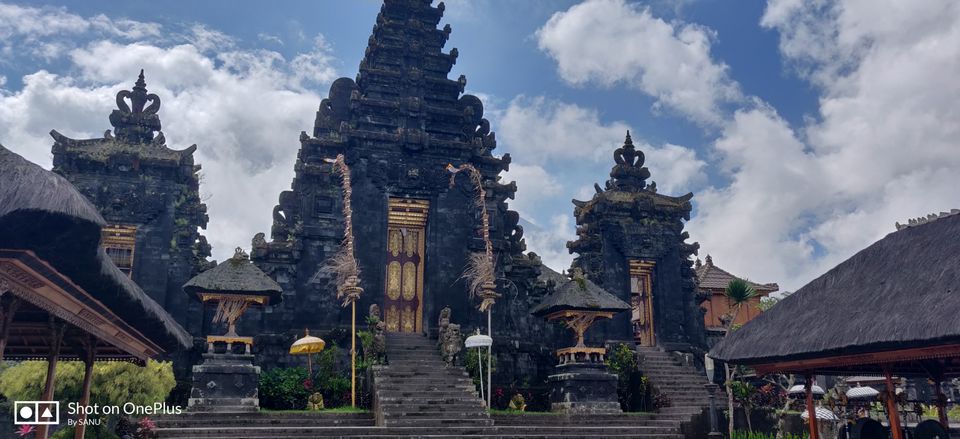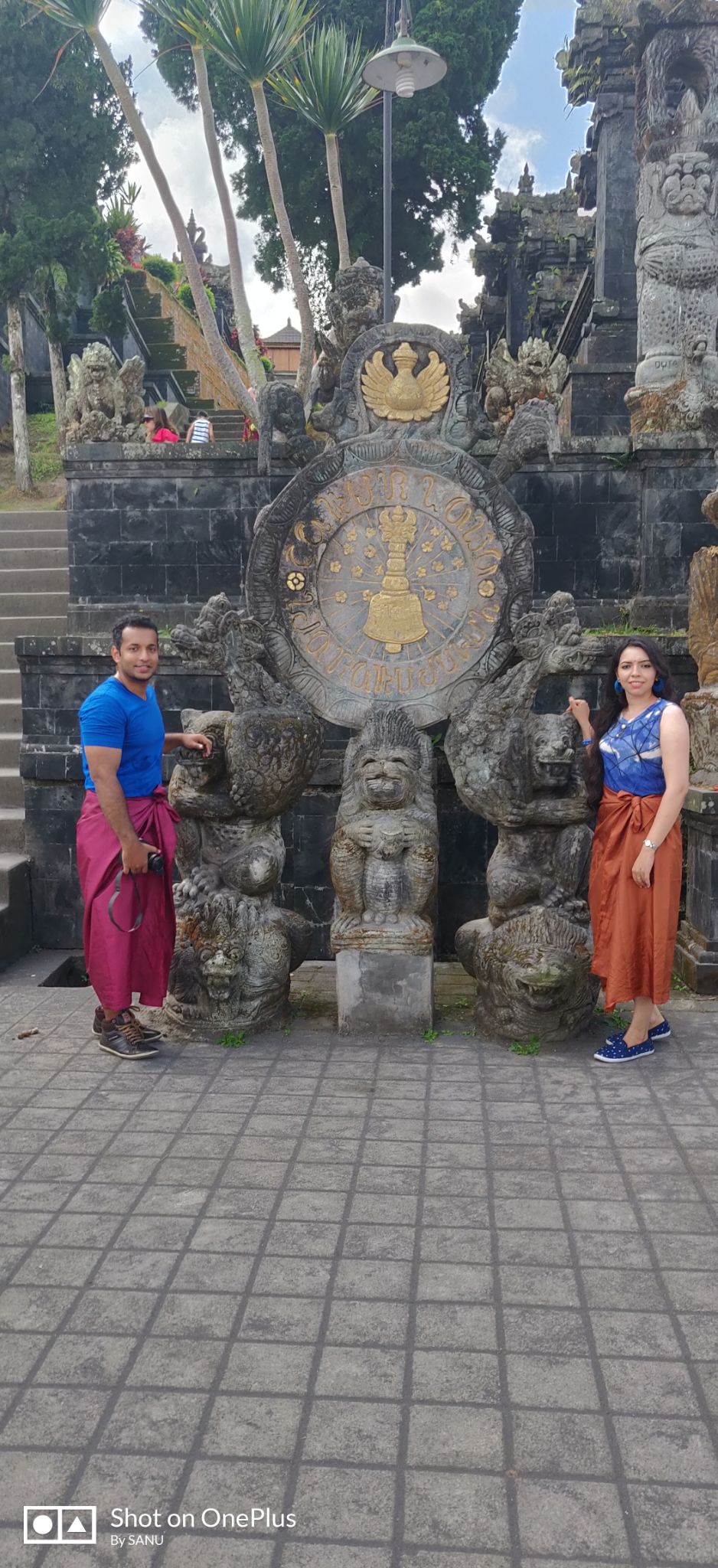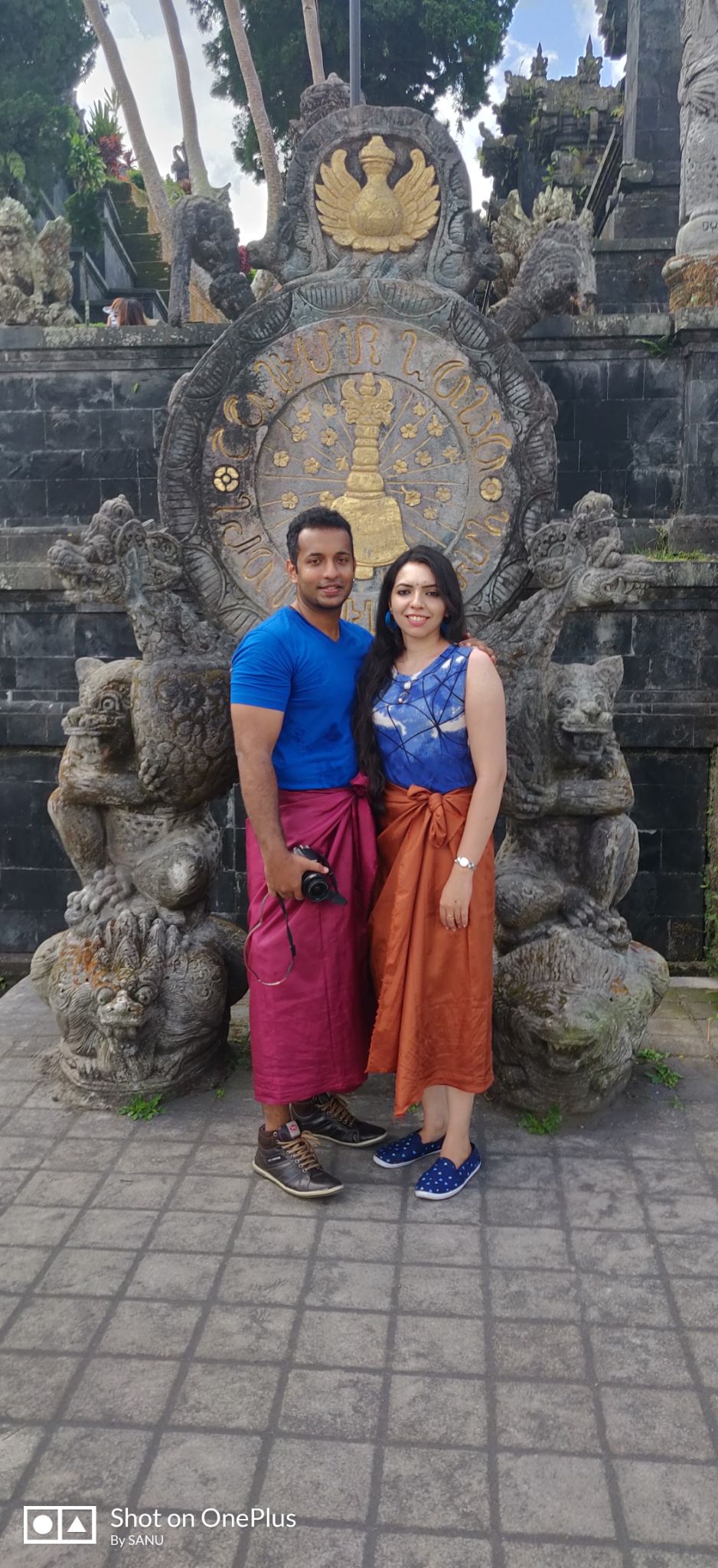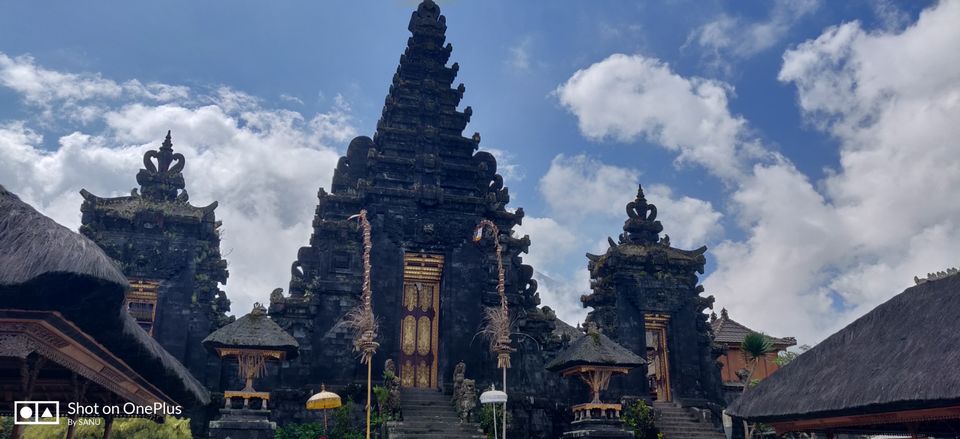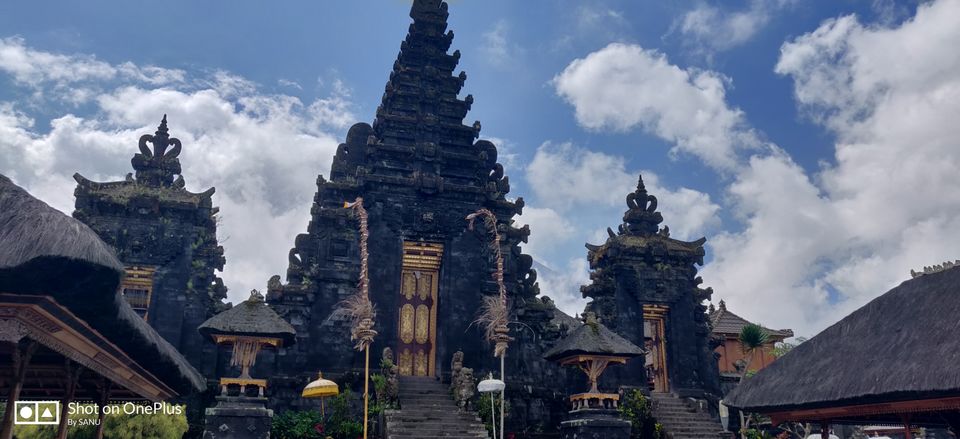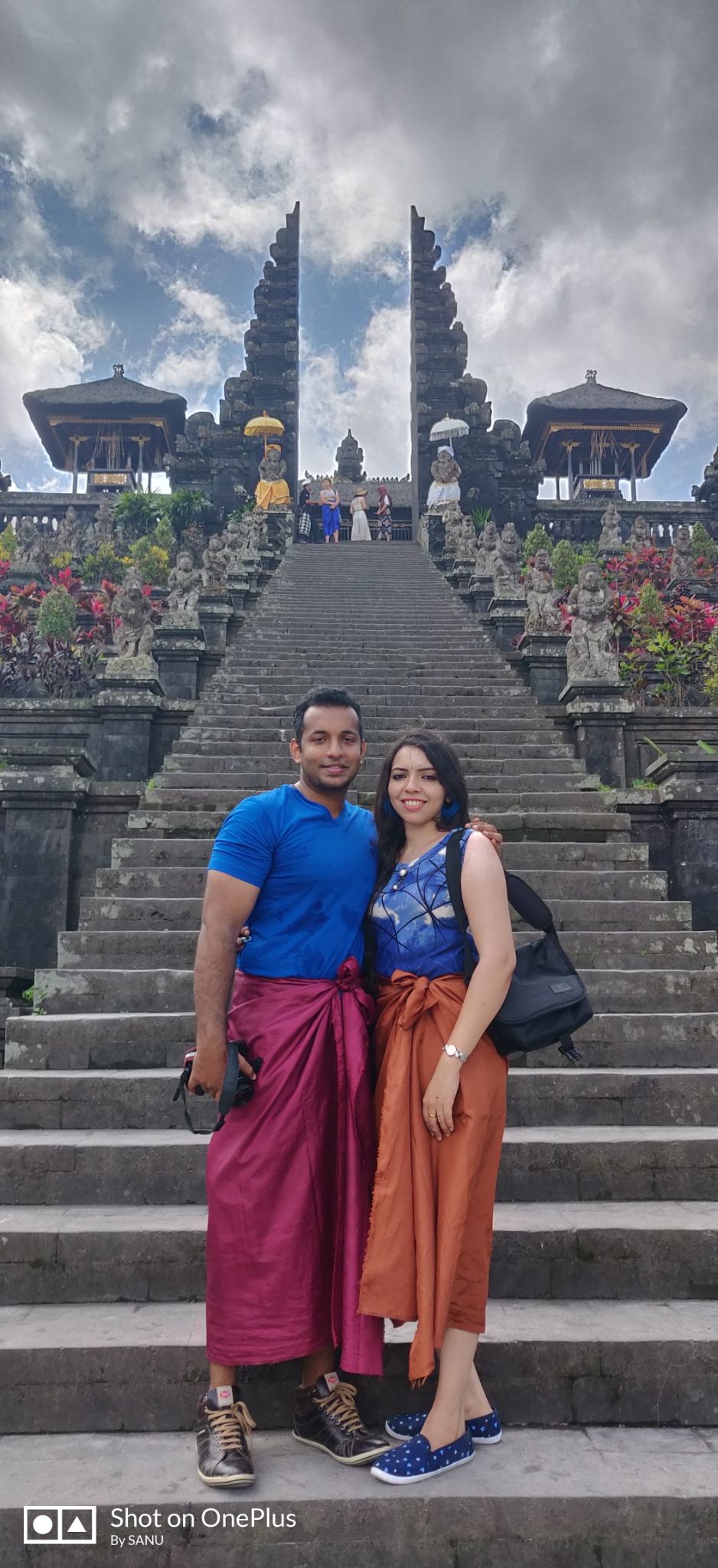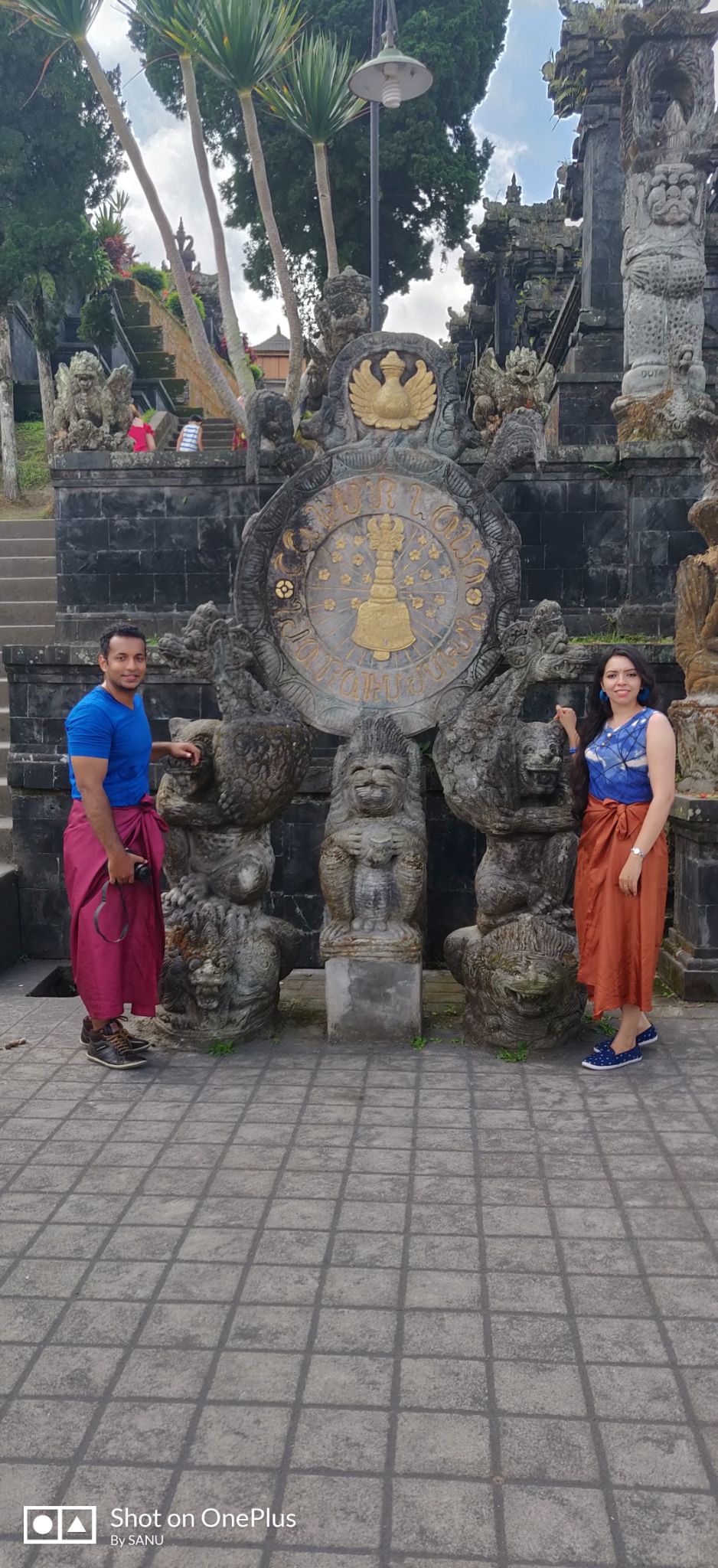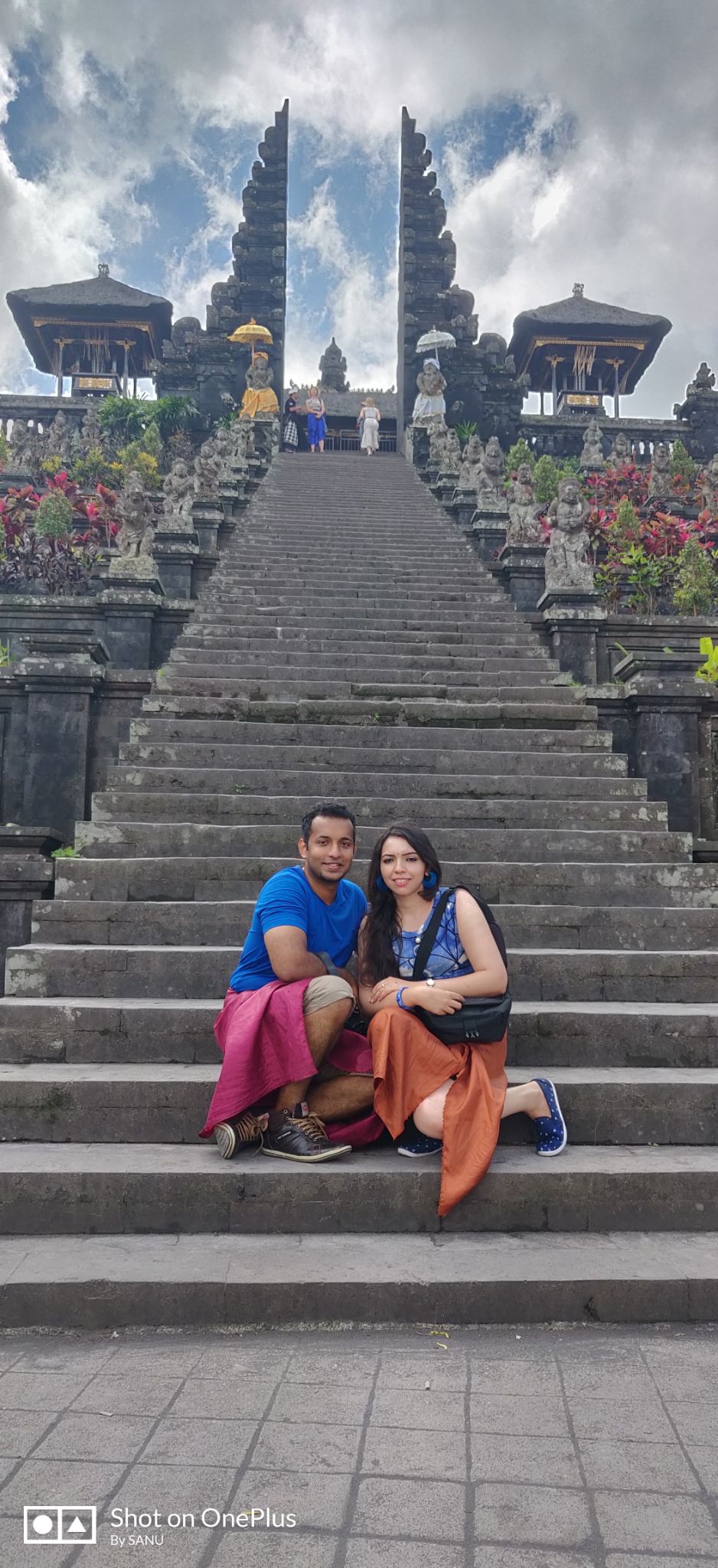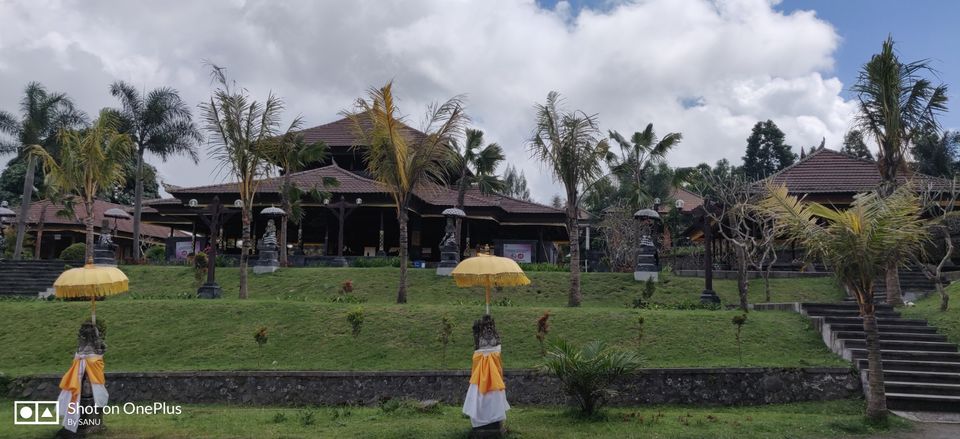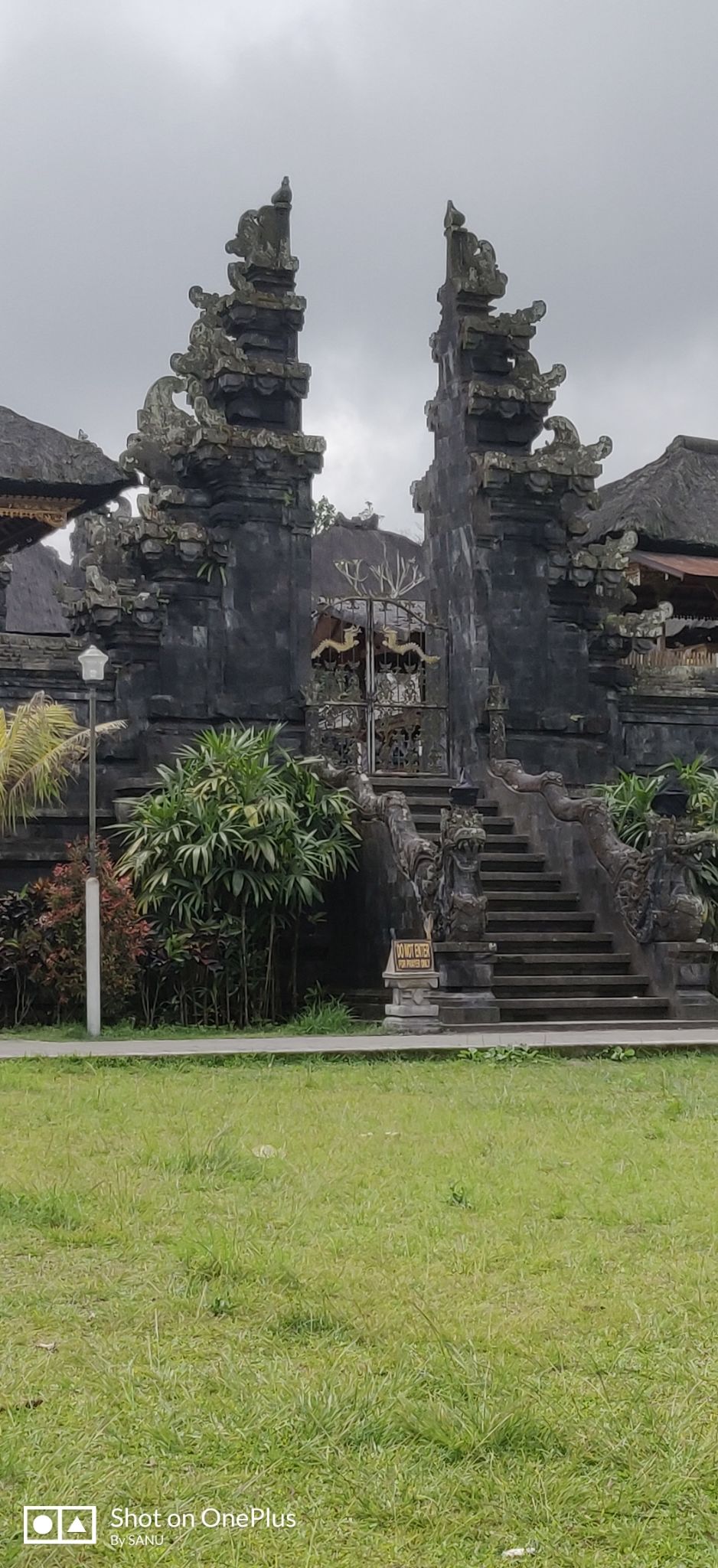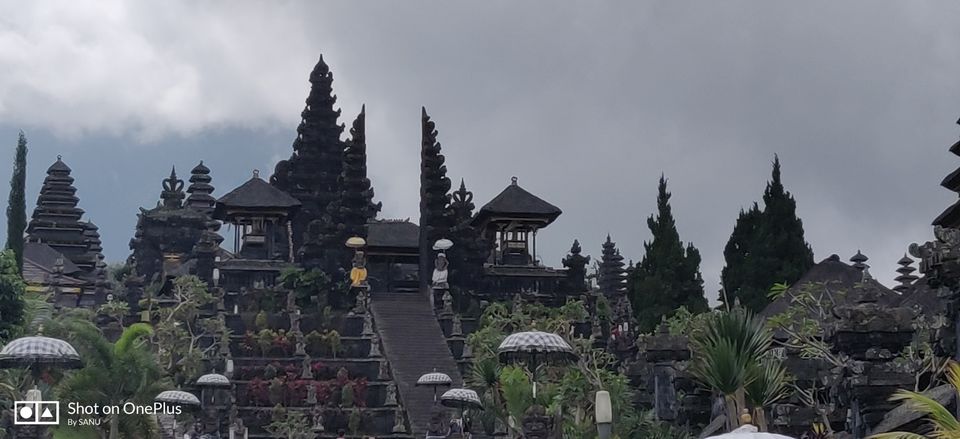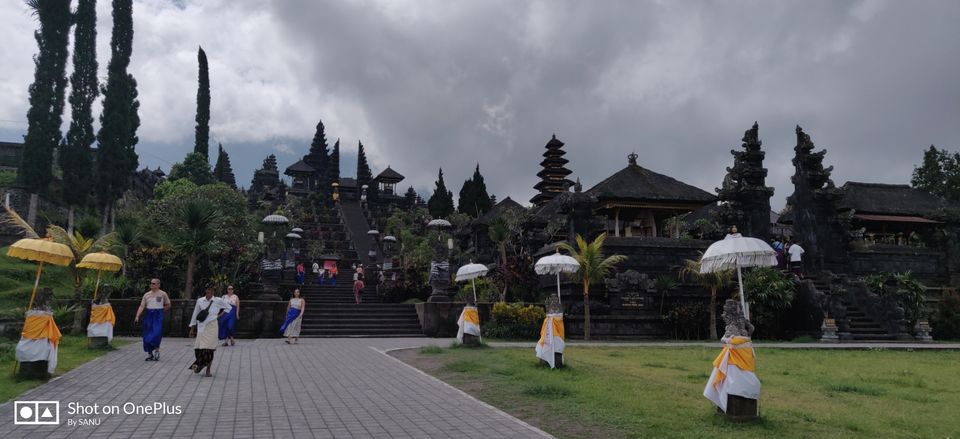 we explored the temple and clicked some pics on phone as well as on the camera.(what I m sharing here are the pics from phone).
On the way to parking area we had a local food as oru lunch...it was quite good and tasty.
At the parking are mr.wayan was waiting for us.
We started the journey and our next destination was
2. Tukad cepung :-
What a great place. waterfall is located inside a cave . We need to walk a bit and climb down few stairs (big steps)to reach , but it's worth the effort.water will amaze you with its scenic beauty and we couldn't resist ourselves from enjoying the cool water .
Great place to click some awesome pics .
Slippers are highly recommend than shoes...or we can wear shoes without socks . Going down was nice but coming back was little heavy...after coming back to the top I realised that I need to work on my cardio as early as possible.
On the way to waterfalls from top there are few shops and refreshment bars.
Waterfall is still known as a secret waterfall. Usually this water fall will not be added in the packages.
Lots of people are getting to know about this waterfall through instagram.
ENTRANCE FEE- 15000 PER PAX/ADULT..
only two destination for that day as the journey to those places were little lengthier.
Came back to hotel and had a cup of cofee from garden restaurant and surprisingly there was a show going on ... usually it starts by night . But that day a marriage party was going on..so we enjoyed watching the programs and came back to our room after dinner and refreshed ourselves and done some.phone calls. And again went our for beach side walking.next day was a leisure day so we were not very much hurry to sleep early.
We came back to our room by 11pm.
Note. :- our indian sim.card will work here, we will get incoming call and messages...but if u want to make calls either we must recharge our number with a package to use outside country. It will cost more than 2000 indian rupees.but if u take a sim card from Bali with a validity of 10 days or less or more depends on how many days we are staying there...it will be much cheaper than recharging our indian sim cards..new simcard comes with internet pack as well.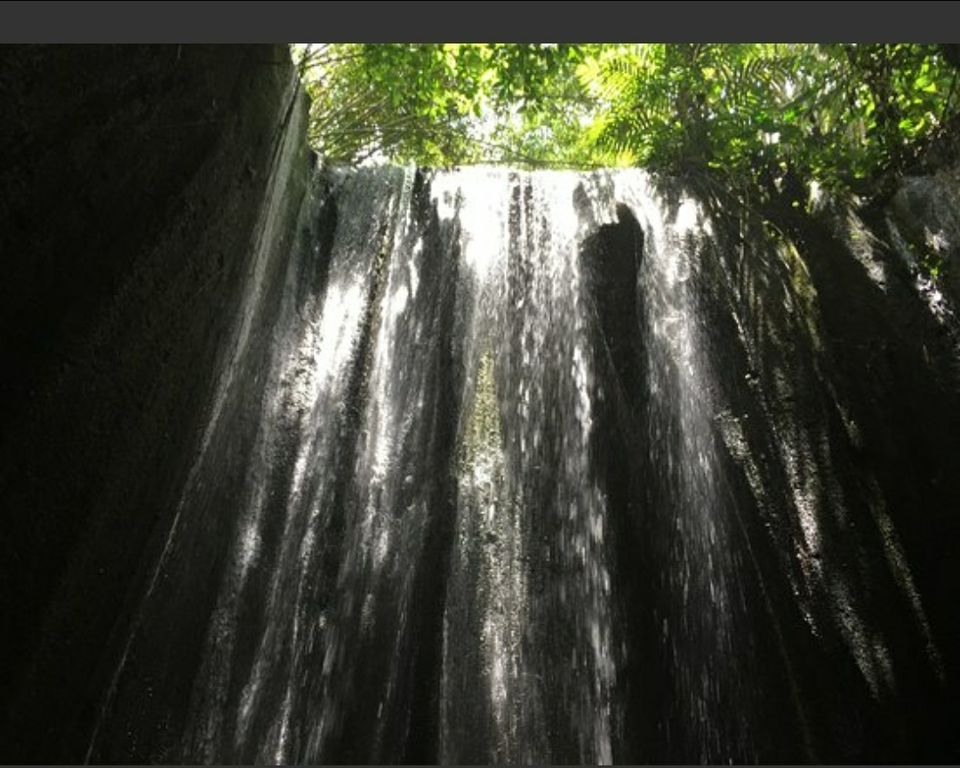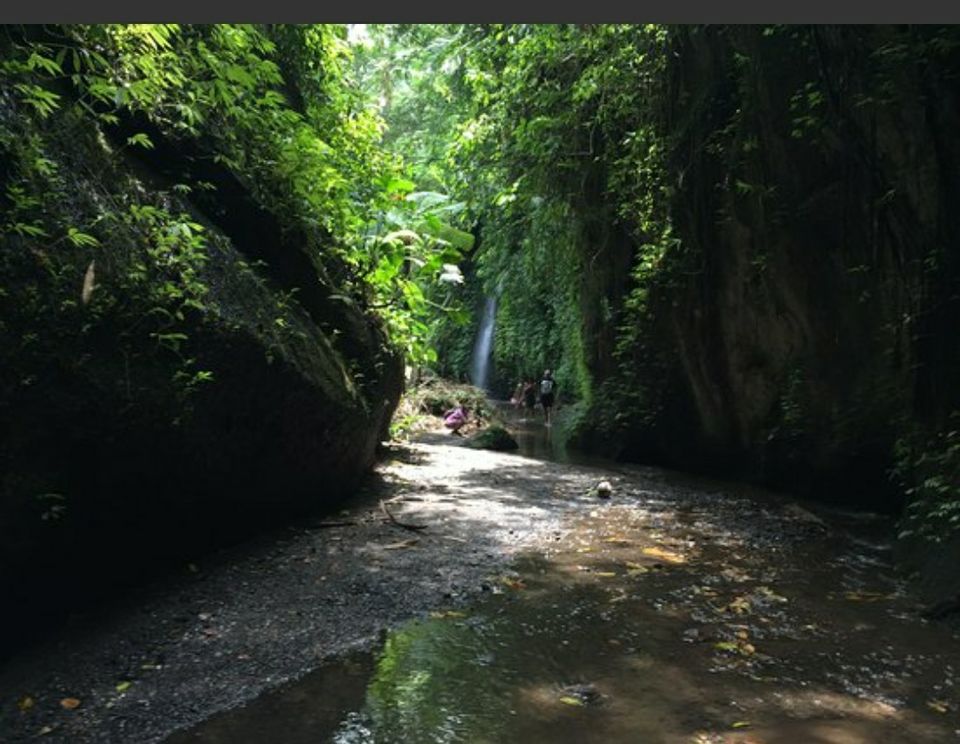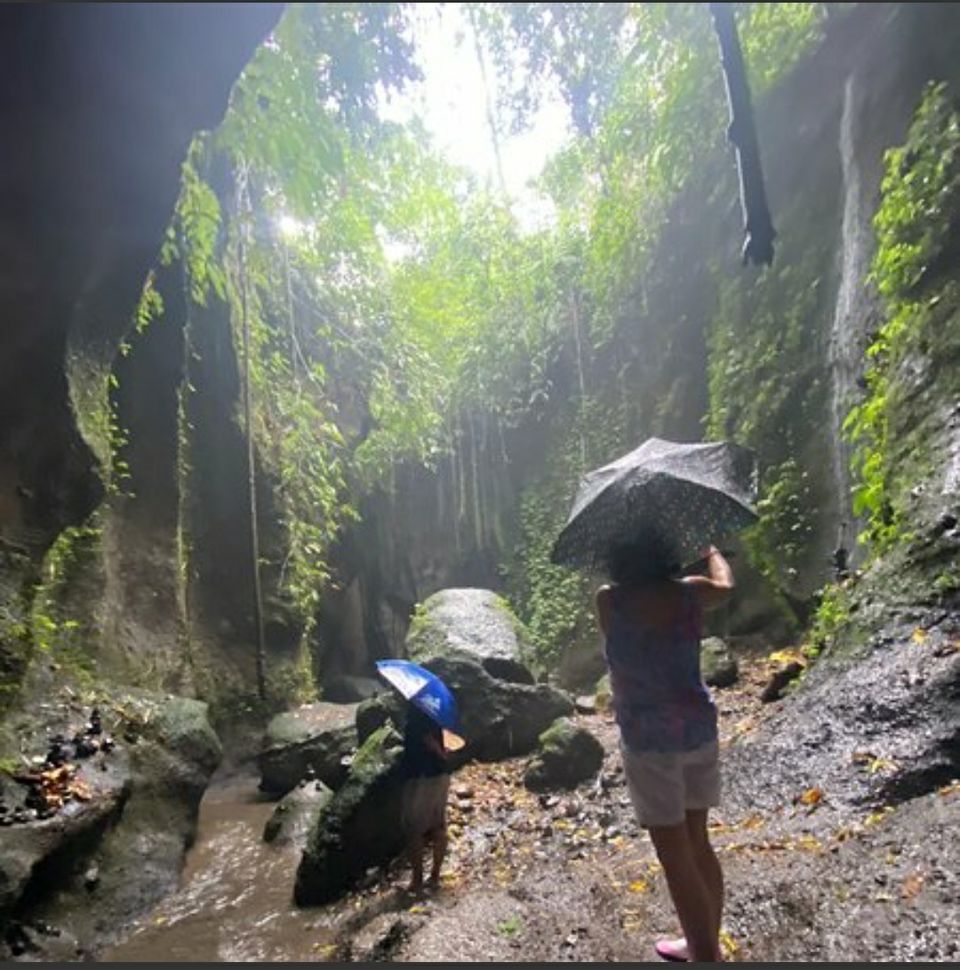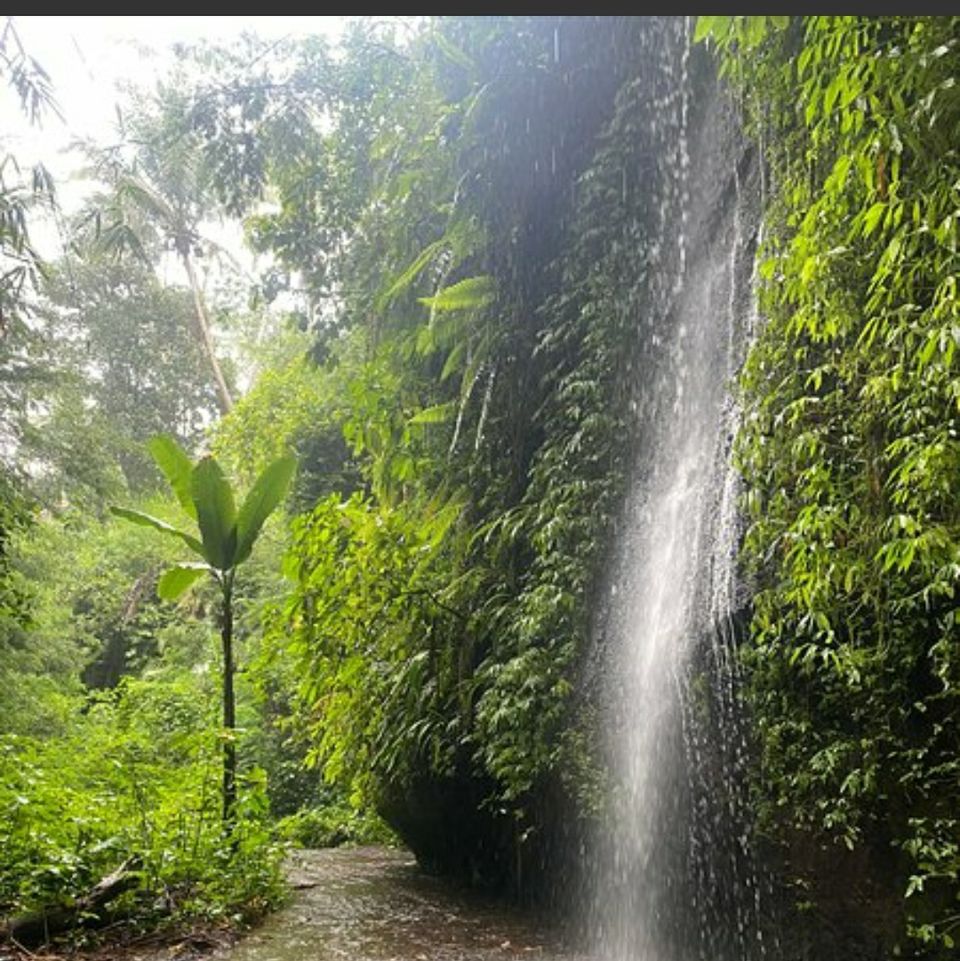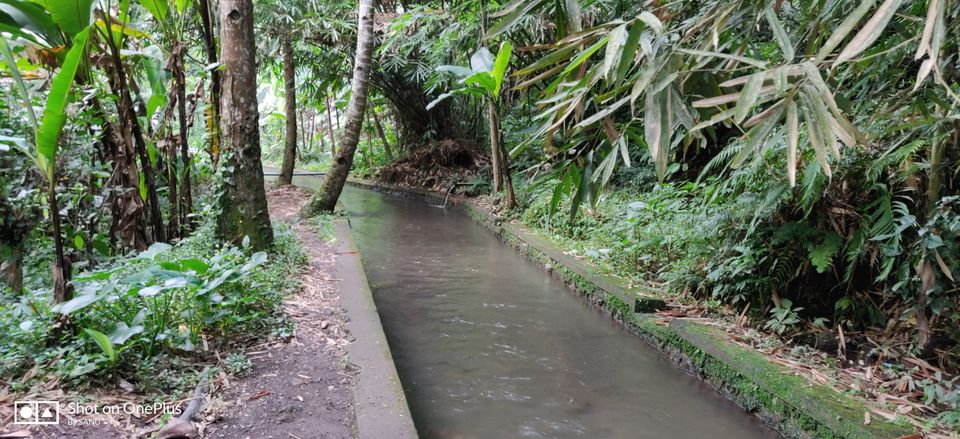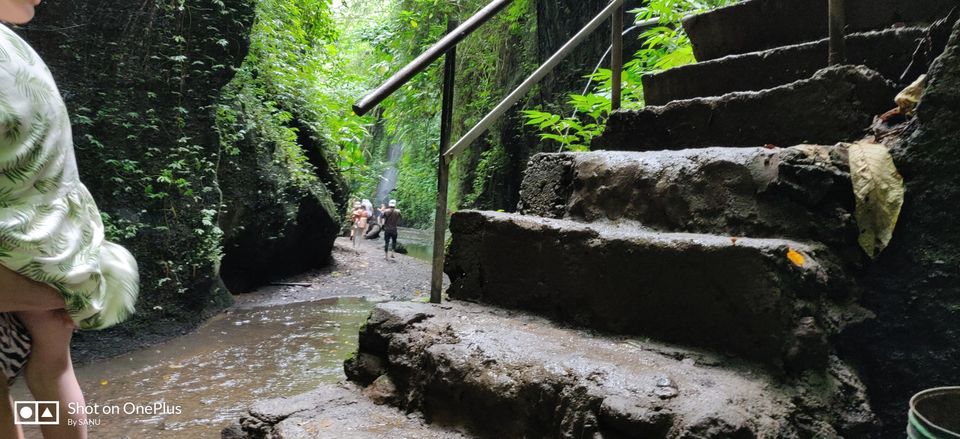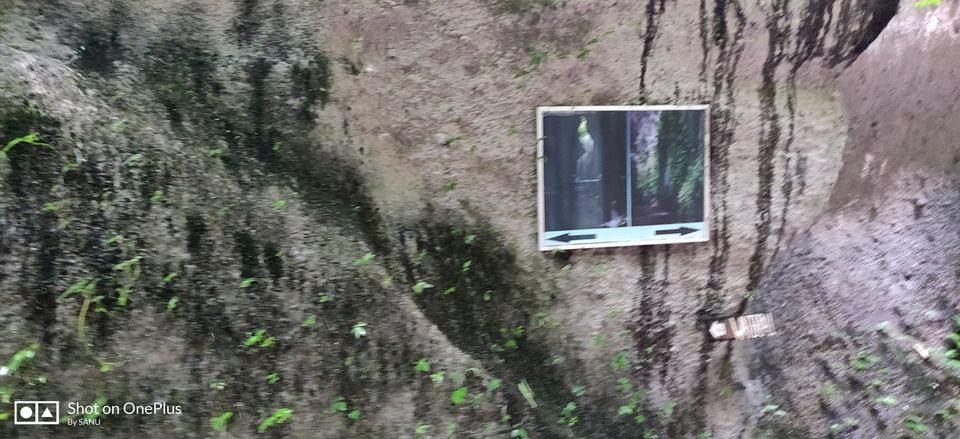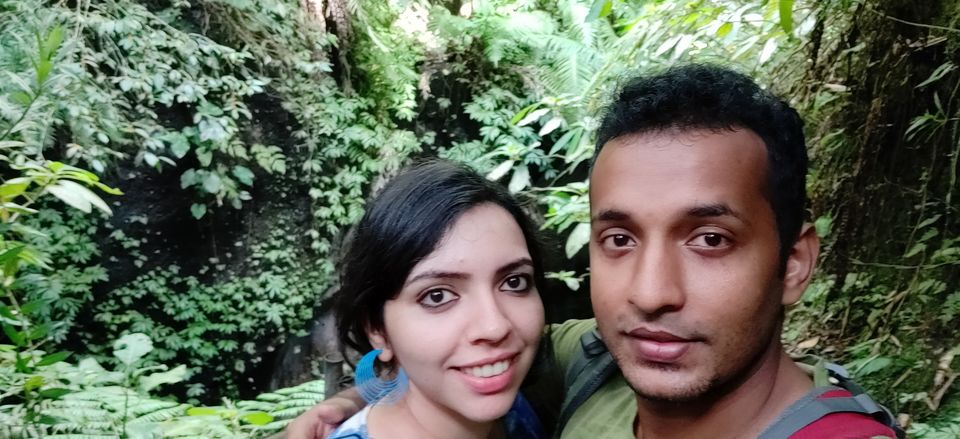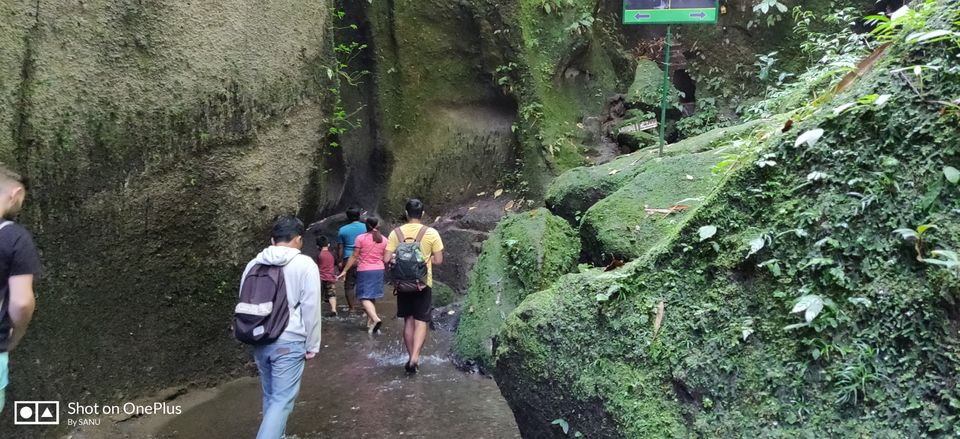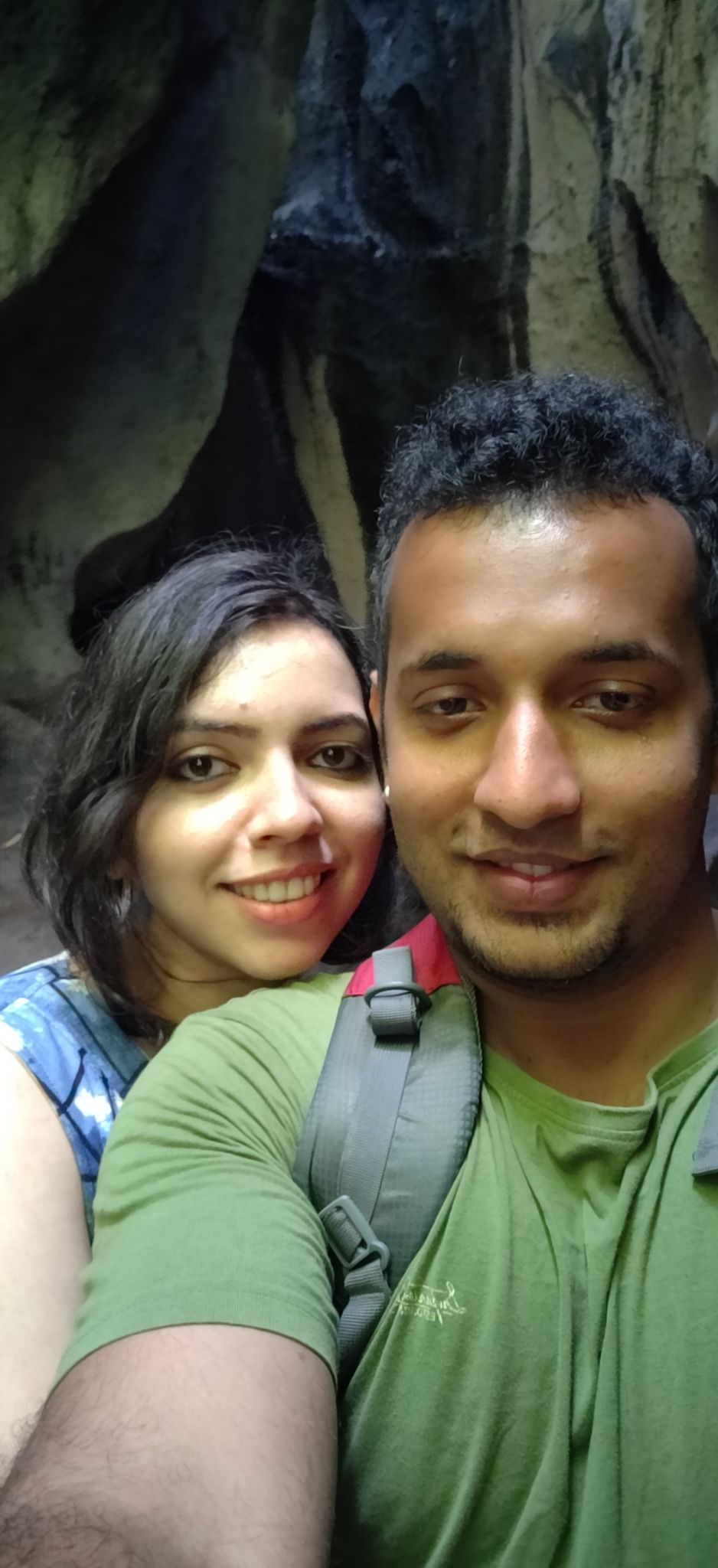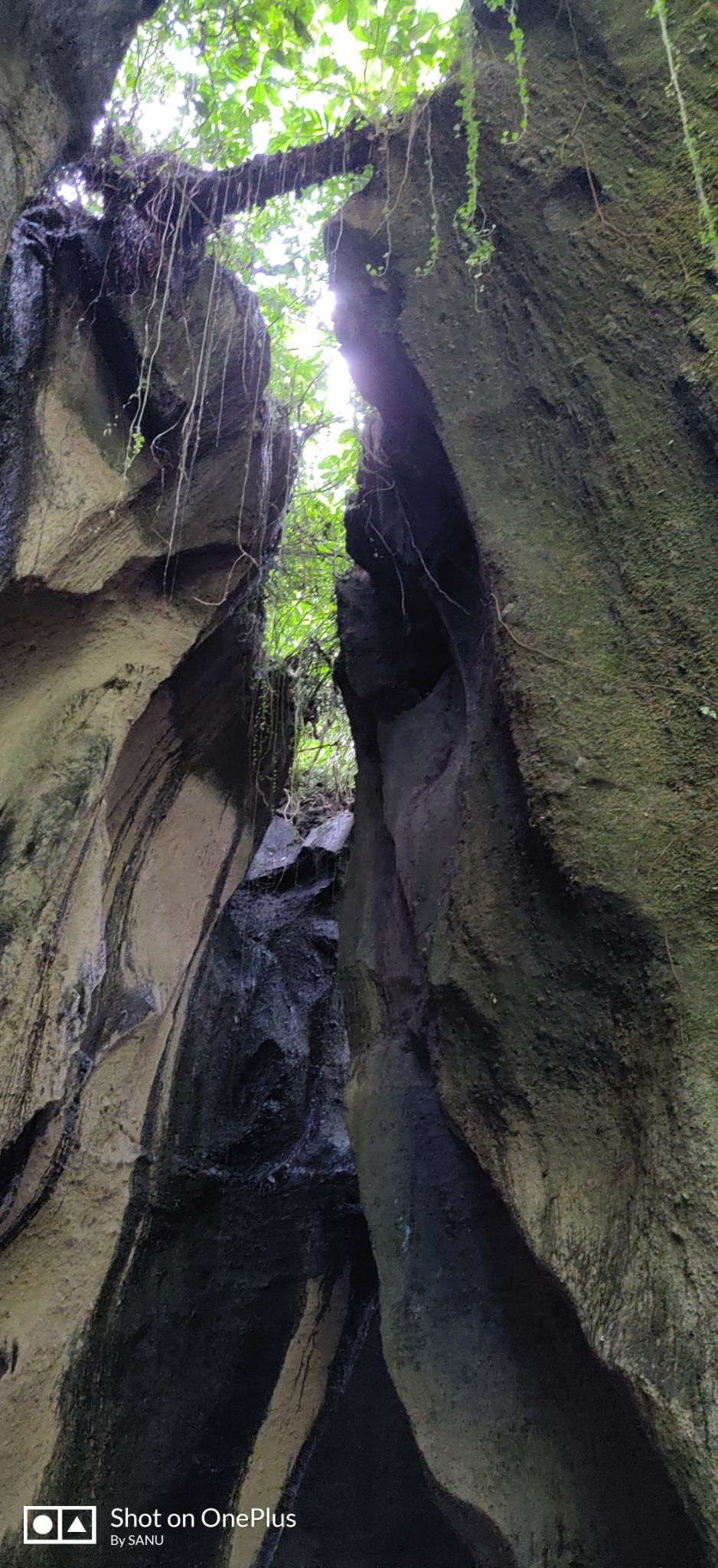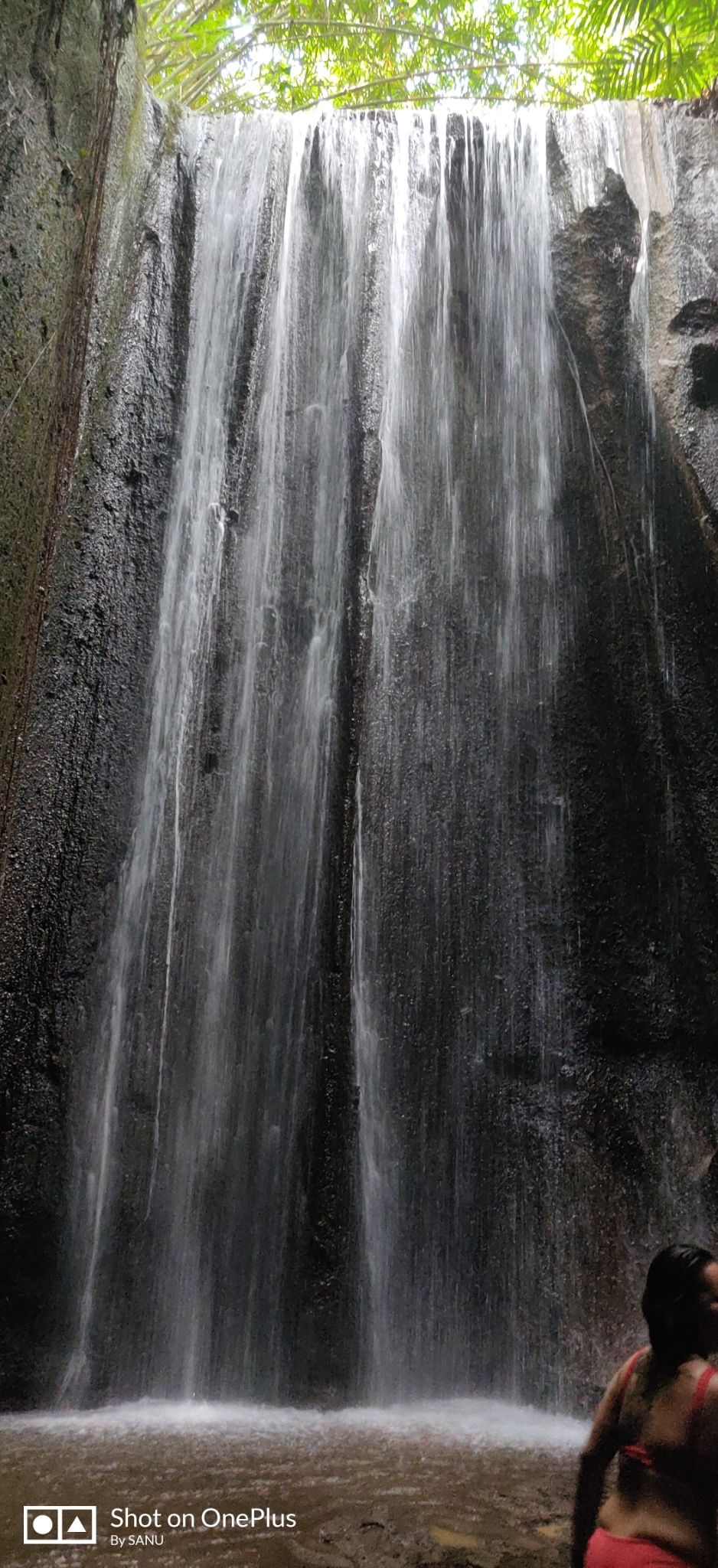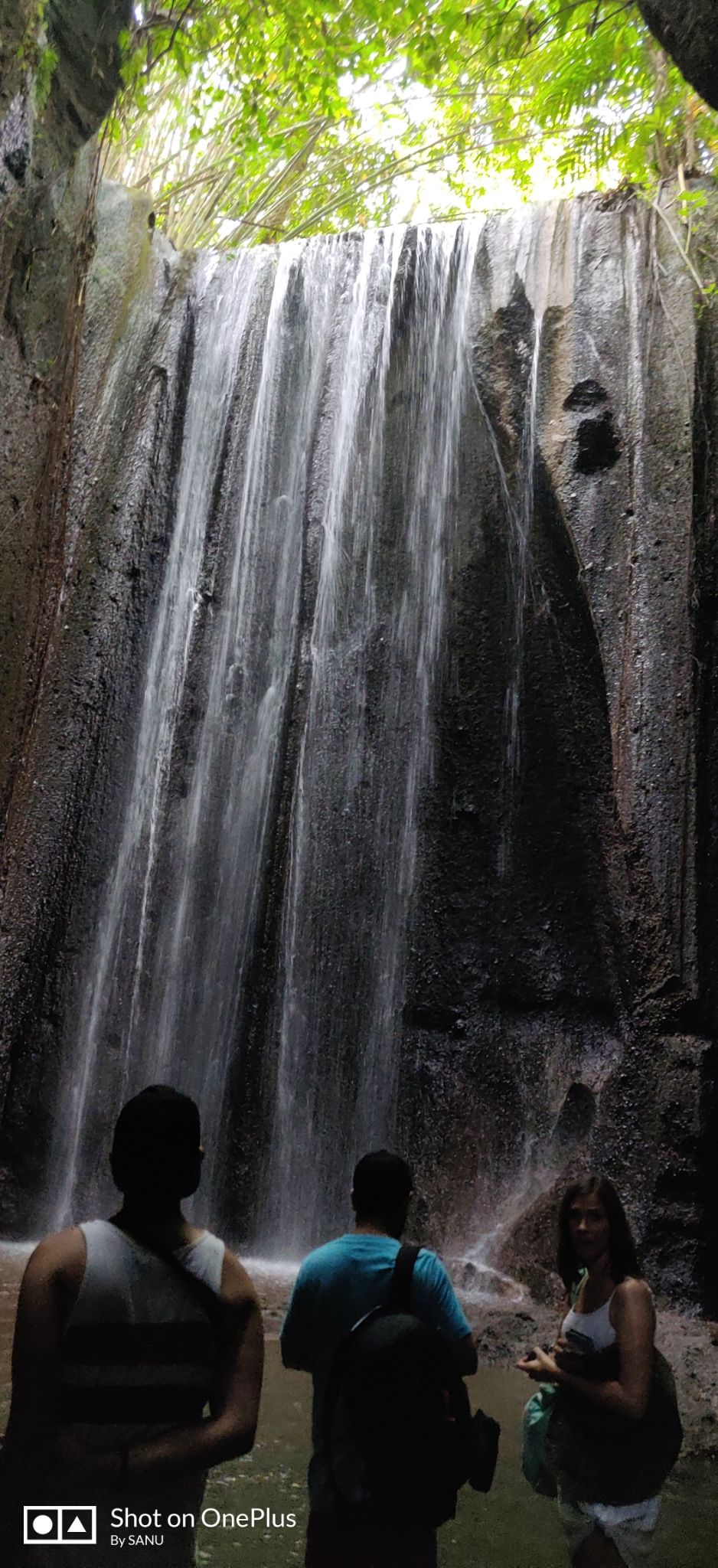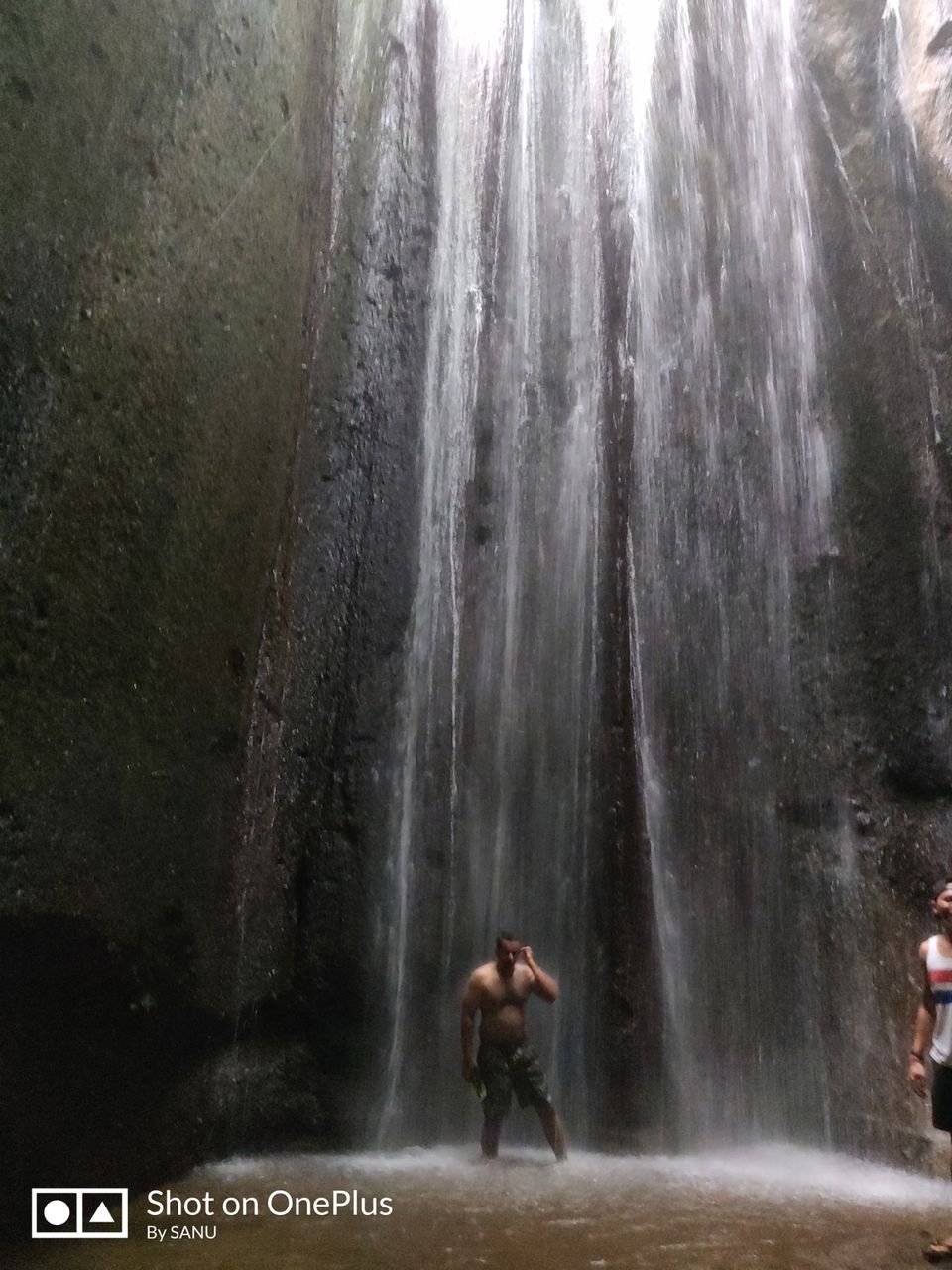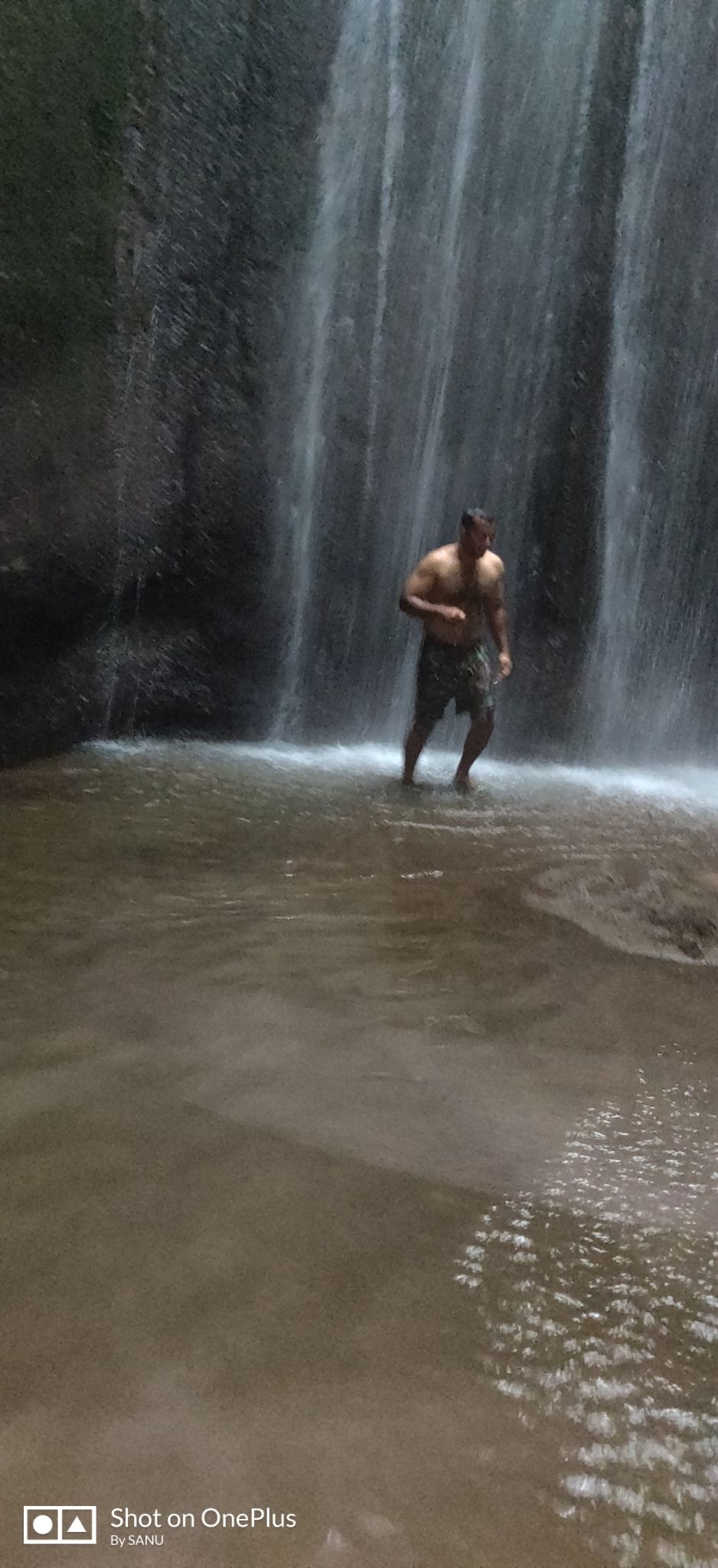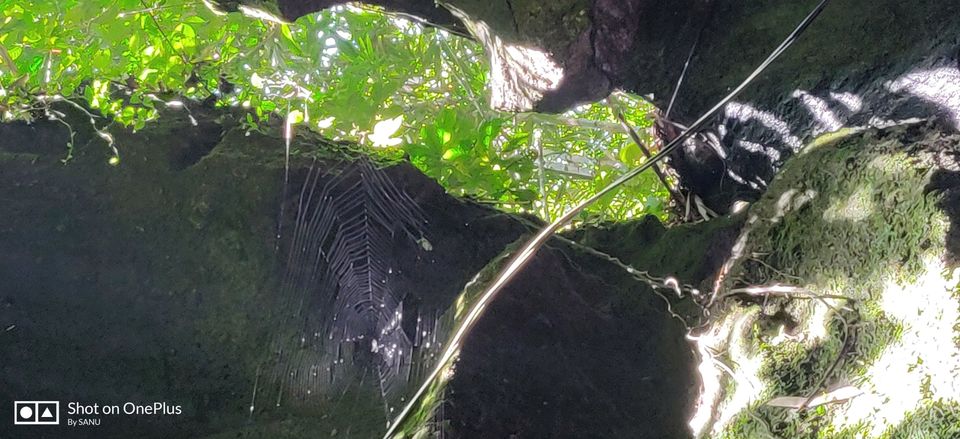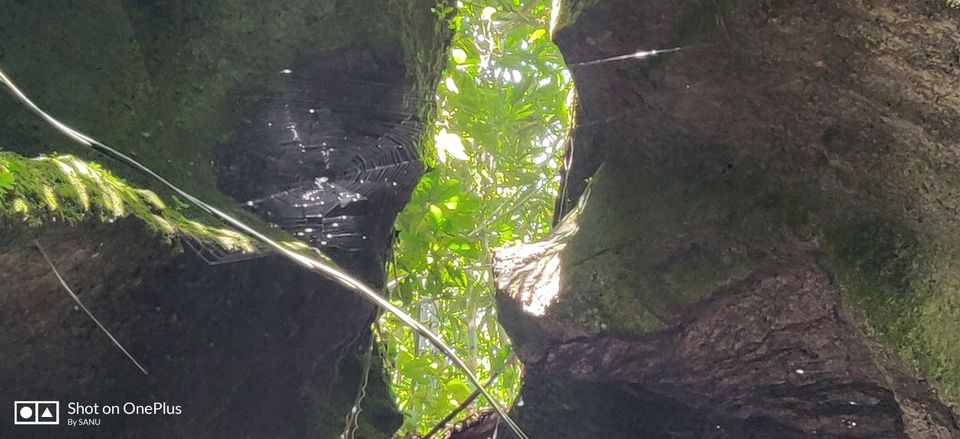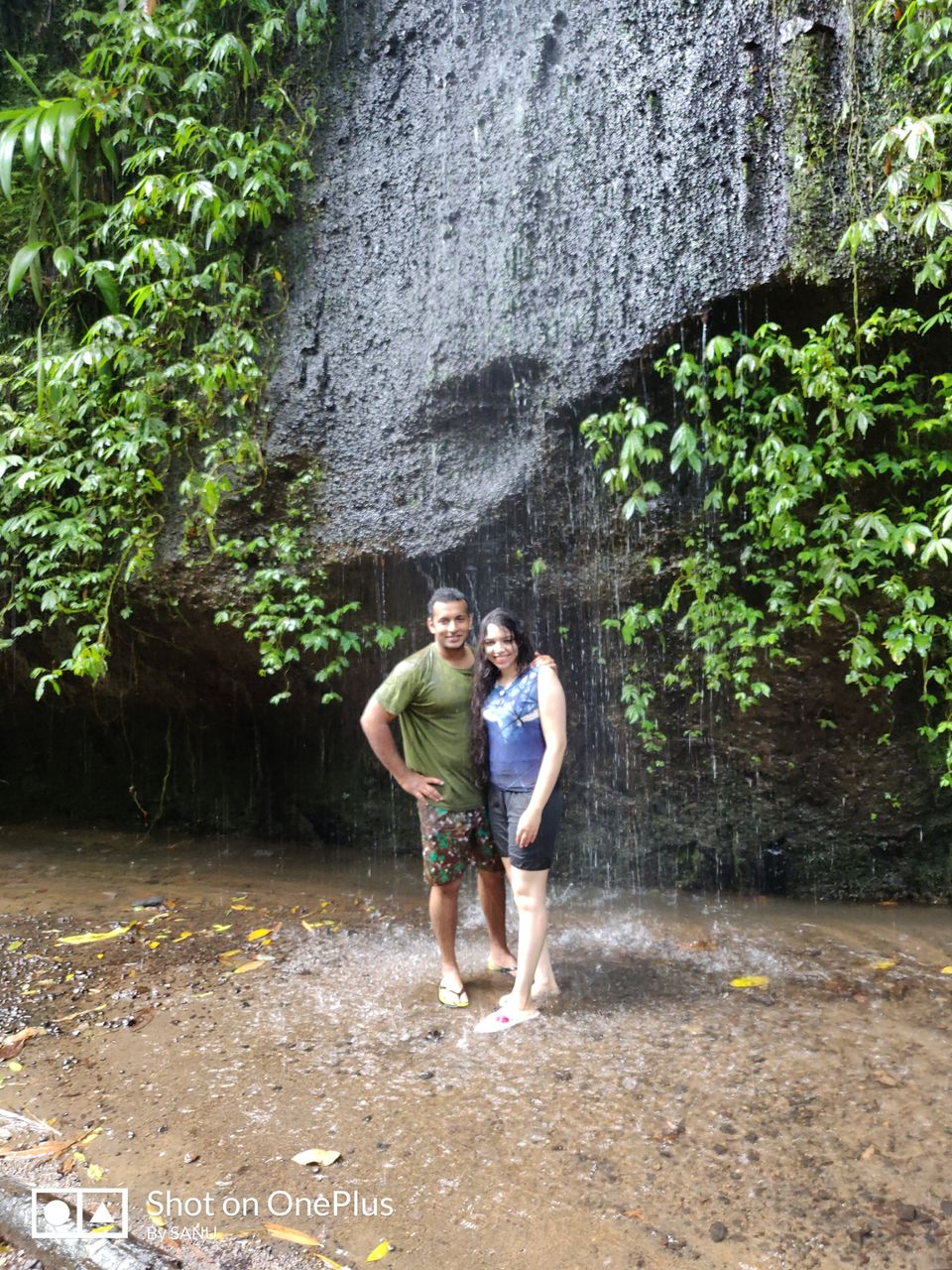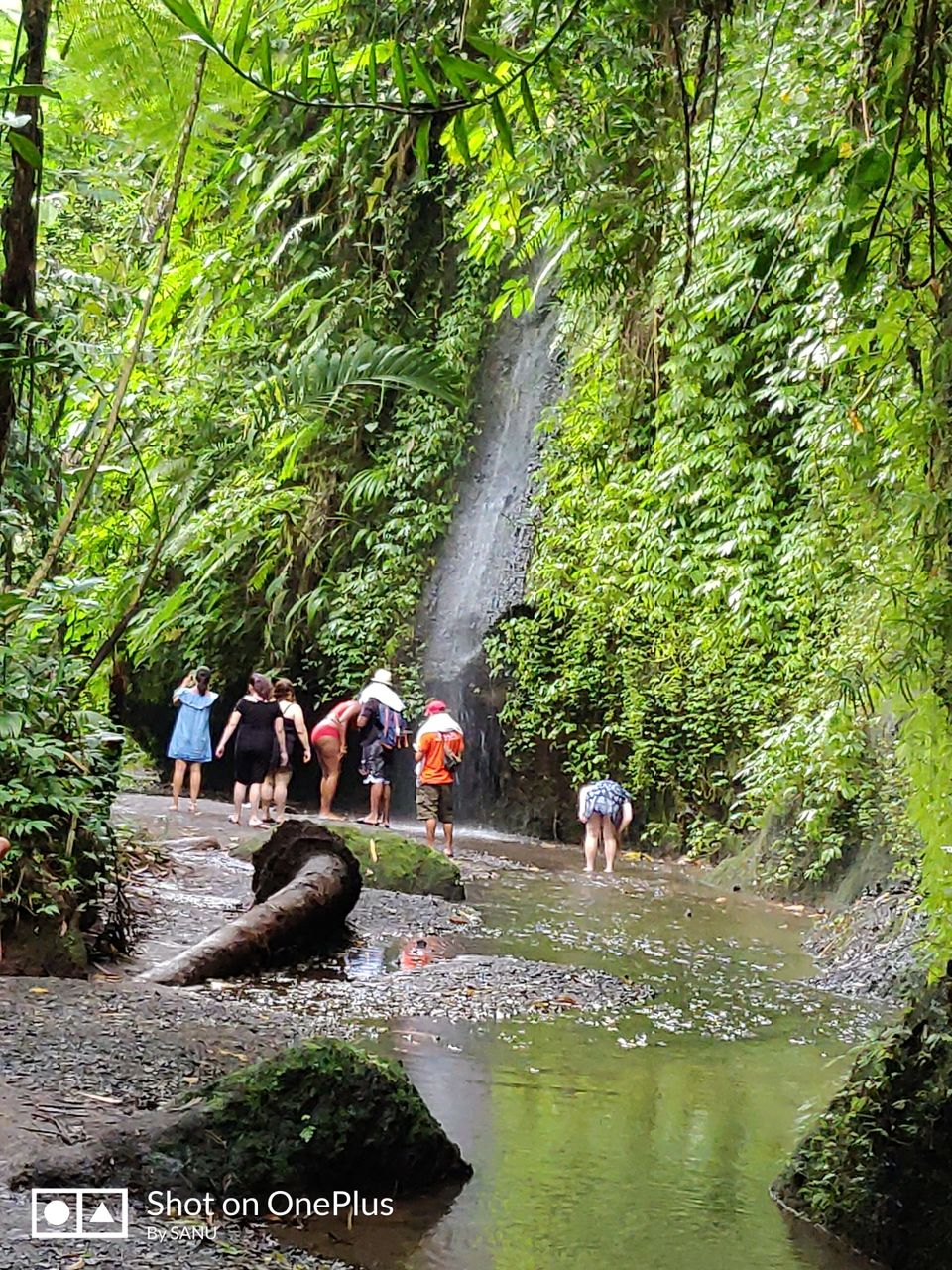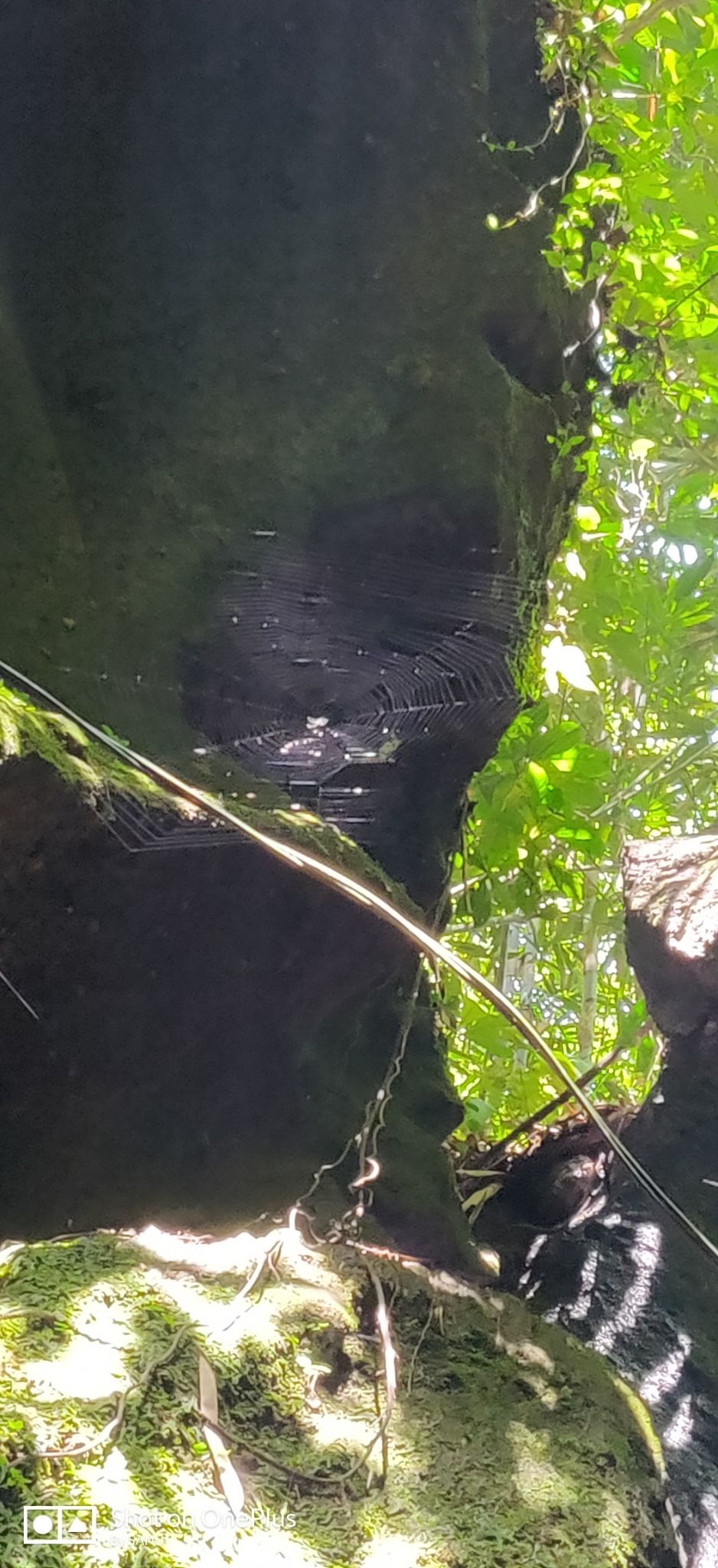 This day we woke up very late and went to have our breakfast and came back to our room...did some packing suddenly got a call from reception, to remind the timeslot given for me for a Bali massage . In one our I was asked to go massage therapy centre to experience a balinese massage. Before it starts we need to fill a form . In few min my messeuse came and invited me for the massage.
BALINISE MASSAGE:-
It is a full body deep tissue holistic treatment.uses a combination of gentle streatches,accu preasure , reflexology to simulate flow of blood and oxygen around our body . Performed on a massage couch / table / mat .
Therapist will use long gentle stokes and kneading to relieve tension and improve circulation in muscles closes to surface of skin . Session last about an hour.
We will feel relaxed, refreshed and energised after massage.
Massage mainly help to reduce stress and rebalance your body.
Different types of massages are there.
BALINISE massage is entirely different from Thai massage.there are places offers thai massage in Bali .
Massages are gentle , firm and aren't painfull ,a slower experience.
It was totally worthy and and an awesome experience..came back to room after massage and within that time she had done almost all the packing.. had our lunch and went outside to check nearby shops ...spend quite good time at beach and enjoyed the music function and by 630 we came back to our room...and refreshed ourselves and god ready for the candle light dinner on beach side. We waited for the call from reception and they were waiting for us to take us to beach side for our special dinner. Another couple were enjoying the candle light dinner on the other corner.. hotel staffs helped us to settle down...started brining foods within a specified time gap..all foods from starters to dessert everything was brought and served in a particular time gap.(while booking the room we should mention that about candle light dinner...and make sure the hotel choosing have the beach side dinner option).trust me it was something mind-blowing and cannot express through words...I m so happy that we tried a candle light dinner it was really worth trying and gives u tonnes of great feeling...enjoying dinner with a bottle of red wine...we just had a small walk on the beach side and spend some quality time there...and came back to our room and finished the packing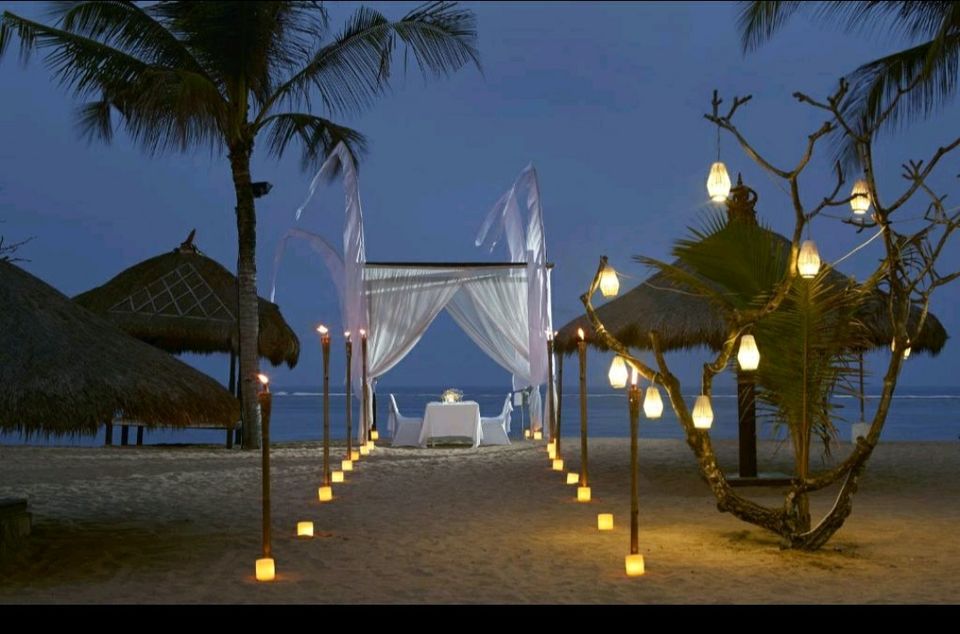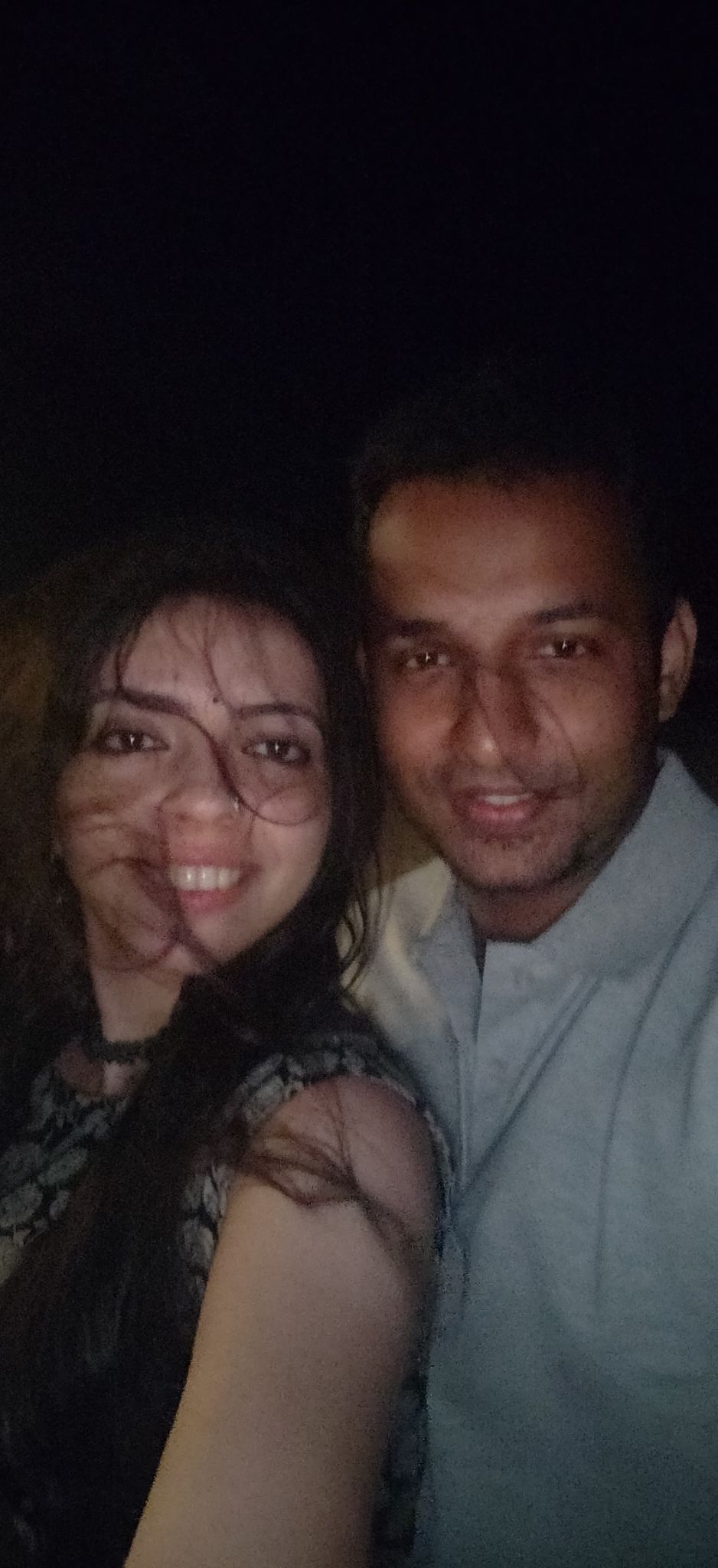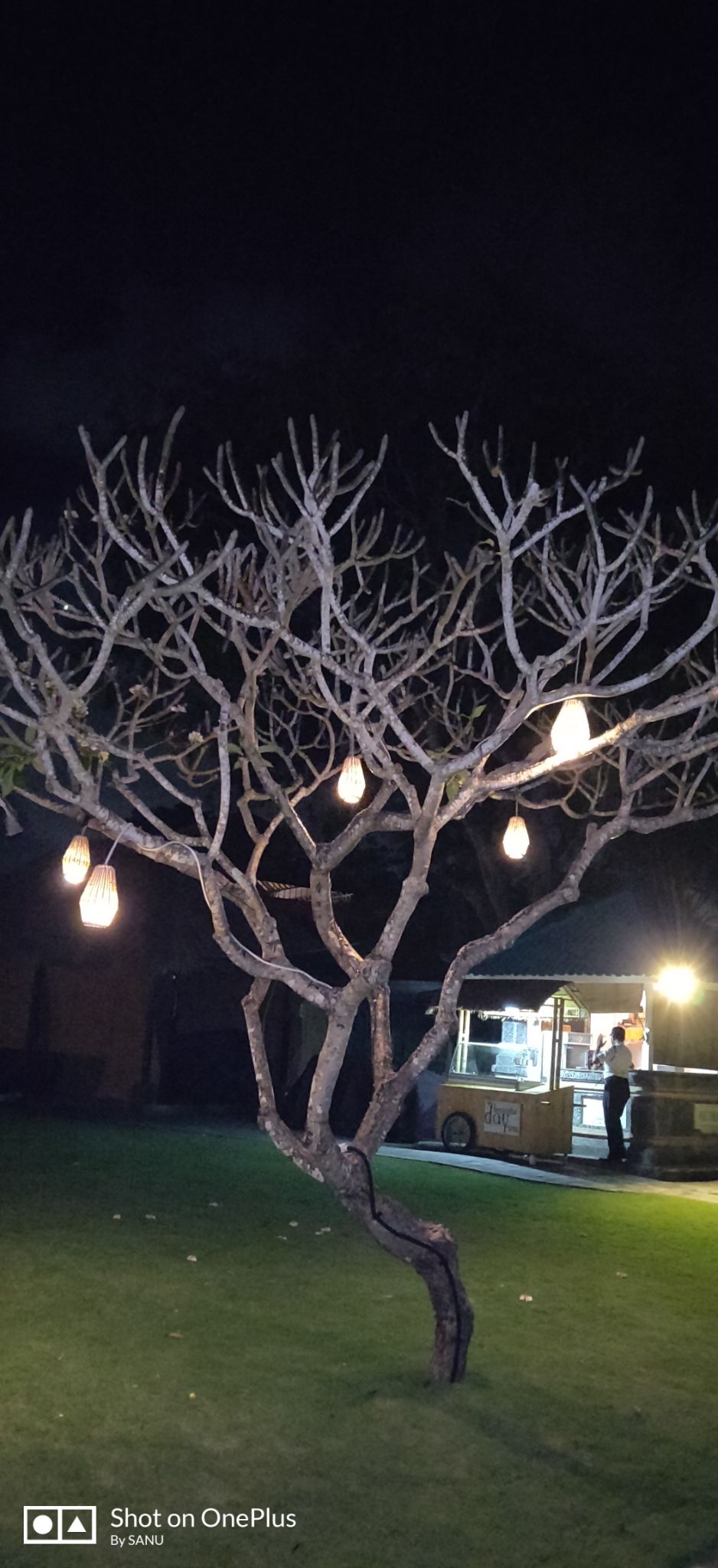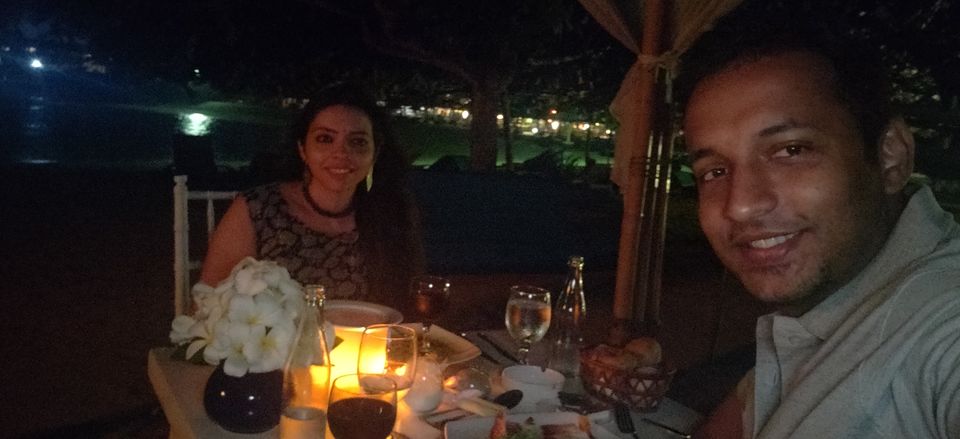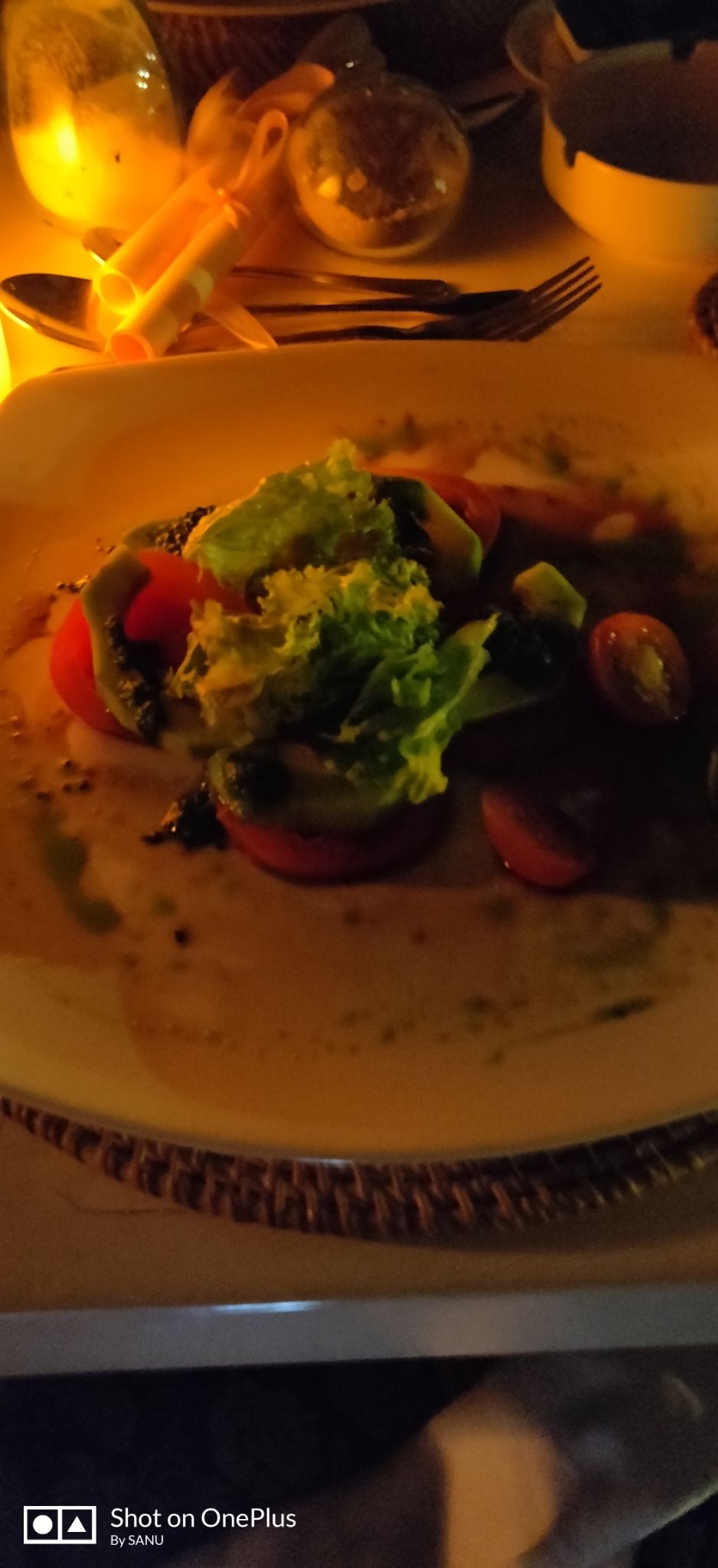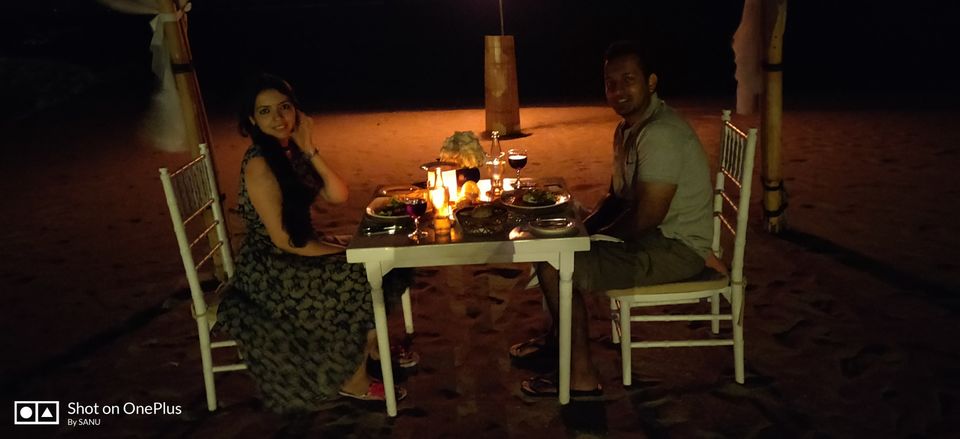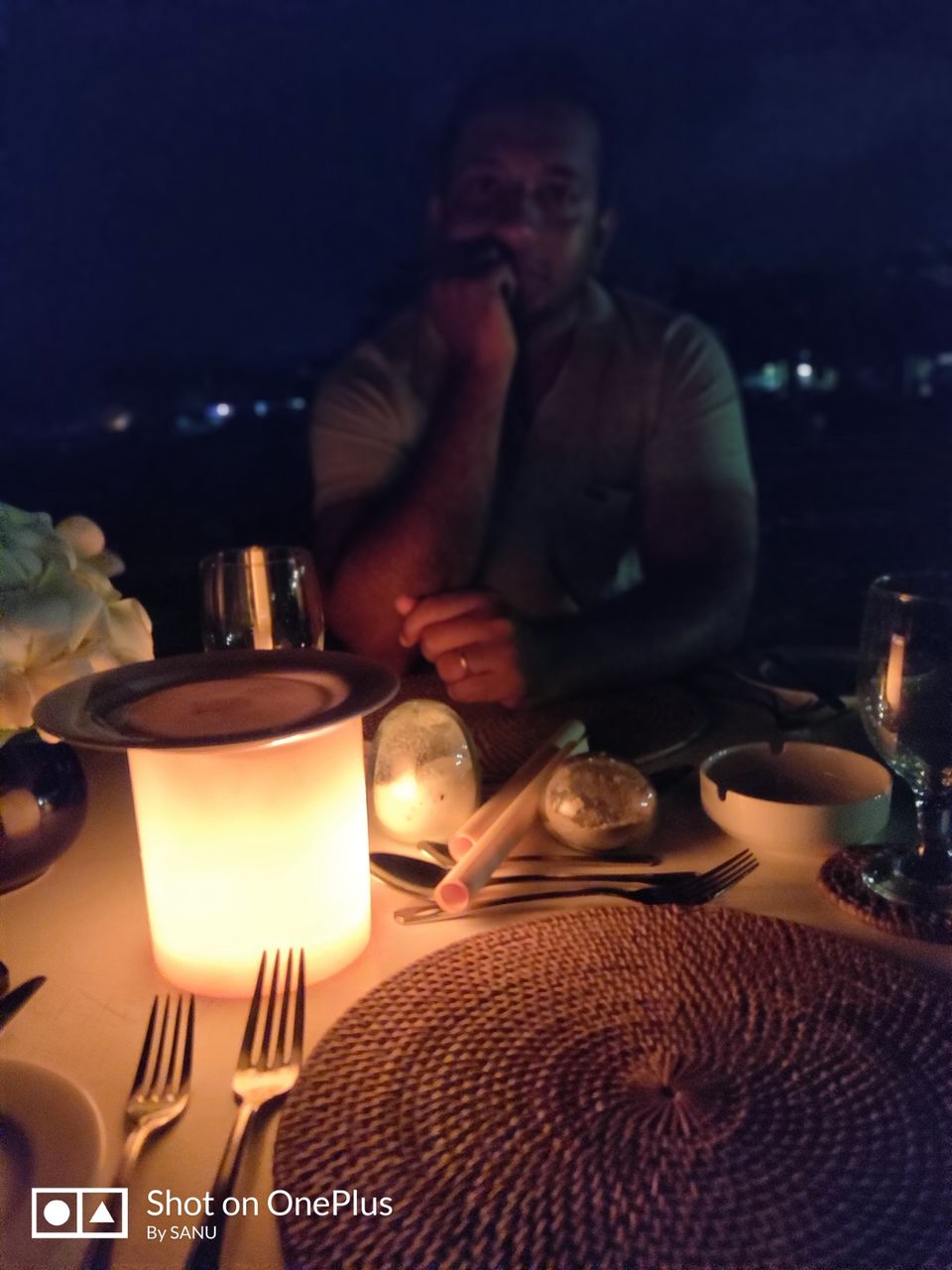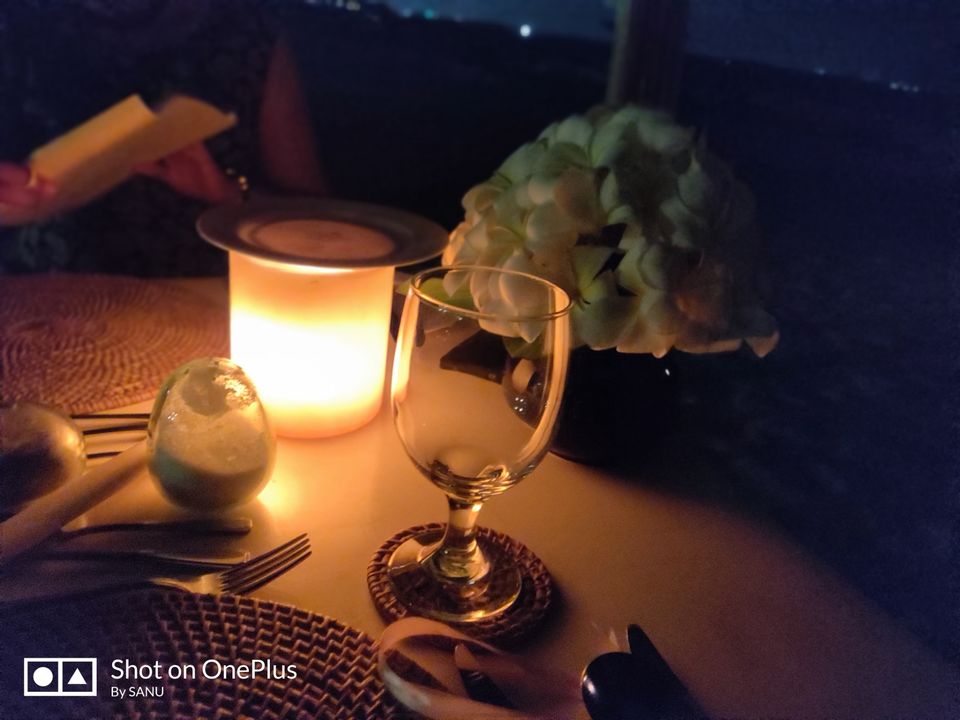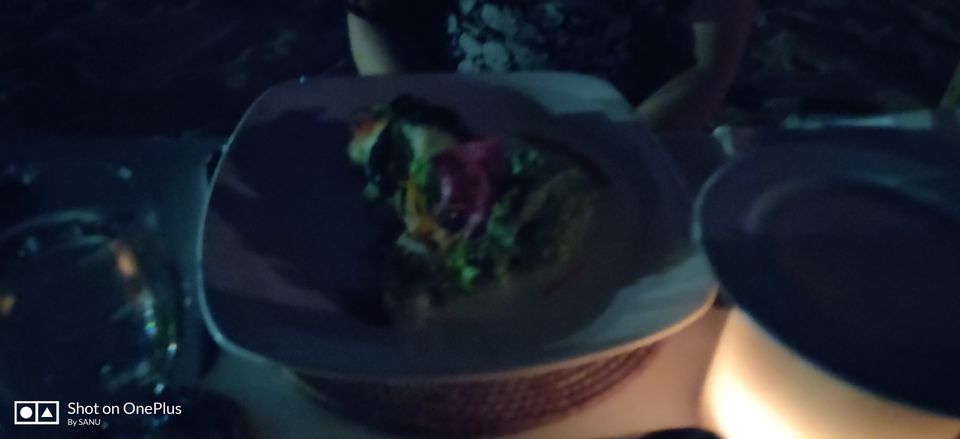 We had our breakfast and by 11am we completed the checking out process and mr.wayan had arrived to drop us at the airport.hotel staffs were very polite and helpfull and shown us their gratitude for choosing to stay with them and gave us greetings while leaving.mr.wayan dropped us at the airport and settled him with payment and he too shown his gratitude and greetings....and he went to arrival section as he was expecting for another customer that day.
If you ask me about Bali them the first thing comes to my mind - the people and peaceful surroundings. People are so peaceful and the way they treat the people especially tourists are quite appreciable which will make to think of visiting Bali again. Those who like to travel and experience new culture Bali is the ideal destination.
We completed our checkin process and in 2 hours we started our journey in Singapore airlines to Singapore and the to Cochin on silk air...on 01-06-2019 we reached back from where we started...
Overall it was quite a mind blowing experience visiting Bali...never ever disappointed even a bit..
There are other hotels available in the middle of jungle ...it will be another experience.
For budget travellers there are hotel with a starting range of 860 indian rupee for a night ...almost all hotels in Bali have a good standard..bike rental also available there for daily charge of 500 indian rupee. 8hrs a day with two helmets and insurance..but I strongly belive to ride a rental scooter we must have an international driving licence...make sure and make the arrangements..
There are other places we couldn't explore due to time crunch. Like Nusa lembongan an island like Nusa penida. A least crowded one. There are places where u can do kayaking .. jungle resorts are there which offers a lots of activities.. animal sanctuaries, bird park, monkey forest .. lovina beach boat ride where you can see the dolphins .
Budget -
Hotel - 45000 inr
Taxi - 7000-9000 total
Flight charge.- as we booked last minute due to some reason it costs around 53000 including return trip for two persons.
Visa- on arrival
Total cost - less than 120000( 1 lakh 20 thousand.)
for any queries am sharing my mail id please fell free to leave a message .
sanalsukumaran@gmail.com
Hotel name - now changed to SOL BY MELIA
reservation@solbhbenoa.com
Taxi - SEGARE BALI TOURS SERVICE
+6281337878625
segarebalitour@gmail.com