When I took this impulsive decision of cycling to Mcleodganj from my city last year after the lockdown, I knew I was signing up for one of a kind experience. But when in the end everything works out and you're just there to soak in the moment, feeling proud of your decisions, that feeling is something else. And during my stay in Mcleodganj, I met a guy, Ben from Switzerland whose decision was way more commendable than mine - walking 15000 km from the Czech Republic to reach India, by only on foot. Sounds insane right? But when I asked him about the reason, he replied that he had been walking just for peace.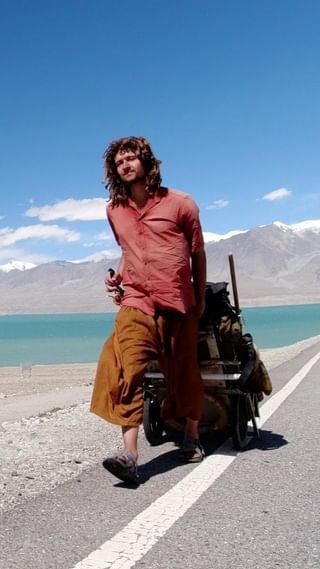 What made you take this decision? Was it impulsive or you already thought it all through?
I was a web designer back in Switzerland. I was doing well and all but only inner peace was missing. I am spiritual since as a child but I wasn't able to find that peace there, hence I took this decision of coming to India on foot coz I knew India is a spiritual place and this journey would spiritually fulfill me.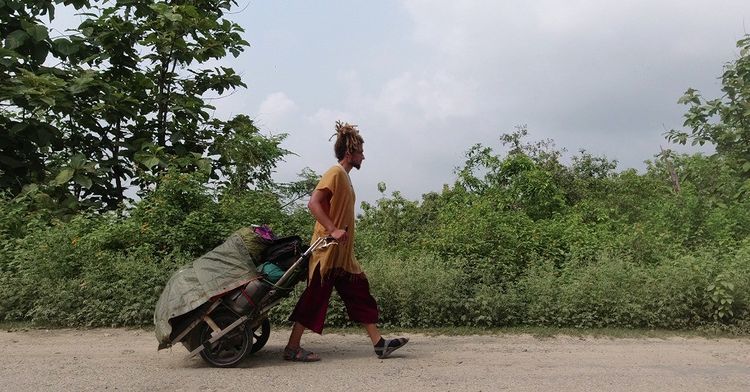 How long did it take you to reach here and How was your overall experience?
The first step I took was four and a half years ago from the Czech Republic . Then went through Europe for about 8 small countries. And went through many other countries that I had no idea about such as Turkey-Kazakhstan-Georgia-Armenia-Kyrgyzstan. While in Kyrgyzstan I waited for summers to start and I continued my journey through Kyrgyzstan-China-Pakistan. I stayed in Pakistan for half a year then after crossing Wagah Border, I was finally in India. I stayed 4 months at Golden Temple in Amritsar, and then I was stuck in lockdown in Hoshiarpur with a very sweet family for 3 months. And now after lockdown, I m here in Mcleodganj.
No matter what country I was in, people were so helpful. There were days that I had to walk for 2-3 days because there was no town in between to rest properly. And the bypassing people would ask me "why are you walking through this secluded area?" and would give me food or water as an act of kindness. So it was a pretty wonderful experience.
How was your experience in Pakistan? And did you get in any kind of trouble anywhere?
There are two perceptions or two ways to perceive reality. One is by listening to what people say, by watching the news and another is like believing what we actually see with our own eyes. I choose the second and that's why I went personally to all those countries and I'm very glad that I did. It's true, in the media Pakistan doesn't seem to have such a good reputation and people usually ask me "it's so dangerous, what are you doing there?" What I am doing there is to see for myself if it's actually dangerous and from my experience, it is not dangerous at all because I've only met amazing, lovely people who were like family to me and I haven't had a single conflict with anyone there. My conclusion is if some people had experienced something negative, it's probably because they were looking for it to happen.
And I did get in trouble but not in Pakistan but in Turkey. The army there mistook me as an enemy combatant and took me in. I had to prove to them that I was from Switzerland. It was a lot of work but after when they believed me they let me stay in one of their army cabins with food provided.
I heard you speaking Hindi earlier. How fluent you're actually?
Hahahaha...I m still learning though but I can communicate 'thoda-thoda' with local people. Back in Kyrgyzstan, I met some Pakistani students in the hostel and they taught me a little, and since then I've been learning from audiobooks and through communicating with people.
How long are you planning to stay here in India? Any plans other than India?
Since I m here now I think I'll be staying here for a couple of years more but first I m planning to attend Kumbh Mela. Like I said I m here for spiritual reasons and I really want to explore the spiritual expect of India first.
Follows Ben's journey on Youtube and on Instagram
Follow me on Instagram & Facebook for more such interesting blog updates, travel stories and photos from across India and the world!