This year, I had the opportunity to visit an offbeat country in Central Asia and I cannot emphasize what a life-changing trip it was!
A 25-day impromptu trip with my best friend was certainly what I had in mind at the start of this year. We hitchhiked, trekked, and camped along the way but what I remember the most are the people and the culture of this country.
Kyrgyzstan is greatly underrated but trust me, this is definitely one of the best places to visit in Central Asia.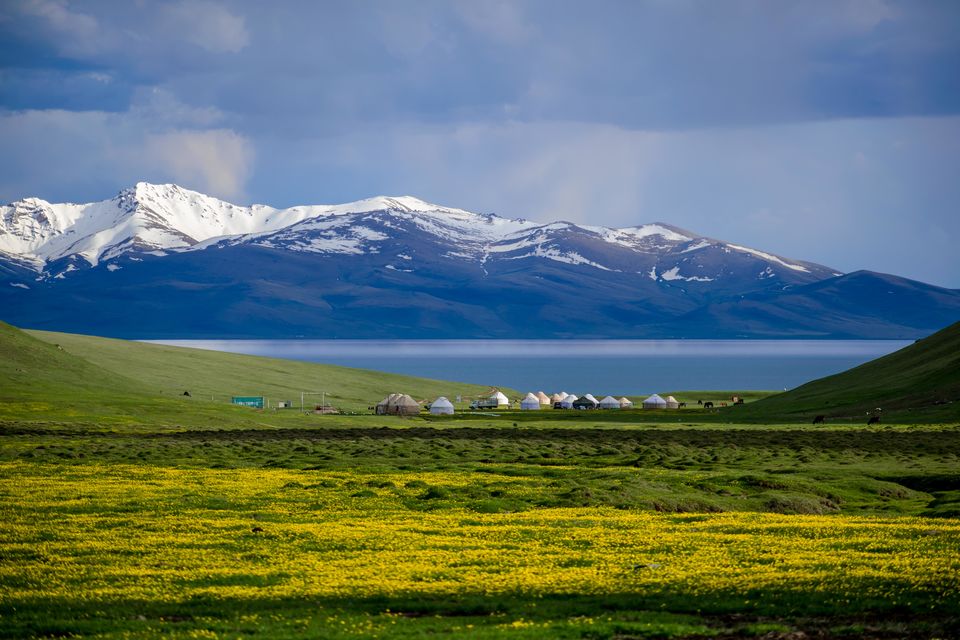 Route
Although I started my trip to Kyrgyzstan from Almaty (Kazakhstan), you can start it from India itself. Bishkek is the capital of Kyrgyzstan and there are several flights from India throughout a week.
Here is the route that you can follow for your Kyrgyzstan trip:
Bishkek - Cholpon Ata - Karakol - Bokanbaevo - Kochkor - Bishkek - Osh - Bishkek
Now, this might seem like a short itinerary for 3 weeks but don't be fooled by the names. Each of the places mentioned in this route require at least 2-3 days because there are a lot of day trips to be covered from here.
Best Time to Visit Kyrgyzstan
The best time to visit Kyrgyzstan is in summers, from June to August, as the country stays cold and frozen for the remaining part of the year.
If you wish to trek to the lakes and enjoy them, then make sure you visit this country after the lakes have melted.
Kyrgyzstan Itinerary for 3-Weeks
Here is a concise itinerary to help you plan a trip to this magical nation too!
Day 1 - Bishkek
On day 1, you would need to take a flight to Bishkek and check-in at your stay. There are direct and indirect flights to Bishkek so, keep aside the first day to rest and explore in the city itself.
A return flight ticket to Bishkek can cost around 25,000 - 28,000 INR.
Note: You can apply for e-visa for Kyrgyzstan which costs around 2800 INR. You just need to fill out the form, pay the visa fee, and wait for a week.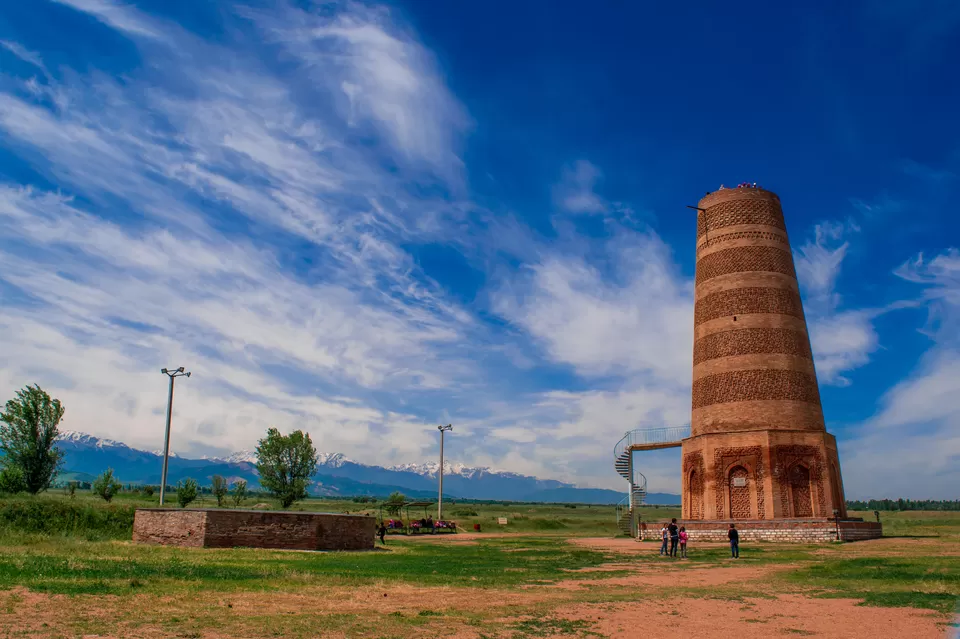 A popular day trip from Bishkek, Burana Towers is the remains of the Lost city of Balasagun. This is one of the famous historical sites in Kyrgyzstan and is located just 80 km from Bishkek.
This is definitely a place that you cannot miss out on and can easily spend half a day here learning about the history of this place.
How to Reach: Take a mashtruka from the Western Bus Station in Bishkek to Tokmok city (50 Som per person). From here, Burana towers is another 8 km and can be reached only by a taxi which will cost 350 Som for the return trip plus 1 hour wait.
Day 3 - Kol Tor Lake
The next day, you can head for a short trek to the Kol Tor Lake in Kegety Gorge. What makes this place special is that the lake color is a shade of emerald green and reflects the gorgeous mountains in the background quite clearly.
The trek is moderate and will take around 6-7 hours in total if you rest a lot and enjoy the views.
How to Reach: Take a Mashtruka from the Western Bus Station in Bishkek to Tokmor City (50 Som per person). From here, take a private taxi which will cost around 600 Som and will take an hour to reach the starting point of the Kol Tor Lake trail.
Day 4 and 5 - Ala Archa National Park
Next day, you can head to another popular trek in the area to the Ala Archa National Park. Known for its majestic mountains and gorgeous trails, Ala Archa is a hiker's paradise.
And you can easily reach the camping site of Ak Sai Glacier after just 3-4 hours of trek. It is possible to only enjoy a day trek to this place but if you wish to truly soak in the environment then make sure you keep aside at least 2 days for this trek.
How to Reach: From Osh Bazaar, you will get Mashtruka 265 (100 Som per person) which will leave you at Kash-Kasuu, the closest village to Ala Archa National Park. From here, you can take a taxi to drop you off at the gate of the Ala Archa National Park (not the ticketing counter, the gate is further ahead). The taxi will cost you around 400 Som for dropping you off at the gate.
From here, your trek starts.
Day 6 and 7 - Cholpon Ata
One of my favorite places in Kyrgyzstan is the Cholpon Ata because it is said to be the party hub of this country. Since it is situated next to the Issyl Kul lake, which is the largest salt water lake in Kyrgyzstan, it gives off a beach town vibe.
You can easily come to this place, relax on the beach, party all night, all the while being surrounded by gorgeous mountains!
How to Reach: From the Bishkek Bus Station, you can take a mashtruka/bus to Cholpon Ata which will cost around 300 Som per person. It is a 3-4 hour drive from Bishkek and on the way, you get some witness some brilliant views!
Day 8 - Karakol
After chilling in Cholpon Ata, you can head to Karakol town which is the base for many amazing treks and hikes. Another great thing about Karakol is that it is surrounded by the mountains so it is cooler than Cholpon Ata and has its own charm.
How to Reach: From Cholpon Ata, you will get many mashtrukas heading to Karakol for 150 Som. It will take around 2 hours to reach. In Karakol, you can take a taxi for 80 Som to your hotel/guesthouse.
One of the most popular day trips from Karakol is to Jetty Oguz. What makes this such a famous spot?
Well, this is where you can marvel at the image of Seven Bulls formed out of the red rocks found here. Trust me, this is a sight that you do not want to miss out on.
Furthermore, there is a short hike to a waterfall nearby which is worth the effort. What I loved about this place is the meadows and the river that you get to encounter on the way. This is another place which made me feel like I was a part of a fairytale!
How to Reach: You can take a mashtruka to Jety Oguz for 100 Som or a shared taxi for 150 Som. You can also hire a private taxi if you are 3 or more people for 600 Som.
Day 10 - Altyn Arashan National Park
One of my absolute favorite places in Kyrgyzstan is the Altyn Arashan National Park. This is the place where I took a dip in a relaxing hot springs and lay down on a field of yellow flowers while admiring the snow-covered peaks in the distance.
This is yet another popular day trip from Karakol and you will be trekking a total of 26 km. But don't be intimidated because if I can finish this trek in a day then you can do it too!
How to Reach: You can take a mashtruka to Aksuu village which will cost 20 Som per person. From Aksuu village, Altyn Arashan is around 13 km away and will easily take 4-5 hours so make sure you start early.
There are also groups tours that you can join to reach this place.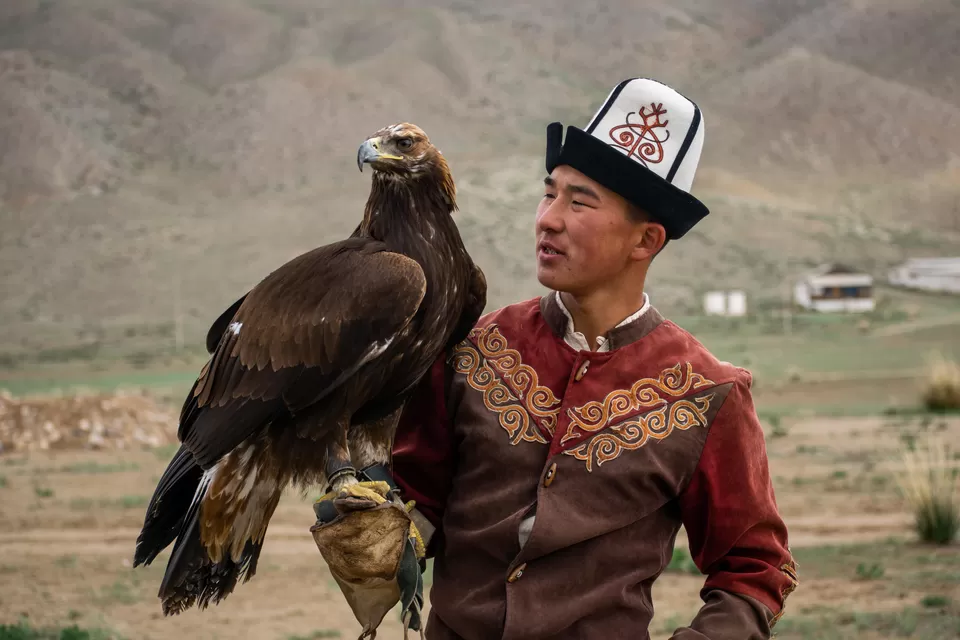 After spending time in Karakol, it is time to head to Bokonbayevo where you can watch the famous Eagle Hunting tradition. This place is also close to the Issyk Kul Lake and Skazka Valley so you will have a lot to explore around.
And there are amazing Yurt stays here as well for 1000 Som per night including food which you should definitely experience in this small town.
How to Reach: From Karakol, you will get mashtrukas and shared taxis to Bokonbayevo for just 150 - 200 Som.
A place straight out of a story book, Skazka Valley is one of the reasons why we made a stop in Bokonbayevo. Situated around an hour from the town, this place is quite magical and has interesting stories attached to it as well.
And the best part is that, unlike most other places in Kyrgyzstan, this place is not crowded and very few people actually make a stop here. Trust me, you can end up spending a day, getting lost in the labyrinth of the rocks here. And if you are lucky like me, then you will be graced with a gorgeous rainbow in the distant too!
How to Reach: You can take a private taxi from Bokonbayevo to Skazka for 1000 Som including return and waiting as well. There are also mashtruka and shared taxis heading to Karakol which you can take to get dropped off near the valley.
Day 13 - Kochkor
Kochkor is the base for people who are heading to Song Kol Lake. While there is not much to explore here, it is a good place to relax and stock up on food before you head off on the Song Kol trek.
Day 14, 15 and 16 - Song Kol
From Kochkor, we left for Kyzart village which is the starting point of the Song Kol Lake trek. Now, many people opt for horse trekking to Song Kol Lake but since we wanted to enjoy the views on our own time, we opted to do the trek independently on foot.
It was a grueling 26-km trek, one side, but what views we could see on the way. We crossed many gorges and mountain passes and camped our tent on the way. As we reached the lake, we were exhausted from the climb and the long walk.
However, the moment I laid my eyes on the lake, I knew that the entire trek was worth it.
You don't have to trek to this place, there are 4x4 driving to the lake as well which will cost around 2000 Som for the round trip.
How to Reach: From Kochkor, you can take a tour to Song Kol or opt for a 4x4 shared vehicle. There is also the option of horse trekking and normal trekking to reach this place.
If you decide to trek, then the most common starting point is the Kyzart pass which you can reach in a shared taxi from Kochkor for 300 Som per person.
Day 17 - Bishkek
After completing the trip to Song Kol, you will need to head back to Bishkek to rest for a day. You could also choose to head to Osh from Kochkor but there aren't many vehicles going that side, so hitchhiking could take a long time.
As a result, it would be better to head back to Bishkek from Kochkor and then take a morning taxi or night bus to Osh from here.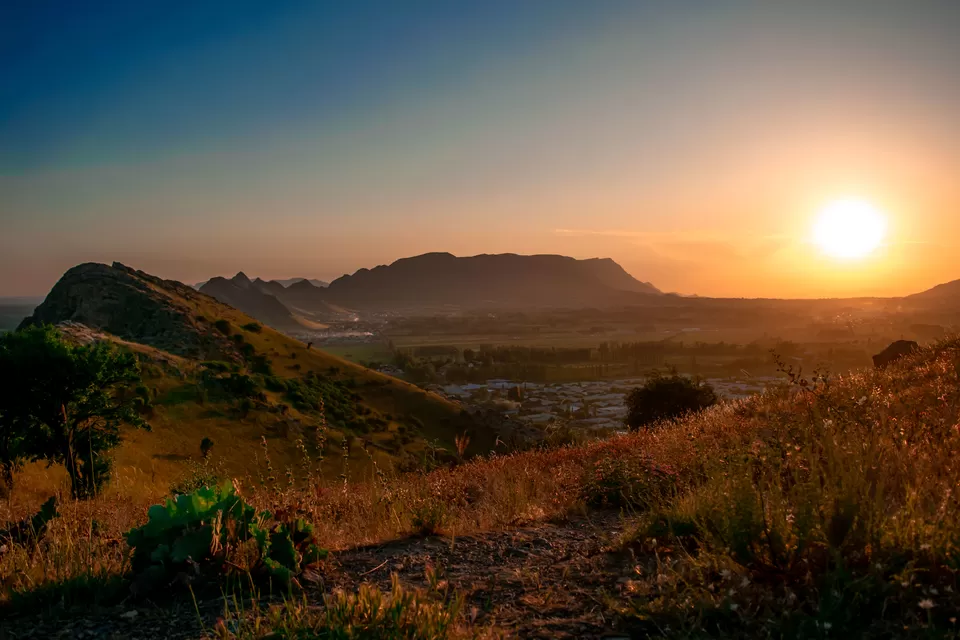 One of the oldest cities in Kyrgyzstan, Osh is known best for its food and culture. But don't let this fool you because Osh has many happening party scenes as well.
Apart from that, the Suleiman Too mountain is a popular attraction as it a famous UNESCO World Heritage site in Kyrgyzstan. So, make sure you keep this place in your itinerary to learn more about the culture and traditions of Kyrgyzstan.
How to Reach: You can take a shared taxi from Bishkek for 1200 Som or you can take a ride in a night cargo truck which will cost 600-700 Som. The night cargo truck gives you a bed to sleep but it can often be uncomfortable as well.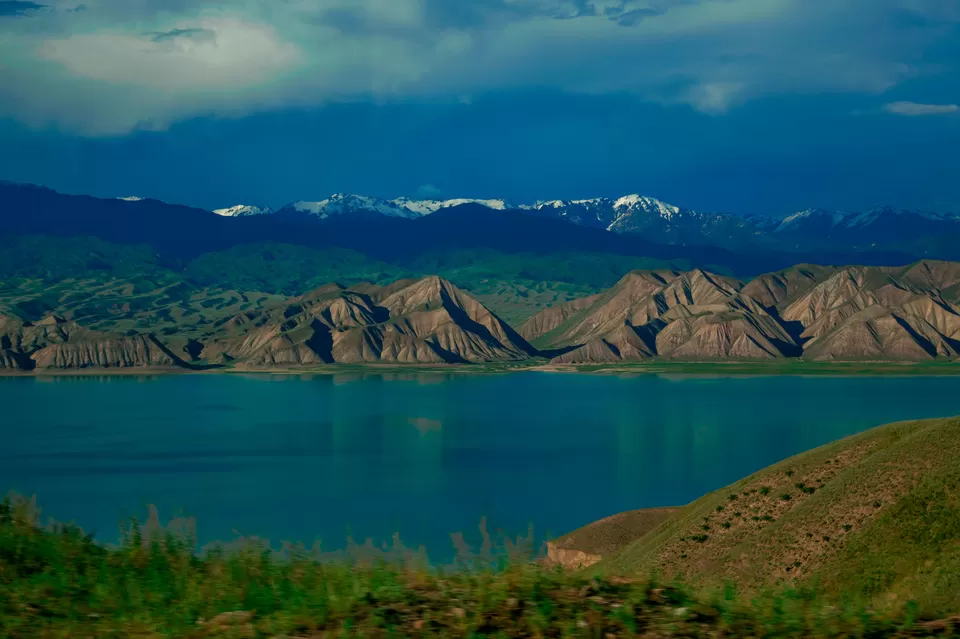 Another favorite place which made me decide to go back to Kyrgyzstan some day is the Pamir Highway. I had heard a lot about this place but I finally saw the beauty of this place while heading back to Bishkek from Osh in a shared taxi.
At every point, I wanted to stop the taxi and sit here for a while. But since it was a shared taxi, I had to make do with admiring it from inside the taxi. And every moment was completely worth the cost.
Day 21 - Fly Back to India
Finally, after reaching back to Bishkek, you can fly back to India with some amazing memories with you!
Explore the best of travel inspiration on Tripoto Instagram!
Sign Up now and get the latest travel updates from Tripoto straight in your email's inbox!