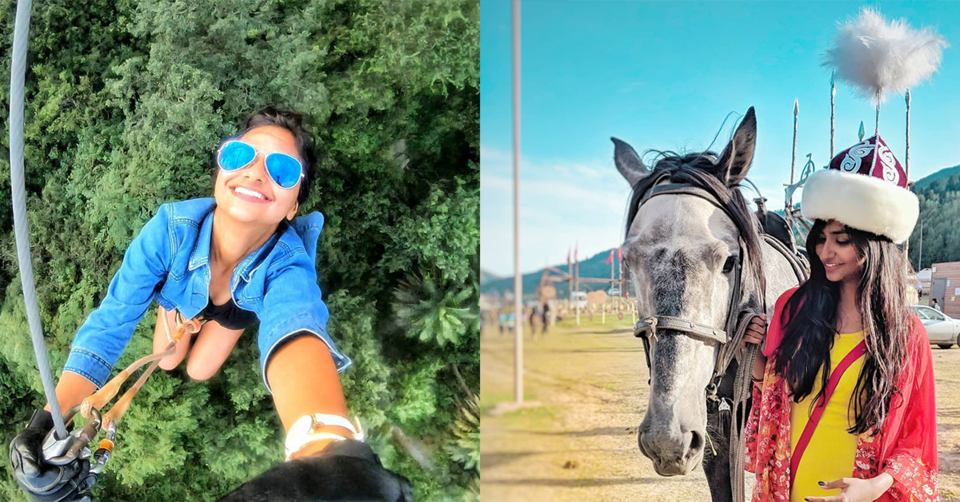 While most of us daydream about exploring the lengths of the world, there are some brave souls who actually go on to live the perfect life. Sharanya Iyer, also known as trulynomadly on Instagram describes herself as a hippie-go-lucky gypsy spirit. A strong believer of following one's calling, Iyer is shattering rules, one trip at a time and her recent solo trip across Kazakshstan, Uzbekistan and Kyrgyzstan is proof.

Over the course of a thoroughly enjoyable telephonic conversation, Sharanya opened up on her life and times, her adventures and everything in between. Here are some excerpts from the interview:
From a successful corporate career to travelling, yours is the perfect 'outlaw' story. How did it all come about?
Well for starters, I am completely against the idea of waking up one day, quitting a job and announcing to the world that you're a traveller. I've always had this inclination towards travelling and it was only over a year and a half that I prepared myself for taking the plunge. I started my career in advertising, moved on to media, actually had a job that I loved but it was nothing like the joy I used to get while travelling. So before I actually made the 'big transition', I sat my parents down, explained them what I had in mind and followed it up with a good dose of planning to be able to sustain myself.
Identifying oneself as a traveller, especially in India, also brings about a thousand unwanted opinions. What was it like in your case?
I've never actually been someone who thinks a lot about other people anyway. Moreover, people close to me already had an idea that I would do this some day. My dad has been extremely supportive from the word go because he works for an airline and understands what travelling brings about. My mom, inspite of the fact that she's not very well travelled always had my back. Instead of worrying about 'logg kya kahenge', I focused on 'mere logg kya kahenge' and that made all the difference.
You recently set off on a solo backpacking adventure across the 'Stans of Central Asia'. What was that like?
Scale wise, this has been the longest and the craziest solo I've ever been on. I had done several single destination trips but this was the first time I was setting off to cover three countries at once. Coming to why I chose the Stans, I feel it is very easy for someone to experience a place virtually these days – you have vlogs, photo blogs and what not. Even though there are traveller accounts of Central Asia, I felt there wasn't enough and that got me hooked. I did my research on Kazakshstan, Uzbekistan and Kyrgyzstan and each of these places turned out to be unlike any other place I had ever been to before.
The Stans have this certain media-fed image about them. How are these places and its people different from what we commonly know of them?
Just because we don't know much about these places, we assume they are hostile or unsafe but that is certainly not the case. Central Asia is beautiful, to say the least and so are its people. I've had people offer me free rides and meals just because I was a guest in their country – and it's not like I couldn't afford all these things! Locals would even go out of their way to help me overcome the language barrier or suggest food items. Not just that, a lot of people also approached me for pictures just because they were too thrilled to see an Indian girl travelling alone – trust me when I say this, this was the only time in my life that I've felt like a star. I think a lot of people realised all of this after they saw my accounts, a result of which is that people are now constantly seeking my help whilst planning a trip to Central Asia.
I think you'd also want to address the big question – How safe are the Stans?
Yes! Firstly, there was no point during the trip when I felt that my privacy was being invaded or someone was to make a creepy advance or anything like that. I'll actually go on to the extent of saying that I could let my guard down while in the Stans but I had to get it back on when I came to India. Secondly, I also noticed that people there are a lot more open in their thoughts. People had advised me to be extra cautious but the ground reality was quite the opposite – I roamed about freely, wearing what I wanted and not a single soul bothered to bat an eye.
Are there any other 'forbidden' places you have on your bucket list?
I've read up a lot on this one and I think Pakistan is this one place that I'd definitely want to visit. Apart from that, Iran and Turkmenistan are also up there on the list because I'm sure there's a lot more to these countries beyond the set of perceptions they come with.
Do you have your own set of travel hacks that you swear by?
Absolutely! I always have a pepper spray on me because you just can't go in assuming everything's going to be alright. I also make it a point to share an emergency contact number with my parents or friends, just in case something goes off. I also ensure that I plan my trips in such a way that I never have to walk about empty streets late in the night so that's where booking the right bus or train comes in picture.
Solo travelling is definitely the 'in thing' right now, a result of which is that many think of it is as just another fad. What does it mean to you personally?
For me, it all started when a trip with a close friend went really bad because we ended up having completely different interests while travelling. I am someone who hates spoiling my travel experiences so this one really shook me up. I was so infuriated that I planned a solo trip just to get over it and this one decision changed my life. I instantly fell in love with the idea of just being on my own and there's never been any looking back since then.
How is the entire experience of solo travelling in India different from when you go abroad?
Both situations come with their own pros and cons. When I'm travelling abroad, I have a thousand things to worry about – money exchange, language barrier, flight bookings amongst others. However, once I am there, I have the freedom of putting up in hostels, interacting with locals and setting off on my own. In India's case however, I tend to go for slightly more rustic experiences and a homestay is a great place to start! I think the best way to explore India inside out is by living like a local. There's so much diversity in this country that you really have to be out there to experience all of it. And since it's my home country at the end of the day, I am a lot more relaxed when it comes to actually planning the trip.
In the age of paid promotions and swipe ups, how difficult is it to maintain your authenticity?
It was during my stint in the corporate world that I learnt the importance of staying true to one's brand. If a person follows you, there is something they expect out of you and you just cannot go out selling things which are completely out of context. Let's say I start promoting a make-up brand in my travel posts, I won't be doing justice to my brand as well as my audience because we both know that it's not who I am. Likewise, I think brands also need to recognise who is of relevance to them rather than being all over the place.
Finally, a word of advice for all those aspiring solo women travellers being held back by external factors?
I'd say give it a shot, at least. Pick a place that's not very far from your hometown or falls in your comfort zone if you want to, but do it once! When you're back, just sit down and analyse if you enjoyed the experience or not. Continue only if you feel its meant for you and not because someone told you to. I firmly believe that there's nothing in this world more satisfying than doing what you love and I feel that should be everyone's driving force in life.
Head over to Sharanya's blog and official Instagram handle to follow her future adventures.
Inspired by Sharanya's memoirs? Click here to share your own travel stories with the Tripoto Community. Don't forget to check out Tripoto's YouTube channel for videos that are bound to fill you up with wanderlust.
Ready to go around the world in 2020? Click here for the ultimate 2020 bucket list!