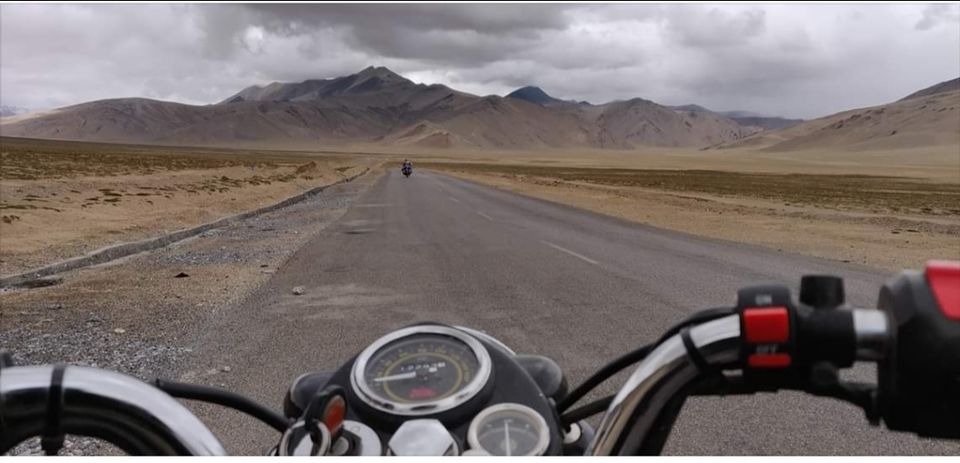 *Journey of a solo Rider*
Destination- Delhi to Ladakh via Manali, Ladakh to Delhi via Srinagar.
Traveling companion- Royal Enfield Standard 350.
Kms Run-3750
Time- 15 Days.
It was my dream to make Delhi -Leh bike trip ever since I saw the pictures of that sacred land.
So I started researching about everything possible, and then I get to know, it's not easy to make it with bike and that too from Delhi yet people do it.
I asked from many people, Some recommend me to join some group, some told me to take flight till Leh and then rent bike and all and all.
After Listening to everybody, I asked myself, Am I really gonna do it Solo?
I questioned myself again, why am I taking this big Risk of going by myself to the most difficult roads?
I took a deep breath and decide to make it happen by myself.
I actually wanted to come out of comfort zone and face the difficulties on the roads whatsoever. I was ready to bear consequences but I really want to live my dreams this way.
People literally warned me about the toughness and difficulties on the roads. I understood their concern for me, and they are actually right in their own way, but I anyway want to do it.
I took every possible precautions, I carried all the things I need for my safety like Riding gears , I took my own camp,sleeping bag, my own blanket and everything.
On 25/6/18 I finally took a leave from Delhi and started my journey, i took a break in Manali. I explored manali,then took rest in some Hotel and then next day i started my journey and kept on Riding,On some petrol pump, some girl come to me and said she want to get clicked with me.
It was a proud moment being a Rider, I was like, take one from my phone too.
Then I met a group of 6 people from Mumbai . we took lot of pictures together on the petrol pump itself and said happy travelling and left. Then we kept on Riding throughout the day, there were heavy Rain and snow fall too. It was so cold that I was shivering even after layers of protection of clothing.On the highest passes, it is tough to even breathe Because of oxygen problem.On the way, I find that Mumbai group again and  they asked me if I am okay, they then told me to join them in their car so that I can warm myself a bit. I joined them and we reached to a place named Sarchu. We find Camps to stay, then after our Dinner, I had conversations with all of them , and I really find these people so amazing in their own ways. I made them my friends in no time. And they Reciprocated it so well. So I tagged along with them and started Riding.  I crossed many passes on my way, including some highest passes of the world. It was really tough to Ride in such high altitudes, the roads are tough. Many rivers crossings need to be crossed, there were snowfall too and roads were really slippery,Not to forget you also need to takecare of the heavy load that you carry on your bike along with you. But then there were many Riders on the way , they always cheer you up by showing their thumps up. And they make you feel that you are lucky that you made it till here, keep on Riding. And this is like a trigger you get and then you keep on Riding irrespective of anything. Meanwhile, after some toughest roads you get the view of Mountains that is enough to make you forget every pain you took. You see that mesmerising view and cherish everything that you have been through.
And then everytime you see some Rider in trouble, you ask them, if they are okay.
I find a Rider out of Petrol on the way, I helped him by giving him petrol. And clicked pics together, it was the most amazing feeling when you hugged fellow Rider and Wish him safe Ride ahead. It feels like a family.
Then I finally Reached ladakh, and I saw this beautiful place with my own eyes. I was so lost in the nature's lap. I couldn't believe, it was like a dream. Riding in those amazing roads of Ladakh with the view of most amazing mountains on your side is breathtaking. I literally Embraced every single moment I spend there.
I choosed to explore even the least explored places of Leh, I covered a major part of it and every single part has its own beauty, Be it be Pangong Lake, Nubra Valley And while I was exploring the unexplored places, I been to this place which is opened for Indian tourist just before 1.5 months after 1971 Indo-pak war. So it was the place from where you get to see Pakistan posts, The villages of Pakistan is clearly seen from this place.
I have seen all of this under the supervision of Indian Army. Then I had a lot of conversation with the Army people about their life on these borders and all. And then I get to know the hardship and struggle these people are going through just to keep us safe. Respect is a small word that I can give them. I salute them not because of the stories I have heard but because now I have seen it from my own eyes. And respect for Indian Army increased manifold .
Then I choose to explore Kashmir and end my trip via Srinagar. I explored Kargil, been to extreme villages, had lot of conversations with locals about how they manage to live their life in this danger situation, yet I saw the satisfactory smile on their faces as if they are utmost happy with whatever they are blessed with. This smile made me question about my life?? Despite of everything that I posses, I still complain about things and then these people? This literally changed the way I see things. That's how you grow as a person while traveling.
Anyway, I Reached Srinagar and choose to relax and stay on Houseboat in Dal lake. Dal lake is like a Venice of India. You get everything in the water itself. You stay in houseboat, and need shikara to explore markets and everything inside the lake itself. I loved the experience of House boat too. Then I find Kashmir so so so beautiful. It's really one of the best place I have ever been. I choose to explore the most famous Temple and Mosque.
A lot of incidents happened in Kashmir that I choose not to share.
Yet I planned to explore Patnitop. I started Riding and then I was stopped by Indian Army on the roads. The roads were blocked by them. Then I got to know, it was curfew in Kashmir for next 2 days , Even there was no internet facilities in the entire Kashmir for these days because of some internal problems. Then I had left with no choice but to stay in Army camps for next 2 days till they open the roads. Indian Army is really doing a lot and a lot for the safety of Tourists. I got free food, accommodation and security by them. While I was there, I was taking to many many people including local Police , Army and local people about the condition and felt their pain. I really got so sad to know and feel their pain, yet these people are misjudged and blamed.
Anyway, then my 2 days are wasted here which was unplanned, not wasted through, it was a different experience all together and i find these 3 people on my way. They are the most amazing people, I really enjoyed myself a lot. And we 5 planned to reach Delhi on stretch  from Srinagar itself. We drove for around 25 hours, took lil breaks for lunch and dinner. But we finally made it. And it was the most amazing feeling. Finally the trip got over today.
One thing I really understood and felt. Even though people say world is a dangerous place. You just need courage to leave your place . Just leave your comfort zone and just leave and go to far places, places where you don't understand the language. You will learn to compromise, you will learn to plan, and you will learn how to help and get helped. Most importantly, you learn to live by your own. And there is nothing more beautiful than this.
So what I get from this trip?
Memories that I will always cherish throughout my life.
Got Life time friends that made me feel like family.
#travellingdreamon.
PS-Only those who attemp the absurd will achieve the impossible.