Working for a Digital Sports Company and writing pieces on your country's most beloved game which is Cricket can sometimes get the better of you in many ways (not that I don't enjoy my work). But to come up with something which is beyond my horizon and pen it down was in itself a new challenge or I would term it as a new beginning.
I would love to begin this with a Ruskin Bond quote from his famous book "Rain in the Mountains" where he says, "It is always the same with mountains. Once you have lived with them for any length of time, you belong to them. There is no escape". For me, mountains have always been the thing, I believe that they somehow have this ability bestowed upon them to teach us the hardest way. Anyway, so after a successful trek in the Himalayas last year it was time to hit the road running early in 2017. Choosing a Himalayan trek can sometimes be a nerve-racking process because of it's diversified beauty and various scenic landscapes that it has to offer. We finally zeroed down on Kedarkantha peak which is a part of Singtur Range in Uttarakhand. I along with Ankit, Rushi and Gaurav were all set to conquer Kedarkantha ('conquer' if I may say so). Little did we know of a winter summit trek in the Himalayas.
We began our journey from Bombay and the train took us to Dehradun a day and a half later where we were greeted with a temperature of less than 7-degrees. We had to then figure out our accommodation near the station itself so that it would be easy for us to get a cab that would take us to Sankri, the following day. Sankri was a small town from where our trek would kick off the next day and probably, this was the last place along this route where one could make a phone call via a cell phone. We were to leave from Dehradun around 8:00 in the morning but ended up reaching at 8:20 where Vikas, Rohit and Arpit our trek mates from Gujarat were all in readiness.
The drive from Dehradun to Sankri is one of the most scenic ones only if you can handle the sharp S-curves which the route has to offer. To be honest, it wasn't even close to "hit the road running" kind of situation as I was hit by something else called motion sickness. Nausea and fatigue started creeping in as it didn't pan out to be a bright start. In the evening around 5:30 as we approached Sankri the wind started picking up and the snow clad mountains gave us their first glimpse in the background. Wooden houses (Koti Banal, as the locals call it) with snow covered rooftops and a flock of ravens returning back to their nest made a perfect sight. As we neared Sankri a sudden formation of flash fog was formed around the mountain which gulped them half way, almost making them invisible. Nausea and fatigue were a distant memory now as we all were wonderstruck at the first sight of snowfall, to back it all up we had our cab driver playing some old Hindi tracks which made the juncture even more special.
We made it to Sankri by 6:30 in the evening which was about 6400 ft. above sea level, where we were kept in a dormitory surrounded by woods and told to acclimatise as the trek would commence the following day. That night the mercury dipped down to a low of -6 which forced us to wrap ourselves with a minimum of four layers.
Day 1:
After having some bread and jam for breakfast we embarked on our journey towards the first campsite which was Juda Ka Talab, at an elevation of 9100 ft. It had snowed for most of the night which meant that we had to grind our way through it. Hiking poles and the wooden stick were the much dependent companions on the ascend. As we covered some more ground there were huge pine trees covered with snow which had a healing presence about them. There has to be something about pine trees that has always fascinated me, I feel they have a completely different aura when one is in their midst. An odd pine nut fallen on the fresh blanket of snow made it look even more appealing. When sun rays tried to peep through the tall pine forest it kind of gave you the perfect warmth needed in such frosty conditions.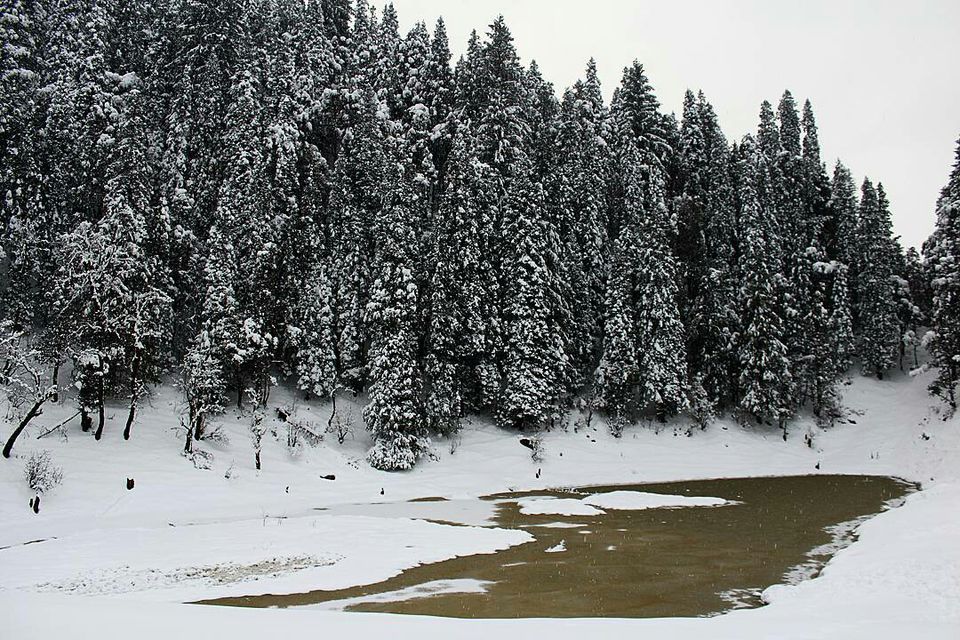 It's 7:00 in the evening and we are back down to our campsite where we gather in a common tent which is kind of larger than the normal sleeping tent, here we are introduced to Shradha who hails from Chennai and with her are Ashwini and Atithi who are cousins from Bangalore. Along with Vikas, Rohit, and Arpit, we are joined by other members on the trek for a game of 'Mafia'. At night the temperature hits a new low of -10, Ankit takes out his bottle to have some water only to see it all frozen. I see him shaking his bottle in dismay. Things can sometimes get tough up here in the mountains.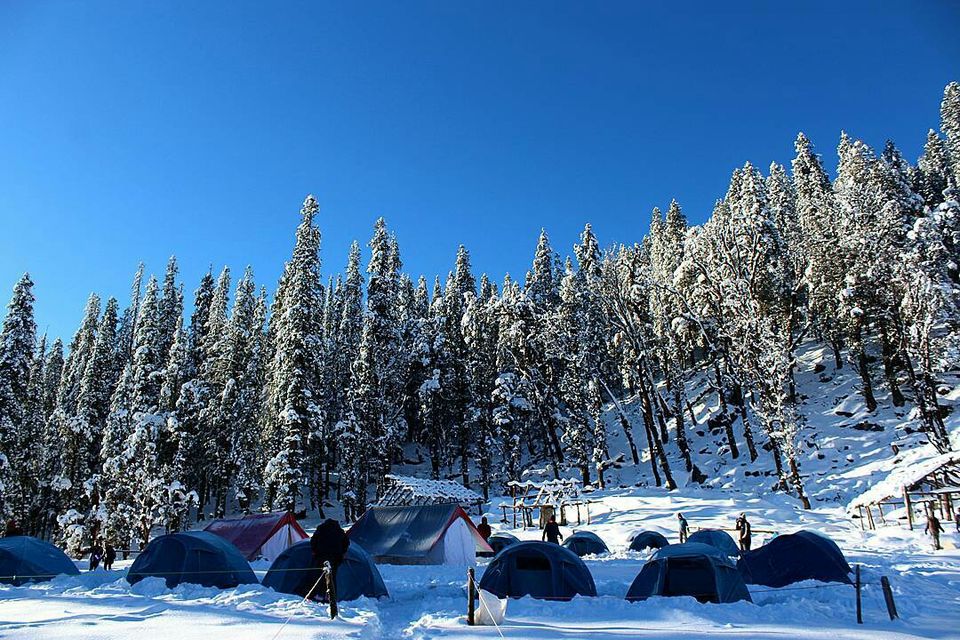 Day 2:
The sun is out early in the morning, I see ravens hovering over the camp sight and wonder what keeps them going in such harsh conditions. I sit out soaking up the warmth which the tender sunlight has to offer it kind of gives me the perfect head start in such a frosty environment. Today we don't have much walking to do. We'll be heading towards the base camp which is not quite the ideal Kedarkantha base camp but on a lower altitude. We start our ascend at 9:30 in the morning after getting done with some aloo parathas for breakfast. The route towards the base camp was a less tiring one may be because we had the sun shining on us which kept us cosy.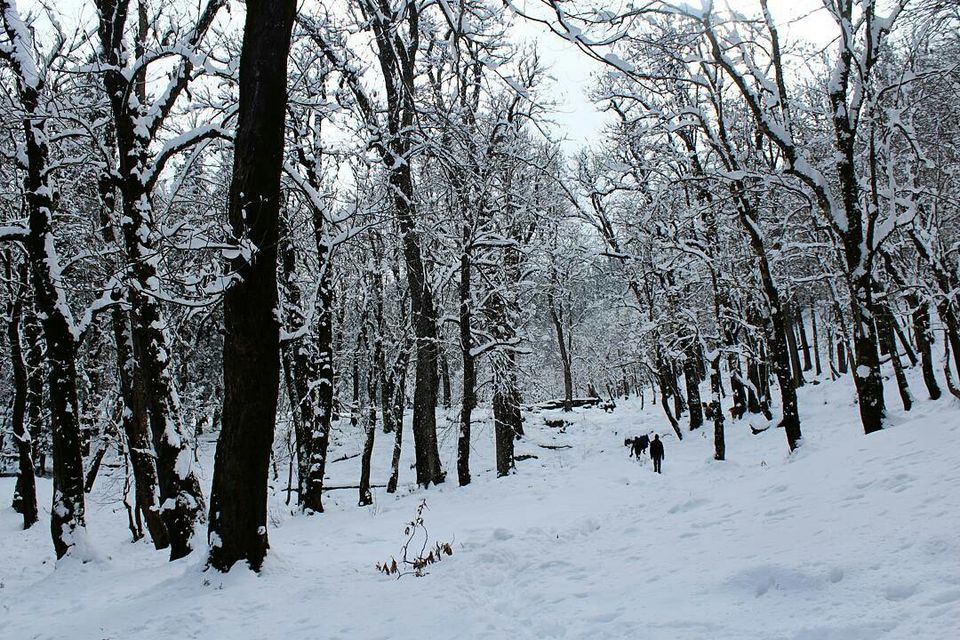 As we moved upwards following the trails, a dry oak forest greeted us with some snow breeze, alongside were wooden hut's which belonged to shepherds. The rooftops were covered with a blanket of snow which made them look even more artistic. The snow kept on getting thicker as we marched in a single file along a narrow ridge. There were huge clearings on this route which gave us a panoramic view of the entire area. White peaks stretching from the left to the right almost forming a wide arc kind of stared you in the face from a distance. After getting up a steep slope of snow we had arrived at the base camp. It was dead cold and I could sense the wind penetrating my down jacket. Our trek instructor then took us for an acclimatisation walk so that our body could be able to cope up with the thin air. From here there was only one way, and that was towards the Kedarkantha summit.
We took early dinner, the reason being, we had to leave the base camp around 3:30 the next day so that we don't miss the sunrise. Our trek instructor briefs us about the summit day, he started the talk by asking us "Agar kisi ko upar nai aana, tho vo yaha base camp mai rukh sakte ho" there is an awkward silence for a while, we all were keen to make it to the summit tomorrow. I ask Shradha if she along with Ashwini and Atithi were ready for the summit, she says that they were not really sure about it. Rohit is confident about it along with Vikas, we decide that we were not going to back out after coming this far even if the weather played a spoilt sport.
Day 3:
It was 3:00 am. The temperature could have been anything between -12 to -16. I could see Rushi shivering as he woke up and sat in front of me. The snow texture which had penetrated through the tent and had formed droplets would fall on our sleeping bags. Ankit was almost gulped by the sleeping bag, I could hardly spot him next to me. We somehow got ourselves together and were set for the summit. I see Sharadha popping out of her tent next to us, she says she's ready for it.
We all started the ascend around 3:45, it was all the more grinding as our legs kind of sunk in the two feet snow that was formed overnight. I didn't have a good feeling about this and started breathing heavily, I had Rohit by my side and we talked about how tough it was going to get as we moved ahead. It started getting brighter after a while as we walked through huge clearings of snow and finally made it to the main Kedarkantha base camp from where the summit could be sighted in some distance. The ascend towards the main base camp had already taken a huge toll on our body and it was then Arpit, who decided that it was curtains for him and made sure that he stayed back at the main base camp. Me, Rohit, Vikas, Shradha, Ankit, Rushi and Gaurav were the ones left with other fellow trekkers. Vikas on the other hand, had different plans. He was the one who was getting us together and pushing us for more. All of us wouldn't have made it this far if it wasn't him. As we dragged ourselves towards the summit, I was curious to know about how much the temperature had fallen to. Our trek guide said it would be between -16 to -20, Ankit gives me a stony look, the cold up here was making our hands numb. We keep heaving ourselves.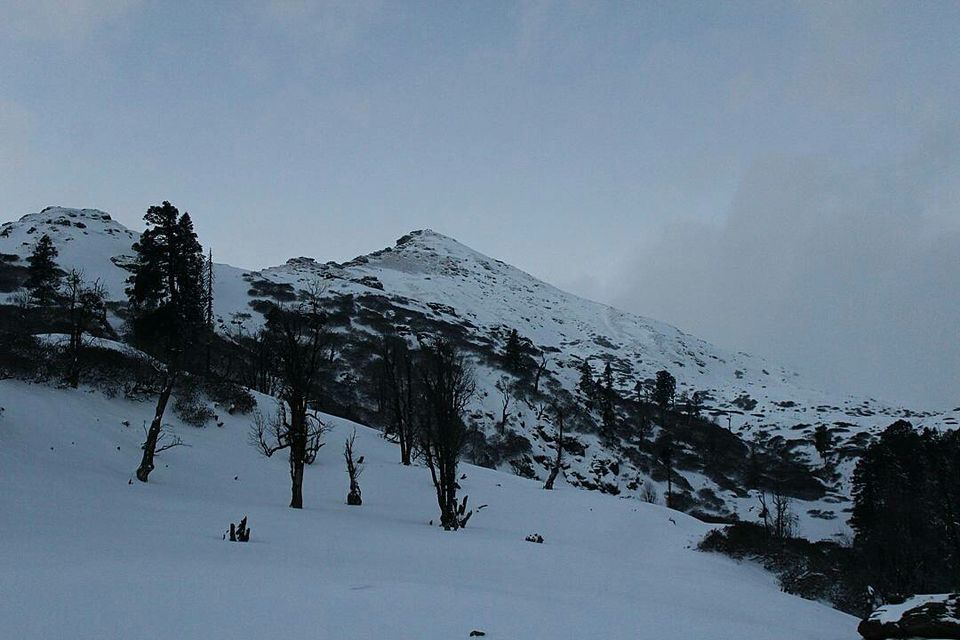 Shradha had pushed herself to her limits, that's what we all had come here for. She was the only girl in our group to make it this far. She says, "I just want to cry now", for a moment I just looked through her, didn't know what to say, I tell her that it's okay to cry, her eyes turn moist and she breaks down instantly. Maybe she now has a story to tell when she gets back to Chennai, a story that will inspire many. I can see Ankit trying to gather his balance, Rohit looks at me almost with his eyes half shut, he says, "We shouldn't be heading ahead anymore". Everything pauses for a while, I don't see any ravens here, maybe they don't make it this high.
That's what a mountain is capable of doing, it makes you do things without uttering a word, it catches you off guard, sends shivers down the spine, punches you in the face, decimates your ego, gives you a reality check and puts you in your place. A silent teacher. But I guess the most important thing of all what it does is, it humbles you as a person.
The mountain shrubs had shut their leaves and it looks like they are going to hibernate throughout this biting winter. As we reach the shoulder of the peak there is a thick layer of flash fog which is formed, which hampers our visibility. To aggregate things we are greeted by a snow storm. I can feel the small particles of snow hitting my face vigorously, this wind has the velocity to get you off balance. We somehow manage to pull ourselves and rest on the shoulder of the peak where Rohit and I decide that it's time to get back. Maybe Kedarkantha didn't want us to be there now. We began to descent, crestfallen and numb. It was a learning curve which taught us that you just can't lock horns when it comes to Mother Nature.
48 Hours Later: It's touchdown time, I'm on the flight from Delhi which is taking me to Bombay. The aircraft seat kind of makes me feel uncomfortable. The pilot announces that the temperature in Bombay is 25 degrees. I look at Ankit, his smile says it all. As we collect our baggage and head out to the auto stand, I sense a void developing in my chest. A void that can only be filled, when I get back to the mountains.