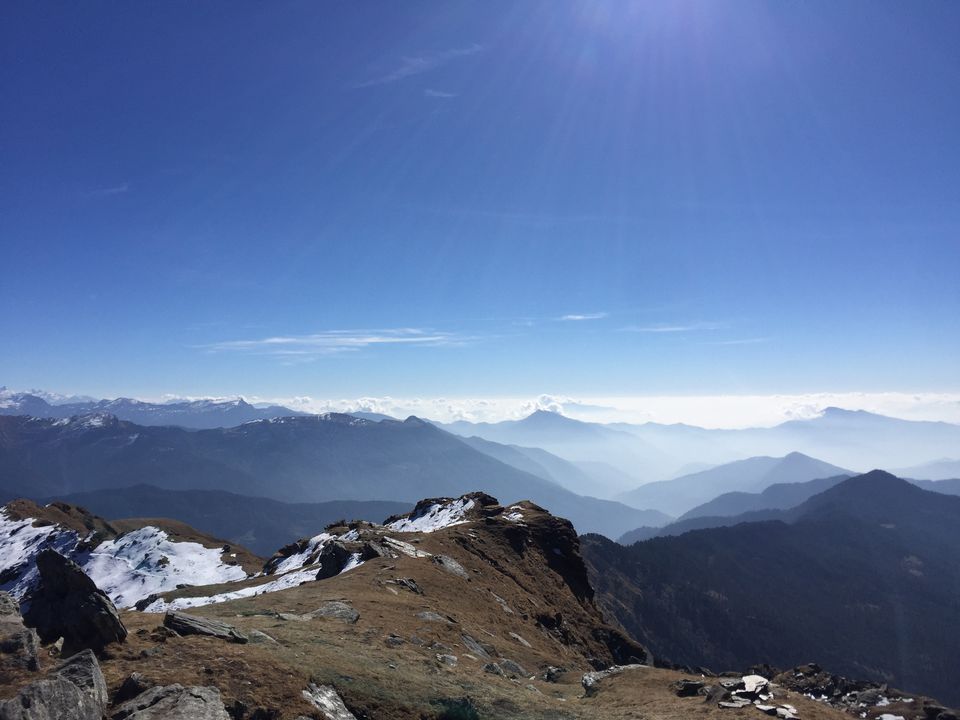 Kedarkantha is a 3,500 m summit in the midst of Govind pashu wildlife sanctuary. Myths related to this place is, before this place was named Kedarkantha, it was called Kedarnath, as the famous Kedarnath temple was to establish here on this summit but during the day of shrine establishment, when the idol was built till neck, weather changed dramatically and it rained heavily. So according to ritual if anything as such happens during idol establishment, it is abandoned. So, when lord Shiva's idol was abandoned it was built till neck which is called Kanth in Sanskrit. That's why it is known as Kedarkantha. It is located in hamlet named as Sankri which is beautiful place. There are no atms and no network. There is a small cafe nearby to Swargarohini guest house, as Miraki Cafe, a must go place.
Day 1: ISBT Kashmere Gate, Delhi to Dehradun
From ISBT Kashmere gate you will find public transport buses going to Dehradun. Board bus to DDN at around 11:00 PM, so that overnight you will cover the journey early in morning you will reach DDN. You will reach around 6:00 AM.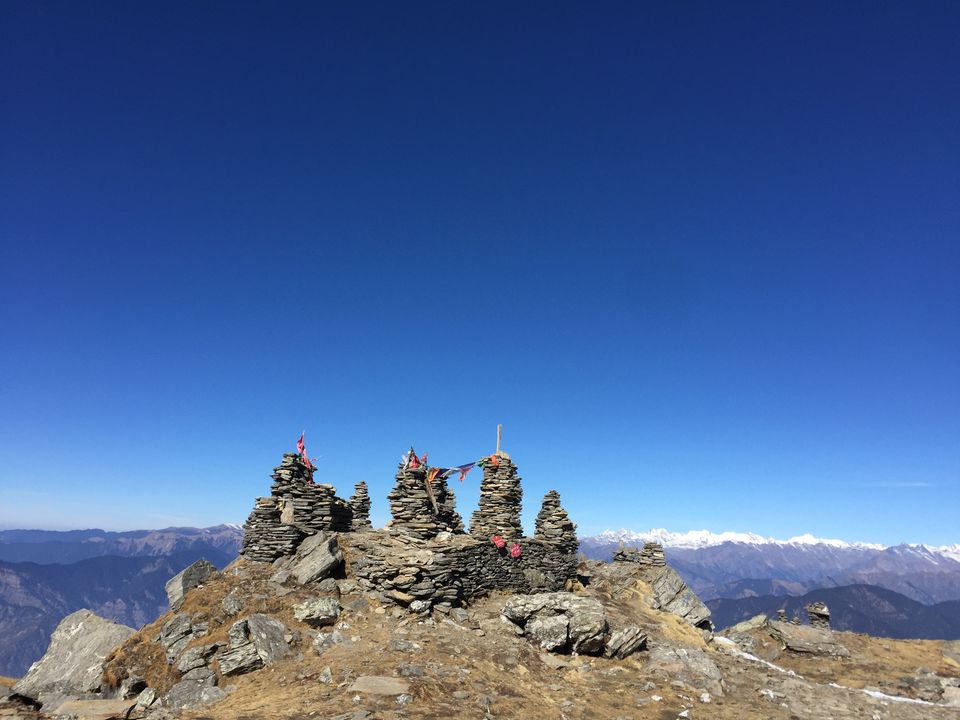 Day 2: Dehradun to Sankri
Sankri is a hamlet in Uttarakashi Uttarakhand. It is also a gateway for Govind pashu wildlife sanctuary. It also base camp for Kedarkantha and Har Ki Dun Trek. 10 kms before Sankri there is another village known as Naitwar, which is base camp of Rupin Pass trek. Also, you have to stop at army check post to get your trekking permits ready. From DDN you have to take a bus exactly leaves DDN for Sankri at 6:00 AM everyday. Don't miss it as it may be your last resort. Else you have to book a cab, which will cost you around 3000-4000 INR. Sankri is 170 kms from DDN, it is a 7-8 hrs journey from the midst of Garhwal mountains. Once you reach Sankri, stay at Swargarohini Guest house, which will cost you 600 INR per bed. Have some chill time in Miraki Cafe, which is a decent cafe in mountains.
Day 3: Sankri to Juda Ka Talab to Kedarkantha Base camp
From Sankri your trek begins. You have to hike 6 kms steep trail to reach Juda ka Talab. It is a decent location to camp and have some lake side fun. It is very quiet place to write and think about the philosophy of your life. Nights are chilling cold during winters in entire trek so keep your woolens ON!!! You will reach Juda ka talab at around 1:30 PM to 2:00 PM. You still have sunlight left to reach Kedarkantha base camp which is more advisable. As you do not have to trek during night to reach summit before sunrise. So push yourself for next 2.5 kms to reach Kedarkantha base camp. Pitch your tent and lit bonfire have something to eat and sleep tight in the lap of himalayas.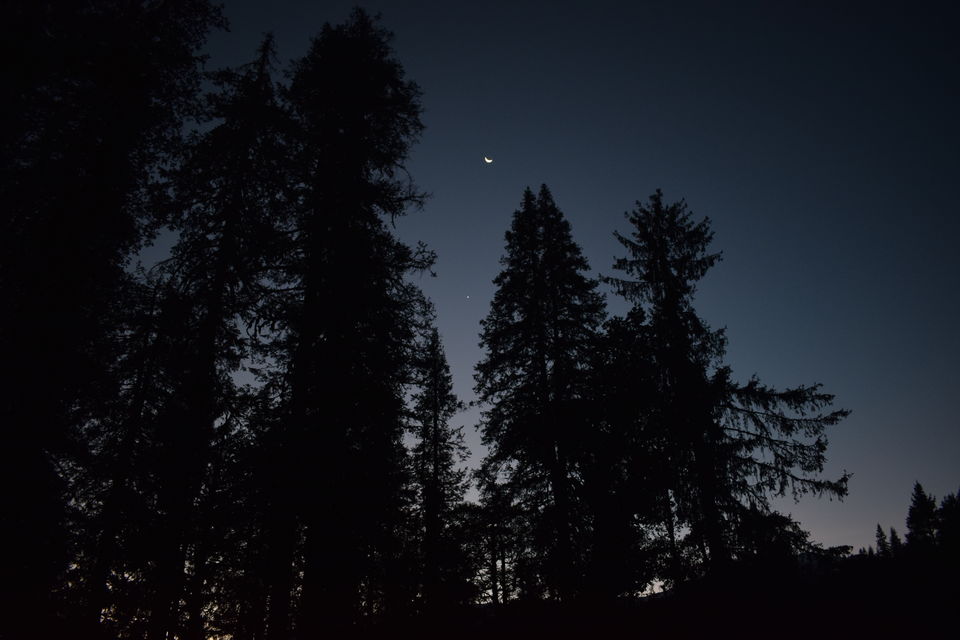 Day 4: KK base camp to Summit to Sankri to DDN
Wake up early in the morning at around 4:30 to 5:00 AM. and start to trek towards summit, keep your torch ON as it will be dark outside. It will take you around 1-2 hrs to reach summit depending upon your speed. Wait till the sun comes up and radiate its grace upon some of the tallest peaks of our country. Hold on to your emotions as it will be a splendid burst of nostalgia and elegance at the same time. I bet you would have never seen this kind of sunrise ever before. All that pain and spine chilling cold will vanish into thin air as the first ray of light will touch your face and will grace your soul to eternity's gate.
Stay there for a while enjoy this extraordinary moment and once you are done start to descent down. You will reach Sankri in 6-7 hrs. Either you can book a taxi which will cost you 3000-4000 INR and reach DDN same day or you can stay and leave next morning in ublic transport bus which is cheaper. From Dehradun you can board any of ample of buses going Delhi any hour of day.
Hope you will find my write up helpful!!!
Trust me! it is easy only you have to collect some courage to step out of your comfort zone. Go out and explore this world is awaiting you.
Frequent searches leading to this page:-
best budget hotels in dehradun, pachmarhi hill station in madhya pradesh, places to visit in dehradun in 2 days, delhi to dehradun tour package, best picnic spot in dehradun