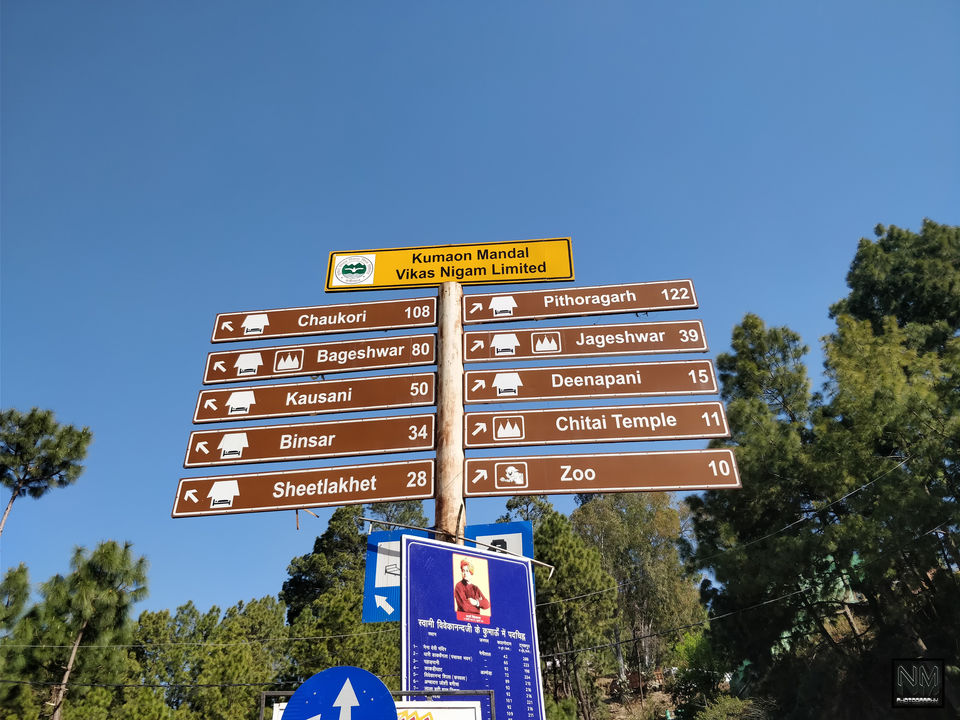 We started our mesmerizing journey on the 1st March from New Delhi. Mountains are calling, and we were surely on the way, anyways few choices need to be made before we start on this enthralling journey.
First is the place where we should go we had many options but we decided at last on Munsiyari the small hamlet in the Kumaon region of Uttrakhand, snow-laden in winters and with a beautiful view of Panchachuli mountain range kissing the sky and at the same time sunlight simmering through the peaks. And if you are lucky enough you can expect to see the snowfall from the vicinity.
Day 1
We started from Karol Bagh, New Delhi, with two Royal Enfield Himalayan, riding the first time, bike performed beyond expectations, with sturdy build and comfortable sitting posture Royal Enfiled Himalayan is one of the best bikes for the long tours more so when you are traveling to the mountains and even more when you are expecting off roads traveling for the most of the journey.
In sum, you can call this mini Kumaon tour because although we didn't stay, we passed through almost all the main towns of the Kumaon region which includes Nainital, Almora, Ranikhet, Bageshwar, Thal, Kausani and many more.
So I was navigating through the google maps, filled fuel to the brim, 30 minutes or so we were enjoying the smooth ride quality of the Himalayan when we were struck with the expected traffic of Delhi, which was not limited to Delhi but stayed till Hapur that is around 50 km from the Delhi UP border and time never flies in this kind of Jams and next time I saw my mobile it was already 7:30 pm.
We had a small a tea break; our fingers are already tired with the nasty pressing of clutch and brake in the last 2 and so hours. Drank a lot of water embrace the bike and its beauty had some clicks, we were running late from our schedule at least 3 hours late, so we restricted our break to only 15 minutes. Next was almost 180 kilometers of continues but the enjoyable journey through the Uttrapradesh Highways, our next stop was Ramnagar. We tested the maximum speed of Himalaya on the Moradabad Barelli Highway which is 130 kmph as the many websites and official Himalayan websites shows.
Finally, we reached Ramnagar at 9:30 again we had a Dinner break, we were just 80 km from our day first destination, i.e., Nanital, I consider it one of the most beautiful hill station. We finally left the roll joint at ten o clock in the night; temperature was a tad lower than expected. As time passes we saw less and less traffic and finally, a time came when there was no traffic at all, two Himalayan passing through the forest with long tress no light anywhere no shops nothing. And in half-hour mountains ascend started, the road was wide, I had been to Nainital quite a few times, but it was the first time I was traveling through this route. And it was better than expected, wide roads, marked and round and round twist and top of that Royal Enfield Himalayans which were performing exceptionally well. I was in love with this bike.
We reached Nainital around midnight. We have not prebooked any rooms, so we were searching for the hotels in the mall road. Mall road gives a very different kind of feels, with the lake on one side of the road and while the street lamp is illuminating the way, the feeling was of illumination and one which will take years to fade away. Finally, after half an hour of search, we settled on a budget hotel.
Day 2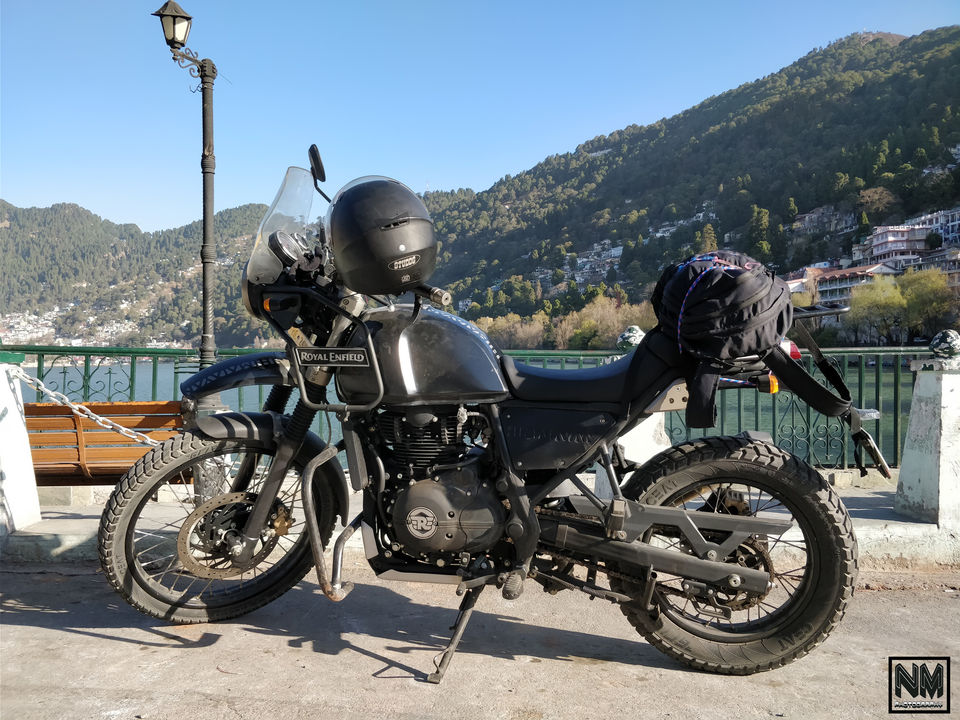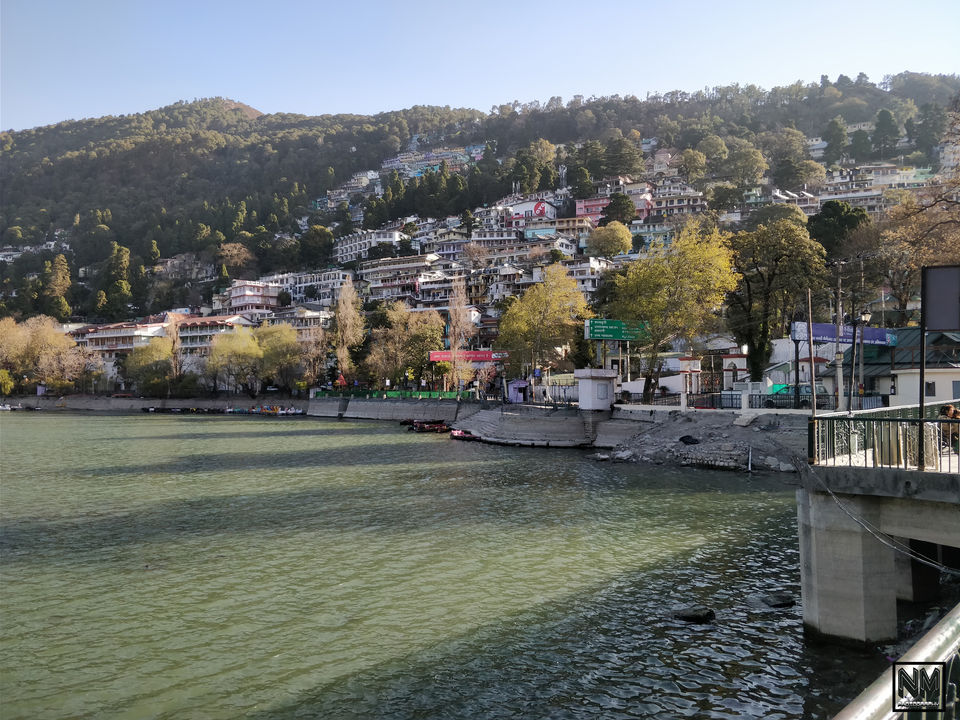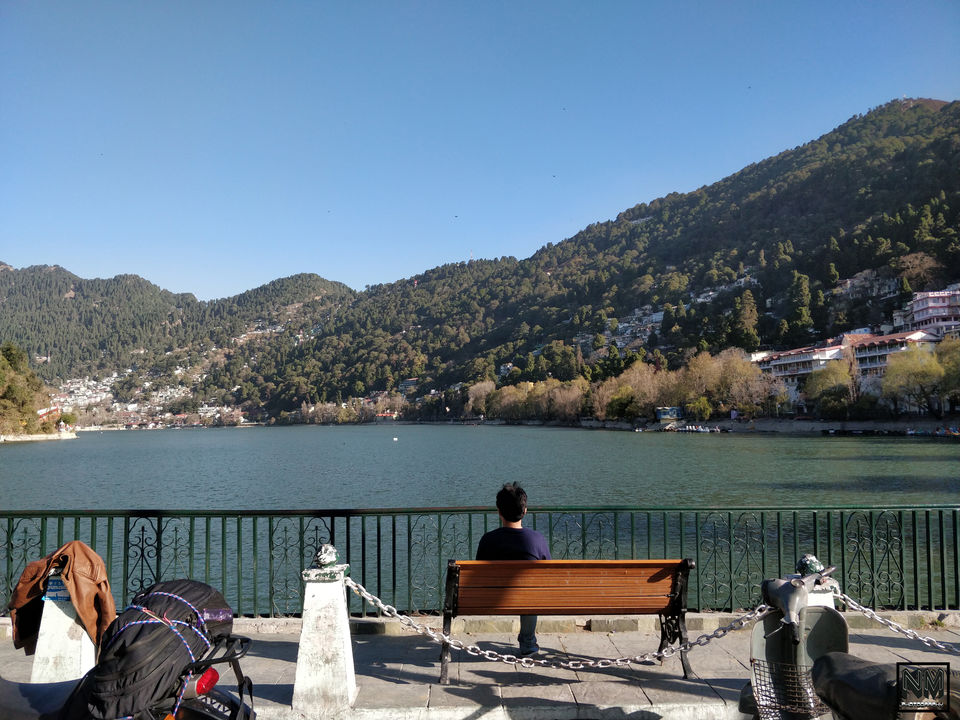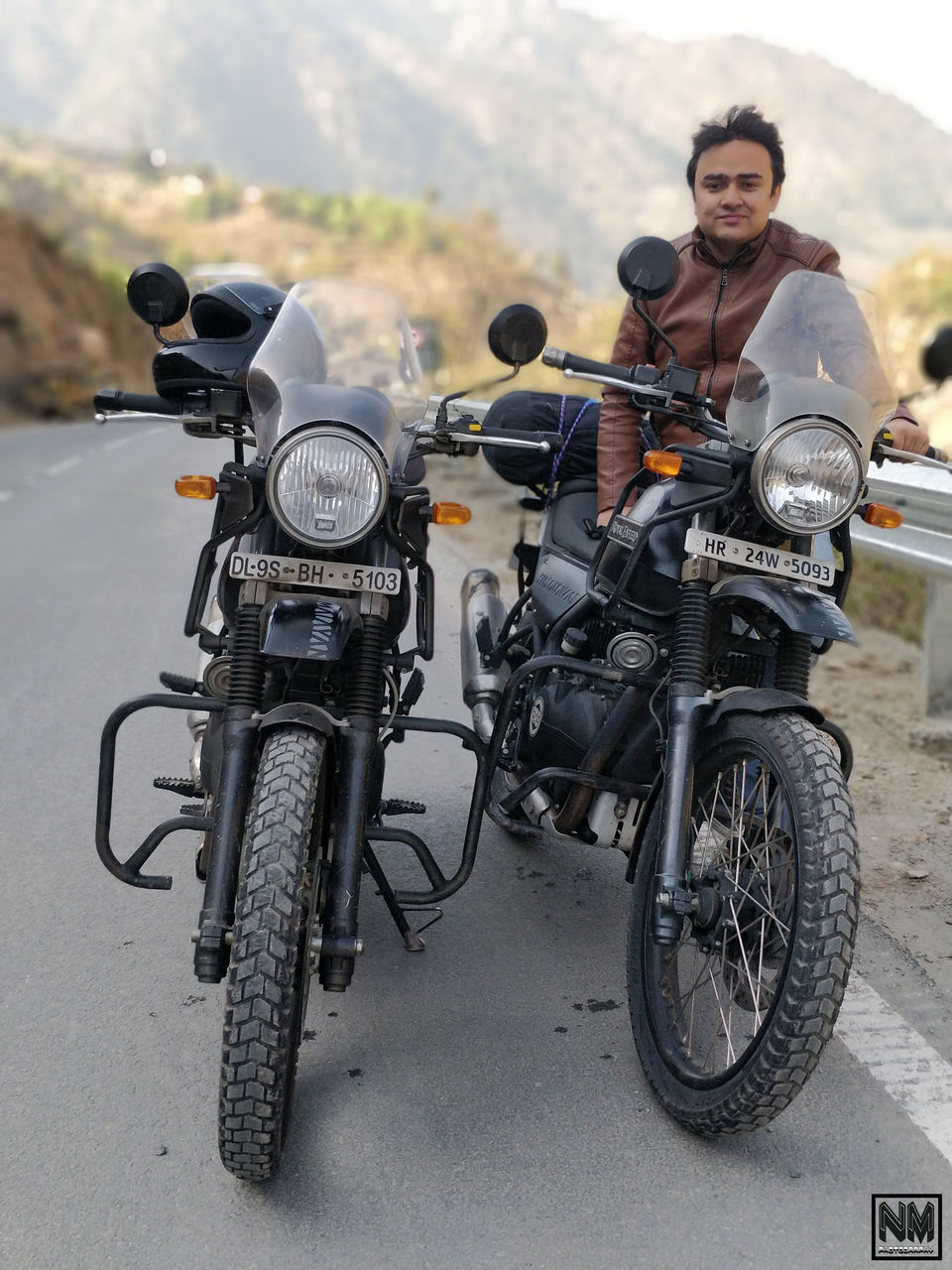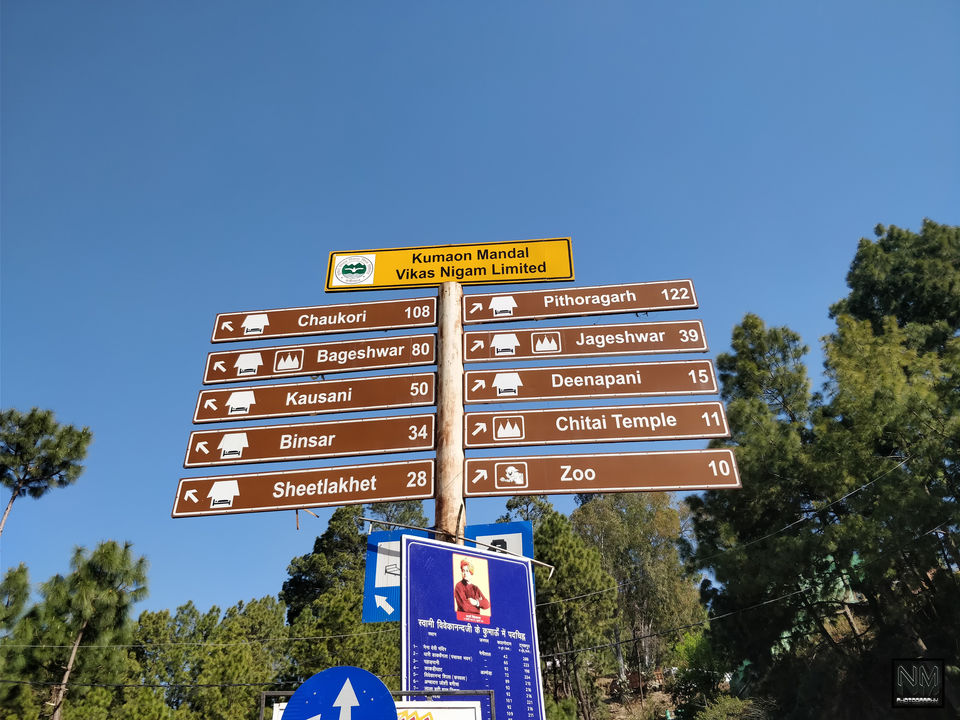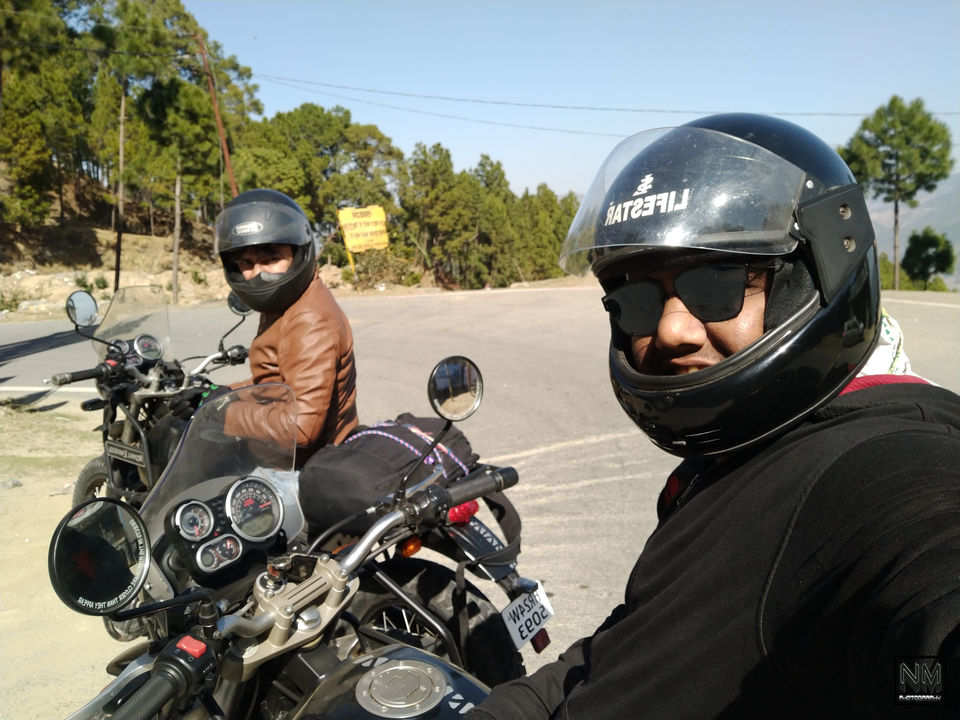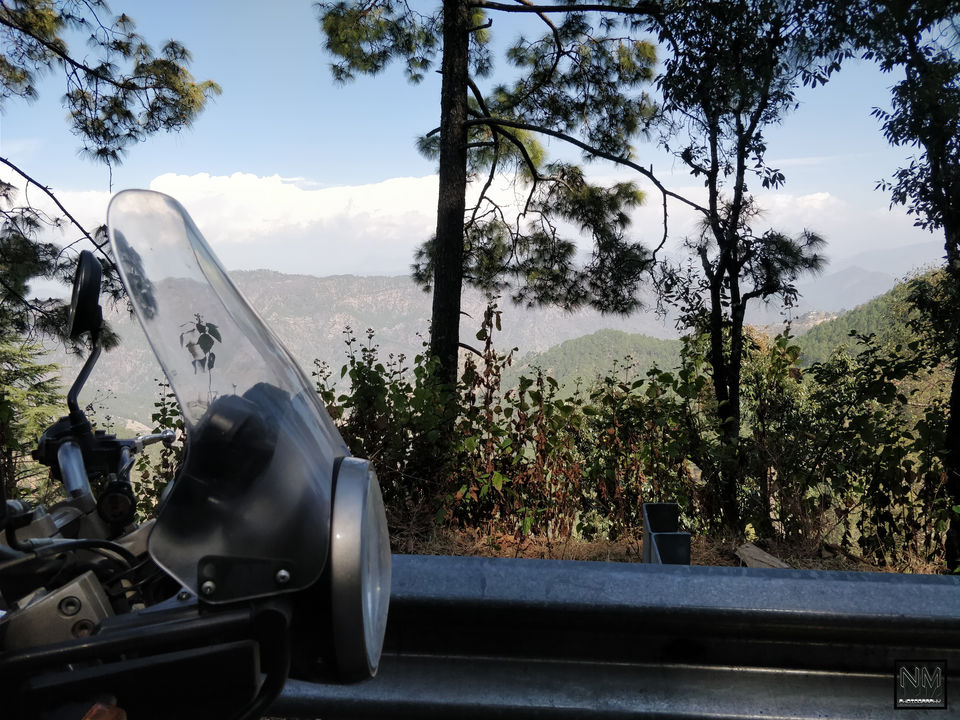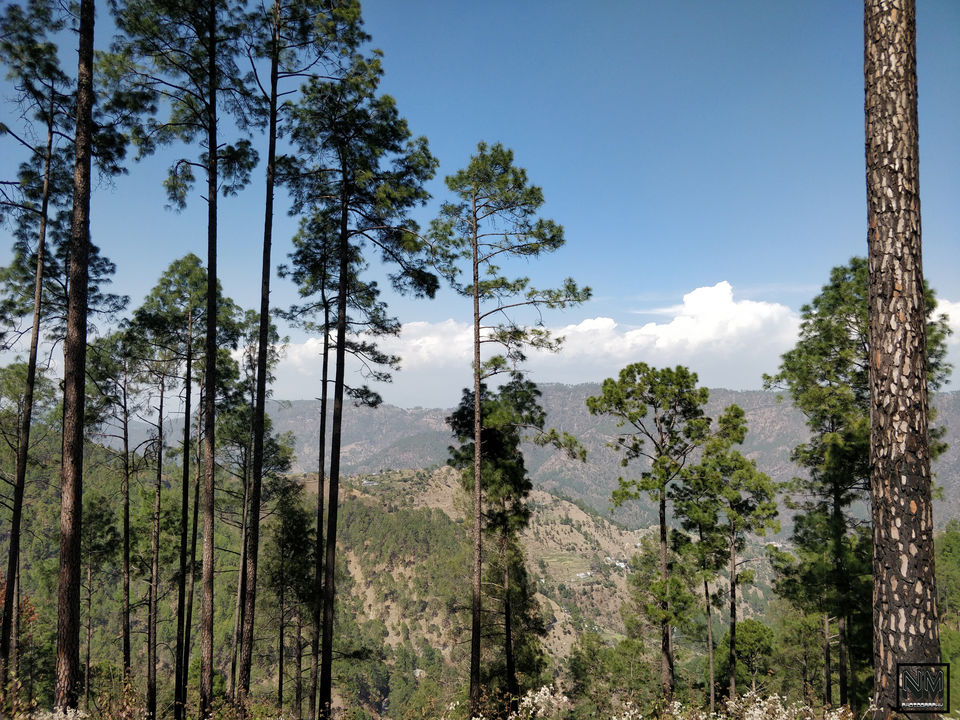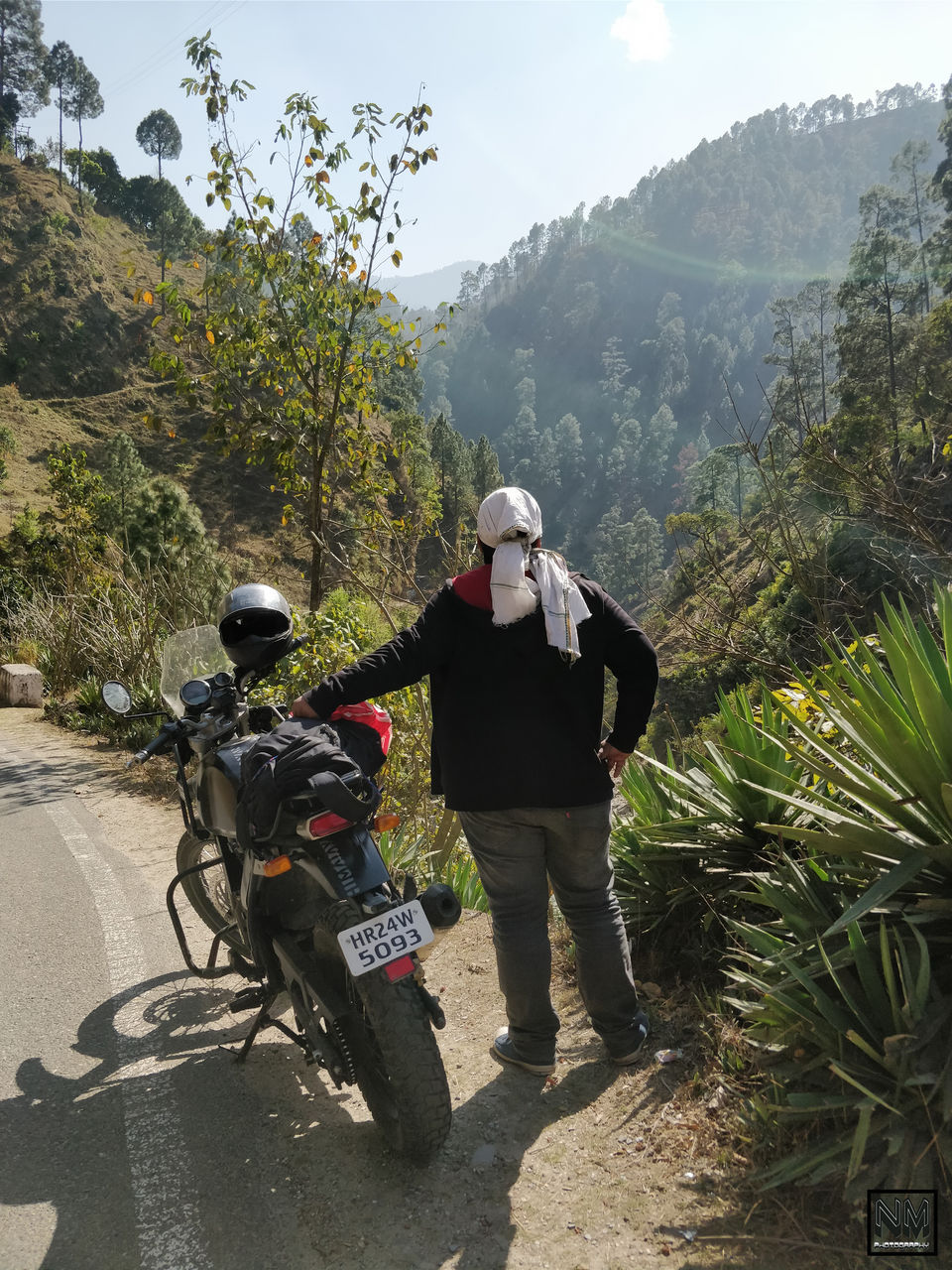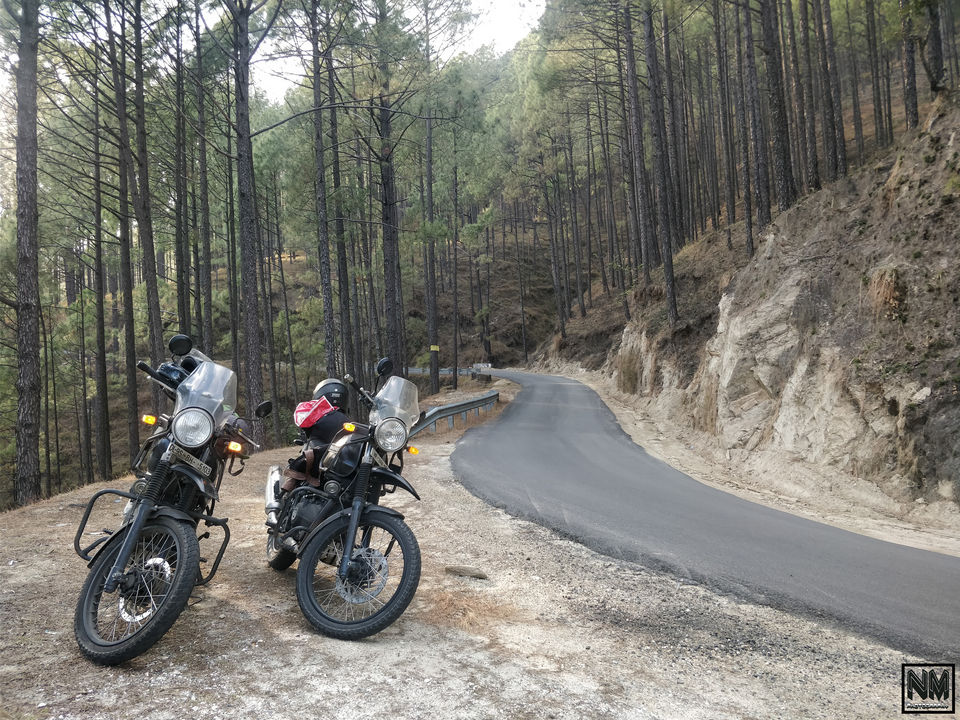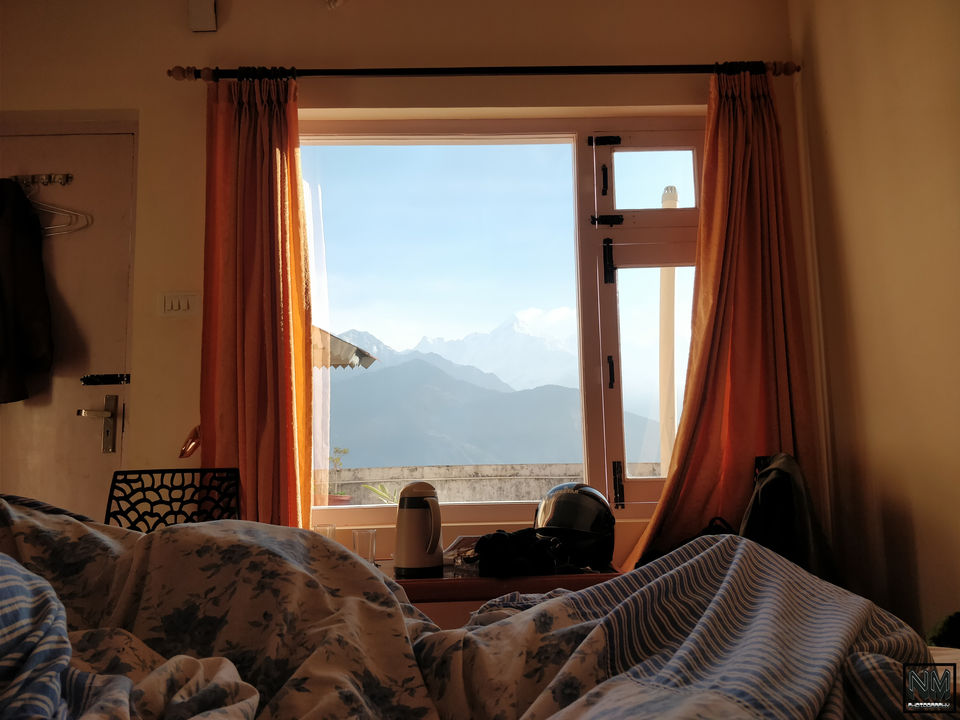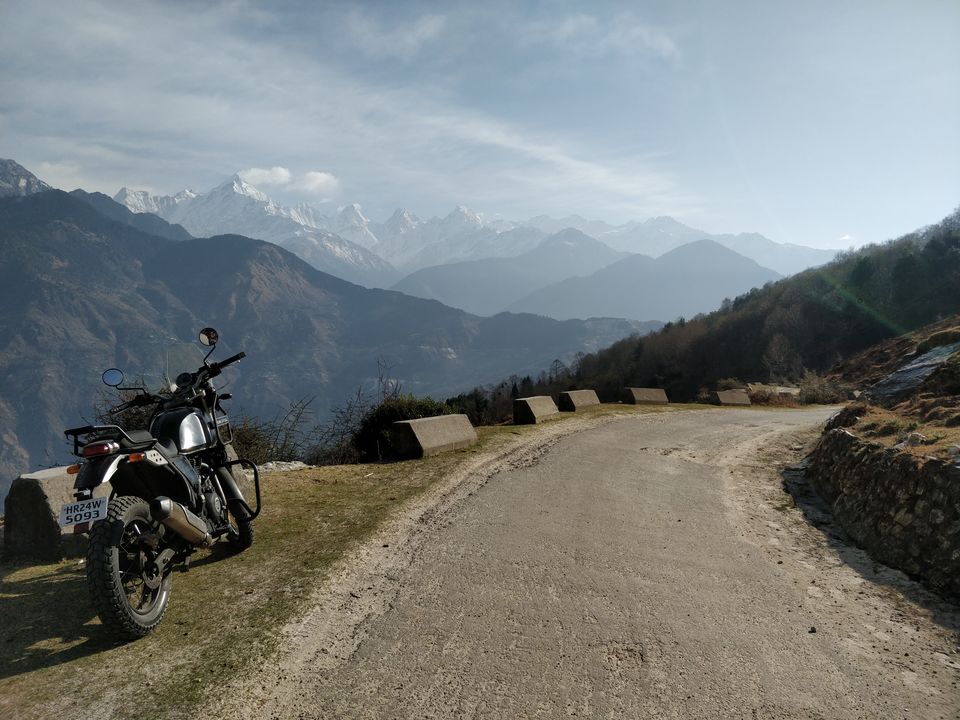 Day 2 started with a lot of expectations from my side, from here on it will be a new journey for both of us. Itinerary for the day was, we will travel from Nainital to Munsiyari. Munsiyari was 260 km from the Nanital considering the road condition and our addiction of taking photos where ever we find an opportunity do so, which increase the expected journey time from 9 hours to close to 12 hours. We started from the hotel at sharp 8, with few photo session near the Nani lake which coupled with the low local crowd due to Holi festival provided a perfect opportunity to have some great clicks around the lake.
From there we started towards Almora, one of the biggest towns in the Kumaon district. Roads were in total contrast to what we were expecting, Smooth belted roads that can give competition to any mountain roads in the world. After riding for an hour or so we realized how beautiful Kumaon region is although there was fuel crisis in between because all the gas stations were closed till 4 in the evening and one bike was low on fuel. We realized there is no point in wasting time searching for the right petrol pump and the possibility of finding fuel in black from some shopkeepers, and we did. We filled up our tank and started on our main destination.
With a 30 minutes break for lunch and few photo session, we reached Thal around 5 in the evening. Mnunsiyari was still 100kms to go, and as the sun was now hiding behind mountains, the temperature was dropping significantly. We bought leather gloves from Thal, refueled our bikes as we were expecting no petrol pump till Munsiyari. As the sun was slowly hiding behind mountains, we experienced some of the most beautiful and mesmerizing sunsets. Roads look scary with only two bikes on the whole mountain. It was horrifying as well as exhilarating experience to have.
After riding continuously for 2 hours we finally reached our destination, the temperature was 0 degree Celsius, again the same thing happens because of unpredictability we didn't book any hotel, but fortunately, we found a good hotel with heater and all, and that was heaven. We didn't realize the beauty of this small village until the morning because we entered late in the night and it was quite dark by then.
In the morning we realize how beautiful the place, I opened the hotel room drapes and WHAT A VIEW!! Panchulli range looked crystal clear from the hotel room. Snow draped peaks with a little sunlight over it; snow was shining as crystal shines when sunlight falls over them. We stayed in our bed for half an hour and embraced the beauty of the great Panchulli peaks; there are five peaks standing tall with an altitude of more than 6000 meters. There you realize what kind of life we are living in cities and how simple and beautiful life is in these places.
We order tea and come out from the room, in freezing cold for some amazing pics and a beautiful time lapse that you can find it here. 180-degree view of Panchulli was breathtaking and was creating a hypnotizing effect on us. Munsiyari is the base location for mainly four tracks mainly being the Nanda Devi base camp and valley of flowers. After spending a few hours in Munsiyari which includes a visit to Nanda Devi temple, because of the shortage of time we started our journey back to Kausani. We like to spend one more day in the town and explore some more places mainly a 13kms track to the peak of the mountain, but it seems between bike ride and tracking we prefer former.
Day 3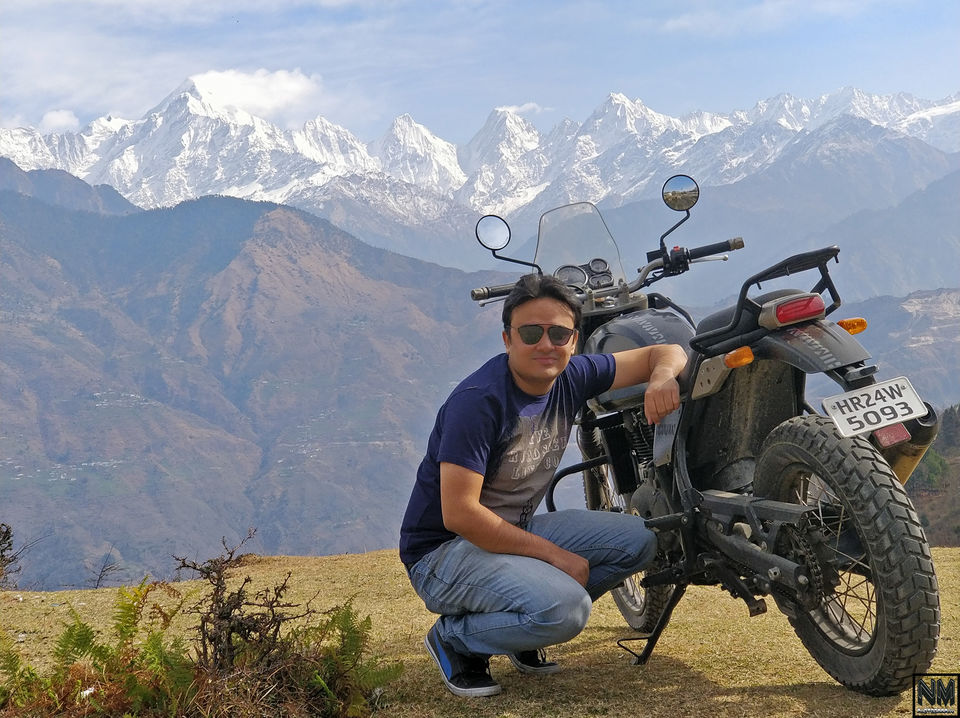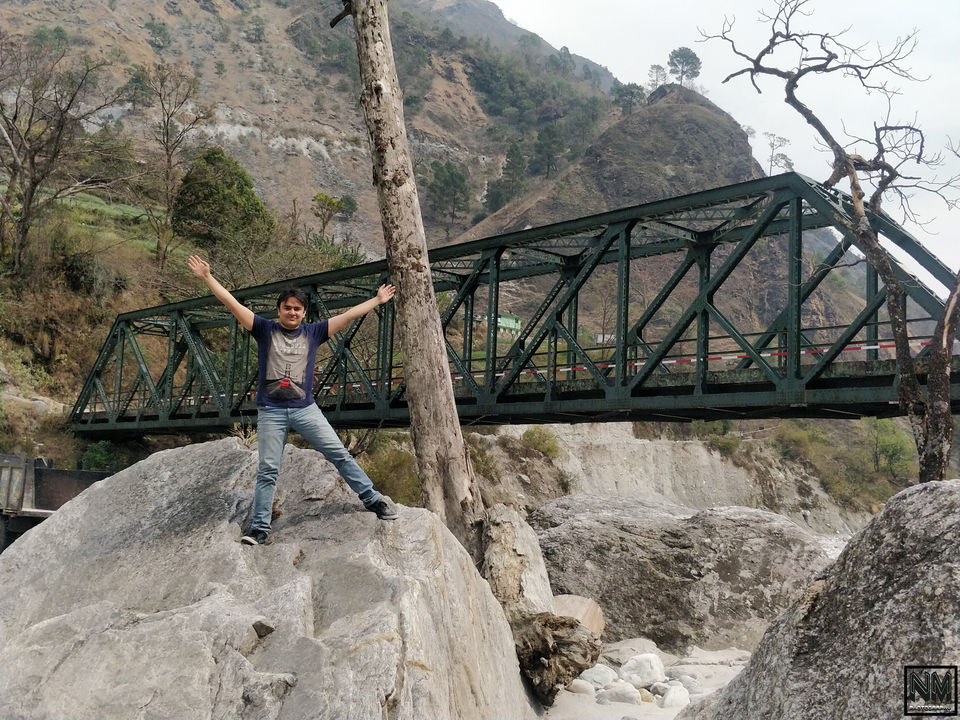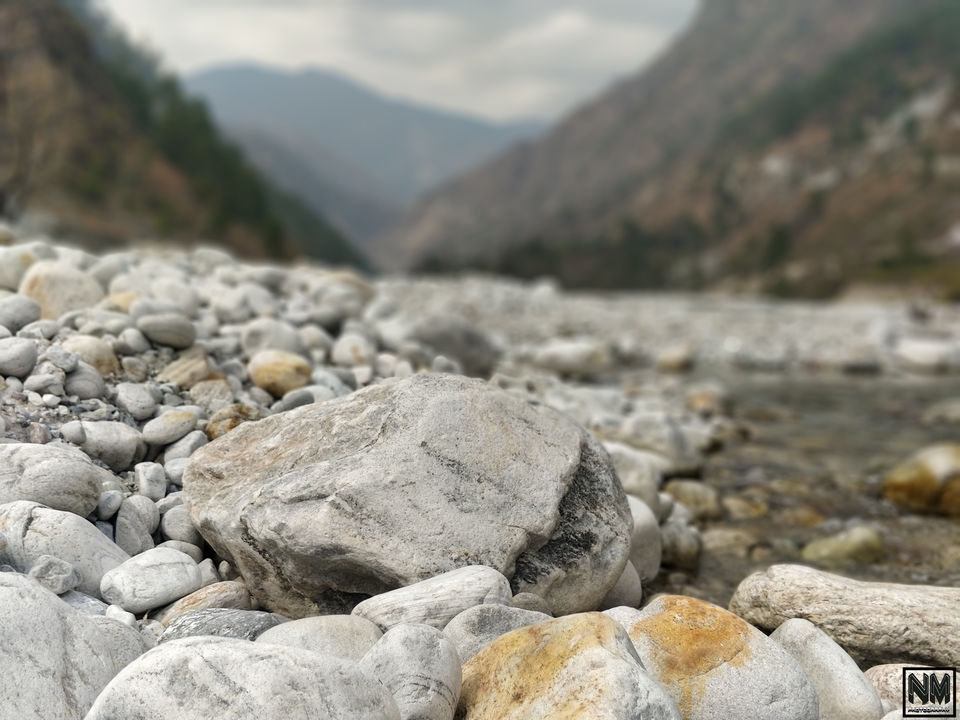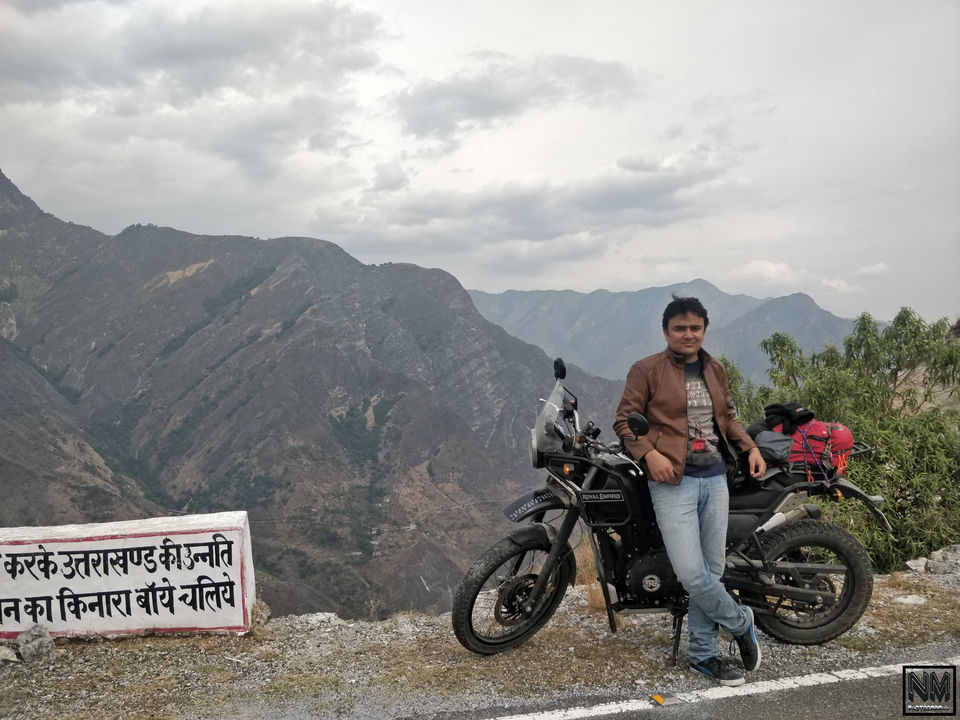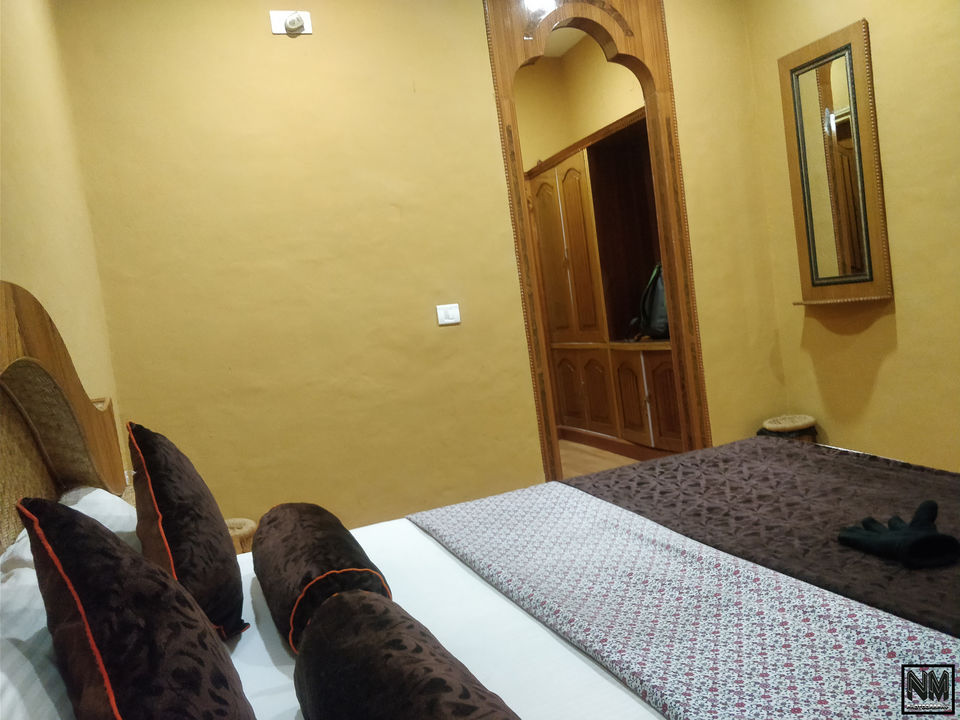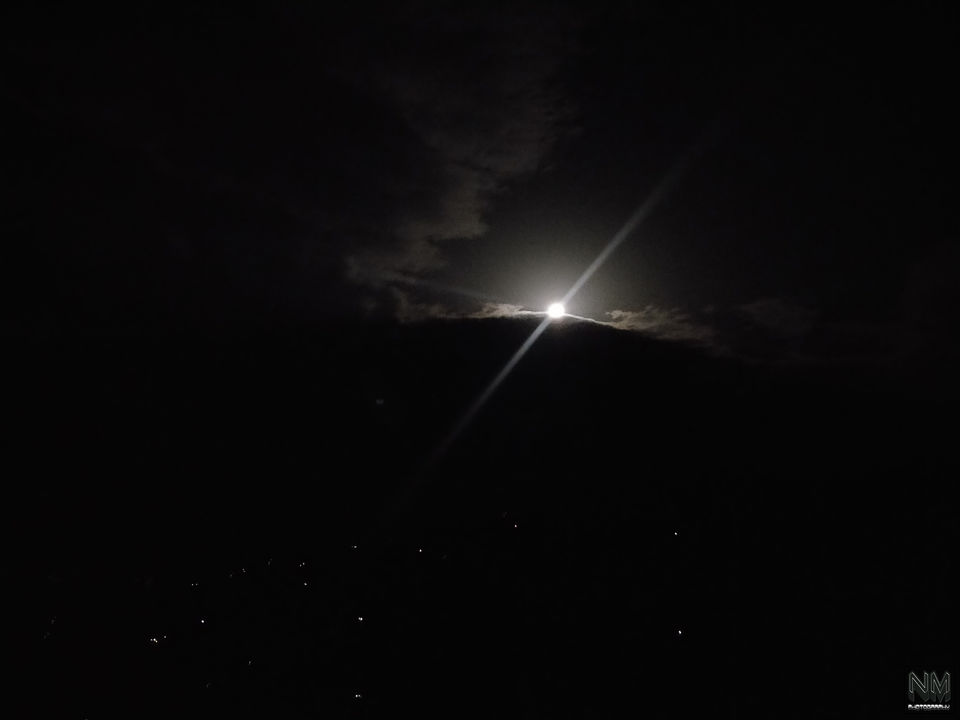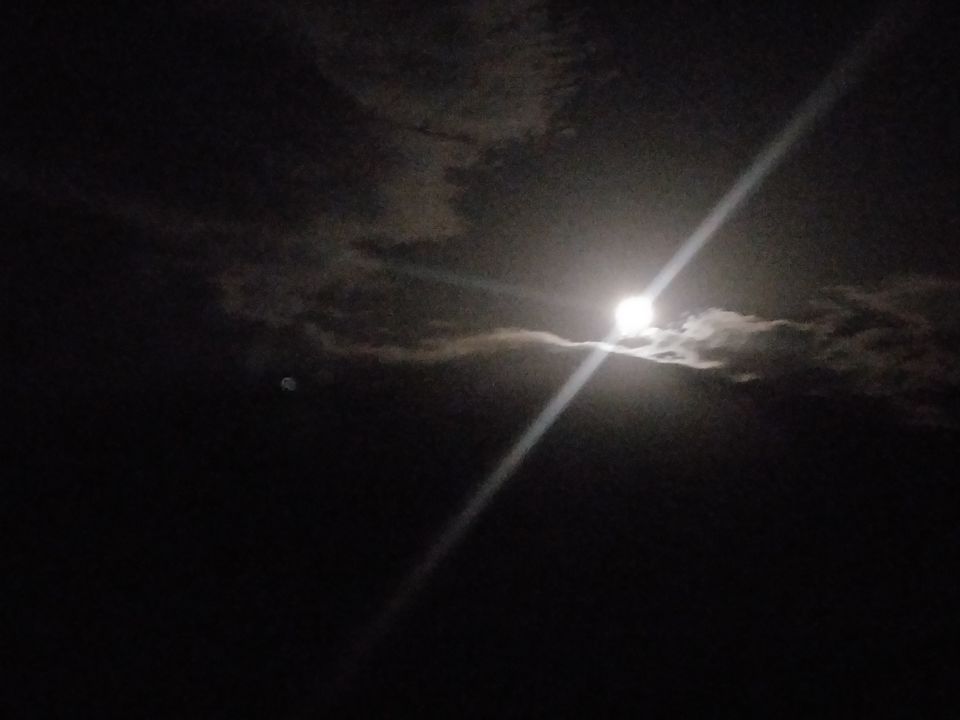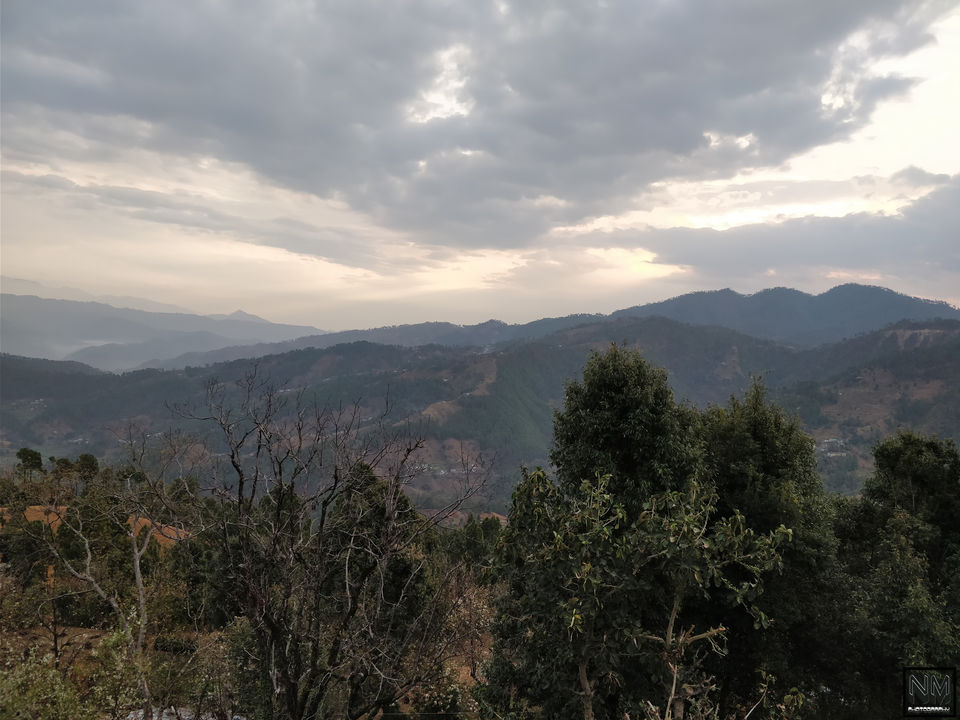 Day 3 started with a bang, the roads that seem to be very difficult to ride in the night, on the contrary, were belted and gave a pure riding delight to us. We ascended to the Bottom of the mountain in about an hour contract to the two hours that we took in the night. Today's agenda was to reach Kausani via Bageshwar. I have heard a lot about the place but never been there, and it is the first time I was visiting this place.
After two hour ride from the Munsiyari, we were crossing a bridge, and we realized that there is a path that led to the bank of the river, we want to test how will Himalayan perform in this kind terrain, so we took them off the road and went to the riverside. Biking in the sand and gravels, it was an enthralling experience for us. We had some clicks there with the bike, and as we were short on time, we again stated on the journey to Bageshwar.
The road from this place to Bageshwar is most beautiful that I have seen, I regret not taking GoPro to record all this on my journey most when I was passing through this path of the road. Pine trees on both sides of the road, not a hint of sunlight and temperature was optimum neither cold nor hot. We were breezing through these roads, and Kausani was still 40 km ahead. We took a lunch halt in a small shop near Bageshwar, and again we started on our Journey to Kausani. The road was broader than before with traffic increased compared to the previous day. We rode continuously for two hours, and at around six o clock we finally reach our last destination of the tour. From here we will start our journey back to Delhi which is 416kms from Kausani.
Day 4
Finally, we started from Kausani at 8 in the morning, landscape from Kausani till Ranikhet was something else, beautiful road, the valley between the mountains. We rode continuously with a lunch break in Nanital. While coming back, our route was Kausani, Ranikhet, Nainital, Muradabad, Delhi. We reached Delhi around 8.
It was my childhood dream to visit this god's own land, when I use to go to this region road were usually bad and traveled medium was Bus. This time it was Royal Enfield Himalayan, and the whole experience was something else.