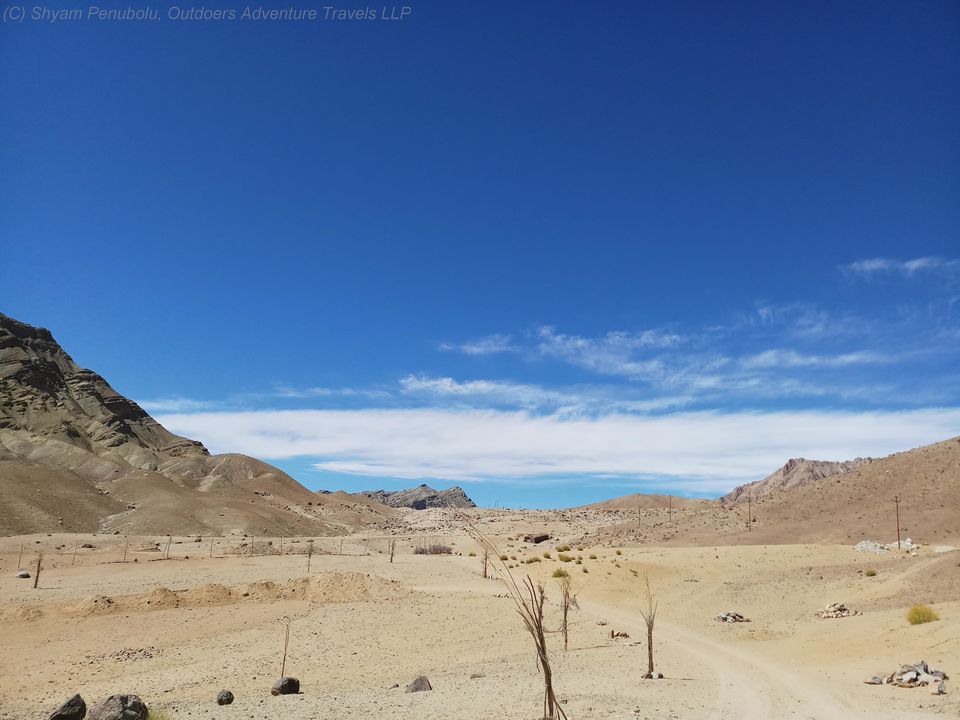 A trip to Ladakh can, no doubt, be truly mesmerizing. But the exhilaration starts even before you set your foot in Ladakh! A flight from Delhi to Leh can leave one spellbound. While cruising over the plains, you will get to see large rivers meandering their way towards their destination. Then as the flight proceeds northwards and enters the lesser Himalayan region, you will begin to see terraced farmlands and the Siwalik mountain ranges, bedecked with vast swathes of verdant evergreen forests. Further northwards the flight enters the Himalayan region and you begin to see a sea of white below. Look eastwards or westwards and all you can see is an unending array of Himalayan giants clad in a cloak of snow. As you approach Ladakh the landscape transforms into that of a high-altitude desert - stark, barren mountains and valleys with almost no vegetation except for occasional grasses and bushes, clear skies and mountain-tops clad in snow.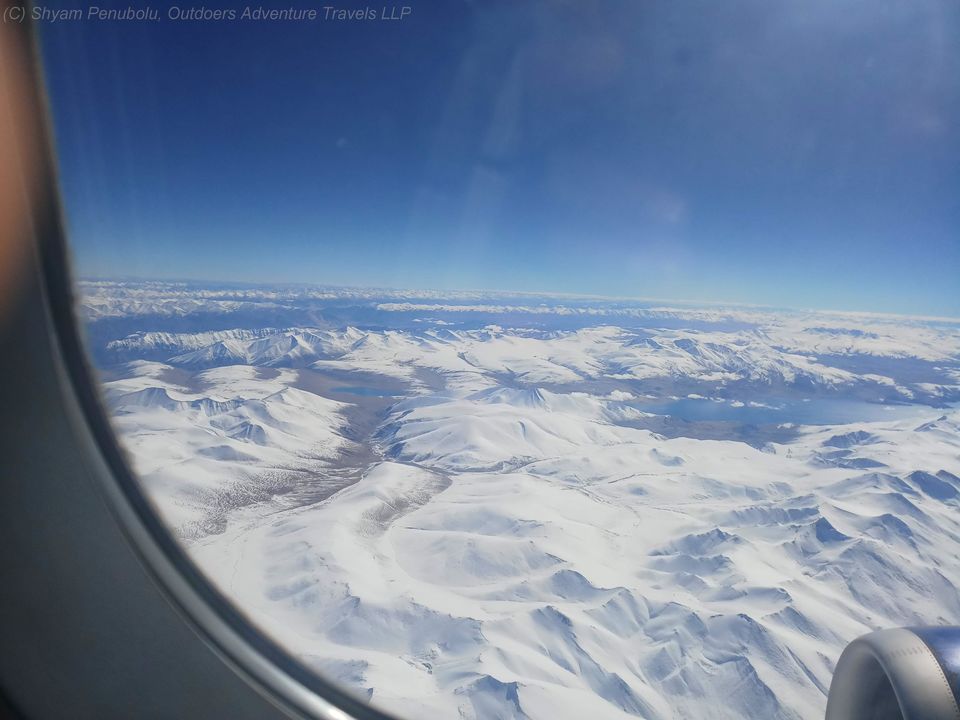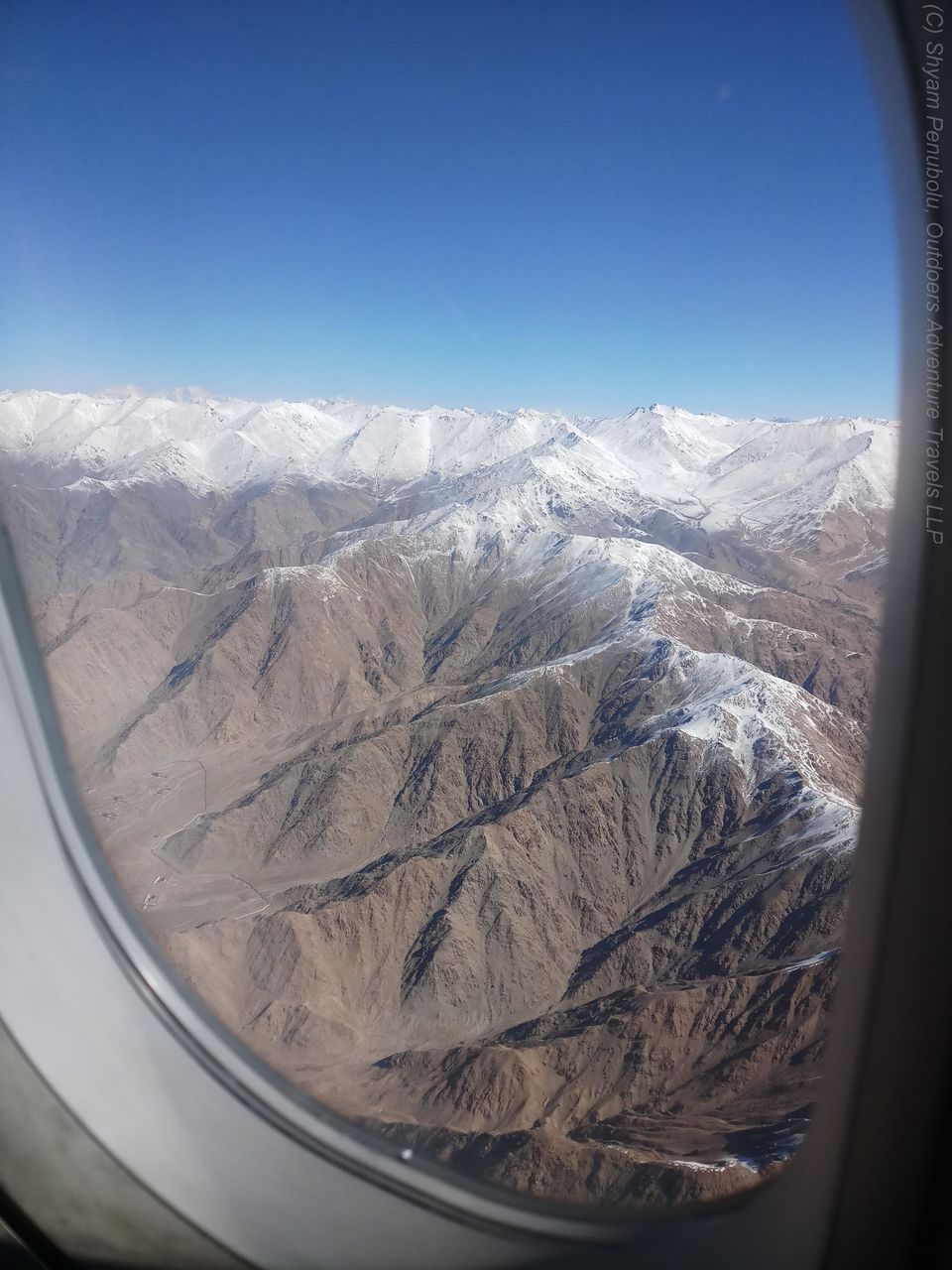 I am told that the journey by road from Manali to Leh is quite exhilarating, albeit a long one.Leh is situated at an average altitude of 3500 m which is serious high-altitude! This is the kind of height one typically achieves after 3 to 4 days of trekking in the Himalayas. But Ladakh is different! You directly land at a place which is at an altitude at which many people experience some form of altitude sickness. It is extremely important to acclimatize, and the recommended way to do that is to take 48 hours of complete rest on arrival.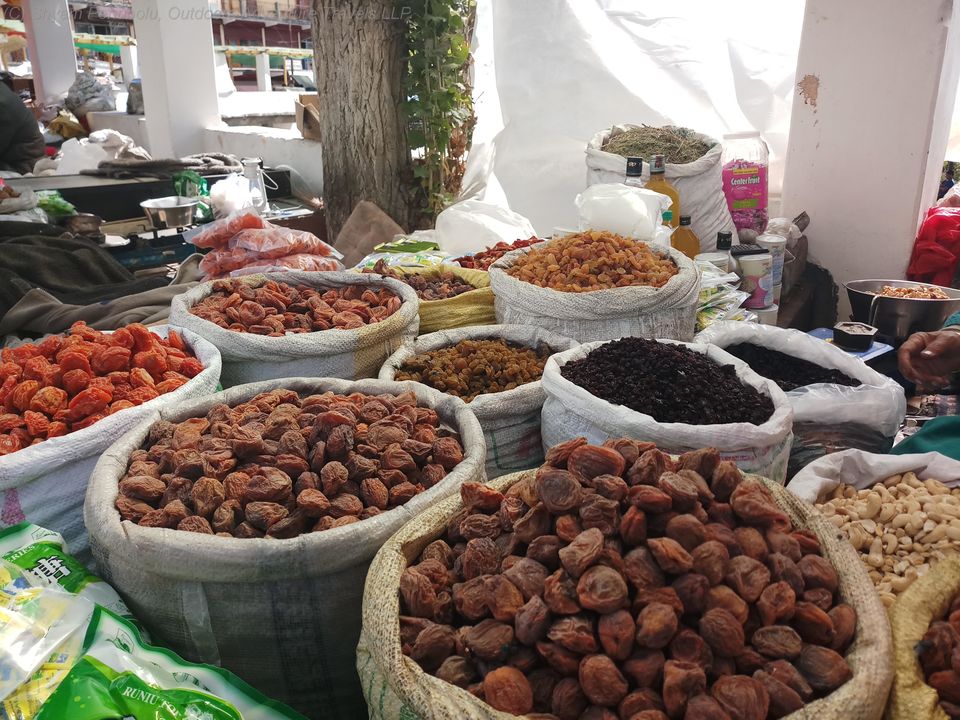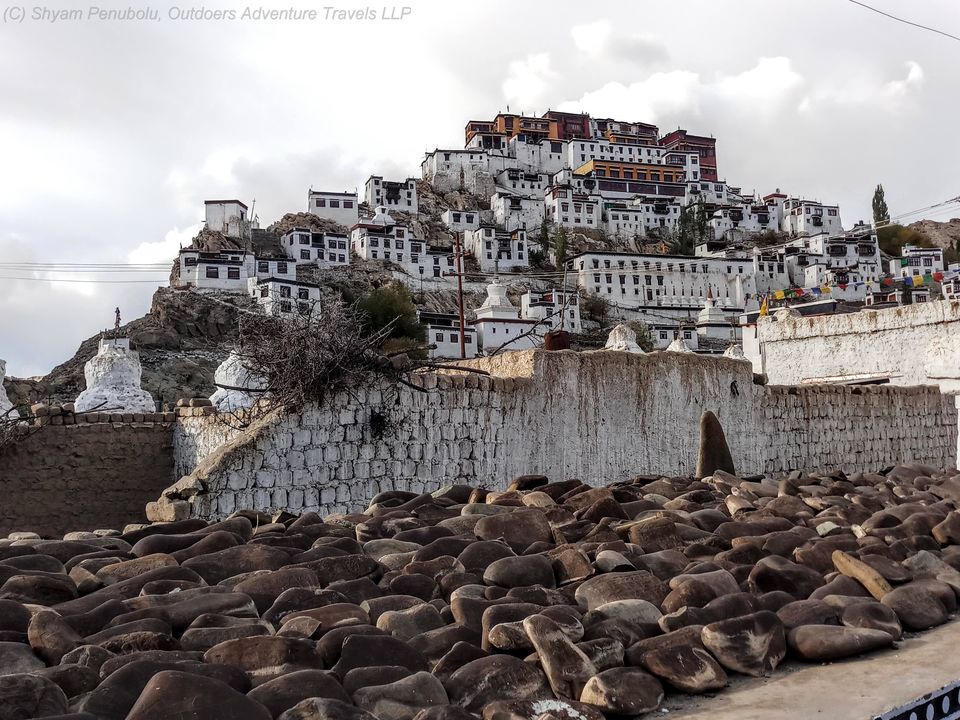 After getting adequate rest and doing a little bit of sight-seeing in Leh, I felt like I had acclimatized well. It was time now to do a short trek in the nearby Sham valley. This is known as the 'baby trek' in Ladakh. Let the moniker not fool you! Yes, it's easy enough by Ladakh standards but it's definitely not a walk in the park. Any trek that includes a 4000 m pass is surely not for tiny tots!
Day 1 (Likir to Yangthang, 10 km, 3 hours 10 min)
One reason why Sham valley trek is so popular is its proximity to Leh. The starting point of the trek - Likir - is a mere 60 km (1.5 hour) drive from Leh. Also, there is road that runs parallel to the trail and therefore it is possible to end the trek at any of the villages and return to Leh.
There is a famous Gelugpa monastery at Likir which is worth a visit. However we decided to hit the trail straight away as it was past 11 o' clock already. It's an easy 3 km walk from Likir to Sumdo - a village with just 2 or 3 houses. There is a blink-and-miss pass called Phoebe La at 3600 m.
The stark desert landscape - bare mountains of loose rocks and clear blue-skies gets even more accentuated as the trek progresses.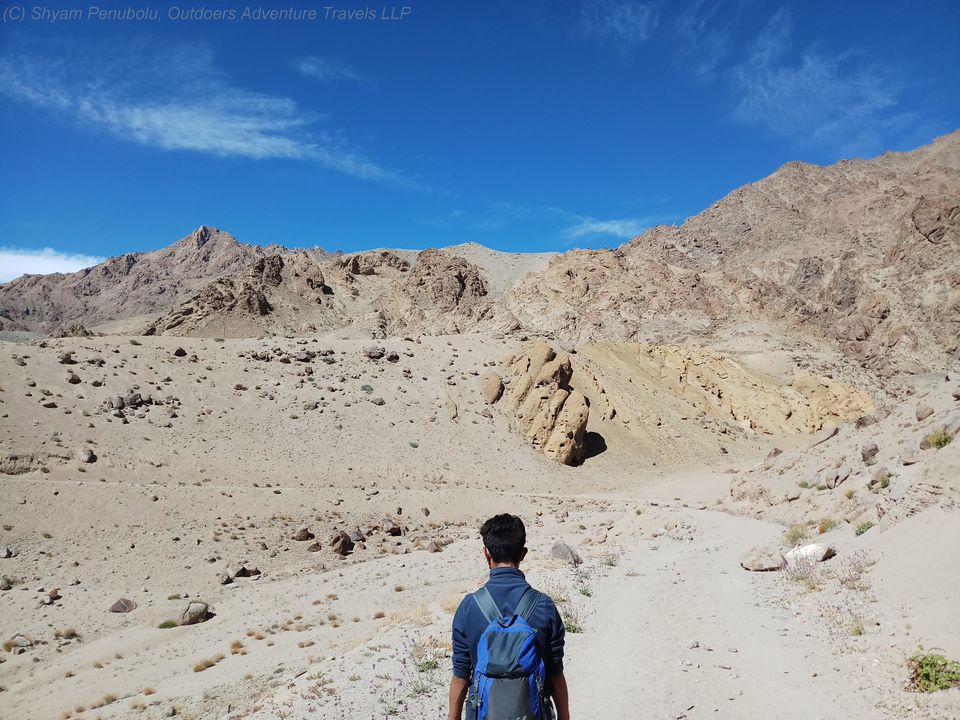 Around half-way to Yangthang , the ascent to the Chagatse La ( 3700 m) starts. This is the toughest stretch for the day. From Chagaste to Yanthang it's a gradual descent except for the last stretch which involves a steep climb. Yangthang comprises a cluster of homes and homestays.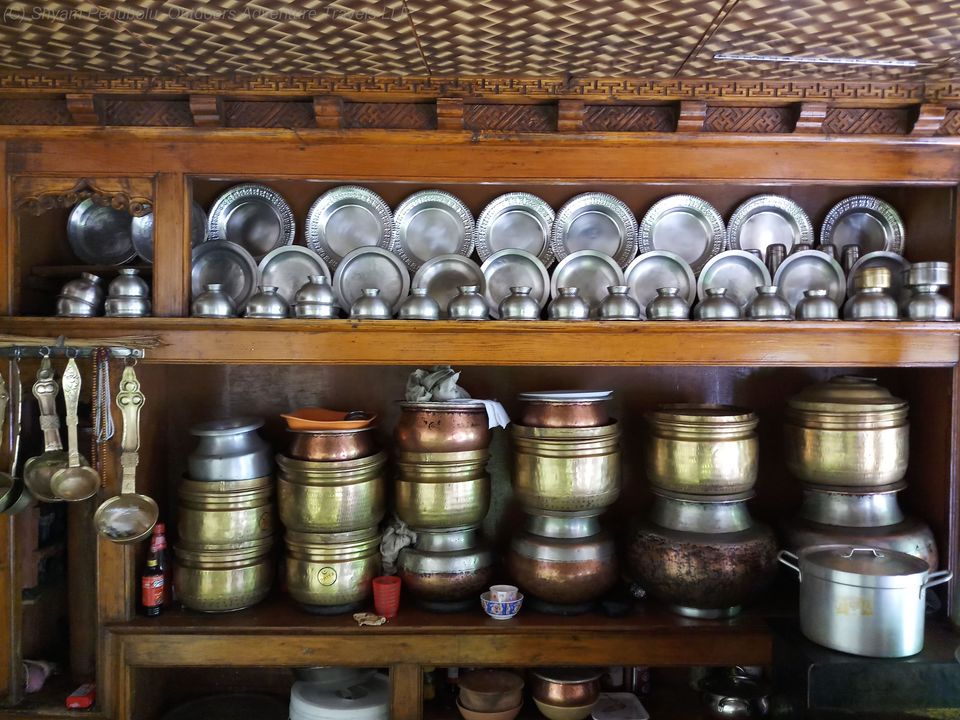 You know you are reaching a village when you start seeing a bit of greenery - tall poplars and willow trees greet you from a distance. In the autumn months, the poplar leaves turn a lovely yellow.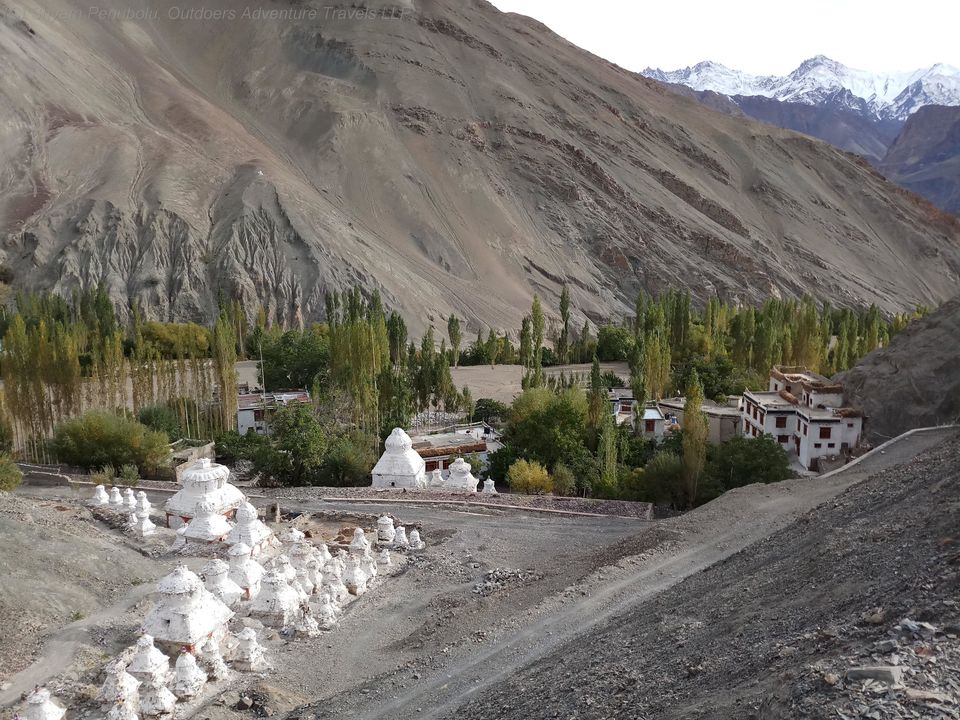 Day 2 (Yanthang - Hemis Shukpachen, 10 km, 2 hours 10 min) and Hemis Shukpachen to Tingmosgang (10.5 km, 3 hours)
The toughest leg of the trek is from Yanthang to Hemis Shukpachen. It involves crossing highest pass on this trail (Tsermangchen La, 3900 m). The pass is visible from Yanthang but is a good 6 km away. Some sections of the trail are slippery. There are also sections of steep ascent or descent.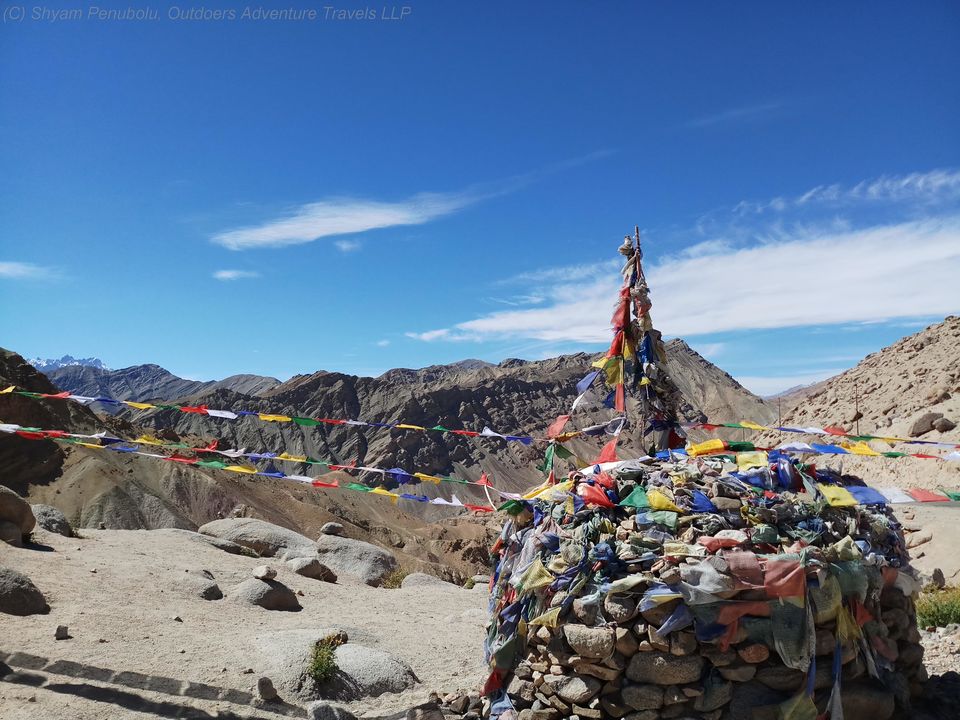 As we covered the distance to Hemis Shukpachen in good time, we decided to continue further to the next day's destination - Tingmosgang. This section includes two minor passes - Lago La (3800 m) and Mebtak La (3850 m). From Mebtak La, one can see the picturesque village of Ang which is a further 2.5 km from the pass. The 3.5 km gradual descent along the road from Ang to Tingmosgang took less than an hour.
In the evening, we decided to visit the ancient Tingmosgang monastery that stands majestically on a hillock and offers panoramic views of the valley below. A visit to a cave near the fort walls was also quite interesting.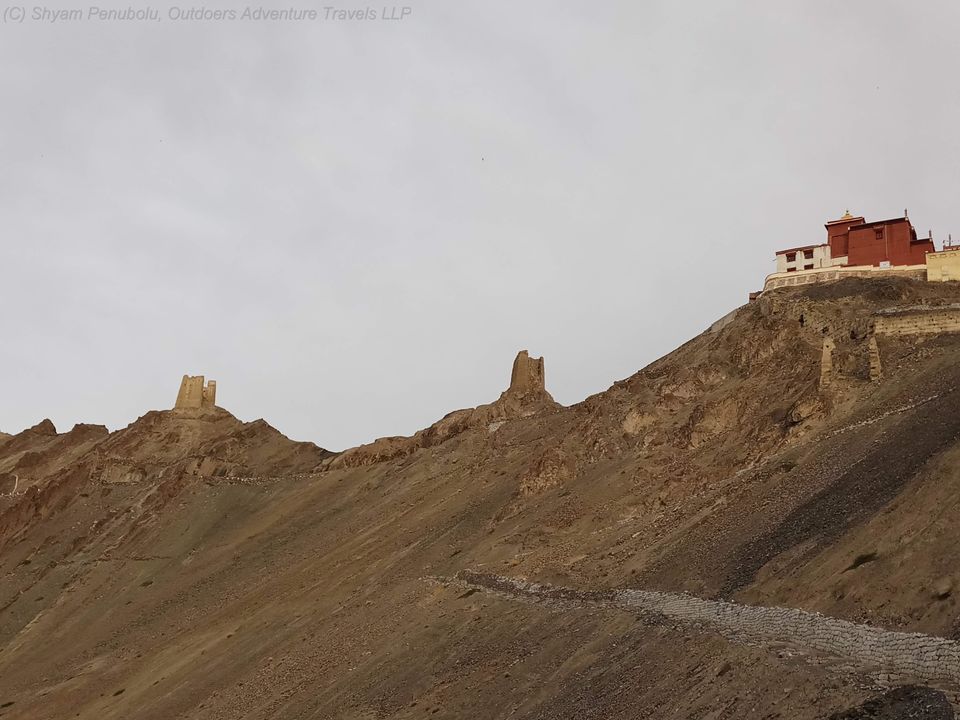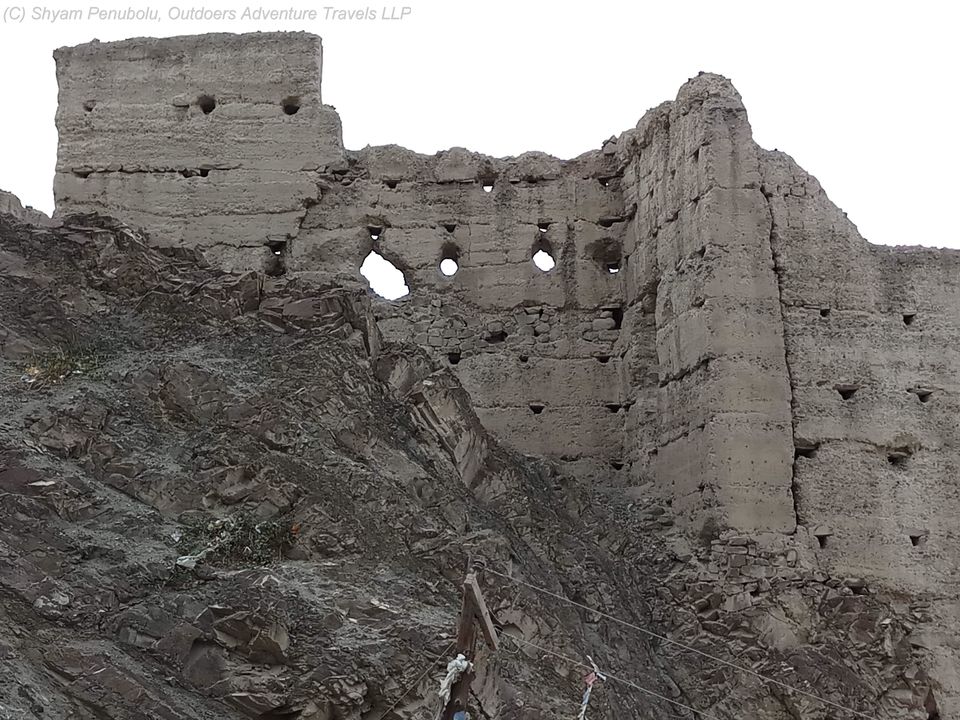 Day 3 (Tingmosgang to Balukhar, 11.3 km, 3 hours 10 min)
While there is a daily early morning bus to Leh, we decided to extend the trek up to Balukhar - we were enjoying ourselves and didn't want the trek to come to an end soon!
This stretch involves descent to the valley and crossing a bridge across a stream and then climbing up to Bongbong La. The views of the entire valley which is home to Tia, Tingmosgang and Ang villages from there - is truly astounding.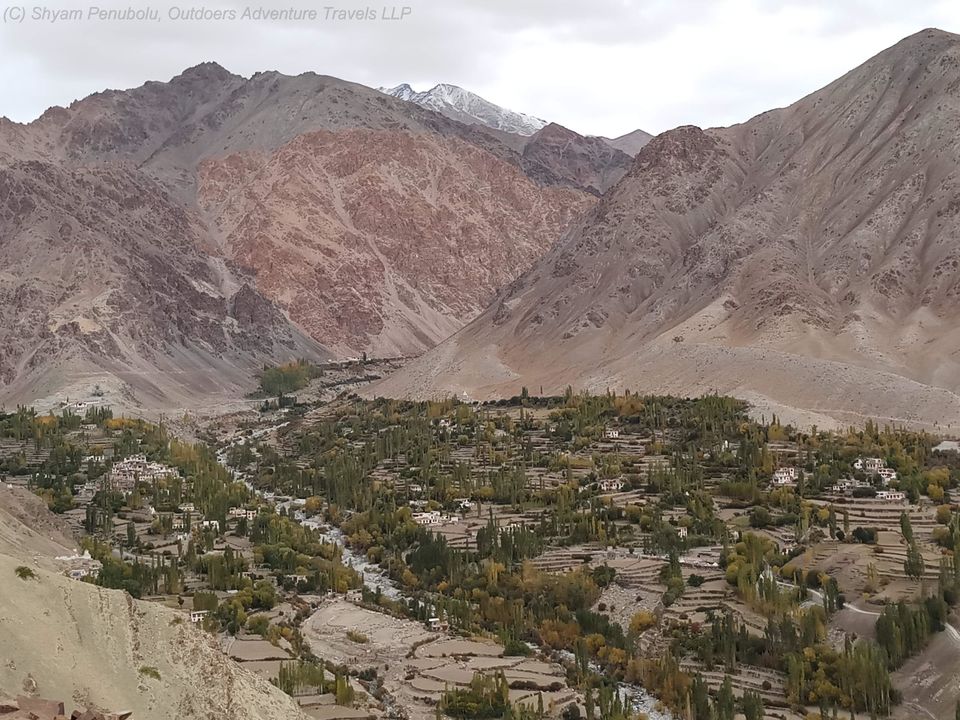 From Bonglong, the trail follows a dry river bed in a canyon. We were fortunate to spot a herd of blue sheep (bharal) and a Tibetan wolf in the final leg of the trek.
Balukhar is a nondescript village on the Leh-Kargil highway. It is a 90 km drive back to Leh from there.
It is possible to extend the trip by trekking to Khaltse from Tingmosgang.
Check www.outdoers.in for standard itineraries in Ladakh as well as other parts of the Indian subcontinent.