"Life is either daring adventure or nothing at all." This quote pretty much sums up all the reasons why I love to travel. Nature has always been a motivator for me. It's a great source of learning new things, a medium to expand imagination and creativity. And undoubtedly travelling is the best way to get closer to the nature.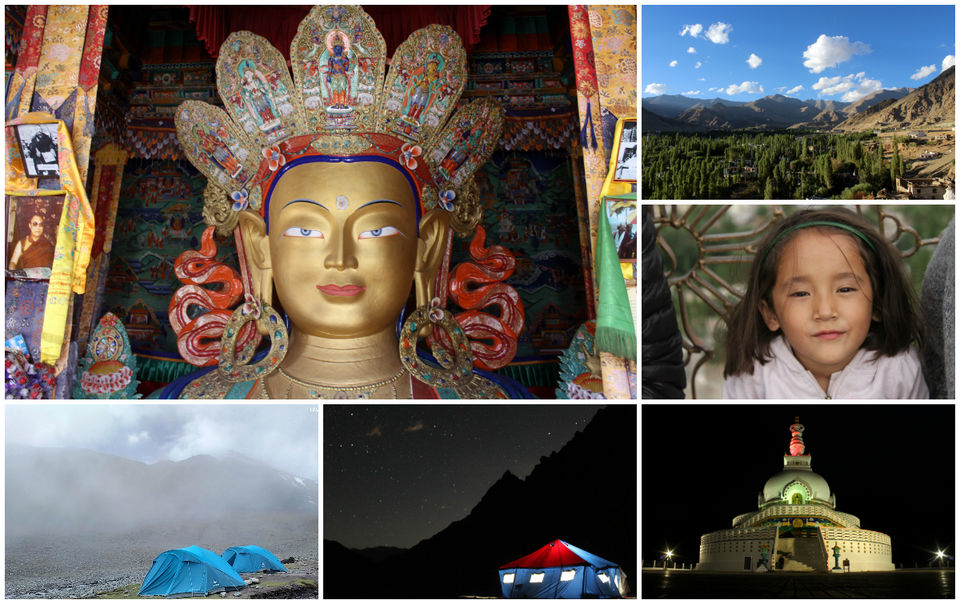 My Ladakh journey has been one of the most memorable experiences of my life. It has brought me so much and changed the person I am for the better. There is too much to harp on about this memorable journey that I don't really know where to begin with. The magical word "JULLEY", kind and generous Ladakhi people, picturesque landscapes, mighty mountains, majestic rivers, magnificent monasteries, starry nights....and of course the delicious food! There are so many stories to share.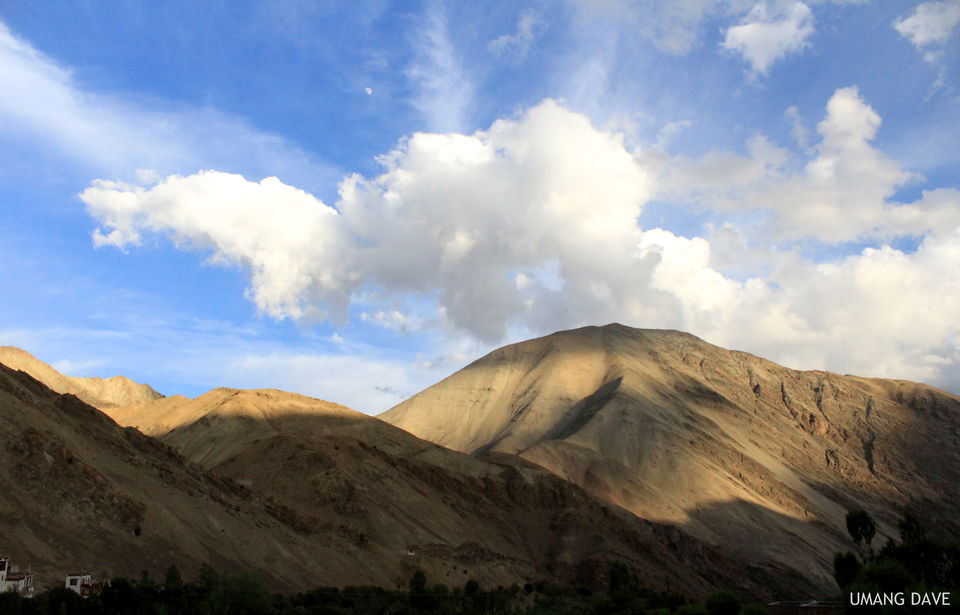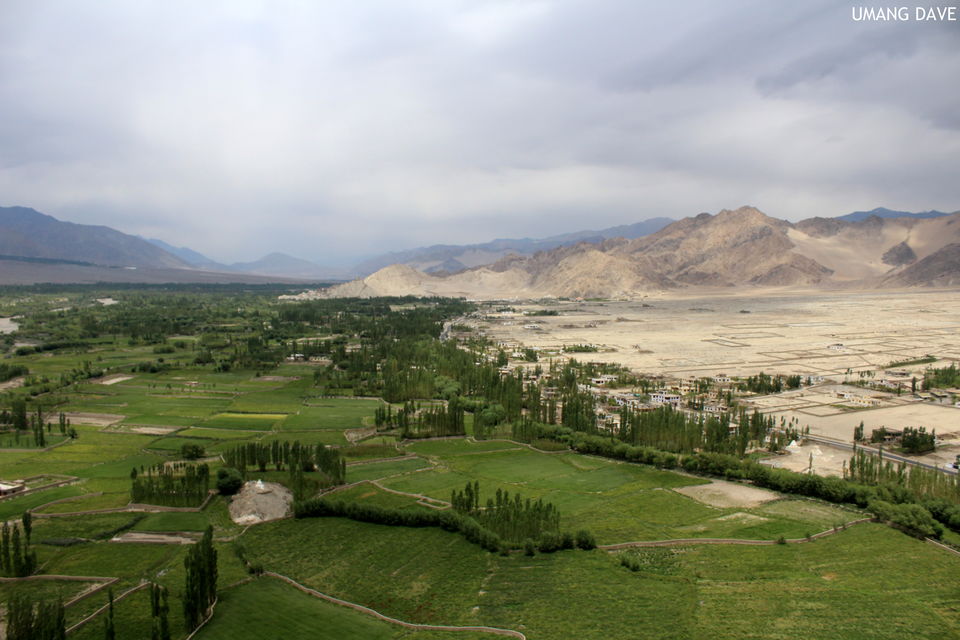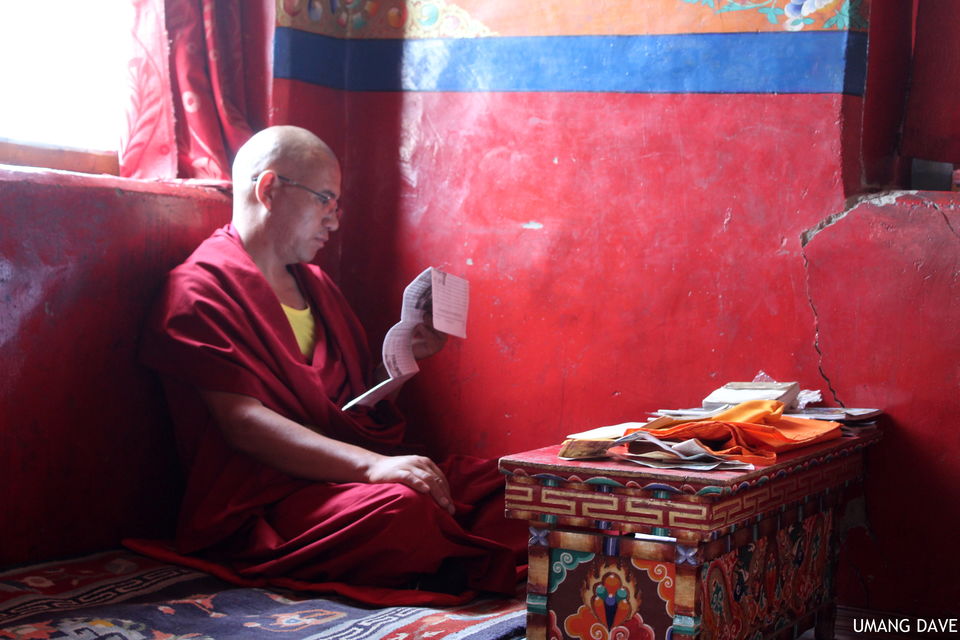 I was working with White Magic Adventure Travel, a renowned adventure travel company as an intern where I got this opportunity to travel to Ladakh for almost a month. It was a great learning experience for me to work as an assistant trek leader for the first time in Himalayas. I started my solo journey from Delhi. An overnight journey in the HPTDC bus was an adventure in itself. I reached Manali next day, checked into a hotel and booked a shared taxi for Leh. We started our 470km long journey at midnight around two. My co-passengers were from Israel, Maharashtra and Karnataka. We all were excited about this road trip. They were surprised to know that I was travelling solo.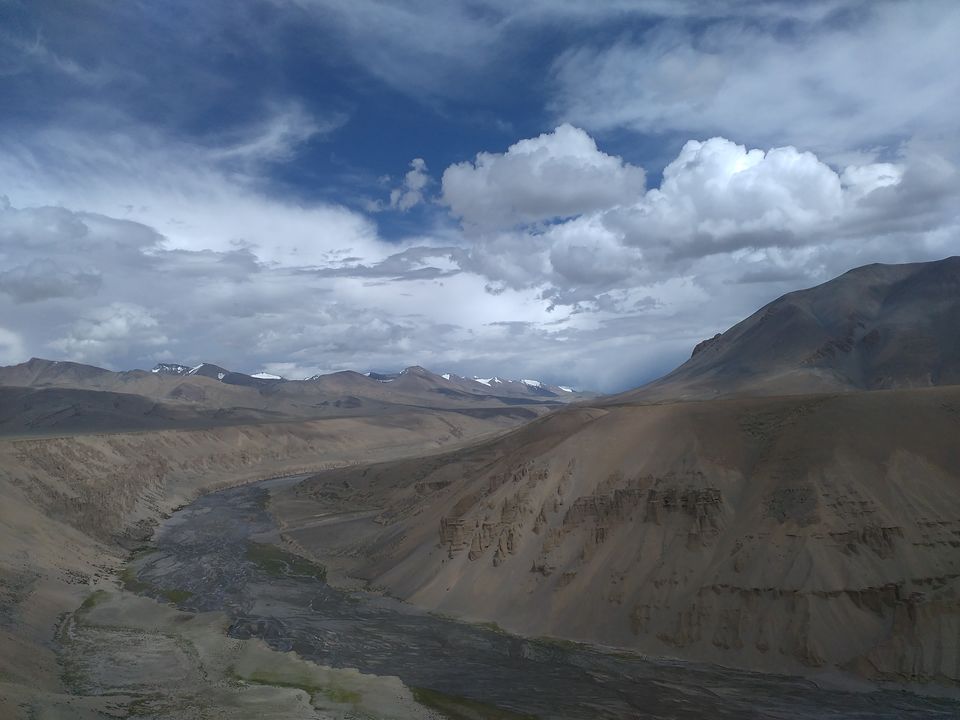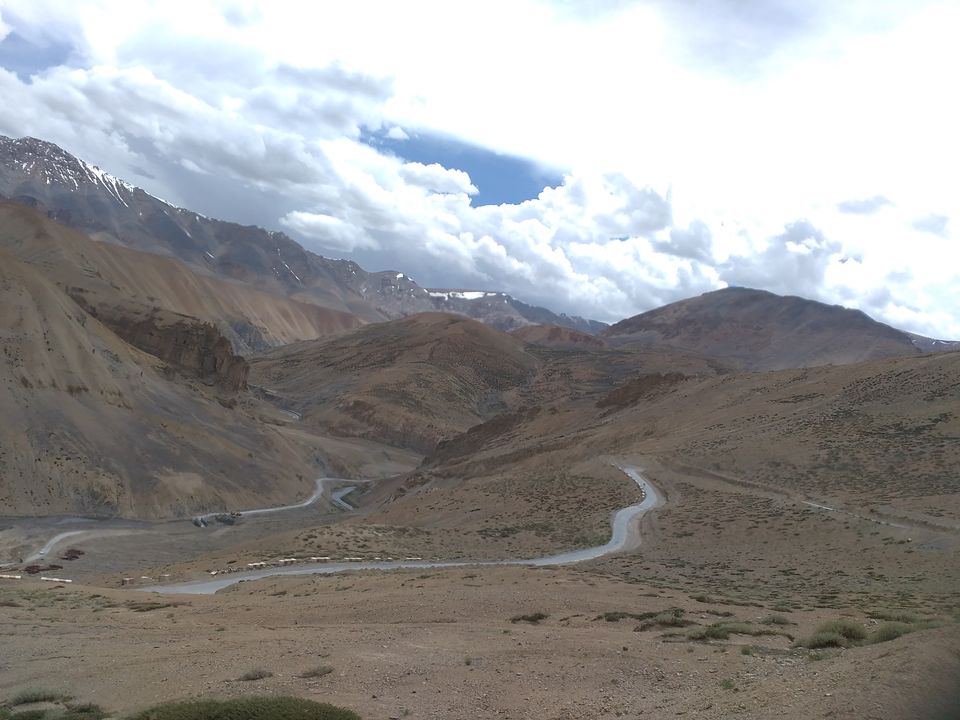 We crossed the mountain passes one by one and stopped in between for tea and refreshments. I was spellbound by the scenic beauty of these serpentine roads. Greenery vanished as we moved further and then it was only the naked mountains and rivers on the other side of the road. I could see most of the bike riders on Royal Enfield bike everywhere with their go pro cameras mounted on their helmet. It was all like a festival. Finally we entered into military area in Leh region and by the evening 6:30pm I reached to my stay near the Lamdon School. I passed through the Leh market and felt like I was in a totally different world. I had headache because of the high altitude but the thought of reaching my dream destination made me forget the pain.
I spent my next three days in Hemis Shukpachan, a small traditional village in Sham valley in Ladakh. I assisted my staff members in setting up tents in the campsite and made perfect arrangements for our clients.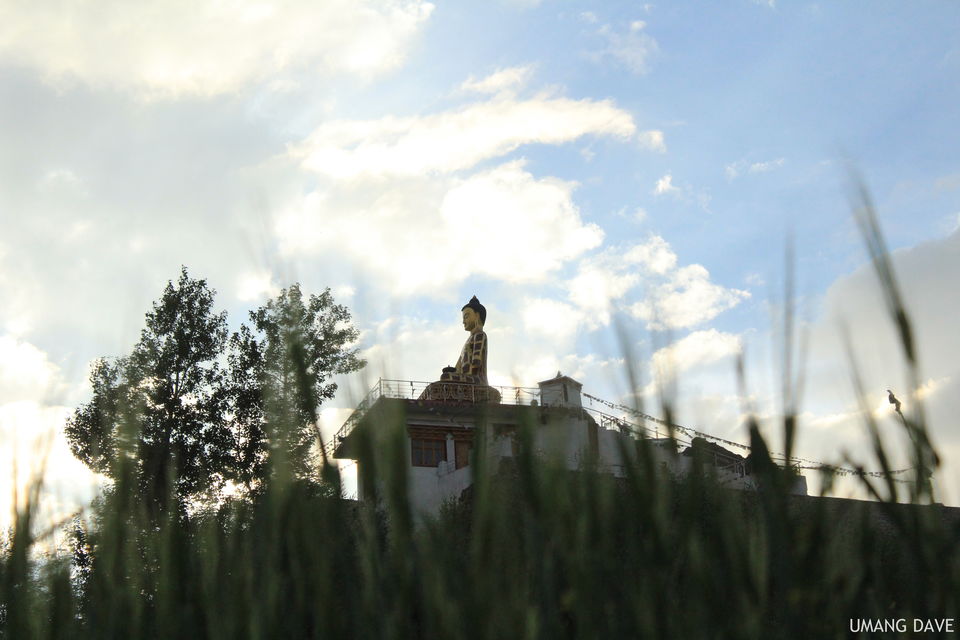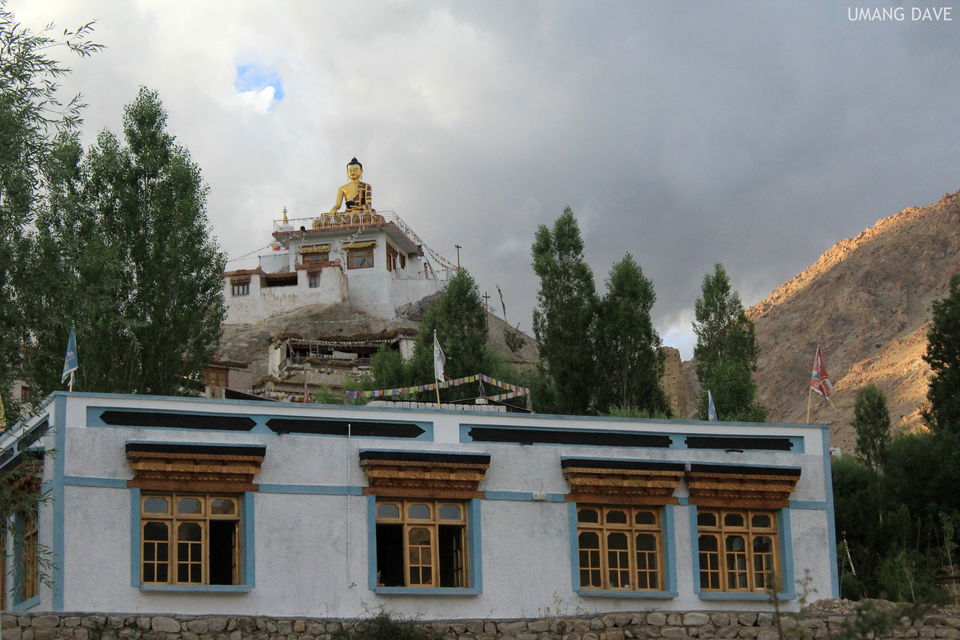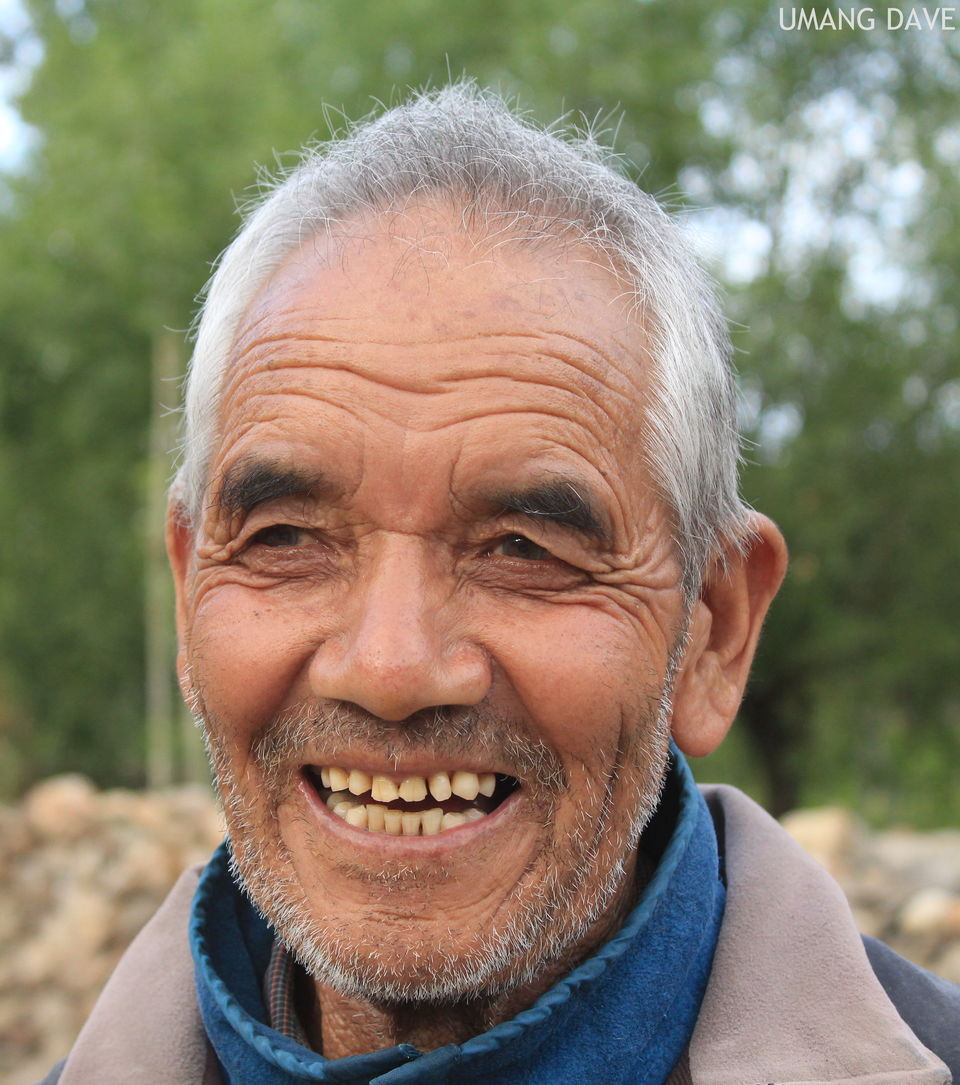 Hemis Shukpachan is a perfect place to experience the traditional Ladakhi village life. There is a giant Budhha statue near the village where one can enjoy beautiful sunset. Several treks are possible from and to Hemis Shukpachan to Lamayuru monastery via Ang village, and to Likir Monastery.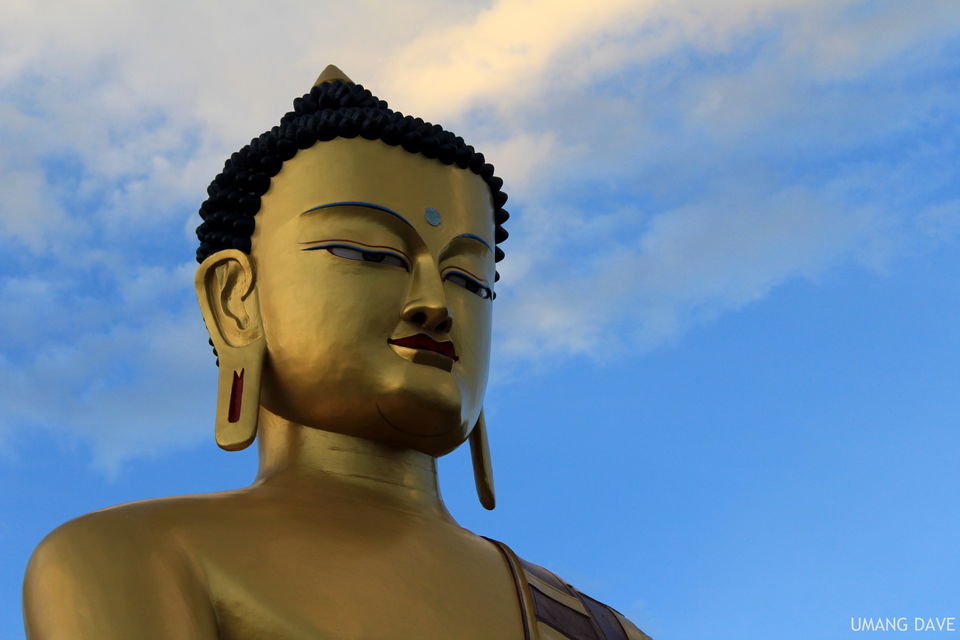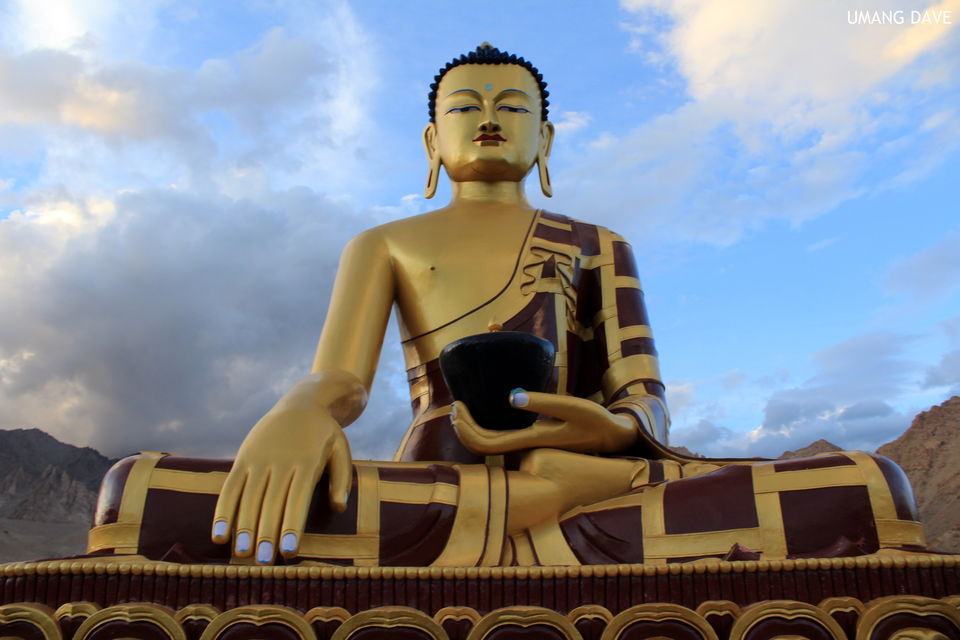 The classic off the beaten path trek known as the "Sham valley trek" is a gentle, easy and comfortable 3 days trek which takes one through traditional Ladakhi villages. Surprisingly I didn't feel altitude sickness though it was difficult to trek at this altitude.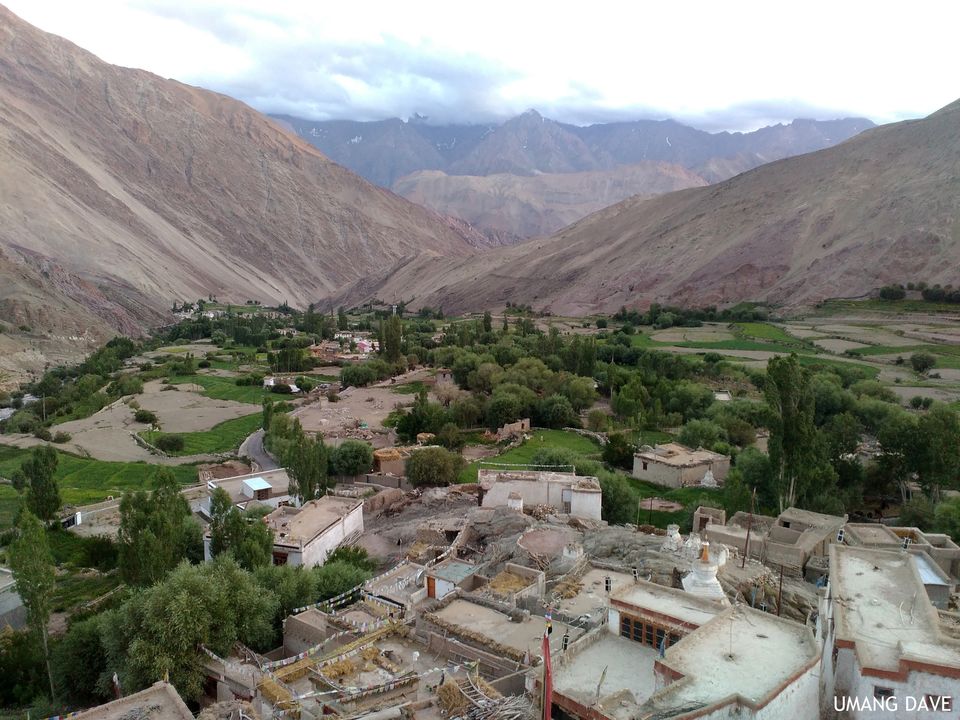 I returned to Leh and spent few days there to acclimatize myself for my next adventure Stok Kangri Climbing Expedition which I was going to start from 21st July. During my week long stay I went to all the major attractions and got a great chance to closely observe the lifestyle of Ladakhi people. I roamed alone in the markets, went to monasteries, met lamas, interacted with locals and foreign tourists, tasted delicious food and tried to explore as much as I could. What I realized during this wandering is that "Like people, cities also have souls".
I am sharing few experiences of the places that I visited before starting the climbing expedition to Stok Kangri (6153m).
Shanti stupa:
This is the most beautiful stupa I have ever seen. Its walls are beautifully decorated with paintings and carvings depicting different phases of Budhha's life. There is a meditation hall near the stupa. This place is surrounded by mountains and offers best panoramic view of the Leh Palace and stok kangri peak at the distance. I used to sit there for hours while my camera was capturing photos for time-lapse video. The time spent in solace was indeed a good break from the chaos in me gathered over the years from the bustle of city life.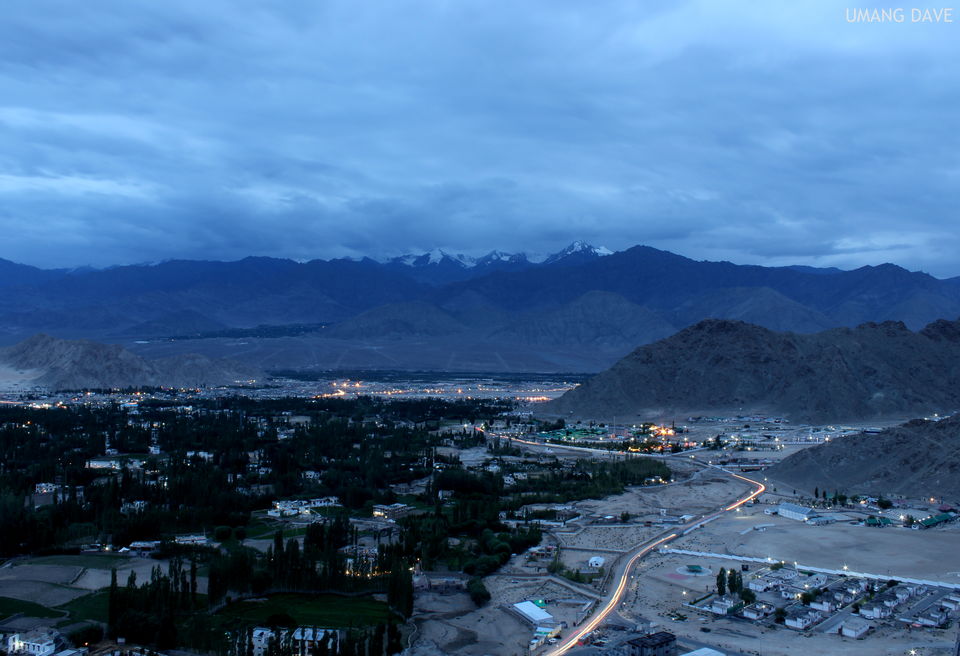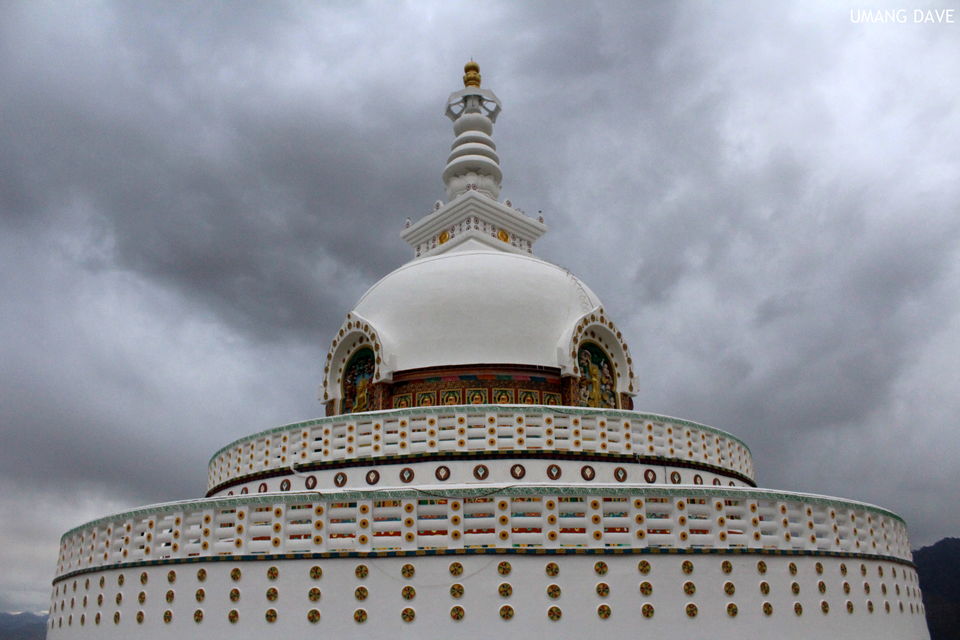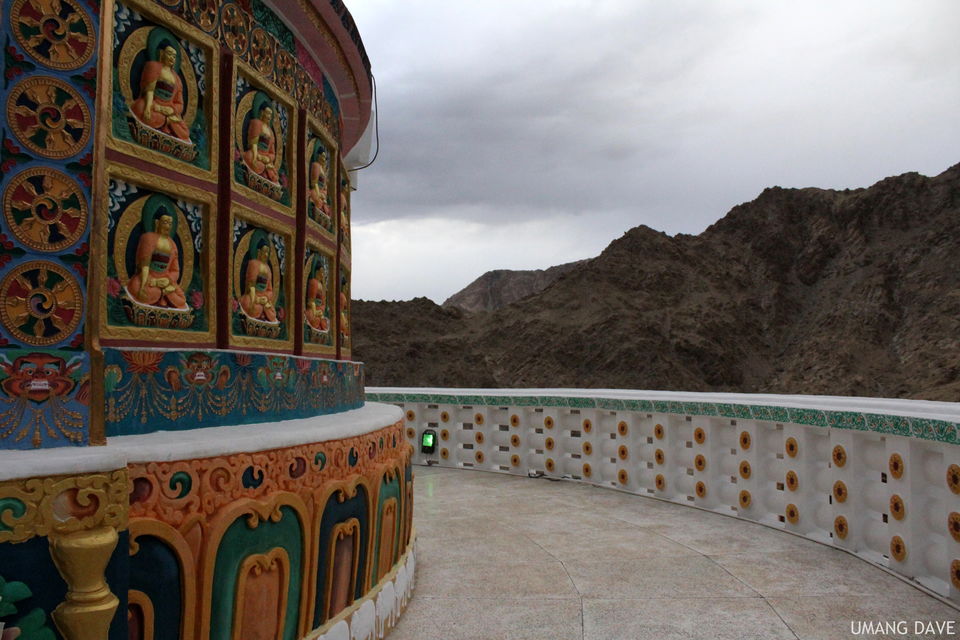 Leh Palace:
The Leh Palace of Ladakh still retains an old worldly charm about it. It resembles Potala palace in Lhasa, though in comparison is much smaller. There is an ASI office which looks after the monument. There are some murals still left in the palace that speaks of the royal glory of Ladakhi Kingdom. The palace exudes charm and provides wonderful views of the snow capped mountains and landscape. Blessed I felt to breathe in the same air, the royals of the palace used to, I can only imagine how it felt to wake up each day to the beauty of the mountains.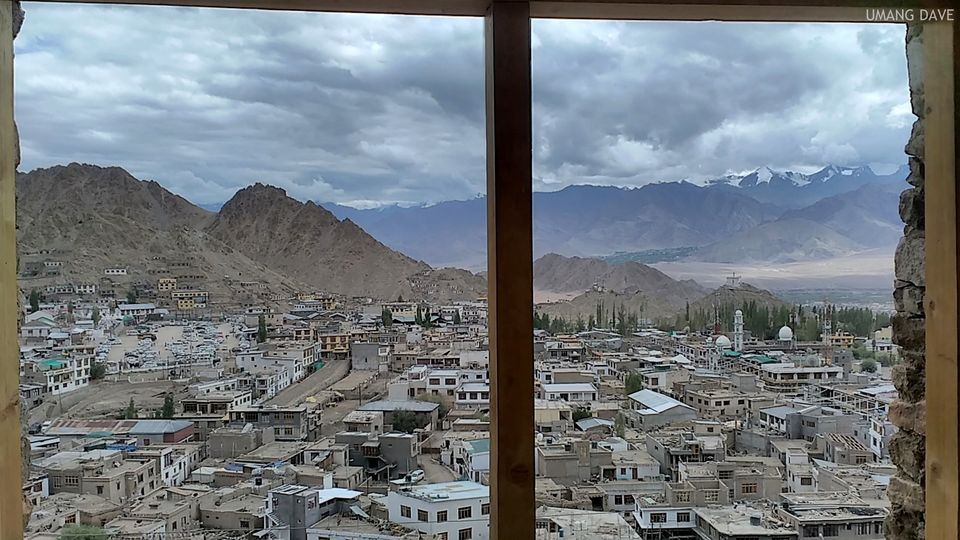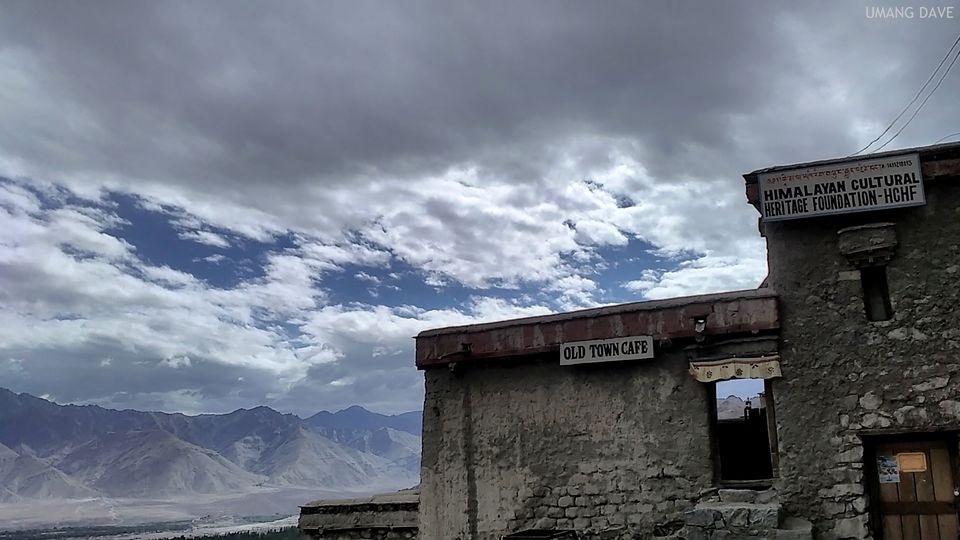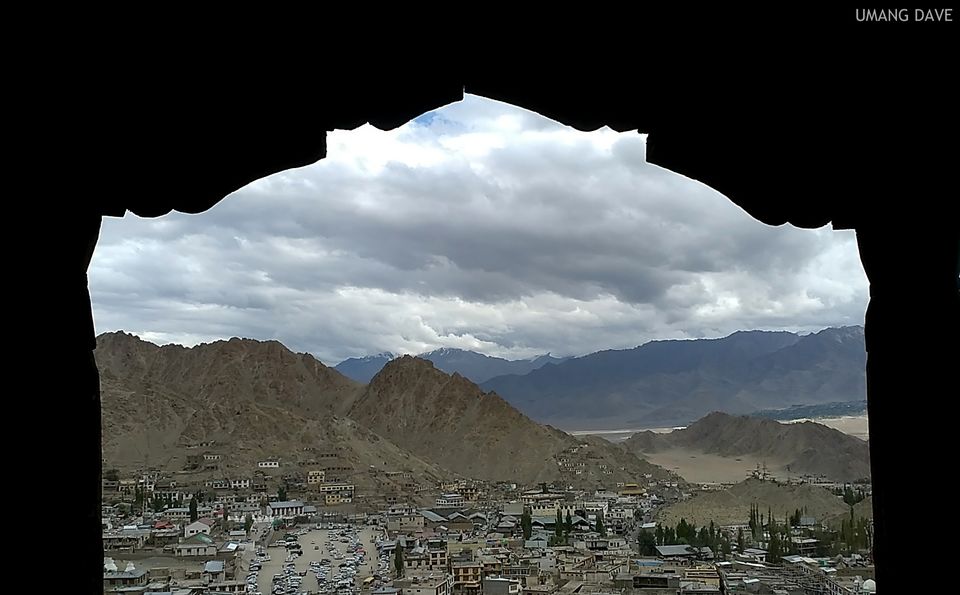 Tsemo Namgyal Gompa:
One evening I climbed the hill which was leading to the well paved footpath to reach Tsemo gompa or monastery. There is also a roadway reaching at the rear of the gompa, below the castle. From here it is an easy walk down to the Leh palace. It has a three-storey high gold statue of Maitreya Buddha and ancient manuscripts and wall paintings. I met two backpackers over there from Bangladesh and three young travelers from Austria. We talked for almost an hour about Buddhism, Hinduism, Cultural diversity of India and lot many things. From the top I could see the hustle bustle of the Leh market. We clicked photos together and started our walk down the hill to reach the street. I helped them to find their hotel and we finally exchanged goodbyes.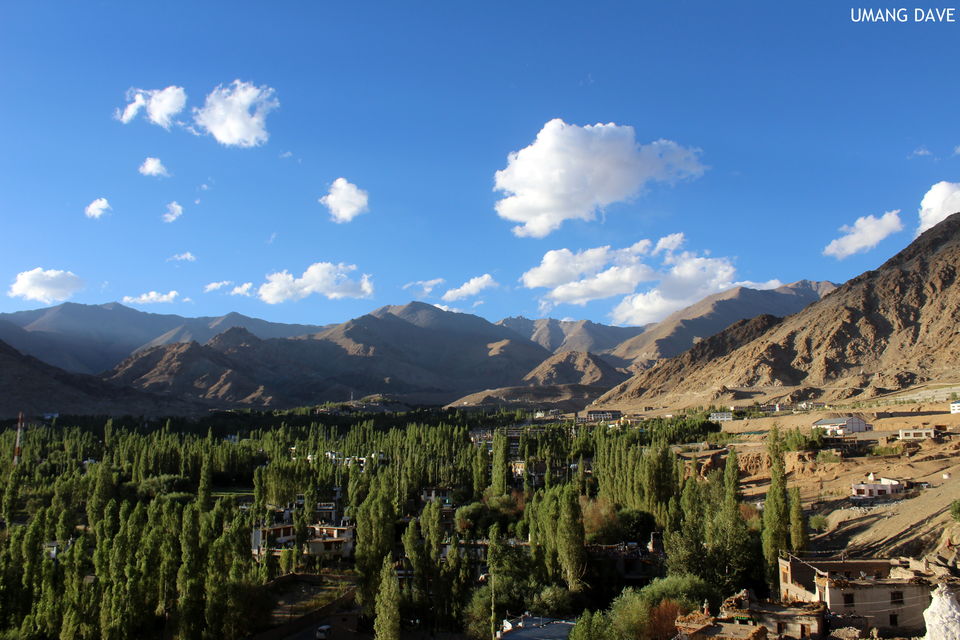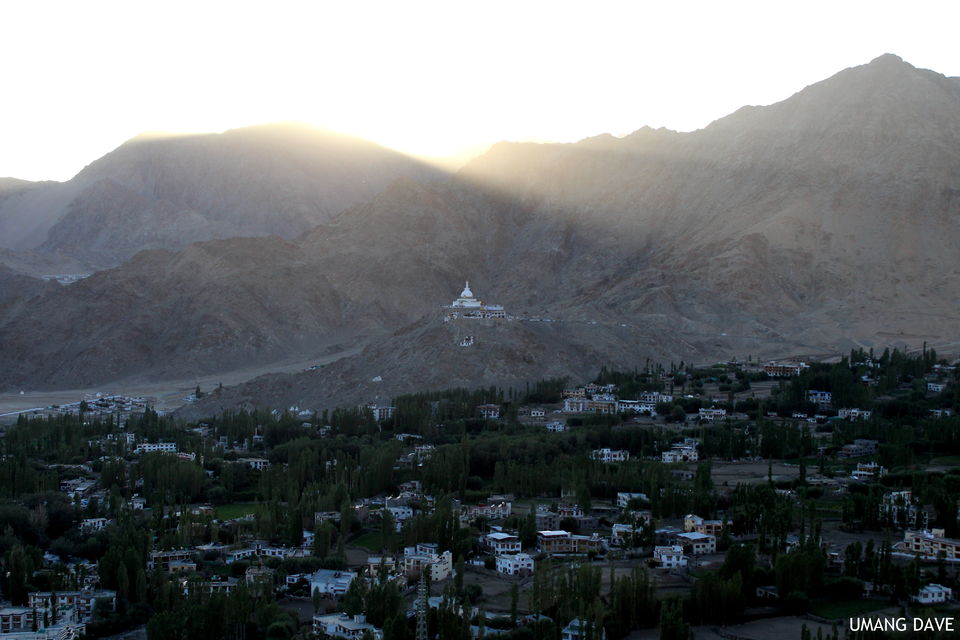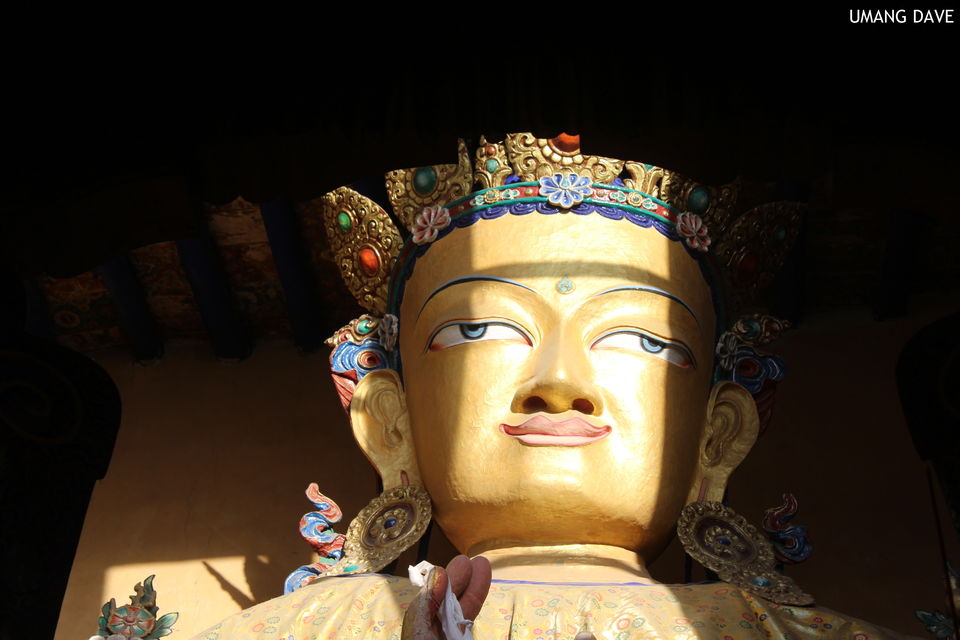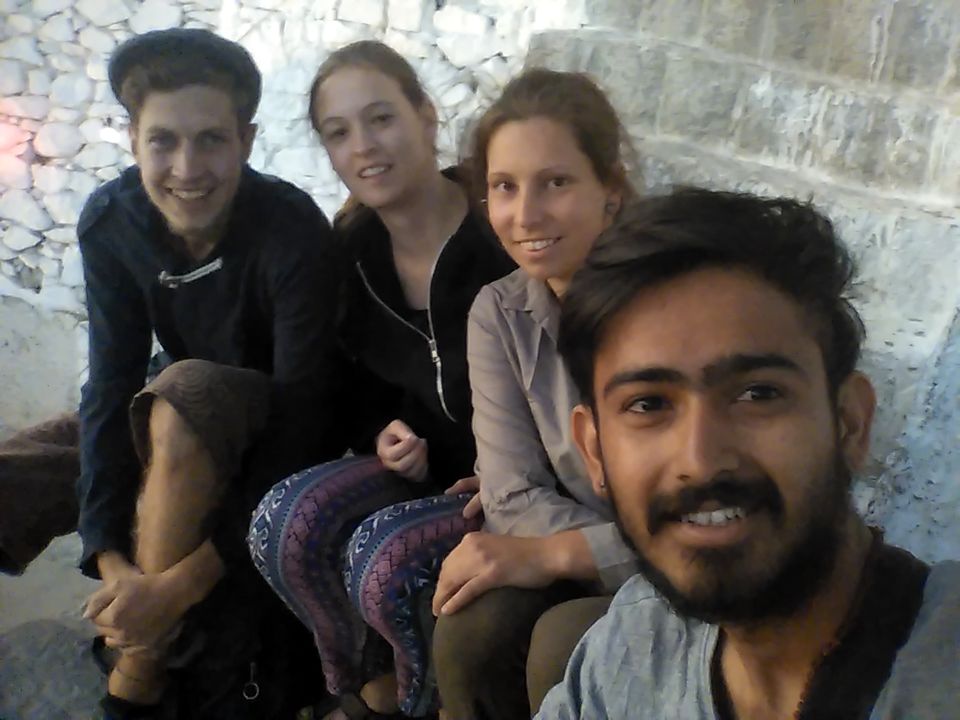 After the arrival of client group I escorted them for sightseeing around Leh. I visited Thicksay, Shey and Hemis Monastery.
Thicksay Monastery:
It is a twelve-storey complex and houses many items of Buddhist art such as stupas, statues, thangkas, wall paintings and swords. It contains a 15 metres (49 ft) high statue of Maitreya, the largest such statue in Ladakh, covering two storey of the building. I was amazed to see the marvelous statues and splendid wooden architecture of these monasteries.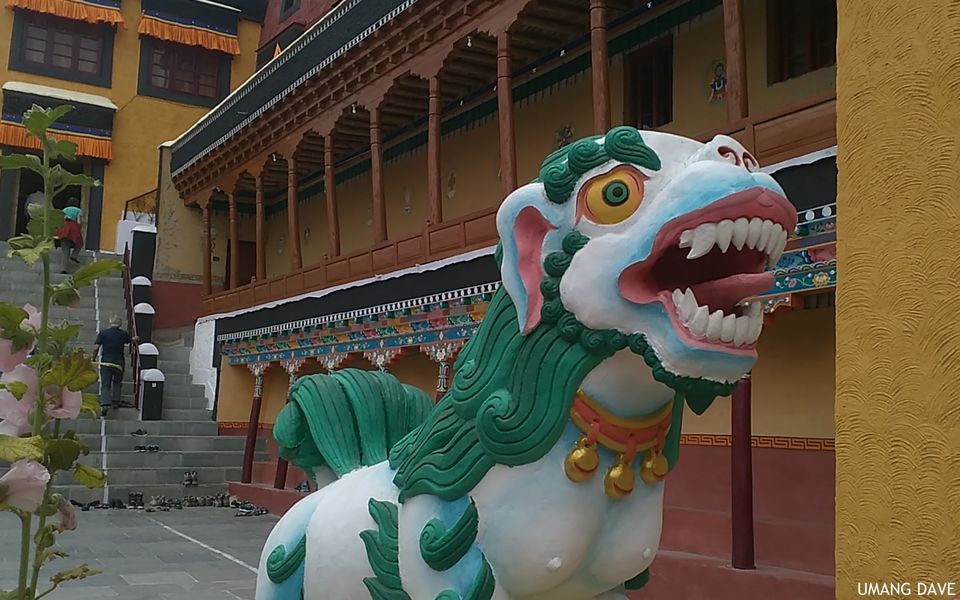 Shey Palace and Monastery:
Shey was the old capital of the upper Ladakh region. The palace, mostly in ruins now, was built first in 1655, near Shey village, by the king of Ladakh.
Hemis monastery:
It is situated 45km from Leh and is biggest gompa in Leh. The annual Hemis festival honoring Padmasambhava is held here in early June.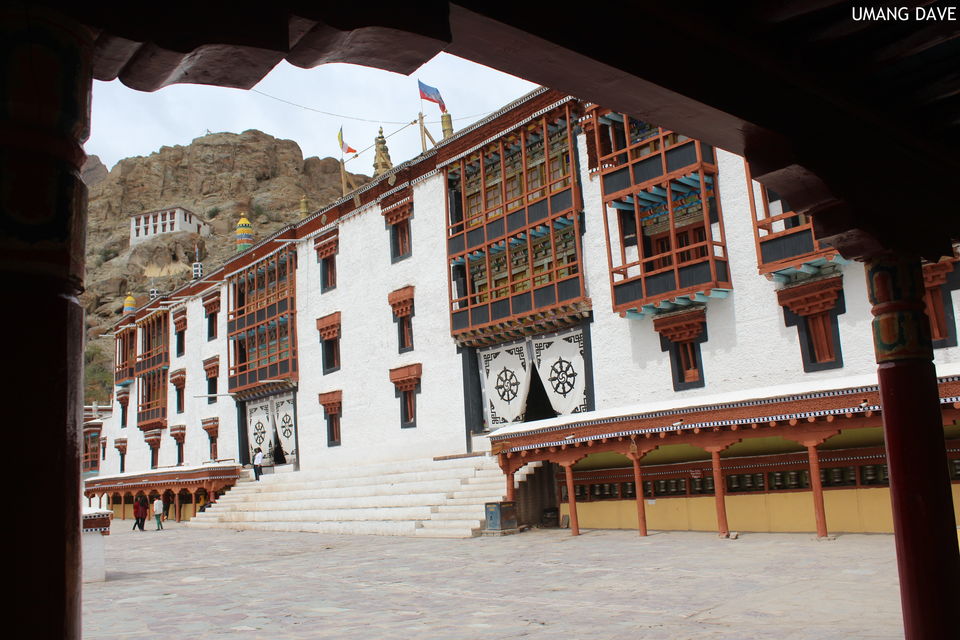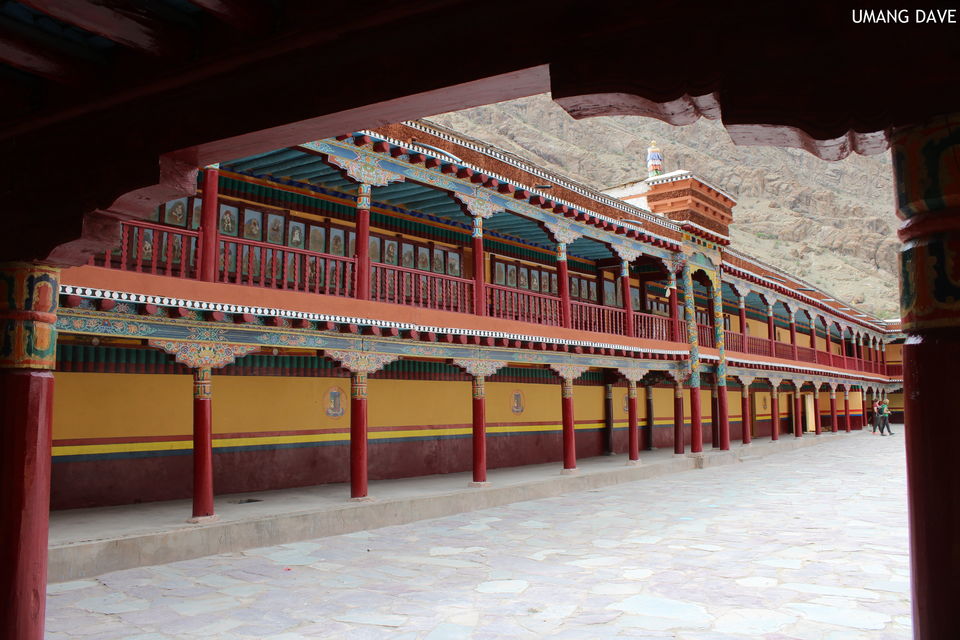 Finally the day arrived and we embarked our mission full of adventures to reach the top of Ladakh! We geared ourselves and started our expedition to one of the most popular 6000m peaks in India. The Stok range lies on the southern skyline of Leh and Stok Kangri is the highest mountain in the range. Stok Kangri is also known as the "Common man's Everest" as it has the height of 6153m which is almost 70% of the Mt. Everest. It provides a great introduction for anyone graduating from high altitude trekking to climbing in Himalaya.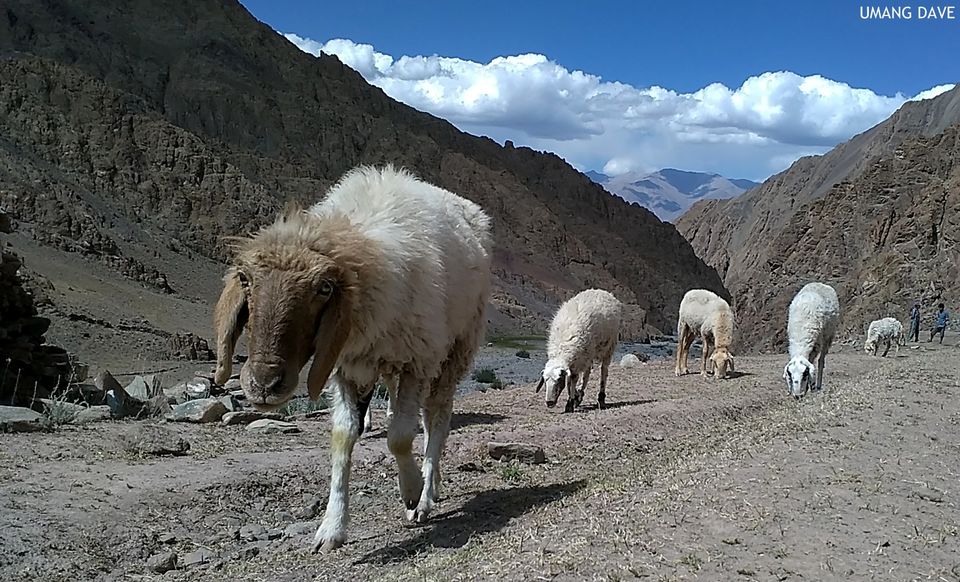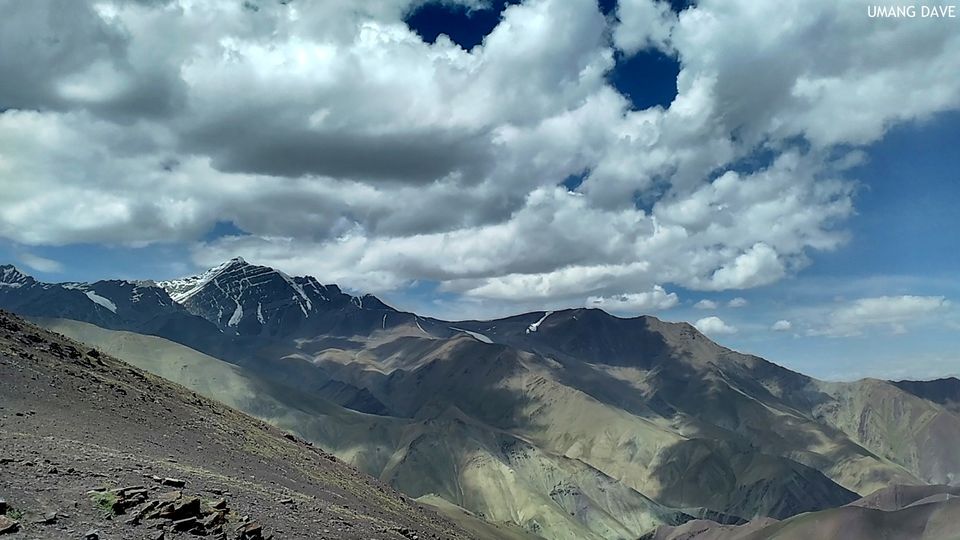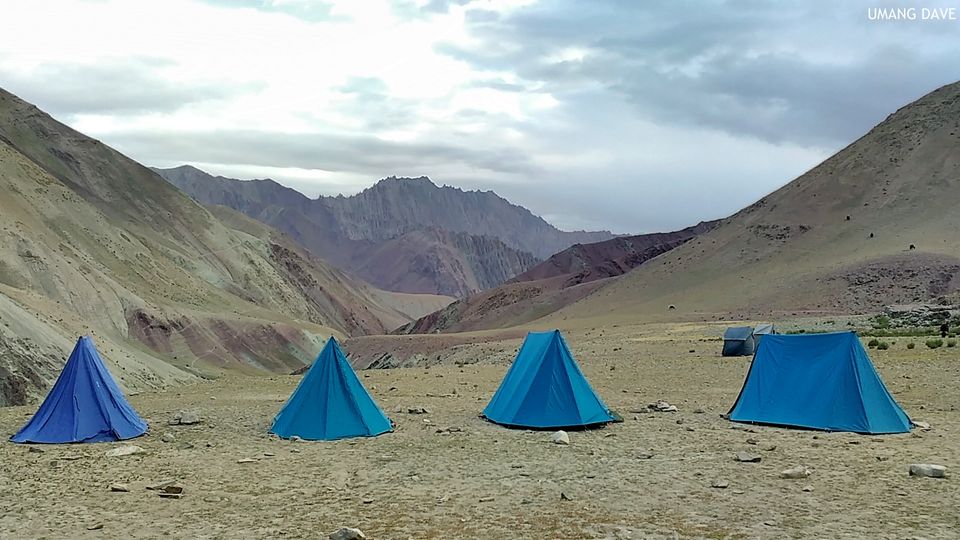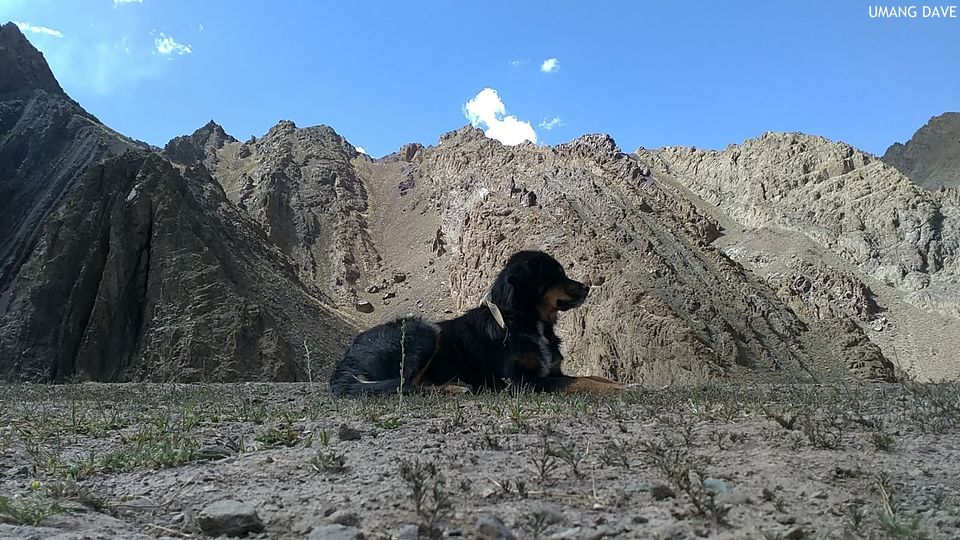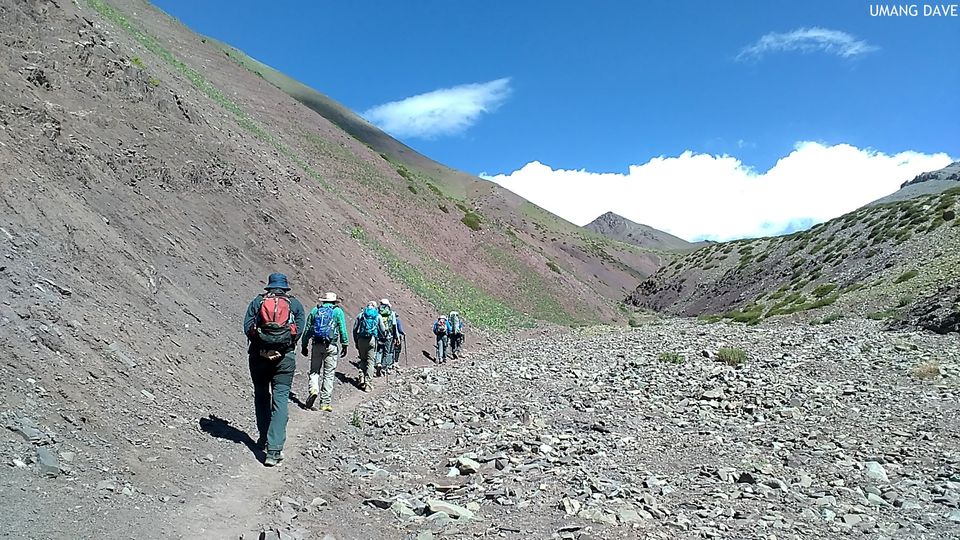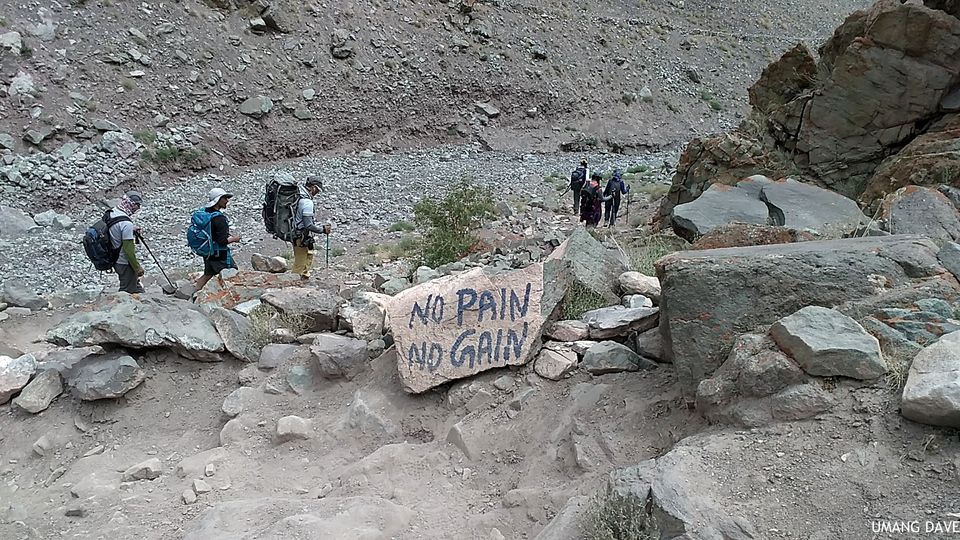 This expedition was indeed a life changing experience for me. The most important thing I learnt during the trek is "NO PAIN, NO GAIN". Mountains test our patience and passion both. At the same time it rewards us with mesmerizing views! I used to walk for hours on narrow trails, rocks and moraines crossing many high passes and rapidly flowing rivers. But the breathtaking view would always make me forget the pain. There are so many things and experiences to share, but there are two special memories I would love to share that made this journey unforgettable; like stars studded into the night sky, these memories have become a part of me and has made an impact on my outlook towards life.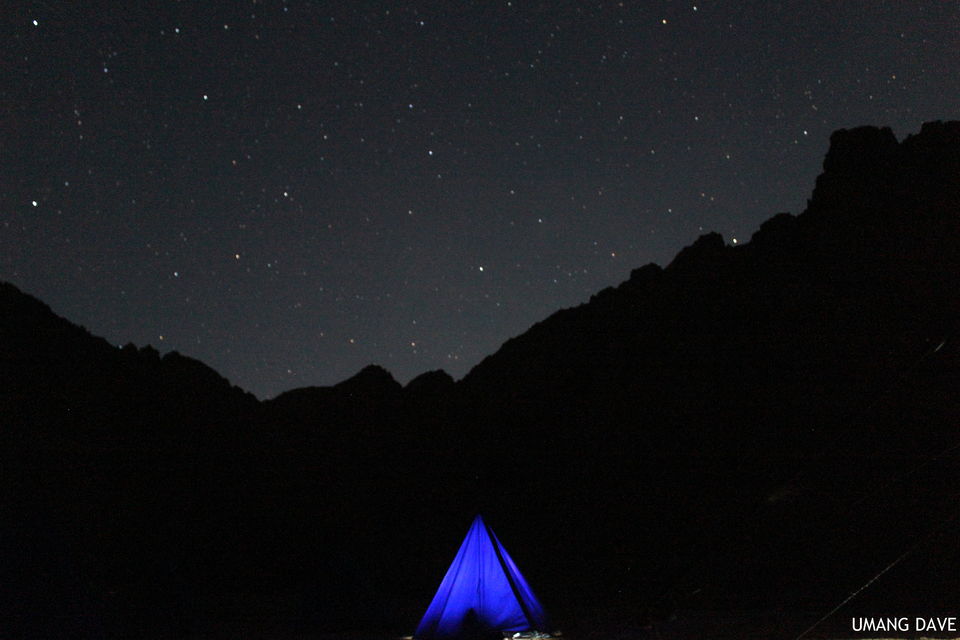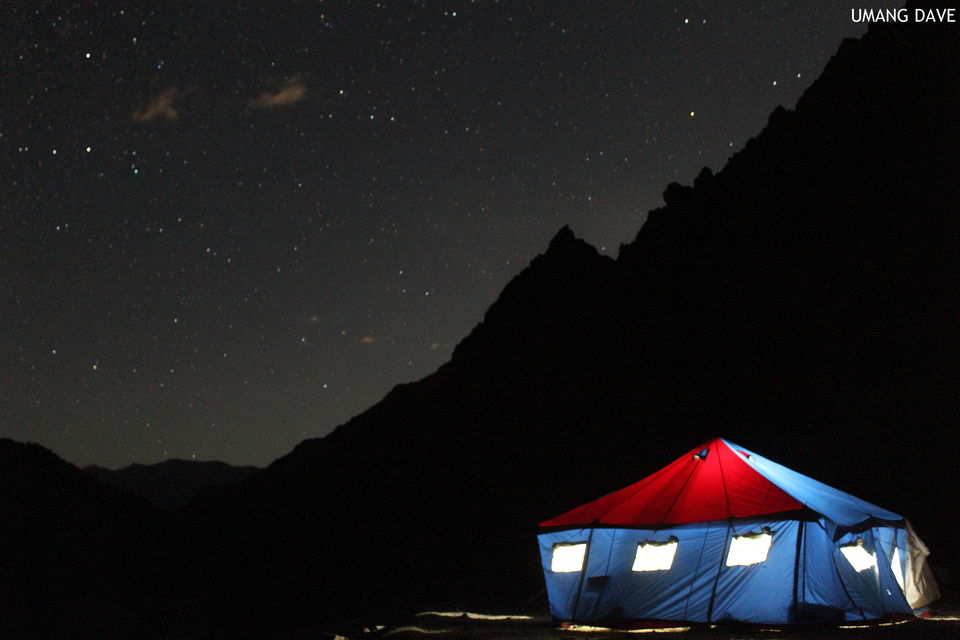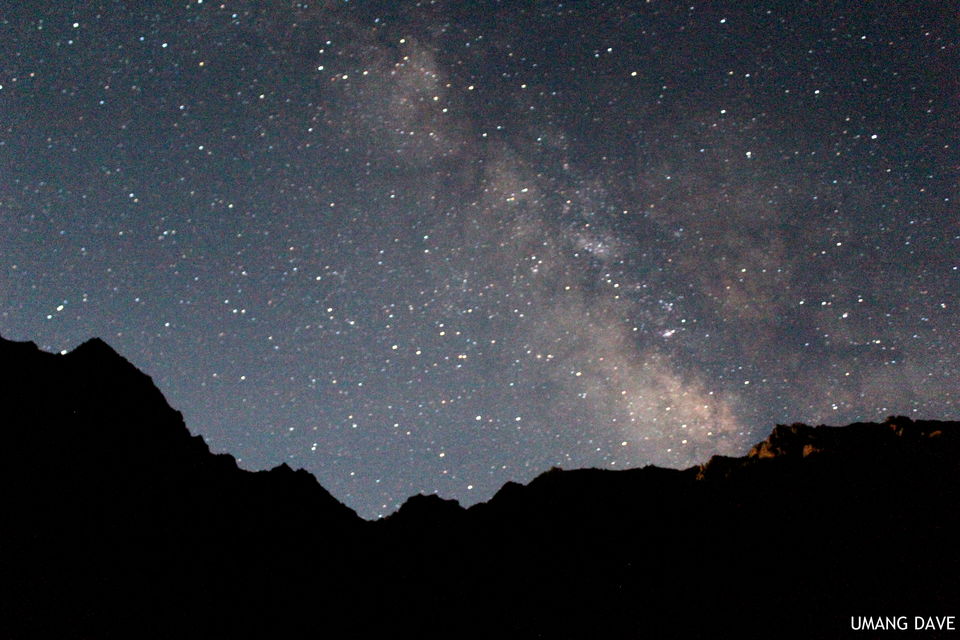 We started our journey from the Matho village and reached our first campsite. We witnessed a beautiful sunset. Around 7:30pm it was all dark. I came out of the dining tent after finishing my work and the view of the night sky took my breath away! I had never seen such clear night sky in my life before. It was around 11:30pm and the stars were sparkling bright. I was awestruck! In the middle of nowhere, the moment, whole atmosphere felt like it was Diwali! I was envious of the locals, since every night was Diwali for them, the Himalayan Diwali.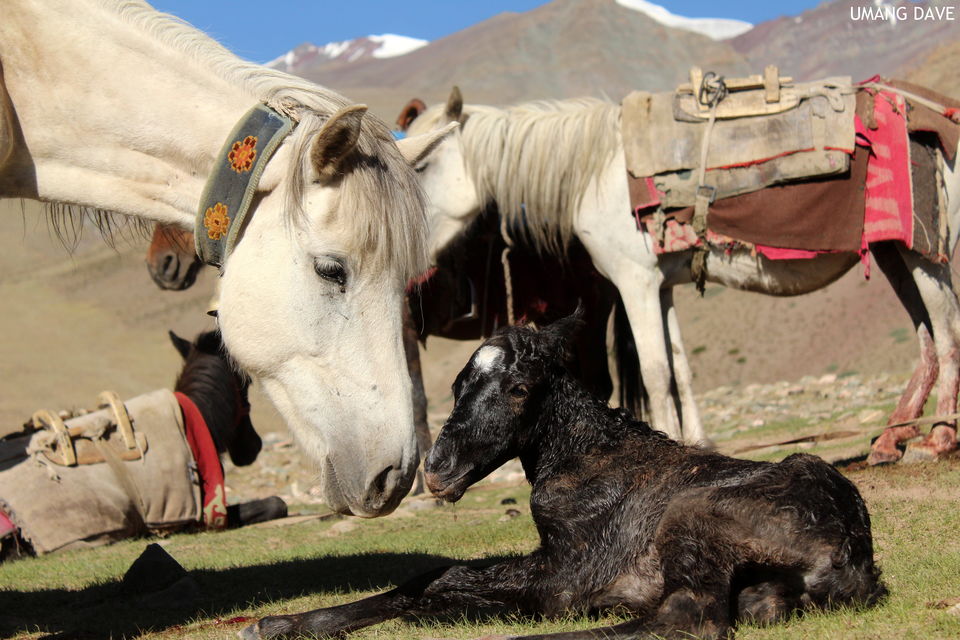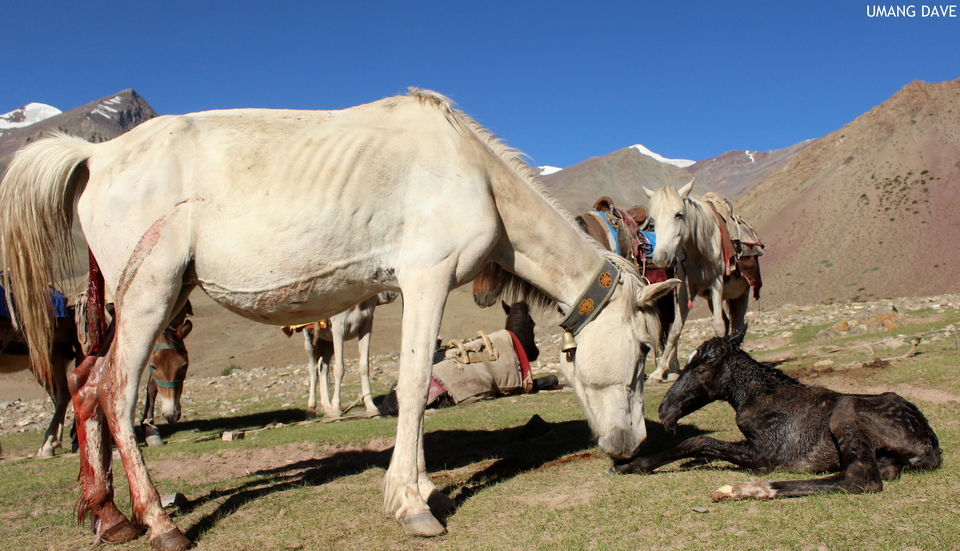 It was the fourth day of our trek. After breakfast we were preparing to leave the Mankarmo campsite when I witnessed life! We had mules with us to carry the entire luggage and other camping equipments. The owners of the mules were loading the bags on them. All of us were busy in our work when the shuddering sound of a bell tied to a horses' neck got our attention. The next thing I saw was truly amazing. One white mare (female horse) gave birth to a baby in front of my eyes! She gave birth to a black colored baby at the altitude of almost 4500m! All were happy and delighted to see birth of the baby girl. Everyone congratulated the owner. This horseman was very excited about the birth of the baby. He asked me to suggest a name for her. I suggested the name "Samsara" which means wanderer. Everyone liked the name. Everyone was eager to click this new born baby's photographs. It made me emotional to see the mother cleaning the baby by licking her softly. The baby started crawling but was unable to stand on her feet. The mother steadily moved closer, calm and unfazed. I could see the love in her eyes for her child. They seemed to be lost in the moment, it seemed they were conversing, but in silence. I think love doesn't really have a language, lest confined to humans. After just half an hour of her birth the baby was standing on its feet! I am not able to express the joy and the sense of amusement I got after watching this creation of god. In those simple moments, I remembered a humble soul that is praying for me all the time, my own Maa.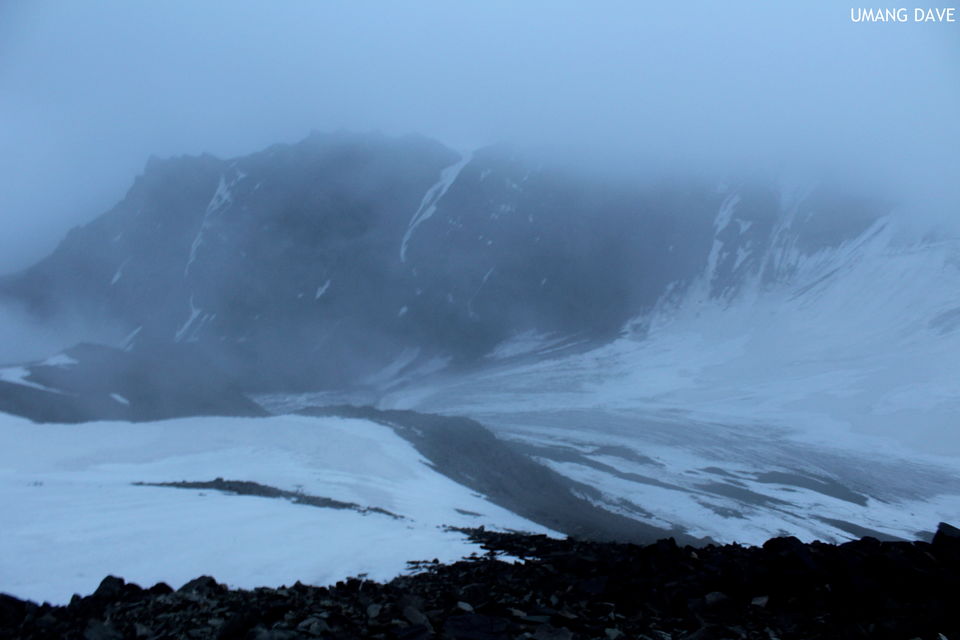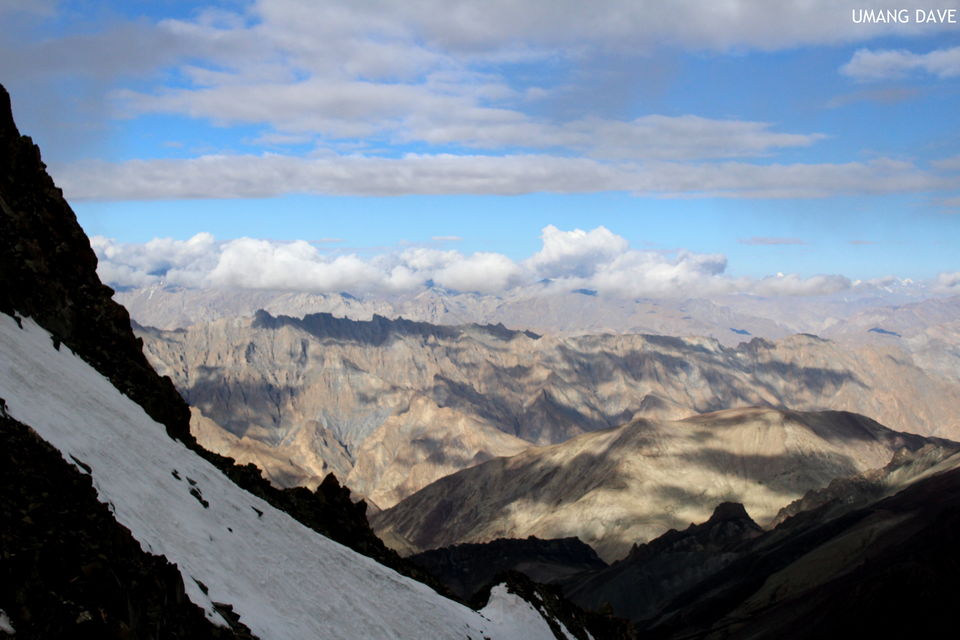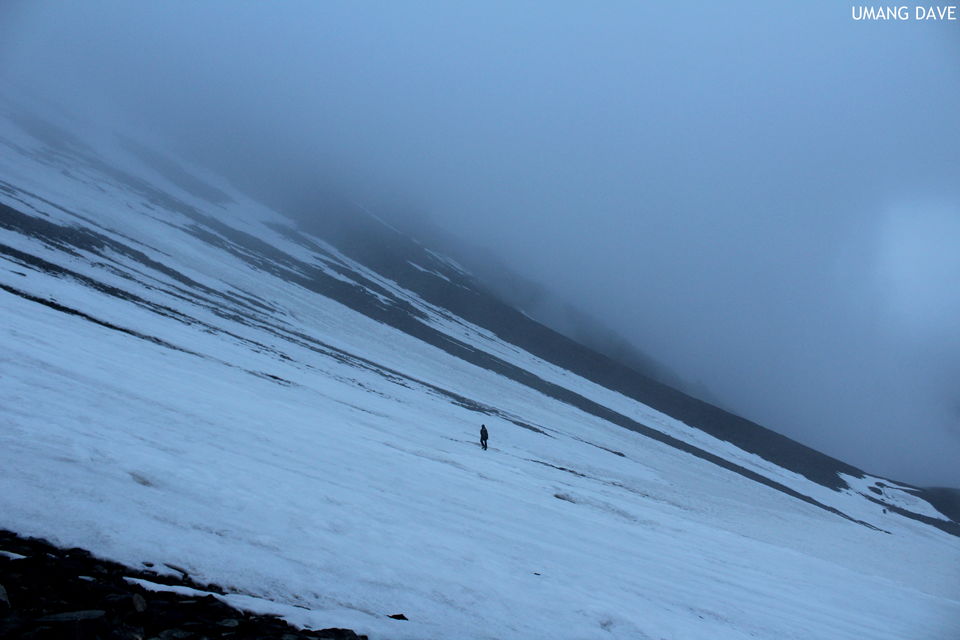 I successfully completed the trek and reached up to 6000m height. Though I couldn't reach up to the summit there was an absolute sense of satisfaction and I feel proud of myself. With lots of memories captured in my heart, mind and camera I returned to Delhi via Manali.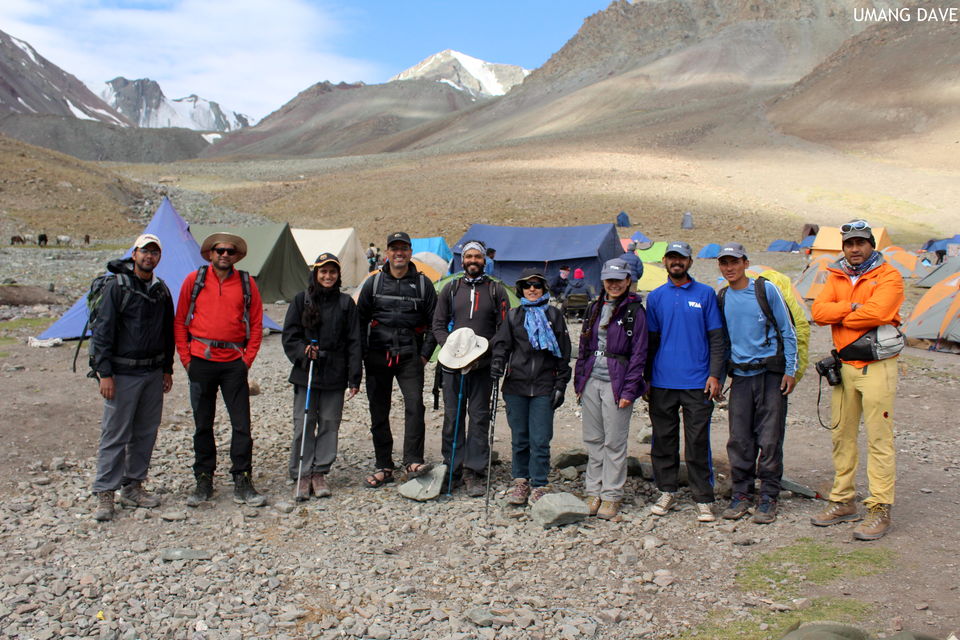 This journey has definitely changed me in many ways. I feel so grateful, and it has made me more humble and kind. It is rightly said, "Travelling leaves you speechless and then turns you into a storyteller." I wish I could visit Ladakh and other wonderful places again and again to go on more adventures and to create memories, albeit making more stories for lifetime!
JULLEY!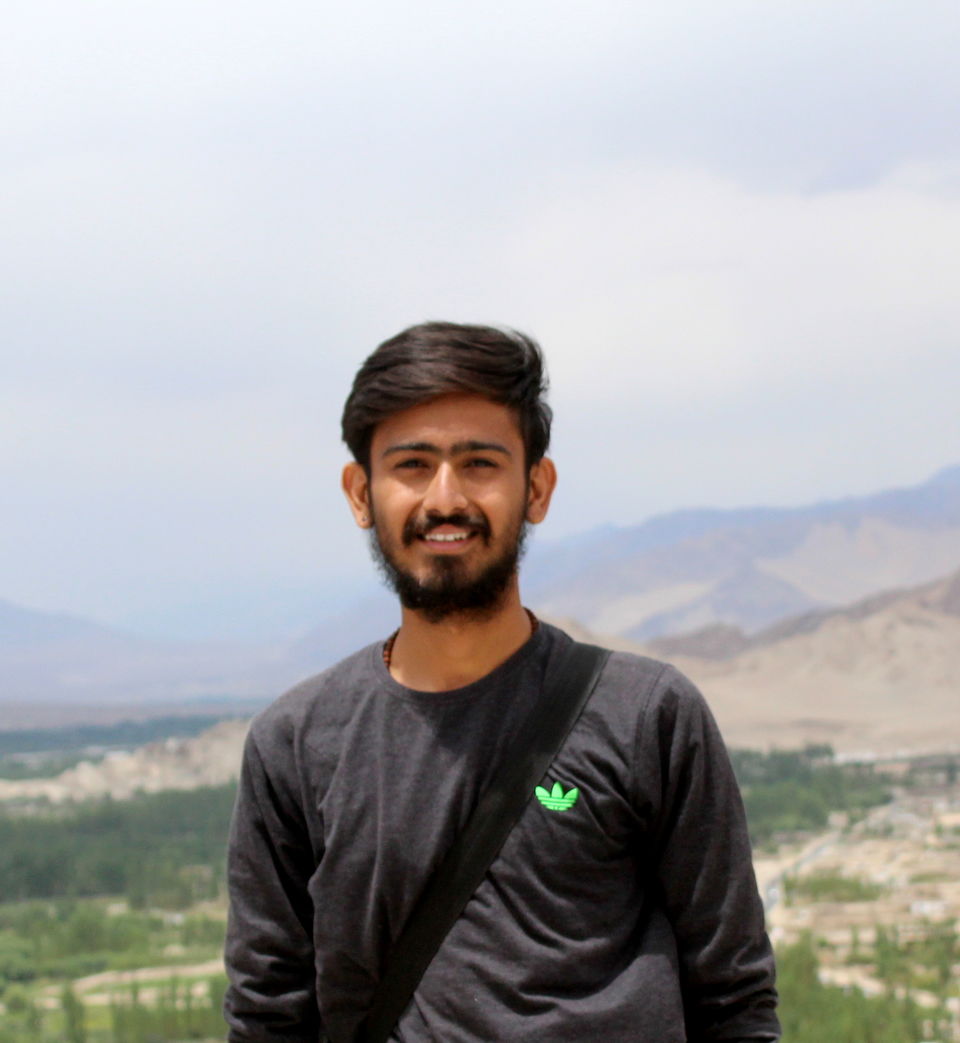 Frequent Searches Leading To This Page:-
Cheapest Ladakh Tour Packages, Ladakh Tour Package for Couple, Best Travel Packages for Ladakh, Best Ladakh Trip Packages, Ladakh Holiday Tour Packages, Top Ladakh Tour Packages For Family, Ladakh Tour Package for Couple from Delhi