One of my favorite hill stations in the Northern part of India is 'Landour' – not known to a lot of people, a quiet cantonment town about 6kms (3.7 miles) from Mussoorie, Uttarakhand. Home to Ruskin Bond, Mussoorie's best kept secret is tailor made for people like me that love spending time away from the hustle bustle.
It's a 7 hour drive from New Delhi making it a perfect weekend getaway.
Places to stay - There are many small cottages and hotels around the place, but 'La Villa Bethany', 'Rokeby Manor' and 'Doma's Inn' are probably the best ones! A small tip when you're planning to take a trip to Landour – book your place to stay well in advance if you'd like to stay in any of these three places.
La Villa Bethany – This is an old English cottage that is run as a boutique home stay by Sunita and Amarjeet. Its 7 rooms have an old world charm with vintage décor.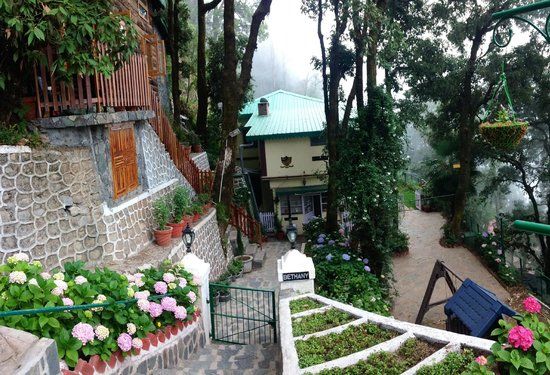 Rokeby Manor – One of Landour's landmarks, Rokeby Manor was built in 1840 and later restored in 2010.
Stone walls, brick arches, wooden floors and cozy fireplaces give this place that European feel.
You can hire bikes on rent here to explore the surroundings. The best attraction of Rokeby is its outdoor Jacuzzi which is perfect to relax while you watch the sunset.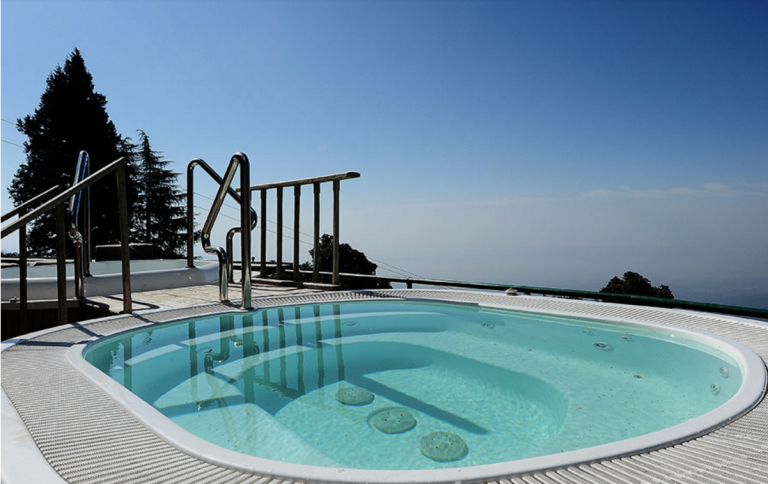 If you miss booking this property for a stay like I did, you can still dine here at its restaurant – Emily's
The restaurant Emily's named after Emily Eden, an English poet and novelist, offers a beautiful view of the Mussoorie ridge line.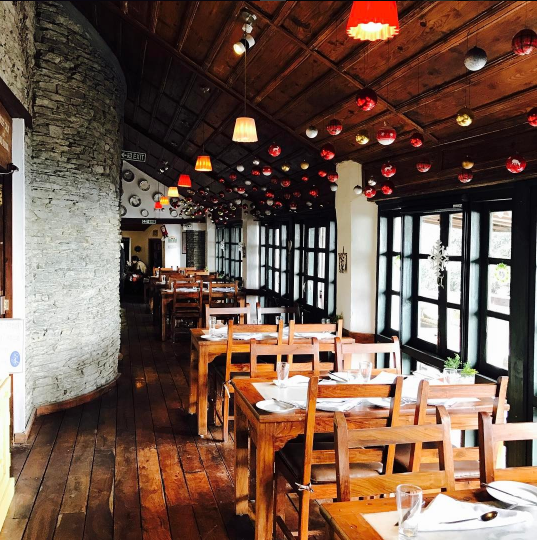 You can also try their Ale House The Stray Dog by Rokeby – Ale House & Stübli, an authentic Swiss Restaurant with cozy cabin that serves continental food. The Tudor style Ale House with its rustic charm is perfect to grab a few drinks.
Domas Inn a part of Ivy Cottage, which has been home to Ruskin Bond since 1980.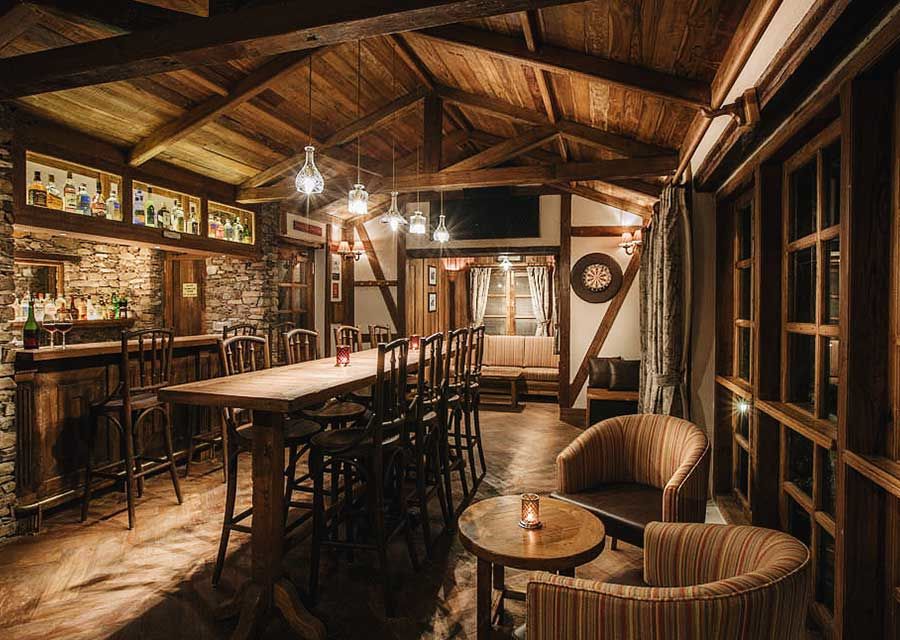 Domas Inn a part of Ivy Cottage, which has been home to Ruskin Bond since 1980.
Doma's Inn is inspired by the Tibettan heritage, offers homely rooms with bright Thangka wall and ceiling paintings, handcrafted by traditional Nepalese Thangka painters.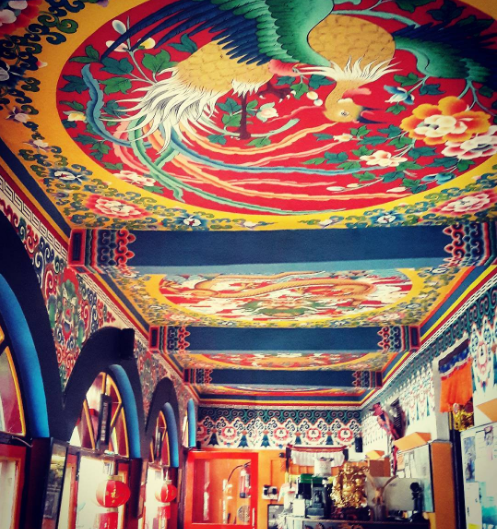 The vibrant colors light up the place and the cozy little rooms are warm and give a homely feel.
Below is the picture of the first floor of Doma's Inn. As soon as I saw this couch, I knew I had found my 'reading place'. Doesn't it look perfect to just laze around here with a book and some honey lemon tea?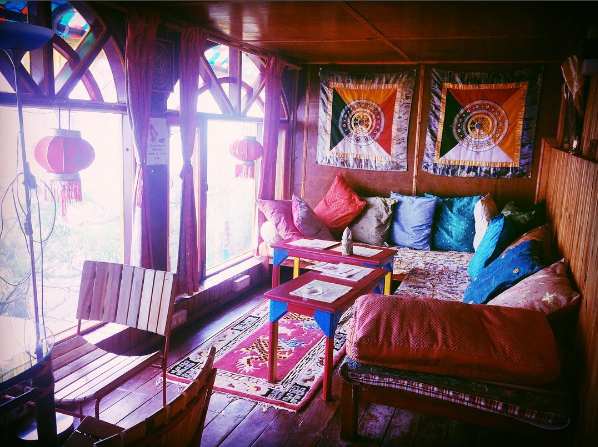 After a stroll, I came here in the evening for a bowl of Thukpa which is a type of Tibettan soup.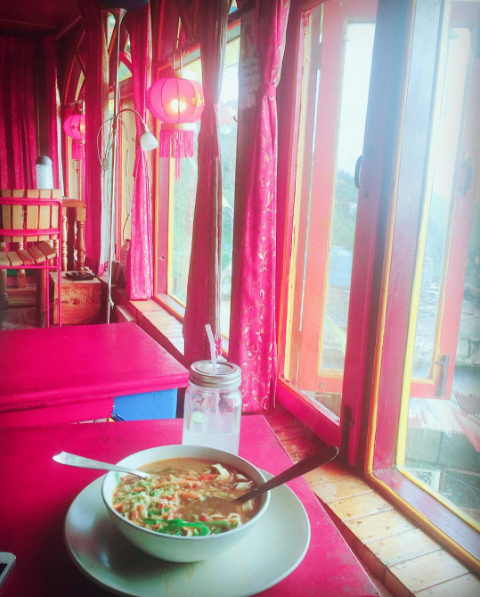 Looking Around:
Landour Bakehouse – The aroma of freshly baked cakes, muffins, buns and cookies immediately pulled me towards this 19th century styled café. One should definitely try the pies and tarts here, the honey lemon ginger tea is my favorite.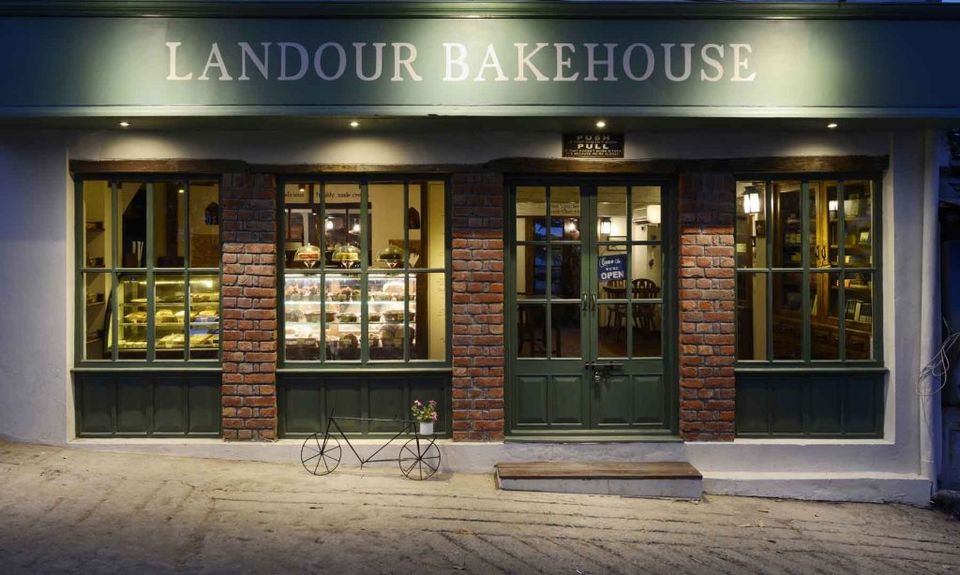 Sisters Bazaar – The stroll to Sisters Bazaar is postcard perfect. Do check out Prakash Handicrafts, a store that opened in 1928, well known for its cheese and jams. The store stocks delicious jams of plum, apricot and raspberry. There are chutneys and peanut butter too, besides cheddar cheese, cinnamon rolls and marmalades.
Chaar dukaan – The walk towards Chaar-Dukan is wooded with oak, deodar and rhododendron the very air of which is soothing. Chaar dukaan is named after 4 shops adjacent to each other that serve the best aromatic tea. Tip: Visit this place empty stomach, so you can try the mouthwatering waffles and pancakes.
Café Ivy – While the regular Char Dukaan eateries offer classic Indian snacks in a humble outdoor setting, Cafe Ivy is a real, indoor, sit down, full menu restaurant. Made with recycled wood, it is modern and minimalist in its approach.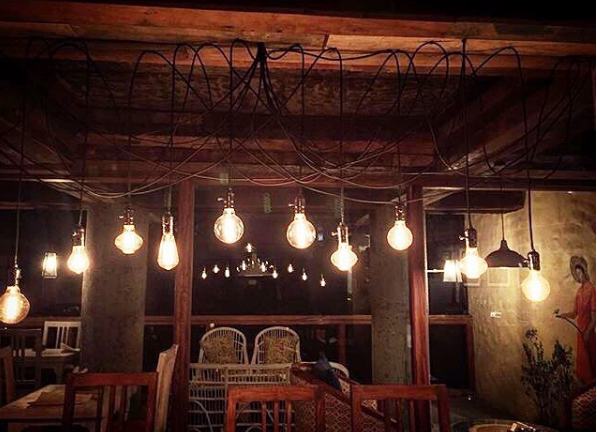 The café, overlooking a valley, offers a view of sprawling greenery covered in mist. I went straight to the balcony because who wouldn't?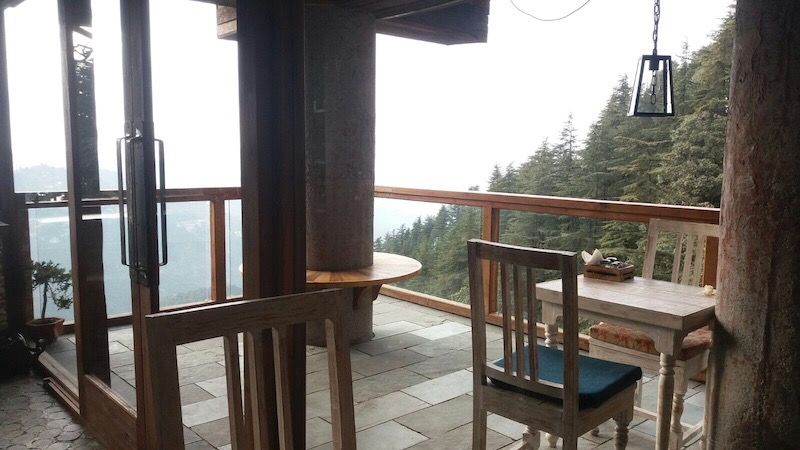 Cloud's End – A visual treat with its thick Oak and Deodar forests, cloud's end can be reached through the Hathipaon road from Happy Valley road. Trust me when I say that pictures don't do justice to this place.
Lal Tibba – Meaning 'red hill' is famous for its sunrise and sunset points. A small café allowed me to access its terrace where a set of binoculars are installed for a closer view of the snow clad mountains. Some moments are worth capturing in the eyes forever – this was one such place.
For the love of Trekking:
Pari Tibba – also known as the Burnt Hill, as it has been struck repeatedly by lightening. The trekking stretch starts from the Woodstock School. Walking this circuit in April is particularly special, with rhododendrons in bloom and the oak in purple new leaf
Bhadraj Forest – The trekking trail of Bhadraj forest and temple leads you through densely forested northern slopes and the southern slopes covered with barren grasslands
Nag Tibba – a trekker's delight. It presents stunning view of the Bandarpoonch peak, the Gangotri group of peaks, the Kedarnath peak in the north, and the Doonvalley and the snow peaks of Chanabang
If you have visited Landour, let me know what you liked best in this quaint town!