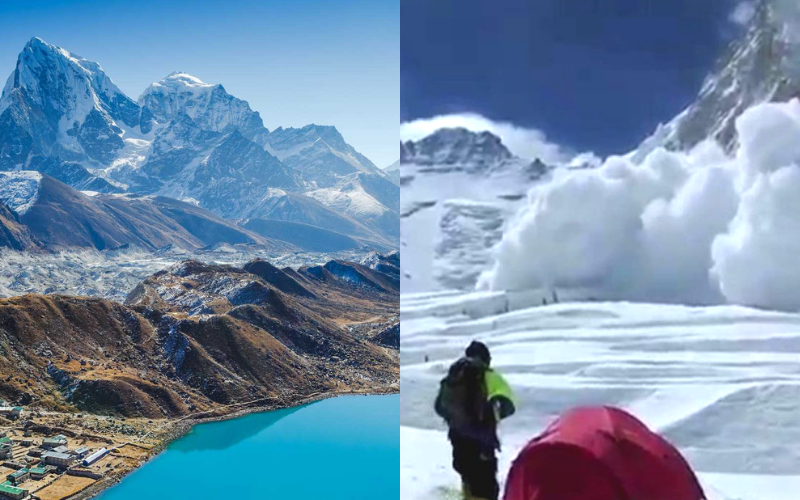 Nature is giving us some major red-signals. It's high time we start listening!
All our 12 Himalayan states are extremely vulnerable to global warming, in fact, Assam, Mizoram and Jammu & Kashmir are on the top of this list.
This means that these three states have the lowest capacity to fight, handle or even recover from the impact of an anticipated environmental hazard.
As per the 'Climate Vulnerability Assessment for the Indian Himalayan Region Using a Common Framework' which was created by the Indian Institutes of Technology (IIT) at Mandi and Guwahati and the Indian Institute of Science (IISc) at Bengaluru.
The studies were conducted in collaboration with the government authorities of all the states in the Indian Himalayan Region (IHR): Arunachal Pradesh, Assam, Himachal Pradesh, J&K, Manipur, Meghalaya, Mizoram, Nagaland, Sikkim, Tripura, Uttarakhand, and West Bengal.
If you're thinking why is the Himalayan region the most affected by global warming, then here's the answer.
Himalayan communities are generally more vulnerable to climate change because they have fewer livelihood options, limited infrastructure and a high dependence on natural resources, as per the study.
According to the details of the report, the vulnerability index is highest for Assam (0.72), Mizoram (0.71) and J&K (0.62), while Sikkim is the least vulnerable state with an index of 0.42.
States having low per capita income, low area under-irrigation, a low area under-forests per 1,000 households and high area under open forests received a high vulnerability score.
For example: Assam has the least area under irrigation, least forest area available per 1,000 rural households and the second lowest per capita income among the other IHR states, and thus scores the highest vulnerability score.
A rise of at least 0.5°C in the temperature has been recorded in the upper Himalayas, which is causing the glaciers to melt. This has pushed up the odds of extreme events such as avalanches!
It also poses a threat to the water security and sustainability of the Himalayan river basins. With an increase in water flow in high-altitude lakes, the chances of floods also increase.
Another example is India's greenest and wettest Himalayan state, Meghalaya, which is becoming warmer as rains there become more uncertain, marking its forests as "highly vulnerable" to climate change.
About 50 million Indian reside in the IHR and depend on the ecology for water, food, and energy. And other 1.5 billion people indirectly depend on the Himalayas for water, food and energy. The Himalayan ecosystem is considered as extremely fragile and diverse but vital for India.
While we already have a map of vulnerability ready and some 26 projects approved across India at a total cost of Rs 648.9 crore as per the Lok Sabha data from March 9, 2018, it is upon the authorities and the individuals to take some major steps to protect our regions, our ecosystem and our favourite travel destinations.
Write your own travel experience on Tripoto to get likes and comments from travellers around the world. Start writing now! The best trips will be featured on our Facebook and Instagram page.