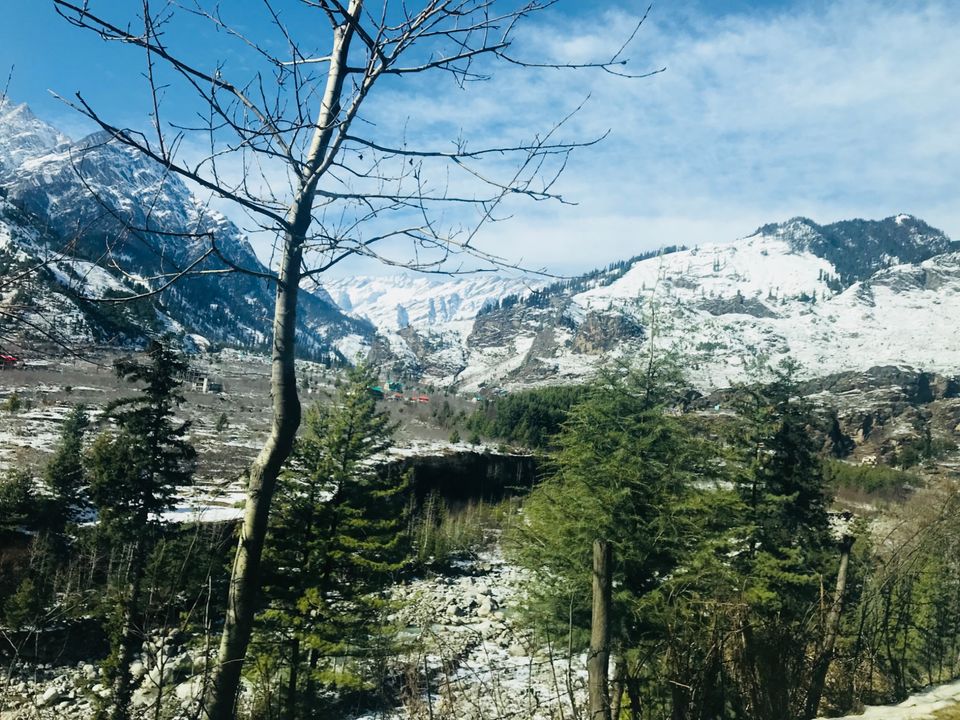 "Kya Thand hai @&#$%¶∆!!" exclaimed a friend of mine just when the automatic doors of Delhi airport opened a gush of cold air onto our faces.
From a comfortable 15 degrees in Kolkata to a chilly 7 degrees, we the bunch of 4 people just underestimated "Dilli ki sardi" by wearing light woollen clothes, that too in the wee hours of December, 2017. We did came prepared for the Manali winters but never thought those heavy woollens was required then and there..
After a brief stay at a friend's place, its time to aboard the 13 hours long, nauseating 500 Kms journey to Manali. We took few doses of Diamox before the journey (we were smart!) and were counting the fallen heroes (read our co-passengers, vomiting!).
The morning made way to the packed pine trees, surrounded by the beautiful snowy Himalayas. The surging Beas river followed us side by side till we reached the bus stand beside the famous Mall road.
We had booked two cosy rooms in a small hotel via the guesthouser app (it was very cheap) and quickly settled in bed planning what to do next. It was a sunny chilly morning without any trace of snow. Somebody in the reception told us that we will get snow in Solang Valley. We quickly got ready in our heavy woollen gears took a worn out Tavera towards Solang.
A not so quick journey of 15 Kms (Road was packed with tourist vehicles) took us to Solang, no wait.. to Switzerland! On any given day, Solang will match with any hill station of Alps. The place was full of tourists, paragliding, ropeway and snowmobils. It was our first experience with snow and we jumped, rolled, slid, slipped and threw snow balls at each other.
It was dark before we could realize and was time to go back. We indulged in local trout fish (Bengalis, we are!), kadi chawal and bought some cheap wine for dinner.
Next Morning, we packed our bags and set out for Hadimba Devi Temple on foot. It was an easy hike on foot over a motorable road leading us to the temple. One of us got lucky and got a lift in a Royal Enfield towards the temple. The temple is nestled amongst huge pine trees and was a respite from the bustling town below us.
We clicked few more pics and headed towards the banks of Beas River which is a to-do list if anyone is visiting Manali. Sitting over the boulders and gazing at the gushing freezing water, we thought we could spend our entire day. But, alas we had to get back as the bus towards Delhi wouldn't wait for us.
It was a brief stay in Manali and staying mere a day won't do any justice to this beautiful place. We saw many, but missed most of the places and promised to return back one day, soon!