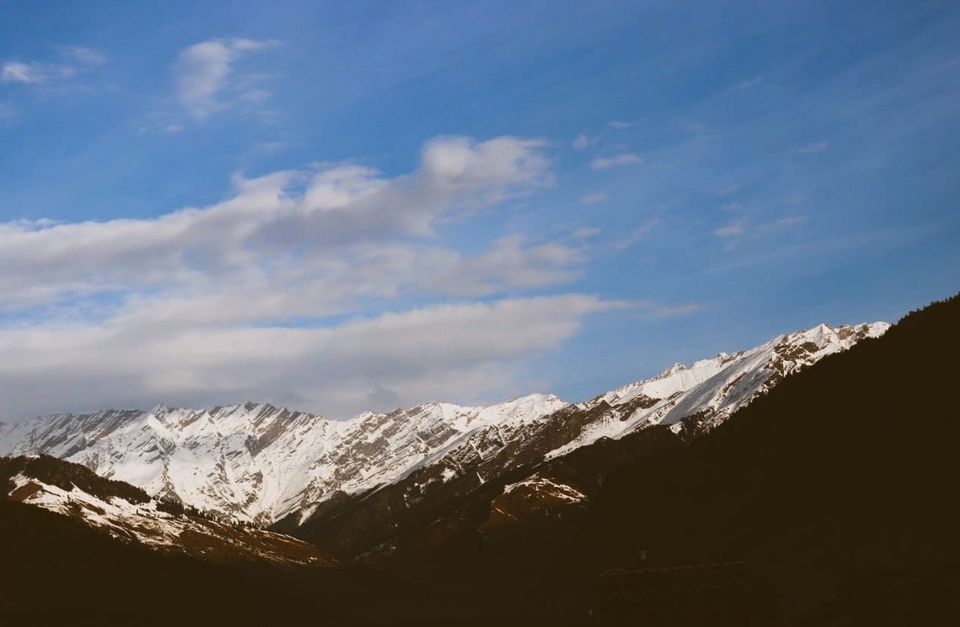 The sentence, 'celebrating a complete revolution of earth', seems a bit not-too-intelligent. However, away from the hustle-bustle of city life, we made up our minds to travel somewhere far on 'new year's eve', group of 5 individuals on a journey to the Himalayas for the first time!
We had booked our package with a travel agency, paying an amount of INR 20,000/- in advance. Overall package cost depends upon type of hotels selected. Our package included hotel stay, breakfast and dinner for 6 days, Delhi-Delhi vehicle. The deal was, the agency will share the payment plan for the rest of the amount and we had to pay at various places, like the hotel/cab, according to it.
Our flight was at 6:30 am to Delhi on Sunday. We all decided that we would wake up at 2:00 am and call each other, just to ensure that nobody misses the flight. To our nightmare one of us, lets name him Mr. Chill, was having a very sound sleep with his phone switched off. We couldn't reach him at any cost. We were hopeful though, that he would turn up just, just on time. Our hopes were dashed to ashes when we had to board the flight without him, all our minds were busy in absorbing the fact.
We reached Delhi at around 9:30 am. Mr. Chill's phone was still switched off, and none of the messages delivered. The mind started wondering otherwise. Our driver arrived at the airport by 10:30 am, he was a 23 years old guy from Bhatinda, he would be with us for the next 6 days.
Day 1: Delhi to Shimla - 345 kms
After landing at Delhi airport, we started shivering and fanatically searching for tea/coffee, dared not to sit on those metal benches outside the airport! In case you were wondering, no news of Mr. Chill yet! We were relieved to find a kulhad tea shop in the airport premises. After having tea we hopped on to the cab and thus started the journey towards the Himalayas. At around 12 pm, we get a call from Mr. Chill..phewww! Ecstatic, we began suggesting him different ways to reach Shimla. We reached Shimla at around 10:00 pm and Mr. Chill did reach finally at 4:00 am!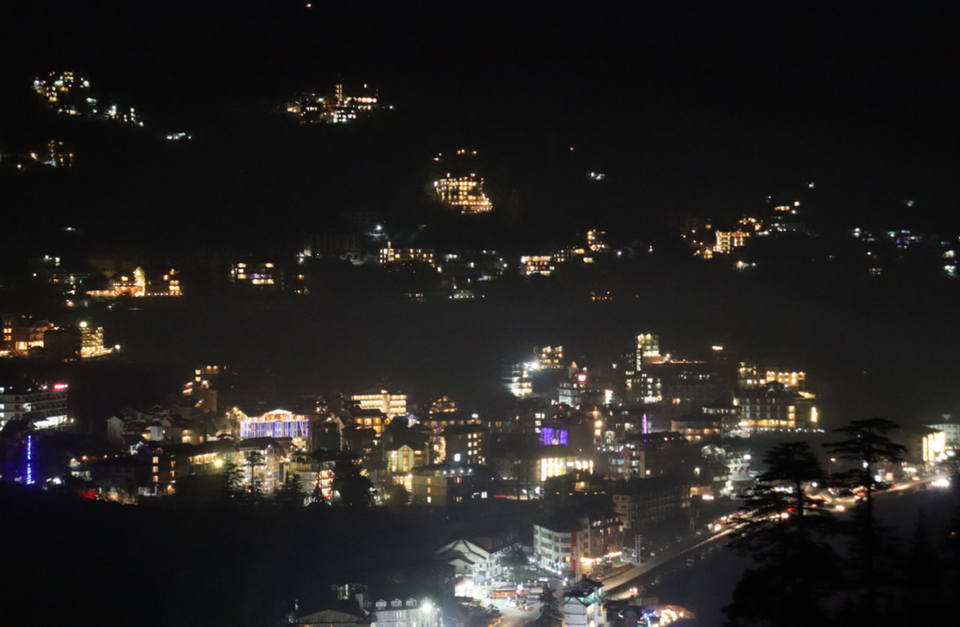 Day 2: Shimla- Kufri valley and Mall road
Woke up to a breathtaking view!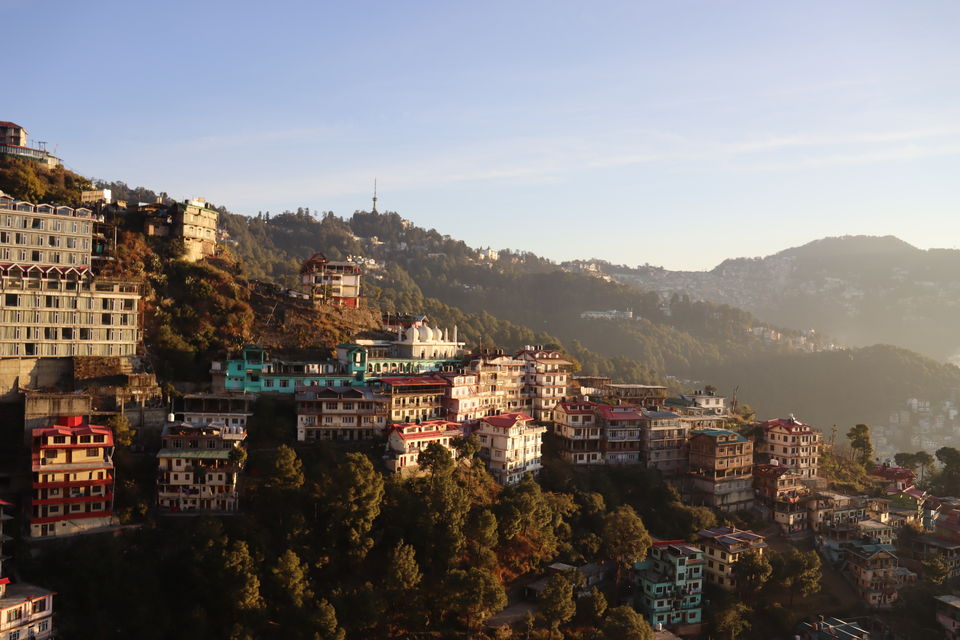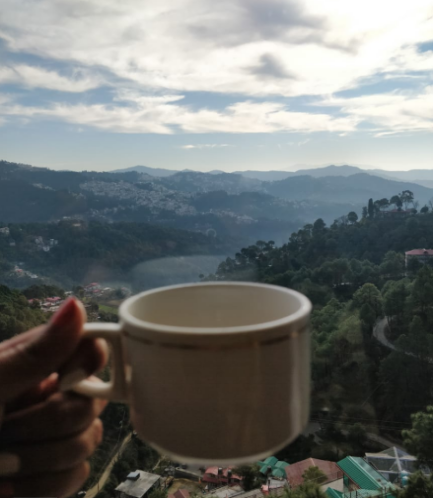 After breakfast, at around 9:30 am, we started to Kufri. We took our snow dresses and gloves from a shop and according to them the attire was required to withstand the biting cold. Gloves(bought) and snow dress, including rubber boots(on rent) costed us INR 5000 in total, for 5 people. After reaching Kufri we understood that we could have withstood the cold even without the snow attire, since we were wearing thermals and there was not much snow in Kufri. To sum up, we did get a bit duped there. They also showed us a list of activities and offered some discount on opting for the full package, however we fell into the trap, just a little, and opted for tube slide, which costed us INR 300 each, it was definitely not worthy.
Caution: It is advised not to fall into the trap to take the numerous activities like tube sliding/skiing, etc in Kufri. These activities are best in Manali. There's horse riding as well at INR 500 per person, we decided to not to opt for that as well, after consulting with a family who had just taken the ride and were literally in a heated argument with the horse-owners.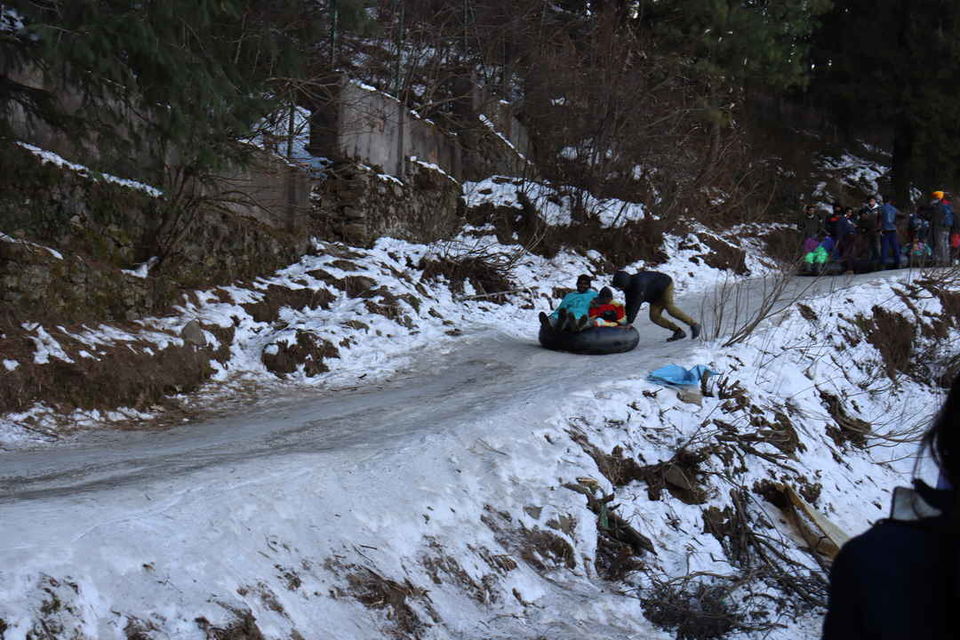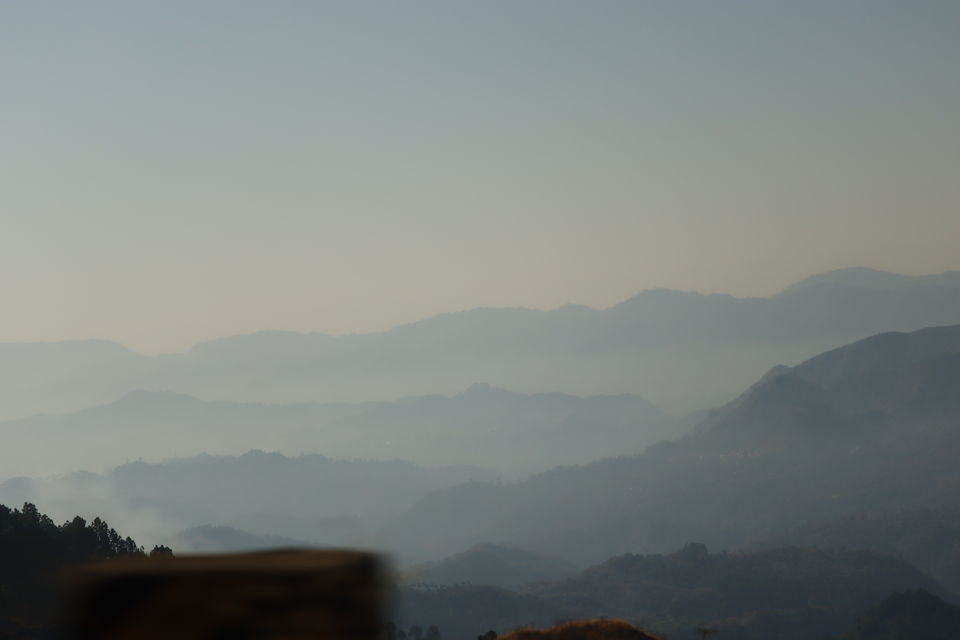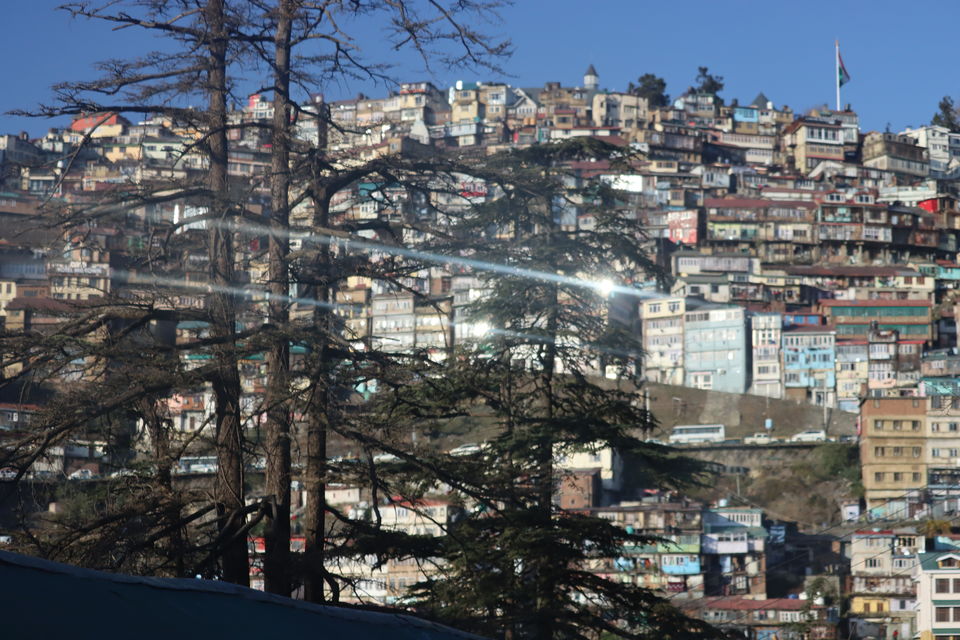 Mall road : Our next destination and an impressive reminder of British colonial rule. There were lifts to reach the Mall road, for which we had to take tickets. We did some shopping there, prices were affordable and collection was huge.
Trivia: A part of the movie Bang Bang, 3 Idiots was shot in Mall road, Shimla.
Day 3: Shimla to Manali - 260 kms
We started at around 10:00 am from Shimla. The journey was tiring, we did pause for pit stops a few times on the way.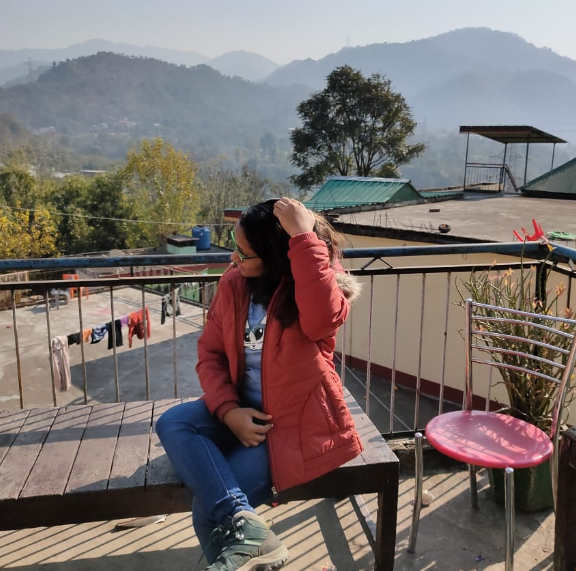 We were accompanied by the beautiful river Beas, with turquoise green water, on the way. The road was busy when we were nearing Mandi and there was a traffic jam due to construction works.
We reached Manali at around 7:30 pm. Since it was new year's eve, our stay at the hotel was compromised and we did not get accommodation at the booked hotel. Instead, we were re-directed to a cottage with very poor facilities. Utterly disappointed, we decided to adjust the night and talk to the travel agency the day after as we were ensured by the hotel staff to be shifted to the by 11:00 am the next day. Anyway, what's a New Year without some drama and setbacks! The temp. dropped to -6/-8 degree centigrade that night. And thus, we welcomed the new year, 2020, on a mixed note in the freezing cold!
Day 4: Local Manali
Woke up to an enchanting view of the mighty Himalayas!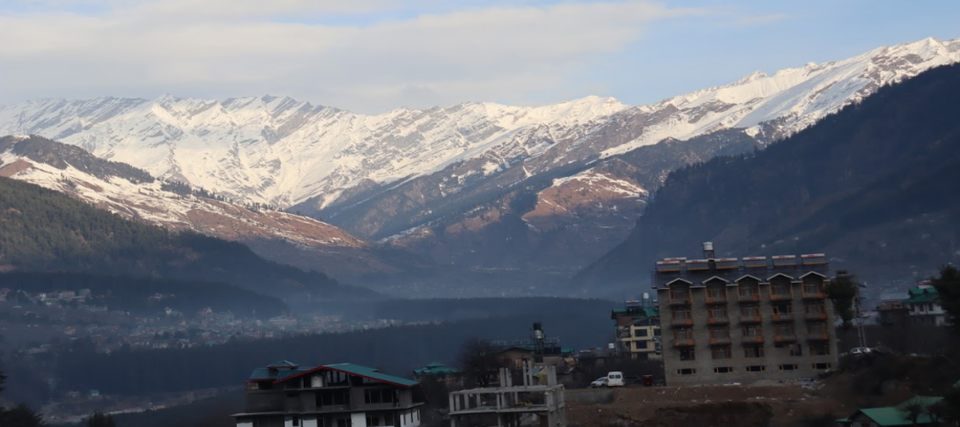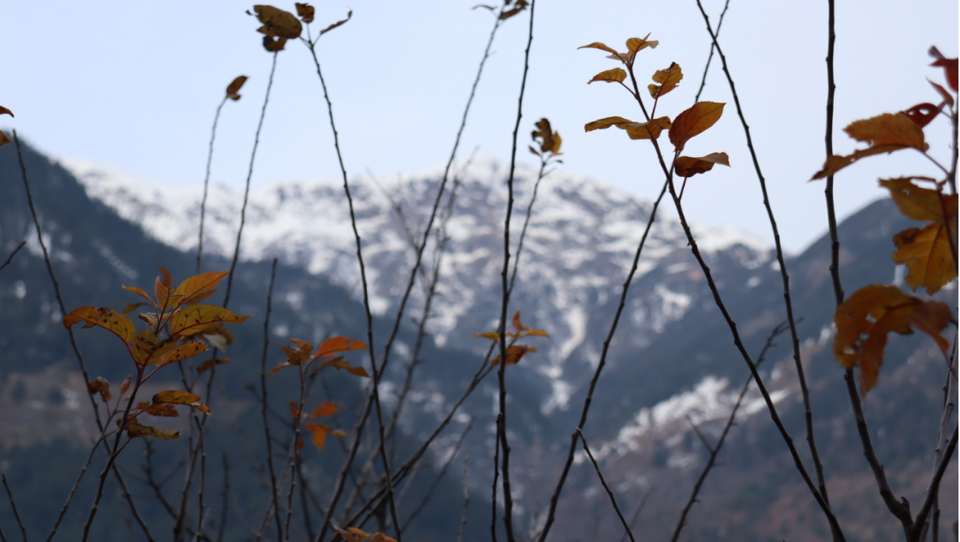 After breakfast, we started to our 1st destination, Hadimba Devi temple at around 9:30 am. A temple, quite different from the others and was surrounded by Pine trees. There were yaks waiting to be photographed. I took photographs with a yak named Sonu. On asking the owner, he said that the yaks were bought from China border.
Then we visited the pine tree park, which was next to the temple. We did get some beautiful photos there. This park was huge, we couldn't cover its entire expanse.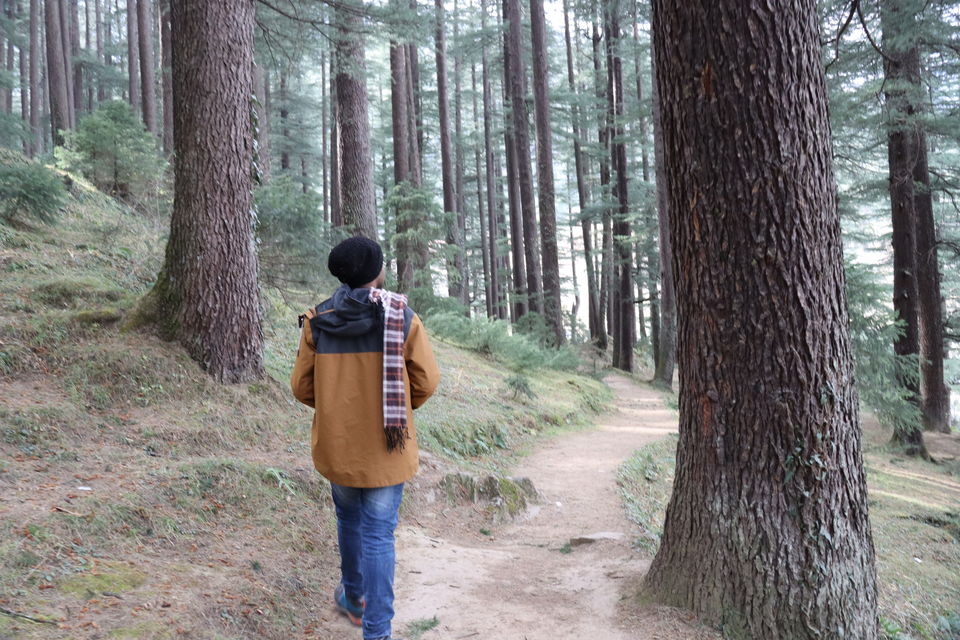 Next we went to Ghatotkach temple, which was opposite to Hadimba Devi temple.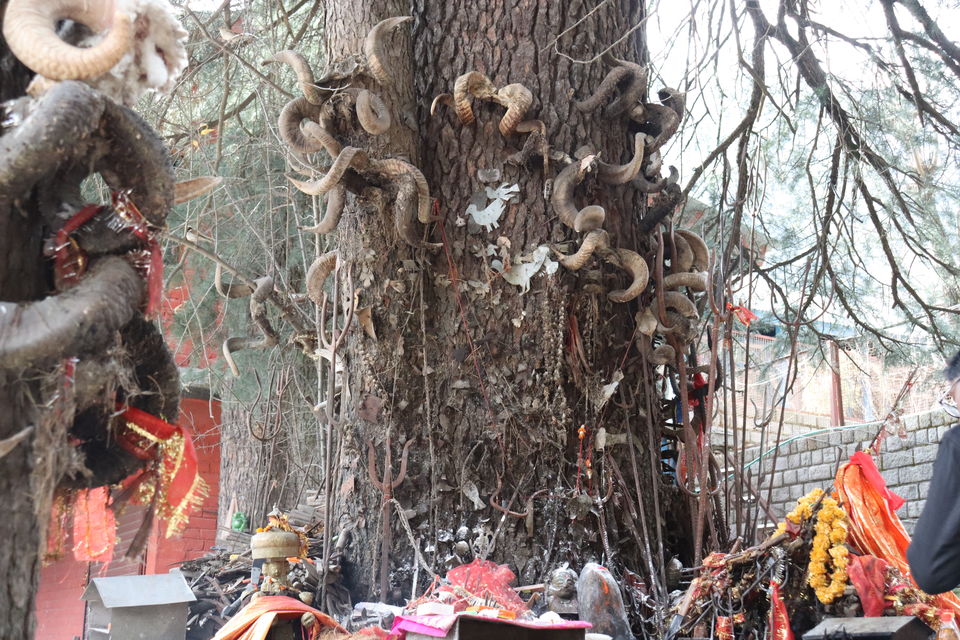 There were multiple cafes on the way, while descending, we went to a crowded cafe, the interior was beautiful, unfortunately we couldn't have coffee as it was taking too much time.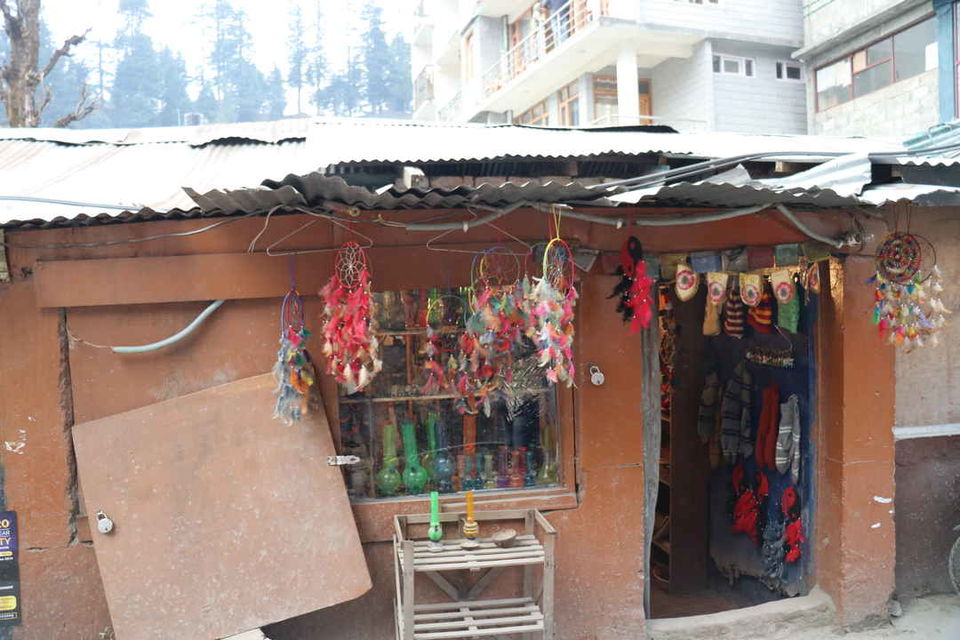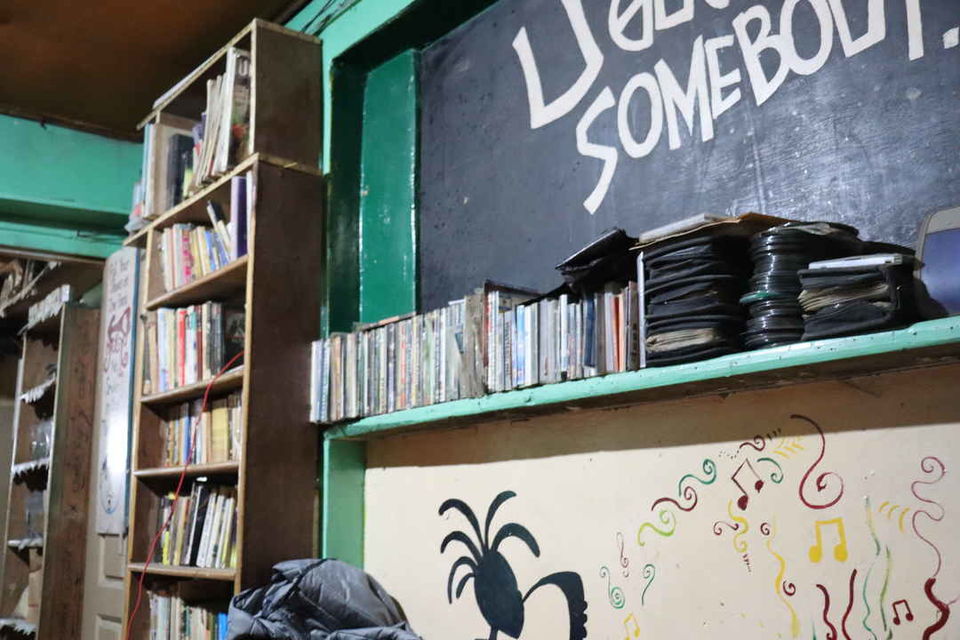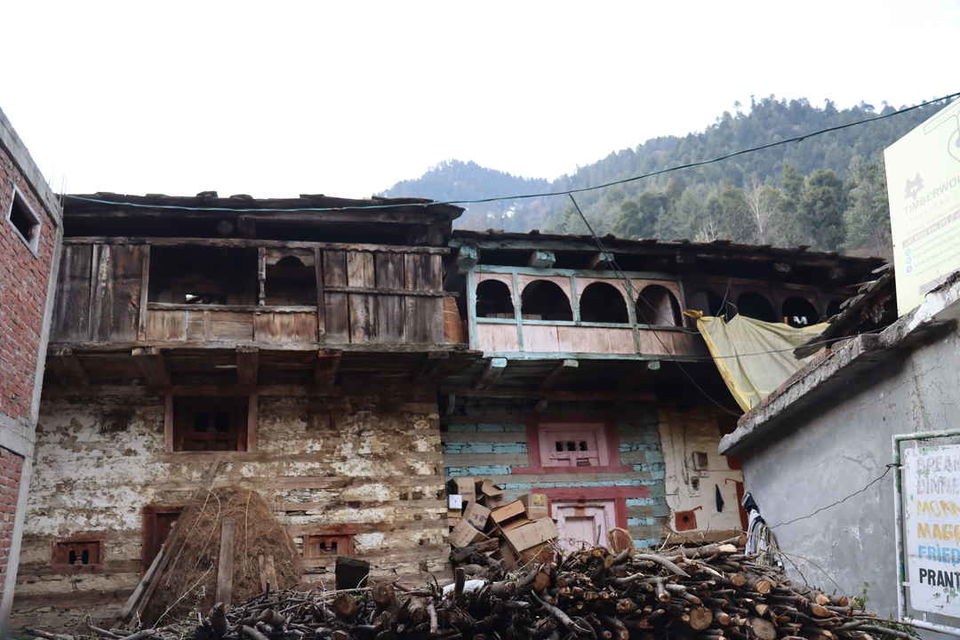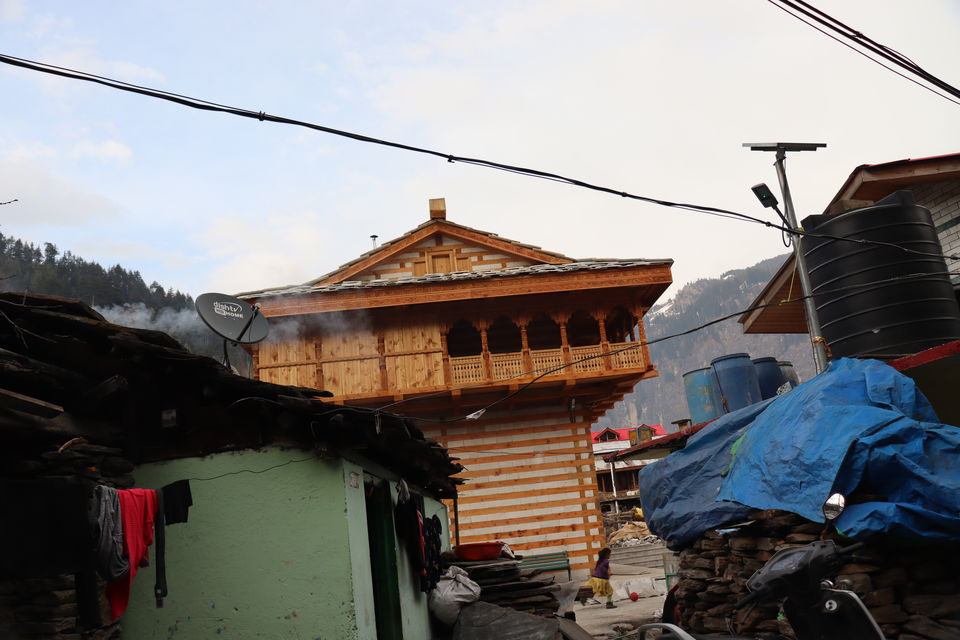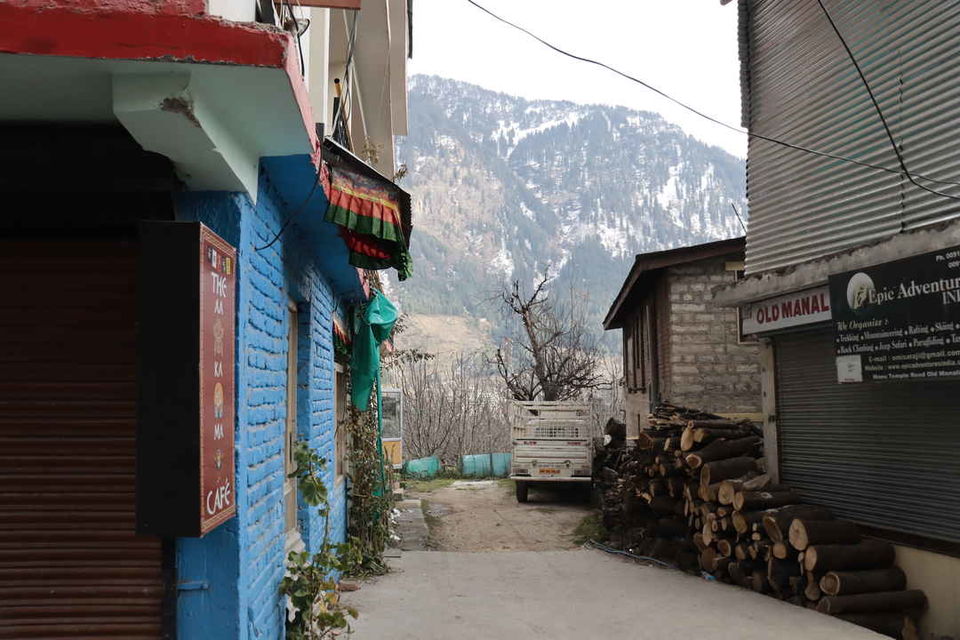 Our next destination was Club house, it's sort of an emporium. It had shops, food court, etc. With the river Beas flowing just beside, we ended up soaking the bliss for quite sometime there until the fingers went numb.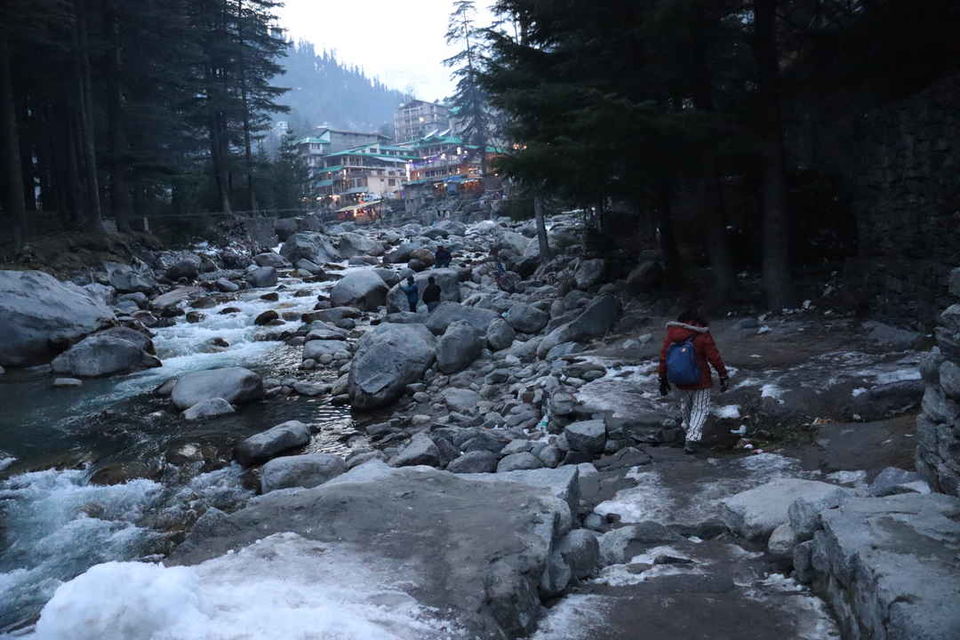 While returning to the hotel, we went to Mall road in Manali, the stretch was not as much as the Mall road in Shimla. We were in search of something hot to drink but couldn't find tea stalls there, finally settled on badam milk. We did a bit of shopping and headed back to hotel.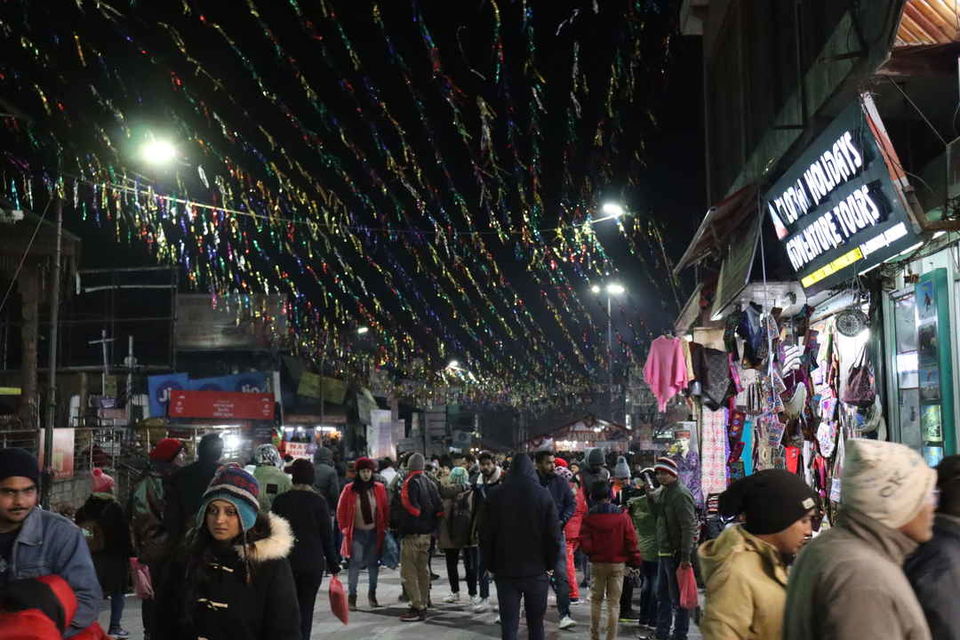 Day 5: Solang Valley
Before reaching the valley, we stopped to get appropriately dressed. We rented the snow dress along with boots and bought snow socks, it costed us INR 1750 for 5 people and was absolute necessity. Owing to our previous experience at Kufri, we did not opt for any activity that the shop owners were almost forcing us to. We almost had a verbal spat with the shop owners. On reaching Solang valley, we were absolutely mesmerized!
We spent the whole day in Solang valley, two of our friends went for paragliding there. It costed them INR 3200 each, which also included rope-way till the paragliding start point.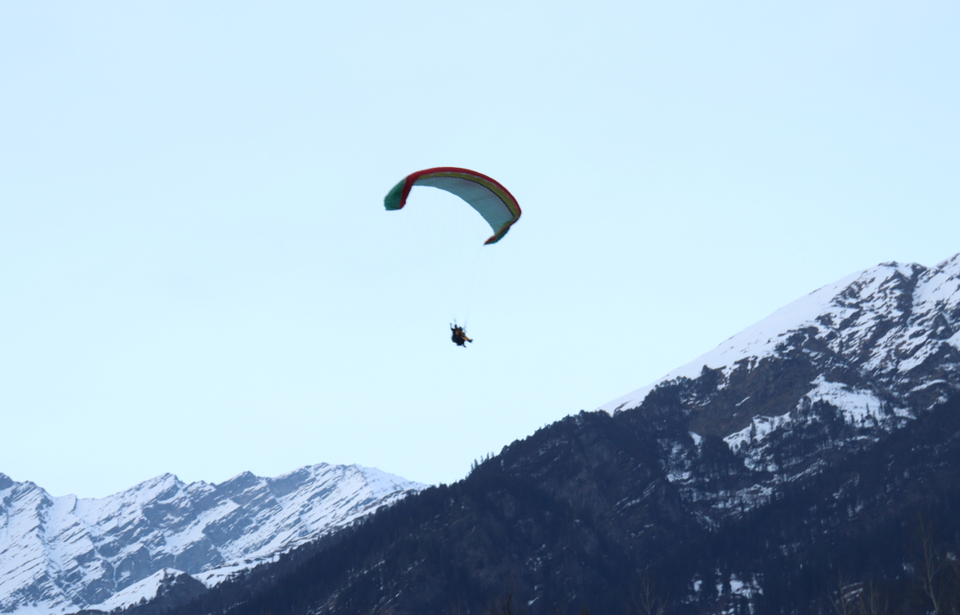 Package activities for all of us, which we booked on spot for INR 7500 in total were:
i. Skiing - It was much better and worthy as compared to Kufri, there were guides assigned to each of us.
ii. Snowmobiling - this was amazing! 2 of us sat on each snowmobile along with the driver.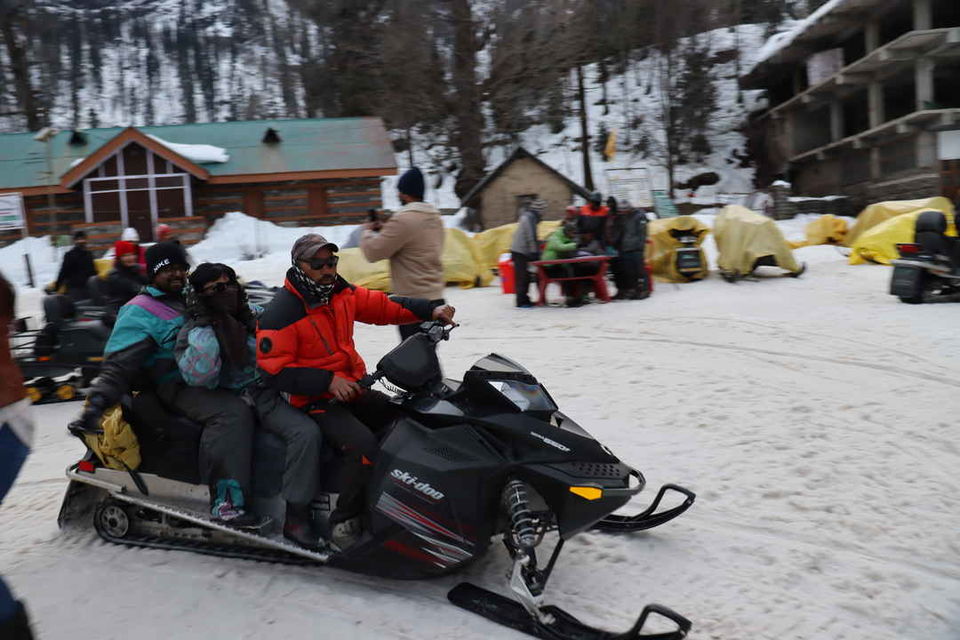 iii. Tube slide - Oh hell scary it was! 2 of us sat in each tube.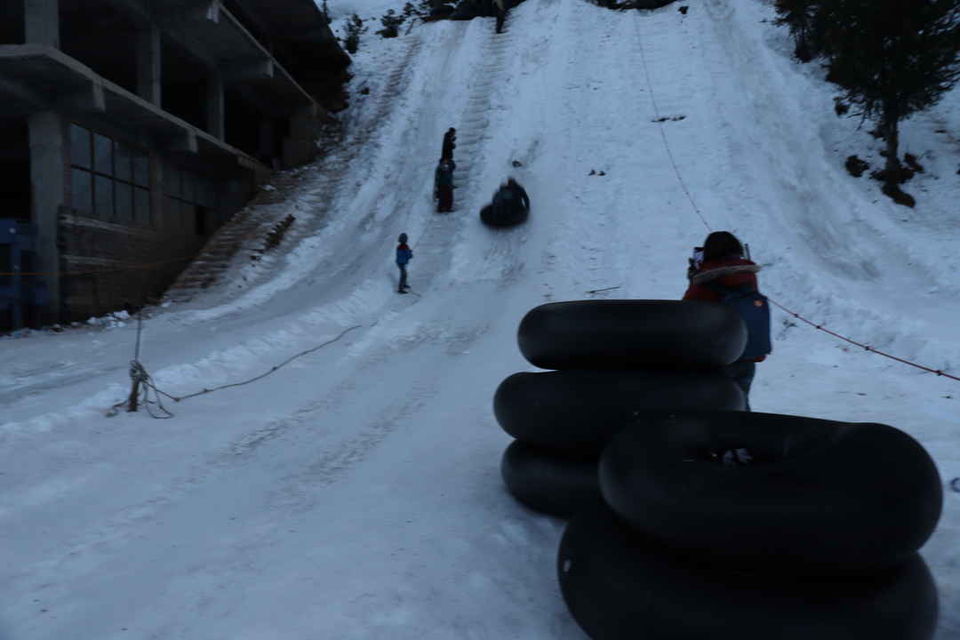 iv. The highlight, Anjani Mahadev temple - This was our 1st activity in the package after our friends returned from Paragliding. It is recommended to visit this place first as the other activities are conducted till evening, but the road to Anjani Mahadev temple closes after a certain time. We went to the temple by vehicle, driven by a an expert driver. Oh my! What a ride it was! Anjani Mahadev temple was a piece of heaven on earth! Fresh snow, picturesque view and pure bliss.
It was uphill and because of the snow it took a bit of effort to finally reach Mahadev. However, everything was worth it!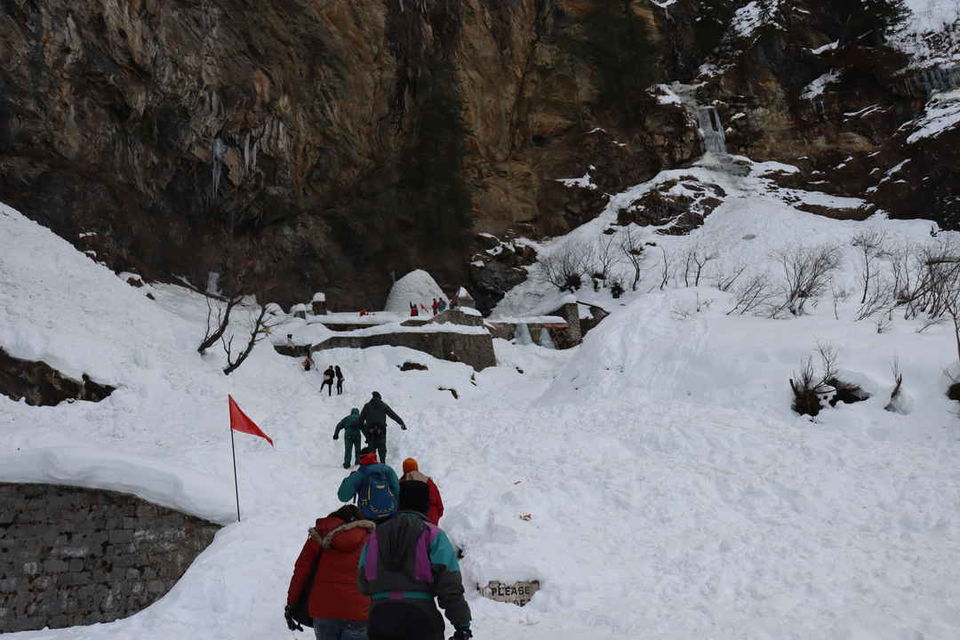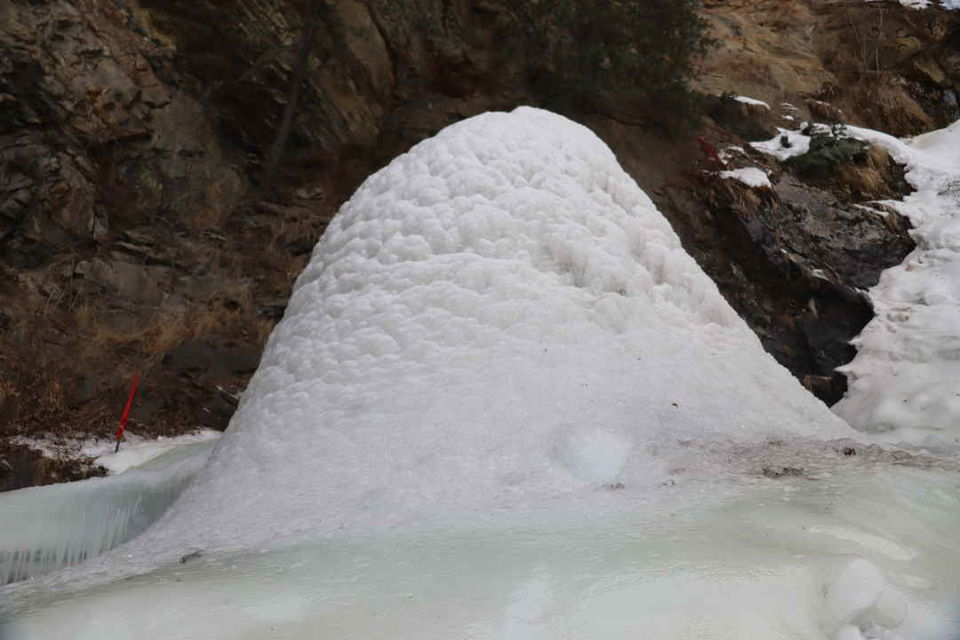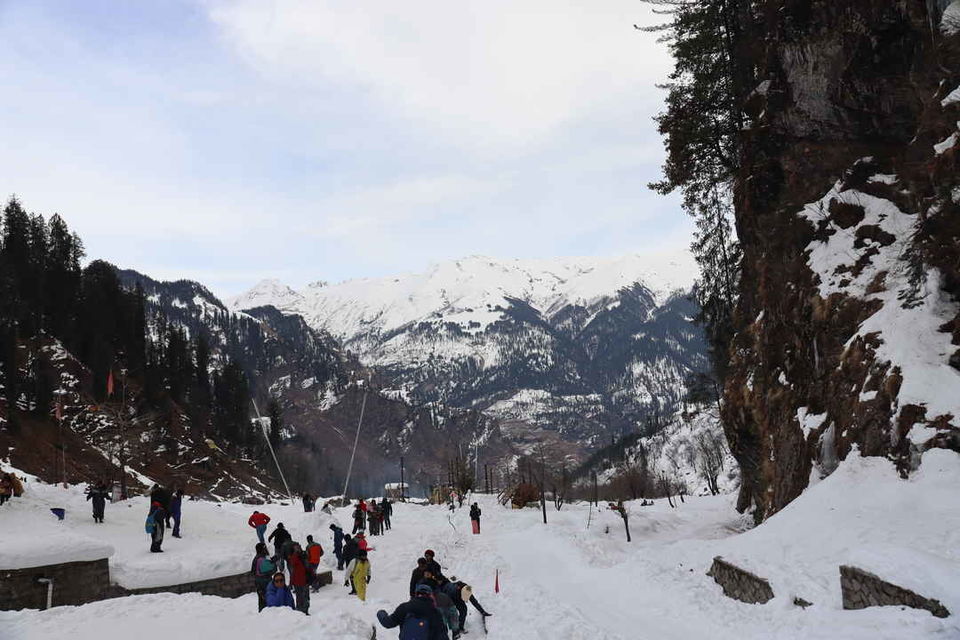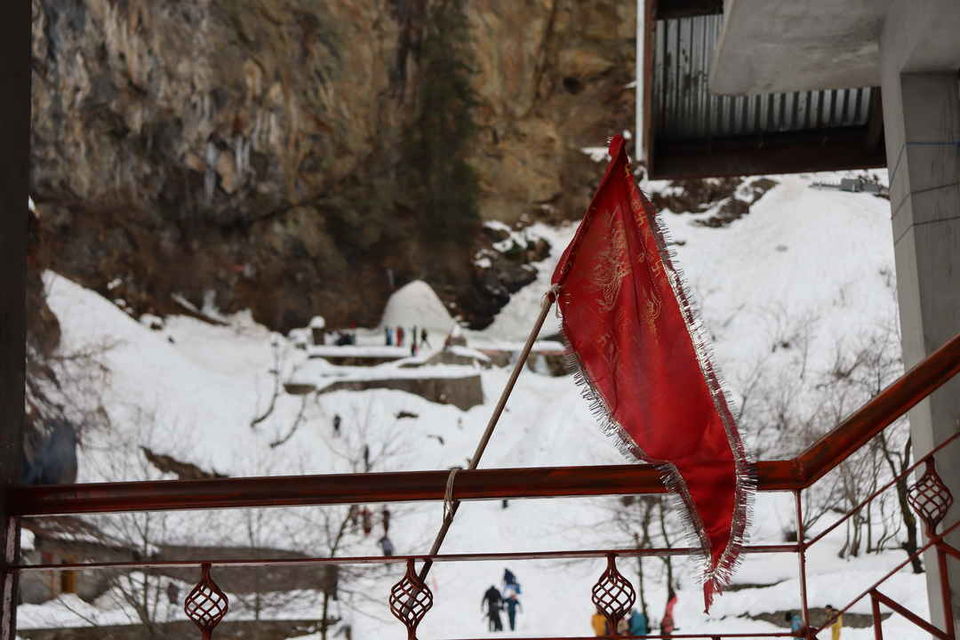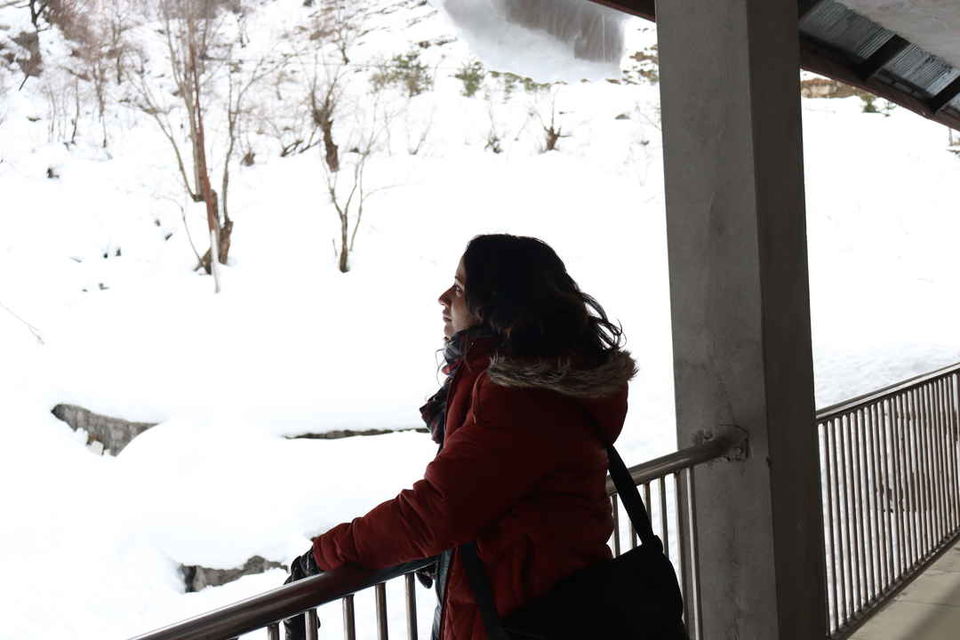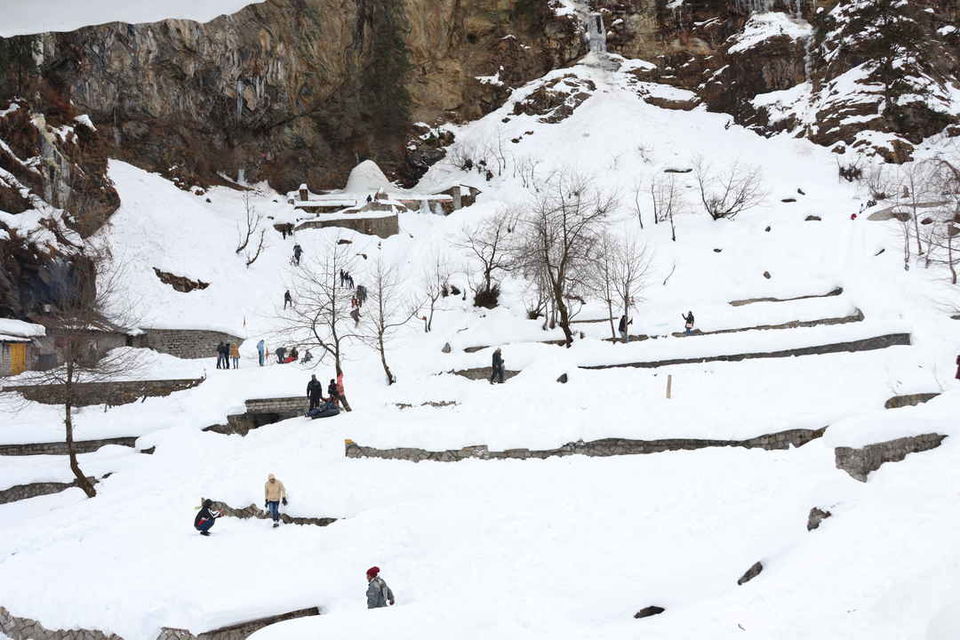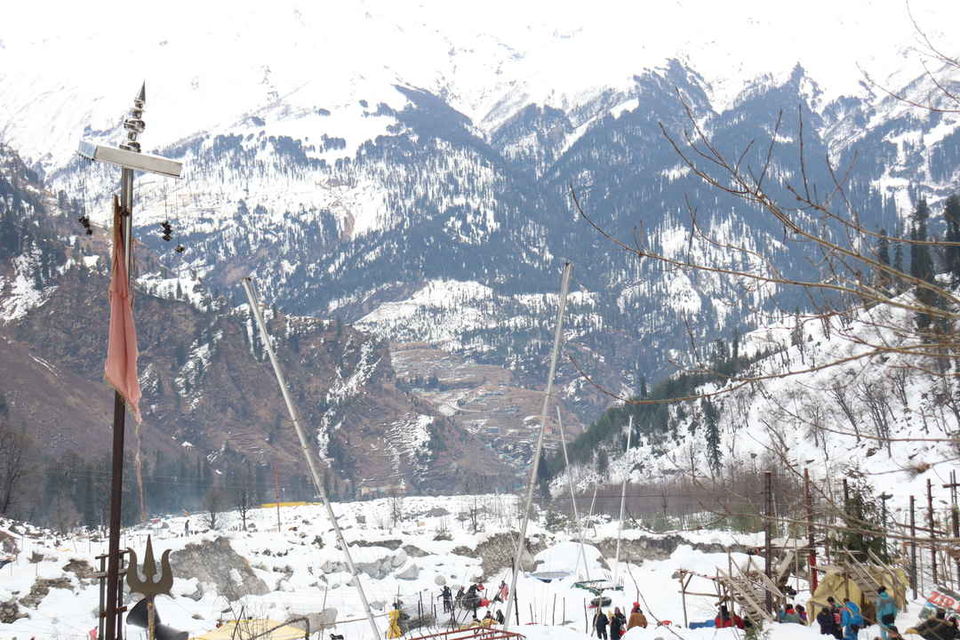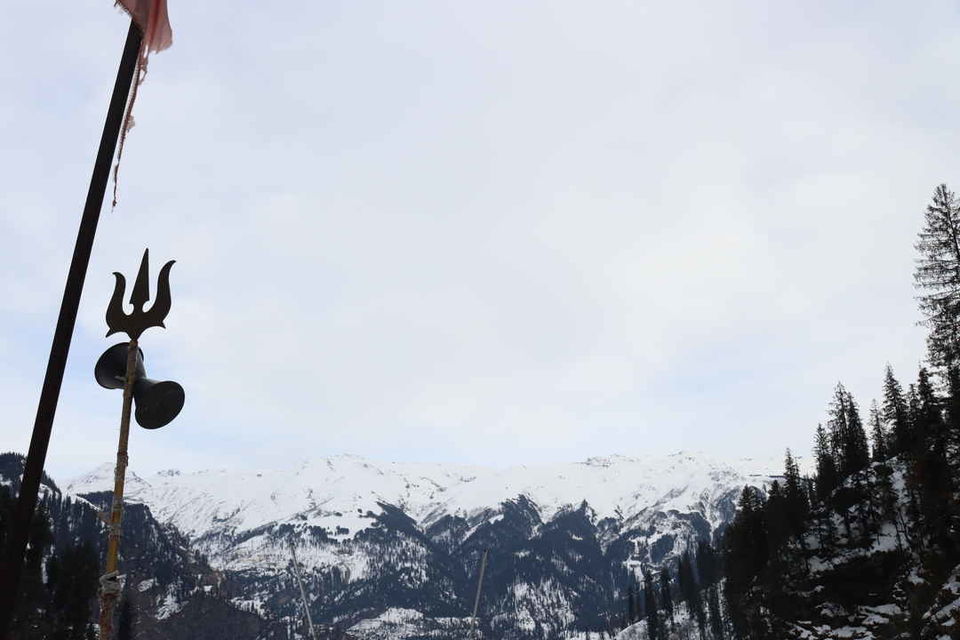 Finally for lunch we had delicious maggi and bread pakoda that was available at the starting point of the temple.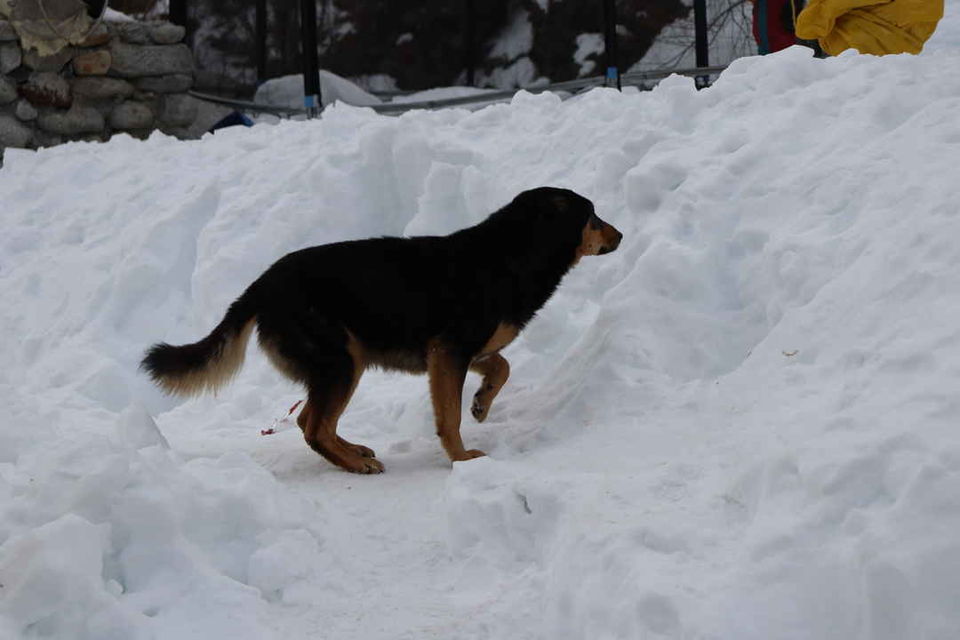 While returning, we went to Vashishth temple, the temple premises had separate hot bath for women and men. We didn't take bath however, did wash our hands in steamy running water from tap. On asking the locals, they said that the water has very high content of Sulphur and that the availability of hot water only in the temple premises, not in the whole locality.
Day 6: Manali to Chandigarh - 305 kms
We bid adieu to the Himalayas until next time, and started from the hotel at around 9:30 am.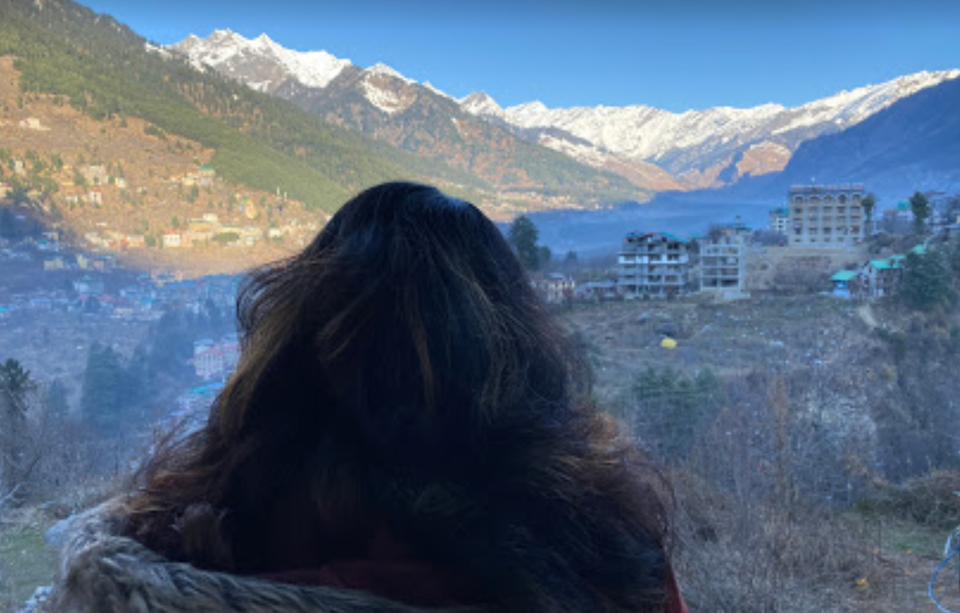 On the way to Chandigarh, we went to Kullu for paragliding and river rafting. We paid INR 3100 for river rafting at Beas river along with the GoPro photos/videos for 5 people and paragliding costed INR 7000 for 3 people. The duration and height of Paragliding at Kullu is more than that of Solang valley. After all these activities, travelling to Chandigarh did become hectic. We reached Chandigarh at around 11:00 pm.
Day 7: Chalo Dilli!
After checking out from the hotel in Chandigarh at around 11:00 am, we visited the Rose garden and Nek Chand Rock Garden.
We reached Delhi at around 9:00 am, bid adieu to the driver with some tip and checked in to the hotel at Karol Bagh.
Day 8: Return to den
The final day we visited some monuments in Delhi and headed to airport for our departure at 9:20 pm. Remember out dissatisfaction about Hotel in Manali? Well, we got a cab ride around Delhi along with airport drop as compensation.
Thus ended out 1st visit to the Himalayas. With tons of experiences and a part of Himalayas with us, we returned to our den, with a determination to visit again.
#lockdown #lasttripbeforelockdown
Frequent Searches Leading To This Page:-
shimla manali sightseeing itinerary, himachal pradesh full tour packages, shimla manali tour package from delhi, 3 nights manali itinerary from delhi, delhi to manali tour package by car, delhi to manali car packages, volvo bus package from delhi to manali
After lunch we proceeded to Manu temple. The only way to reach the Manu temple, after a certain point, is by walk. The stretch is uphill and takes time to reach the temple. The temple is beautifully crafted and all the effort is worth the view!