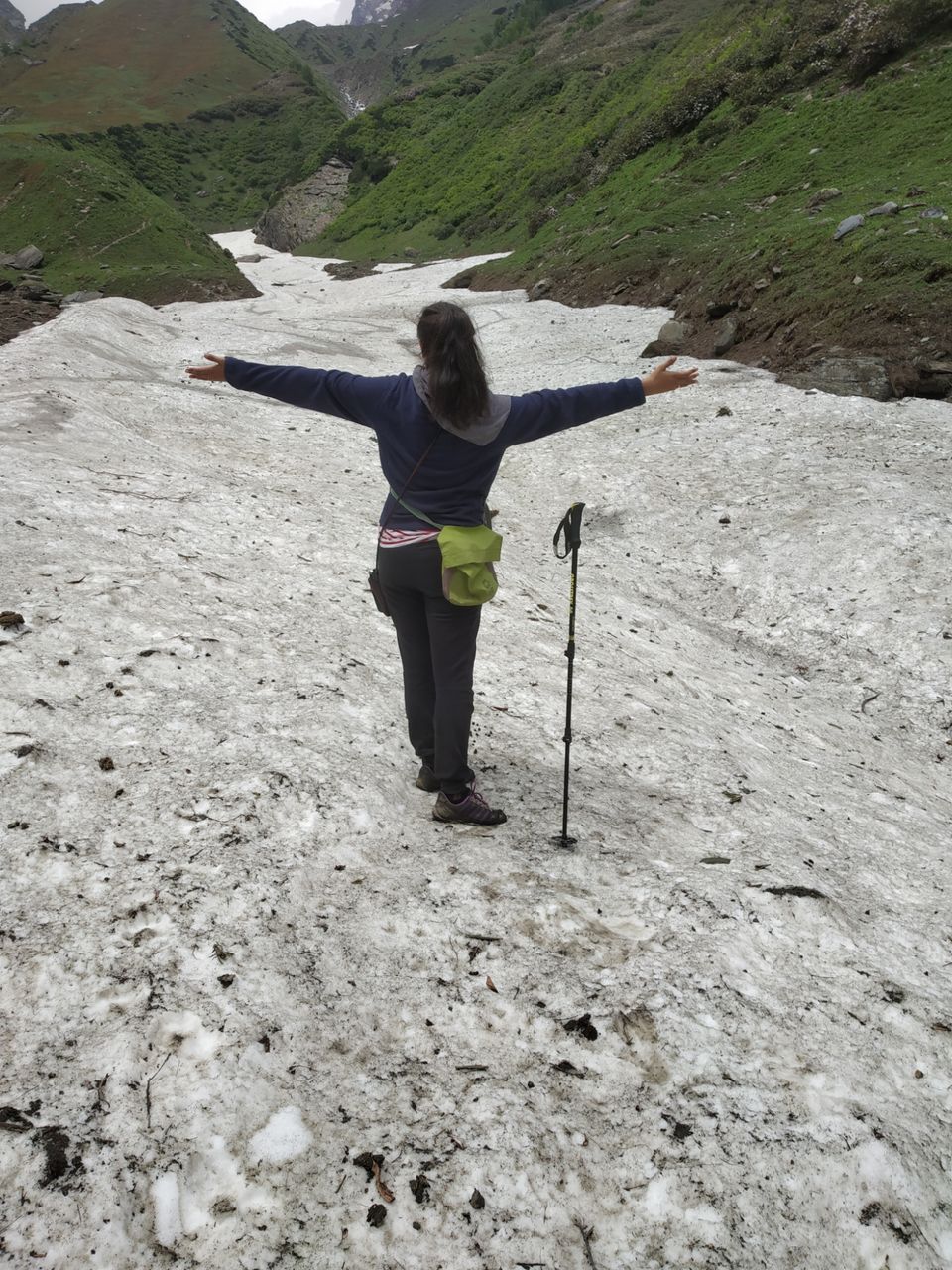 Like every other traveler out there, going on a mountain vacation is quintessential in the month of June. However, we had our doubts because of tourists raiding mountains in high volumes during the vacation season. After hours of research and planning, my sister, my husband and I decided to go for a trek and enjoy a few days in nature's lap.
Our trek was to Beas Kund, a frozen lake, 12,700 feet above Manali, a heaven away from city's buzz. Our trek was to start from the morning of 29th June so we decided to flutter in and around old Manali for a day. We started our journey from Delhi at 10:00 PM via HRTC Volvo and reached Manali by 11:00 AM. (We were lucky enough to not have met traffic jams).
After reaching Manali bus stop, we took a cab to Old Manali (when in Manali for only a day, you cannot miss to visit Old Manali) and checked in to our accommodation - a quaint serene property giving you good happy vibes. Ours was Madpackers Hostel with warm amazing staff and cozy rooms. (and it didn't dig a hole in our pockets).
We visited Hadima Temple, took a walk in pine forests and enjoyed delicious and local food in the cafes of the town.
Pro tip: Have small portions in each cafe to enjoy varied cuisines offered there. Don't burn up your appetite by just sitting at one cafe for hours.
My personal favorite- Bean and Gone which offers Great coffee and amazing waffles!!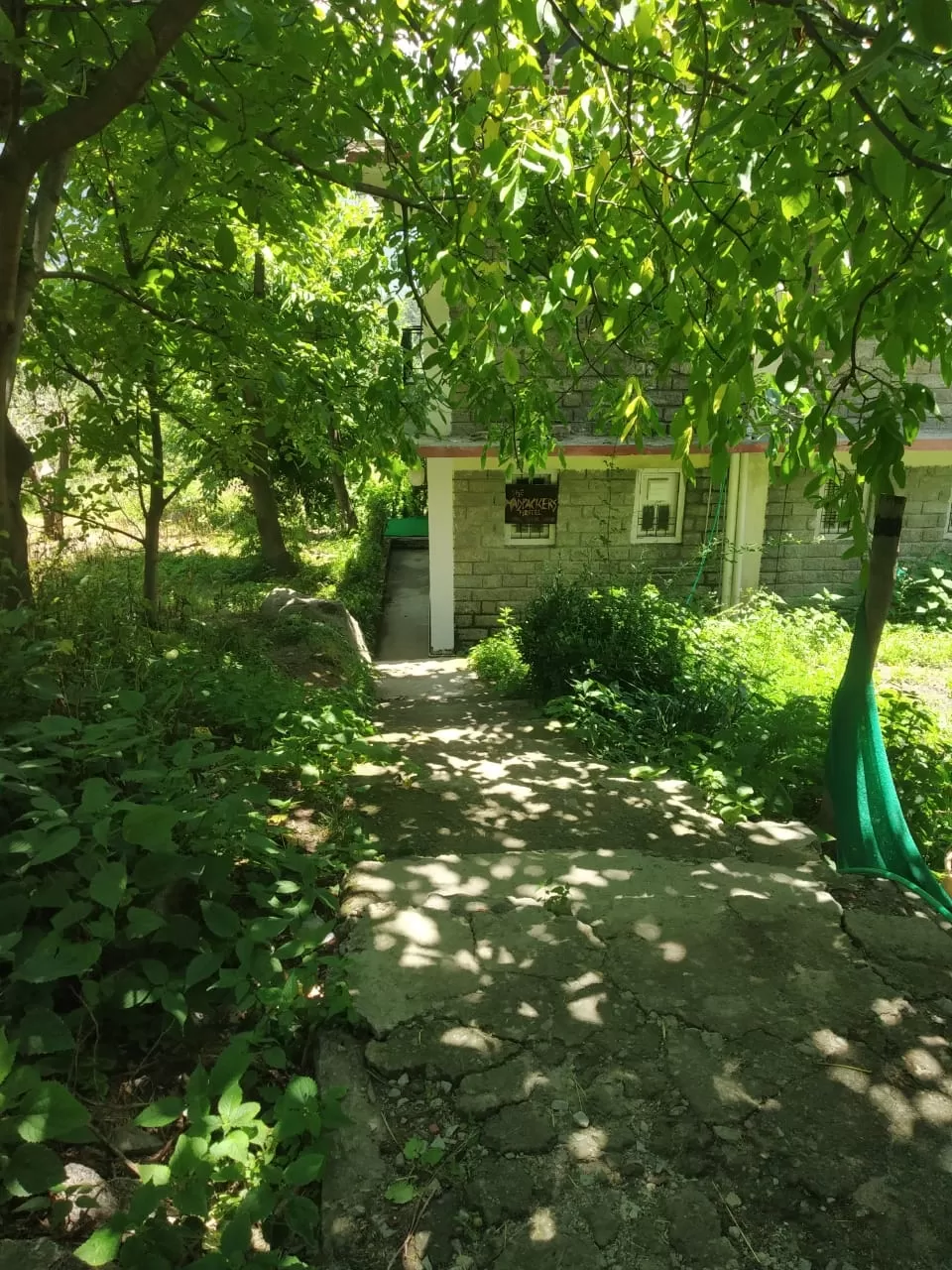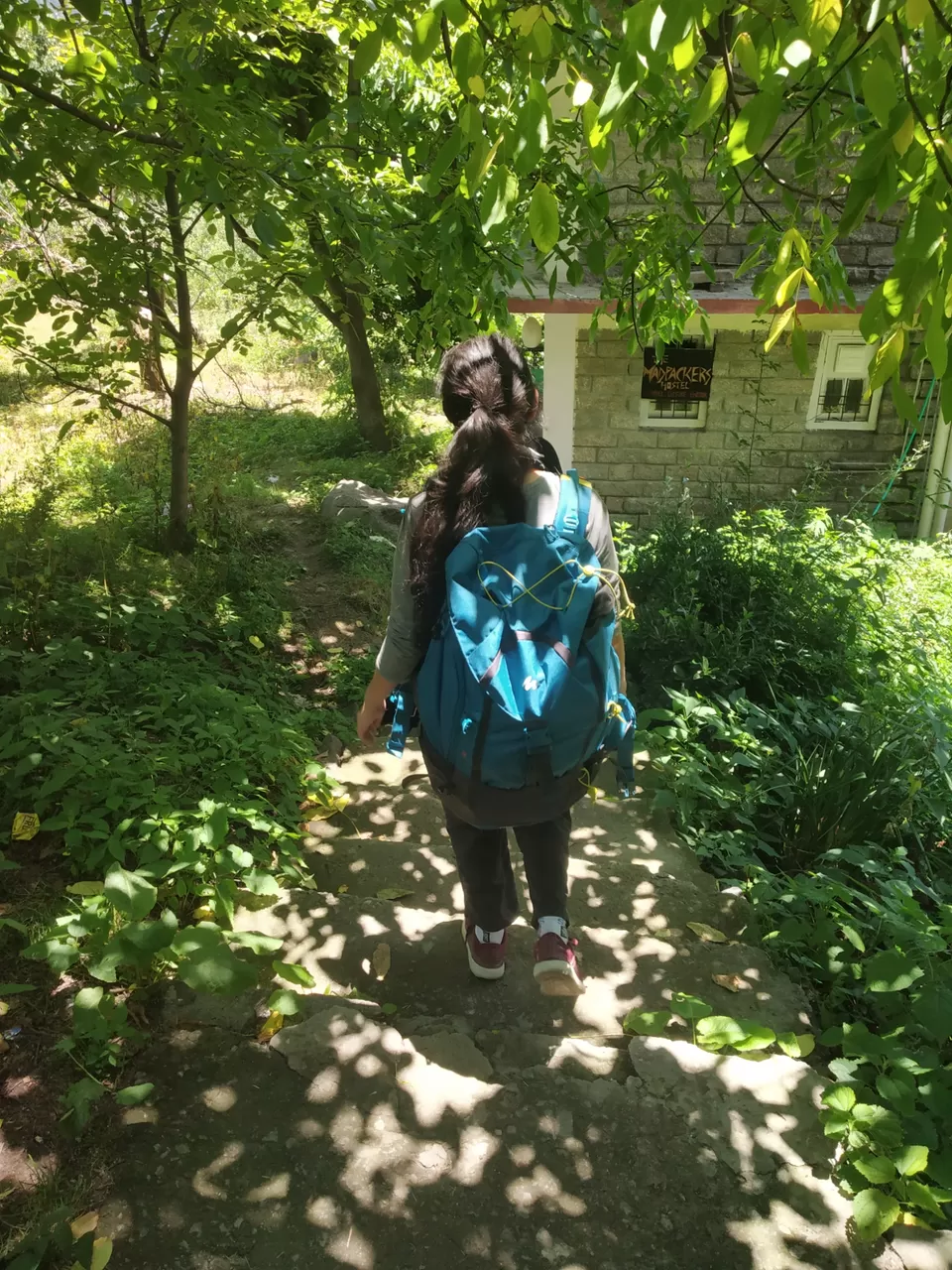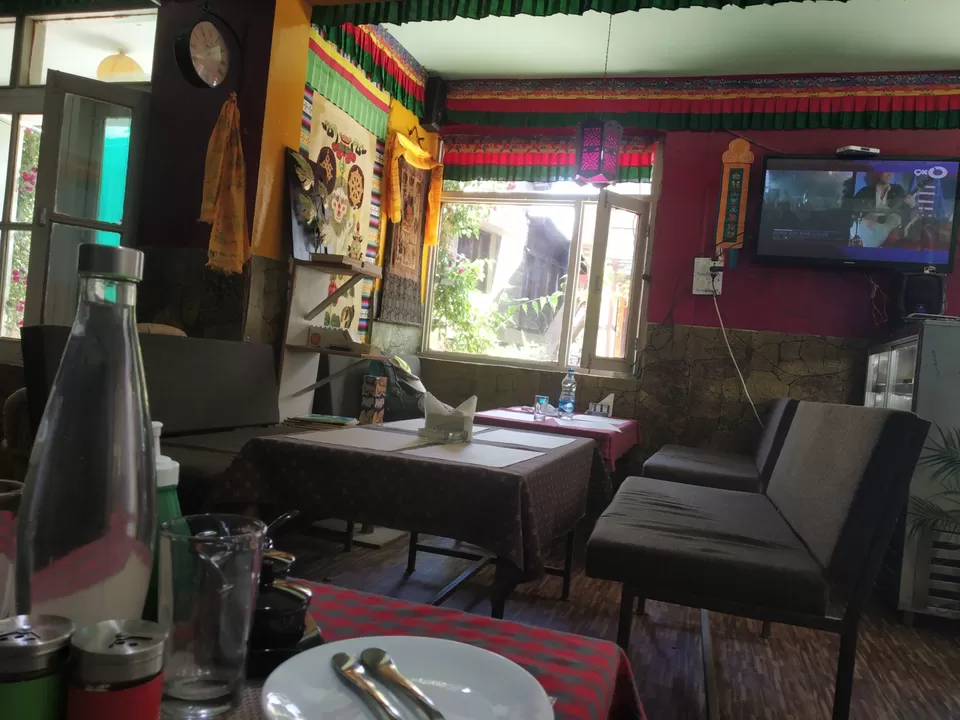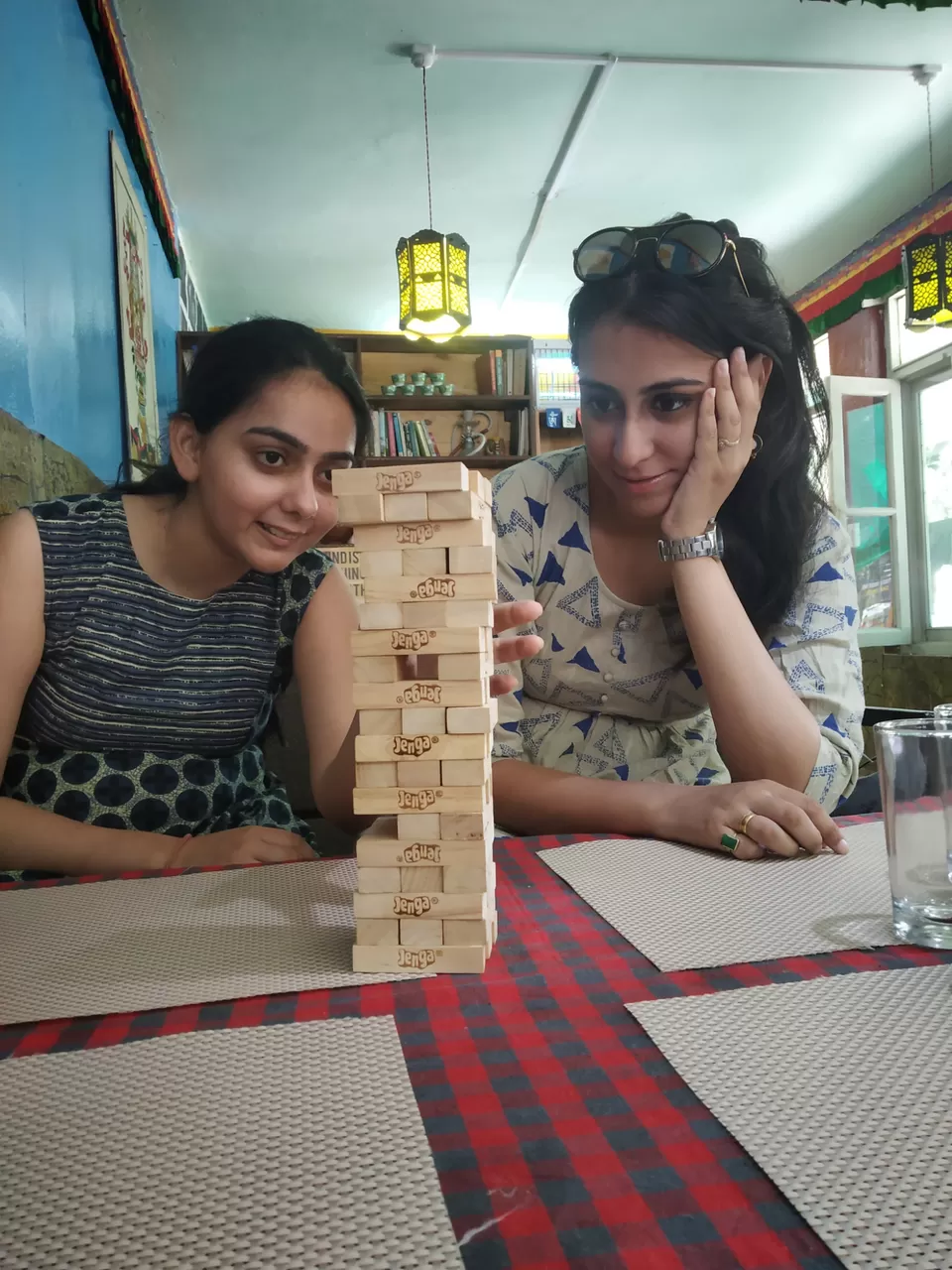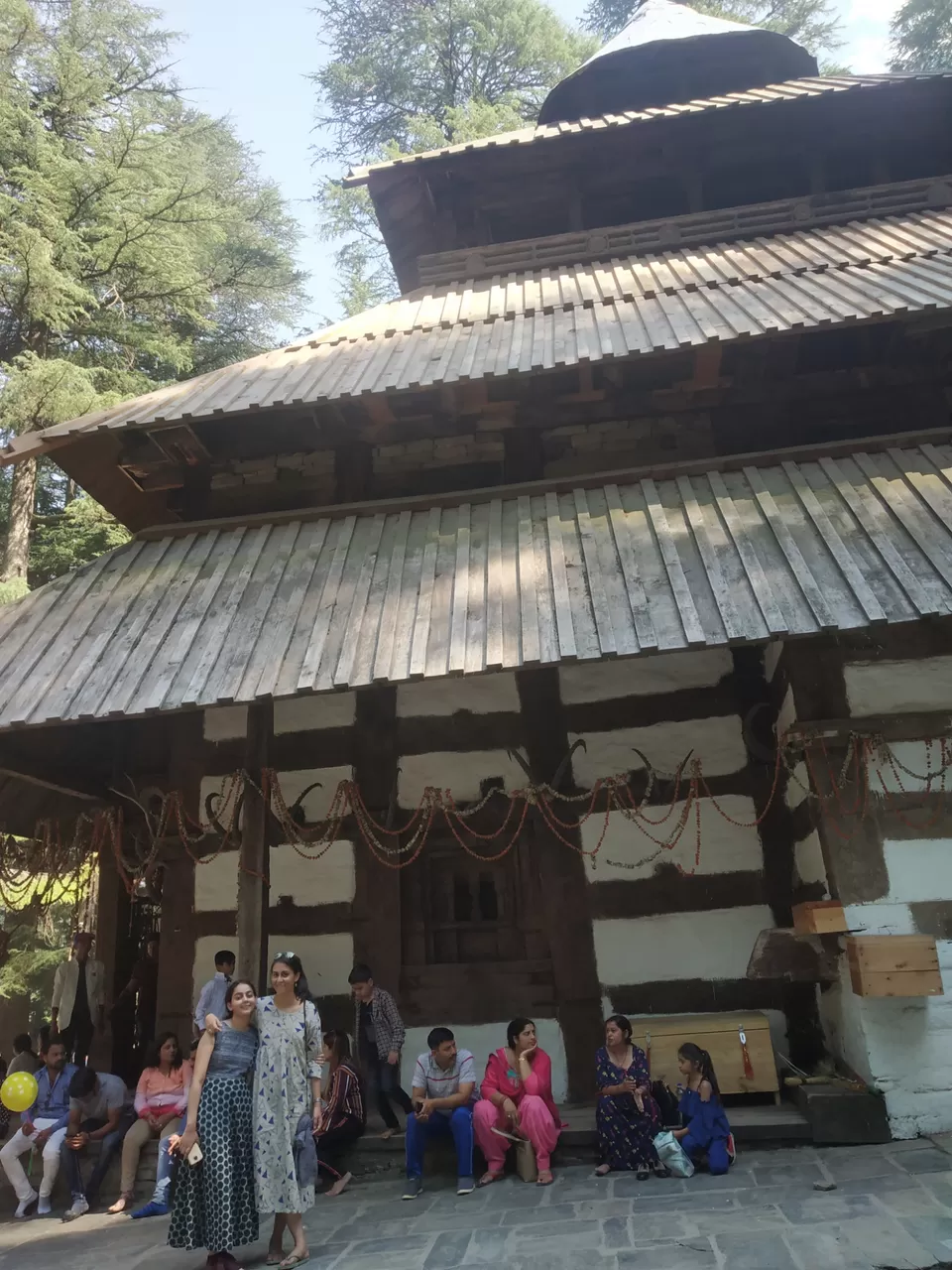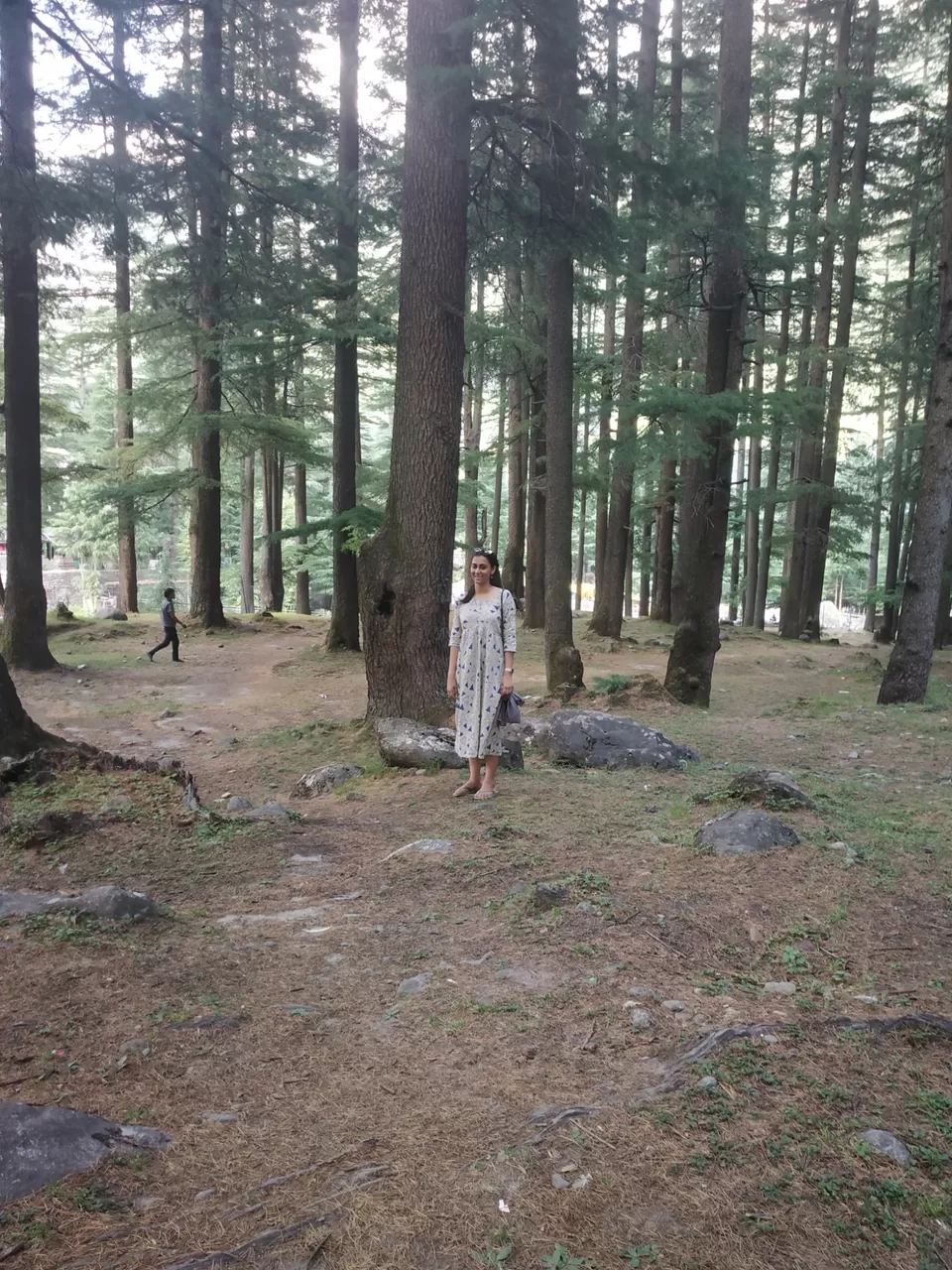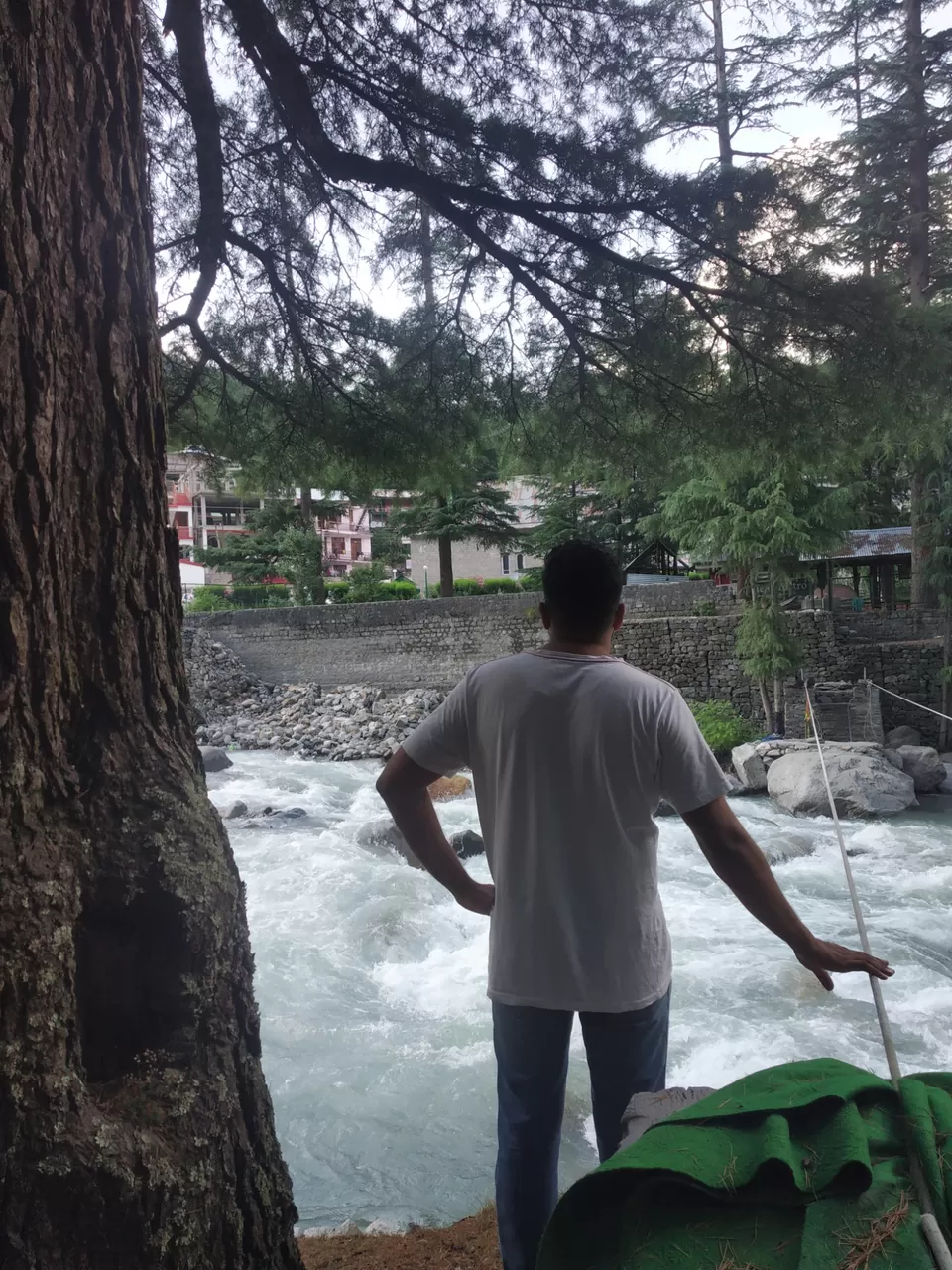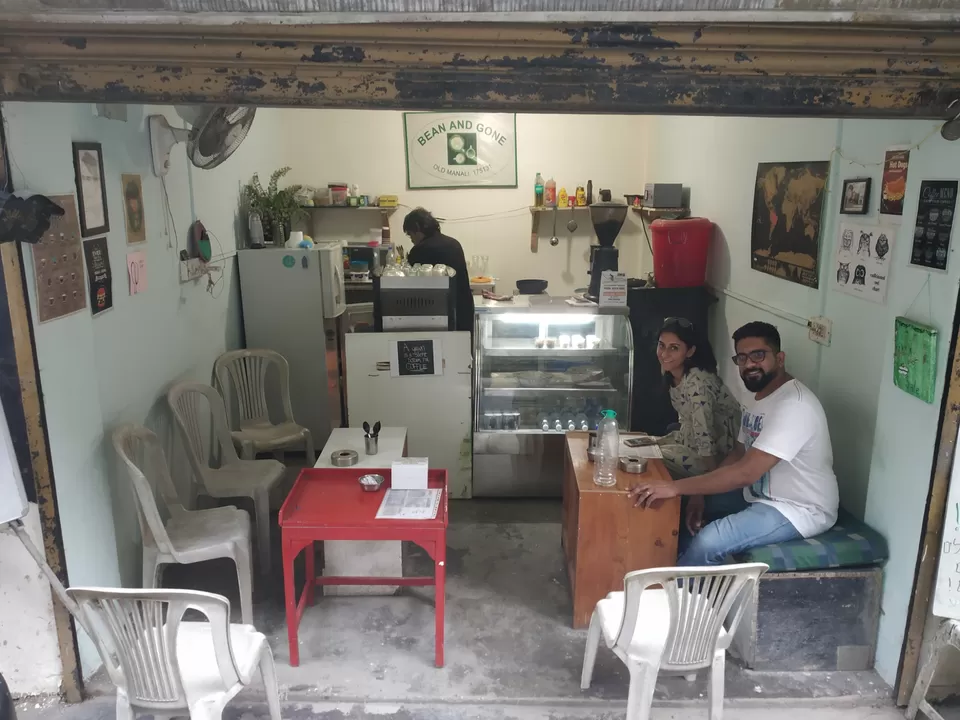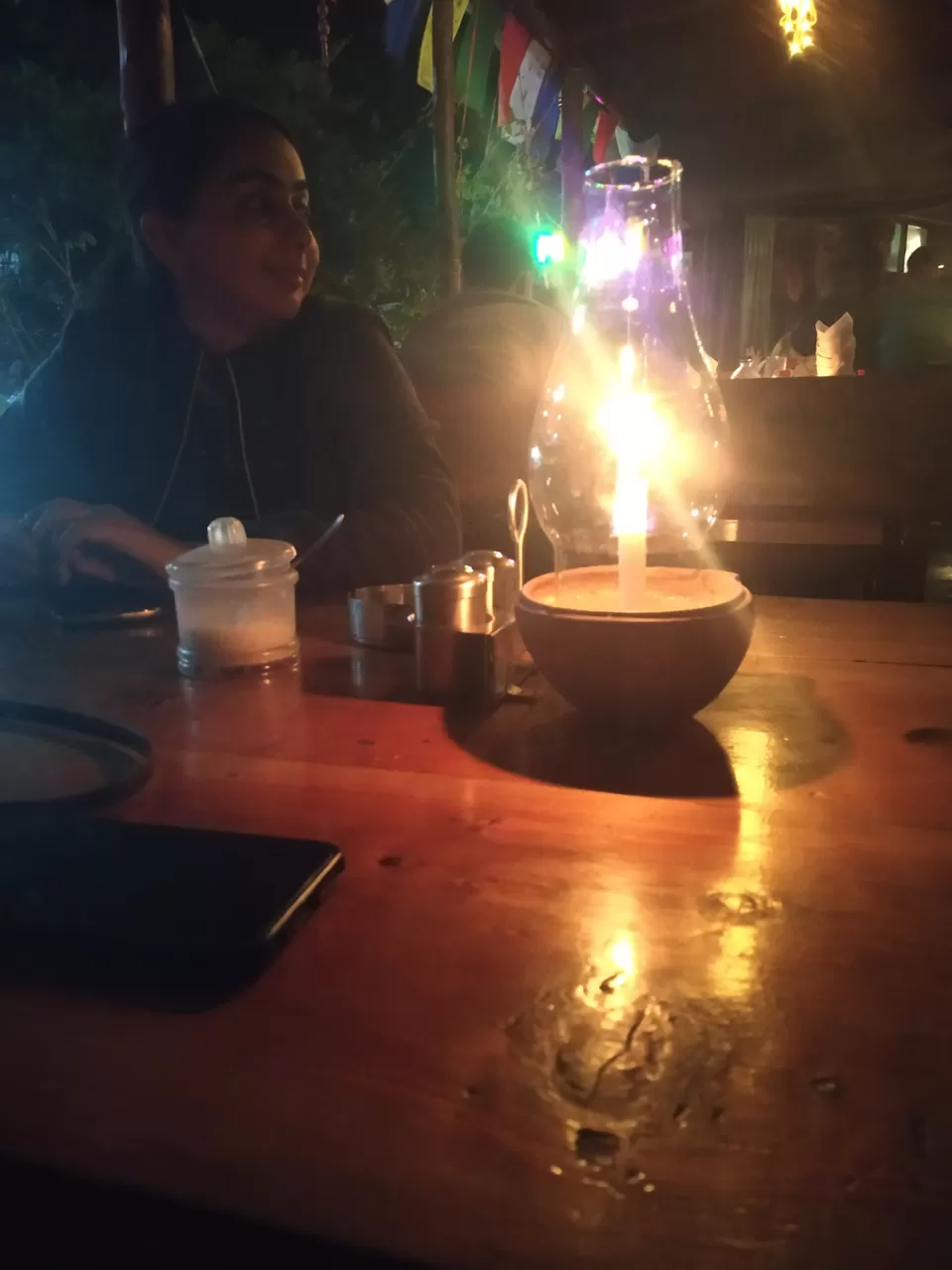 After rejuvenating ourselves and taking a good night's sleep, we met our group to start our challenging(at least for us) trip onwards.
We took a shared cab from Manali to Solang Valley from where our trek started. In hindsight, our first day on trek was easy and had a decent, not steep, ascent. Though being the first day all of us were seen struggling. Since it was a monsoon trek,the god was gracious enough to provide us with a fine drizzle, sufficient enough to enjoy the trail and not to disturb our plans. One has to take special care when trekking in monsoons. We took punchoos with us and had packed our stuff in different plastic bags (which are NOT to be disposed off) to prevent getting soaked. It is important to keep yourself dry when trekking high altitudes.
After trekking around 6.7 kms for 4 to 5 hours we reached our first camp site at Dhundi and were mesmerized by the views. The trail was of beautiful oak forest and pine trees. Our camps were pitched near Beas River and since we reached before sunset we got to enjoy the serenity of mountains and witness the sun painting the sky in red and orange hues. We enjoyed our overnight stay and I am short of words to describe how beautiful it is to sleep through the music of flowing river and waterfalls.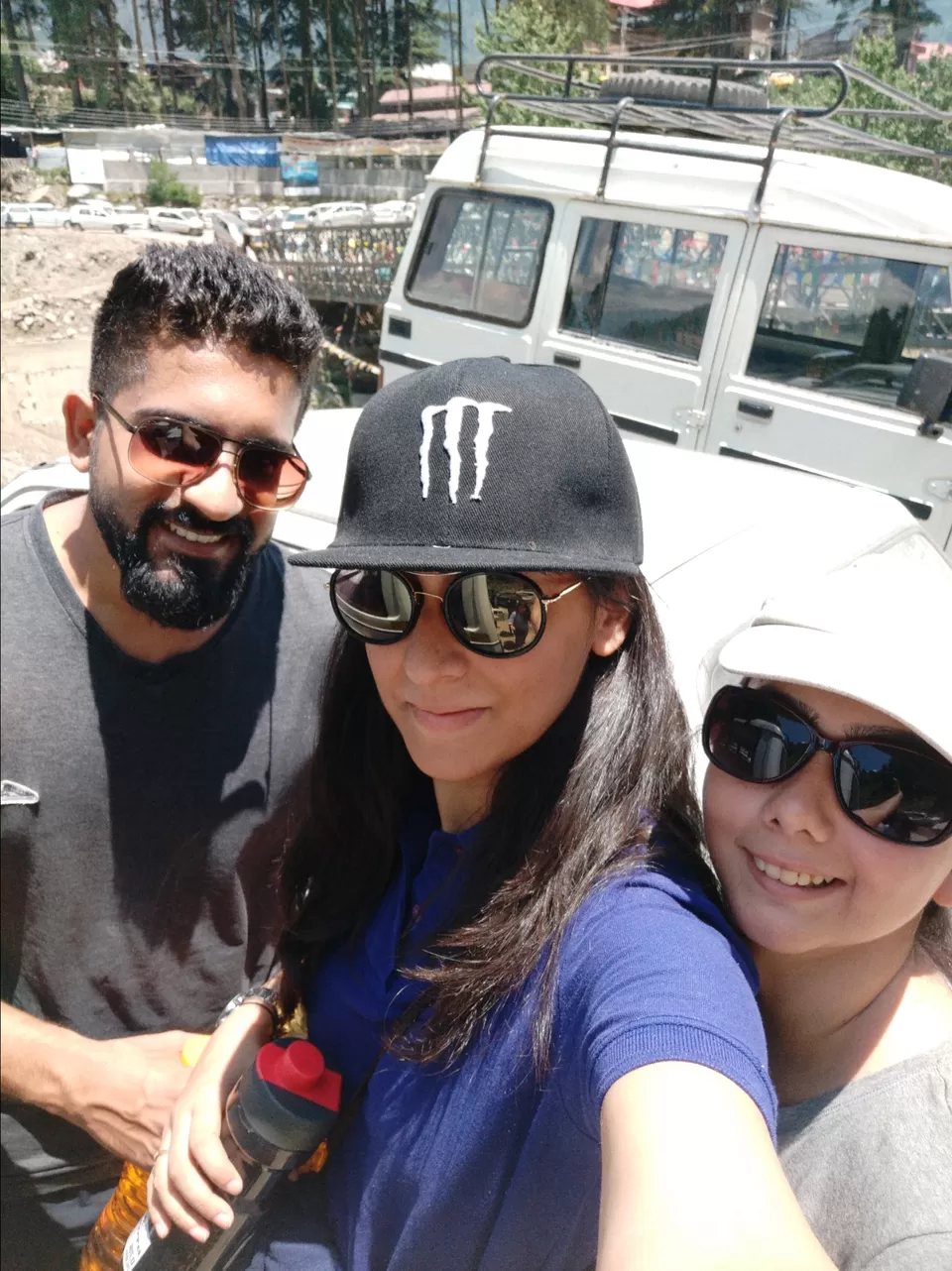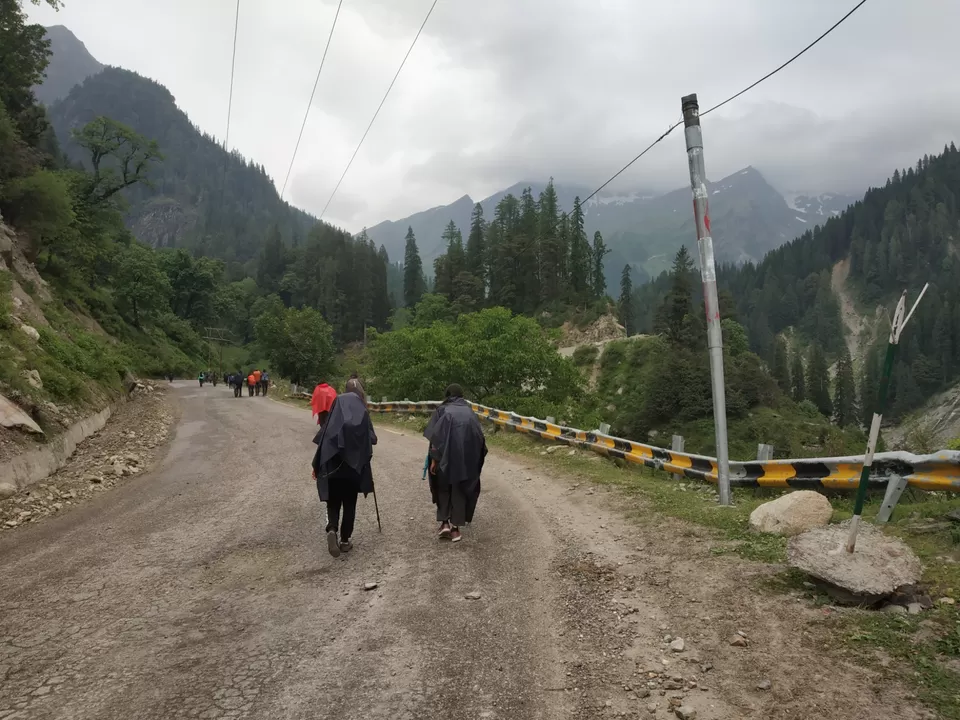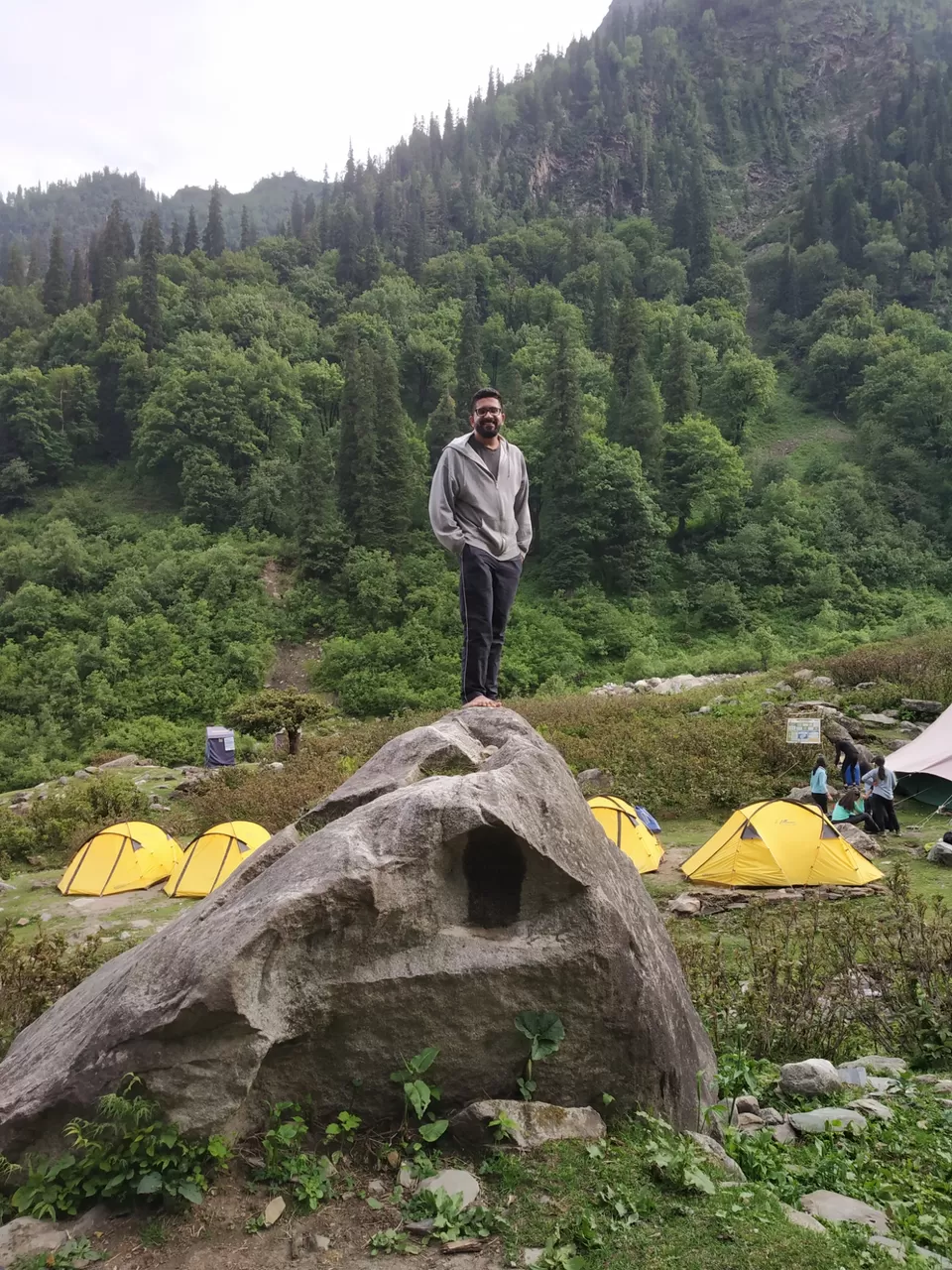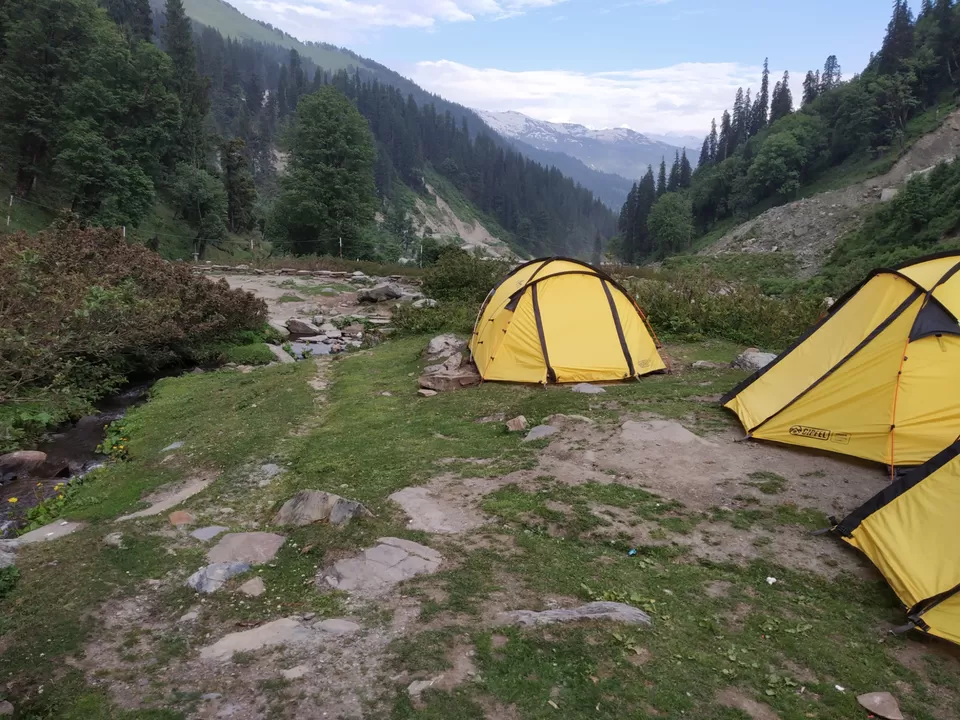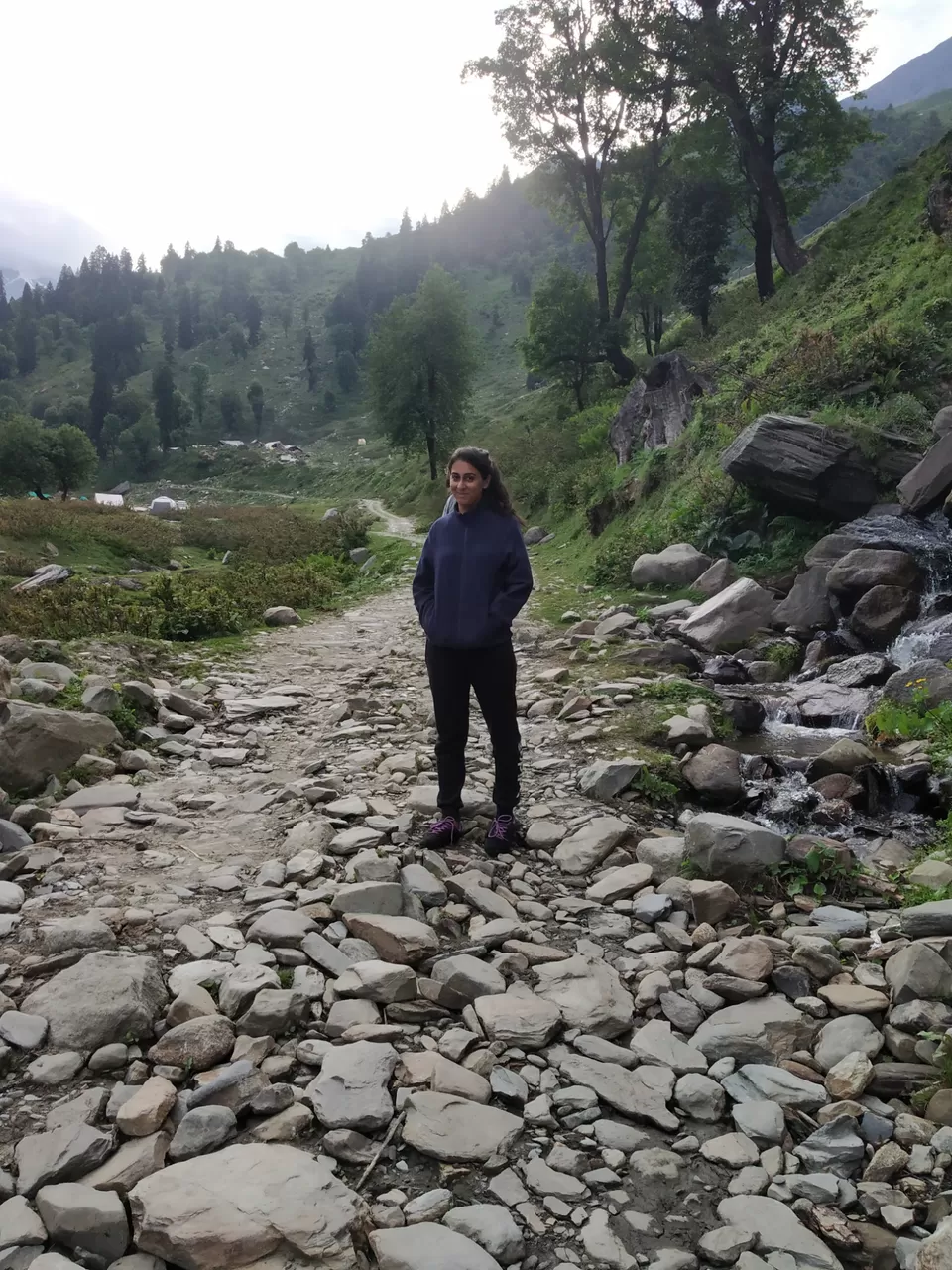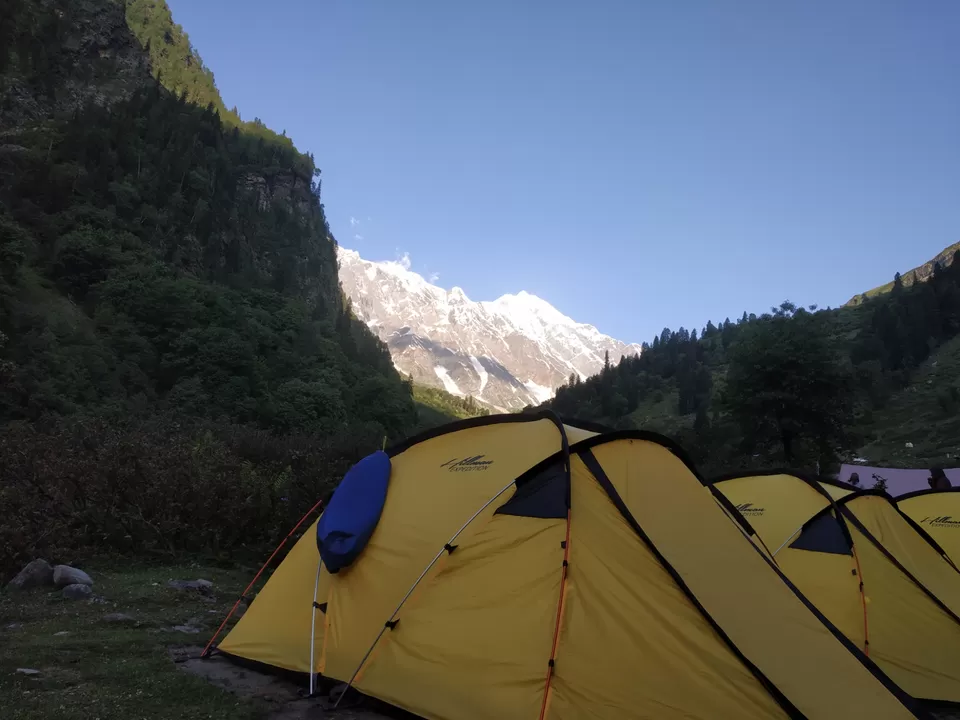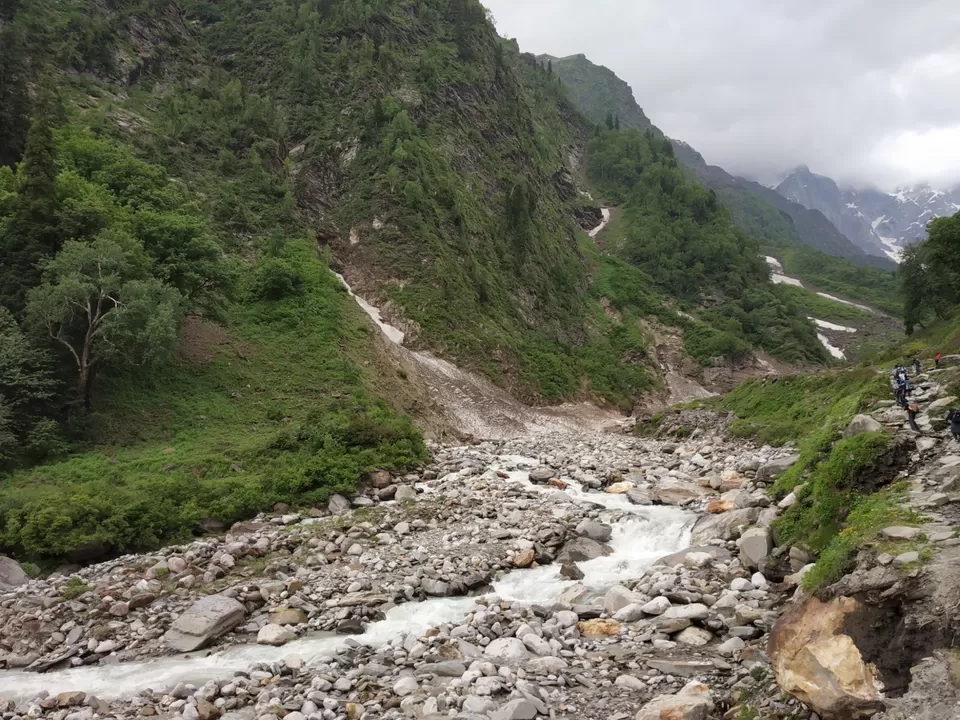 After having sandwiches and eggs for the breakfast and filling up our water bottles (2 liters per person), we stared our onward journey to our next camp site. Day 2 was indeed challenging. The trail was a steep ascent and we trekked through daunting grasslands of Dhundi and Bakarthach with pine and walnut tress giving us company.
After an hour into the trail, we crossed a river which served a great water source as we did not find any other source of water till our camping site. Remember, minimum two liters of water per person is indispensable to avoid high altitude sickness.
After this, the trek offered steep ascents and equally steep descents giving us an adventurous hike. Through the trek we witnessed magnificent peaks, glaciers and the views were purely breath taking. About one and a half hours after crossing the river, two paths divulge- one towards Bakarthach and the other one to Lohali. It is best to take a local guide to avoid getting lost in the dense forests. We camped in Lohali which was next to a majestic glacier and surrounded by snow clad mountains from all four corners. There was stream besides the campsite which served as a great and beautiful water source. After this day's trail, we had come up to approximately 10,000 feet, which is undoubtedly high for city folks.
After the sunset, one could see the night sky adorned with thousands of stars which is a long gone sight in cities. As the sun goes down, so does the temperature and therefore it is advisable to layer up (a minimum of 3 layers depending upon one's threshold to chills). We camped in -2 degree Celsius and had ourselves heavily layered up - head to toe. The night was peaceful and we had a good eight hours sleep to prep ourself for next day's challenge.
Fun fact: We pitched our tents ourselves which was a fun learning experience.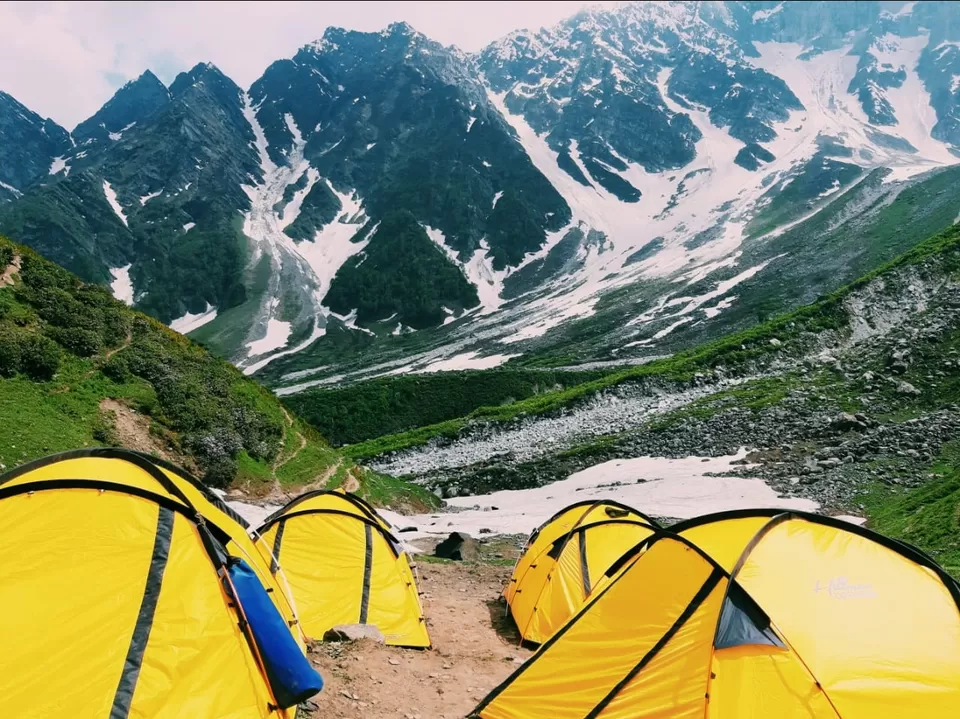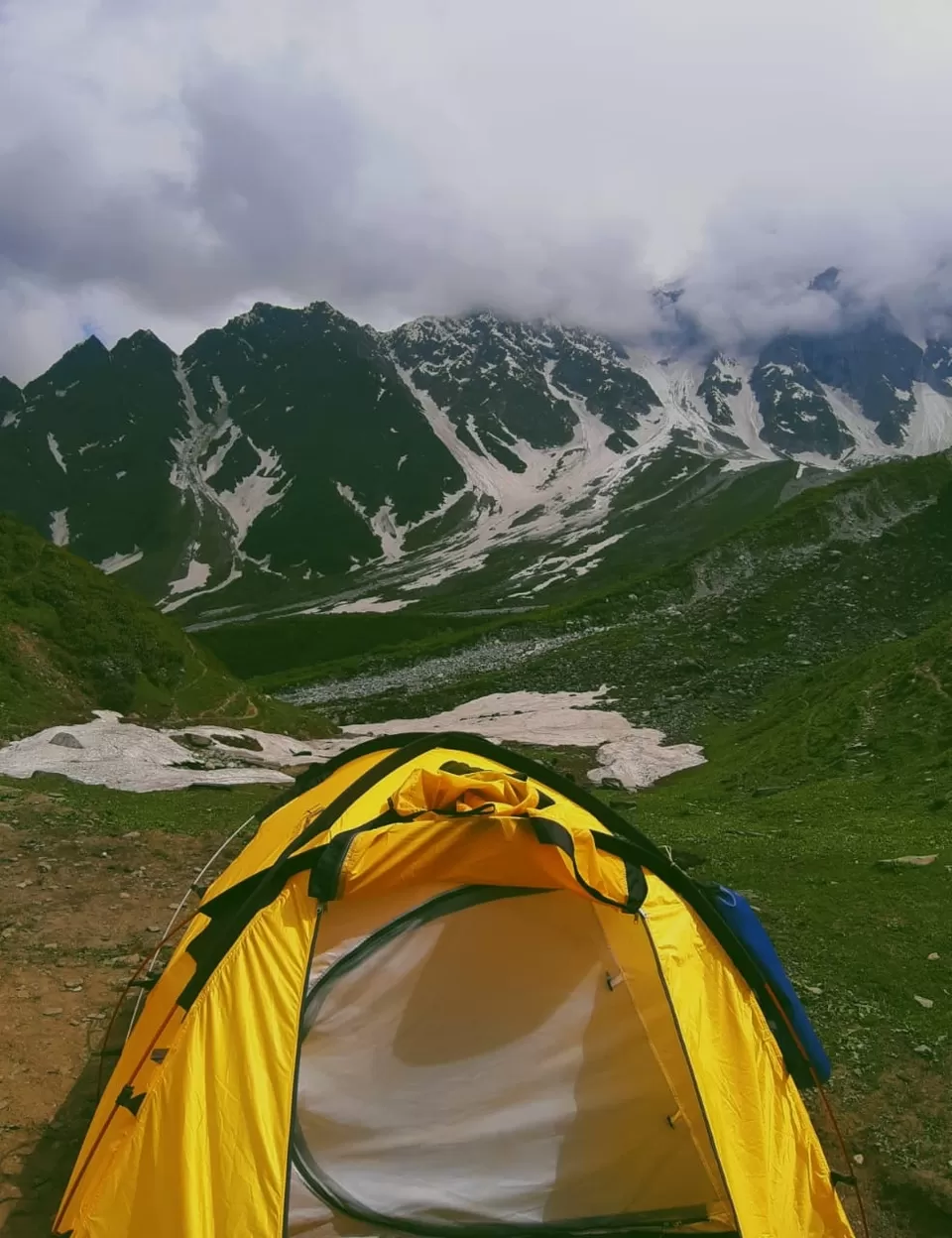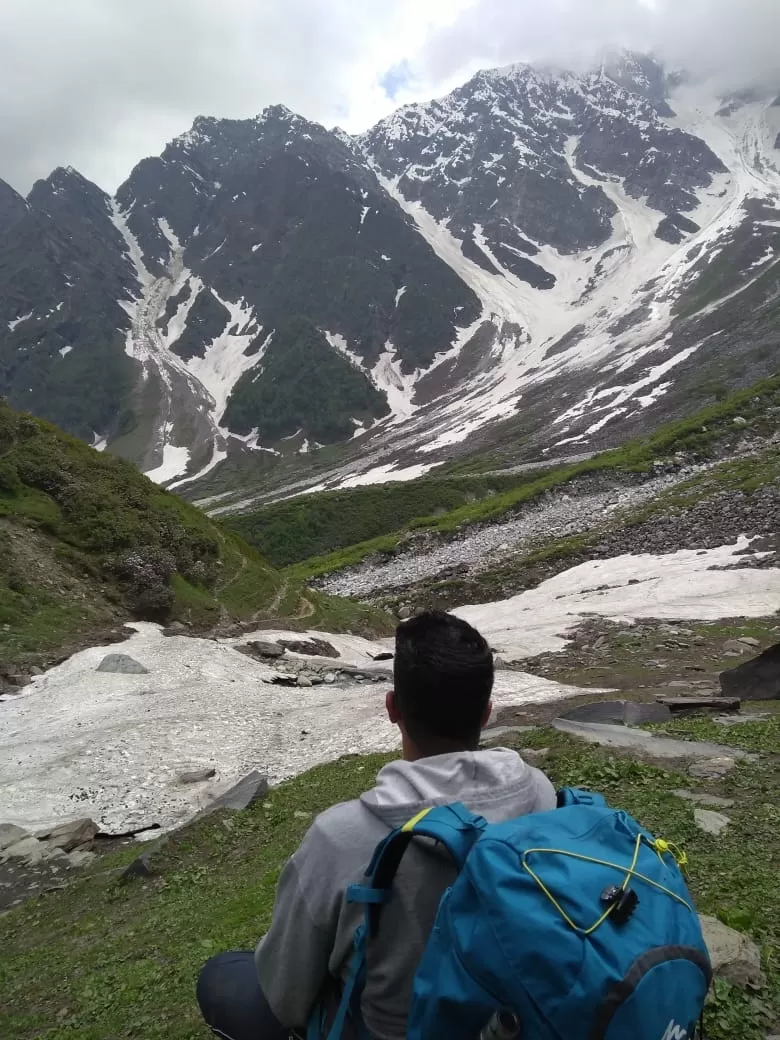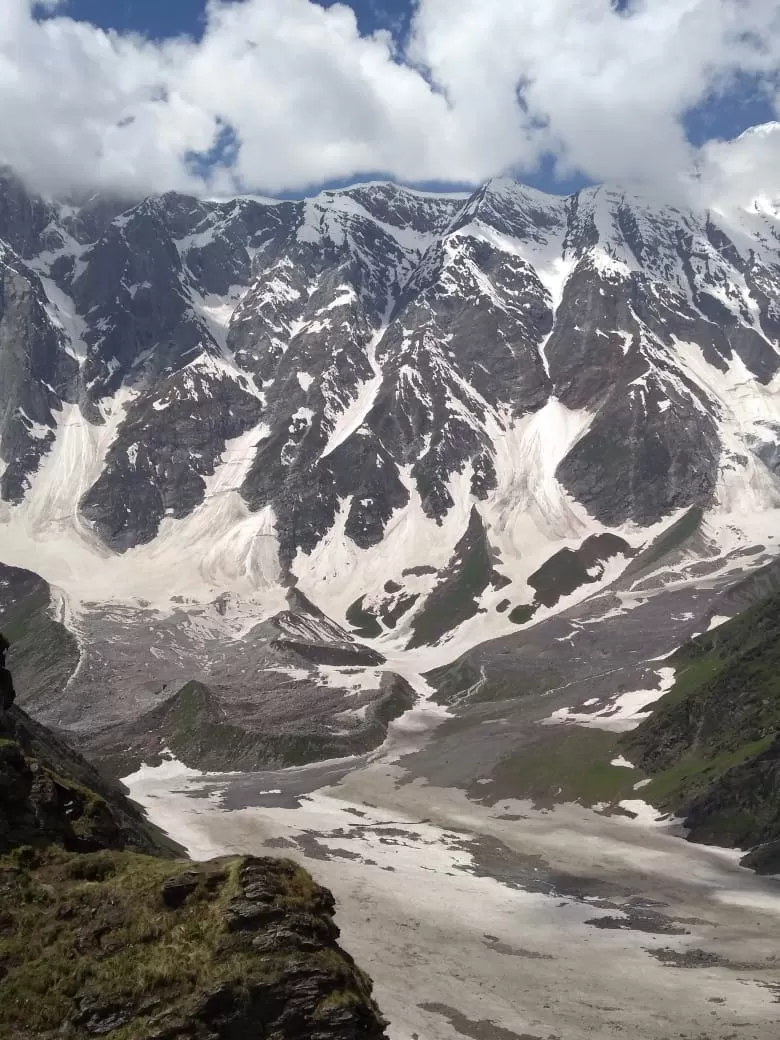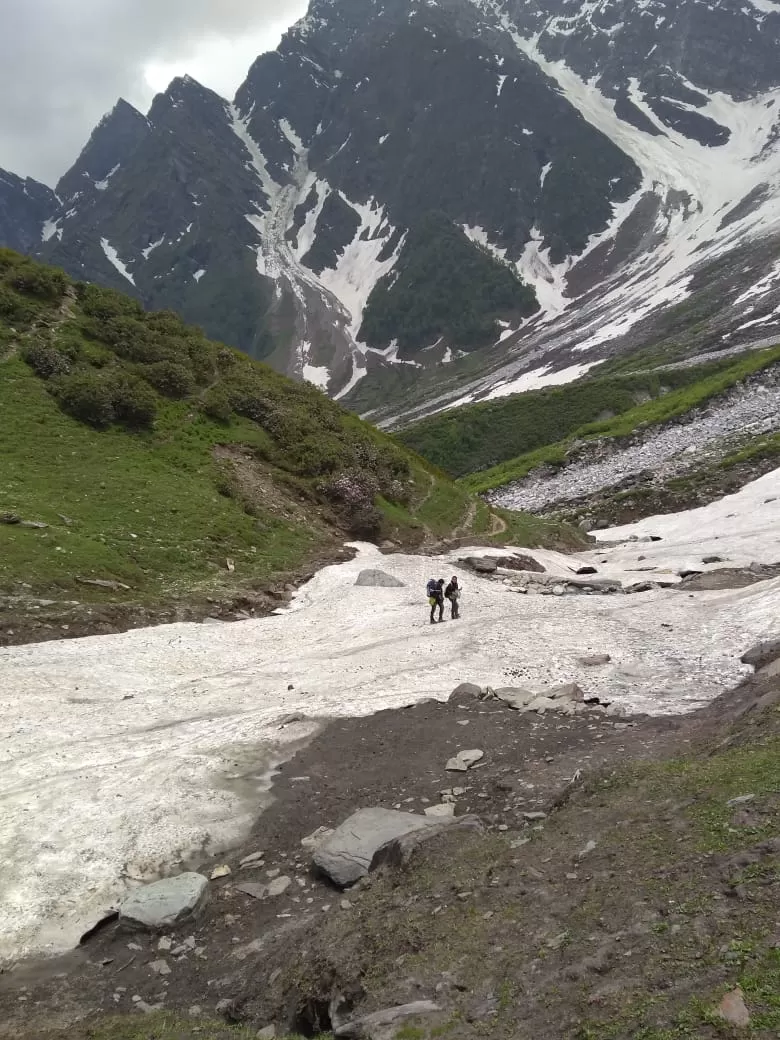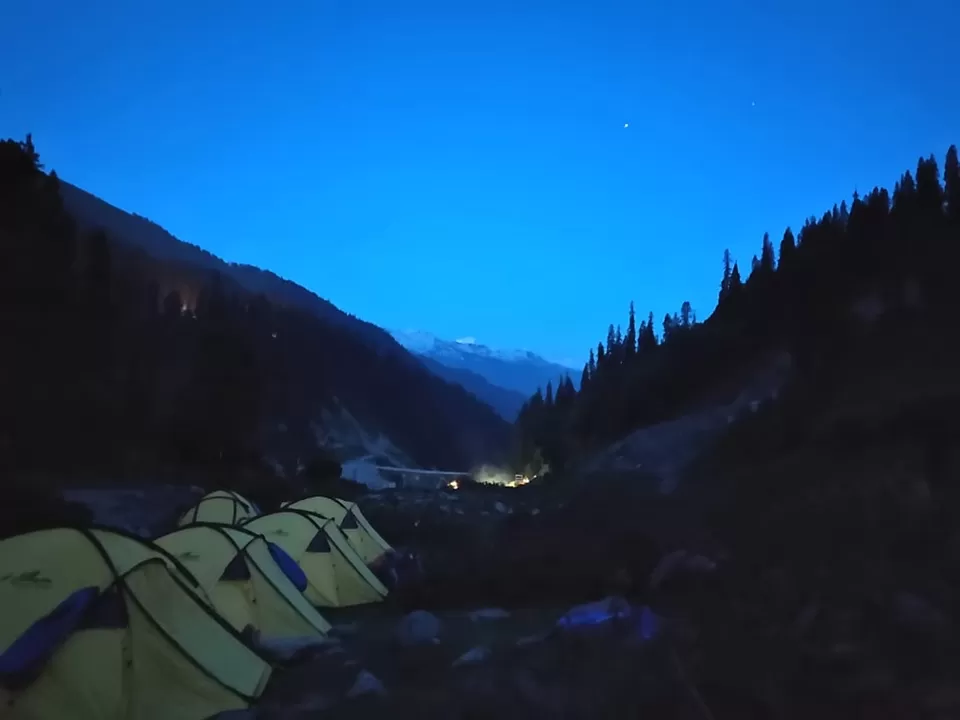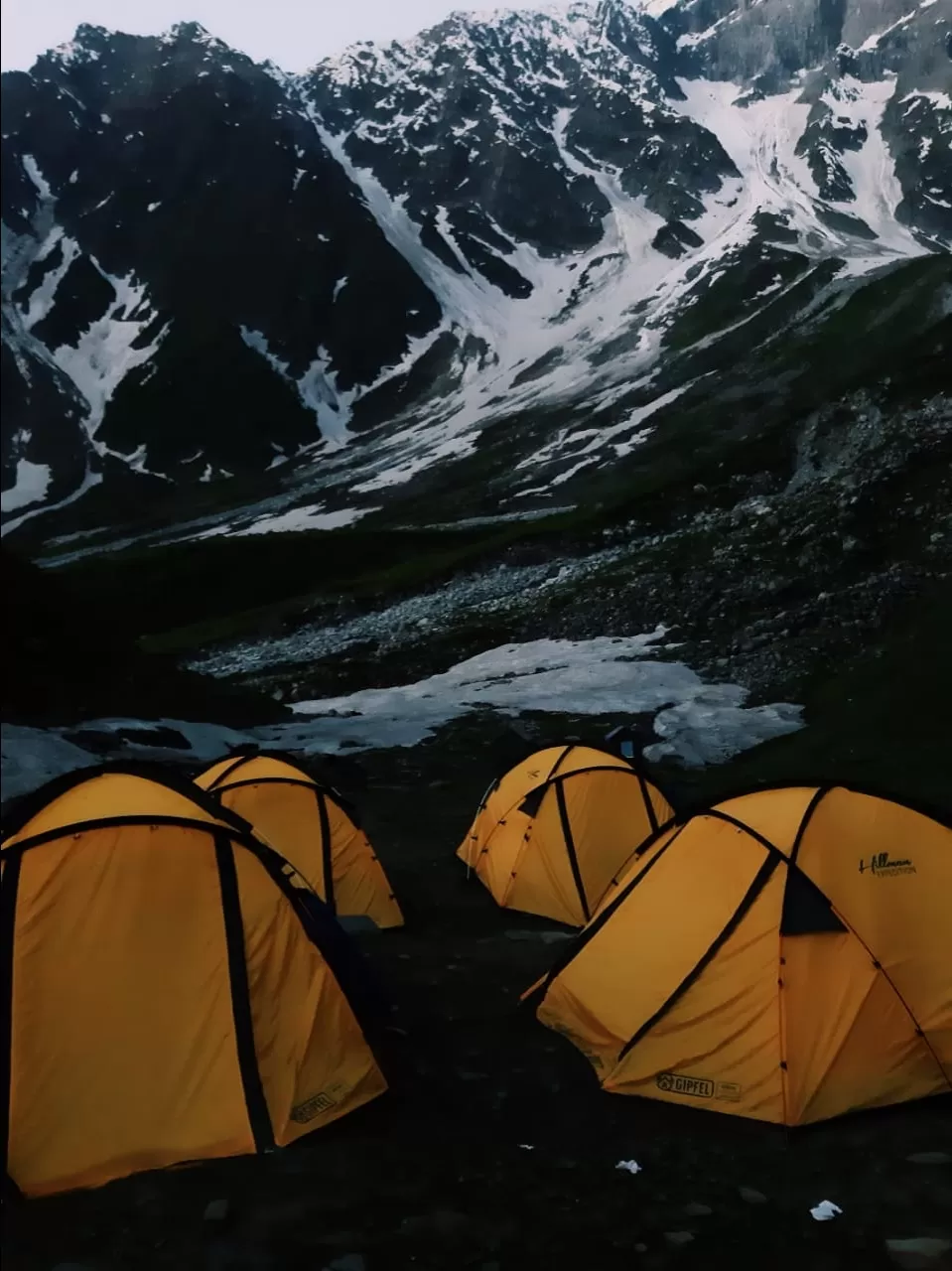 We were up by 5:00 AM and started early as we had to trek to a height of 2,000 feet and then come down again to our camp site at Lohali. Alas! today was the day we would reach the summit and see the kund which is believed to be a holy sight where Rishi Vyas used to take baths.
The trail was an extremely steep ascent yet views so magnificent that one could hardly think or complain about the fatigue. The trail was awe-inspiring with snow clad peaks throughout the trek. Since, to our luck, the weather was clear so we had a glorious view of Pir Panjal Range and Dhauladhar Range. As we trekked towards the summit, we were welcomed by Hanuman Tibba, Shitidhar, Ladakhi and Friendship Peaks which were spectacular.
We reached the summit in 2 and a half hours; which is indeed triumphant as our trek leader assumed we would take a minimum of 4 hours. We had an amazing and beyond imagination enthusiastic group. There is no beautiful feeling than a group of strangers with different interests going on together, as a team, to witness the nature in its finest. It was amazing!
We reached our summit which was a ridge line above the Beas Kund as it is not possible to trek to the banks of the lake. After enjoying a heartful time at the summit and clicking ton loads of pictures we started back with the steep descent which was waiting for us. We trekked down to Lady Leg which had frozen pile of snowfall and our super fun trek leaders made us slide through the snow. With our hands, legs and bums frozen, it was an amusing experience and our laughter knew no bounds.
From here, we trekked down through the valley with purple, blue and yellow flowers adorning the trails and reached our campsite by 1:oo PM. Starving badly, we were served with hot Rajma Chawal which is exactly the sort of thing we needed. Post this we had a leisure day at our campsite and played various games (advantage of having no network connectivity). It reminded me of the simpler times!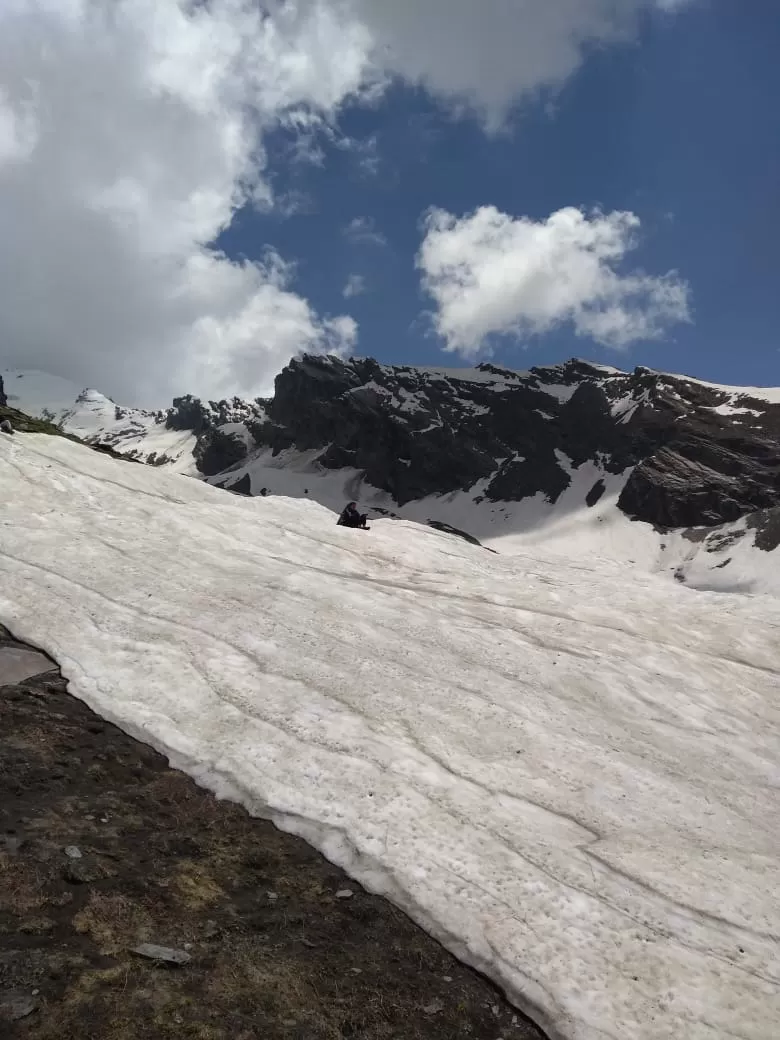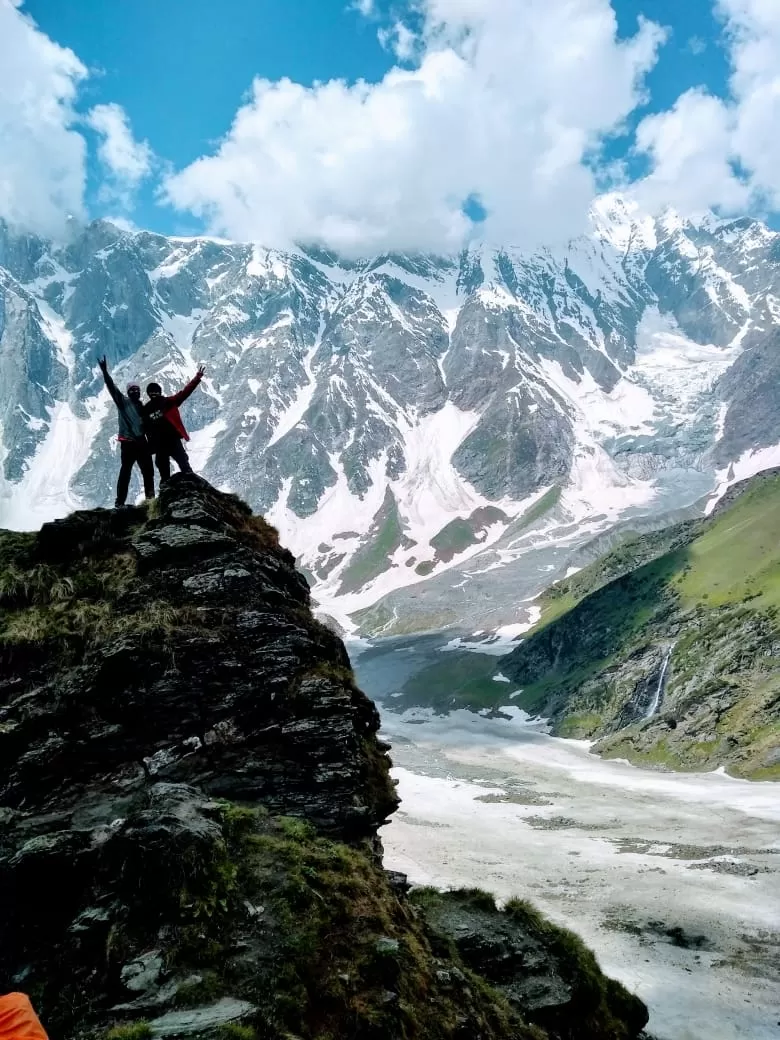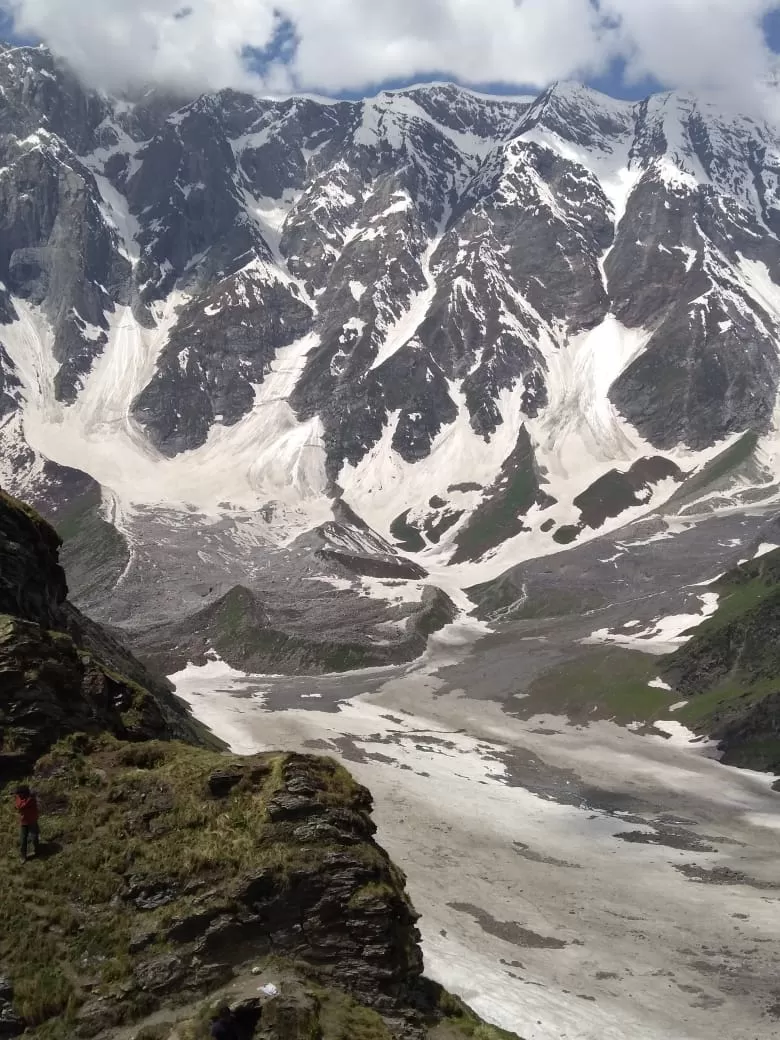 Today was the easiest and sadly the last day of our trek. The idea of joining back the city life was appalling. After unpitching our tents and refilling our water bottles (again, indispensable!), we started our downward journey which was a combination of moderate and steep descent. We trekked down almost 10 km covering the same route from which we climbed up. The trail was filled with forest cover, grasslands and we crossed rivers to make our way to Solang Valley. It took around 5 to 6 hours after taking leisure, photography and lunch breaks. We had carried packed lunches with us from the campsite as there is no other source of food till you reach Solang.
A word of caution - cover up ourselves and wear sunglasses and sun caps otherwise the burns mountain sun gives you will tell their tales for weeks to come.
Dos:
Carry two liters of water
Cover up from sun
Layer up against cold
Pick up the trash you find on trails and dispose off in cities
Carry your trash back
Enjoy the serenity of mountains
Don'ts:
Don't litter
Don't use plastic and non bio-degradables
Strict no to Wet Wipes
Do not mess with the mountains
Things to carry:
Suncap
Sunglasses
Trekking pants
Tshirts
Trekking shoes
Trekking pole(the terrain is tricky)
Warm cap
Gloves
Socks
Bagpack (which should serve as a day pack during the trek)
Raincoat/ponchu (if on a monsoon trek)
Minimum 3 layers of warm clothes
Toilet paper
Torches (as there is zero visibility after sunset)
Lunchbox and mug
2 water bottles
Dry ration (to eat during trails)
Sunscreen
Power bank
Tips:
Pitch your tent on a firm ground
Stay hydrated
Stay dry
If possible, offload your bags on mules to enjoy the majestic mountains
Carry a small bag for essentials (day pack)
Avoid putting in earphones during the trek
Do not underestimate trekking poles (they save a lot of energy)
Do take this trip if you are in love with mountains and need a break from city life. No phones, no network and in the middle of nowhere- it was the best time of my life!!!