A RANDOM THOUGHT TO HAPPINESS
In the Midst of March/April 2017 while exhausted in Mumbai heat and workload, I decided to travel Spiti - Lahul to escape the heat and explore the mountains.
II. HOW DID I REACH SPITI VALLEY (Himachal Pradesh)
Day1- On 14th May, 2017, I booked a flight from Mumbai to Delhi. Further boarded a HRTC bus from ISBT Delhi to Rampur (Himachal Pradesh) (10 hours journey). It was an overnight journey. After I reached Rampur at around 9 am board a local transport to Sarahan (Around 35 kms from Rampur). Since the Journey from Delhi to Sarahan was tiring and as it was necessary, I rested for a day (Day 1) in Sarahan at the bank of Sutlej River at a height of 6900 feet above sea level for acclimatization. Necessary for people from Mumbai.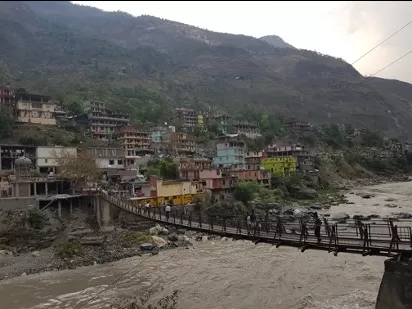 Here Starts the Journey
Day 2. Start from Sarahan to village Chitkul, Kinnaur (Indo Tibet border) at the height of 11,320 feet. It is around 22 Kms (1 hour Journey). It is the first village of Baspa Valley (situated at the banks of Baspa River). Chitkul village is also known for Cleanest Air in India. There are good home stays and small lodging in Chitkul Village. I stayed there in a home stay.
Things to do-
i. Leisure time at the bank of river Baspa. (If you carry tents you can stay at the river site)
ii. Mathi Temple
iii. Spend rest of the day wandering through the lanes of the village having houses with wooden plank roofs or slate.
iv. Interact with the villagers.
v. Visit village Rackcham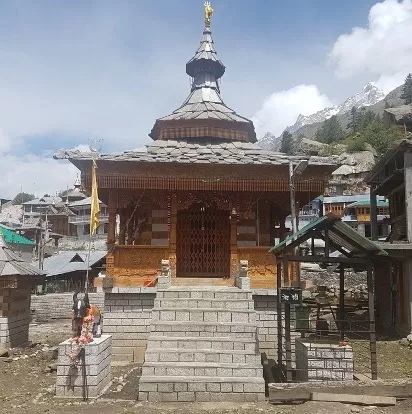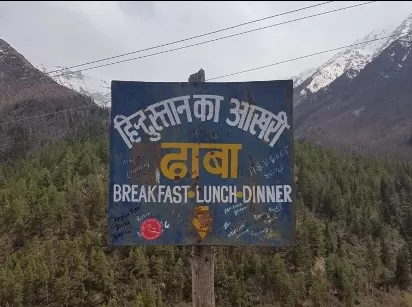 After carrying lot of memories in mighty mountains (Himalayas never cease to amaze with its beauty) I left for a tiny Village Nako ( 129 kms from Chiktul 5 hours drive). Leave early morning and reach Nako by 11 am. Check into guest house/home stay. After having a hot cup of tea leave for the village tour. It's a beautiful village lake and monastery.
Things to do-
i. Visit village monastery which is at the top of a mountain.
ii. Visit the lake.
iii. Spend time walking through the village & interact with locals.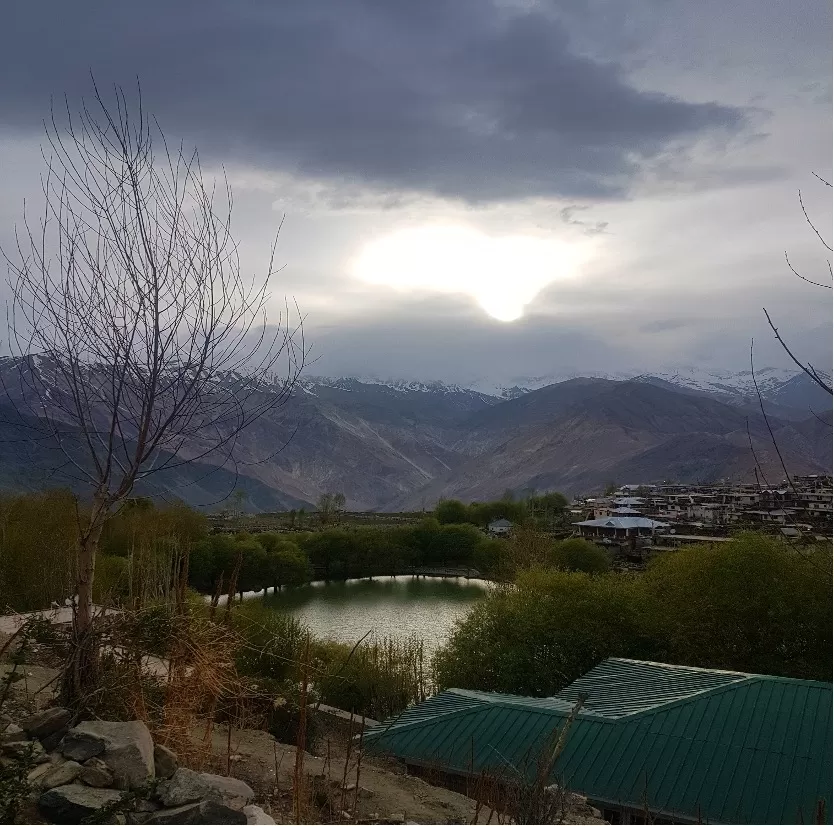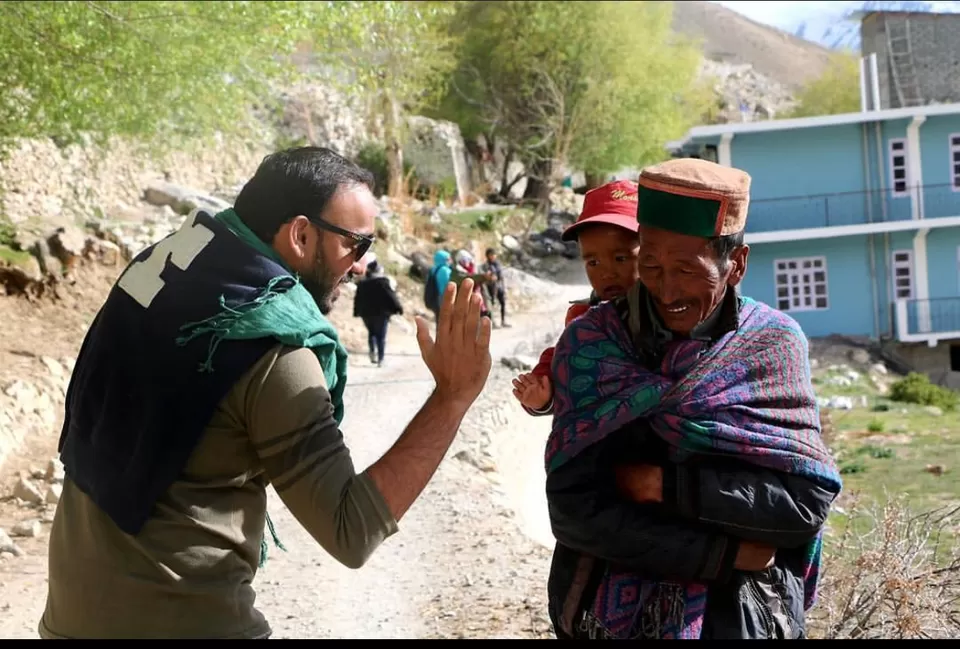 Early morning leave from Nako to village Tabo. Enroute Geu. Geu, a place where you get to see a naturally preserved dead body (Mummy), completely dried up and the eyes, teeth and hair on its head still intact. Gue is on the Indo-Tibet border.
After visiting Gue, 550 years old mummy we moved towards Tabo. On the same day at around 4 pm we reached Tabo. Tabo is a small town situated on the bank of Spiti River. We stayed in the Tabo Monastery Guest House. Tabo Monastery an ancient monastery in the Country built in 996 A.D. more than 1000 years old. We spent evening at Monastery . Next day early morning we visited the Monastery.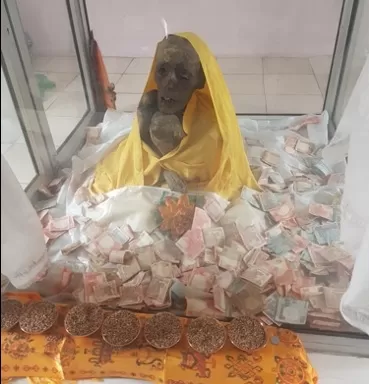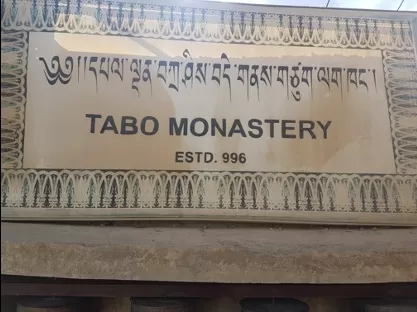 After visiting the Tabo Monastery we started for Dhankar Village (32kms). Journey from Tabo to Dhankar (at the altitude of 12,774 feet) was mesmerizing. 32 Kms of Journey was the most beautiful road journey I have ever travelled. It was journey through the Cold Desert.Once you reach Dhankar, take rest, have food and leave for a small hike at around 2.30pm - 3 pm towards Dhankar lake. It's a small hike of 2 hours from the village Dhankar to the lake. After we reached the lake I felt like it heaven on earth. We did nothing at the lake juwst sat at the bank of the lake for around 1 hour. It is a high altitude lake at around 14,140 feet above sea level. It is considered as Zero Waste village and also a Holy Lake. At the bank of lake we stacked 7 stones on top of each other to make a wish, it is also said by the locals that it brings good luck to the visitors/ travellers.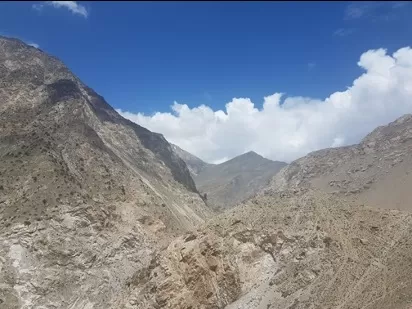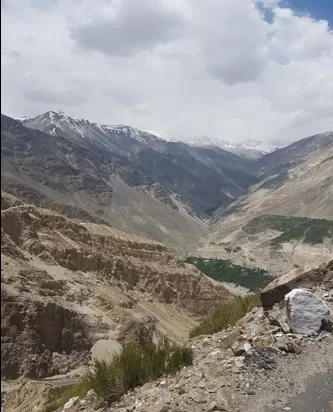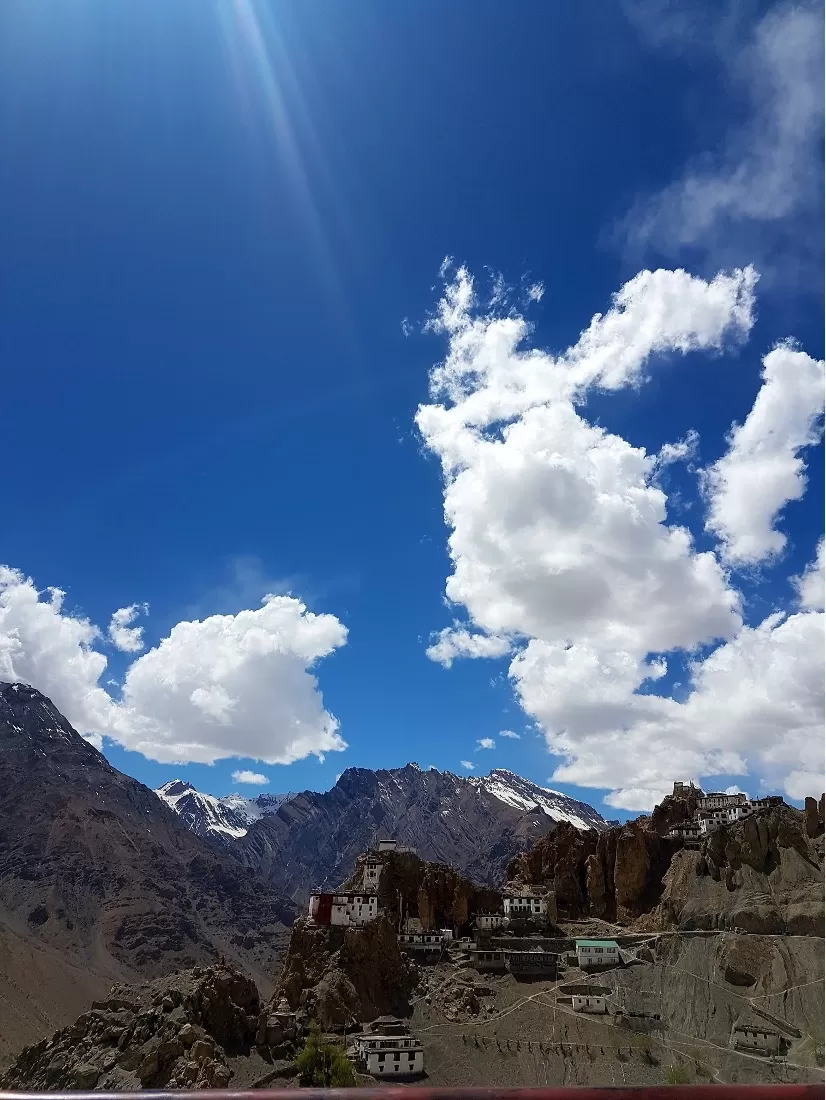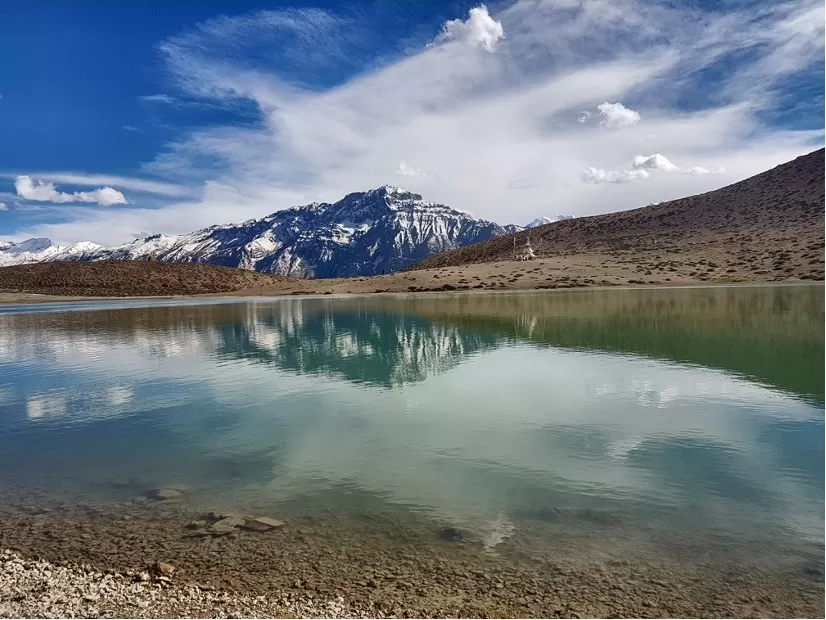 Next day we got up early and visited Dhankar Gompa Monastery. Its into the mountains. It is located on the cliff of the mountain. Its 16th Century old Fort Monastery. Dhankar was once a capital of Spiti, built stratigically at the high altitulde. Many travllers are attrrached to the place because of high altitulde Monastery and the Lake. We spent a day well roaming aroud the magical streets of the village returned back to the guest spend night under the stars.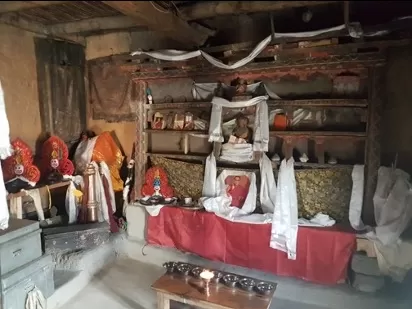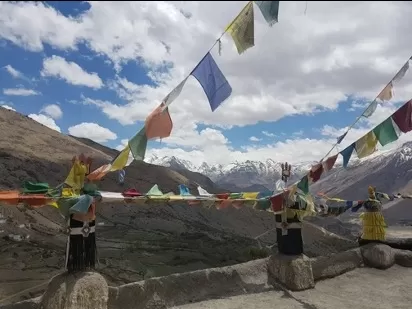 Next day early morning after having hot cup of tea and breakfast we left for one of the remotest village Demul at an altitude of 14780 feet, 35 Kms from Dhankar. Demul is place where you see Pin Valley route of Pin Parvati trek. Do nothing in Demul, just click pictures, interact with the villagers, roam around. After a well spent day with the villagers we ended our day at demul.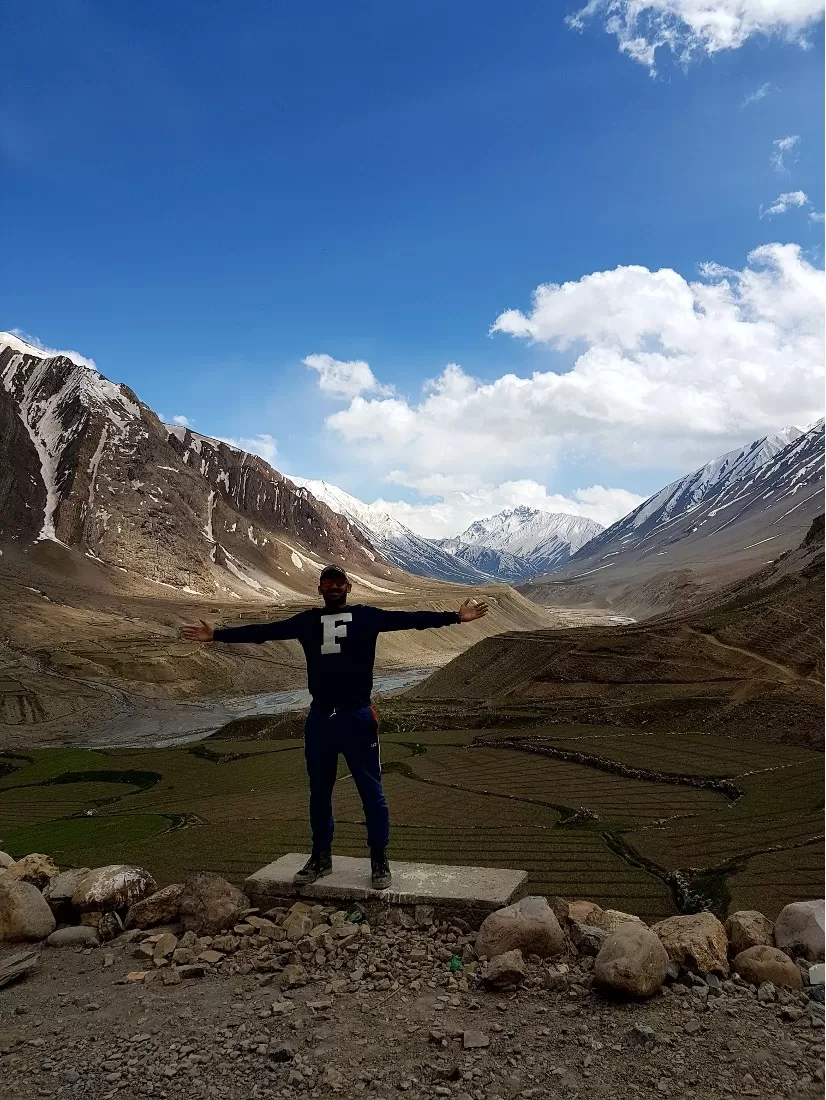 Post breakfast we left for Komic at a height of 14,500 feet, its 1-hour drive from Demul. Wander around the monastery. Komic has world's highest Post Office 14,567 feet. Write and post letters/postcards to the near and dear ones from Komic Post Office which bears stamp (highest Post Office in India). After posting, the Postmaster offered us a cup of hot tea. (There is nothing quite like hot tea on a cold day). After a cup of hot tea, I left for Lanzga a remote village at an altitude of 14500 feet or 4420 meters. People here live simple but hard lifestyle.
I reached Langza at 6 pm. Homestay is what you get at Langza. I stayed at Sonam Home stay. I was offered hot soup and Dal Rice for Dinner. are fossil hunting to a snow leopard sighting. After dinner I just went outside house for walk and thereafter I stay out beaming with millions of stars, something I had never witnessed.Langza was submerged under the ancient geological Tethys Ocean, more than 200 million years ago. It's really difficult to imagine that this cold desert could have been a huge ocean! You may find Marine fossils while wandering the village. This village has really playful kids. They play with you, take you for a walk, help you find fossils etc and what they expect in return is do Masti (Fun).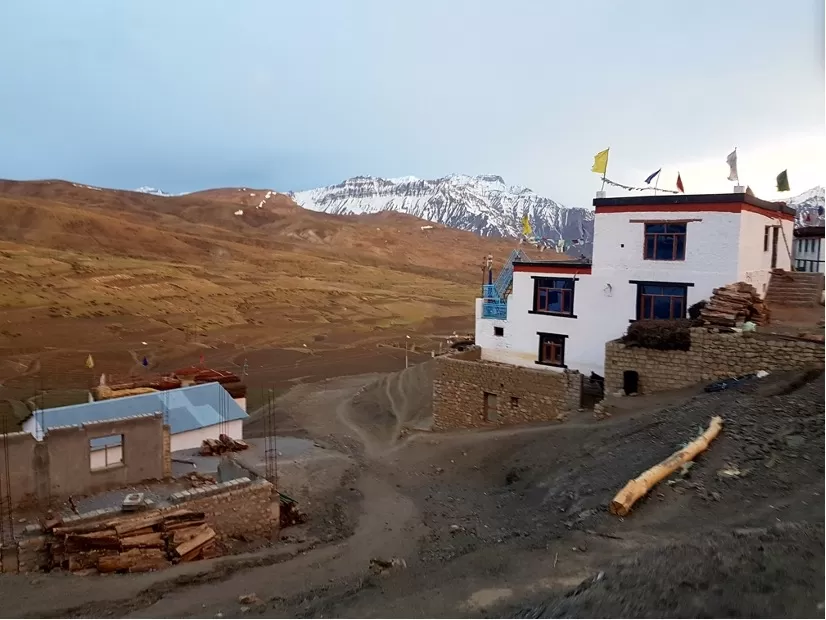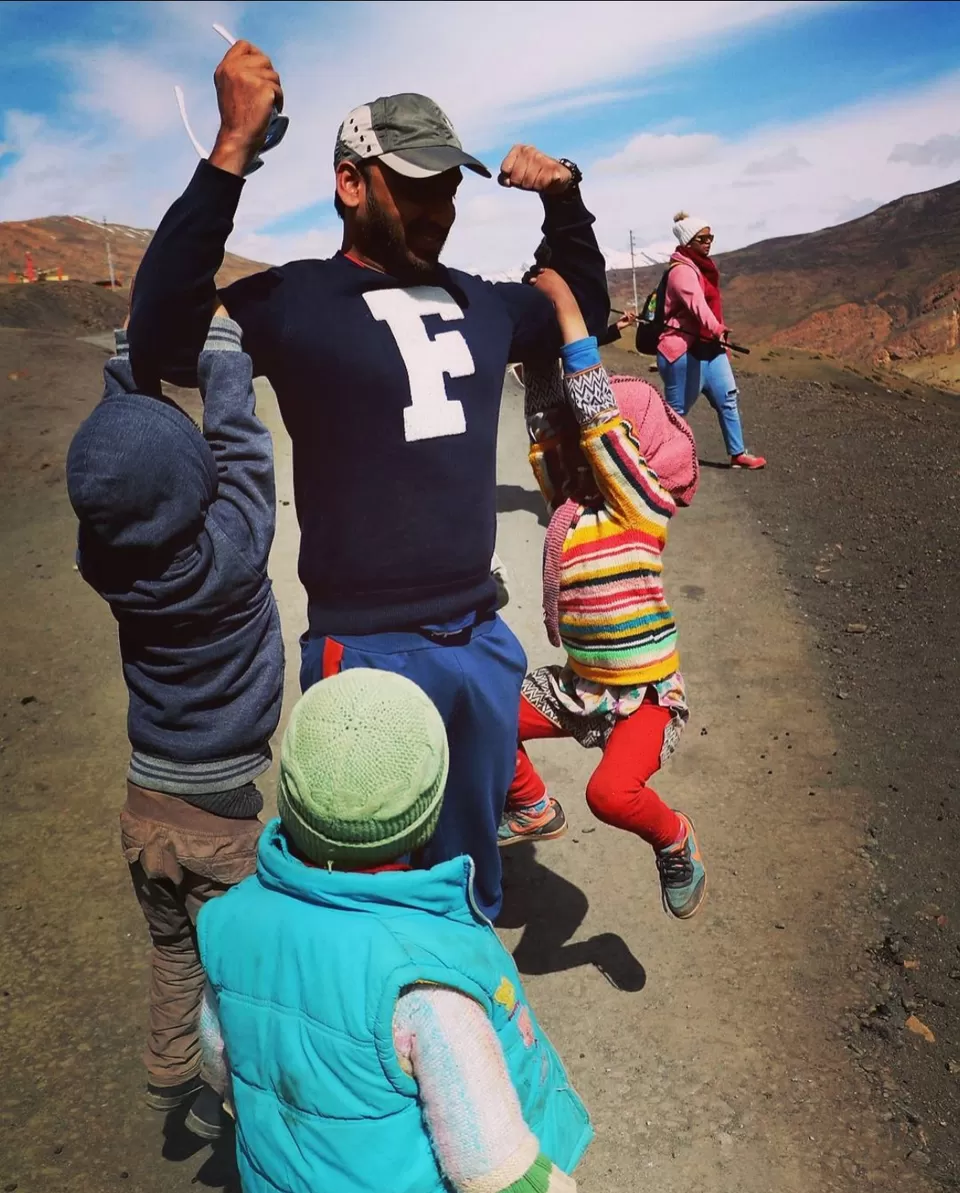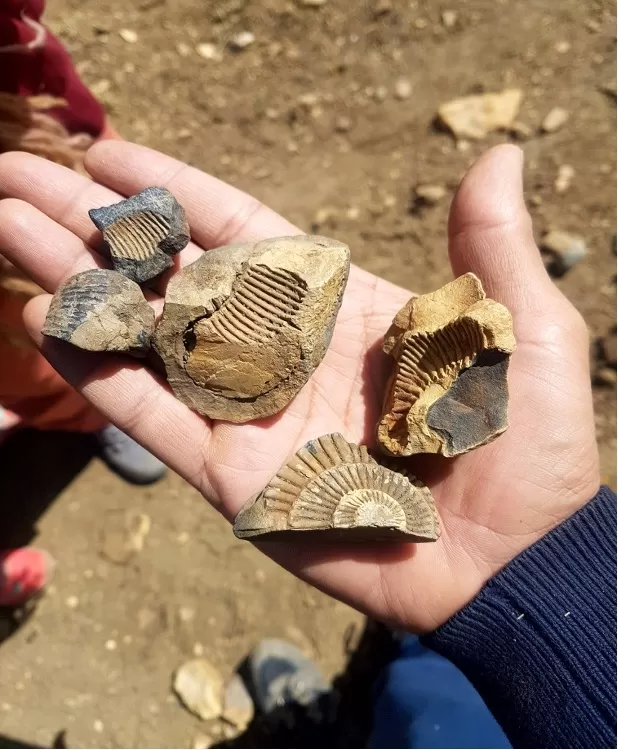 After breakfast, we left for uphill monastery Key Gompa (Kee Monastery). Key Gompa is the oldest and the biggest Monastery in the lahual and Spiti district and it is also a religious training center for lamas. Monastery is home to around 300-400 lamas who receive their religious education here.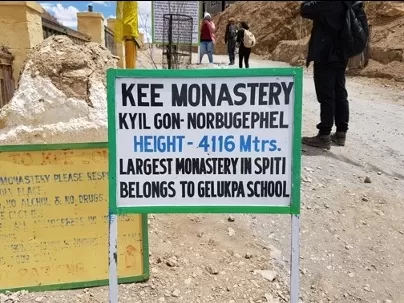 Next day morning I left from Kaza and reached Delhi via Rampur. Back to mumbai with lot of memories.