Journey Route :- Delhi --> Manali --> Jobra --> Chika --> Balu Ka Ghera --> Hampta Pass --> Shia Goru --> Chattru --> Chandratal --> Rohtang Pass --> Manali --> Delhi
Hampta Pass lies at an altitude of 4270 m (14009 ft) on the Pir Panjal range in the Himalayas. It is a small corridor between Lahaul and Kullu valley of Himanchal Pradesh. The terrain changes from a green paradise to a rocky cold desert in just a few meters across the pass.
In local folklore, the pass is also believed to be on way to the road to heaven, as it was the route taken by the Pandav King Yudhishthira on his accent to heaven. The Hamta Pass is also named after the Rishi that meditated there named Hamta Maharishi. So here goes our trip.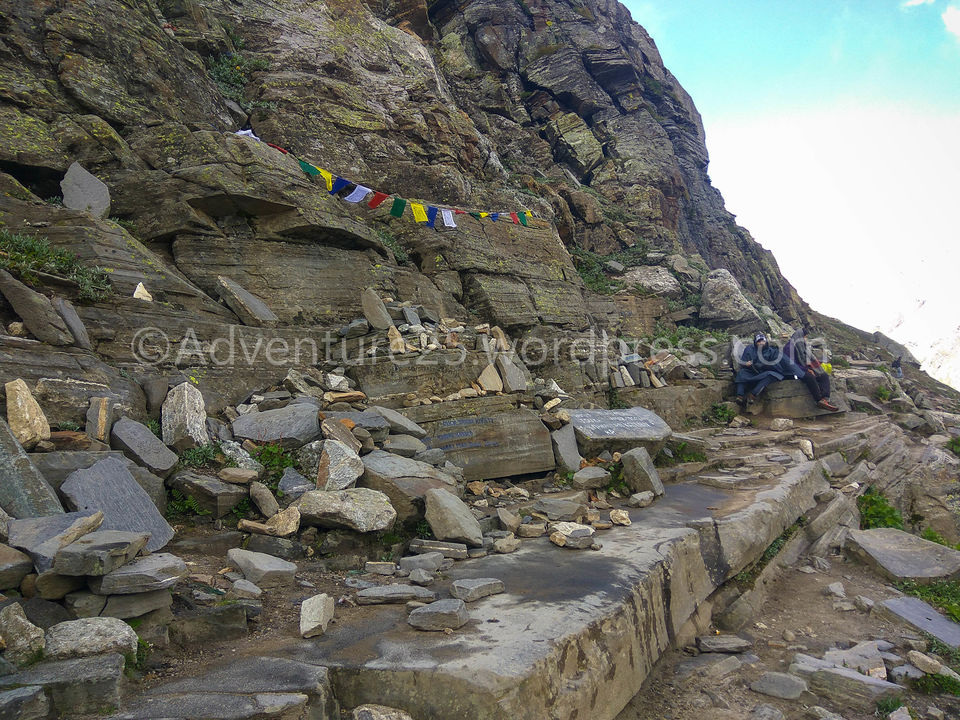 Day 1 (12/08/2016) – We (I and my husband) boarded the bus from RK Ashram, Delhi. The bus started very late around 11PM. The bus took many halts on the way and was way behind scheduled arrival. The 12 hr hour journey finally culminated in 18 hrs.
Day 2 (13/08/2016) – We reached Manali (New Manali, Mall Road) at 3PM. As we have no trek preparation beforehand, so we started looking to make the arrangements for our trip from Manali. Our first inclination was to do the trek alone so upon arrival,we made inquiries with many local trek and tour organiser. But their quotation were too high as unlike in a group, all costs would need to be spread only for two people. Even after a few quick inquiries/phonecalls, we still couldn't find anything. We were very tired and hungry. We thought to first take a quick bite in restaurant "Chopstick". This was on the Mall Road but Food and ambience both were not good. My husband made some calls for trek arrangement and thankfully we came to know that a group of 20 is leaving for Hampta on 14th Aug. After that, we headed for old Manali. It is slightly uphill and the Auto Rikshaw took 60 INR from mall road to old Manali.
Old Manali is a much better place than Mall road. Here you will find many foreign tourist, some of the best restaurants in international cuisines and cheap hotels . Fortunately we found #Renok_Adventure office in old Manali and enquired for Hampta Pass trek, and found that a group was scheduled to leave next day. We made the booking for it and it costed us 8500+Service Tax per person.
After trek booking, we got a room for that night's stay and it was just behind Renok's office. It was a nice basic room for backpackers (500 per night). We put our bags and fresh n up and headed straight towards market.
Old Manali is a very cool and happening place. There were restaurant with live music. We ate dinner at an Israeli restaurant. The ambience was awesome . We were dining beside the Beas River and under an Apple Tree. What more you could ask for. It was such a fine dine experience which can't be expressed in words. Due to monsoon, Beas river was gushing exuberantly with elixir of life. Though we ate Indian Cuisine at an Israeli Restaurant but the food was awesome.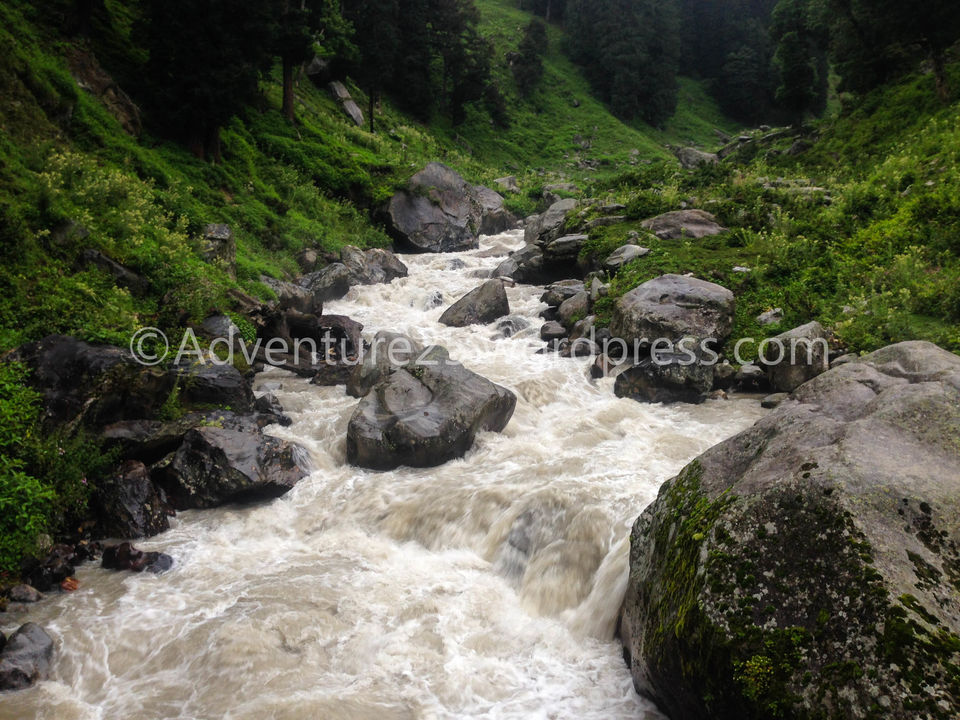 Day 3 (14/08/2016) – We woke up early. Our trek was scheduled to start from 12noon so before that we decided to visit Jogini Water Fall and Sulphur Hot water spring in Vashisht village. This village is 6KM away from Manali. Auto Rikshaw took 150 INR from old Manali to Vashisht. The Auto drops right outside the temple premises.
At one corner there's a German bakery and at the next turn there are traditional village houses with cows.
From the temple, trek to Jogini Water Fall is about 1 hr. The trek starts from behind the temple. The journey is very picturesque. We walked through forest and apple orchids. We also picked some apples from the orchid. Finally, we reached the Water Fall and were captivated by the beauty this waterfall. This waterfall is so enchanting , that it will enthral all your senses. After spending some time at the fall, we started descending.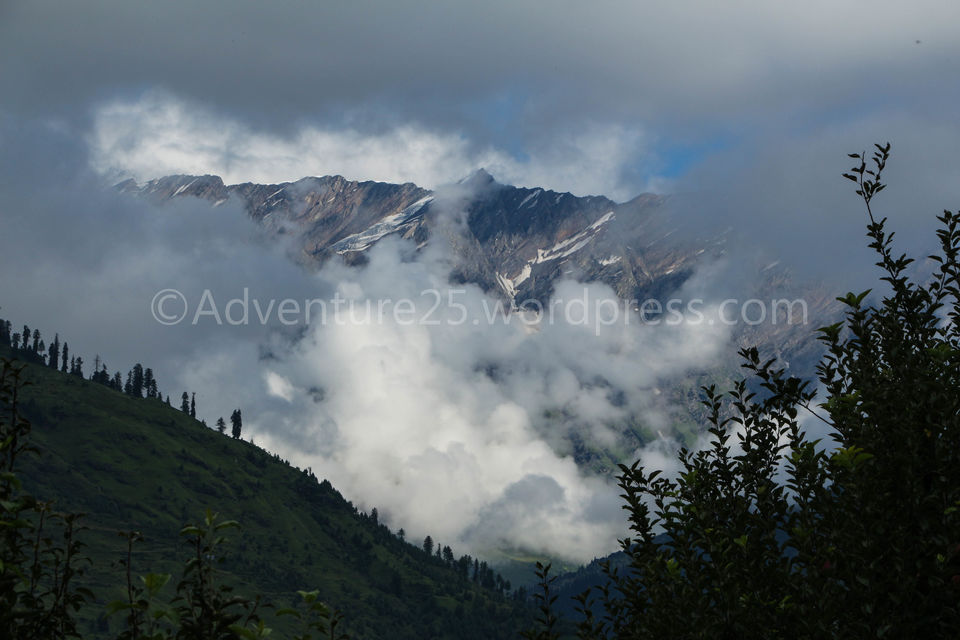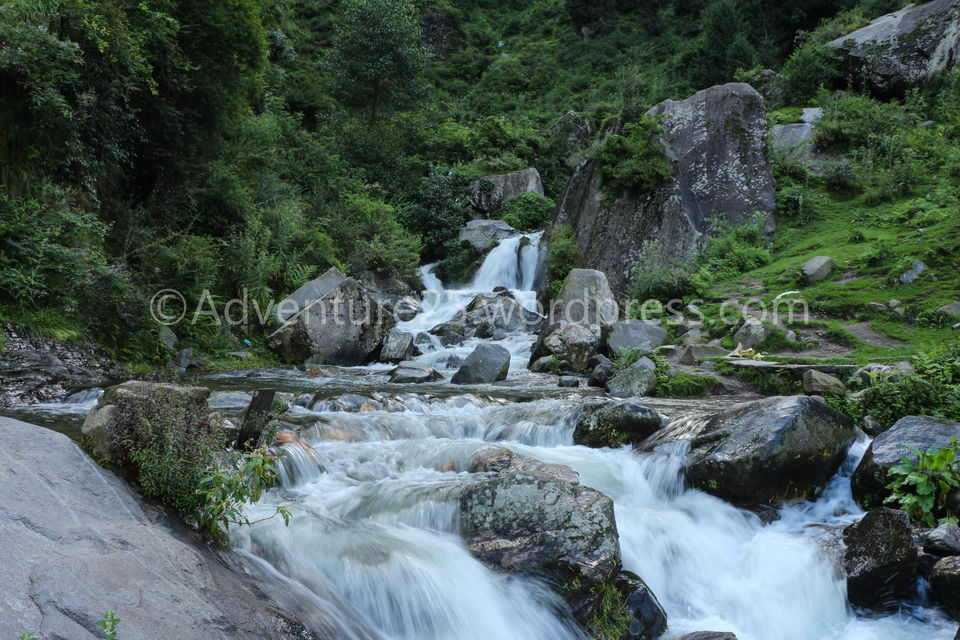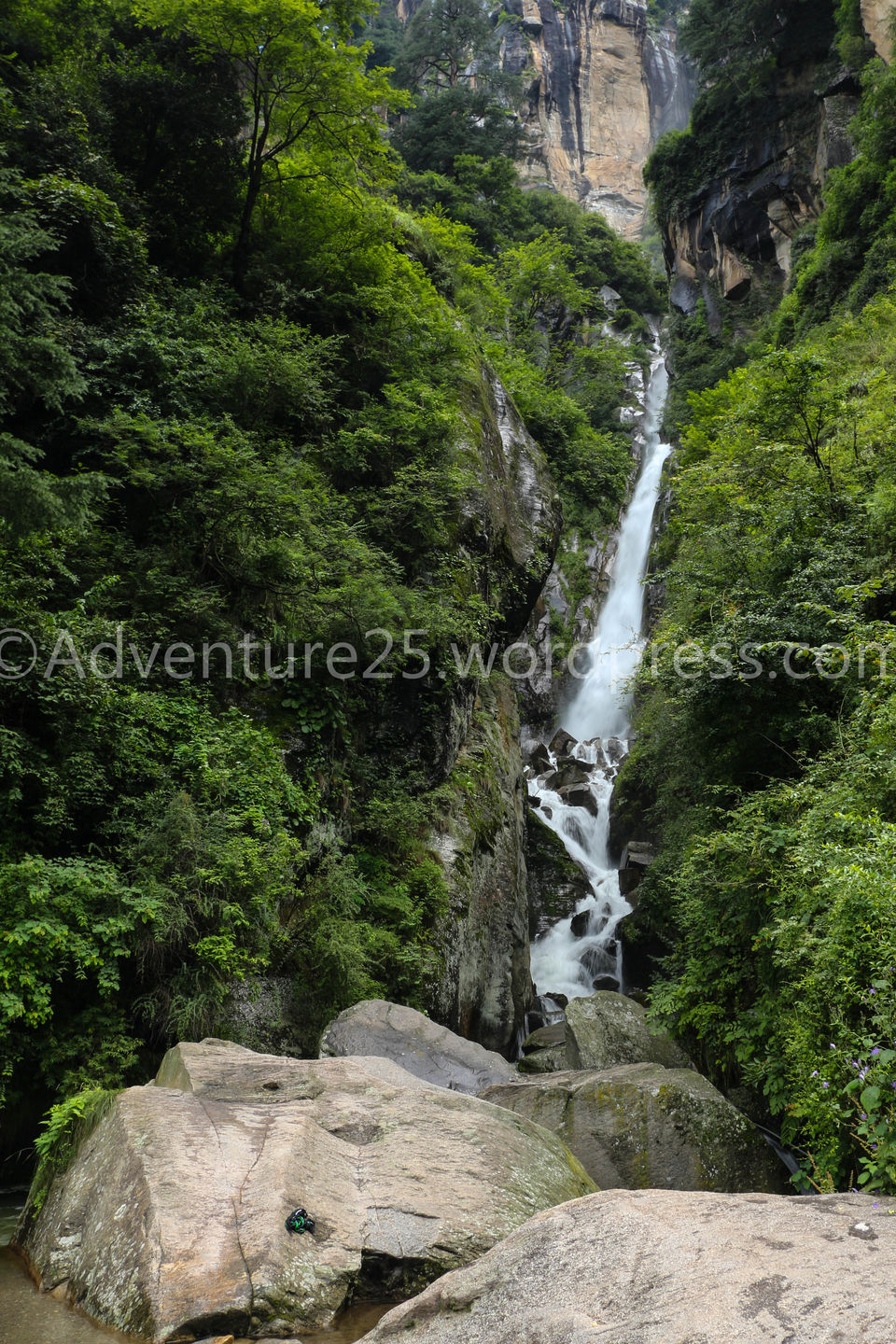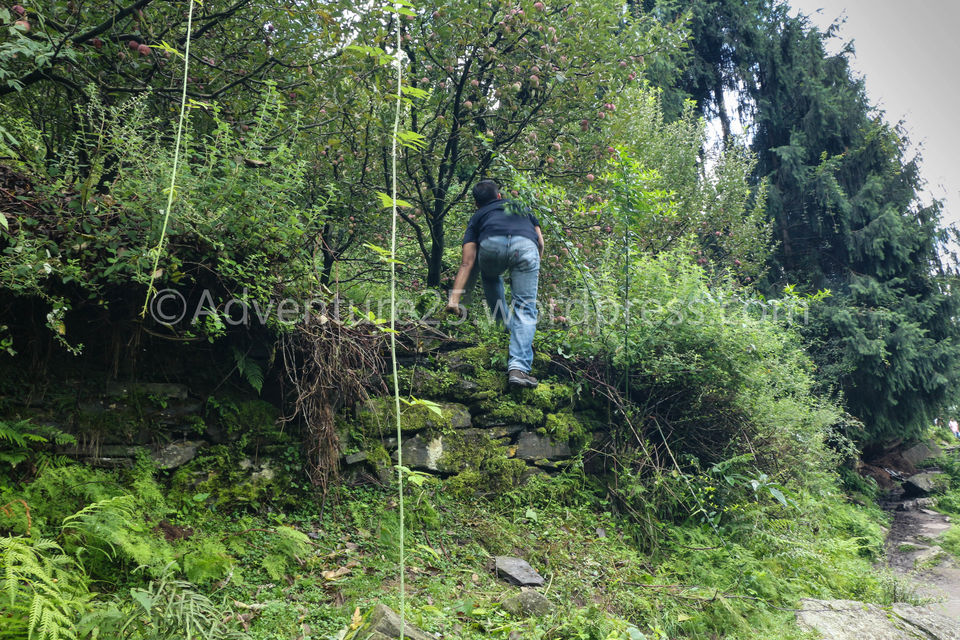 After that, we went to Vashishth temple. At first, we were not in a mood to take a dip in hot spring, but after soaking our hands and feet in water we decided to go inside. The hot water bath is very soothing and relaxing. It also has medicinal and therapeutic benefits for the skin.
After taking a dip , we went to mall road. We had breakfast at mall road- aaloo puri and chana bhatura. After two consecutive bad food experience, we felt that mall road restaurants are a totally waste of money and Old Manali has much better options.
As some busses arrived late from Delhi, few people were also late to arrive. Our trek start also got delayed by few hours. Finally the entire group assembled at the meeting point. There were two trek leaders Pinkoo and Abhishek, cooking staff, porters for carrying camping equipment and three tata sumos. We boarded one of them towards Jobra.
Its quite a steep climb up the hills in the car from Manali. The trek on foot initiates from Allain Guhugal Hydel Project junction, jobra.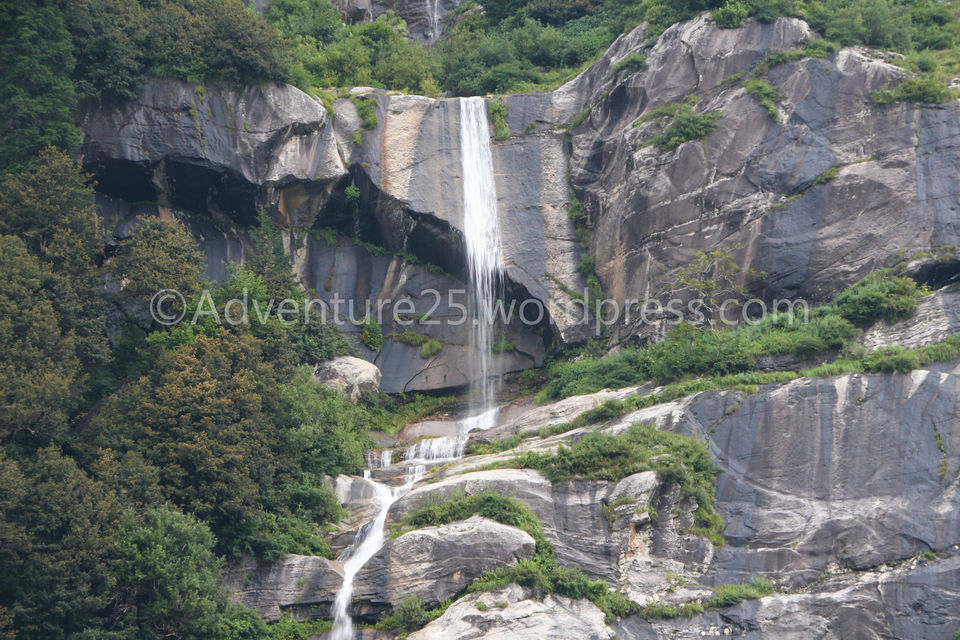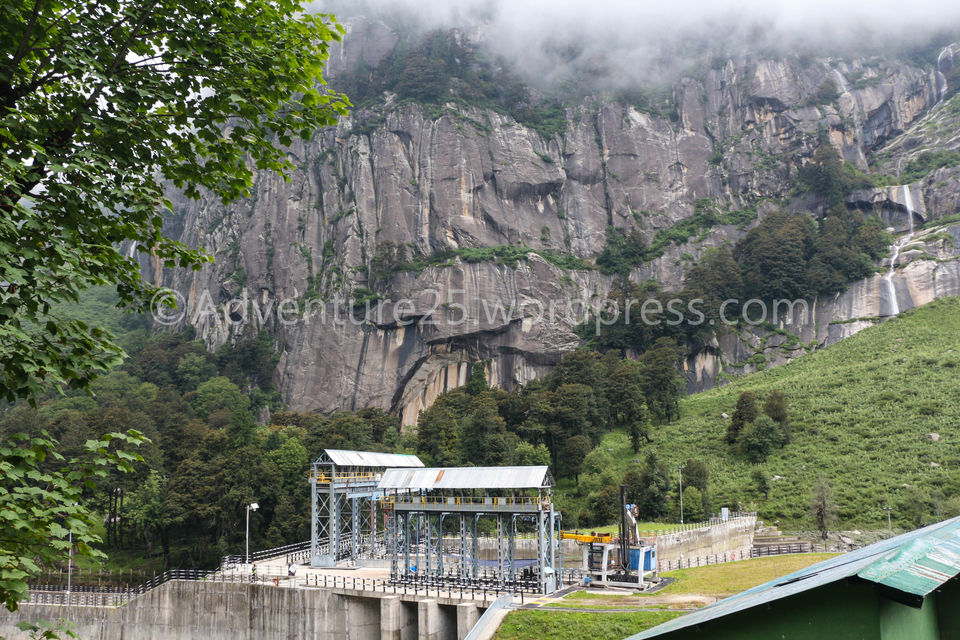 It began to rain as soon we began our journey on foot and was the welcoming part. The trek starts through a thick forest. In no time we were walking in heavy rain. This was my first experience of trekking in rain. I was feeling awesome. After walking for some time in the woods, we came across river beas . We criss-crossed many bridges, water falls and other small stream of water emanating from the mountains due to the monsoon season. The landscape was lush green. River beas was on roaring in full swing. The beauty of the valley was totally breathtaking. There were many small waterfall on our way.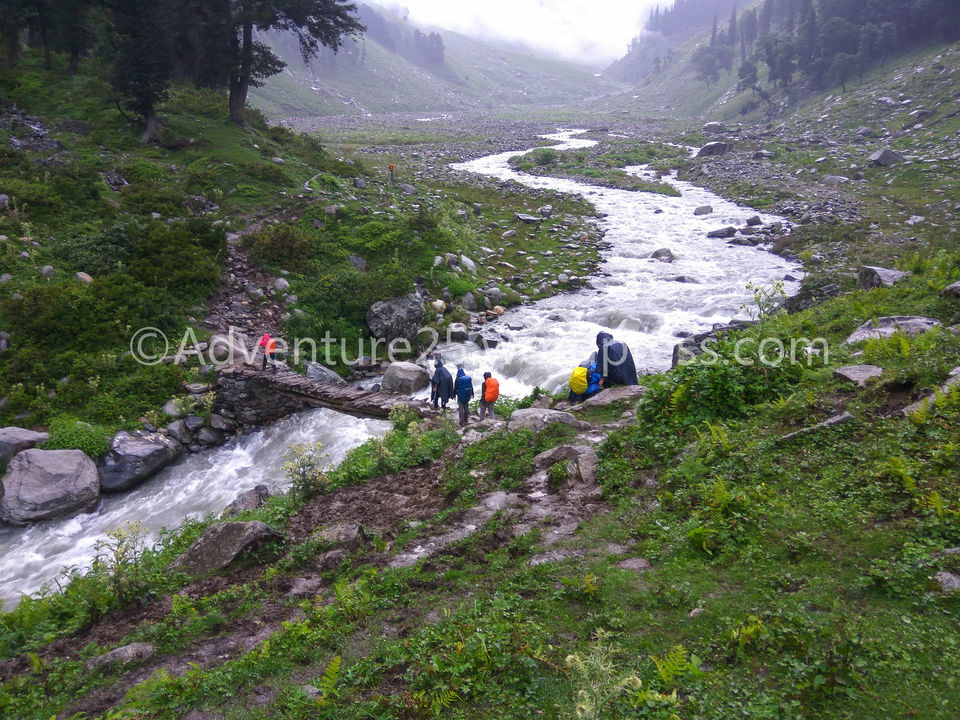 We reached Chika after two or three hours. By the time we reached, it was already dark. Everyone started fixing tents. We took one tent and sleeping bags.
The cooks started preparing dinner. We were called for soup. Chilled weather, and after walking for two hours in rain, if you were called for hot soup , it's like being offered the heaven. After having hot soup we went to tents and arranged our things. After some time we were again called for dinner. Dinner was awesome. We ate like pigs. After dinner, we retired for sleep. Rain started at night. The sound of rain droplets on the tent was like music.
Note: You will also find a dhaba just before reaching Chika, so that the place to arrange for food if you are planning to arrange an independent trek.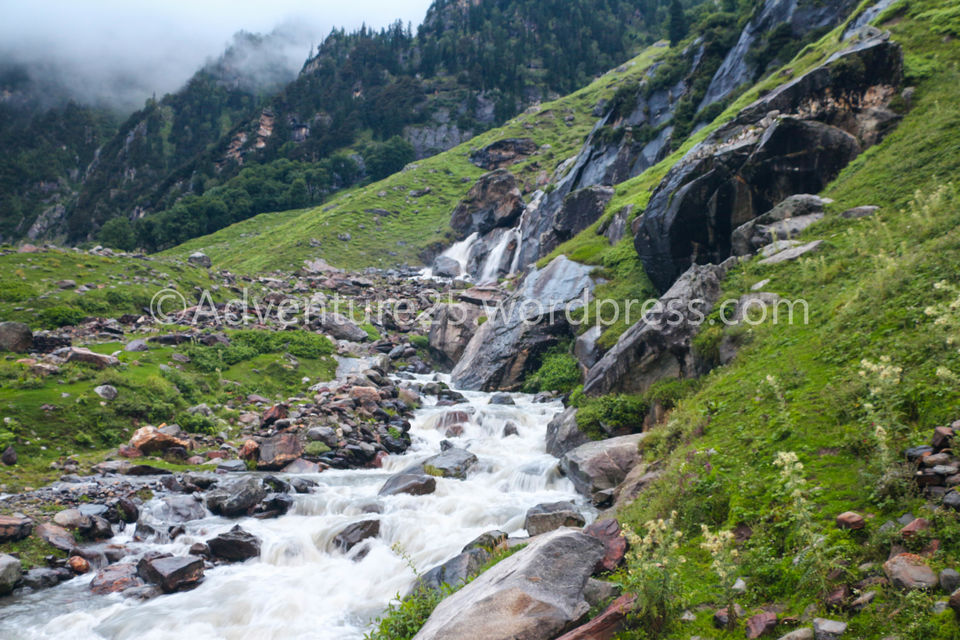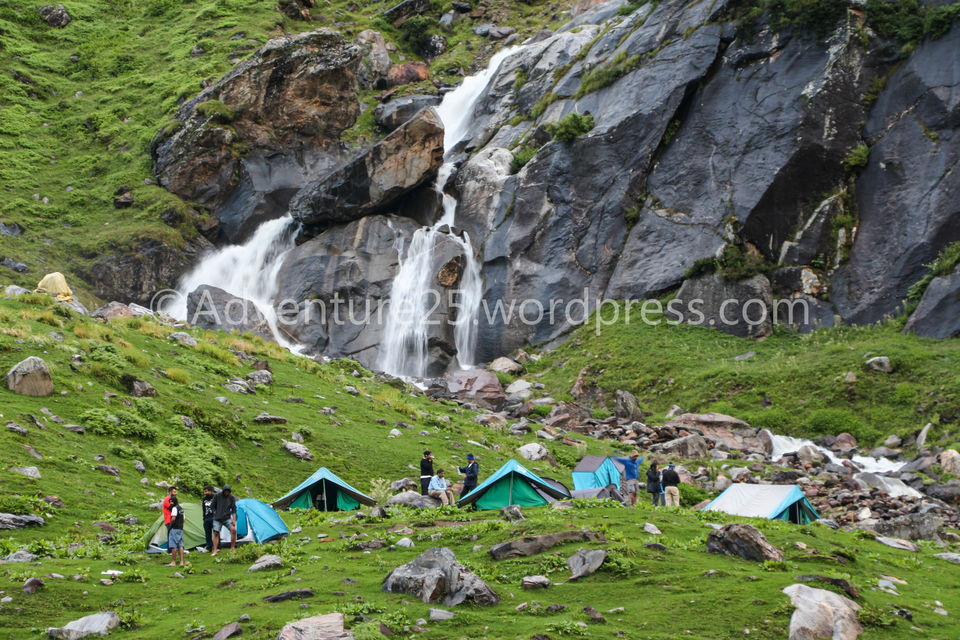 Day 4 (15/08/2016) – With my half closed eyes, I opened the chain of the tent. I walked out of my tent. The grass was wet. There was a big waterfall in front of me. I was taking dip in this mesmerising nature. The nature was nourishing me with its beauty and compassion. The river flowing in the middle made this place heaven. The river water was ultra cold. I soaked my hands in the river and they got numb. One can take "Ice Bucket Challenge" here.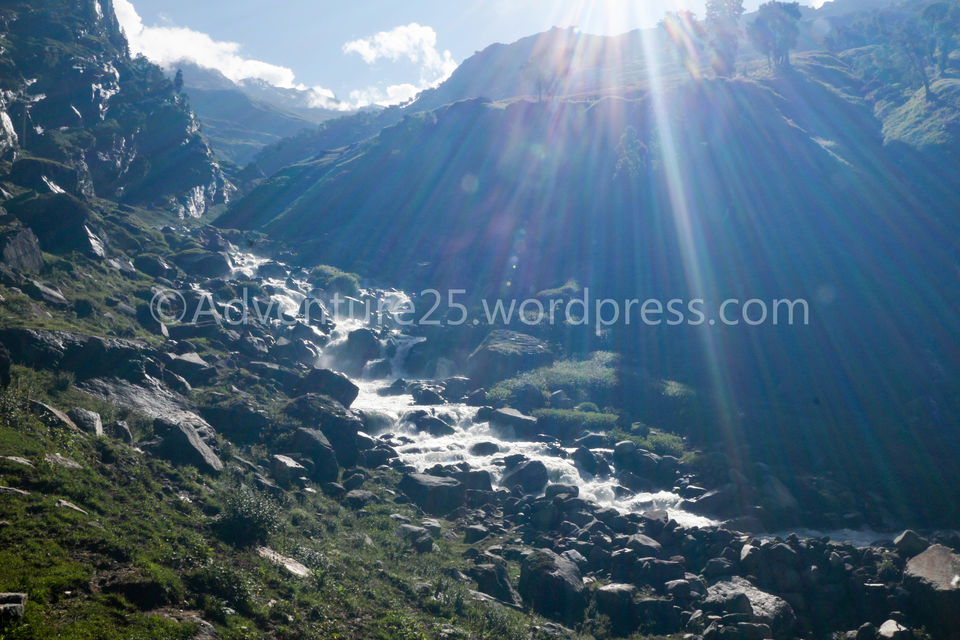 We were called for tea and breakfast. After having breakfast , we packed our tents, sleeping bags and our own bags. We started for our next stop Balu ka gera. The journey started meandering the path of the river. We started ascending on the boulders. The valley was full of flowers. Sometimes we were walking on a path surrounded by white flowers, Sometimes it were Red, sometimes it were yellow. There were variety of flowers. Because of monsoon , water springs were flowing from all direction. After every five minutes, we used to spot a new waterfall. I was in love with these waterfalls. Big or small they surprise you with their beauty. After some time we came across a waterfall and there was a rainbow formation on the fall. Walking under a waterfall was a very thrilling experience.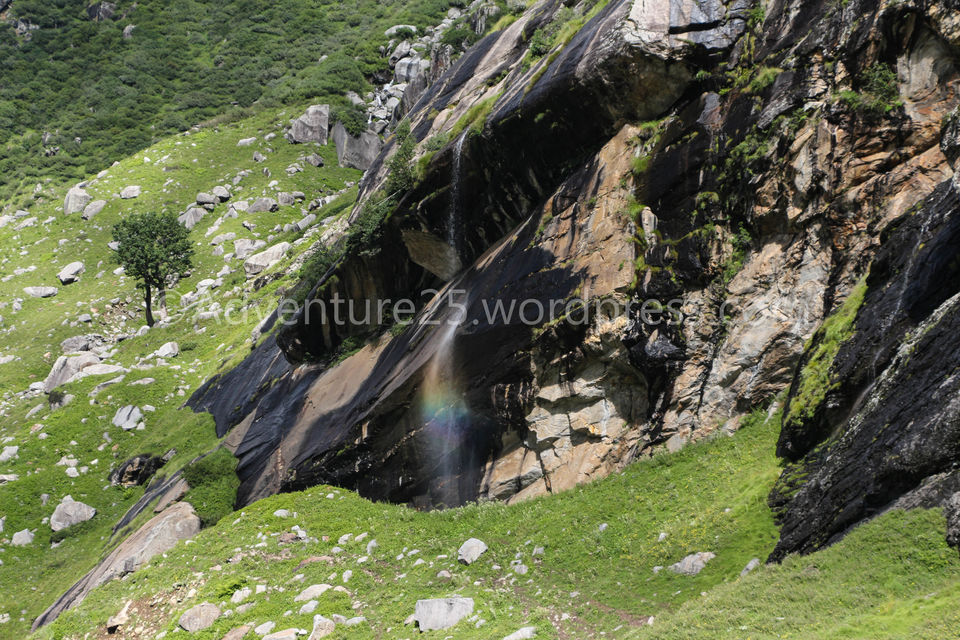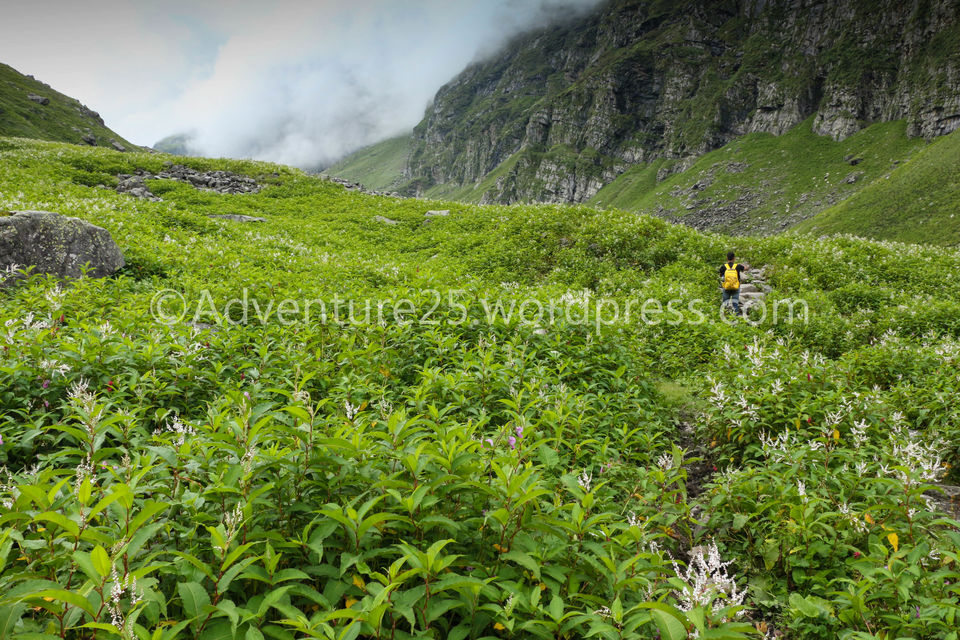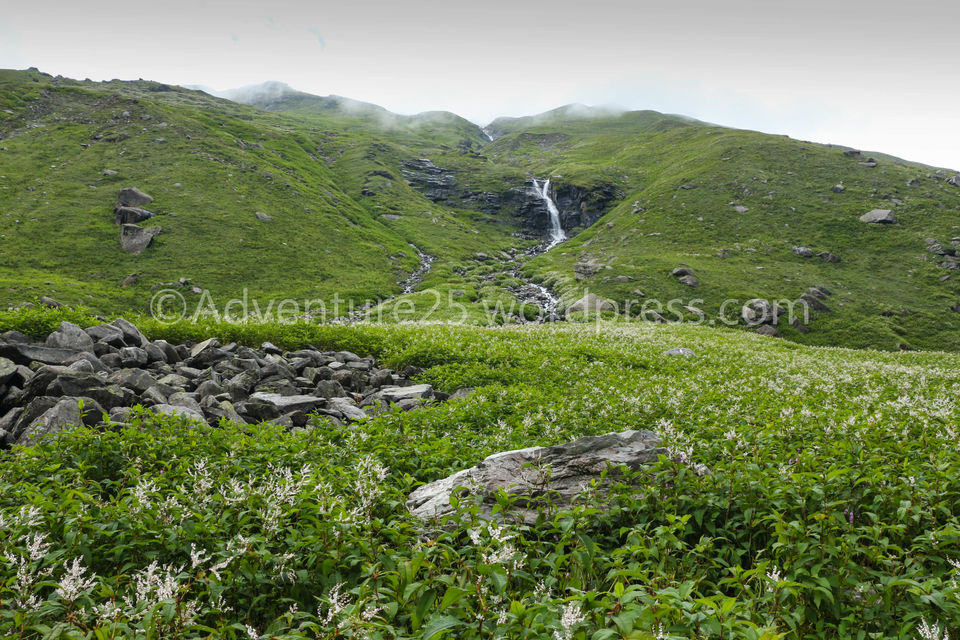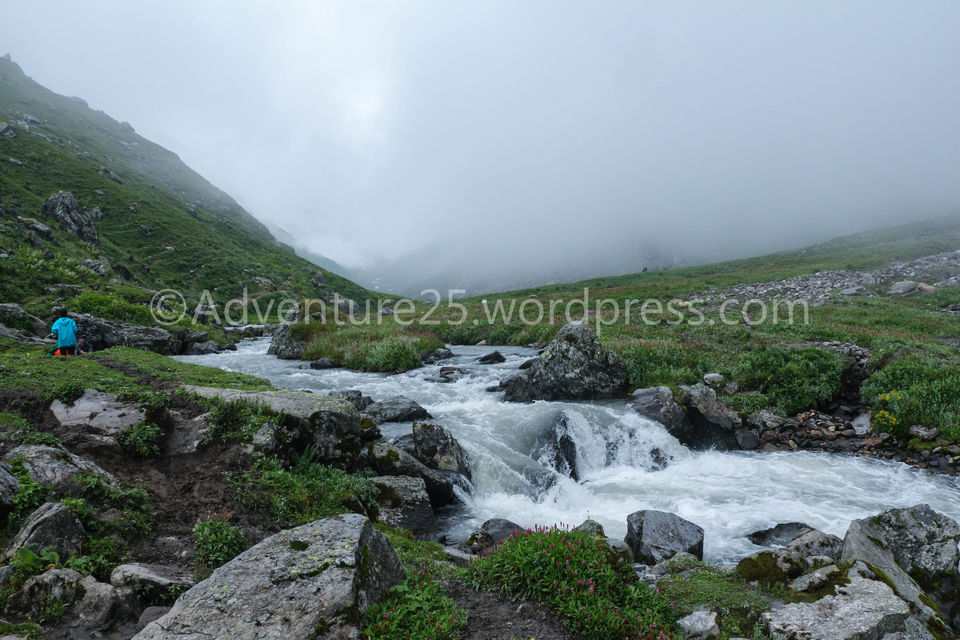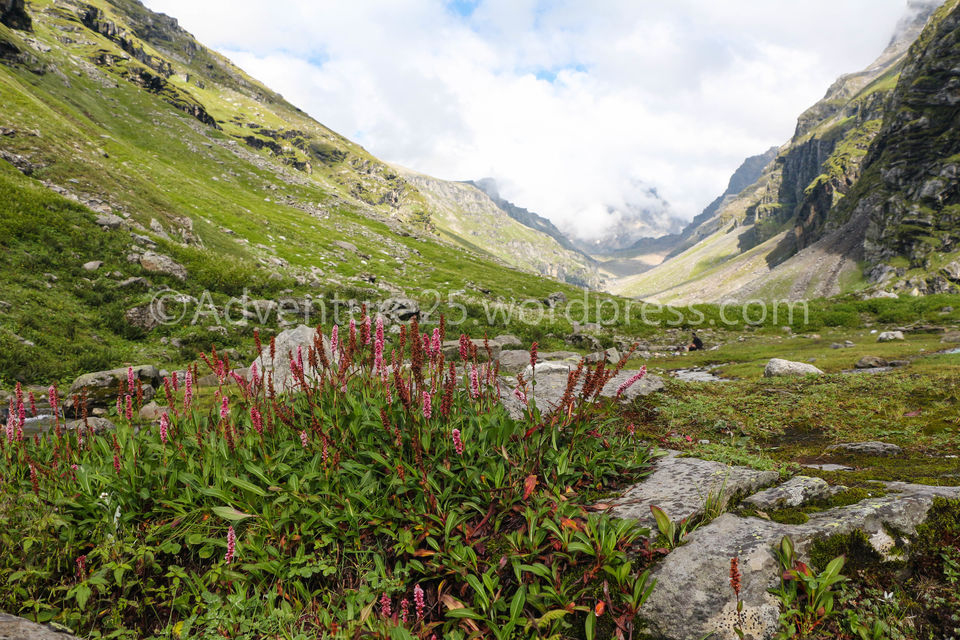 After crossing these waterfalls, we have to cross the river, get to the otherside and continue the trek. The river was flowing in full glory. I put my first step in the river and I was like "ooooooooo" . My brain stopped working for few seconds. The water was bone chilling. Step by step slowly I crossed the river. After crossing the river, it took one hour more to reach Balu ka gera.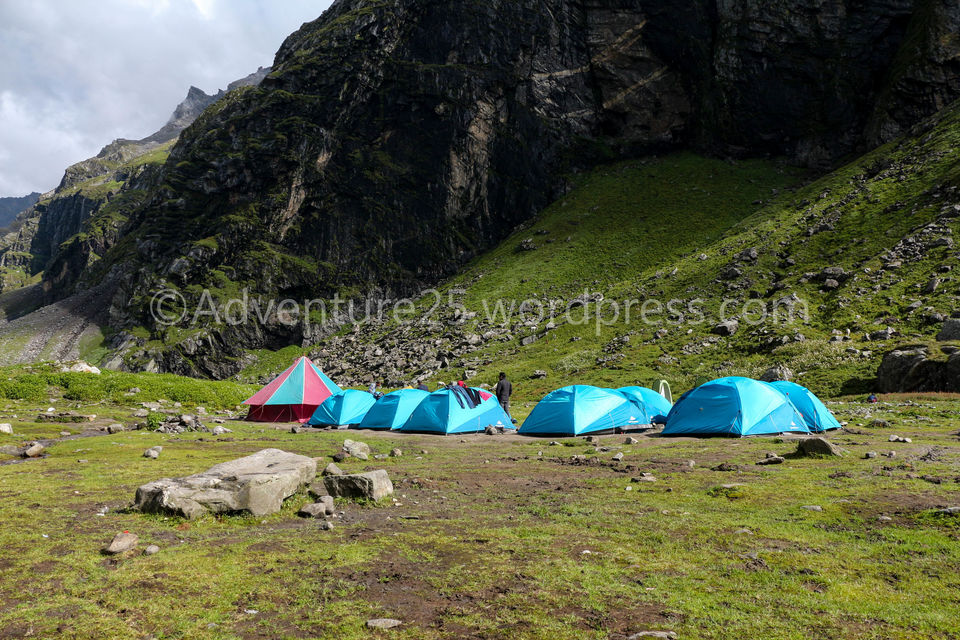 When we reached our destination, the guides started fixing tents. We also helped them for setting those up. Rain started heavily and we all took shelter in our tents. The cooks started preparing evening snack. After a long 5 to 6 hrs trek, we got chai and pakoras, totally delicious. Rain stopped after some time and we all were out of our tent. I took some pics of the surrounding. In the front, there were high mountains in a criss-cross manner. Our guide told us that in winter these mountains are fully covered with snow. I and my husband were sitting on a big boulder and immersed ourselves in this beautiful heavenly place.
Note:- You will also find a dhaba in Balu ka Ghera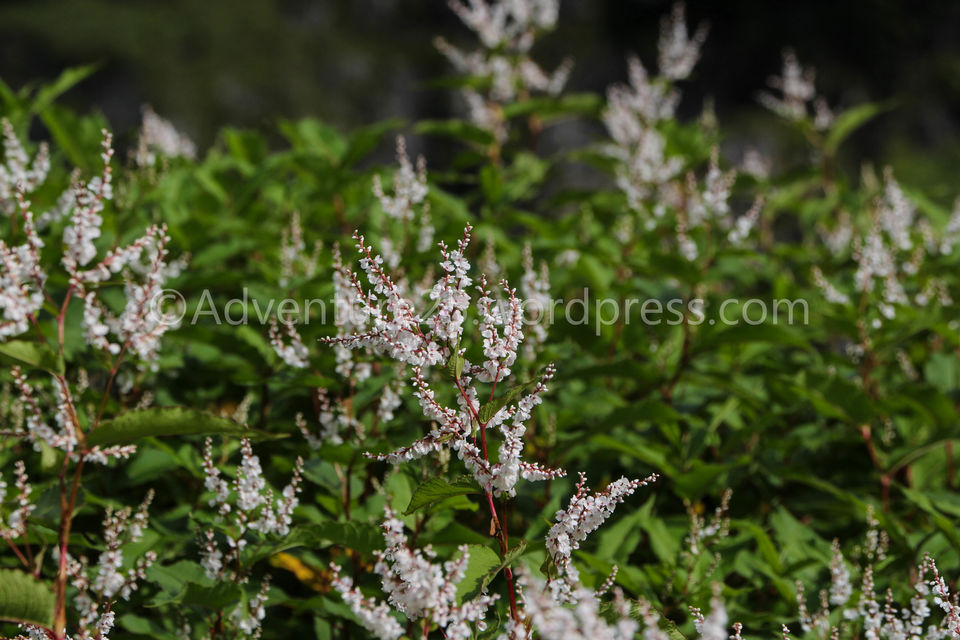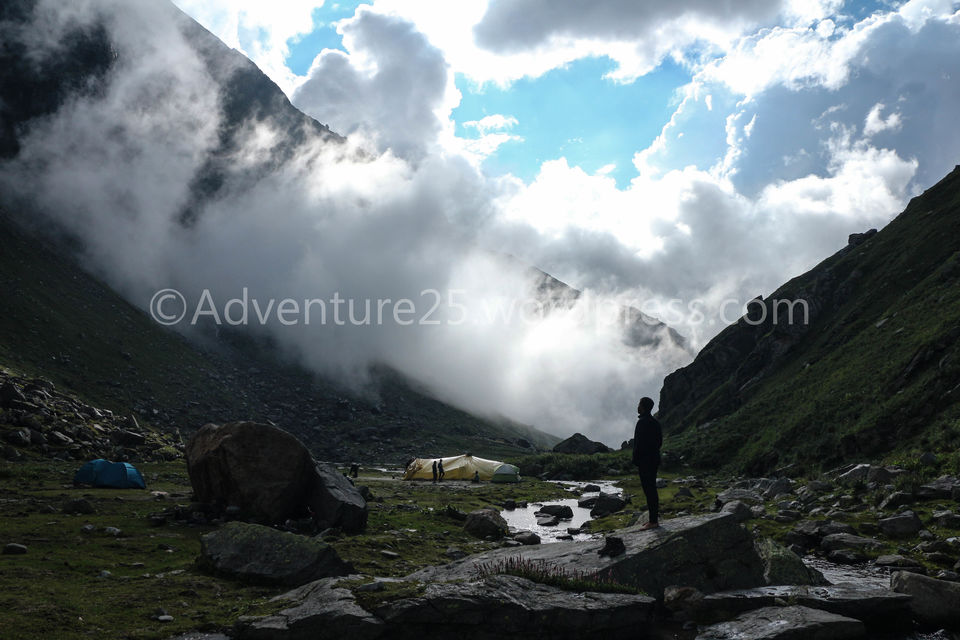 Day 5 (16/08/2016) – Our guide told us today is going to be the the longest and difficult day of this trek . We will have to trek for 7 to 8 hrs. After having breakfast, we all started. In the beginning, we started walking on small boulders.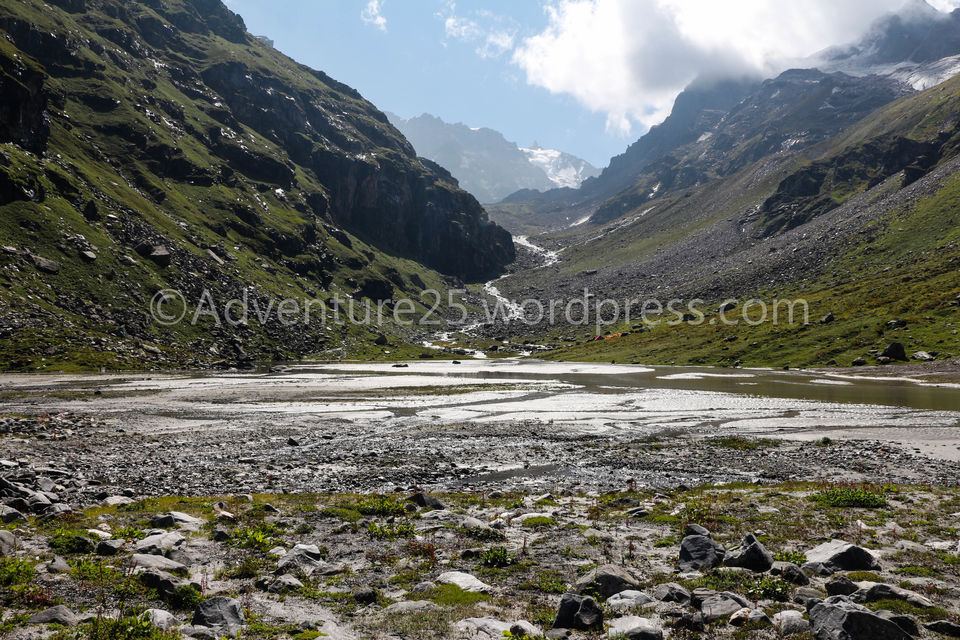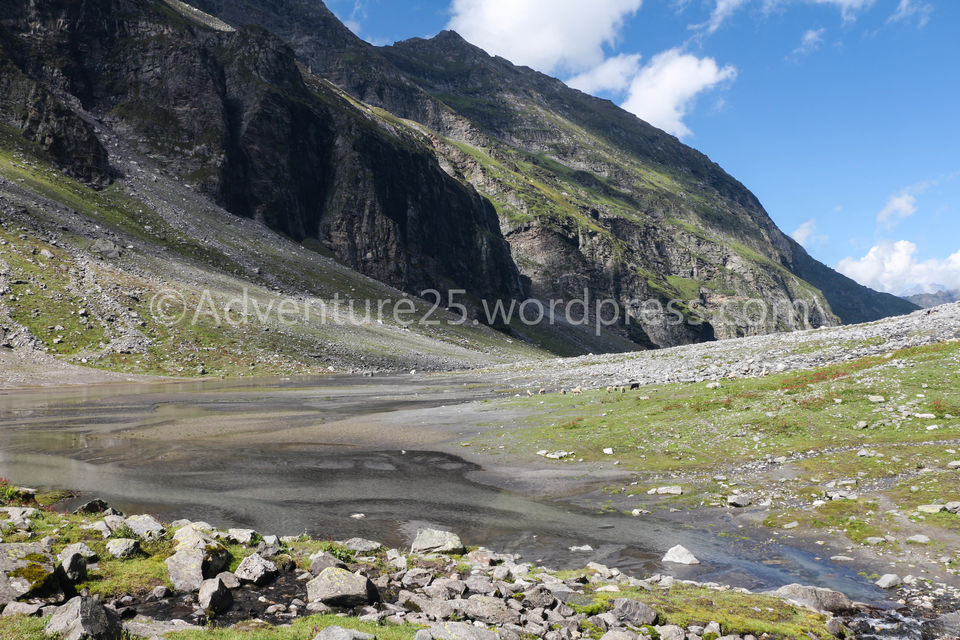 After some time the boulder started getting bigger and bigger. We realised, today going to be a tough day. The trail was along the river side. In our way, we came across a bed of yellow and orange flowers. These flower bed had a bewitching beauty. After this, the actual trek started.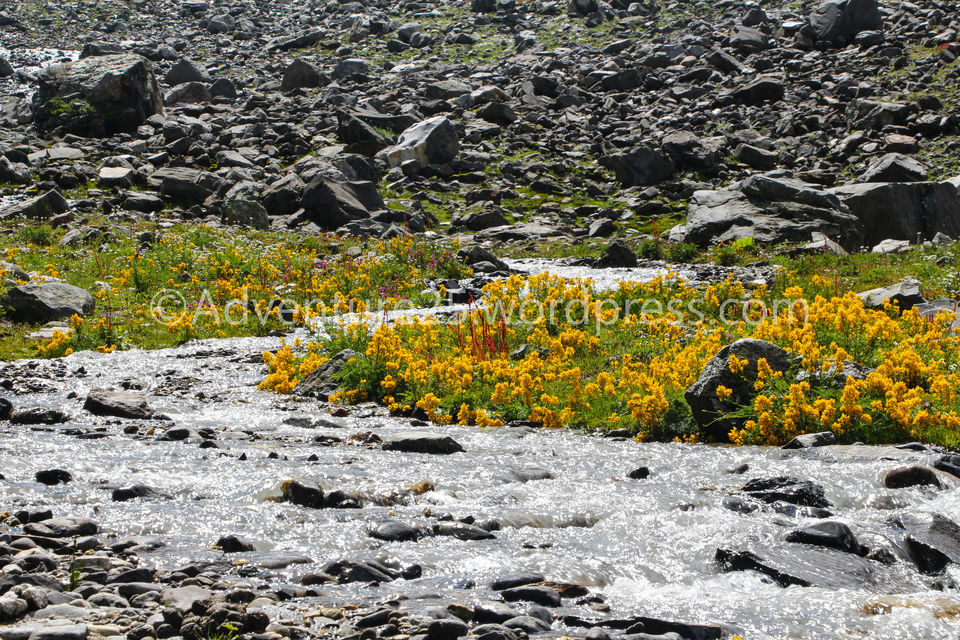 The climb became steeper and difficult. We were climbing and relaxing in between. On our way, we first arrived at a plateau covered with patches of snow. The snow had become black in colour. Walking those few minutes on snow was a bit slippery and tricky. The journey was really strenuous, but spellbounding. The last part of the trail was very steep climbing towards Hampta Pass. Finally, we reached the top "HAMPTA PASS". There were lots of Tibetan flag at the top. Due to monsoon, the sight in front of the pass was blocked by the clouds. But still, when the cloud were passing, we were able to see the scene for a short span of time and that few second ensorcelled us. Weather had totally changed at the top. Wind was blowing at very high speed and it got very cold. We stayed there for some time. Clicked some photos, relaxed for a bit and then started our descent.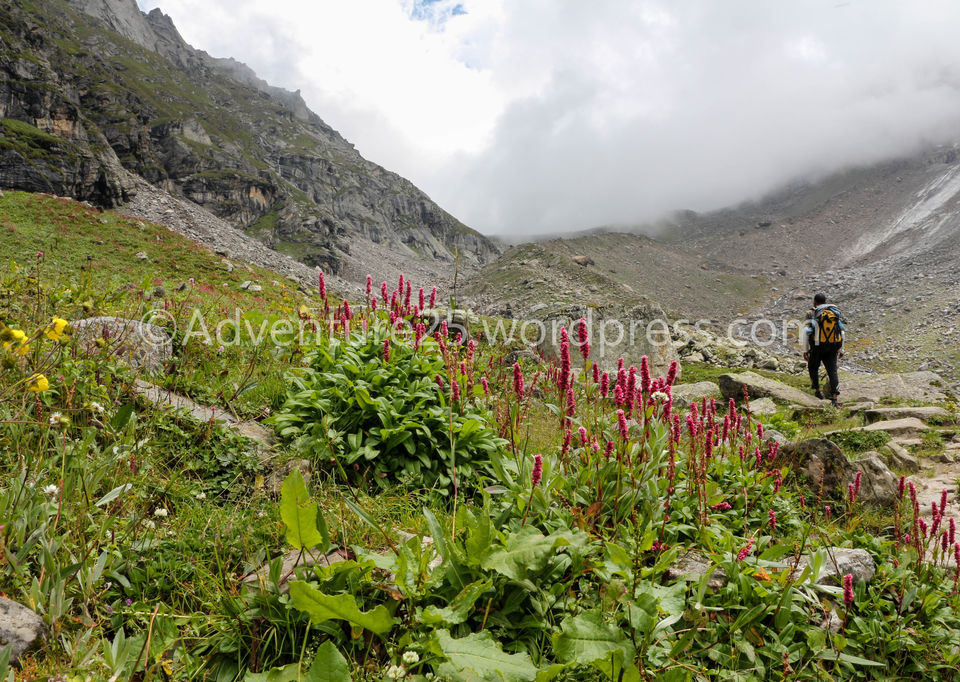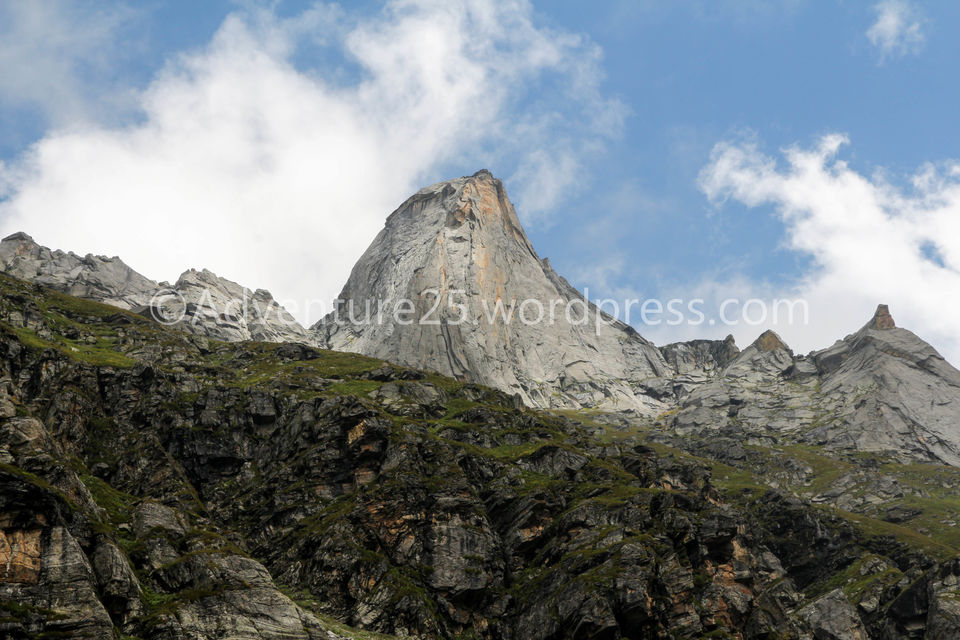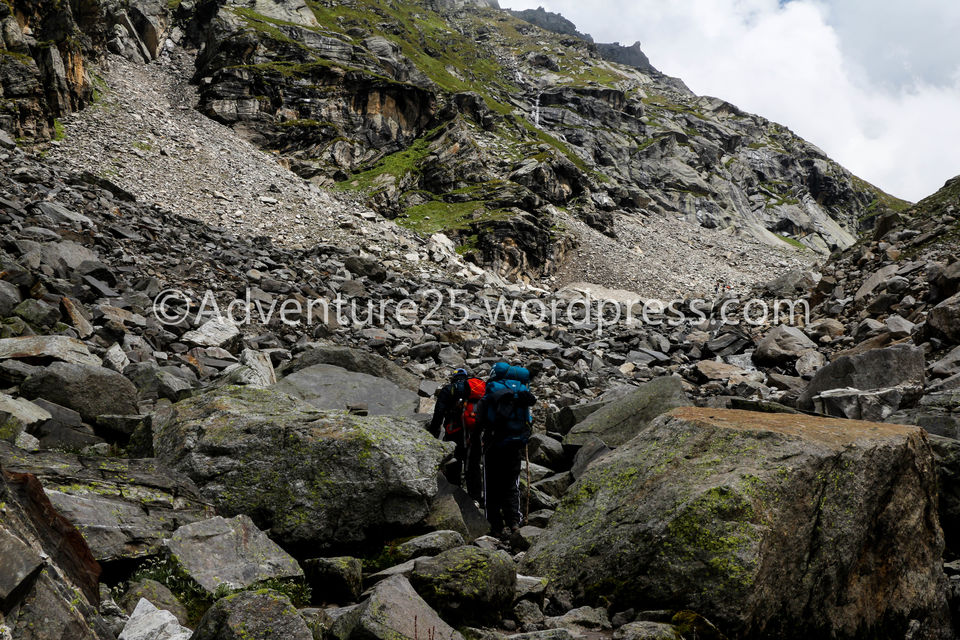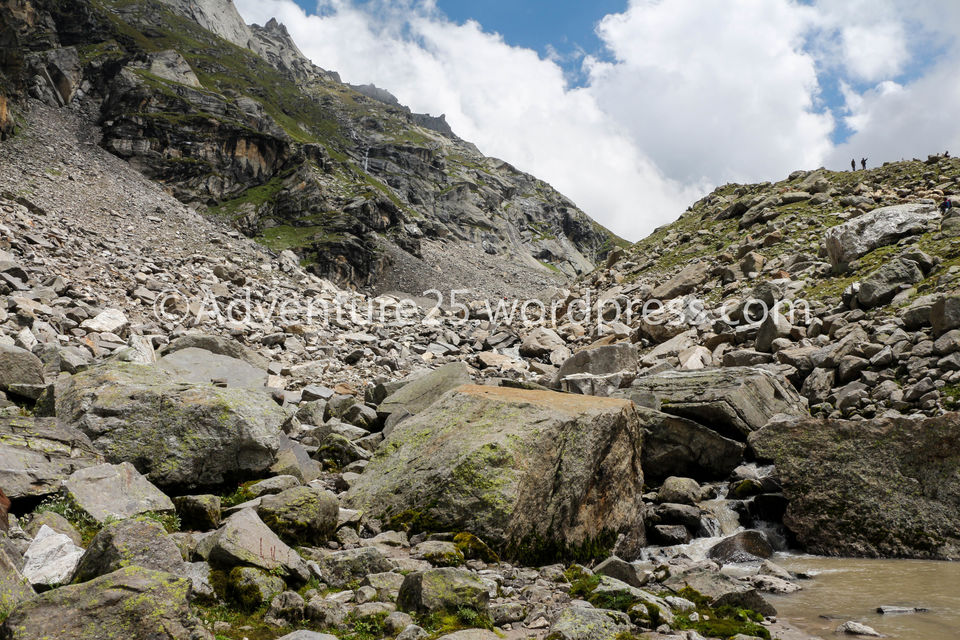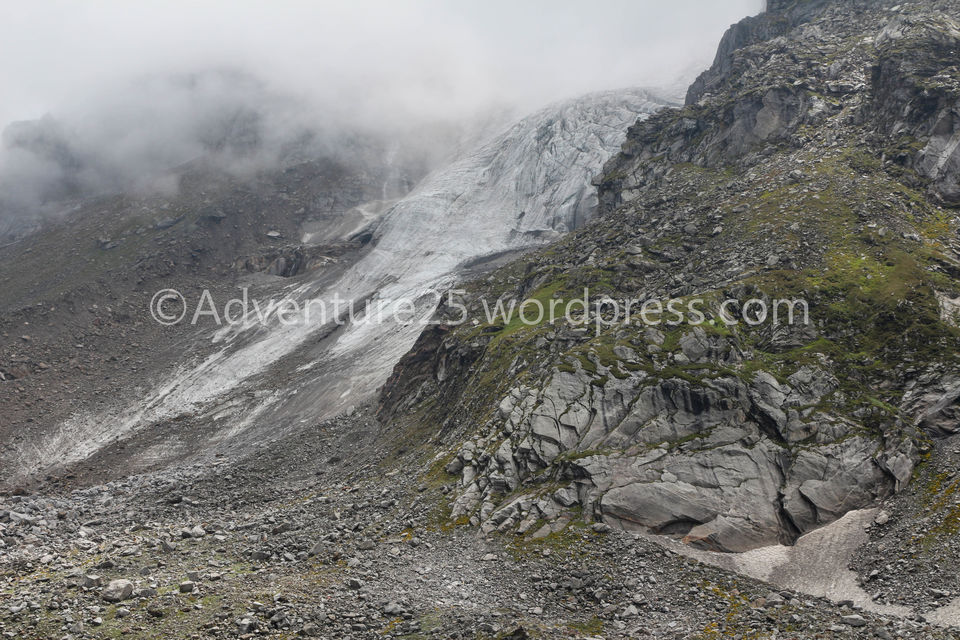 The descent was very very steep and tricky. We were unable to locate the base of the mountain. It seems like there was no path downwards. We were walking very carefully and slowly. While descending , we saw snow capped mountains in front. The panorama was marvellous . I was unable to decide whether to walk down or enjoy the beauty. But I have to reach the camp site, so continued my journey. From this point, the spiti valley started. The landscape of spiti is completely different from Kullu Valley. It's a dry desert. Finally, we reached the base of the mountain that leads to Sia Goru. The valley was surrounded by snow clad's mountains. The trek to Sia Goru is on flat land. The camping site is along river. By the time we reached our campsite, my husband was totally tired and retired in the tent for a quick nap.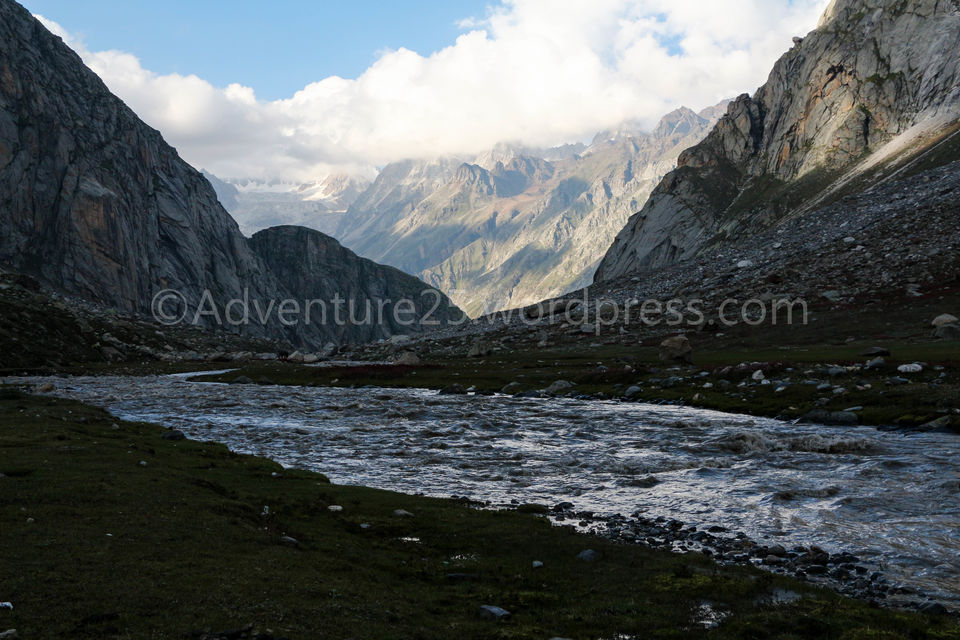 I spotted some shepherds tending to their herd of sheep. The cook made popcorns and tea. We enjoyed our evening snack beside the river bank. I clicked some pic of the sheep and the snow clad mountains. At night we saw the moon rising from behind the mountains. I don't have words to explain this phenomenal view. It was hypnotising me. The clouds and the moon were playing hide and seek and I was feeling lucky that I am witnessing this nature's magnetising phenomenon.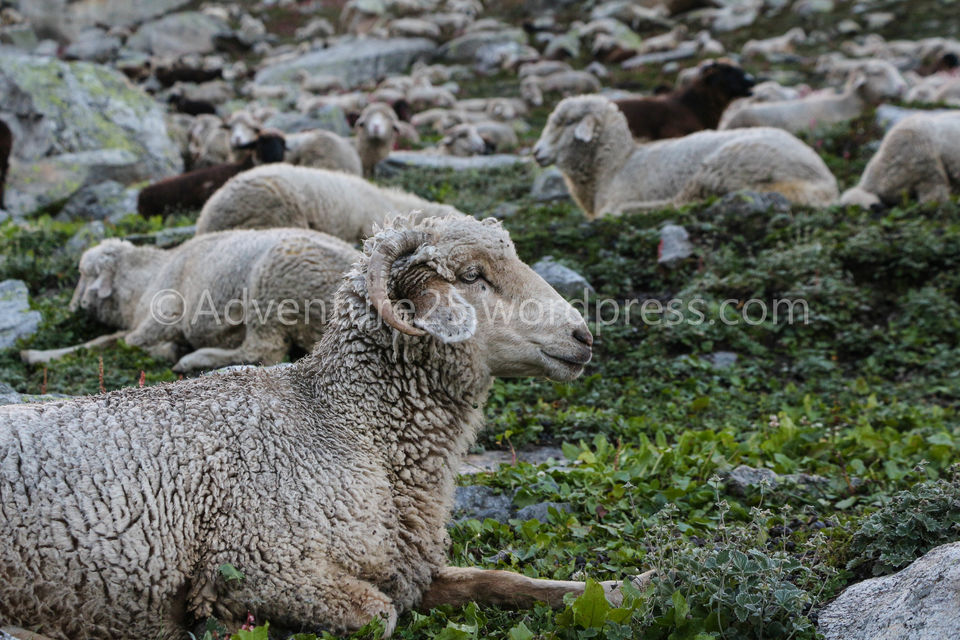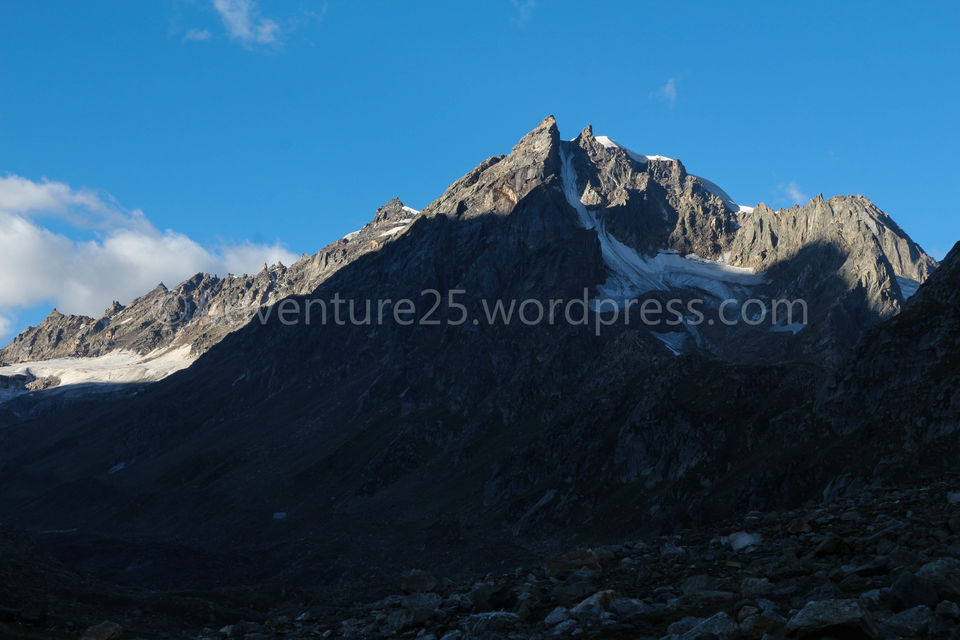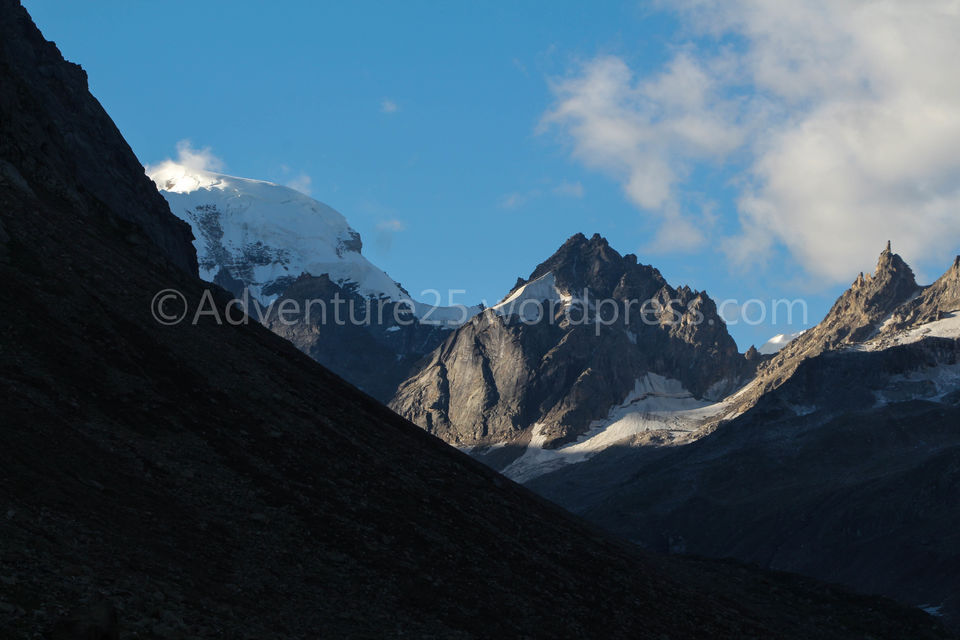 Day 6 (17/08/2016) – The day started with river crossing. Though the water was sub zero, but this time, we were sort of acclimatised to it. Now it was like cake walk. We started descending towards Chatru. Our last camping site. It's a gentle trek downhill. The trail was by side of the river valley between mountain ranges. While walking you can see snow clad mountains in front of you. After some time , the trail became tricky and sometimes it leads us to edge of mountains and ridges.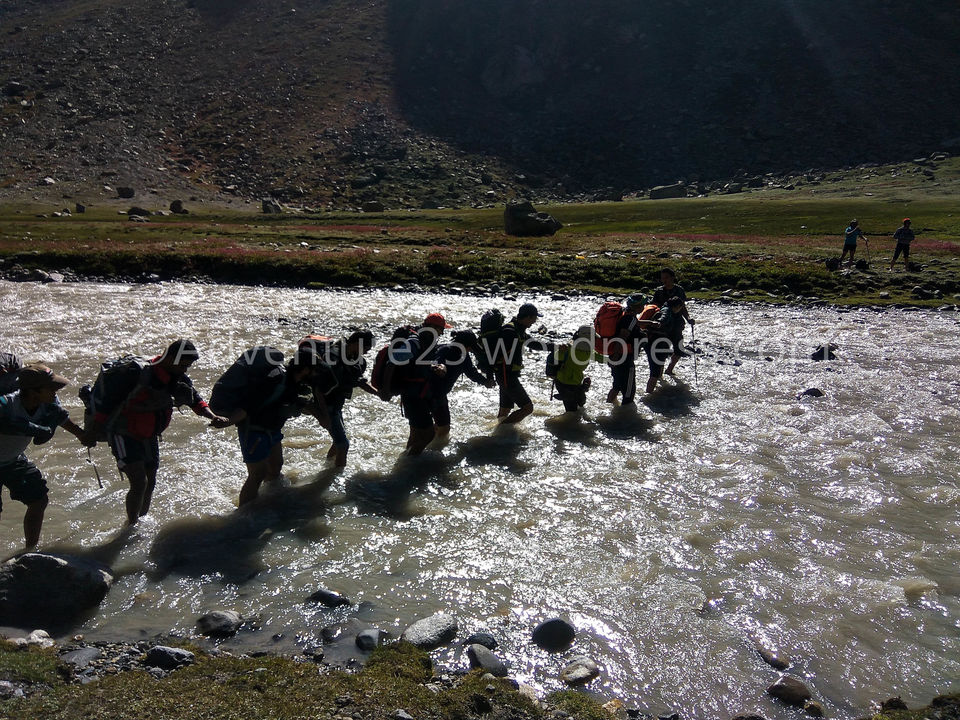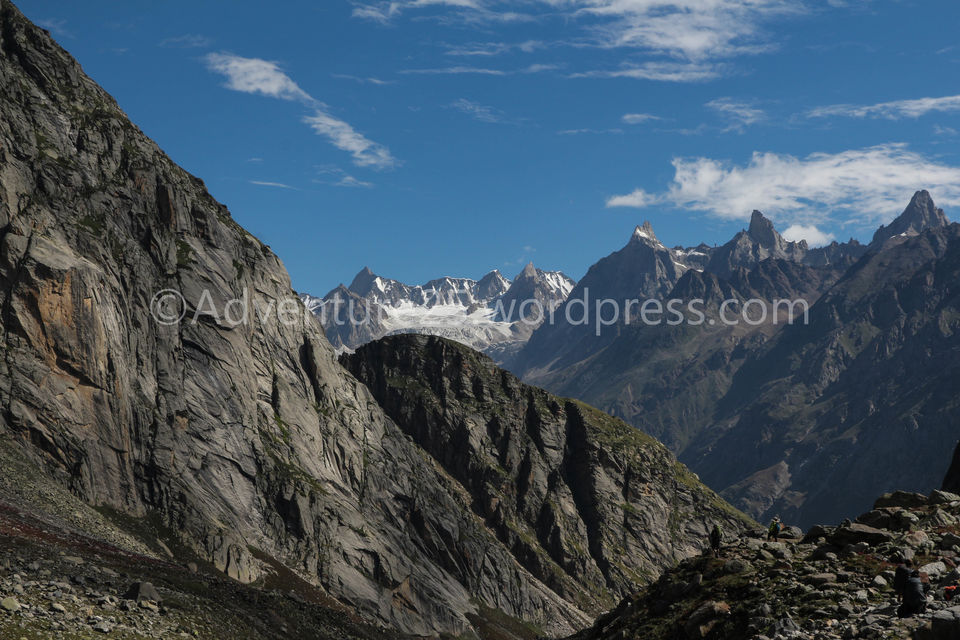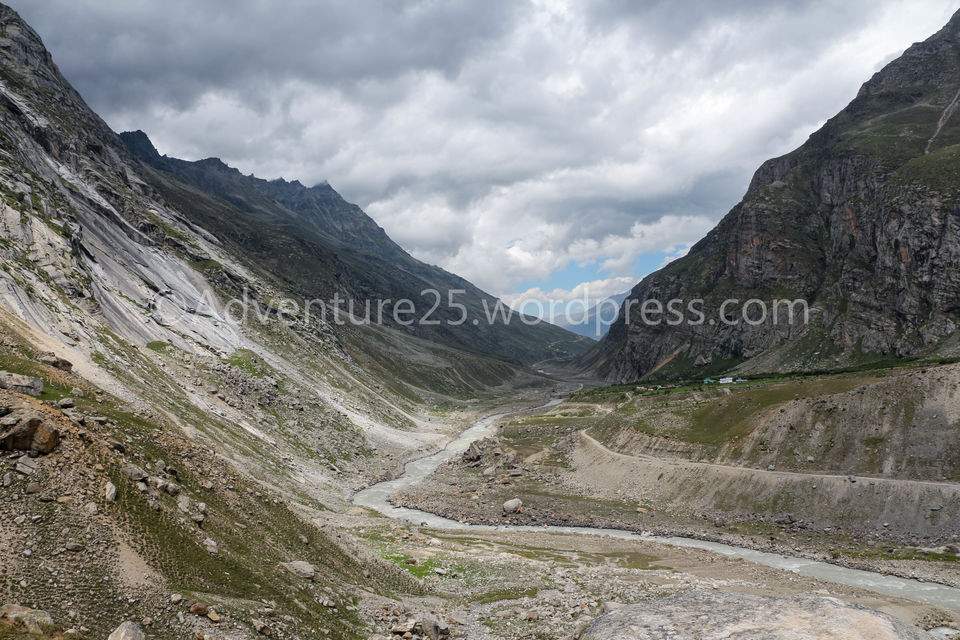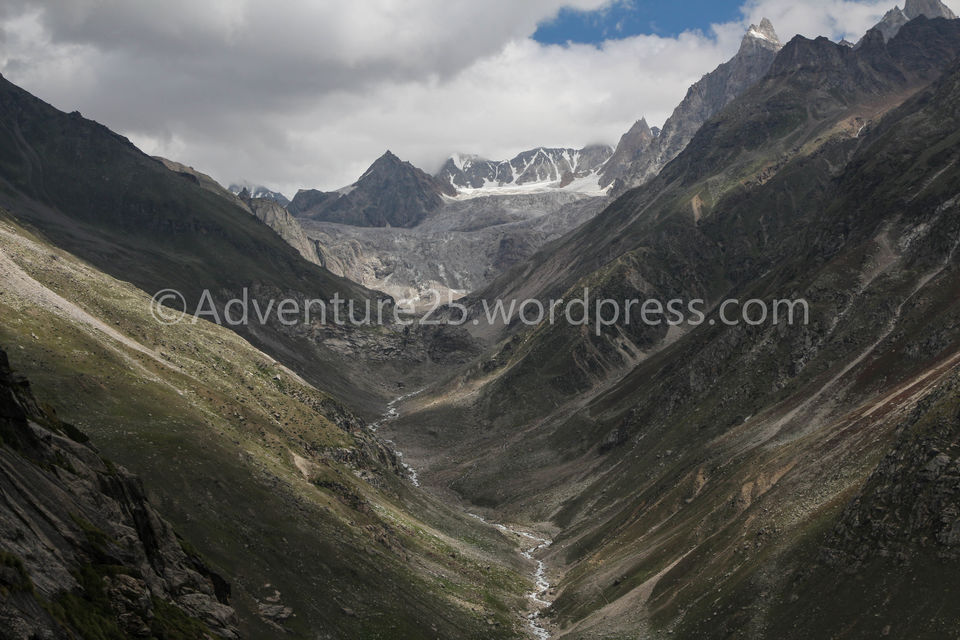 We came across some gurjars with their herds. We also got a chance to see mountain puppies. They were bigger than average puppies, hairy and very cute. The Chandra river was flowing in full glory below and we had to cross a small bridge. We reached out camp site Chatru. We were welcomed with maggie and tea.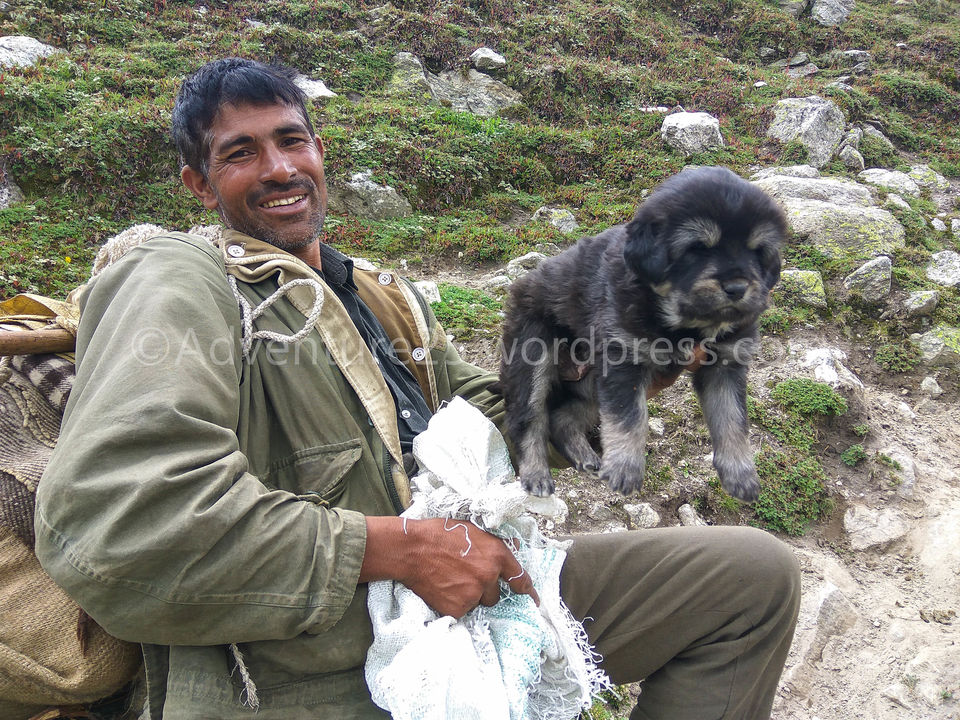 After refreshment, we were transferred to a tata sumo for Chandratal Lake. Chandratal is 70Kms from Chatru. The journey took 3 hrs to reach there. The journey is never less than a trek. The road conditions were worse. We felt like driving on a river bed. But all the tiredness of the journey vanished once we reached Chandratal.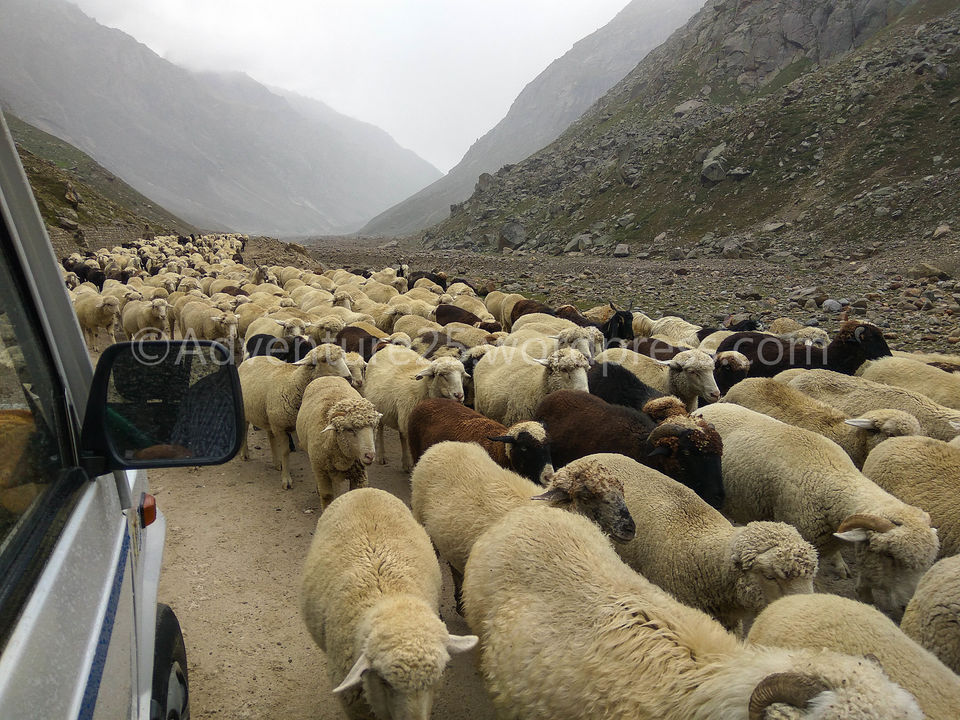 Emerald green water surrounded by mountains. The scene was postcard perfect. We were dazzled by the beauty of this place. My camera was unable to do justice with this splendid beauty. We spent an hour there, but I was reluctant to return.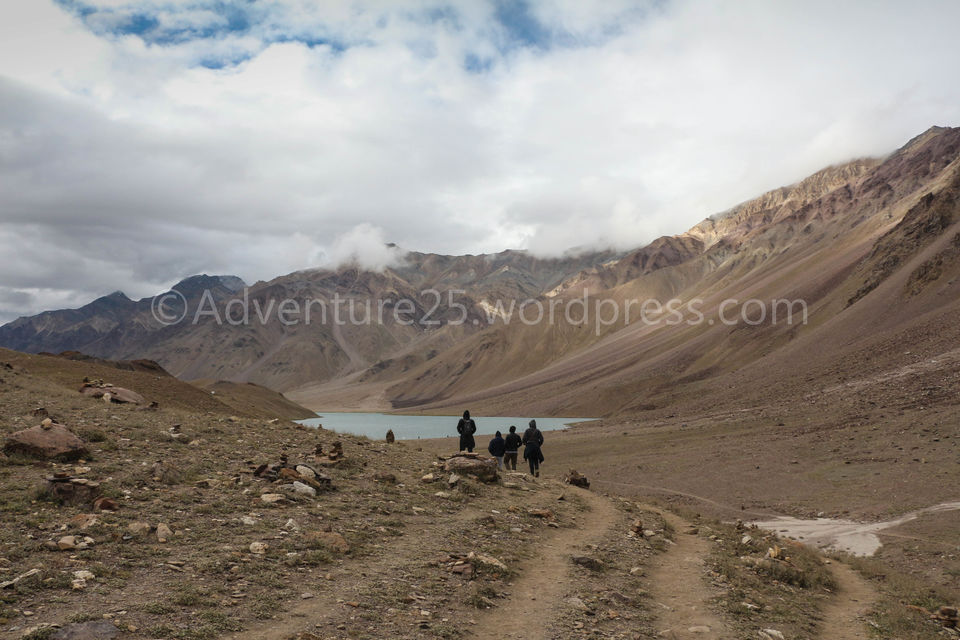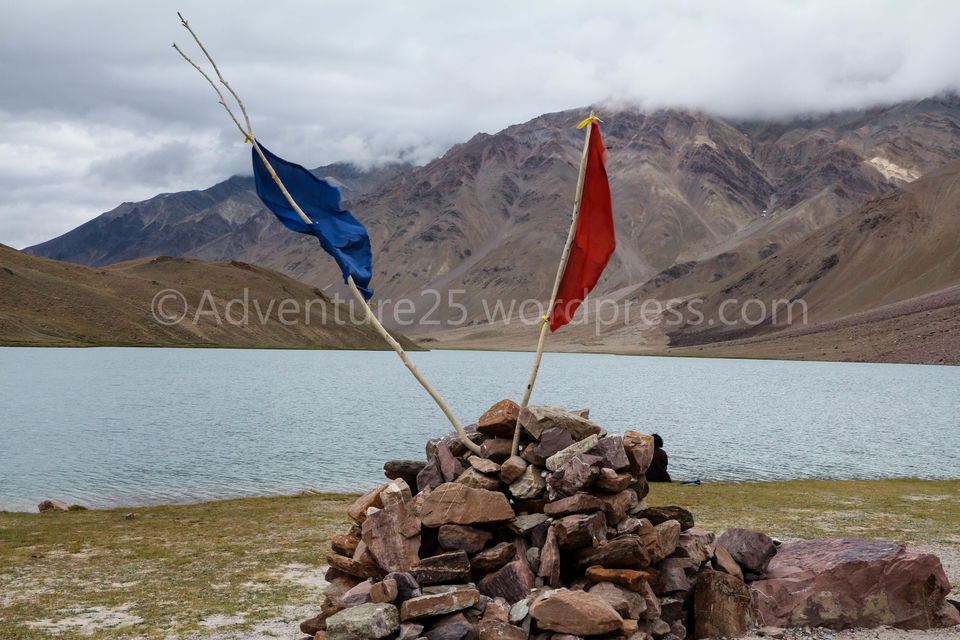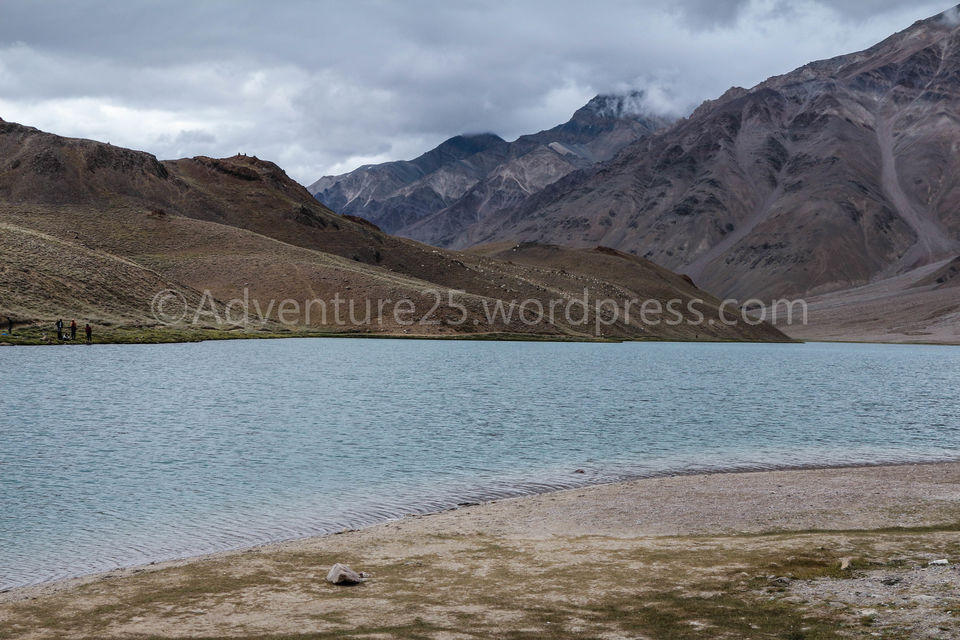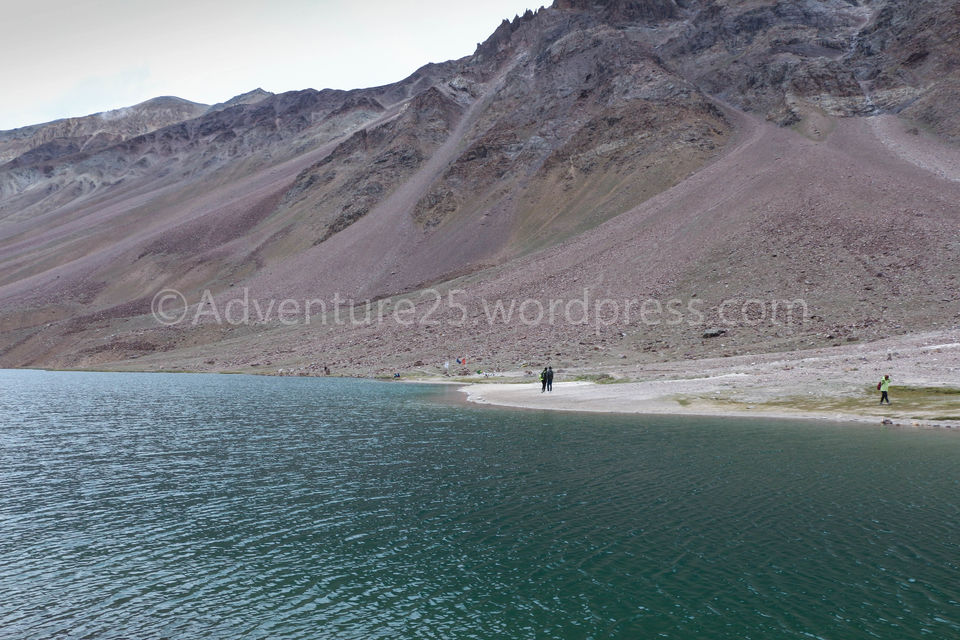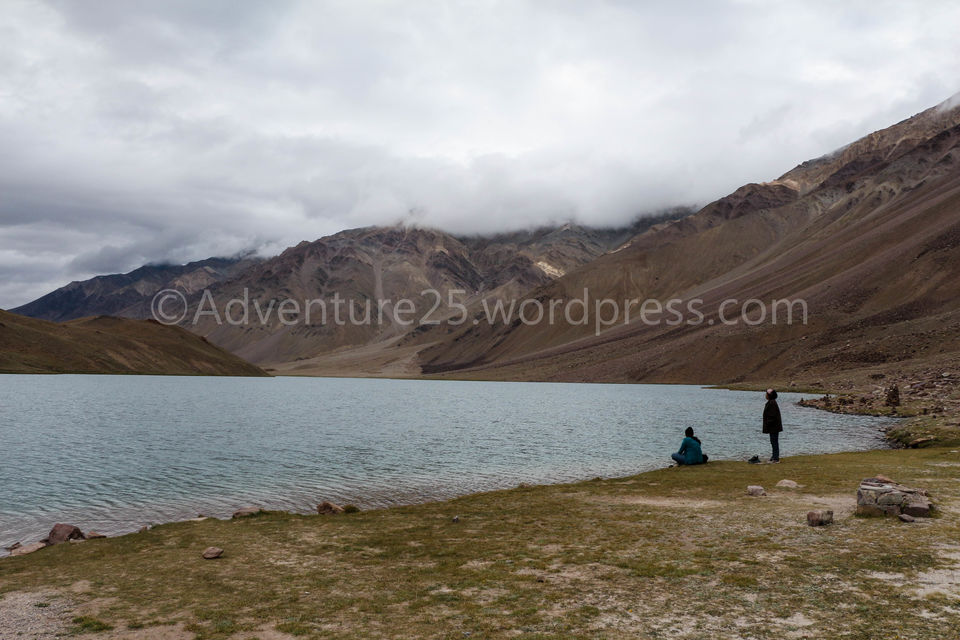 On return journey, we took halt in Batal at chacha chachi dhaba for lunch. Chacha Ji is very funny man.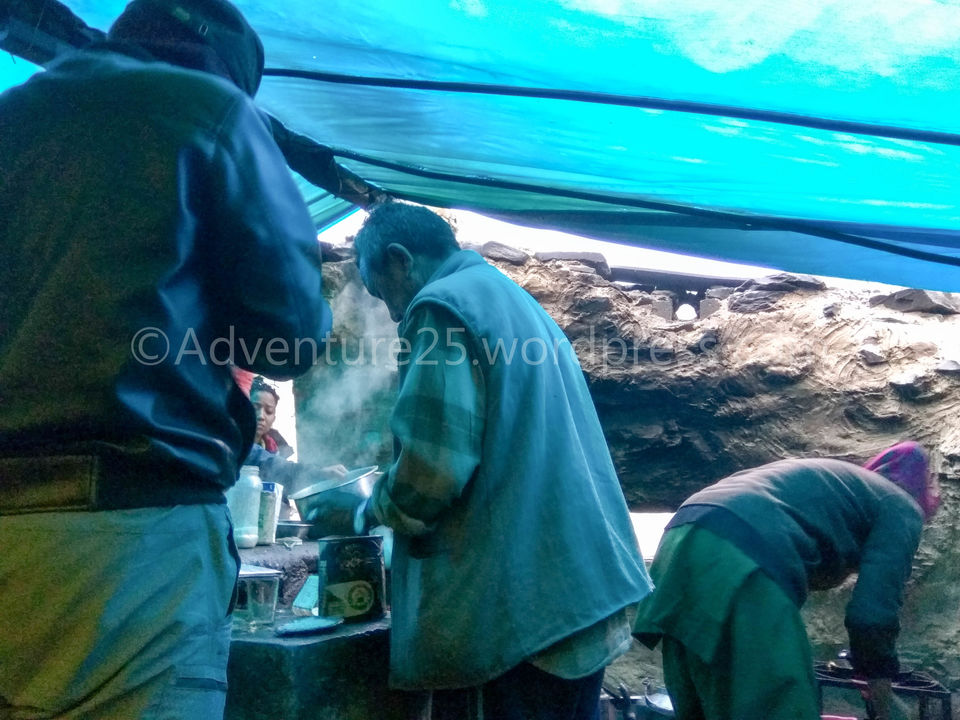 We reached around 7PM to our campsite in chatru. Here again, I witnessed the hide and seek game between the moon and cloud.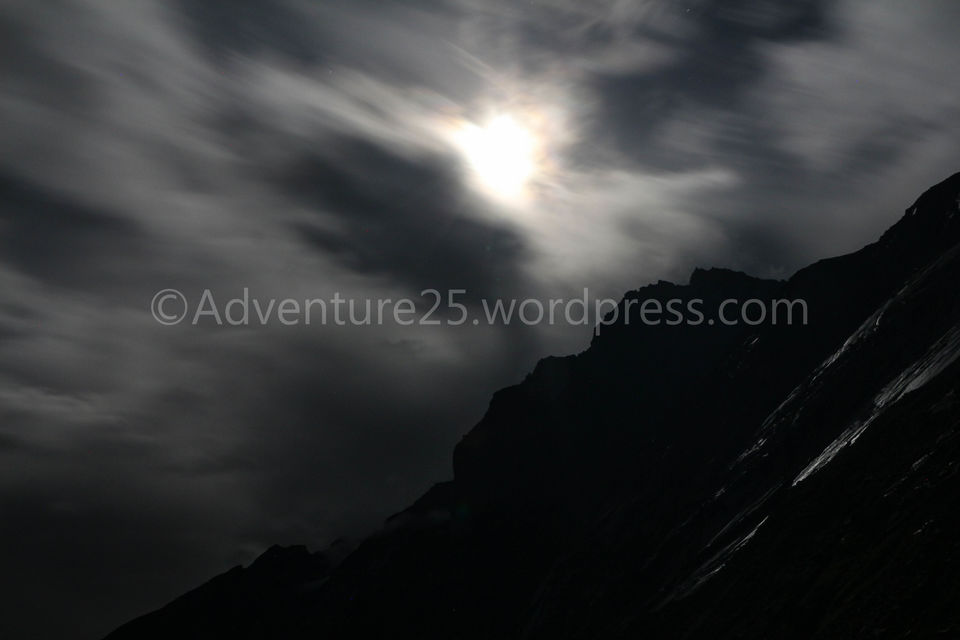 Note: If anyone wants to continue the journey further and travel till KAZA, they can stay in BATAL . Here rooms and food are available at very reasonable rates. One HPSRTC bus also commutes daily from batal till Kaza.
Day 7 (18/08/2016) – Today was last day of our trekking. So we had a little chit chat session among the group members and our trek guides and cooks. These guys were at the top of their hospitality. Food provided by them was awesome. Both our trek guides Pinkoo and Abhishek were very responsible people. They were always there to help. One always used to lead the trek and other person would follow the last remaining person of the group.
We started our return journey by Tata Sumo. First, we ascend to Rohtang Pass. The place was icy chill, Though there was no snow there. After that, descent started for Manali. The journey was jaw dropping.
I think I had witnessed 200 to 300 waterfalls in this entire trek. Incredible, isn't it !!!
The sumo drops you till Manali, same point from where the journey started. But we got down before, on the intersection to the road that leads to village Vashishth. We took a room behind the temple. It was a nice backpacker room for 350 INR per night. After a long trek, first, we took a hot water shower. Although we were living beside river and waterfall, but the irony is, still we didn't bath for last 5 days.
In evening we went to Sulphur hot water spring to relax ourselves. Spent almost an hour there.
Then we walk down to Manu Market. This is a local market just behind the mall road. We had SIDDU and tea at FOUJI TEA STALL. This is only shop in this market who make this local Himachali delicacy. They serve SIDDU with a green chutney. Mouth Watering!! Tea was also fantastic. After that, we walk down to old Manali .We had a nice PIZZA at Olive Garden. Delicious !!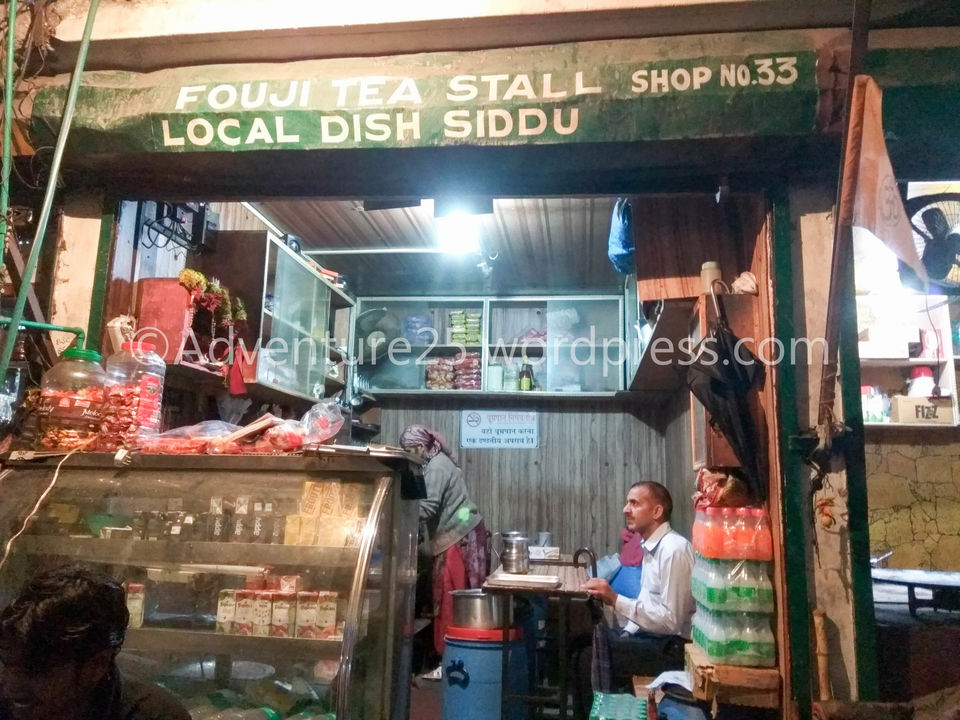 Day 8 (19/08/2016) – This was our last day in Manali. We started our day with a relaxing dip in Sulphur hot water spring. Then, breakfast at FOUJI TEA STALL . After that we went to bus stand and took bus for Naggar. Bus Ticket cost 60 INR per person. The journey from Manali to Naggar is of 1 hr and very charming. The valley was full of apple orchids and the hanging apples were just at a distance of one hand pluck from the roadside. The Naggar castle is a nice and quite place. From here you can get the view of whole Manali city.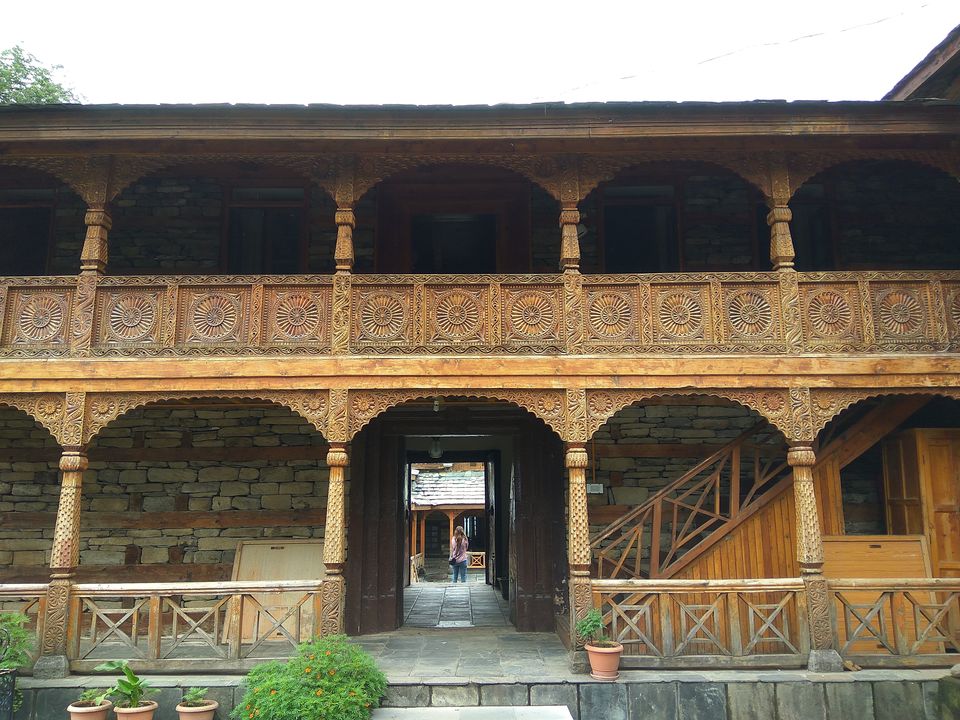 Hampta Pass comes in one of the most beautiful trek in Himanchal. We were lucky to have a chance to walk through these trails and explore their raw untouched beauty.
We took return Bus from Manali private bus stand for Delhi. In this way our trip came to an end and preparation started for NEXT TRIP.