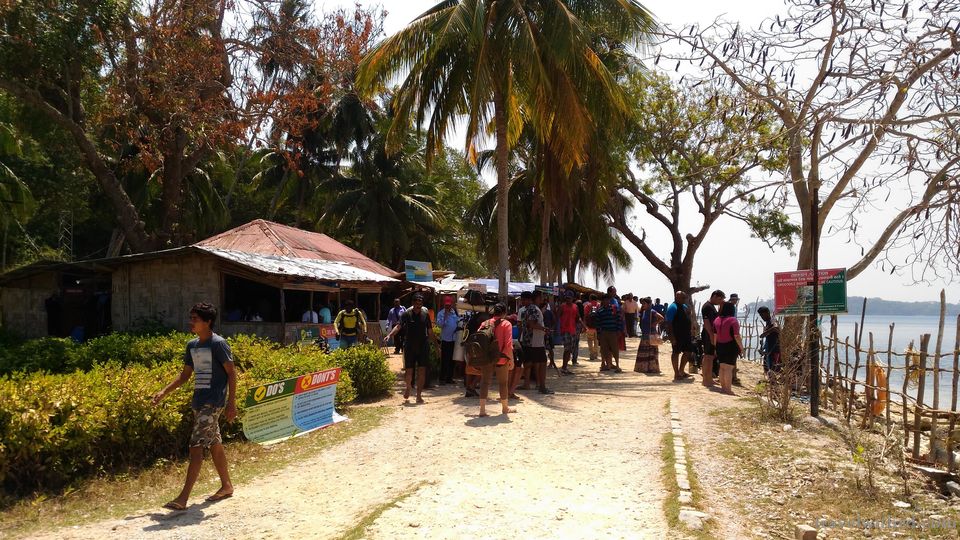 After walking around one and a half hour on Ross Island, we reached Jetty back. Take a look at the example of punctuality - our boat was being placed on Nandini Jetty. Now it will take us north-bay.
It is also called North-Bay Island, but I will not say it 'Island'. However, it is made up of Andaman and Nicobar islands only. Port Blair is also an island - the big island - its name is Southern Andaman. So this is North-Bay, it's only part of the main island of Port Blair. It does not have any island separately like Ross Island. That is why it is wrong to say North-Bay Island. It is a part of the southern Andaman island and due to being the coastline, it is more appropriate to say 'North-Bay Beach', not North-Bay Island.
There was a big upheaval in the sea. Waves raised the boat up and down and then downstream. It spawned so much water that it also came under the boat.
A man began to tell all the passengers in Hindi - "There is nothing to see in North-Bay. There are only water activities here. Scuba diving happens, it has so much charge, it does this - it happens, it takes so much time. A glass bottom boat is on a trip, this is a fare for it. It is snorkeling, it happens in it. "
We liked snorkeling - due to being cheap There were also two options - one for Rs 300 and another with 600 rupees. We chose the second option. All this was a brand new thing for us, so was also excited. We do not swim, but do not even have the fear of drowning.
Corals are sea creatures. I do not know anything about them, but everyone knows the glory. Let's know from:
"Corals are immovable marine creatures. Their whole body is porous. Water keeps coming from these holes, which gives food and oxygen to them. They are also called sponges. The calcium content is high in their body, so that they become very hard after death. They have large colonies. After this death they become habitats of other sea creatures and become a bio-diversity area. "
This coral was under water to see us. Clothes were available on rent. We changed clothes and went with Gide in the sea. He wore us a 'tire', which ended the risk of drowning. Applying glasses and taking them along the sea. The depth increased and the ground went very far below our feet. There was no rotation in water for dipping. Just touch the glasses on the water and start looking down colorful, corals of different shapes. The countless fish circling between them Guid kept telling us about each coral, about each fish and other organisms. I liked it. 600 rupees have been recovered.
The main motive in scuba diving is to see the coral, but in more depth. They have oxygen cylinders on their back and hence they can go deeper and deeper. There were other activities, but we were happy with snorkeling. Afterwards, take a long bath on this coral coast and shave your knees and ankles. Corals are very hard and sharp and easily hurt you. Today I was bathed in the sea for the first time and found the first lesson that should never take bath at the Coral Coast.
There can not be any kind of tampering on the Coral Coast, so here was jetty of peeps. There was nothing to concrete. The boat arrived at the fixed time, ie two and a half hours, and we reached Port Blair again.