Trip : Chennai - Port Blair - North Bay and Viper Islands - Baratang - Havelock - Neil Island - Chennai
Trip Dates : December 25, 26, 27, 28 and 29 2013
Trip Mates : Karthik and family
A long planned trip to Andaman Islands to complete my target of 12 trips in a year successfully ! And achieved !!
Day 1 (NORTH Bay and Viper Islands)- Merry Christmas ! Started on the Air India flight scheduled at 5 AM from Chennai and reached around 7:15 AM in Port Blair. The airport is quite small compared to the airports of other capitals in India; and old too. We had booked the package with Guru travels of Port Blair after a 6 month research on the itinerary, costs, stay and tour operators. On arrival at Port Blair in the morning by flight, we were received by the tour operator and transferred to hotel - Classic Regency. We had to wait for around 45 minutes for the rooms to be cleaned and handed over as the lobby did not expect us at that time - gap between tour operator and lobby guys - but was handled smoothly. We had our buffet breakfast of bread, jam, Kitchadi and Pooris. As per the plan, we had to tour all around Port Blair, but, since 25th being a Christmas local holiday, all important places where closed and our tour operator swiftly moved the plan to 2-Island tour - North Bay and Viper Islands; though this was not in the tour package.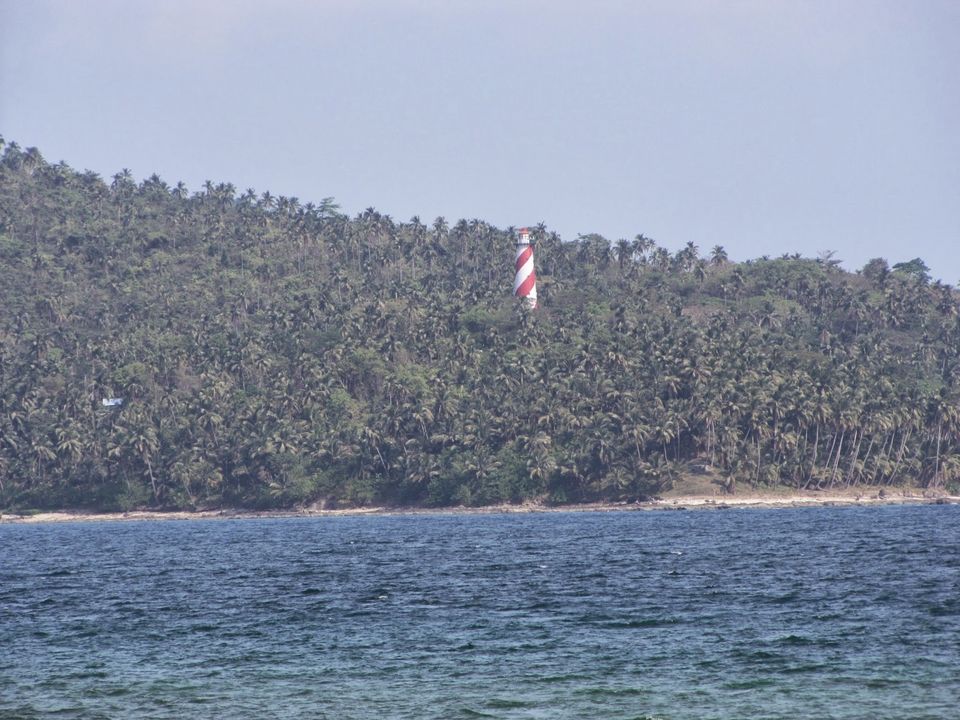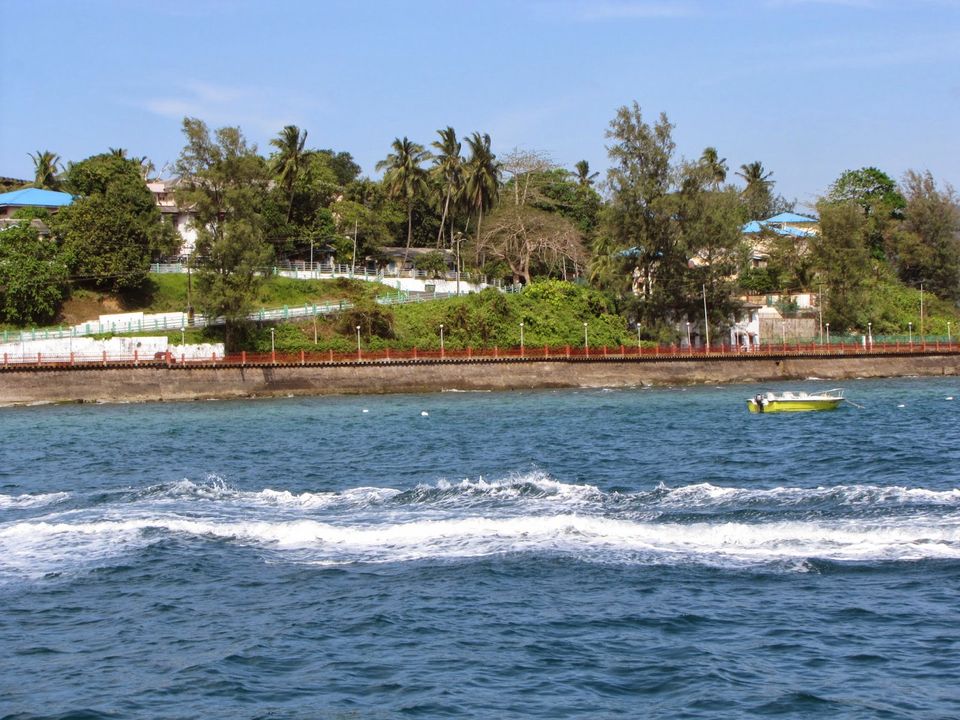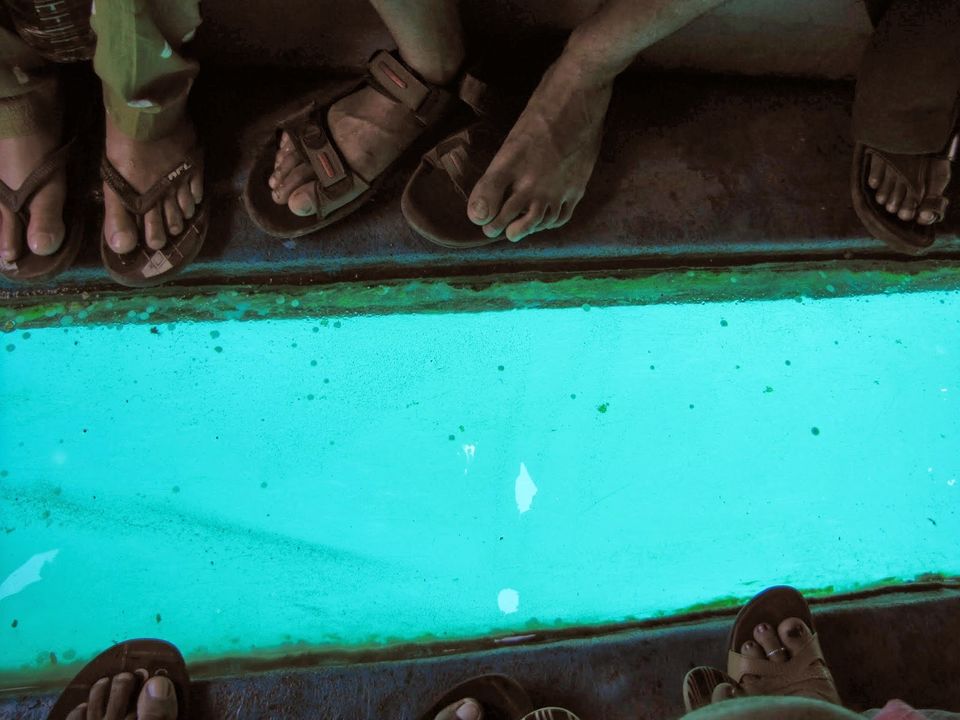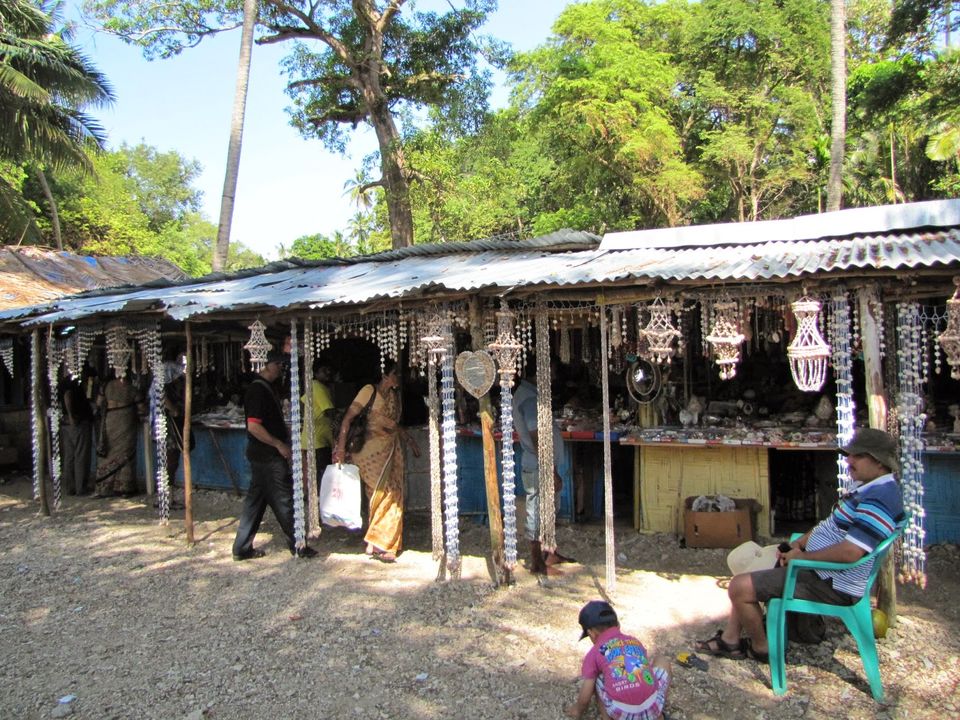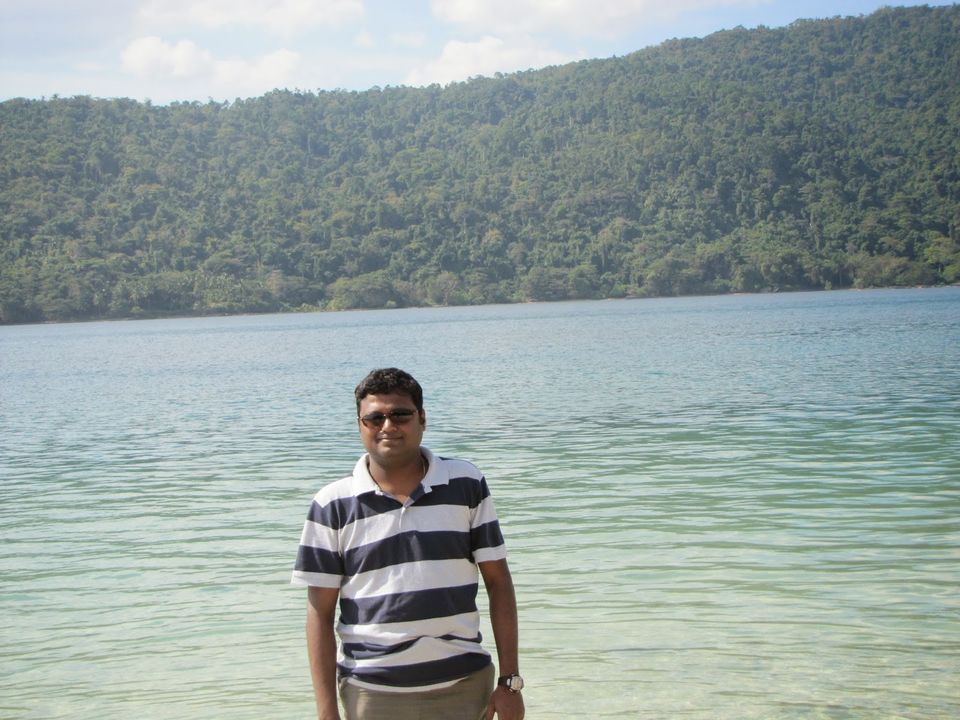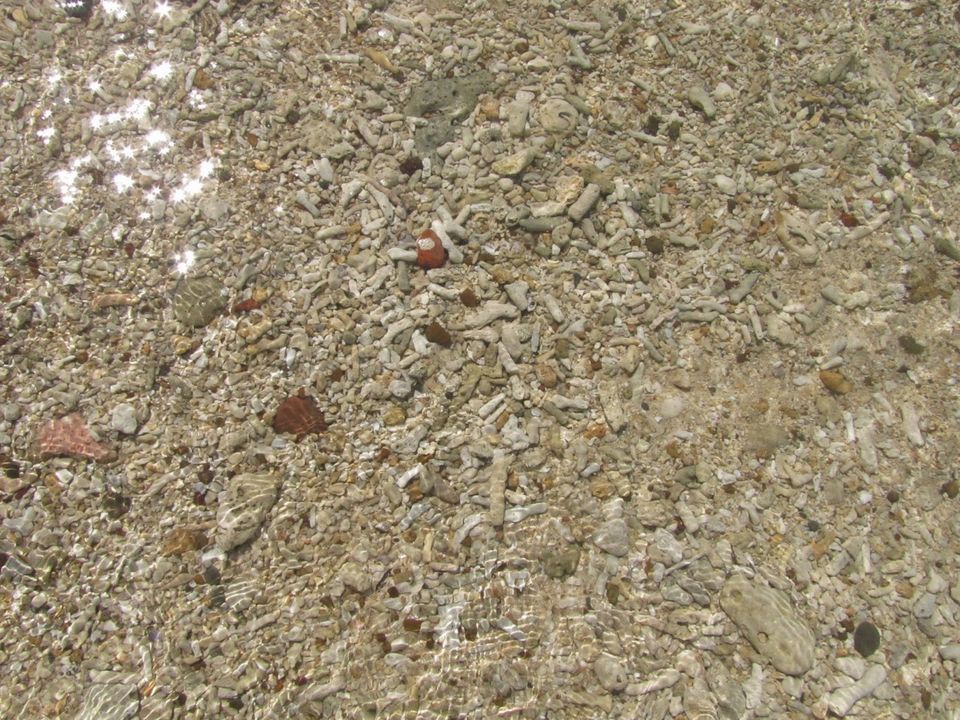 We boarded a local cruise (M.V.King) en-tour to The return trip from North Bay Island around 1030. North Bay Island is visible from Port Blair. One can see a light house just from Rajiv Gandhi Sports complex (where we board the cruises) on the sea and that is North Bay Island. North Bay Island is a coral Island and popular for Snorkeling, Glass Bottom boat ride and Sea Walking. We preferred to go only to Glass Bottom boat ride, for which we had to wait for 1 hour on the cruise. From the cruise, one can buy tickets to go to Sea Walk/Snorkeling and glass bottom boat rides and accordingly, respective boats shall come and pick individuals from the cruise. Glass bottom boat is nothing but, in a normal boat the mid section is replaced with a magnified glass. Tourists can see the corals without getting wet ! Whereas, the same can be experienced with closer proximity and a very different experience, when one does sea walking or snorkeling. We can see a Discovery channel live from the glass bottom ride as one can sight lots of fishes in various unimaginable colours and corals of different sizes and shapes. The pain for people not doing them is, just walk on the limited stretch of beach and wait for others to complete whatever they want. Until all return, the cruise is going to stay there and people giving fat tips to the cruise guys WIN ! There is no real food option at North Bay Island, apart from a useless shop, which one does not feel going near ! Advice is to pack something from Port Blair - stock good amount of snacks.
Next place was Viper Island. Started around 14:30, and it takes little more than an hour. One can Port Blair, Chatham harbour one one side and some small Islands (extension of North Bay) on the other side. The route also goes through the Indian Naval Base, where one can sight some Naval cruises and coastal vigilance boats along with mid-sea repair yard ! Viper Island is a very small island and one gets around 15-20 minutes time to spend there. This island is where Indian freedom fighters were executed by hanging. The place is preserved as a tourist island and all remains are ruins. One has to climb around 50 steps to see and then get back to boat. We had to leave in the morning in a hurry as our plans changed and no snacks with us; neither had lunch. All were hungry and tired and it was already around 4 PM - there came a saviour - a person selling cucumber - each for Rs.30 ! That was lunch for us and did not mind shelling out few hundreds for a healthy food!Viper Island to Port Blair was not so enjoyable as it was dark by 5:30 PM and were in rough seas. It was a troublesome ride and one has to hold on to something firmly all through the return journey. As I write this blog, I recollect the mishap that happened in the same place where few lost their lives in January 2014. Reaching back to Port Blair, we were hungry and the cab was ready for our pick-up. Destination : Hotel Annapurna (nothing to relate with one at Coimbatore or the horrible one at Kodaikanal) ! It was awesome to have hot idlis and dosas after a tiring Day-1.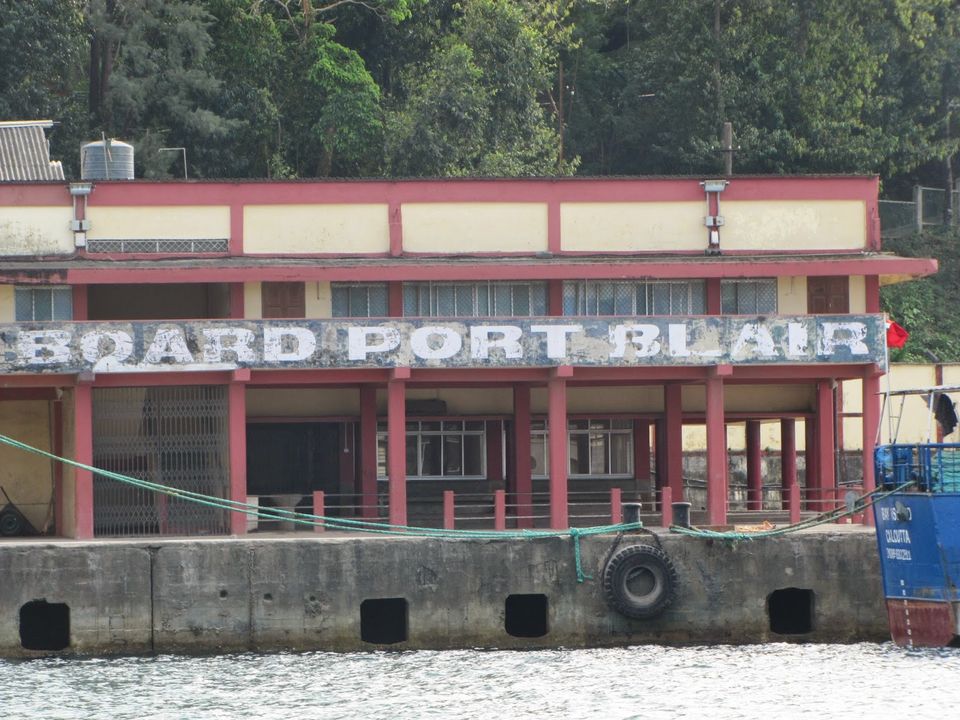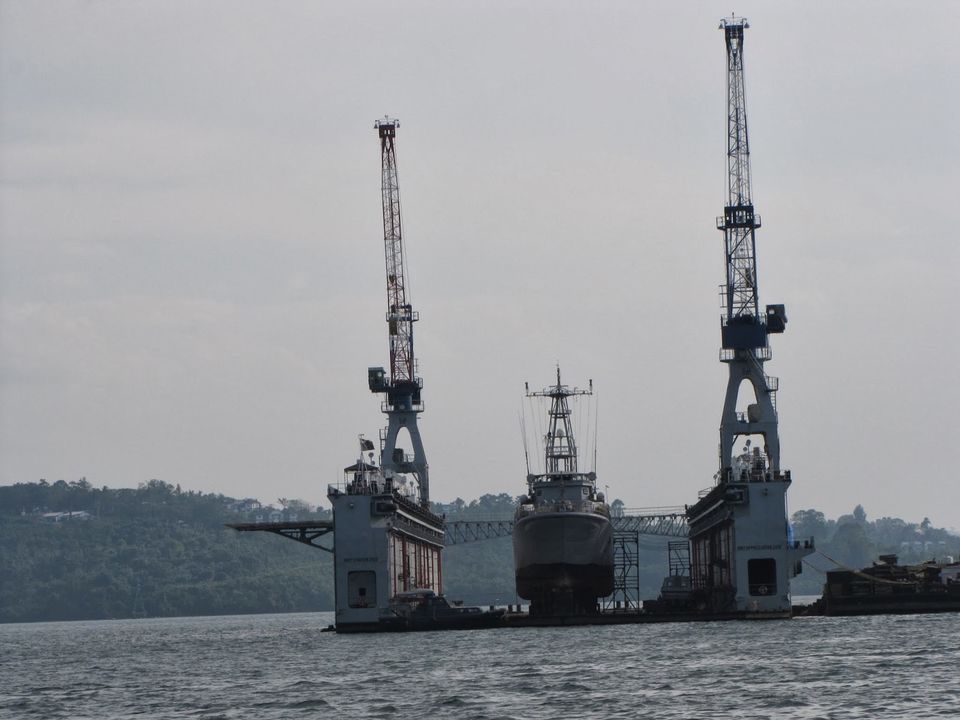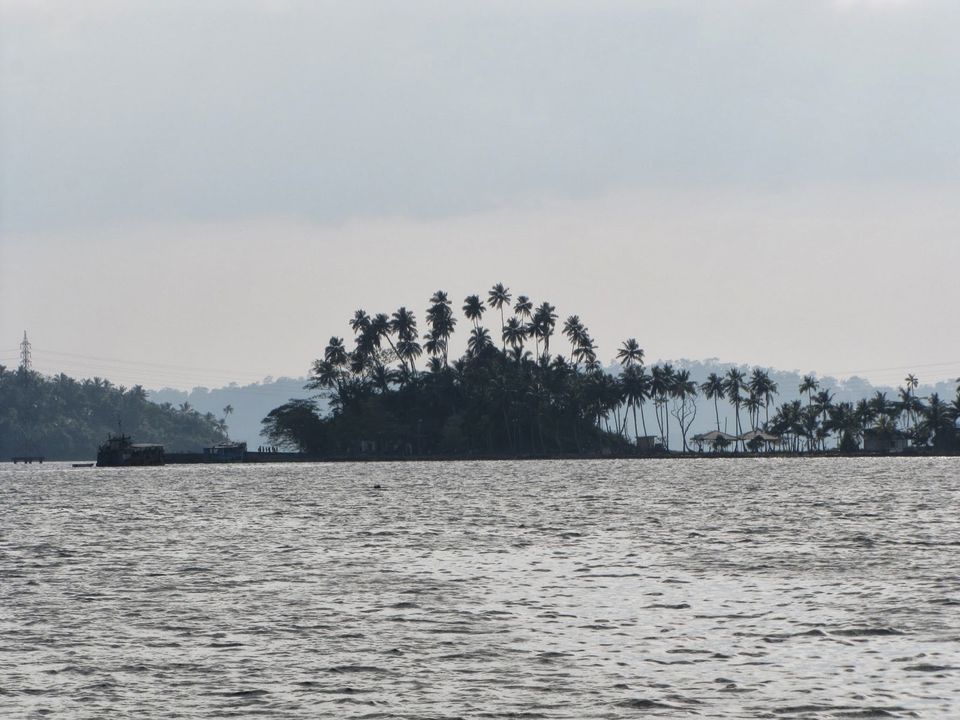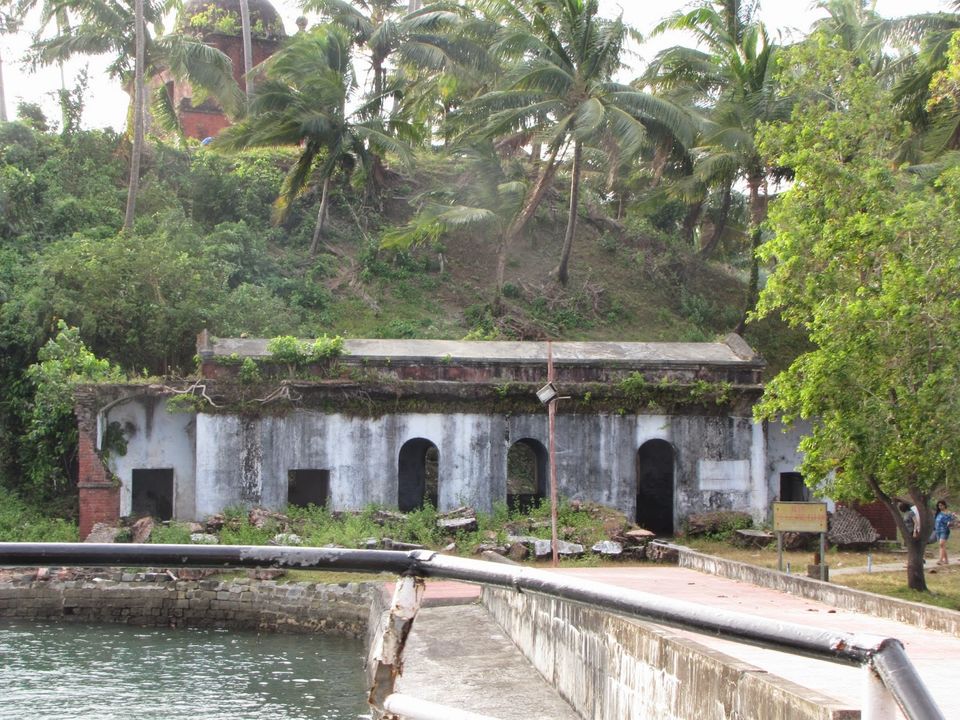 Day-2 was again replanned - Baratang, which was planned for Day-4 earlier !! Day started early around 5 AM. The road journey is around 110 kms. We had opted for common transport as advised by the tour operator. Reasons : The route is in reserve forest, where Day-2 (Baratang) Jarawa tribes are still there and transport has to happen with military protection. For this, public/common transport vehicles are given priority and private cars follow them. Overtaking is prohibited, and so as stopping anywhere inbetween. So, it does not really matter going by a private vehicle. Second reason, the roads are so bad, that, bigger the vehicle, better the journey ! We were served with breakfast (Poort/Sabji) in the can we went half way through. The first 50 kms is a normal route and next 60 kms is the reserve forest. The half way point is called Jirkatang . The final point on road is Middle strait . From there one takes a Jetty, in which vehicles also get transported to the opposite side - Nilambur. These are South Andaman Islands.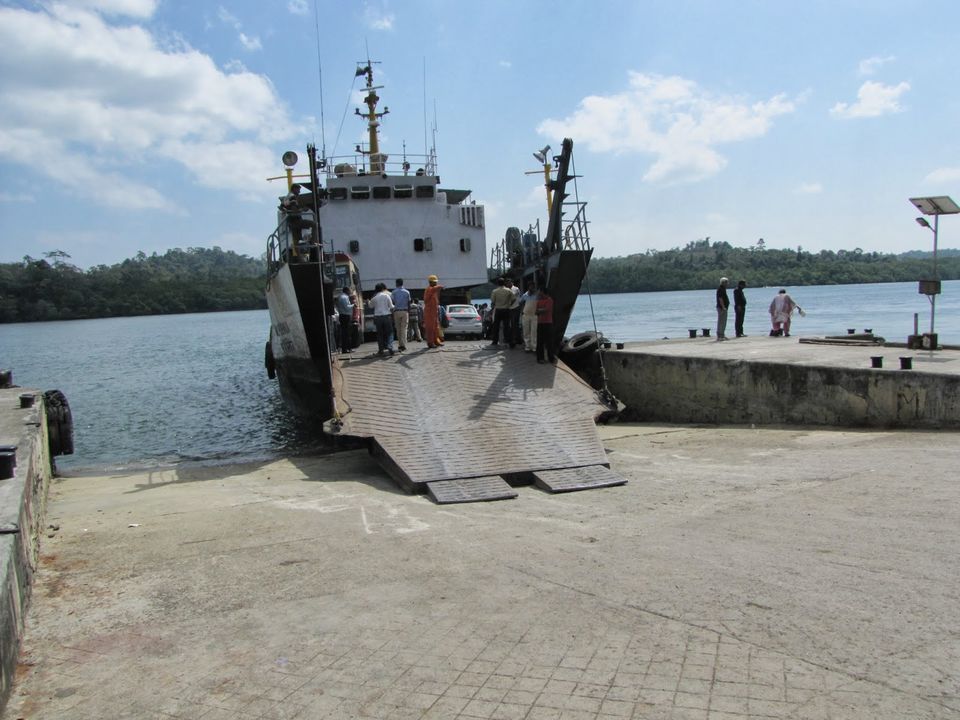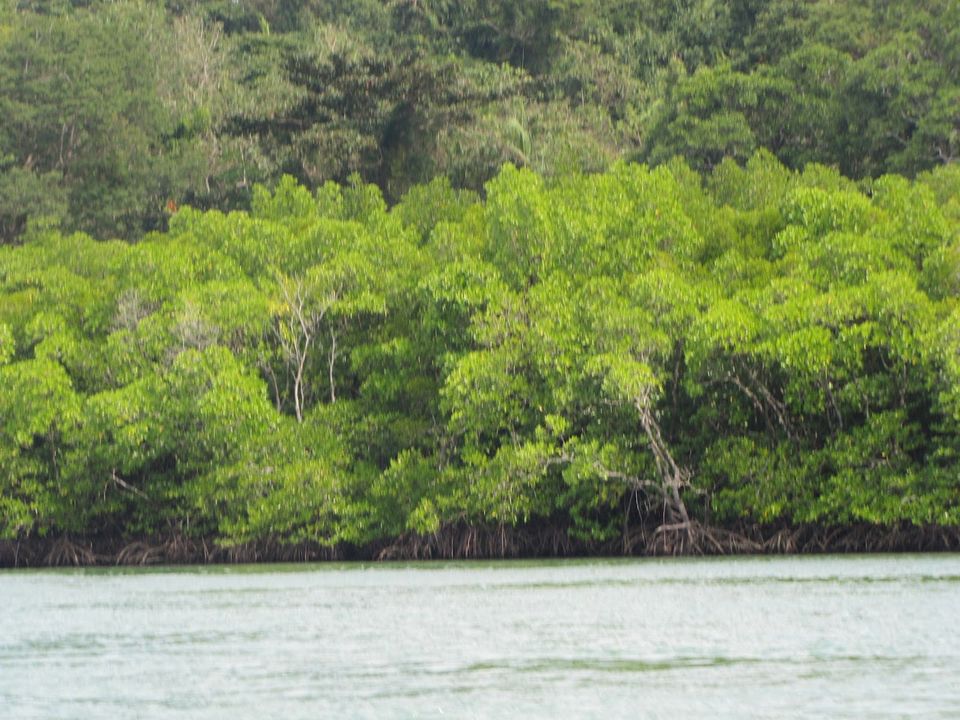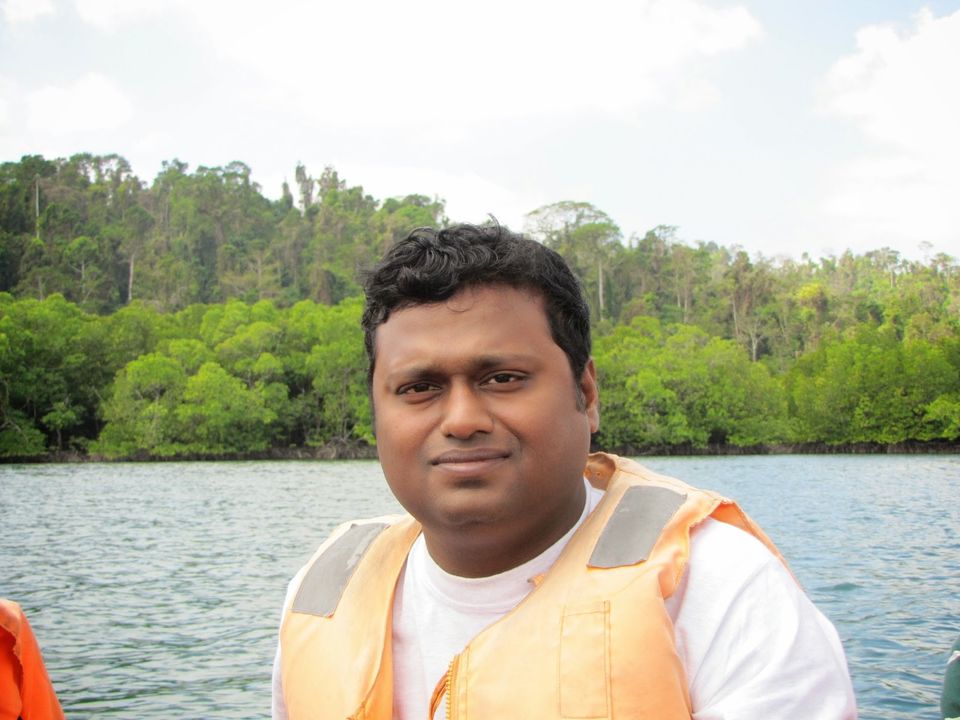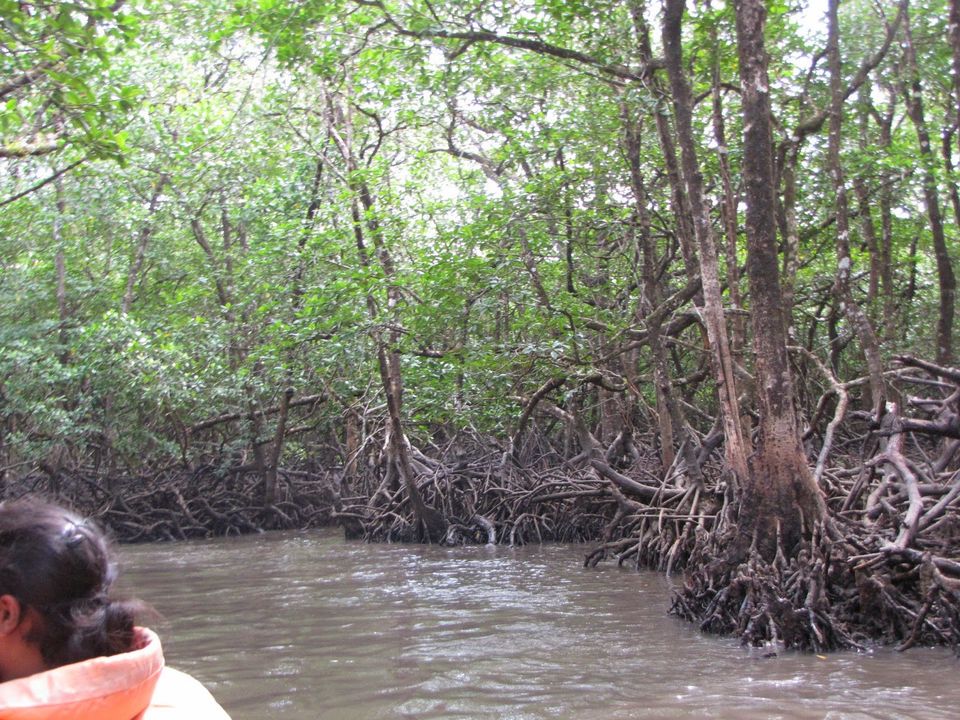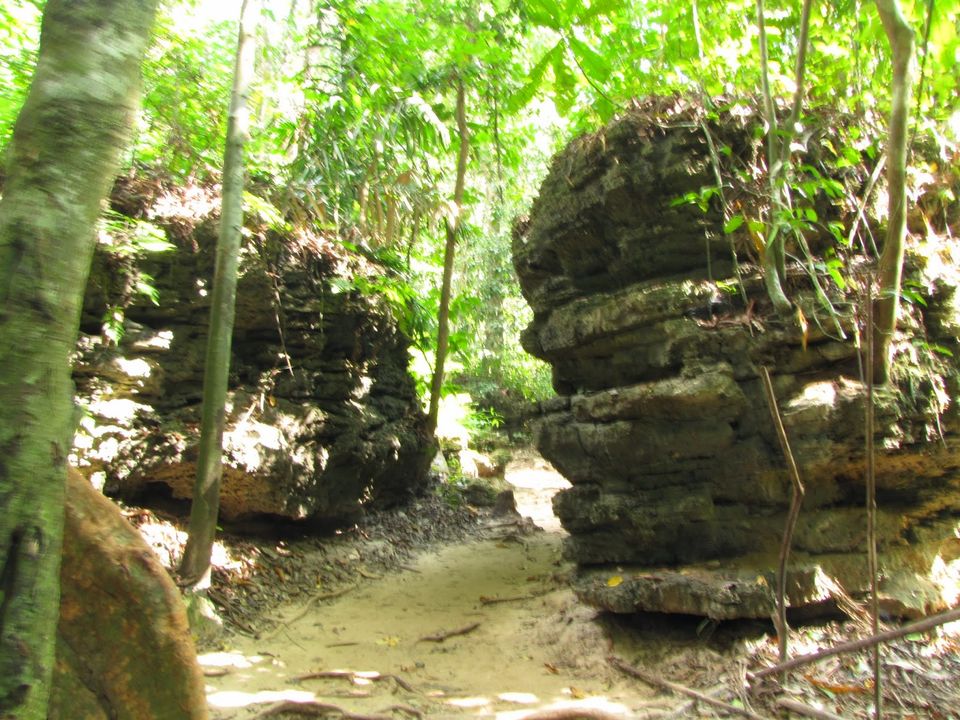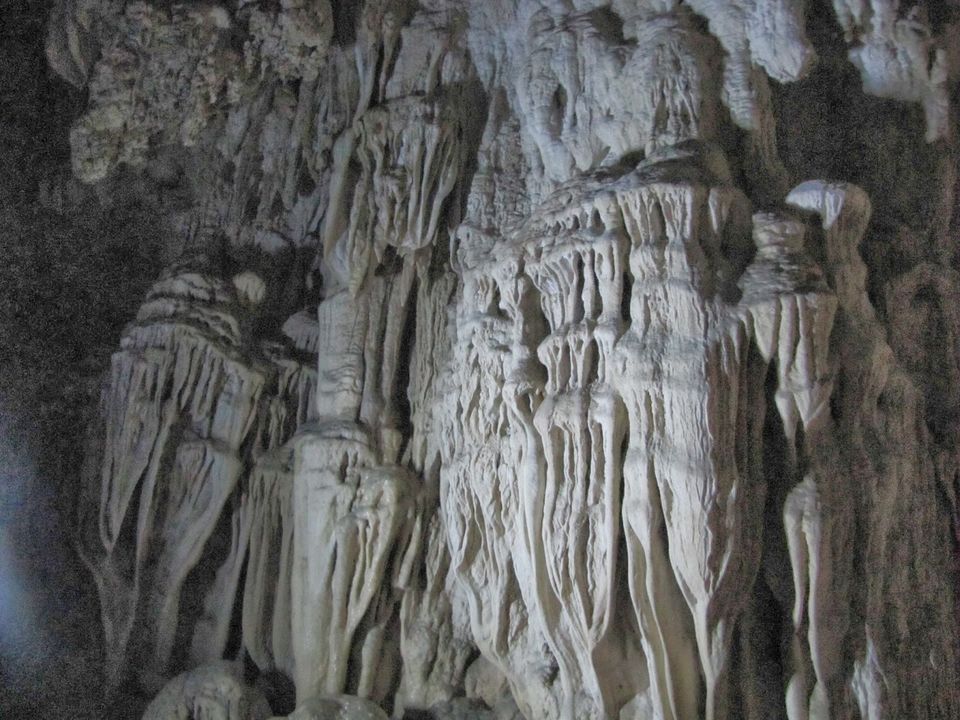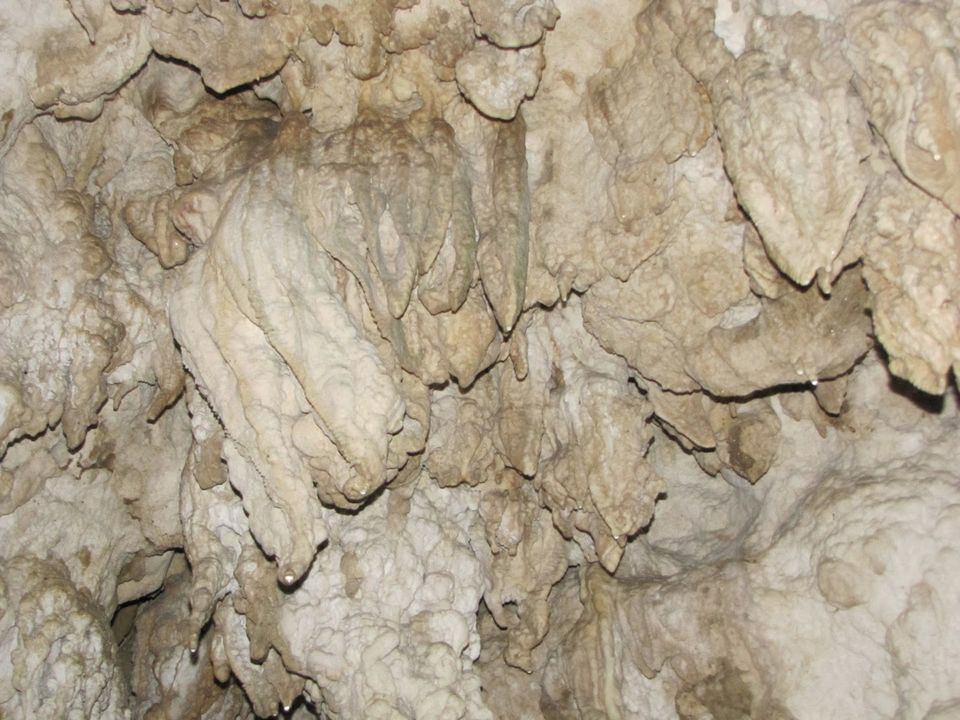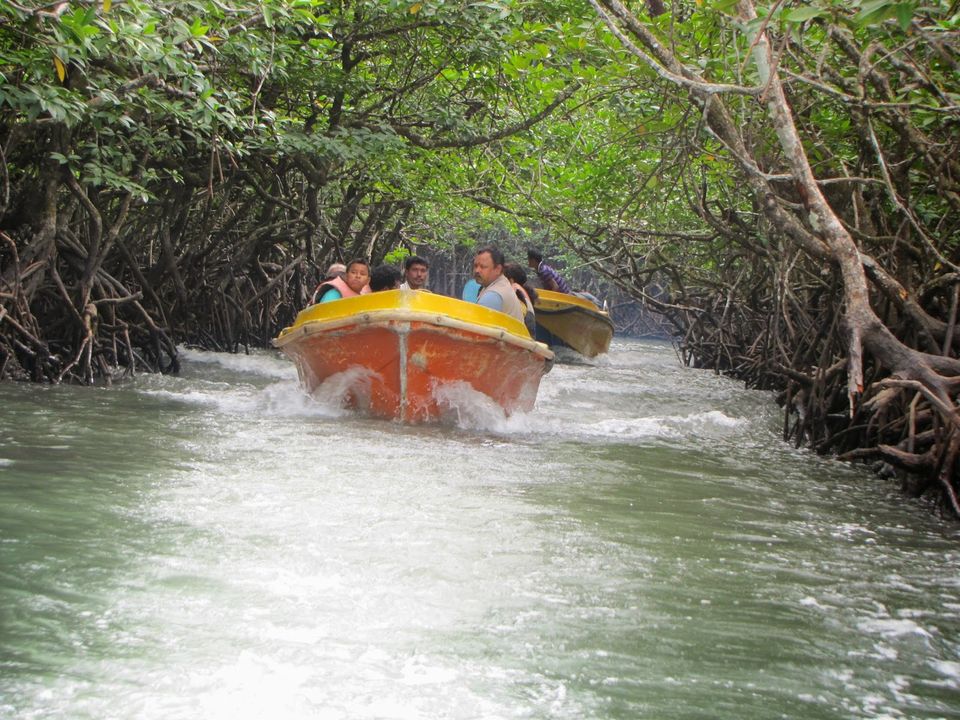 From Nilambur, one shall be transported through a motor boat - 30-40 minutes ride for the Baratang Limestone caves. One can site mangroves all around during this boat ride. On getting down after the motor boat ride, one has to walk for around 1.5 kms to reach the Checkout of the hotel, packed some sandwiches and reached the Port Blair port for our cruise (MV North Passage) to Havelock Island. The cruise started at 0620 and reached Havelock by 0830. This cruise was big and a first time experience. This cruise cruised through the North Bay Island within the first 10 minutes, for which on Day-1 we took more than an hour to reach :). The views of all side water was spell bounding. Passengers are allowed to walk around in the cruise and stand on the top of the cruise to witness a different experience. one can witness the beautiful limestone caves (naturally formed) which is only 100 m of length !!! Oh !... for seeing a limestone cave for few minutes one has to travel by road for close to 4 hours (one way) and 2 boat rides (one way) !!! The caves have a dead end and so narrow that most of the length, only one can pass by - there is a rush from the boat operator that we need to return quickly ! Having visited bigger limestone caves in Belum (AP) and Suggestion: Skip Baratang caves. 100% unworthy ! Yana (Karnataka), this one was a very big disappointment and me and my family. For the matter of 10-15 minutes of site seeing (unworthy), one had to take pains of 10 hours travel ! We were also told that Mud volcano is closed and not allowed - not sure about the authenticity ! Plus : We sited couple of Jarawa tribes on the return. One item in places one has seen in life ! and lots of tiredness ! Returned back to Port Blair around 8 PM after a disappointing day and a very enthusiastic night as we were to goto Havelock next day morning !!Day-3 (Havelock) Radha Nagar Beach of the Havelock from the cruise. The cruise goes around the Island to dock on the other side of Havelock. Radha Nagar Beach was named by Times magazine of the beautiful beaches of Asia few year back. Yes, it is !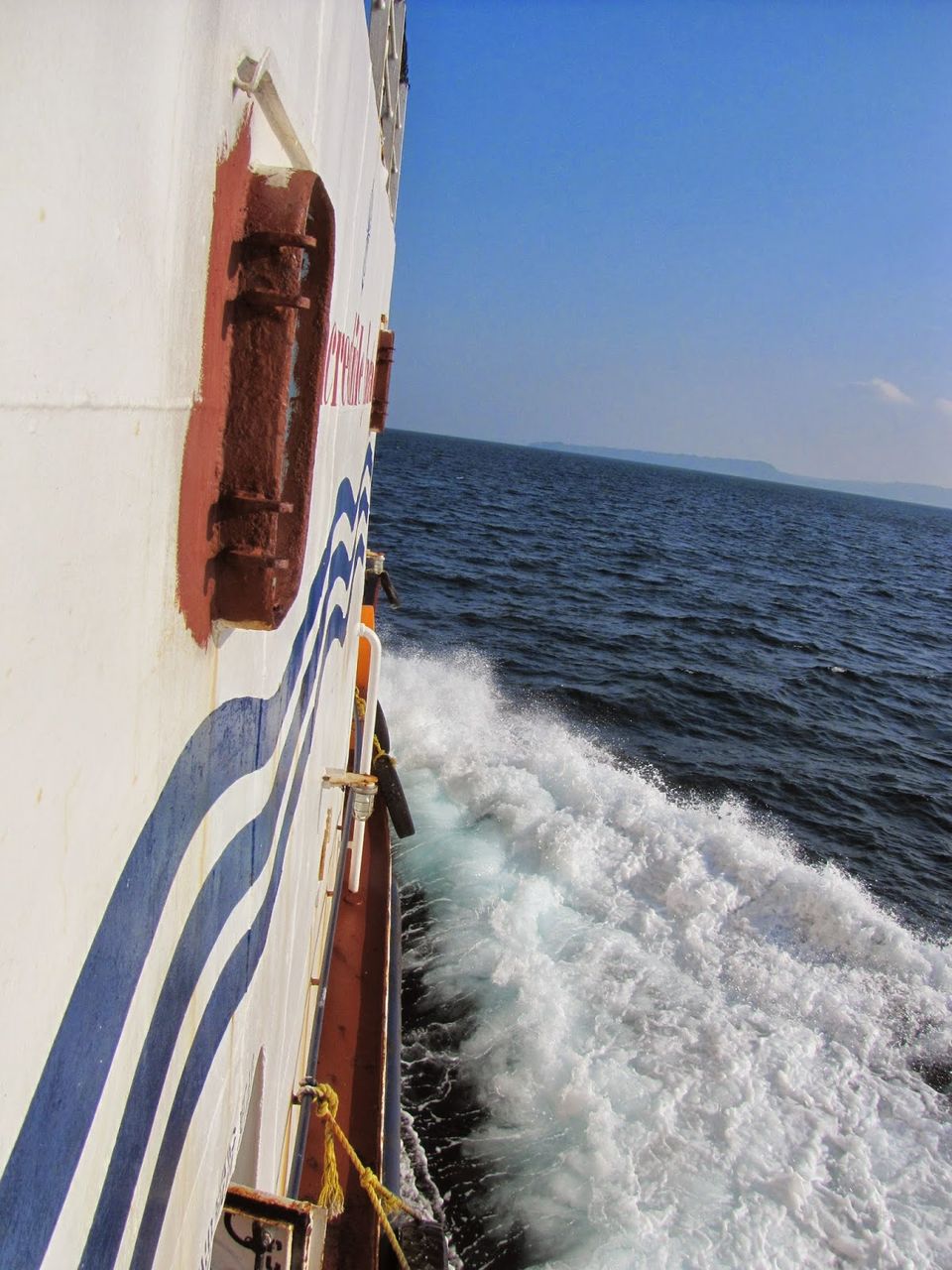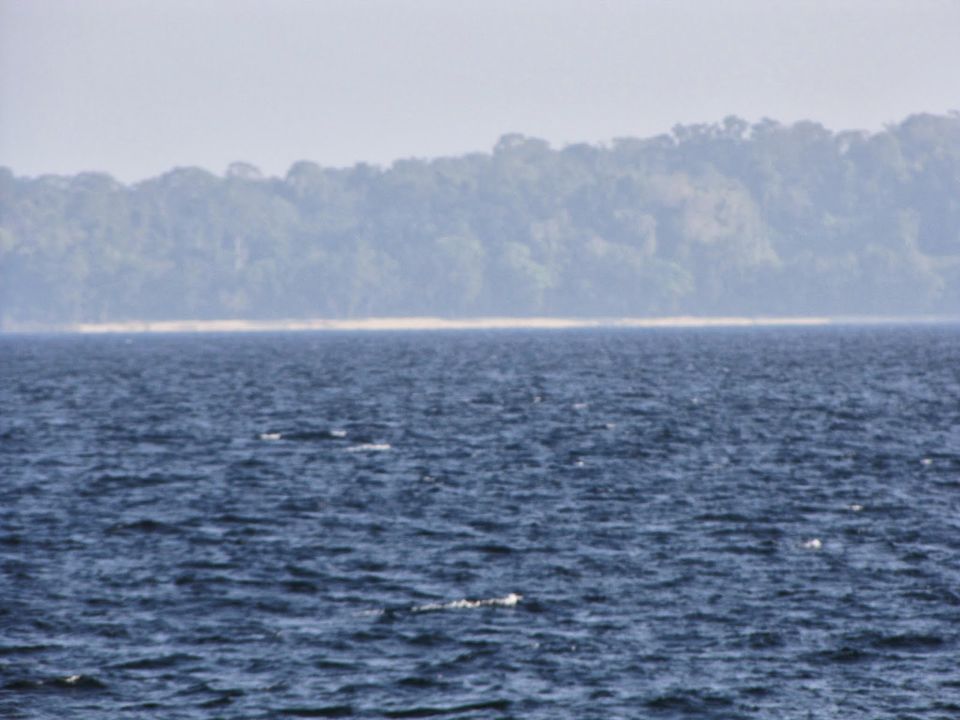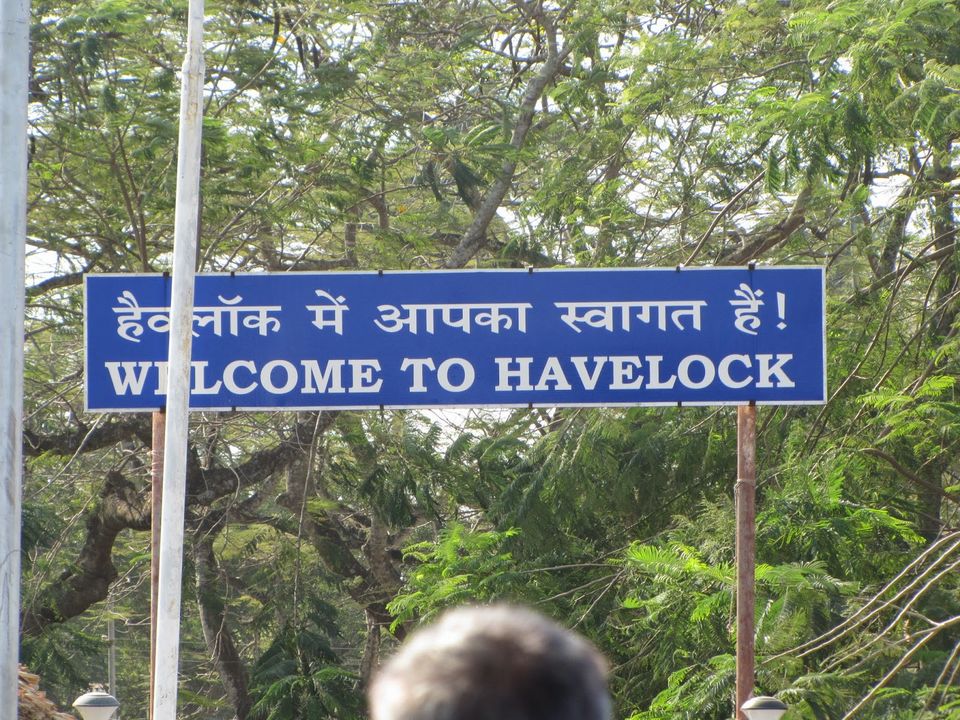 We had our breakfast at a small hotel at the Havelock Port. We then checked-in to our Beach resort on the Vijayanagar Beach front - Hotel GoldStar. The white sandy beach and aqua blue colored water stretch was just few metres from the rooms ! At last, we felt we are in Andaman ! :) What a view ! Breathless ! We wandered around the beach resort and beaches for an hour and we started to Radha Nagar beach. We all unanimously decided to forego Elephanta beach as we want to spend lots of time in the Radhanagar beach and the resort (Vijayanagar beach). We left to the Radhanagar beach at 11:30 and spend almost 3 hours - playing in waters ! The beach is so serene and scenic - white sand, blue waters and hilly region on one side ! WoW ! Yes... this is a place to visit atleast once in life time !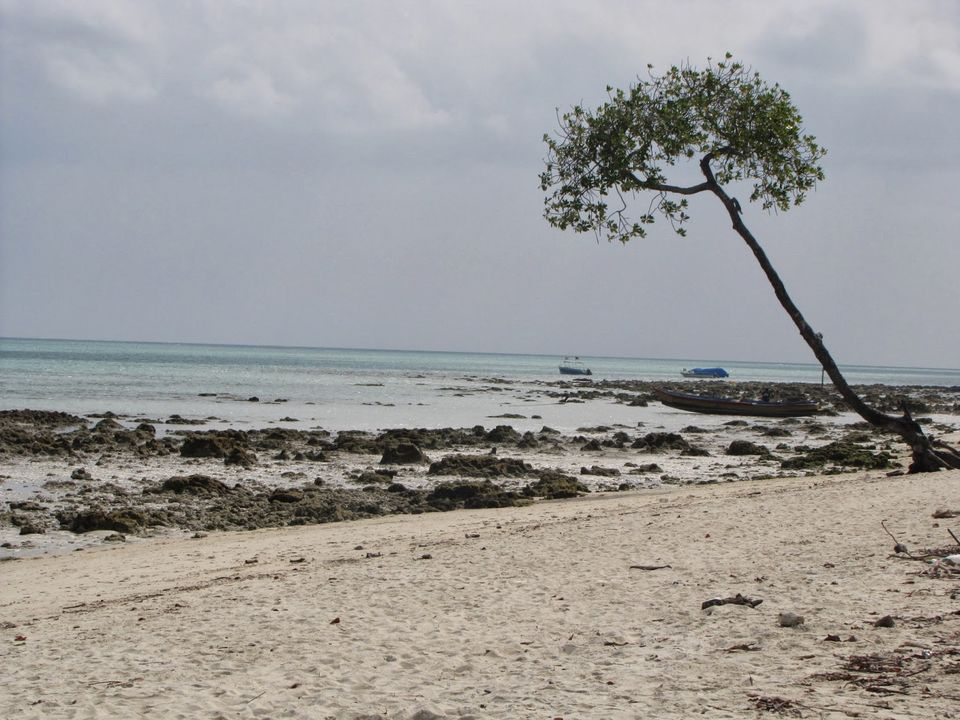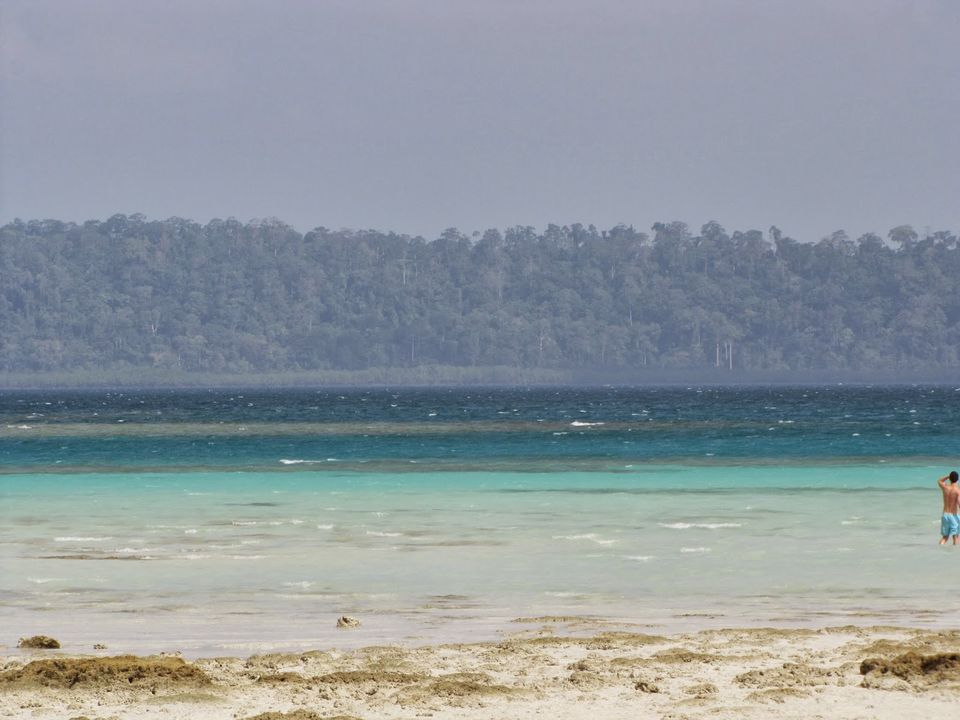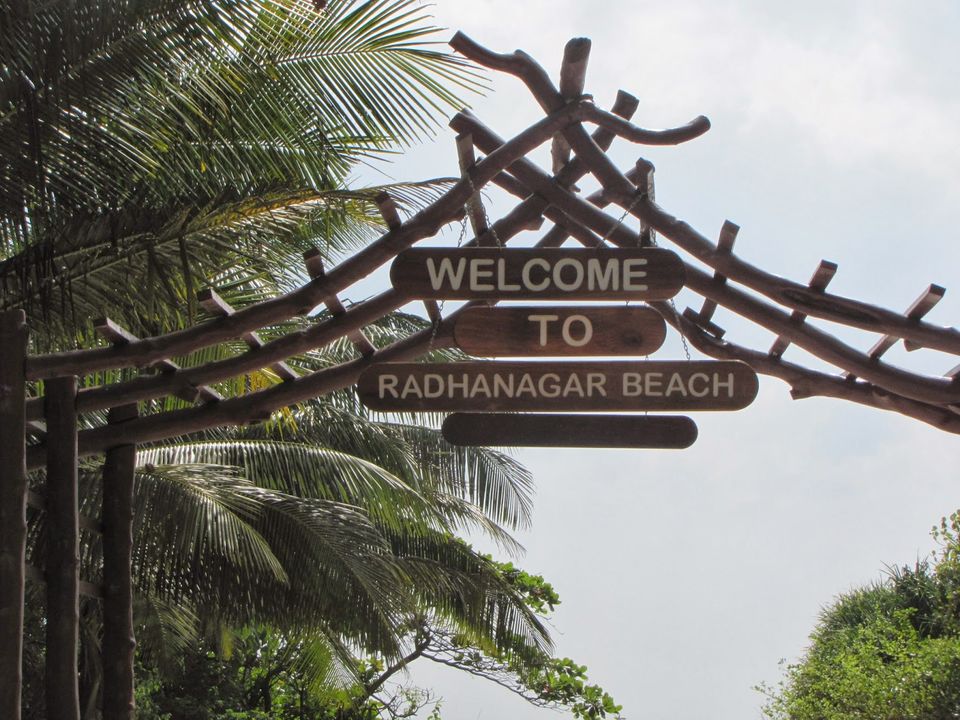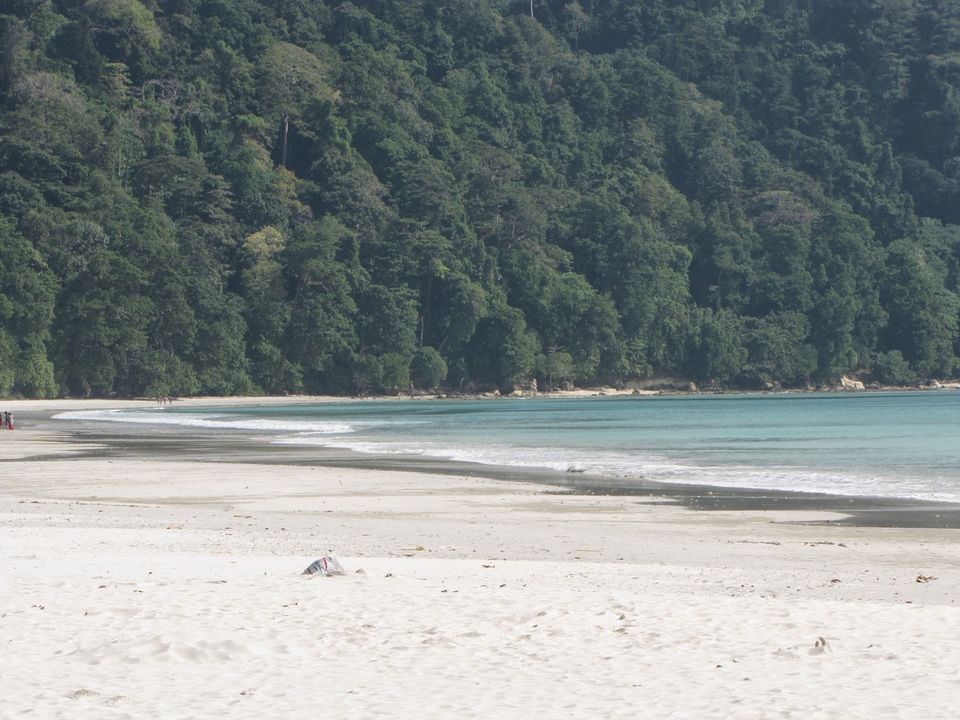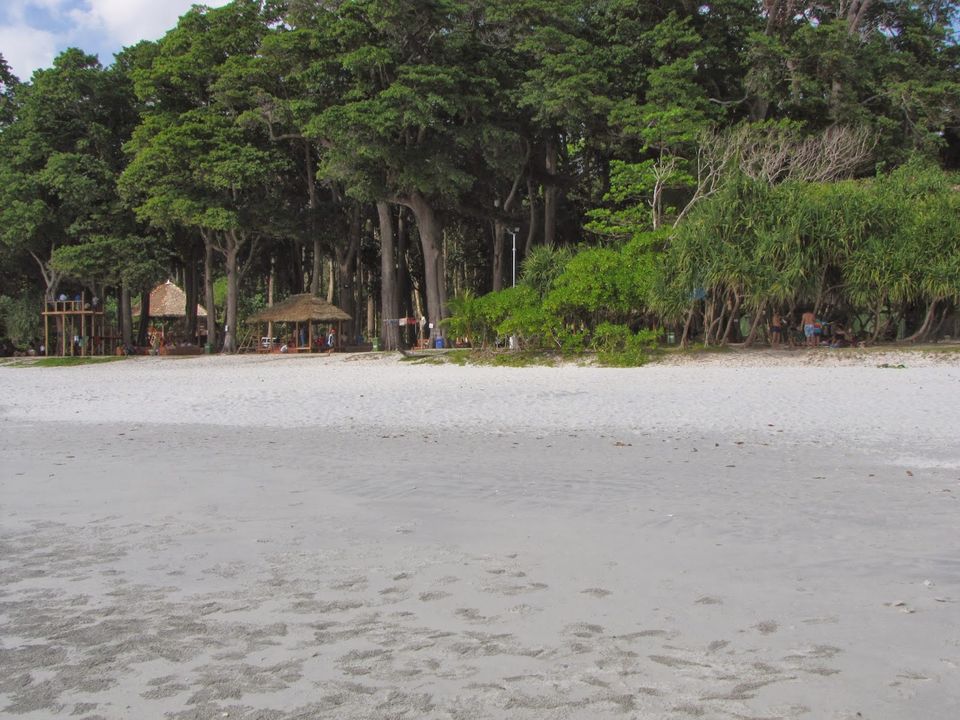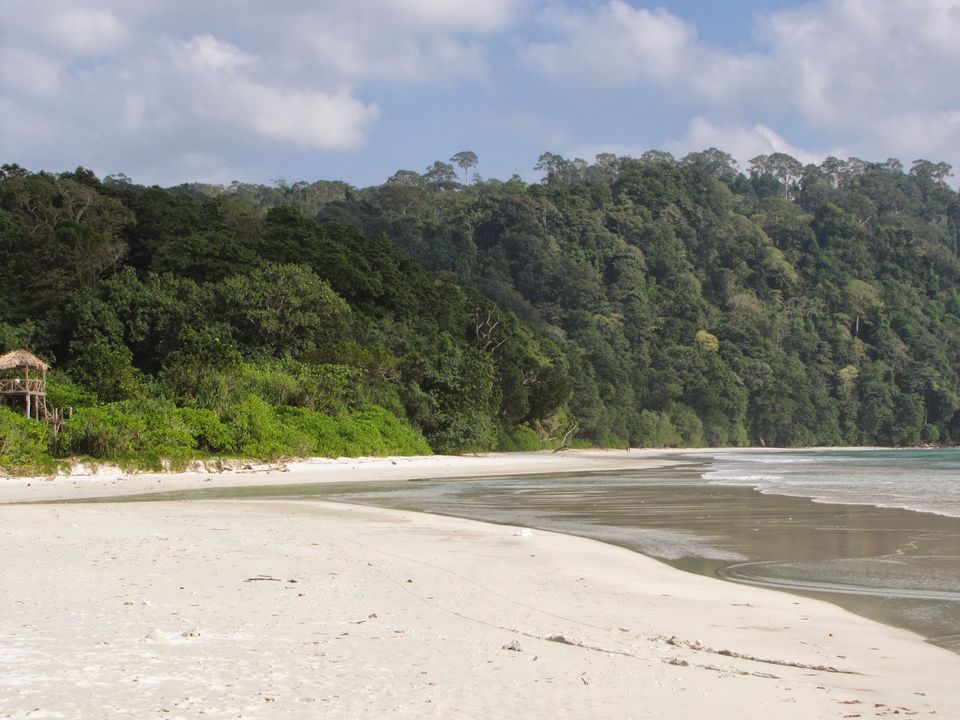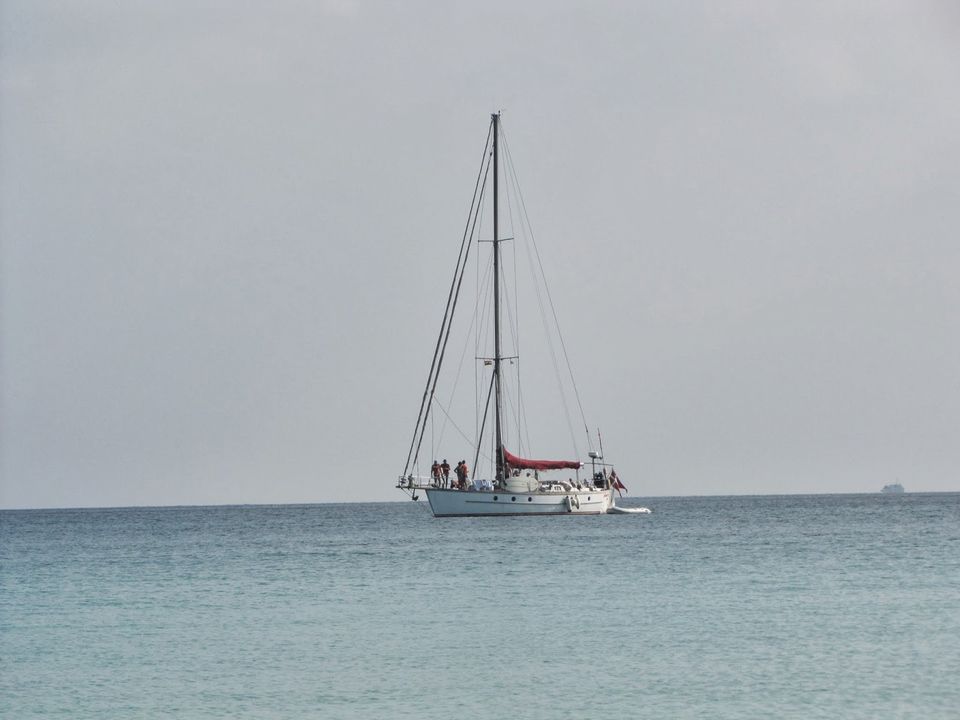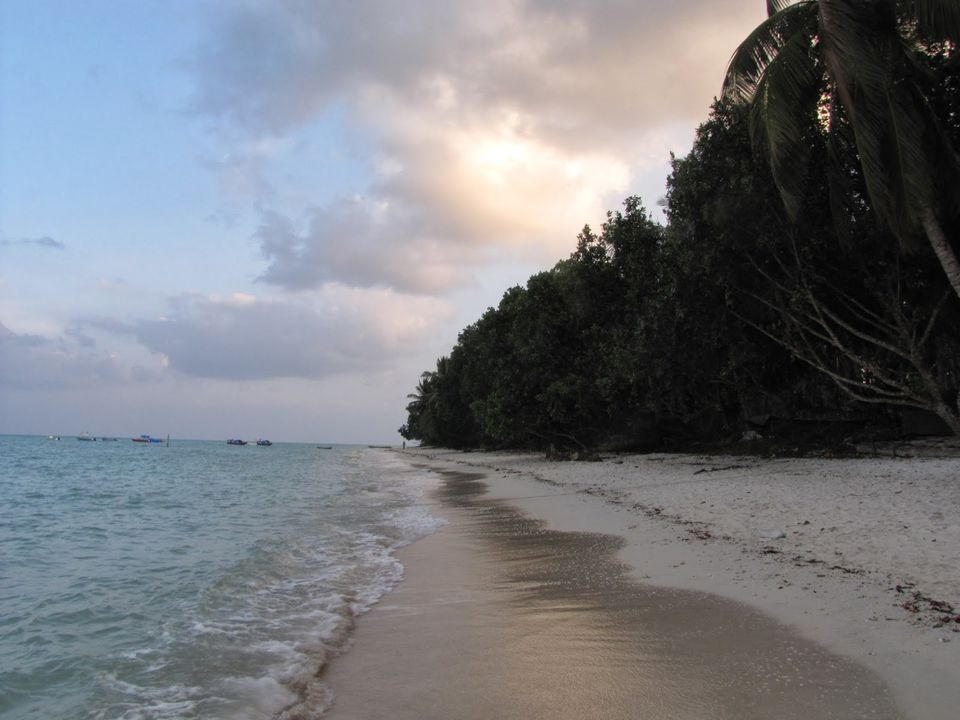 We came back and had a pretty decent lunch around 3 PM in the hotel restaurant. Then, off to the beach in the resort. Played and walked around for couple of hours and then dine and to bed ! Pretty satisfactory day in the tour.
Day-4 (Havelock - Neil) Sunrise seen from Vijayanagar Beach - not really saw the Sun rise, but witnessed a glimpse of it around 5 AM. Sun rises around 4 AM at Andaman (No wonder coz, its so far on the east, yet have IST) and obviously it is too demanding to see the sea so early !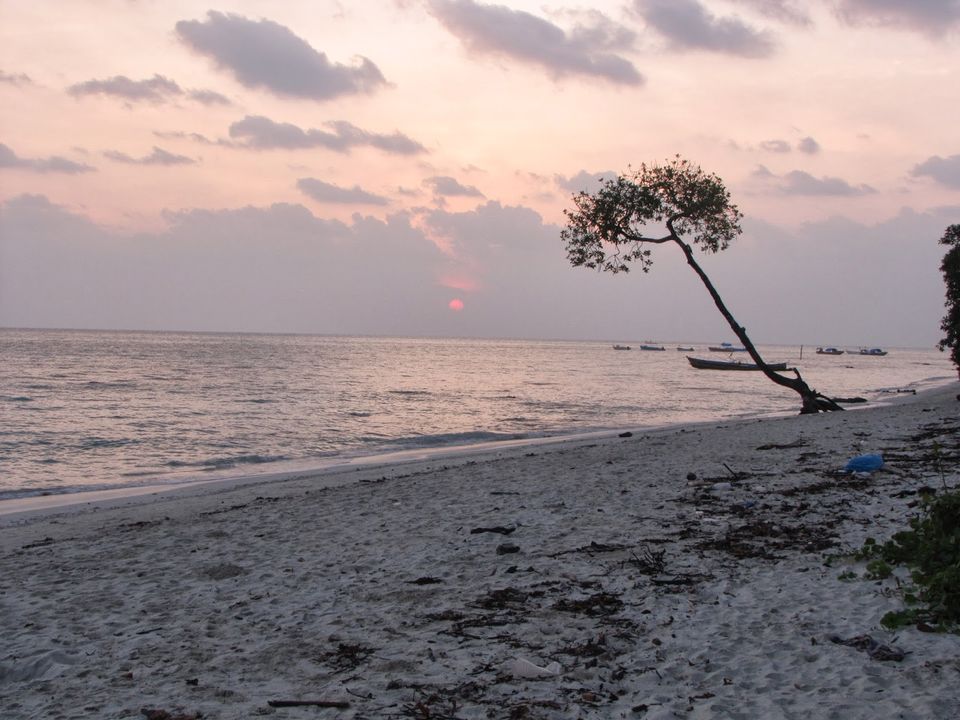 Lazy morning, had breakfast, checked out around 9 AM and reached the Jetty to get into Luxury cruise to Neil island . Our operator had booked Luxury cruise (private operated) - Coastal Cruise ! This was faster than the ones operated by Government - which means many vomit ! This is a closed cruise (air conditioned) and one does not really feel the journey so pleasant and enjoyable. Neil Island is equally beautiful as like Havelock, smaller and less populated. Our first destination was the natural bridge like rock formation. This is a beach where you can see no sand and full of dead corals. Then, you witness a rock formation, which looks like a bridge. The beach is flooded with water for several feet in the evening and nights, and water resides in afternoons and makes way to see the bridge like formation. We also witnessed star fish in close quarters.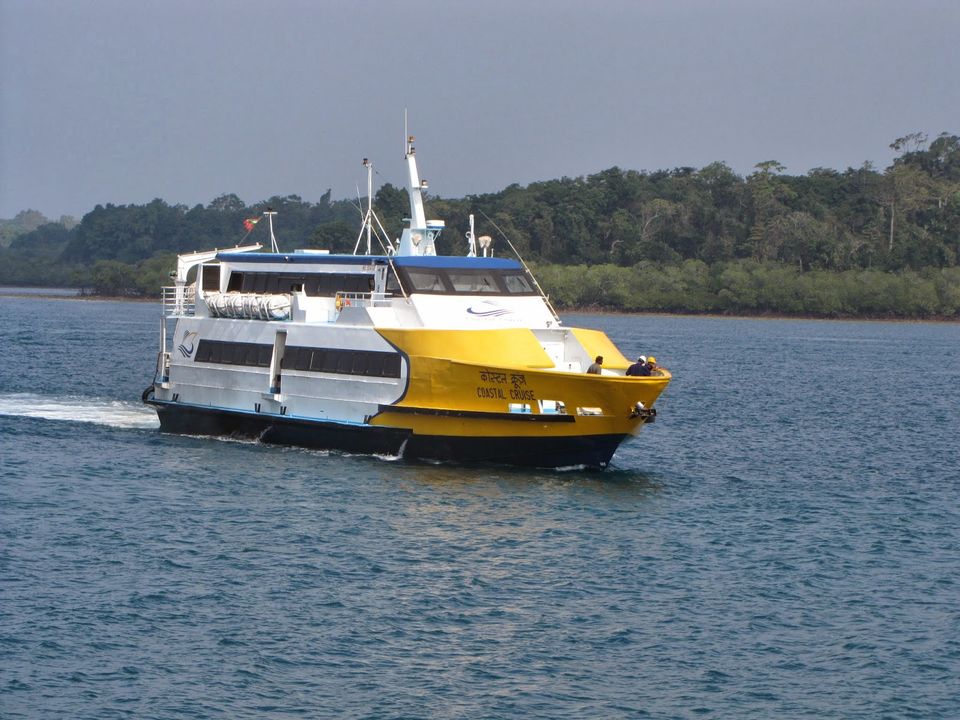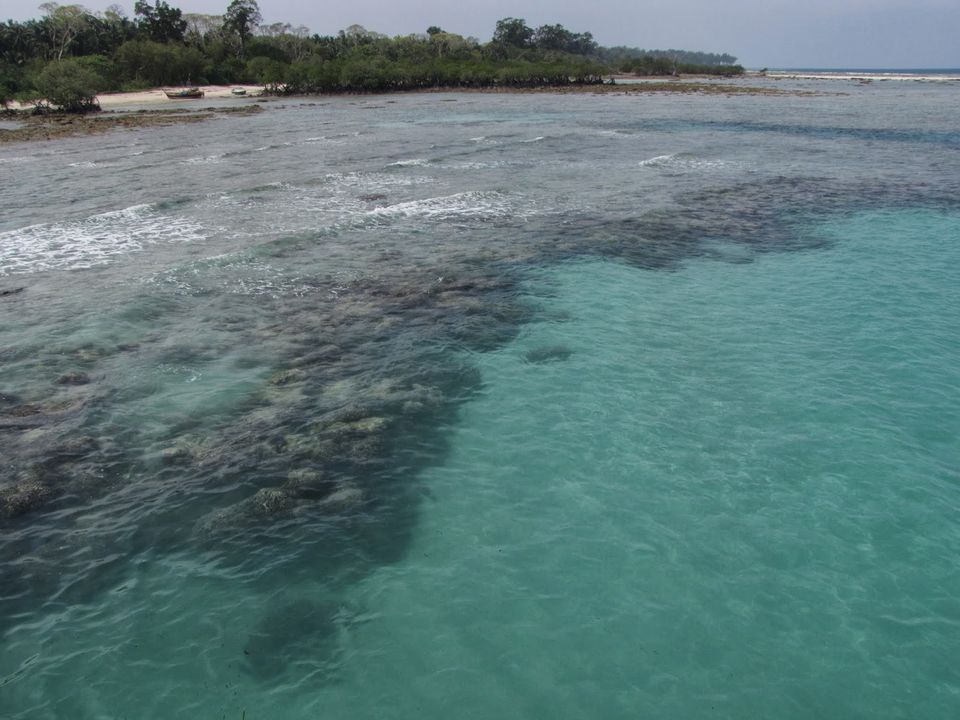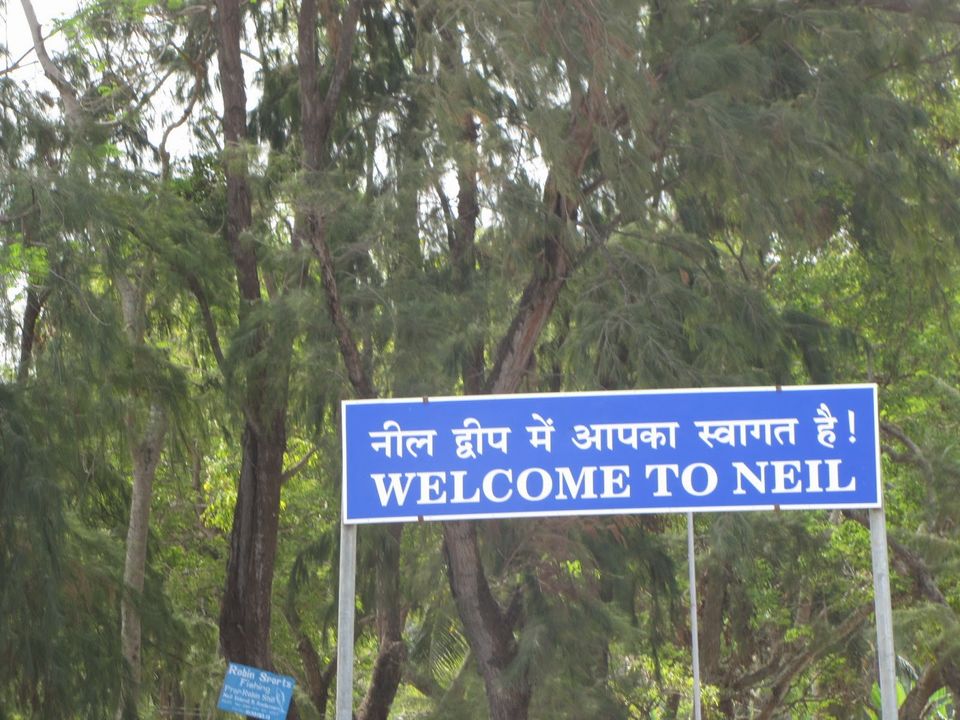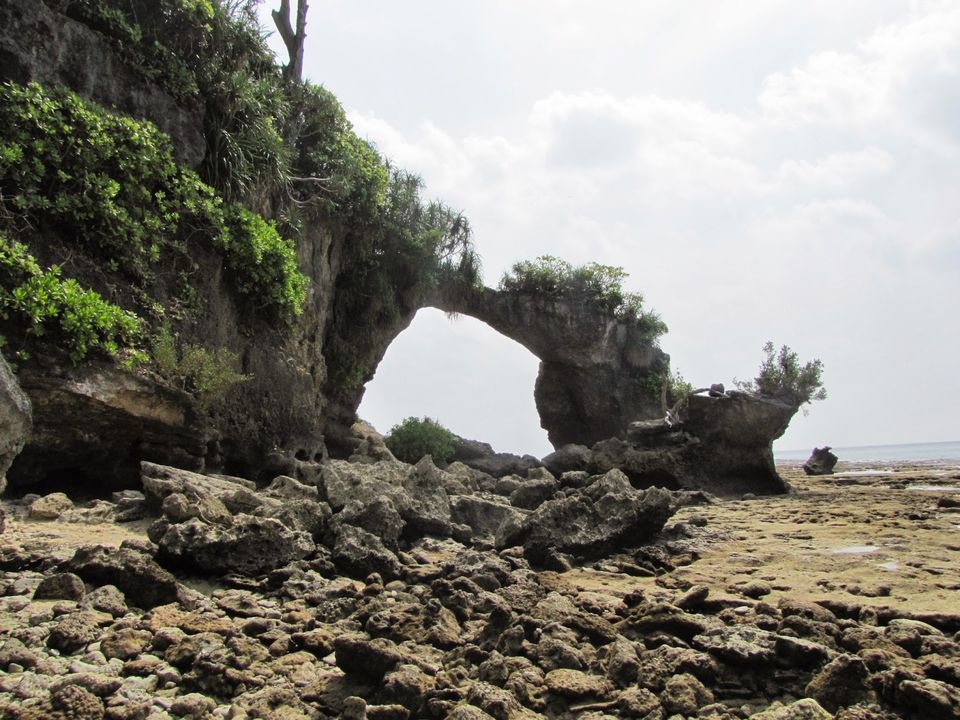 Next hop was to Bharatpur beach - this is a heavenly beach and considered to be an excellent place for coral viewing - better than North Bay. We opted for Glass Bottom ride and definitely this was excellent - not to miss ! We viewed several unimaginable colours of fishes in plenty amongst amazing corals. It was a totally splendid experience to view and out of the world. Moreover, the beach had a stretch of water of 2-3 feet for more than a km with very less waves!!! What else does one need (especially without knowing swimming :)) !!!! Next couple of hours where spent in the beach stretch and the waters and it was time to get to the jetty for our return to Port Blair. 1430 - had our lunch in a small hotel showed by the driver - not so great, yet okay !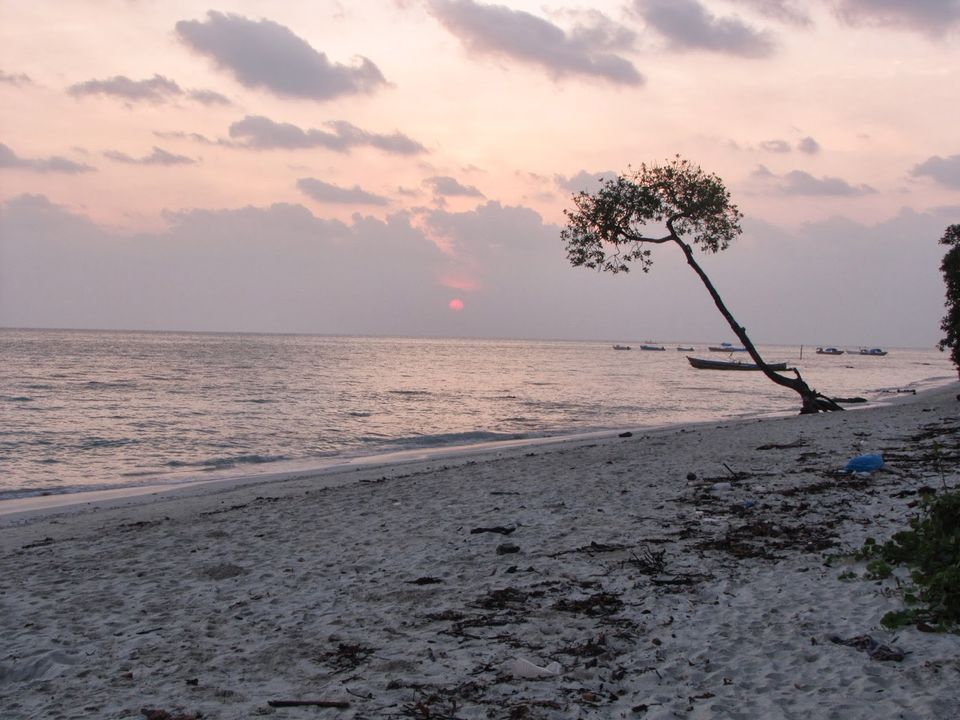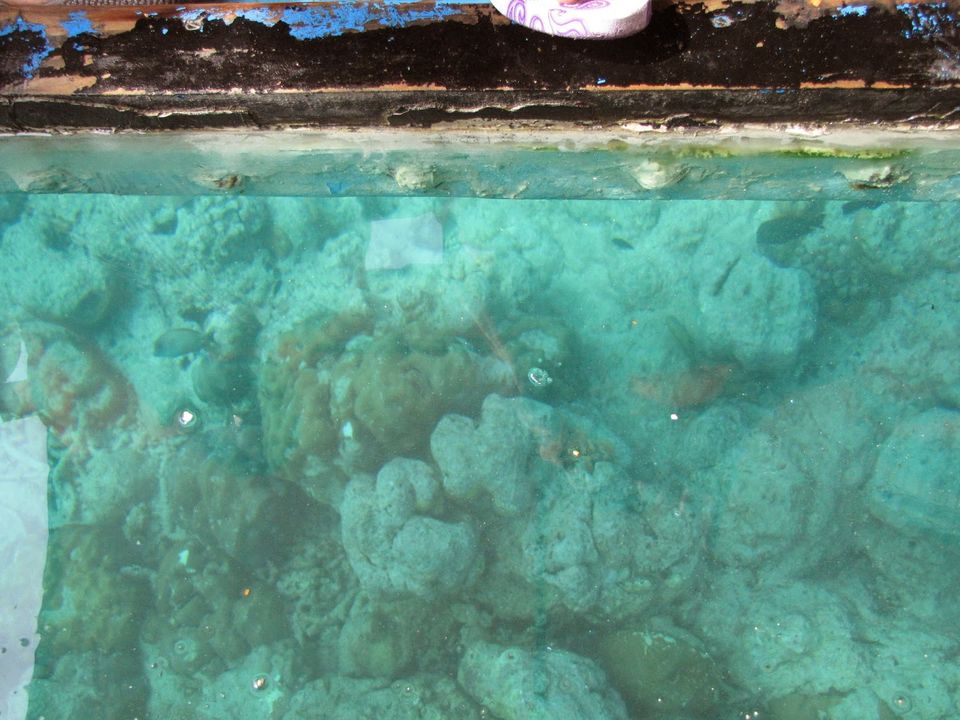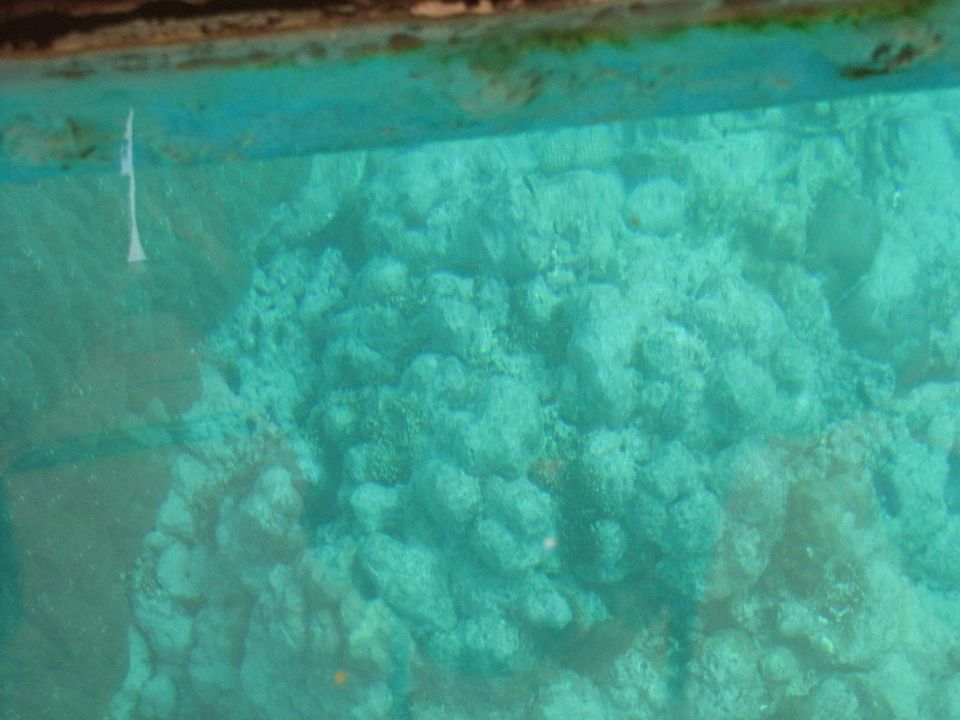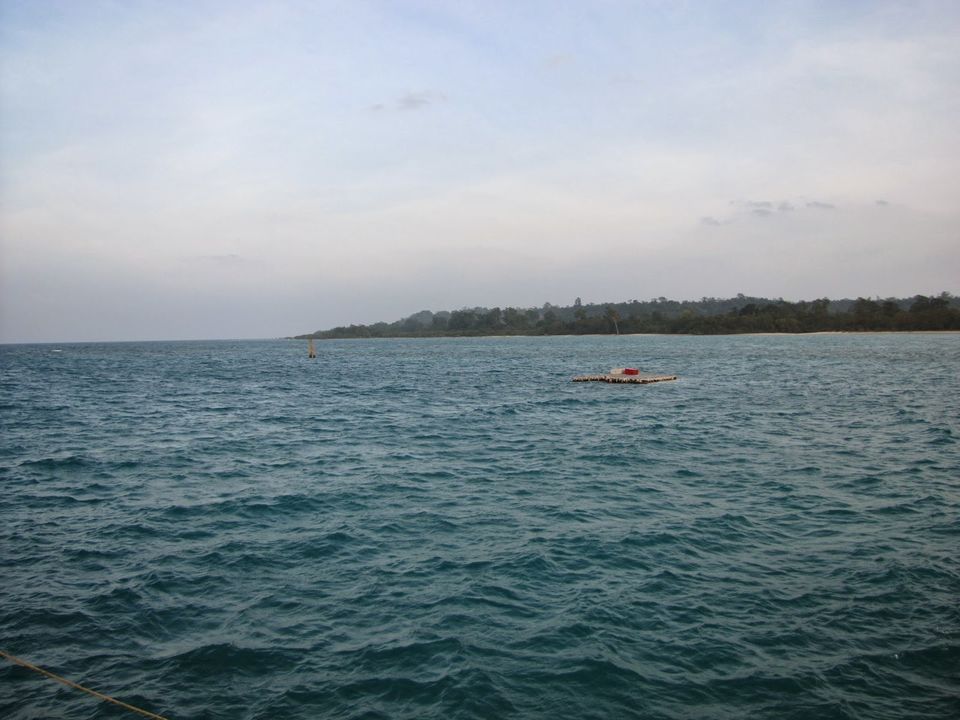 There were some issues in getting tickets for our return journey, may be missed by the tour operator and we were allowed to board as unreserved - on the deck of MV Jolly Bouy ! I think it was good to go as unreserved, as most of the tourists want to be on the deck enjoying the sea. It made no difference to have a seat in the bottom deck and still stand in the top deck. Reached Port Blair around 8 PM and back to Hotel Annapurna for some Chapathis, Idlis and Dosas. Our return flight - Spice Jet was at 1300 hours, and we had the morning was some local site seeing which we did not do on Day-1. Checked out at 0930, headed to Day-5 (Port Blair) Aquarium. Photography is not allowed inside, though, there were tourists who believe to be smart, were taking photos. The collection of corals and fishes is very good and this is a Must visit place. Easily, one can complete this in 30-40 minutes time. Next hop to Cellular jail. We walked in all through the cells and refreshing the freedom fight photographs and few other exhibits around. Came out around 1130, packed our lunch from Annapurna and reached airport by 1200.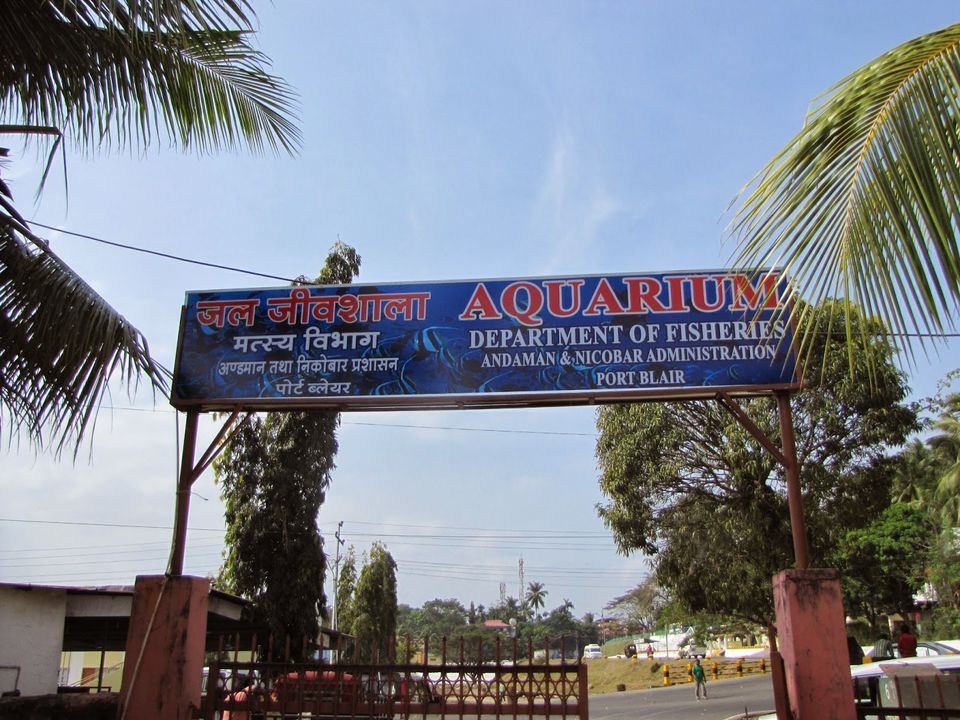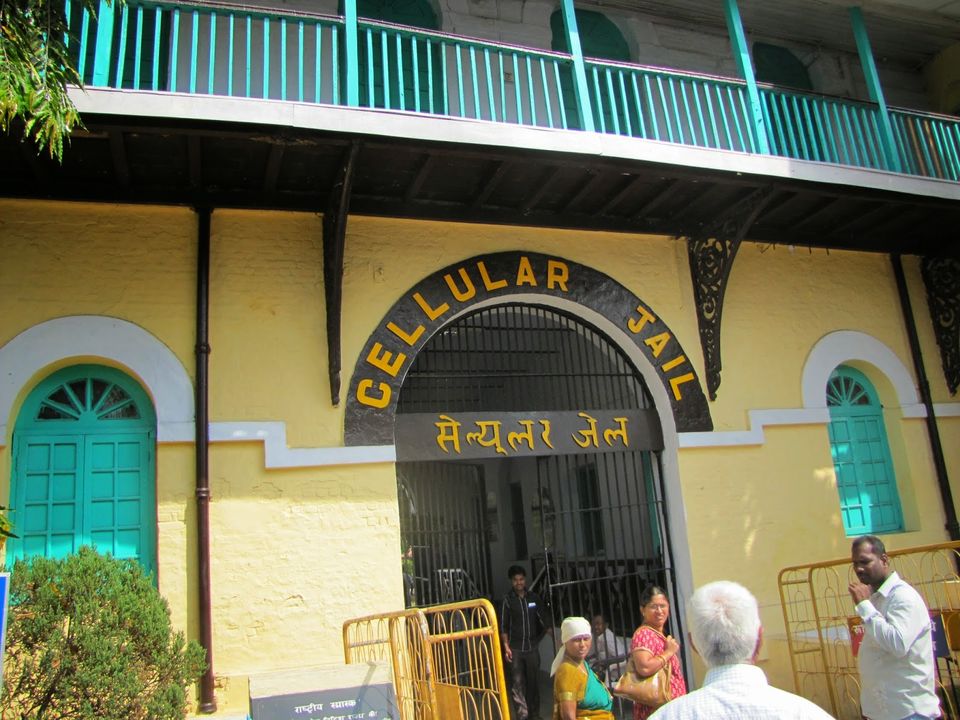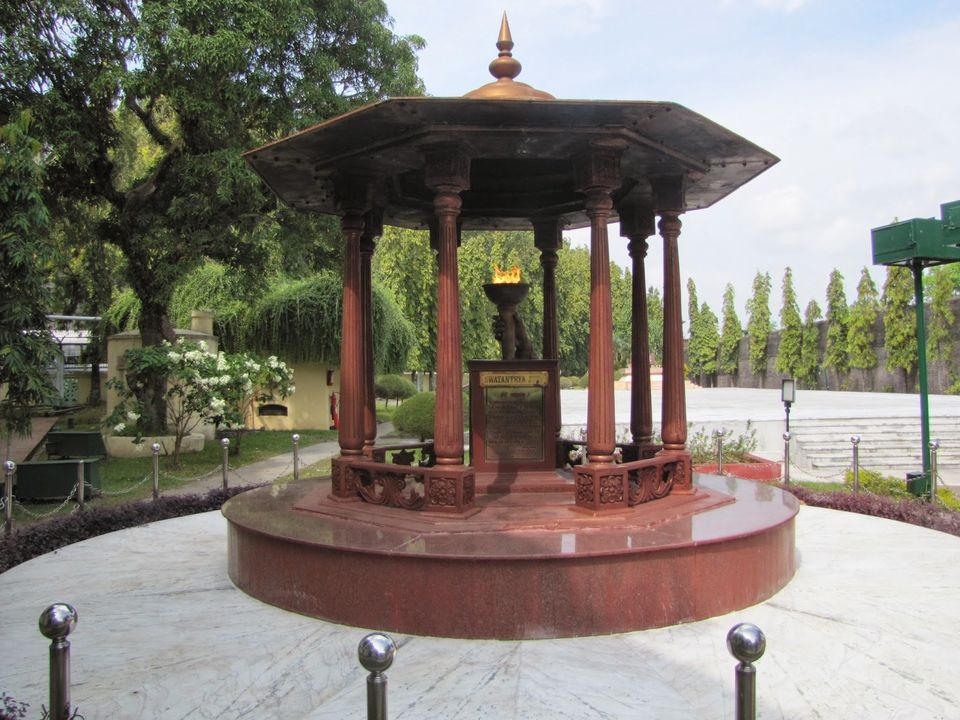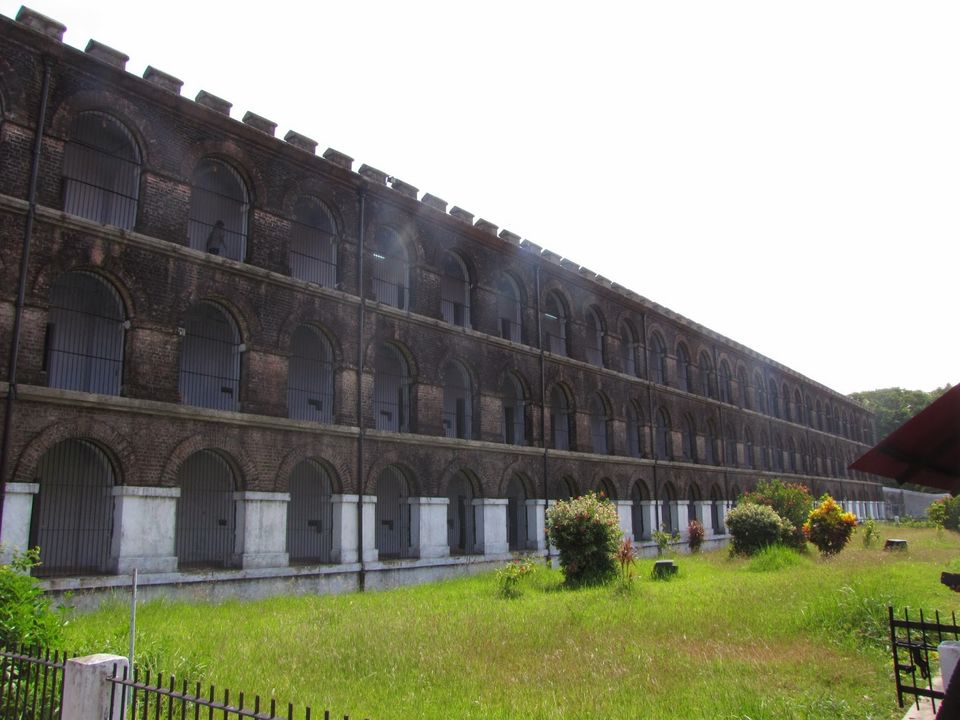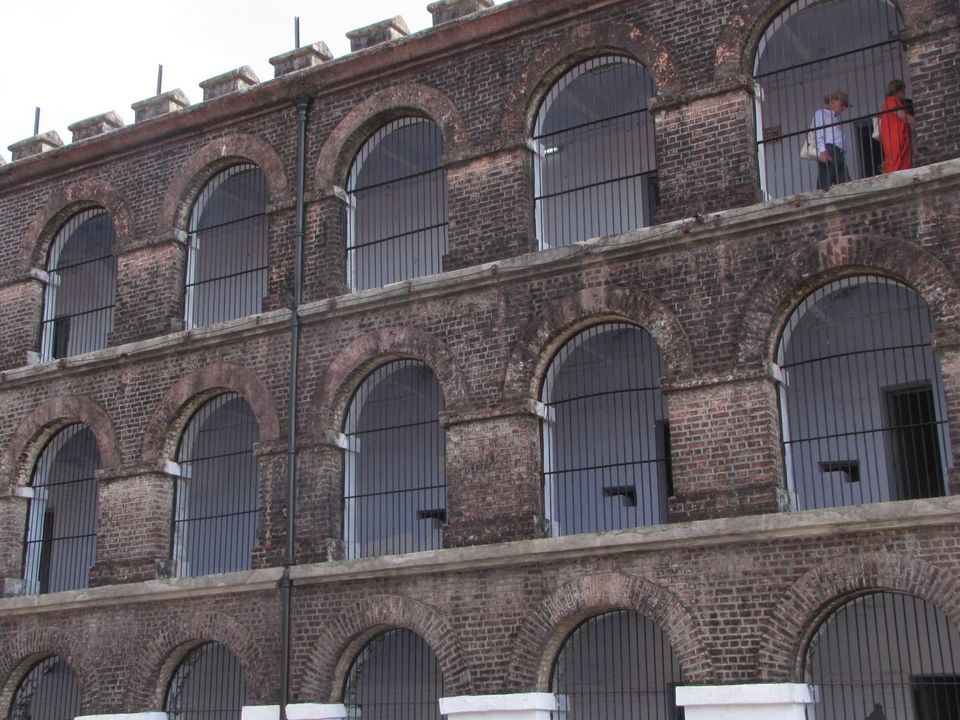 Not such a comfortable feeling to leave the Islands in short period ! Work calls back ! Definitely one more visit to Havelock and Neil Island is on the anvil !!
Stay of atleast one night in Havelock - 2 nights for very relaxing and enjoyable vacation ! Spend Quality Time in Neil Island at Bharatpur Beach Glass Bottom Boat ride in Neil Island - Bharatpur Beach Aquarium in Port Blair