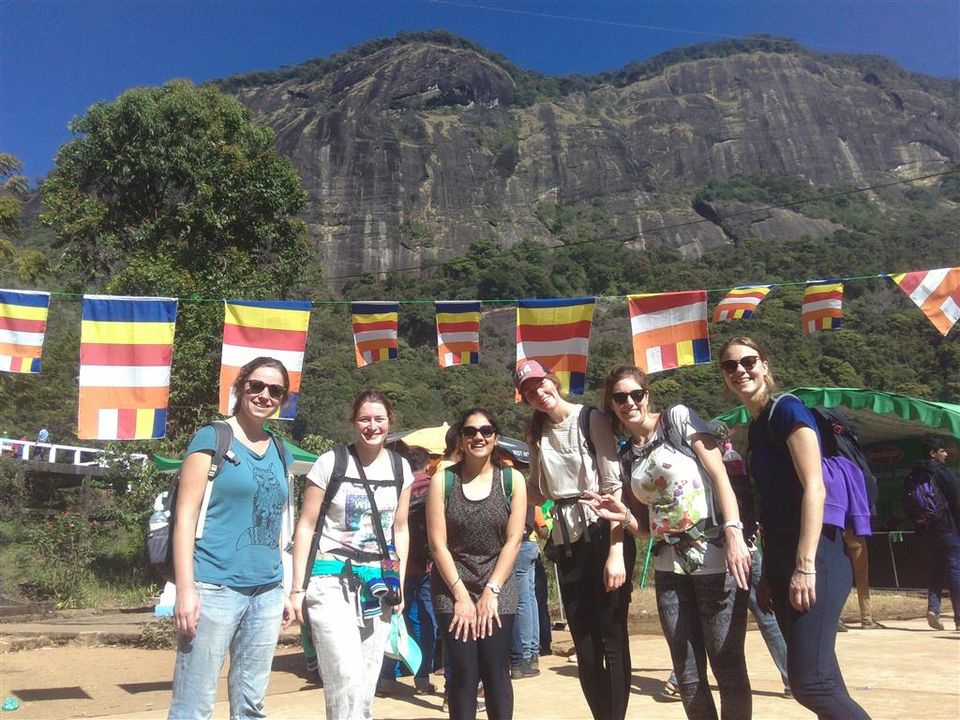 Sri Pada or Adam's Peak in Sri Lanka was high on my list of places to travel. The lofty conical mountain peak set in the central region of Sri Lanka is a trekker's delight and serves as a place of pilgrimage to Buddhists, Hindus, Christians and Muslims alike.
There are legends associated with the large (around 5-feet) stone, resembling a huge foot, atop Adam's Peak. For the believers of Abrahamic religions the foot is that of Adam, the first man on Earth. Accordingly, Adam had first set his foot at this place, thus giving it the name – Adam's Peak. Hindus call it as Lord Shiva's foot. Buddhists worship it as the foot of Gautam Buddha. With over 70 per cent of the population as Buddhist in Sri Lanka and Buddhism being the State religion, Sri Pada is more of a Buddhist place of pilgrimage with thousands of devotees flocking to pay obeisance to the giant foot, particularly on the Poya Day (Full-Moon night), a public holiday in Sri Lanka as each of the full-moons have its own importance commemorating key events in Buddhism.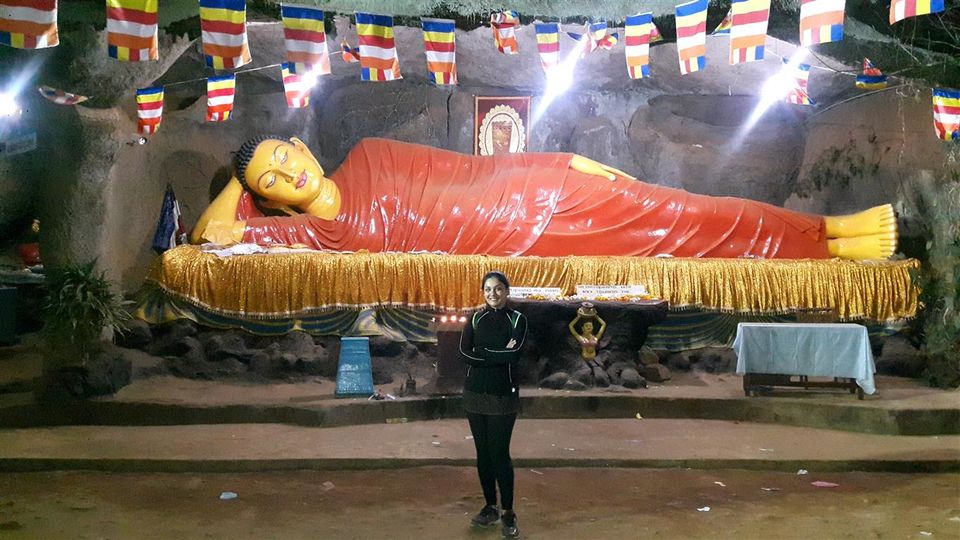 The mandatory, mundane logistics:
It took me less than three hours to reach the Colombo International Airport from Mumbai Intl. Airport. After the currency-exchange and buying a local SIM card at airport, without any delay, I hired a cab from Colombo airport to Adam's Peak (140 km, takes 4 hours). The road to Adam's Peak was smooth and surrounded by greenery, which made the four-hour journey easy.
I left my luggage at a budget hotel in a nearby town, Maskeliya. One can pre-book accommodation at hotels that at the base of Adam's Peak. Hard bargains will get you rooms at much lower rates than quoted on their websites.

Adam's Peak, here I come!
I started my trek to Adam's Peak at 2:30 am. My aim was to reach the top of the 7,359 ft. peak before the crack of dawn to witness the magnificent sunrise. As I started, there was a February chill in the air but as I walked up I felt no need for winter-wears. However, visitors are advised to dress as per the weather. An umbrella is a must as it rains at any time and the pathway has no canopies as we have at Vaishno Devi, Katra. All along the trek you will see kiosks of juice, tea, snacks on both the sides. The prices soar as you ascend. Do carry your water bottles and snacks.
The trek isn't arduous. There are steep uneven stairs which is trouble for the elderly and only one way up-and-down; so at times, it becomes irksome to face visibly-tired pilgrims coming down taking the same road and the risk of head-on collision is always there. Otherwise, the trail is clean and the pilgrims quietly tread their way up with utmost discipline and devotion. You will also see a lot of foreign tourists climbing up and down. I saw no beggars along the way and the crowd was tourist-friendly.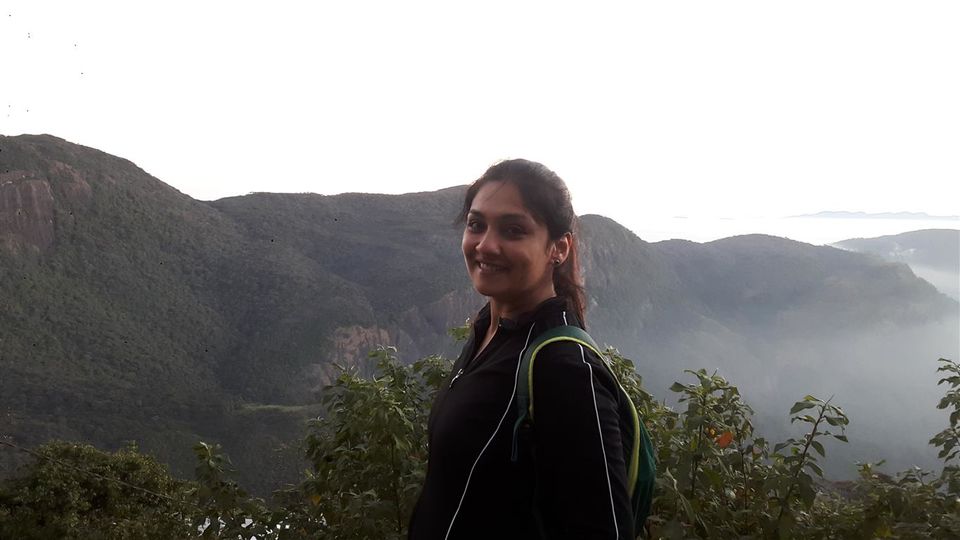 As I started at 2:30 am., there was nothing to see from the hills in darkness. But as soon as the rays of started scattering from in-between the clouds, the darkness was taken over by the saffronish hue, slowly lighting up the entire landscape and suddenly huge rocky mountains were visible on all the sides, covered with lush green vegetation giving a clear view of Sri Lanka's central highlands. A layer of mist and fog combined to add a heavenly touch to the scenic vistas. The morning twilight was longer than we experience in plains. The sun was not completely out yet. This dim sunlight was enough to pump in a wave of enthusiasm among the climbers and people took out their cell-phones and cameras to take selfies and photos of the breath-taking views.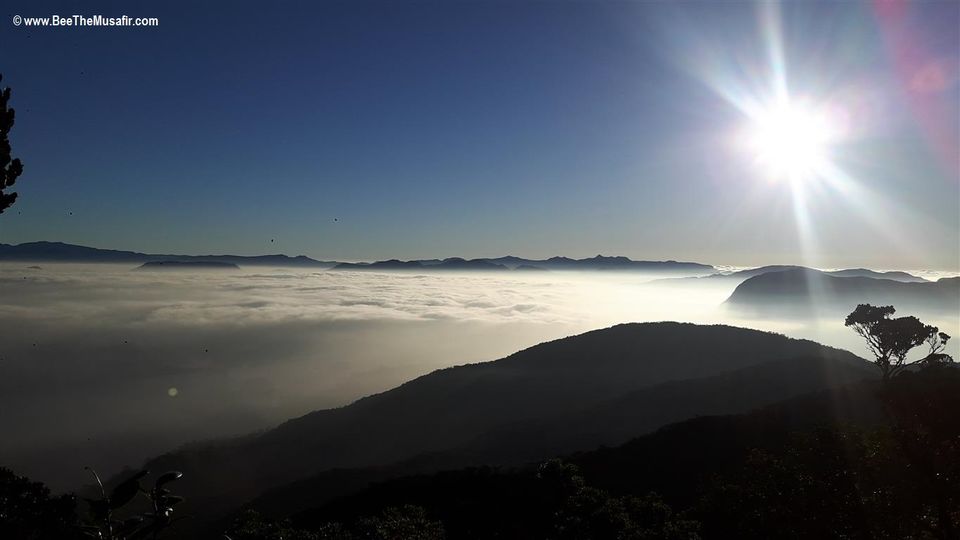 Nature's miracle! Sunrise at last!
After a 6-7 km upward trek when we were close to the sanctum sanctorum, the sun broke out of the horizon. For the first time in my life I felt that it is not the sun that rises, but it is our earth that rotates! This was the most spectacular sunrise I had ever witnessed. I was up above in the clouds. Winds, breeze, the fog and the mist, clouds and million-year-old promontory, it was like a live laboratory of geography!

In the final lap, some 400 meters away from Sri Pada (the sacred foot), there was a congestion of pilgrims. (Hope the Sri Lankan authorities make separate lanes for entry and exit). I offered my obeisance at Sri Pada after a great deal of struggle in the final phase.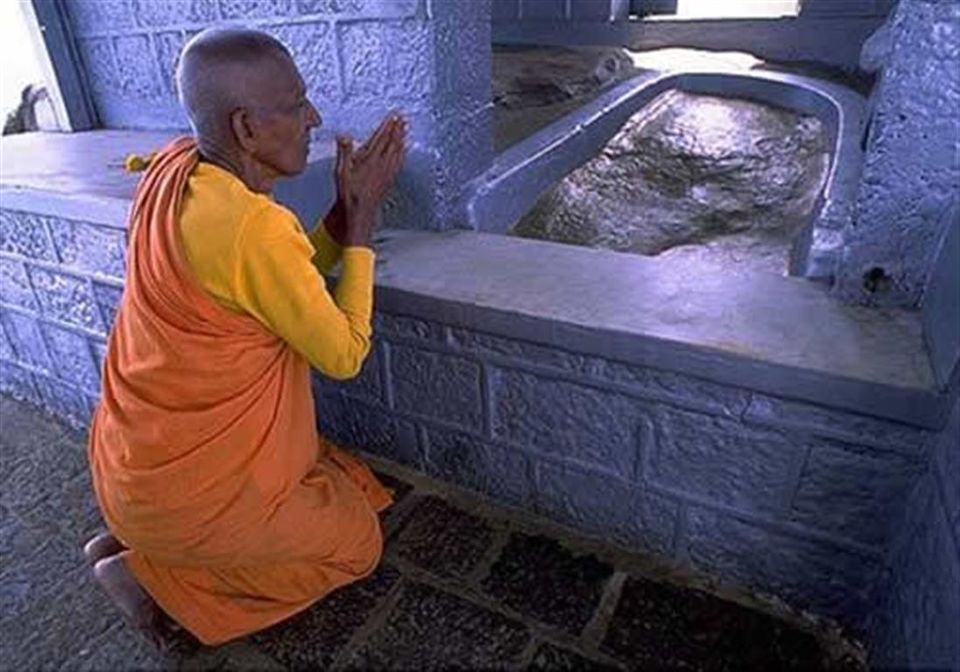 For amateur trekkers, descent could be a knee-breaking journey back to the base. Don't expect mules or palkhis or helicopter services as at Vaishno Devi. Elderly pilgrims were assisted by their near and dear ones. A small tip here - a minimum of a 7-km walk daily for three months is enough to get one prepared for an easy trek to Sri Pada.
On way back, you may taste local fruits or have tea. But, be cautious, food inflation is high in Sri Lanka! Statues of Buddha, souvenirs, jewellery, local sweets are the stuff you see decked in the shops at the base. None of them are impressive to buy.
I was back to base by 10 am. I had a sumptuous breakfast at a restaurant. After Adam's peak, I headed to a beautiful hill station Nuwara Eliya - the Scotland of Sri Lanka!

How to reach Adam's Peak:
By Air to Colombo:
Regular and affordable flights from Delhi, Mumbai, Chennai and Madurai. From Colombo to Adam's Peak – By road - Hire Airport taxi or online taxi (Kangaroo cabs) to Adam's Peak.
Where to stay:
Any hotel as per budget. Pre-booking is advisable. Accommodations available at Adam's Peak. Hatton and Maskeliya are nearby towns.
Do's and Don'ts:
Don't take Sri Pada as fun trek. It is a sacred place. Dress and behave appropriately. Terminally ill patients should avoid it as there is no hospital nearby in case of emergency. Wear shoes with good grip.
Travel tips:
Carry water bottles, snacks, umbrella, and scarf. Travel light. Keep around Sri Lankan Rupees LKR 5,000/- cash with you.
Things to carry:
There is no need of map or guides as such. You may read a few blogs before embarking on journey.