When you get early to office on a Monday morning, there is no one in the floor and you are not geared up to answer the 1001 emails that are waiting for you in the inbox and a 3 day holiday coming right up.. What do you do?
I did what I usually do. I opened up skyscanner.net and checked for tickets from Chennai to anywhere in the world in those dates and "Ting" comes Colombo with 9,000 INR as round trip on the screen. Mind goes on automation, picks up the card details and feeds in. Yup, that's how it started. Though smaller than its neighbour, Sri Lanka has a lot to offer whether it is wildlife, mountain adventures, romantic getaways or beach bumming..
I have decided some exercise would be good to my otherwise growing waistline.. Sitting in a chair all day long and stretching to get a pencil from the next desk doesn't count as exercise you see! Off I go to Colombo which takes only 1 and half hours from Chennai. This makes me wonder, I landed in Sri Lanka in half the time it takes me to get to Delhi.. I wonder why we pay visa fee when it is right around the corner.. But then again different country and another stamp on your passport guess makes it necessary. How I dream of getting a global citizenship one day where I can travel to any country without the visa hassle.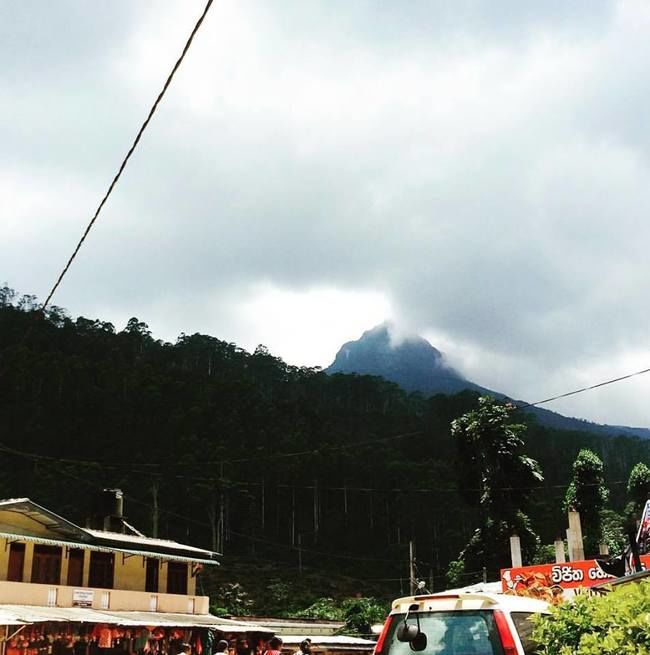 After waiting in the airport for 2 and half hours, I finally boarded a local bus that will take me to the railway station. Bus No. 187 costed me 110 LKR and is the cheapest option that sat well with my backpackers budget. Once after getting to the train station, I took the first train to Hatton and then another bus to get to Adam's Peak or Sri Pada. Yes, you guessed it right! I was going to climb Adam's peak in this trip. I reached Adam's peak in the afternoon.
Clouded Grand Adam's Peak from the start of the Trek
Sri Lanka is lush with greenery all over the place, growing wild and beautiful. The people are friendly and they seem to love Indians and Indian movies. The food sort of similar in taste to what we get in India and is a bit on the spicy side. The view from the train is so mesmerizing that I forgot the long hours it took me to get to my destination. In few words.. "I WILL VISIT AGAIN".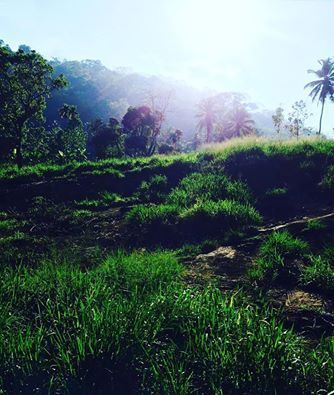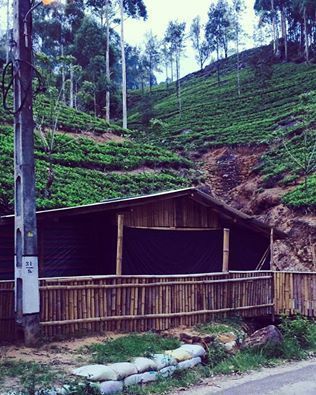 View From the Train & the Guest House
After checking into a beautiful guest room nestled in between tea gardens which is located 500 m from the entrance of the Adam's peak, I explored the place, got some early dinner and went to bed early as it is a night trek. I woe up at 1 am and start my way to the starting point of the Adam's peak.
It took me 4 strenuous hours to get to the top of the mountain. Huffing and puffing, wondering how the hell is that 60 year old grandma faster than me, praying to the almighty that if I fall down and break something, my mom won't forgive me or him, I have finally reached my destination. The trek path is well lit most of the time as it is also a religious place which most Sri Lankans visit, you will notice quite a few people on your way up and down. 
The entire path is lined with good shops, tea stalls, food stalls and places to sit for a little while. The last one hour trek was the scariest I have had. It felt like I am going to get hit by vertigo if I look down and am holding on to the edges so tight so I will not fall down or rather roll down the hill. After reaching the top, we waited for half an hour for the sun rise. An interesting ritual of drums is performed every morning welcoming the sun at the temple which is located at the top of the mountain. At any cost it is one of the best sunrises I have ever seen.
Trek Trek cos the end result is awesome!
You know that idiomatic expression "legs turned to jelly", yep I experienced it. When I am climbing down from the hill, I couldn't stand or walk slowly as my legs are shaking. I had to run for the most part so I will not loose balance. All in all, I climbed 5400 steps, 2345 m height and can't move by the end but was so totally worth it!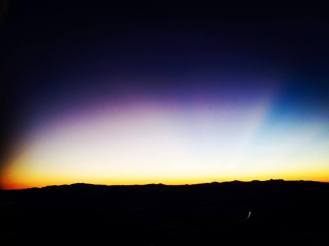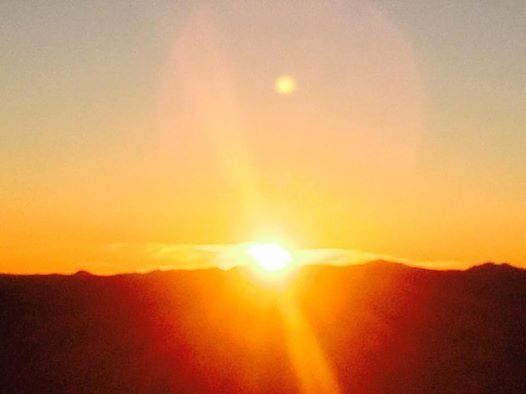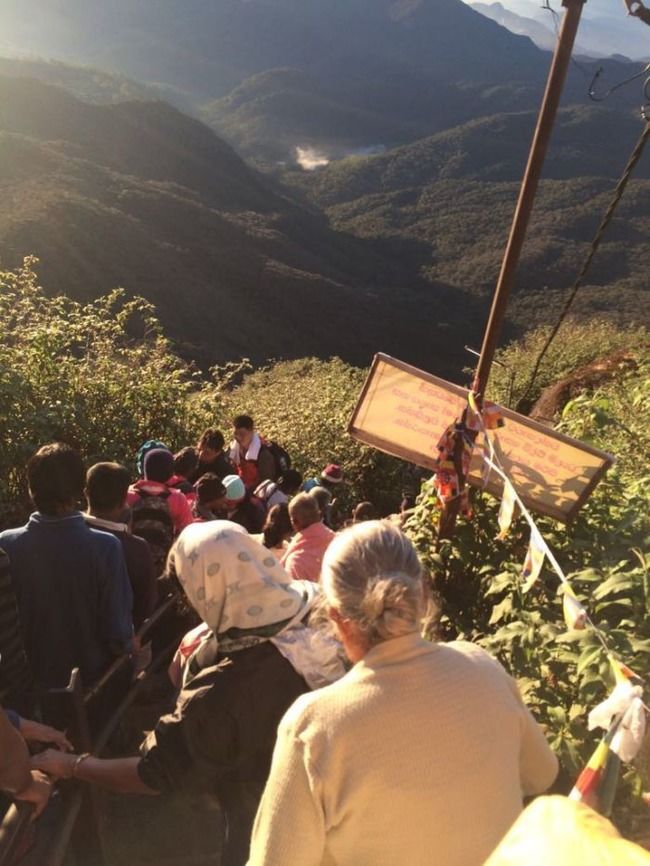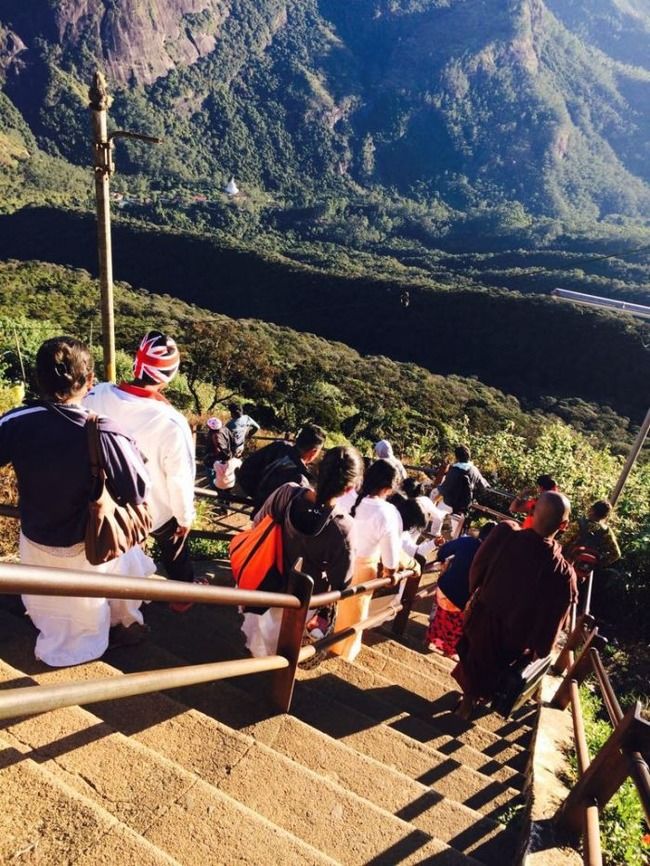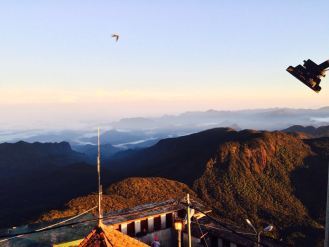 First Rays of Light
I returned to Colombo the next day. Well I am an Indian and though I might not be a Cricket fanatic, how can I miss a chance to visit the famed Cricket Club. So I hired a tuk tuk and went to the Club. The club is probably the place for cricket paraphernalia collected over the years. It hosted the autographed bats, country flags, world cups etc. Well did I mention I am not a fanatic so don't ask me any more than this.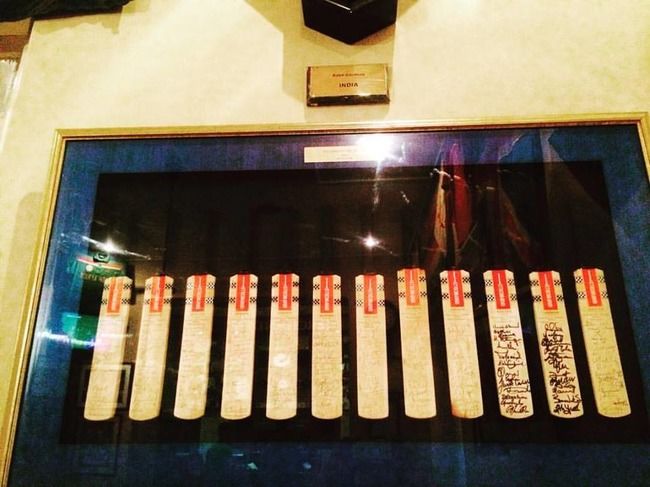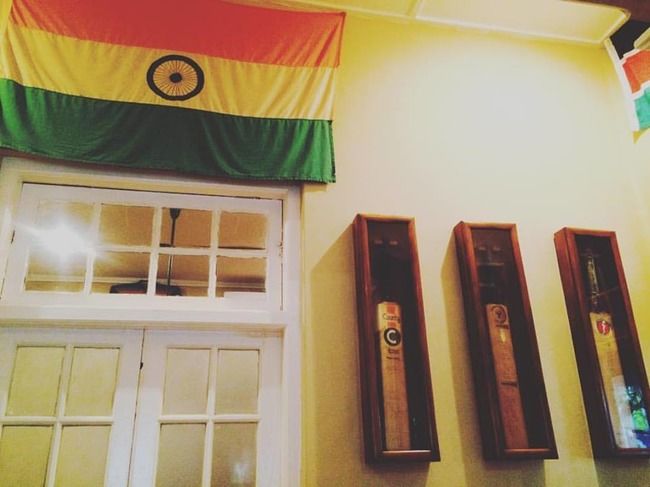 Post this my amazing tuk tuk driver made a deal with me. He will show me the least touristy yet the most beautiful places and drop me in the airport for a sum. It made sense to me as I had over 4 hours before I have to get to the airport. Damn that was a good decision as I got to see this amazing sunset over a canal.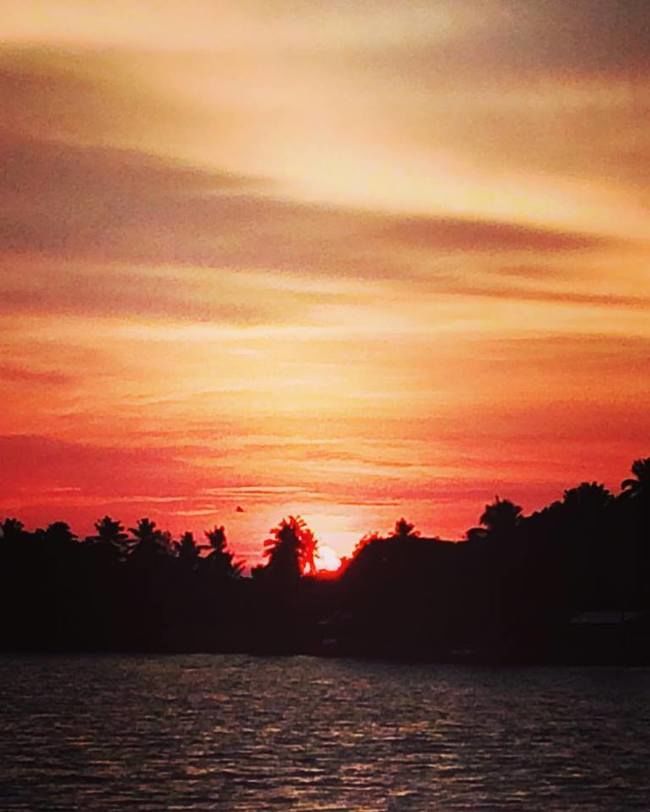 Finally, Sri Lanka you have given me memories even as I am leaving and I wish I had more time to explore the rest of the treks, the beaches, the history, the adventure sports, the culture, the people etc. But well, you are just a plane-hop away and I will definitely come back in the future. Till then Istuti for all the amazing memories you left me with!
Trip first published on localista