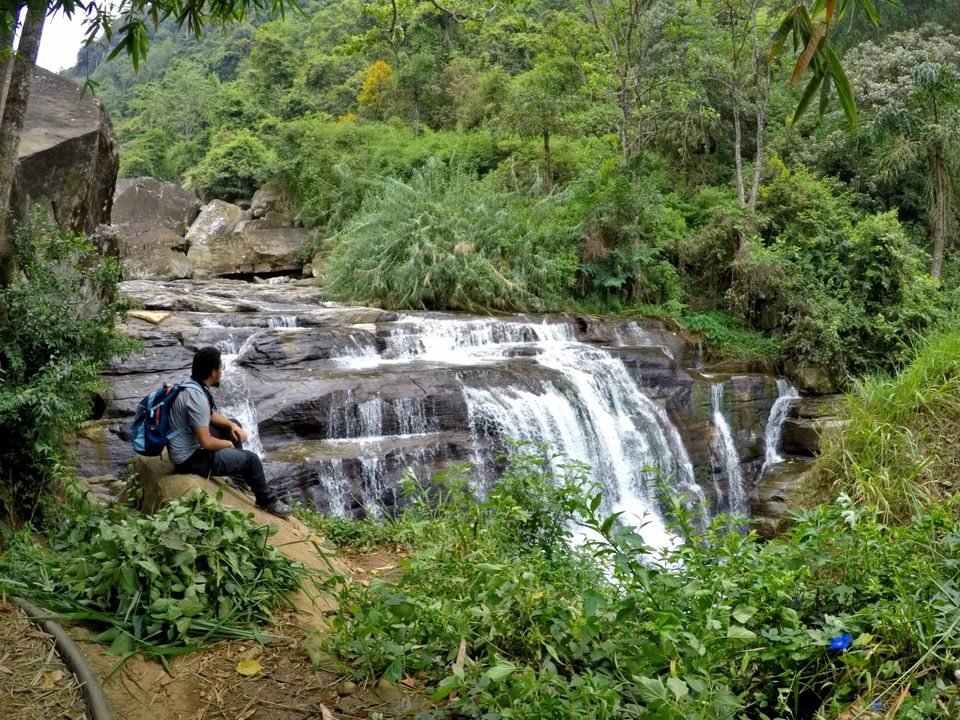 Click here for my personal website :)
Trust me! You can travel even cheaper. I focused primarily on three things.

(a) Accommodation: If you chose the right accommodation. You would save a good money which can be used tor food or transport. So, I used websites like www.airbnb.com, www.booking.com, and www.agoda.com for places to spend the night. Keeping the expense as low as 10$ at most of the places. However, there were a few places where I had to pay 15$ but not beyond that. Also, I searched for homes that provide free breakfast, free Wi-Fi, and free laundry.
(b) Food: Make sure that your accommodation provides a free breakfast. Then, you would have to just focus on lunch and dinner. I chose inexpensive restaurants but decent ones. Being an Indian I thought that I would be able to get accustomed to Sri Lankan food. But it turned out to totally different. I was unable to develop the taste for the food. However, there were certain dishes that I did like.
(i) Rotti - very similar to India chapatti (bread) but with filling. The stuffing could be chicken, banana, pineapple, egg and the list goes on and on.
(ii) Kuttu - it is a mix of chapatti with vegetables, chicken
(iii) Hopper - is a bowl-shaped pancake-like dish. It's made of rice.
Suggestion: 1 Litre Water bottle in Sri Lanka costs around 80-100 LRK (approx. 1$). So, what you can do is a carry a water bottle or two always so that you don't have to buy one. I re-filled them from places where there were water purifiers installed. It saved good 50$ or so for me during my entire trip.
(c) Transport: The whole country is very well connected through its bus and train system. You may have to change a bus or two to reach your destination at times. But it would definitely save some cash. The Auto-Rickshaw's (Tuk-Tuk) charge is pretty high. So, I avoided this medium. However, I did take an Auto-Rickshaw (Tuk-Tuk) once as I had to leave early to climb the Adam's Peak and I had no other option. For trains, I would suggest taking a second class ticket as it is reasonable and the seats are fairly comfortable.
Note: Purchase a SIM from a local shop outside the airport. I made a mistake by purchasing it from the airport costing me 1300LRK (250 minutes international, 500 minutes local, 3GB of data). Later, I got to know you could get a similar deal for 300LRK (500 minutes local, 2GB of data. This is a better deal in case you don't need international minutes.
I travelled as an "unplanned traveller" without any itinerary. However, I was able to cover as much ground as I can in these 15 days.
Colombo | Kandy | Dambulla | Nuwara Eliya | Maskeliya | Ella | Mirissa | Galle | Anuradhapura | Jaffna | Colombo
https://www.google.com/maps/d/embed?mid=1PfuUEFNlyX3B1BAXh_eCknwwdxM&w=640&h=480
To read my complete journey. Please click on the link below:
Day 1 (New Delhi - Bangalore - Colombo - Chennai)
Day 2 (Chennai - Colombo - Kandy)
Day 3 (Kandy - Sigiriya - Pidurangala - Dambulla)
Day 6 (Horton Plains National Park - Maskeliya - Ella)
Day 7 (Adam's Peak - Maskeliya - Ella)
Day 8 (Ella - Little Adam's Peak - Ravana Falls - Ella Rock)
Day 14 (Anuradhapura - Jaffna)
Frequent Searches Leading To This Page:-
5 days tour package Sri Lanka, 3 nights 4 days Sri Lanka package, budget Sri Lanka tour packages, tour packages from Sri Lanka