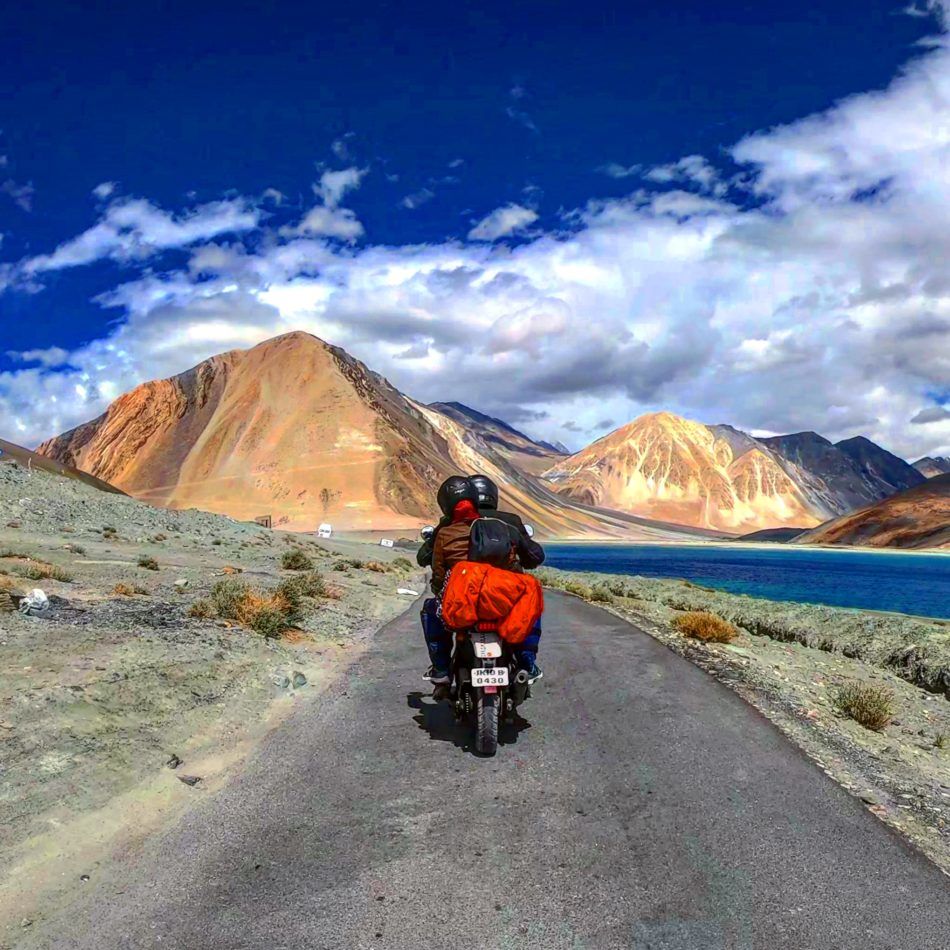 The most common thing I hear in the biker community is how people a.k.a "riders" want to get a bike, save money and plan a ride to Ladakh. So I figured let' write a blog on this and help the community with better planning for the trip. I will be writing a series of blogs and will share my experiences from my trip to Ladakh this year (August 2019).
Are you ready to finally plan your "Ladakh" trip? I hope you stumbled across my blog searching about this and you are in the process of planning and working on your itinerary for the trip. If yes, then you have reached the right place...
So, let's get started.
Leh - Ladakh - Two separate places
Always read and know more about the place you travel, its very important to understand the geographical details and to help you better plan the trip.
The most common thing with the travellers is everyone wants to go to "Leh Ladakh", often I hear people say (in Hindi) - "bhai leh ladakh jana hai", and I'm like c'mon man they are 2 separate places and are not synonyms.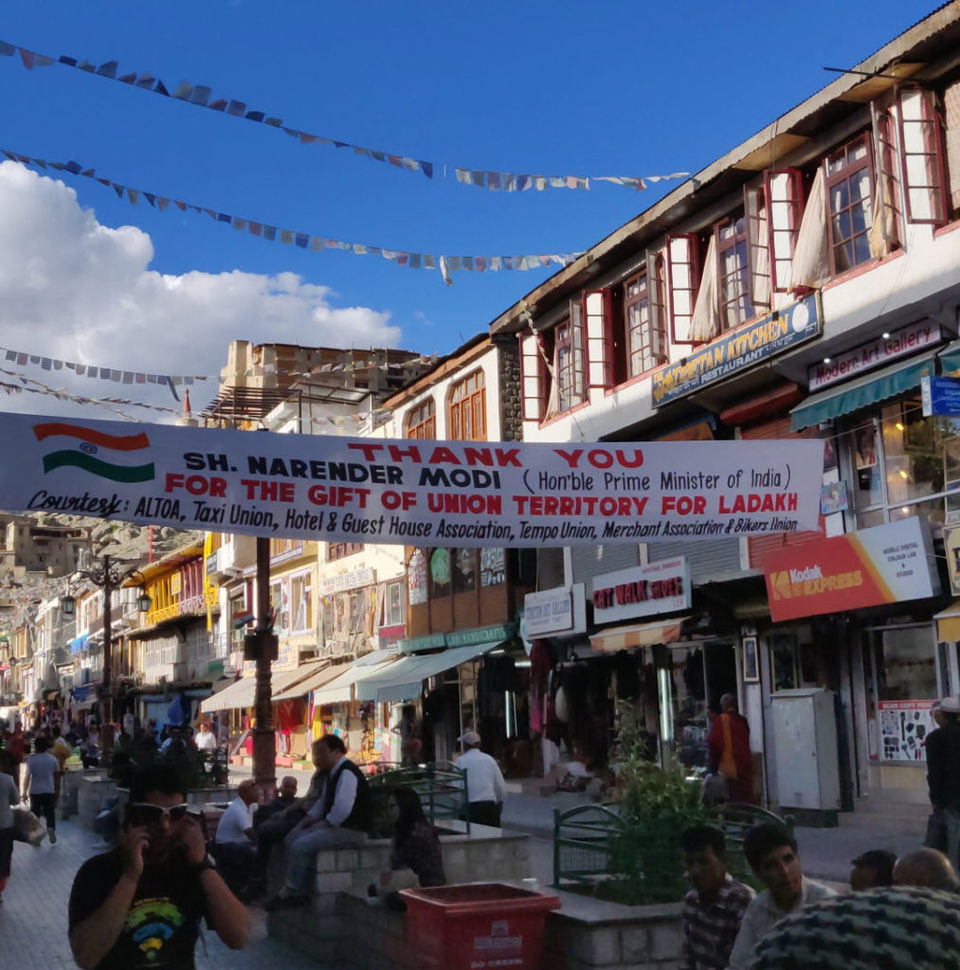 Leh Market - post bifurcation of Jammu and Kashmir
Ladakh, which is now a Union Territory after the recent bifurcation of Jammu and Kashmir. The largest town in Ladakh is Leh, followed by Kargil, each of which headquarters a district. The Leh district contains the Indus, Shyok and Nubra river valleys. The Kargil district contains the Suru, Dras and Zanskar river valleys. It is very important for you to plan the trip or the ride based on the time you have to cover these areas.
How to reach Leh
Travelling to Leh is pretty adventures, there are 2 ways to really reach here:
By Road - Take the Manali - Leh route or Srinagar - Leh route, both the travel routes are very picturesque and based on the month you travelling the level of adventure also changes. Now you have a lot of options to get to Leh by road, so the economical way is to take a bus (Govt Transport or Private Operators), then on your bike or hire a bike or take a car or hire a tourist car By Air - Flights from all major cities fly to Leh, make sure you take a window seat on the flight and enjoy the beautiful view snowcapped mountains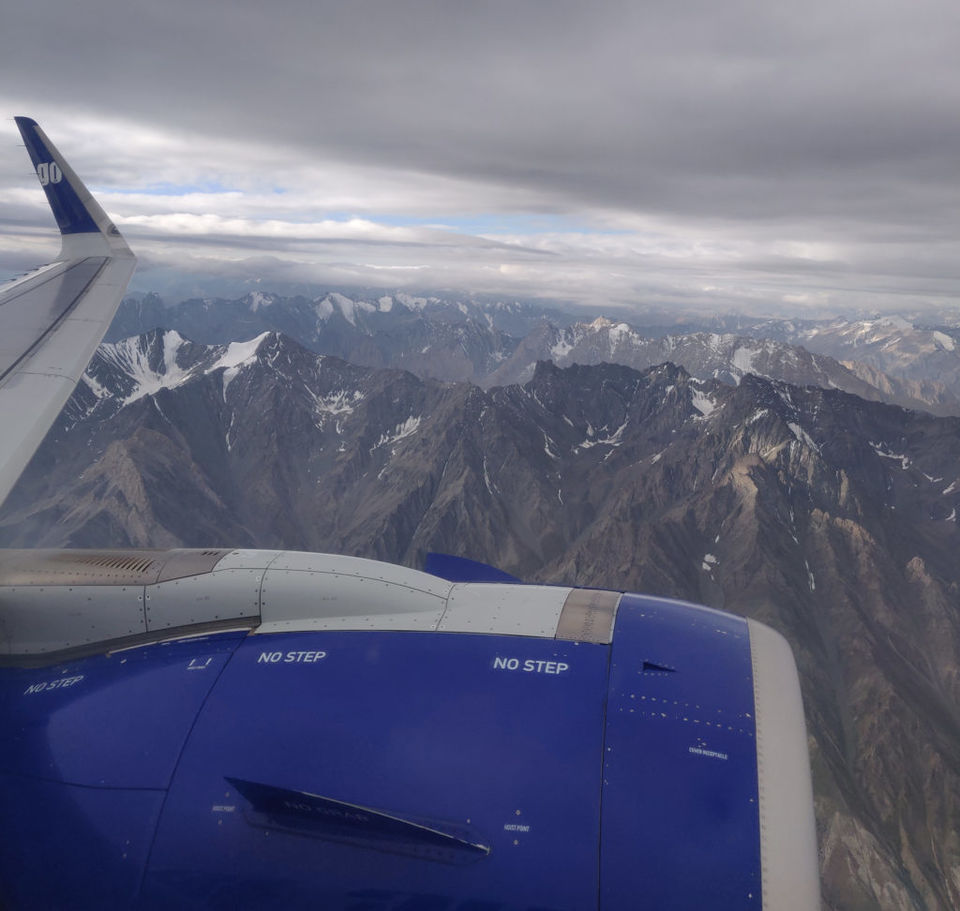 Snowcapped Mountains, view from the flight
Based on your preference and schedule you can pick the best option, taking a flight might not be the budget-friendly option and also depends on the month you are visiting, so book your tickets in advance to get better deals.
Staying in Leh
Leh has a lot of hotel and resort options, with gaining popularity of Ladakh as a tourist destination has opened up a lot of good budget-friendly and luxury stay options in Leh.Personally I prefer to stay close to the market area, so it's easy for me to take a stroll of the area and reduce the travel time, so check for options close to the market, this also means that you can spend more time in the night to just roaming around the streets, take some good photos and talk to the locals and indulge in the culture in much better way.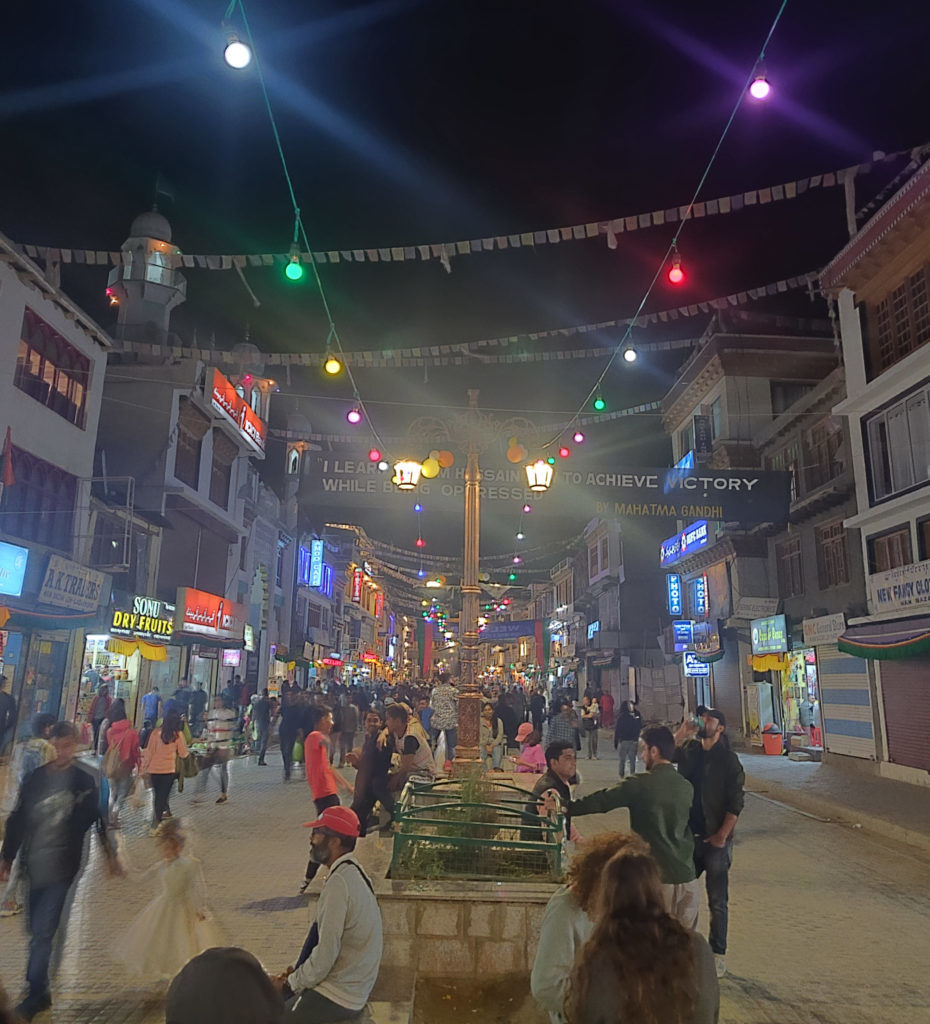 Leh Market at night
Picking a staying spot or hotel is totally based on your preference and budget, contact me if you need any help with finding any good deals with hotel bookings and I will be happy to help.
Itinerary for your Ladakh Trip
Ladakh is not a place that you would want to cover in 4-5 days, I would say spend a couple of weeks and do 10-12 days trip. You also need to understand the high altitude changes and give some extra time for acclimatization, so it's important to consider these before you plan a short trip to Ladakh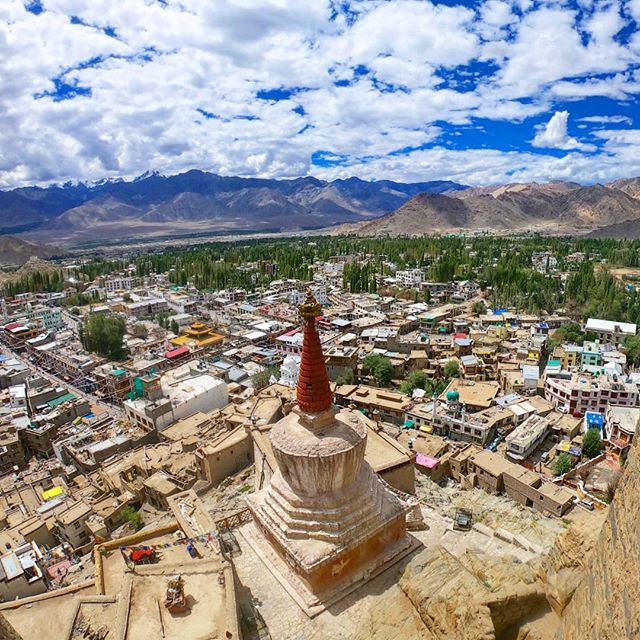 Old town, Leh
I will be writing a separate blog for a 12-day Itinerary for the Ladakh trip soon (by 2nd week on Jan 2020) that would have complete information and details. Putting it here would just make this blog too long. But if you come across this blog before I work on that blog and if you want me to help you custom itinerary, please feel free to contact me and I can email you the details.
Travelling in Ladakh
Best way to explore Ladakh is by motorcycle, you can ride your own bike or hire a bike in Leh. I would say go for Royal Enfield Himalayan because I rode it in Ladakh and it is just perfect for the terrain, you can also go for Bajaj Avenger or Royal Enfield Classic/Standard and other options.
Pro Tip: Google the bike rent options and check the reviews and book the bike well in advance and before you reach Leh. Especially if you are travelling during the holidays, book your bikes in advance to make sure you get the right motorcycle.
Royal Enfield Himalayan, Ladakh
You also have other options like taking a bus, car or book traveller if you are travelling on large groups
Inner Line Permits
In April 2017, authorities in Leh Ladakh reverted the decision and re-introduced the Environment Fee of Rs 300, Red Cross Fund fee of Rs 100 and Inner Line Permits for domestic tourists as well. No all tourists, foreigners and Indians, visiting the Inner Line region of Leh Ladakh need these permits to visit Nubra Valley, Pangong Tso, and Tso Moriri.
You can apply for the permit online on the official website - http://www.lahdclehpermit.in/ or the best way is to get it from the bike rental shops and send you details in advance to them and they can keep your permits and details ready and you don't have to wait or apply for it yourself.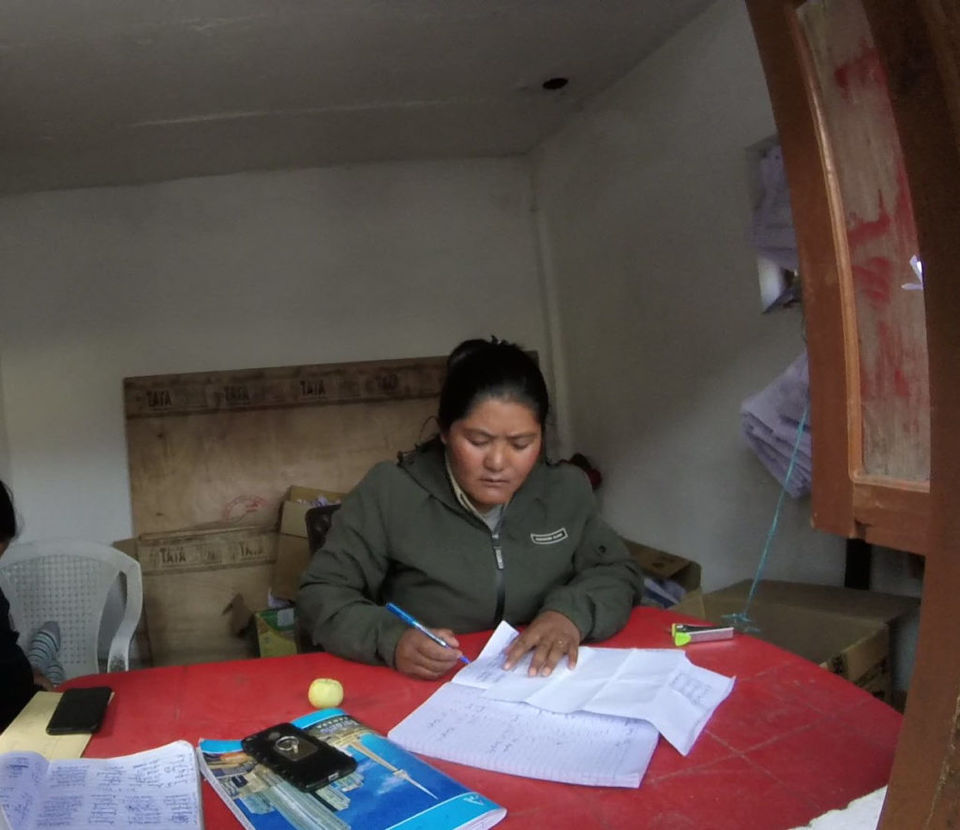 Officials verifying inner line permits
To discuss more about what Inner line permits are and put more details into this, I would need to cover that in a separate blog and I will link that in here. If you have any questions regarding inner line permits before I publish that blog, then please contact me here.
Explore Ladakh
You have a lot of adventure and scenic options to do and explore in Ladakh, it depends on the time, schedule, budget and patience that is required to totally plan and enjoy the beauty of Ladakh.
Here is my list of top things (in order of preference) to do in Ladakh:
TurTuk Village Pangong Tso Tso Moriri Khardung La Nubra Valley Hunder and Diskit Thiksey Monastery Hemis Monastery
I have covered all the basic details that you need to know before you plan your adventure trip to Ladakh. Are you ready to kick start your Ladakh adventure?
Contact me, if you need any help with itinerary, bookings and to get an idea of how I planned my trip and I can help you with the custom itinerary for your memorable and adventure trip to Ladakh.