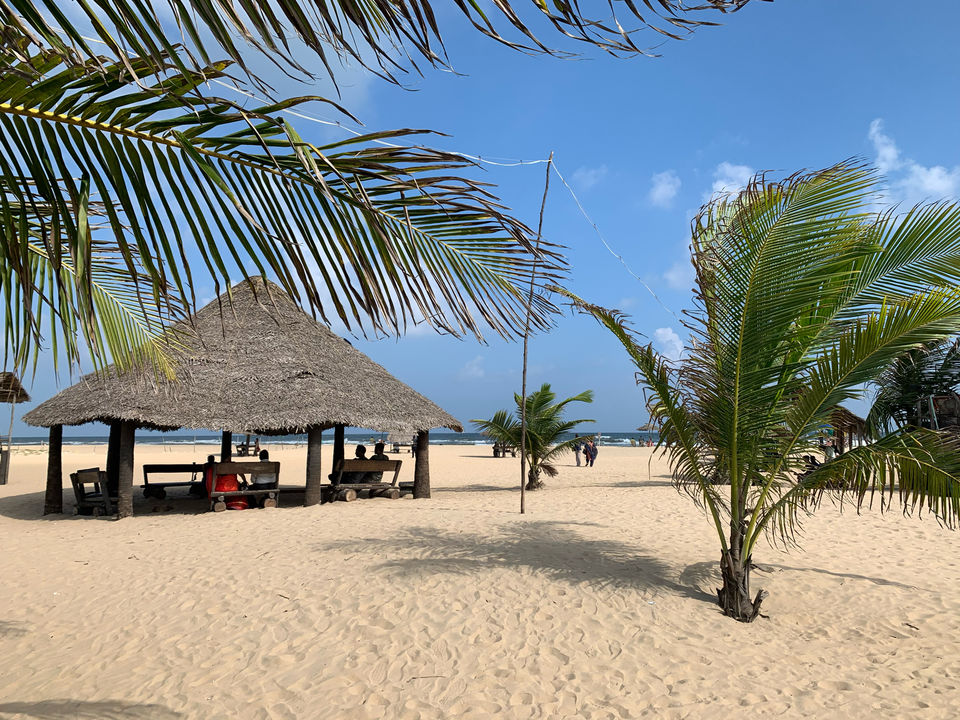 "Concealed in the tight embrace of India's Eastern coastline,
A town that feels foreign, but homely at once.
Where there isn't much to do, but a lot to be.
Vivid, artsy, and so alive. A testament to India's joie de vivre.
Pondicherry, in its sanctity; even though a popular tourist destination, stuns by being a secret everybody just agreed to keep. ''
Day One
Day
Landing in sultry, hot Pondicherry from a much cooler Hyderabad was.. quite a surprise. There's one flight from Hyderabad to Pondicherry that leaves at 10 am everyday. Upon landing we were guided into a small, but very neat airport, remisnicent of Begumpet airport with a touch of the 21st century. We were sleep deprived, so we decided to head straight to our room, check in and catch up on some rest.
We woke up much later in the afternoon and headed for Auroville, by auto. There are no taxis in Pondicherry, and the comedy of Uber costing a standard Rs. ''420'' anywhere in the city, wasn't lost on us. If you thought Hyderabad was laidback, wait till you go to Pondi. Autorickshaws here are autocratic, to say the least. Some of them are very friendly, but the conviviality was lost in a communication barrier. We didn't speak Tamil, and they, English or Hindi. It was quite noteworthy, however, that the locals understand more French than they do English. J'aime :p
As we scuttled past the colourful life of Pondicherry, we meandered through tree-laden avenues with tourists cycling away, to reach the evergreen forest of Sadhana, in which nests the famed Auroville- A city that knows no politics, no religion and no society. We couldn't get our booking for Matrimandir that day. However, we were enraptured by the quiet, unassuming beauty of this place. A forest that nestles not only a meditation center, but avant garde boutiques, and chic cafes. Man there, has found a way to co-exist with nature.
We took a quick stroll around the main tourist office, and then headed out for lunch. Even on day 1, we were quick to notice how Pondicherry transports you to France. Roma Italian, in Auroville, transports you to Italy. At first, we were apprehensive to choose a bistro over a cafe. However, once we entered Roma, we were taken in by the languorous set-up, dotted with hammocks, reminiscent of having been slept-in. The head chef(I presume) was brimming with an ebullience that I was too hungry to reciprocate. After a 5 minute discussion, we ended up ordering seafood pasta, a pizza and calamari. The food arrived in sometime. It was every morsel the reviews that we had just googled, after he'd asked us to. Creamy, but light. Rich, but not too much. Roma's has its Italian down pat. Now I was the one brimming with ebullience. Roma, you've converted me.
Evening
We were sensible to go back to our hotel, Le Chateau, on Romain Rolland, to catch up on some more sleep. I know. We'd never been so sleep and food deprived, let alone after having had 6+ hours of rest and hearty meals throughout. We stepped out later in the evening, to get a taste of Pondi's nightlife, which isn't much to speak about, but has its own small charm. Our hunt led us to the bar at The Promenade, which has a very inviting name: Storyteller's. The DJ was playing an upbeat mix of Reggae and Pop, but again I can barely tell my blues from my soul :P
The party, led us out the door. No offence, but we'd rather walk through the lamp-lit streets of town. Pondicherry isn't a party town. Strolling hand in hand though, watching the waves of Rock beach crash on the land, we find ourselves under the statue of Mahatma Gandhi, in present-day India. The irony isn't lost on us. Before I get too political, we take a left turn, walk back towards the hustle-bustle of empty city lanes, and finally find ourselves at Le Cafe- A famous French cafe. It's self service here, and I pout at that, before setting my eyes on the view. The cafe rests on the shores of Rock Beach, and is quite quaint in the way it's done up. Watching the water, and doing nothing, somehow quietens my roaring stomach.
The madeleines at this deli, are not-to-be-missed. They're simple, but the sort of simple you can't live without. Well atleast while you're here. And so begins my love affair with vanilla cake, baked to perfection. Had it every single day that I was there.
After having had our fill, it was time to go back to bed. Pondicherry isn't a party town, and that's exactly why we've fallen in love with it.
Morning
We wake up before the sun, to make sure we are on time for the booking for Matrimandir. Will we get the pass? We're here for another 2 days, one of which is a holiday. One of the major inclinations towards Pondicherry, was the concentration at Matrimandir. The thought of being denied the experience, is disconcerting, but we console ourselves with the idea of ''divine timing''.
We reach at 9 am. As a first-timer, we are required to make our booking in person. The doors for booking were to open at 10. The office is a brief walk and a short climb from the surrounding area. We are there, standing under the hot sun. We find a couple of people already present. Have we missed our chance? Should we have woken up earlier? Some of these disciples have been waiting for so long that in order to avoid the sun, they've crouched up beneath the bench outside. We choose to stand. True to their word, not a minute here nor there, at exactly 9.58 am, two gentlemen arrive and open the door 2 minutes later, at 10 am on the dot.
They announce their limitation on the number of people allowed in for the next day. Have we made the cut?
''The first 15 people today, will be permitted for concentration tomorrow. The rest, can opt for Wednesday.''
''But we fly out, Wednesday,'' we reason, smiling to ourselves,
''Which is why we are going tomorrow!'' we exclaim in unison, stepping into the main office to register.
First 15. We were lucky to have been two among the first 5.
To celebrate the ''yellow'' pass, we planned to drive to Marco's-A vegan cafe and chocolate haunt. After feasting on literally their entire menu, but especially the croissants and apple pie; our petit dejeuner, wasn't so petite after all. We finish with a latte, which is tradition and walk right over to That Thou Art, an organic boutique, to celebrate further.
This boutique, is a haven for cotton lovers. Their aesthetic is unique, and their philosophy, humane. The cotton they procure, hasn't burdened the waters and is infact cultivated with the intention of saving the Narmada. From batik printed scarves, to long, mellifluous songs in linen, That Thou Art, lives up to the poetry of its name.
We also stop by the local music shop, which boasts a wide collection of native instruments, and also Tibetan singing bowls. I purchase a wooden drum hanging, before walking towards the flea, from where we get indie-printed clothes, and some trippy printed bed linen.
Afternoon
Today we are refreshed and active. We want to seize the day. And so, we plan our much-awaited stroll among the lanes and bylanes of White Town. On the way we halt at the Pondicherry Botanical Gardens. It's like any other botanical garden, and the visit makes more sense if you're here in Spring/Summer. When in White Town, you're met with a burst of colour and life. This is the hub of Pondicherry and spills over with cute restaurants, eclectic boutiques, major tourist spots and some of the best backgrounds for photography.
We have coolers at Hope Cafe, which is a graffiti and art paradise of a restaurant. They serve us welcome drinks, in colours of 3 human chakras; I forget exactly which. However, I remember the names: Happiness, Love and Freedom. We thought we were fresh today, but now we are refreshed. And very happy, full of love and free. I practise my signature Yoga pose and do a little bit of a dance in front of the wall-art here.
We check out the famous Cafe des Arts for lunch, which is also very scenic and then find ourselves at home, in La Maison Rose: A Bistro, Bookstore and Boutique, all under one roof, picture-perfect in its pink-walled and gardened prettiness. Chintz boutique here, is one of the most exclusive. It houses some of the most sought-after organic labels in the country. It's expensive, but you might find something interesting and worth splurging on. We also visit the Pondicherry Museum, which has an entire section dedicated to French art, sculpture and architecture. We also stopped by at the Romain Rolland Library, which is just around the block. Our hunger is sated after a delicious lunch at Villa Krish, known for its scrumptious seafood.
In between our walk, we make sure we're hydrated and stop by at every coconut-seller's in the vicinity. We bid adieu to the setting sun at Rock Beach, whilst the breeze flirts with our hair and makes a mess of it.
Evening
The evening today is quiet, we want to be indoors for the most part. However, I am dog-tired and my body is aching for a massage. We opt for a couples massage at a recommended Ayurvedic center and we go through the whole ordeal of doctor consultation etc, before shooting out upon seeing the wooden massage table. I'd love to go back to a Kerala spa someday, but not today. Today I need me some conventional spa therapy. Spa le Green proves to provide just that. The massage was good, but slightly underwhelming. We want to end the day and quickly have some local fish and prawn curry at an unassuming food joint before rushing back to our room. Do Not Disturb :)
rushiback to our room. Do Not Disturb :)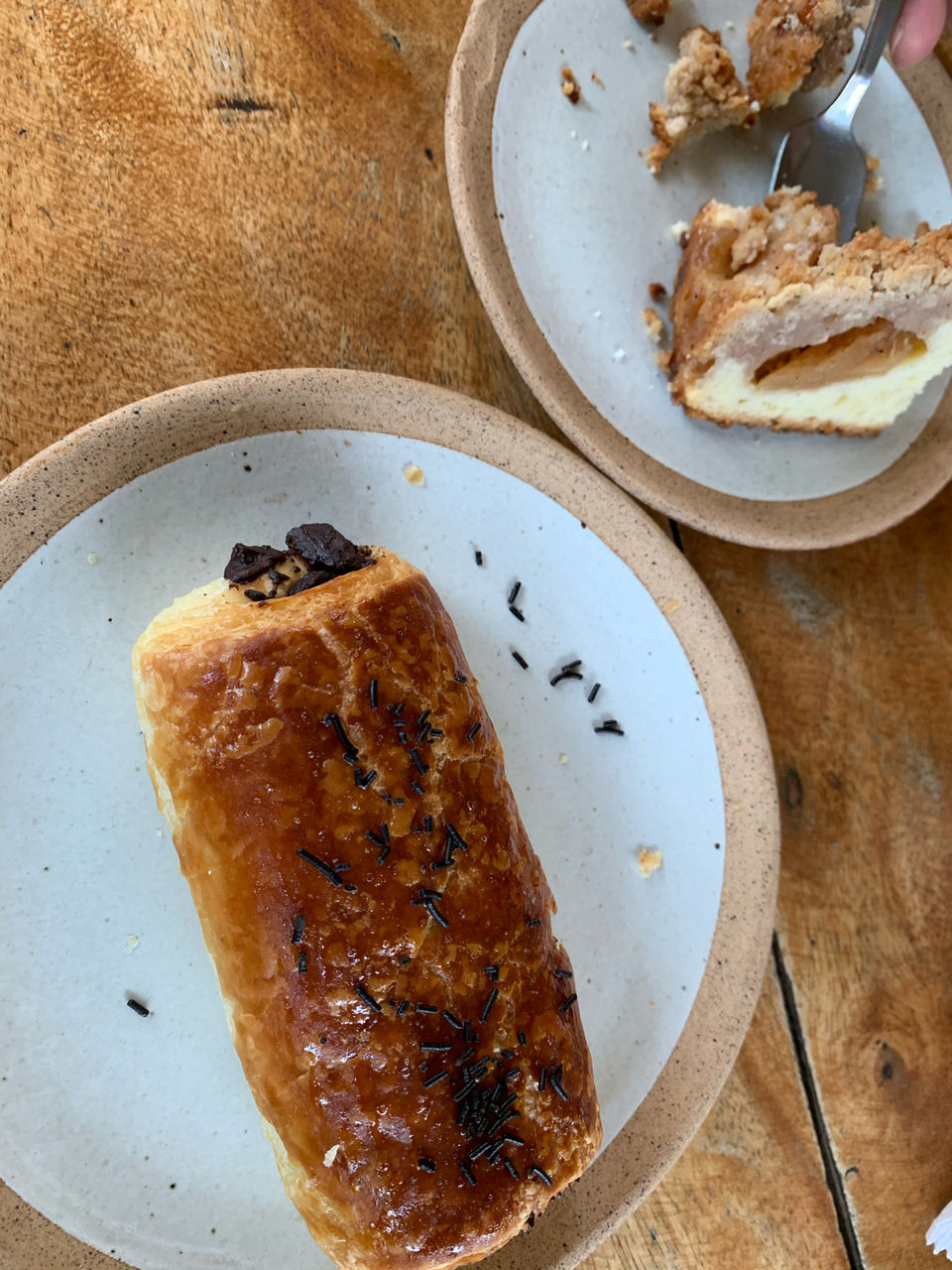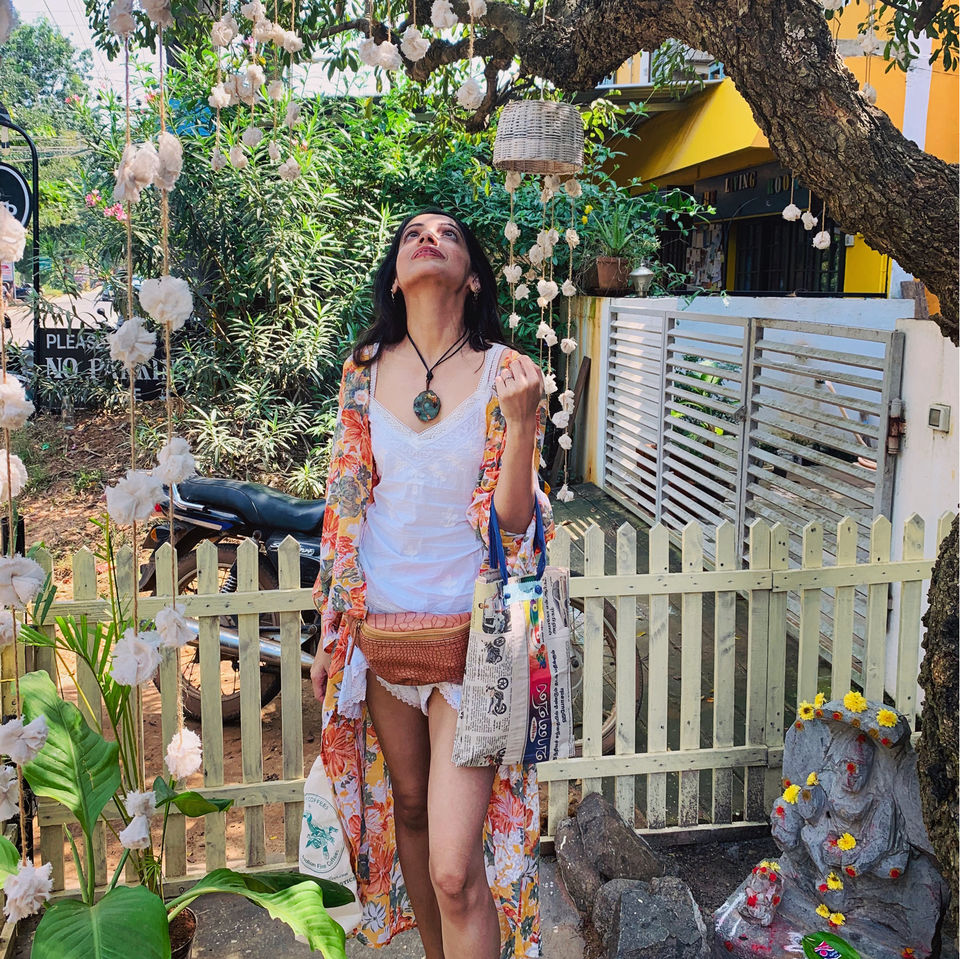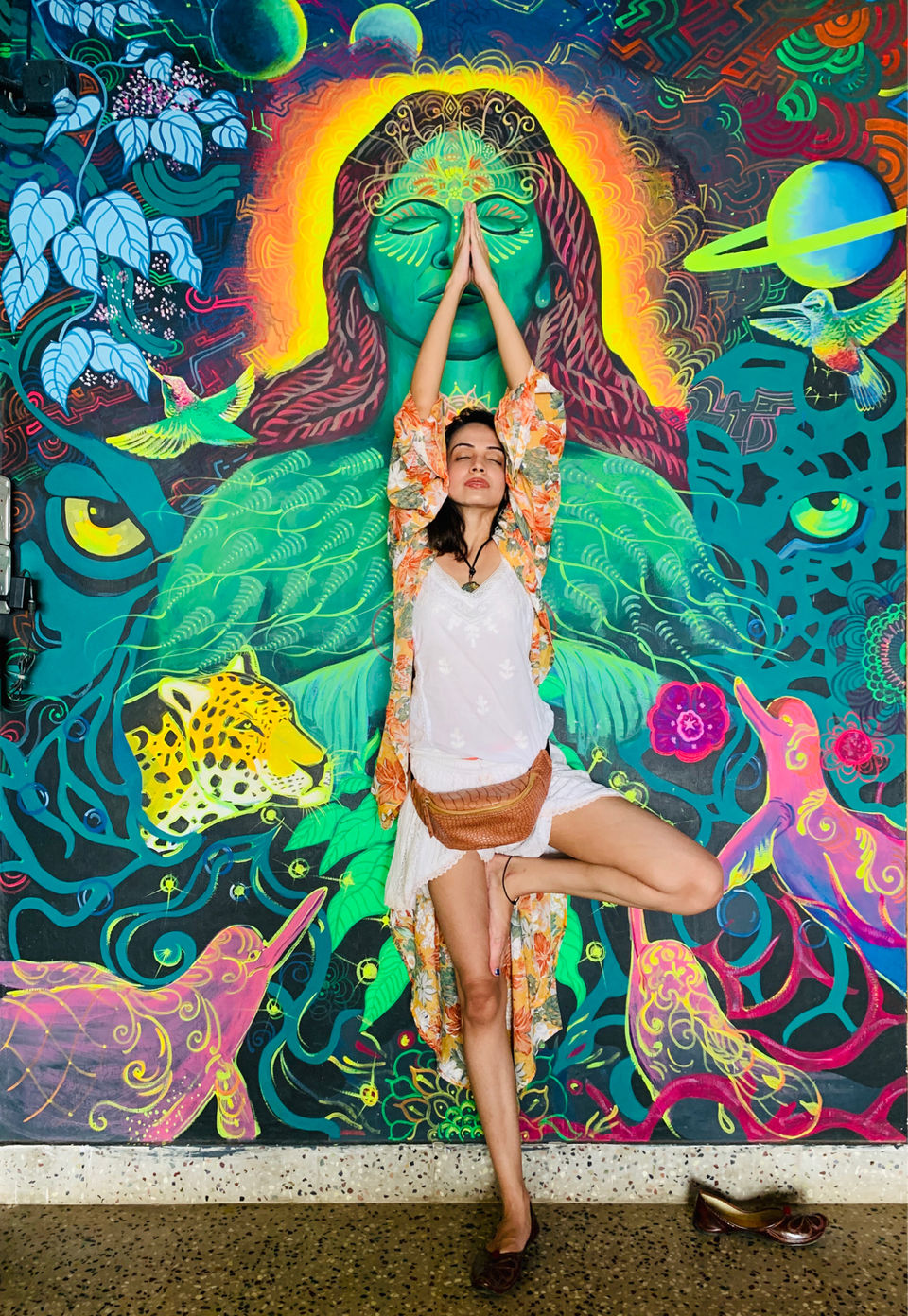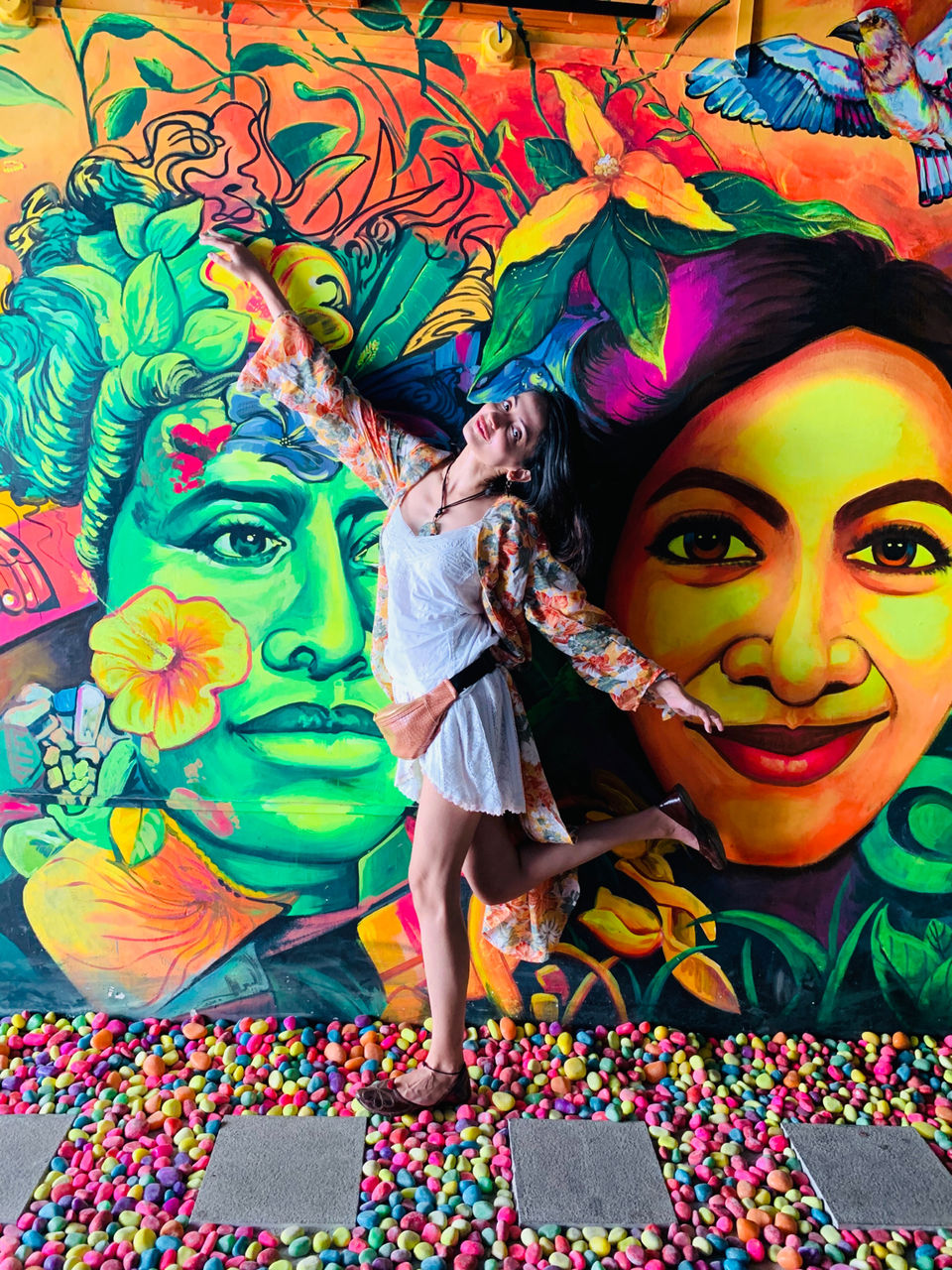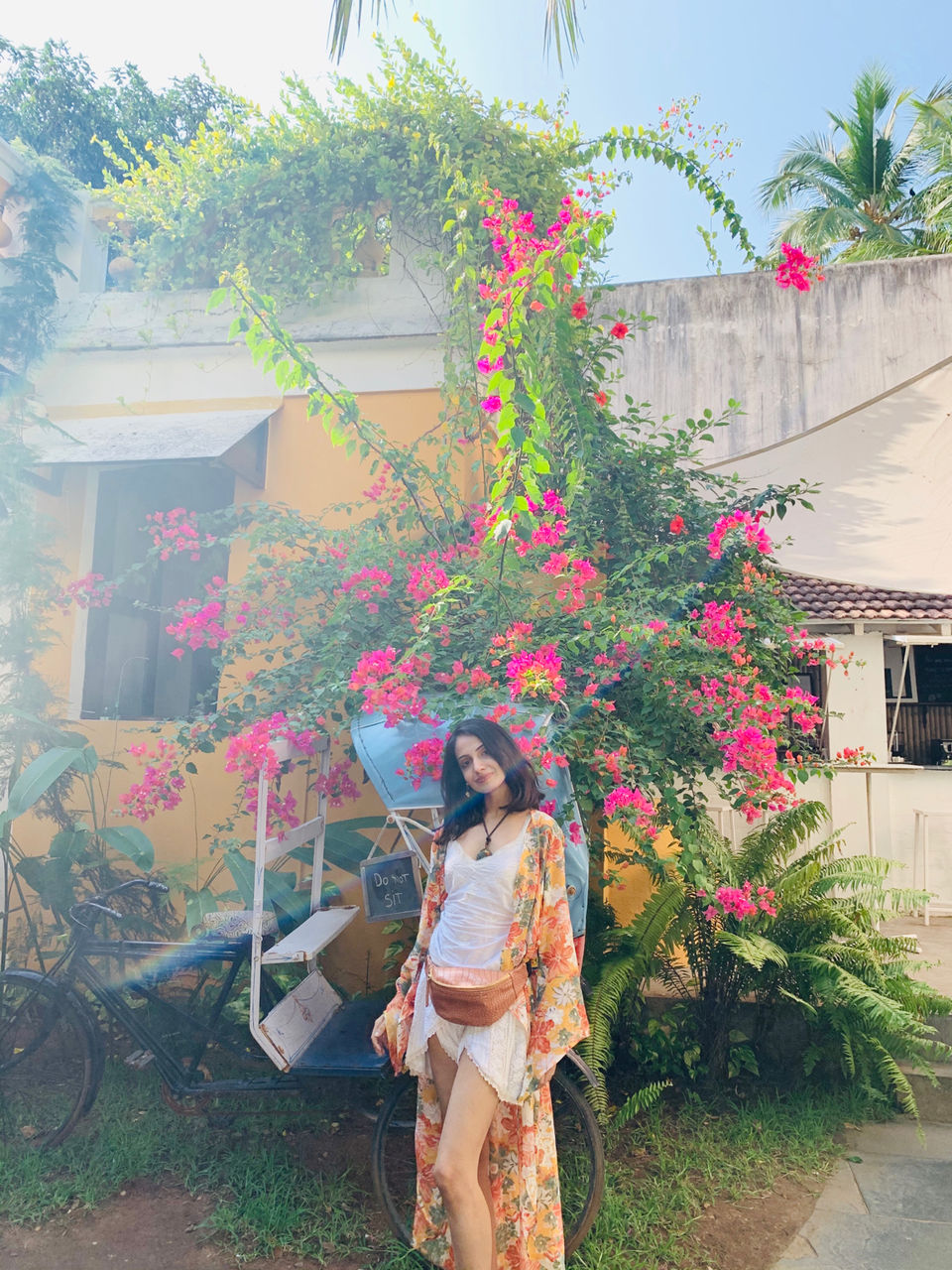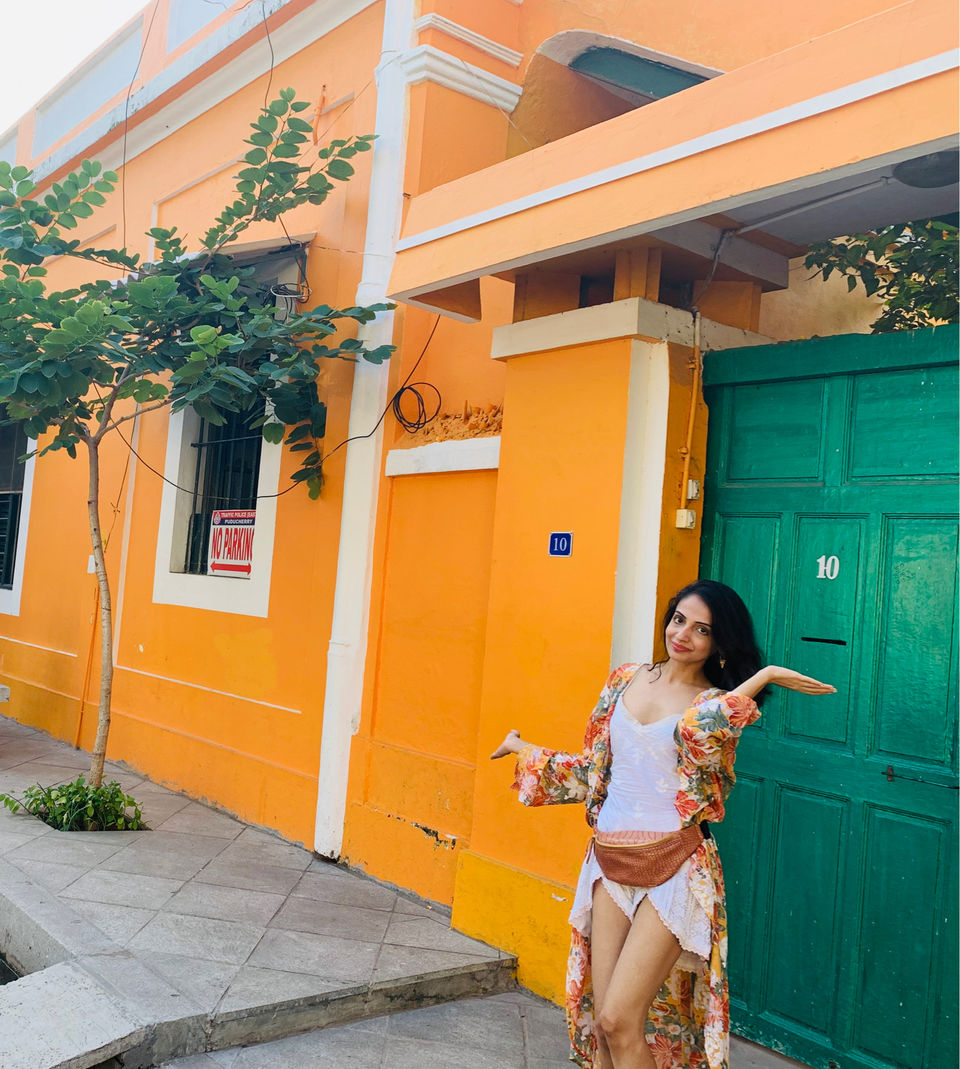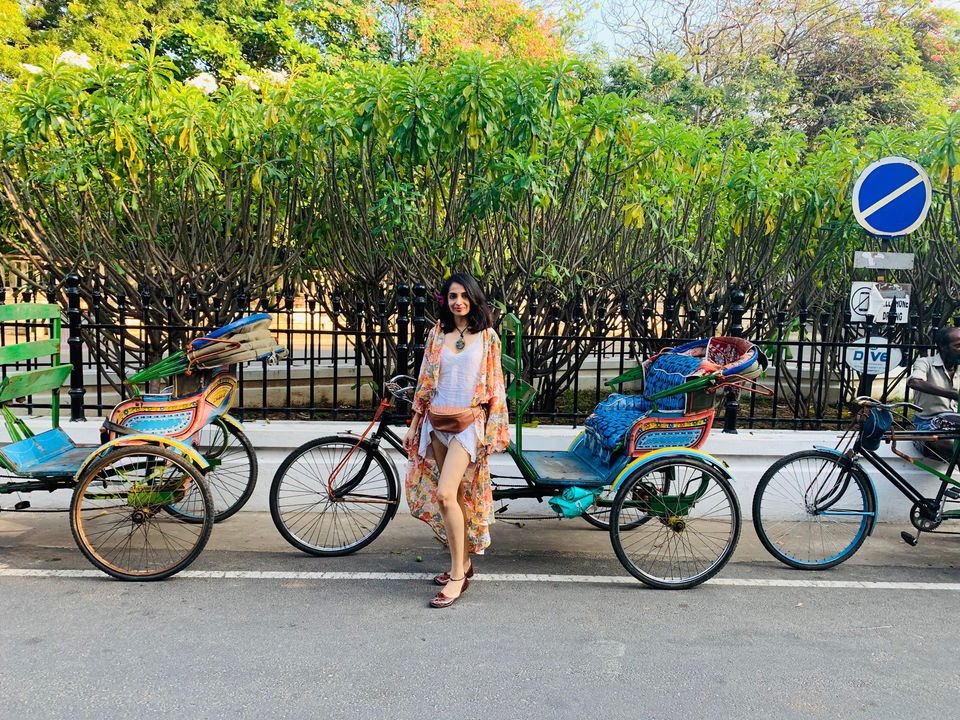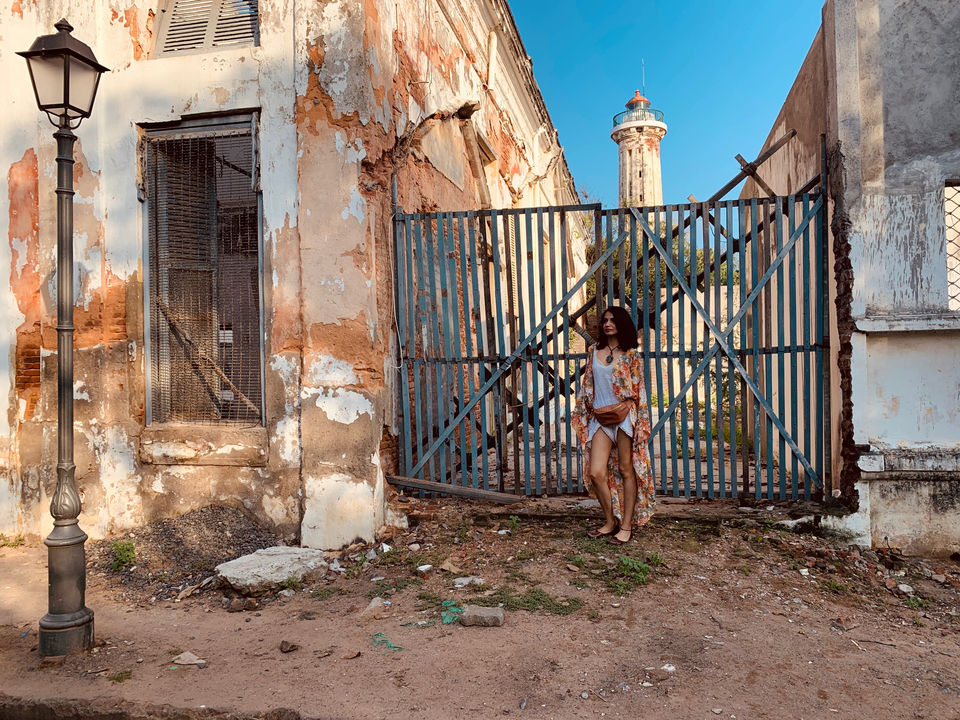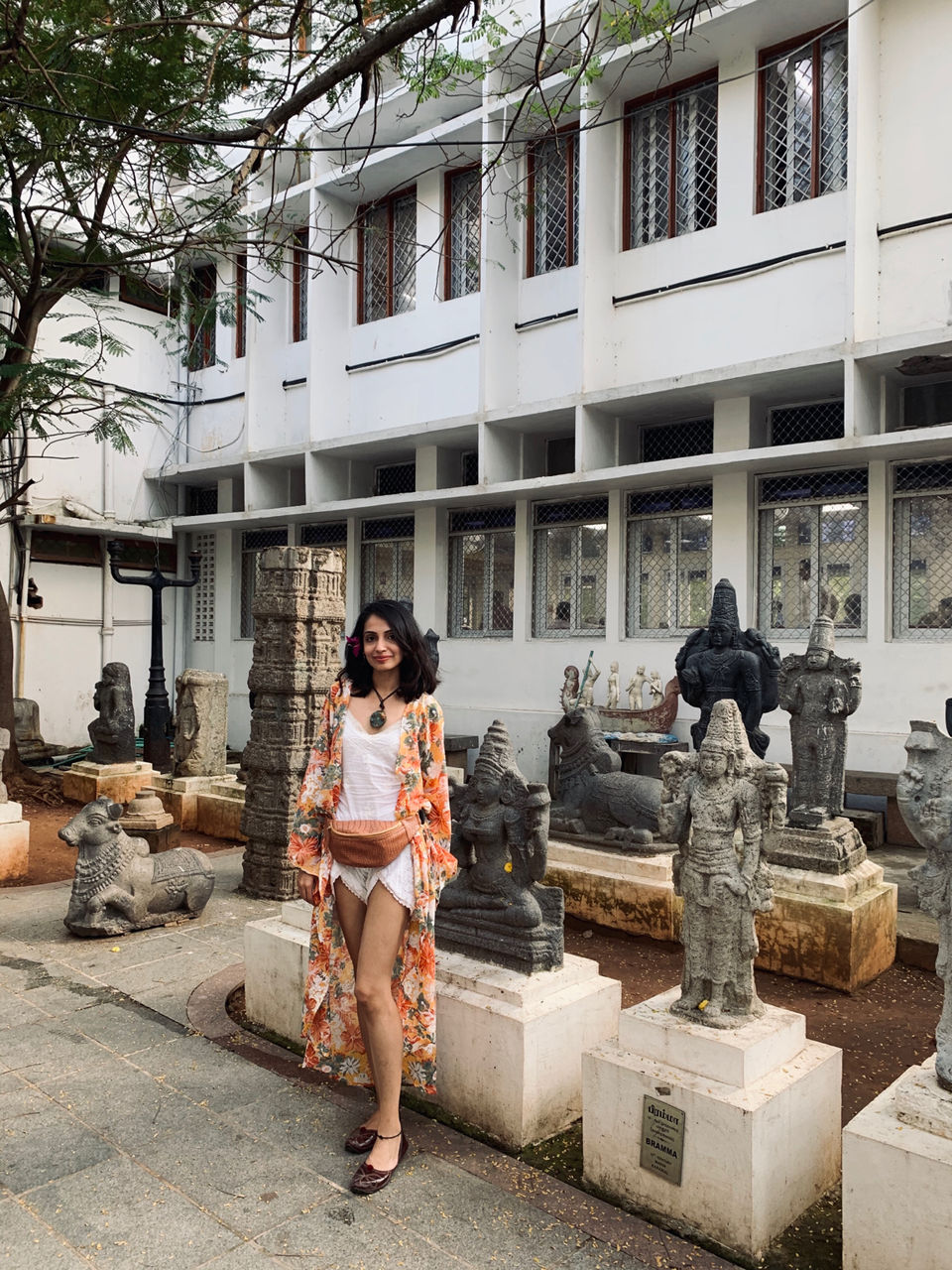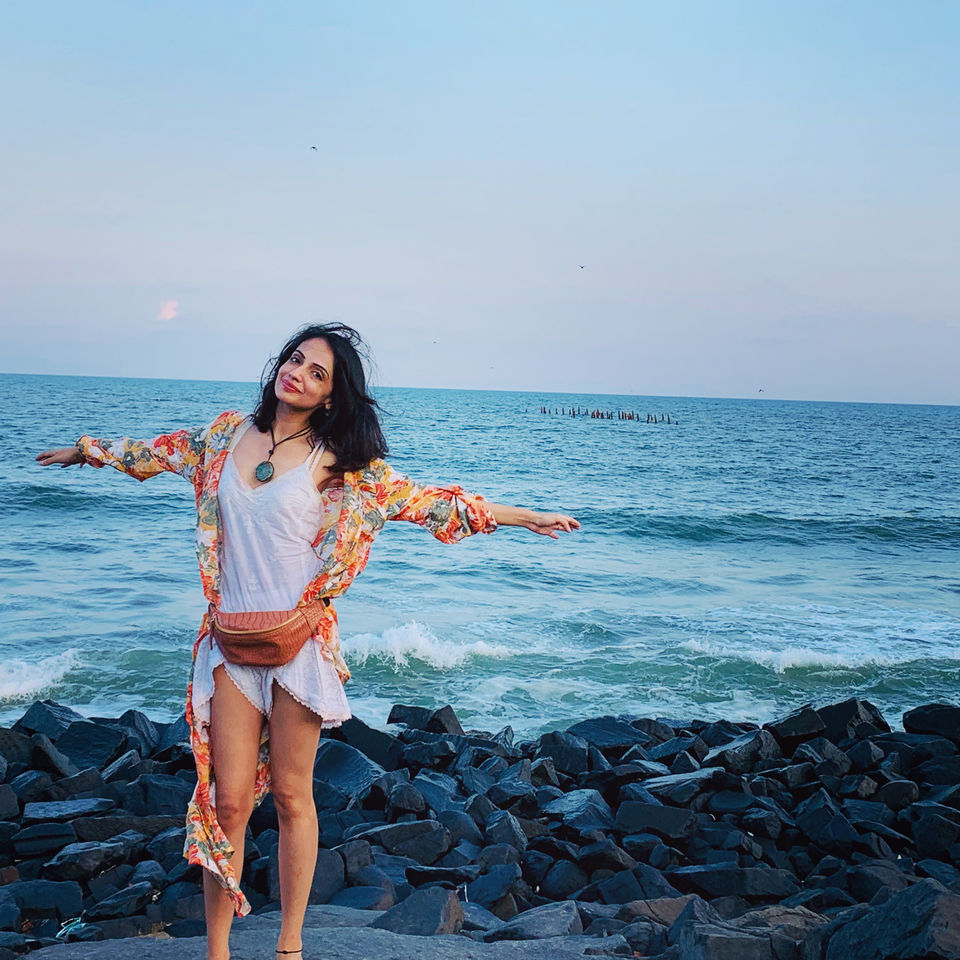 Day Three
Morning
And the day is here. We were going to set foot in the holy Matrimandir. To say we were excited, sounds almost sacrilegious. However Auroville is removed from religion or worship of any kind, so there's room for my bordering-on-irreverent enthusiasm.
Dressed all in white, both of us were ''meditation-ready''. There's no dress code, however I wanted to wear white, which I associate with peace. We had a quick Hibiscus-infused drink at the Auro cafe before we were called in. It was the sweetest, most rejuvenating thing I've ever tasted.
After a 15 minute introductory video, we were shuttled to the park of unity, with the Golden Dome at its center. We were to observe silence, but I didn't to be instructed to. I was so awestruck at the beauty and aura of this place, replete with manicured gardens and lush greenery, that I was moved into silence quite naturally. As we were led into the concentration chamber, we were first made to encircle a petal shaped pond, which had water flowing into it of its own accord. Simply meditating on this ordinary phenomenon, was actually quite magical.
Then we were led inside the golden dome. There is only one ''city'' in the world, without money, politics or religion. In the pink interior of the golden dome, you can literally hear the sound of your beating heart.
As we ascended the spiral, and reached our final destination, I was bereft of all words. I wondered stupidly, if there's AC on full blast inside- It was so cold, so pristine. However, that wasn't any air-conditioning, it was just marble. And breath. The sound of silence, conditioning the air. Taking small, meaningful steps into this room, I am overcome with a sense of absolute awe. The room is empty. Yet so full. Yet so empty. I would go on and describe this space further and in greater depth, but something stops me from doing so. An experience like that, shouldn't be described in words. It really is, other-wordly.
There is only one ''city'' in the world, without money, politics or religion. In the marble interior of the concentration chamber, you can literally hear the sound of your beating heart. But you know what's even more fascinating? Here, you can actually listen, to it.
In Matrimandir, I found myself drained of myself. In Matrimandir, I found my heart. In Matrimandir, I found the heart of the Universe. In Matrimandir, I found the heart of the Universe and my heart, are one.
And then, we were asked to open our eyes and return.
Afternoon
We stopped by Auro Bakery for a snack and brunched on the most delicious pain au chocolat in town. Next, we moved opposite to Farm Fresh and I picked up chocolate bars and souvenirs from here. The place is a grocery store cum cafe, sheltered under a rustic hamlet. The grocery is more like a candystore, boasting the most organic and authentic collection of chocolate, spices, essential oils and everything under the sun.
After an enlightening experience at Auroville, we wanted to be a little naughty. We headed for Serenity beach, which is absolutely clean and beautiful. We bathed in its waters and let its waves engulf us and its sand make a mess of us.
After making a few purchases along the way, including hand-made paper lanterns, hangings and rattan dream-catchers, it's Au Revoir, to Auroville.
Evening
After a quick shower, to wash off the beach, I am determined to shop and eat to our heart's content.
My search leads me to this store called Casablanca, in Heritage Town. The mall, has everything from local organic labels to regular cosmetics.Just opposite, stands another very pretty shop called Ayesha, which specialising in women's cosmetic jewellery. What I loved about Ayesha is they have a sisterhood of their own, encouraging women to come together and root for each other through their all girls club. Adjacent to the store, is a sorbet coloured haven, which goes by the name Py Cafe. We thoroughly enjoyed their coffee, their warm service and their parisian ambience. A great spot for photographs. My hunt finally culminates in the nearby store Kalki, which has the best of organic wear on display. One of the brands that piques my interest, is To Be Two. They have unique, yet timeless cuts and their work on linen is quite laudable.
Next, we were keen to find a seafood fine dine. Little did we know, that the best Chettinad in town, is served on the rooftop restaurant of our hotel, Le Chateau!
The restaurant, like the hotel is warm and colonial styled, but with a very peppy feel to it. We feast on the local prawn curry and enjoy spiced fish with rice
and naan respectively, before retiring for the day.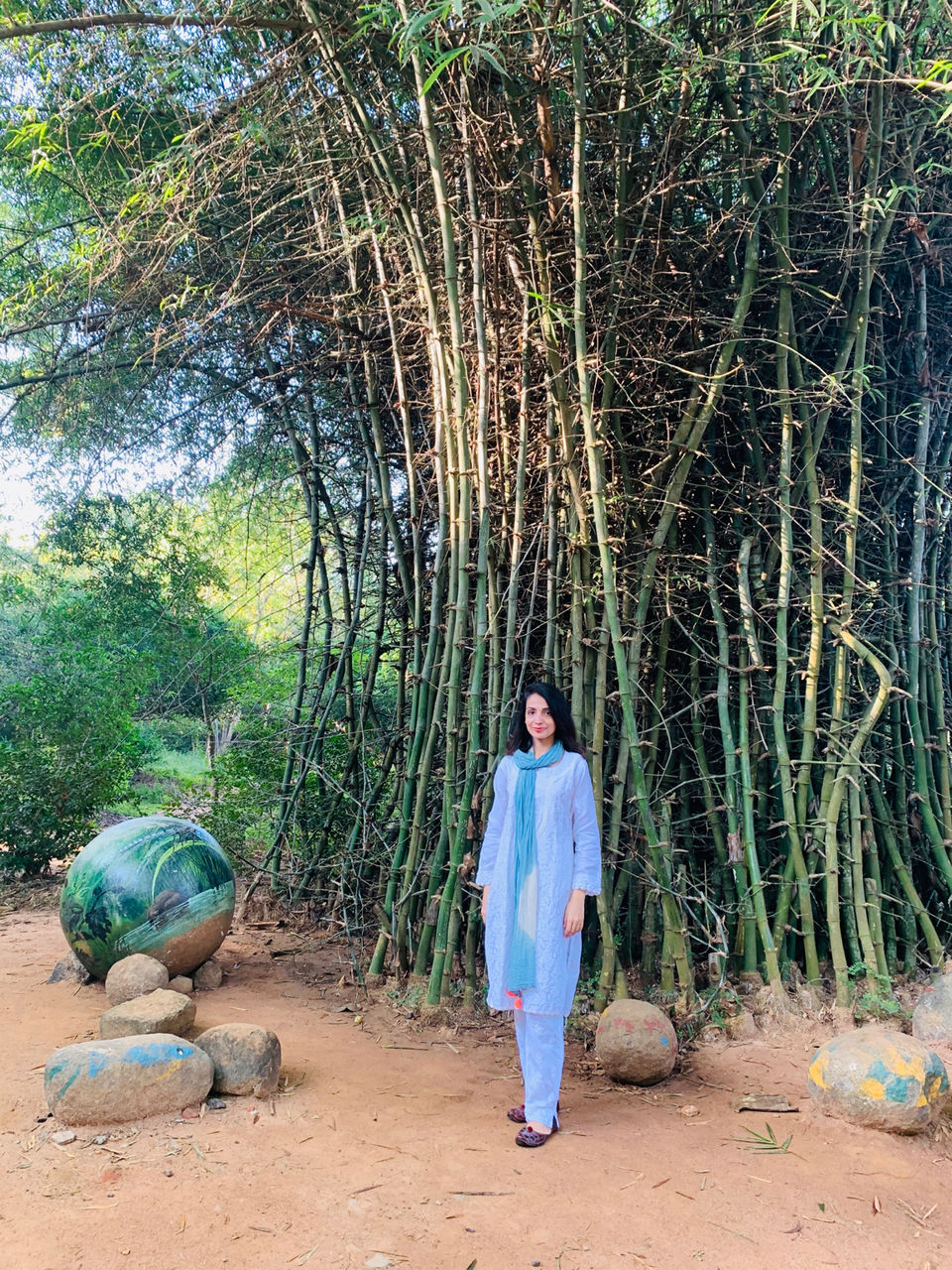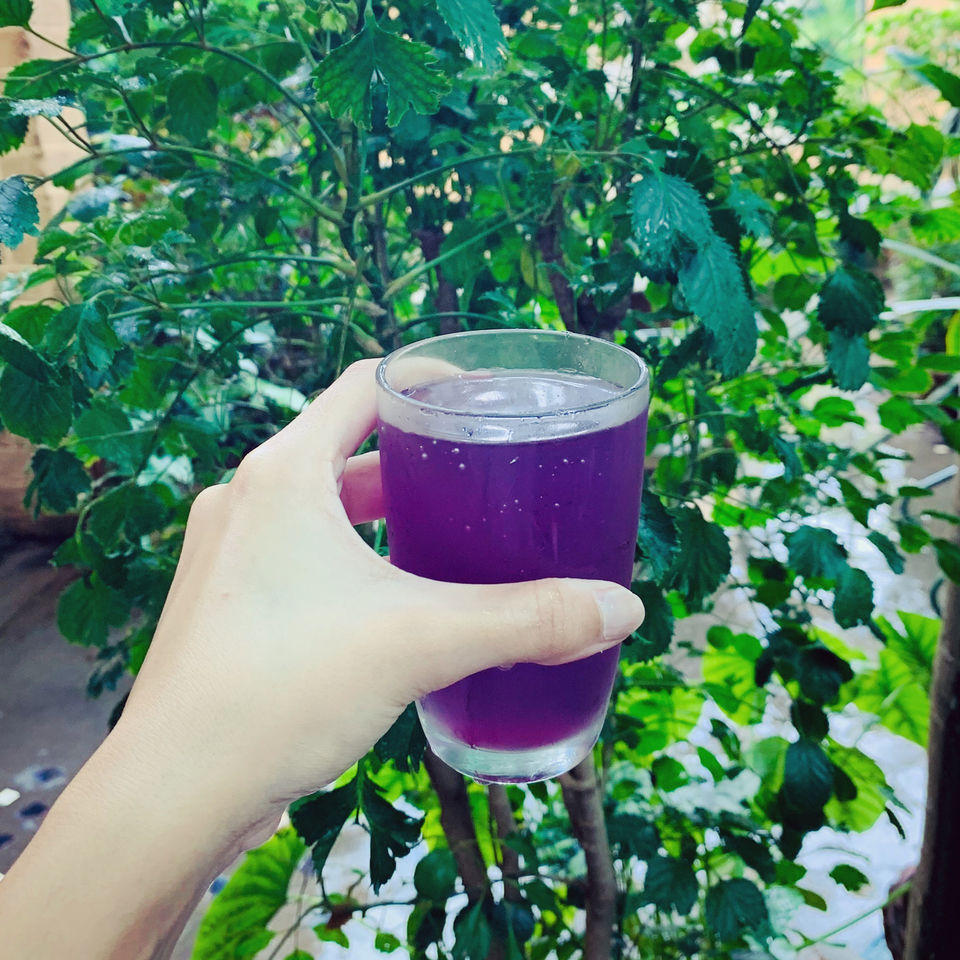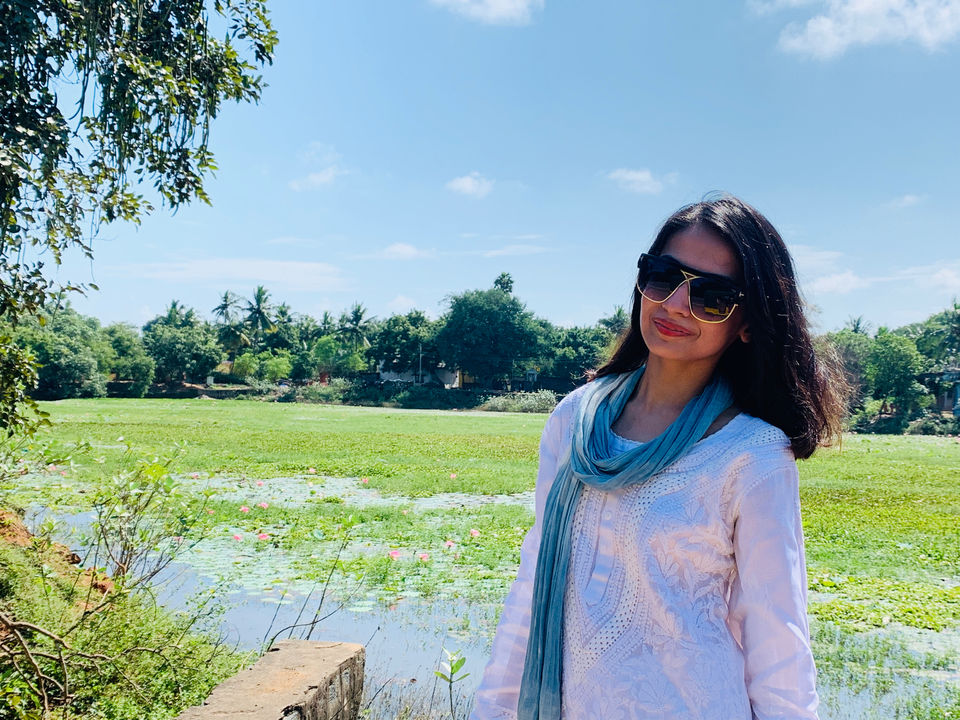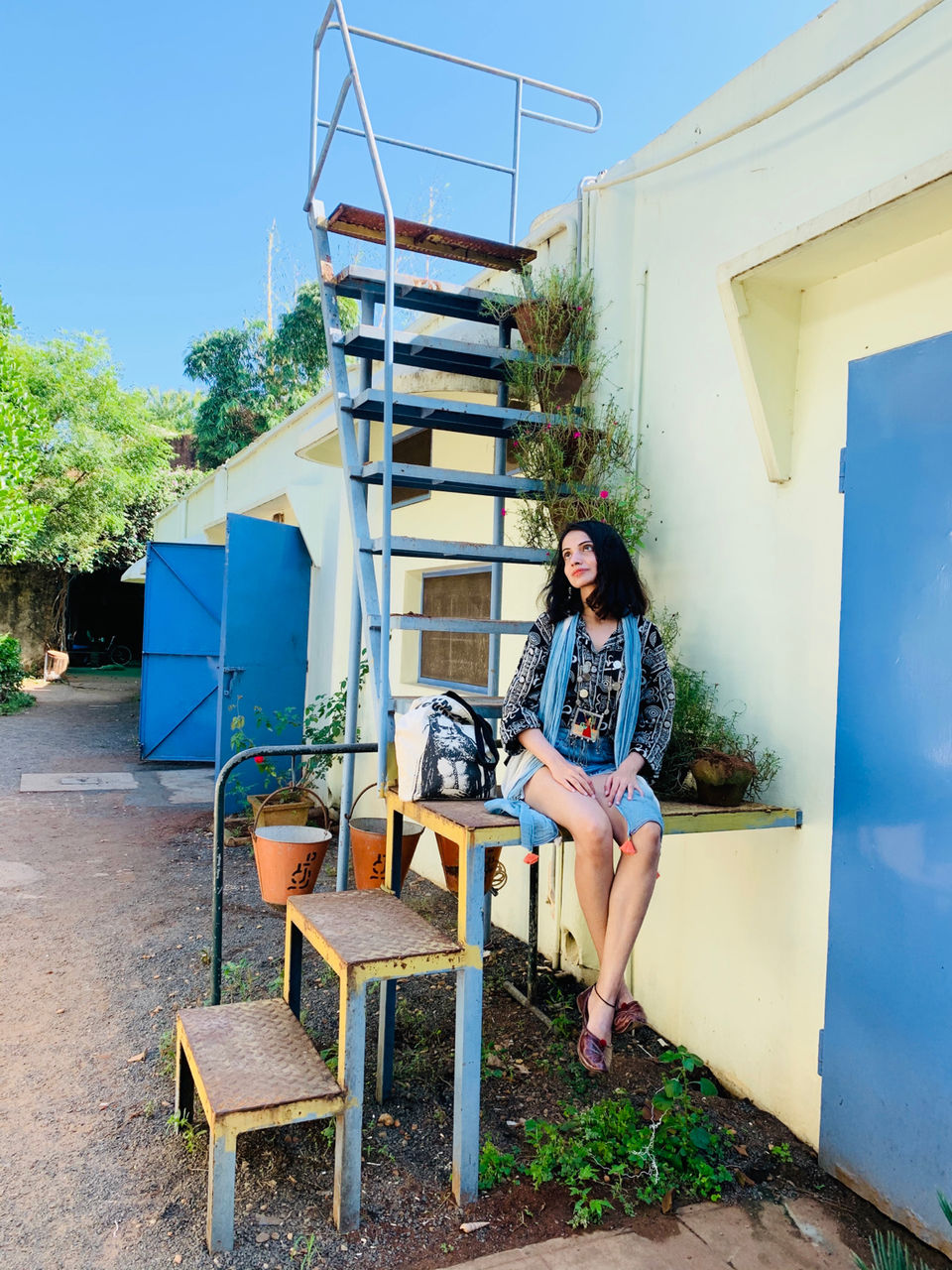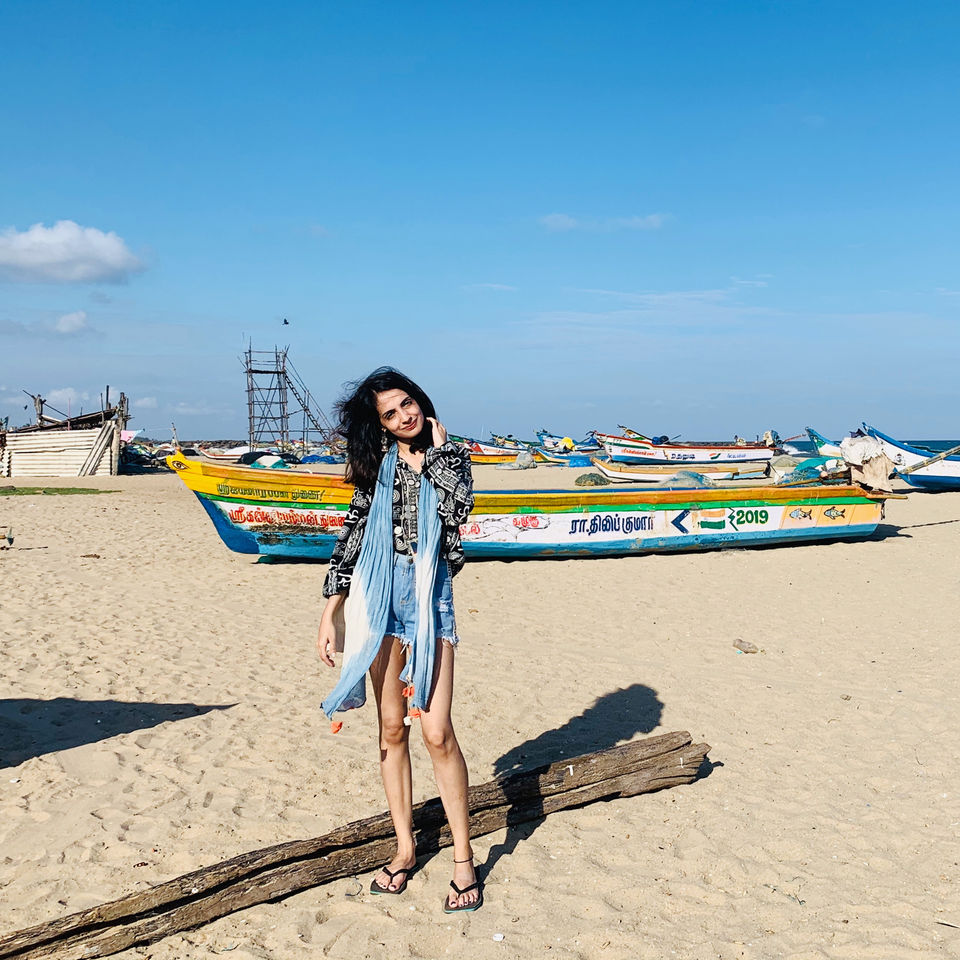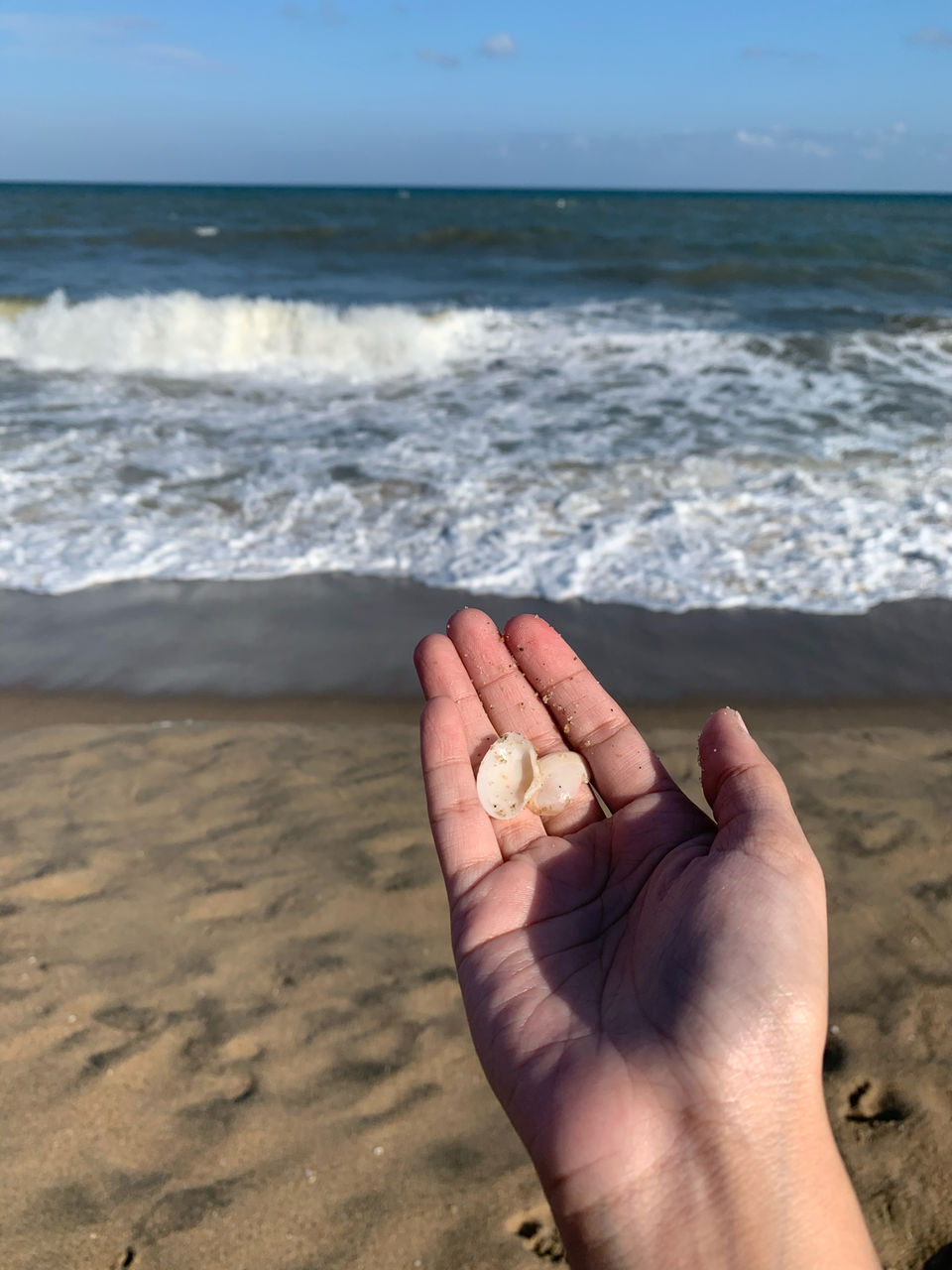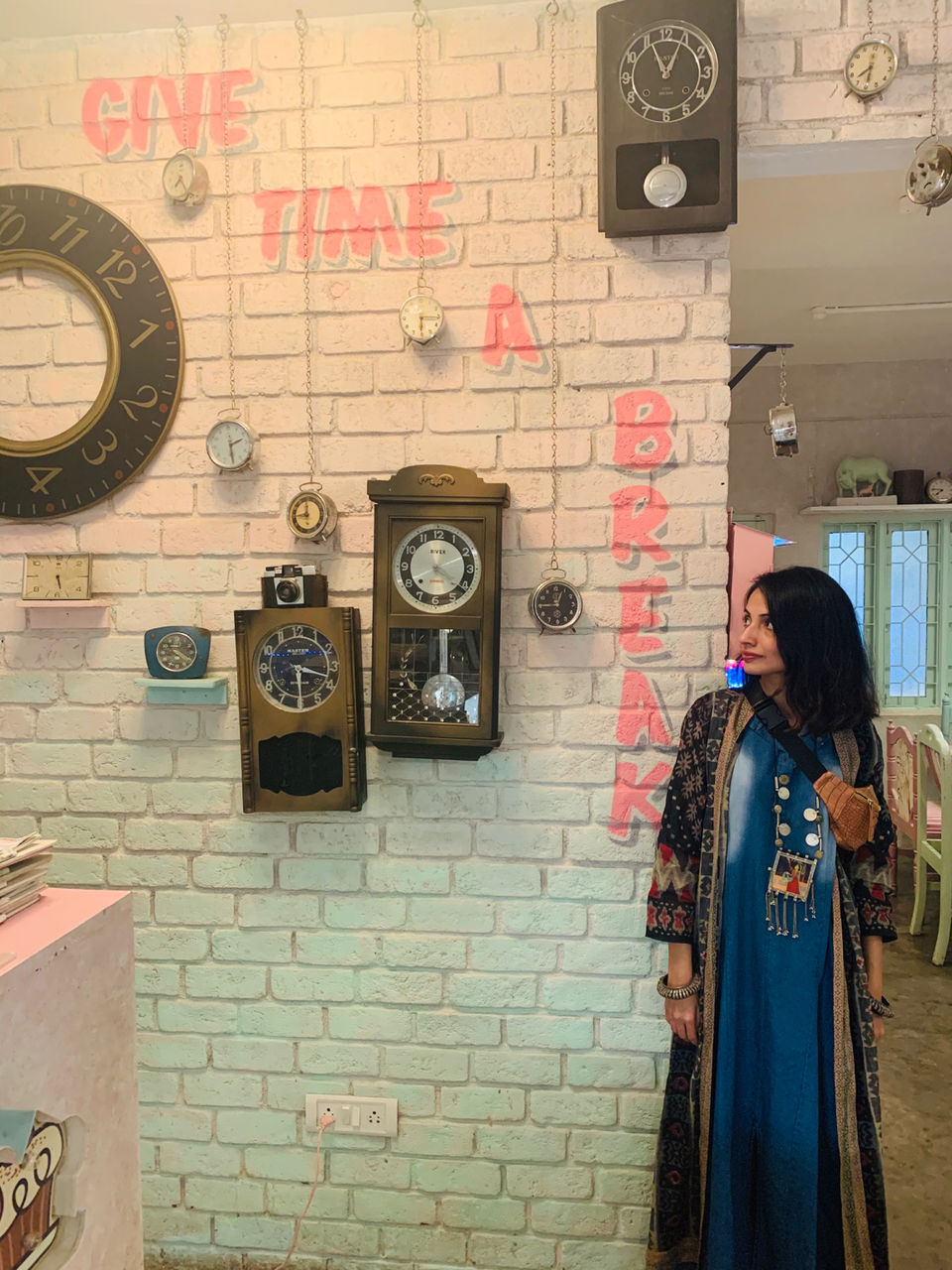 Day Four
Morning
The next day, we had time to kill. Or so we thought. We weren't flying out before paying a visit to the famed Paradise Beach. But before we started for the beach, we wanted to go to Church. Basilica of the Sacred Heart of Jesus, is an architectural and spiritual delight. Sitting there, we say a prayer. The picture says it all :)
After much confusion on how to get to Paradise beach, we got to know that we had to drive over to the Boathouse, from where boats depart every 10 mins, to take you to Paradise.
The boat-ride was as comfortable as it was scenic. Sea-gulls sang their song, and fish frolicked in choreographed dance, as the swaying palms and mangroves encircling the endless waters of the Bay, kept us entertained and bemused. I wasn't expecting to find such beauty on an Indian beach. I stood corrected. We knew we were nearing the shore, when we spotted the memory of land in the corner of our eye. As we came closer, we were stunned to find celestial white sands, stretched into the distance. The bamboo canopies here, added to the scene of the beach.
Digging our heels into the wet Earth, challenging the mighty waves, collecting sea-shells and ofcourse, constructing the most sturdy sand castles, we spend hours and hours here, doing beach things. Doing human things. Just being.
Paradise beach lies in another part of the world, unknowing of any geography, any stress, any noise. Matrimandir yesterday was otherworldly and Paradise beach today, lay beyond the borders of the world.
Evening
Our last night in Pondicherry. I wanted to celebrate in style. And at the expense of sounding sappy, with a hint of romance no less. We made reservations at Coromandel Cafe, La Maison Rose. The thing about this place is that it has a different vibe during the day, to the evening ambience. In addition, every part, every corner of this beautiful mansion, has a distinct story to tell. While the garden outside is pretty and quirky, the backyard is casual and tranquil. The restaurant inside, is done up in hues of a very pleasant olive green and the ceiling is abundantly decorated with elegant chandeliers. Its ambience is romantic, to say the least and I would like to believe we added to it :)
The pastas here are to-die-for. Order anything to your
liking!
Dinner was followed by a walk along the Promenade. I know, I know. But cliches are cliches for a reason I suppose :)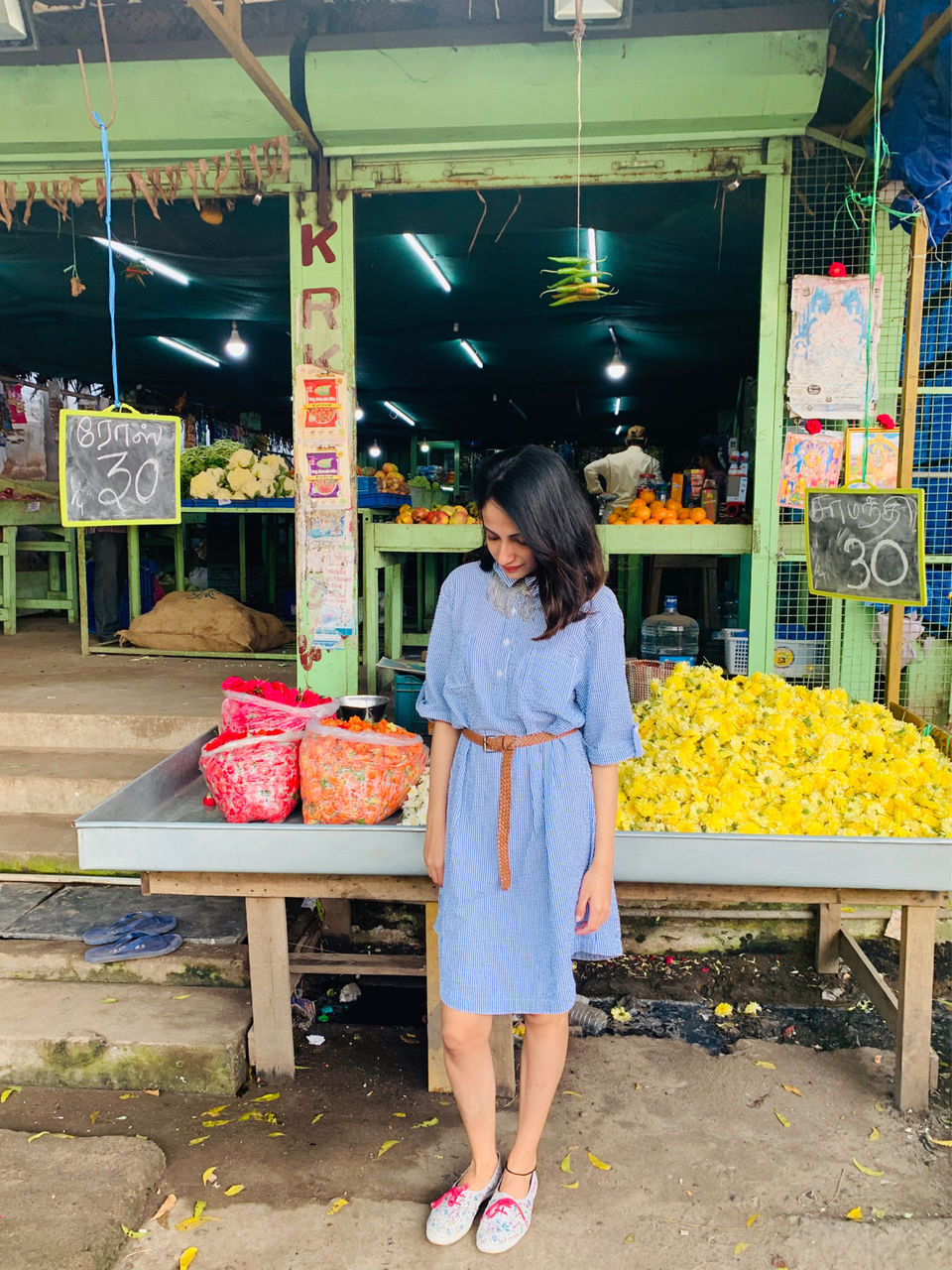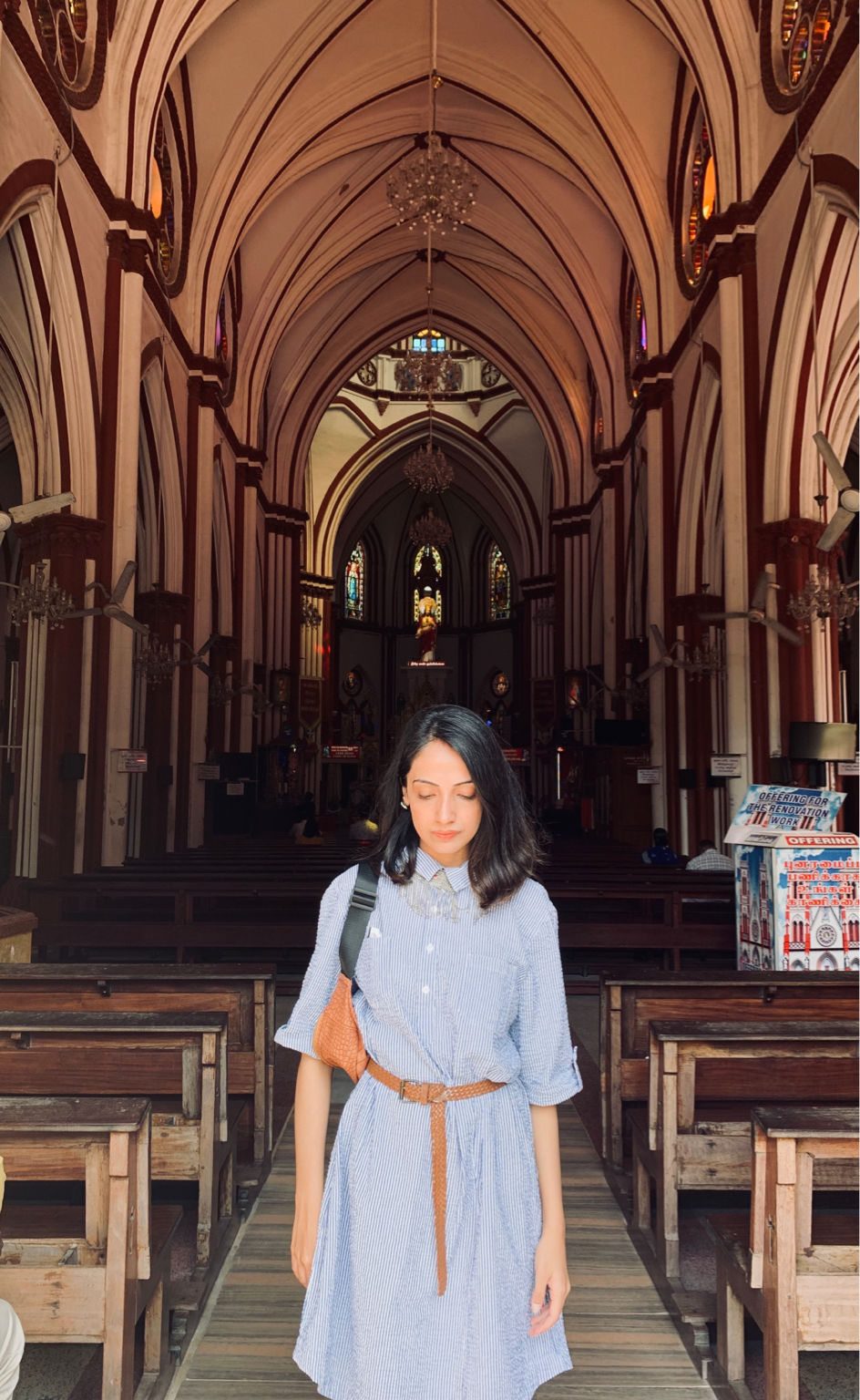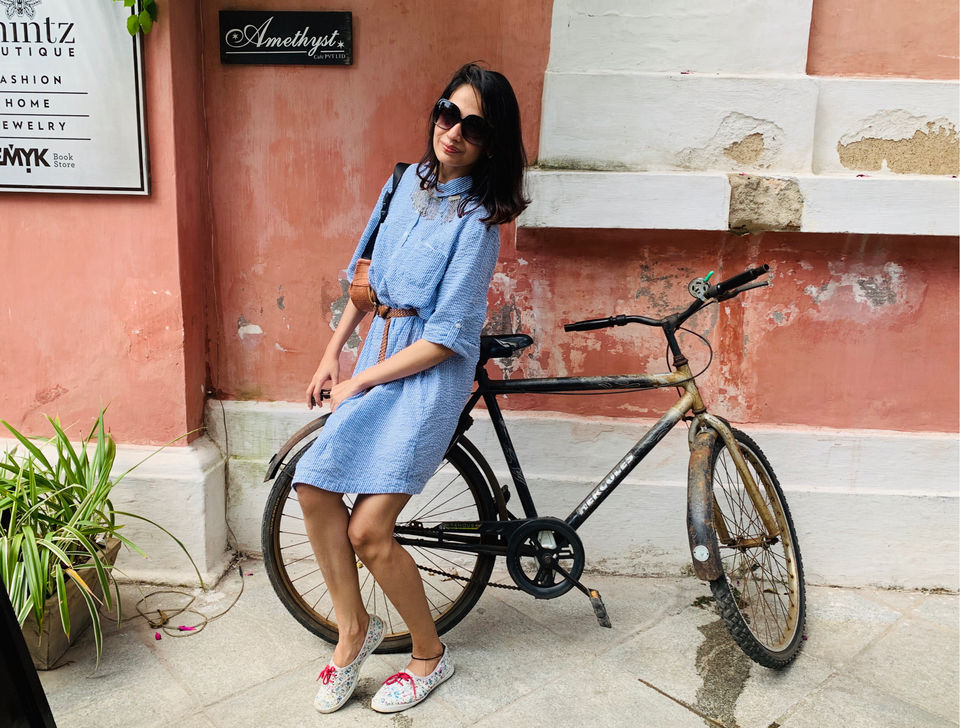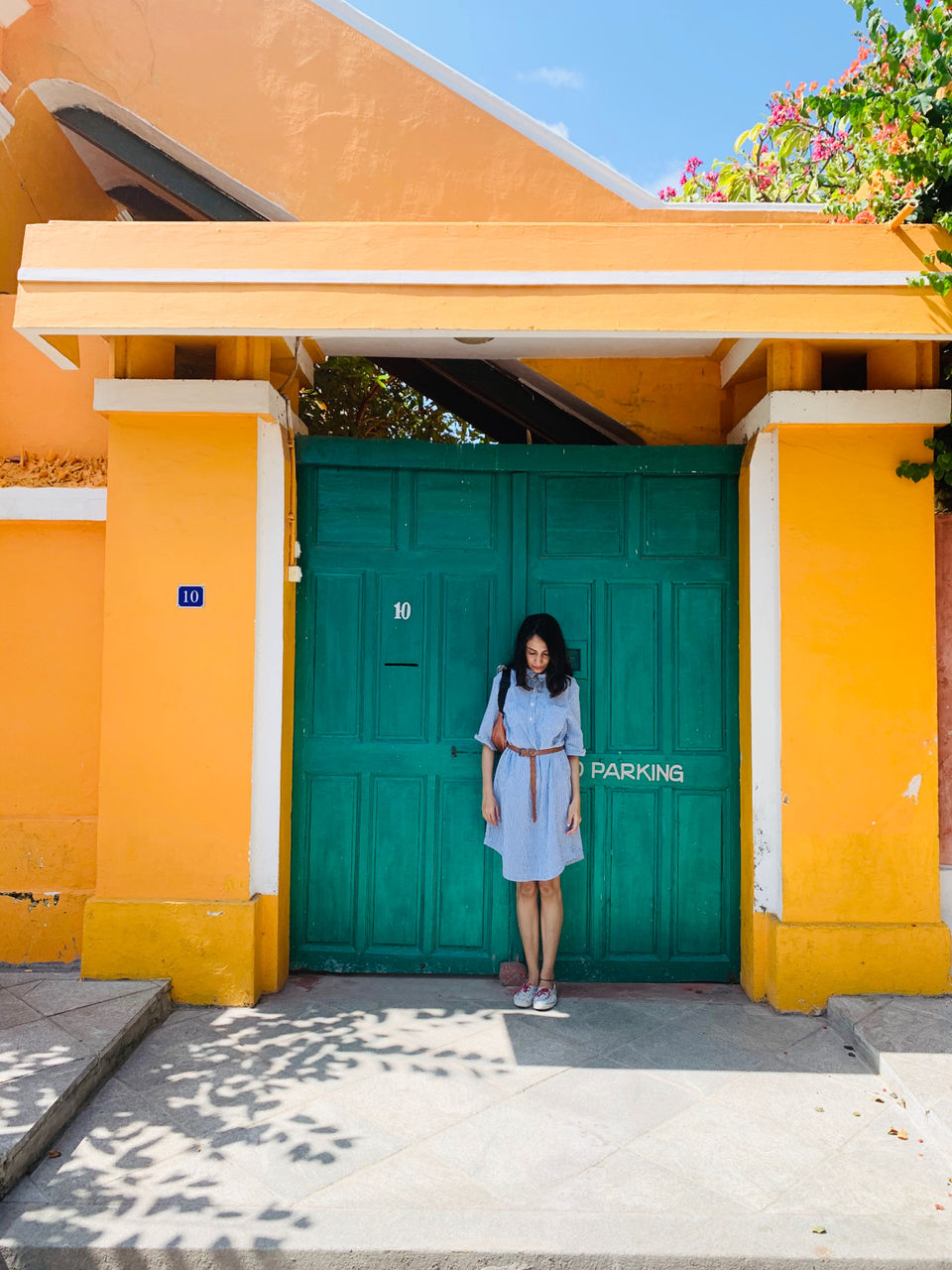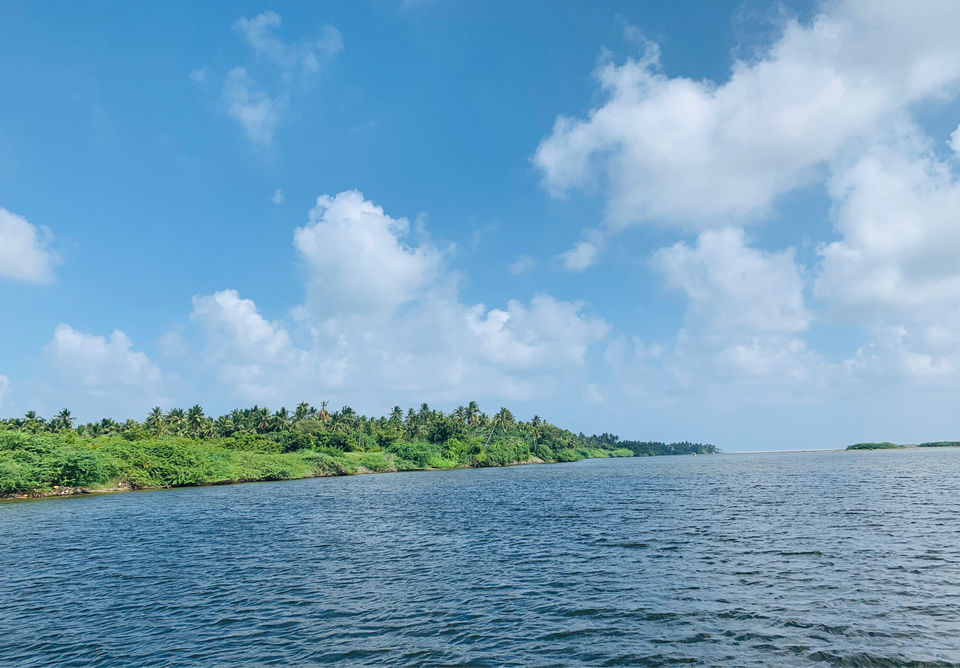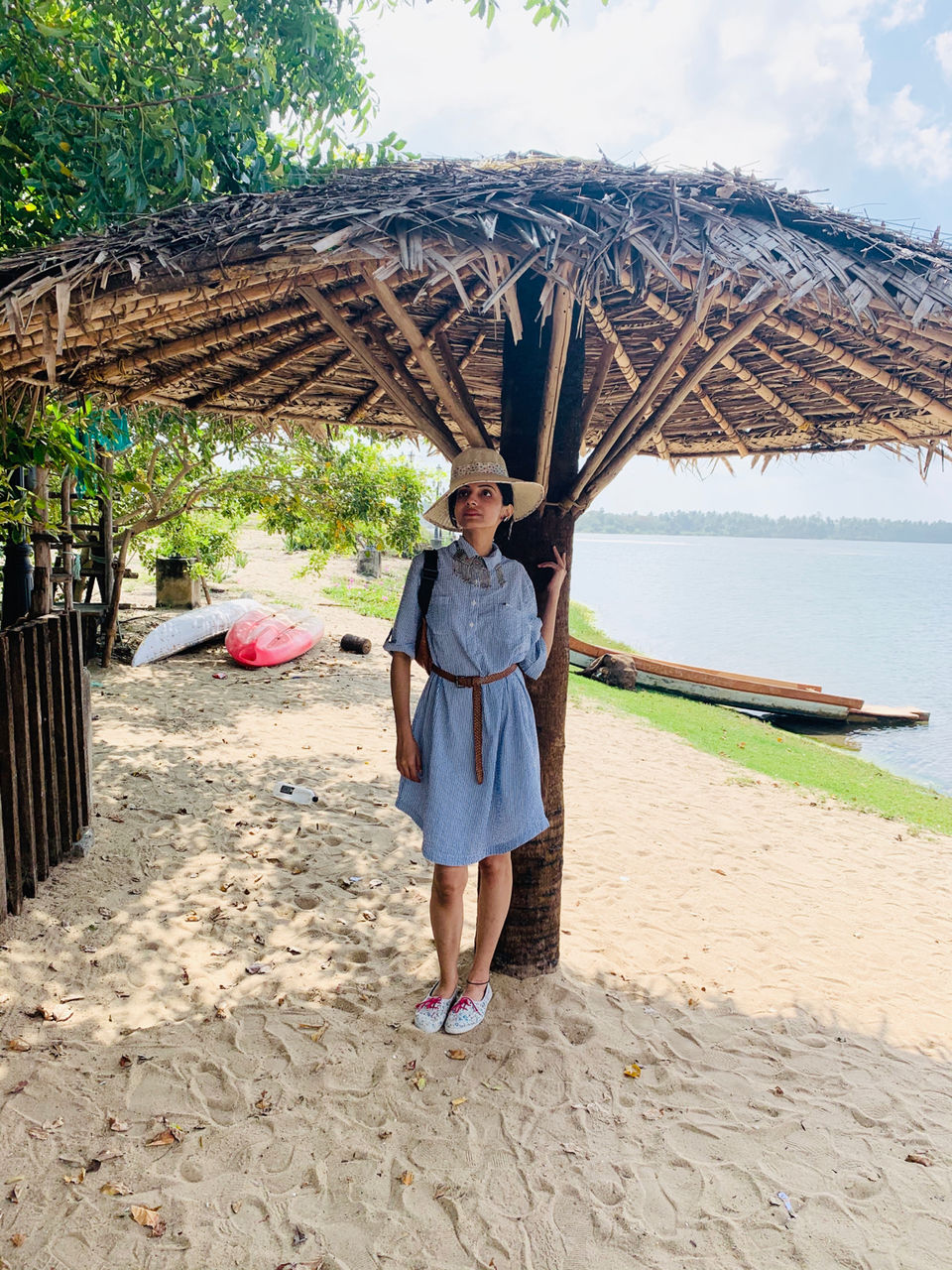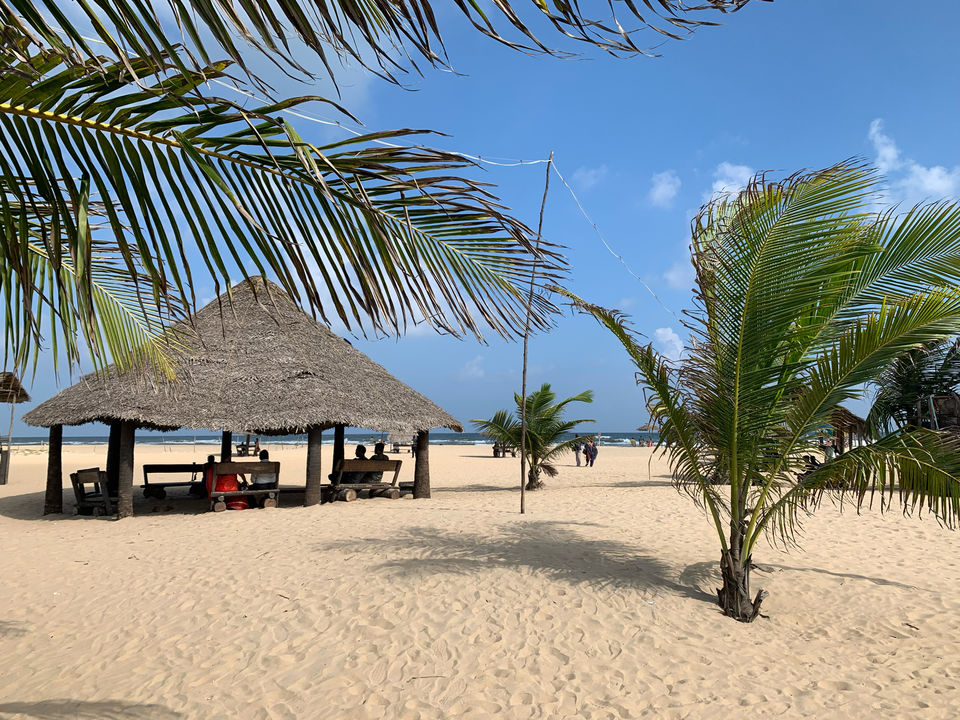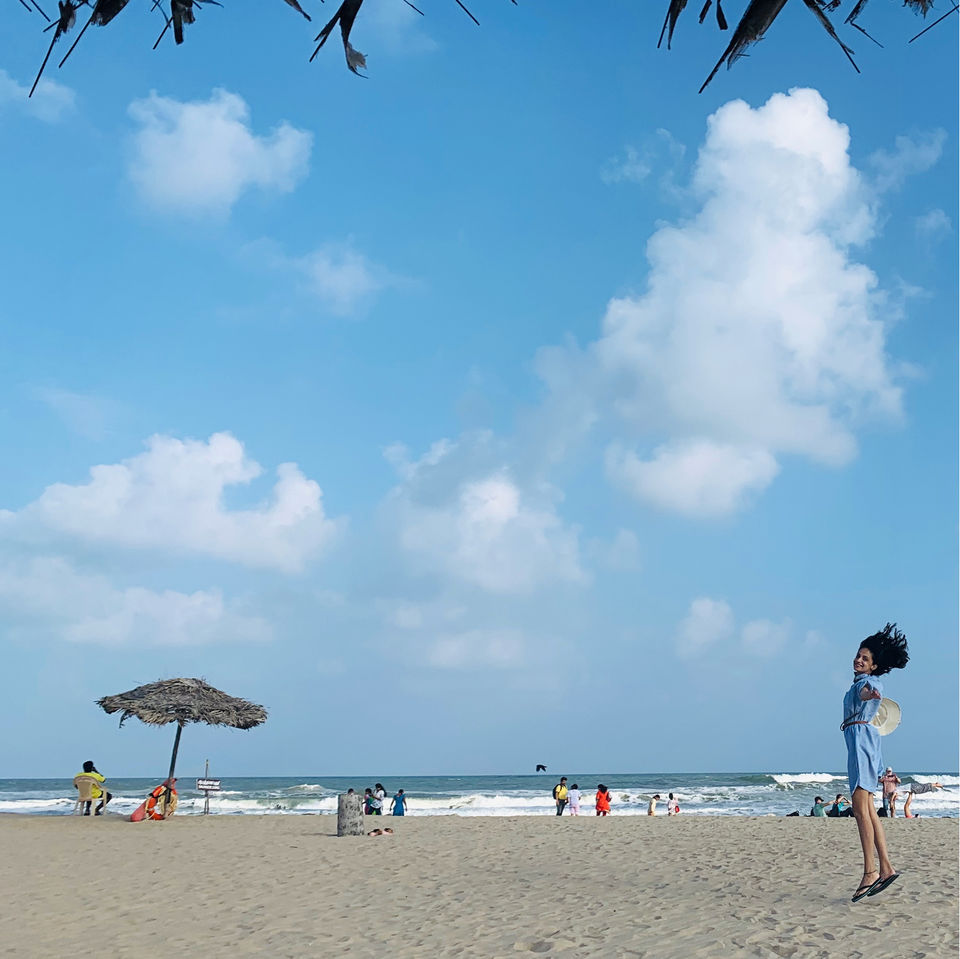 Day Five
We couldn't leave from Pondicherry without paying our respects at the Aurobindo Ashram. We also made sure we visited Anoki-A cotton museum and store, that regales you with stories of and in fabric. The Ashram's preserved every relic, every memory of the late Shri Aurobindo and The Mother. We paid our respects, and flew out right after.
What a way to say goodbye :)