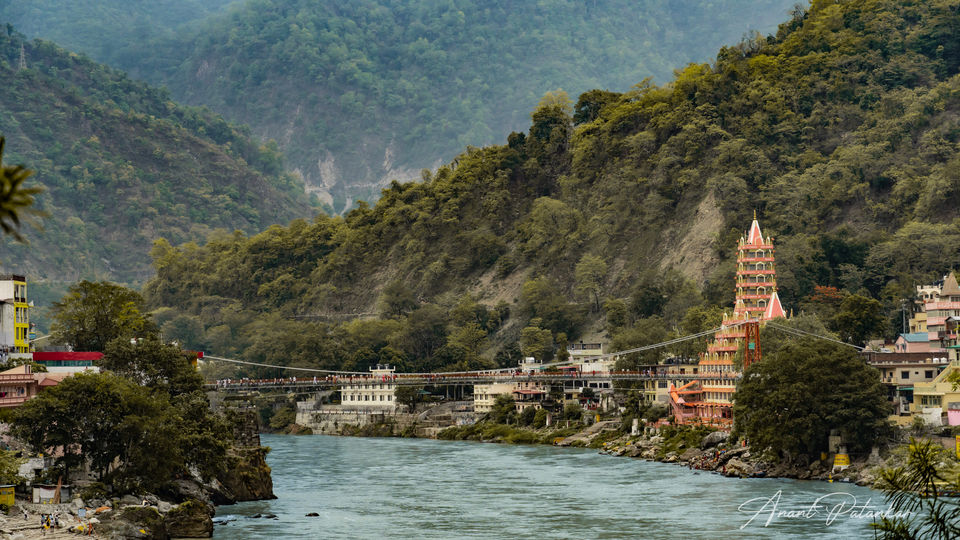 Backpacking isn't the only way to travel, even Dharma takes you places.
Yes I know the trip cost mentioned above is 1500 Rupees but the purpose of writing this trip is so that you can make it for free.

Day 1: Haridwar to Rishikesh
I was in Chandigarh, just had my share of the mountains in Himachal. The next thing I needed was rest with a bit of peace. This wasn't planned but seemed like the proper thing to do.

Read my Himachal trip here to know how to visit Spiti under 7000 Rupees or LESS.

There are many trains running between Ambala (Chandigarh) to Haridwar on a daily basis and the ticket cost for general can be as low as 65 rupees for a journey of 2-3 hours depending on the train you might choose. Haridwar is a choas when you get to the station, as soon as you get down, have something to eat first because a long walk lies ahead of you till Laxman Jhula. (That's a bridge)

From the station there are many Vikrams available. Vikram is not a person, I learnt this the different way.
Rather than waiting for the bus, I had asked the locals and they told me that it would be better to take a shared rickshaw to Rishikesh as it almost costs the same. So I started asking people where can I get a rickshaw for Rishikesh. For some reason they said, "There are no rickshaw here, you will only find Vikram".
Hoping that these guys are making fun of me, I kept walking ahead until I asked an elder person "Ye Vikram kon hai?" (Who's Vikram?). Bursting into laughter he told me, Vikram isn't a person, The rickshaw here are called Vikram". I was poker faced and he pointed out the way to me.
Bargaining is the best way to get the cheapest fair! Do not settle for anything more than 50 Rupees. If they do not agree just keep walking and eventually they'll call you back.
The Vikram dropped me off at Ram Jhula (another bridge) which people use to cross the holy river Ganga but the hostel I booked was on the other side of the river. So, with a 10kg backpack I started walking my way towards the Travel Dreams hostel. Nice name eh? Apparently the rates here are also as low as 120 rupees per day and you can find it easily on booking.com.
After reaching the hostel at around 6pm, the hostel staff which were apparently all young (age 20-30) welcomed me even if my check in time was at 12 noon. I told them that I am way too tired and they quickly showed me the bed which was in a 4 bed mixed dorm room. Unpacked and rested for the day.
Day 2: Thinking what can I do here?
I was obviously recharged but somewhere in travel I had lost the comfort and knowing that I have more 25 days ahead of me, I was maybe homesick. So I went out to the hostel counter to find some books but it ended up talking with one of the guy and decided to explore. Packed my camera gear and I was off to search the lunch place suggested to me by the hostel guys.
With a thali for around odd 110 rupees, I wasn't satisfied with the food and calculated that I'd spend a total of 1100 rupees for 10 days which wasn't feasible for me. Walking with my thoughts on the Laxman Jhula road (this is an amazing and calm road to walk along with river Ganga) I was looking at the Ganga and imagining all the mythological stories I've heard as child and wondered if this river actually starts from Lord Shiv's hair.

I reached Ram Jhula Ghat, got down the steps to take some photos and sat down admiring the huge river. Just when a guy came in and asked me if I can take photos of him. Irony being, his name is Shiv. Amazing right? I started talking with him and ended up knowing Lord Shiv had actually taken care of my expenditures xD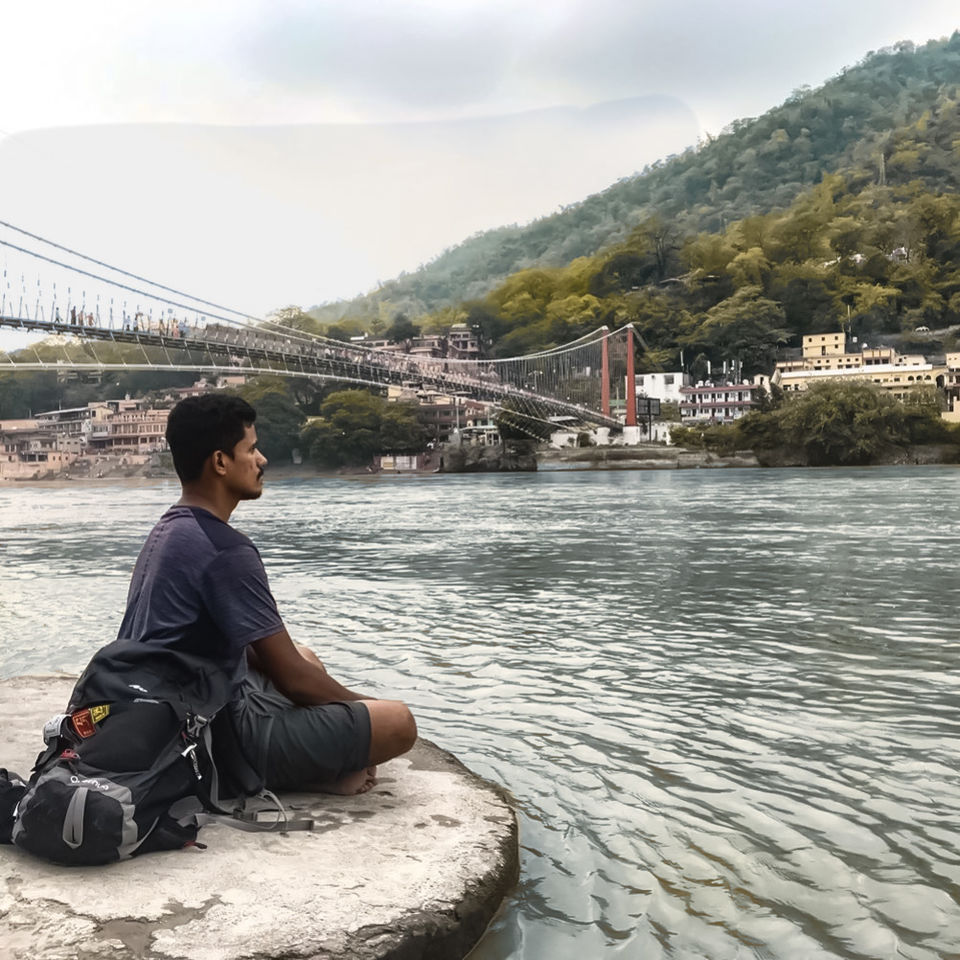 Secrets for the Free Food and Free Stay here

Yes that's right, Shiv told me that he was staying in the GoStops hostel which offered volunteering programs, where the only thing you have to do is help the hostel in few ways and have a free stay. In Shiv's case all he had to do was take photos of different places and tag the hostel account on Instagram. Thank you Shiv for telling me that such ideas and programs also exist. However I didn't move there as I had already booked my stay in the hostel mentioned above.

Shiv asked me where I ate and I told him that I haven't decided it yet because I didn't really like the place I visited for lunch. And here he does it again, saying that we can get food for FREE!
I immediately asked WHERE? He explained saying there's a Gurudwara which serves free unlimited dinner (It's basically known as Langar) on the main street which goes down to Haridwar and its within walking distance. For your reference the name of that Gurudwara is: Gurdwara Rishikesh (Sri Hemkunt Sahib Trust). Google maps link here.
There it is! ALL your stay and food for FREE! From that same day we started going to the Gurudwara for daily dinner and we ate a LOT. The walking used to help in digestion and we shared stories all days while walking.


Day 2: Searching the secret sandstone cave of Lord Shiv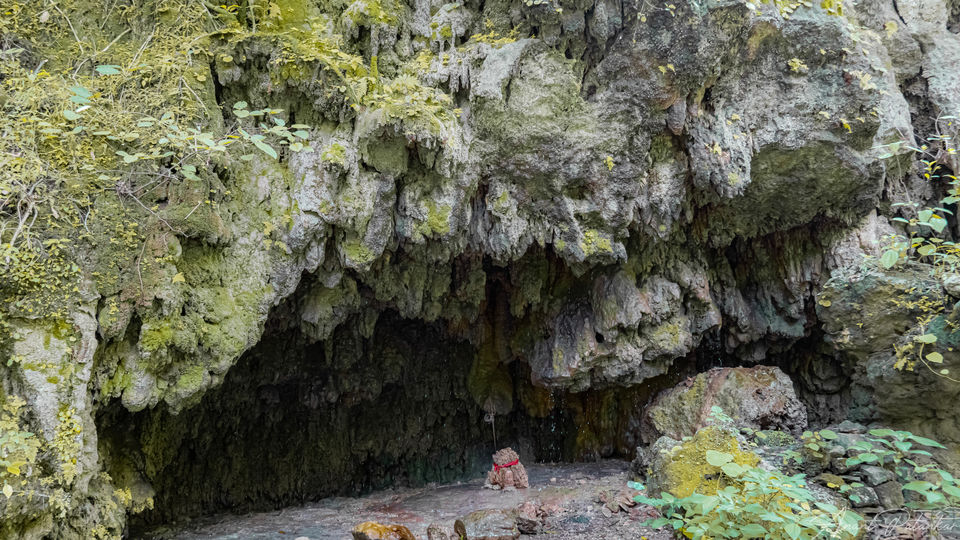 Calm yourselves in a private waterfall and experience the spirituality of this secret place

Google Garud Chatti Temple Or Patna waterfall. Link here

Once you reach the Temple on the main road, there are stalls beside it, you may ask anyone on the road for the waterfall and they'll point the direction. Or ask for the sandstone cave temple. Keep following the small path and in around 20-30 minutes you shall start hearing the waterfall. It is really easy to lose your way here but keep in mind that you have to keep walking on the same level, Do Not Go UpHill!
You'd first find a small waterfall and a pond maybe 15x15 feet but keep walking ahead till you find a big place as above. (Obviously there are less trees as you can see in the photo)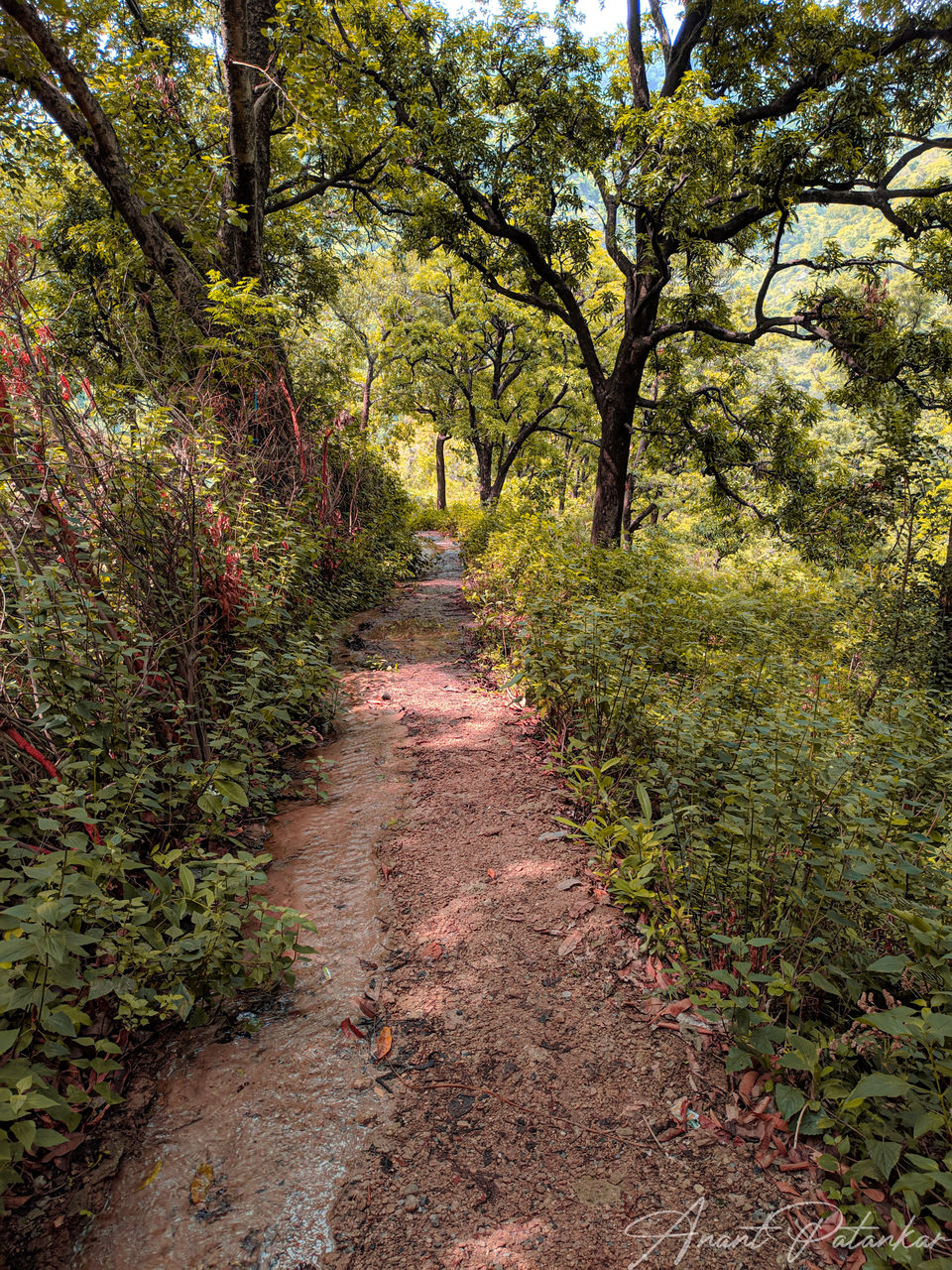 You will keep coming across such small streams, the water is good and you may freshen up because you'll be sweating a lot. Humidity reaches 98% in Rishikesh and its obviously 100% in forests.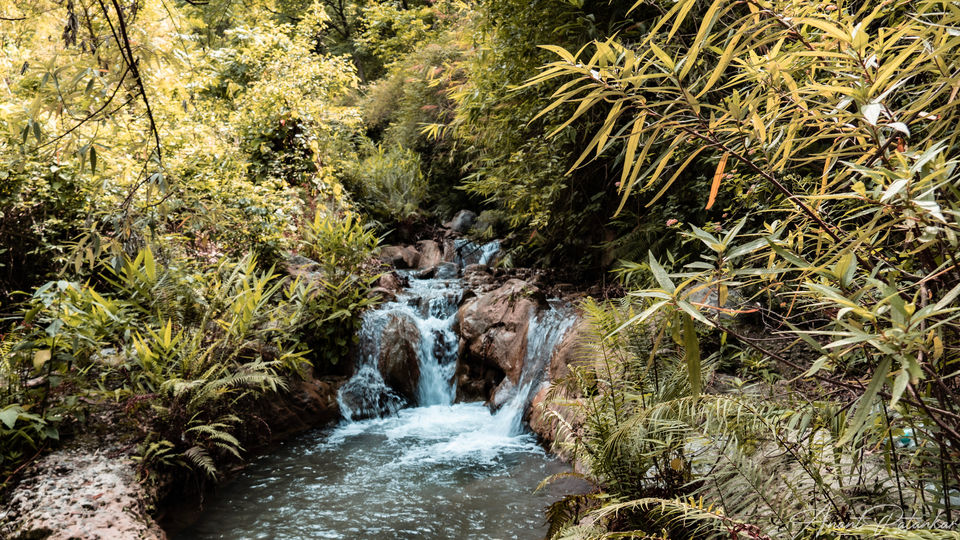 Once you go in the cave (near the Shiv Lingam), look towards your right and you shall see the water fall
In the picture: Right in front of me is the waterfall pond. Seriously there were only 3 people here excluding us.
Rishikesh can be quite humid. A lot to be honest. You'll sweat profusely. Keep that in mind. We returned back to the Gurudwara for dinner and then back to our hostels respectively.
Day 3: Uplift your mood and spirituality with this amazing Ganga Arti!
No matter what anyone tells you, only visit Triveni Ghat's Ganga Arti. They do it in the same way as the famous one you might've seen in Varanasi. When we went, they were shooting some kind of movie/tv serial, so the place was a bit packed, but make sure you get here by 6:30pm so you'd have a good spot to take in the best views.
Another spot for Ganga Arti is the one in the image below but as i said, Triveni Ghat gives you the best experience.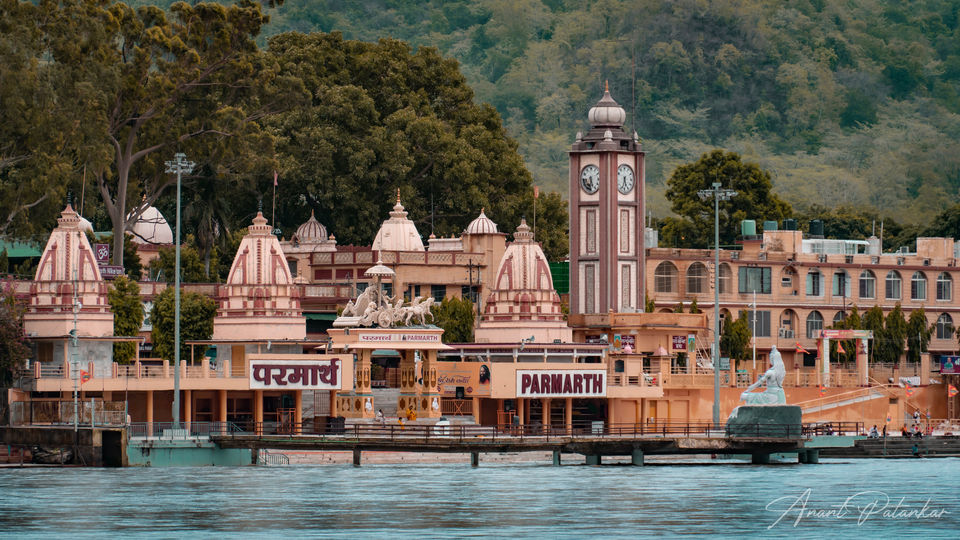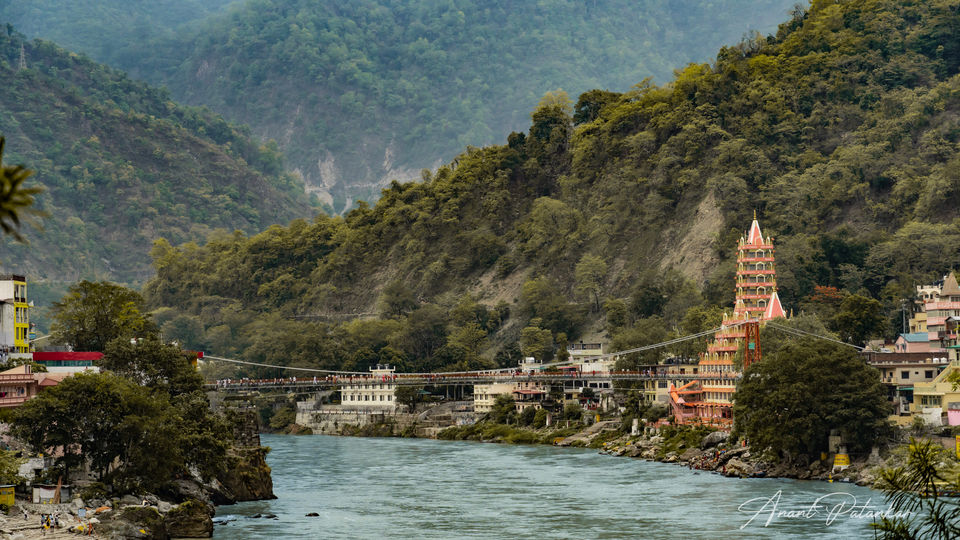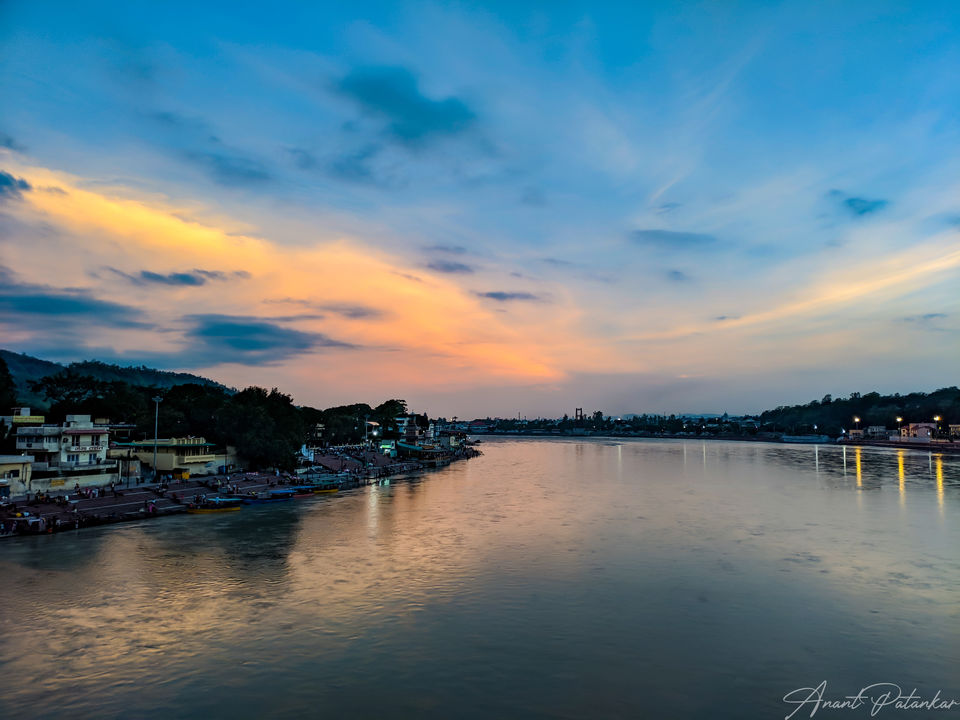 There are boats available to cross the river as well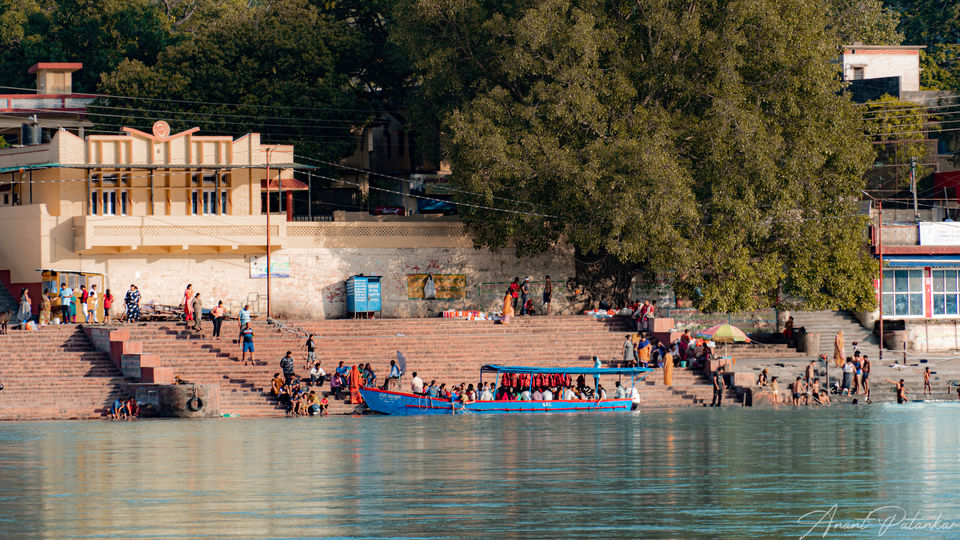 Day 4 and so on... (Future tips for you guys)

After sharing stories with Shiv everyday he went on for another adventure, Kedarnath. I still miss the time when I was thinking if I should've joined him and I still regret it.
If you guys are decided to visit Kedarnath from Rishikesh the following are the tips:
1. You need to take a bus to Sonprayag (That's the last point where buses go, its a walk of 13kms after that village)
2. Buses will leave from the Rishikesh Bus depot, there are a lot of fake/wrong locations, the correct one is here.

3. Do not try to book the bus online, Shiv and me tried the same thing but eventually he ended up losing money and without a seat confirmation. (money usually comes back in your account within 4-5 working days)
4. There is a counter in the depot, ask anyone and they shall book it for you. (They sometimes also ask you which seat you would prefer)
5. Arrive at least an hour before the bus departs. As the bus has several stops many people get in and may occupy your seat asking you to adjust for some time.
There are many other attractions in Rishikesh:

1. The Beatles Ashram
2. Sivananda Ashram
3. River rafting offered seasonal
4. Many Yoga classes which you may take and a lot of shops for cultural shopping.

But I will recommend you all to just take long walks and see the diversity. You'd find more foreigners in Rishikesh then any other part of the country. See how people from different parts of the world work out in unison to attain peace. People spend months here trying to understand the meaning of life, because this place holds something in its ground. Maybe its the holy river Ganga or the people who smile no matter what.

That wraps it up. After this trip I continued my journey to Delhi and decided to take an early morning train form Haridwar. I still remember the night I silently packed my bags and took off at 3am from my hostel. (obviously I did pay xD)
There wasn't any taxi/vikram so I walked all the way through this peaceful place, afraid of the uncertainties, reached the bus depot drenched in rain in an hour or so, waited on the stop for like another hour till 5am and caught the bus by running behind it (fare 20 rupees), because apparently sometimes the buses to Haridwar do not come inside the depot. As the road being empty at 5am in the morning, I reach the station way sooner.
My train was scheduled to depart from Haridwar at 6:45am (Kalinga Utkal Express) so I had a bit of tea and biscuits, slept on the platform bench despite of the train being in front of me because apparently the doors were closed. Boarded the Train at 6:15, had booked myself a sleeper as I knew I had to wake up at 3am to be in this train and slept off my way till Delhi.

If you have any questions regarding this trip feel free to ask me on insta @ thevideoeditor_