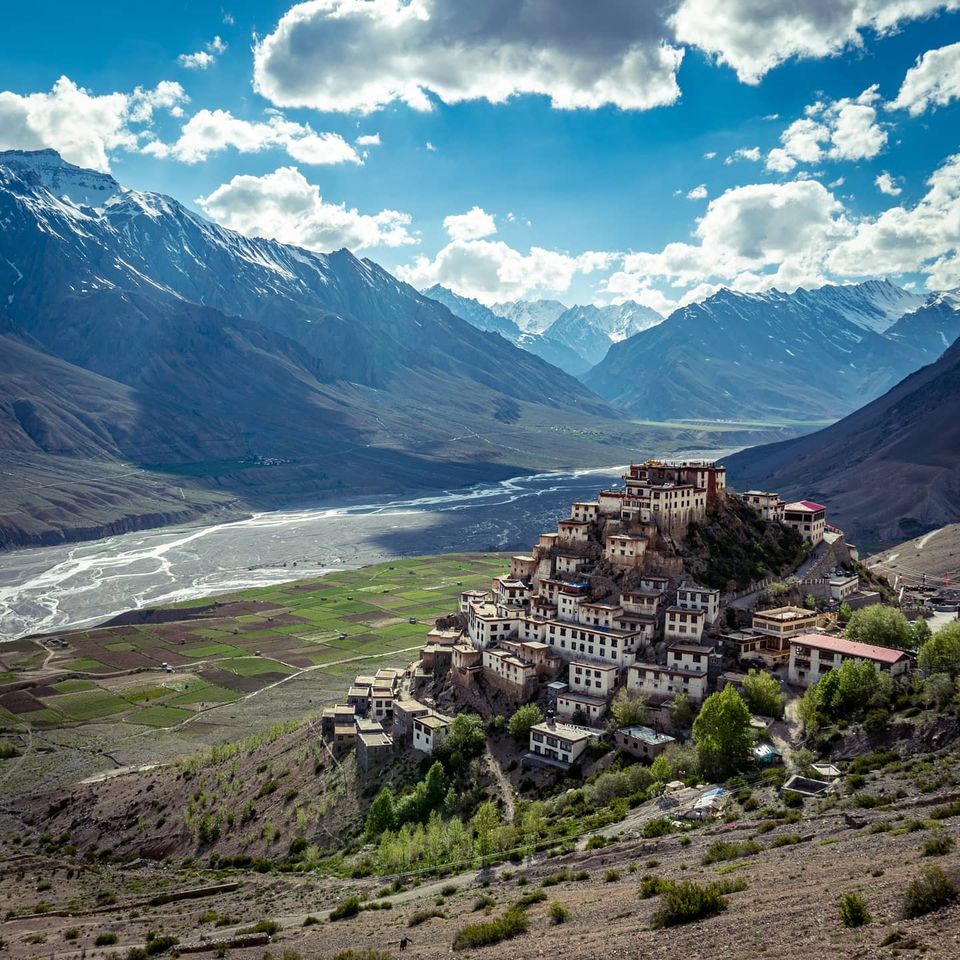 This was the excitement we were carrying with us.
Day 1: Mumbai To Ambala (By train- Paschim Express)
We booked our tickets in the month of may planning ahead for the 19th of June as the take off date. The excitement was so high that tiredness was not a word in our dictionary. The next ticket booked was from Chandigarh to Reckong Peo but adventure was in the mid journey of getting a train from Ambala to Chandigarh because unfortunately or fortunately we couldn't book tickets for that route.
Day 2 & 3: Ambala - Chandigarh - Reckong Peo (Train- Bus)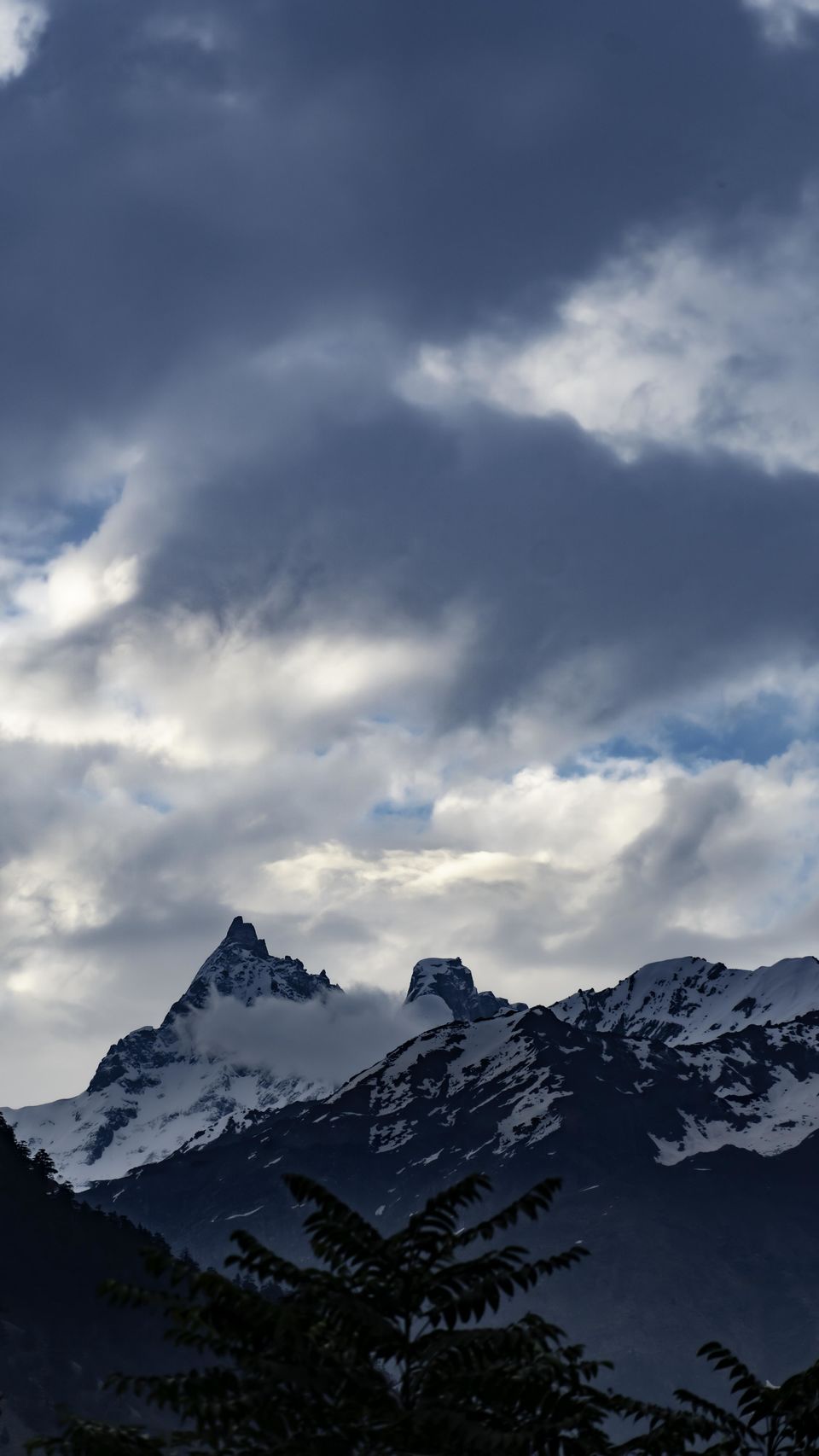 It was a RUSH! We did know that there are frequent trains running between Ambala - Chandigarh but did't know that our train was already waiting before we reached the station. Now all we had to do was depart - run to the ticket counter to get a local ticket from Ambala to Chandigarh - board the train which is already waiting. Carrying our 10-12 kg bags we rushed through the crowd, got the ticket and boarded the new train, only to realize there is no place to sit. So we had to stand for a mere 45 minutes as its approx 60kms.
As we reached Chandigarh, rickshaw drivers will fool you to get to the ISBT bus stand but do NOT pay more than 50 Rupees per person. Getting to the bus station we refreshed ourselves and had a meal in the canteen, departed with our bus at around 5pm only to realize the driver had left the conductor behind xD. Chandigarh people are funny xD
The picture above is a view caught from the bus when we entered further into the mountains
Day 4 & 5: Reckong Peo to Yulla
Thanks to couchsurfing, a good soul who turned into a good friend offered to host us for two days free with food in his own house where his mother cooked delicious Rajma Chawal for us.
The following are the photos form the trek we did by crossing 3 mountains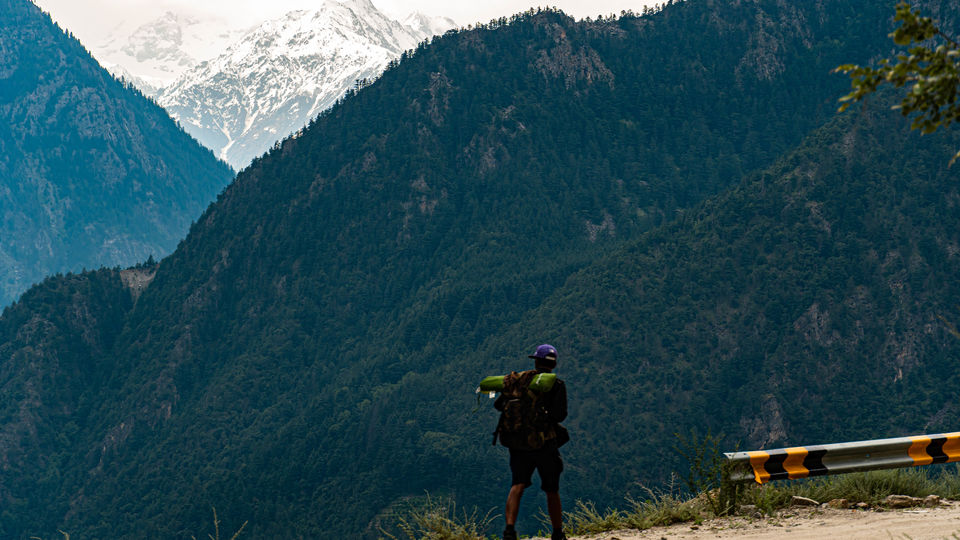 Day 6: Yulla - Pooh (A broken journey)
We were supposed to trek to the highest Lord Krishna temple but as our host wasn't feeling well we decided to continue our journey further as we didn't want to put him in trouble because the distance was 12kms uphill on an elevation where even 10 steps make you go out of breath.
Tables turned when we realized that we had to take a detour to Reckong Peo to catch the Kaza bus. We were in time for the Yulla bus but not so lucky to catch the Kaza bus from Reckong Peo and thus getting stranded for a day. But I never lose my hopes soon and that worked out a good deal for us. Pooh is a place that is almost halfway to Kaza and so we got a ticket, boarding the bus to this unknown place, never knowing how to get Kaza from there.
We were accompanied by two guys who didn't know Hindi, wanted to go Kaza and were struggling to find out the harsh reality that the bus has already left. I approached them, explained to them what the ticket seller was telling and told them about our plan. That's it. All it takes is an effort to help someone and they'll help in return. They joined us till Pooh and again we were stranded on the road beside the beautiful Sutlej river. Little did we know, someone named God is always with travelers and there comes a car! The confused Keralites started explaining the Himachali in Malayalam and I was just observing them, waiting to burst in laughter. The car guy looking at me in confusion was lucky enough to get my attention and I jumped in, explained our story and all he said was "Hop in my car".
Without another thought we jumped in and he took us up into the mountains into the main Pooh village. He recommended us to get a hotel but budget was our primary concern and we asked him if we could pitch our tents somewhere. That's where I realized the importance of the phrase "All you need to do is ask.".
Which turned out into this beautiful morning the next day with a dinner of Parathas and samosas for the night earlier.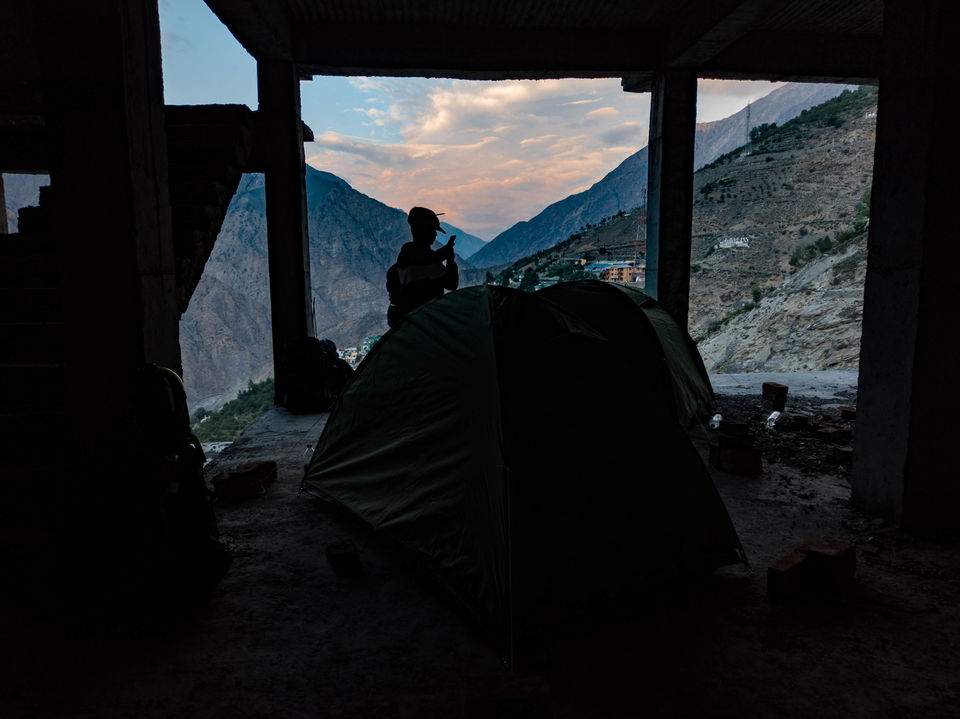 Day 7: Pooh to Kaza (Bus)
Another day of adventure where a 4 hour journey extending to 7 hour. Seriously! Stay ready for the inevitable in Spiti because a tyre puncture can delay it by any amount of time. But there's one thing I can guarantee and that is, You will never get bored. Himchal bus drivers are conductors are really good at entertainment if you turn them into your friends.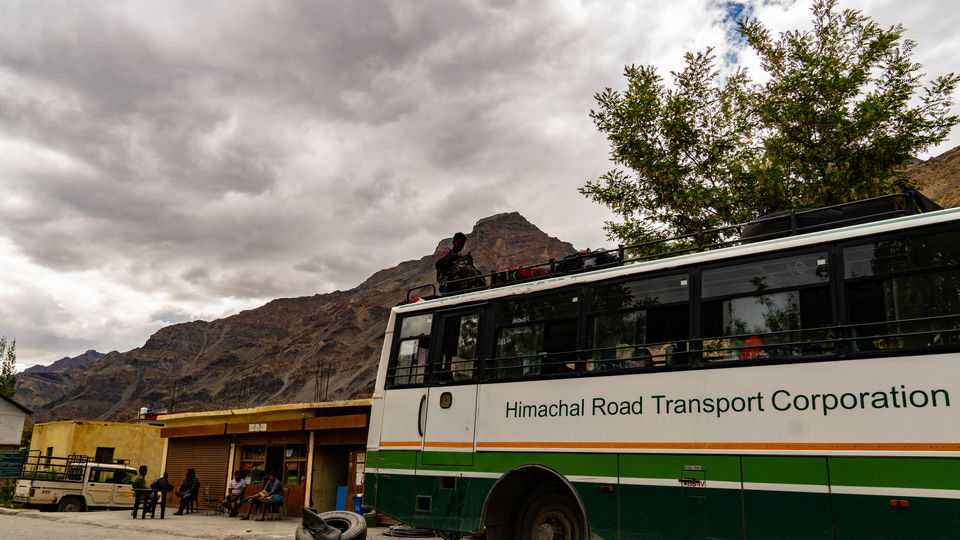 Finally we arrived into Kaza at around 7pm, where we parted ways with the Keralites, entered the Horizon Cafe, the owner was so good that he and got us a nice dormitory for 250 each (I don't remember the name but if you guys visit that cafe i'm pretty sure the owner will help you as well), later at night we went back to his cafe for dinner which was amazing as well.
Day 8: Kaza to Langza
Now rather than going back to Kaza we decided to leave for Kibber. We traveled via bus and found a good homestay for 500 per person including food until the next day we left for Key. The people who hosted us were so good, with true hearts, made delicious food for dinner. Spicy dal rajma and rice. At around 7pm we went out for some photos and I was so amazed by the beauty of these mountains.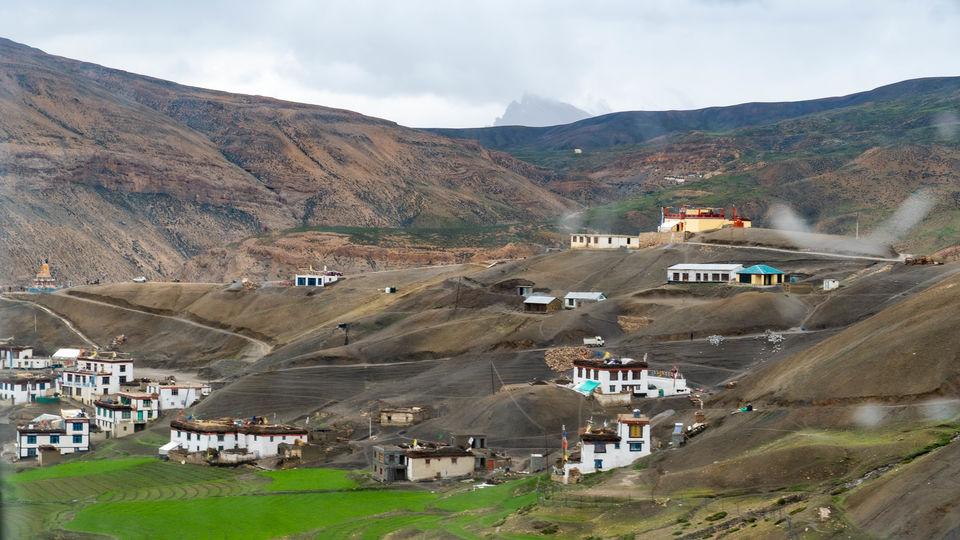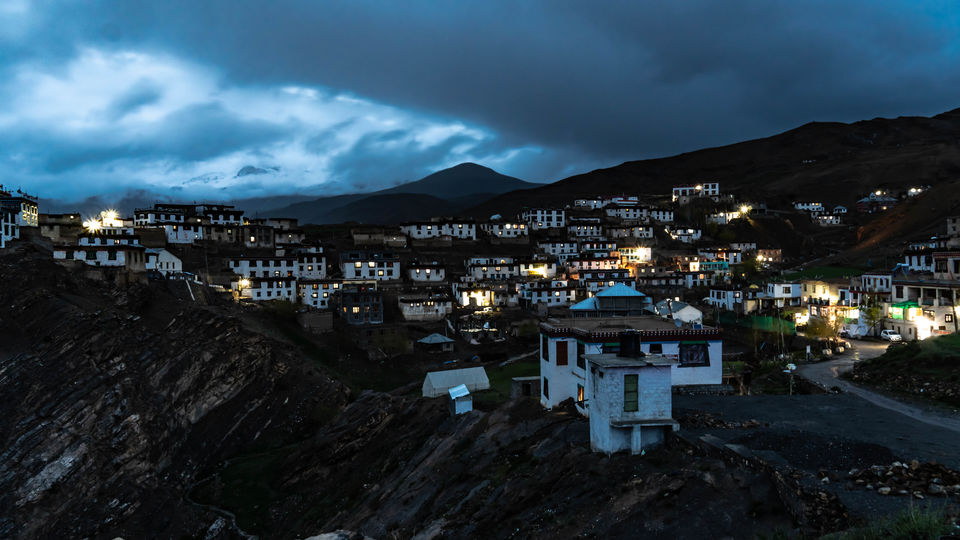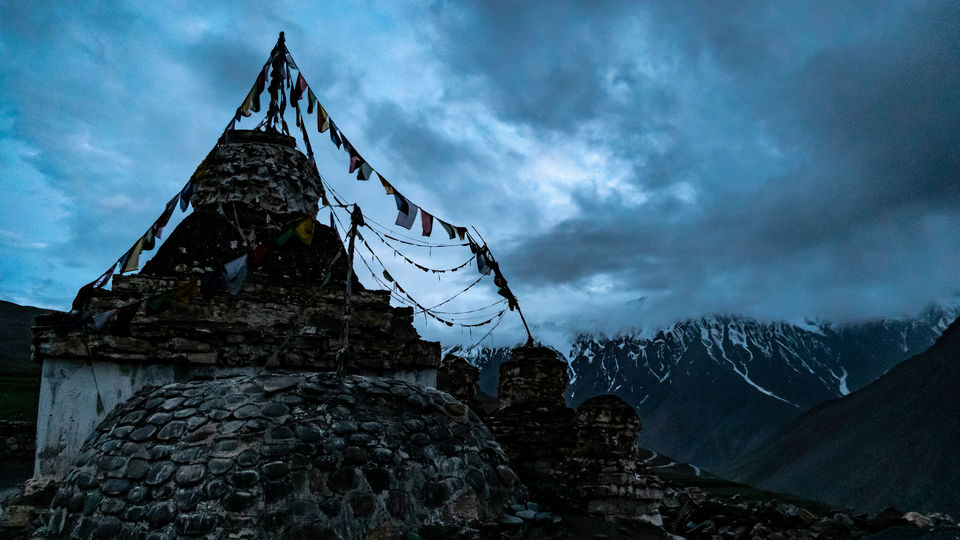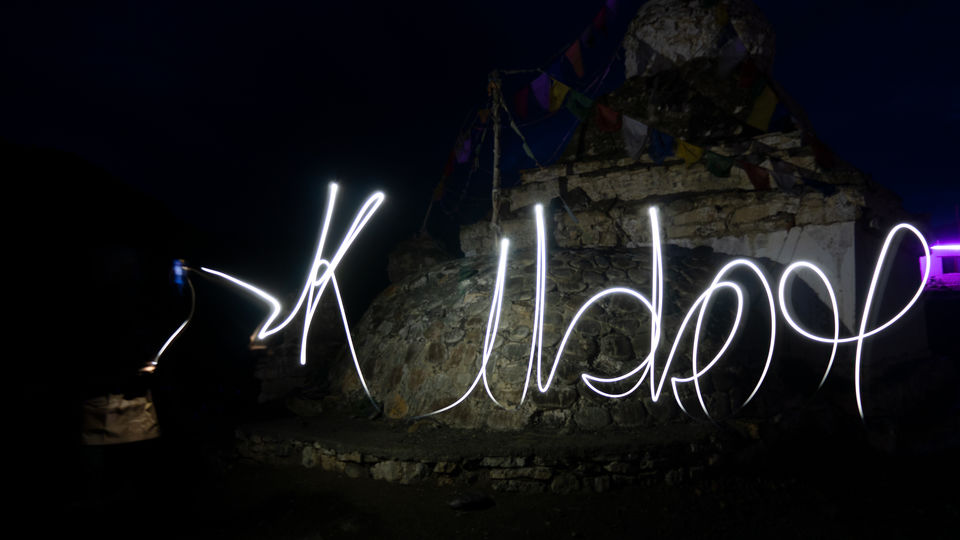 Day 9: Kibber to Gette to Key: A trek that changed my perspectives
Rather than taking the bus we decided to walk, get more elevation under our feet and descend down to Key monastery. The road was dirt, with parts of it filled with mountain cracks and soon after just 300 meters we were already thinking if we made a wrong decision, but the views changed our mind.
The trek continued by taking time lapses so that our bodies could also rest meanwhile.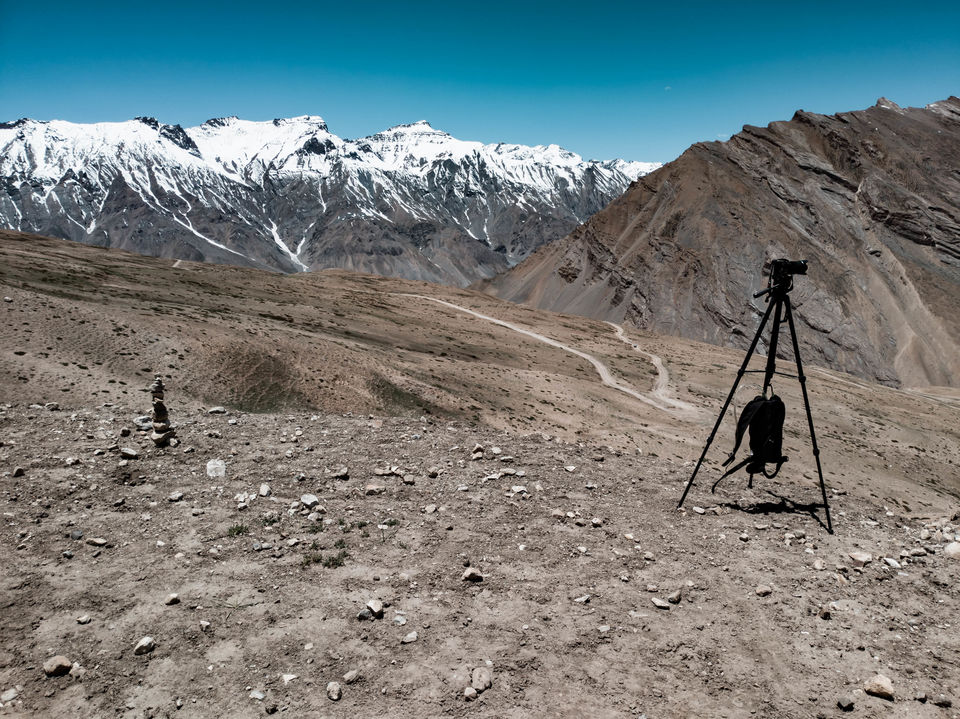 After walking for around 2 hours we heard a noise, a family who thought they were lost, picked us up in their car, gave us a short lift till the village named Gette and we helped them to with the way ahead. (Offline saved Gmaps helped a lot.)
Continuing this we had a long way down which was treacherous and the Kibber homestay family did inform us that it is very tough but for some reason the family head named Namgyal said that he believed in us and we could do it. And we did it! The images below will speak once again.
View from Gette village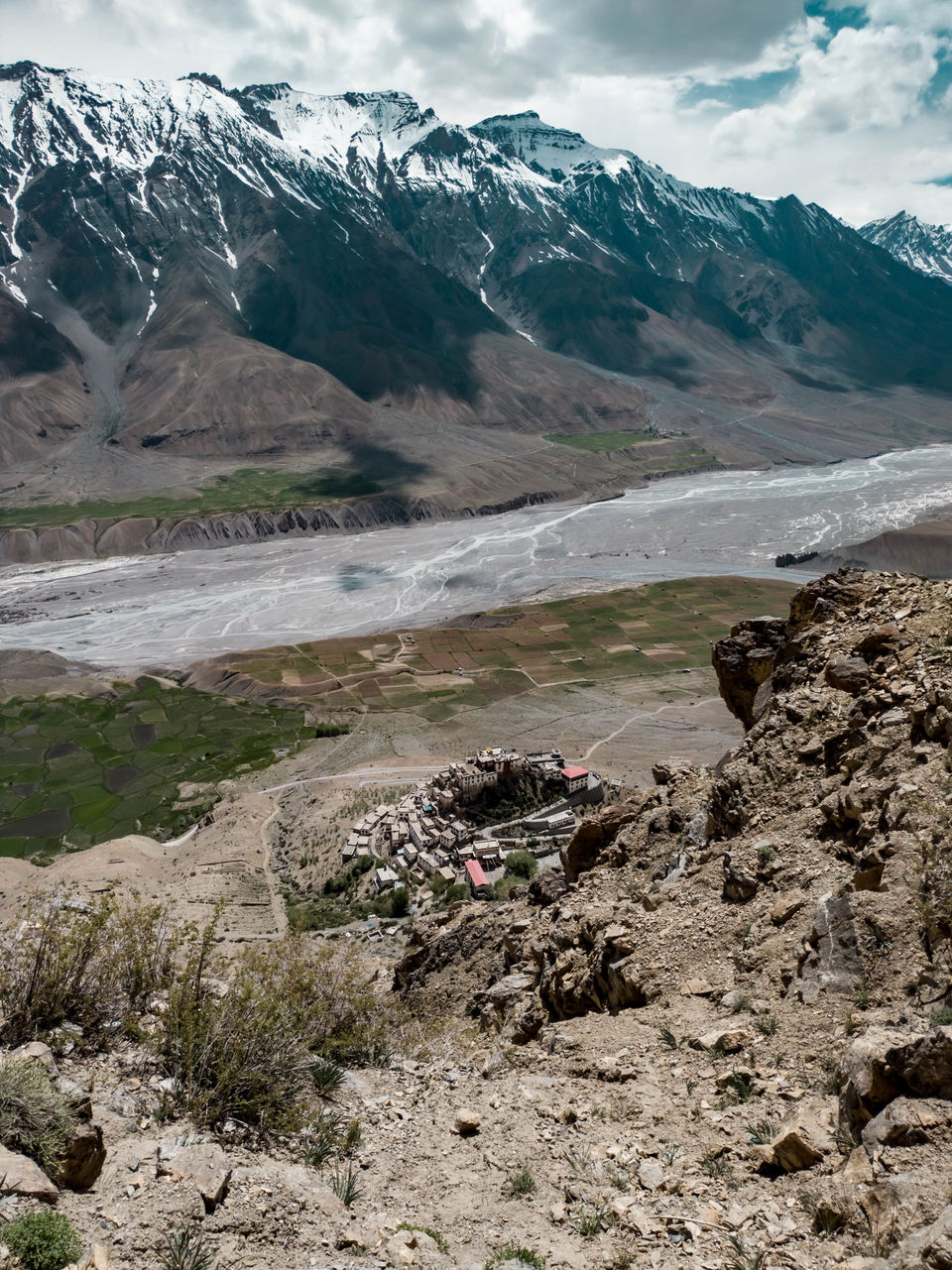 Imagine the depth if the Key monastery hill is looking so tiny
Getting down took us around 2 hours and during all this time I made the biggest mistake of not drinking enough water, due to which my throat had swollen up so bad that I needed to take rest as I couldn't even speak out a sentence. We found a homestay in Key village, that's around 1-2 kms from the Key Monastery and they helped us with good food and even made soup for me. They charged us just 350 per person as we explained them that we were running out of money. At the same night the owner of homestay (almost the same age as mine 25-30) checked my temperature and found it a bit high, he rushed back to his home which was almost half hour away, almost as same distance from Key to Kaza and bought medicines for me.
No words can explain the hospitality offered by the people living in the mountains. I have made a small video on the village Yulla we visited, explaining the generosity of these people and how they are aware about the importance of every single drop of sweat that one takes to climb these mountains.
Mountains play a very important part in my life. Bear Grylls has said it correctly "Mountains are the best way to bring people together" because that is where they realize the importance of life when they finally see how tiny they are in front of mother nature.
Day 10-12: Key - Kaza - Reckong Peo - Chandigarh (Bus)
We finally rested on the 10th and 11th day, following by our journey back to Chandigrah on the 12th day. After that I went on exploring Uttarakhand while my friend returned back to Mumbai.
A last picture to show that this Barren land known as Spiti isn't just beautiful in day but the beauty keeps donning at night as well.
Thank you.
If you have any questions you may ask me here or on Instagram @ _thevideoeditor