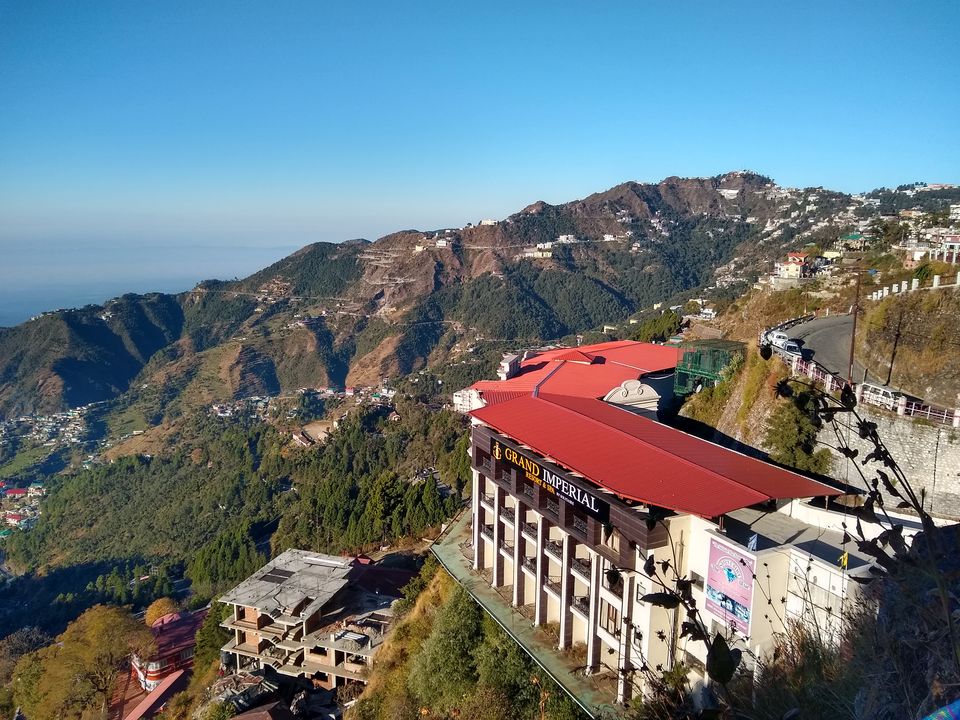 Hi everyone. This was a short trip I made with two of my cousins to Mussoorie during my Christmas holidays. I was staying at Delhi at my college hostel and my cousins were visiting the city at that time. We planned the trip at a short notice so we decided to keep the trip budget friendly as possible. The whole trip cost me ₹4000 (per head) including some shopping.
Isbt Kashmiri Gate
We decided to travel by bus as trains were not available due to renovation work going on at the Dehradun Railway Station. We choose to travel during the daytime as there were a lot of protests happening in Delhi and nearby cities during that time and we felt it won't be safe to travel at night. We took a UPSRTC bus (Government) from New Delhi ISBT to Dehradun which cost us ₹300 per head. The bus started at around 11.20 am. It took a halt at a roadside eatery at 12.45 pm. The bus took around 6 hrs to finally reach Dehradun ISBT. We took a Vikram no. 5 (blue coloured auto) to reach Dehradun Railway Station which was 5 km away. It cost us ₹12 per head. The last bus to Mussoorie leaves from the station at 7 pm. The bus fare was ₹60 per head. We left at 7.00 pm and reached Mussoorie Picture Palace bus stand in 2 hrs. The bus traveled in zigzag narrow roads with steep turns that spin across the hilly terrain which was an experience in itself. We had already booked our hotel which had cost us ₹2000 for 3 people for 2 days. We decided to call it a day as we had our dinner and retreated to our room at our hotel. Our cottage had a clean and warm room with a huge washroom.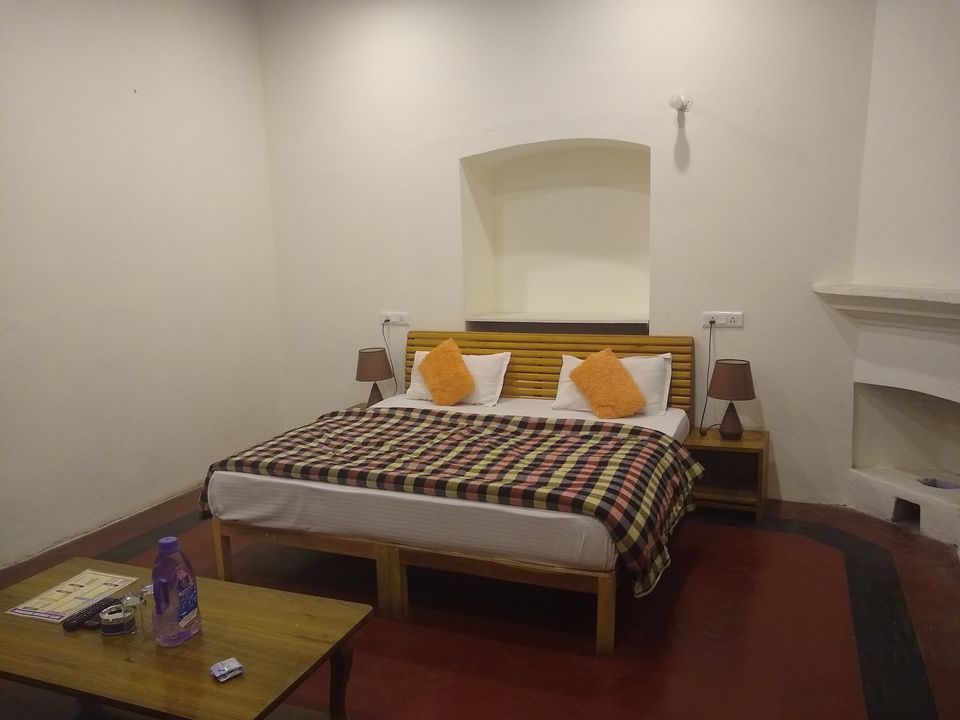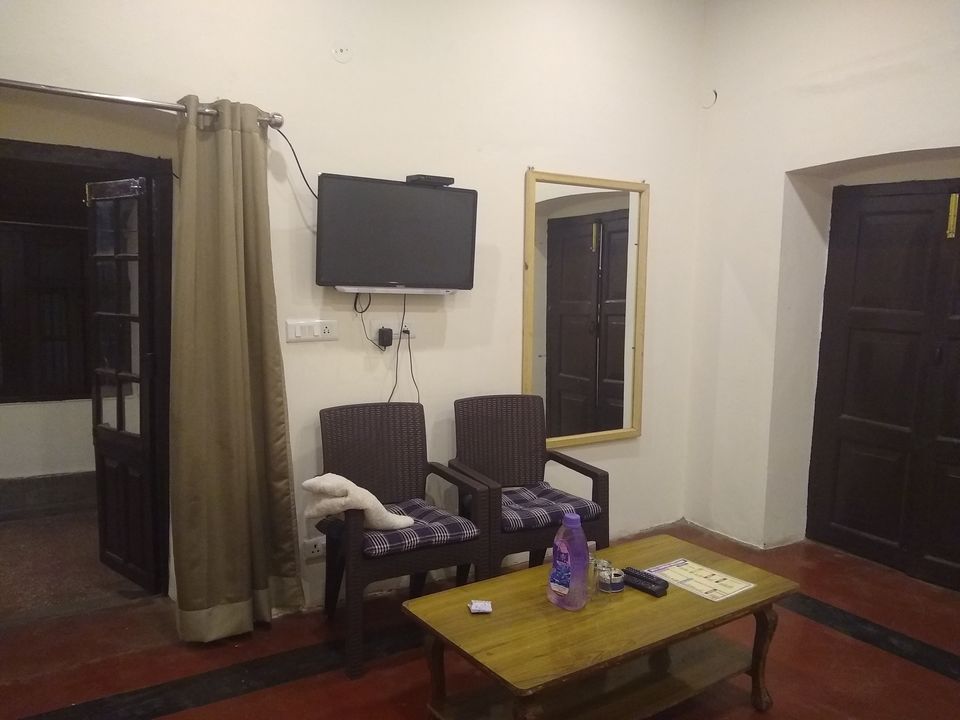 Mussoorie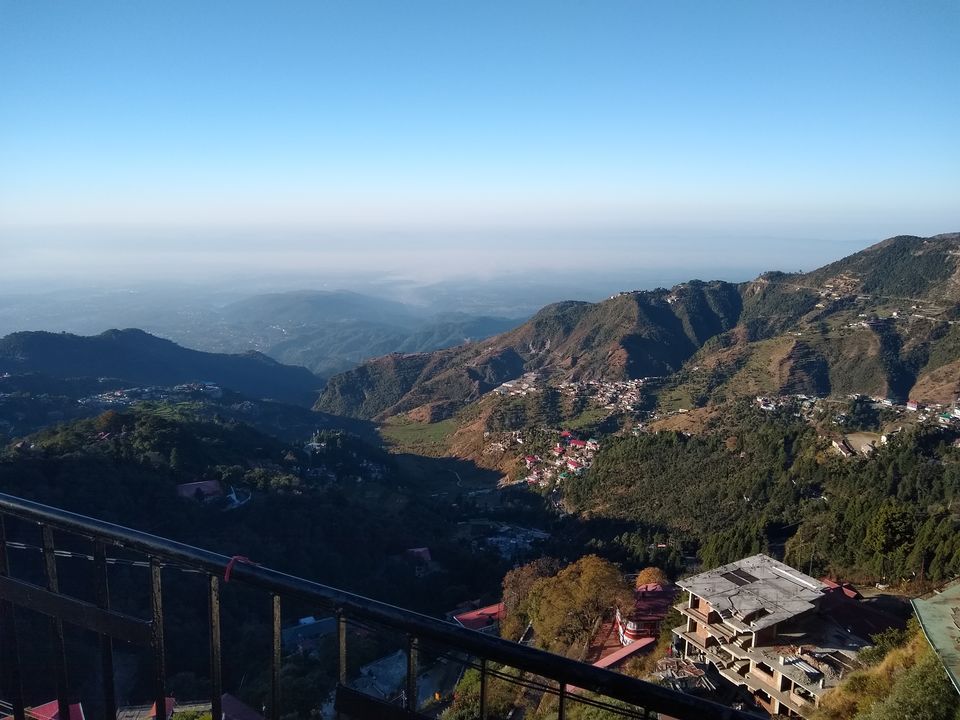 We knew we have a long day ahead so decided to start early. The view from our cottage was breathtaking. We started at 9 am.

The first stop was Gun Hill Point. It is the second-highest peak in Mussoorie known for the best view of the picturesque Himalayan range. There are two travel options available i.e climbing or by a ropeway. We decided to take the first option as we wanted to have a first-hand experience of climbing a hill and also to test our limits. Trust me it is not an easy task as we got tired often but it was a relief as we reached the peak. The summit is surrounded by restaurants, haunted house attractions, shops, etc. There are several people with telescopes who would provide you with a view of several mountain peaks like Gangotri, Kedarnath, the Himalayas at a small fee of ₹50. After that, we descended on Mall road.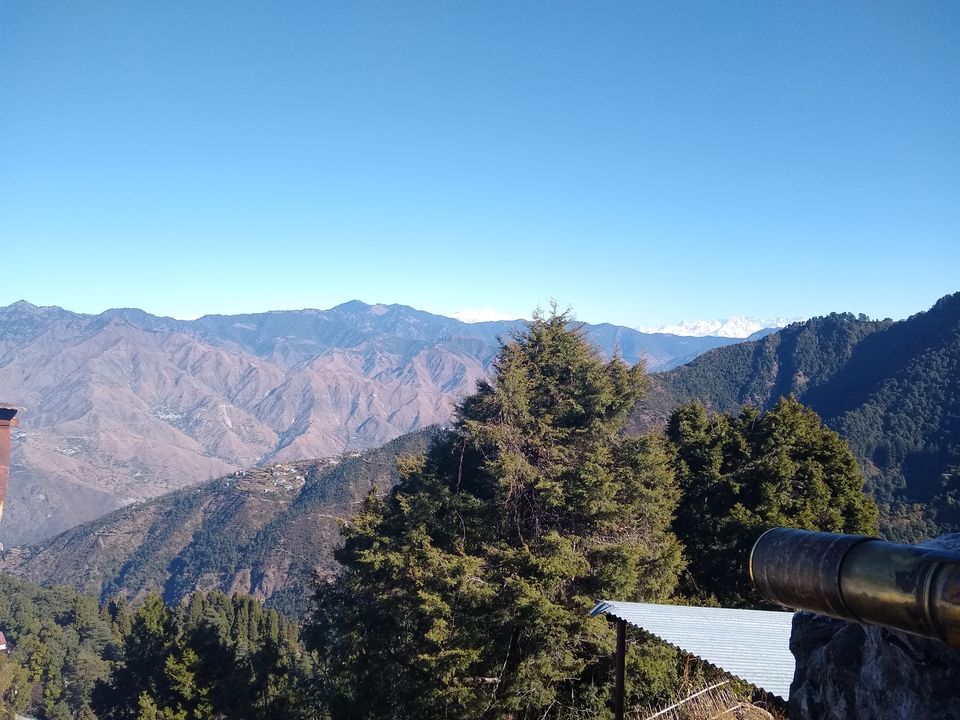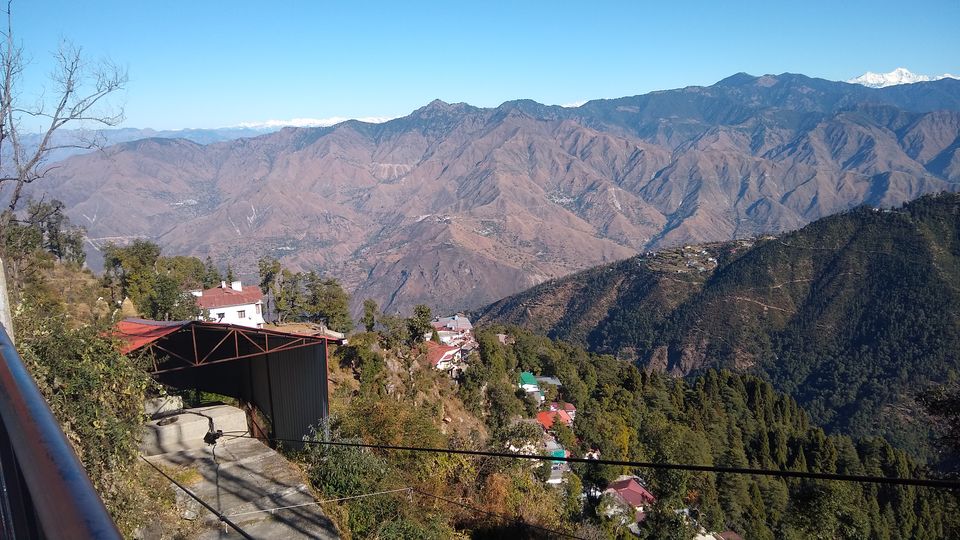 The next stop was Company Garden. There are several ways to reach there, take a cab or a rickshaw or you can rent bicycles to reach there. It was 3 to 3.5 km away. We took a rickshaw which cost us ₹550 (₹150 per head + ₹100 for 1 hour waiting). The Company garden is also known as the Municipal garden which is a picnic spot with beautiful flowers, a waterfall and vegetation all around; it also houses an amusement park and a wax museum and has a boating facility also.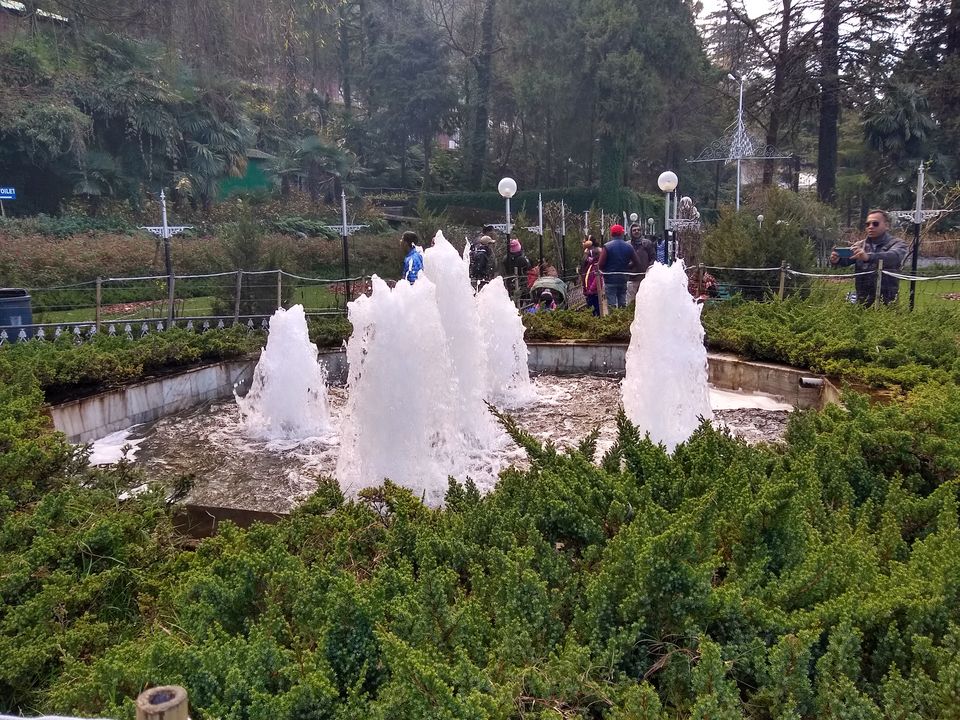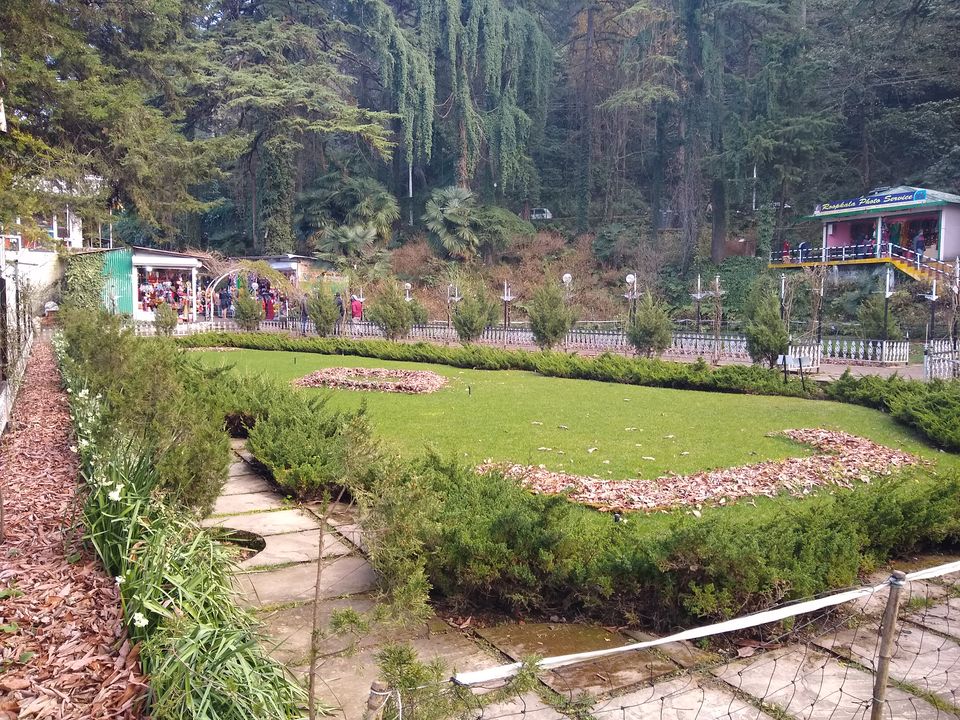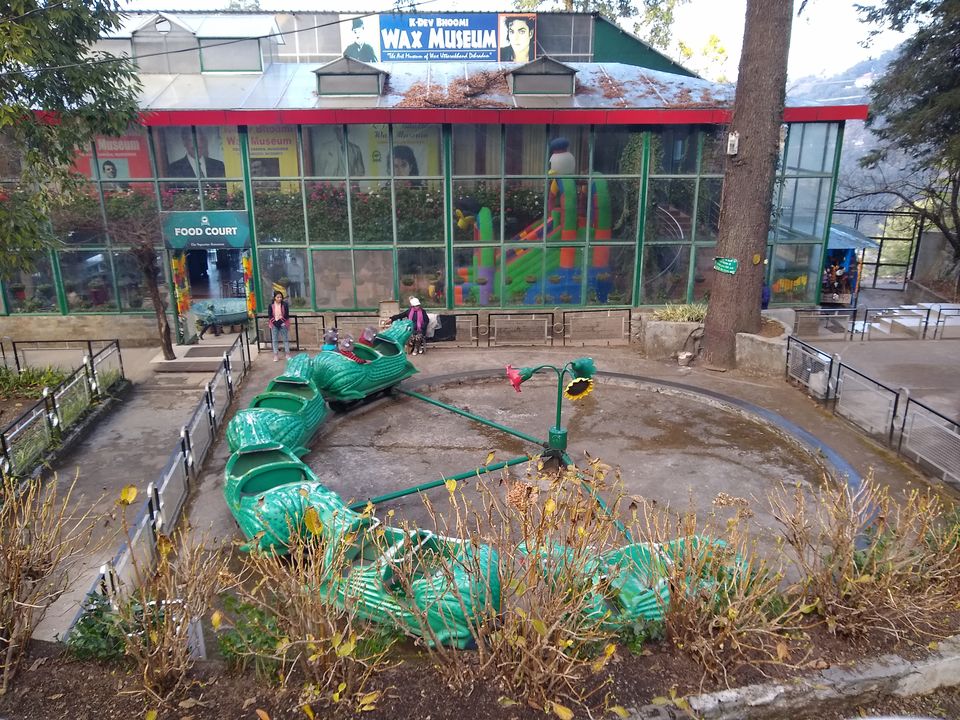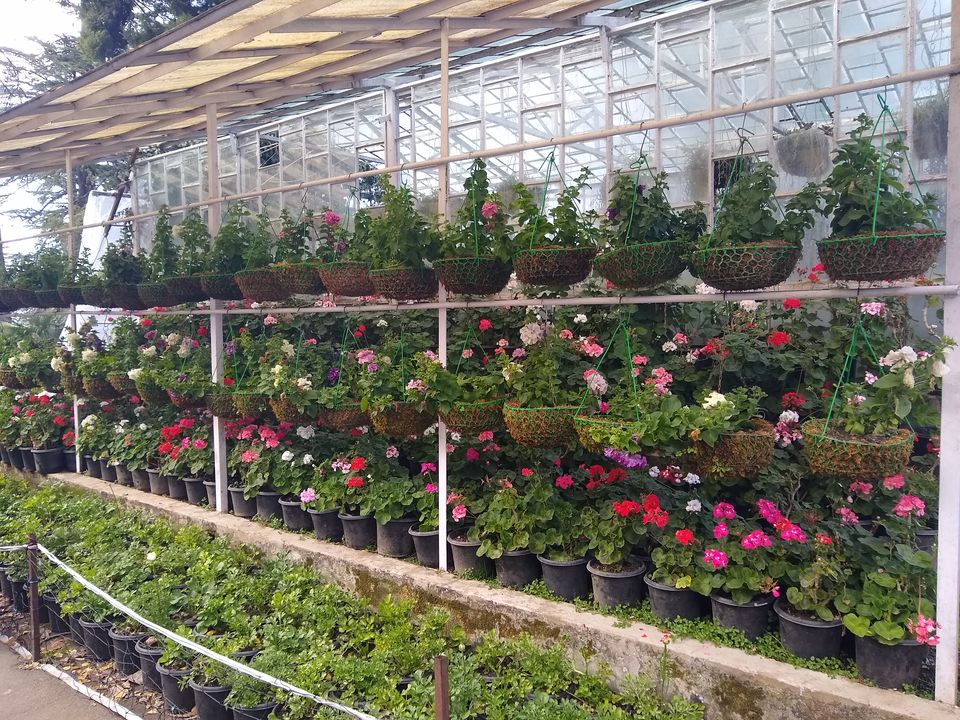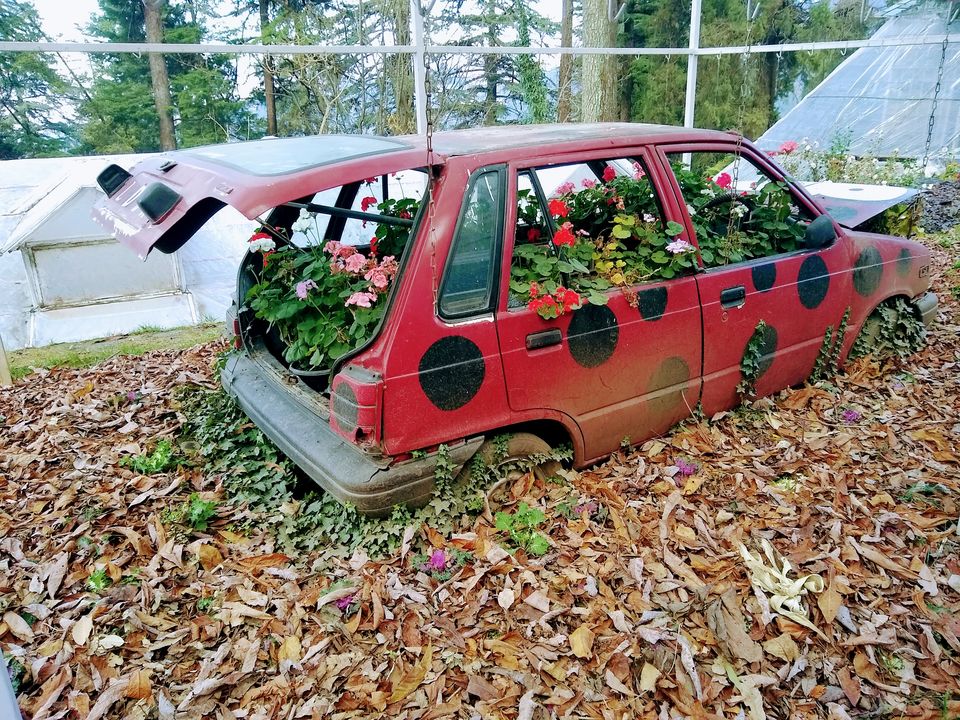 After that, we returned to the mall road and took a stroll through the Tibetian market where we purchased some clothes. The shopkeepers although quote a high price at first but you can get it half their price after bargaining. The mall road is great for shopping and has a good number of cafes. We finally had our dinner at 9 pm and retreated to our hotel as we were going to have a busy day tomorrow.
Rishikesh
Now we go to Rishikesh. We did not plan to stay at Rishikesh but to visit some popular places and then move on to Haridwar. We took a bus from Mussoorie Picture Palace bus stand to Dehradun. We reached the Dehradun Railway station, took a Vikram (auto) to Dehradun ISBT. We booked a bus to Rishikesh and took off at around 10.44 am. The bus fare was ₹55. It took us 1.5 hrs to reach Rishikesh.
Next stop was Ram Jhula. We decided to visit Ram Jhula only but I would recommend everyone to visit Laxman Jhula too which is surrounded by temples and is a very popular attraction. The view of the river was spectacular. It was an emerald-green stream flowing with the sun shining above bathing the surface in gold. We took a stroll on Ram Jhula (beware of monkeys), visited the ghats and the white sand beach which were great places for photography. We stayed for half an hour and then left for Haridwar.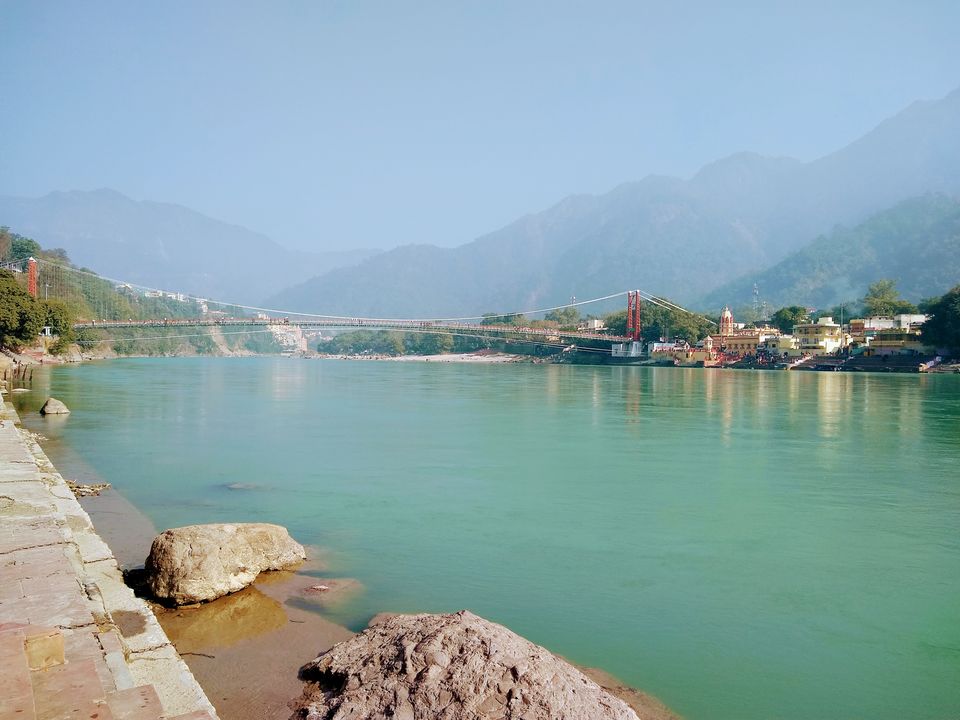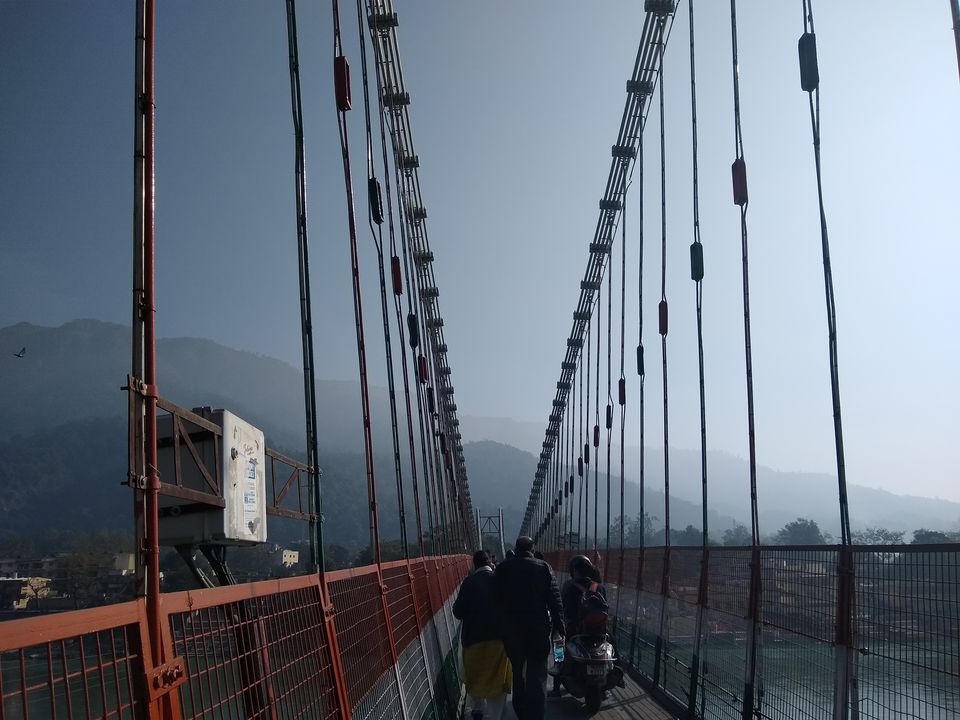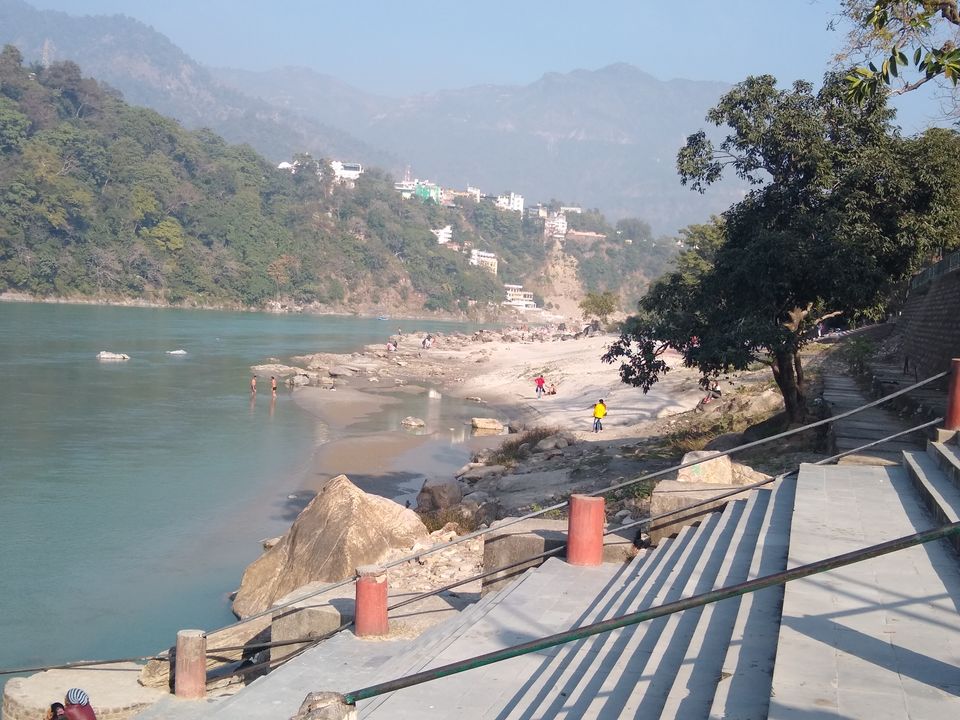 The first thing we did was to have our lunch at a restaurant and then move to Har ki Pauri to attend the Ganga Aarti due at 5.30 pm which is a ritual of light and sound where the priests perform prayers with bowls of fire and the ringing of the temple bells and visitor from all over the world visit the place just to have a glimpse of it. After that, we wandered around a little in the market and finally called it a day.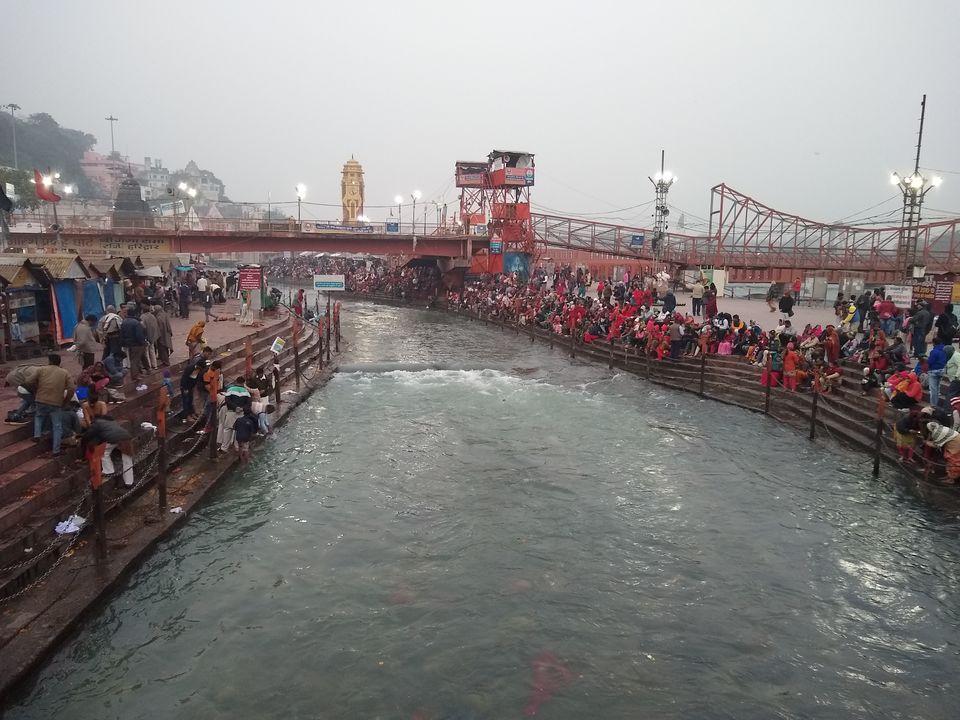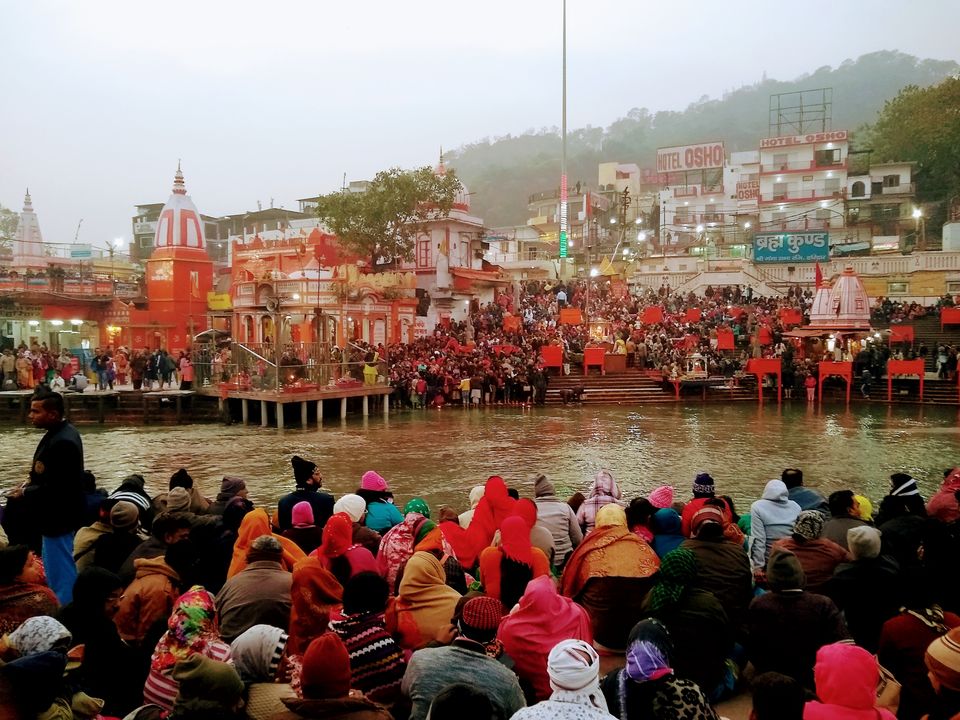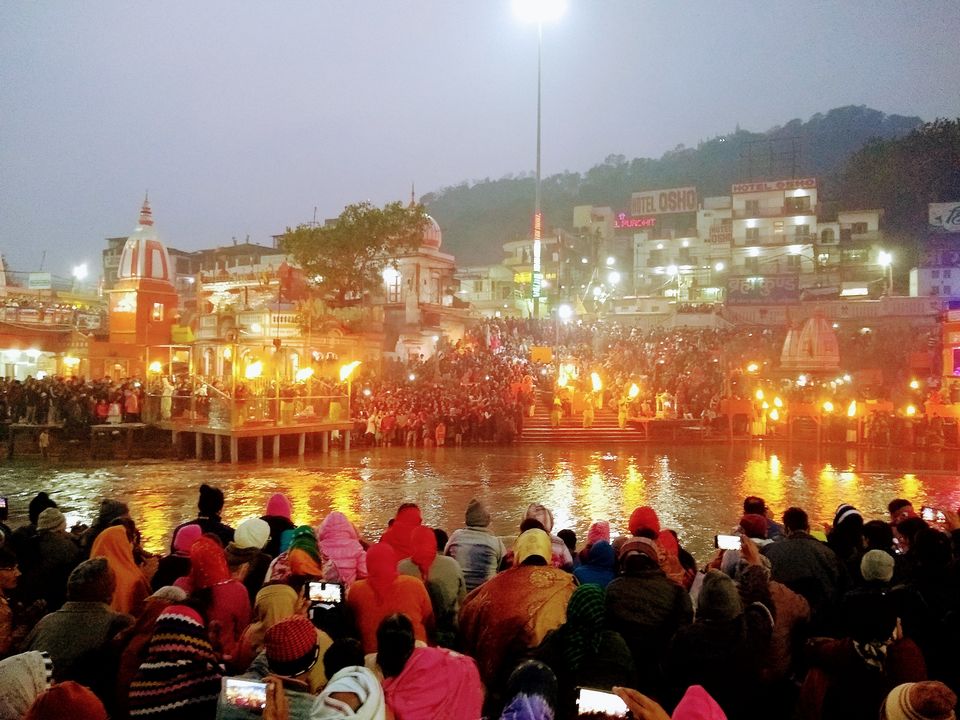 The next stop was Mansa Devi Temple which was situated on a mountain top. There are two ways to reach there i.e. either by climbing stairs or by UranKhatola (ropeway). This time we decided to take the easy way out as we agreed to take the ropeway. The cost for two way ticket was ₹105 per head. We reached the temple, made a religious offering to the goddess and then returned to our hotel. During your time at the temple beware of monkeys who are always on the lookout to steal the prasad of the tourists. Then we had our lunch and decide to visit the Chandi Devi Temple.
We took an auto from the other side of Bishnu Ghat which cost us ₹20 per head. There are two ways to reach there i.e. either by climbing stairs or by UranKhatola (ropeway). We took the ropeway which cost us ₹193 per head for a two-way ticket. We reached the temple, made a religious offering to the goddess and then returned to our hotel. Again, beware of monkeys. In the evening we strolled through the market and finally had our dinner at Hoshiyarpuri restaurant where I had one of the best lassi in my life.
The next day morning we took a rickshaw (₹ 20) to Haridwar bus stand where we booked a UPSRTC bus ticket for ₹259 per head to Delhi ISBT. We finally reached Delhi around 4 pm.
Then we walked to Library Chowk which was a rotary with markets crowded with tourists. There were various shops here ranging from clothes to ornaments which tourists can visit for shopping. We had our lunch there. Although we had plans to visit Kempty Falls, the bus was not available as it was not a peak season and the only way to reach there was by a taxi which would cost around ₹1500 to ₹3000 depending on the number of places you visit. This would be a good option for families but since we were only three, we decided to give it a miss. There were also shared cabs available which would cost ₹300 per head.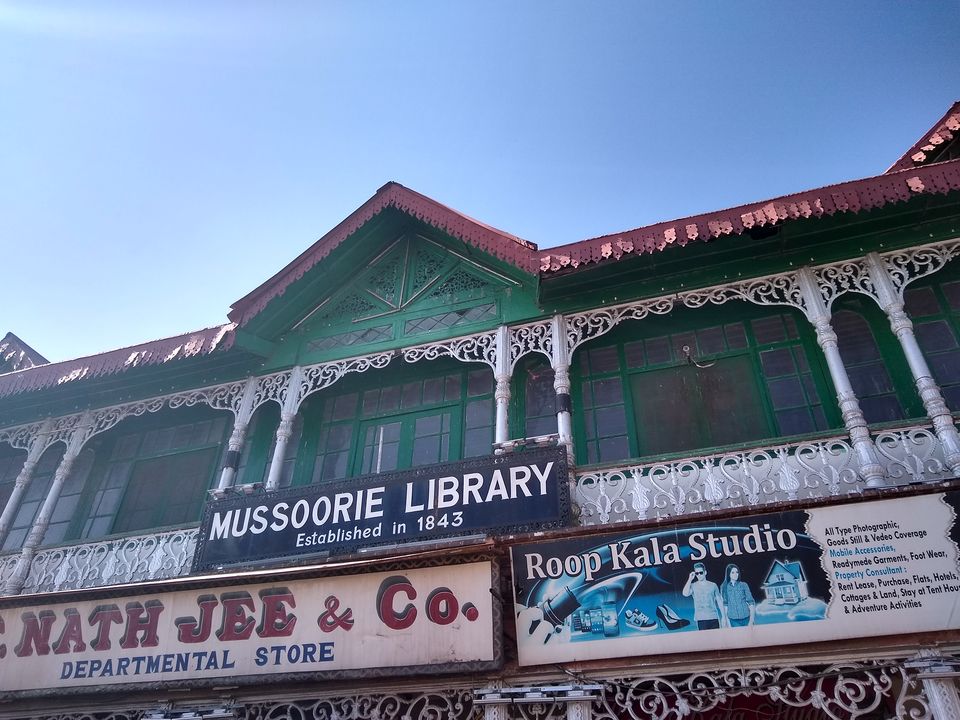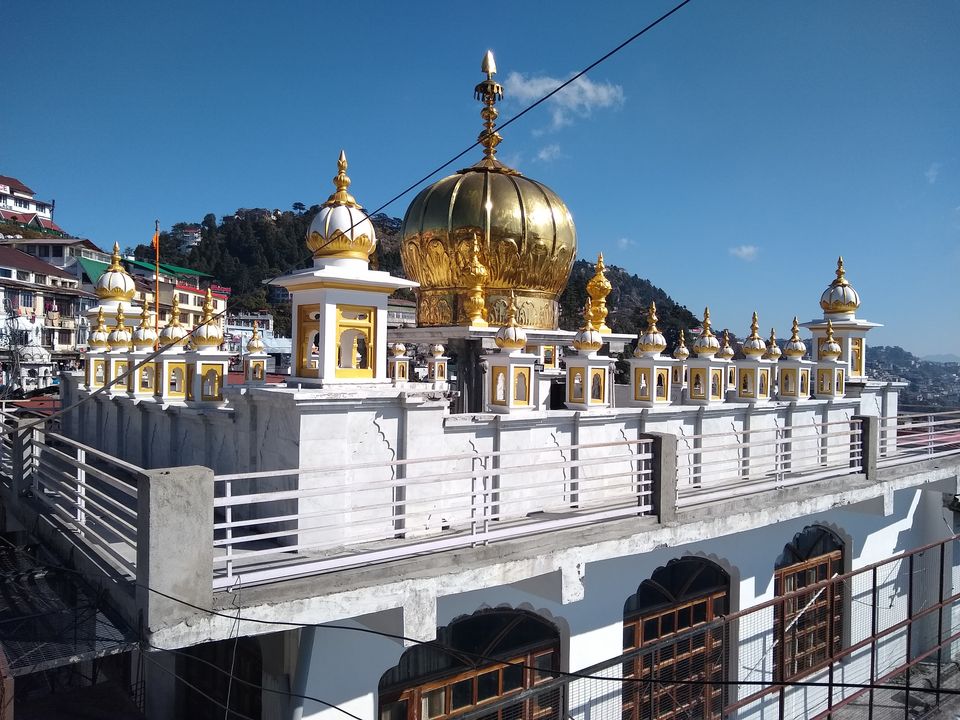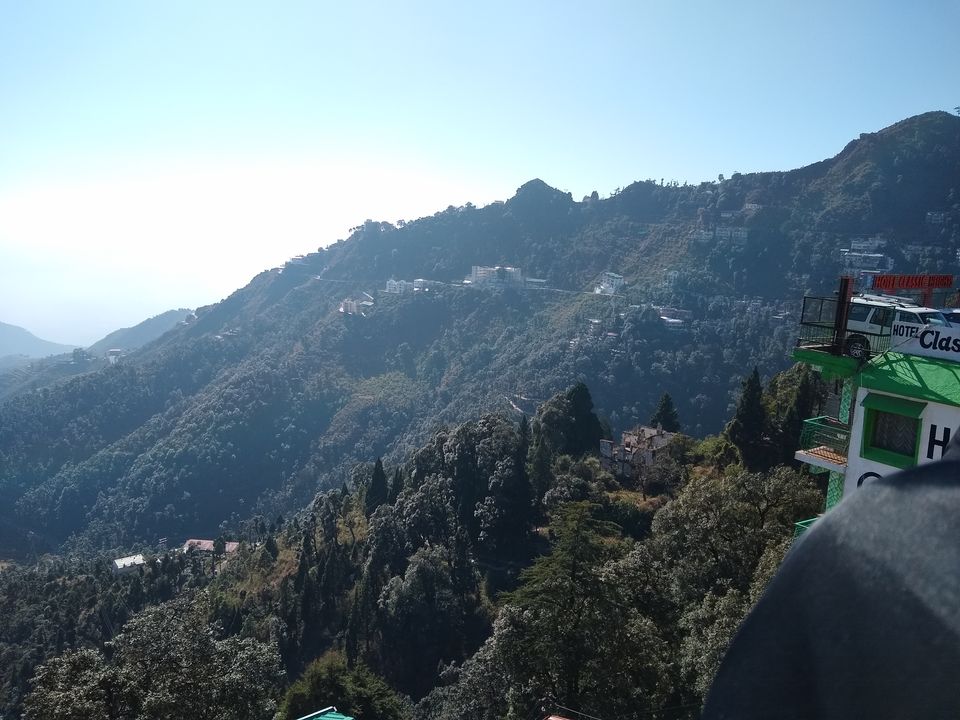 Haridwar
We took an auto from Ram Jhula to Haridwar which cost us ₹50 per head. It took an hour to reach Haridwar. We had booked our hotel on Goibibo.com which cost us around ₹1300 for a room for 3 people for two days. It was close to Har ki Pauri and was located on the upper road.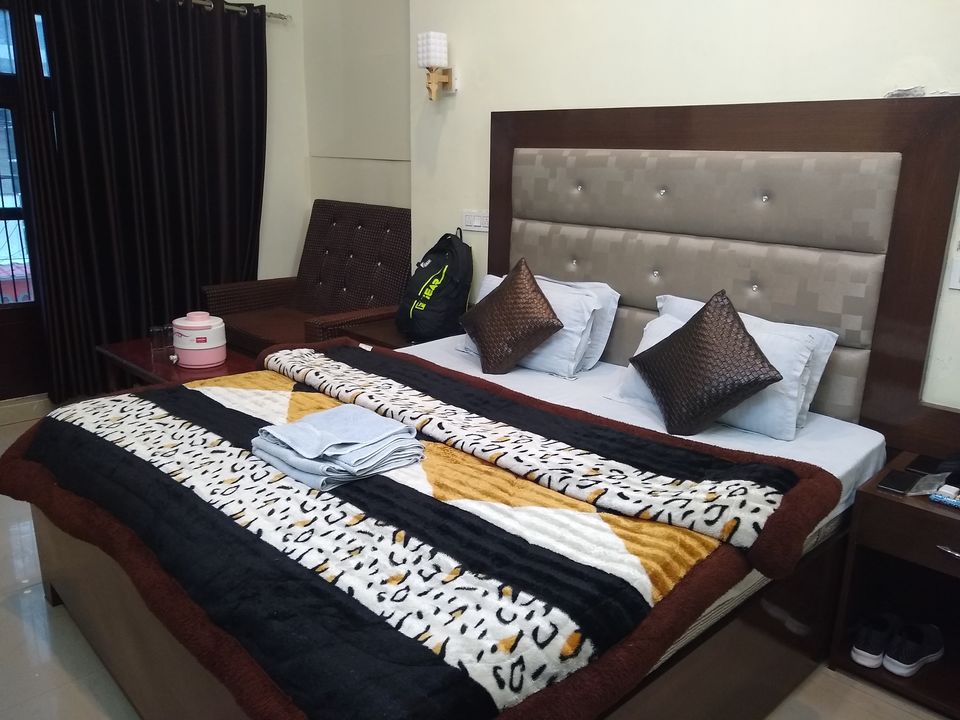 The next day we bathed and dressed up at 6.00 am to get a glimpse of the sun rising across the Ganga but unfortunately due to cloudy weather we missed out.