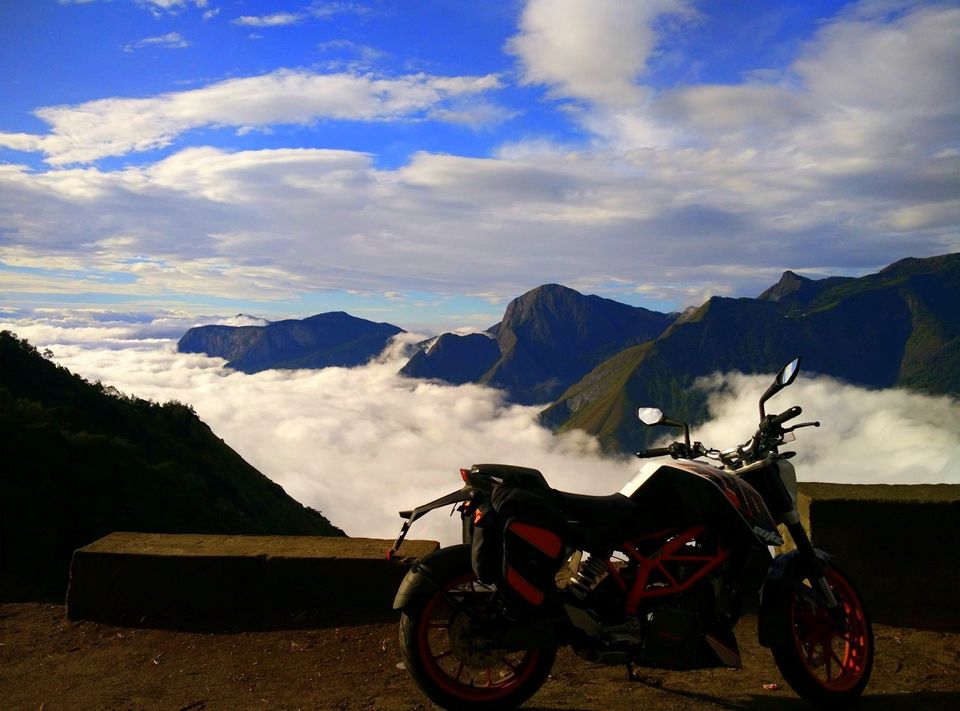 I have been riding solo for quite some time now but now my plan was to do an overnight solo trip. 26th Jan weekend was approaching so I started thinking of the destination. Munnar – Top station was on my radar since quite long so zeroed on it. Also this is the best time to visit those tea gardens.
Pune to Madhumalai national park.
Plan was to leave by 2 am , but woke up at 2 am packed everything and started at 2:30 am from my place. After few kms I figured out that I have forgotten to wear my knee guard and shin guard. How can someone forget that. But this was my first overnight, so I was a bit conscious and excited. Stopped there called my wife to bring my gears out and she did(Love u wify :)).
So finally ready with my gears and all luggage I started again at 3 am.
At 3:30 am the roads were all mine.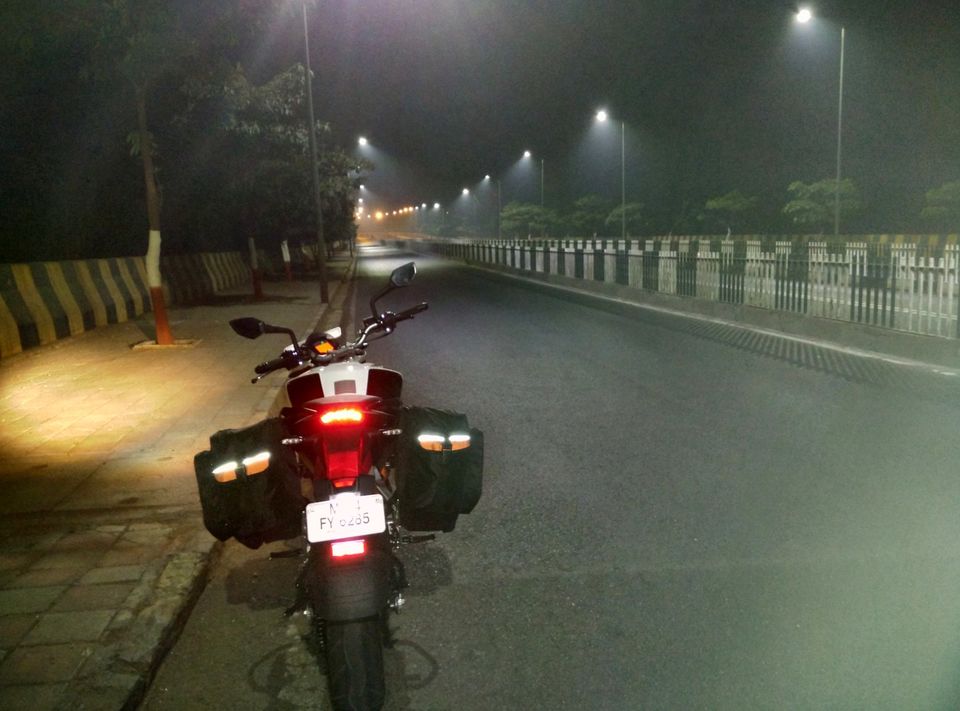 It was chilling out there that I could not pick up speed, so took a tea break at 5 am at a dhaba.
By 6:30 am I was at Nipani. Had some poha(horrible) and tea and moved ahead after spending 30 mins there.
Moment I left Nipani I saw this beautiful landscape. This place is Yamgarni. Photography continued till 15 mins. It was just about sunrise.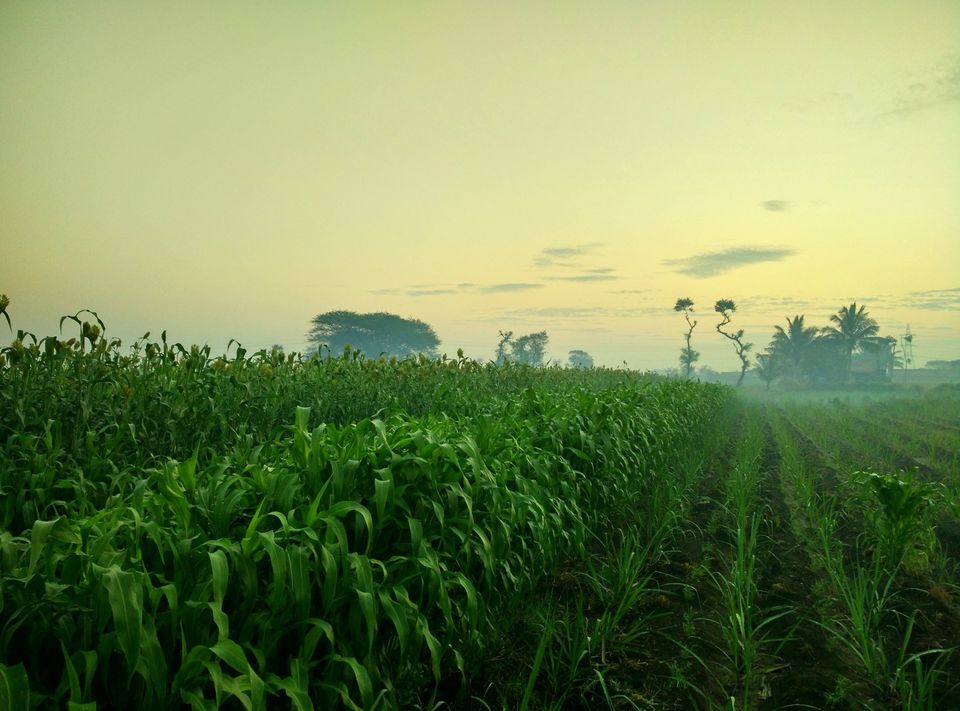 I had more than 650 kms to cover today so it was time for some long runs.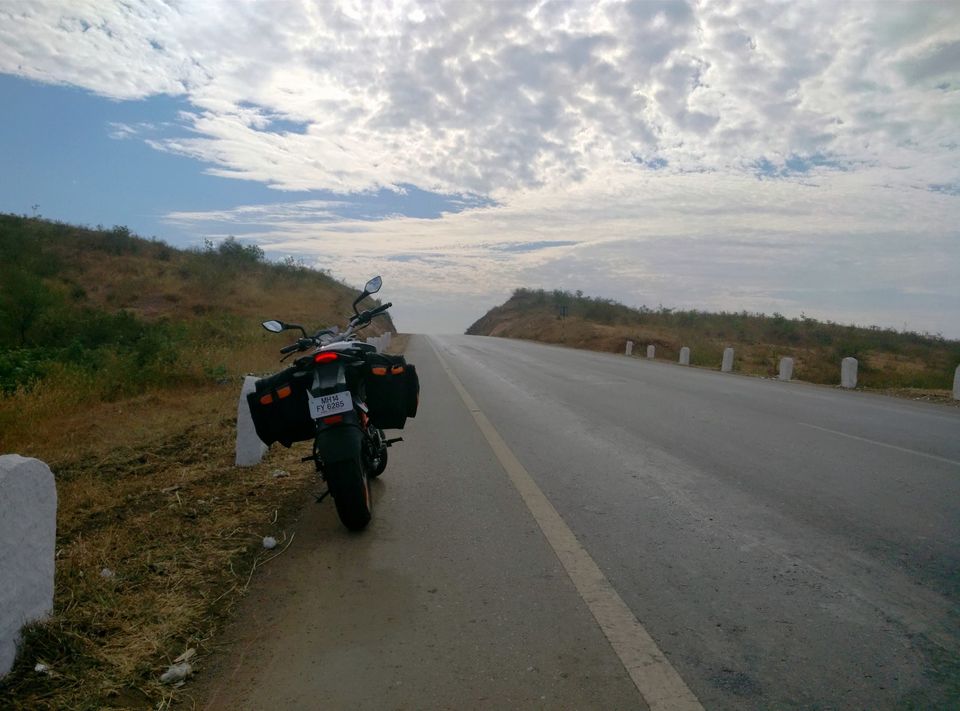 Stopped for a petrol and bum break at the below petrol pump. It has funny name "Tha Tha parmeshwara" :).
Again some high speed runs and was at Tumkur by 2'clk. Had quick lunch and started for Ooty.
Somehow reached Mysore as google maps had ditched me and no surprise that it was very difficult to find people who know English or hindi in Karnataka.
At 5 pm a Petrol pump guy at Mysore told me that bandipur gate closes by 6:30 which was more 70 kms . I was not sure if I will be able to make it or not by that time. At 5:30 pm rain gods arrived and they came heavy on me. I had to stop as I was not carrying rain coat.
I had never seen rain in January, but I had not been to south India before this in Jan. I should have done my study better.
It was 5:45 and it was still raining and I had 50km s more to go for crossing bandipur. Ooty was out of my sight. I had to leave now or I will have to stay somewhere in mysore, so I started in rain. It was 6:15 I was at gundlupet and It was raining badly and I was running like Kajol was running to catch Shahrukh's hand in DDLJ. OOty was more 65 km. It was demoralizing. There was no body till I can see ahead of me and behind me, sun went down at around 6:25 and I spotted a guy from a village few kms before bandipur. I thought of asking him for any night stay options but I said ok last try "What time does bandipur gate closes" . he said 11 pm. After Listening to that I took sigh of relief.
After 5-7 kms I saw bandipur national park gate and I was so pumped up. I stood on my bike and shouted "yess..". The security guard at the gate staring me for my maddness . It was all dark and I had another problem. Darkness with my visor was all dirty with dust and water. With minimum visibility I was just following the car in front of me.
In between I was getting glimpses of forest in light of the car ahead of me. I wish had started 4-5 hours earlier and seen this beauty in sunlight.
It was tiring as bandipur road has speed breakers at every 100 mtrs.
Bandipur forest ended and there were two roads. One was for ooty and other directly to connoor probably, but most of them went to the other route. I was the only one who was going to ooty route. There was still huge dark forest ahead of me. I just stopped on road side and started adjusting my luggage and searching something in my bag. The luggage did not had any issue. I was waiting for someone to turn towards ooty route so that I can follow him. I did not had balls to enter that forest alone. what if my bike stalls in between forest… what if some wild animal came infront of me… what if I get lost in between… many more what iffs…
5 mins passed by and two cars took the ooty route thru that forest. I quickly put an end to my fake search in my bag and started following the two cars. After some 15 mins came Madhumalai and I saw a lodge, did not search for any other option. He offered me a room for 400. I did not ask any further questions. Ooty was further 26 km, but I didn't dared and it was enough of adventure for my first day.
I did not click a single photo in second half of the day as it was raining and I was more worried about reaching my destination for today.
Spread my clothes on one bed for drying went flat on another. Called up home. Gulped two glasses of tea and local version of Chicken 65.
Went to bed . End of a thrilling day.
Day 2 (27th Jan 2017): Madhumalai national park to munnar
The gates at the either end of Madhumalai national park open at 6 in the morning. So left Madhumalai at 6:30 am. It was just about sunrise, perfect light, cool breeze and only about 300 kms to travel today. So I was taking it easy and enjoying and clicking lot of pictures. Suddenly 4-5 deers jumped from one side of road to another in front of me. It was good to see some wildlife. But I couldn't capture their pic, thanks to KTM's loud engine.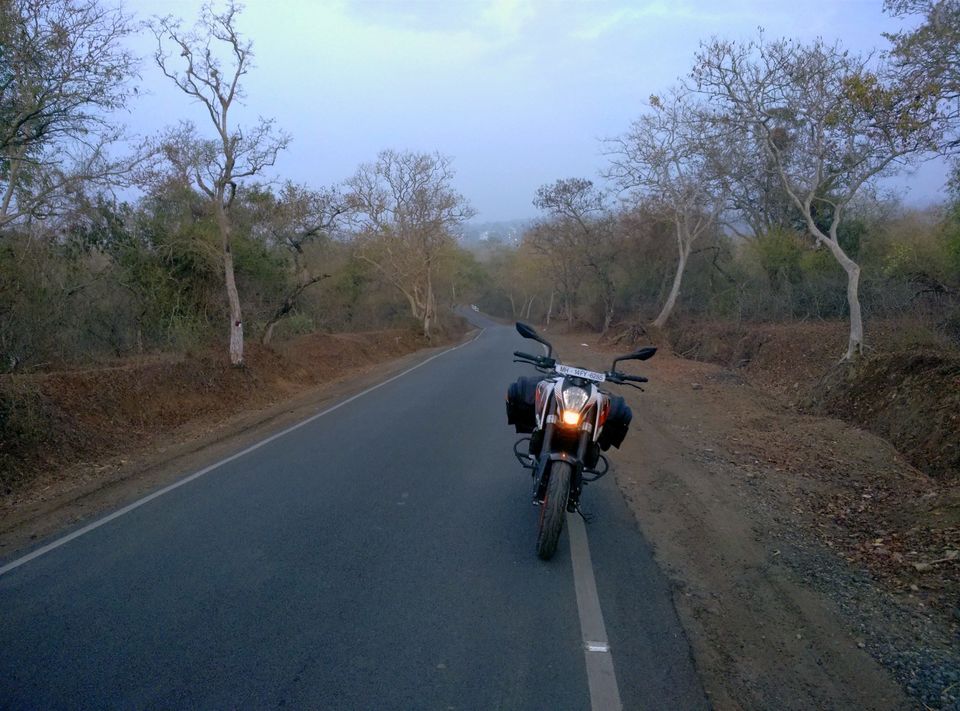 The below pic was in the middle of jungle. Road is very well maintained between madhumali and ooty.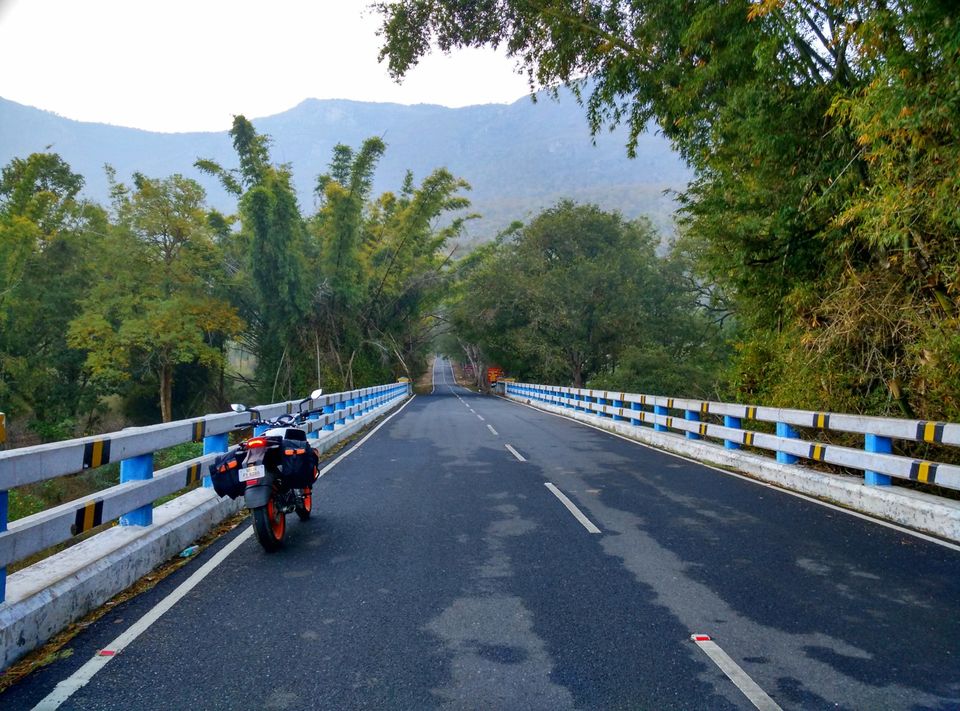 After this followed series of 36 hairpin bends. This is one of the best maintained and scenic route I have seen till date.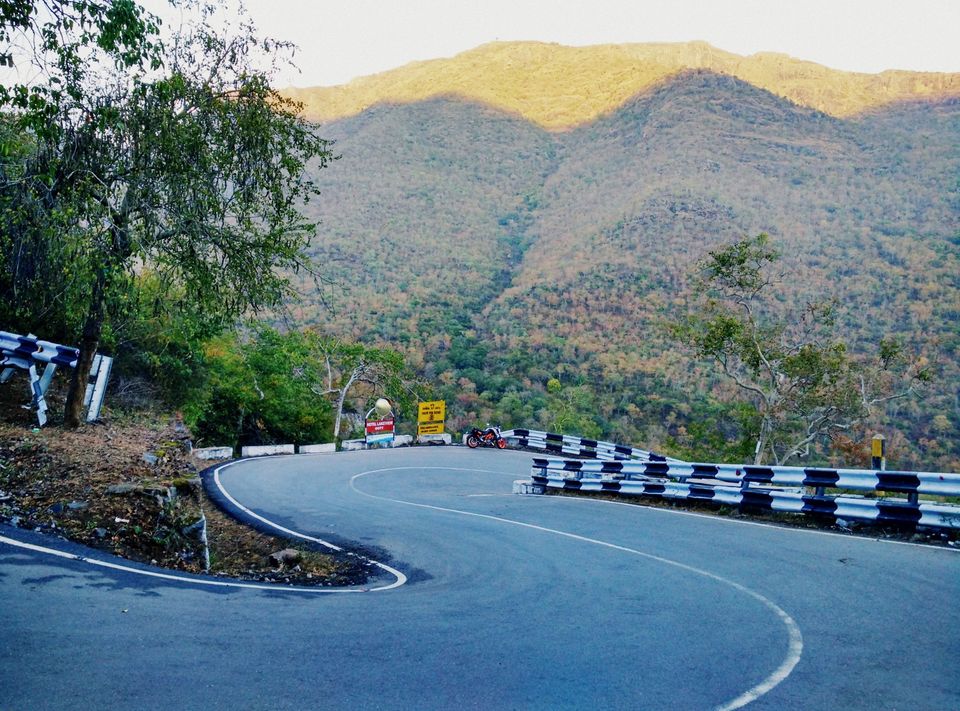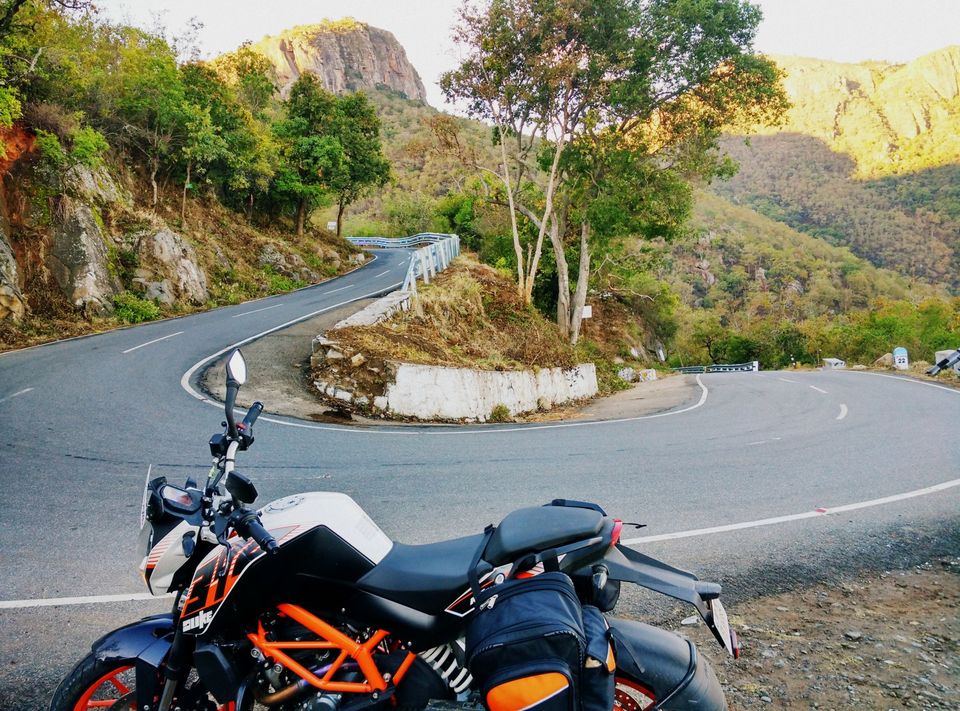 In the gorge in this pic runs the Ooty-Coonoor toy train.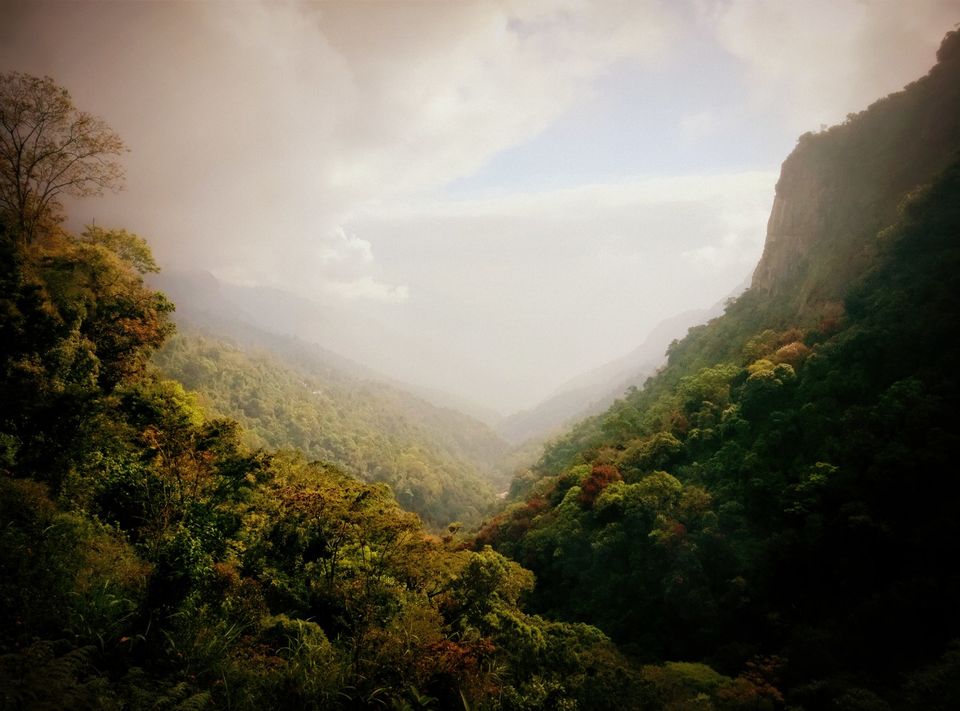 This was the end of twisty hill section ride around coonoor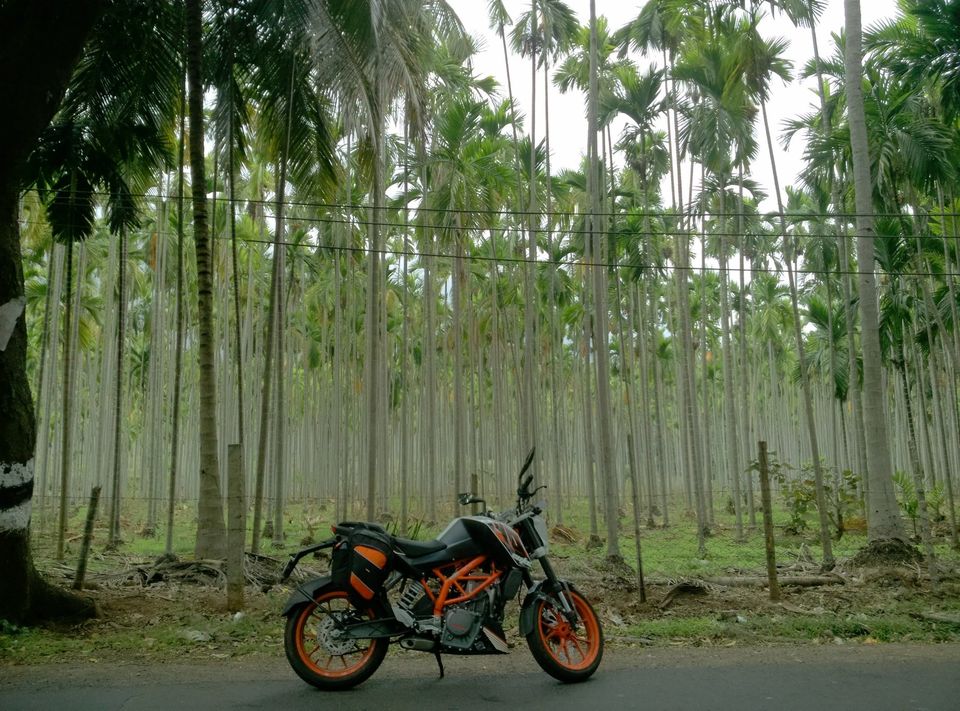 My only pic during this ride :).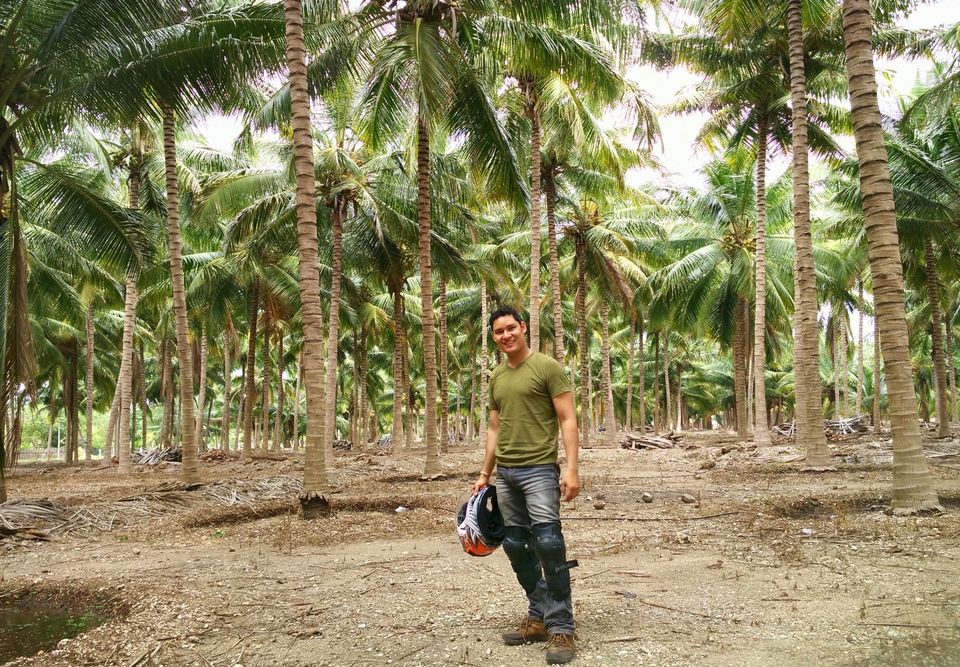 Somewhere in Chinar national park. It was lonely but amazing feeling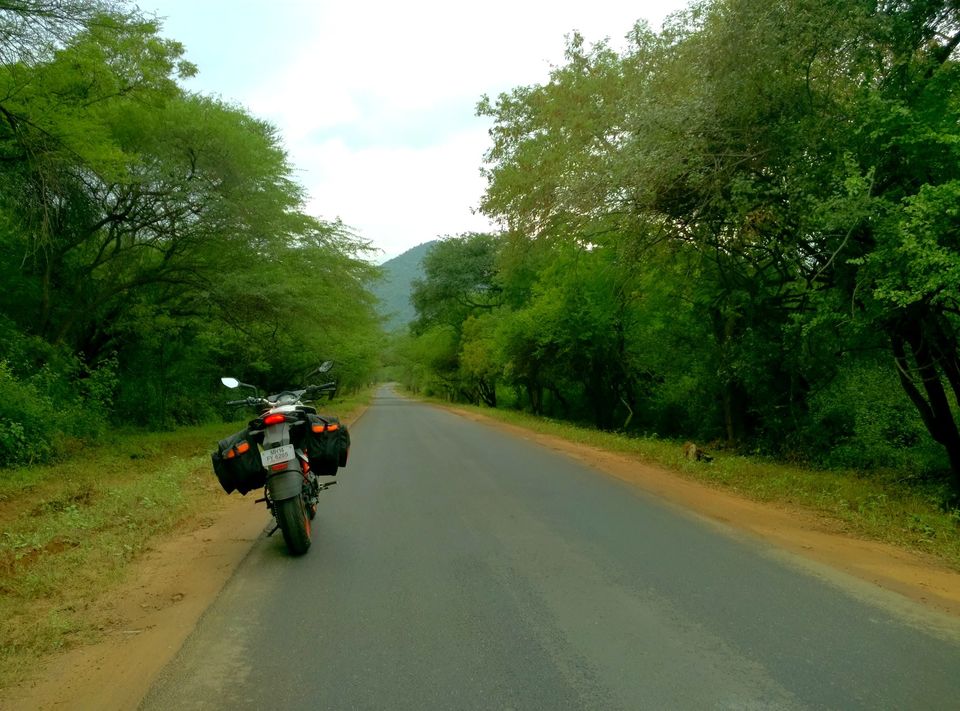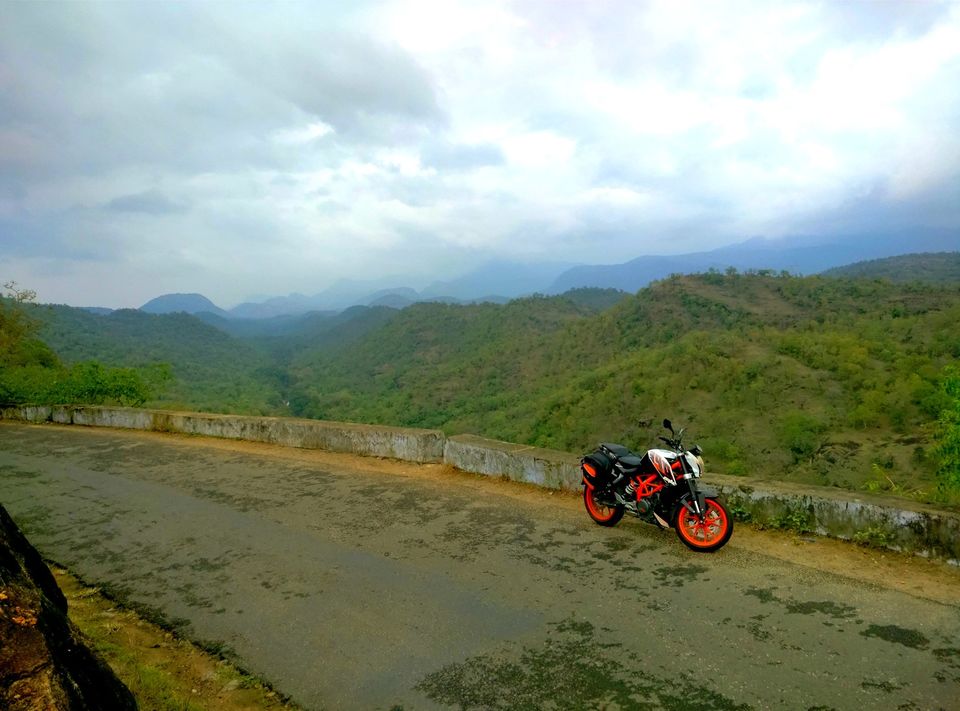 Entering Munnar and I saw this. This was my first encounter with Munnar tea gardens and I was awestruck. Spent 10-15 mins here just looking around.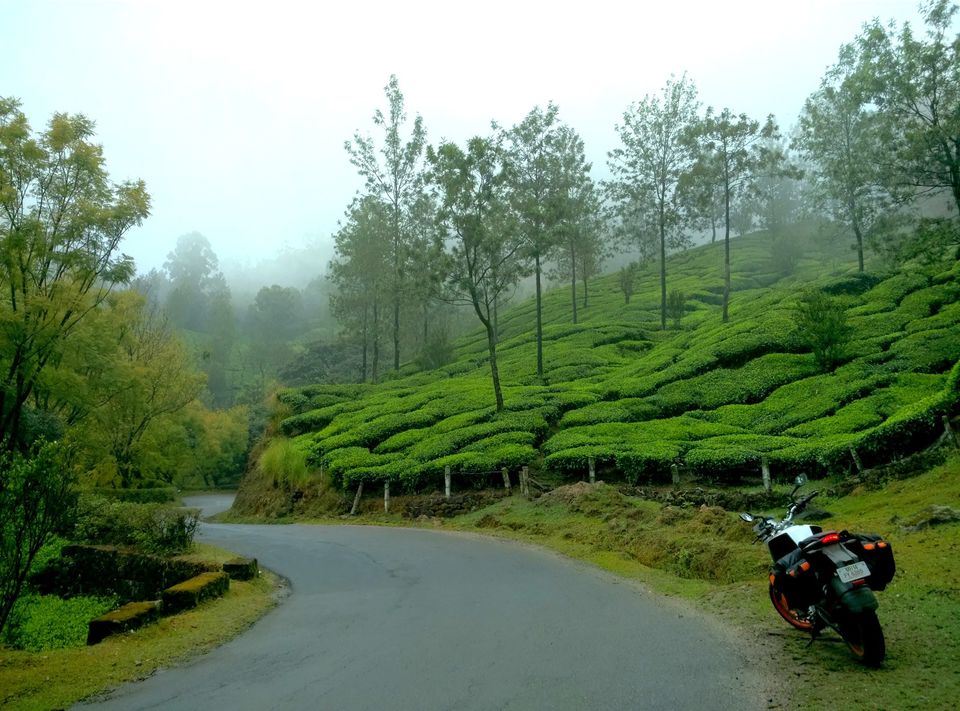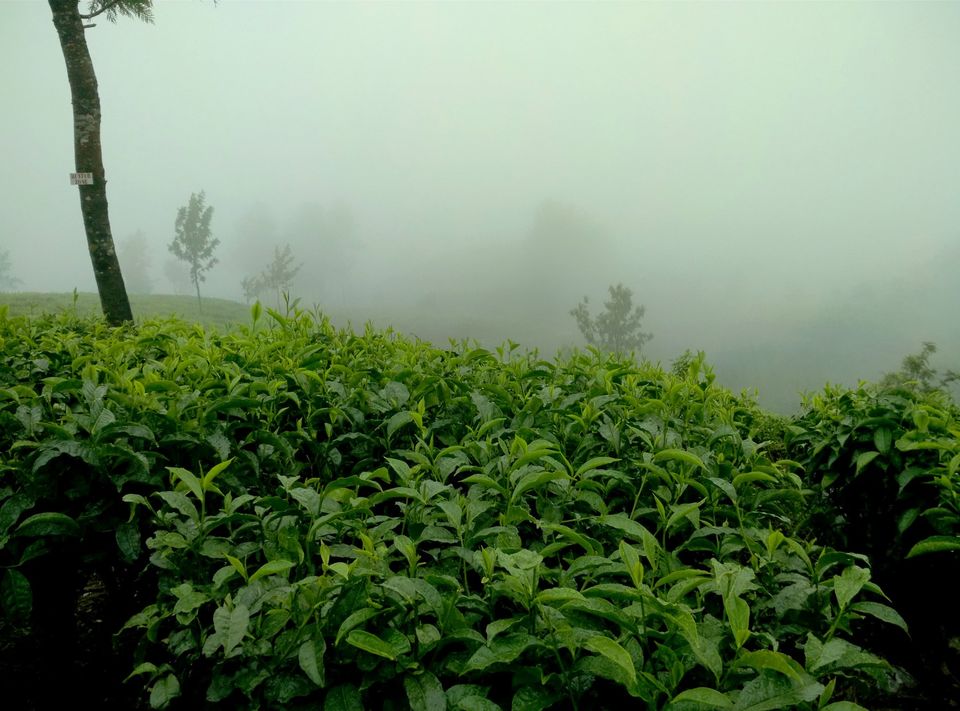 After this till main Munnar market it was all green in High definition to which my phone camera can't do justice. Believe me I have seen so many pics of Munnar tea gardens on net but what I saw was nowhere close to reality. It is so so beautiful in reality that It can be only be felt with naked eyes only. Reached Munnar at around 6 pm, booked a room in Munnar, had some local street food as dinner, gulped 2 teas and went to bed.
My plan was to visit kollukumalali today and see the sunset today but I had to skip it due to delays caused in finding route around Palladam and Udumalpet earlier in the day. All the sign boards in those places were in local language there and people didn't understand what I was talking. At one point a villager misunderstood me and sent me 20 kms in wrong direction. So any one planning for solo Munnar learn how Munnar is written/read in local language :).
Next day morning plan was to wake up early and go to one of my dream road, Munnar-top station road.
Munnar to Top station
Woke up early 5:30 am packed up, gulped two teas with the lodge care taker and set off to top station.
This pic was 6 am in the morning. Again my mobile camera did not do justice with how beautiful this place was.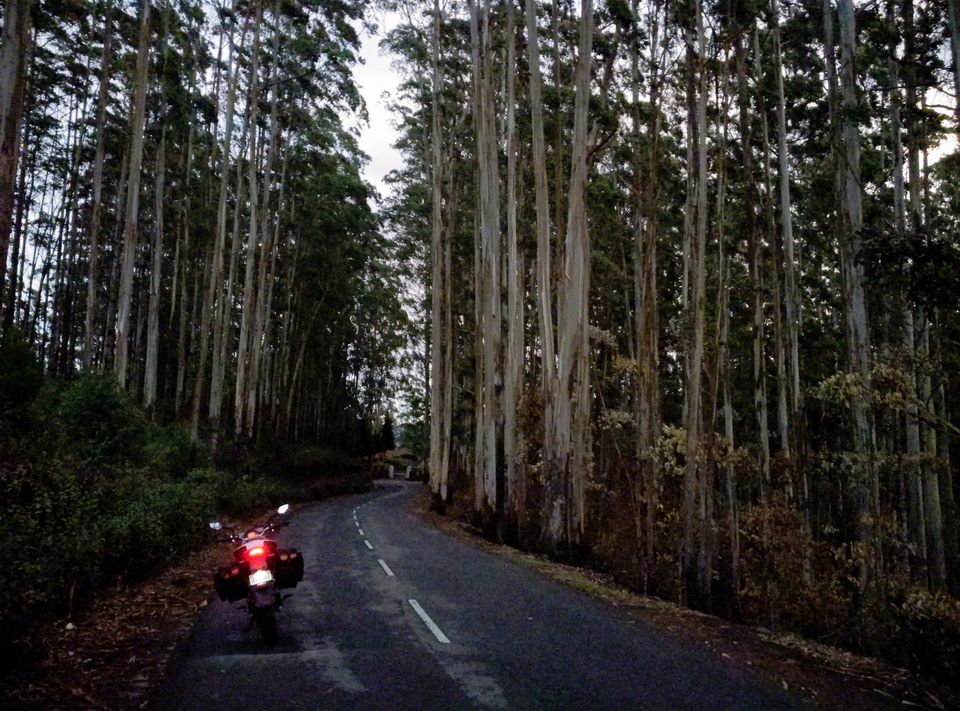 As light improved nature also started to so its raw beauty. The road had Moto gp grade tarmac. As no one on the road I was scraping my foot pegs but the scenes were making me to stop for pic every 2 mins.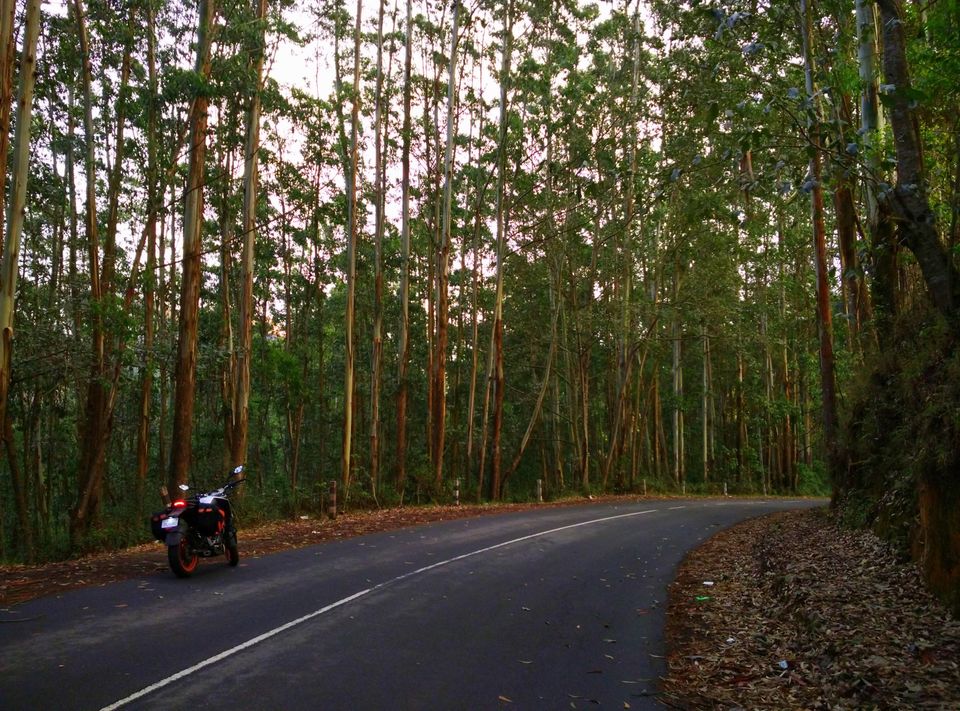 No words for the below location.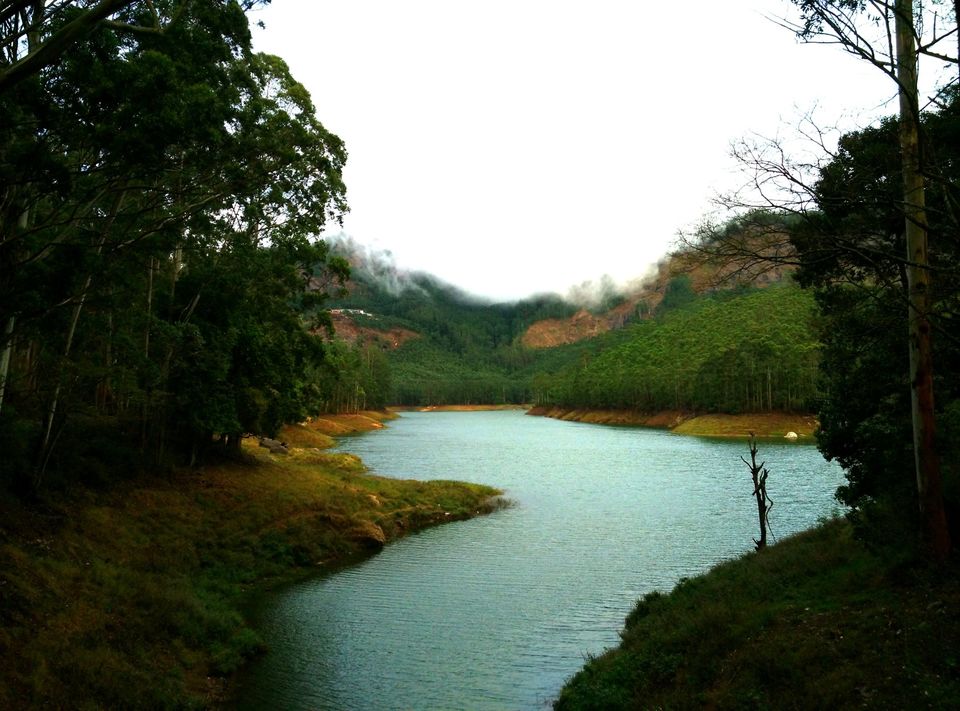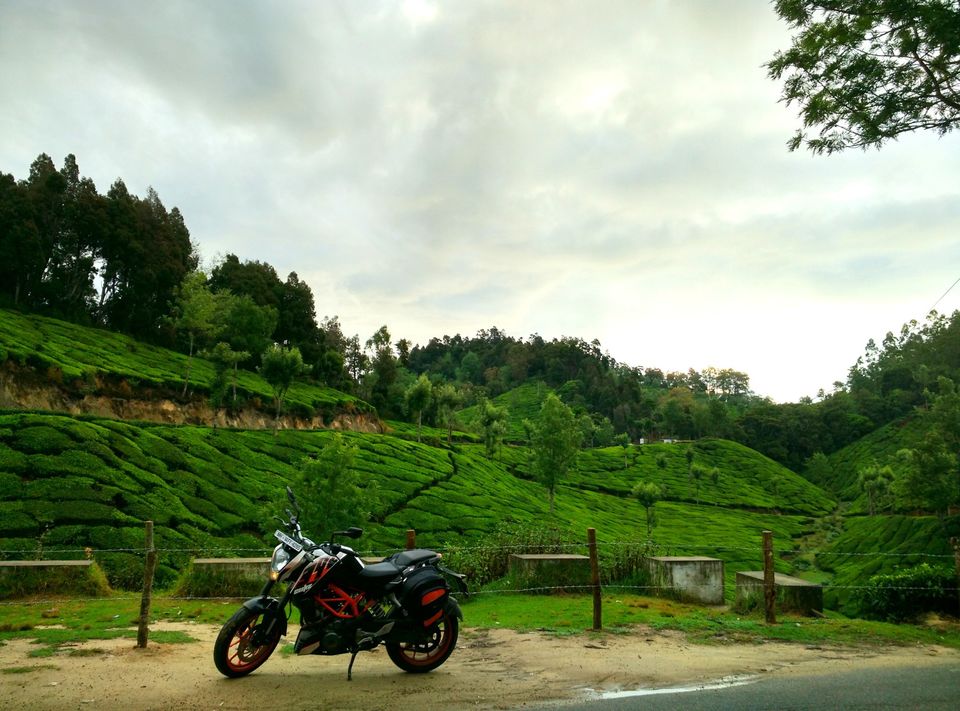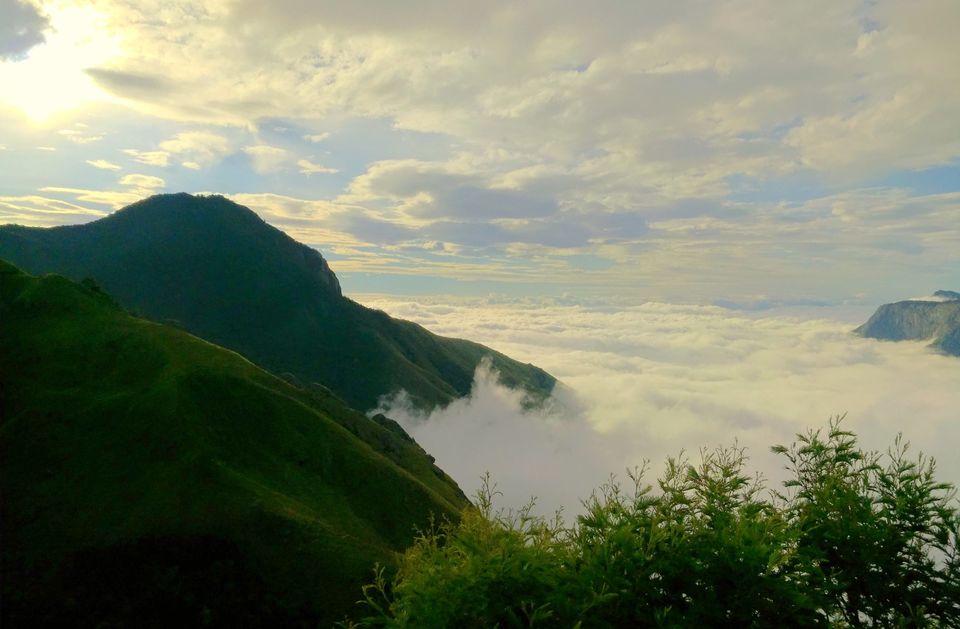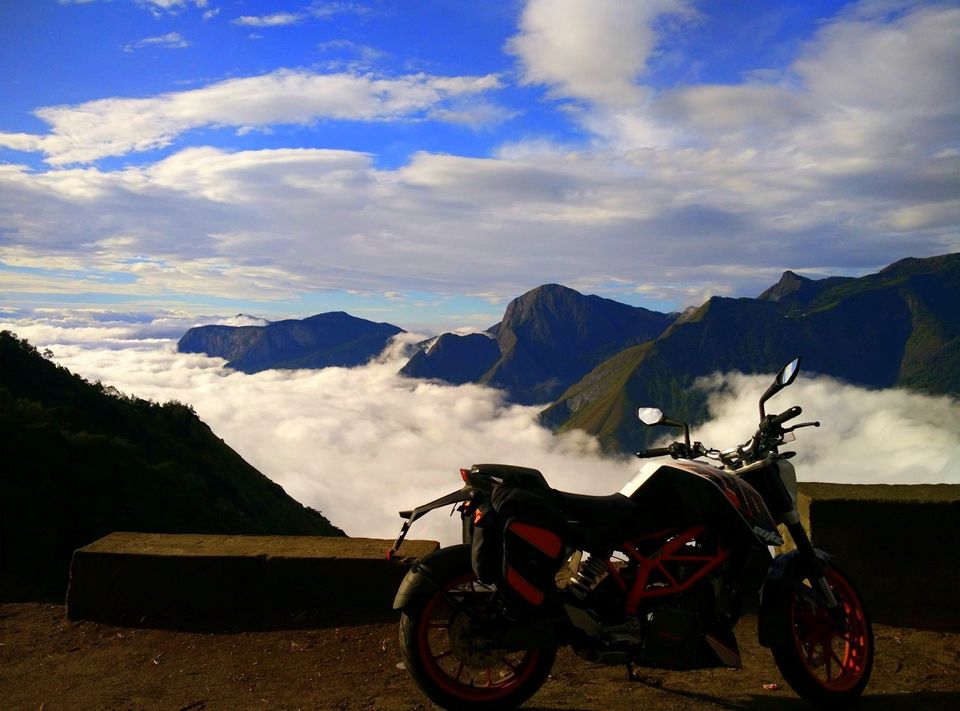 On the way back between I got extreme fog on Munnar -marayur route. I could barely see 10-15 feets. I parked my bike and started roaming on the road, took off my helmet. Feeling of that mist caressing my face was just awesome.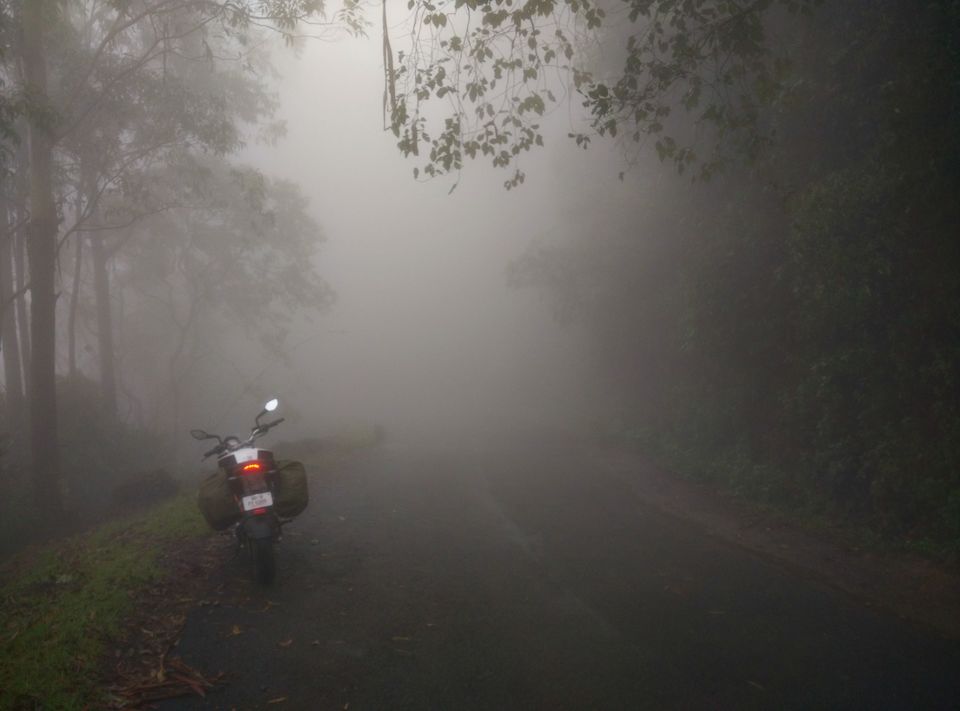 Last pic from Munnar-Marayur route.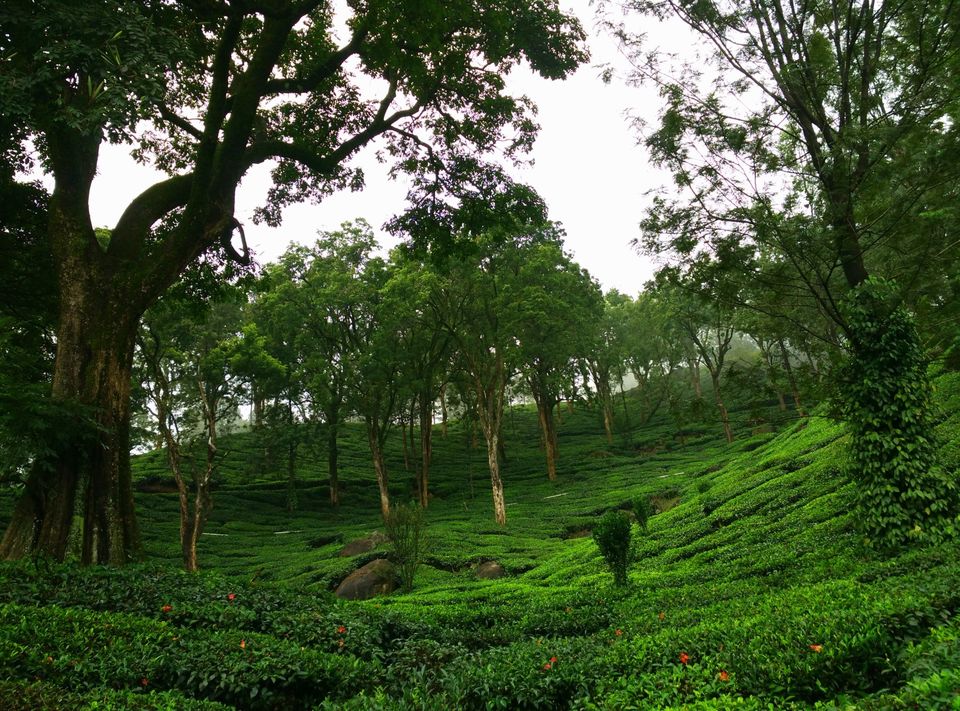 But I must say, this is not the end. I am not yet fulfilled. I will surely visit again with more leaves at my hand.