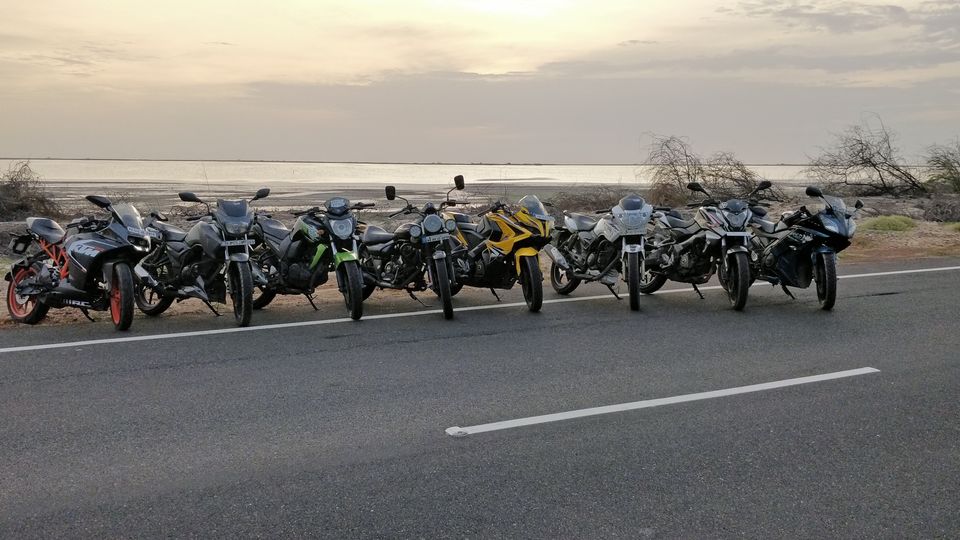 Introduction:
We are group of 15 people who had just completed our final year of engineering from "Dayananda Sagar College of Engineering", who were divided by branch but united by ride! It was time for us to bid adieu to each other. All of us would be in different places with different paths in a few days. So, we decided to have a ride of friendship which would be memorable throughout our life. So we serviced our bikes, packed our bags and started our journey to explore the South Coast of India.
Route Taken:
Bengaluru - Madurai - Rameshwaram - Dhanushkodi -Kanyakumari- Varkala - Idukki - Munnar - Ooty - Bandipur - Mysuru - Bengaluru
With a high level of excitement, all the 15 travel souls started our journey at around 9 pm from Dayananda Sagar College of Engineering. We hit the National Highway 44 and were headed to Rameshwaram. We love night rides, also most of our road trips were during the night. As it was rainy season, we faced recurring drizzle and we were all prepared for it. We kept exchanging our bikes and riding positions very often so that nobody falls asleep. We stopped for tea wherever we could find the stall.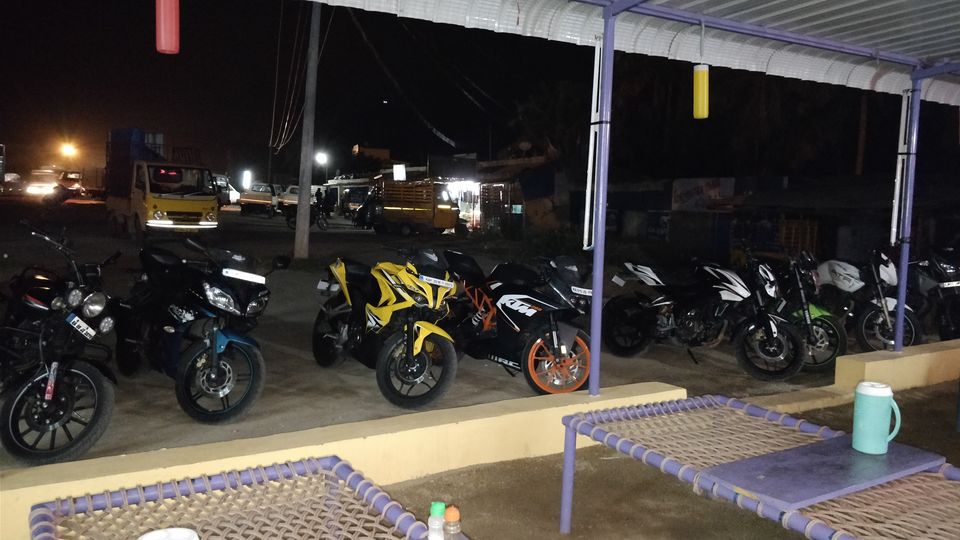 After a ride of around 450 kms, we reached Madurai next morning. We freshened up in a local hotel around temple area and had our breakfast to fuel us for the journey ahead. We continued our journey towards Rameshwaram after breakfast and as we were approaching the coastal road, we could feel the humidity. We could also feel the wind simulatneously, which made riding difficult. The crosswinds of the coastal road was pushing our bike sideways. We also had many near miss opportunities while overtaking lorries, especially in between two lorries, where the effect of crosswind suddenly vanishes and you lose balance. But this was a thrilling and a fun experience.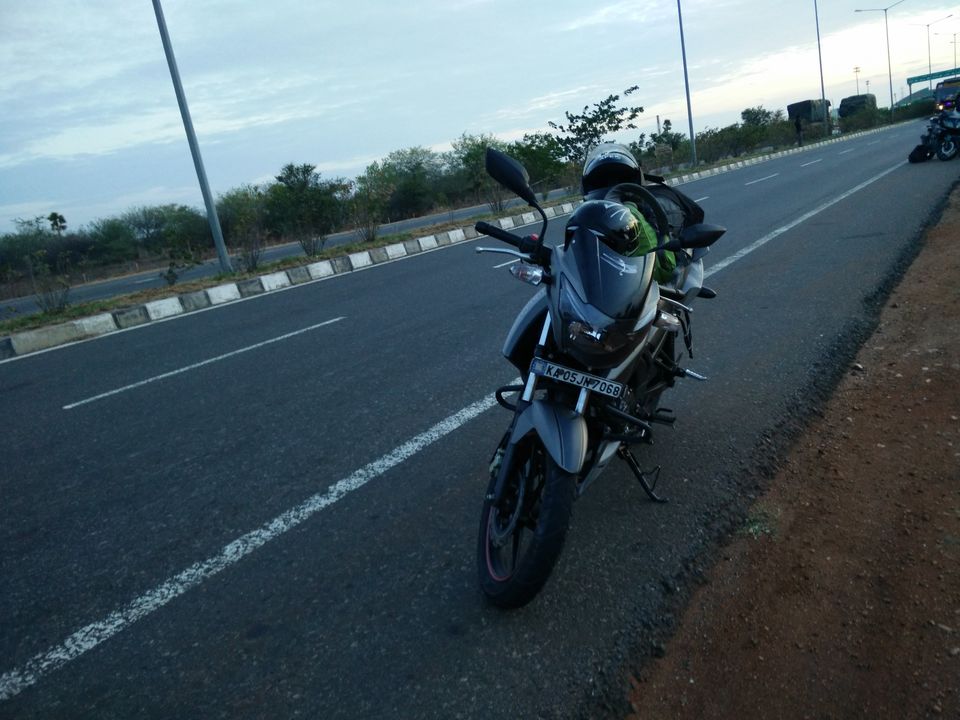 After riding for around 170 more kms, we reached Rameshwaram and we were welcomed by the famous "Pamban Bridge".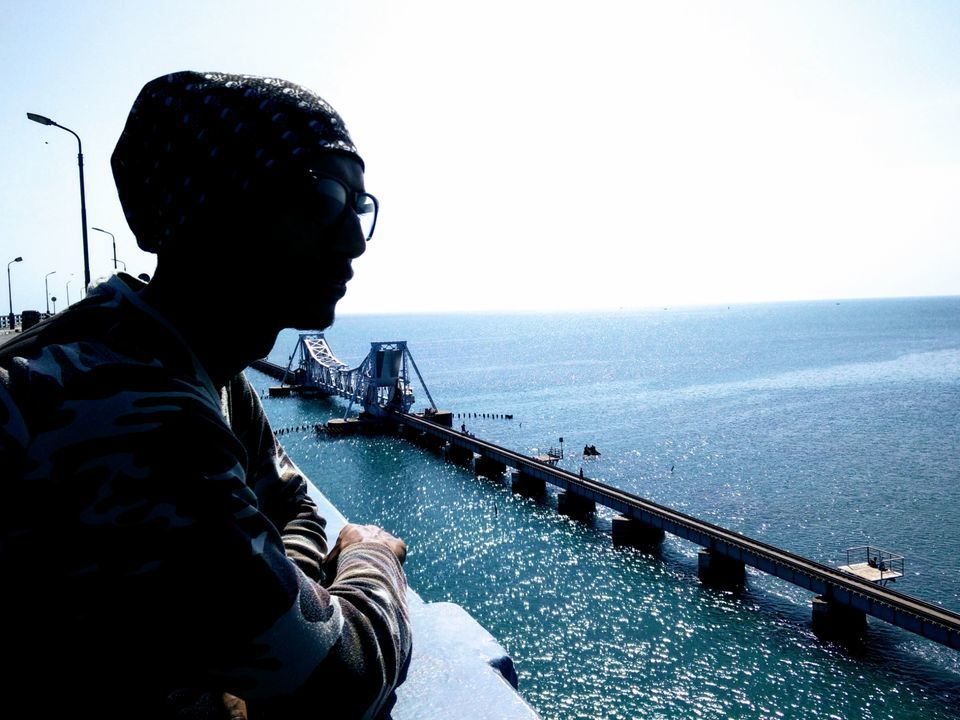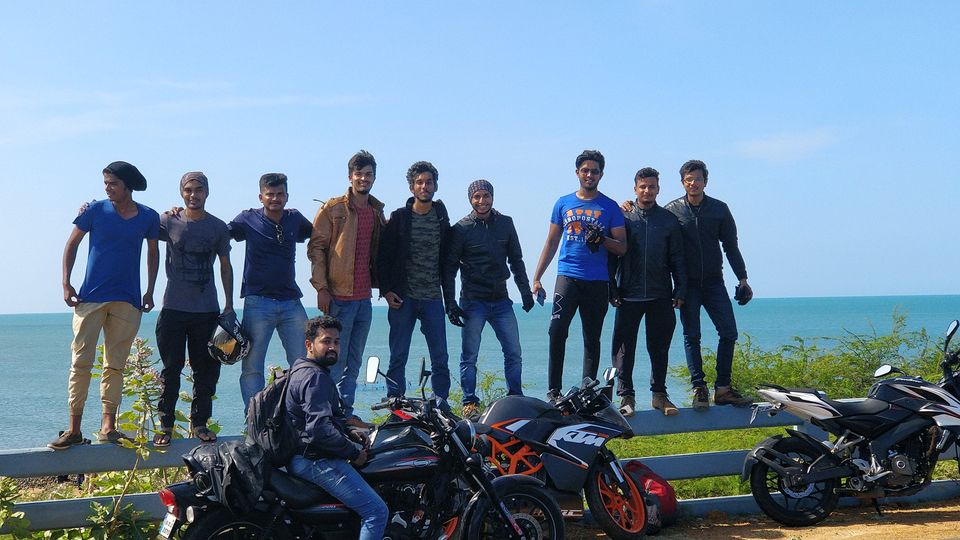 The sight of Pamban bridge was breathtaking!! A railway line on the sea is a wonder of Indian Railways. And we were lucky as we witnessed a train passing through the Bridge!!
We booked a stay in Rameshwaram and freshened up. We then went to the beach and roamed within Rameshwaram. There were many food trucks along the beach. The sight of sunset vanished all our tiredness and filled our soul with energy for the next part of our trip.
We spent the rest of the evening on the shore of beach. We decided to witness the sunrise next morning at the tip of India, "Dhanushkodi" . We fell asleep as we hadn't slept for 2 days. Also, this was the much needed rest after a journey of 600 kms.
We woke up at 4 am and started our ride towards Dhanushkodi Point. This was one of the most memorable ride of the trip. You are on a road which is surrounded by sea on the either sides and traces of sand on road.
This road is a dream come true for Bike riders as it is a long straight stretch of road leading to the tip of the Nation, which further leads to the famous "Rama Setu". A bridge of floating stones! We were disappointed when we got to know that you need prior permission of police of rameshwaram to permit our bikes to the point. It was already time for sunrise, also locals said us that police aren't permitting private vehicles from recent few days. So we witnessed sunrise from the entry gates.
We were about to return and then a local said that we can hire a mini bus to reach the point. So we hired a bus and it took is to the point through the route along the shore of the sea. The bus drive was a different experience as it was along the shore of the sea.
On the way we stopped at two beaches and played for sometime there. One of the beach had shacks where sea shells and its ornaments were sold.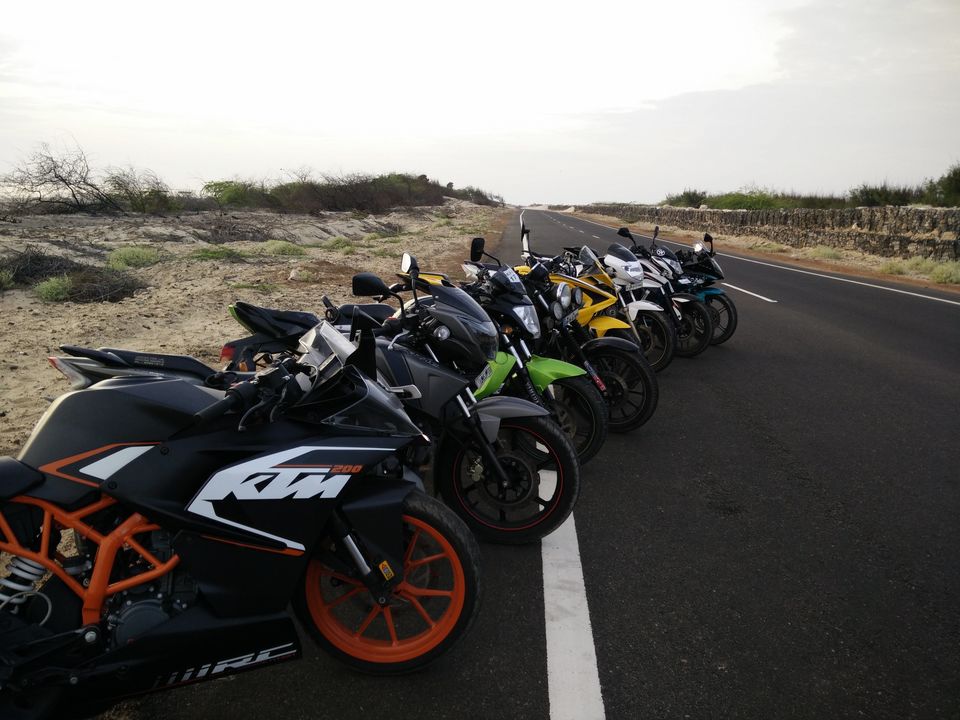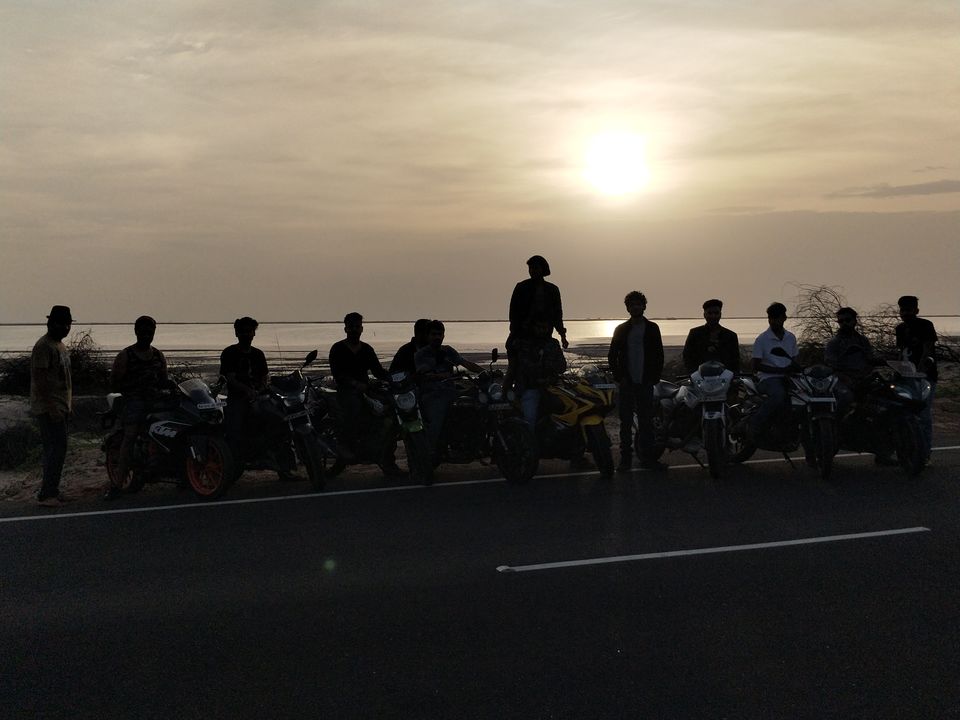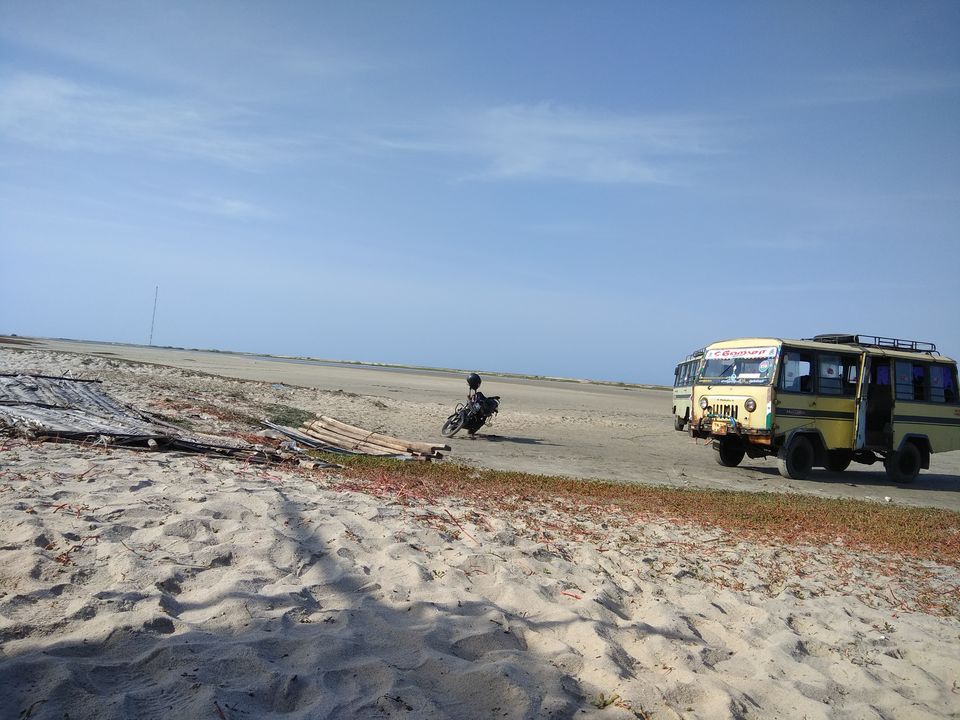 Then we finally reached the point. The village had ruins as the whole village of Dhanushkodi was destroyed by Tsunami in 1964. It remained unhabited since then.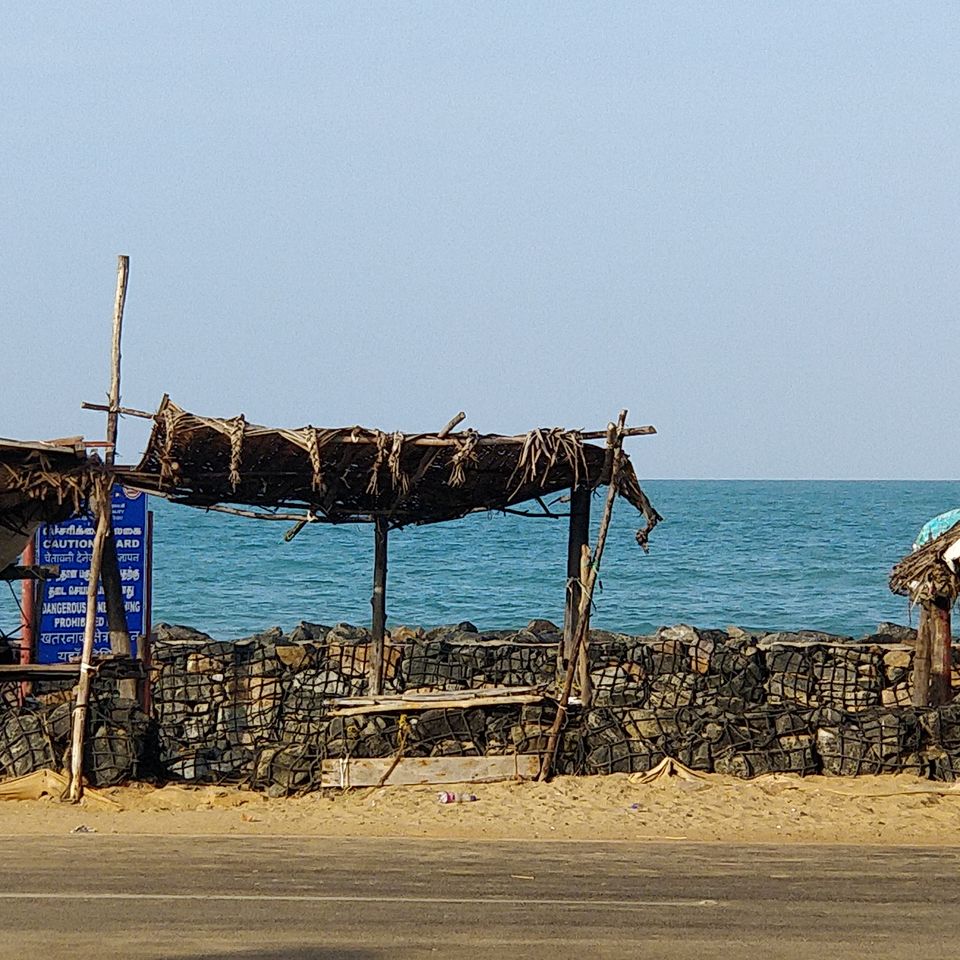 We spent some time on the beach and visited a temple. The temple had one of the stone used in Rama setu, it was heavy, yet floating in the well despite drowning it. We then returned to Rameshwaram as we had our luggage there. Then we visited rameshwaram temple and started towards Kanyakumari in the noon.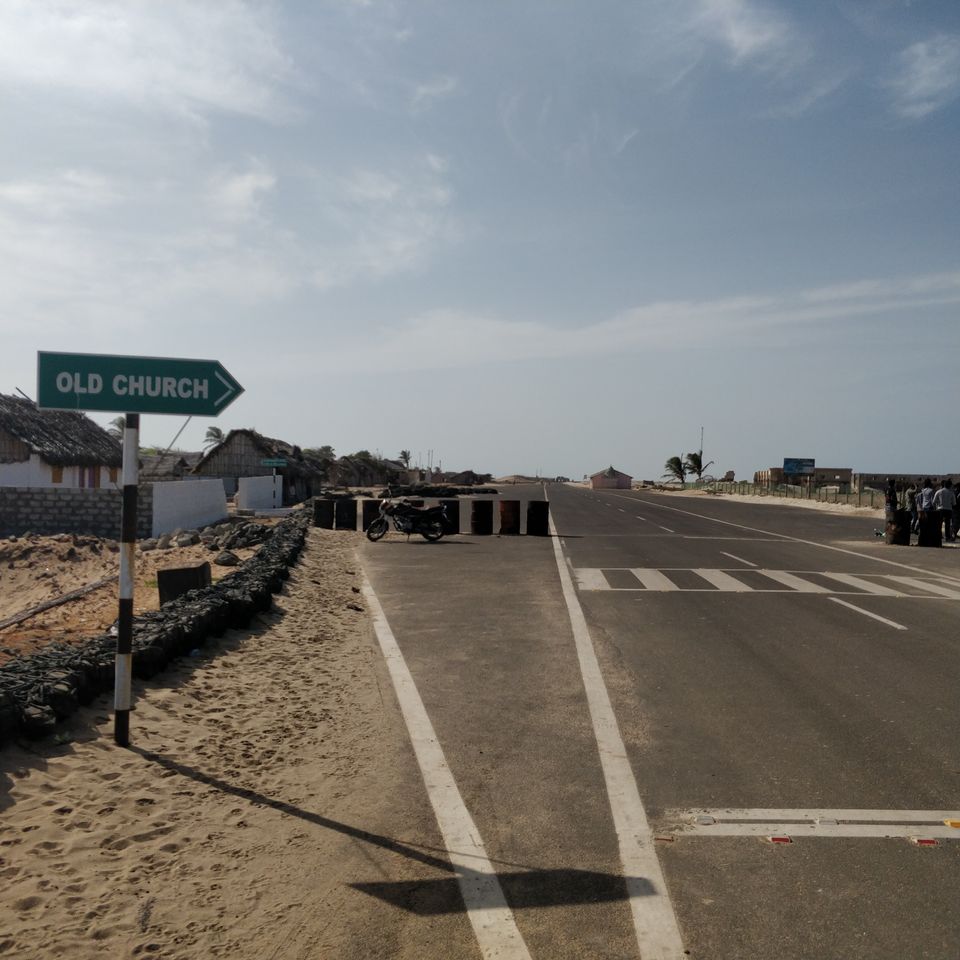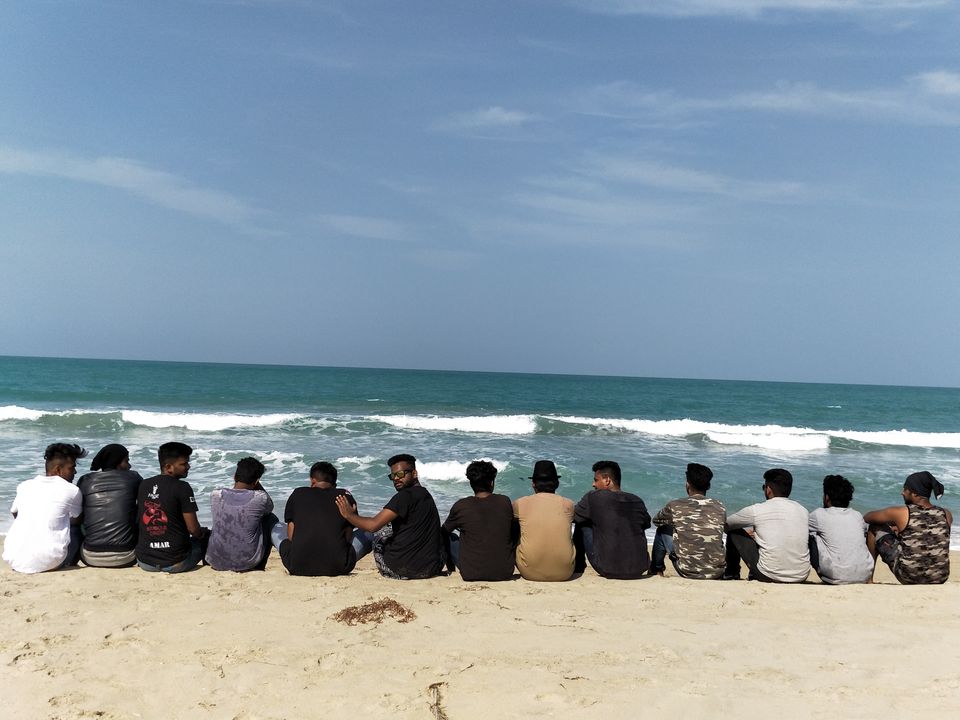 We started our journey towards Kanyakumari and the whole stretch was along the coastal road. It was a challenging, yet thrilling ride. The crosswind, sand hitting our face made it difficult yet our spirits high enough to keep our journey going. We reached Kanyakumari at 2 am midnight and luckily got a hotel at that time. We were all tired and fell asleep as soon as our heads touched the pillow. We had planned to wake up for the sunrise, but we were all so tired that we missed the sunrise.
Day 4 - Kanyakumari (Tip of India):
Our day began with regret of not waking up to the sunrise, yet we still had the chance to witness sunset. So, we had breakfast and started our day at Kanyakumari Beach. We roamed around the local market near the beach and then headed to boat house which would take us to "Vivekananda Rock Memorial".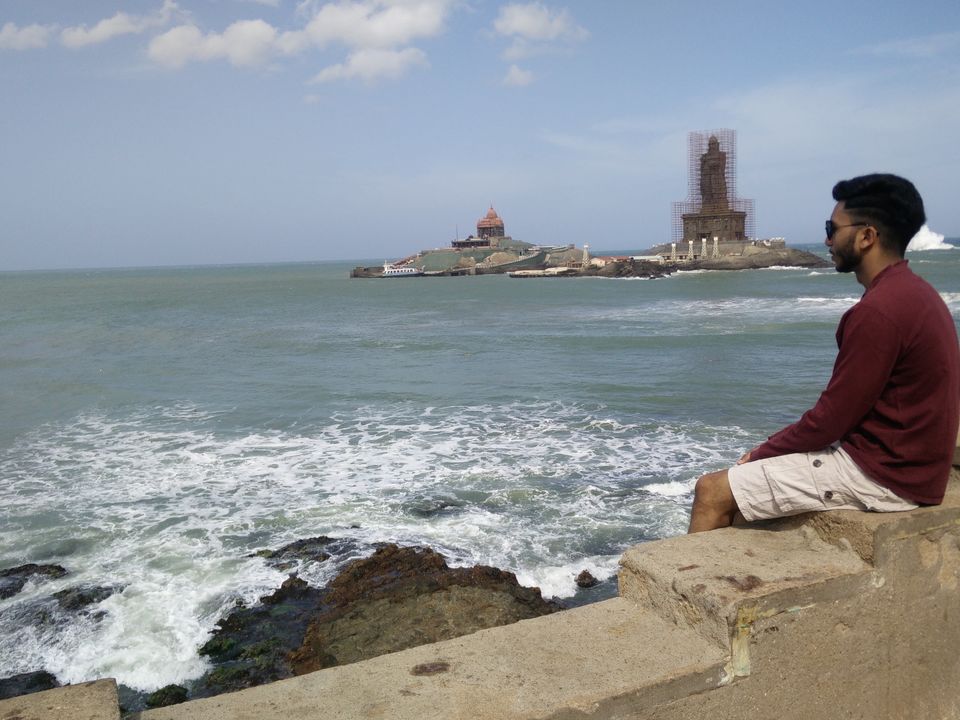 We reached Vivekananda Rock Memorial by boat. This is the place where Swami Vivekananda used to meditate and hence the name. We witnessed the unity of Bay of Bengal, Indian Ocean and Arabian Sea famously known as "Triveni Sangam". The place was very pleasant with an awesome view. We waited to witness the sunset and then visited "The Lady of Ransom Church"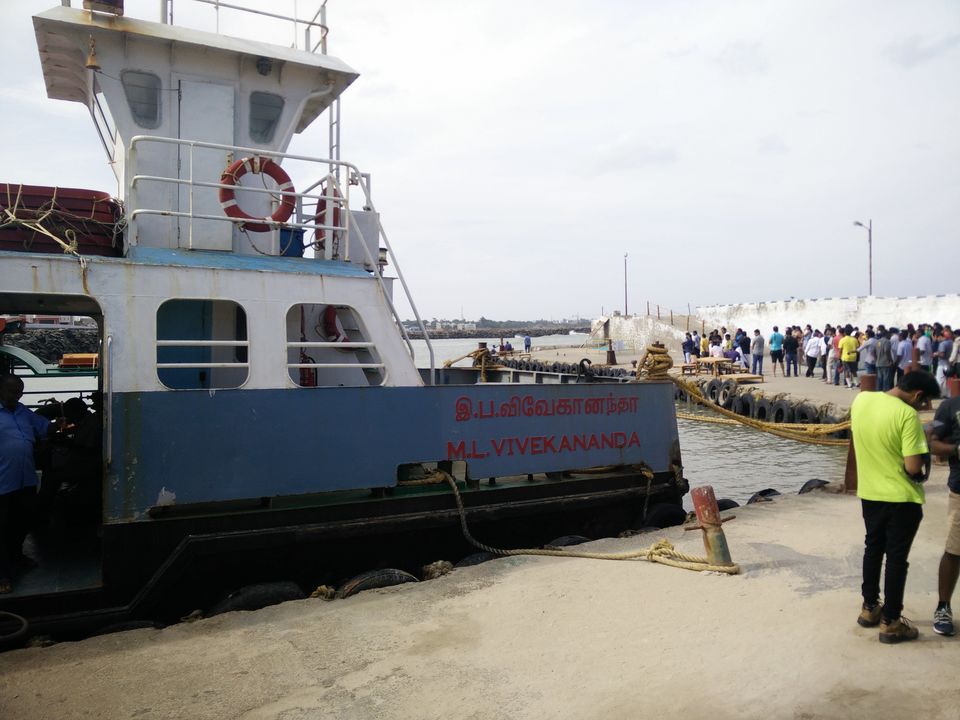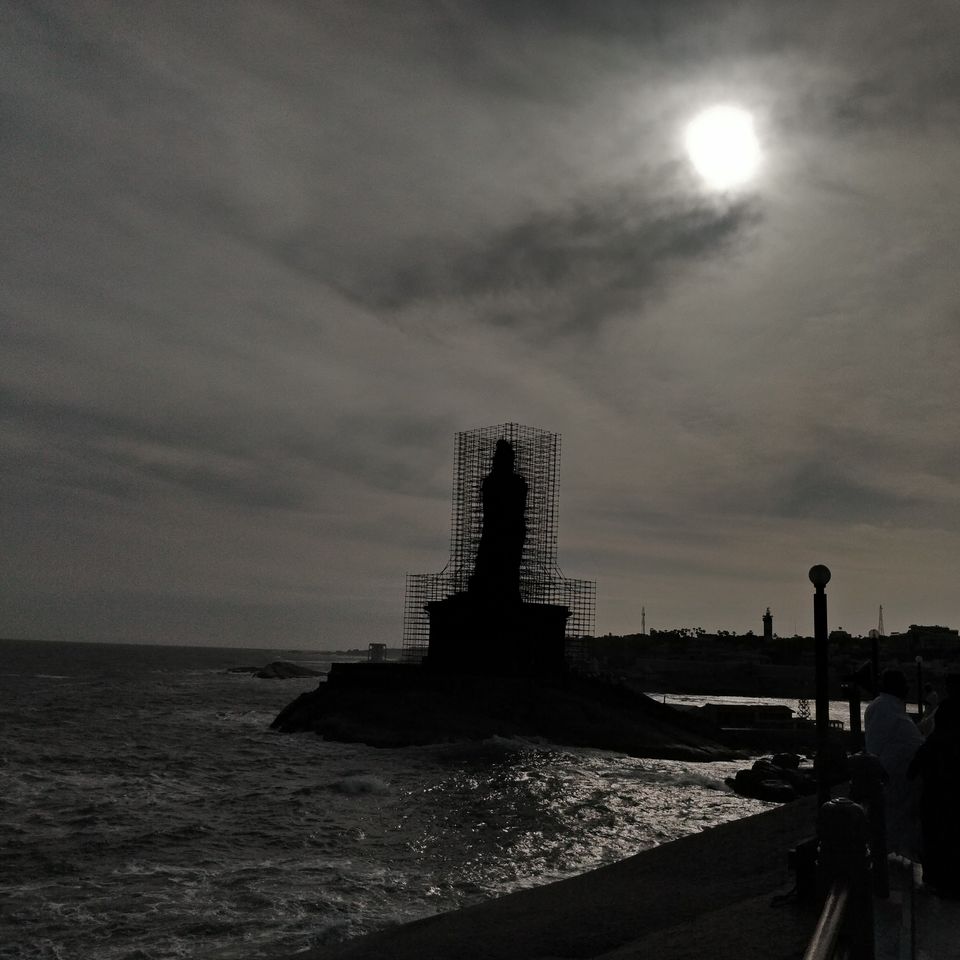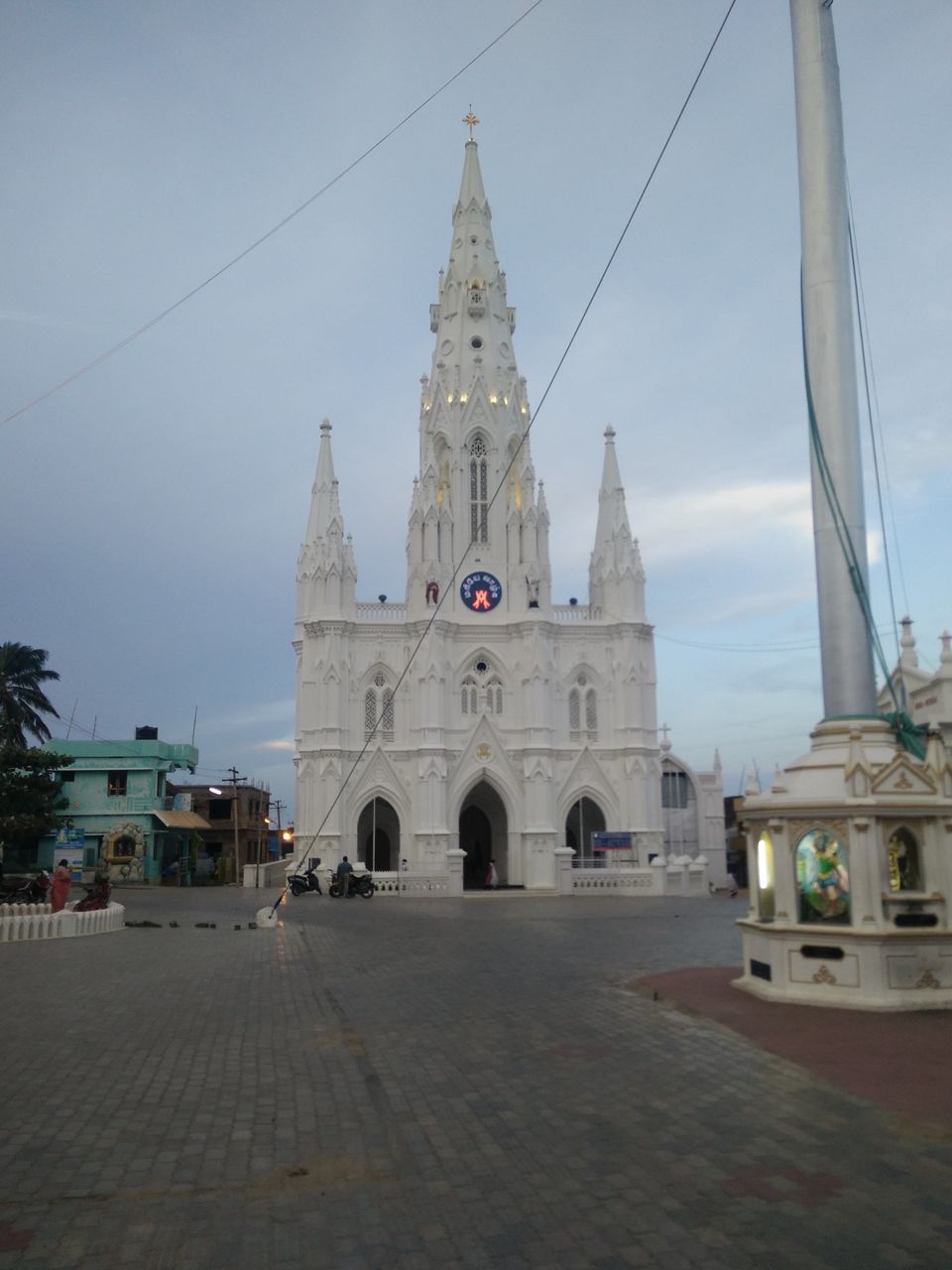 We then continued our journey towards an offbeat peaceful place, "Varkala"! This was the turning point of our journey. We covered south-east coast and now were on the south west coast. Even this was a coastal road ride and we reached Varkala at around 1 am which welcomed us with a rain.
Waking up to this view from stay in the morning was a pleasure which faded away all the tiredness.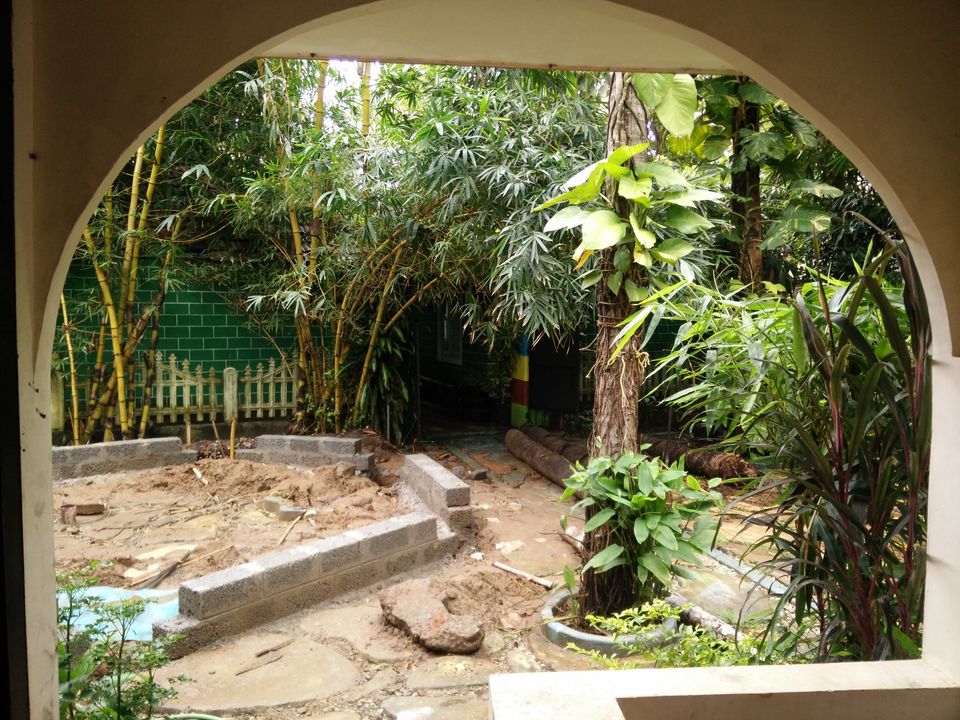 We then walked to the cliff. It was a very long stretch of cliff being hit by the wild waves of Arabian sea. A walk along the whole stretch of the cliff took us to another world. The entire stretch also had stays on the cliff. This place was so calm and serene and we felt like not going back from this place. Words can't describe this heaven, so here are some pictures.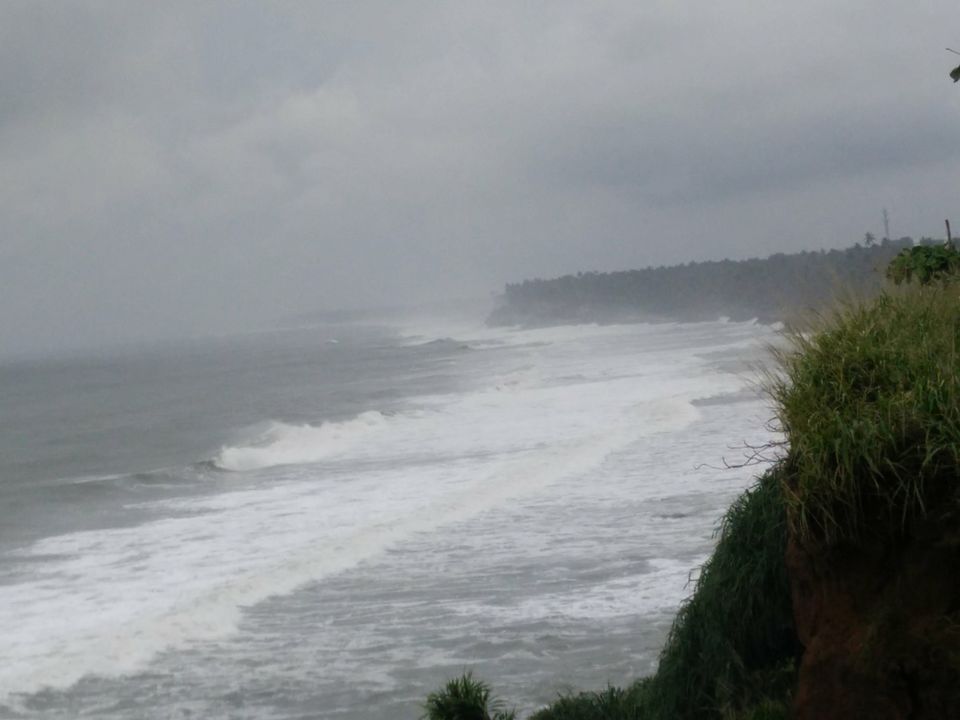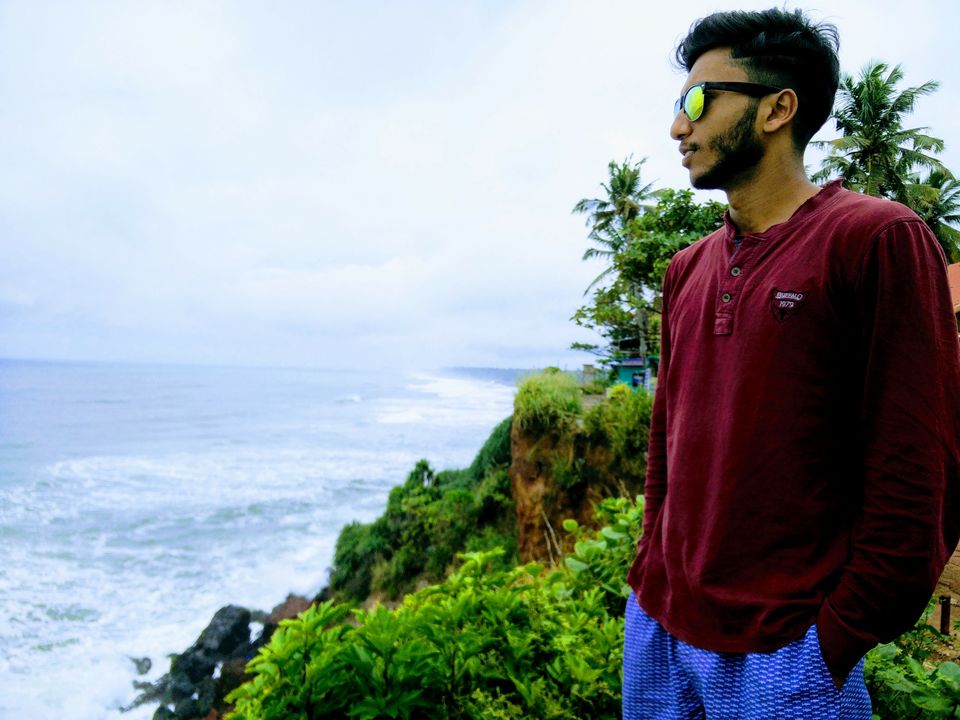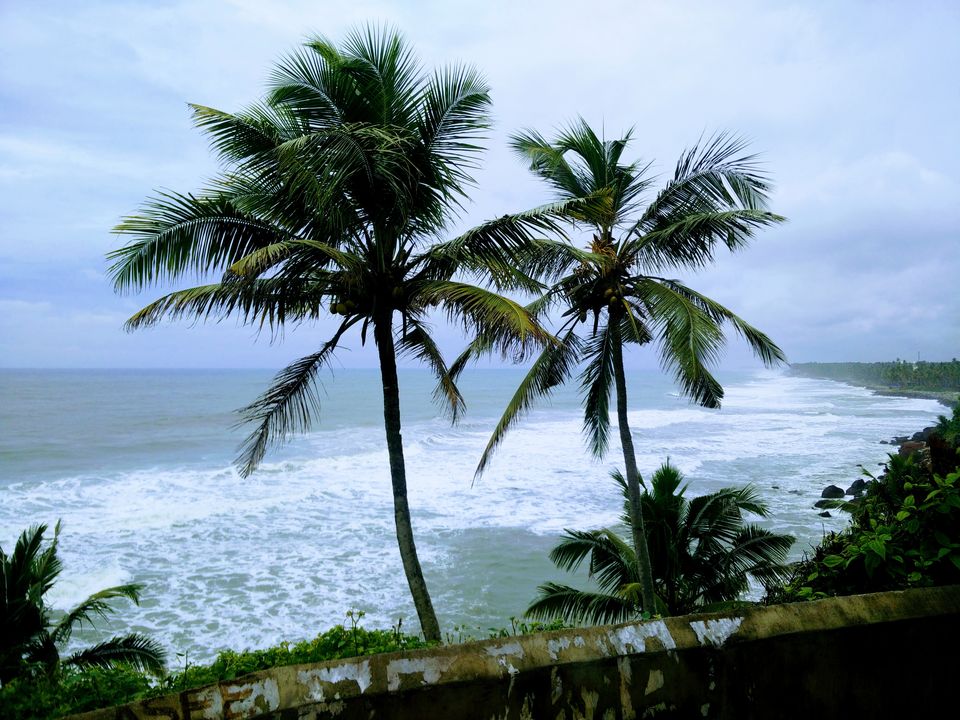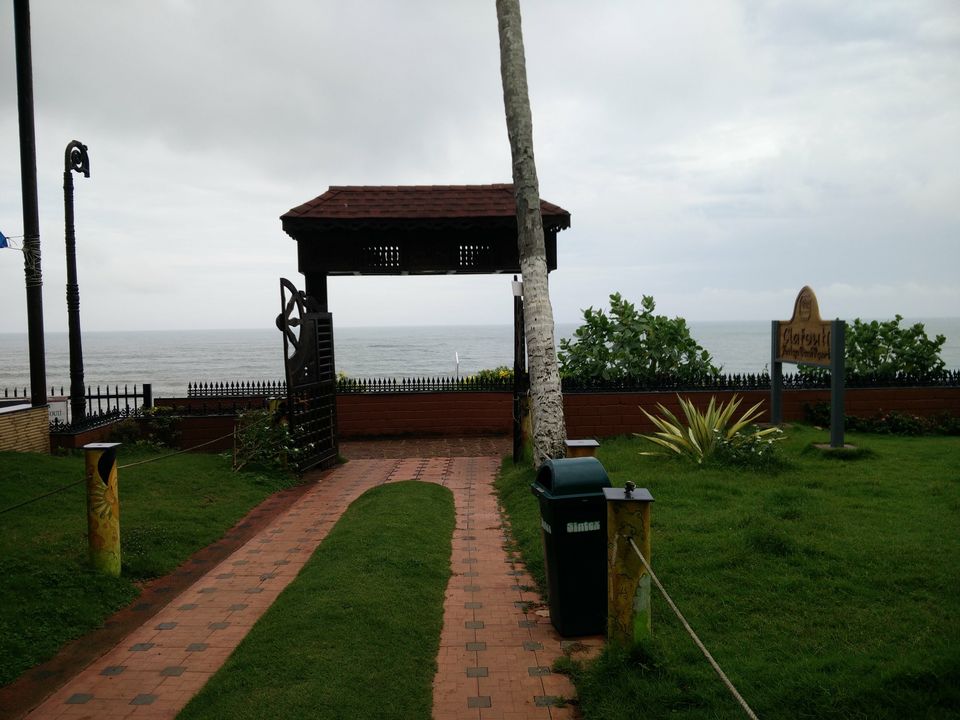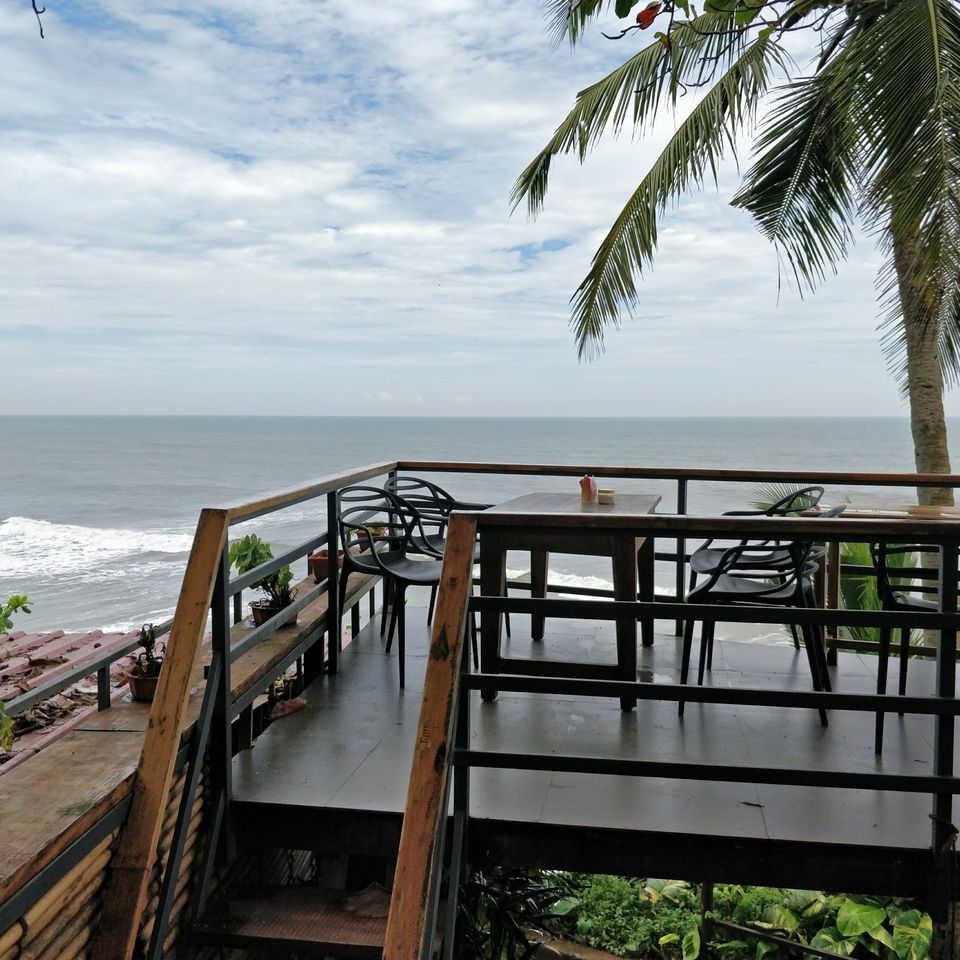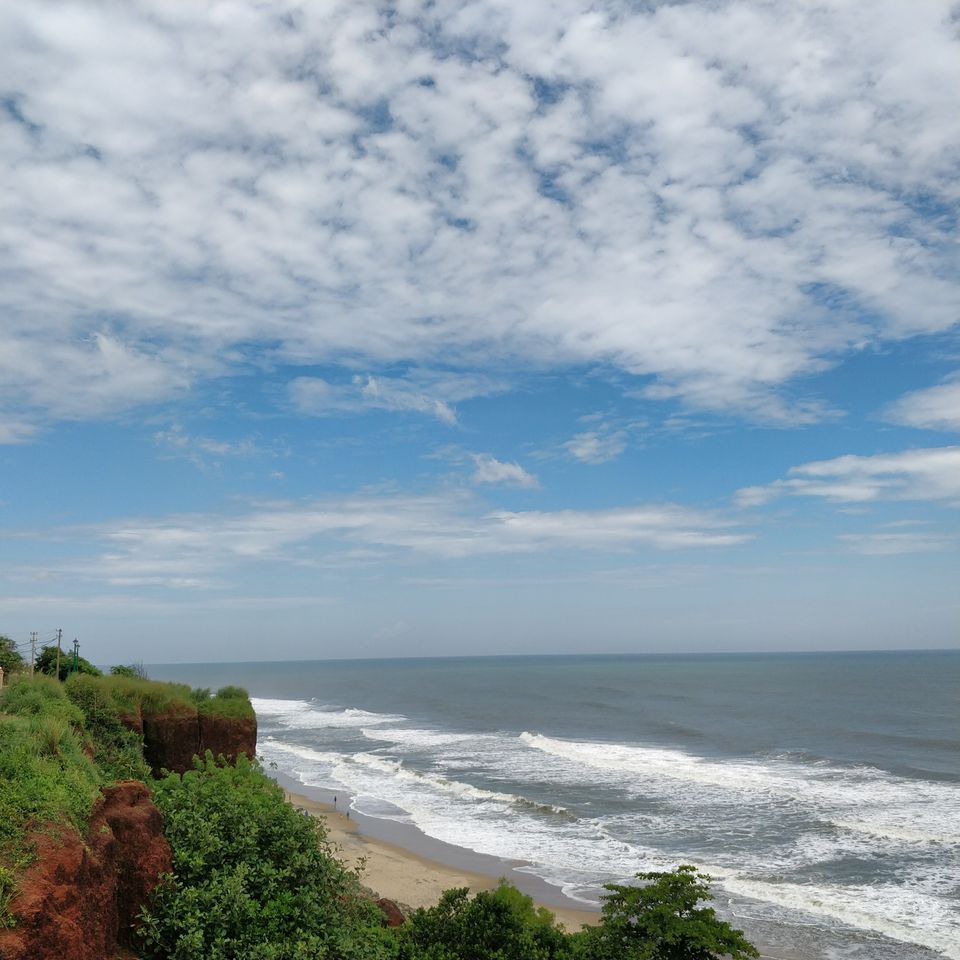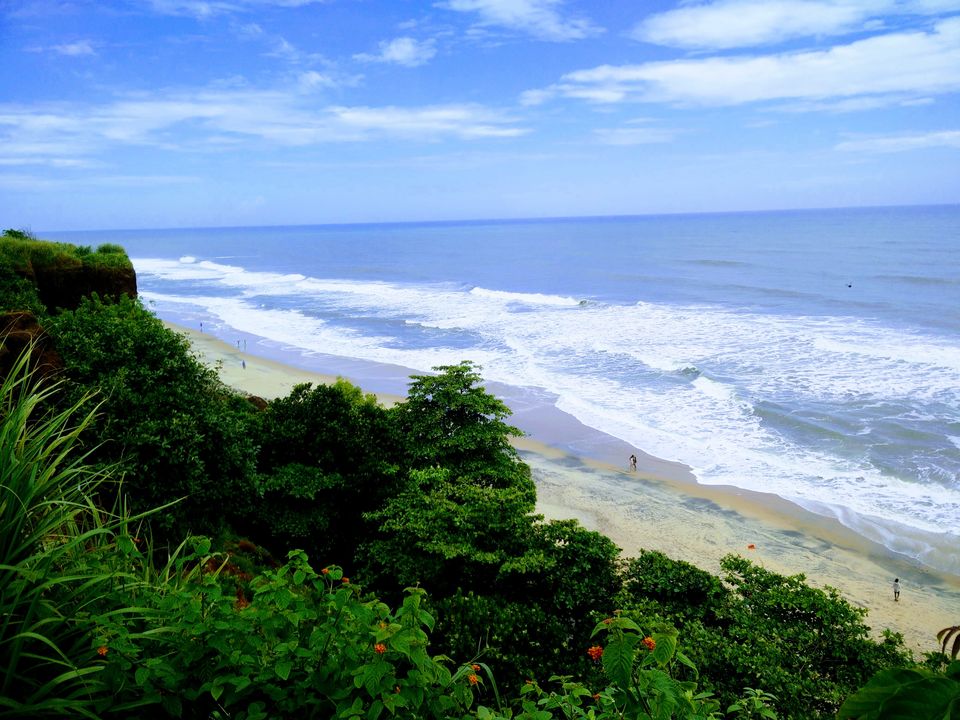 After filling our eyes with the beauty of Varkala, we started our ride towards Idukki. Now, we were transitioning from Coastal road to Ghat section. After few kilometers of ride, it started raining heavily and we had to halt our journey. But the rain made the sight of nature more beautiful and the roads were appealing us to continue our ride.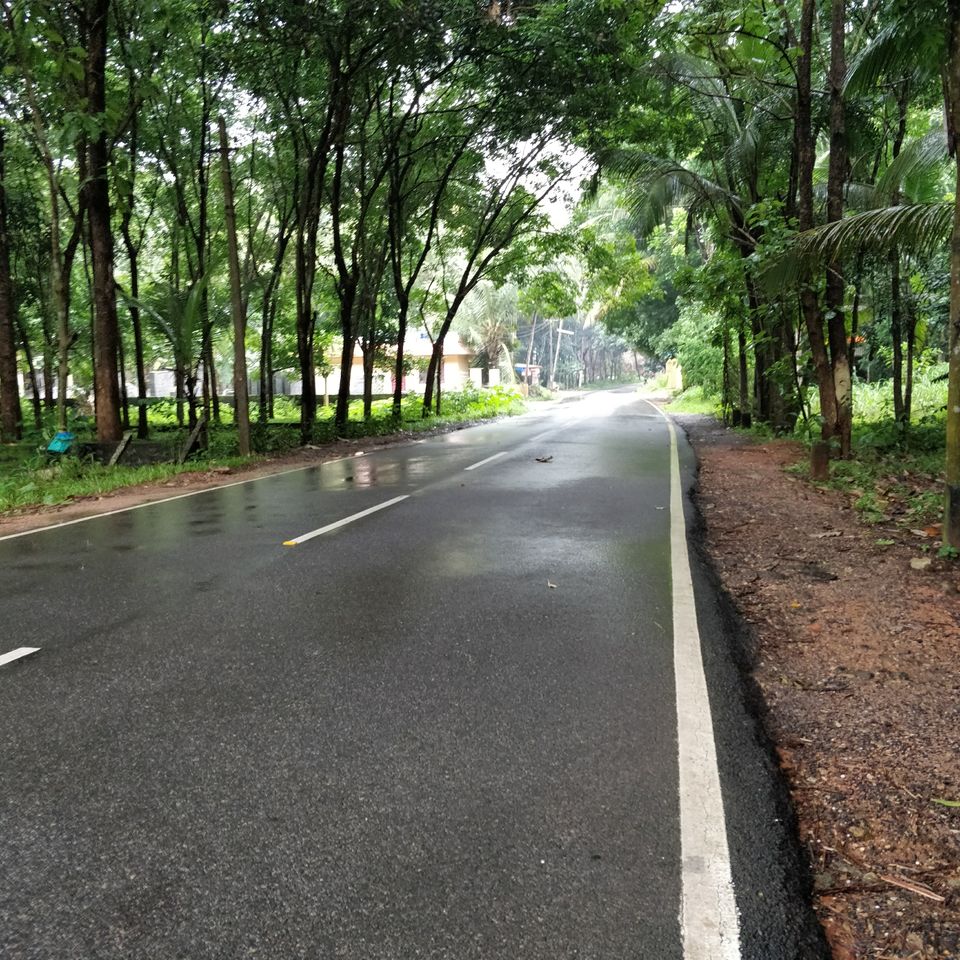 On our transition from coastal roads to ghat roads, the scenic beauty filled our eyes and the curves made us crave more from the nature.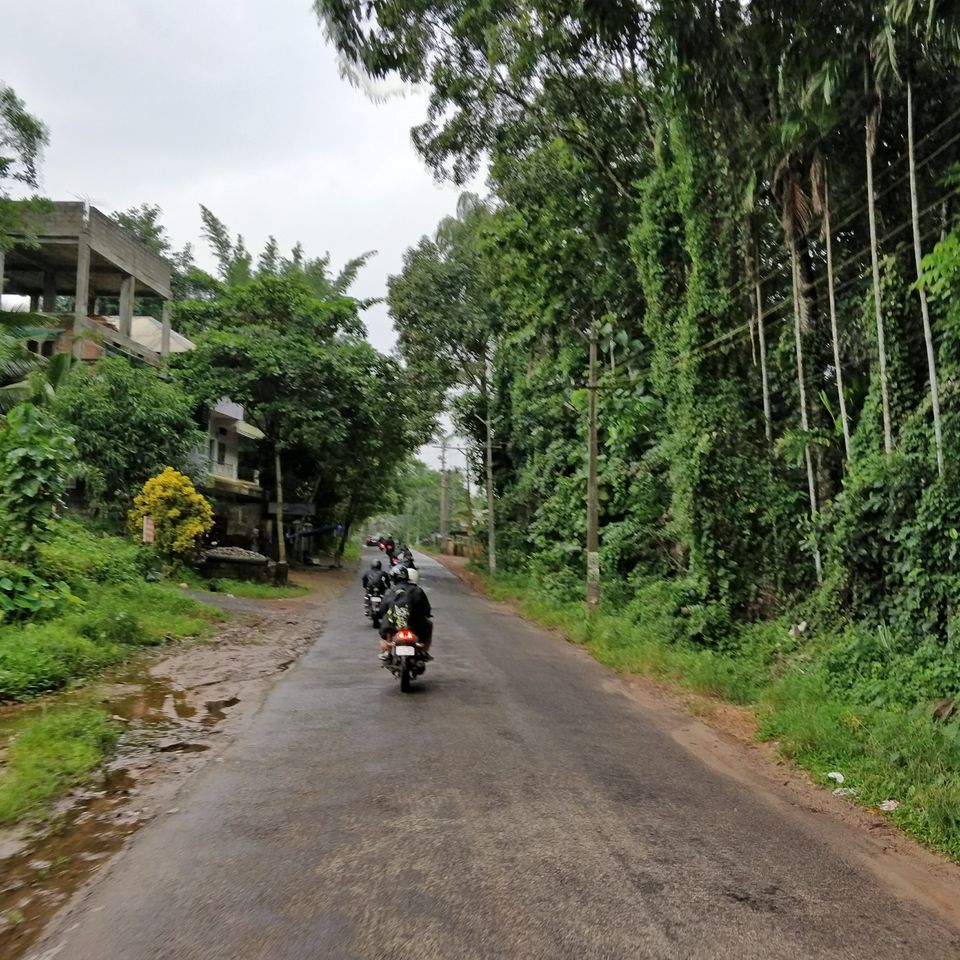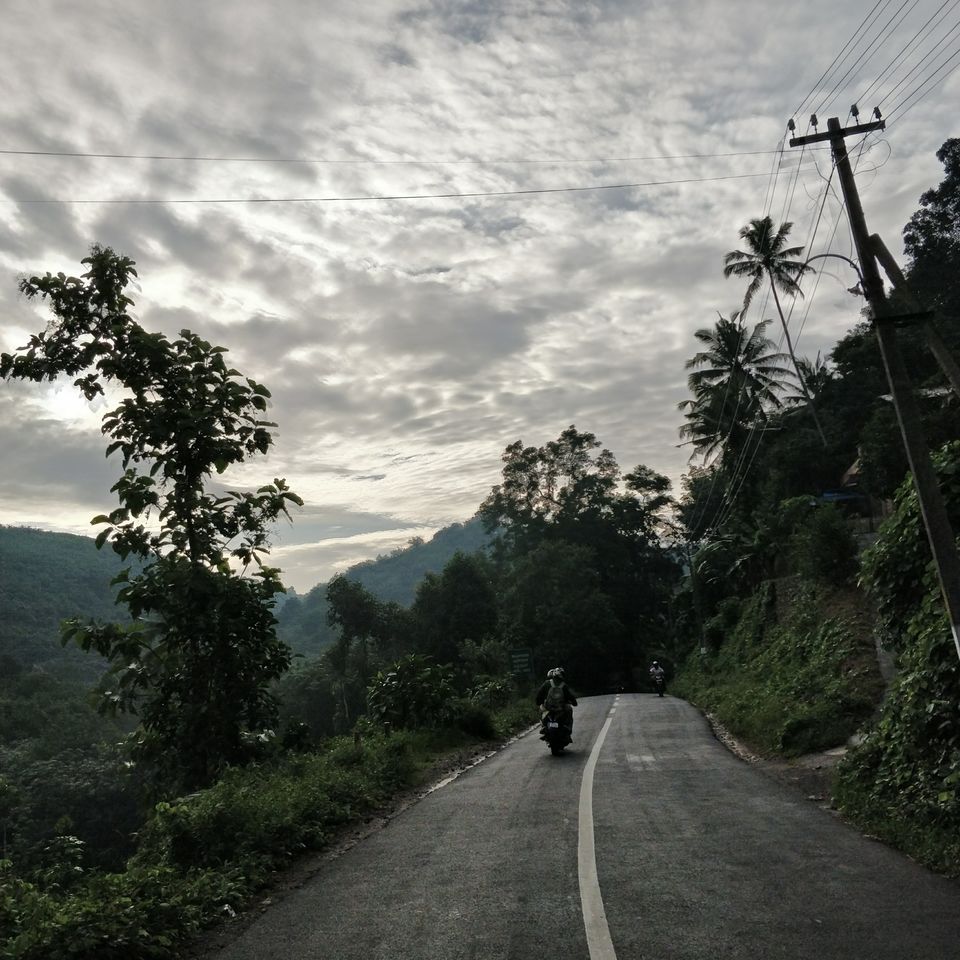 We reached Idukki midnight. We got the stay near "Idukki Dam" which resembles "Hover Dam". We walked around the town midnight and got a place to sit and view the massive Idukki Dam.
We had a nice view of dam from the balcony of our stay. We took some rest in the hotel till noon and continued our ride towards Idukki Dam. We expected to ride on the road of Dam but unfortunately the road was closed.
Then our ride was directed towards munnar which is just 20-30 kms from Idukki. But we lost our way and had to take a long route to Munnar. But it was worth when we got to see this view.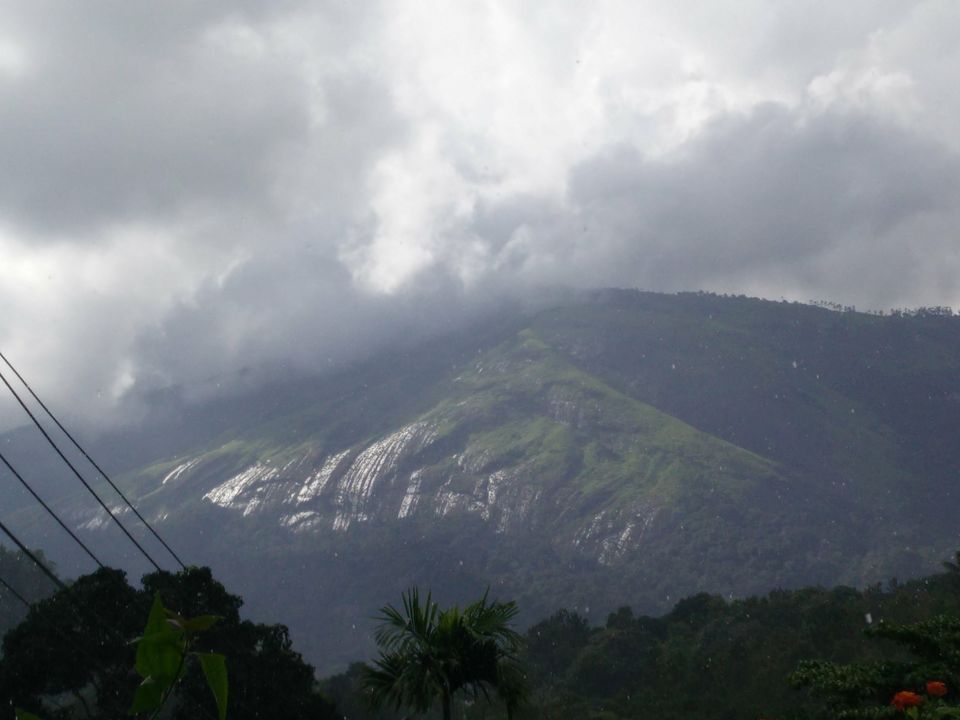 We had many photo sessions on the way and finally reached Munnar by evening. Munnar welcomed us with a light drizzle and a heavenly view of clouds and mist.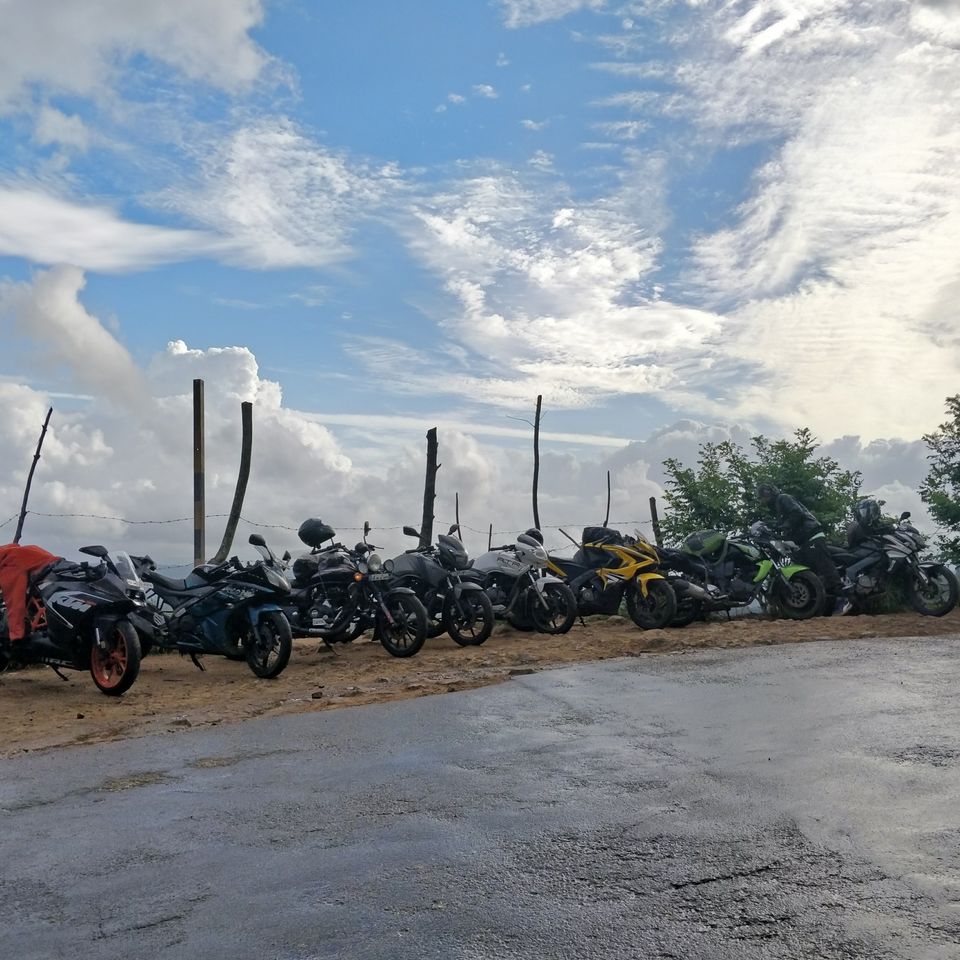 We had booked a place far away from the city center. Almost 30 kms from Munnar. The place was amidst the Tea estate. No mobile network and no trace of people. We were in between Kanan Devan Hills. Here are the pictures of the place: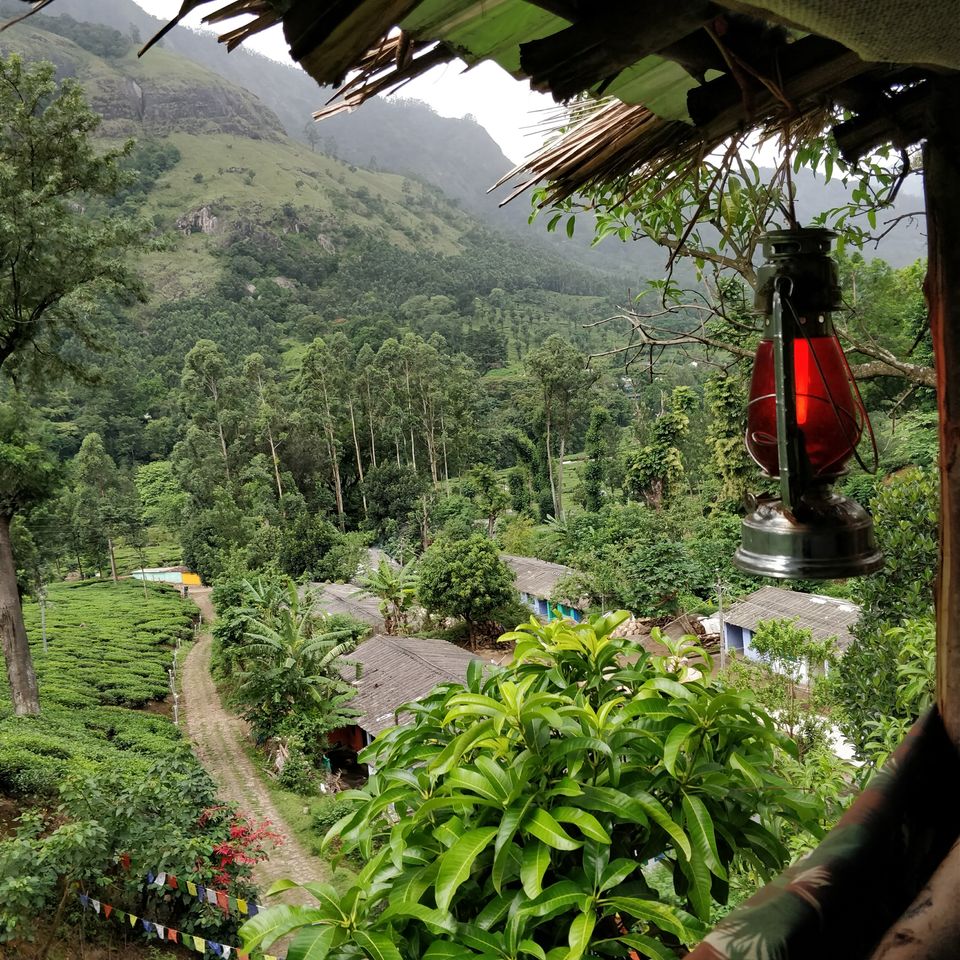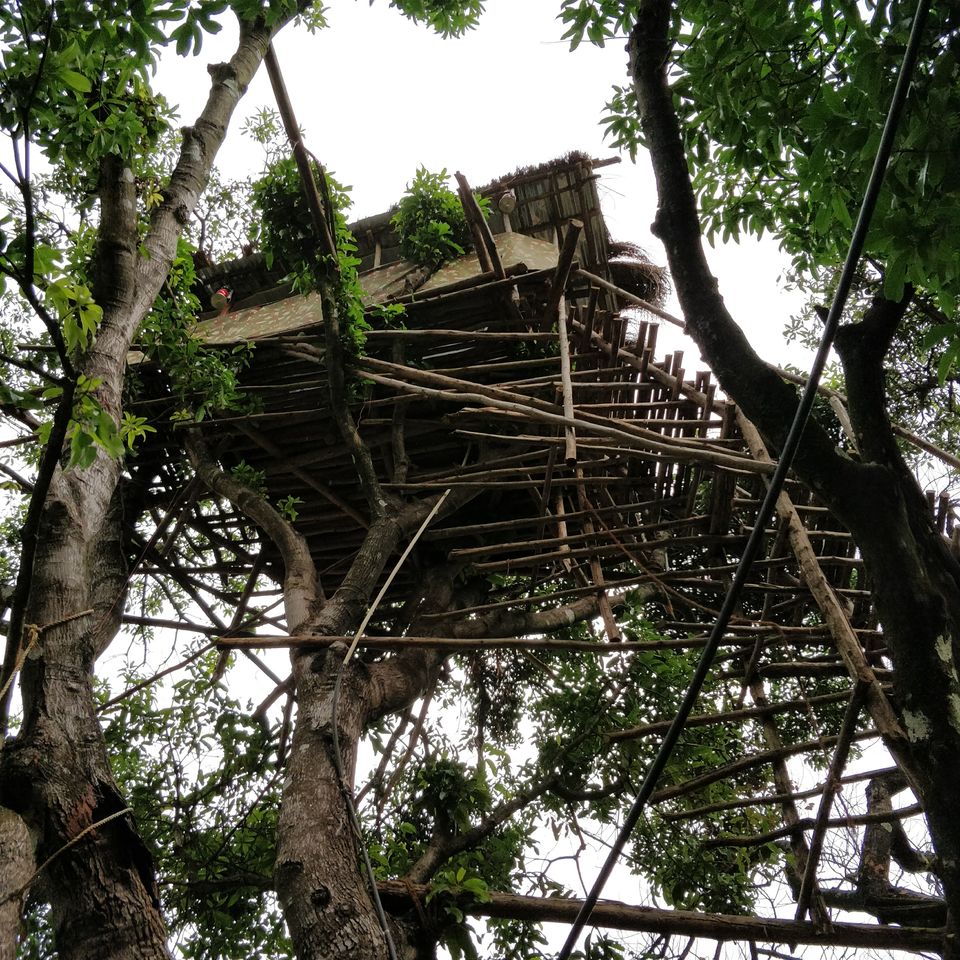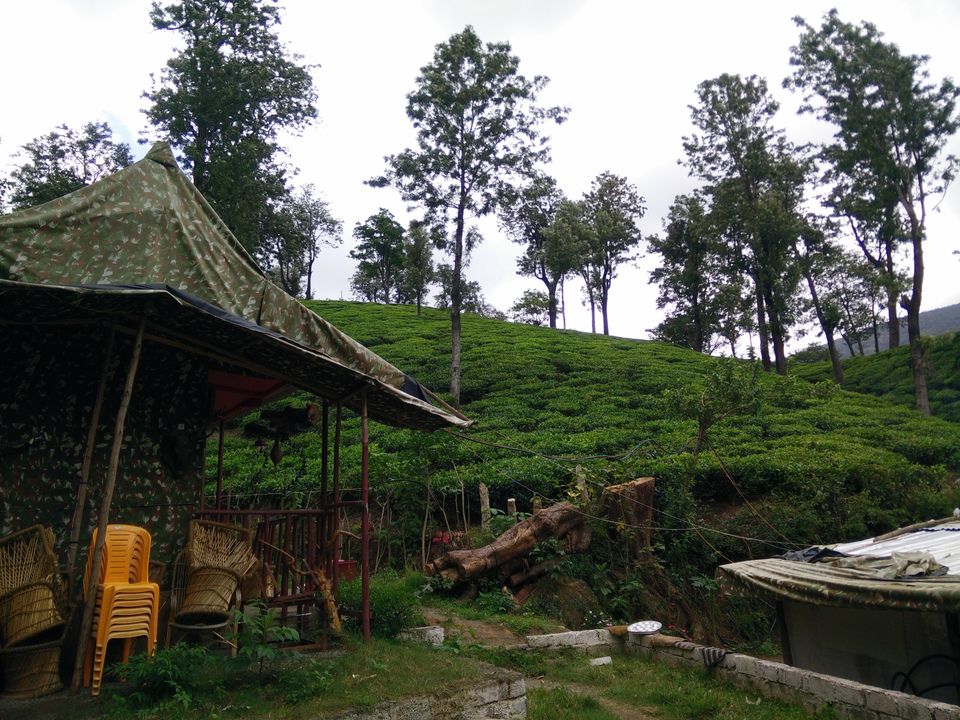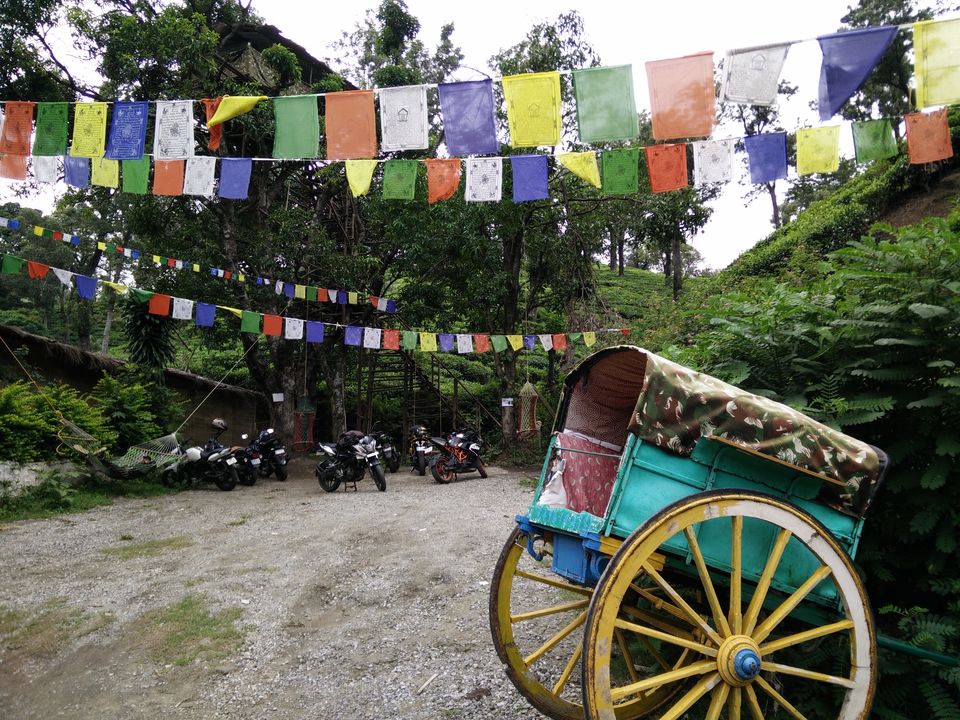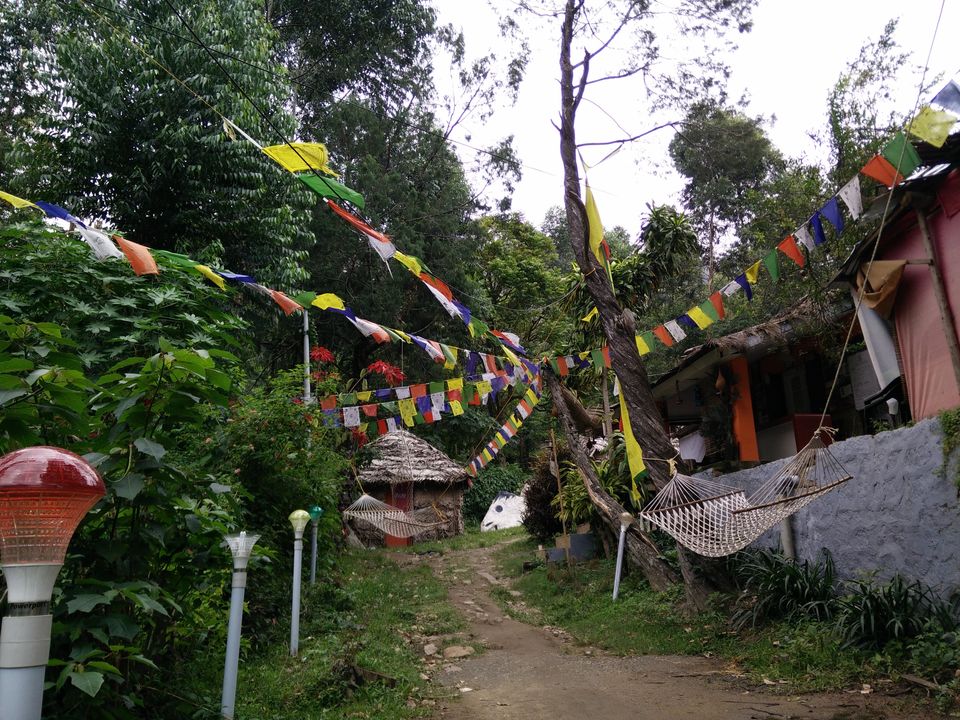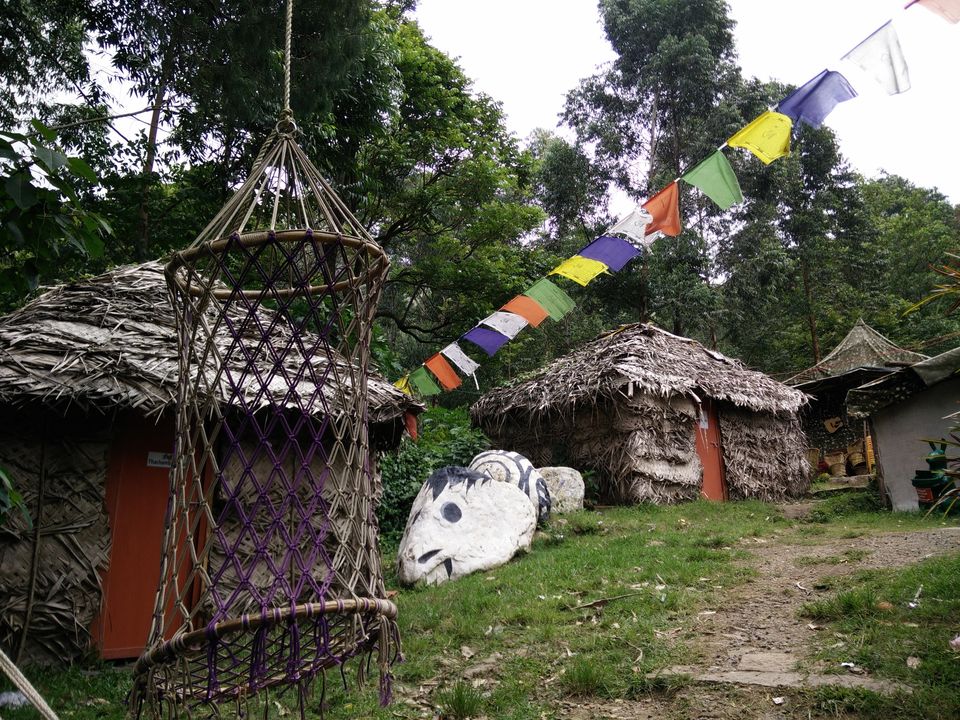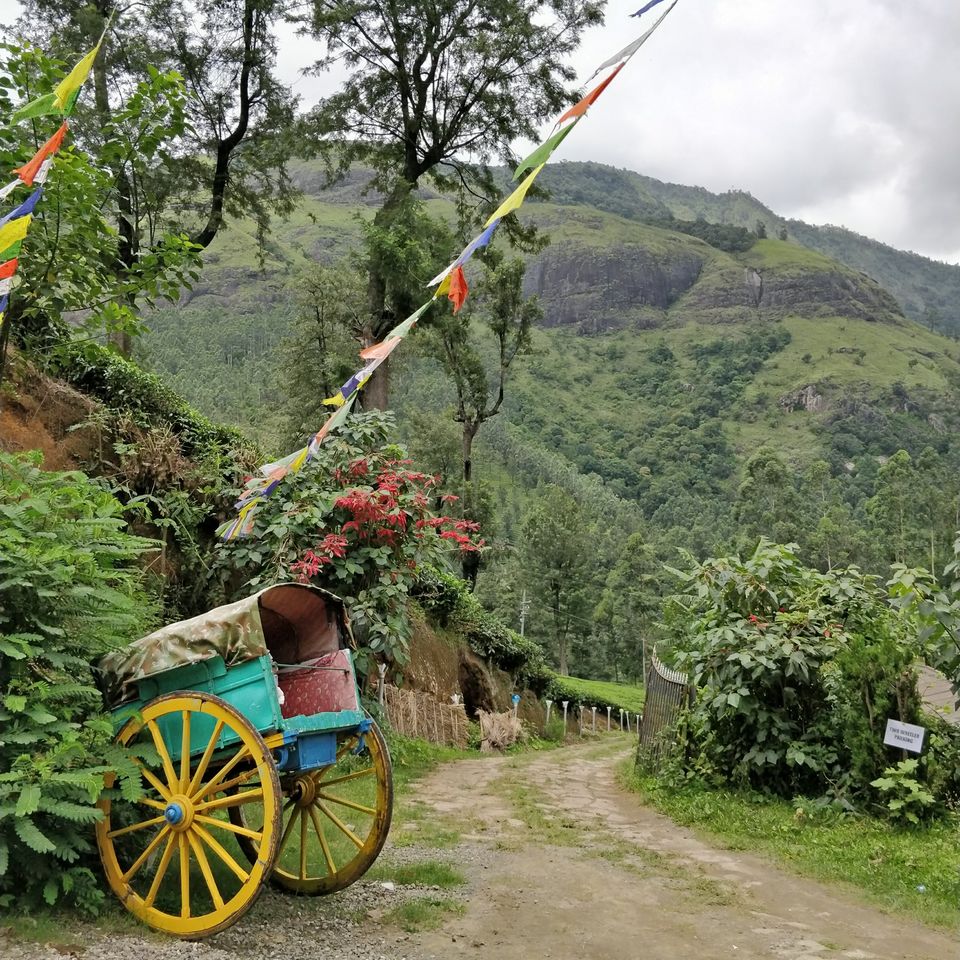 We spent the whole night amidst the hills. It was very cold but fun at the same time as the company of people was great. We were almost at the end of our journey. Next morning, after exploring the surroundings of this place, we continued our journey back to Bengaluru. We decided to ride through Ooty, Bandipur and Mysuru. The forest road started from here and the ride was amazing. Once we reached Mettupalyam, the ascend to Ooty started and this was one of the most epic ride as all of us lined up our bikes in straight line and maneuvered through the curves without breaking the chain and we didn't stop anywhere till Ooty.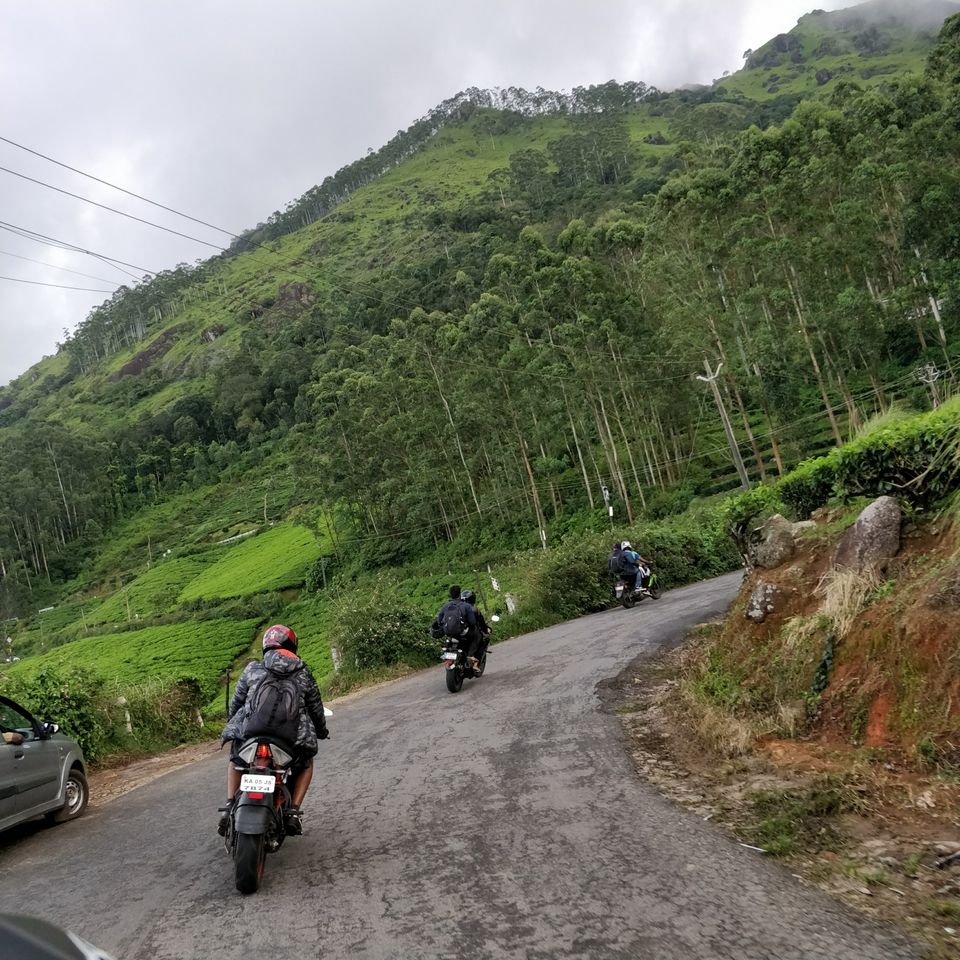 Now we had the challenge of crossing the Bandipur forest before the forest gates were closed. Realizing this, all of us turned into Ghost riders and covered the distance soon enough to cross the Forest. Phew! We were clear to head towards Bengaluru now. After crossing the Bandipur forest, we took some rest as we had been riding continuously. We then rided back to Bengaluru and stopped by Mysuru for a cup of tea and a picture of Mysore Palace ;-)
It was already 1 am and we had not reached Bengaluru yet. We were exhausted and sad that Journey was about to end and we had to bid adieu to each other :( Yet we somehow reached Bengaluru at 5 am and the epic trip came to an end. And Yes!!! We had achieved our target of 2000 kms ride!!! A ride which will be memorable.
PS : This is my first post. Please help me improve with your feedback and suggestions :)