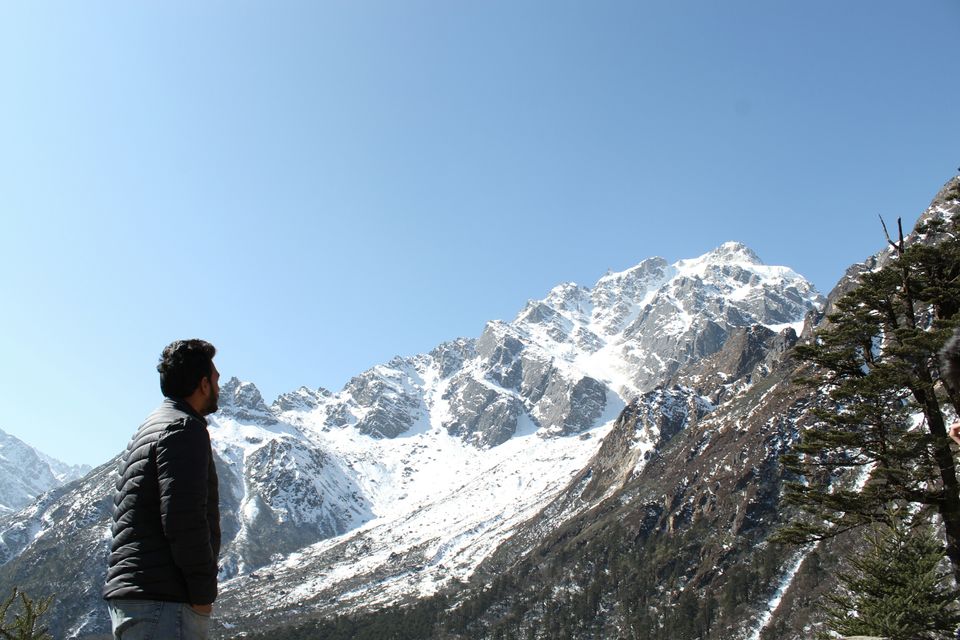 I have always been fascinated by snow clad mountains. The closest I have been before this trip was in 2005 when I had traveled to Manali. There had been a record snowfall in the region of Kashmir and Himachal pradesh and had planned a trip to Gulmarg but destiny had other plans. So at the last moment booked tickets to Bagdogra Airport and had done the hotel bookings.
We had an early morning flight at 7.25 am so we left early. The flight was via Guwahati and was delayed a bit but was good. Having paid extra to book a window seat to get a good view we were initially disappointed due to the presence of clouds. When the flight was closing in towards Guwahati we were able to see vast fields and forests in Assam region which felt good. Finally we landed in Guwahati for our scheduled half an hour break.
The final leg of the flight gave us more than we expected. We were able to tall Himalayan peaks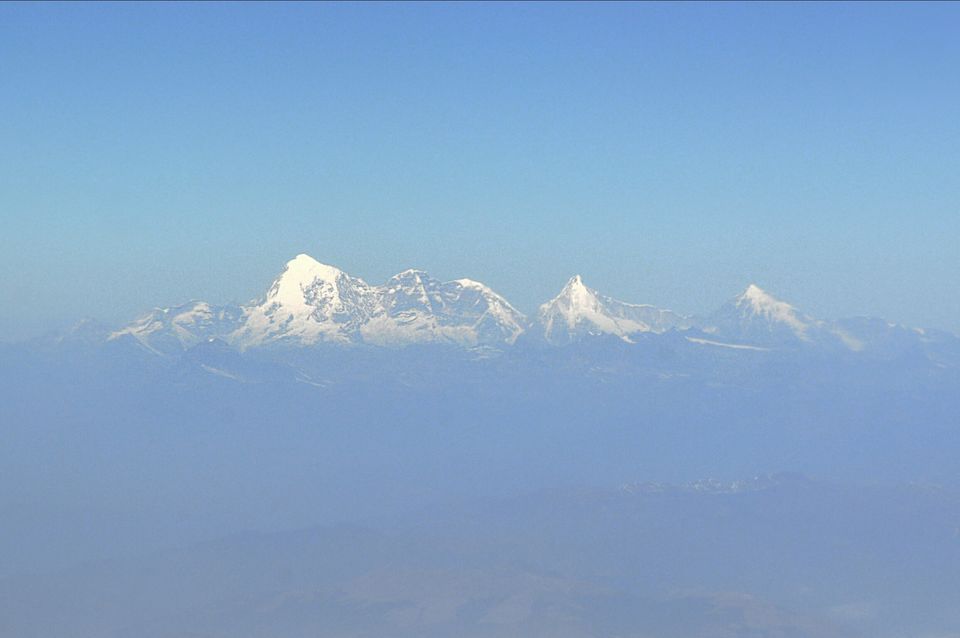 we saw Chomolhari peak in Bhutan from our airplane window. We landed in afternoon and had lunch at the Airport. The airport had pretty much basic facilities as it was just an airforce base earlier and now permission was given to Civilian Aircrafts for operations.
We booked a prepaid cab and headed for Gangtok. Initially the roads and surroundings were bad but after the military area had crossed it was greenery all along the way on both sides of the road. We were joined by the beautiful river Teesta on the way, it was light green in colour and looked serene. It was indication of the beauty we were going to experience.
We reached Gangtok late in the evening and after having dinner we started our preparations for the next day.
We had planned local sight seeing for the day and so booked a local cab accordingly. We started our day with Rumtek Monastery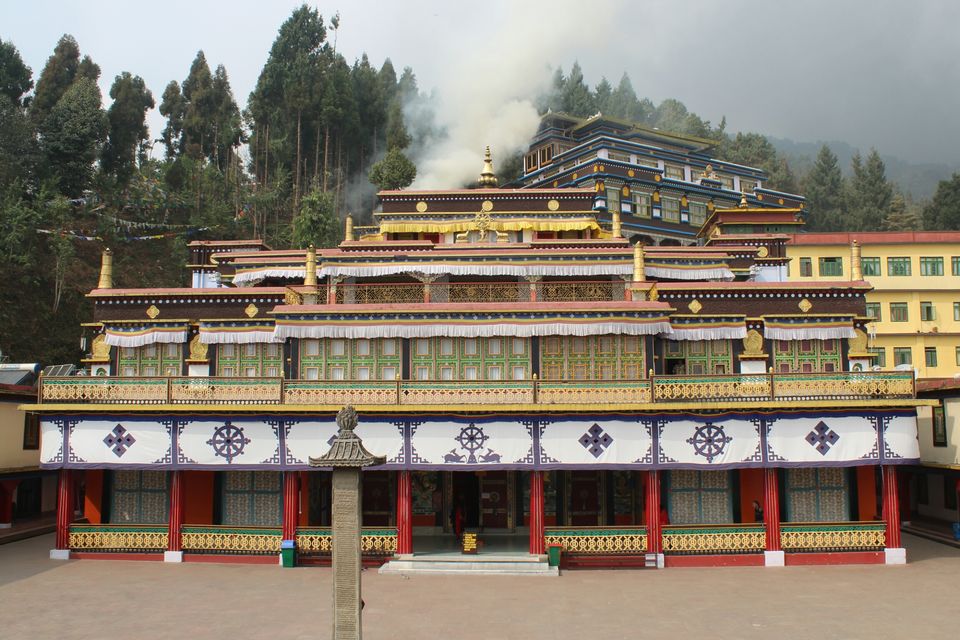 For the first time on our trip we experienced breathing problems while reaching the Monastery. Our cab had to be parked in the car park below and we had to climb a fair bit so experienced a bit of breathing problems though it was not on such a high altitude. The walk was worth it as it was beautiful. We had visited the stupa as well which had the Buddhist relics. Alongside the Monastery there was an institution called as Nalanda Institute for Buddhist studies and also there were many beautiful flowers planted around the institute.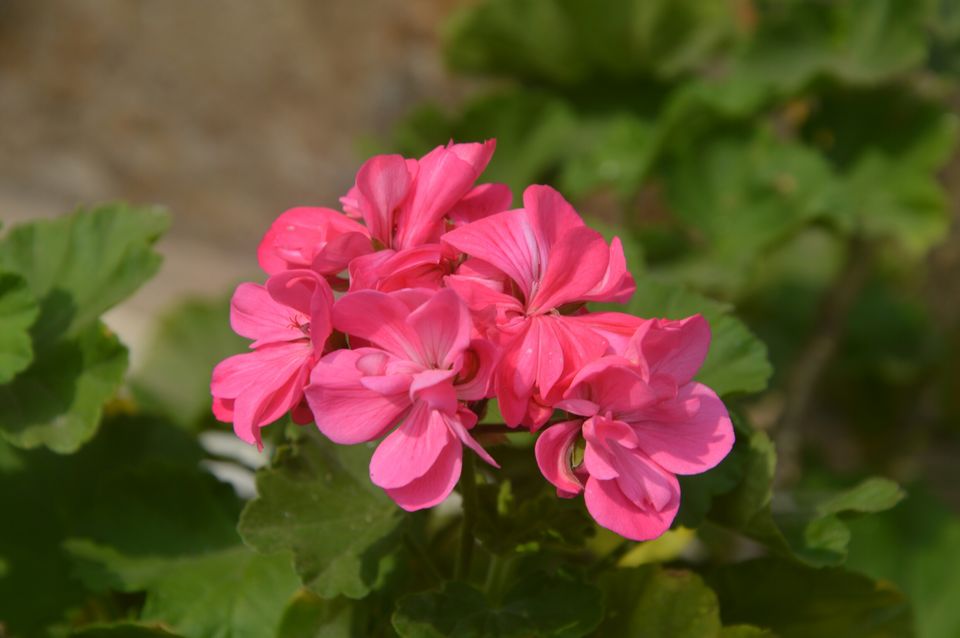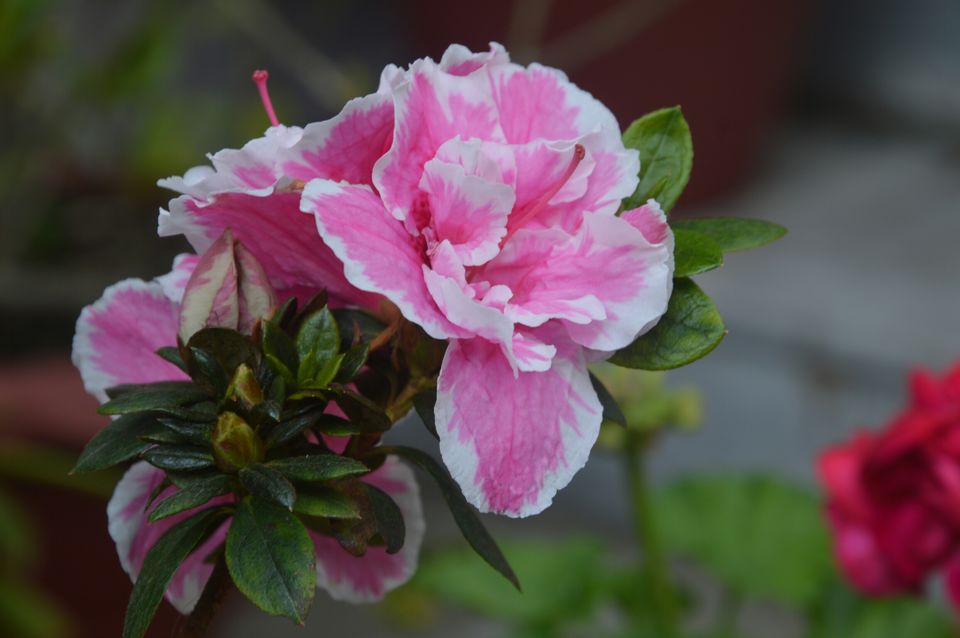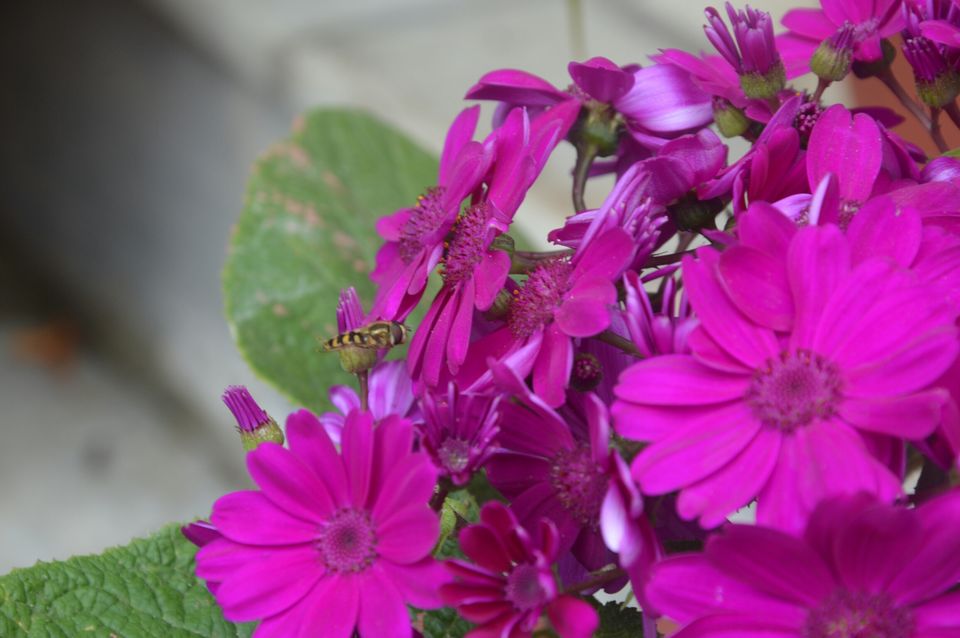 It was sheer bad luck that the weather condition was like this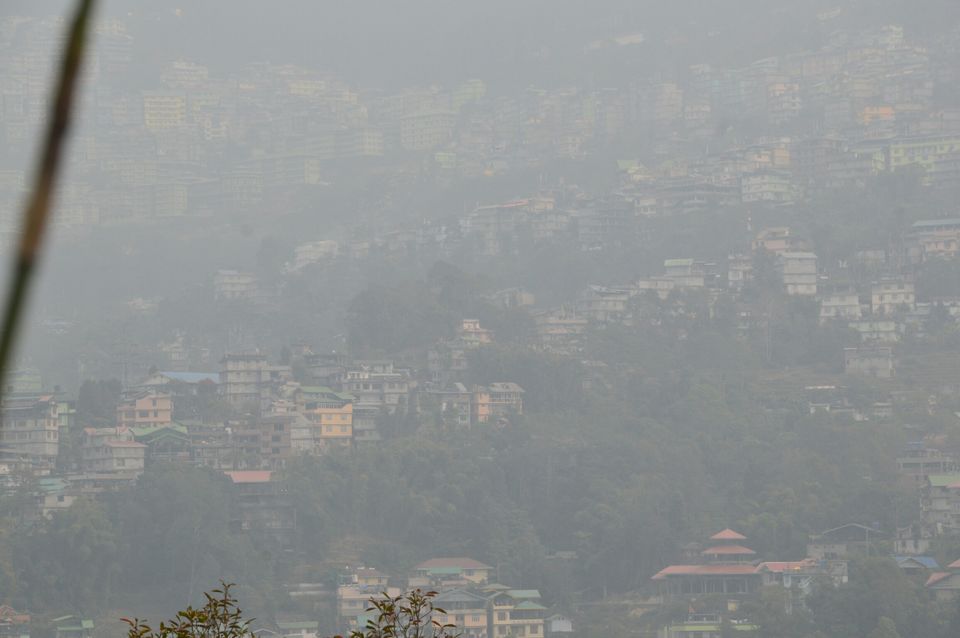 hence we headed straight to the Zoo instead of visiting any view points as it was pointless due to low visibility.
I am not excited about Zoos but I was excited about the Himalayan Zoo at Gangtok as it gave opportunity to view the rare and endangered Red Panda and Snow Leopard. The Zoo was nice and well maintained we had to walk a bit but it was alright. We visited various enclosures and clicked pictures but the best part was the Red Panda. It was playful and wandering around still we managed to get a few clicks and on the other hand snow Leopard seemed to look lazy and slept most of time.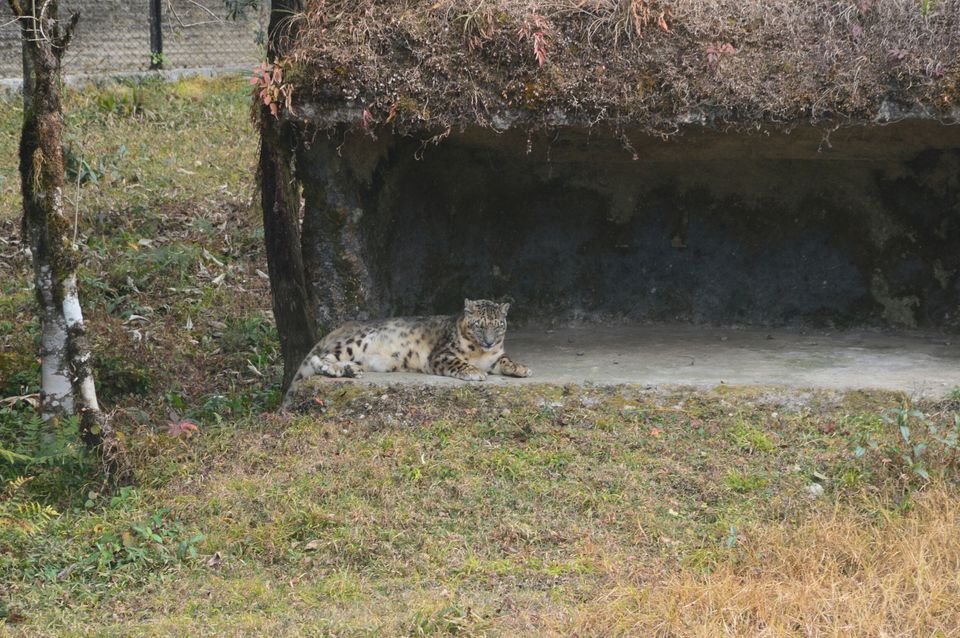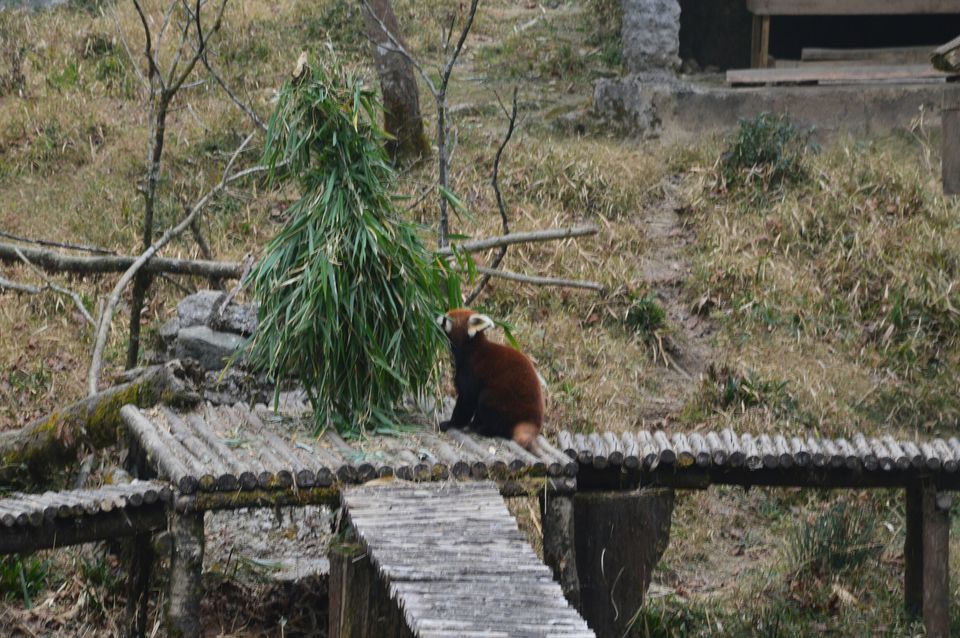 Then we had some tasty momos on the way and headed to Tashi view point and clicked a few pictures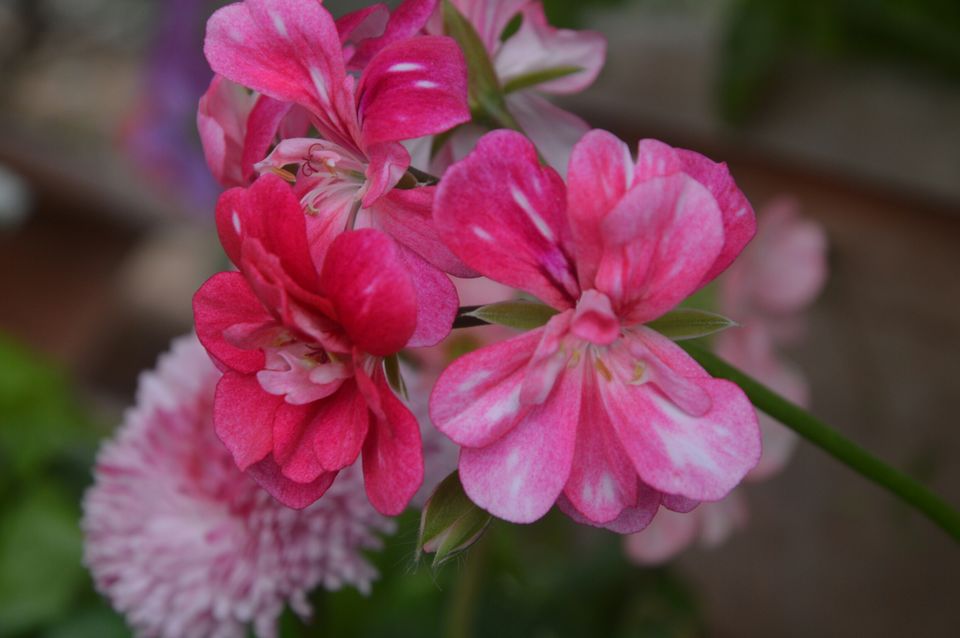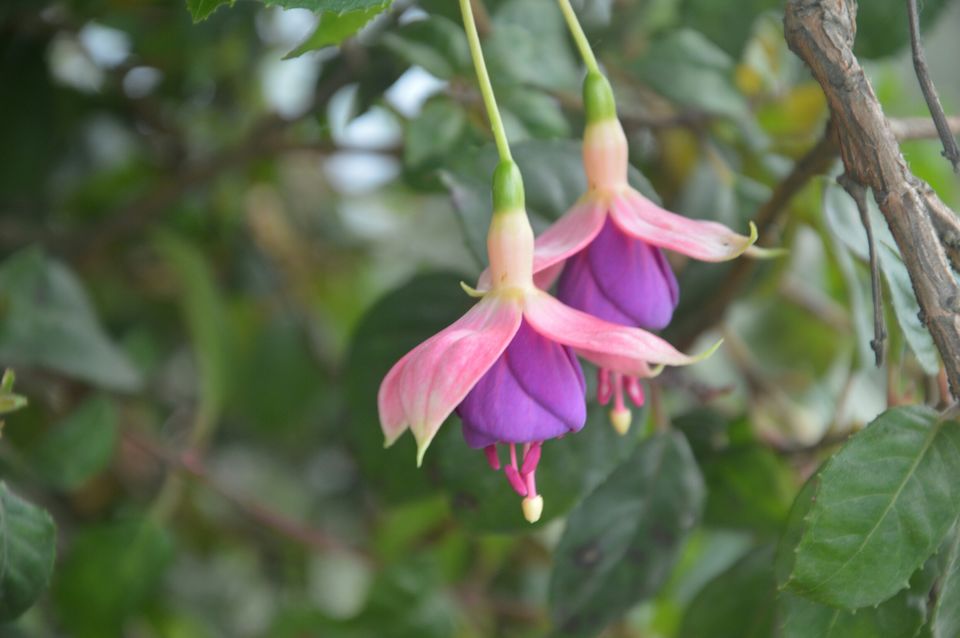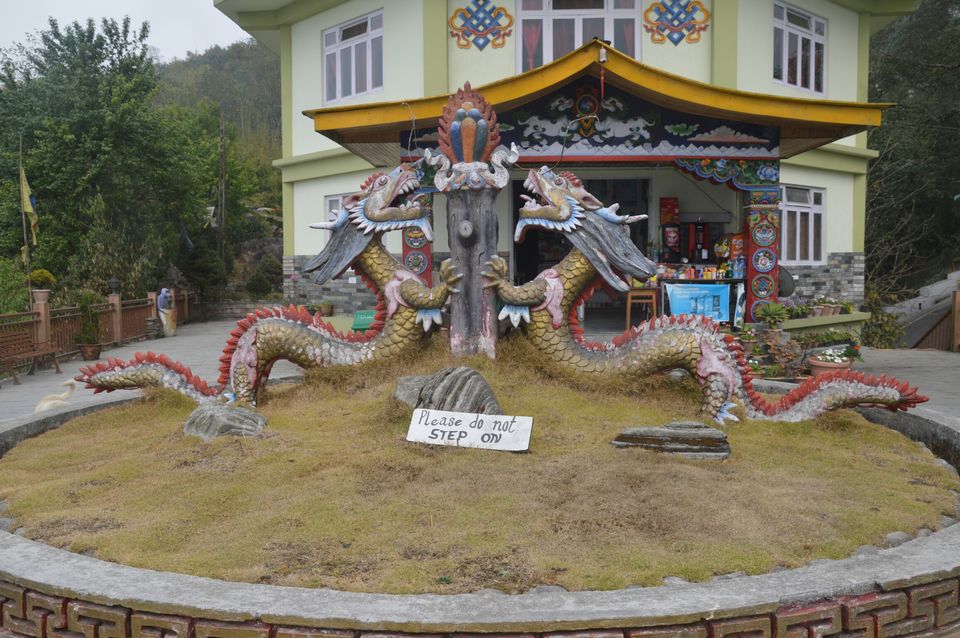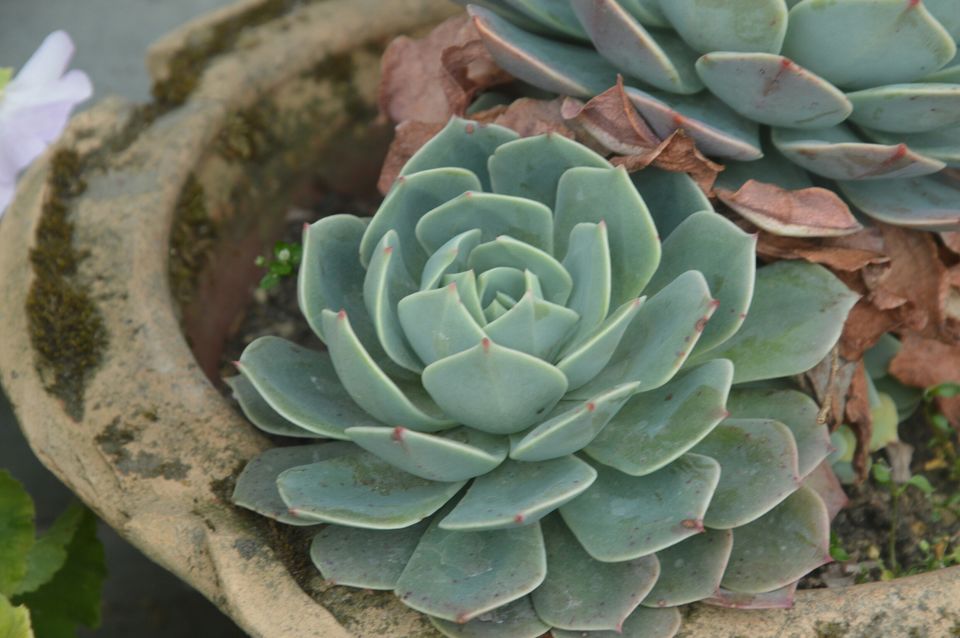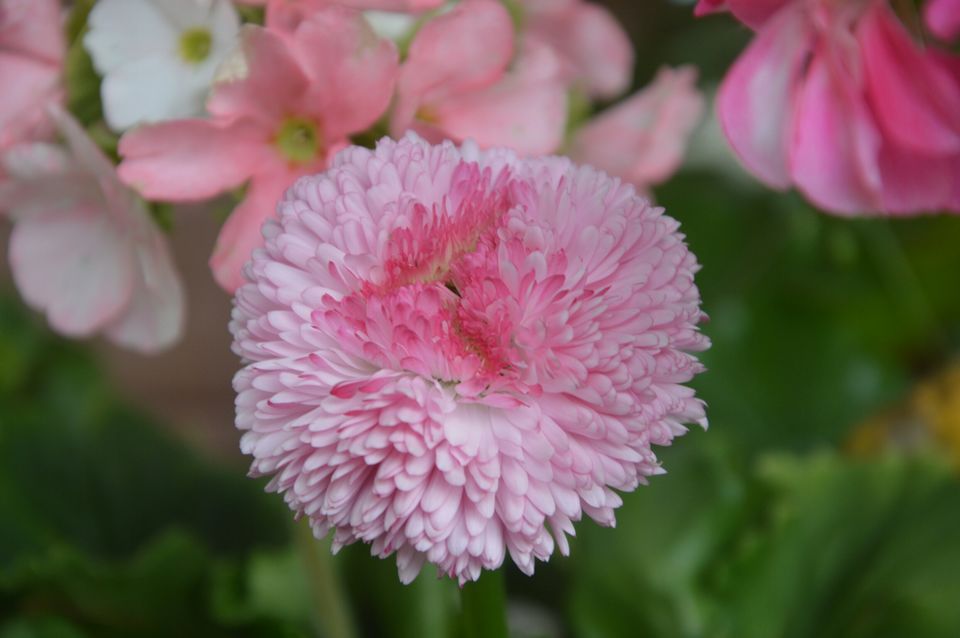 The visibility had not improved so we headed to MG road to conclude our Journey for the day.
We headed to Lachung early in the morning as it was a long journey. The permit work was done by the tourist company so we didn't have to do anything. We encountered some beautiful waterfalls and valleys along the dangerous roads. It's very difficult to make good roads on high altitudes but it's not impossible as China has done it. The journey was scenic and clicked a lot of pictures along the way.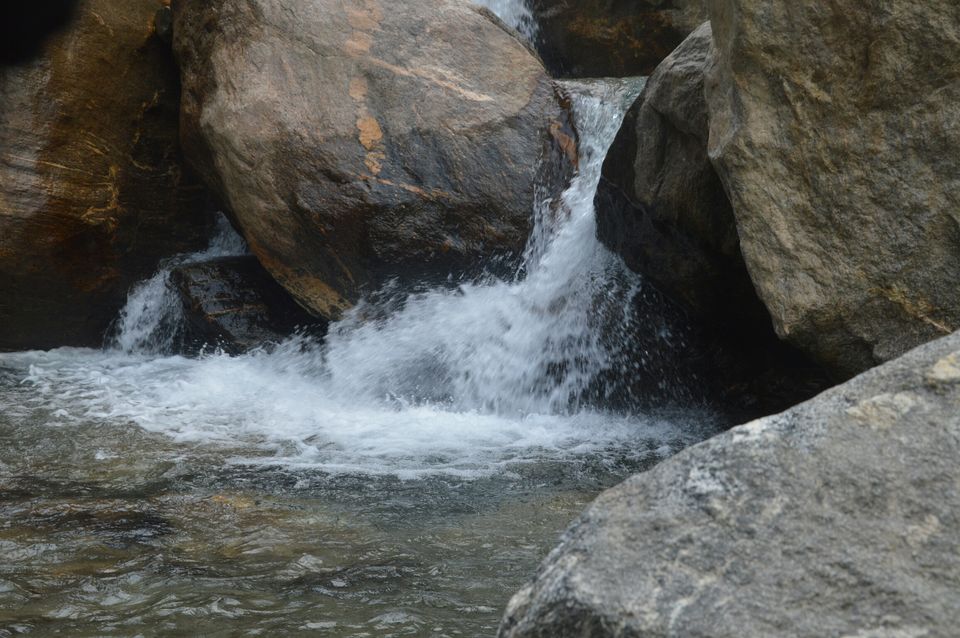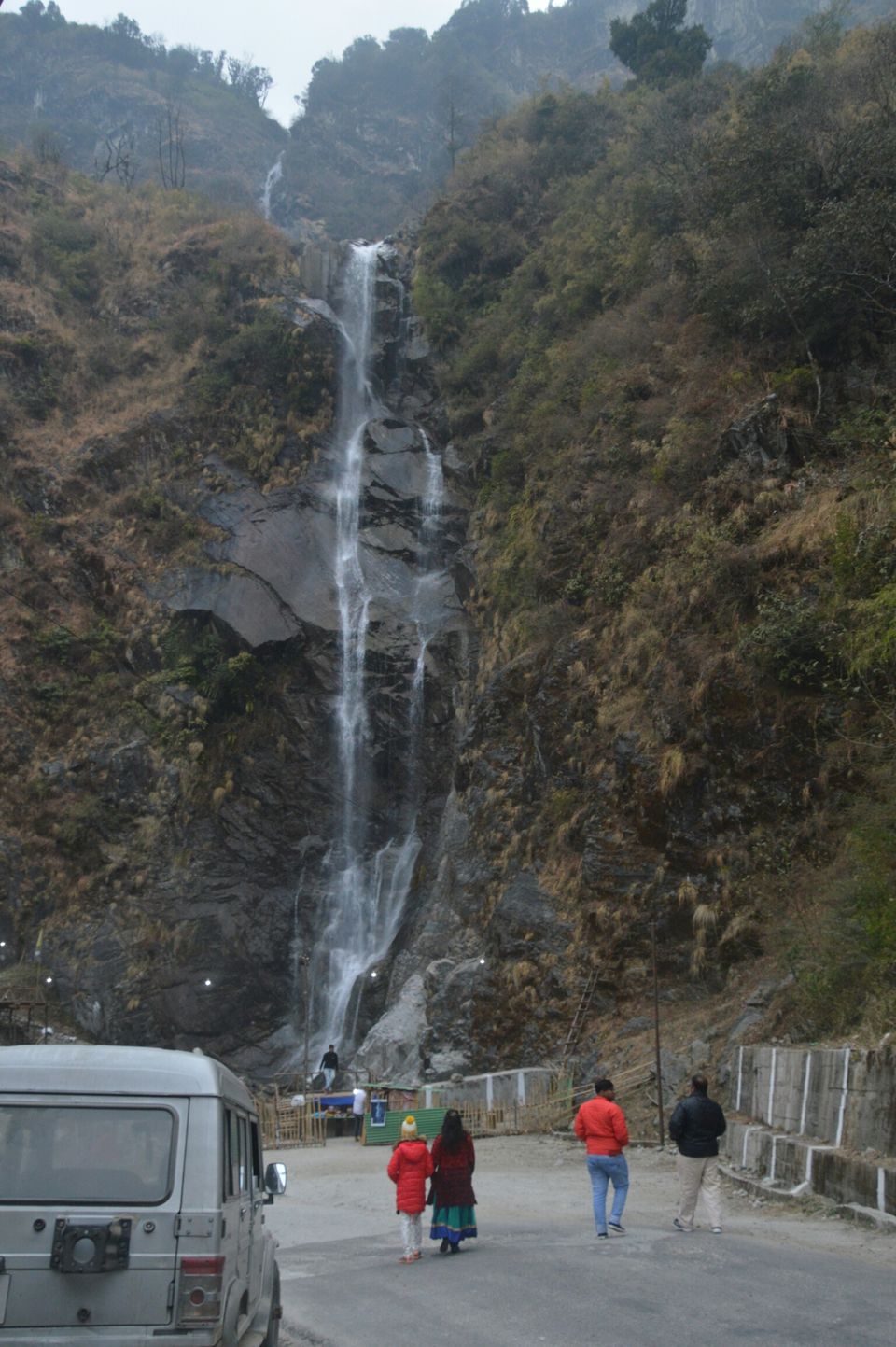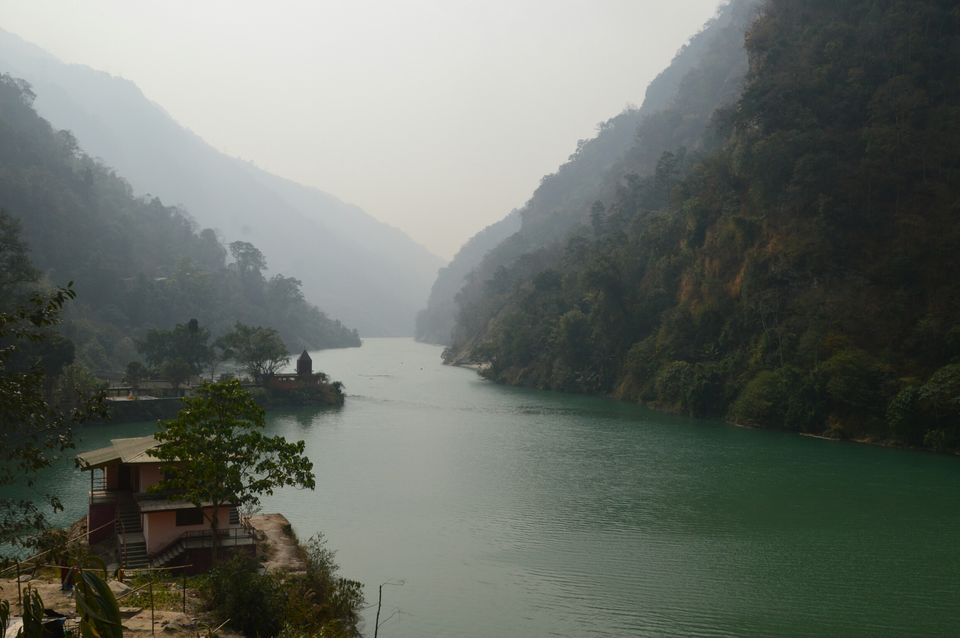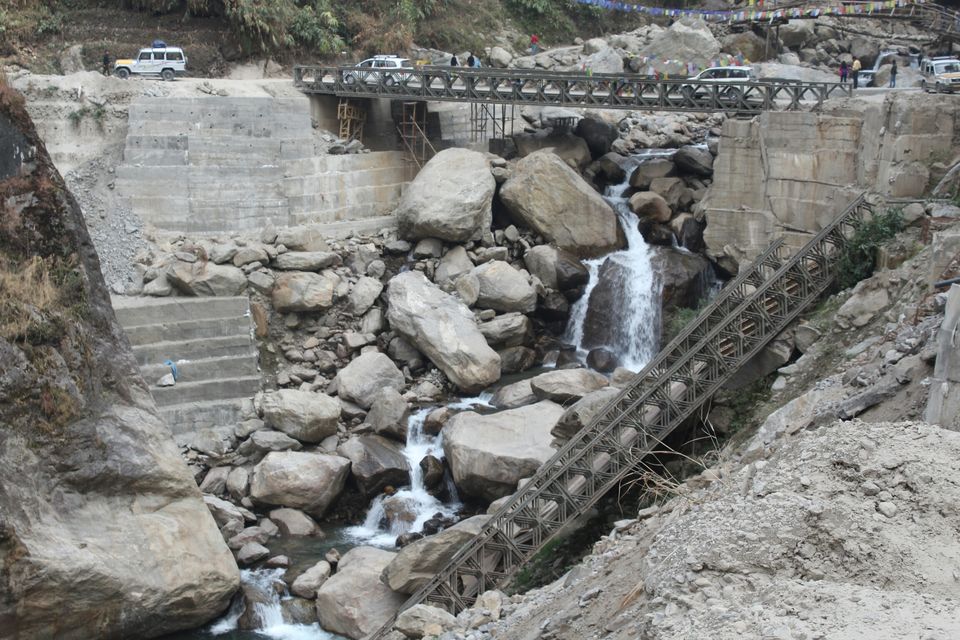 Didn't have lunch that day instead had bought oranges from a girl who was selling it at a bridge on the way. I have never tasted such sweet oranges in my life and they were fresh too, the girl said that they had plucked them in the same morning. At early evening hunger got the better of us hence ate delicious Maggi and Momos at a small joint on the way. Finally we reached Lachung in the evening and we were surrounded by snow clad mountains around us.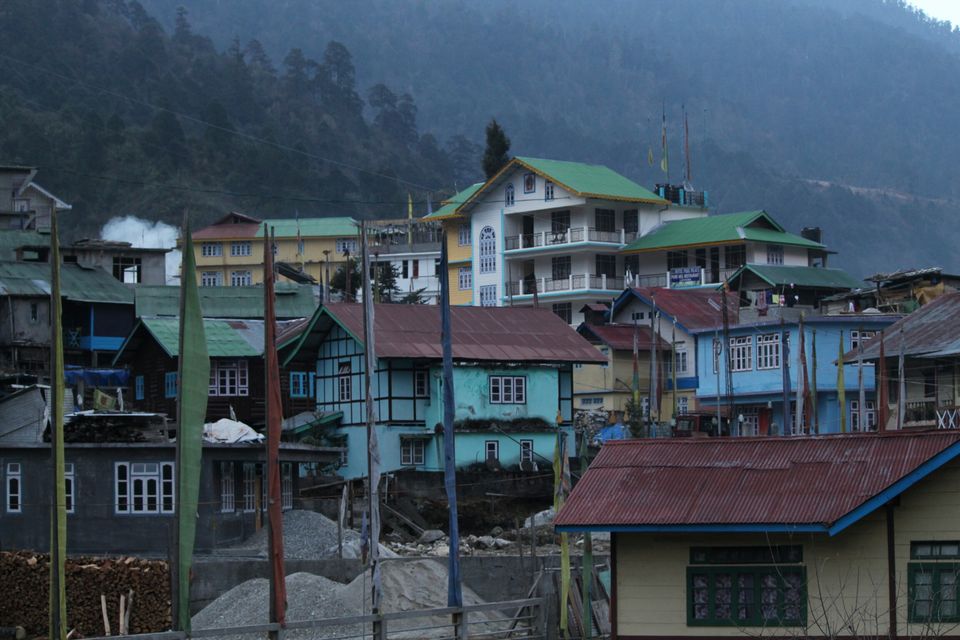 After a cold night we woke up to one of the most beautiful sunrise we have ever witnessed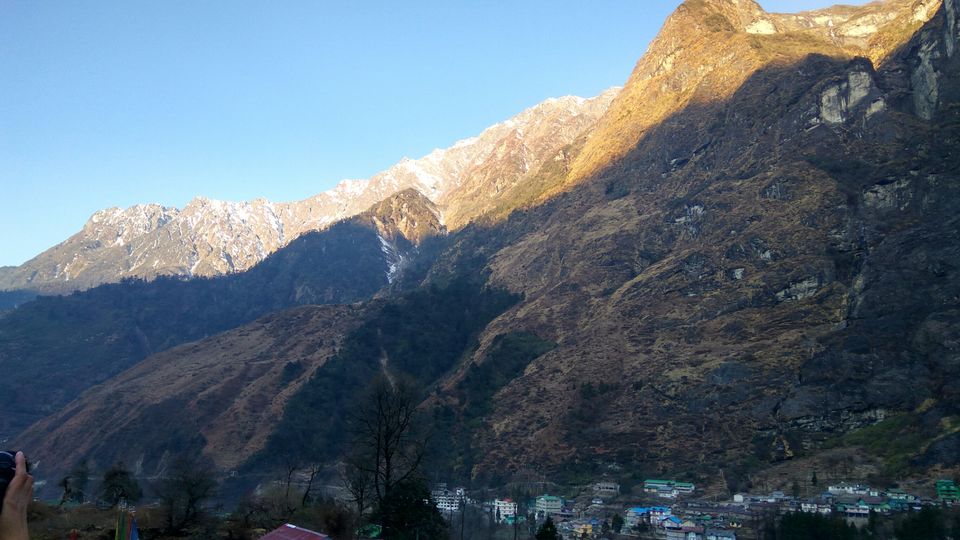 the early morning rays falling on the snow clad mountains was quite a sight. After getting ready and clicking a few pictures we headed to Yumthang Valley. The route was getting more beautiful as we marched ahead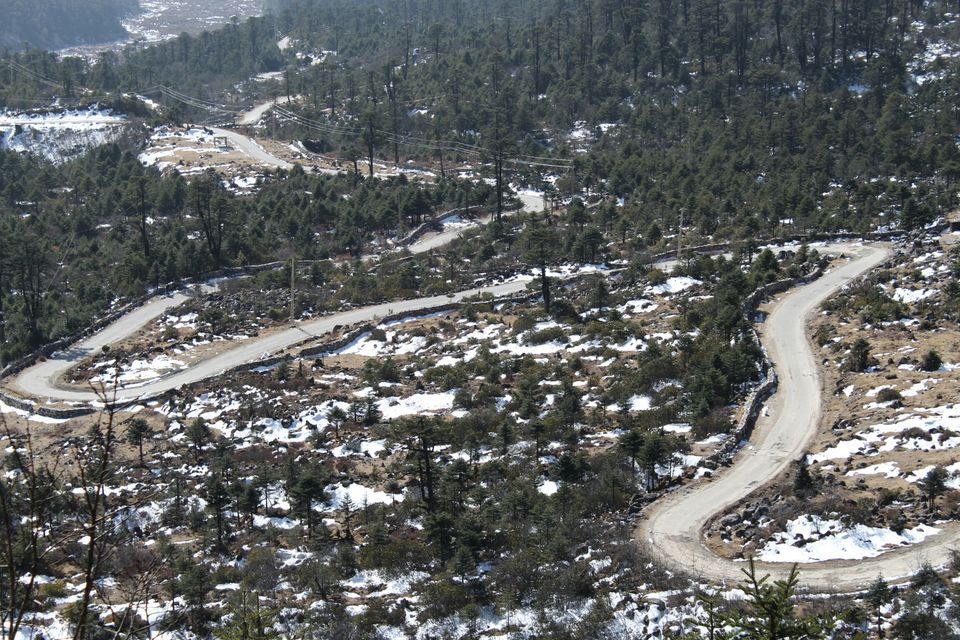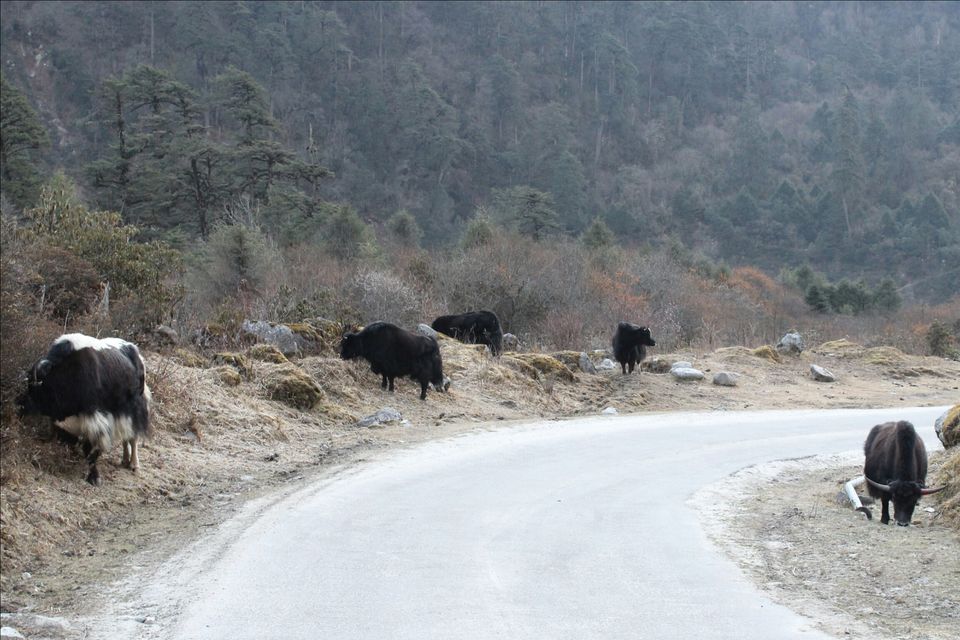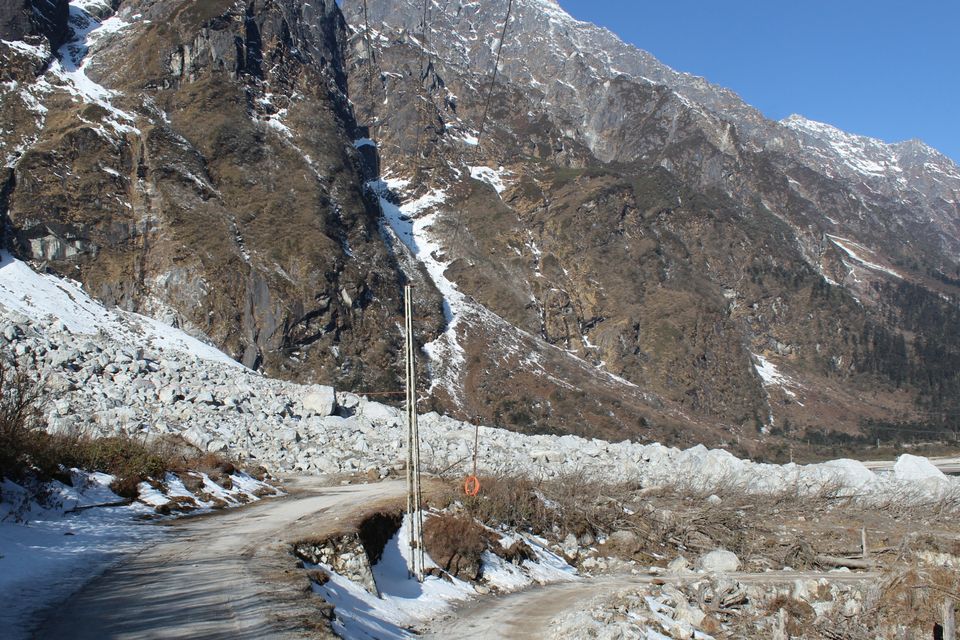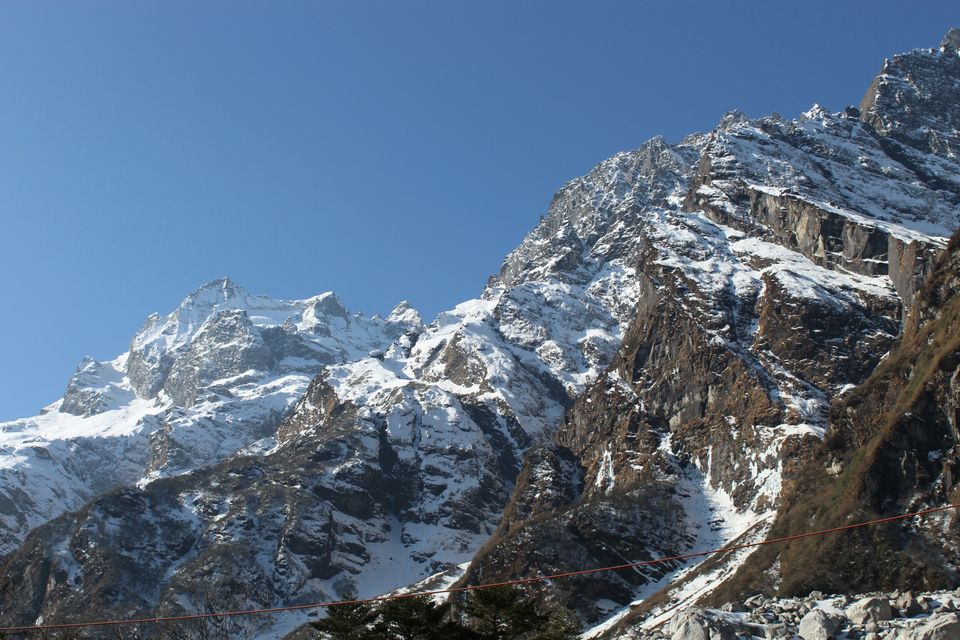 After reaching Yumthang we had Maggi and Momos and had tea. After some time we headed to Zero Point and it was getting more and beautiful.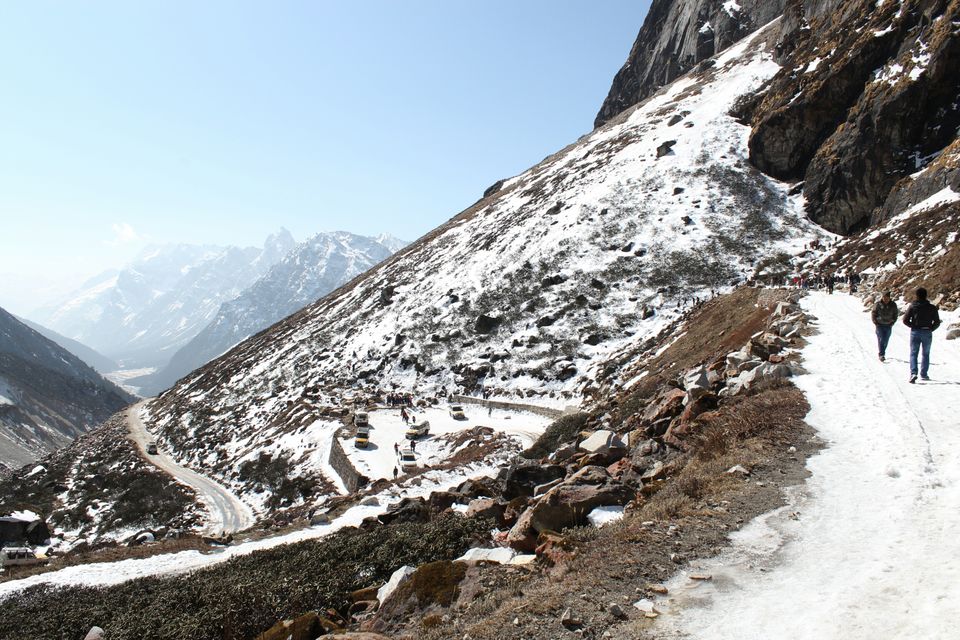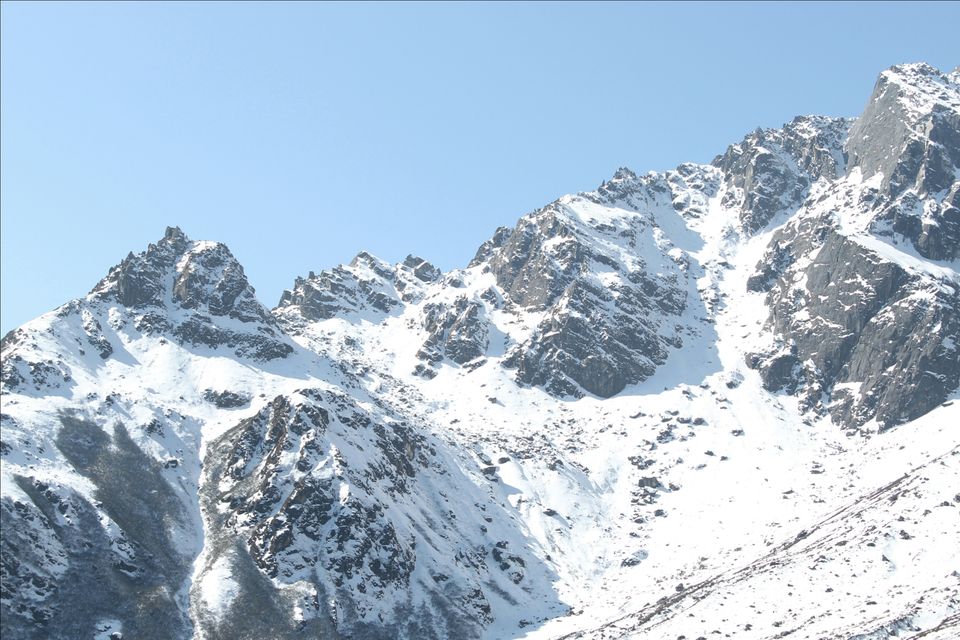 We couldn't get to Zero Point as there was too much ice on the road and it was impossible for the vehicle to reach there so decided to hang out at the last accessible place. Still we reached an altitude of 14,500 feet and could feel the effect.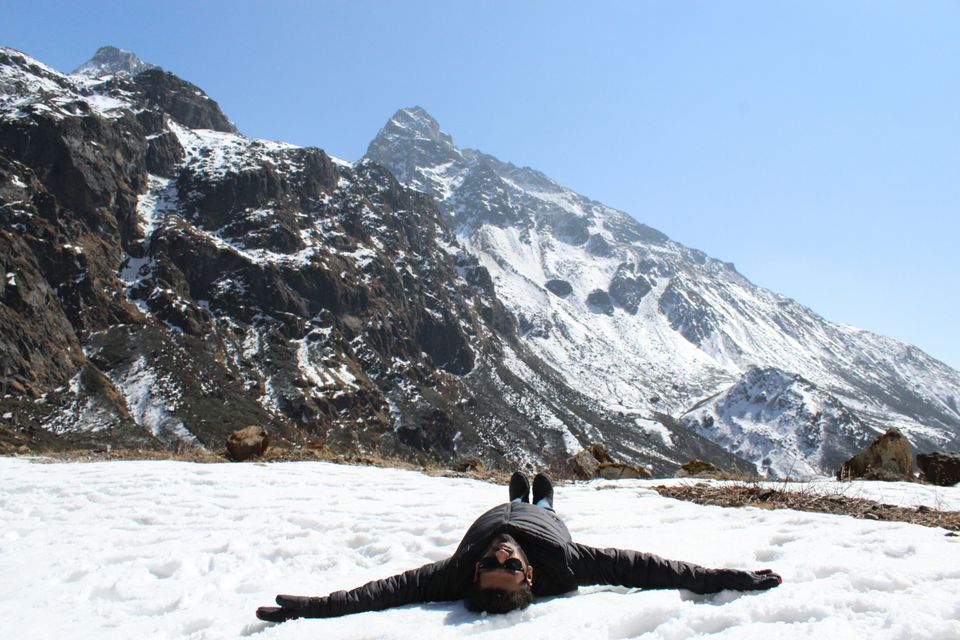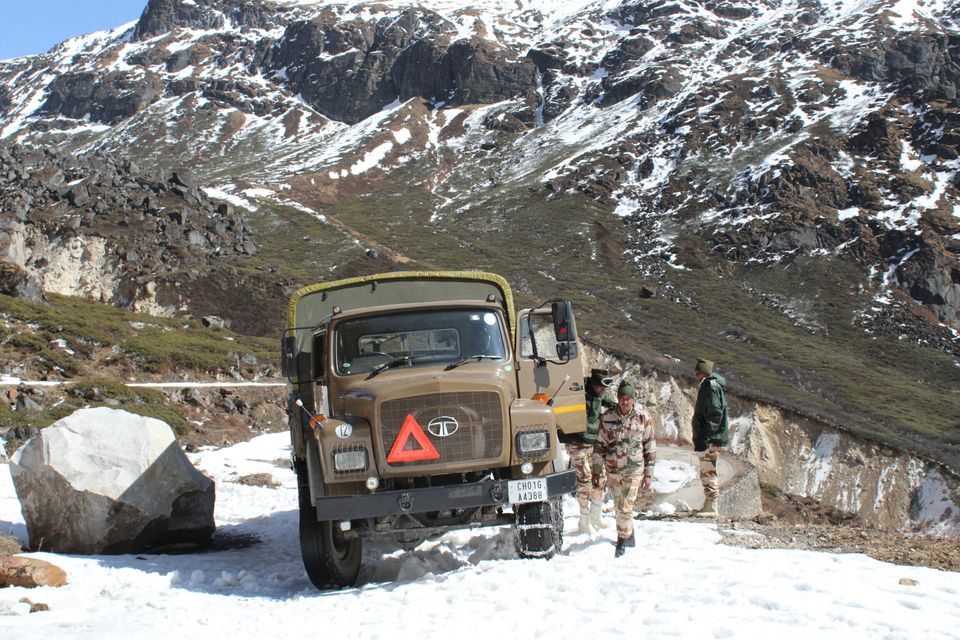 An army truck was trapped there in snow and our Driver had helped them to get out of there.
After spending some time there and playing in snow our driver had said that we should go down as the weather would get bad. We could see bad weather approaching from a distance hence we got down from there. Clicked a few more pictures down at Yumthang Valley.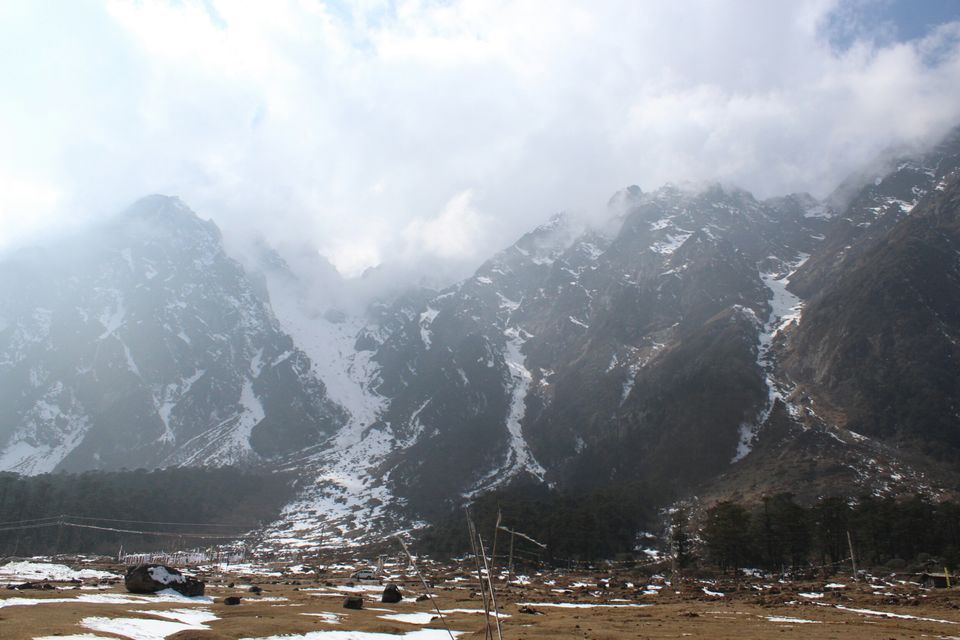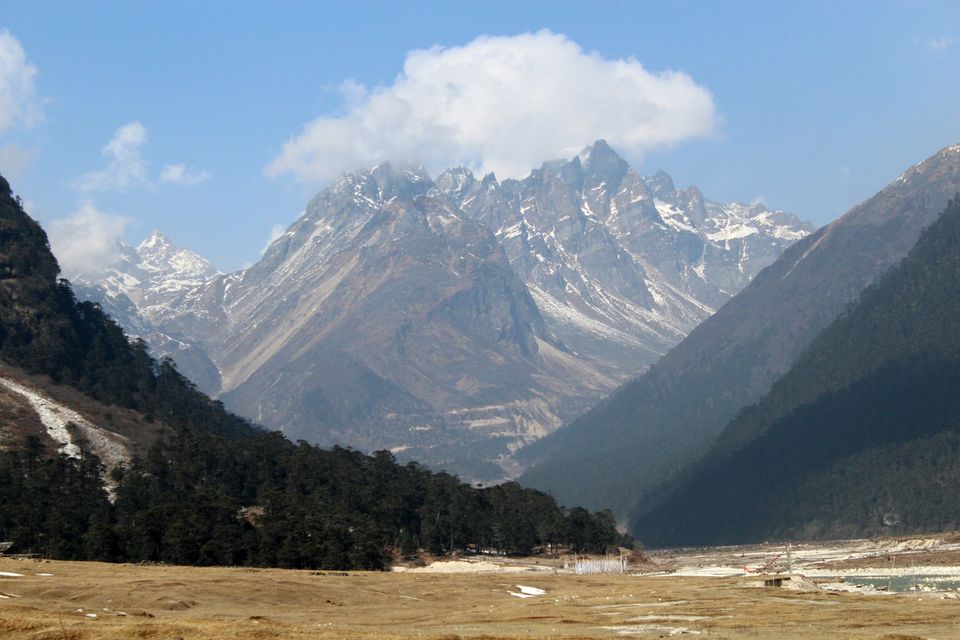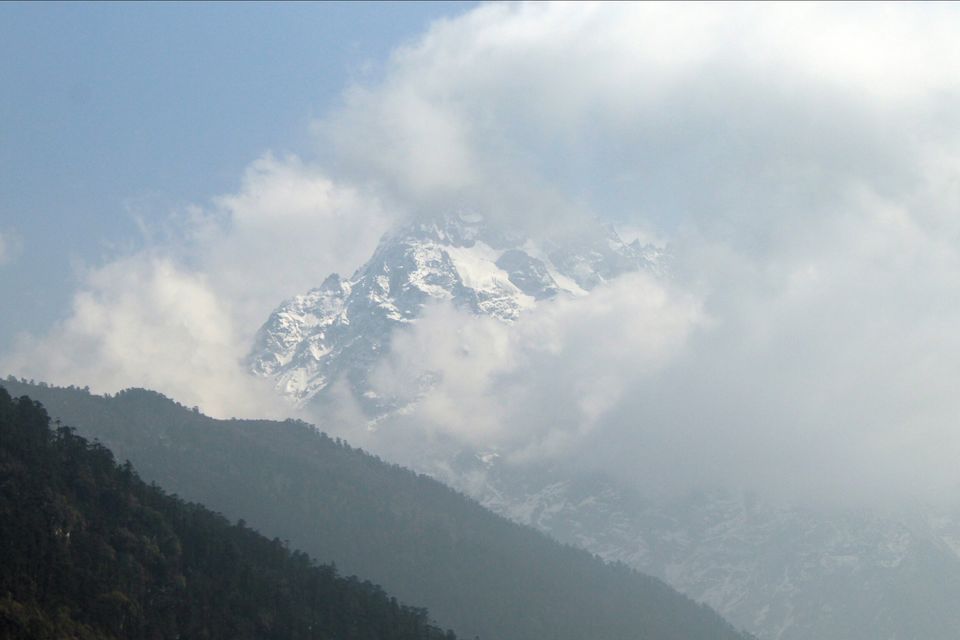 While getting down we were feeling some dizziness inside our heads and fainted for a few seconds. Getting down from high altitude has its effects on the body. we had lunch at the hotel and left for Gangtok in the afternoon. We encountered a road block where maintenance work was carried out. A lot of time went there waiting and doing nothing in the cab. As a result reached Gangtok really late in night. Our driver was really good and friendly so we had asked him and the travel company to come next day for Nathula pass.
Once again woke up and left early in the morning, it was necessary this time as a limited number of vehicles are allowed at Nathula. We were briefed about the clopping system where we are going to share vehicles with another travellers. This is an arrangement done by the travel companies my mutual agreement since the restrictions on the number of vehicles allowed is very strict and sometimes people have to be returned back without seeing the Nathula pass.
The roads towards Nathula were in much better condition than the roads in North Sikkim. There was heavy presence of the armed forces all along the way, there were many camps belonging to armed forces and photography was strictly prohibited at certain places. While travelling through the beautiful mountains we reached Changu Lake or more popularly known as Tsomgo lake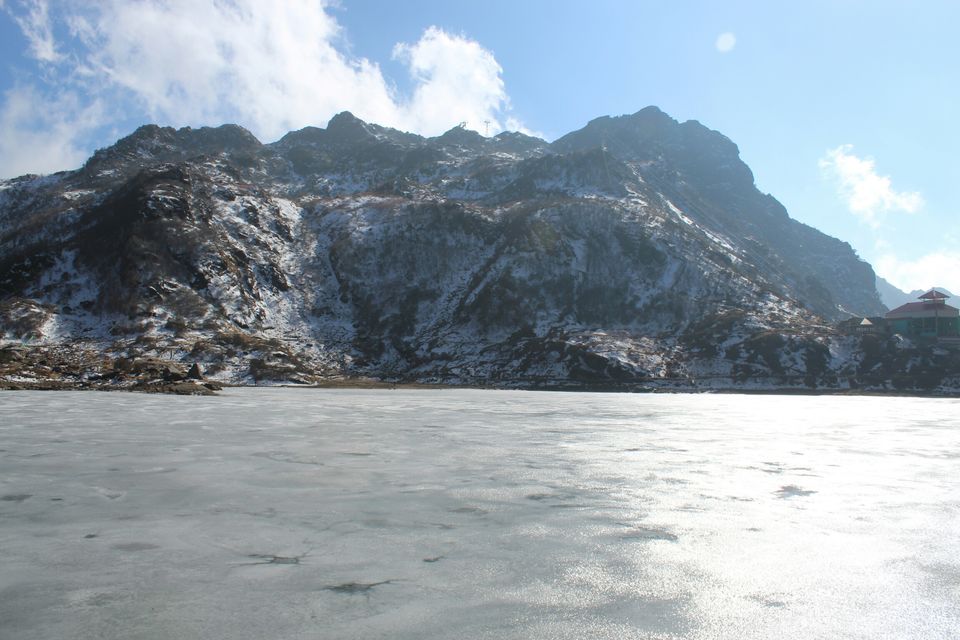 It was frozen and it was beautiful, I have never seen frozen lakes in my life. We didn't spend much time there as we had to head towards Nathula as early as possible and Changu Lake can be viewed in return journey. So without wasting much time we headed towards Nathula.
We had stopped at a small distance from Nathula to change vehicles as per the clopping system. We were supposed to take a different vehicle and share it with a middle aged couple. They had not arrived yet so we had to wait there. We were at an altitude of somewhere between 13500-14000 feet and were subjected to heavy winds and cold. We could see an army camp down the valley and it was at a distance of about 1-1.5 kms away from us. They were doing their routine practice and we could hear gun shots clearly despite of such a distance. Movies clearly don't get the sound of gun shots right.
Finally the vehicle arrived and we headed towards Nathula pass. On arrival an army officer told us to leave mobiles and cameras back in the vehicle. So we left them in our bags and headed towards the stairs. It was really windy and at the same time the sun was really harsh. The weather was cold and at the same time my face was burning due to sunlight. Nature can be weird at high altitudes.
We had to climb a few stairs, there is a huge difference between climbing stairs at sea level and climbing stairs at 14,500 feet. A lot of people were facing difficulties in climbing stairs and some of them felt sick and had to sit down and take rest. I felt a bit of discomfort in breathing while climbing stairs but it was not much of a problem. On reaching the top we saw a wire fencing which was the international border between India and China and there was a Chinese building next to it. There were Indian soldiers near the fence talking to people and controlling the crowd from going to the other side. I could see the same Chomolhari peak which I had viewed from plane. Had a brief chat with a soldier and he said that the today's weather today has improved a lot and it's much better than the past eight days, the weather which is harsh for us is pleasant for the soldiers. I wonder what kind of weather would be harsh and it's unimaginable how they must be facing it and still perform their duties. We shook hands with them and thanked them for protecting us.
There was a canteen and we ate some momos and had tea thereafter headed back towards our vehicle and clicked whatever pictures we could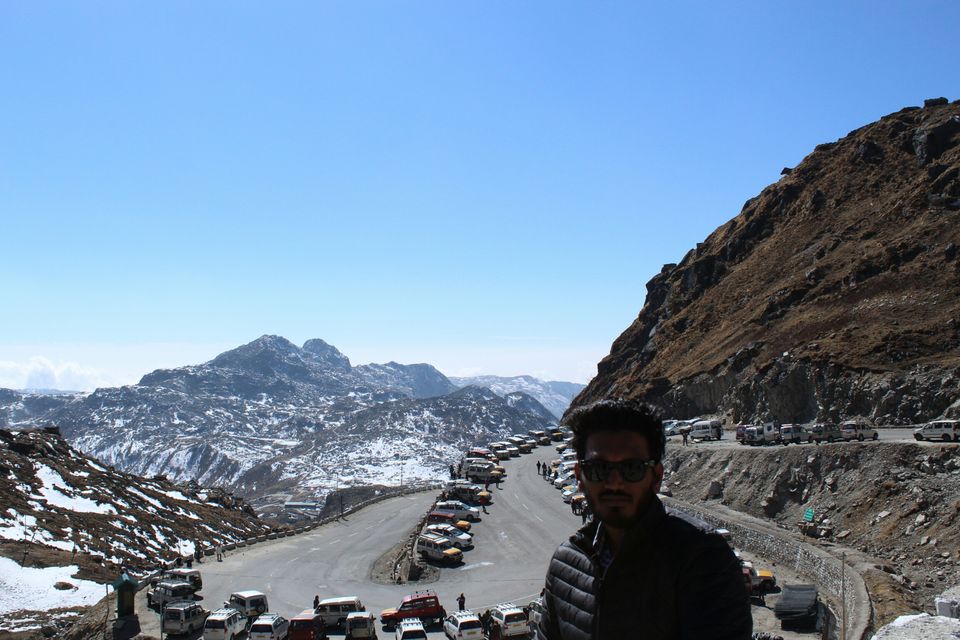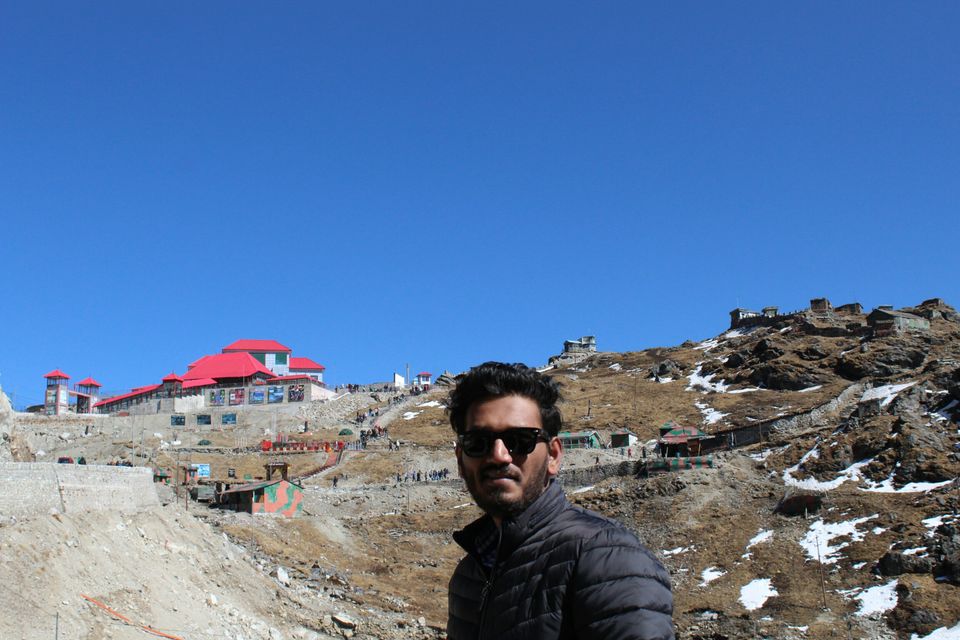 We then got back to our original driver and headed straight for Baba Mandir. It was nearby so it didn't take long to get there.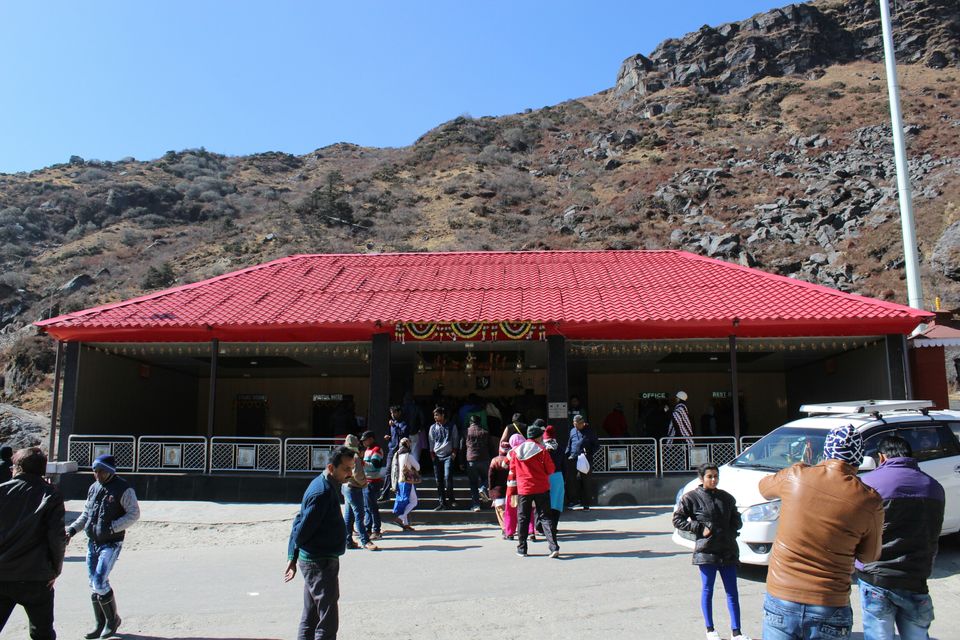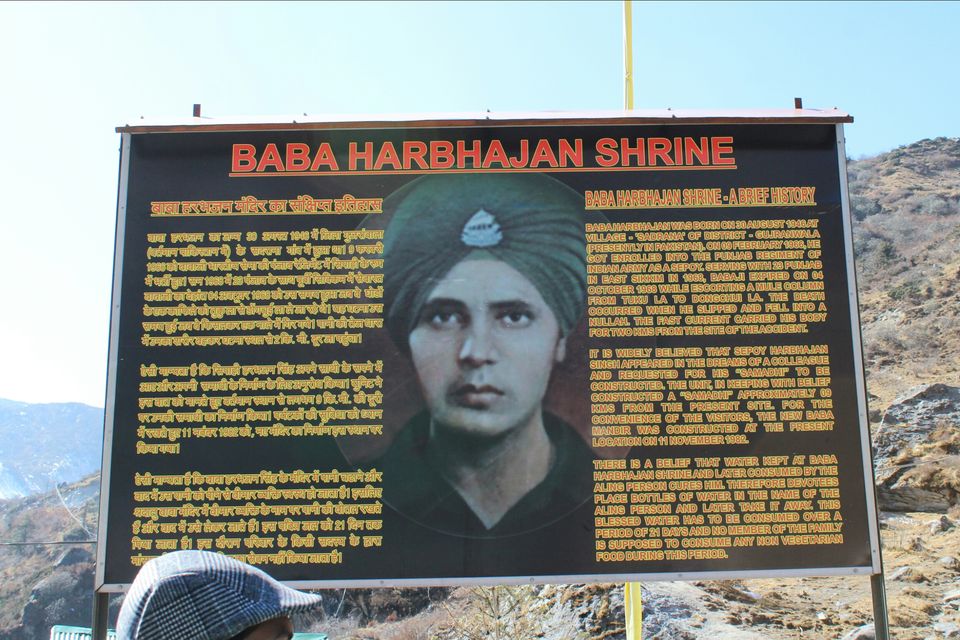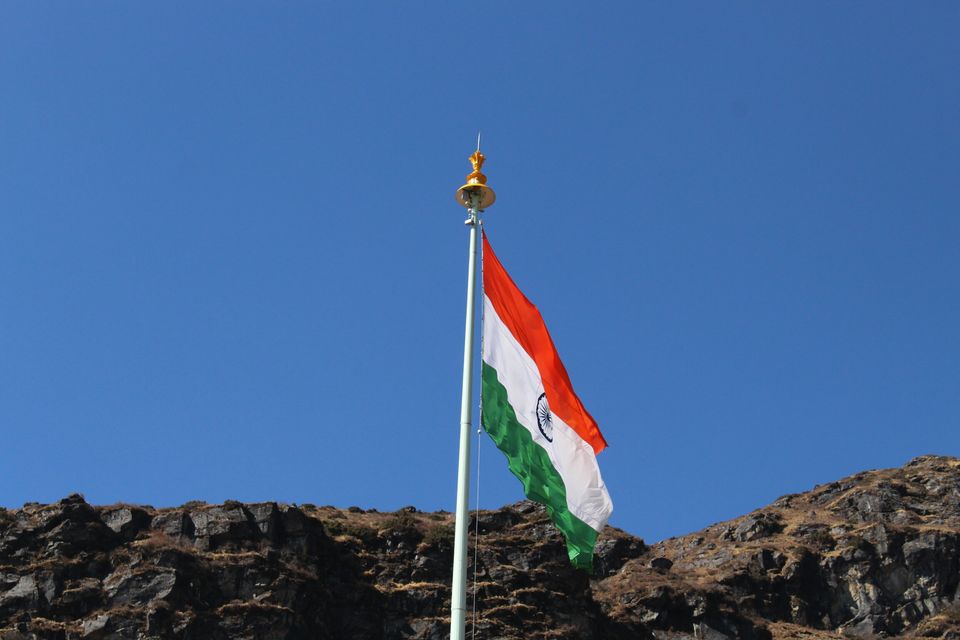 It's a shrine build in the memory of Baba Harbhajan Singh, a soldier in the Indian Army. The soldiers believe that Baba's soul protects them from the harsh conditions at Nathula Pass hence every soldier pays respect to the shrine. We paid our respects and purchased the certificate of visit to Nathula Pass. After clicking some pictures we headed back to Tsomgo Lake.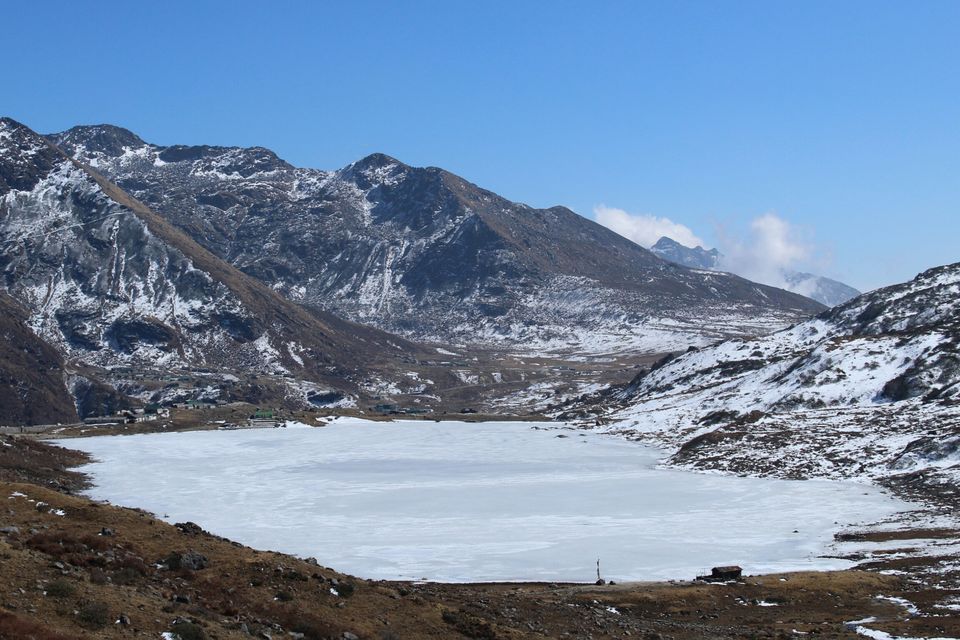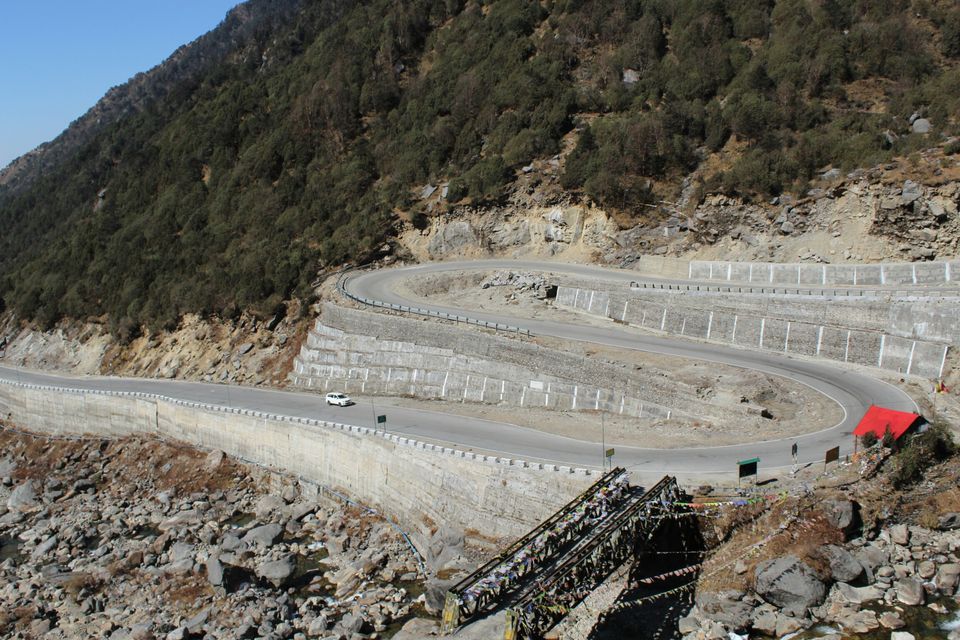 Upon reaching Tsomgo Lake we saw that a lot of ice had melted due to the sunshine. We couldn't step on the ice as the lake was considered sacred by the locals. Hence we just clicked pictures by standing near the fence.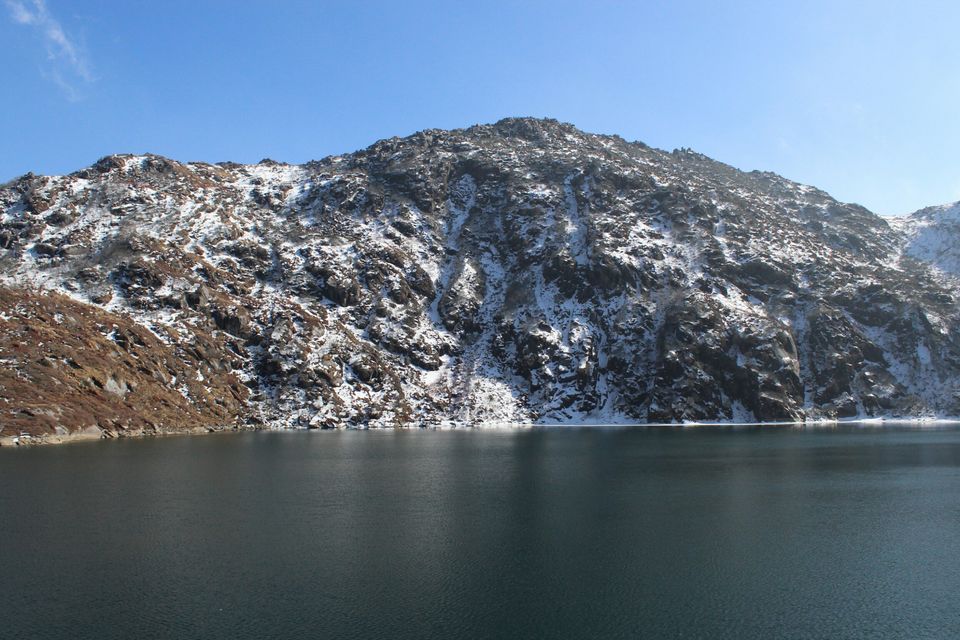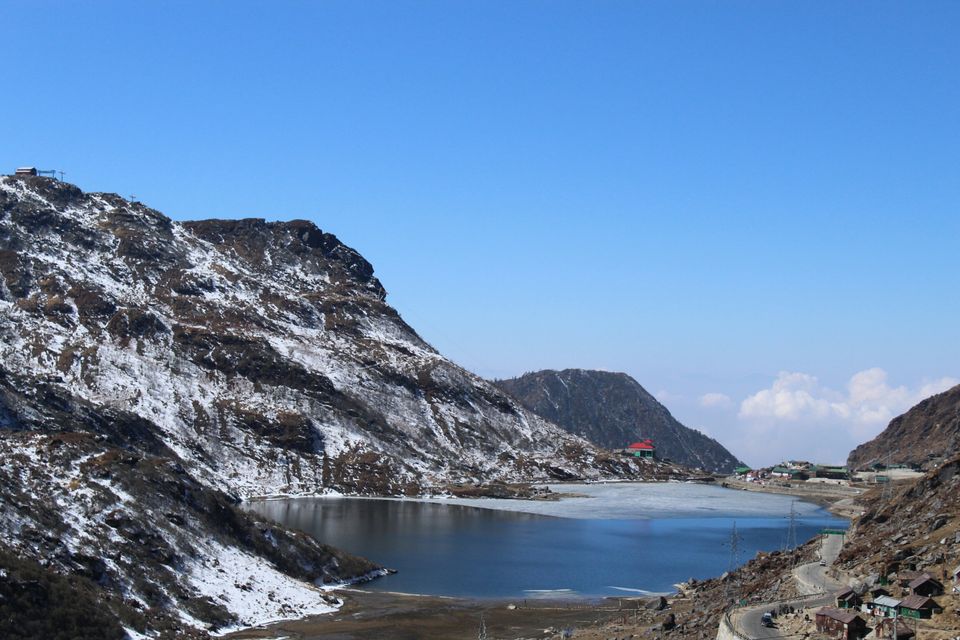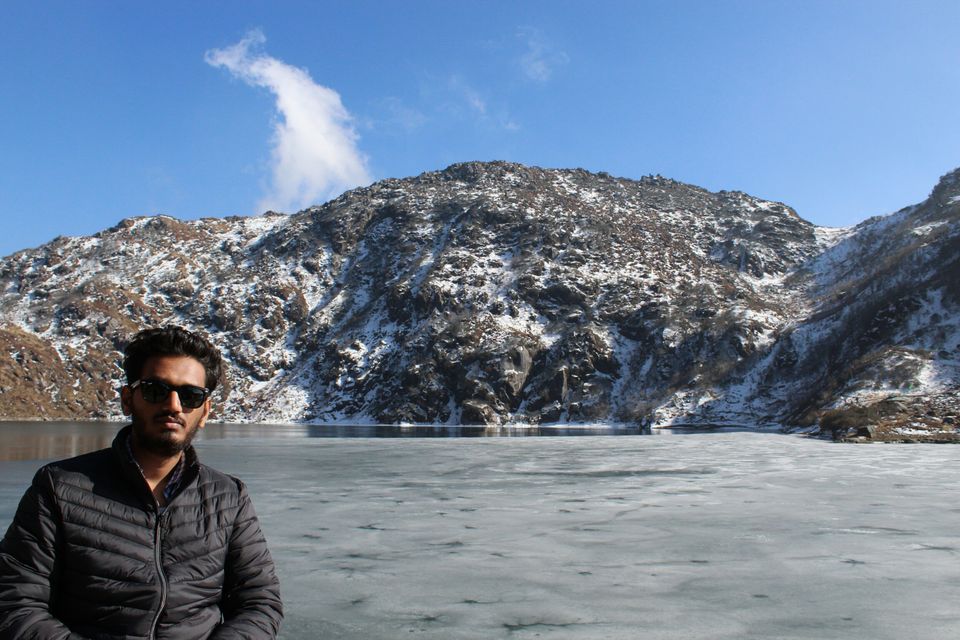 We were done for the day and headed back to Gangtok. We reached Gangtok in the afternoon and had to say goodbye to our driver Lakpa. We had rest in our hotel room and headed for MG Road in the evening.
After hanging and chilling out at MG Road we ate at Baker's Cafe, it's the best place to eat in Gangtok. It has a really nice ambience and the prices are reasonable too.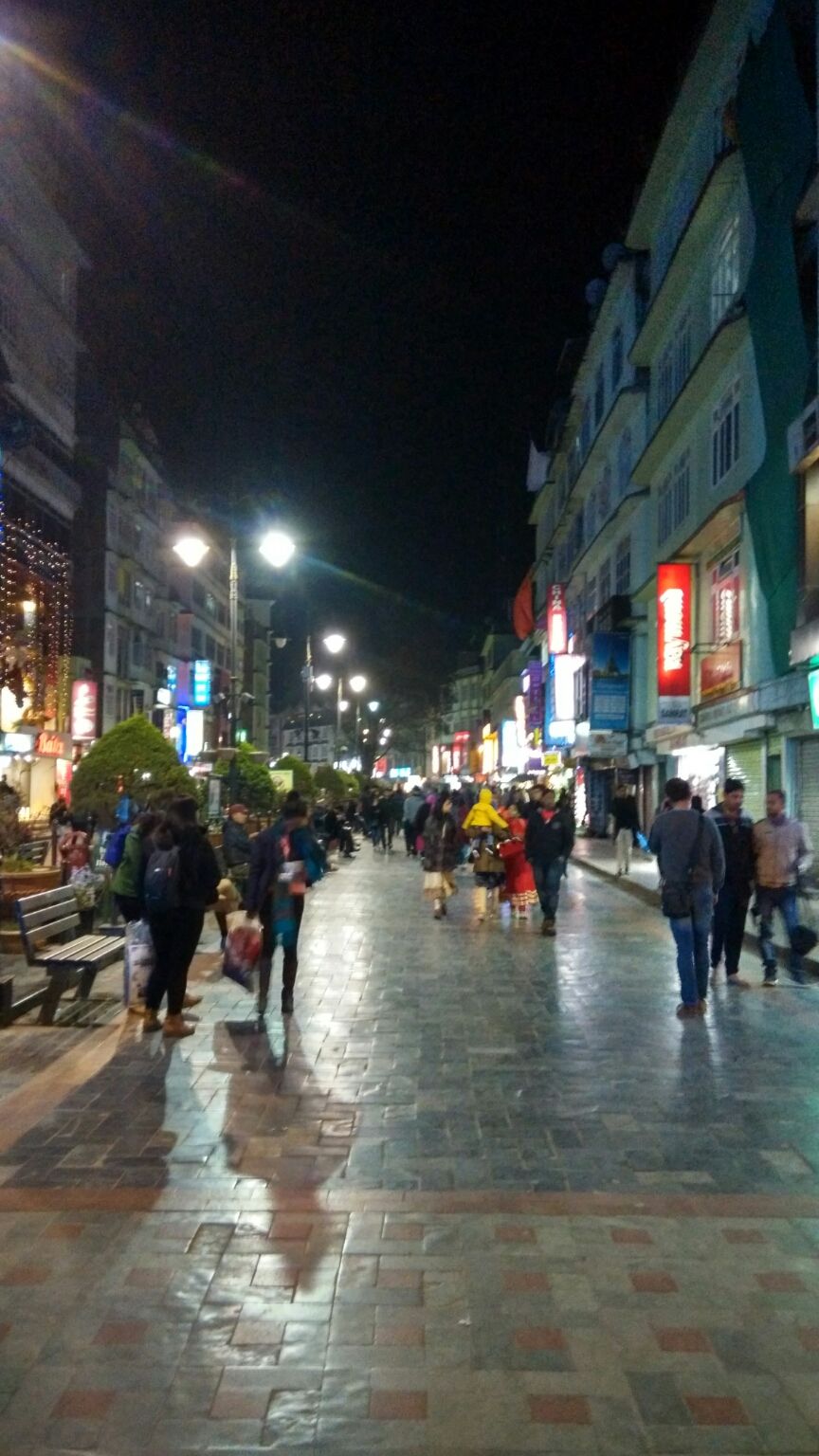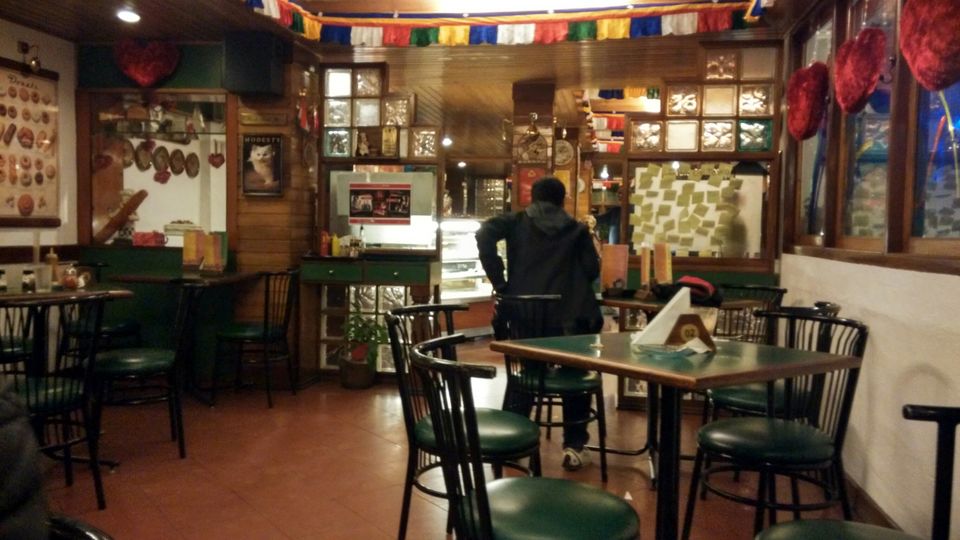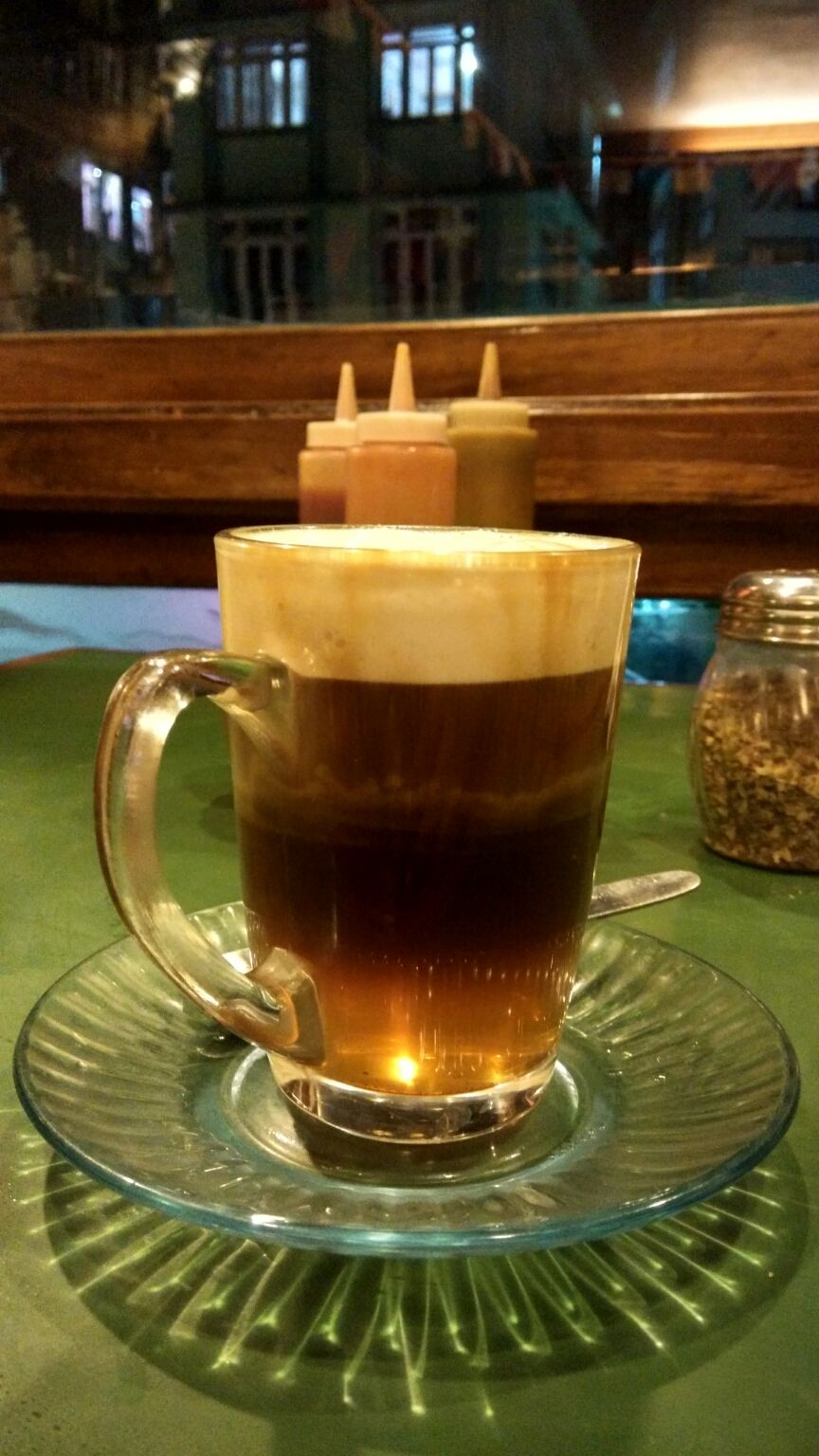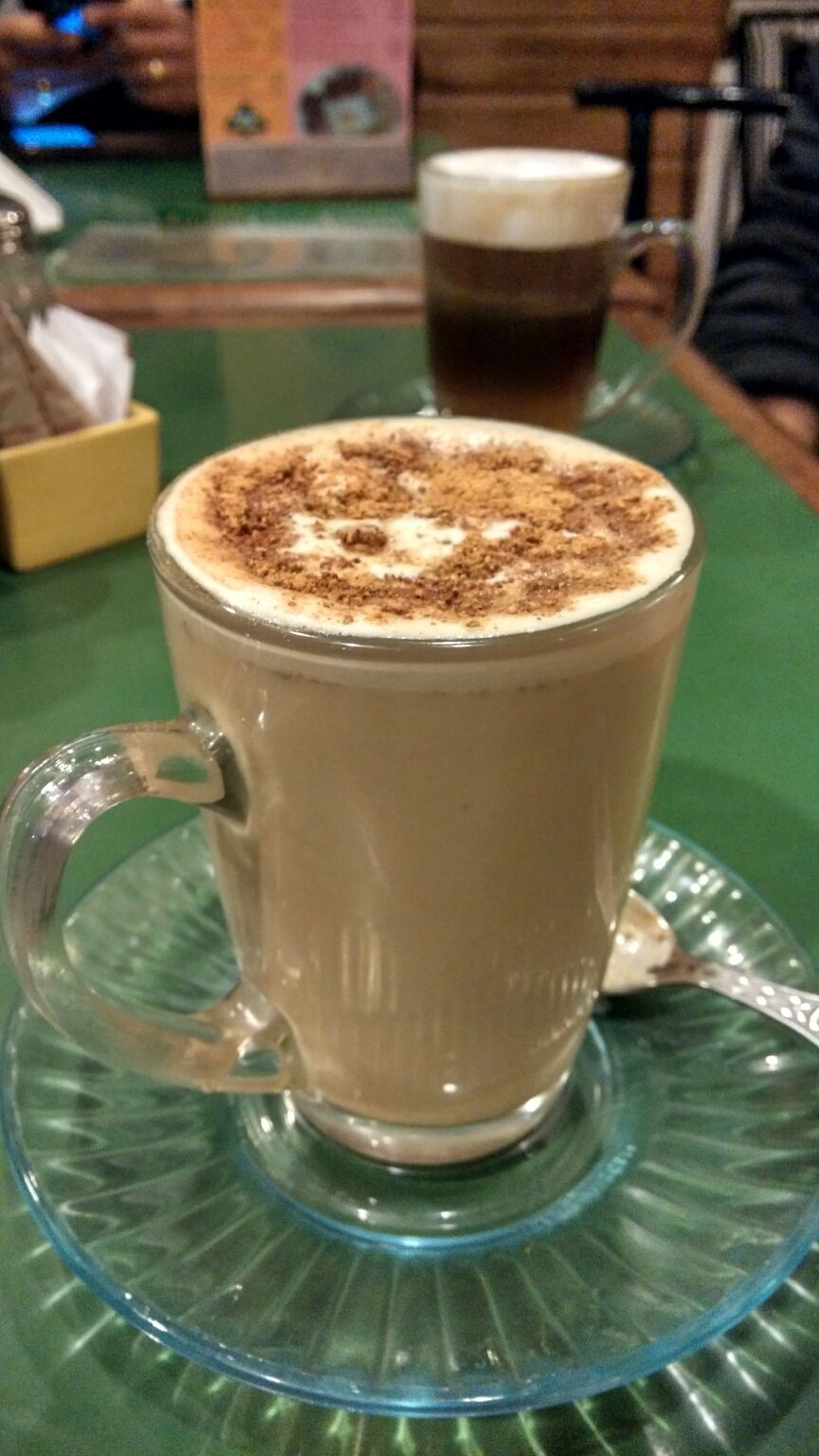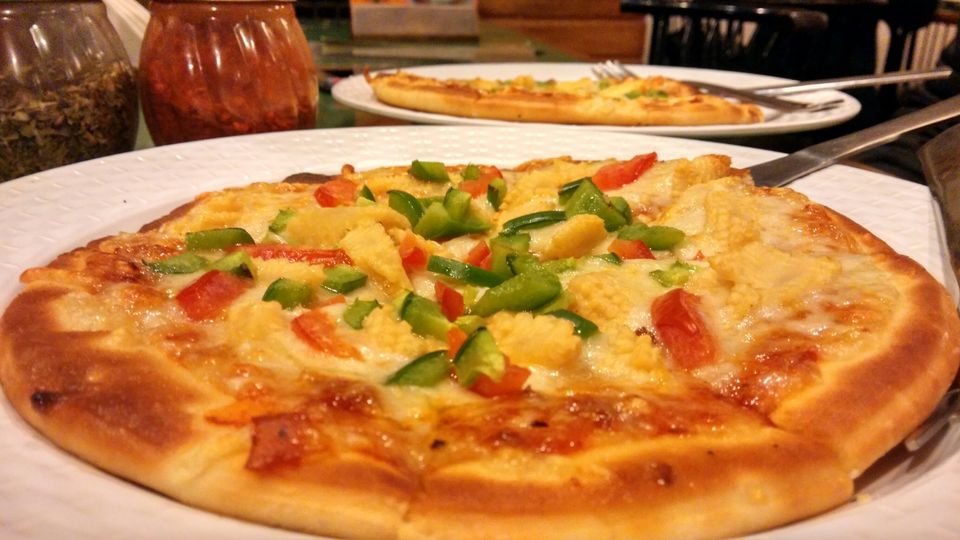 Our plans had changed at the last moment and we couldn't go to Darjeeling as per the initial plan so had our next day off. So we headed to our hotel late and dozed off.
There was nothing to do hence we headed to MG Road once again for shopping. We finished our shopping at Lal Bazaar and MG Road and ate once again at Baker's Cafe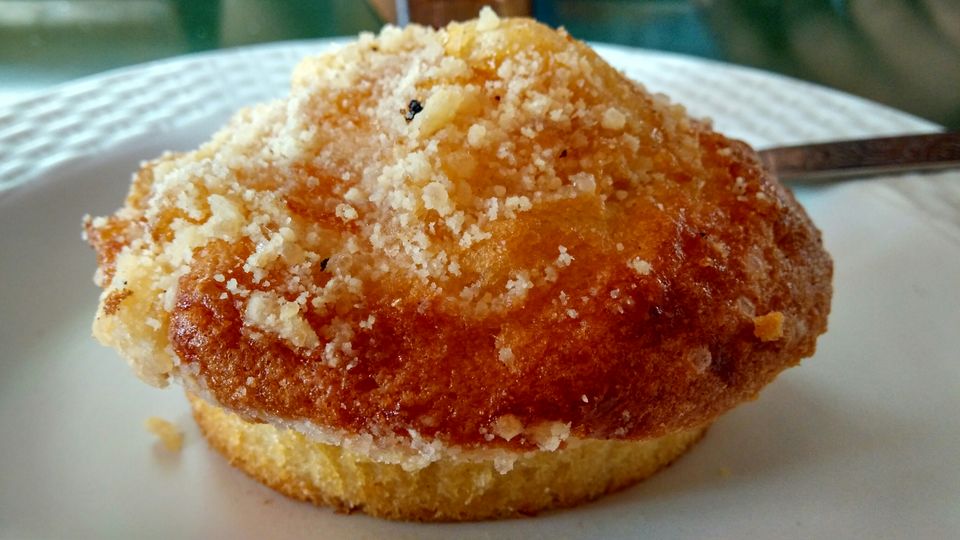 By the time it was evening we were out of money and hence headed towards the only ATM that was functioning. There was a long queue reminding us of the initial days of demonetisation. Our Luck was so bad that the ATM ran out of money when it was our turn. We tried finding other ATMs but none of them were functioning. We had no option but to head back to our hotel room. Upon reaching Hotel room we were relieved on finding enough cash for us to return. We booked a WB cab for our return journey to Bagdogra Airport the next morning.
We left for Bagdogra Airport the next morning to catch our flight to Delhi to complete the next leg of our tour.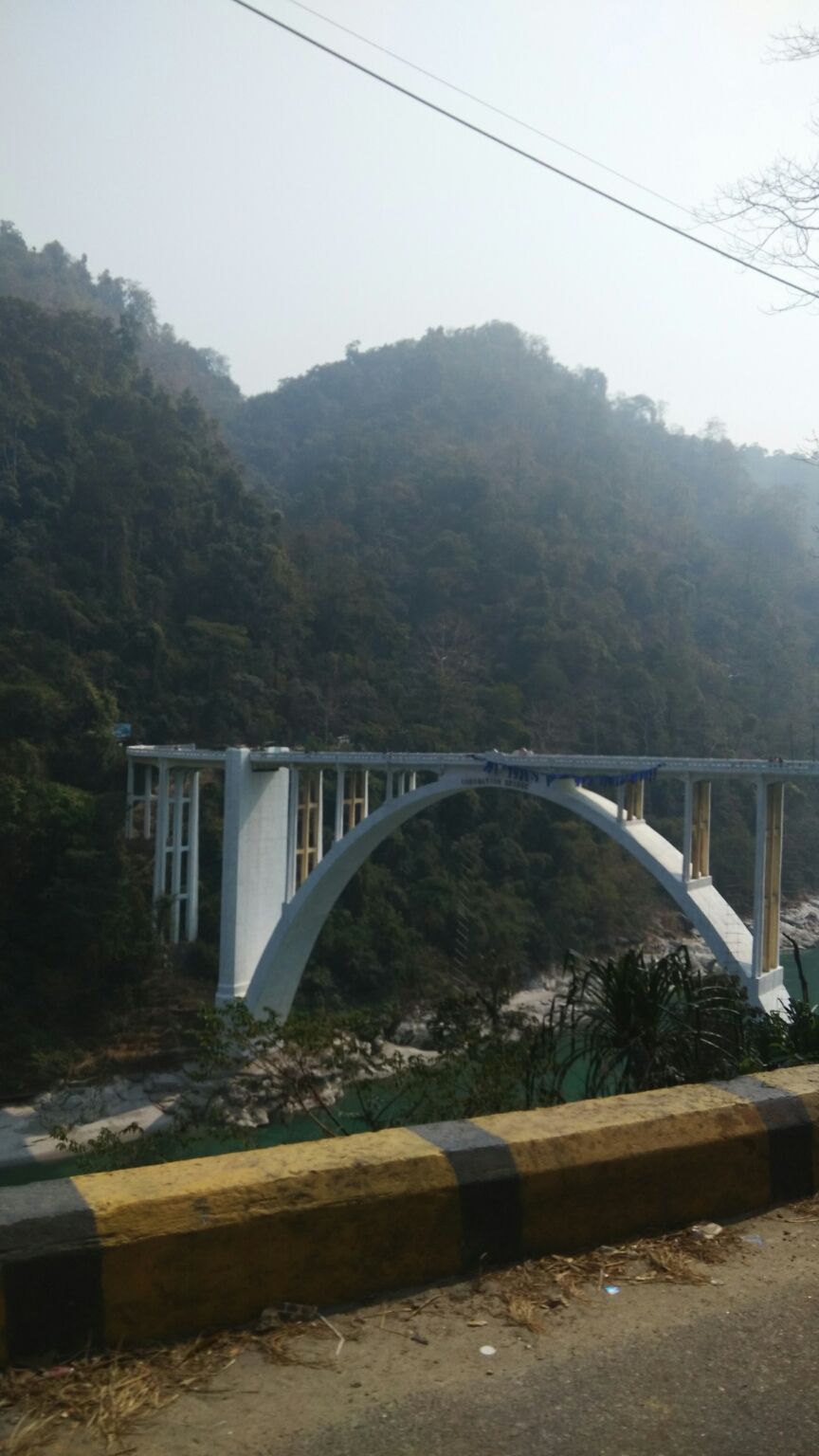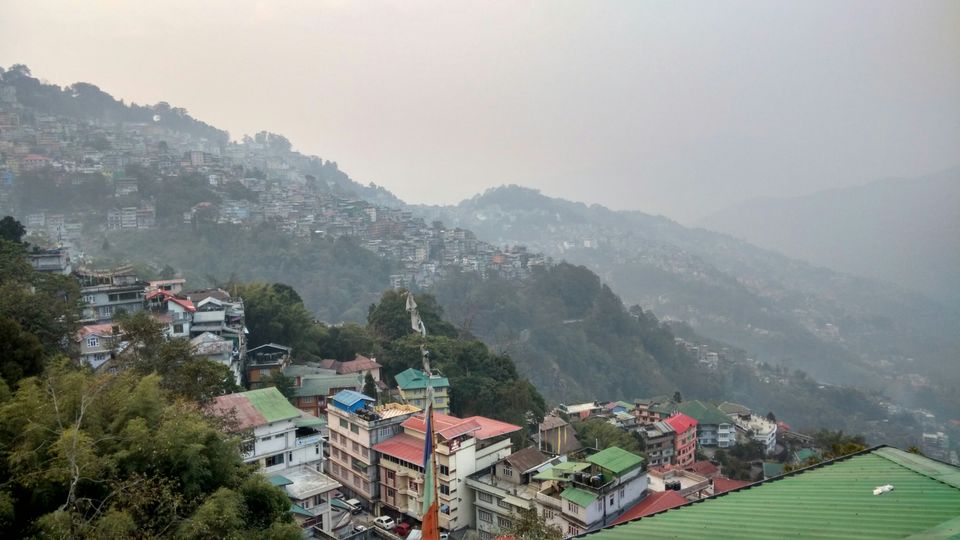 The Sikkim part ends here, will write another post for the rest of the Journey.
Thank you for reading my post hopefully you will like it.