We landed in bagdogra at approx 5 in the evening at the time of sunsets and trust me I saw a glimpse of the sunset and it was breath taking. Though photography is banned in bagdogra airport as it belongs to the indian army still I managed to take a snap. And that's where my will became stronger of having the best in the coming days. And then we headed towards gangtok. We had booked a cab in advance. And we had dinner mid way somewhere in a local hotel and my friend tried some local drink as well and he instantly became a huge fan of the local drink. We reached gangtok at approx 10pm we had our hotel booked before. We checked in and just slept tiring off. But I still managed to look at the view from the hotel and it was all that I had wished for. I have tagged the hotel below you can just check them out.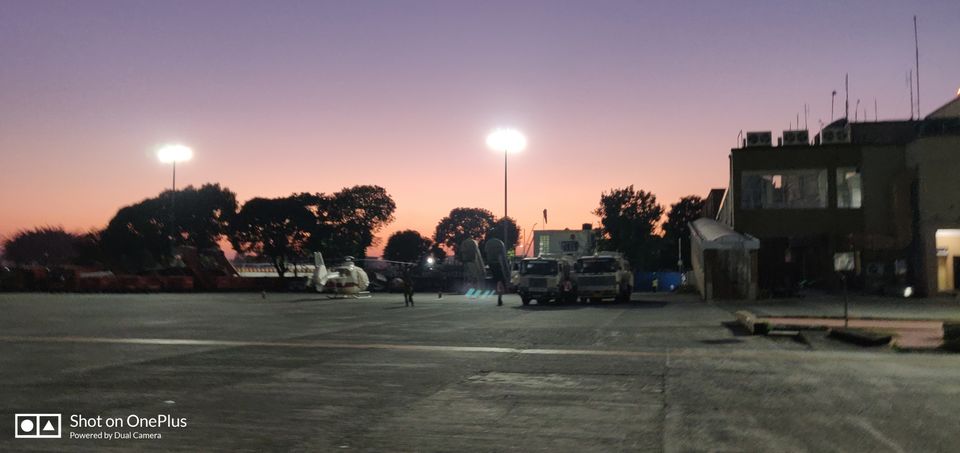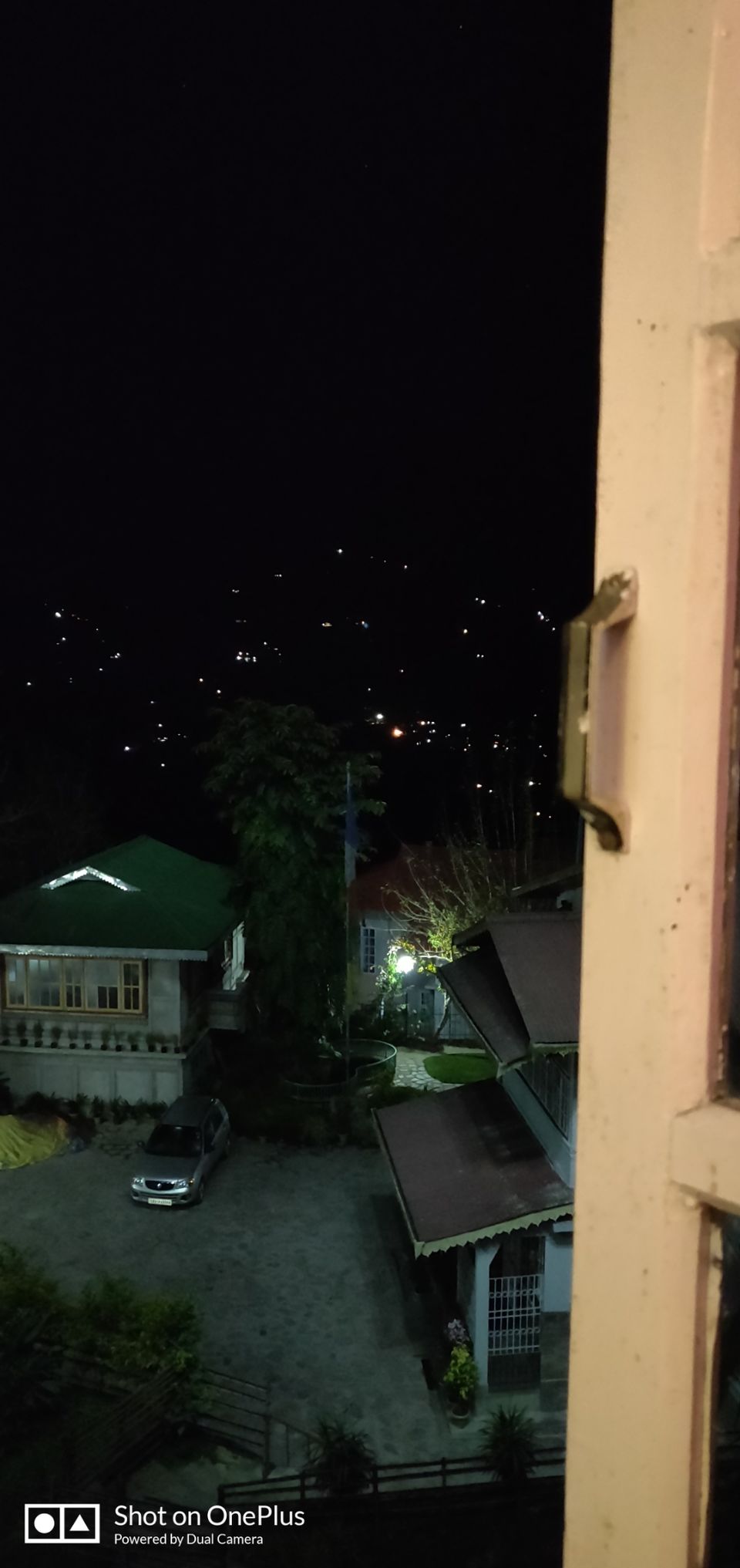 The staffs of this hotel are really helpful without their help the would have been unsuccessful.
This day was so much happening and tiring. I started my day with a cup of tea with a lovely view of gangtok. So today we had plans for gangtok sightseeing but due to some issues we started our day late. At approx 12pm we first headed towards the paragliding point. We booked a small cab from our hotel. It took us some 1 n 1/2 an hrs to reach there, and I had my first ever paragliding experience. And it was so smooth that I could never imagine an adventurous activity to be so relaxed. And I finally revealed that IAM not afraid of height. And the guide who was with me named basant he was also sweet and he was talking to me the whole time so that I don't get afraid of the height or something else. And then we paid 2500/- per head to them after the ride and we came with a mind blowing experience and memory.
The next stop was bhanjakari falls I dint want to go there because I had seen that place in many vlogs and I din't like that, that much and so I dint even cover the place we just entered had some Momo's. (Chicken Momo isn't available there) and came back. Then we had four stops in our mind but due to timing problem we could manage only three of them. First we went for the rope way. From the rope way you will get to know how strictly the gangtok people follow their traffic. Because it covers a long road. Of more than a kilometer I guess and that went well too. It cost us rs100/- per head.
Then we went to the namgyal institute of tibetology. It was quite an interesting place stuffed with Tibet history . Though IAM not so much into all these but I found some ancient hats or something like that I guess. Photography is banned there but I can explain I found the same caps which is used in the movie "fantoos" many of them is actually there. Jokes apart then we went the do-drul chorten stupa. It was a beautiful experience. The place is so beautiful. The way to the place is more like into the woods. Full of scenery and greenery. They have a different kind of prayer system there which is quiet interesting. And then we had to the Ganesh tok for a sunset view. And I found lot of cutei puppies there.
Note: you will find the most decent and cutest stray dogs in Sikkim only.
Then we headed to the mg marg, got some passport size photos to apply for the permission for lachung. And then we came back to the hotel and slept in dreaming g for the beautiful tomorrow.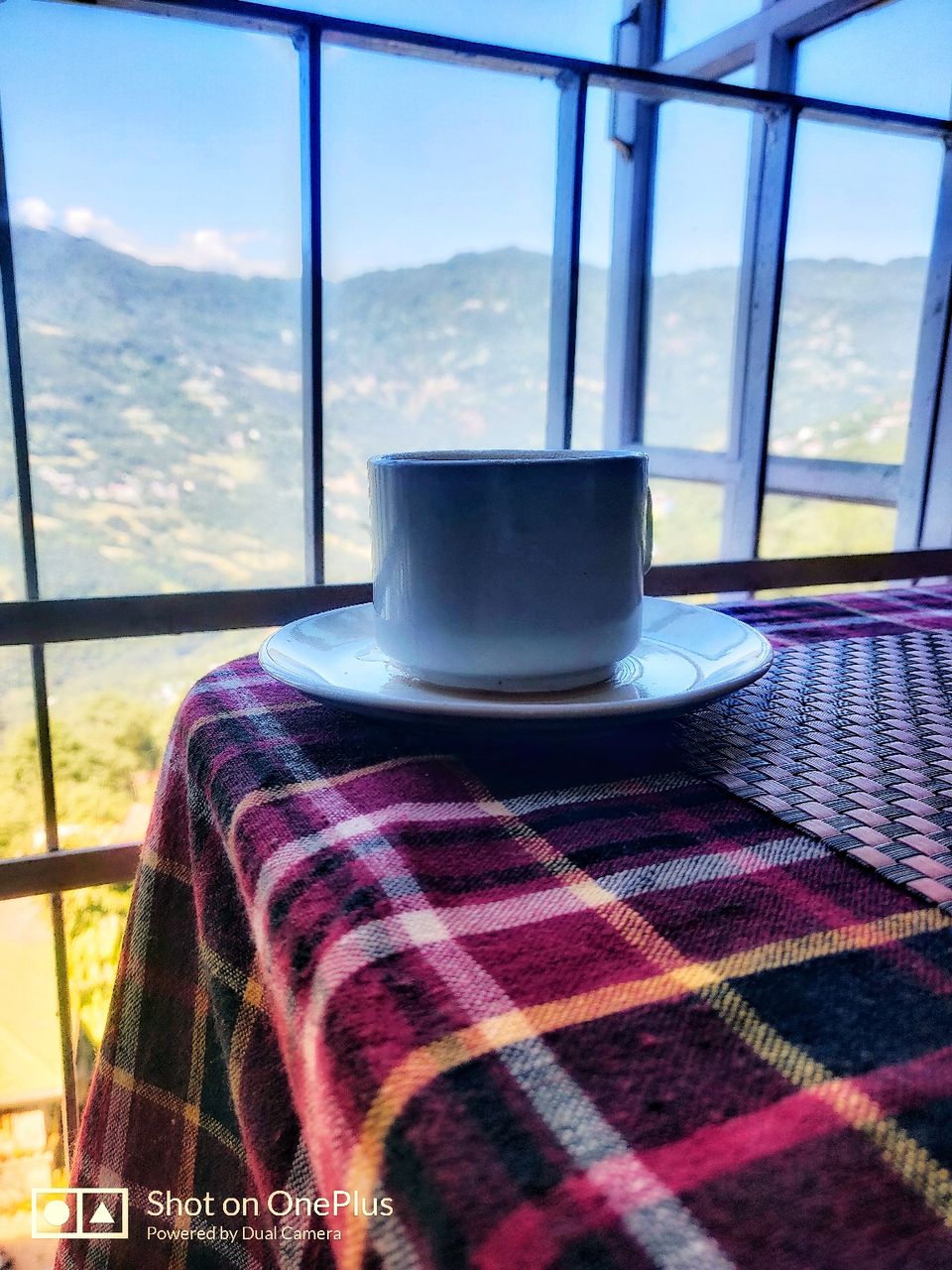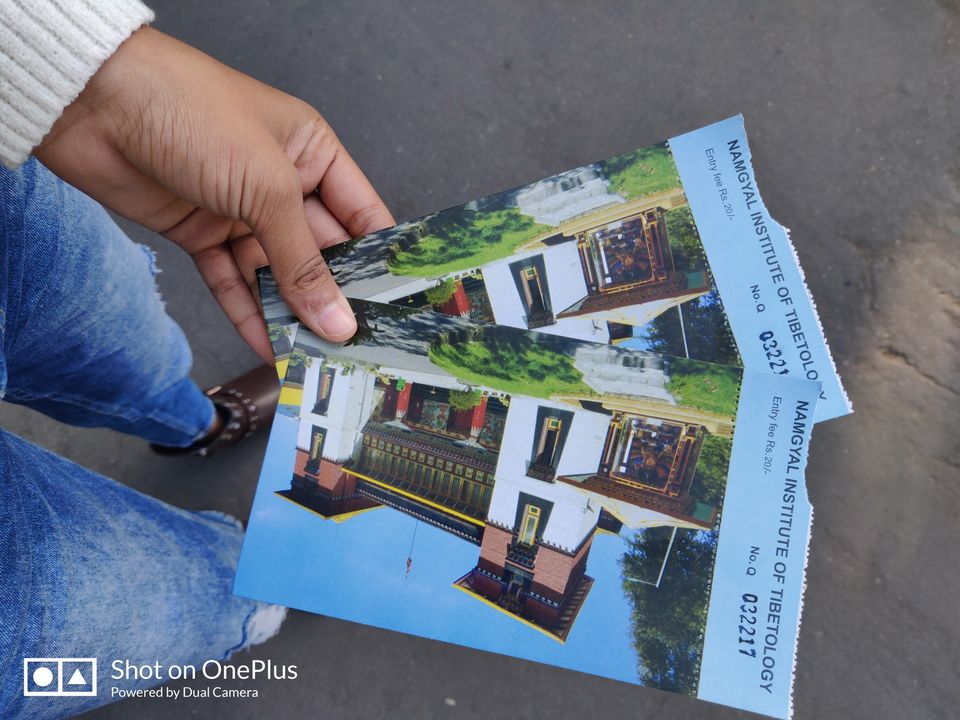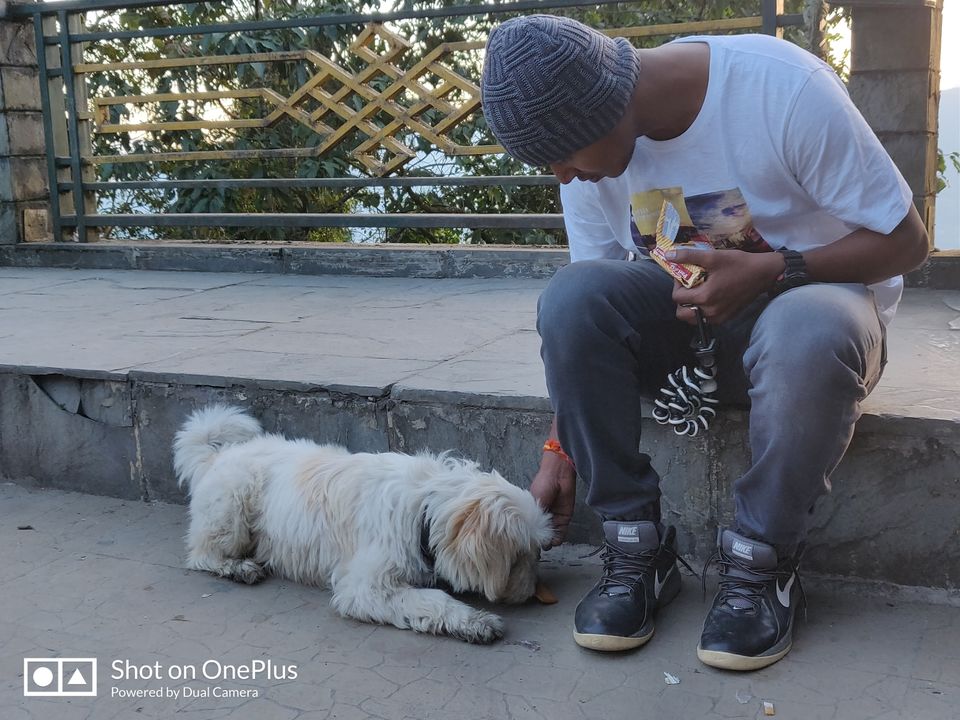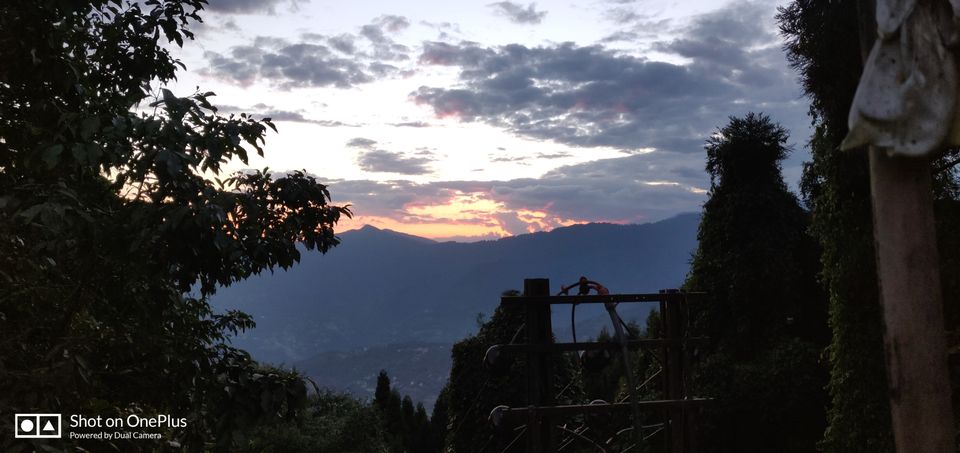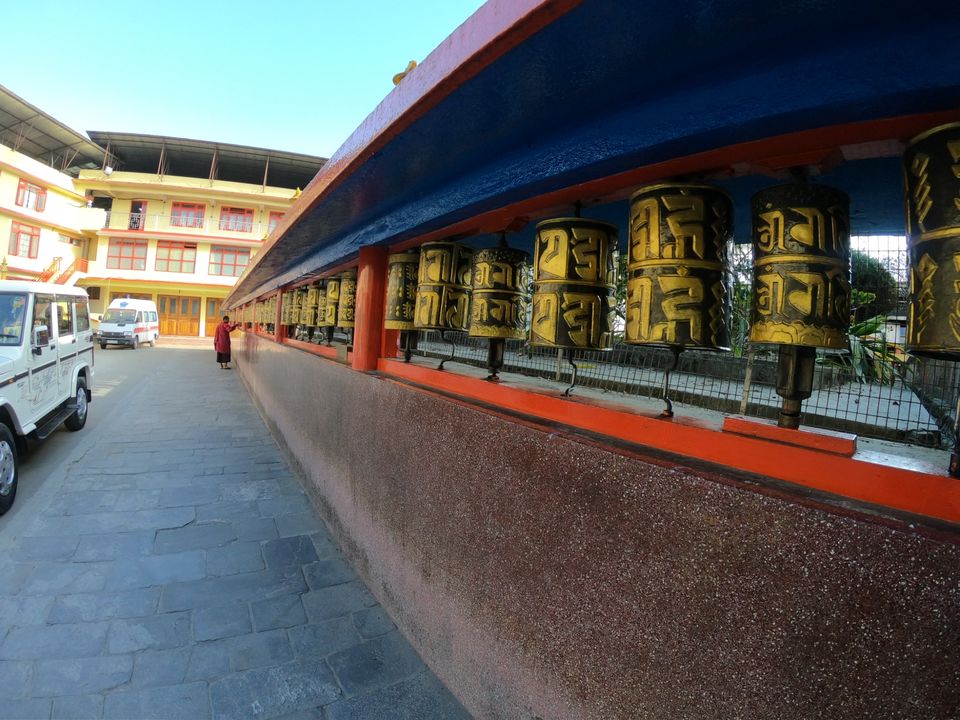 Gangtok is a nice place I loved their rules and regulations. Their traffic and the people are amazing. The cops are also gentle. Everyone is hard working there. It's neither cheap nor expensive. I felt like it was just a cozy village.
It was our third day.
And we started our journey towards lachung at approx 10am. We had to come to the wazra taxi stand for the cab. We had our permission with us. And the hotel manager gave us the details about the taxi so we got in with some co-passengers. On The way to lachung we had our lunch which is included in the shared package and stopped at many beautiful waterfalls. And enjoyed delicious Momo's all the way. We reached lachung at approx 6 and it was 4°c there. we were dieing in the cold weather. Wearing as many as layers we could and we got down from our room to meet some people nearby. And just down there we met some auntie's making Maggi and omelettes. Decorating their tiny shop with different alcoholic drinks.
Note: IAM not promoting alcohol but in that much cold you will need to have some else you cannot survive. But am non alcoholic.
We chatted with those sweet ladies for so long because they were full of energy even in that weather and it was so overwhelming talking to them. They are full of love.
And we even had our dinner right in the hotel which is also included in package. The meals were okay and the room is not that worse. Adjustable for one night. You can take bedsheets with you for hygiene concern. They provided us two blankets. You may ask for a room heater if you badly need one. So the day was over and we slept our piss off. Cause it was so tiring traveling the hills all day.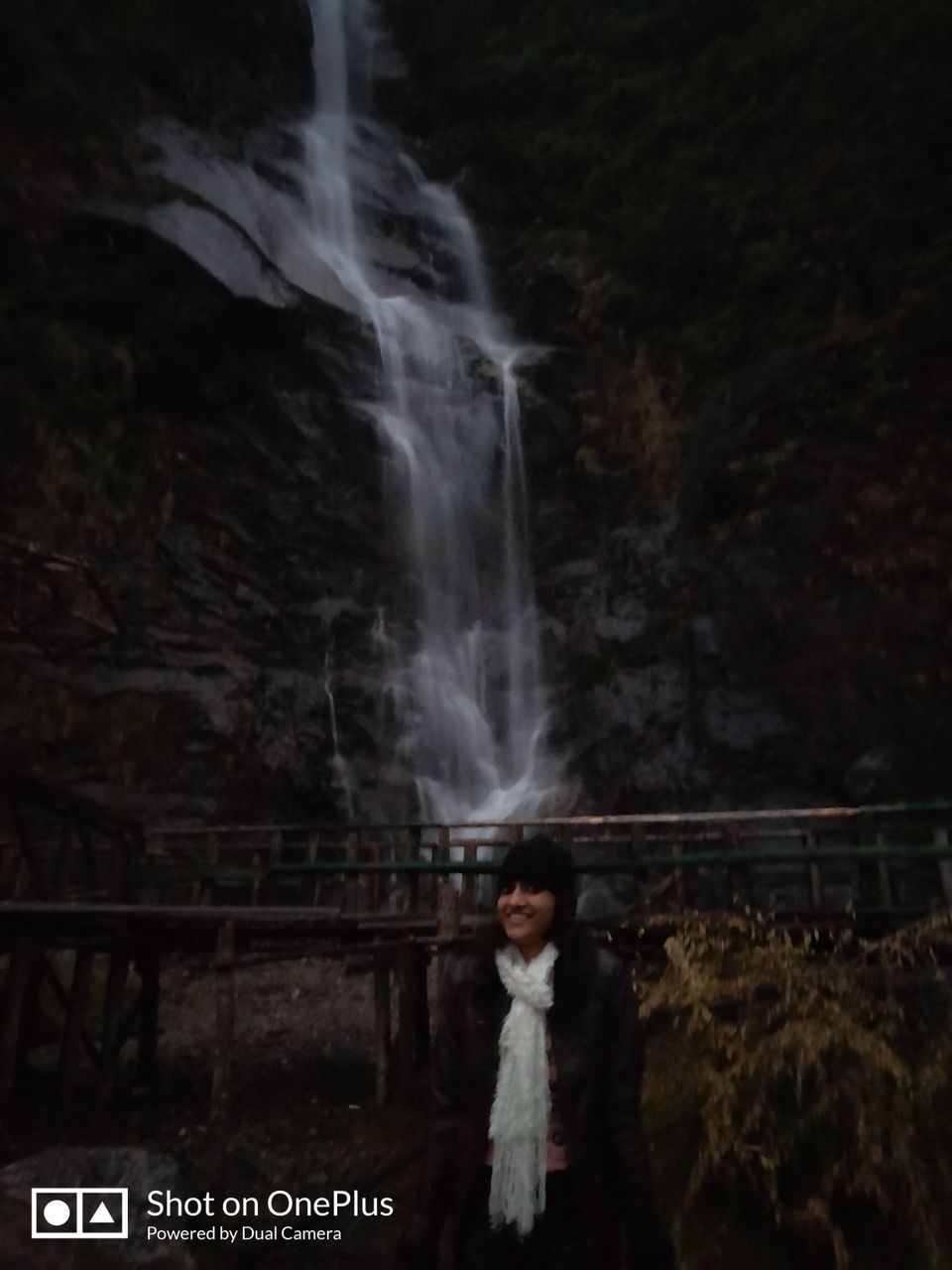 The next day we started our journey early morning towards zero point. We had some tea and then headed towards zero point. We got a huge check point there which took 1 hrs and more to clear. And then we carried on. With some Nepali music and the criss cross roads of the hills. I felt we were getting closer to the clouds. We reached yumthang valley and had some breakfast which was also included in the package. And we got some more warm jackets on rent for zero point as zero point was even colder. And then we headed to zero point. It was approx -3°c there. I was a bit disappointed with the place because I was expecting mountains of snow because of Google images but there was nothing like that it was just a frozen river. But I ate some yummy Maggi which really changed my mood. It was the coldest ever weather I had ever been. But still I got nothing from there neither I could record nor I got more snaps. Anyways we headed back to gangtok right away from there we stopped at yumthang valley and lachung on the way for returning the rented things and picking up our luggage. And we reached gangtok at approx 6 in the evening. Took rest as it was so tiring being on the road all day.
Here comes the last and best part of the trip. Yes it was the day I loved the most all the days. We had breakfast at the same hotel in gangtok and then went to the wazra nathula taxi stand. We had the details about our vehicle and the driver so we headed to him and started. This time the driver and the co passenger were really more familiar. May be that's why I felt more lively in this day. At first we stopped at the 15th mile which is 10400 ft above the sea level. Shopped something for family friends there because the winter cloths were cheaper there. And then headed to baba mandir. Baba mandir is basically a memorial temple for late major harbhajan Singh. You will see thousands of indian army officer on the way and can imagine their struggle level. They stand still Where we can't imagine stepping out of the vehicle. I shot some really nice videos and photos at this place. And the driver gave us enough time for this place. Then we headed towards nathula. Nathula is the indo China border. Above 14140 ft from the sea level.Photography banned near the border. But his place took my heart away. I am really overwhelmed by the enthusiasm of the indian army. It was approx -5°c there we couldn't even walk or talk. Our hands and even faces we're freezing. And them!!! They are standing still. Moving here and there. Observing every little thing. With a huge smile on their face. It was so overwhelming that anyone will be speechless. There were so much snow over there. I could see some soldiers standing even at higher altitude than us. I can't even imagine breathing there and they are standing point a gun 24 hours . Hats off to our army officers and their sacrifices. I almost cried standing there. And than we got down. Got some shots down there and got into our vehicle. As soon as we left nathula it was snowing there. And then we headed to tsmogo or change lake. Thus is the frozen lake. I saw the lake freezing as we we're leaving the place. Yak rides are available there and we opted for one. Even rope way is available there. I thought I could opted both but it wasn't possible as the temperature was decreasing and it was snowing there. So the driver suggested to leave the place as soon as possible before the roads get closed. And then we stopped place on the way to have some snacks. We enjoyed so many yummy dishes there and even were last one to leave the place. It was snowing so bad. And we came down to gangtok withing 6pm. It was raining in gangtok and weather was colder than before. I was so mesmerized by the indian army that I was smiling all the way all the evening and even I might have smiled while sleeping. That's how our trip ended. And then at approx 8pm we headed to bagdogra to catch flight. It was in the next morning so we opted to stay at a place near to the airport and yes it ended well. This way. Sikkim is a beauty. The people are sweeter. And their rule and regulations are really stunning moreover how the people over there strictly follow rules that's is more beautiful.
we had our flight from bhubaneswar to bagdogra. So we started early morning from bhubaneswar.